I absolutely love a wedding where the friends and family of the couple really pitch in to help create the day- this beautiful village hall wedding is definitely one of these, with evidence of the talent and kindness of family and friends everywhere you look.
Hannah, a speech and language therapist, married John, a research manager on the 22nd July 2017 at Brighton Town Hall, followed by a reception at Plumpton Village Hall.  The couple met on Tinder and got engaged on the island of Gozo (Malta) while on holiday with John's daughter.
"We wanted the day to have a family feel and we didn't want to go into crazy amounts of debt.  We wanted it to have a relaxed village fete/festival vibe."
Images by Teddy Pig Photography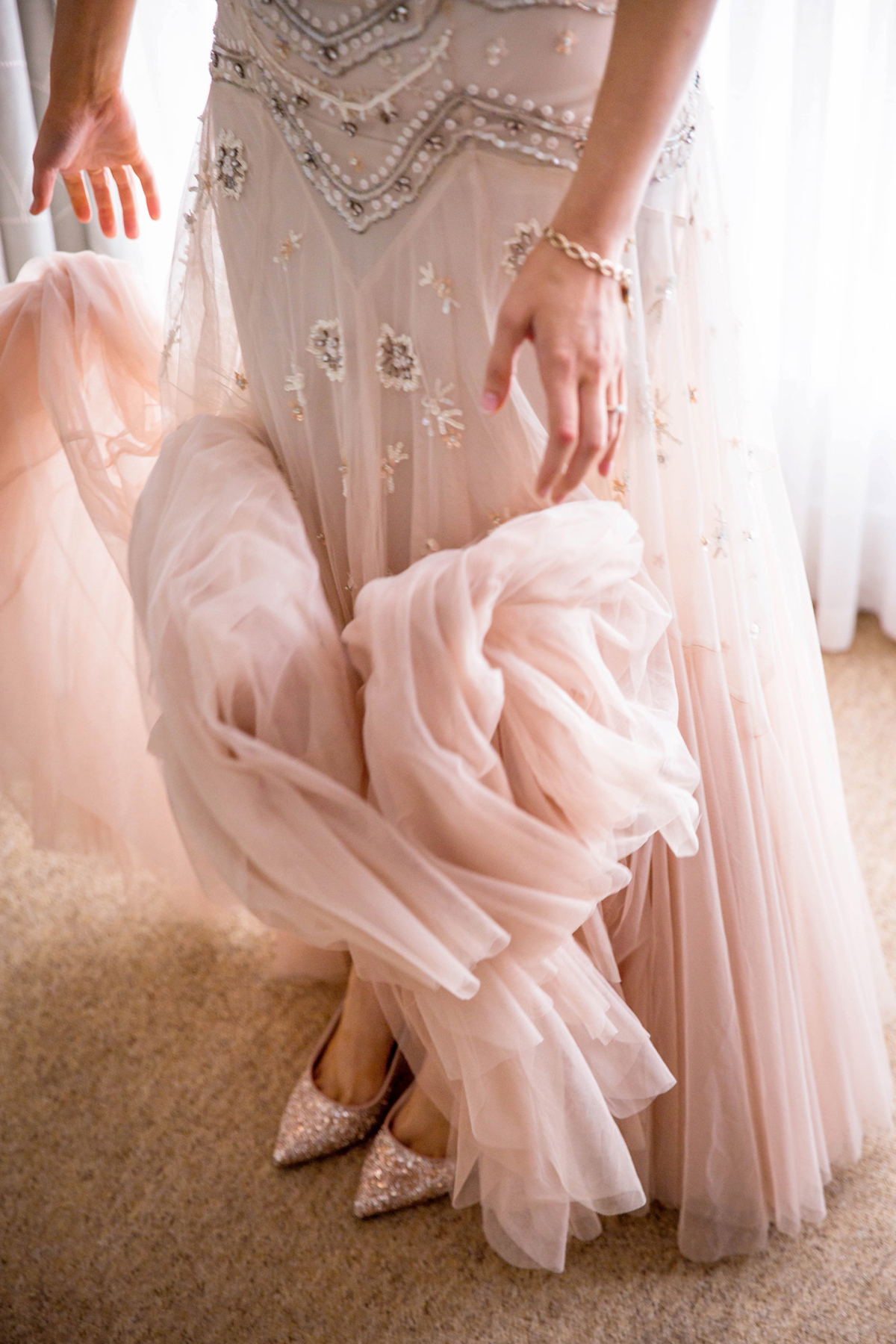 Hannah wore a beautiful embroidered Needle and Thread dress in a blush pink shade- absolutely gorgeous.
"I am lucky to have a friend who works for Needle and Thread who invited me to a sample sale at the head office.  My mum actually picked this one out and I wasn't sure at all about it on the hanger but I thought I'd try it just to see. As soon as I put it on I felt glamorous and, most importantly, comfortable.  This dress had a 1930's ball gown feel which I fell in love with."On her feet Hannah wore a pair of sparkly rose gold heels from Office (although she walked to the ceremony in flip flops which seems a very smart move to me!), while Clare Fogarty at Forage & Twine (John's sister-in-law) put some gypsophila onto some hair clips to decorate her hair to match the bouquets, which were also her work, alongside all the other flowers.
For jewellery Hannah chose to keep things very personal and wore her Granny Monica's pearl earrings, a gold charm bracelet given to her by her Grandad Bob when she was a child and her mother's blue diamond engagement ring.
Hair and make-up were the work of Ingrid at Fine to Fabulous in Hove.
The bridesmaids looked lovely in dresses from Phase Eight and Pretty Little Thing, worn with shoes from Marks and Spencer.
Hannah walked down the aisle with both of her parents to 'Pokarekare Ana', a traditional Maori love song.  The emotion al all of their faces is wonderful.
"I was born in New Zealand and both my parents and their families are kiwis – I wanted to have a bit of NZ with me on this day and this beautiful song was perfect."
For readings, Hannah and John chose 'I wanna be yours' by John Cooper Clarke.
"We both wanted something that wasn't too soppy and was a bit different but wasn't a total joke. This is a wonderful poem written by the excellent John Cooper Clarke, whom we saw perform it while recording a show for Radio 4 last year.  It was read brilliantly by Miranda who had made the 12,000 mile journey from NZ for the day."
During the speeches, Hannah's friend Claire also read an extract from 'Oh the places you'll go' by Dr Seuss and John's friend Leonora read aloud an amazing limerick that she had written for the occasion.
Hannah's engagement ring (purchased at Rings of Vertu) was an Edwardian trilogy ring, chosen by John, so for her wedding ring she chose an Edwardian yellow gold band purchased at A.R. Ullman in Hatton Garden.
"I (John) chose this place because they had a good selection of Edwardian trilogy rings and knew Hannah liked this style as she used to wear her grandmother's trilogy ring on her right hand. As a complete novice, the appointment-only experience was amazing as the owner imparted his knowledge very well without making me feel intimidated."
John's ring was from Shiruba Tree, who specialise in threading various types of hardwood into beautiful handmade rings.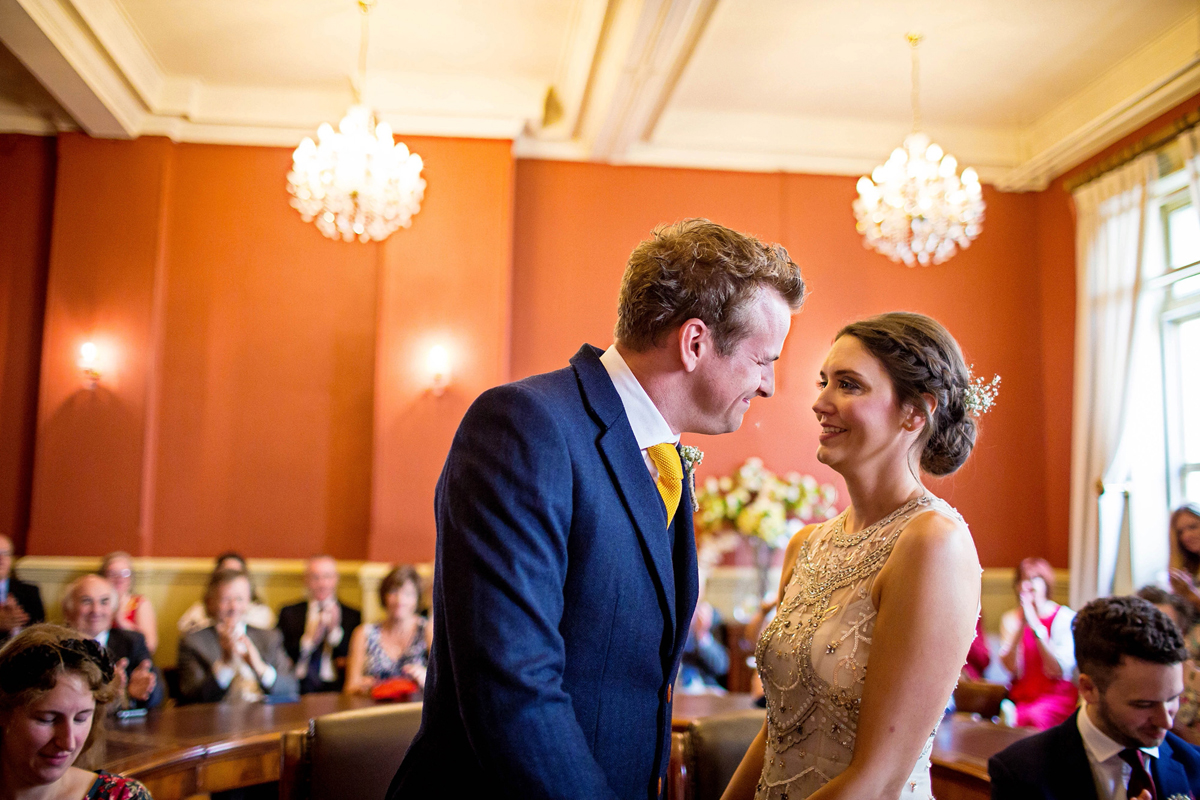 Today's beautiful and emotion-filled photographs come to us courtesy of the talented eye of Kerry Tongue at Teddy Pig Photography.
"Kerry was an absolute dream to work with.  She was so professional and thorough but also got right into the spirit of the day and mixed so well with our friends and family that we felt we had known her for years.  We already loved documentary style photography but she really did capture the spirit of our day perfectly – all the little nuances – memories that we will treasure for years, not because of what we were all wearing, but because of how happy we felt."
John's suit was tailor made to fit by Jennis and Warmann in London, worn with cuff-links purchased on Etsy from JtCcufflinks and shoes by Clarks.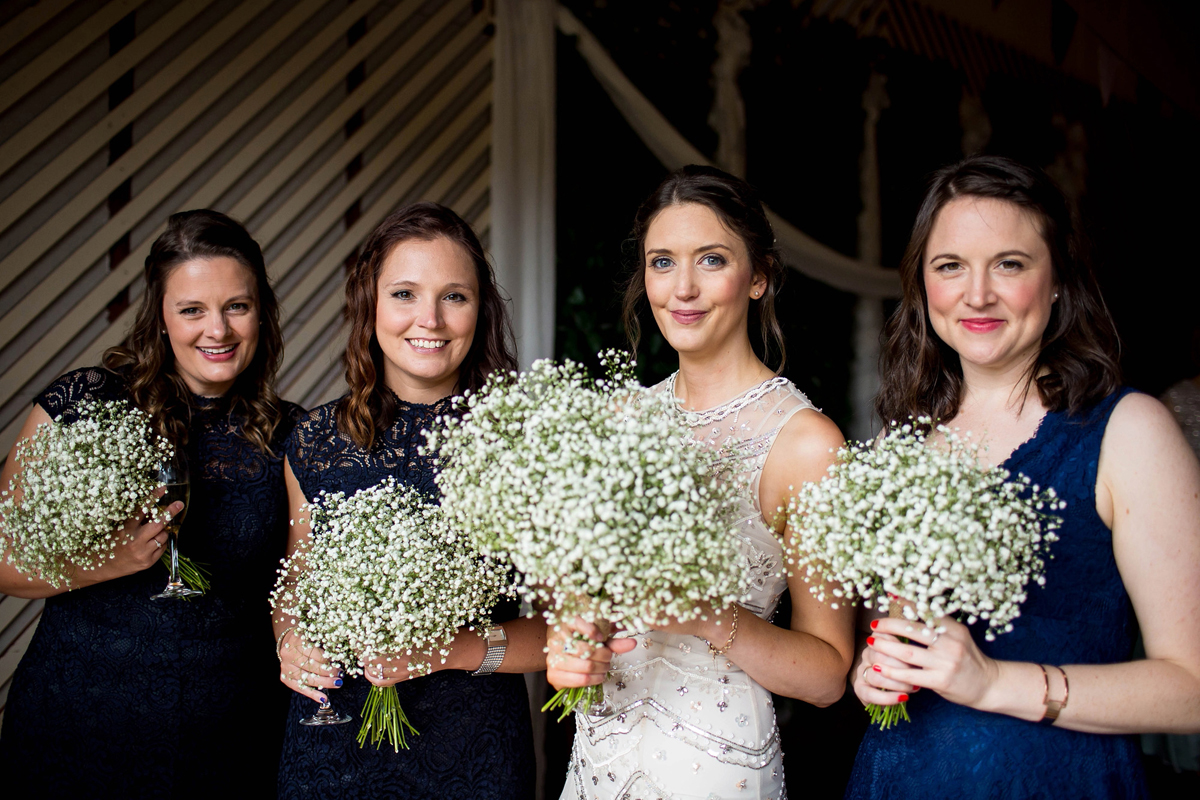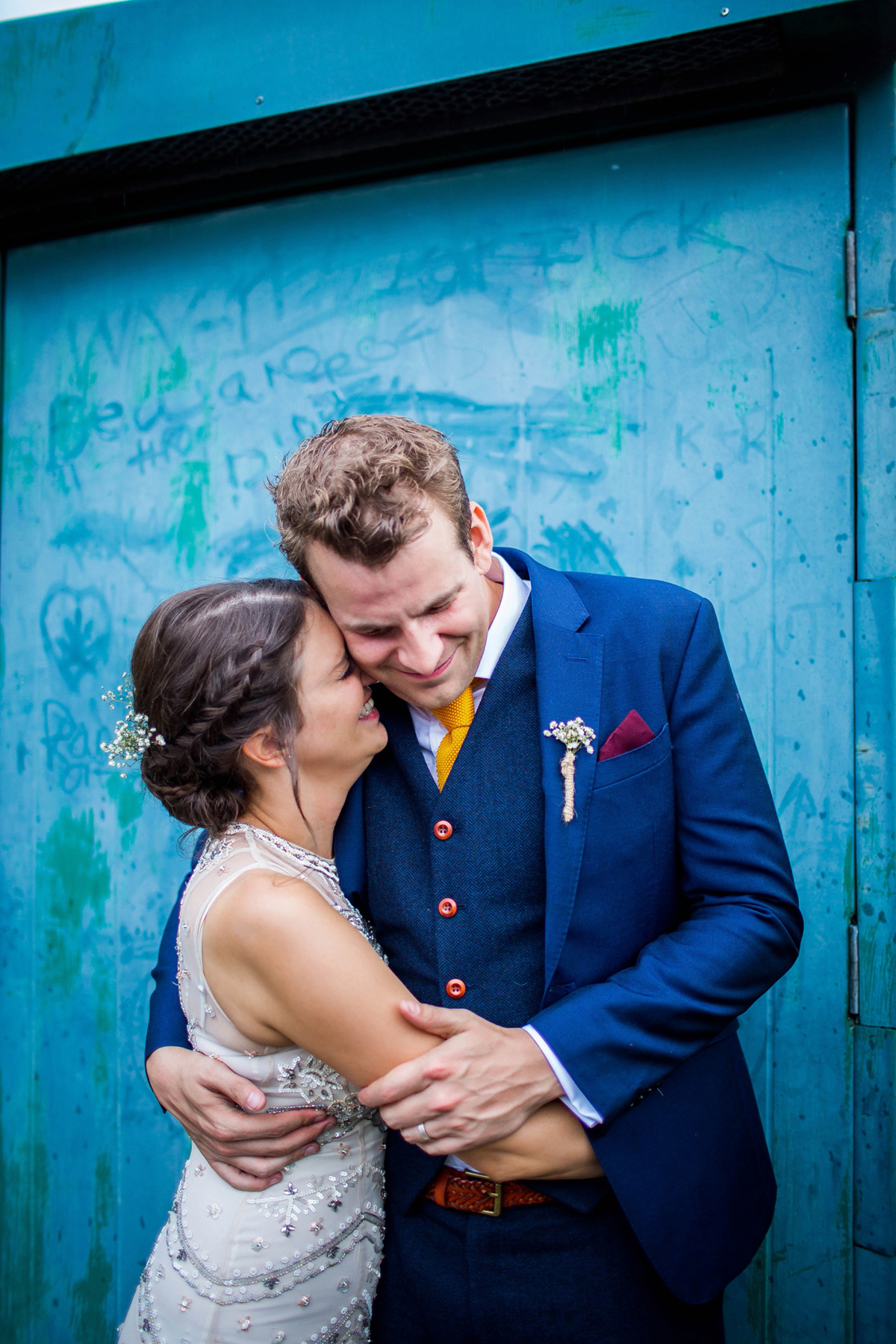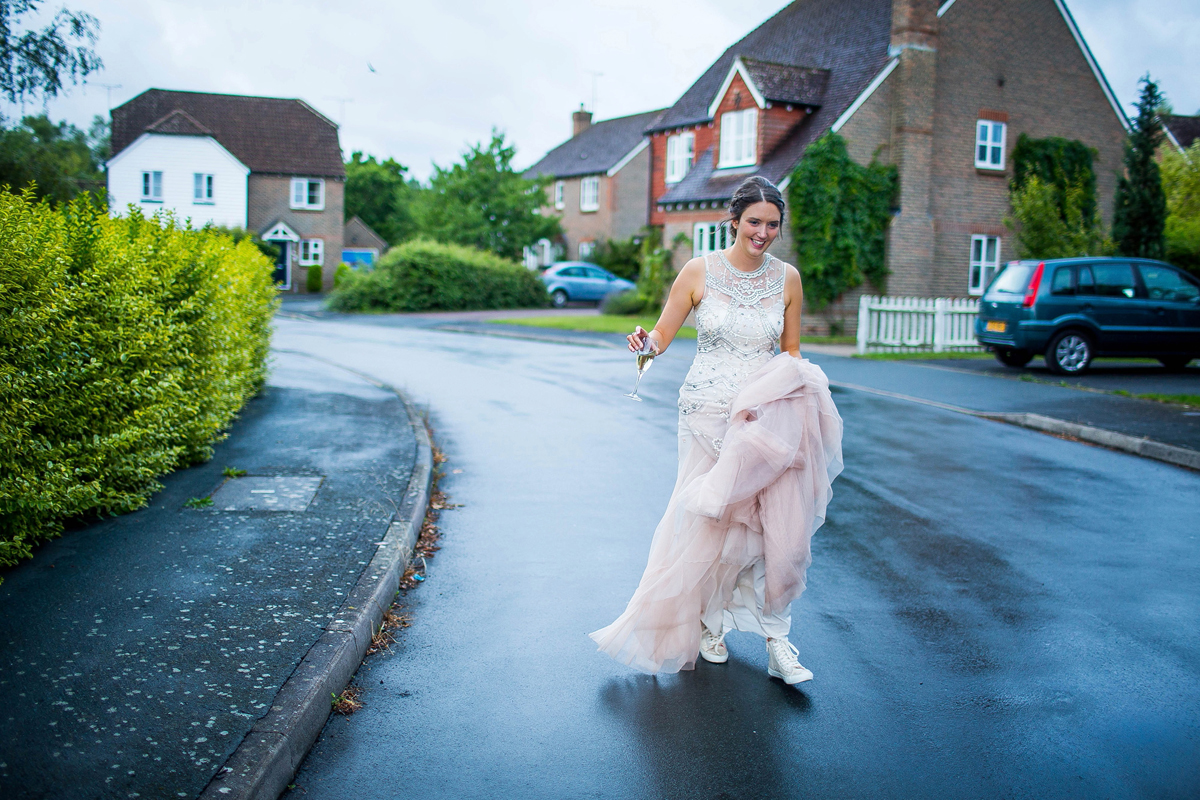 Guests were transported from Brighton to Plumpton village hall via a bright yellow coach hired through The Big Lemon.
"To decorate the hall Hannah's mum, Bee, made around 200 metres of bunting, sourced ivy-covered trellises which were decorated with fairy lights and hung at the back of the hall and collected all sorts of materials, fairy lights and cardboard pom poms.  Bee's friend Gill made the table runners  as a wedding gift, sewing lace ribbon onto metres and metres of hessian and Hannah purchased blackboards for signage across the venue."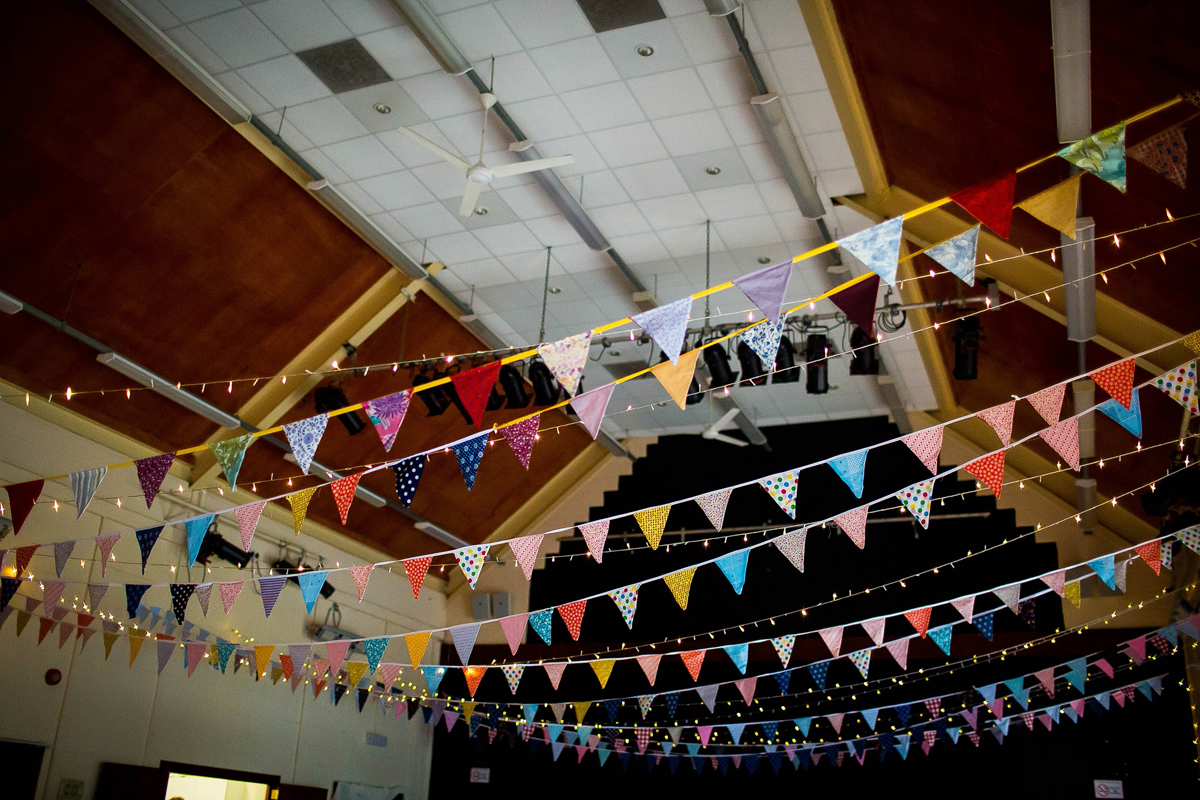 "John's main decor project was to create 'The Fogarty Arms' – a pop-up pub in the small hall.  He purchased vintage beer mats and towels on eBay and Gumtree and collected vintage handled beer mugs to serve drinks.  We had playing cards, vintage domino sets and a soft-tip dartboard to complete the pub vibe (as well as pork scratchings and scampi fries to deal with the munchies).  A personalised pub mirror was purchased via eBay to complete the look."
Everything had to be brought in for this DIY venue, so casks of ale for the pub were supplied by Franklins Brewery while the serving team came via Staff 4 Events.  The catering equipment hired from Speedwell Catering and cutlery was hired from Hireall.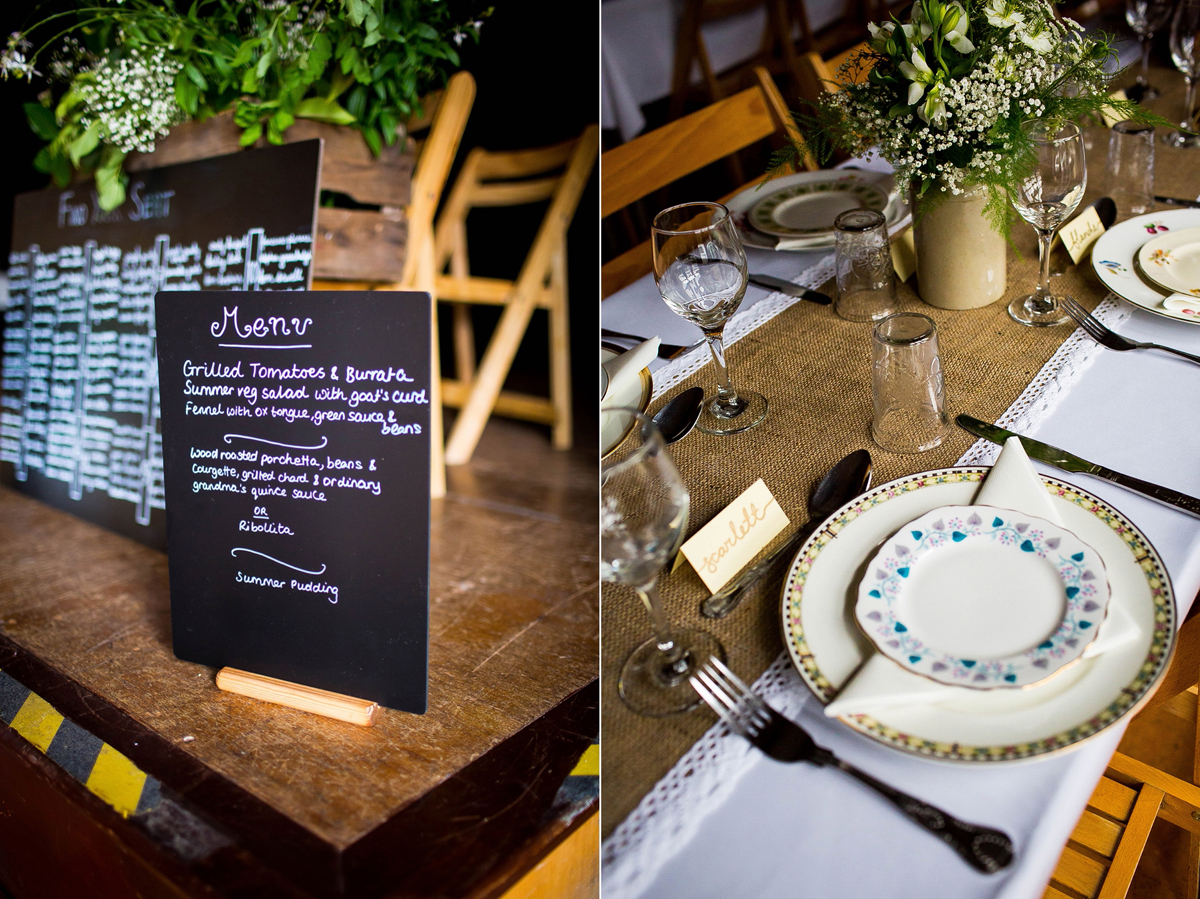 Hannah made the semi-naked three-tier cake herself and the couple also chose a tiered cheesecake from the West Country Cheese Co and a tiered pork pie cake given to them by best man Duncan which was sourced from his local butcher in Yorkshire.
"I have always enjoyed making cakes and went through a few years of putting together themed cakes for several of my friends so I knew I wanted to make my own wedding cake.  I did a big Lidl shop, borrowed some gadgets from friends and spent a day in the kitchen with Aretha Franklin blasting out of the speakers."
Catering was another family affair, and sounds amazing.
"John's brother Tom very kindly offered to provide and cook the food for us as our wedding gift.  He was joined by their other brother Ben and a close friend Tom (Kersh) who works at The Ivy.  Together, they created an UNBELIEVABLE menu which was served 'family style'."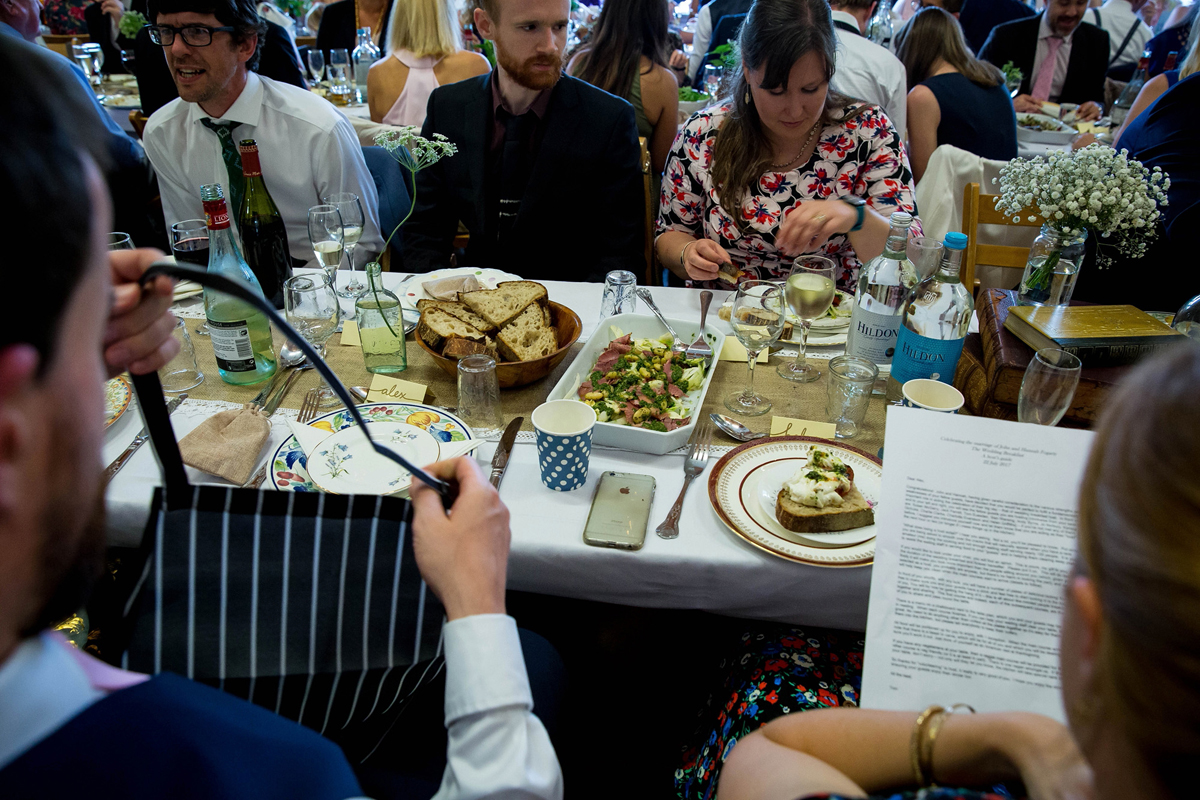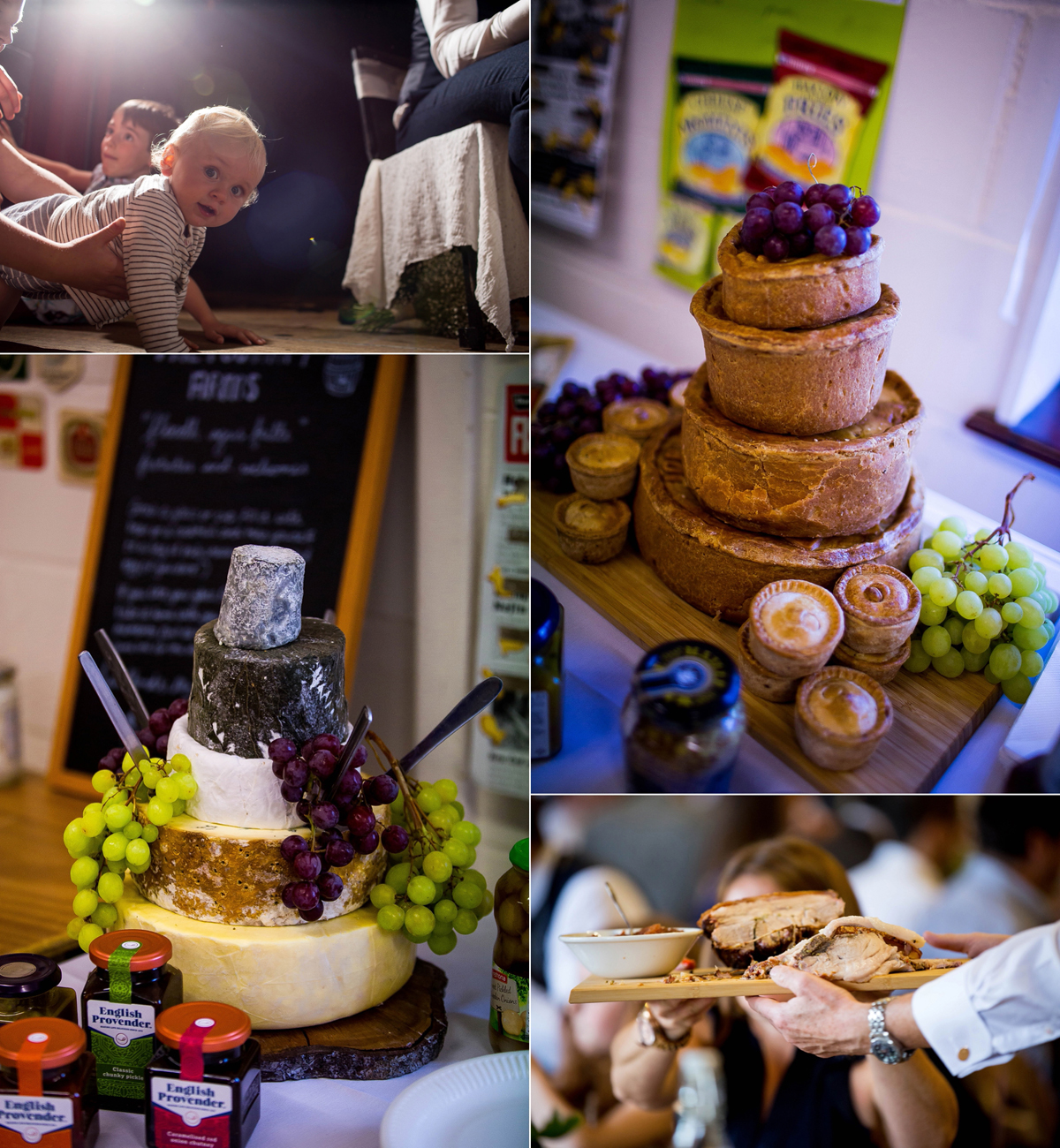 For entertainment John played a set of traditional Appalachian folk songs with his band 'The Skyline Drivers', while school friend Tommy Coyle played a great set of covers mixed with his own original songs.  The disco was provided c/o Hannah's excellent DJ skills, an iPhone, and a Spotify membership.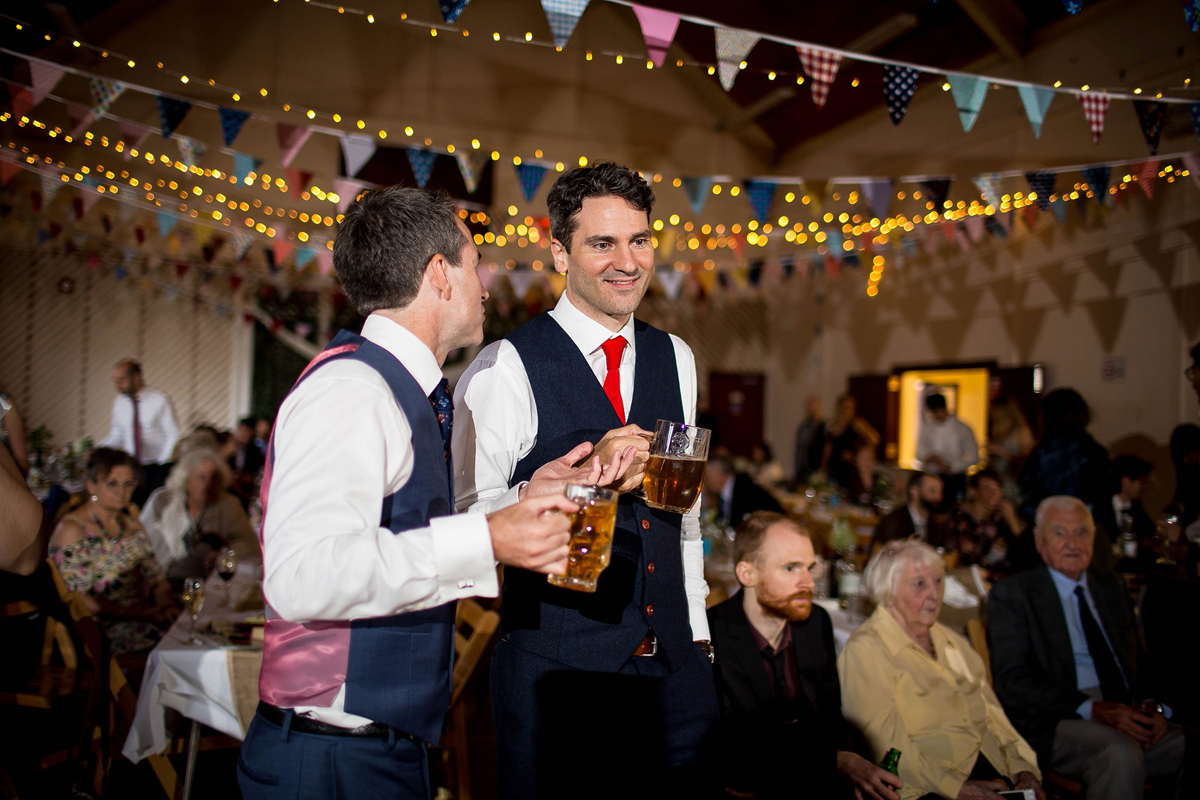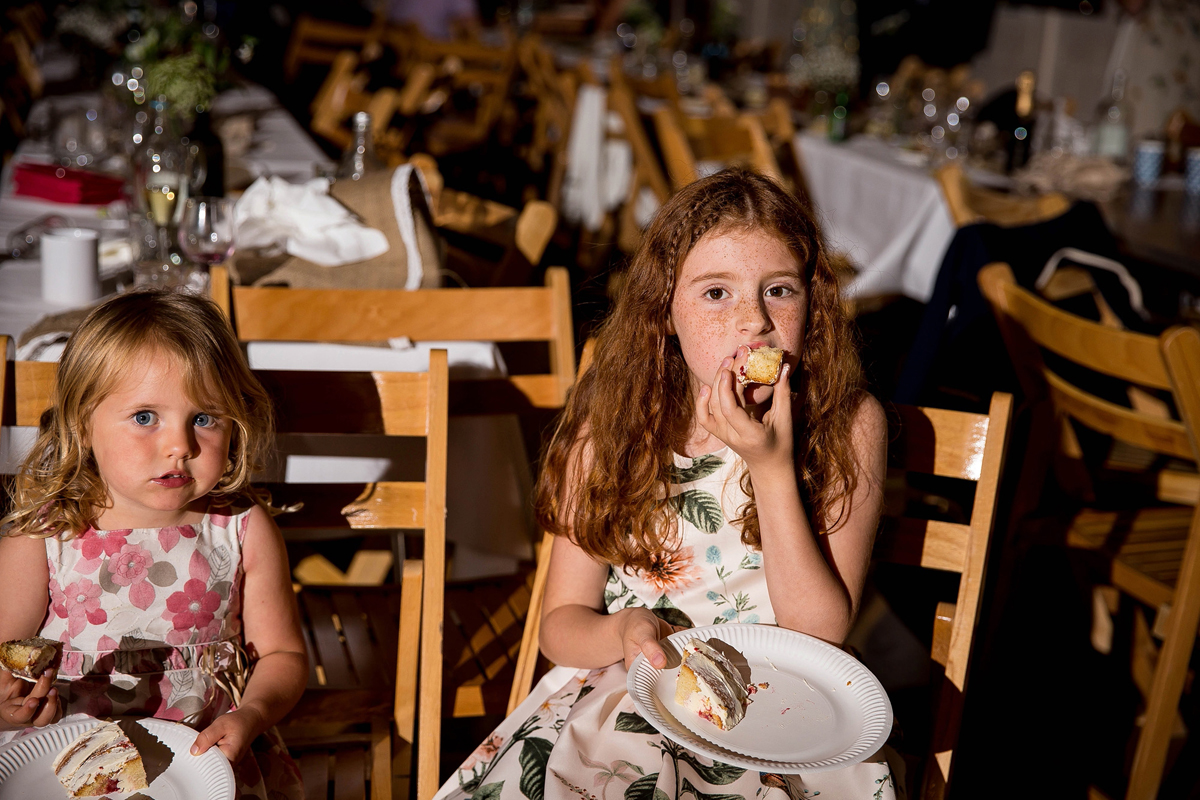 "It's really hard to choose a favourite moment.  I loved sitting on the stage, giving a speech, looking at a room full of so many of my friends and family smiling and laughing.  I loved walking with my parents and the bridesmaids along the Brighton seafront to the registry office to walk off the nerves.  I loved seeing John in a suit (I hadn't before that day!) and watching everyone have such a great time enjoying the fruits of our labour."
Words of Wedded Wisdom
"Remember that it's a day for you. Your guests are there because they love you and are happy for you – our guests all said they had a great time because they felt like part of the family.  We tried to keep it relaxed and happy and we were really careful to make the whole process as fun as possible and reduce stress as much as possible.  Enjoy it and remember that it's just a day – a very special, important and wonderful day – but not one that should be causing excess anxiety."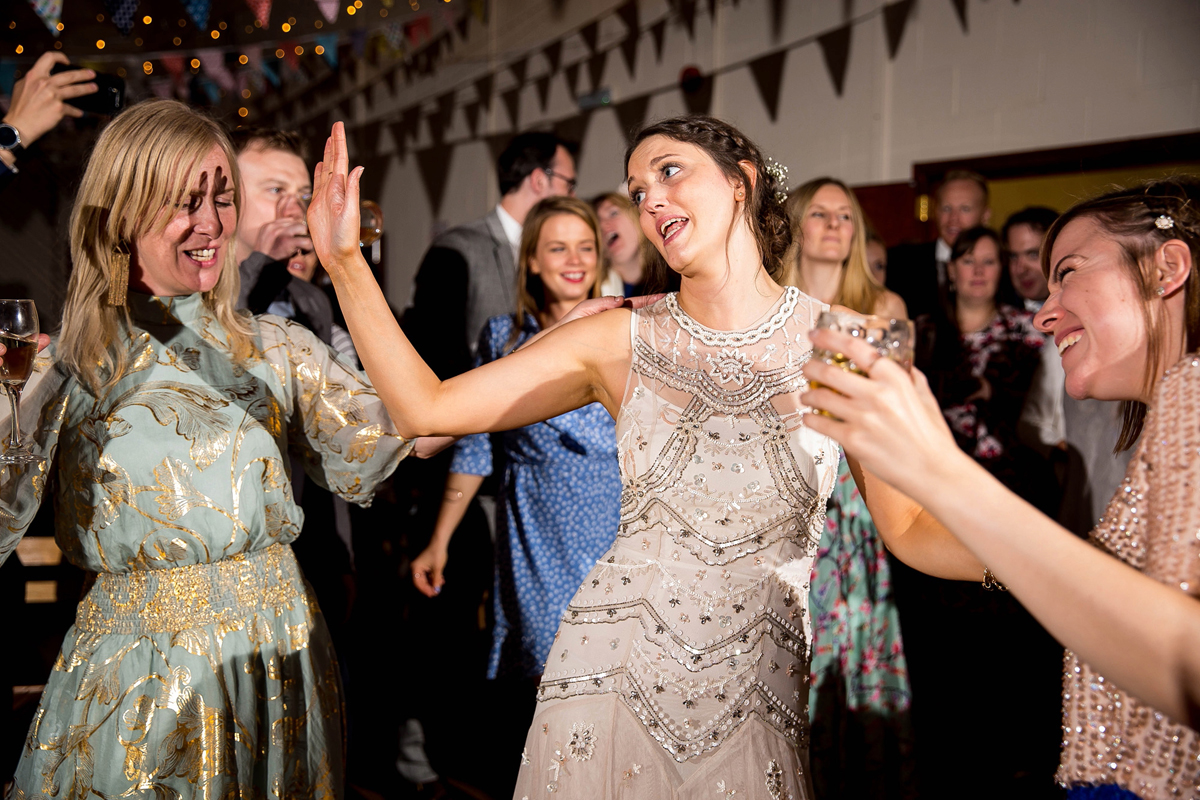 Huge thanks to Hannah and John for sharing their day with us all.  I do love a village hall wedding,.  Take a peek here for some we have featured in the past few years.
Much love,
Shona x