One of my grandfather's favourite things to do on a Sunday, and where he was most happy, was sailing on the ocean in search of a great fishing spot.
He taught me to cast out (without hooking the person behind you), reel the fish in – 'gently, gently!' – and I still have the photo of me looking proud as punch with my first catch. So upon first sight of these simply divine photos of the couple you're about to see by Suzanne Li, I was smitten at the setting they chose for their ceremony.
Research Assistant Lindsay married Kenny, a joiner, on the 9th of June 2017 aboard a boat! Lindsay's beautiful gown was handmade by Mette and her team at Freja Designer Dressmaking in Edinburgh. The bride got so much out of being able to consult with Mette every step of the way; resulting in her having a beautiful and completely bespoke design that no one else in the world would have.
"I went to Mette with a vague idea of what I wanted; a Pinterest; a bridesmaid and a friend; and a few hours later had a drawing of a dress that I loved! Mette knew exactly what I wanted, even before I did. She picked out details that featured several times in the dress ideas that I showed her, such as covered buttons, and incorporated them into her design. It was also really important to me to be comfortable throughout the day and to be able to move, all of which was taken on board when making the dress."
Images by Suzanne Li Photography
"I absolutely adored the 3D floral lace that we used for the top of the dress and appliques on the skirt. It was super luxurious, unusual and gave what was quite a traditionally shaped dress a more modern edge.""Whilst there are endless gorgeous dresses out there, I found getting to pick the details and play about with how the dress would look really exciting and I don't think I would have loved the dress quite as much had I not been so actively involved in its design. Ultimately, the dress was exactly what I wanted, wonderfully finished and fitted me perfectly."
As an Antipodean, I just adore the couple's meeting story.
"Kenny and I met in Australia. We were both living in Melbourne, and we met in a pub in May 2011 … classy! We got together in February 2012, following a series of misfortunes, including his car getting washed away in a flash flood in the outback whilst trying to come see me. By chance both of our visas were up within days and we left Oz together in February 2013."
"We got engaged on Luskentyre Beach on the island of Harris in 2015. I kind of knew, as I had pointed out a ring I liked, but when he actually did it after a barbecue on the beach with the sun splitting the skies, it was a surprise. I don't think I actually said yes, just laughed. Which meant yes, clearly!"
"Day to day I love fresh flowers, shiny things and fairy lights and, ultimately, this is how we styled the day. I guess traditionally these might be more associated with a winter wedding but we used lighter colours which made it work. Kenny was happy for me to make most of the decisions when it came to styling, as long as he got to pick the wedding car!"
"When I met with Jen from Wildflower, originally my vision for the flowers was for them to look like they'd just been picked from a field and thrown together. In the end they were a mixture of flowers that she had bought and flowers that she'd grown in her own garden, which I thought was a really nice touch. They included stocks, daisies, peonies and sweet peas in pinks, purples and blues with mixed foliage. They were absolutely beautiful and exactly how I had imagined they would look."
To stay upright on the boat, Lindsay donned a pair of chunky rose gold heeled sandals from Dune and added a 'skoosh' of her bridesmaid Anna's perfume. Her pretty hairdo was by Jennifer Thomson Hair, with make-up by Cat Robertson MUA and she finished off with some very special jewellery pieces.
"My jewellery came from my late mum and gran's jewellery boxes. I wore matching diamond earrings and necklace that my dad gave my mum years ago and a vintage gold and pink stone ring that belonged to my gran."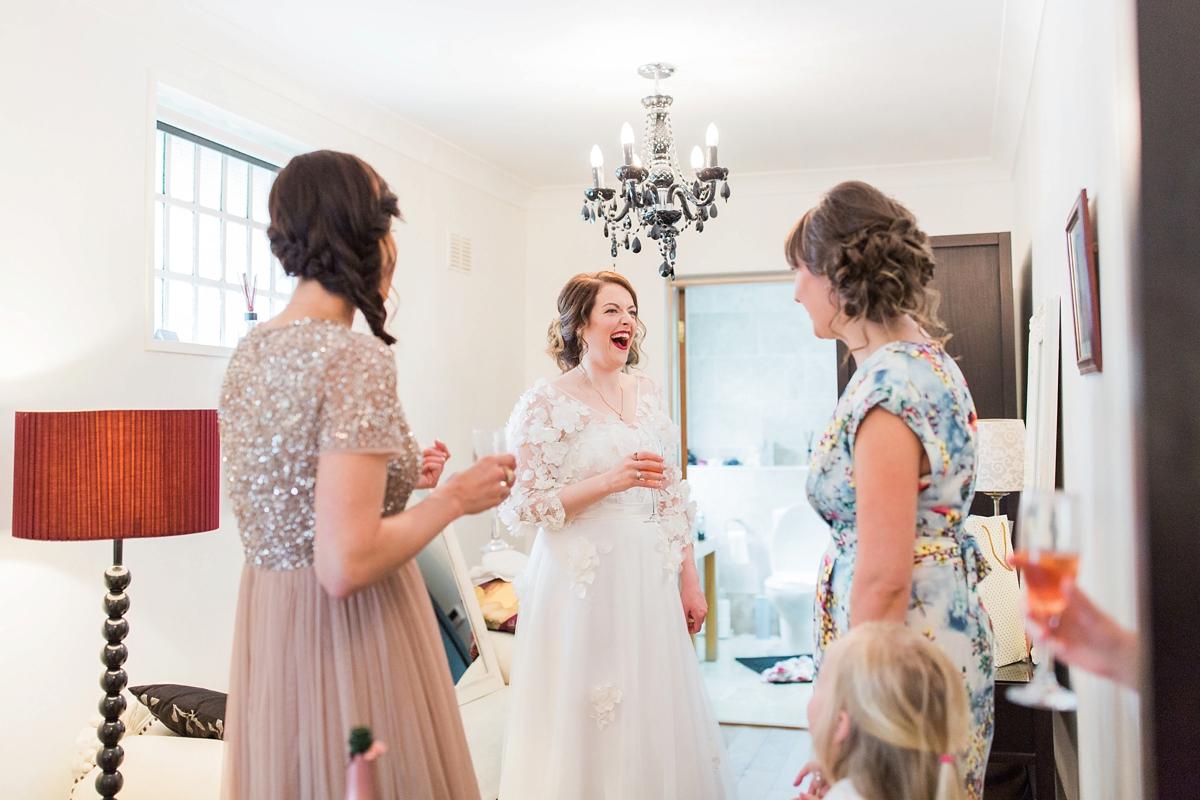 The bridesmaid's three-quarter length beautiful gowns were the 'Maya' style from ASOS, with alterations by Lady Bears Repairs, and perfectly matched the rose gold/sparkly theme that was echoed throughout the wedding. They added heels from Office and lovely rose gold necklaces gifted by the bride.
"I bought the girls personalised rose gold bar necklaces from Lisa Angel. Neither of them are big jewellery wearers and I wanted to give them something that not only would go on the day, but simple enough that they would them wear again."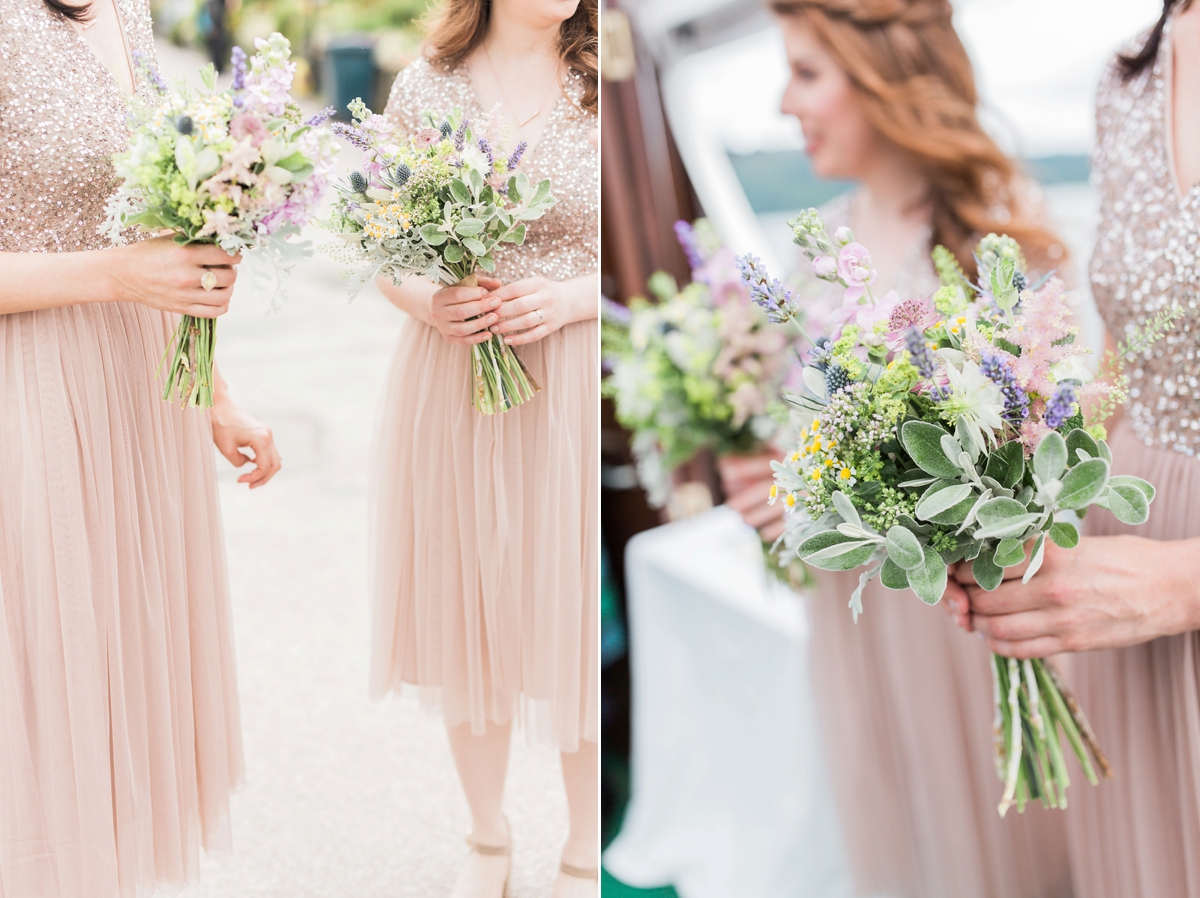 I just love this story by Lindsay of her late arrival for the ceremony!
"My dad walked me down the pier and then down the aisle. As my mum passed away the year before Kenny and I met it was particularly poignant for both of us. However, as always, my dad was late arriving to collect me! On the walk from his house to the cottage, myself and the bridesmaids got ready at, he tells me half the village stopped to wish him well. He eventually got to me after 1pm, when the ceremony was due to start – luckily it was a 2-minute drive to the pier. You hear of brides being late, but rarely because of their dads!"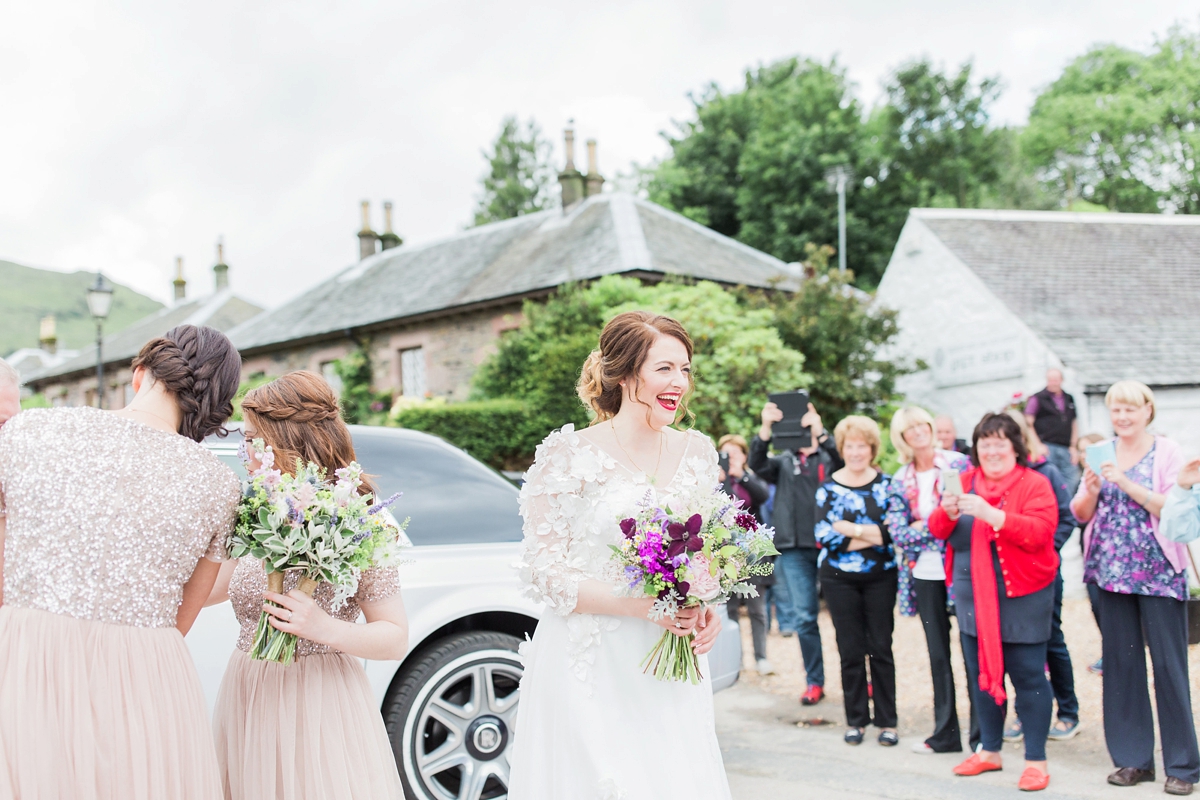 A friend of the couple's, Norman, gave the ceremony a very Scottish feel with the sounds of piping from the pier and until the boat departed. The bridal party travelled in cars from Phantom Hire Car and Wilson's of Rhu and their wedding rings were from Laings of Glasgow. Kenny and Lindsay chose an interfaith celebrant, Jane Patmore, and asked for a ceremony that was relaxed, light hearted, and informal.
"The ceremony started with a quote from 'Nature Boy' by Nat King Cole "The greatest thing you'll ever learn is just to love, and be loved in return" which is from a song I really love. We had a religious reading by Donnie's brother and a non-religious reading by one of my best friends, Louise. The celebrant also included 'The Wedding Prayer' by Robert Louis Stevenson and an excerpt from 'Gift from the Sea' by Anne Morrow Lindbergh, which both fit perfectly into the ceremony."
"Our ceremony took place on MV Lomond Prince, a Cruise Loch Lomond boat, which sailed from the village of Luss, Scotland where I grew up. As we both grew up right beside the water, and Kenny was a fisherman when he was younger, we thought there was something fitting about getting married on the water. It was a bit of a risk, weather wise, even in summer – it is Scotland! – but we were so lucky on the day. It rained all morning but around midday it stopped. It was bright for most of the ceremony and literally just as we said our vows the sun broke through the clouds, it was pretty magical!"
The handsome groom sported his own kilt, sporran and shoes and his jacket and waistcoat was by Houston Kilt Makers.
"We both loved the navy-blue tweed of the jacket and waistcoat and it went perfectly with Kenny's family tartan. The best man and ushers wore matching kilt outfits from Houston Kilt Makers that were the same as his own outfit."
Ultimately, the ceremony was just 'us'. When I get nervous I talk too much so was adding bits mid-ceremony – the celebrant talked about our different political opinions and I turned around and announced 'hung parliament bitches' (it was the day after the general election), with a finger wave to the guests …I will never live this down! My dad's phone went off mid ceremony and it was one of the only guests who was mentioned in the ceremony, my mum's best friend, who had missed the boat!"
The beautiful bride had a very heartfelt matter to deal with in the lead up to and on her big day – you may need tissues lovelies.
"The hardest thing for me about getting married was the fact my mum wasn't there. She died a few months before Kenny and I got together and she never got to meet him which breaks my heart a bit as I know she would have adored him, if only due to their mutual love of whisky!
We tried to remember her throughout the wedding – the celebrant talked about her during the ceremony; we asked the florist to make a bouquet to lay on her grave; I wore her jewellery and a lipstick with her name; the band played one of her favourite songs and one of my bridesmaids was kind enough to do a speech and toast remembering her, which had the whole hall in tears.
Just as we finished saying our vows on the boat, the sun broke through the clouds and I like to think that that was her, looking down on us from somewhere, saying she approved!"
Suzanne of Suzanne Li Photography captured the couple so beautifully with her distinctive style and Lindsay and Kenny found her an absolute delight to work with.
"Picking a photographer that we both loved was one of the most important decisions we made in the run up to the wedding. We looked at lots of photographer's work online, but loved Suzanne's photos as soon as we saw them. She has a distinctive style – the pictures are so light and pretty – yet they are not too stylised and won't date over time."
"On the day itself, Suzanne was a joy to work with. She was really laid back and friendly and seemed to be everywhere at just the right time, but not at all in the way. She had a range of 'tricks' to make us feel less awkward during the couple photos, these were what we were least bothered about, but ultimately are now our favourite photos! She really captured the day wonderfully, all our guests have raved about how great they are and I just love pouring over them, seeing what everyone else was up to and remembering all the moments that made our day so special."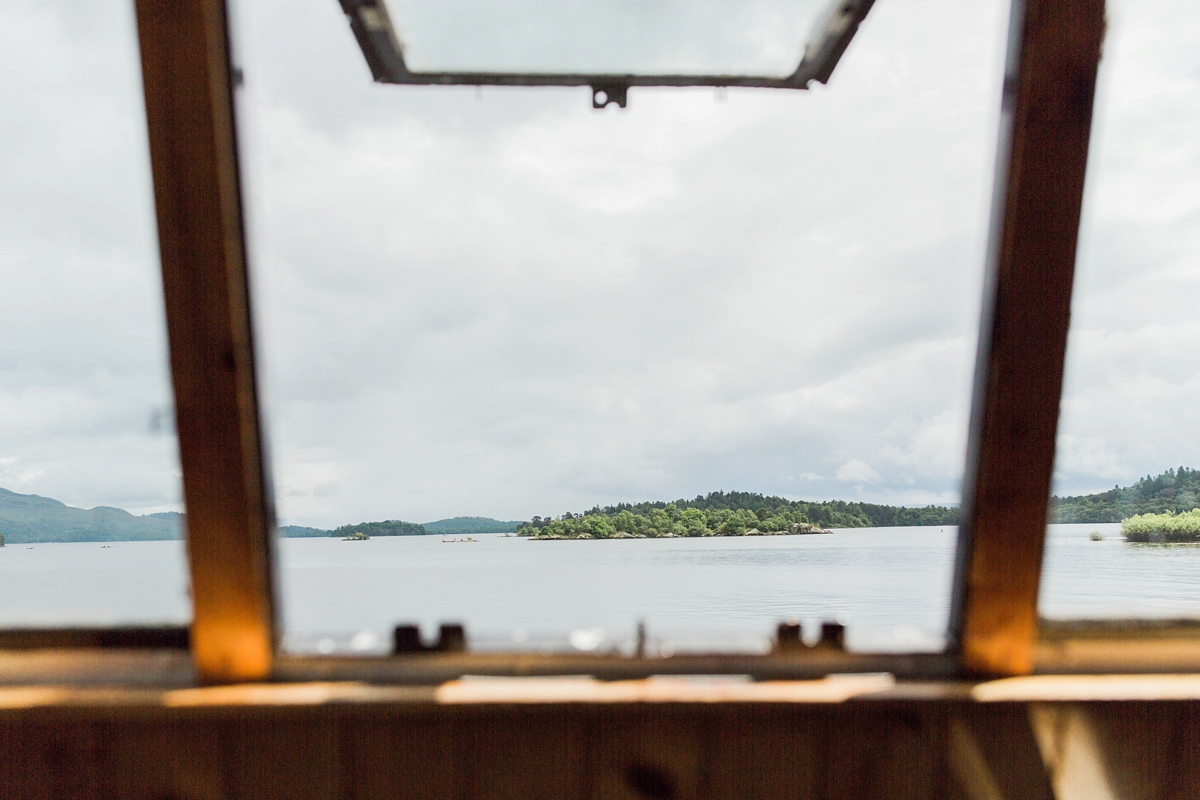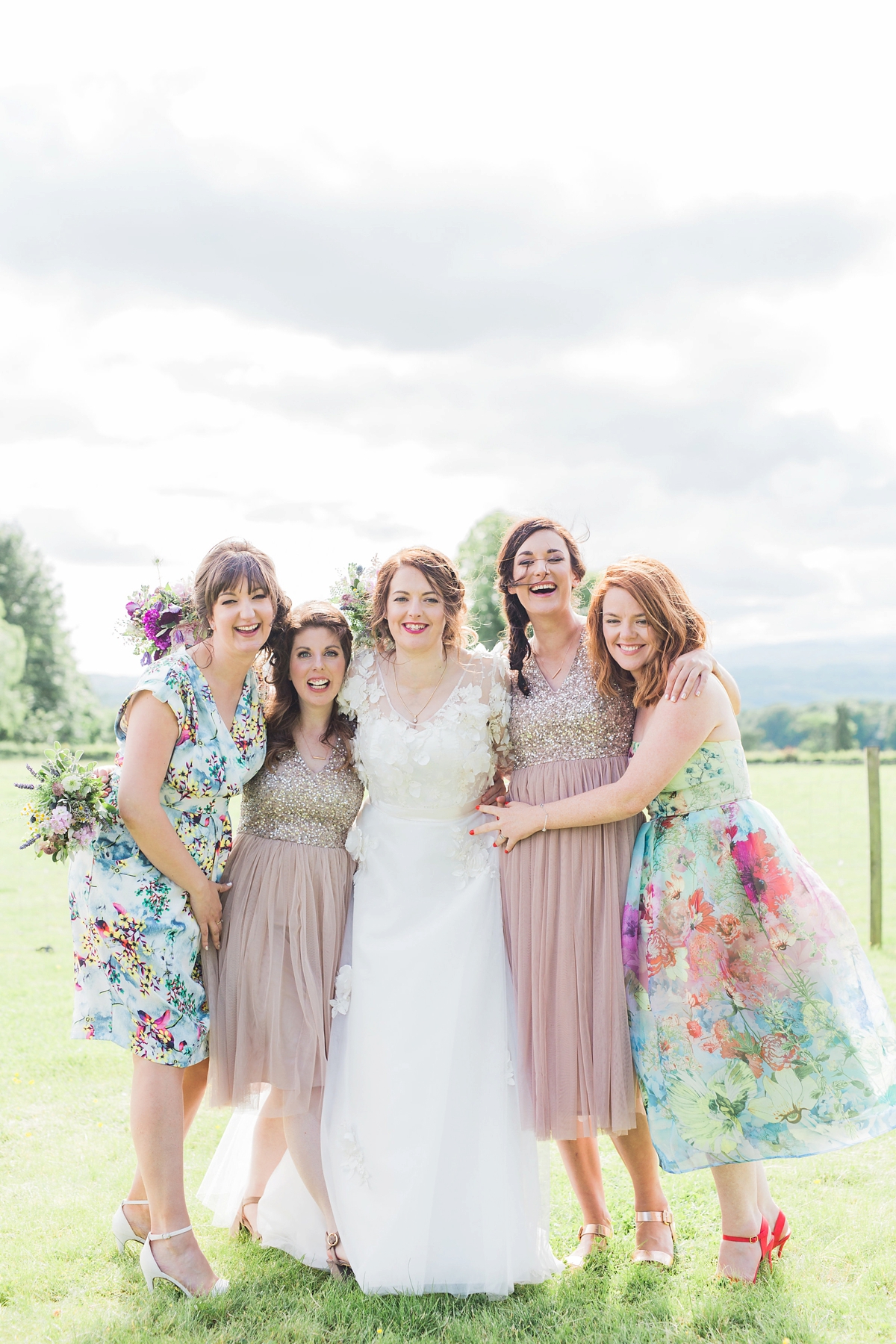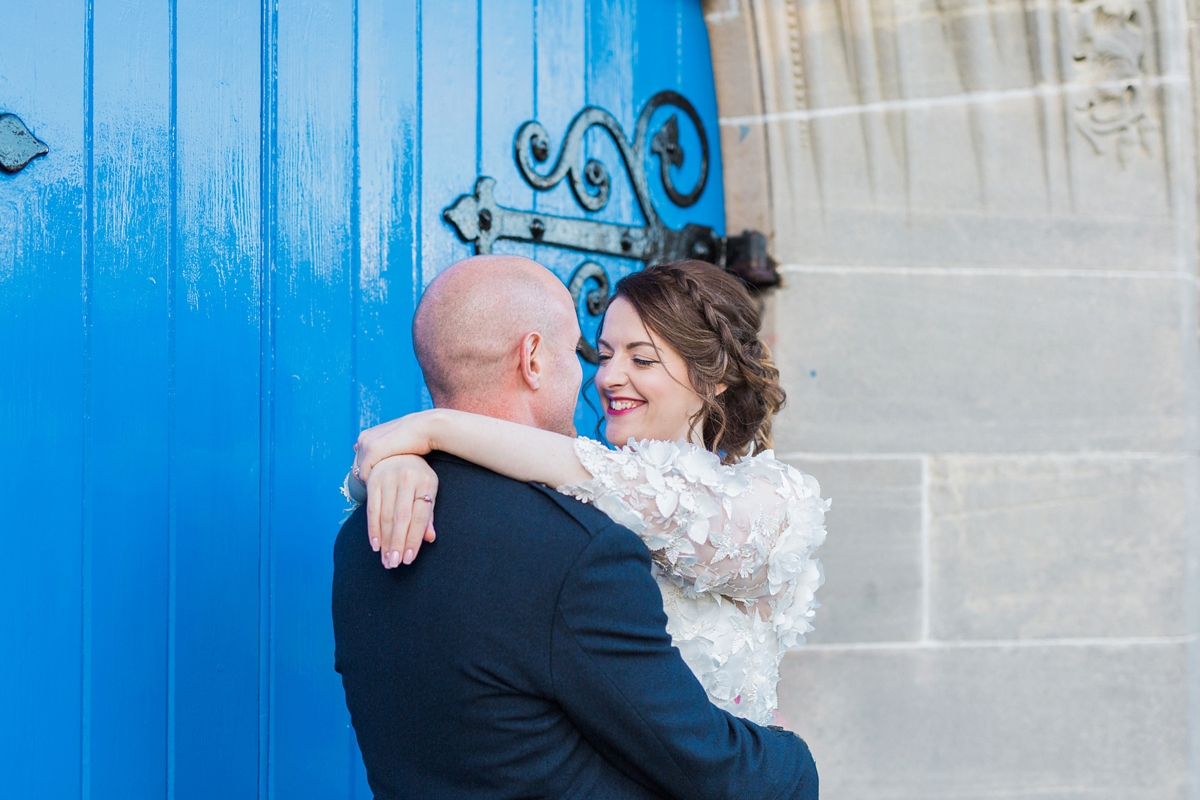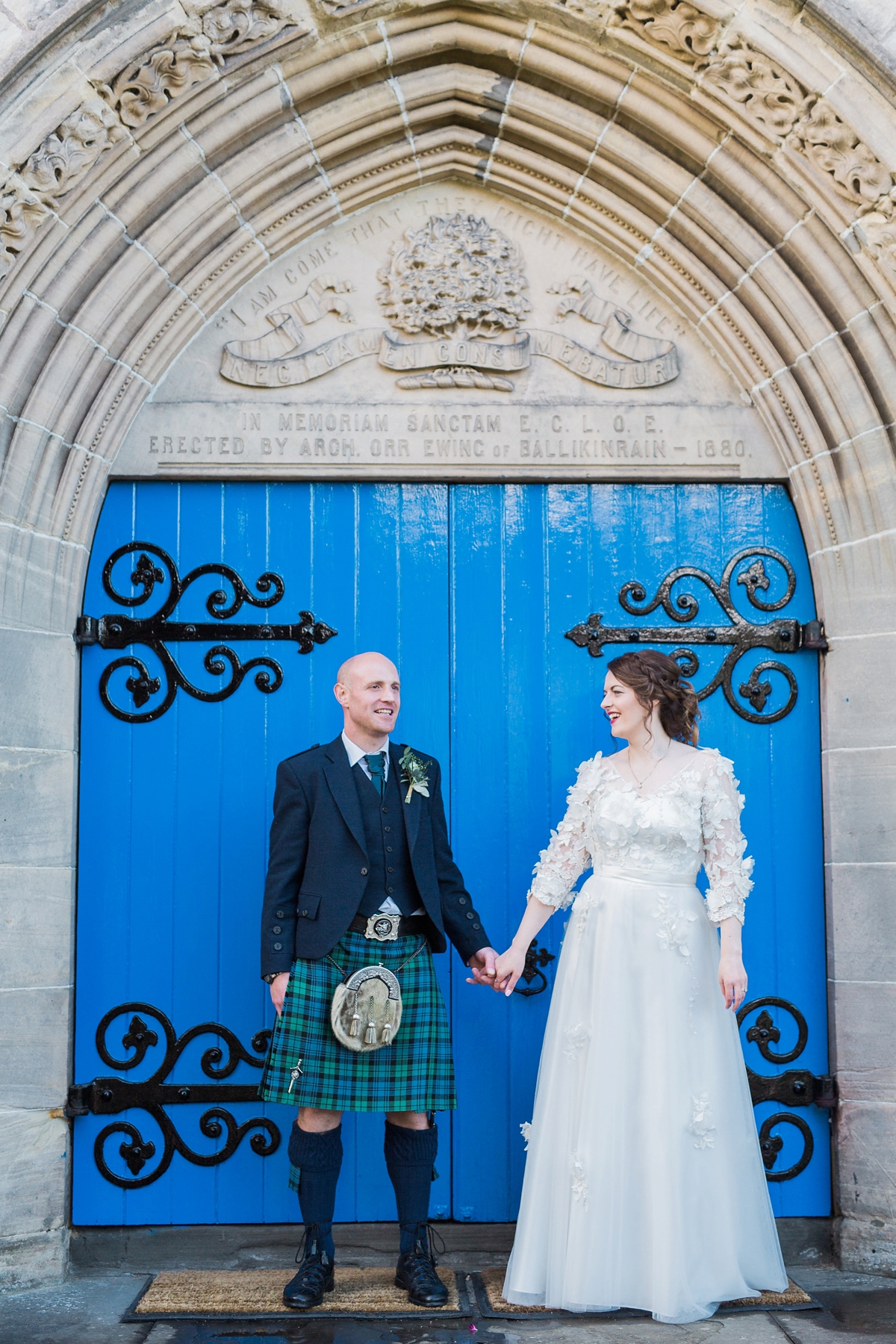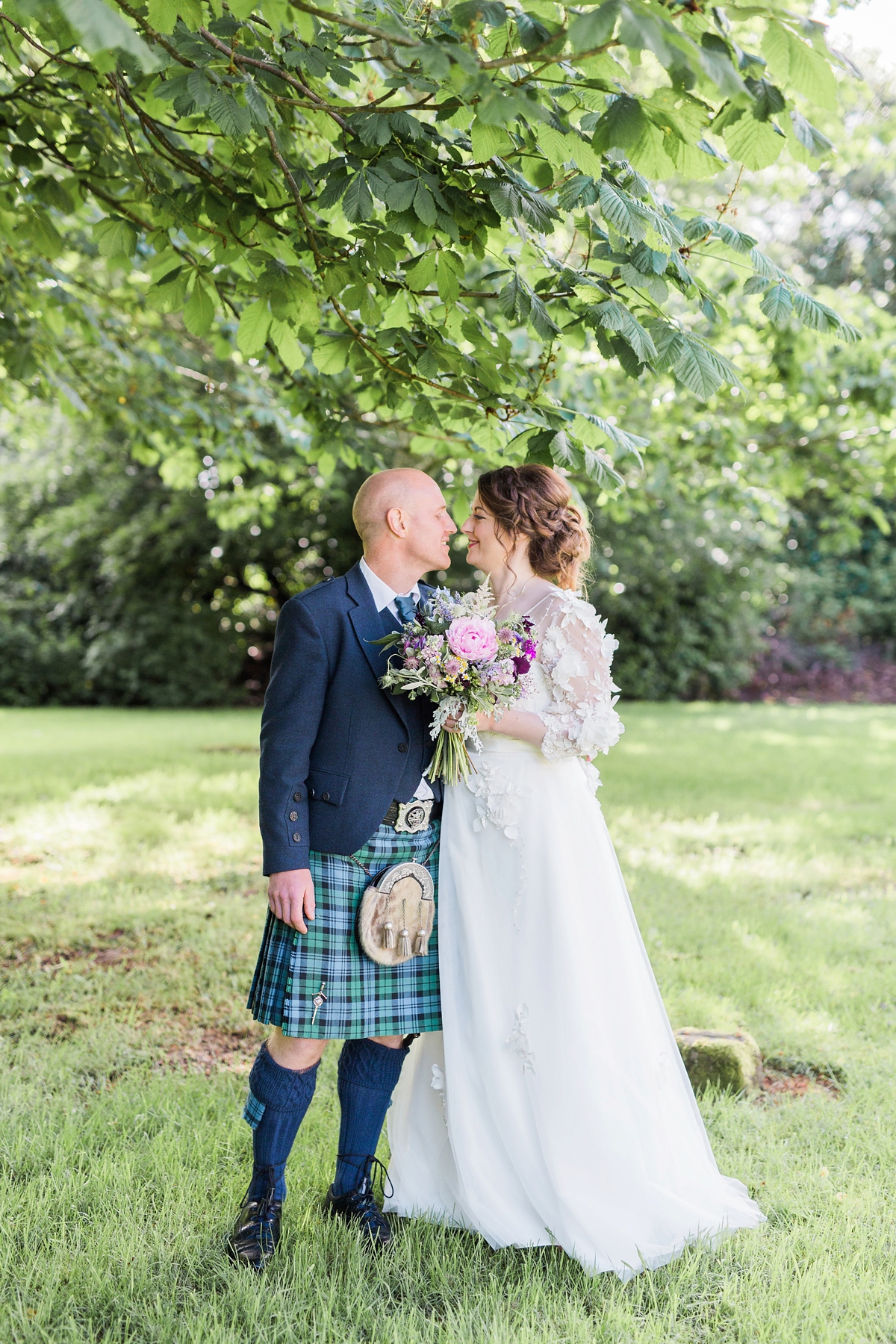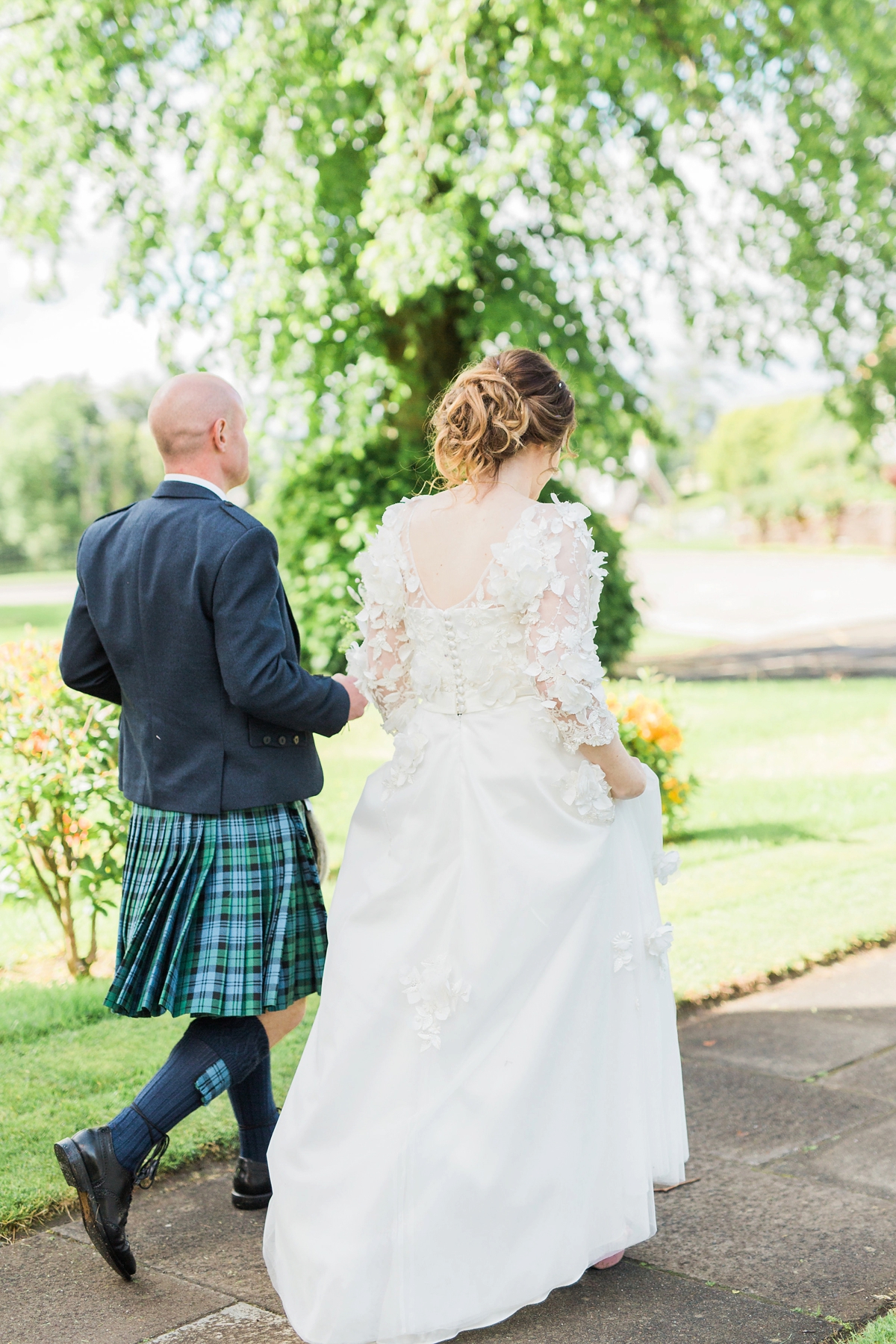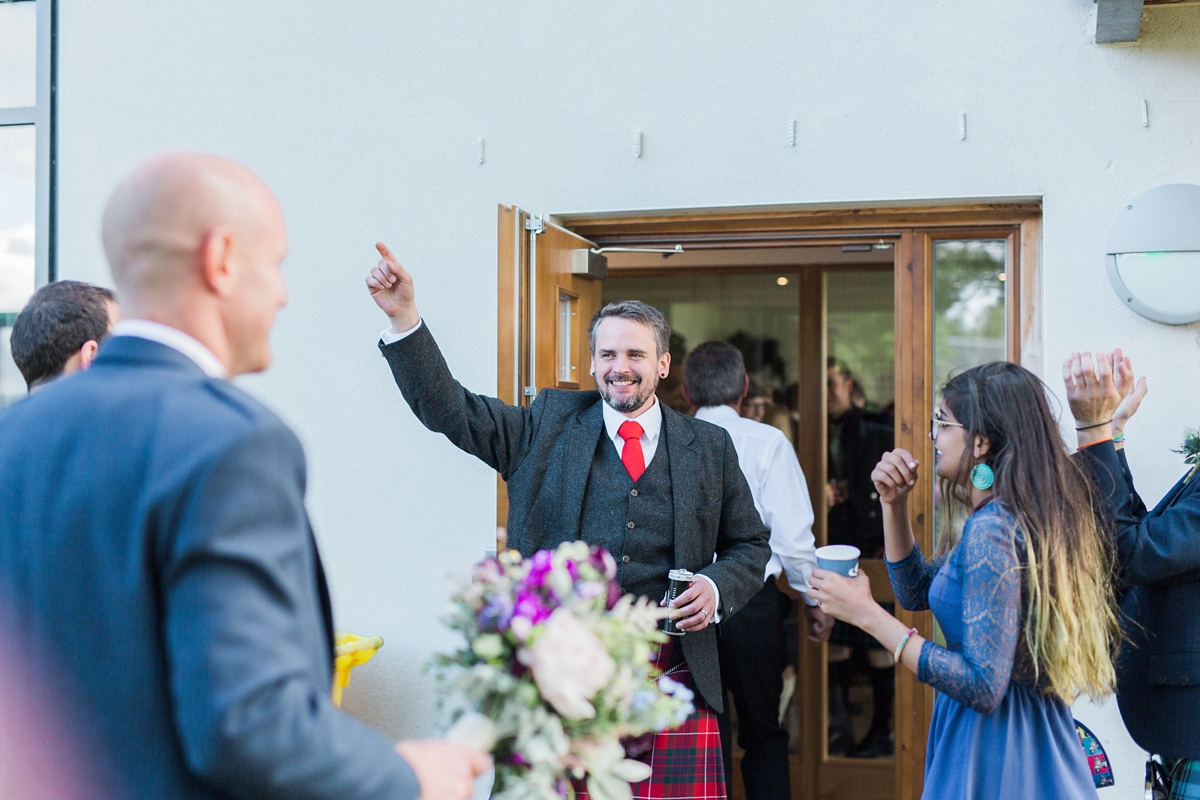 The bride and groom were so happy with the help they received from the caterers, who also helped to set up and clean up their Killearn Village Hall reception venue.
"We both liked the freedom that having the reception in the hall gave you – it is also a beautiful old building with an amazing modern glass extension, and also loved that at Killearn they run the weddings in conjunction with Three Sisters Bake, who did the catering, hall set up and, most importantly, the tidying up! I had been following them on Instagram for a while and their food always looks delicious, so I knew we were going to be well fed."
Lindsay's best friend, maid of honour and talented graphic designer Anna did all the artwork for the wedding – and the favours were homemade toffee vodka miniatures (and Scottish fudge 'tablet' for the non-drinkers) made by the bride.
"For the ceremony, we quickly realised that the beautiful surroundings of Loch Lomond would overshadow any décor that might add to the boat. That being said, we asked the florist to garland two poles with flowers and foliage, at the spot we were getting married onboard and they looked amazing. Jen did such a great job on them and Suzanne captured them beautifully."
"The hall was decorated with sparkly fairy lights via by Luci at Events Decor and rose gold sequin runners adorned with fresh foliage garlands, which were interspersed with jars of flowers, big jars that I spent hours supergluing strands of copperwire LED string lights into. The tops of these were then sprayed rose gold to hide the batteries (our garden fence still has a rose gold sheen!), and these were added to bring some light to the tables. Table names were at the end of each row and were places we have visited or lived that mean a lot to us."
I bet this picture will have your mouths watering lovely readers! The cake was made by Rachel and her team at Three Sisters Bake and is making me reach for the sweeties cupboard.
"Our cake was a three-tiered naked sponge with each layer having a different flavour – traditional Victoria sponge; raspberry and coconut; and lemon and white chocolate. It was topped with fresh berries and flowers by our florist Jen. It looked and tasted unreal!"
"The whole day was amazing so it was so hard to pick a particular point, however the few moments after we got married were probably the highlight – other than the moment we were officially married obviously! At that point the sun was shining, music was playing, drinks were being served, everyone onboard looked like they were having a great time and we were finally married after almost two years of planning."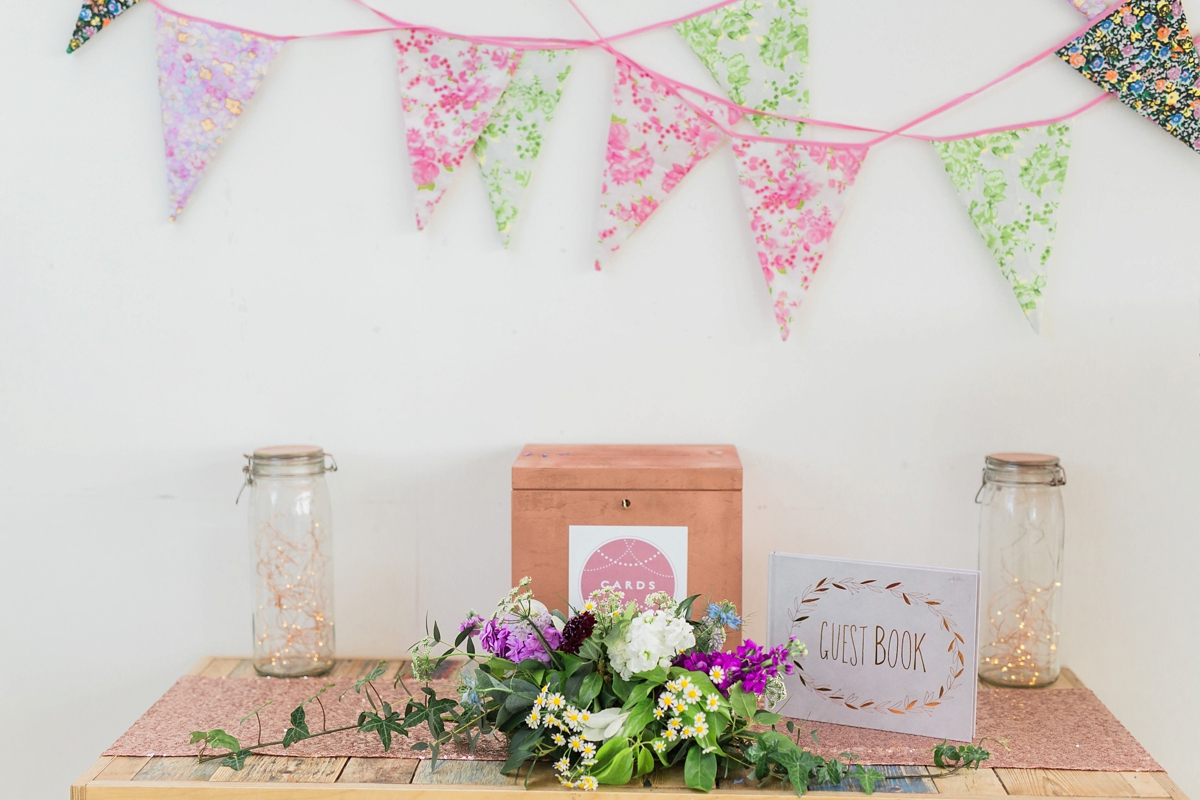 "Our first dance was Mumford & Son's 'I Will Wait'. When we were in Oz I went to meet my dad and brother in Thailand, where my brother teaches, for a six-week holiday. Kenny posted this song on my Facebook page, admittedly when he was drunk, so it's the closest thing we have to 'our song'."
"We wanted to have a traditional Scottish ceilidh but with a twist and Bahookie were just that. They mix traditional Scottish folk songs and dances with indie, rock and dance songs, so you might end up doing the Dashing White Sergeant (a Scottish country dance) to the Prodigy. They were amazing, the dance floor was full from the first dance to the end of the night and they even had my 67 year old boss doing push ups in a kilt!"
Words of Wedded Wisdom
"People always say it, but the day really does fly by! It seemed that one minute I was sitting nervously getting my hair and makeup done and the next, it was time to get the bus home. Try not to let nerves get the better of you, really enjoy it and take it all in. There was a 30-minute journey from the village to our reception venue and I originally thought we would just hop on the bus with everyone else, however, Kenny was insistent we hired a wedding car and I am really glad we did. It was nice to have a wee bit of time just the two of us in the middle of day to appreciate the fact we had just got married."
"In the lead up to the wedding it seems like there are a million and one decisions to make but, really, unless you enjoy the fuss then don't worry about the small stuff! I really enjoyed this aspect of the planning – faffing about with all the wee details that made the day ours, but I am not naïve to the fact that hardly anyone else would notice how far apart the fairy light strings are, if you have the right garnish in your gin and tonics (red grapefruit for Harris Gin in case you're interested), or what font your table plan is in!"
"Our original budget was £18k and we went way over that. I think I was a little naïve as to the cost of things and once we'd started planning every time something was more than we'd budgeted for we were both of the opinion that you only do this once, why not spend that wee bit more?! A wee bit more on everything soon adds up quite significantly, however, I don't regret spending more, we had our perfect day and I don't think you can put a value on that."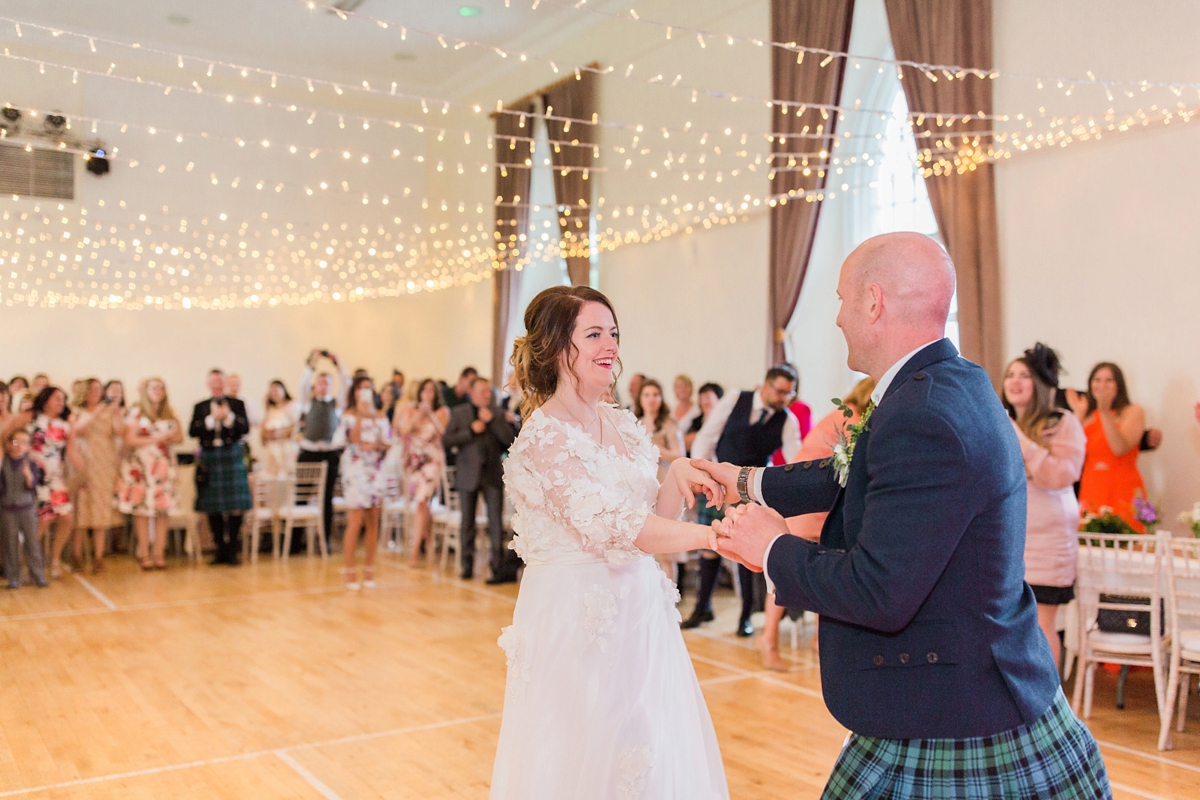 Shouting out a very big thank you to Suzanne for sharing the gorgeous couple's summer nuptials – and lovelies, be sure to take a look through our archives for loads more inspiration if you're thinking of a wedding on the water.
Enjoy your Sunday!
Love Jo -xo-