How's your wedding planning coming along lovelies? Are you on track, or ready to throw things at the next person who tries to talk you out of that awesome detail you desperately want to include in your big day?
Our gorgeous couples who appear on Love My Dress always provide us with such helpful, handy pearls of wisdom – and the majority stress the importance of personalising the day to ensure it's all about what you as a couple want. The bride and groom you're about to see were keen for a fuss free wedding – and just wait until you view all the sweet details in these delightful snaps by Ryan from Shutter Go Click Photography.
James works in call centre management, whilst Sanchia's line of work is in management training. Their wedding was a weekend-long affair, with the legal ceremony taking place at Leeds Town Hall on Saturday 29th of April and a meal at one of James and Sanchia's favourite restaurants in Leeds, Brasserie Blanc. The bride donned a stunning emerald skirt and lacy long-sleeved top for the occasion. Then on Sunday, the couple held their celebrations at Aspire.
"We were inspired by a relaxed, chic vibe. We like to keep things classic and simple with minimal fuss."
Images by Shutter Go Click Photography
Ryan Learoyd of Shutter Go Click Photography complete blew the couple away with the service he provided.
"Ryan is an amazing guy and a friend for life. He made us feel at ease throughout the whole process. From our engagement shoot, when he made us laugh in the rain, through to the wedding day, when he again he calmed the nerves and just made everything so easy. And all this is before we'd even seen the pictures. They were more than we ever could have imagined. We got a preview as we were in the airport lounge and James was almost in tears with how amazing they were/are."
The couple met through work, when Sanchia started working on the same campaign as James. I'll handover to the groom to recall their proposal story.
"I had been thinking about it for some time and when I received some inheritance, I decided the time was right to propose. I popped the question at one of our famous kitchen discos (when the two of us are not allowed to watch TV, we get drunk and dance around the kitchen until the early hours). We were engaged for 18 months before our wedding. We had originally planned the wedding for 2 years after we became engaged, but we couldn't wait that long!"
"Our beautiful florals were via Petals by Louise. We wanted to keep things classic, simple, elegant and no fuss, so went for cream roses for the bouquet with single rose buttonholes and minimal foliage."
James cut a fine figure in a tailor-made three-piece mixed wool suit in dark brown and green from Moss Bros. He added Grenson shoes – the 'Archie' style – and a tie from John Lewis. James's son was the best man, which was a lovely touch, and he sported a suit from Next and the same John Lewis tie.
Sanchia found her utterly stylish gown via Scarlet Poppy in Leeds – the 'Hollywood' by Enzoani.
"I was certain I wanted a vintage style dress, nothing too traditional or meringue style! I also loved the colour so it is slightly darker than most wedding dresses and complemented James's suit perfectly."
Sanchia's dad accompanied his daughter for the aisle walk and completely personalised their beautiful, heartfelt ceremony.
"We wrote our own vows in the end – we were originally adamant we did not want to do that, as thought it would be cheesy, but our celebrant persuaded us and we are glad she did. We were able to make the ceremony really personal and include the story of our journey and our future hopes and plans, as well as mention special family members and include a few jokes too!"
"We had one reading during the service that was originally written by Bob Marley and we tweaked it slightly:
"You're not perfect. The two of you will never be perfect. But if you can laugh at least once, cause each other to think twice, admit to being human and making mistakes, hold on to each other and give the most you can. You're not going to ready poetry, you're not thinking about each other at every moment, but you give a part of yourself you know the other could break. Don't cause hurt, don't try to change each other and don't expect more that they can give you. Don't analyse. Smile when you're happy, yell when you're mad. Miss each other when one is not there. Love hard when there's love to be had. Because perfect doesn't exist, but there's always one that is perfect for you."   
"Sanchia – my favourite part of the day was the service itself. Hearing our readings aloud and reciting our vows to each other, it was all so special and really personal to us. Everyone commented on the service; sometimes wedding ceremonies can feel like a formal affair and generic, but ours was informal and really warm. We will never forget it."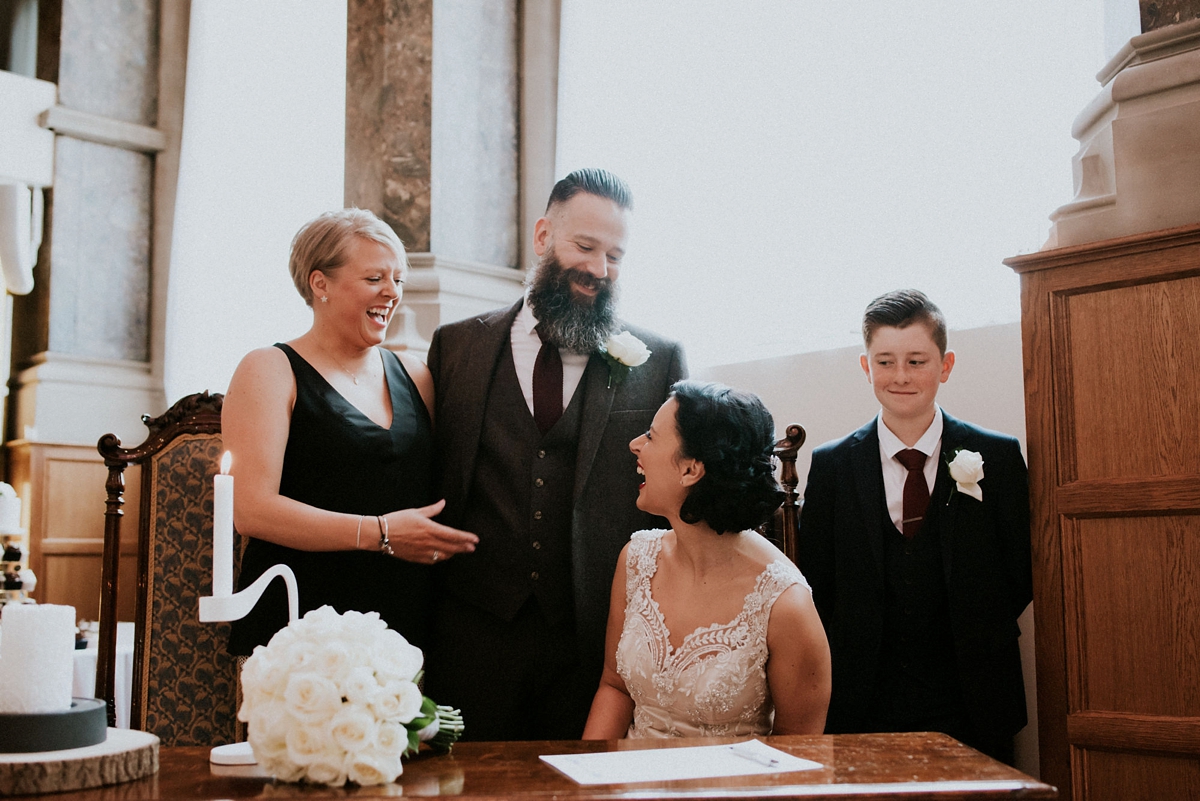 "We were unfortunate to have been burgled just before we were engaged and the insurance payout was for Ernest Jones. They were actually fantastic – James chose a plain platinum band, whilst I worked with their ring designer and had my wedding ring made to order, which fits perfectly with my engagement ring."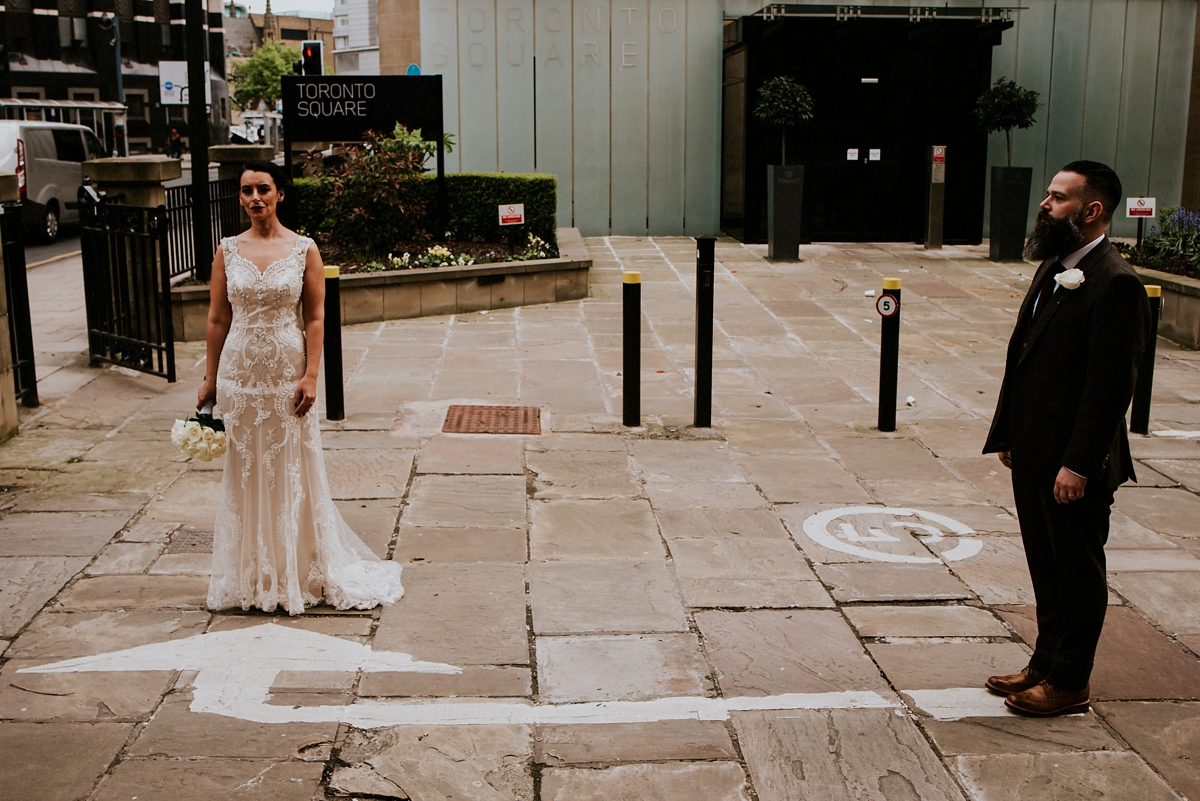 In place of a veil, Sanchia chose a vintage-style hair comb with diamanté and pearls by Linzi Jay. She added a spritz of her current favourite scent – 'Bamboo' by Gucci – and kept her look classic with a pair of simple diamond solitaire stud earrings, then donned a fabulous pair of heels by Christian Dior.
"I bought my shoes from Paris whilst on a work trip. I had been looking for nearly a year for the right shoes and as soon as I saw them, I had to have them! They're not too bridal in style so I can wear them again, as they're amazing!"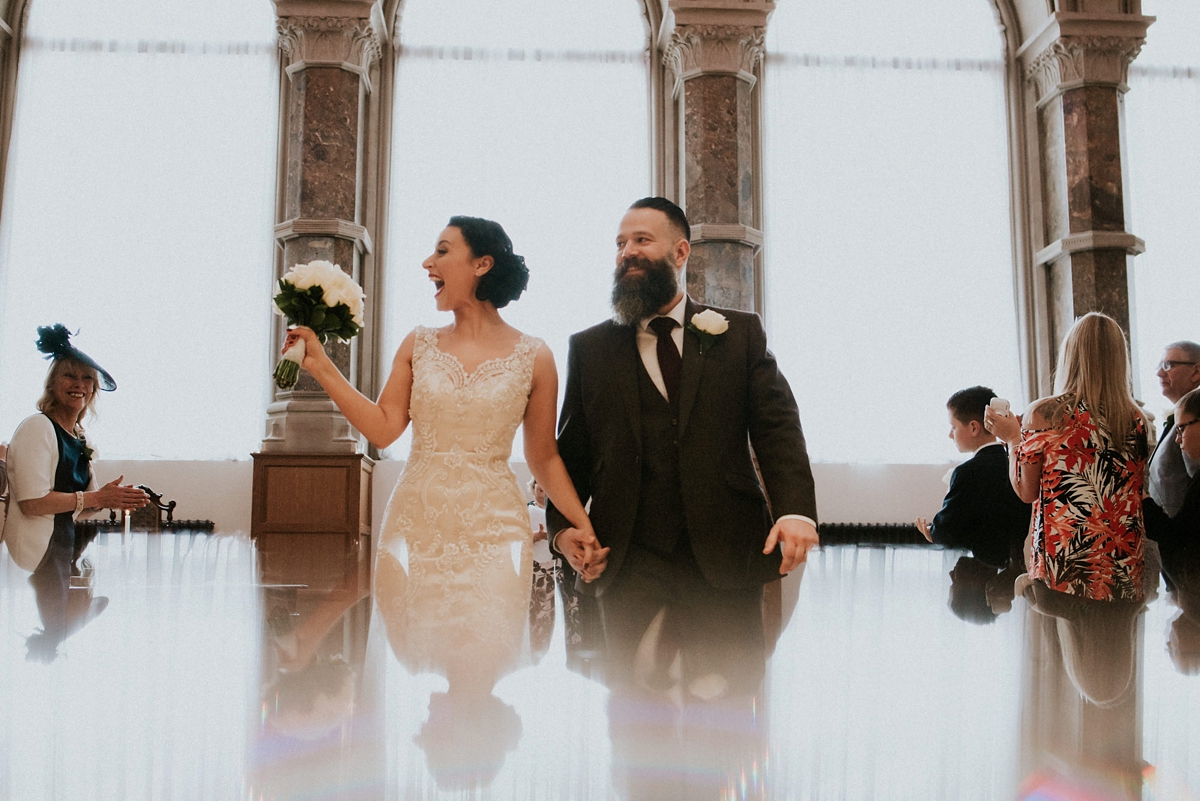 In keeping with their simple, romantic style, the only decorations were the table wood rounds with artificial moss, topped with glass jars and cream church candles.
Sanchia and James were lucky with the head chef of Aspire being a former Masterchef finalist, so the food was delicious. And the bride knew she was onto a good thing with the tempting wedding cakes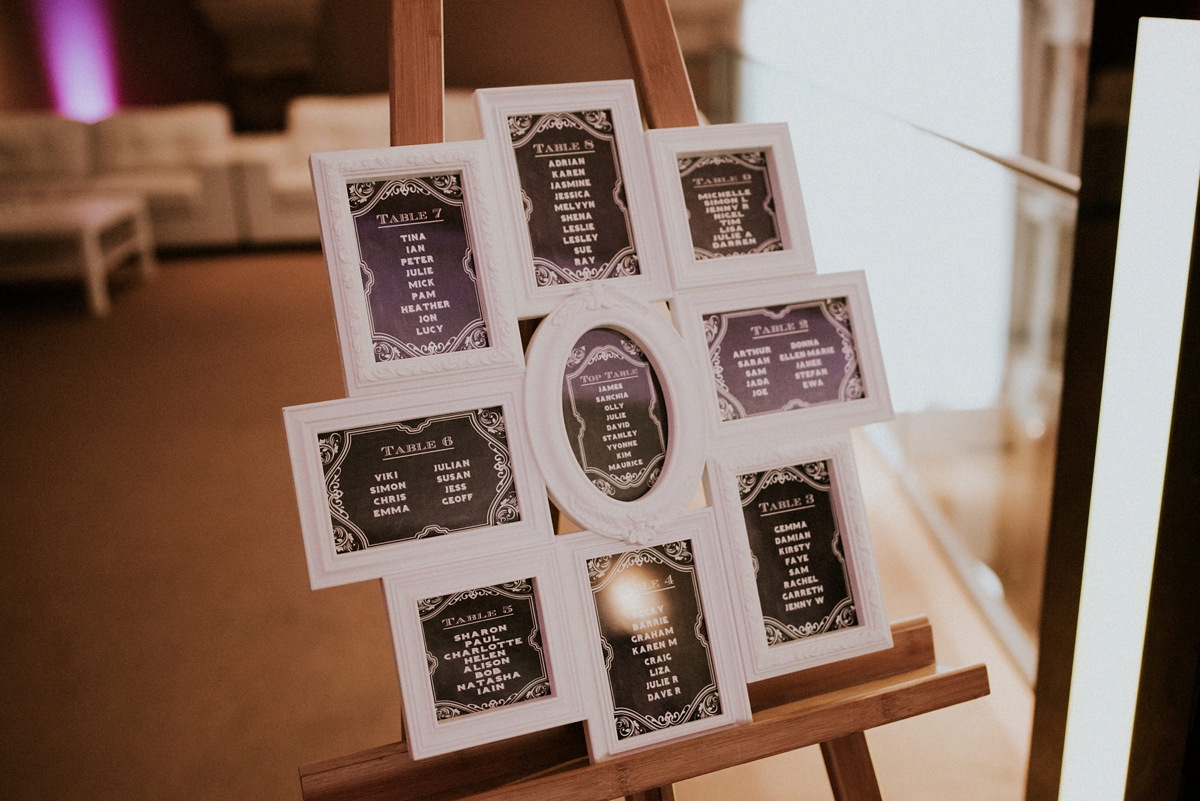 The couple's wonderful cake designer and baker, Karen from Dottie Bees's Bakery, also designed their wedding stationery.
"I worked with Karen on the style and design and we were delighted with the result – cake labels, invites and associated stationery such as an RSVP and thank you card.".
"I have been a customer of Dottie Bees's Bakery for a few years, so know Karen makes amazing cakes and cupcakes. Amazing value and great taste and the highest quality."
"We had a DJ provided by Aspire for entertainment – he was excellent and accommodated our varied musical tastes."
"The Arctic Monkey's 'Yes, I Wanna Be Yours' is our song, so not a difficult choice for us as the first dance tune."
"We were pretty much there or there about with our budget. I don't think we have actually added everything up so wouldn't know the exact cost!"
Words of Wedded Wisdom
"Try and enjoy it during the planning – stressing doesn't help. We had a really stressful few weeks during our wedding planning when our original venue cancelled our wedding on us 5 months to the day! We could not change the date for so many reasons so we needed to find another venue at short notice – and even with that stress everything was still perfect.
On a practical level, use a spreadsheet to track costs and spends and ask friends for recommendations of suppliers and bargains. Don't worry about what you think everything else wants from the day – it is your day!"
If you've completely fallen for Sanchia's incredible gown, take a peek at even more Enzoani designs here from the LMD archives. Thank you to the lovely couple – and to Ryan from Shutter Go Click Photography – for inspiring us all.
Love Jo -xo-