I don't know about you but I do love a good engagement story (have you seen our collection of proposal stories on the blog? Perfect for a bit of inspiration or just a good romantic read) and I especially love it when I know the place in which the couple got engaged so I can picture it perfectly.
I'm a Northern girl myself, but I do enjoy a London trip and especially a wander down the trendy Southbank, which is where today's wedding story both begins and takes place. Nat, a mobile nail technician, married her beau Matt, a project manager for SEGA, on the 6th of August 2017 at OXO2 London.
"I was booked to do nails for the girls who run the events at OXO2 a few weeks after we got engaged, Matt proposed nearby and when I was telling the story they said 'you should get married here!'  It was the perfect venue for our London- themed wedding"
Photography by Epic Love Story
Nat's beautiful two piece dress was by Willowby by Watters (top, Lanikai; skirt, Amora) and was purchased from Heritage Brides in Hatfield House.  I absolutely love the combination of the floaty tulle skirt and the more structured lace cropped top.
"I had seen a dress on the website that I loved so was really excited to try it on.  I was with my mum and one of my bridesmaids and we all loved the dress I went for, but when I put the two-piece on they both had the best reaction so I knew that was the dress!"
"We met in a bar in Piccadilly Circus, Matt was out for a friend's leaving drinks and I was there for a friend's birthday.  As I walked in I bumped into a friend who was there with Matt's crowd, we got chatting and ended up spending the whole time with each other, instead of our groups of friends."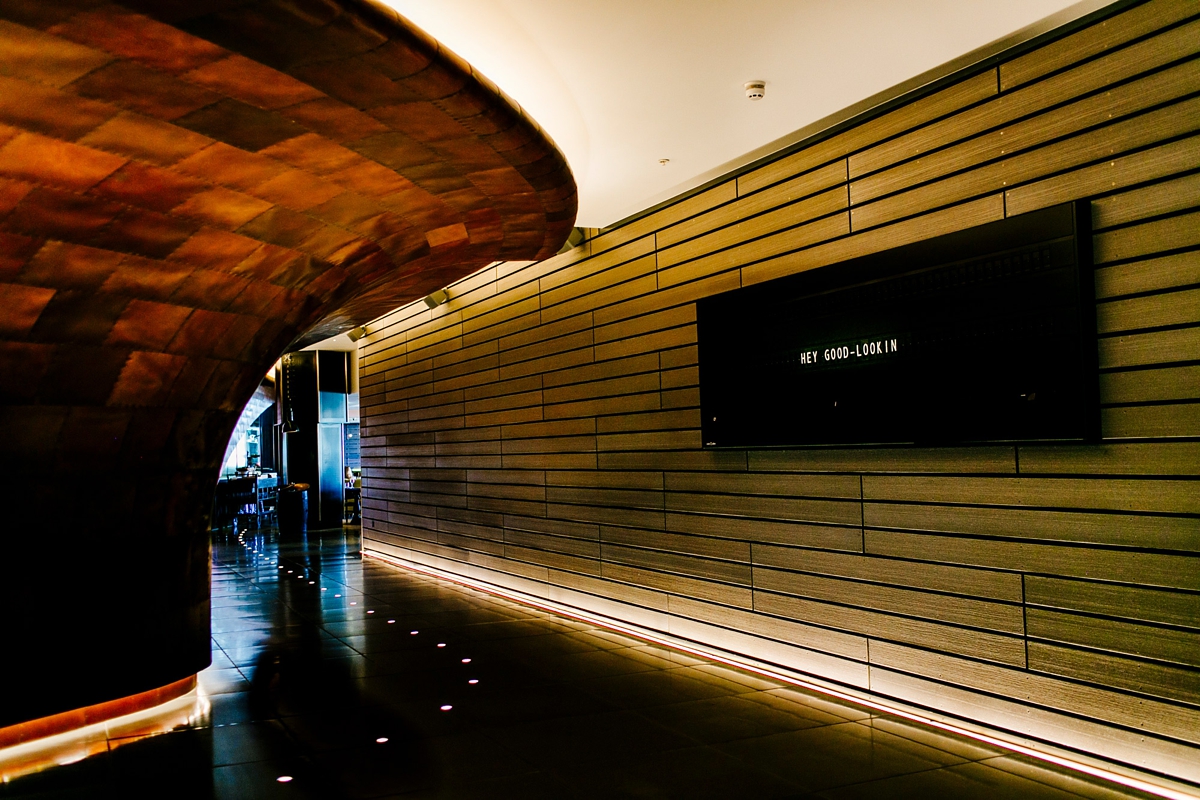 "The proposal was amazing, I knew we were going to Duck and Waffle for breakfast early on the Sunday morning but Matt said he would like to leave earlier and go for a walk around London and take pictures (he's very into photography).  We were walking along the southbank and stopped at Gabriel's Wharf where he started snapping away."
"I was looking over at the OXO tower, he called my name and when I turned around he was on one knee holding a ring.  I was so surprised I didn't say yes, and apparently kept asking if he was joking."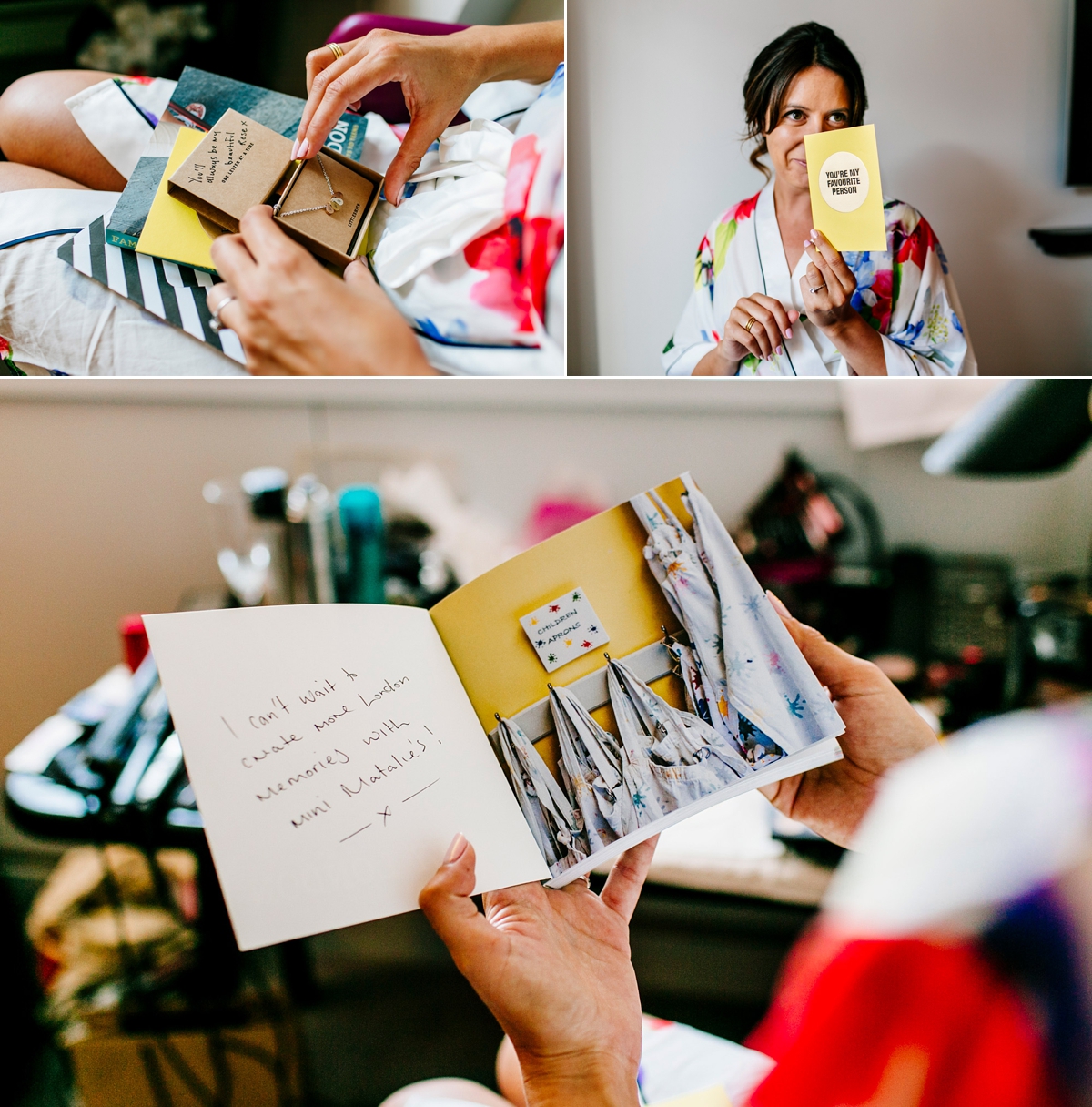 On her feet Nat wore silver Madame Butterfly sandals by Sophia Webster, later changing into a pair of chunky heels from Office.  In her hair she wore a beautiful hair vine from Heritage Brides and for jewellery she chose her grandmother's diamond earrings.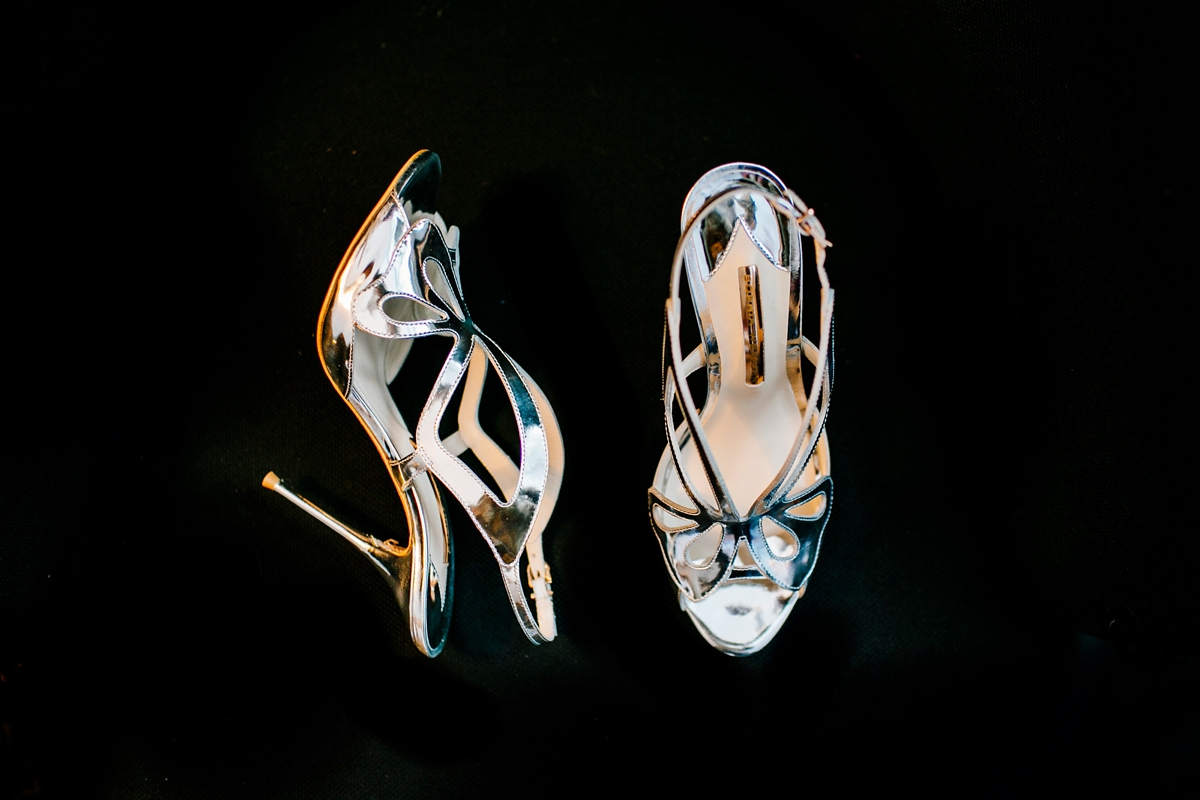 The gorgeously colourful flowers were the work of Burgeon in Cockfosters.
"I went to the local florist and she was amazing, she guided me towards some lovely ideas and even came in under budget.  The night before the wedding I realised we hadn't arranged for anything to go outside the venue so I sent her a message at 9:30pm and she managed to provide something to go around the banisters so the guests knew where to go.  As my maiden name was Rose, I really wanted roses in the display and we were so happy with everything she produced."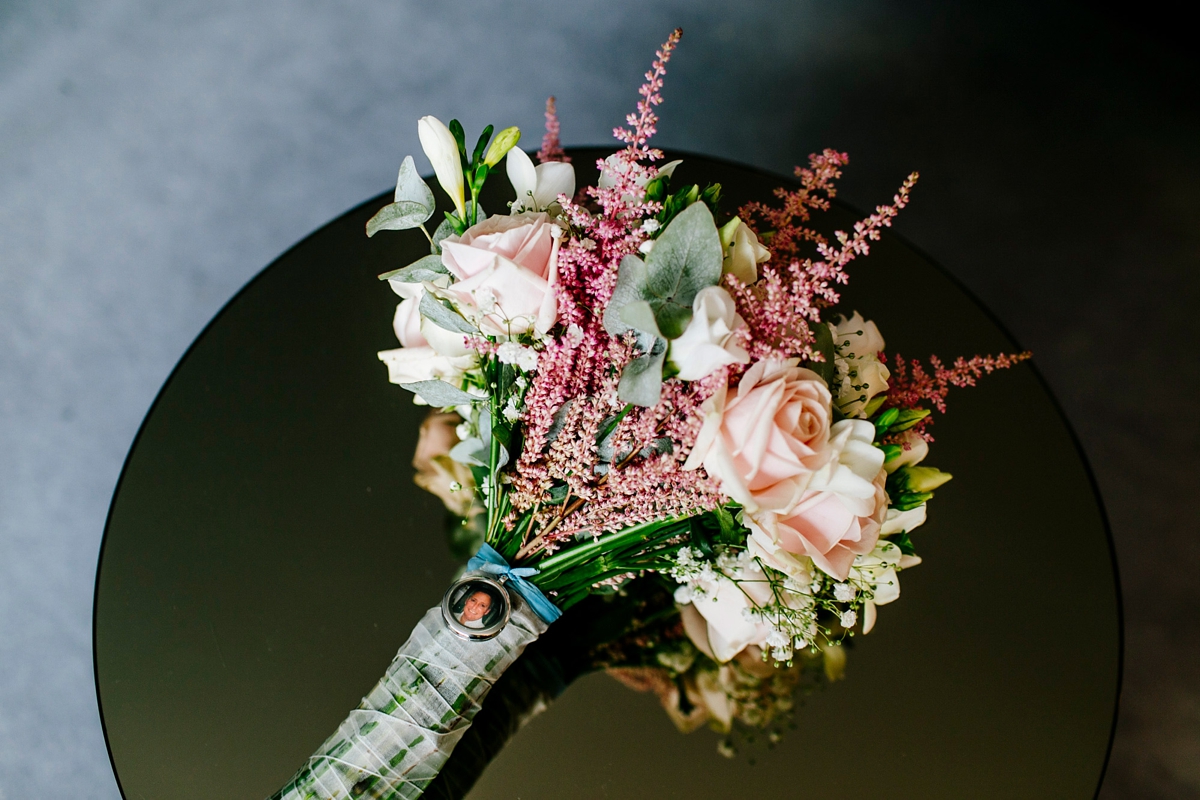 Hair and make up were by Little Book for Brides member, Laura Anne Makeup, for whom Nat had the greatest of praise.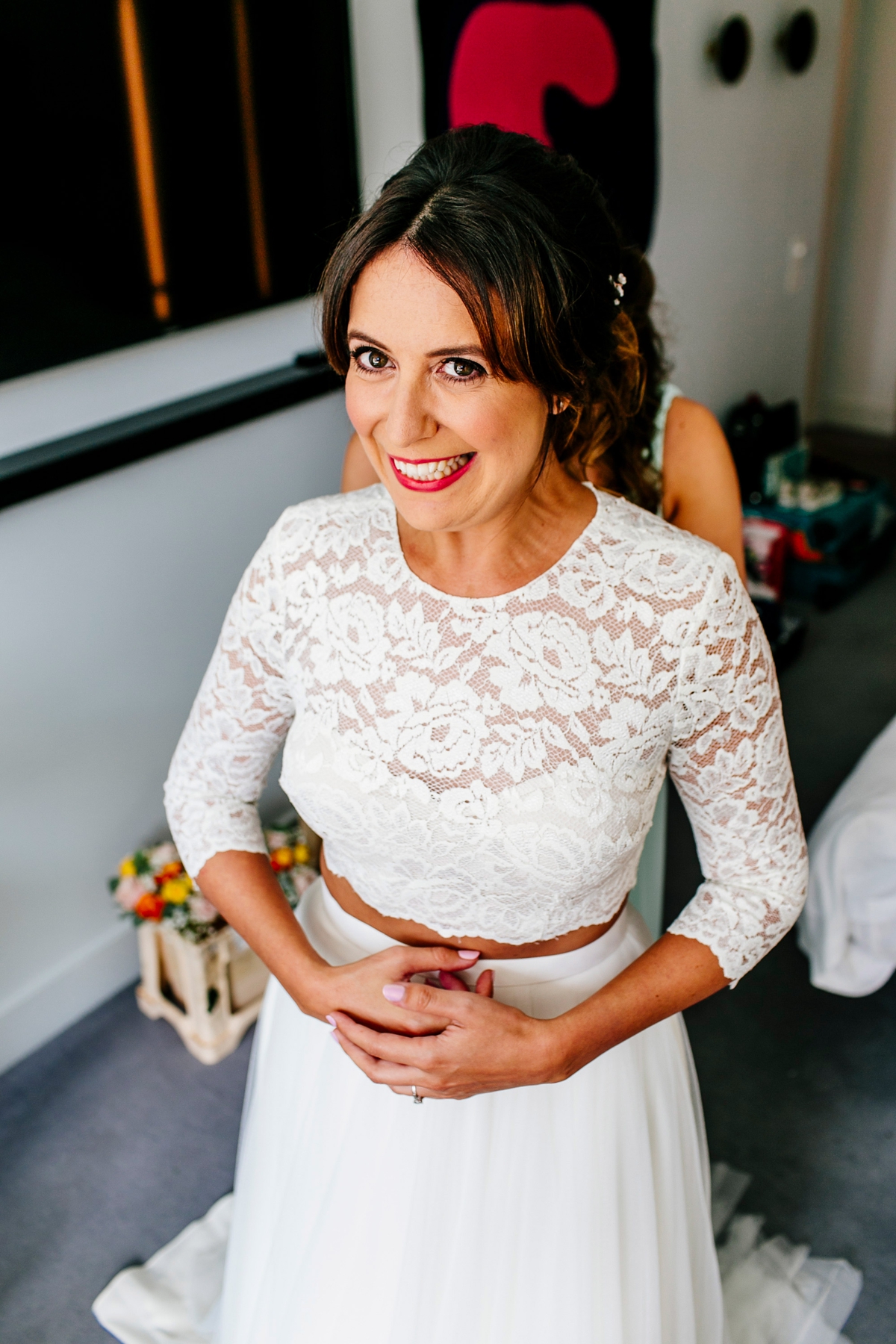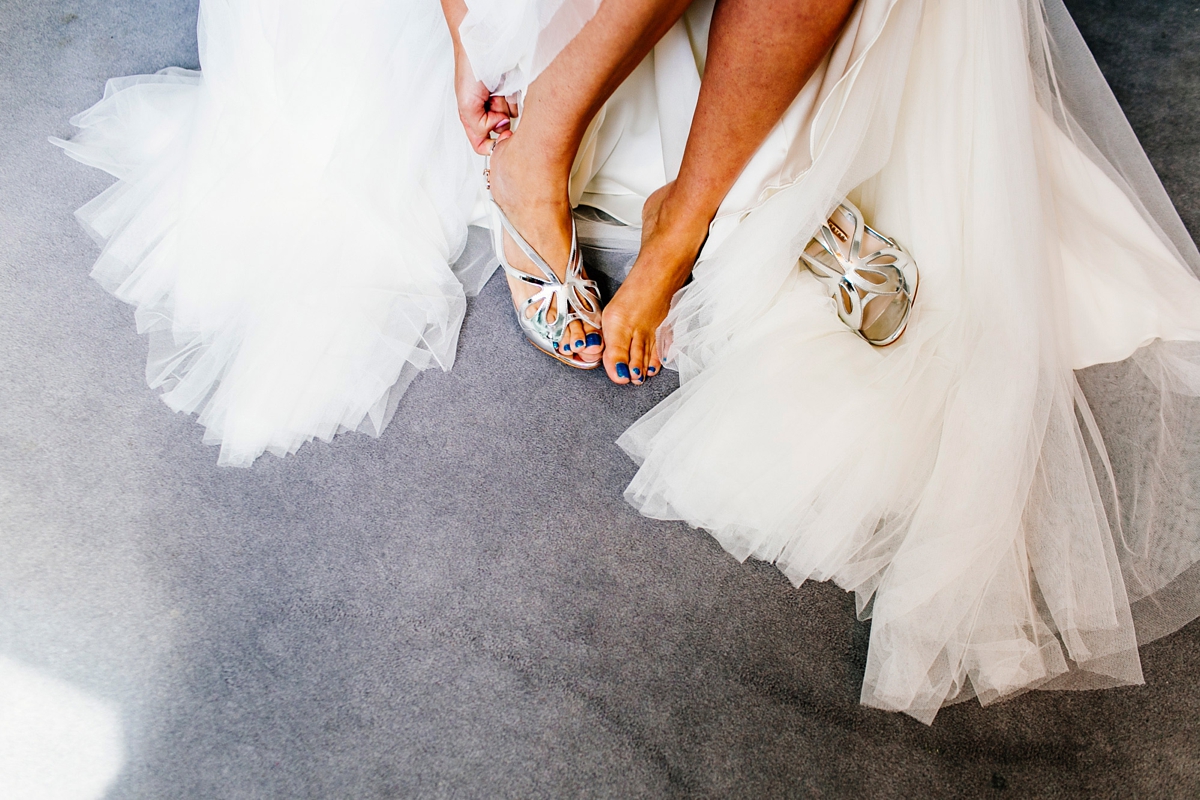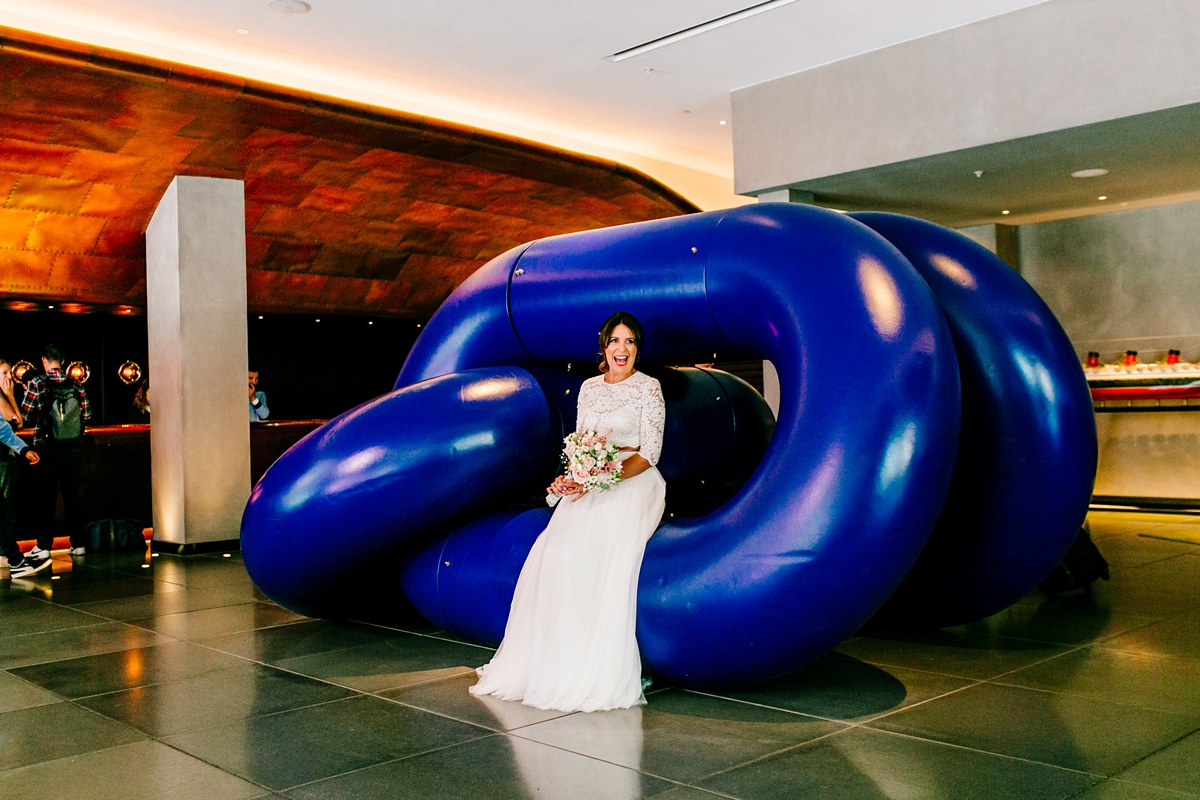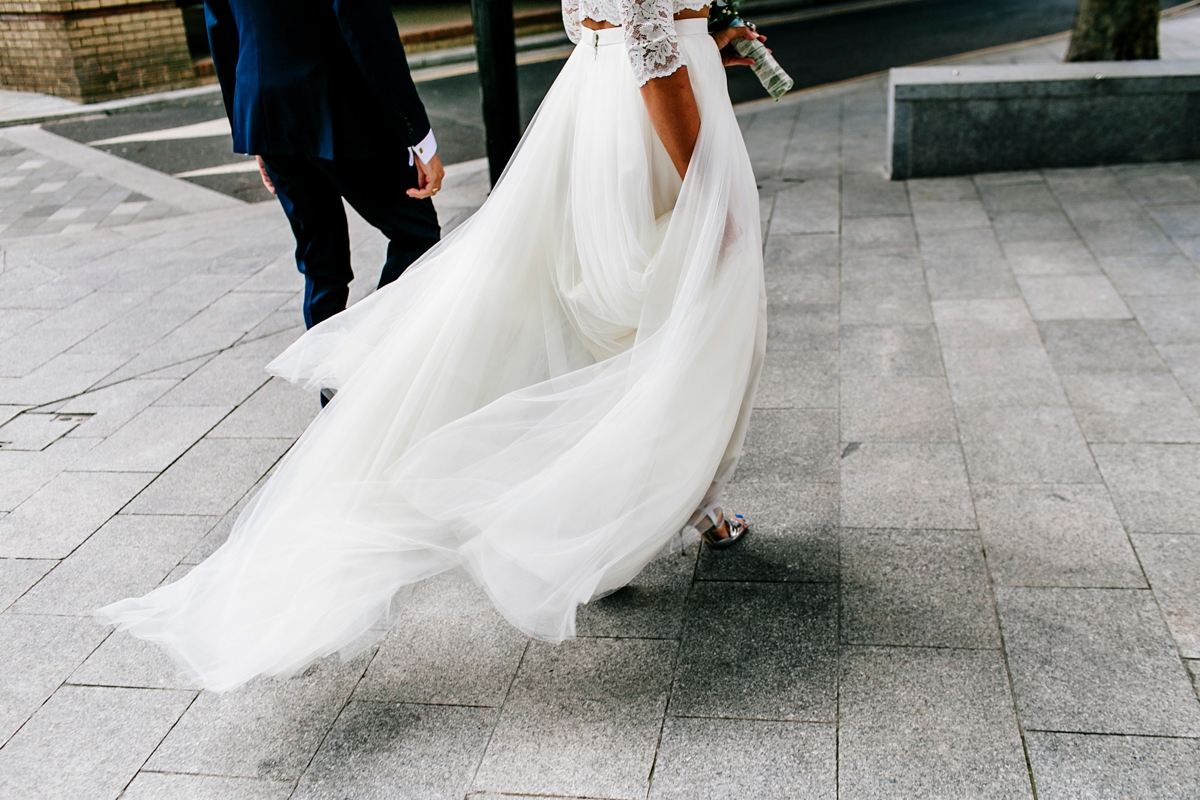 The bridesmaids looked lovely in pale blue gowns from David's Bridal, paired with silver shoes, while the little flower girl looked very sweet in a dress from Matalan.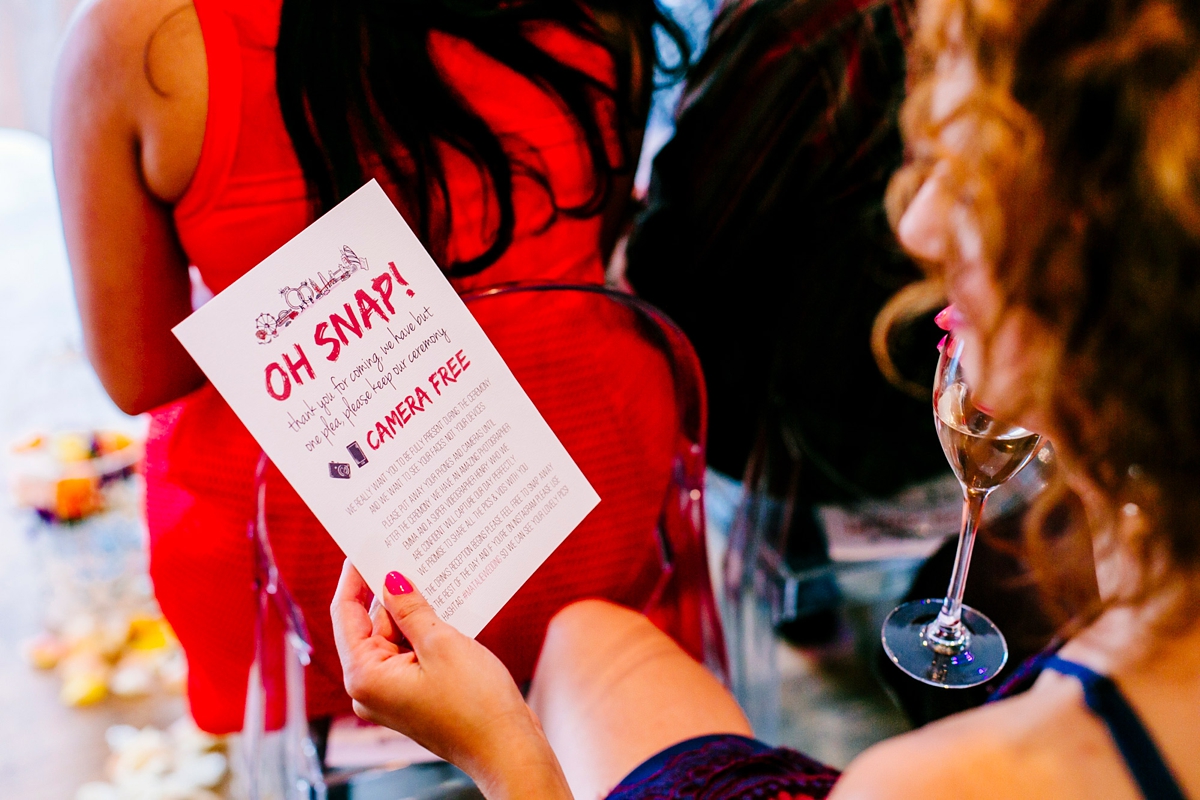 Matt looked very smart in a blue suit from Burton, paired with bright blue socks from Happy Socks in Covent Garden.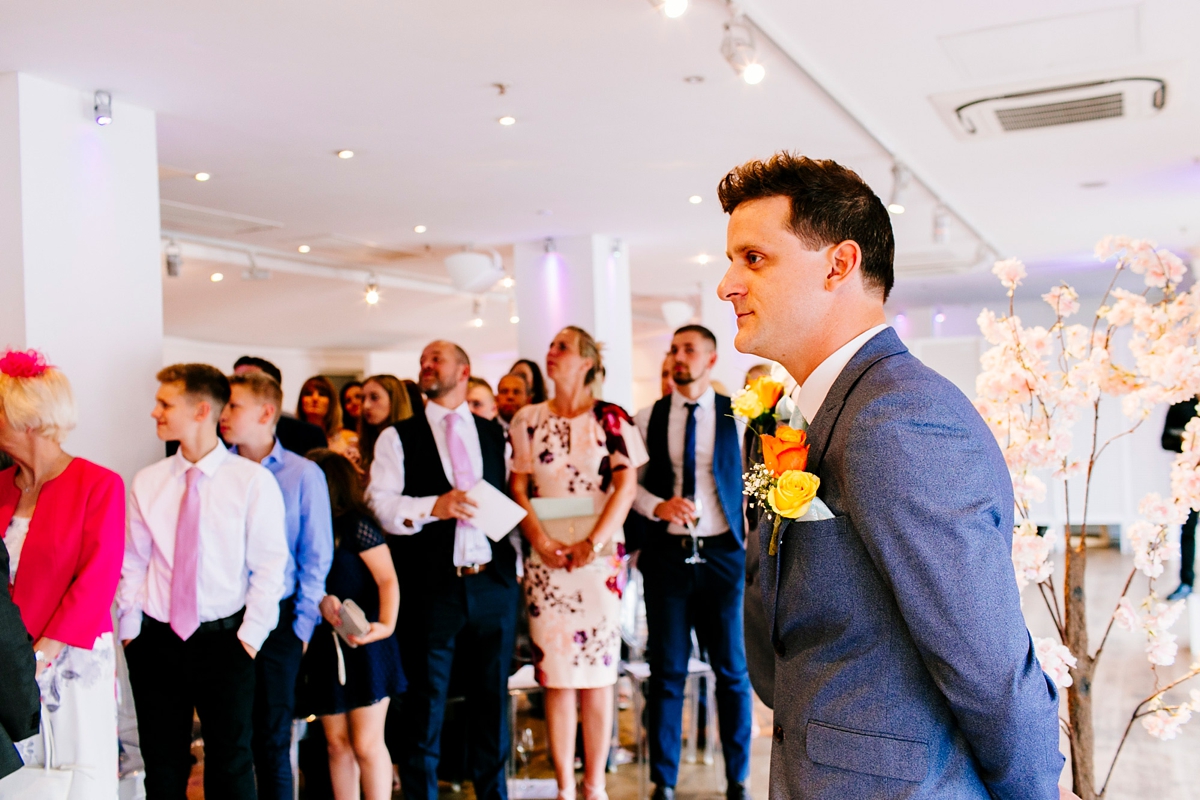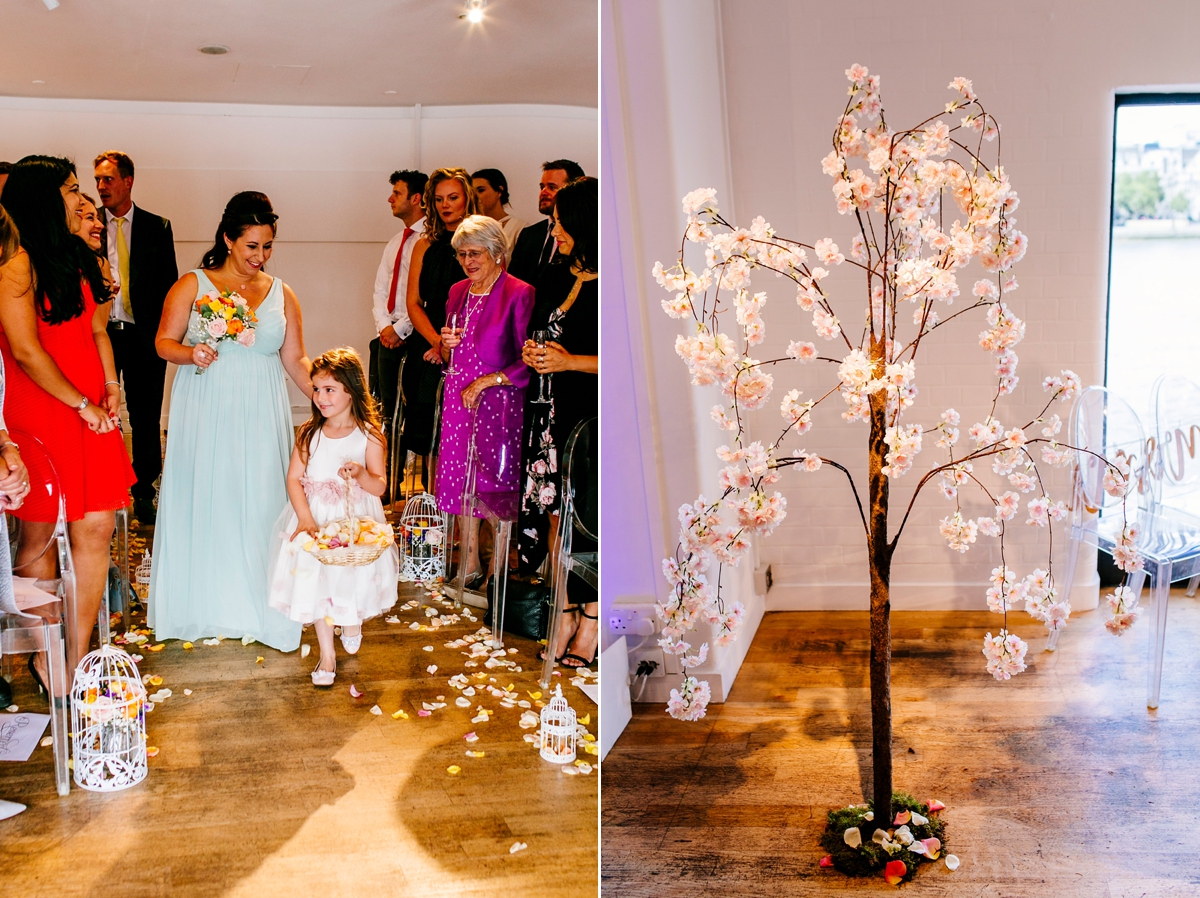 "My brother Mark walked me down the aisle (as my dad passed away six years ago) to 'Songbird' by Fleetwood Mac."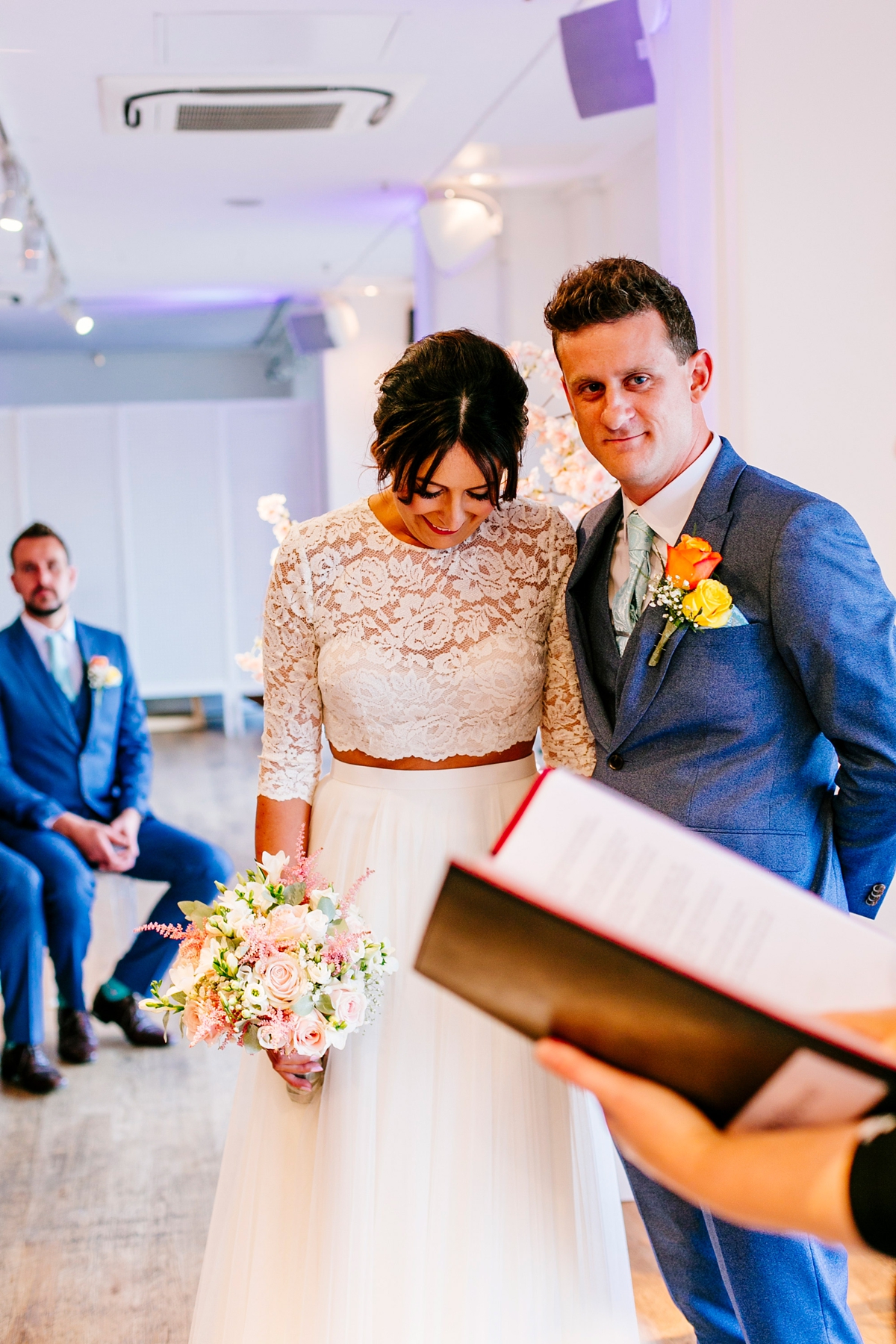 Close friends of the couple, Susana and Leela, did readings, with Susana reading something she had written especially for the occasion, and Leela choosing 'Marriage Is Not Beautiful'.  Matt read this at Leela's own wedding earlier this year and Matt and Nat loved the piece it so much they asked her to reciprocate for their own big day.
"I'm Jewish and Matt isn't, but we wanted to have a nod to my religious background so Matt smashed the glass with his foot like in a traditional Jewish ceremony."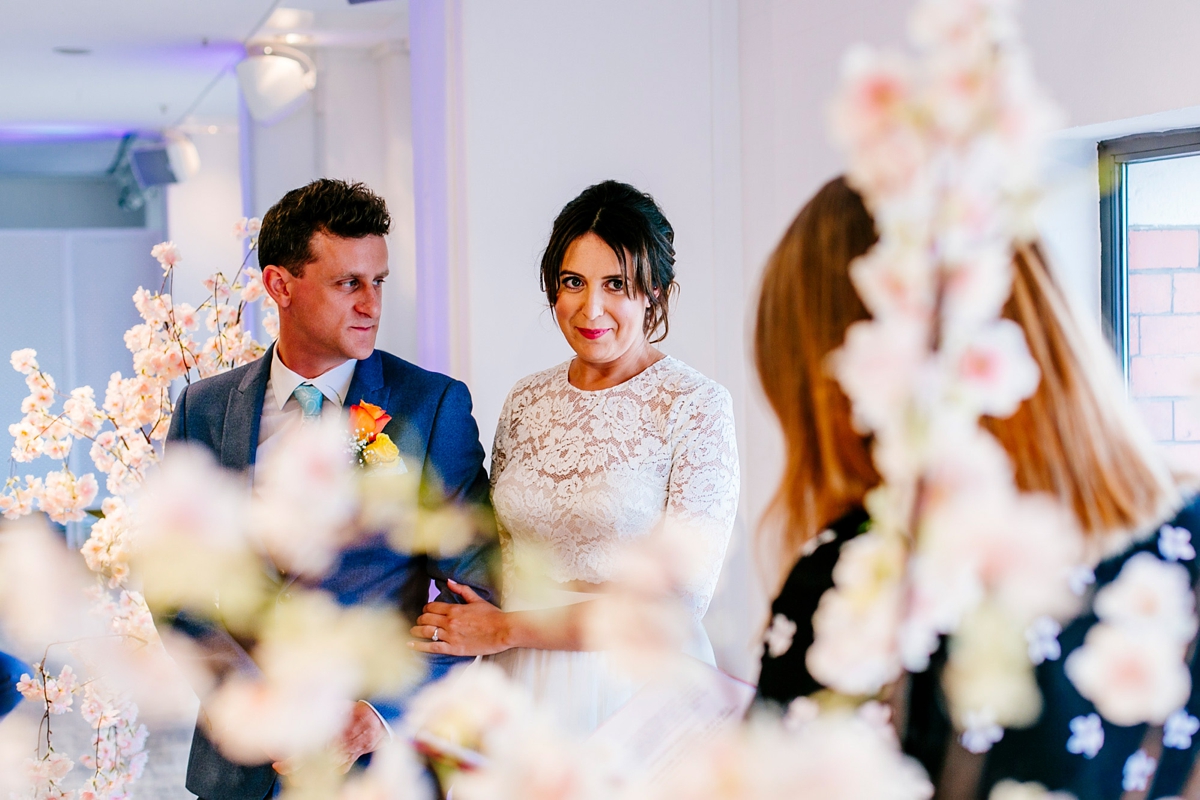 Nat's engagement ring belonged to her grandmother, while her wedding ring came from Aurus.  Matt chose his wedding band from Kirsty Taylor Jewellery.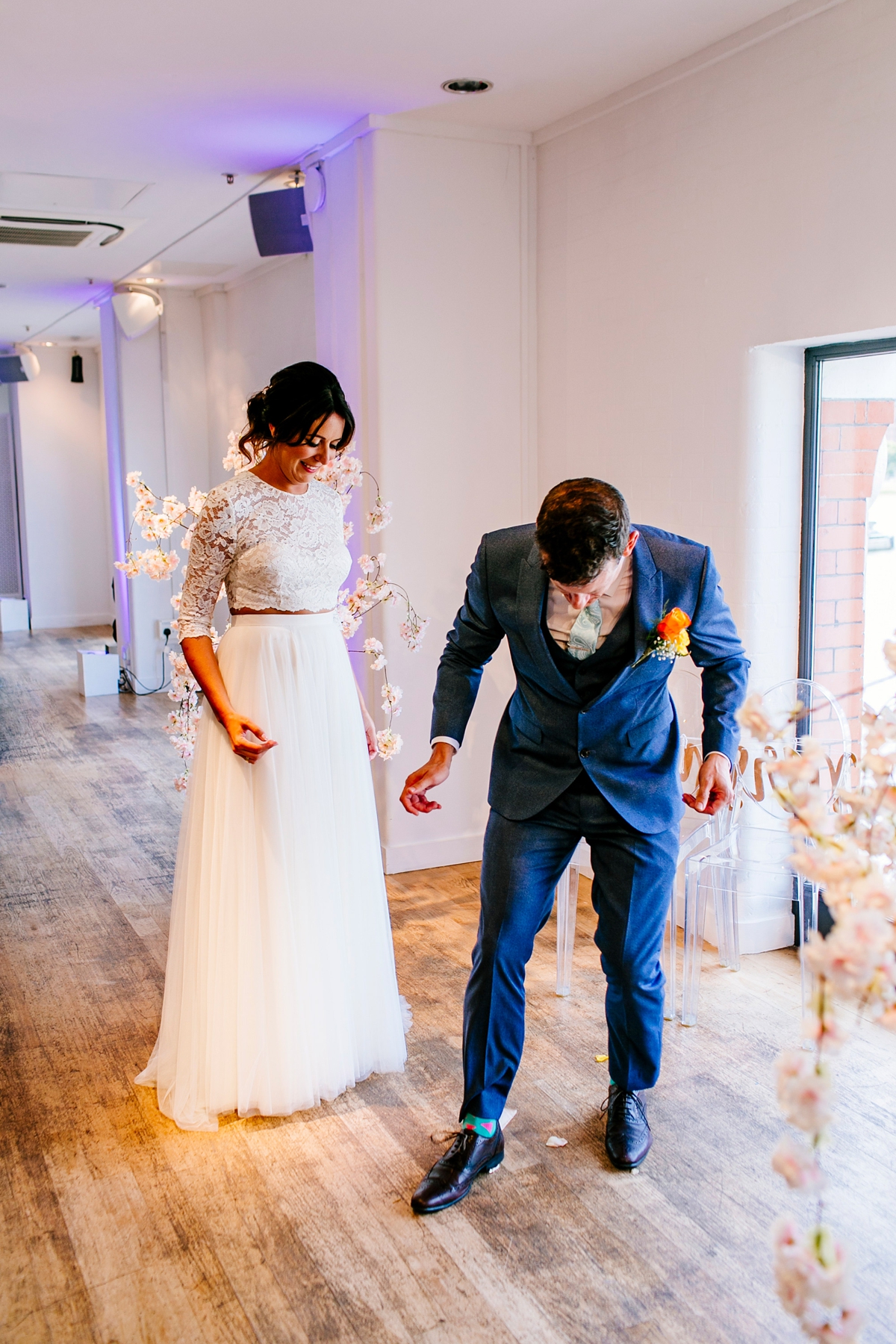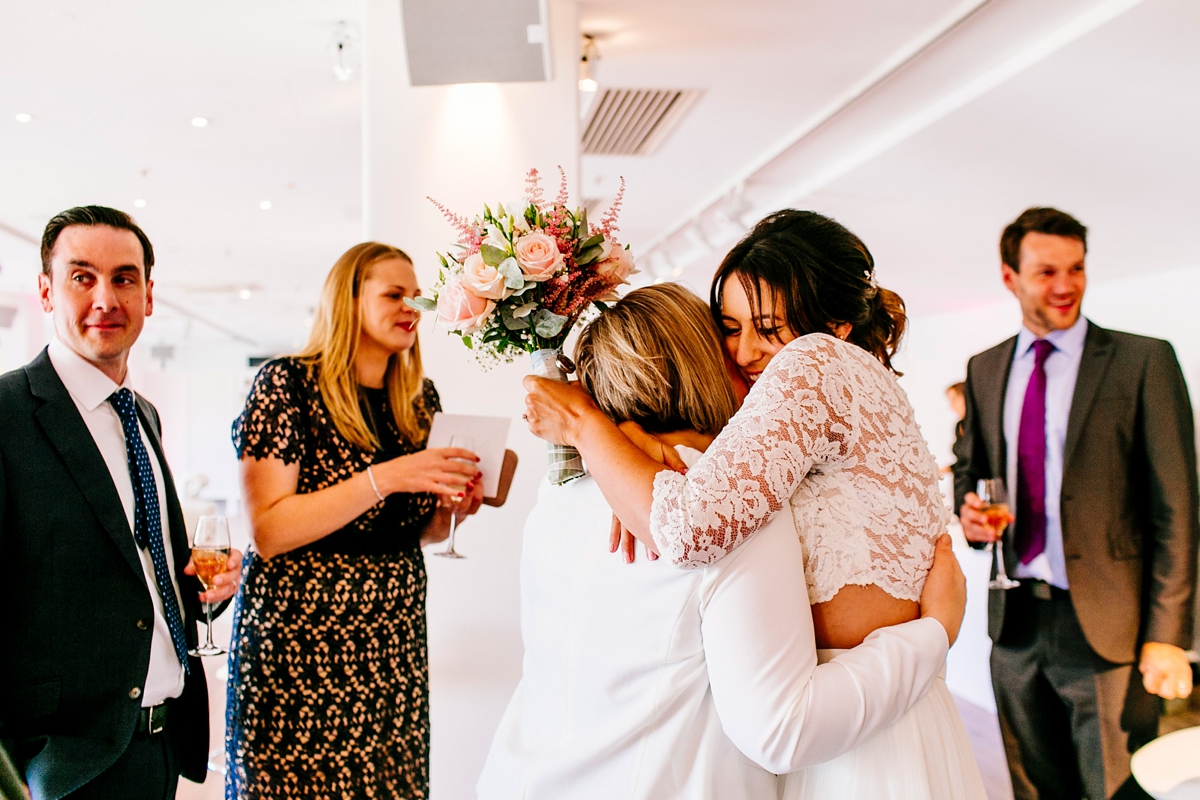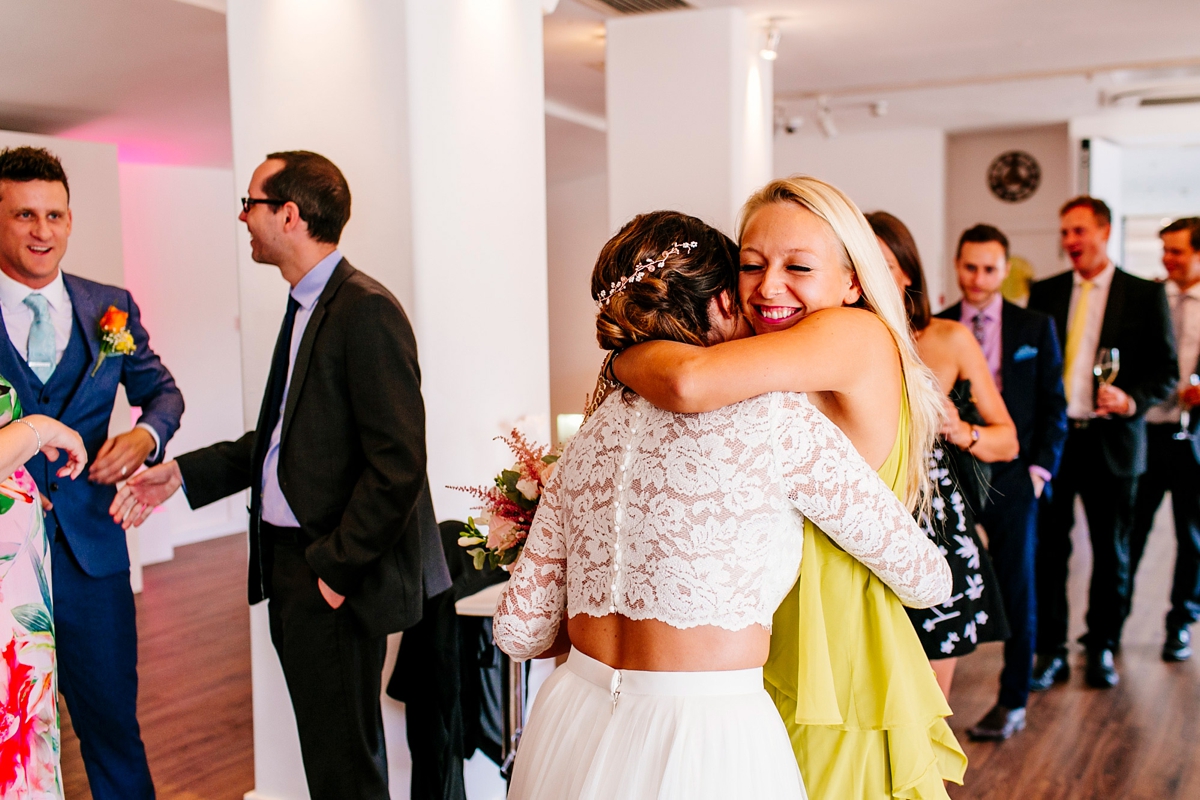 Today's crisp and funky photos come to us courtesy of Emma of Epic Love Story.  I love how much colour there is in every image and the mix of close up and distance shots.  We have a couple of other beautiful weddings by Emma on the blog if you have a spare few minutes today.
"Emma was a superstar, the most amazing photographer.  She captured everything, all the emotions and more and she put us both at ease.  We cant stop looking at the photos."
"We weren't planning on having a videographer but we met Henry Norgrove when he did our friend's wedding in February and apart from the fact he is a lovely friendly guy, we watched our friends video and it was amazing."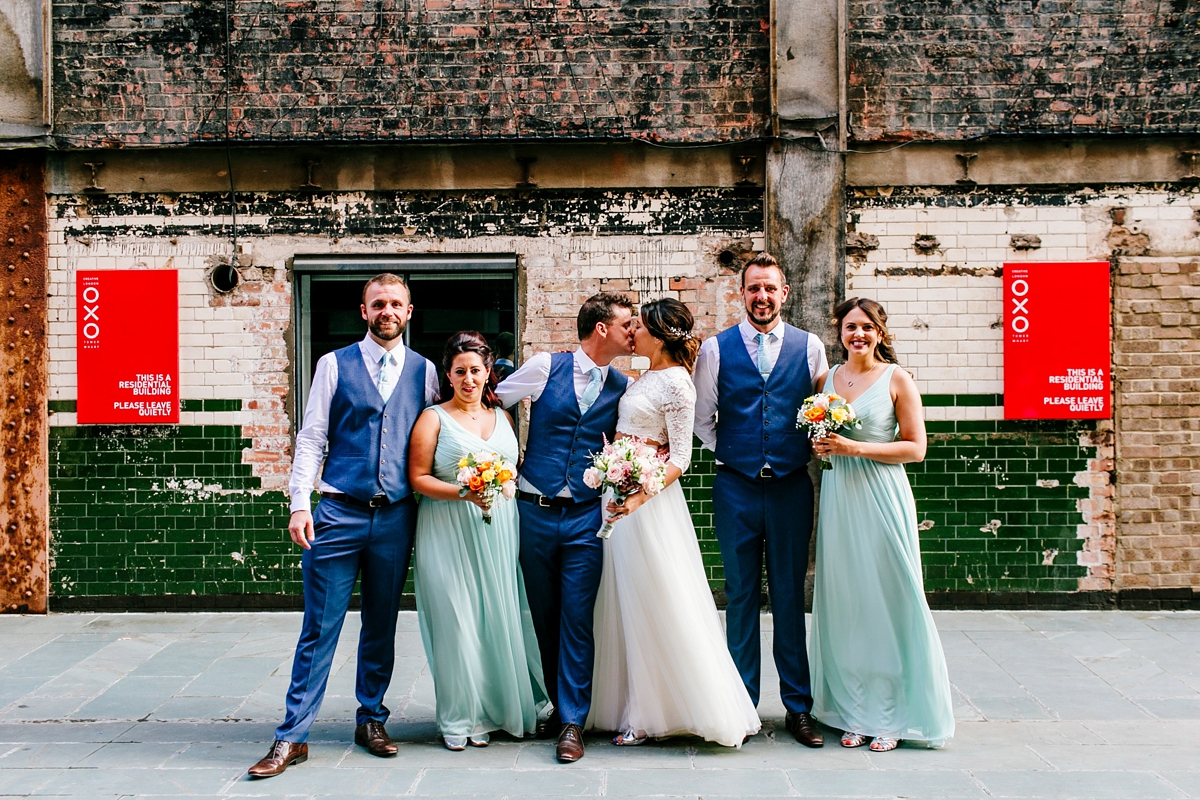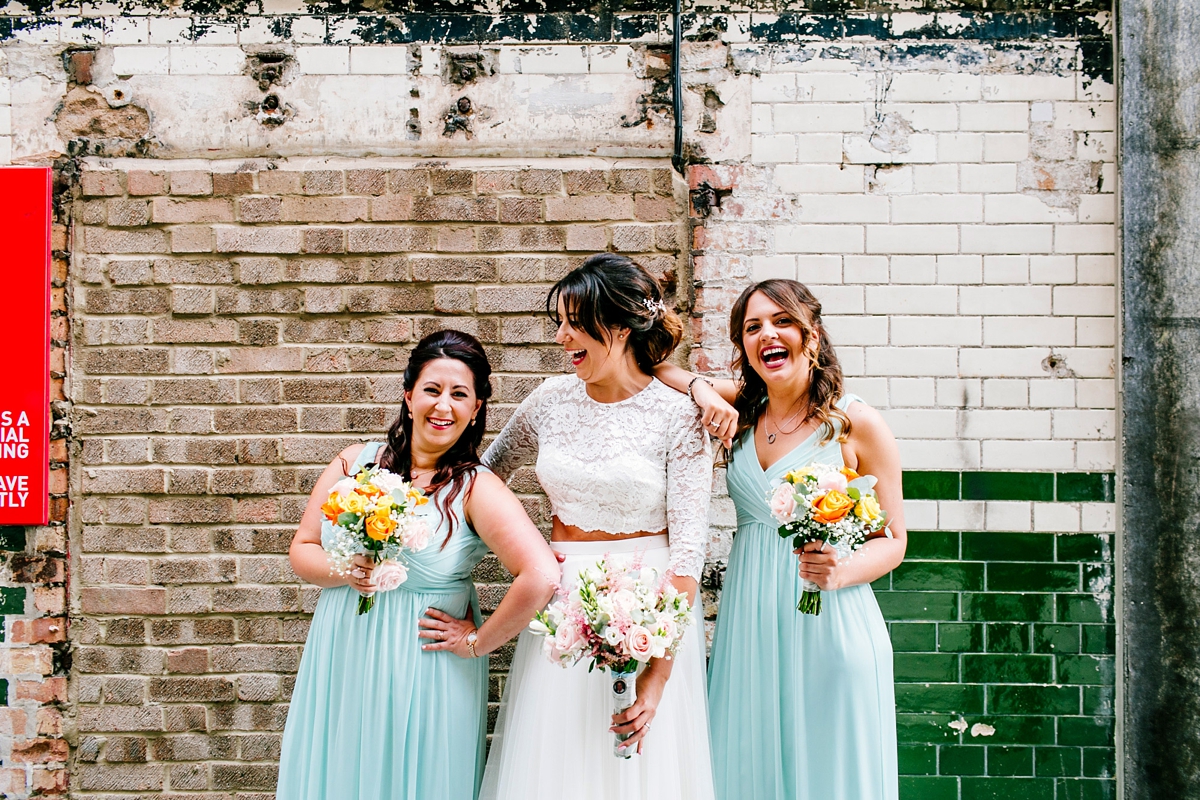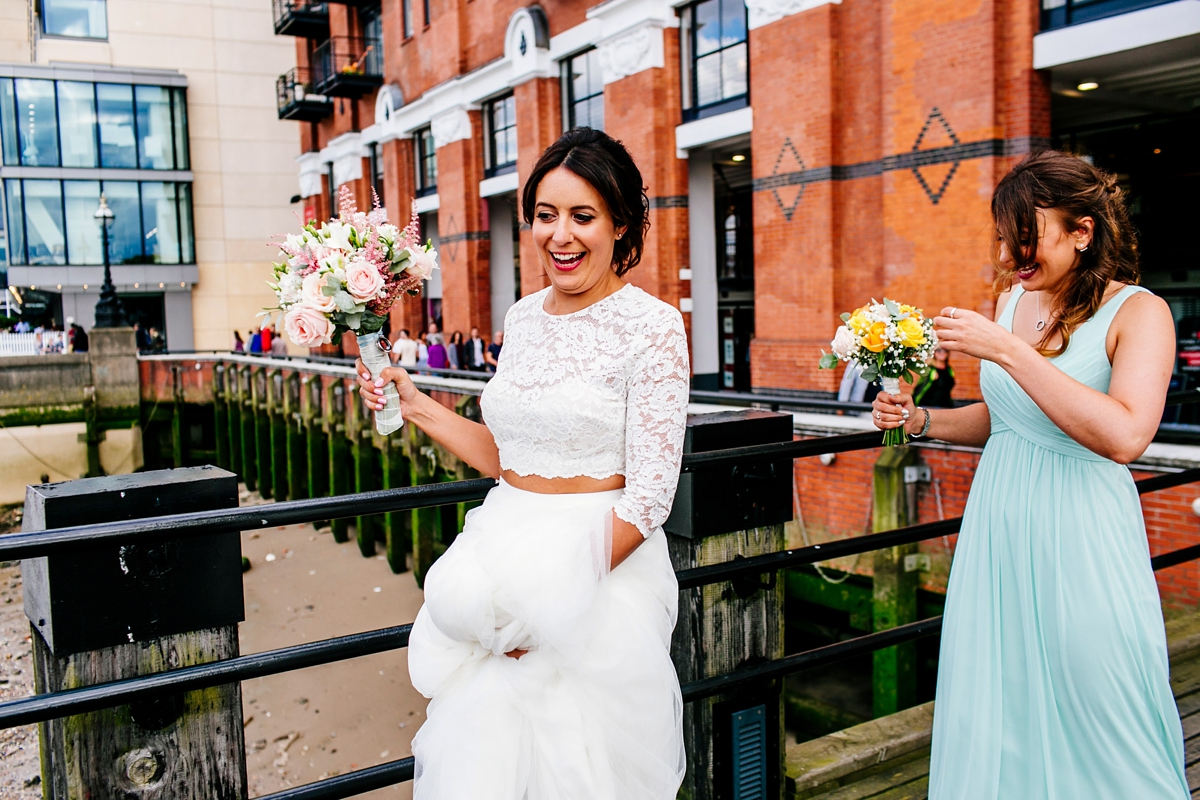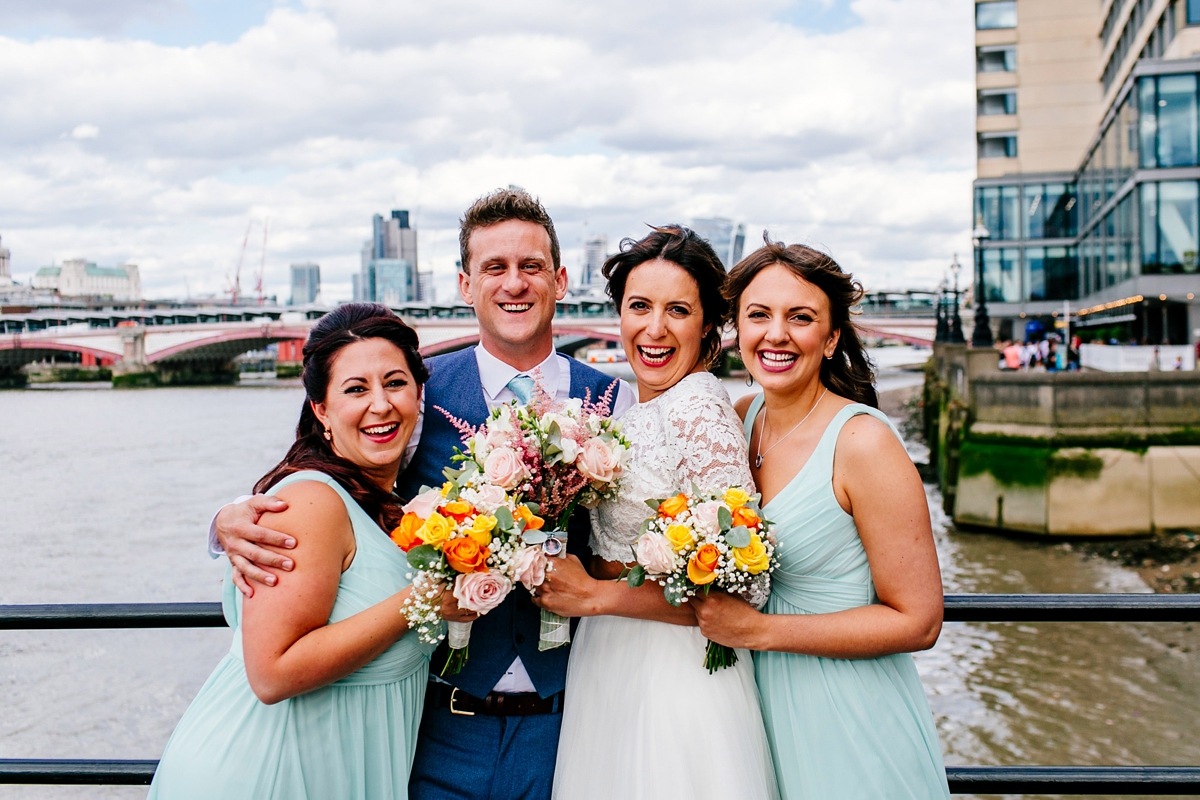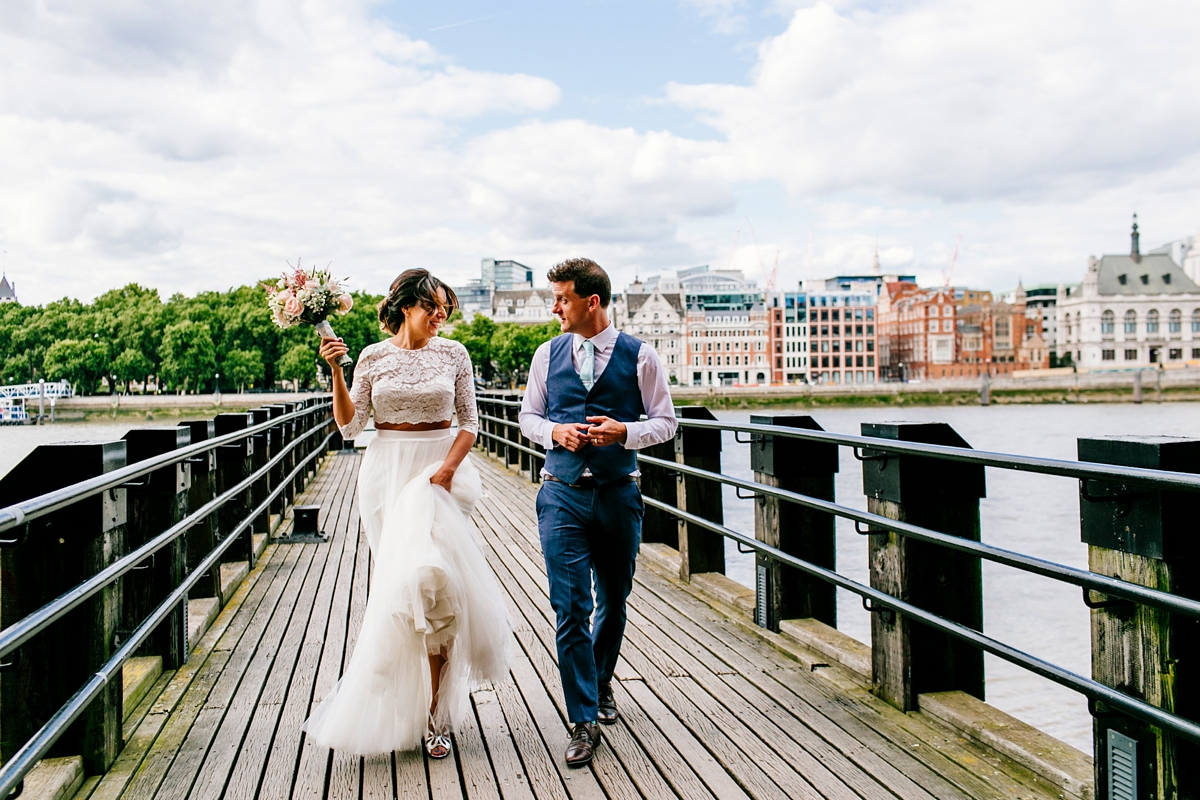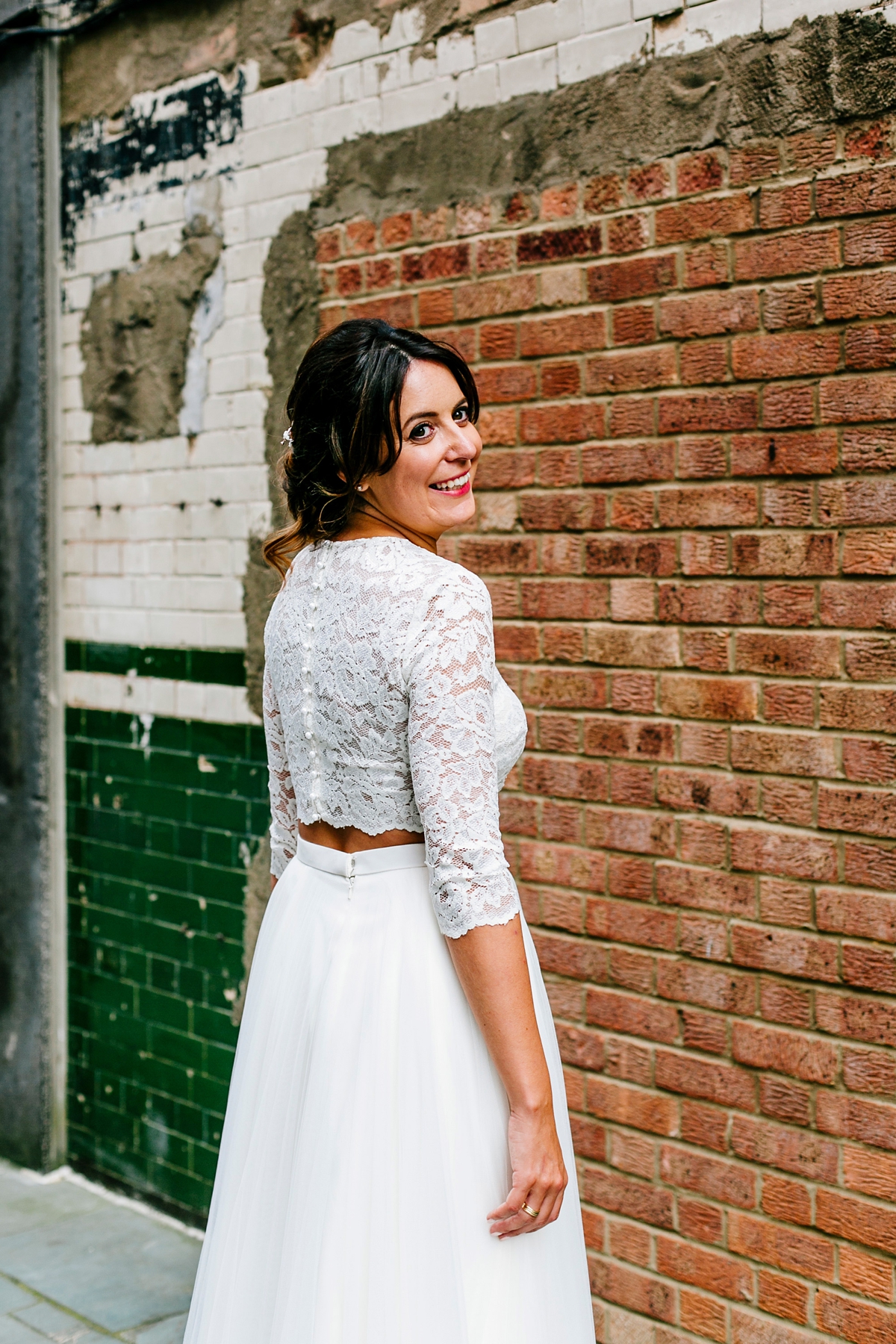 For stationery, the couple used a bespoke illustration across all their paper goods, which was done for them by friend Susana Smith.
"Using the illustration Susie did for us, Matt ordered oyster card holders with the word 'London' and the design on the front and the OXO logo and our wedding date on the back, keeping the London theme going."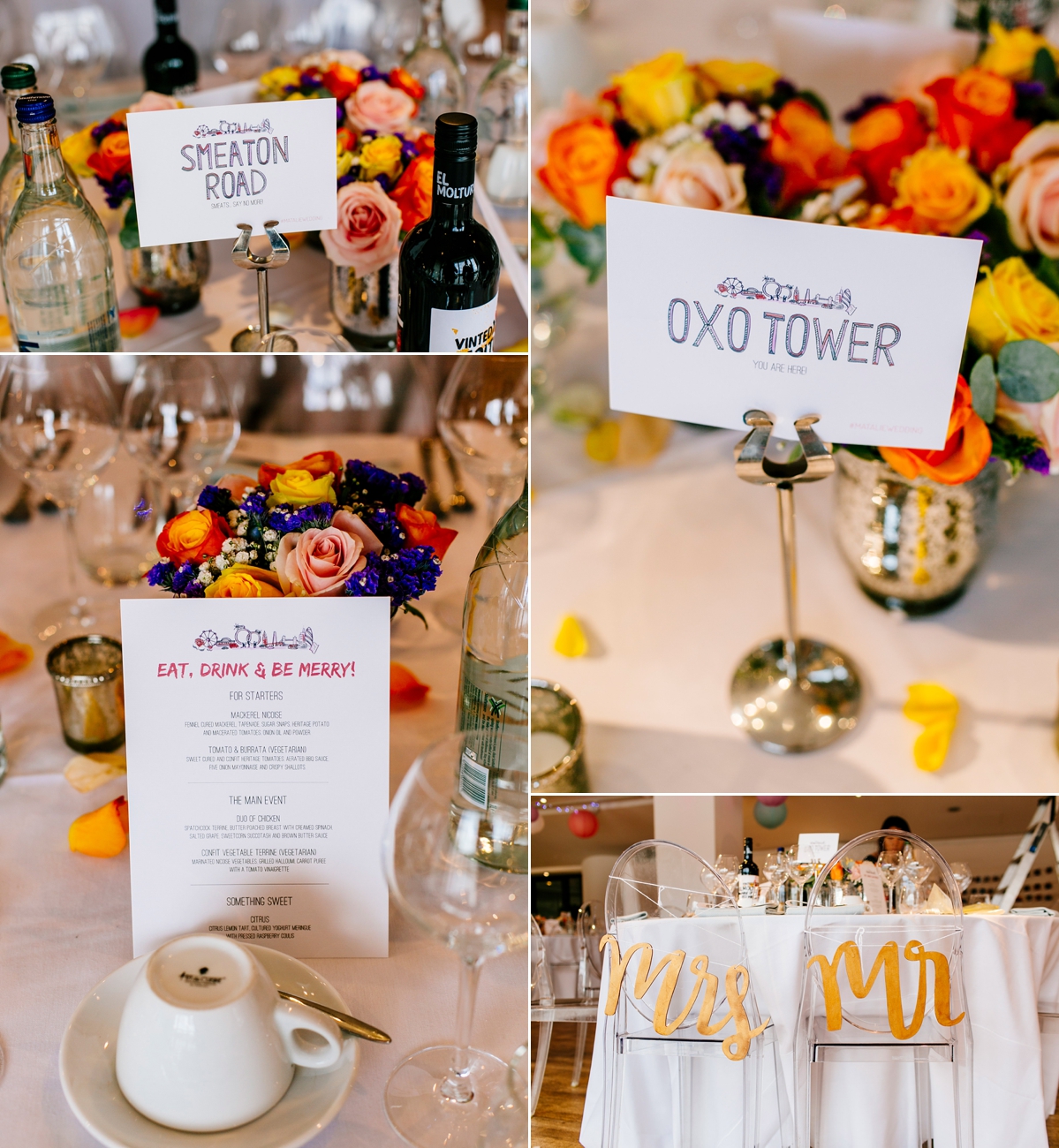 To decorate the reception space, Nat and Matt used lots of 5×5 photographs in frames as a nod to Matt's love of photography.  Some were Matt's own black and white photos and others had the table names and peoples names in them- the table plan too was made up of photographs.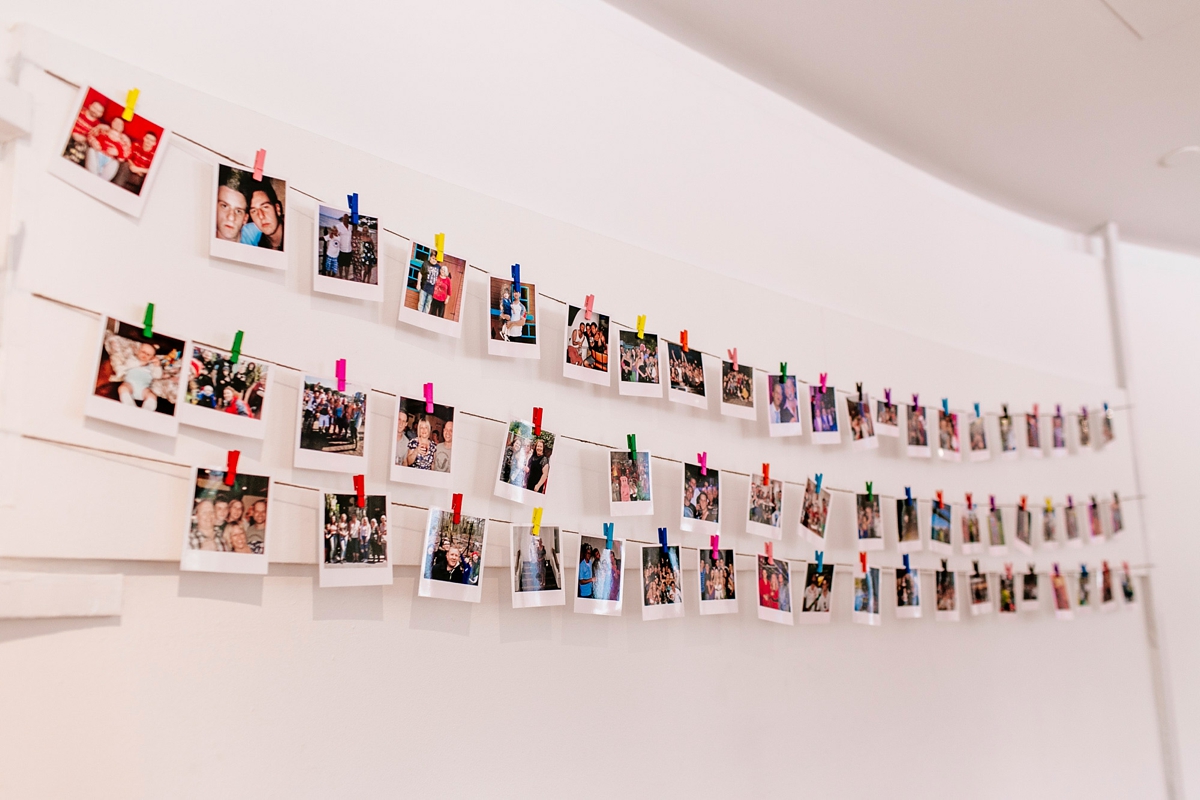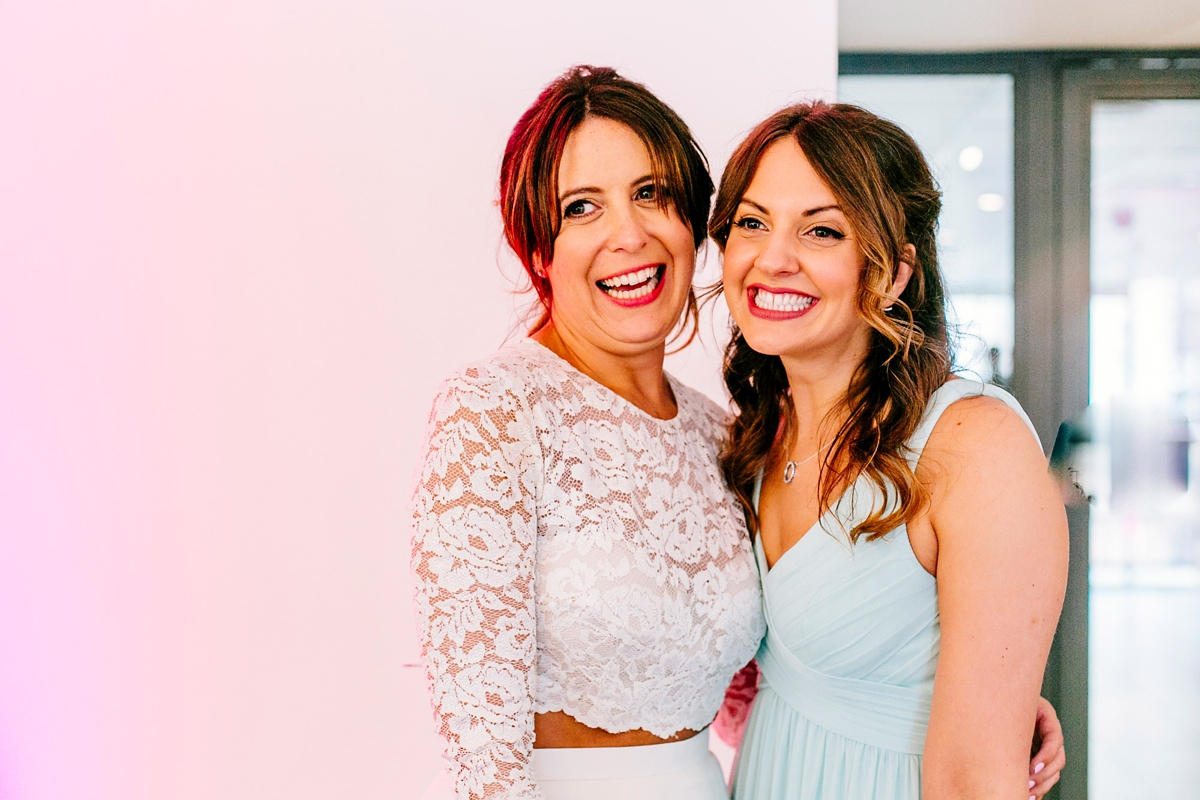 Catering was the work of Create Food (the in-house caterer) while entertainment came in the form of Max Elliot from We Are Full Circle (the in-house DJ) and the couple's friends Chris Powell (Pandadontdisco) and Raj Lewis.
The two best men, Smithy and Spencer, also kept guests entertained with their speech, which took the form of 'This Is Your Life'.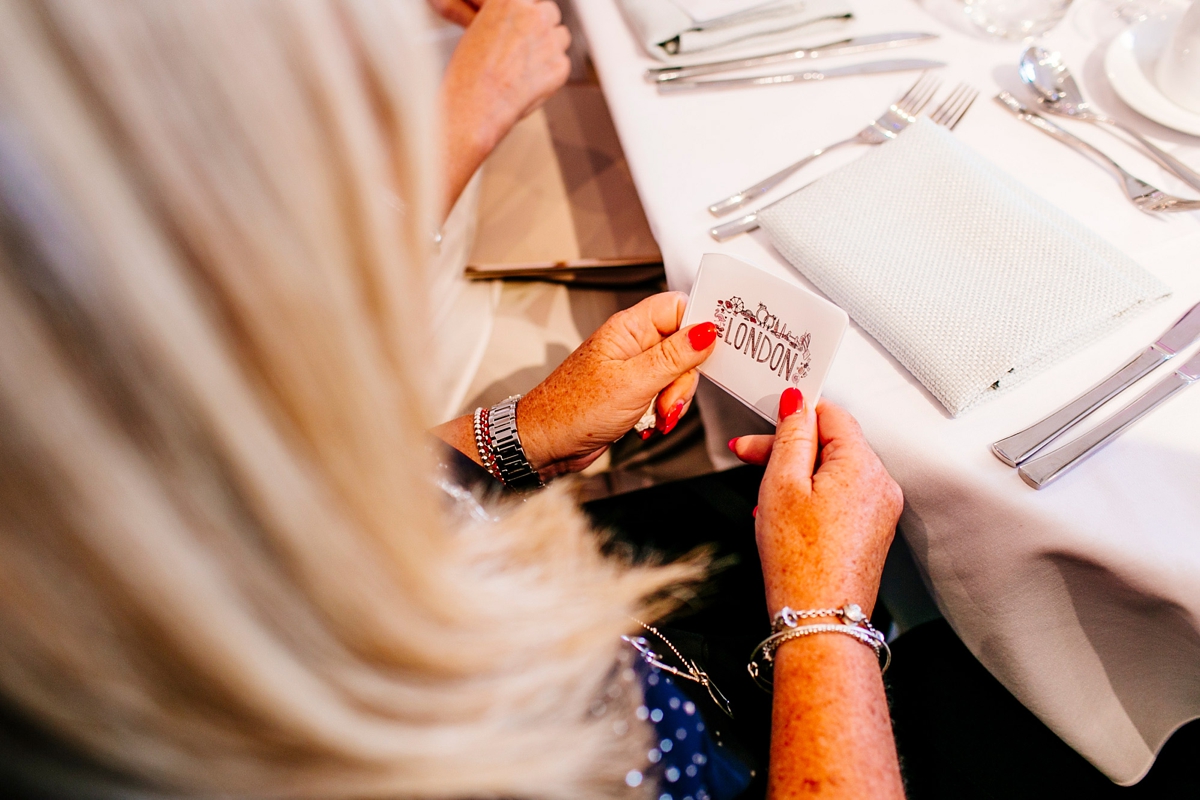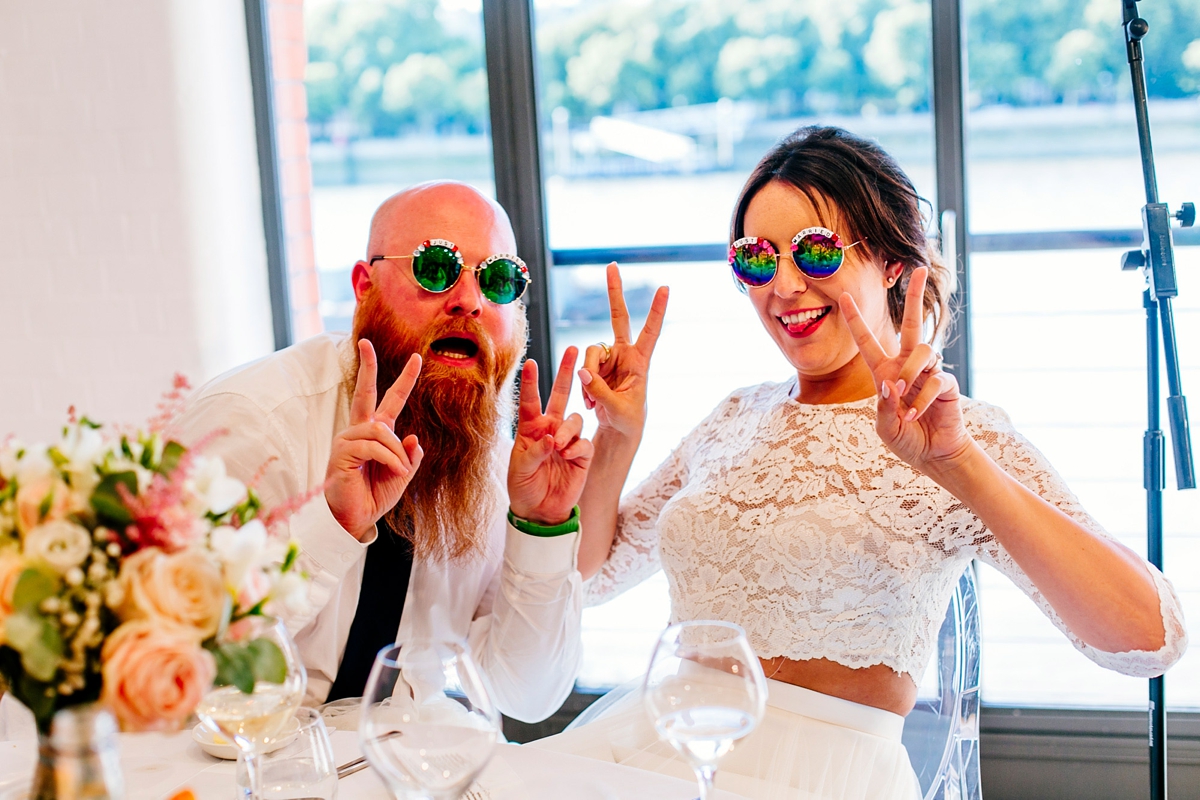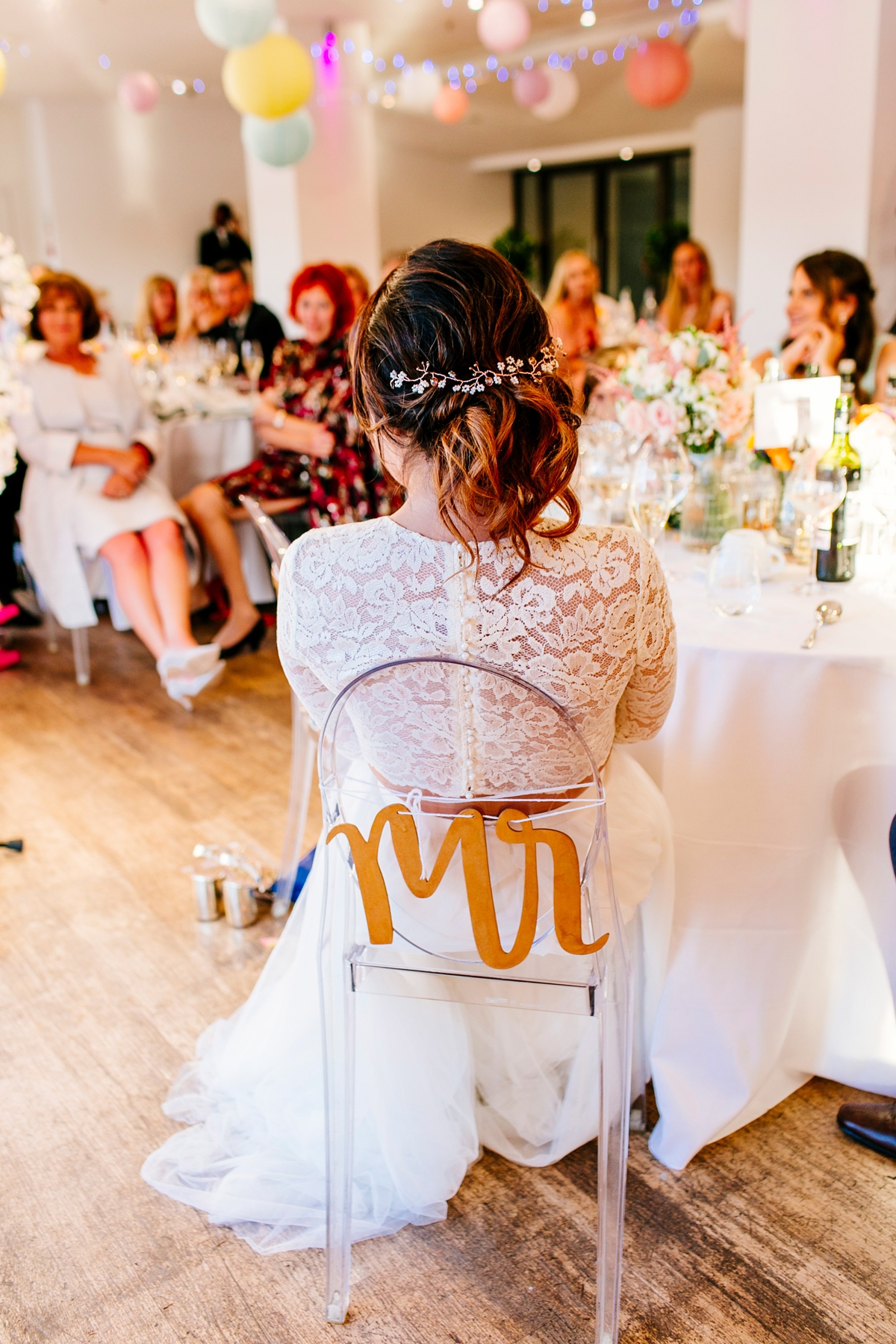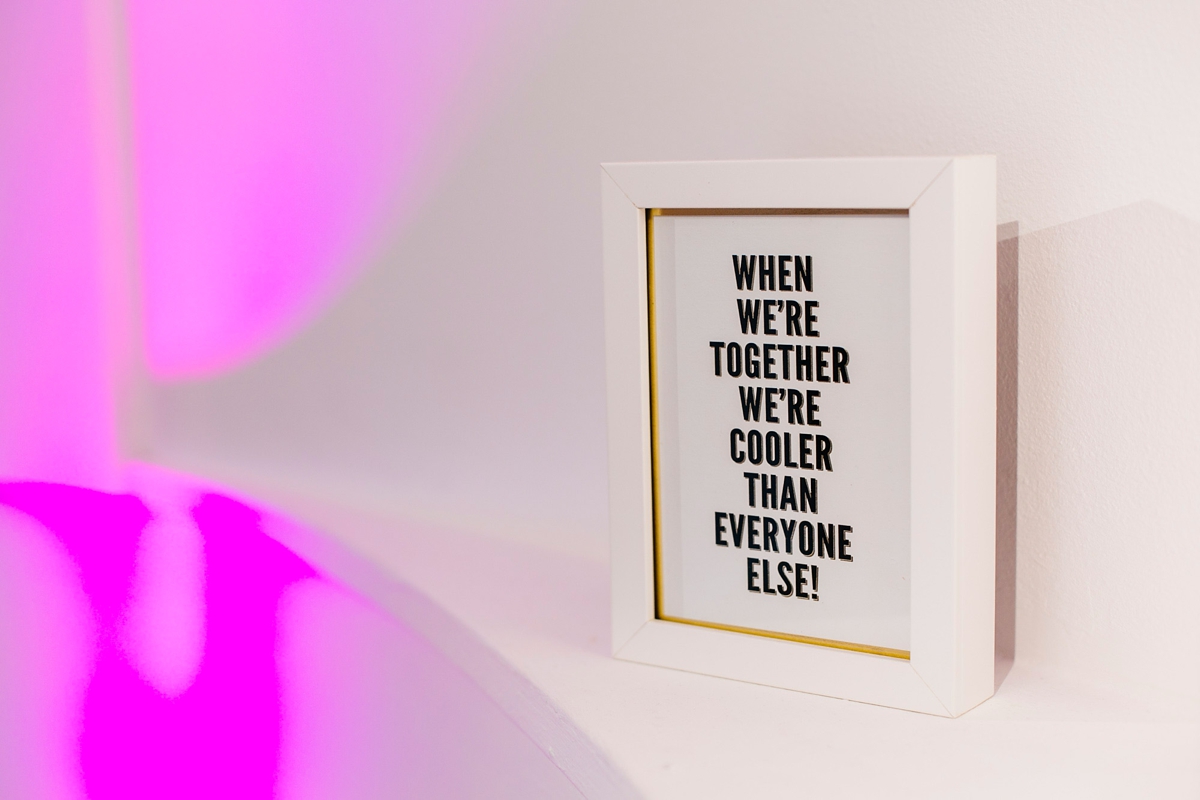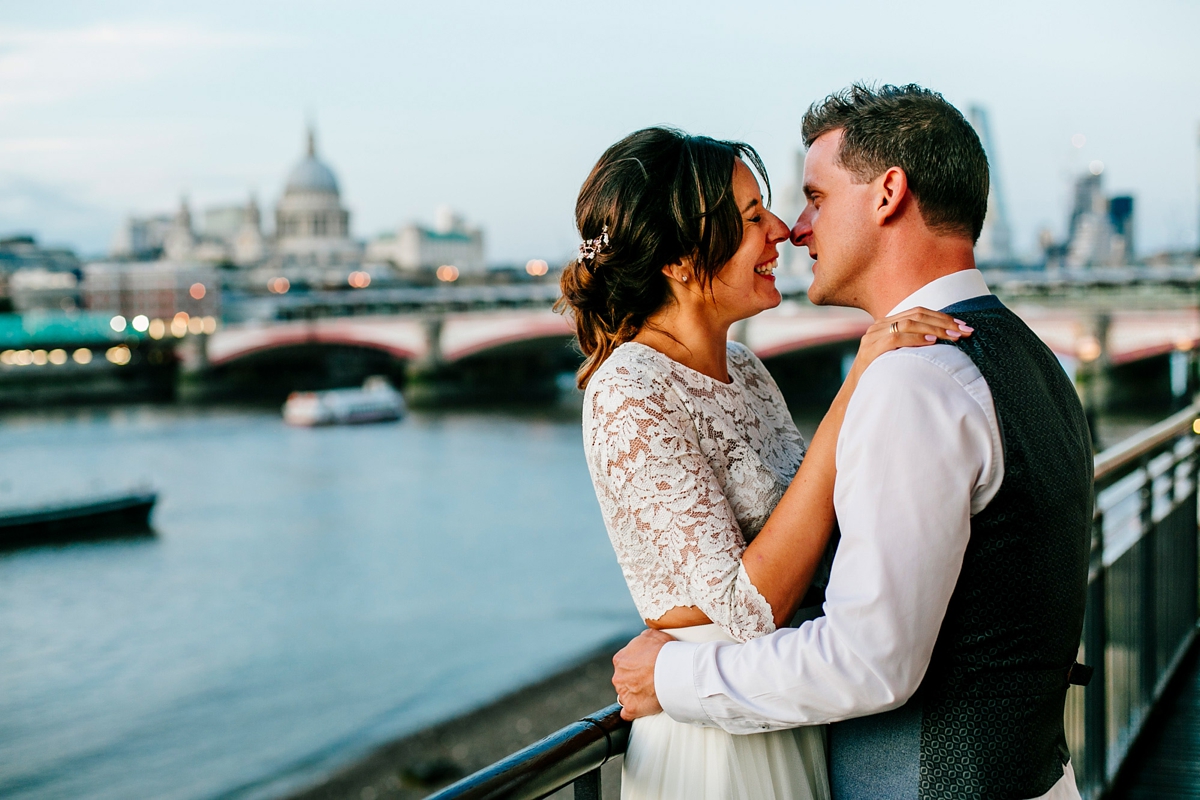 "The best men speech was epic.  They did 'This is your life' for Matt, wearing Michael Aspel masks and made him a big red book.  They got video messages from our friends in Australia who couldn't make it, messages from old friends, and some totally random ones too!"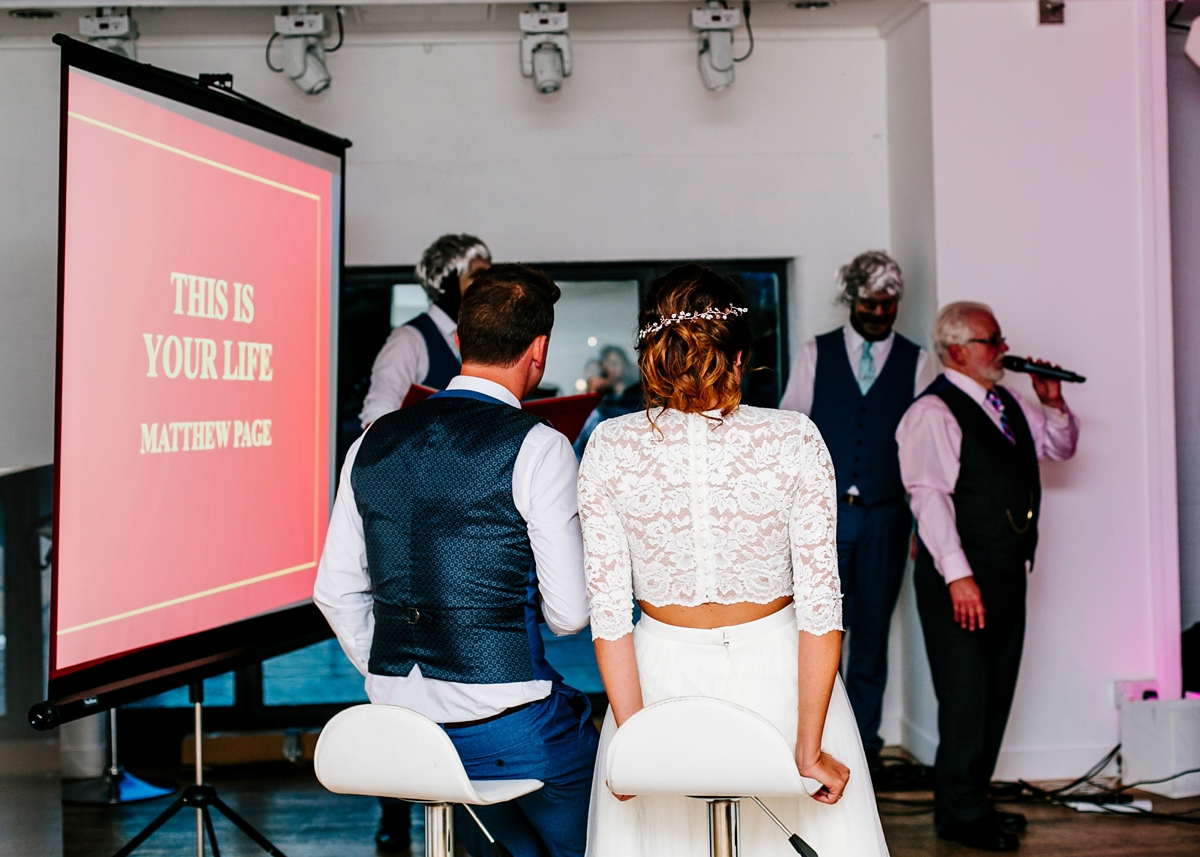 "Our first dance was 'Digital Love' by Daft Punk- its our favourite song and the lyrics are great.  We made up a little routine too.  We aren't into lovey dovey songs and didn't fancy having a slow number."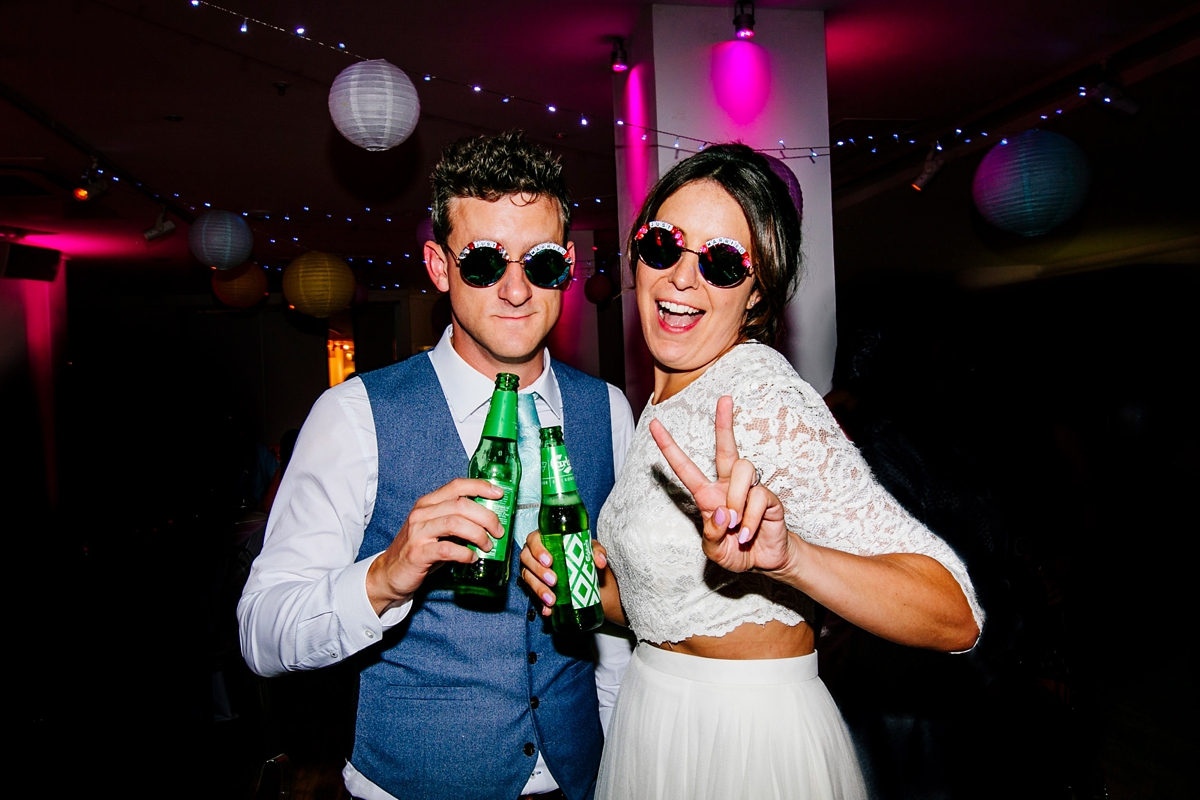 Words of Wedded Wisdom
"People kept asking me if I was stressed and I really wasn't.  I can see how easy it is for the wedding prep to take over but its more fun to remain calm.  At the end of the day you are marrying the person you love so who really cares if the seating plan isn't perfect, or little things go wrong?"
"One thing I really accepted was my dress was going to get filthy, but it is true, the dirtier the dress, the more fun had at the wedding!"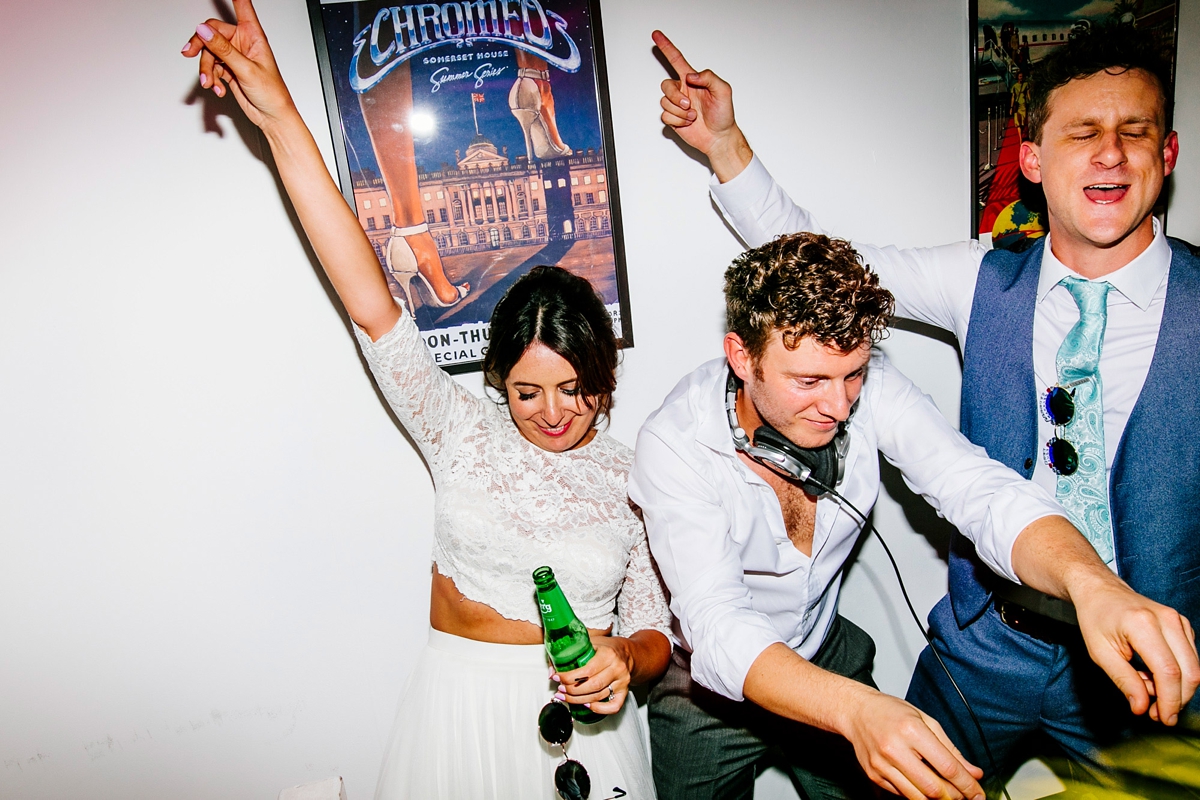 Huge thanks to Nat and Matt for sharing this beautiful and fun-filled day with us today.  Have you also fallen for Nat's gorgeous two-piece gown?   Take a peek here for more dresses by Willowby at Watters, and here for more bridal separates– I just love these and they offer so much flexibility.  I really wish they had been more of a 'thing' when I got married four years ago!
Have a lovely week,
Shona x