Hello you lovely lot – I hope you've had a lovely weekend so far and a lovely Sunday planned ahead.
I have serious bridesmaid dress envy today; pastel pink tutus and cream lacy tops; my absolute dream, and an outfit I would wear for dinners out, summer weddings, garden parties. You name it, I'd wear it. I think I could wax lyrical about every single detail of this wedding I'm sharing with you today, so I'd better get started.
Sophia, a primary school teacher, married Tom, who works as a writer and Senior Recruitment Associate, in a springtime celebration near Cowes on the Isle of Wight on 29 April 2017. With a religious ceremony at St Mildred's Church, Whippingham and a country barn reception at Barton Estate, their day was inspired by an 'undone barn' look with lots of springtime flowers, an informal vibe and personal touches.  The couple married on a budget, planning and styling everything themselves.
"The majority of our wedding was DIY –  I used my school holidays scouring charity shops, markets and eBay for items and I roped my mum, mother-in-law and bridesmaids in too."
Photography Joanna Brown Photography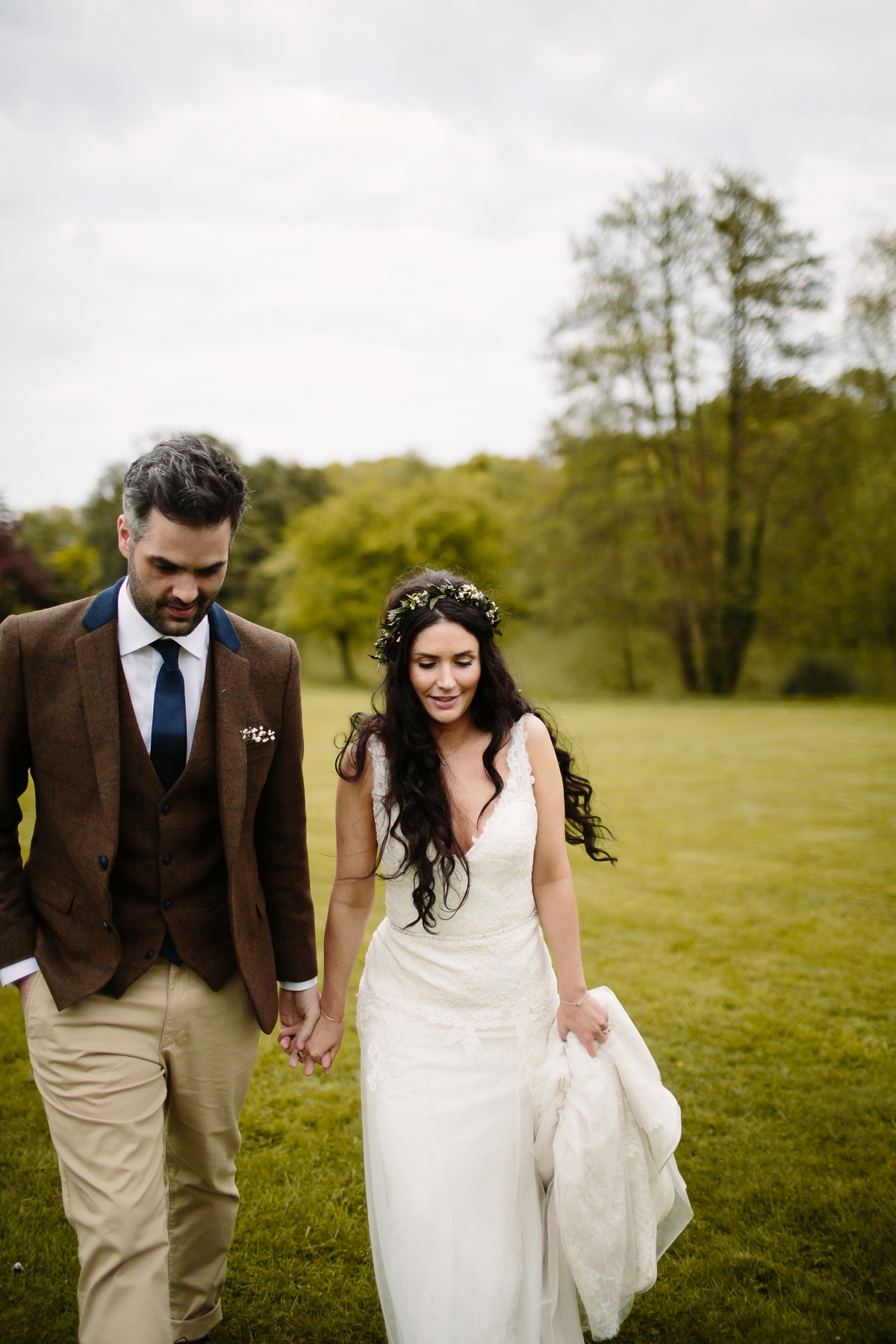 Joanna Brown has photographed the day in her gloriously light and romantic documentary style. If you're taken with her work here then please follow this link to see other weddings she's captured on Love My Dress.
"Joanna was the most fun to work with. I wasn't too bothered on the day about getting certain photos as I was too busy enjoying everything and she was so good at telling me the things I should bother with and the things I'd regret and she was SO right! I felt like I was with a friend the whole time. She put together a lovely slide show for us pretty much straight away which we loved and still do love watching. Her photographs are very natural and she is great at capturing special moments."Sophia highly recommends her hair and make-up artist, Lynsey-Marie from Isle of Wight Beauty, who applied her fresh, pretty make-up and styled her long locks into a beautifully undone style.
"We met a few months before for a trial and all my bridesmaids and my mum were so impressed with my makeup that they all asked to have her do theirs too. She was happy to redo anything you weren't sure about and if you wanted her to use any of your own favourite products then she happily did."
Sophia's delicious floral headpiece was crafted by Sandra at Sophie and Luna, a talented designer who hand makes beautiful flower crowns using preserved flowers. The foliage and roses are so vividly green and pink that I thought they were fresh at first glance! Her glittery block-heel shoes were from Charlotte Mills.
"Sophie and Luna's crowns last forever and I still wear mine now! Sandra who makes them is in contact throughout the process and is so helpful."
"I had my eye on a beautiful pair of Louboutins but managed to break my foot in the February and so had to search for a pair of lower block style heels. Charlotte Mills specialises in wedding shoes; there's a little traditional poem inscribed on the bottom of the shoes and a lucky sixpence in the left shoe! The soles are blue so that was my 'something blue'.
It's time to talk bridesmaids outfits. Sophia's girls wore sugar pink Ted Baker tutu-style skirts, which the bride admits to being totally obsessed with.
"I knew the skirts would look really different and striking, which they really did and they all loved the photos.  They teamed it with a soft V-neck ivory lace body suit from New Look so that it tied in with the ivory lace of my dress."
"I wanted to get the bridesmaids shoes that they would wear again so they wore pale grey/nude, round-toed heels from Dune. They have all worn them since which is great."
"I gave all the girls a rose gold Disney Couture bracelet with 'When you wish upon a star' engraved on it with a small star hanging from it. When I asked the girls to be my bridesmaids I bought them a rose gold delicate necklace with a small diamond which they all wore."
If you are looking for a romantic, open-backed wedding gown then you may love Sophia's choice. Her ivory lace Alvina Valenta gown was from Les Trois Soeurs Bridal, in a style that she never thought she would pick.
"I originally thought I wanted something really sparkly and embellished as I'm known for always wearing something sparkly. I used to be a show girl dancer and the obsession with sequins and glitter has always stuck with me. I went to one shop and tried on lots of dresses like this but I never felt 'bridal'."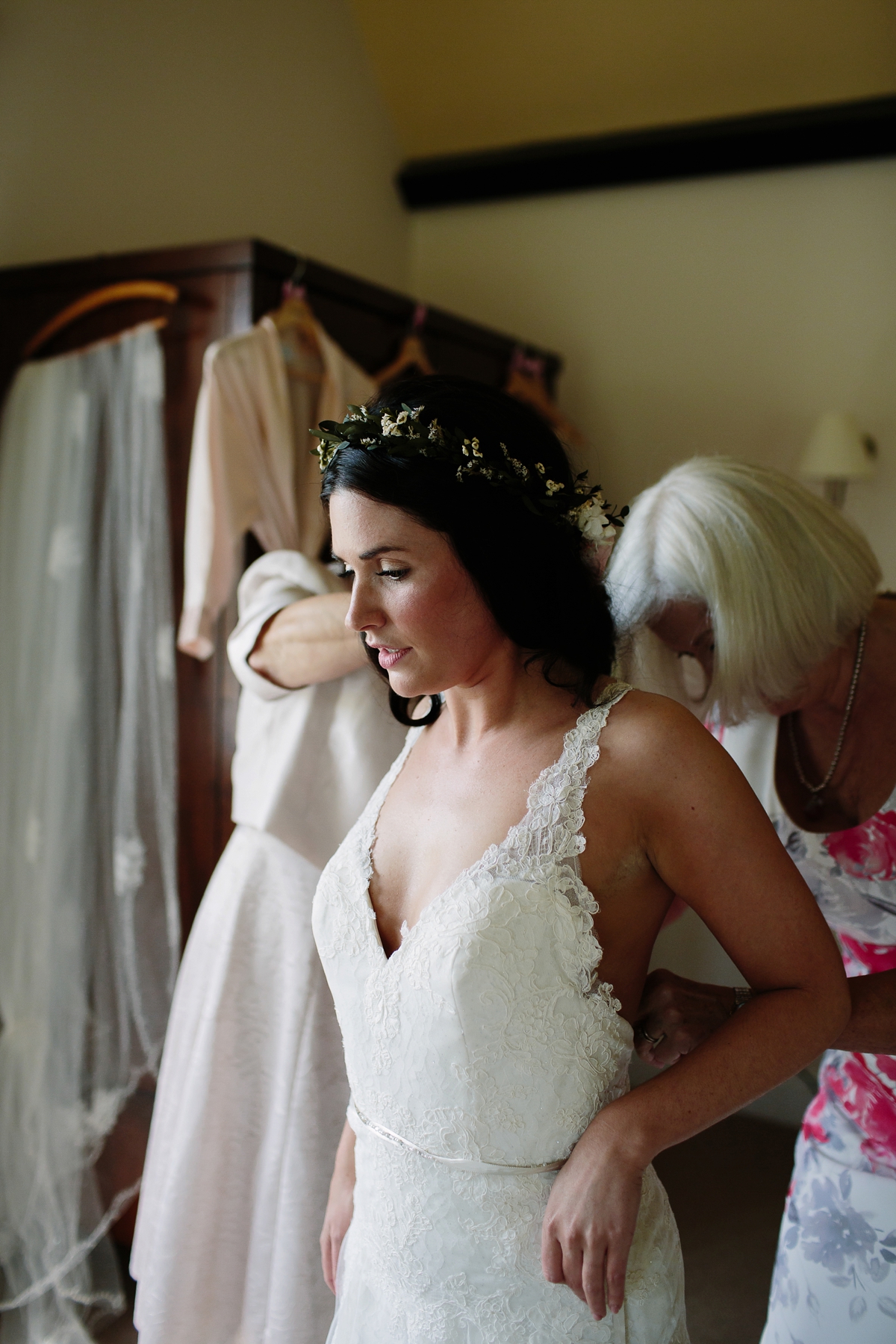 "I saw my dress online and shared it with my mum and aunt; their approval was very important to me. I loved the lace; it was vintage-style French lace and the deep V back was something different. It is a very simple dress and I knew that everyone would be shocked that I went for something so sleek and simple but I wanted people to be surprised!"
The couple travelled to the Isle of Wight, where Tom grew up, for their day, choosing the stone barn at Barton Estate for their reception.
"London is very much our home but we wanted all our friends and my family (most of whom are from London) to experience the magic and beauty of the Isle of Wight for themselves. It meant a lot to us to pick a place that had significance for us and of course, this is where Tom grew up, literally a road away from Barton Estate. Tom loves the history of the island and this estate was once part of Queen Victoria's home and the barn where we held the reception was built by her husband Prince Albert. Barton Manor is a place of natural beauty, there's a folly, a lake and lots of little nooks and crannies to be explored."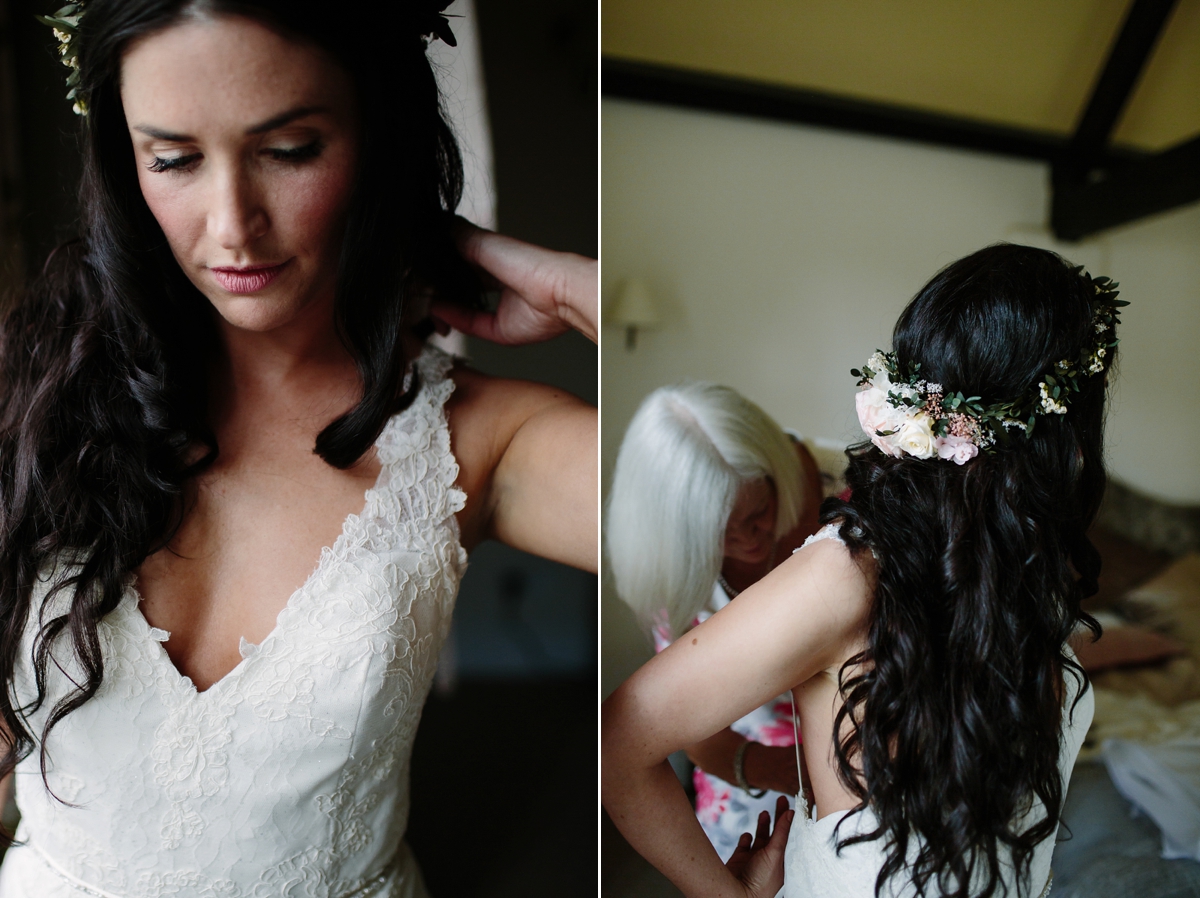 The couple met whilst they were both working as actors and found themselves in a play together. They hit it off and became friends before their story was interrupted by a ten-month stint in New Zealand by Sophia. Whilst she was away Sophia realised how much she missed Tom and they stayed in contact during her time abroad.
"On my return Tom came to meet me from the airport but I was held in customs for hours trying to bring in a didgeridoo I'd bought for Tom and so he had to rush off to work. We eventually saw each other again and spent the day of the Royal Wedding in Trafalgar Square watching the wedding. We had a chat about how we felt and decided to 'give it a go' and the rest, as they say, is history! We moved in together about one and a half years later."
Tom surprised Sophia with his proposal on a walk to dinner out on a Wednesday night in London.
"As we walked along the River Thames we were talking about Christmas. Tom stopped us to look at the view and said 'You know how you always ask for a unicorn and something sparkly every year for Christmas? Well I think I may be able to help out with one of those things this year'. I spun around exclaiming 'You've found me a unicorn!' and Tom had the ring!"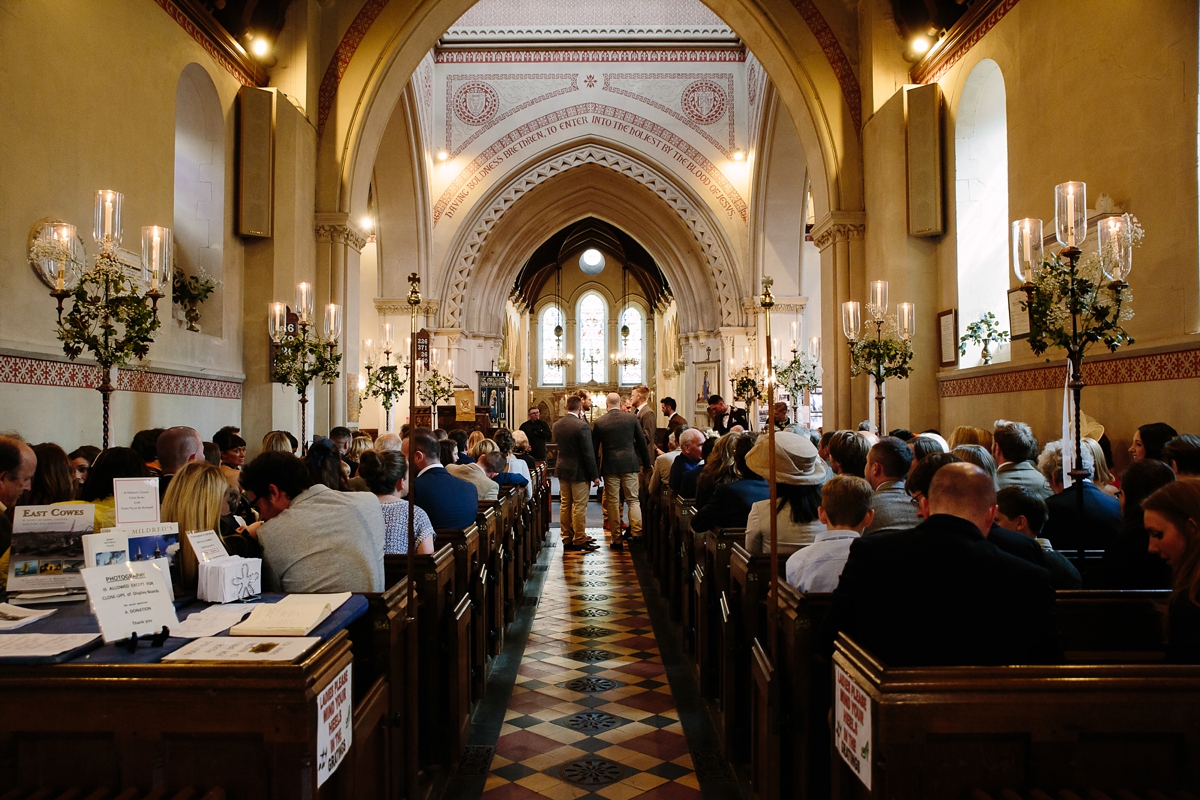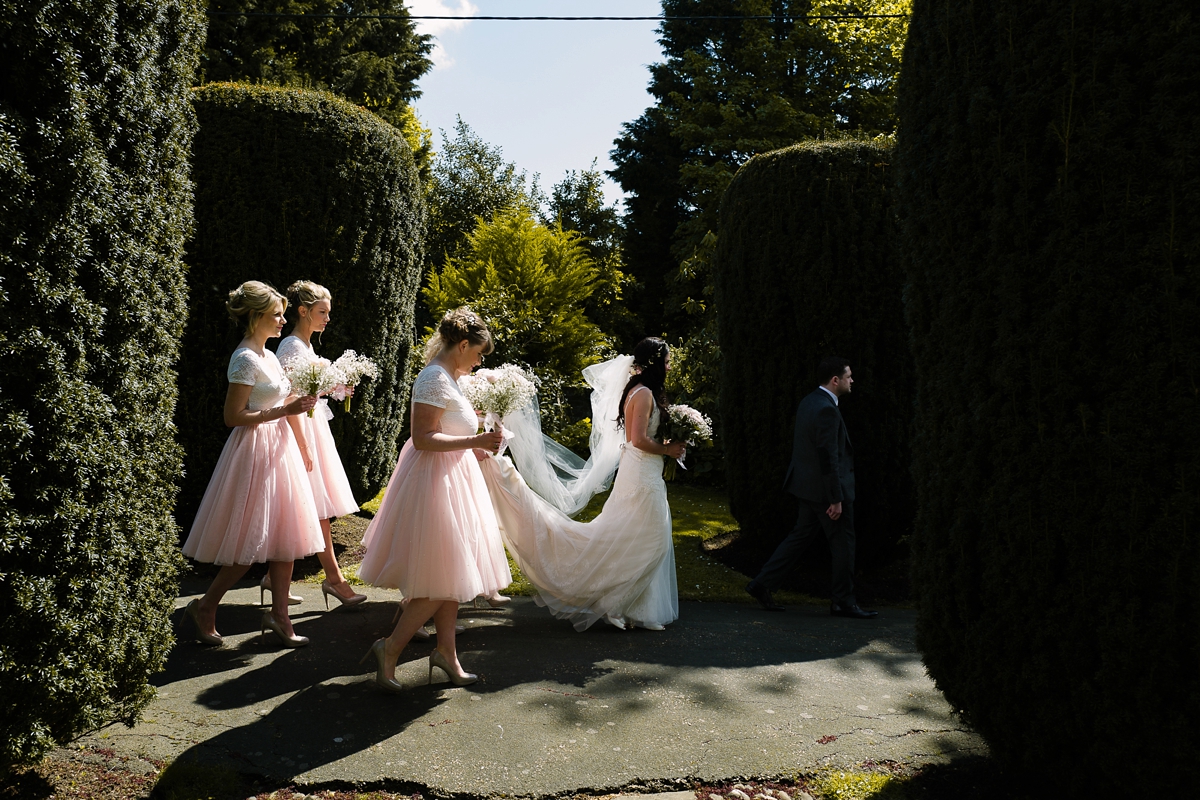 Sophia borrowed a cathedral veil edged with French lace from her cousin, and added a matching jewellery set in rose gold from Monica Vinader.
"I wore a Monika Vinader necklace that Tom had got me for my 30th birthday. My mum and brother bought me the matching earrings and bracelet as my 'something new'."
Sophia walked down the aisle at St Mildred's on the arm of her brother, as Hammig String Quartet played Pachelbel's 'Canon in D'. The service contained traditional vows as well as three very personal readings inspired by their lives and interests; Song of Songs 8:6-7, EE Cummings' 'I Carry Your Heart With Me', 'A Love Letter from Beethoven to his Immortal Beloved' and 'Love Monkey' by Edward Monkton.
"We had to have one religious reading as we had a religious ceremony. We really wanted something different that we hadn't heard at other weddings. Song of Songs is a series of poems found in the bible and this one we felt was the most appropriate. 'Love Monkey' is really sweet! We had lots of children at our wedding and wanted something for them, and all the adults loved it too."
Tom sang as a choir boy at St Mildred's in Whippingham when he was younger, so it was the perfect place to mark a new stage in his life.
"It was important to me that we get married in a church and we were over the moon that we were able to get married there."
The couple found their rings on Rosados Box on Etsy. Sophia's rose gold and diamond wedding band complimented her engagement ring, a kite-cut Champagne diamond surrounded by smaller diamonds.
"I've always loved rose gold and Tom knew I would want a ring that was classic but a bit different. The elegant kite cut and colour of the diamond is perfectly complimented by the rose gold, and the diamonds around it give it a glamorous vintage feel."
Tom's relaxed chino and jacket combo is a signature country-groom look. He wore a tweed waistcoat and jacket from Marc Darcy paired with nude Gap chinos, and a pure white Eton shirt and Dune brogues in brown. The little page-boy's sweet waistcoat from Monsoon matches it so wonderfully.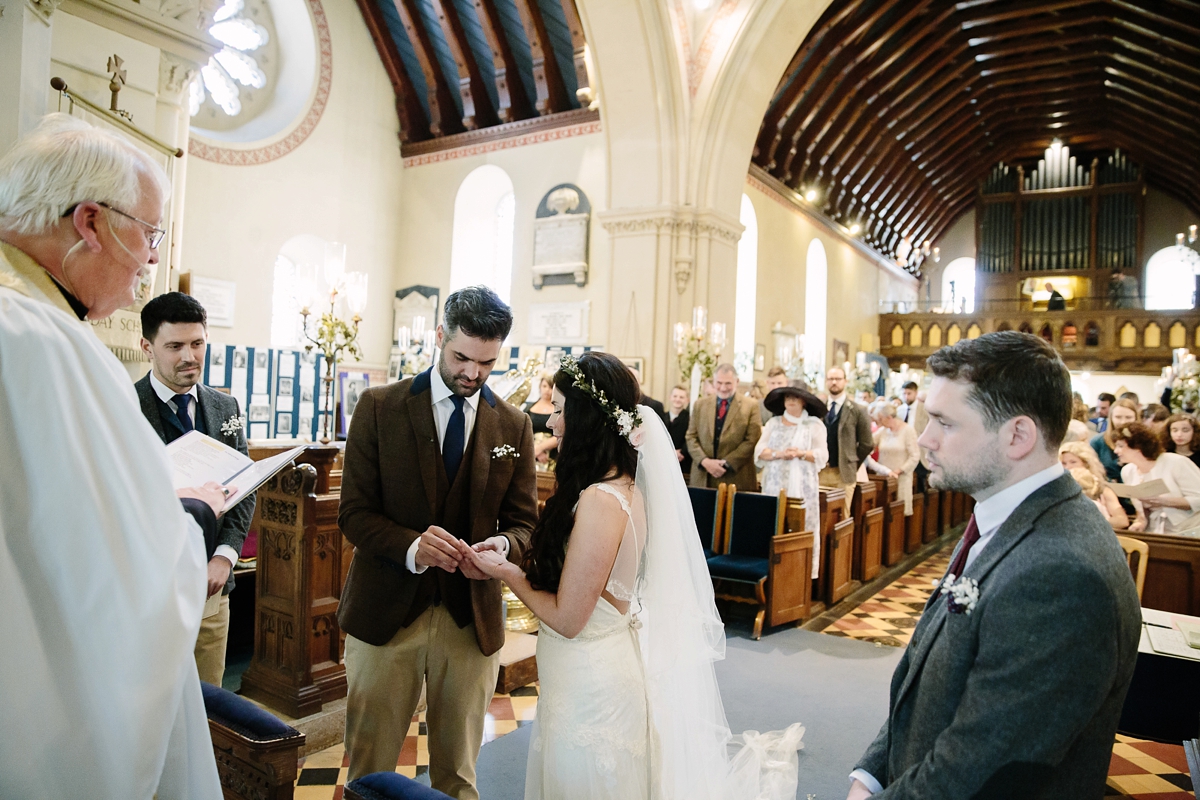 The cute little toad and unicorn characters which adorn the stationery were inspired by Tom's childhood nickname and Sophia's love of unicorns. The elegant calligraphy on the invitations, table names, orders of service and place settings are the work of Lauren Danielle Calligraphy.
Back at the barn, the guests and newly-weds relaxed at the laid-back, informal reception. Their idea for a wedding breakfast is a totally genius way to get everyone involved and chatting.
"We made up our own picnic hampers – one for each table – using a variety of cheeses, chutneys, meats, pies and breads from Calbourne Classics. We made up individual boxes for the children using child-friendly food from Waitrose."
"Tom's sister Emily Dover Zinkus made the wedding cake. It was three tiers of vanilla and chocolate, covered in butter cream and decorated with fresh flowers."
The couple decorated the stone barn on the estate with more fresh flowers, adding ivy, fairy lights, bunting and decorated jam jars with candles in. The top table was accentuated by a willow branch suspended above it and decorated with lots and lots of gypsophila, hanging candles and hearts. The couple created their own bar using a horse trough filled with beer and wooden pallets with apple crates. They bought a vintage cocktail cabinet to display all the 'shot' spirits in and dressed the tables with sets of pretty mismatched vintage crockery.
"We also had a vintage dressing table which we transformed into a glitter station for all our guests to 'glitter up' for the evening party."
Sophia, her mum and bridesmaids worked together to put together the simple, pretty bouquets the night before the wedding. The bride's bouquet included a sprig of rosemary, which symbolises remembrance, from her nana's garden.
"We ordered our flowers from The Flower Monger, an online wholesaler. They were very 'undone' – gypsophila, pale pink tulips, pale pink Generous Gardener roses and lots of eucalyptus leaves."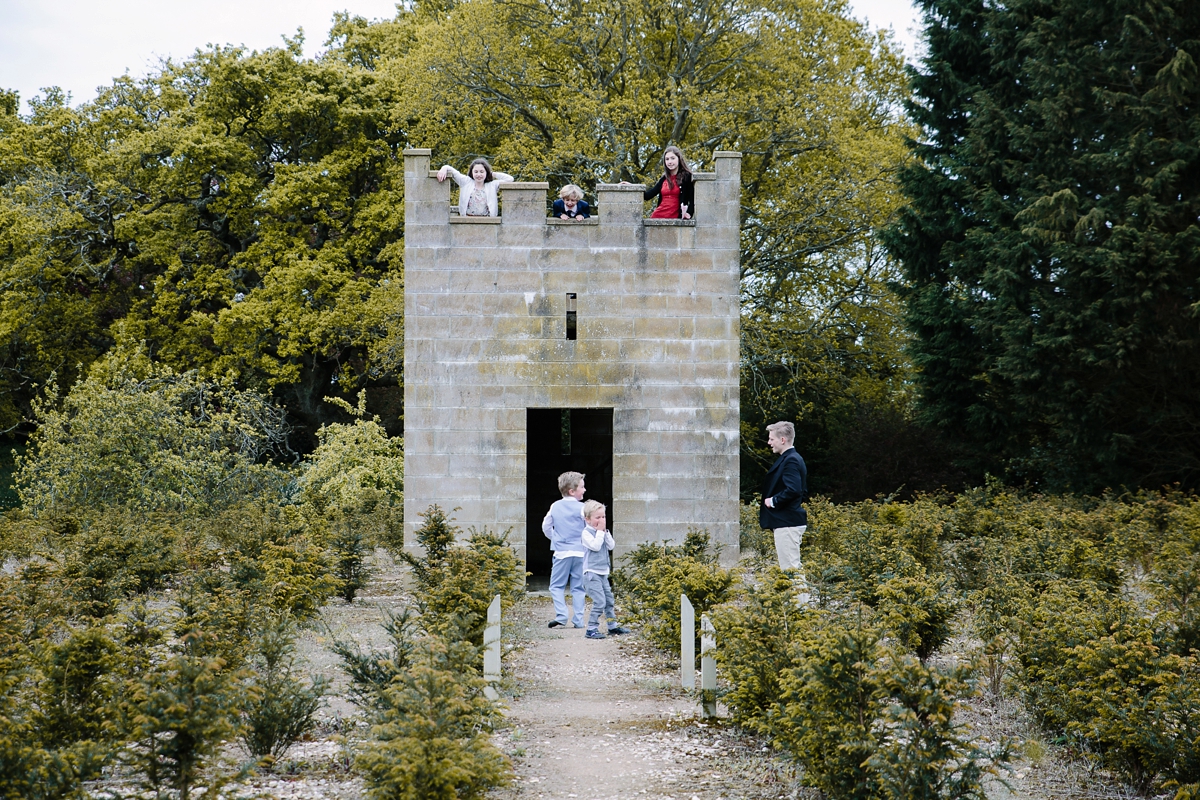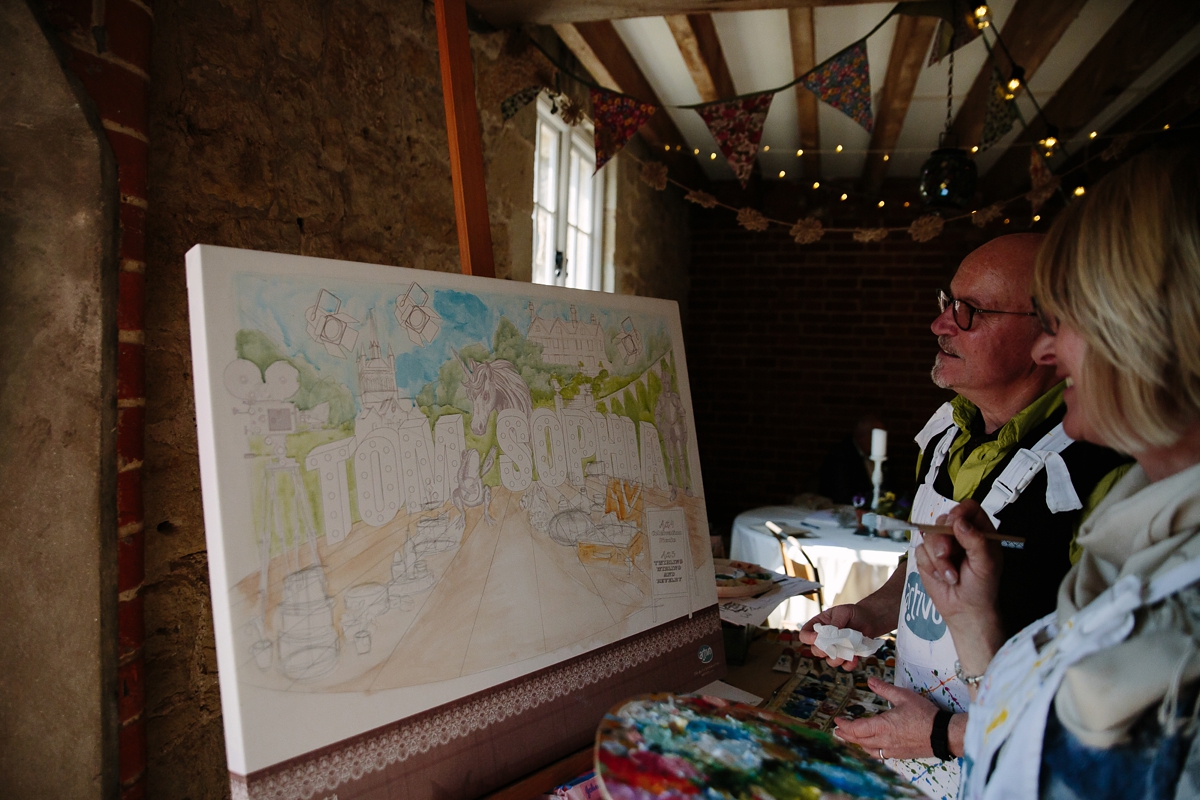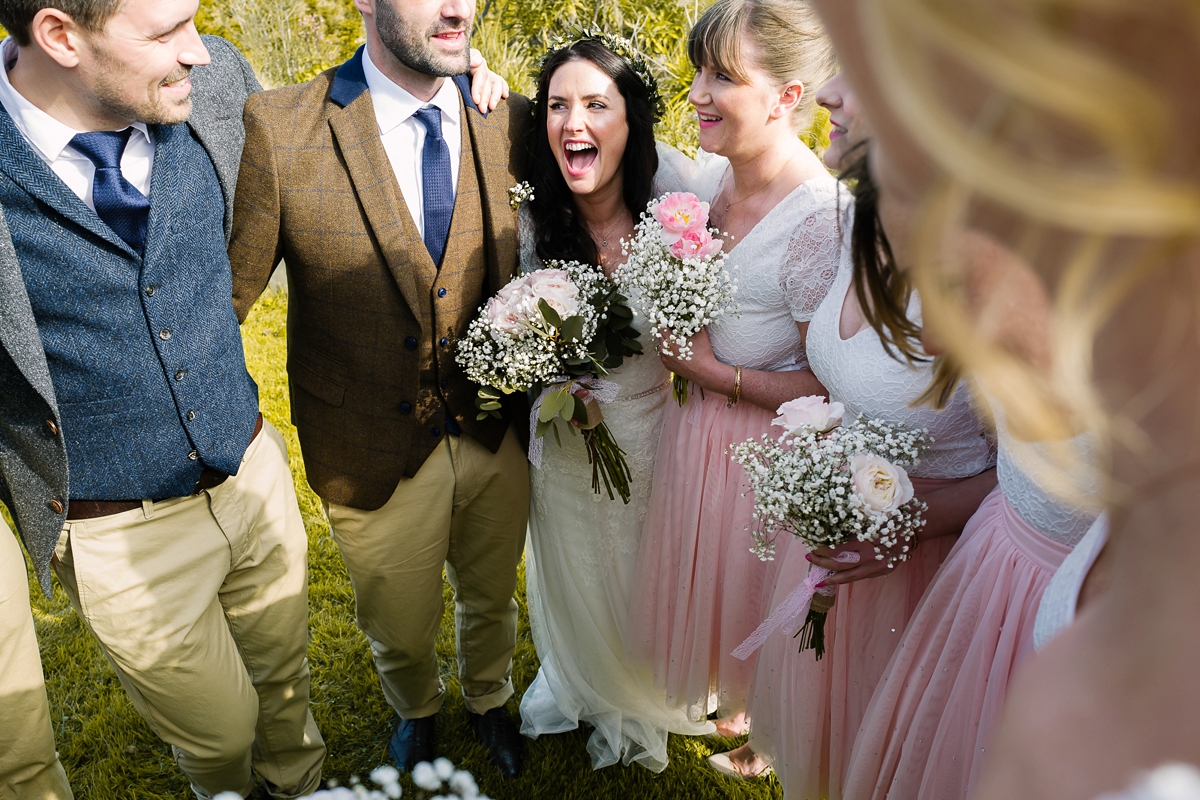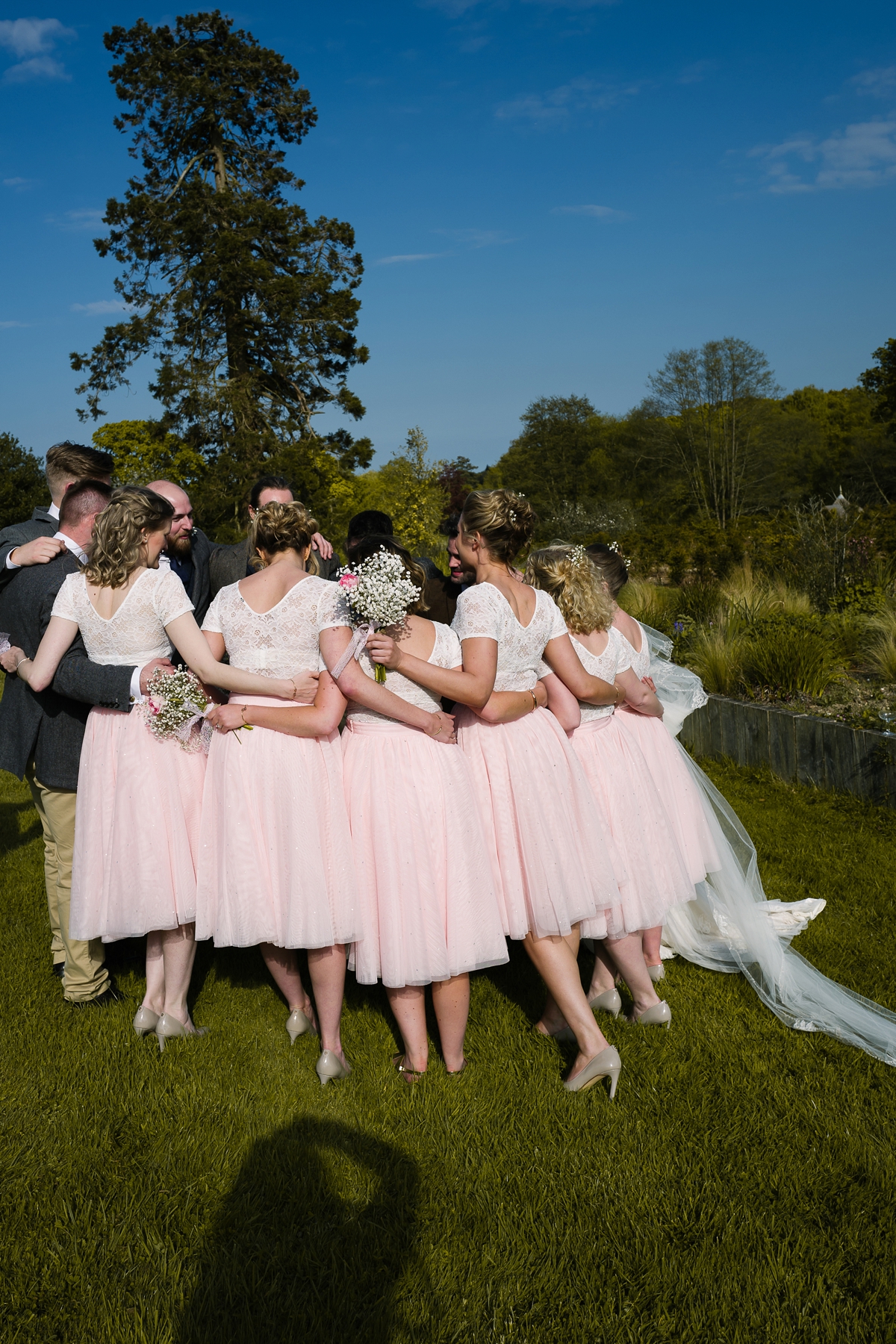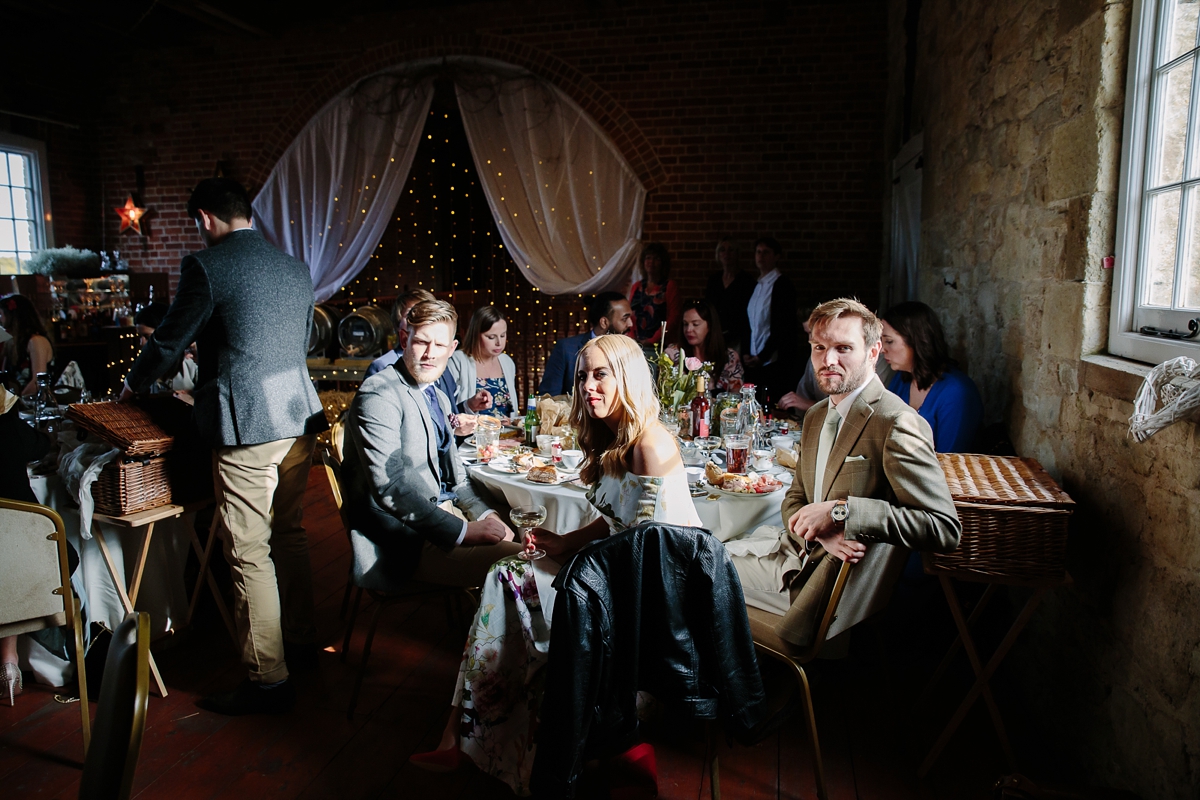 Sophia and Tom filled little glass bottles from Ebay with home-made raspberry gin for favours, and very thoughtfully gifted the pregnant guests  handmade soap and hand cream.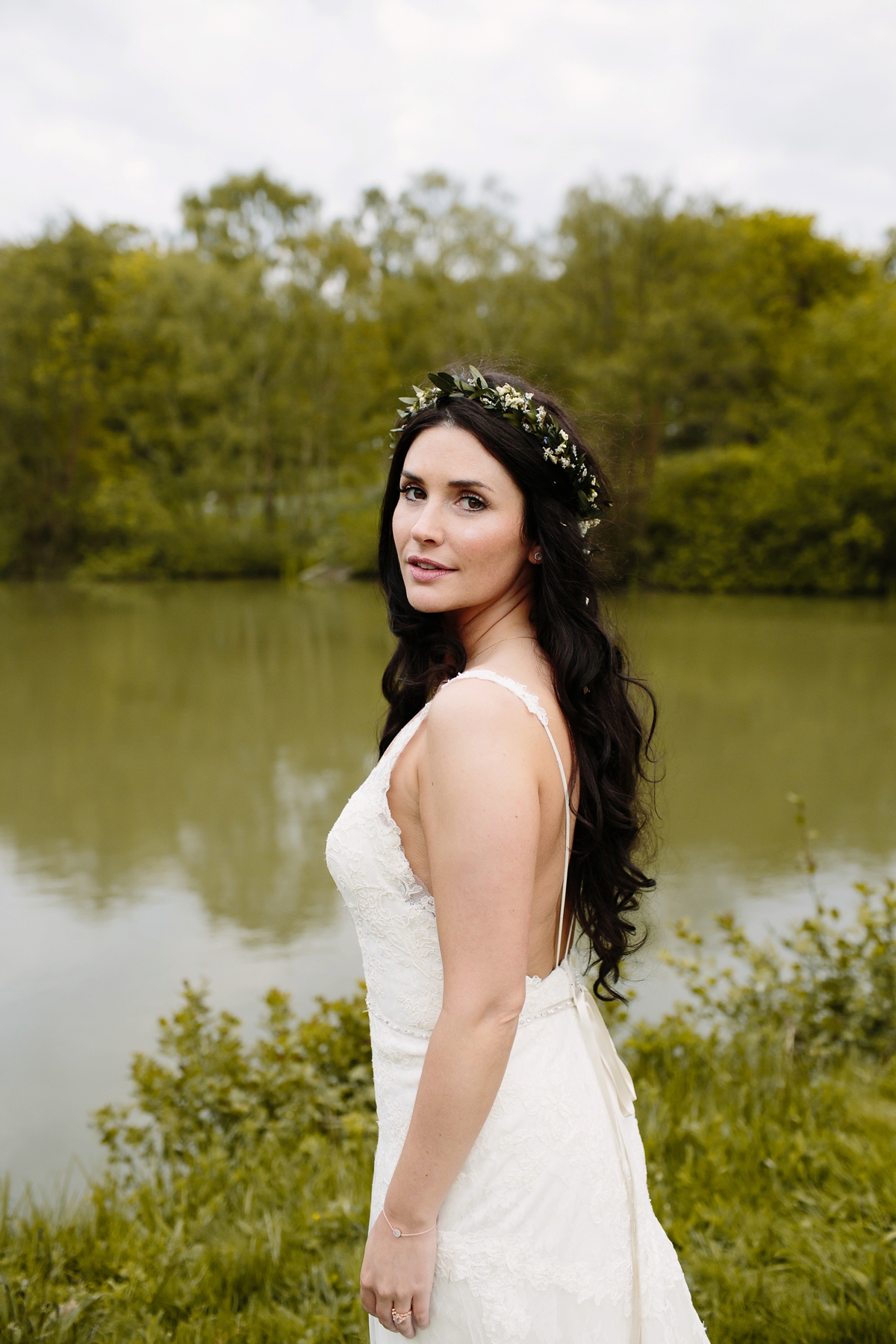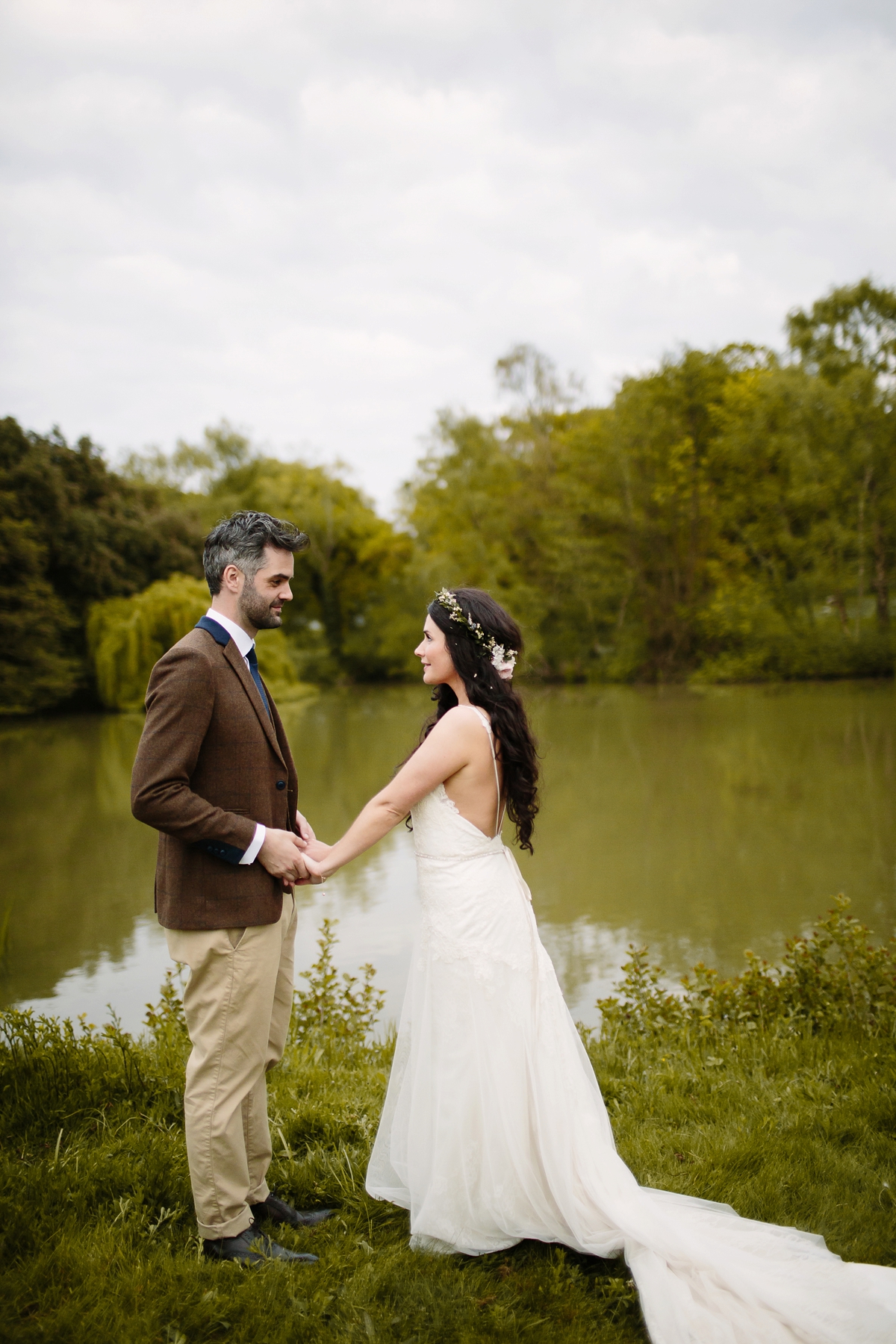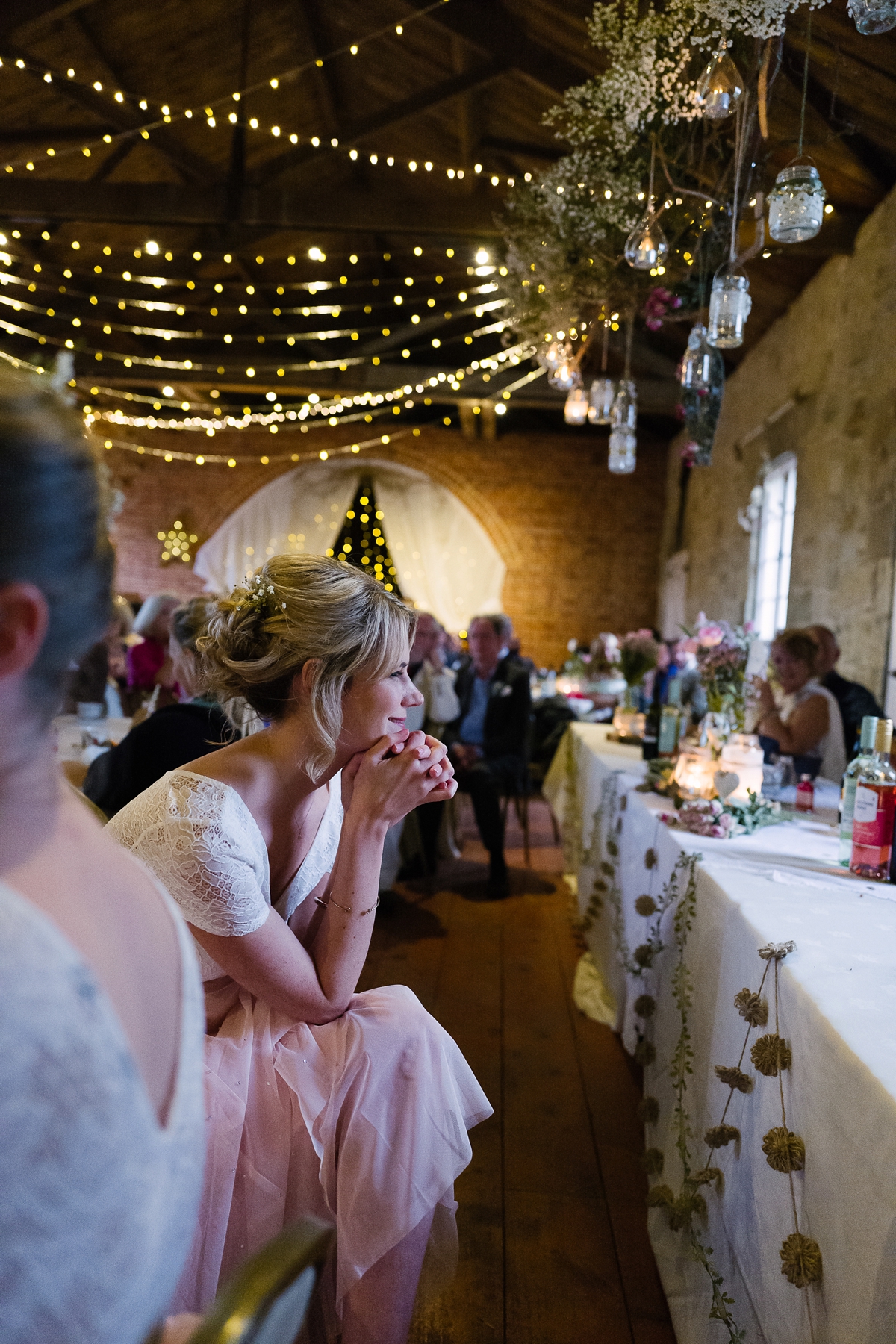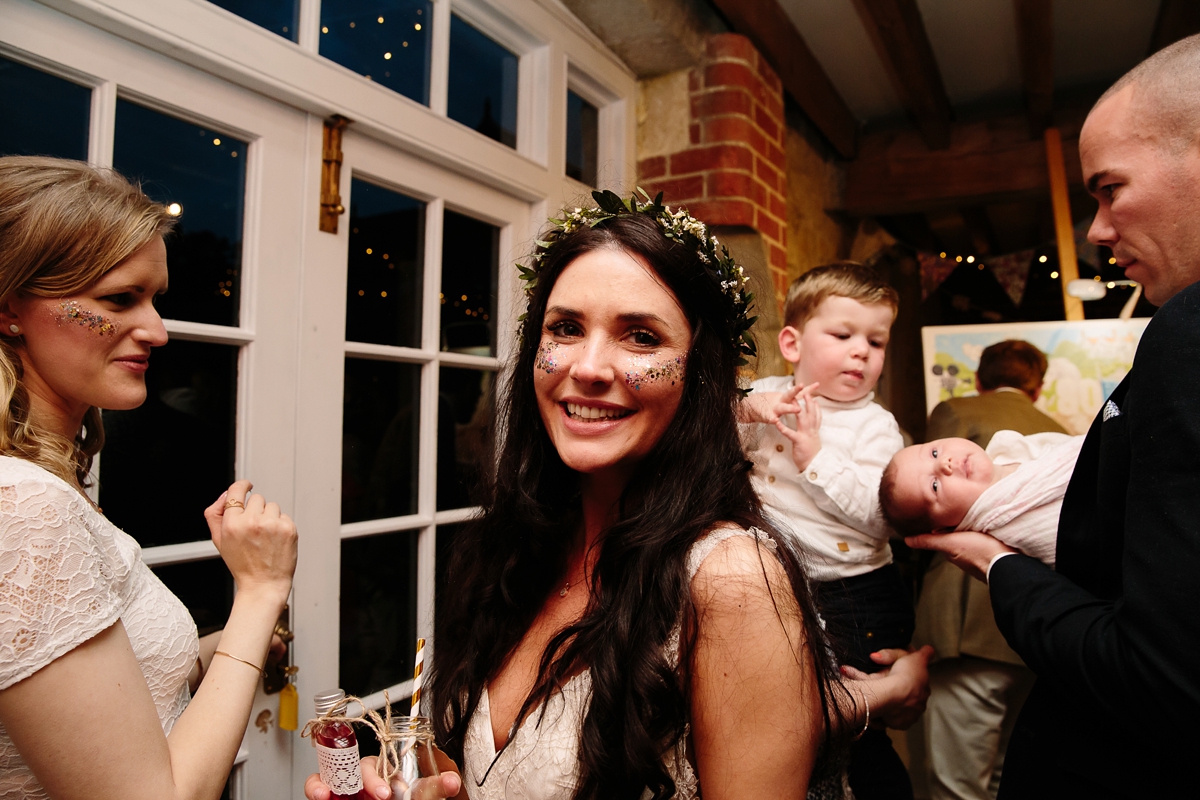 Later on, band Soul Lounge arrived to play live music for the glitter-filled evening party. How much fun does it sound to dress up in glitter?
"Once all the speeches and the meal were over we all went down stairs to eat cake, drink more Prosecco and glitter ourselves up at our glitter station. Everyone was covered in glitter, chatting, using the photo booth and every person, adult and children alike, seemed to be having a wonderful time. After all our hard work putting everything together it was so lovely to stand back and see all the people we love the most in the world mingling and having a wonderful time together."
I love the story behind the couple's first dance song, Ed Sheeran and John Mayer's 'How Would You Feel'.
"We don't really have 'a song'. We had many ideas and then a few weeks before the wedding we heard this song on Ed Sheeran's album and loved it. We always thought we wanted a John Mayer song as in the early days of our relationship we bonded over his music, so when we found out that John Mayer played the guitar on this track we just had to have it. The lyrics are beautiful."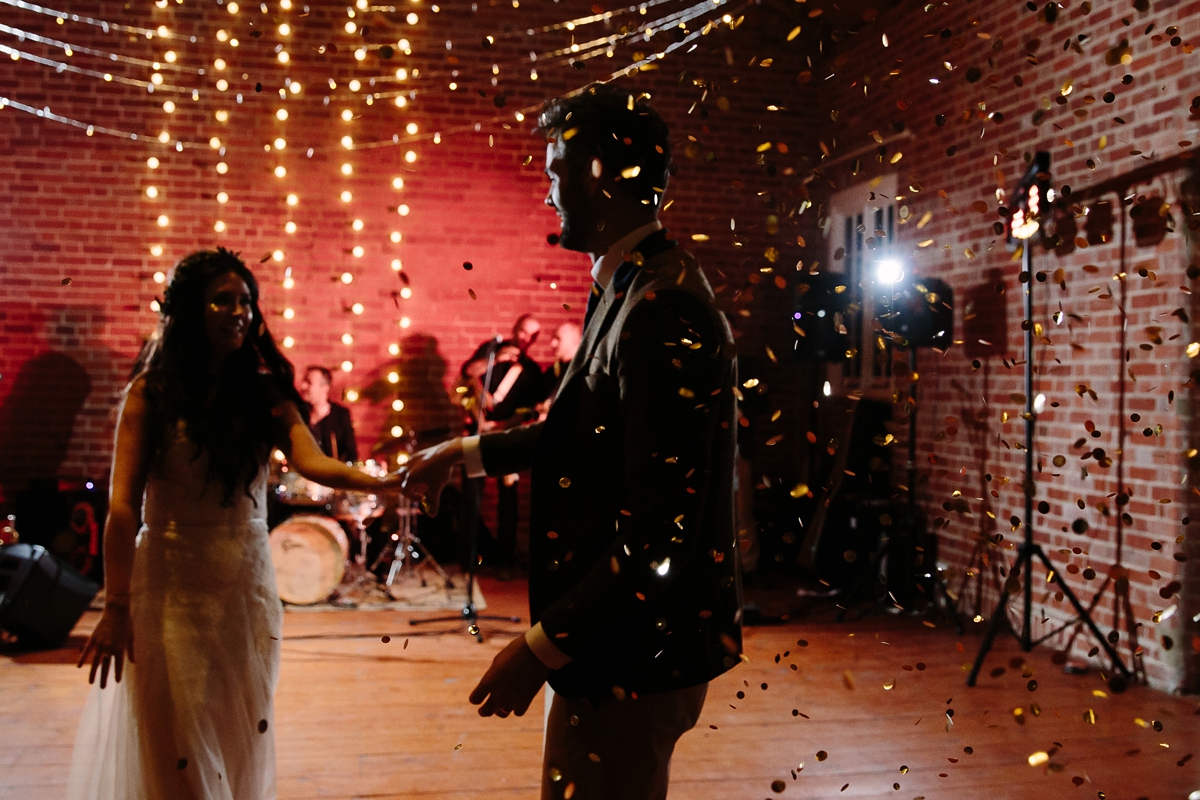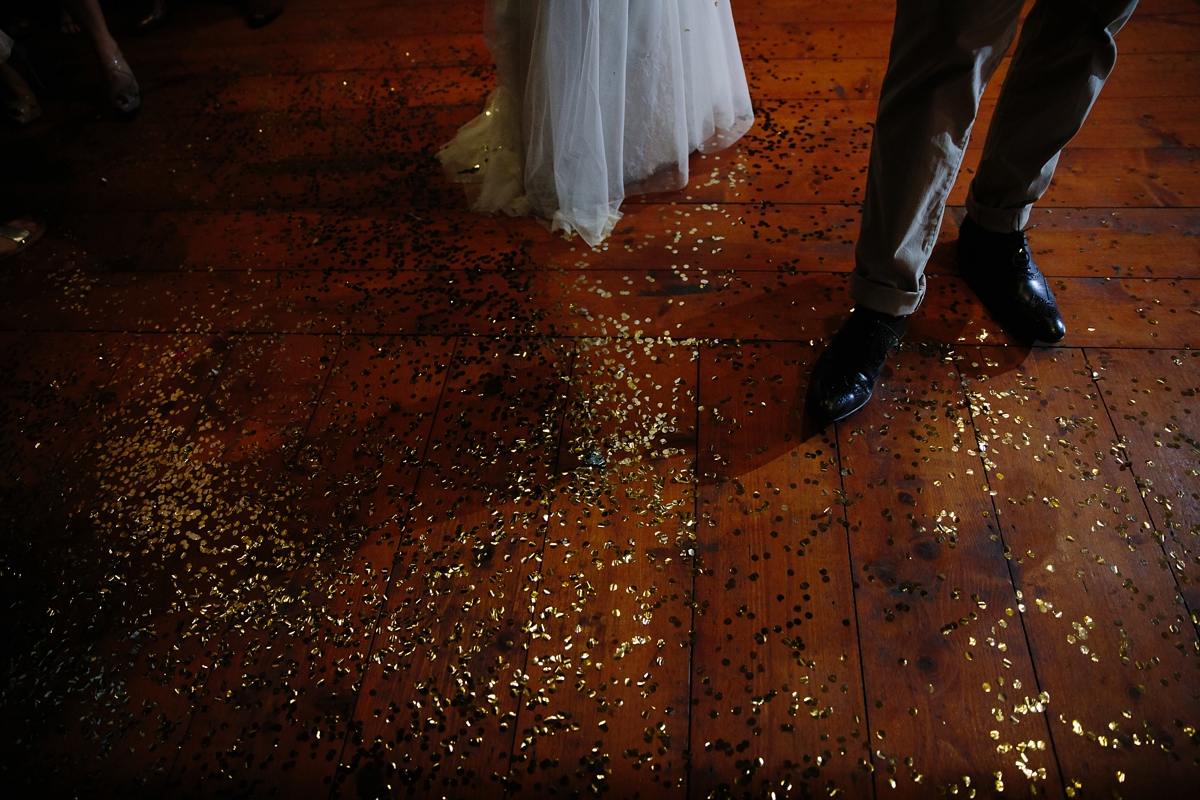 Words of Wedded Wisdom
"Enjoy every moment of planning your big day! I know a lot of brides who got really stressed out when planning. I know it sounds crazy but it such an important part of the whole wedding experience to talk through your wishes and ideas. It really brings you and your fiancé together talking about it all."
"As our day was such a DIY event I did feel anxious that everyone was having a good time as we had no one else to blame if anything fell apart. However, once all your favourite people are there in one place with you, that anxiety just melts away and you can enjoy all the hard work you put in. And do make sure you enjoy it! We stayed up dancing until 6am and it was just the most incredible feeling."
"We originally budgeted £8,500 and ended up spending £9,500 on the day in all."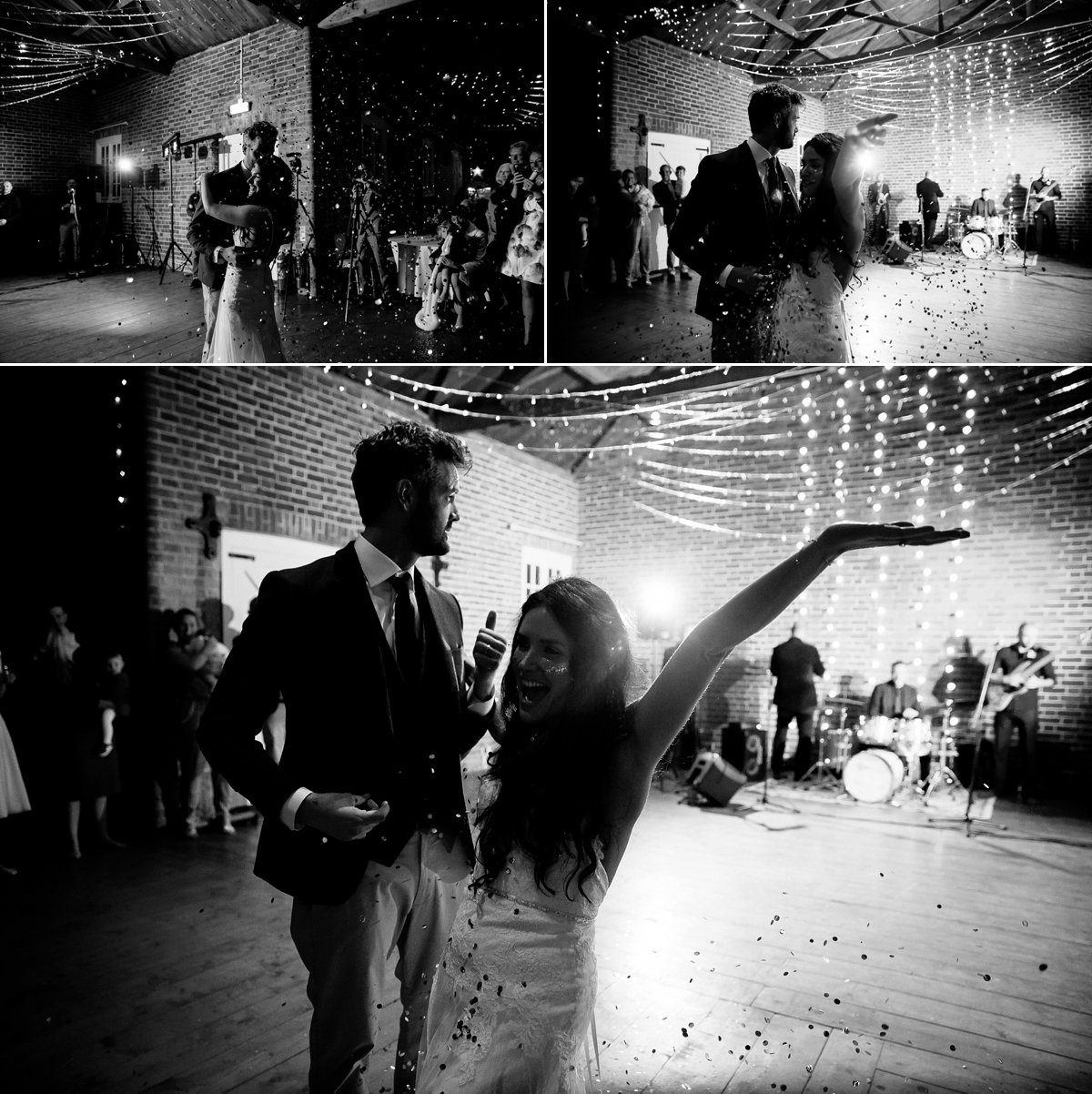 Well, I hope that you've got lots of ideas if you're planning a DIY wedding. I really like the personal touches that Sophia and Tom included to make their day truly theirs. Thank you so much for sharing it with us today, and thank you as always to Joanna Brown for your beautiful photographs.
Ele xx