Hi there, thanks for joining us! Whether you're a long-time reader or a newly engaged fiancée, we're excited that you're here.
Today I am delighted to be sharing with you the gorgeous summer wedding of Sean, who works in banking, and Tori, who's in fashion. This lovely pair wed on 10th August 2017 at the sensational Aynhoe Park in Oxfordshire, placing their English and Bermudian heritage at the very centre of their celebrations.
"We wanted a wedding centred round friendship and family, merged with tradition and religion, while infusing our Bermudian and English heritage. Aynhoe Park was perfect as it housed over fifty of our closest friends and family while the other guests stayed a stones through away. It was the perfect centre point for everyone to gather for the 3-day wedding, especially as many of our friends and family were meeting for the first time. We had people fly in from all over; the States, Bermuda, Bali, Australia, Dubai – it was a very special occasion for all of us."
Images by Faye Cornhill Photography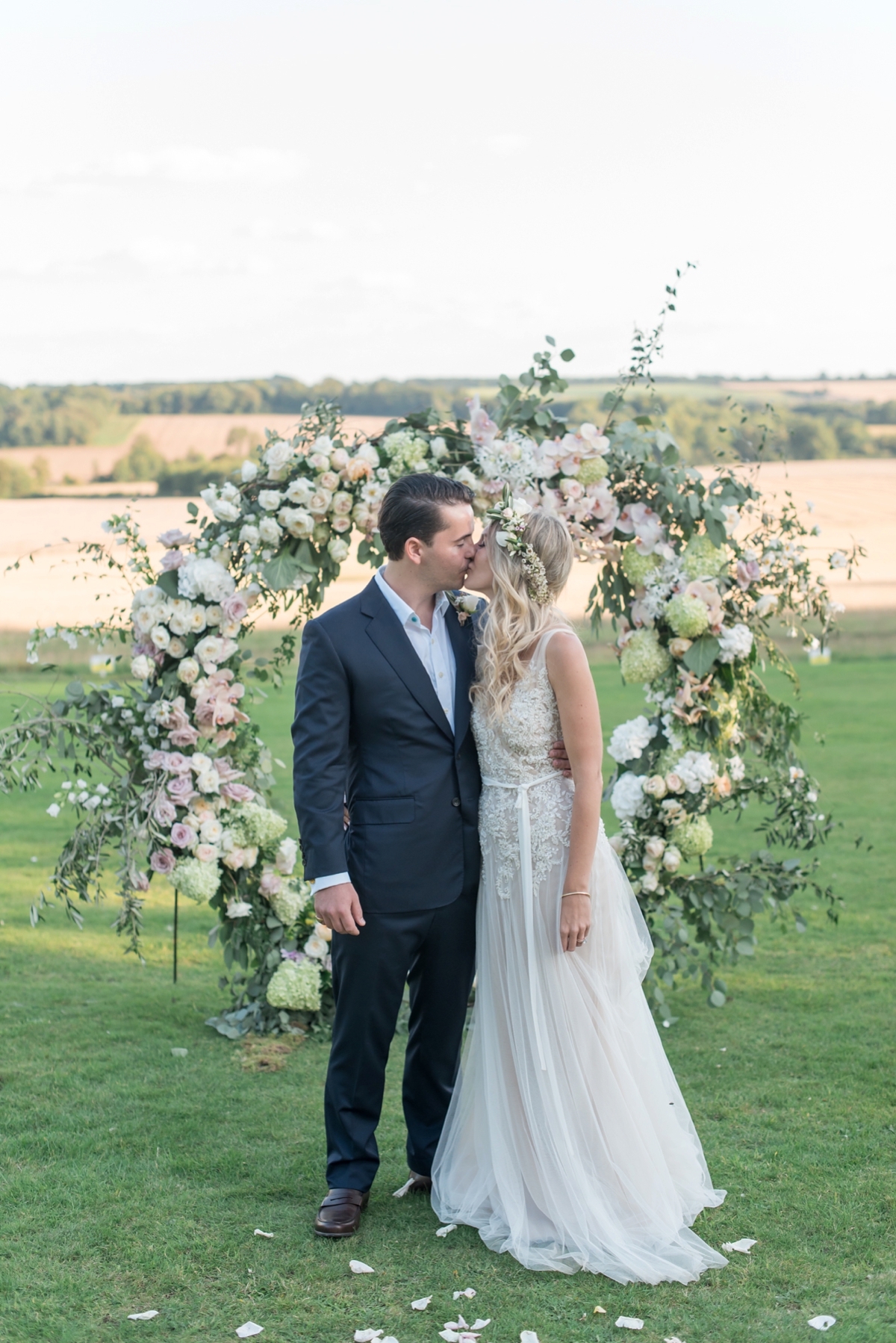 On hand to capture every moment of divine joy was photographer Faye Cornhill, while Aynhoe Park's  co-ordinator Emma, along with the butlers, kept the perfectly orchestrated day running smoothly, making Tori and Sean's loved ones feel at home. Take a look here for more gorgeous unions shot by Faye, stored for your viewing pleasure in the Love My Dress archives. And Tori's mum is something of a wedding styling genius it seems!"Faye was amazing. The decision to have her as our photographer was made easily and quickly. I was first attracted to her light and effortless style, and after just one phone call with her I knew that we would work well together. Faye was so friendly and captured everything so beautifully."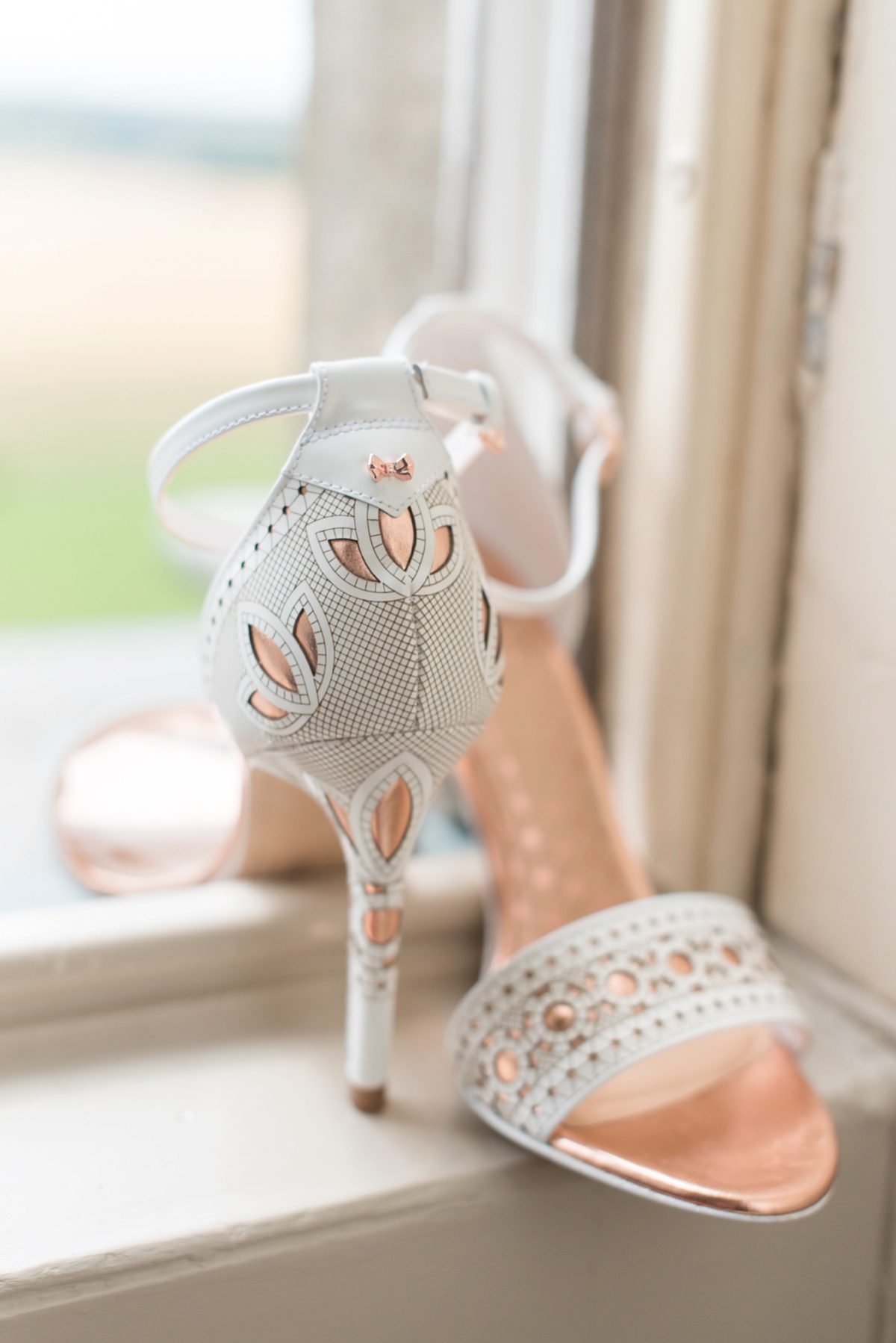 I am a little besotted with Tori's stunning Liz Martinez dress and veil, purchased at Gabriella Bridal Salon in New York. The sexy low back, the intricate beading and the soft cascade of tulle combine to create something achingly feminine and romantic, yet chic and modern.
Tori chose shoes from Ted Baker and turned to the professionals at Mach Management for her make-up and hair, styling her flaxen tresses into tumbling loose waves.
"I first saw my dress on Pinterest and fell in love with the open back and flowing train. I hunted down the designer and where I could purchase it from. She was a fairly new designer so was only in a select few stores around the world; Chicago, Milan and Israel. I started following her on Instagram and saw that she was doing a trunk show in New York. As I was living in Boston at the time, I scheduled an appointment and took the train over. I knew it was my dress, it was the only one I tried on and I purchased it straight away. I loved the movement of it, and that it was simple yet full of detail."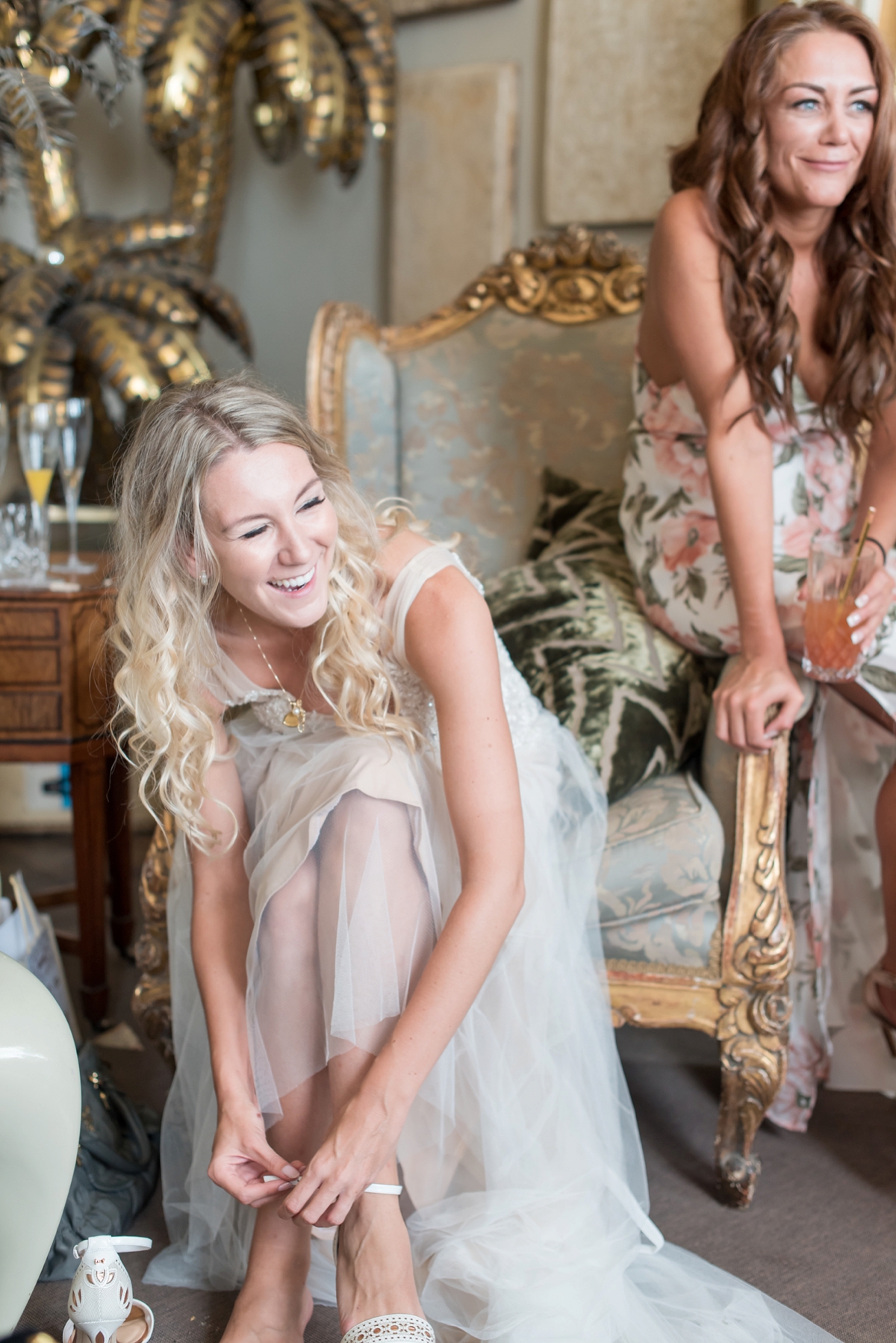 "One of the most special moments was getting ready with my mum, she had brought a few jewellery options with her and helped me choose my 'something borrowed' – we ended up choosing a pair of rose gold diamond hoops as they matched my rose gold wedding band and engagement ring. The cutest part was when my nephew ran into my dressing room and told me I looked like a princess, he then turned to his mum (my sister and MOH) and said 'mummy you look like a princess too'."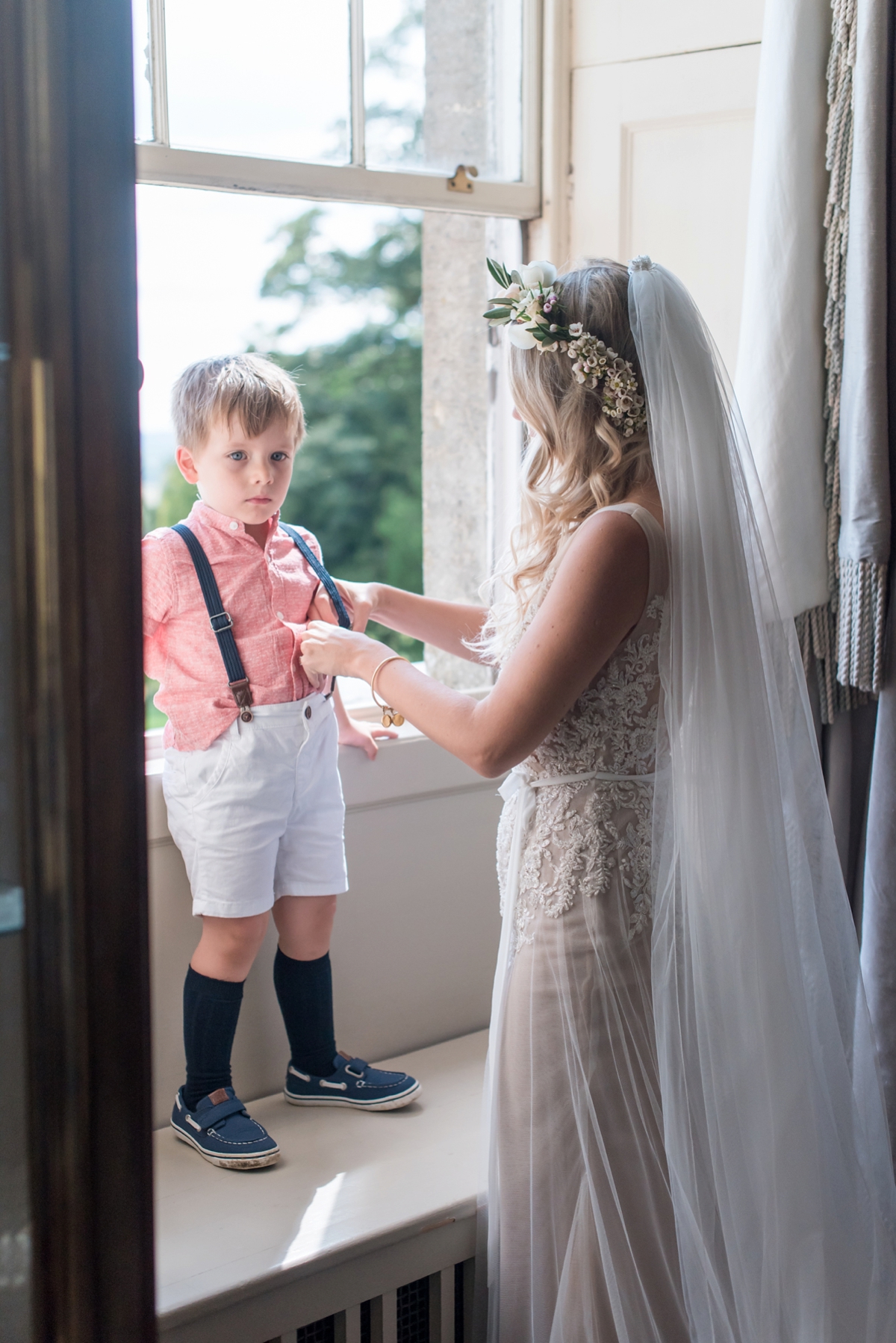 A meaningful gold necklace, dripping with pendants that Tori has collected over the years including an old $5 bermuda coin given to her by Sean (her something old), and a pearl he shucked from an oyster with a hint of blue, which apparently signifies truth and trust (her something blue). Tori also wore a gold bangle given to her by her parents and a floral circlet created by Westwood Design, mirroring those sported by a number of her bridesmaids, looking gorgeous in their Reformation and Monsoon frocks.
"I have to give Georgia from Westwood Design credit for the flower choice. I simply gave her the colours I was after ( based on my dress and the bridesmaids dresses) and the style and vibe of the wedding. Georgia then sent me over images of the flower choices and I loved them. I did have a few specific requests in terms of presentation, such as the circular altar, the wreaths around the candle sticks on the tables and the petal aisle."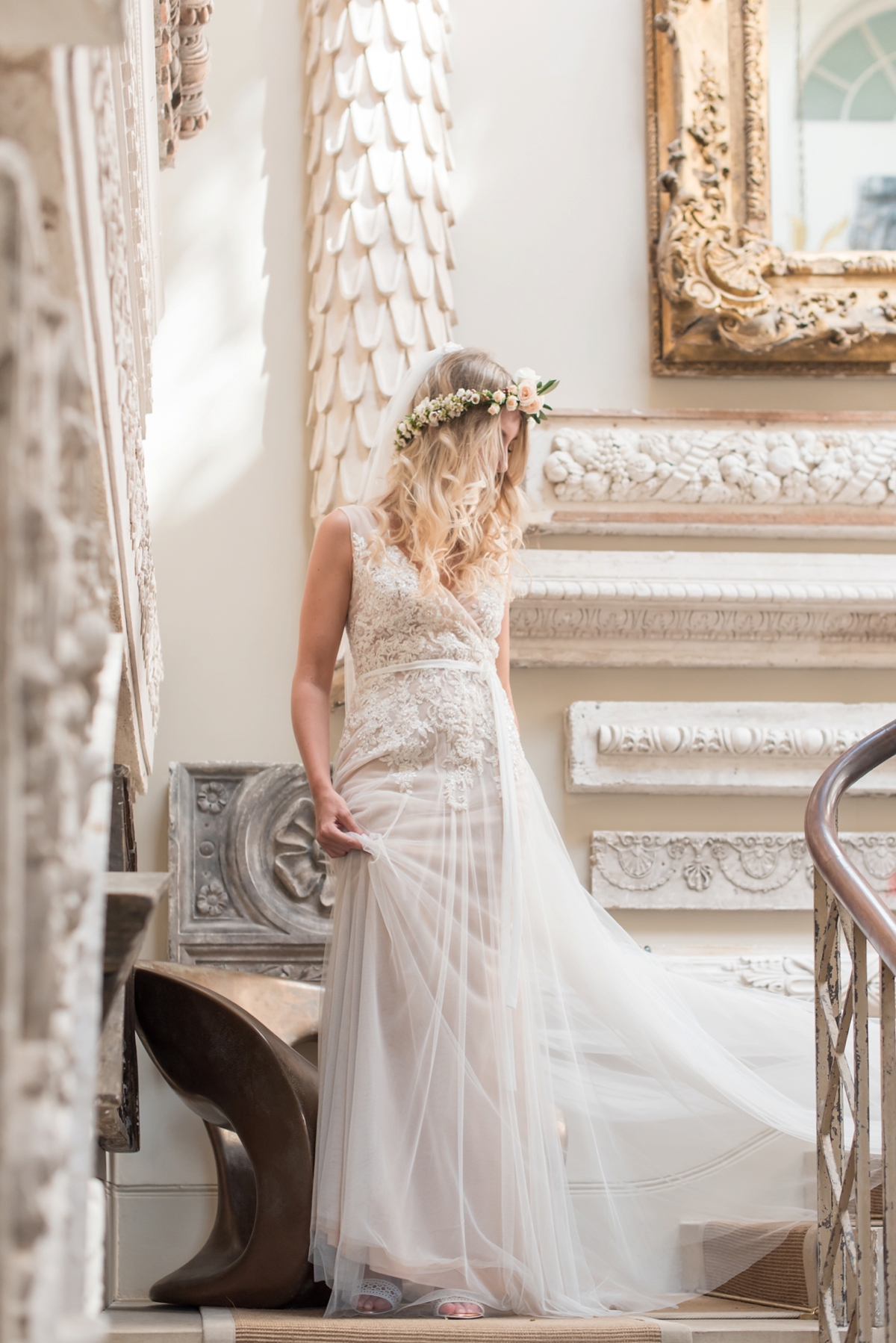 "Anyhoe is a beautiful English Manor with stunning countryside views, then on the inside you are blown away by a fantastical, magical and unique interior. It was not just a venue, it was a one of a kind experience, not just for us but for all our guests. The staff are remarkably friendly and attentive and encourage you and your guests to treat the venue as your home, and that is exactly what it felt like. It truly is the most amazing place."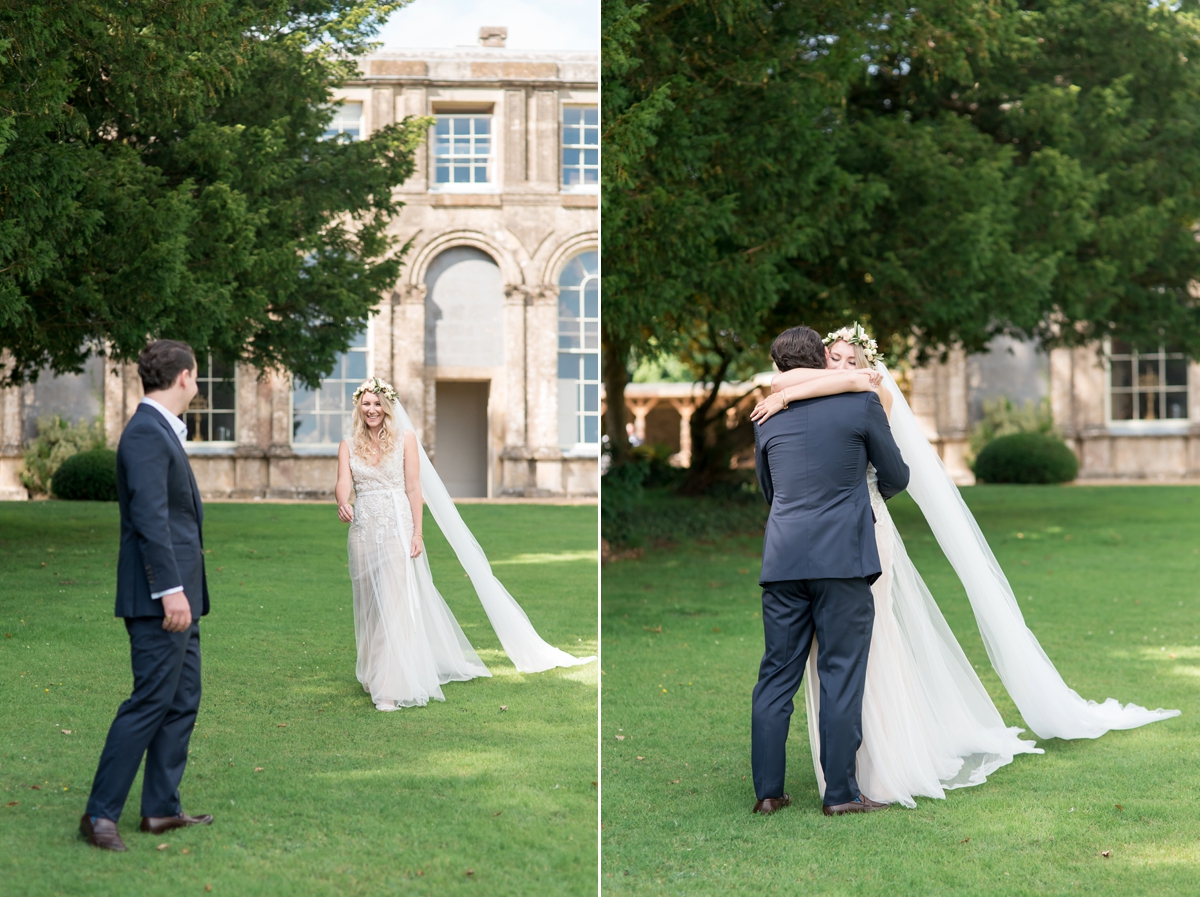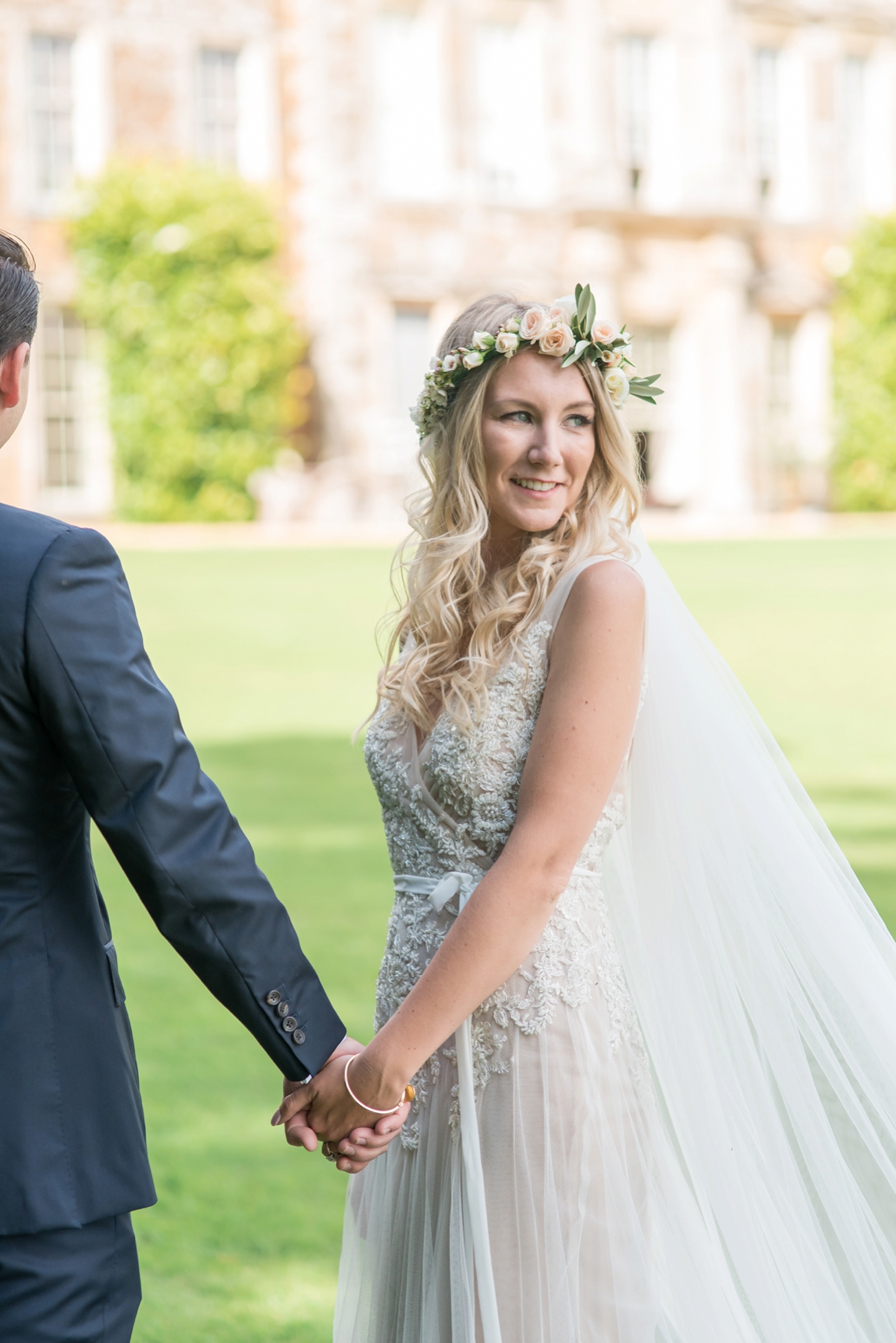 "I wanted my bridesmaids styles and personality to show through so I had them choose their own hair, make-up, shoes and accessories. I gifted them with a gold bangle, which they all wore on the day of the wedding."
"Sean wore a custom made suit from Cad & the Dandy, a shirt custom made by Coral Coast in Bermuda and gold cufflinks engraved with his family crest – a gift from me on his 21st birthday."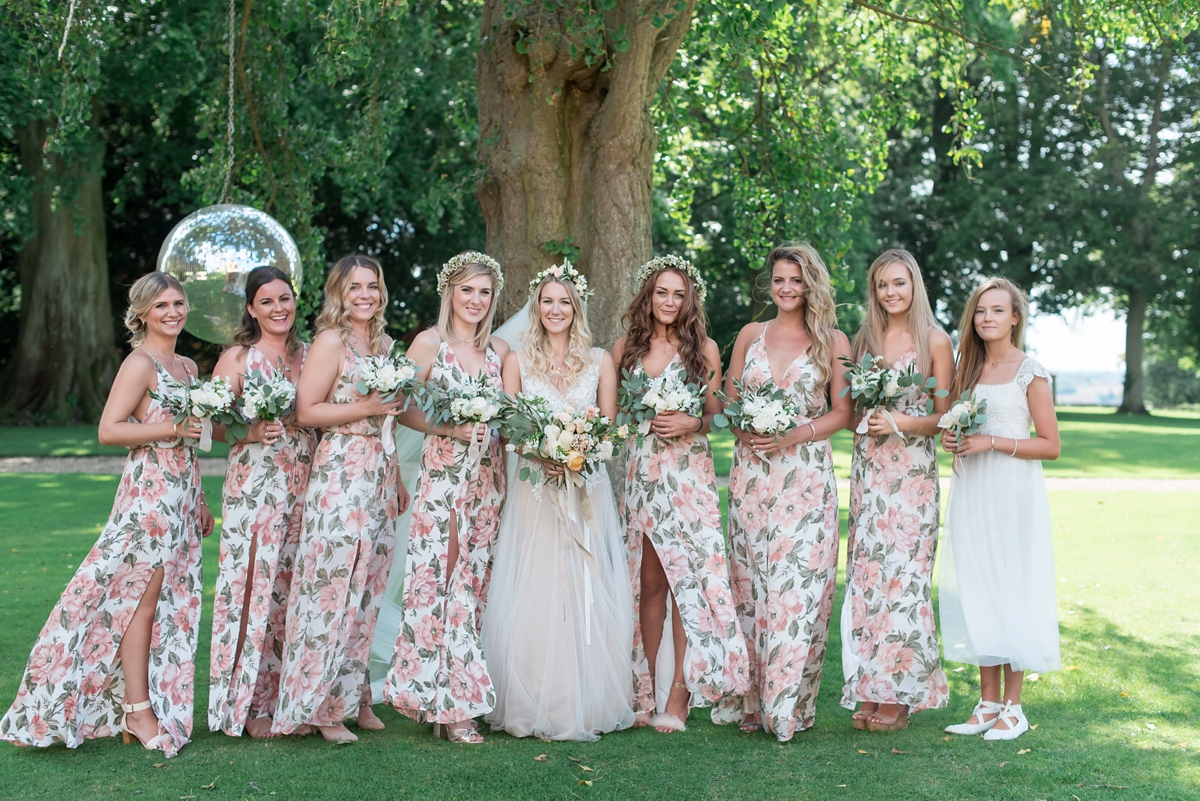 The groomsmen wore traditional Bermuda shorts and socks from The English Sports Shop in Bermuda, and each of their custom made shirts was embroidered with their initials, the colours tying in with the peachy hue of the bridesmaids dresses. The boys were also gifted with wooden cufflinks engraved with the Bermuda island and the British Isle.
"I love that Sean and I did a first look before the ceremony. This was really special as we were able to have that intimate moment in private and just be ourselves without any pressure. We met at 14 years old in Bermuda (where Sean is from) when my family moved to the island. Sean and I then conquered a 3-year long distance relationship between England and Boston before I moved to Boston for 8 years. He proposed on 18th September 2015 in the Boston Commons on a park bench. It came as a complete surprise."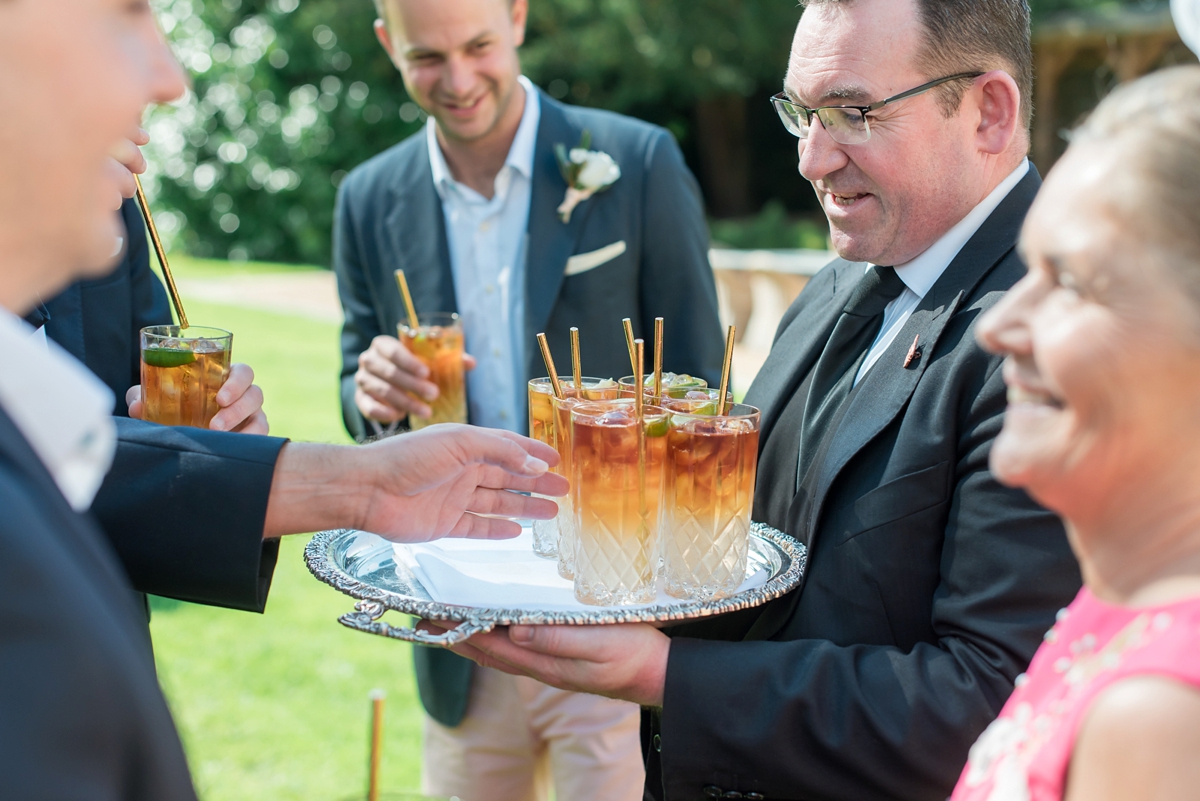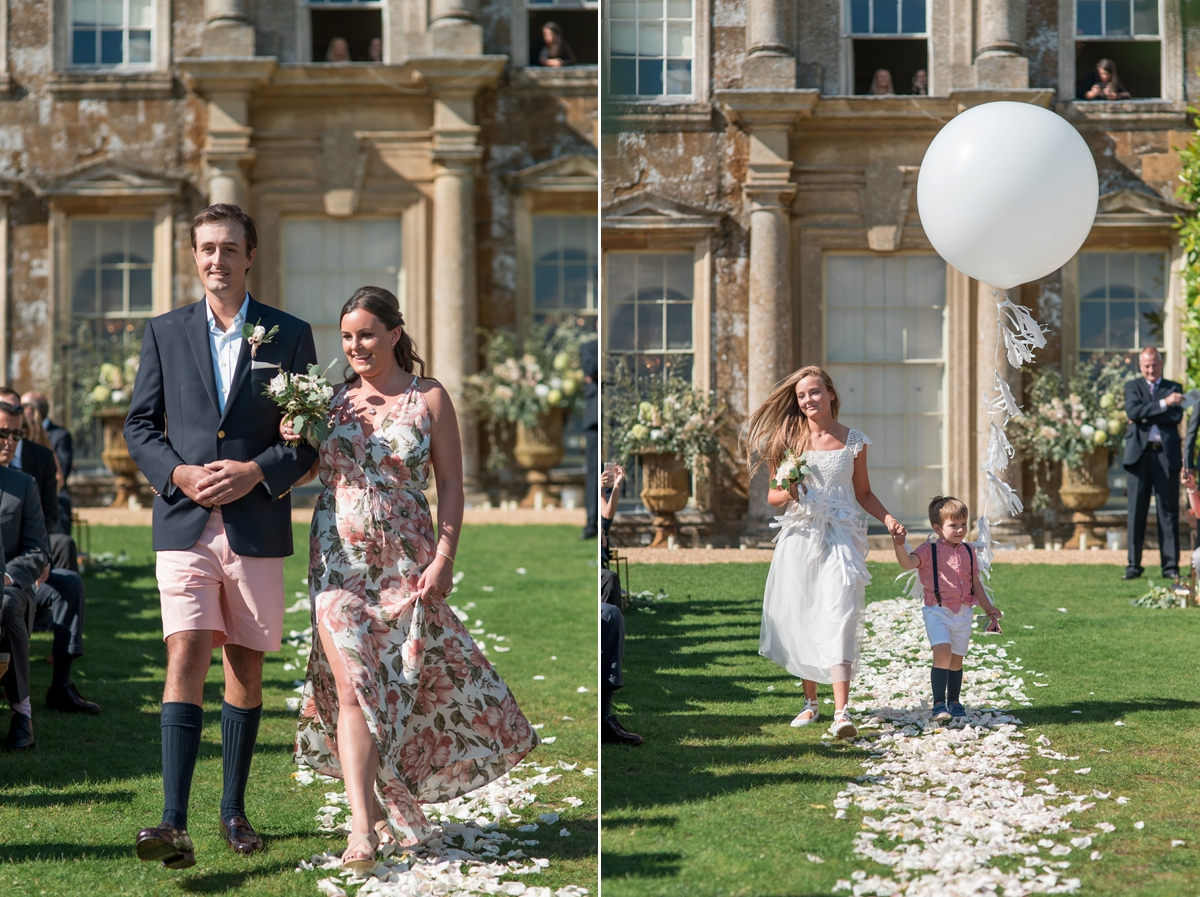 Tori walked down the petal-strewn outdoor aisle with her dad to the sounds of How long will I love you by Ellie Goulding, played by the Niche London Quartet. She and Sean read the same vows, which were written by the groom – Tori was so impressed with his beautiful words.
The couple had three readings during their ceremony; The Union by Robert Fulghum, read by Tori's grandmother, He never leaves the seat up, read by her brothers, and one of my favourite's I carry your heart by EE Cummings, read by Sean's uncle.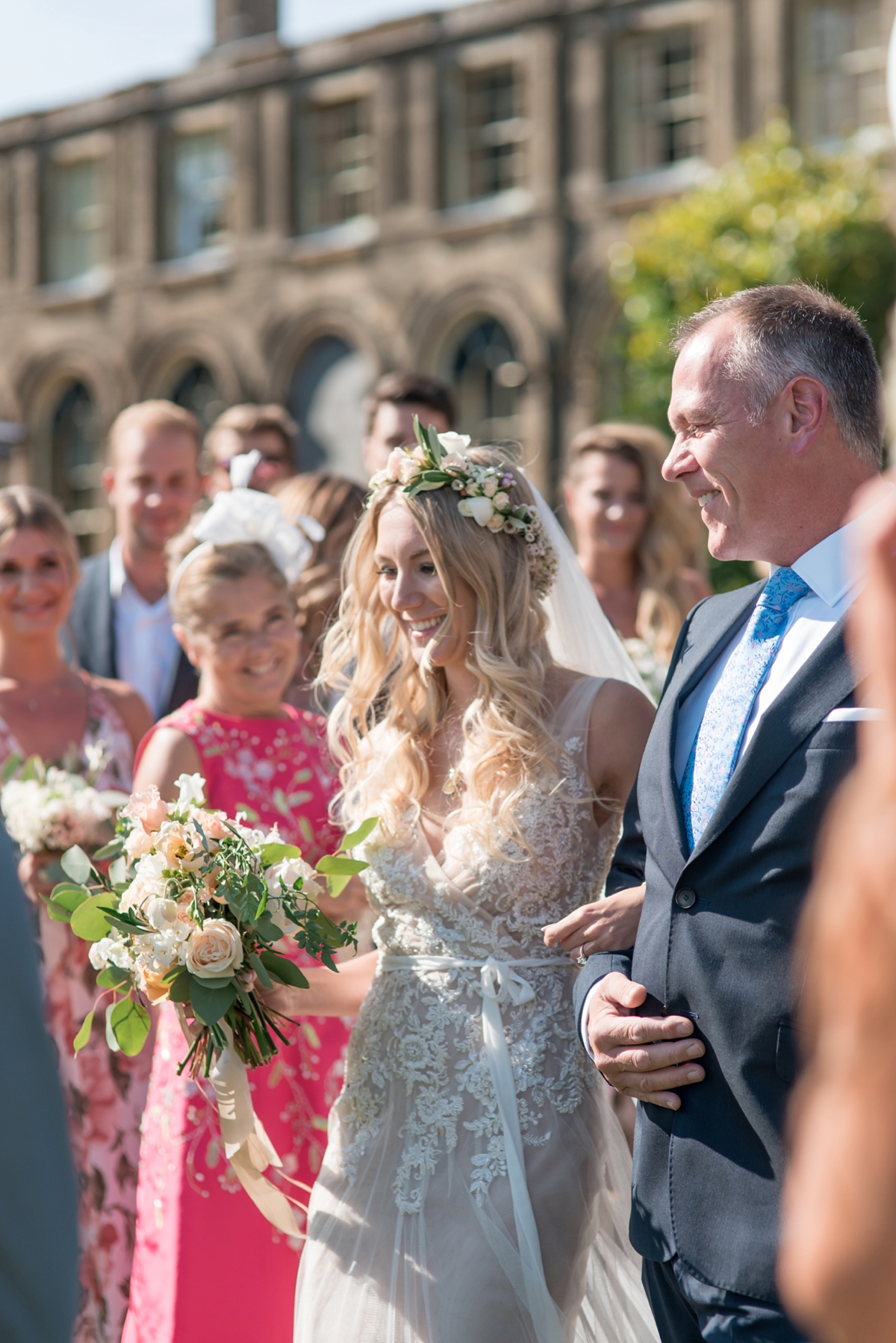 "The ceremony was not religious, in fact we had Sean's dad officiate us. We did however include some Bermuda traditions in the wedding and ceremony, such as getting married on a Thursday and having a circular altar, which mimics the moons gates found in Bermuda. Tradition has it that if you walk through a moon gate hand in hand, it will bring you good luck. We also planted cedar seeds, which is a symbol of growing life together."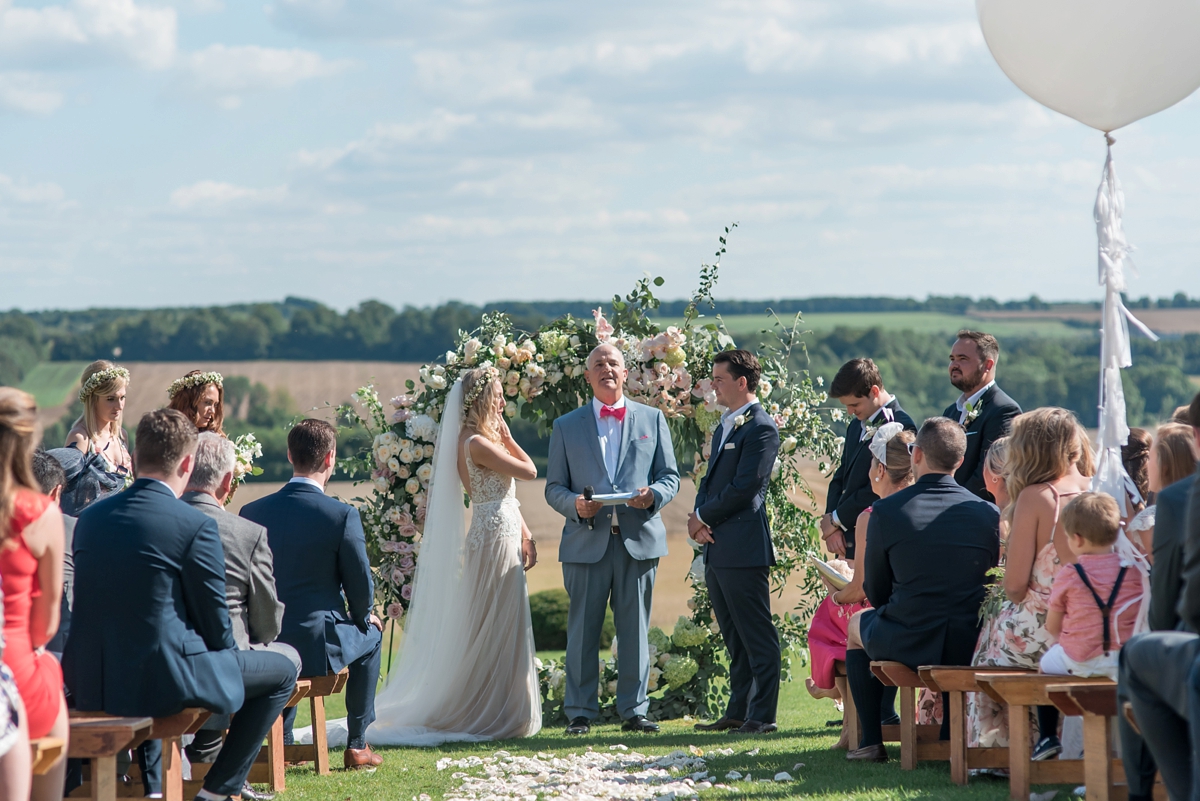 "Our rings were from Morays Jewelers – Beau Hequin the president of the company is a dear friend of ours and extremely talented. Although all the way in Miami, we would not have trusted anyone else to make our rings."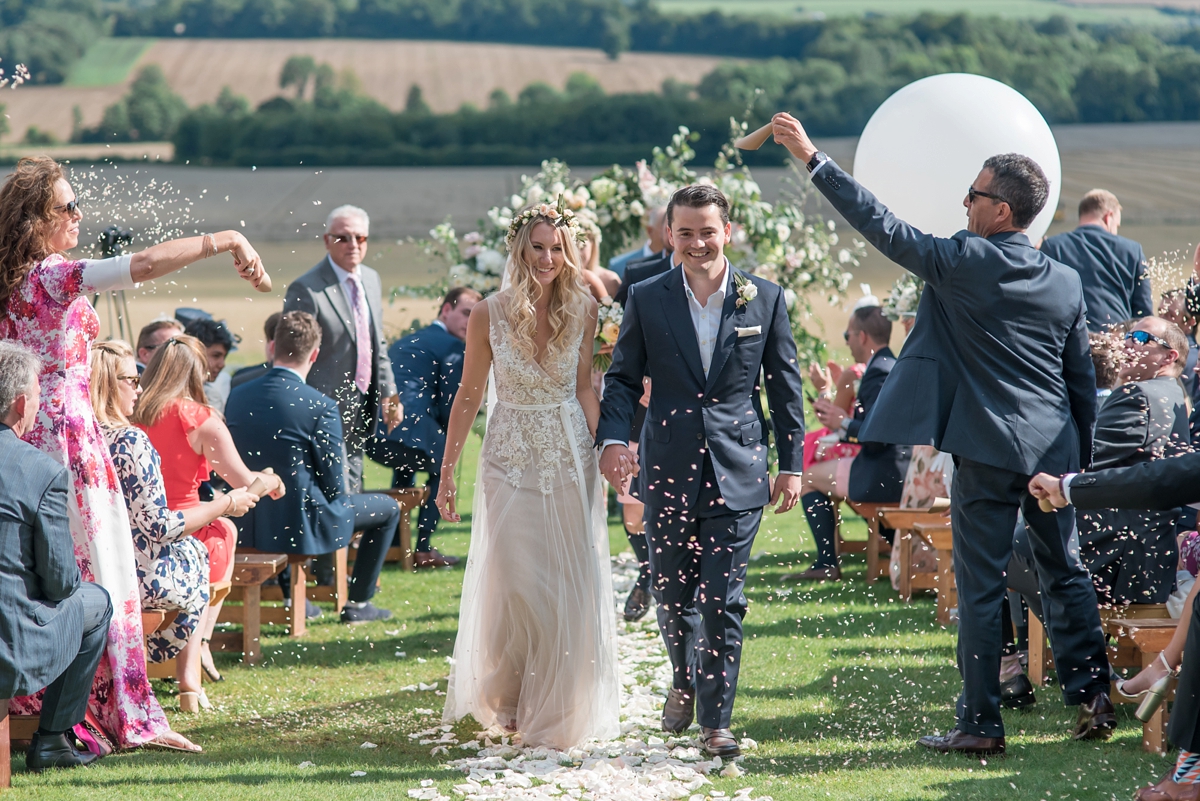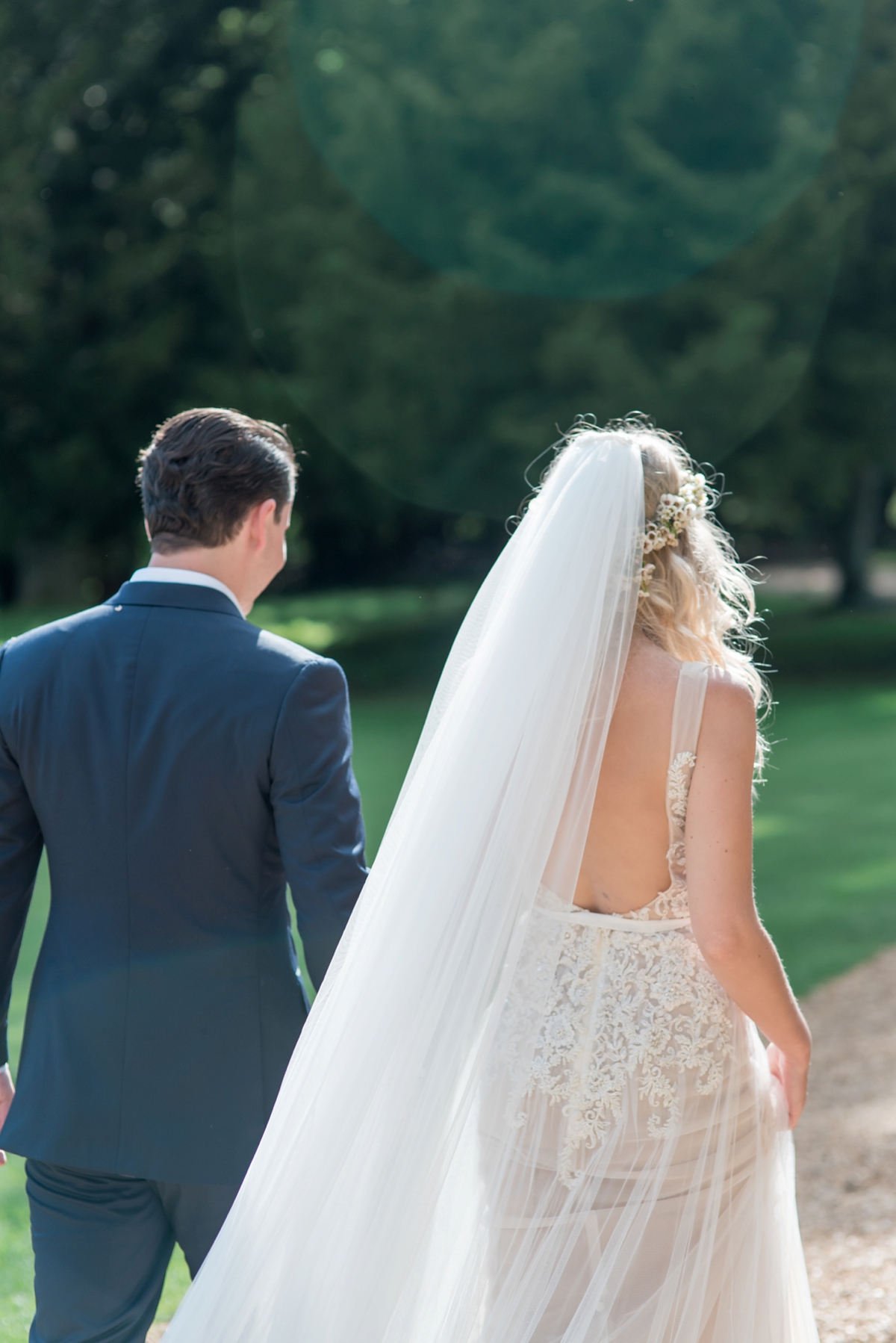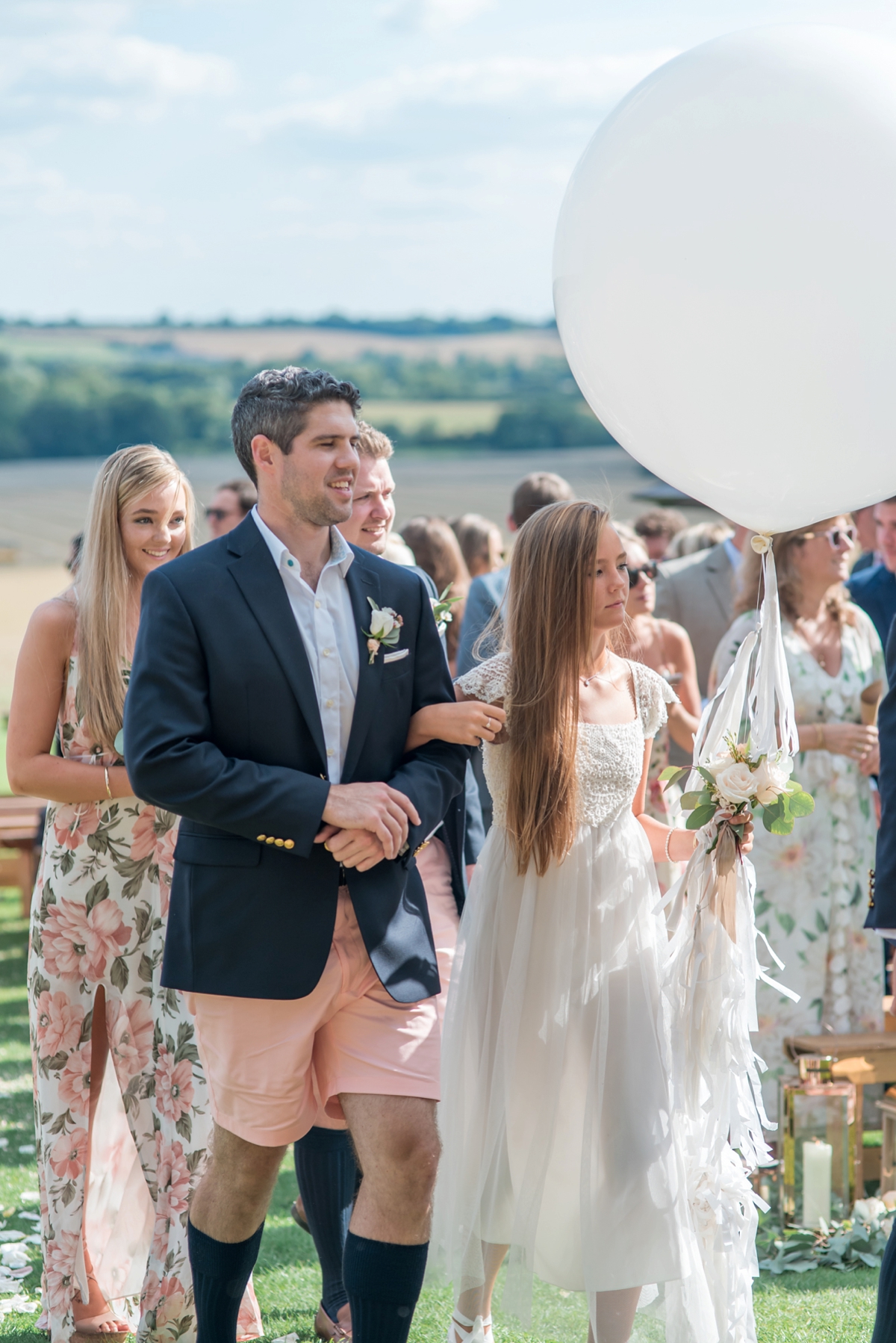 "The table plan was an 'English garden scene' created  by my parents, in which tea cups hung from garden trestles, draped in vines and hydrangeas. My mum also organised and co-ordinated with the caterers to ensure that when the guests took their tea cup to their seat, they would find their matching saucer."
"My father made the trestles and my mum went to many auctions and markets to collect an assortment of traditional English tea sets. I loved it and so did everyone else."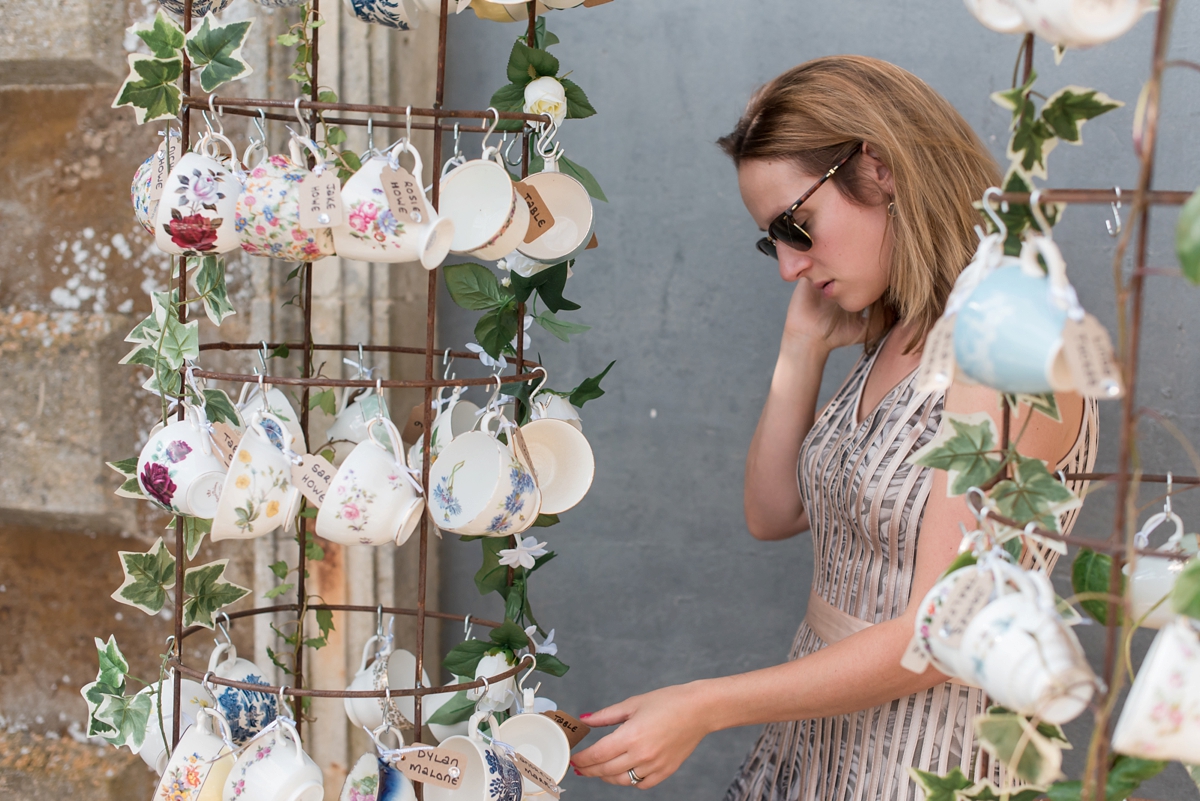 "I loved having everyone all in one place and seeing all the little details and touches coming together, like the traditional English fish and chips wrapped in Bermuda newspaper, seeing how good the boy's Bermuda shorts looked with the bridesmaids dresses, the tablescapes, and my fave – the tea cup table plan. Some of the other vendors even asked which company it was  from. If anyone wants their expertise you can reach them at [email protected]."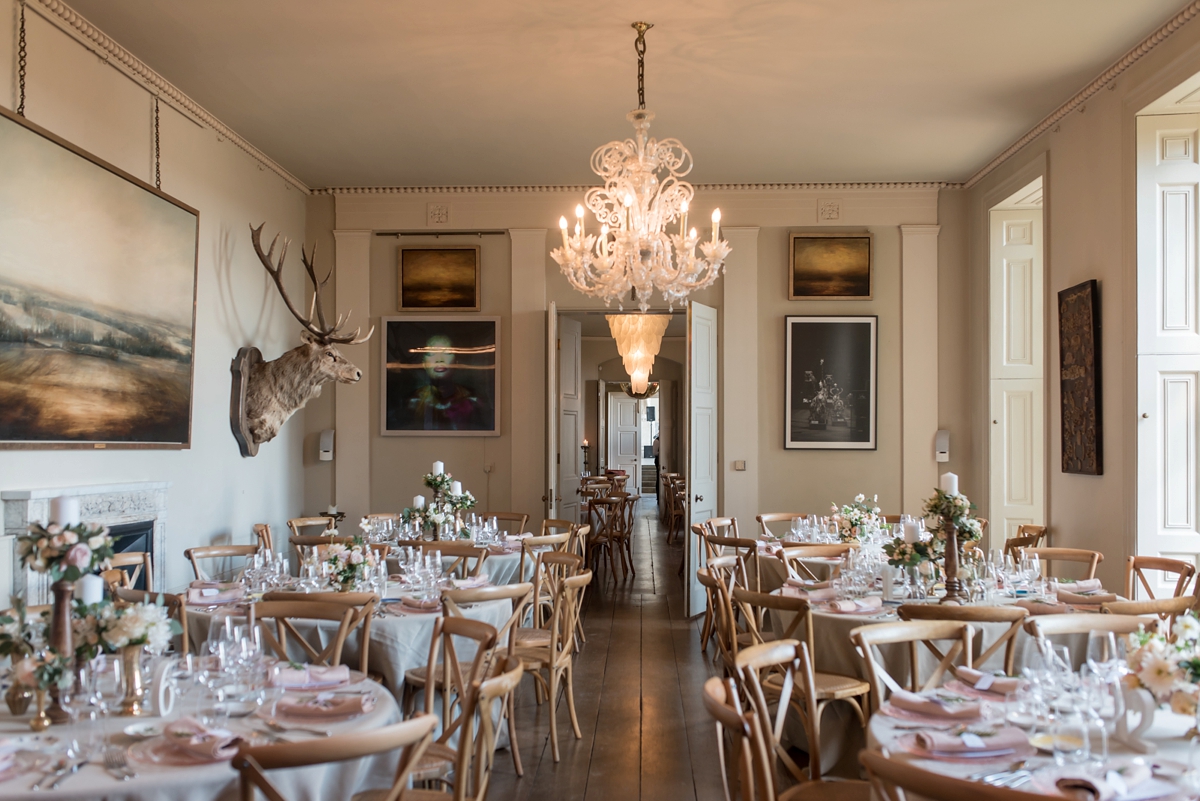 The newlyweds provided their guests with welcome bags and an itinerary for the three-day wedding celebrations, their goodie packs including personalised m&m's, a hangover cure kit, and a miniature Bermuda rum. Sean's father, who produces goat's cheese in Bermuda, also gifted the couple's loved ones with a heart shaped cheese, submerged in olive oil and presented in a customised jar with the newlywed's wedding date and hashtag. Yum. Swiftly onto the catering, my tummy is rumbling!
"Absolute Taste were absolutely incredible. The food was delicious and presented in the most beautiful way. I was also so grateful for the time and effort they spent finding and sourcing all the furniture and tableware that I had requested. We went with a cheese wheel cake for a couple of reasons; Absolute Taste provided our guests with the most amazing trio of deserts so we didn't need another sweet, and we didn't want to do a cake cutting. The cheese wheel cake also acted as 'mid-night munchies' for our guests to help themselves to."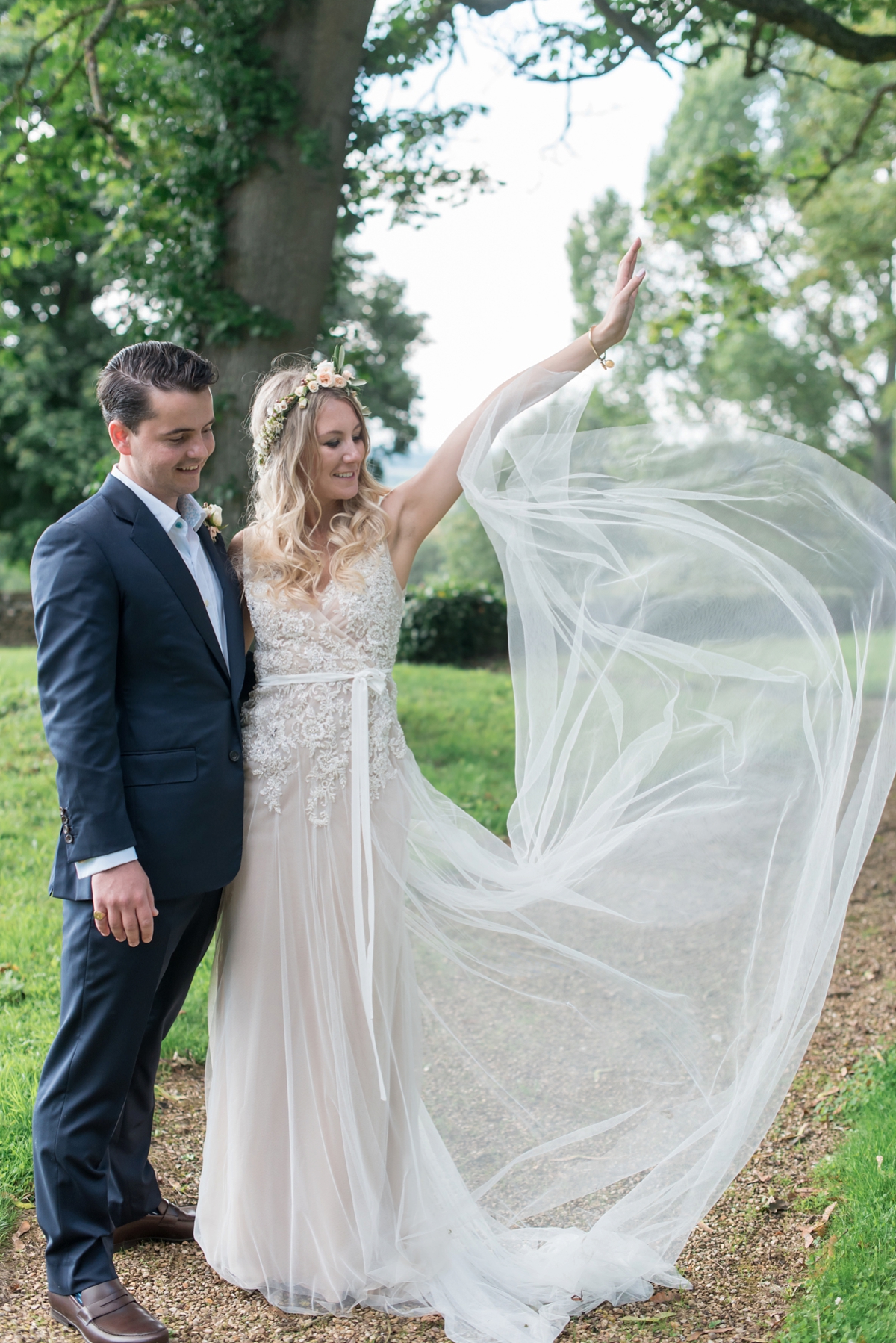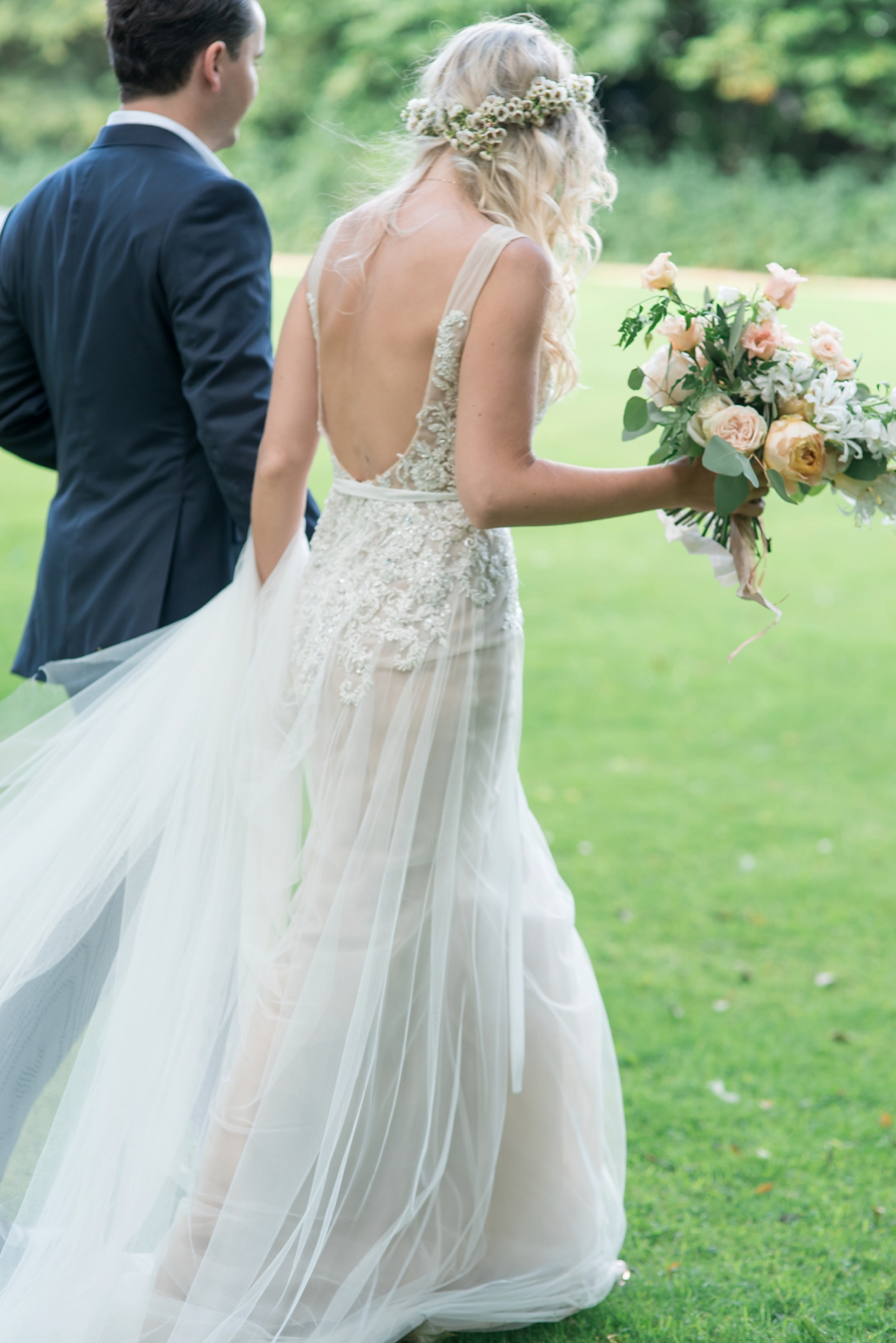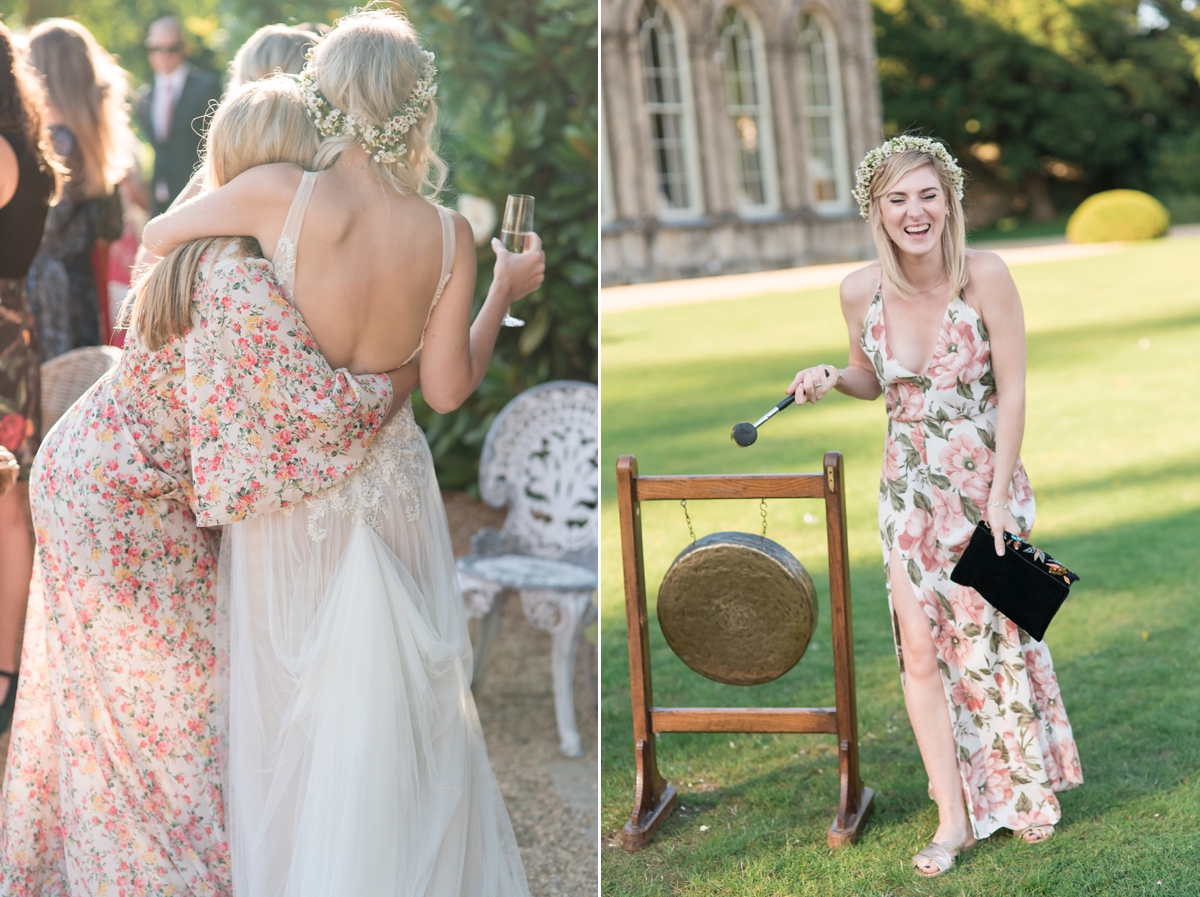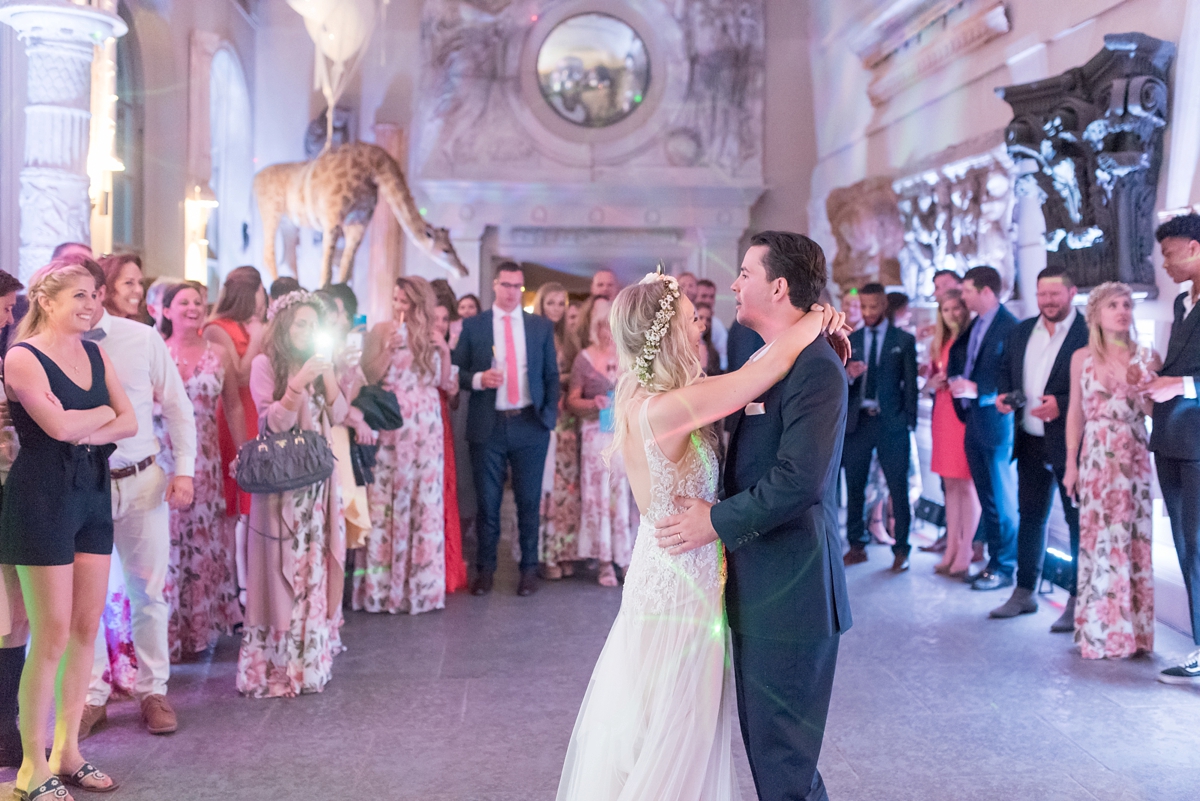 To entertain their guests Tori and Sean booked Piccadilly Whip ice cream truck and hired a taxi-style Megabooth, one of our recommend Little Book for Brides suppliers – these guys provide unique photo booth experiences an iconic taxi, Mini Cooper or Hippie Van. DJ Charlie Weaver and band the Old Dirty Brassards (teehee!) provided the soundtrack to the evening, including Tori and Sean's first dance to Everything by Michael Bublé, the couple swaying surrounded by the quirky interior delights of their venue.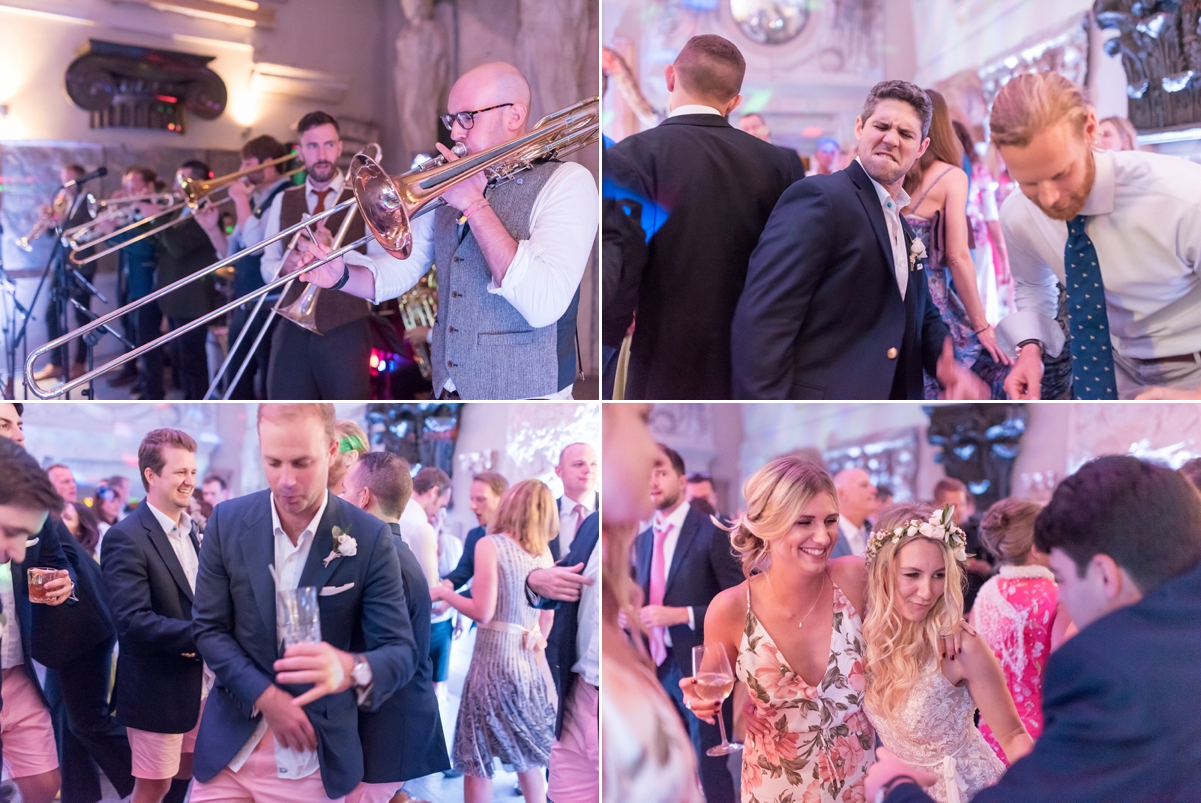 Words of Wedded Wisdom
"Cherish every moment because it goes by soooo quickly! Take a moment and find a secluded, quiet spot with your husband after the ceremony because you will not have a lot of time, if any, during the rest of the evening to really spend any time together to reflect."
"Details do matter! I heard a few people say that the little details don't matter as people rarely notice. I disagree, it's the details that make it YOUR wedding."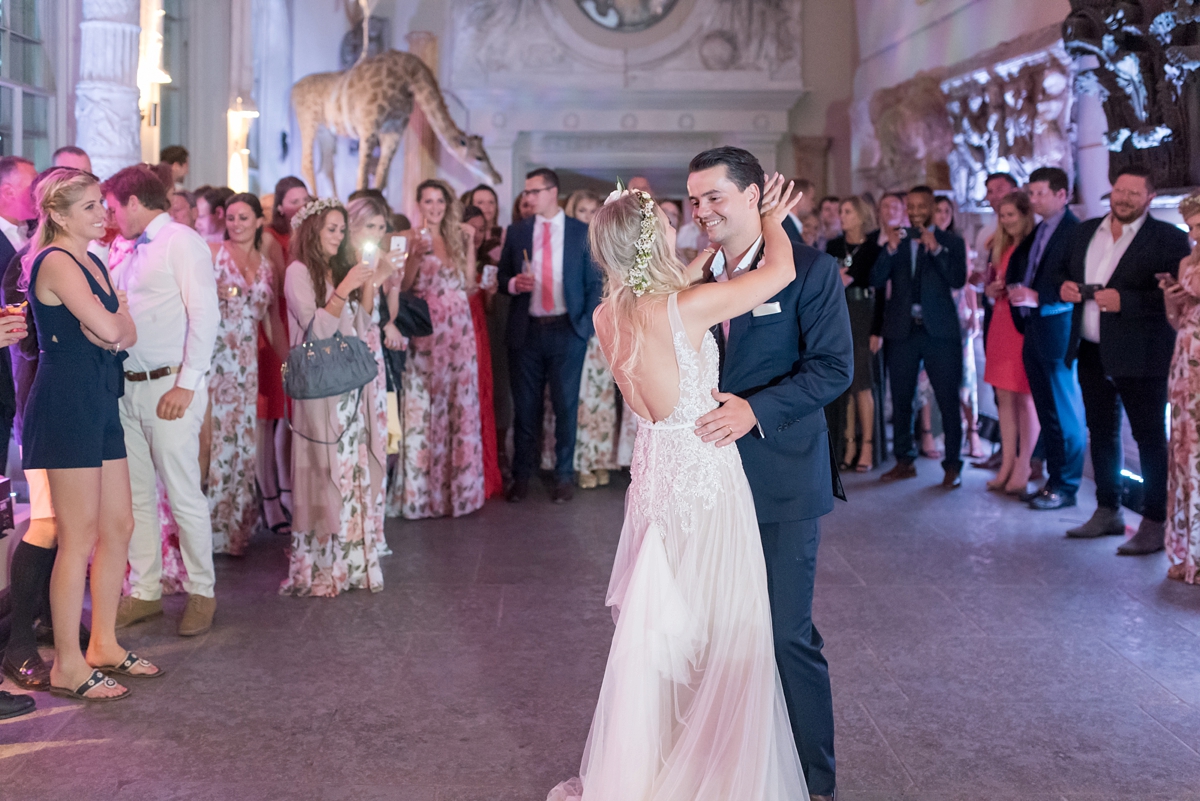 All that remains is to say a big thank you to Tori, Sean and the talented Faye Cornhill Photography for sharing this lovely day with us all. We have a whole host of gorgeous Aynhoe Park weddings in our fabulous archives – take a look right here.
Love, Em x