Hello lovelies, to help kick off the week with a bang I have the simply delightful summer wedding of interior designer Imogen and architect Rob, who tied the knot on the 5th of August 2017.
Their simply gorgeous day was the result of a ton of help from family and friends, who all pitched in to create their relaxed wedding that was set in an apple orchard at the bottom of a field at Imogen's Grandma's house in Wallcrouch, East Sussex. Keen for an inexpensive wedding, the couple wanted a party with their closest friends and family with loads of fun and games, nothing too over the top or fussy, and to photograph their big day they chose the uber-talented Emma and Pete of Emma Case Photography, who caught moments so full of fun, love and laughter.
"My lovely bridesmaid Rachel found Emma and Pete online and we just fell in love with them and their work immediately. We always love photos of people in the moment and this was just what these guys are about. They were so helpful before the wedding with tips and suggestions about setting up the day and their role, we really didn't have to worry about anything with the way they work."
Images by Emma and Pete of Emma Case Photography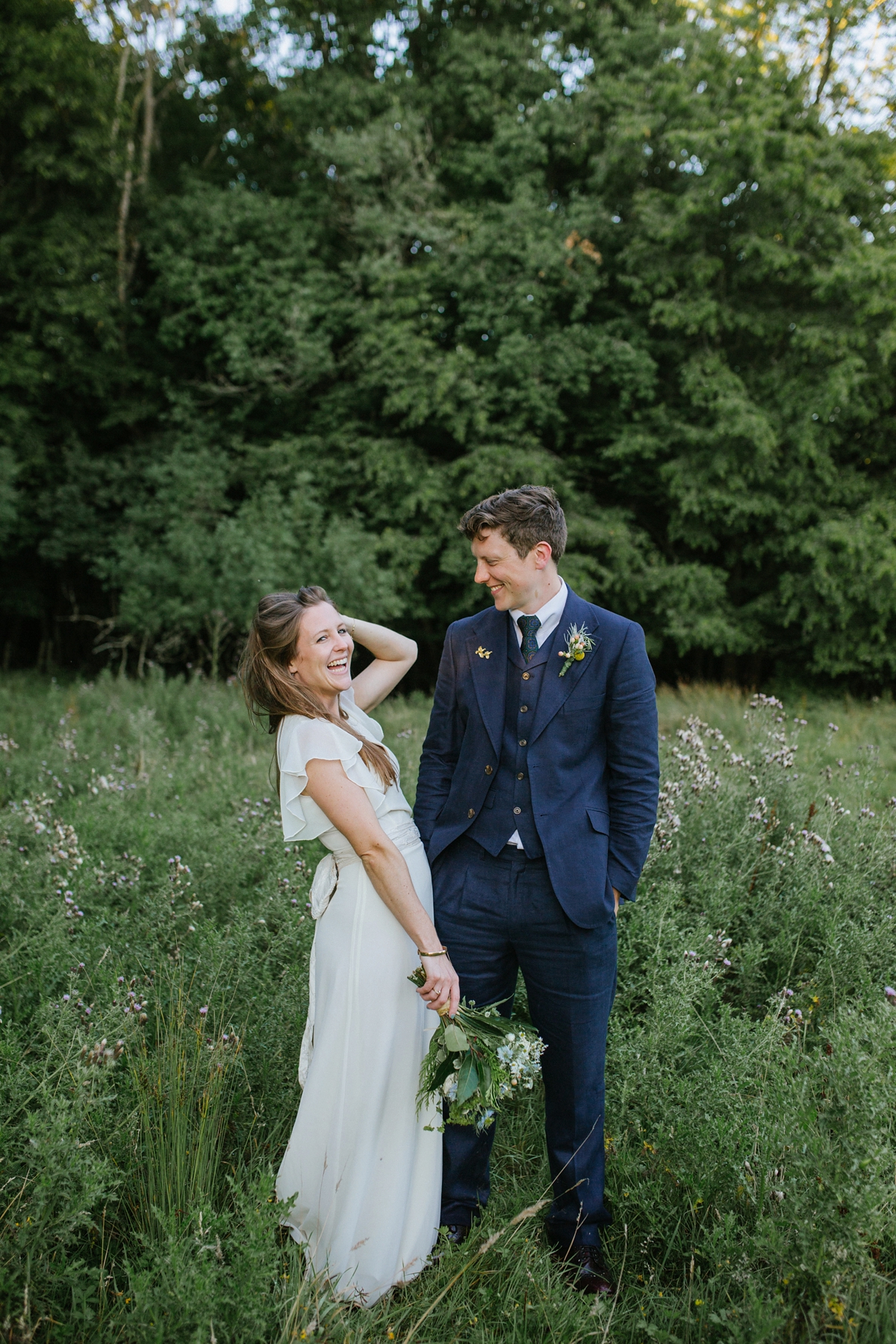 "On the day it was so great to have Em and Pete there, it was amazing how they just fitted right in and we felt like we'd known them forever, so many friends and family thought we had and were shocked when we told them this was the first time we'd met face to face! Everyone commented on how well they worked, chatting and joining in, while still maintaining the right level of professionalism and just being all round brilliant. We are absolutely over the moon with our wonderful photos. Em and Pete are our absolute heroes and we are so glad we got to have them be part of our day. We could never recommend these guys enough and will treasure our incredible photos and memories always.""Rob and I have been together for 7 years. We met at university in Leeds, both studying interior architecture and got together in our third year. Rob's originally from Derbyshire but after uni he moved down to live with me and my parents in Tunbridge Wells which was an absolute nightmare at times and he is a saint for putting up with it, but thanks to them allowing us to save we bought our house in Tunbridge not long after. We've been living there together for just over two years."
I love the couple's proposal story…
"I got home from work thinking Rob was taking me out for dinner that evening but I walked in the house to find 400 tealights all over the downstairs of our little house (it was so hot!). Rob was there really smartly dressed and had a speech prepared and he got down on one knee and asked me to marry him. Of course I was just crying the whole time (with happiness). Then he had planned a weekend of lovely things for us to do involving telling / seeing some friends and family. He had worked with a jewellery designer to design me a bespoke engagement ring that is beautiful and so me, I just love it."
"My dress was from the ASOS  bridal range and I made the sash and bow with fabric from Borovic Fabrics on Berwick Street in London. I tried on some wonderful dresses but every time I couldn't help thinking about walking around in my Grandma's fields and in the orchard. I really wanted something I was comfortable in and didn't have to worry about. I also can't get my head around spending so much on something I will only wear once."
"So my dress cost £47 (reduced from £70). There was the odd moment when I thought I would have liked a prettier back to the dress. However, I didn't give that a second thought on the day and was so glad to have a dress I could clamber up onto hay bales with our lovely bridal party. It was very me and just straightforward and I was so happy I could have been wearing anything. For me it was never really about the dress."
Imogen wore suede Zara heels in mustard for the ceremony, then comfy Birkenstocks for the reception. Her chosen scent was Chanel Coco Mademoiselle and her jewellery consisted of her great Grandma's engagement ring on her right hand and a bracelet from her great Aunt, plus an Oliver Bonas bracelet and an old pair of Accessorize drop pearl earrings. Imogen wore her long hair down and added a little hair comb from Anthropologie and, along with her bridesmaids, did her own make-up.
"I wanted the bridesmaids to choose what they wore and be sure they liked it and it was something they could wear again – their dresses were via ASOS and they added their own accessories."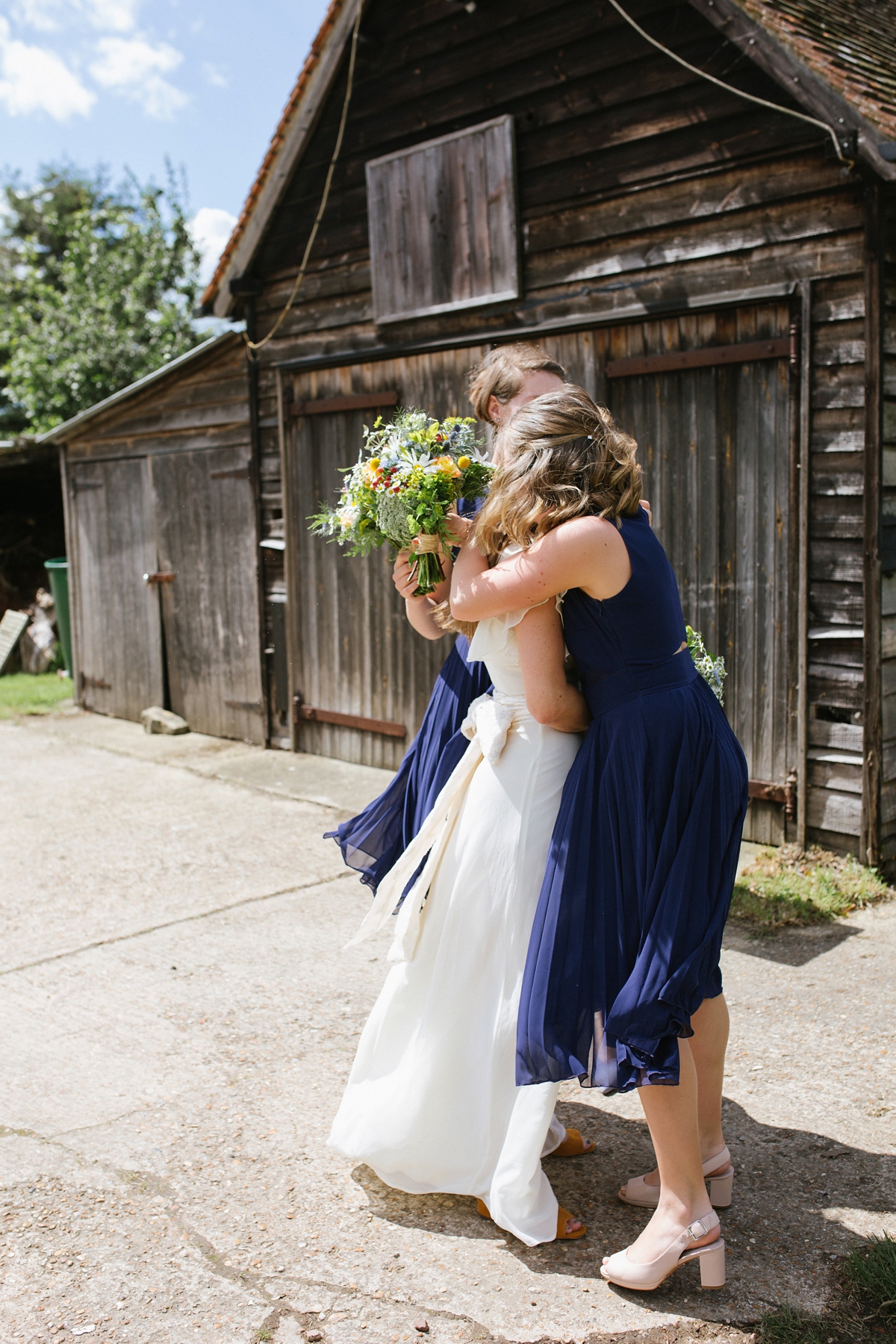 Rob booked a Landrover via Quirky Wedding Cars as a surprise for his bride-to-be to travel to St Mary's Ticehurst in East Sussex – the church where her parents and grandparents married.
"We were really keen to have the wedding here because of the family link which made it really special. My Dad and two bridesmaids, my wonderful friends Rachel and Birdie (Emma), accompanied me for the aisle walk to the organist playing 'Nimrod' from Enigma Variations by Elgar."
"Don't feel you have to cake yourself in makeup! I decided I'd do my own makeup and had an hour ' bridal makeunder' in a local department store. It was really great however despite me explaining I don't tend to wear much she still put too much on me and I looked like a doll. People always say about having more makeup than usual so it comes out well in photos and lasts the day but this is all just rubbish. The secret is to have a brilliant photographer and just be you."
"Rob wore a Thomas Farthing ensemble, with shoes via ASOS and a gold partridges badge which I had his best man give him on the morning of the wedding I got from Etsy."
"His bridal party all wore their own suits – we didn't want people to have to go and buy new things if they didn't need to. It worked really well and they all just wore tones of blue."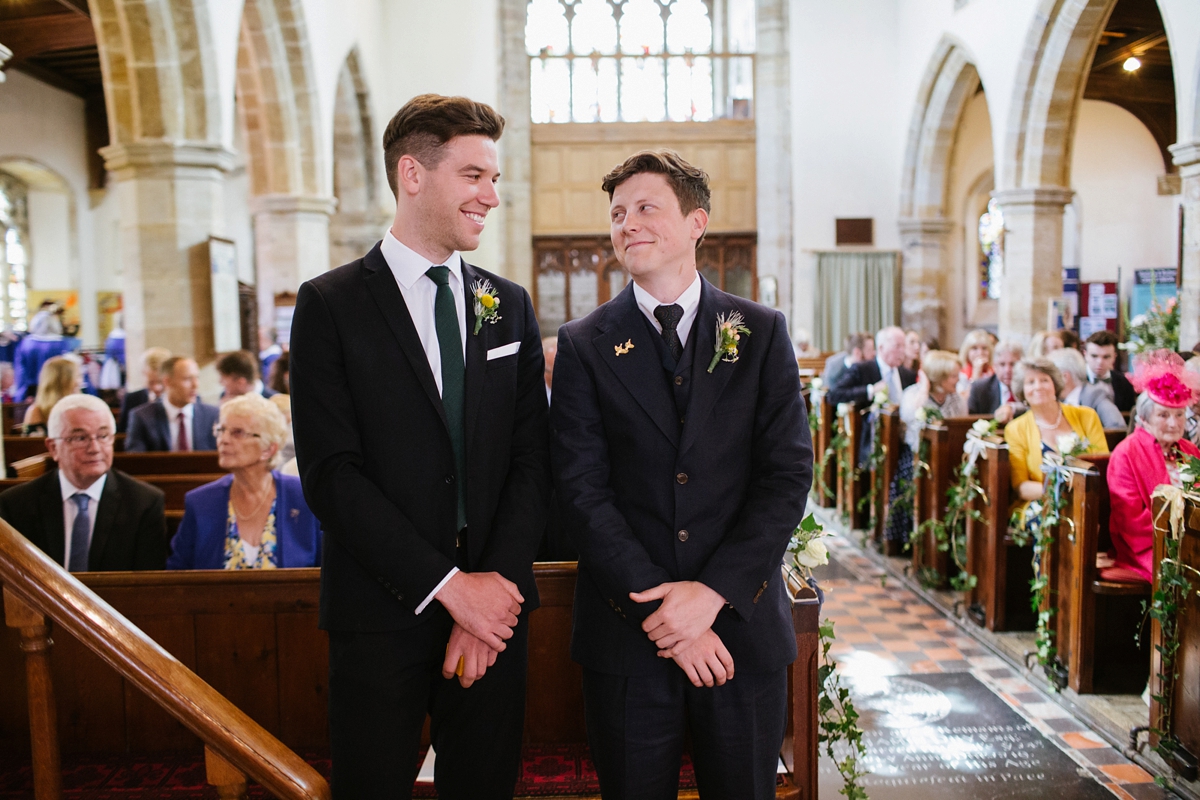 "My two brothers each did a reading during our ceremony and they were brilliant. We had 1 Corinthians 13:1 because Rob likes the bit that says 'a noisy gong or clashing cymbal'. We just read through loads of readings online and tried to choose something that was relevant to us, some of them made me cry when I was reading them and that was a good sign we liked it!"
"The second was from 'Captain Corelli's Mandolin' by Louis de Berniers. It's a relatively common wedding reading but we just felt it resonated with how we'd like to think of 'us' and the line at the end is just how we would like to be:
Those that truly love have roots that grow towards each other underground, and when all the pretty blossoms have fallen from their branches, they find that they are one tree and not two.
"Our wedding rings were from Goldsmiths in Tunbridge Wells. Again this was something we didn't feel we needed to spend too much money on. We both got a simple yellow gold band (to match my engagement ring metal) and it cost us under £200 in total. We very much felt it was about what the rings mean over what they look like or cost."
Desley Kettle, the Mum of Imogen's bridesmaid Rachel, prepared all of the stunning florals.
"Desley had really kindly offered to do the flowers for us and we were so so happy with what she produced. She absolutely nailed the relaxed style that we love and was so great at picking out flowers to suit us and the occasion. I think some people are quite fixated on having certain flowers or the meanings behind them or colours, but I was really just happy for Desley to go ahead with what she thought."
"She showed us lots of images and things all of which were lovely and we agreed a rough theme and types of flowers and foliage. She made up the most wonderful bouquets for me and my bridesmaids, beautiful little buttonholes for the boys and amazing table flowers. She also did trailing ivy with a rose, ribbon and raffia in the church on the pews. It was all just beautiful and we will be forever grateful to both Desley and her husband Rae for being such a big part of our wedding."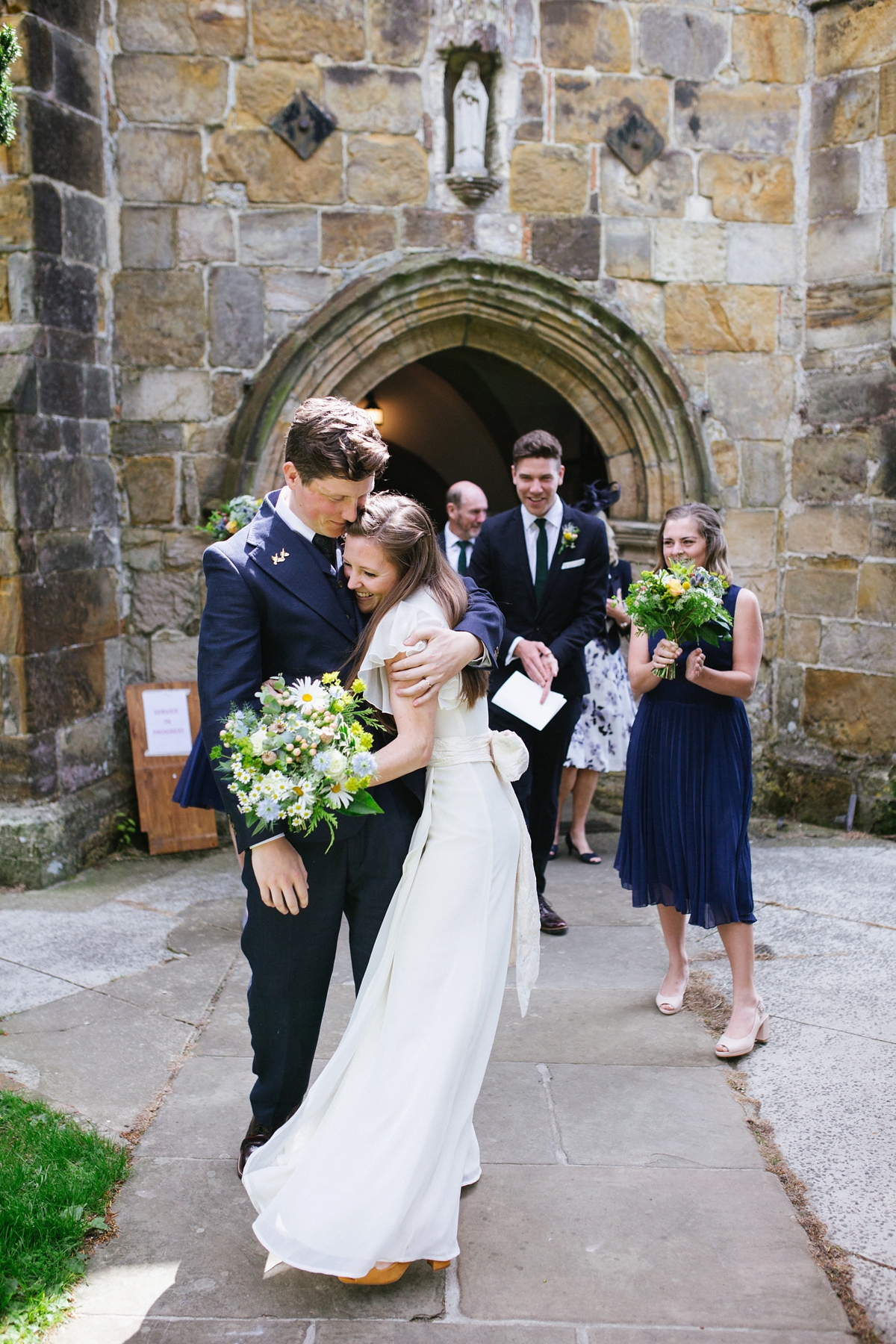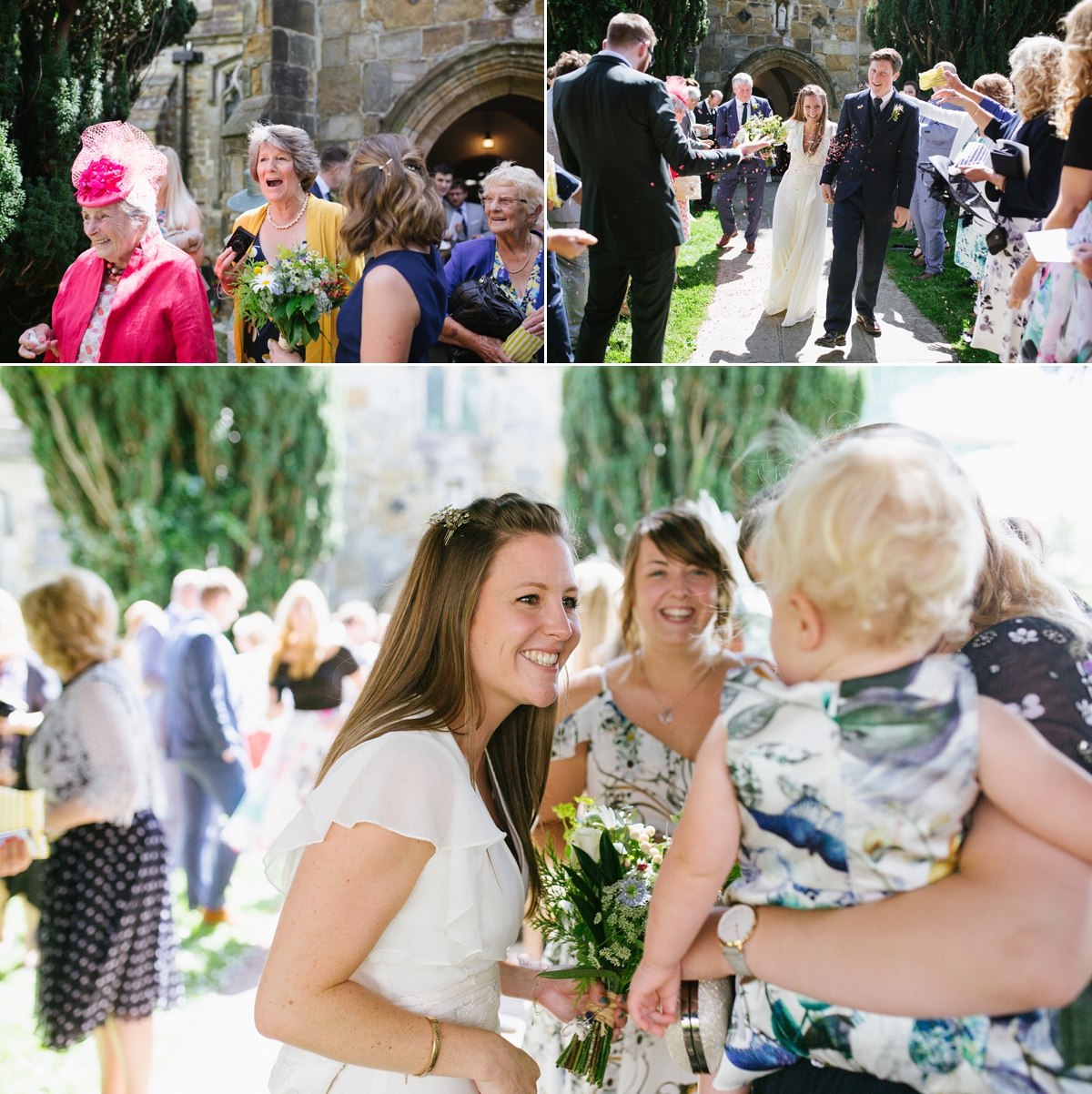 Rob and Imogen, along with so many wonderful friends and family, sorted a mix of hired and handmade items for their reception amongst the trees in the apple orchard.
"My Dad made up loads of trestle legs for the tables and the tops were some old door leaves. We hired the chairs along with our catering equipment (plates, cutlery etc.). The bar was an outdoor table someone had given us and we had fridges down there sourced from Gumtree/eBay."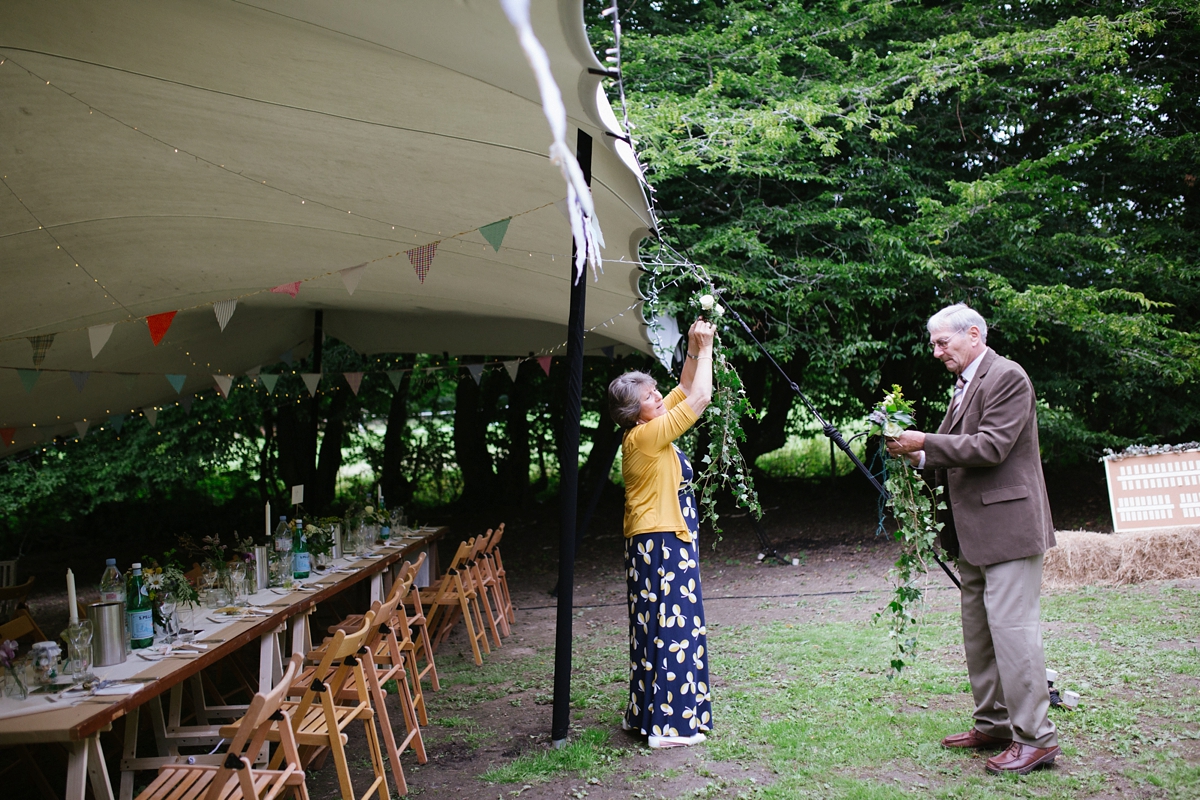 "We borrowed hay bales from a local farm for some extra seating and in the end also flooring and we hired a stretch tent via Tent Style. We took the week before the wedding off work and it all came together, again with help from friends and family which was so much fun."
"On the day we printed off little Polaroid style photos of the orchard clearing and made sure we had pictures of everyone who had helped. It was lovely for people to be able to see and appreciate how much work had gone into the day and how many lovely people were involved."
Loads of handmade white bunting decorated the field, whilst the colourful bunting all around the trees and under the tent were made by Imogen's Mum from scraps of material and her Dad's old shirts. The tables had brown paper and then a simple off-white runner from super cheap calico fabric ordered online from Whaleys Bradford, dried flowers and foliage from the woods and garden and an eclectic mix of bottles of gin and whisky the couple had collected for candles.
"The silk ribbons were something we bought and were absolutely beautiful. These were from a lovely lady called Cheryl who has a little business called Silk and Purl. I found her on Instagram and fell in love with her ribbons so quickly ordered a selection. We used these on table place settings and on the pews in the church."
The couple arranged a spit roast lamb from Peter Speaight Butchers, whilst Caroline the Cook did canapés, salads and service and the catering equipment was hired from Abbey Catering. And friends and family made a range of cakes, buns and brownies, which were served along with a huge cheese board by Imogen's Dad.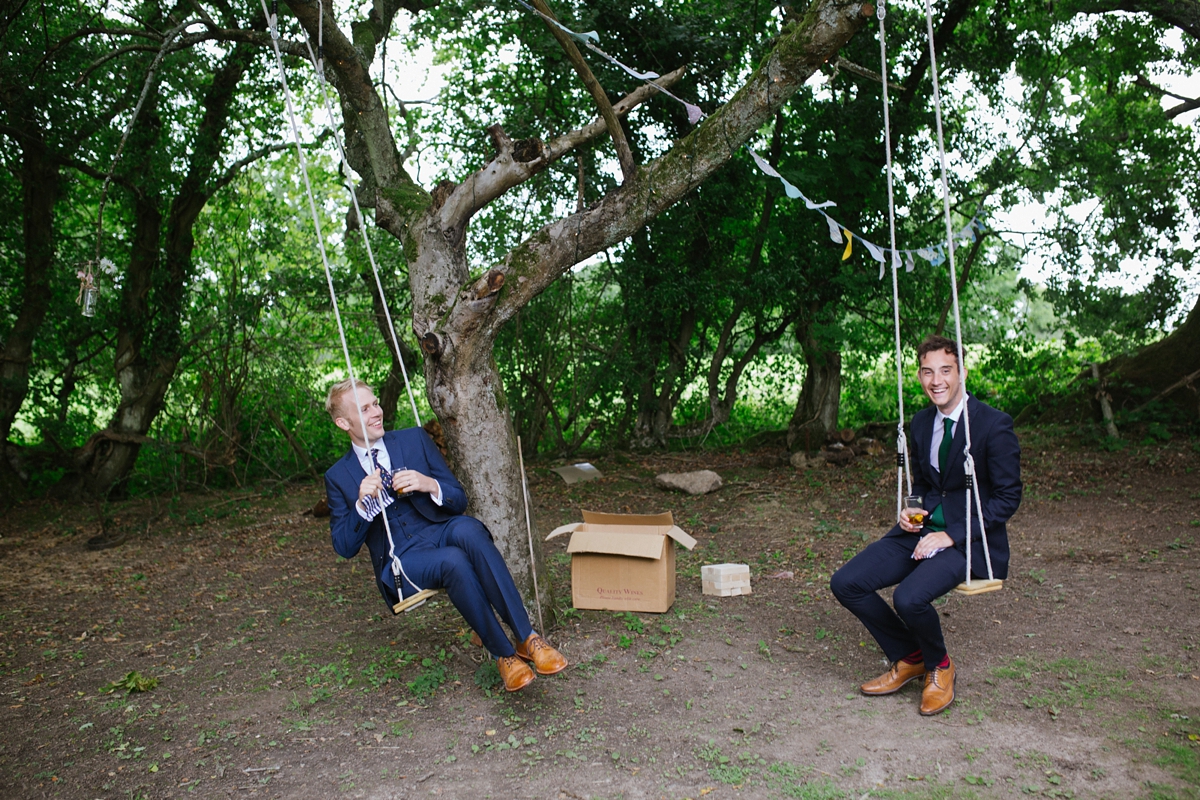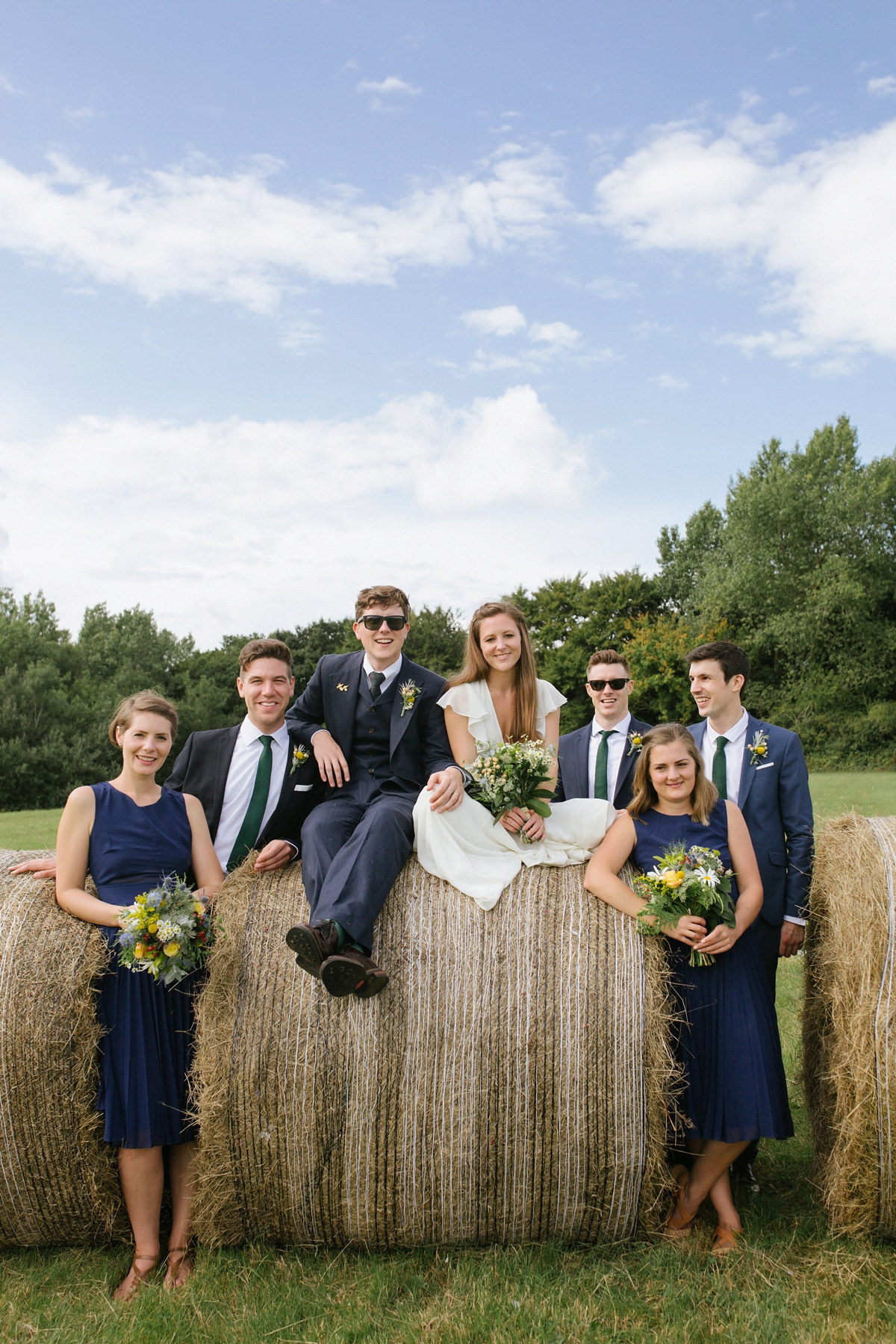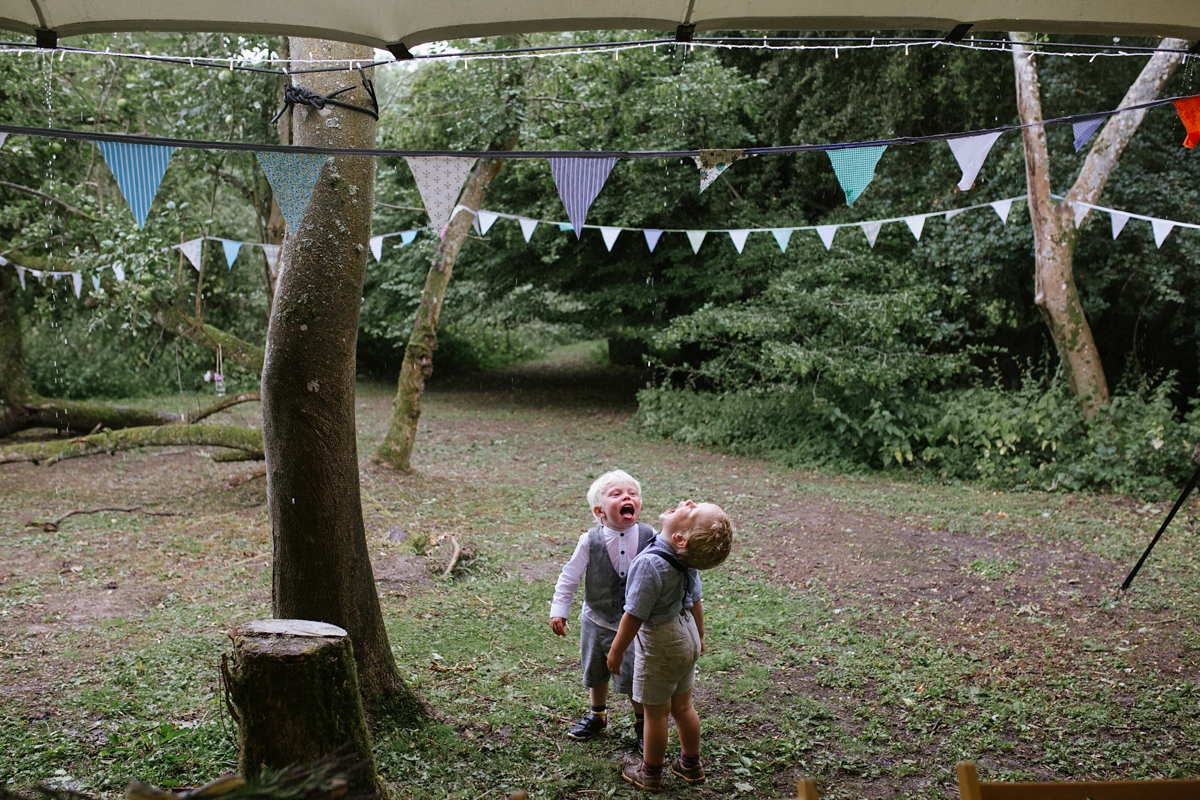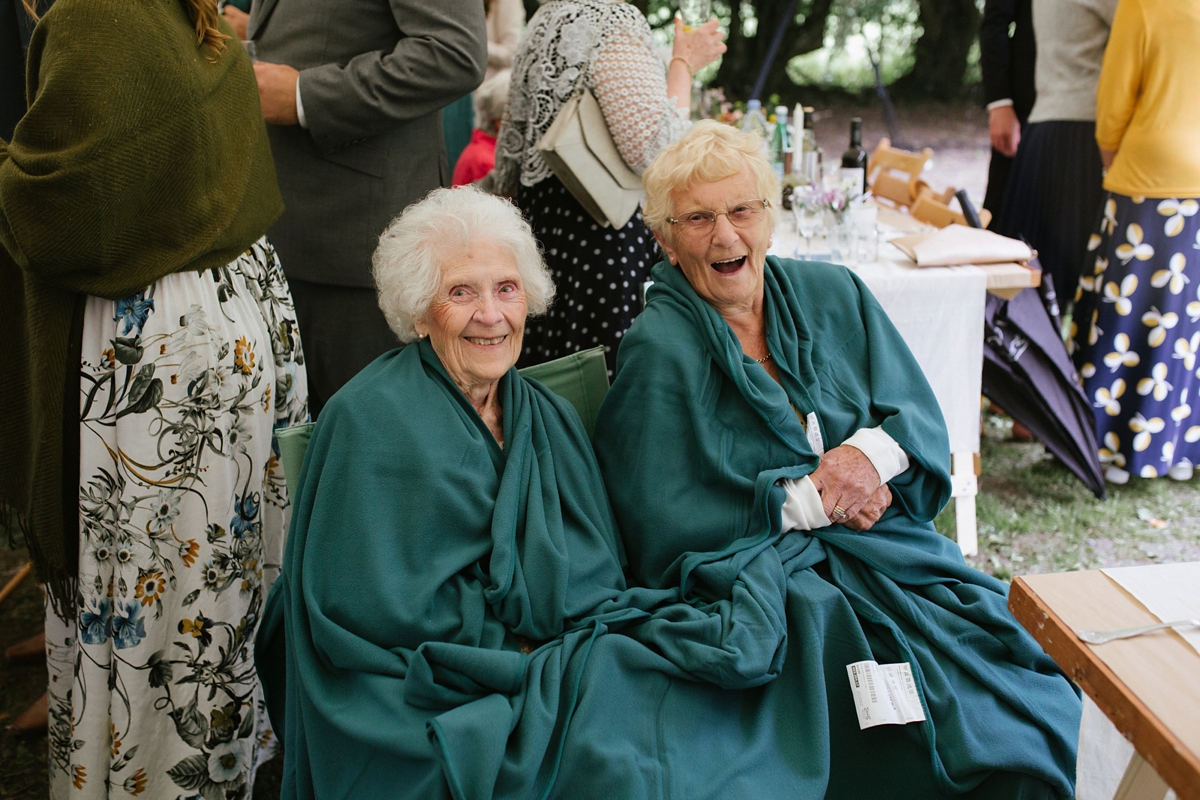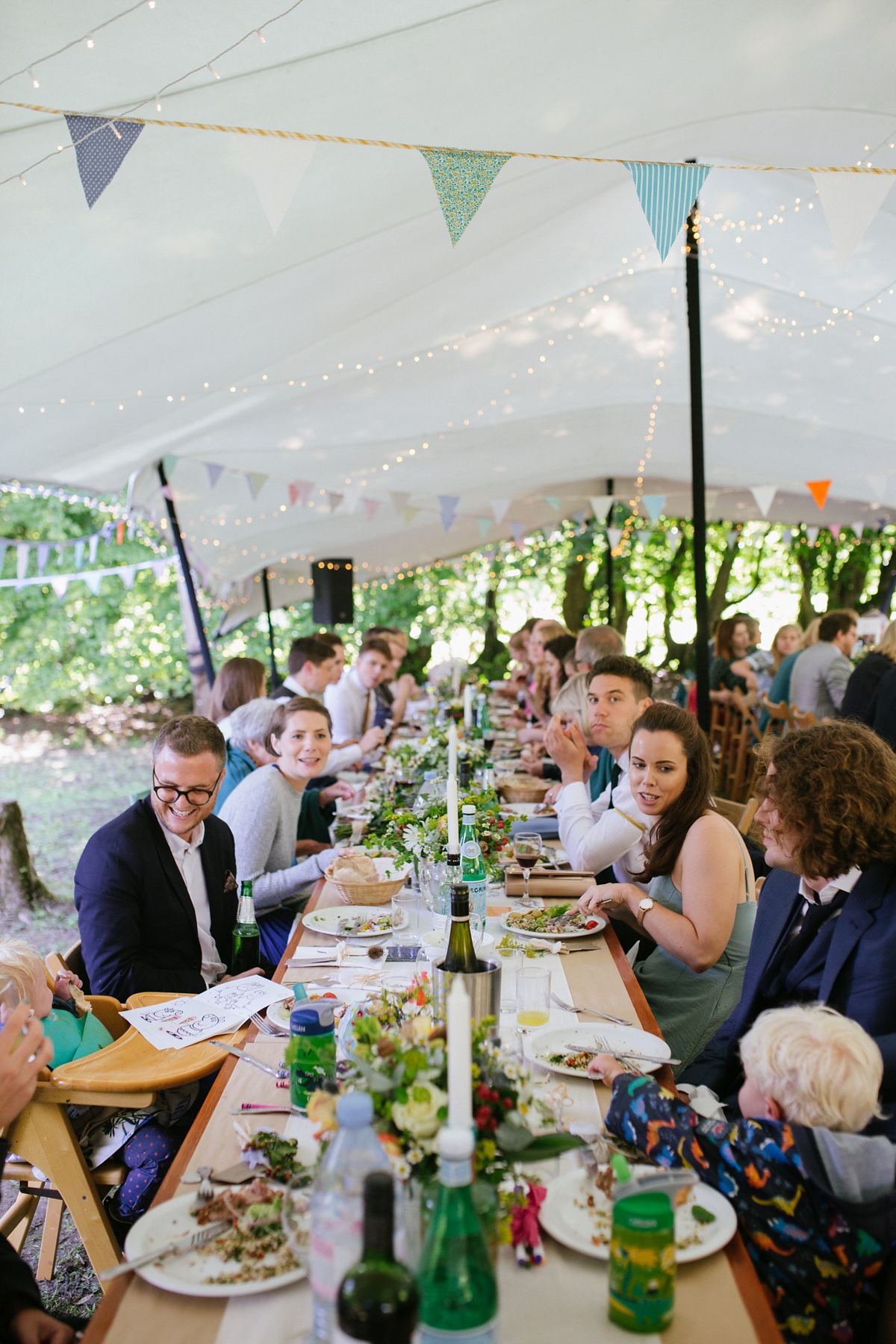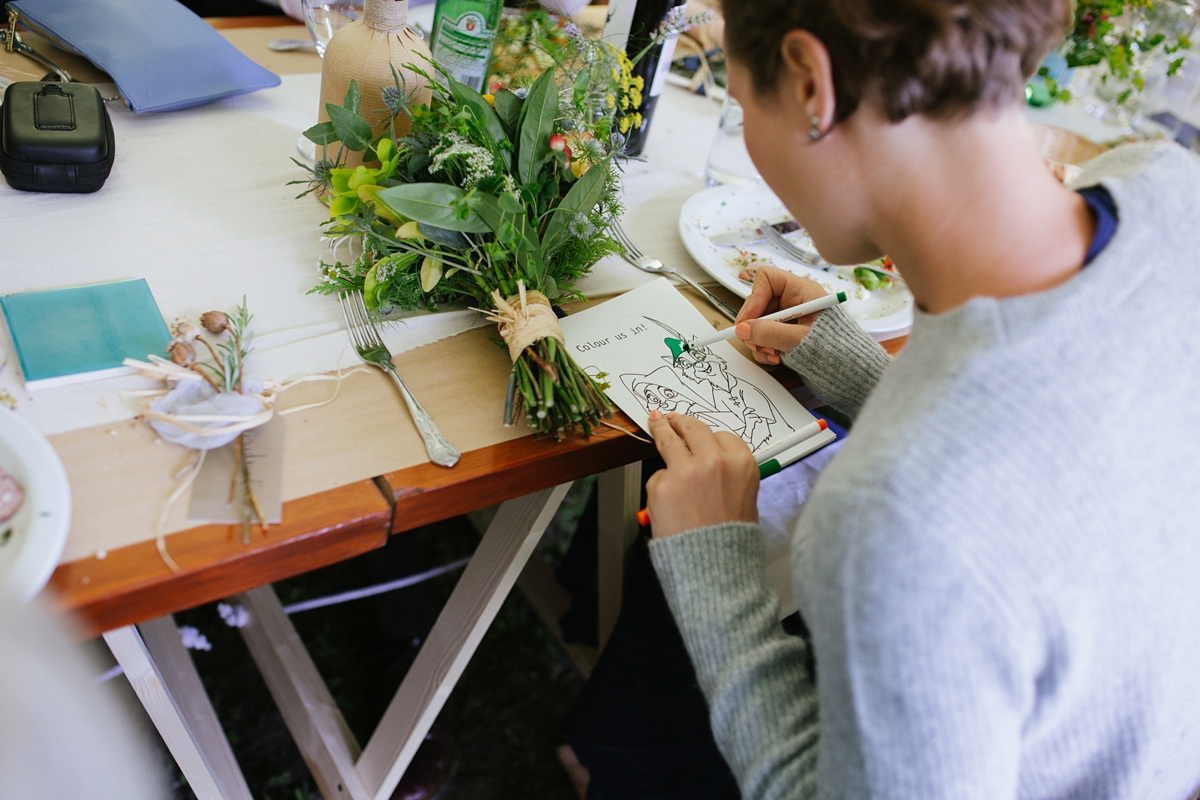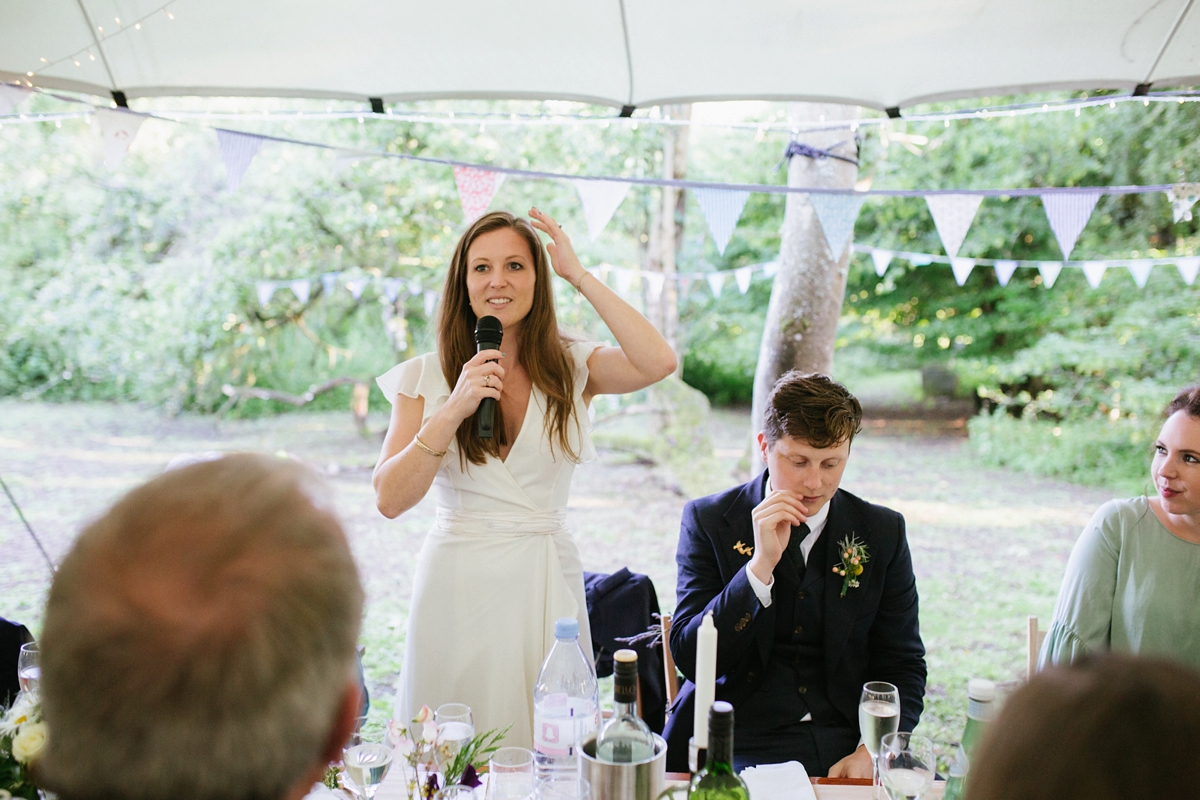 "Our completely wonderful best man Tom and bridesmaid Rachel wrote and performed a song called 'The Partridge Song' about Rob and I, to the tune of the Pina Colada song (Escape by Rupert Holmes). It was the best thing in the world and I have never cried and laughed so much during one song."
"Everyone thought it was incredible and we're so glad to have the words framed in our house and a video of the performance. Definitely a highlight of the day."
Rob and Imogen wanted their guests to feel really relaxed and be able to do their own thing, so sorted a range of fun game-related entertainment, and the option to camp overnight.
"We love playing games and always thought it would be so good to get a rounders match in there. We also managed to pick up a table tennis table on Freecycle and my Dad made a giant Jenga."
We had things like a free bar where you could just help yourself throughout the day, with crisps/popcorn if anyone got peckish and we gave people the option to pitch a tent and stay over so there was no pressure to fork out for hotels or taxis if you didn't want to. We hired a bell tent and camped too."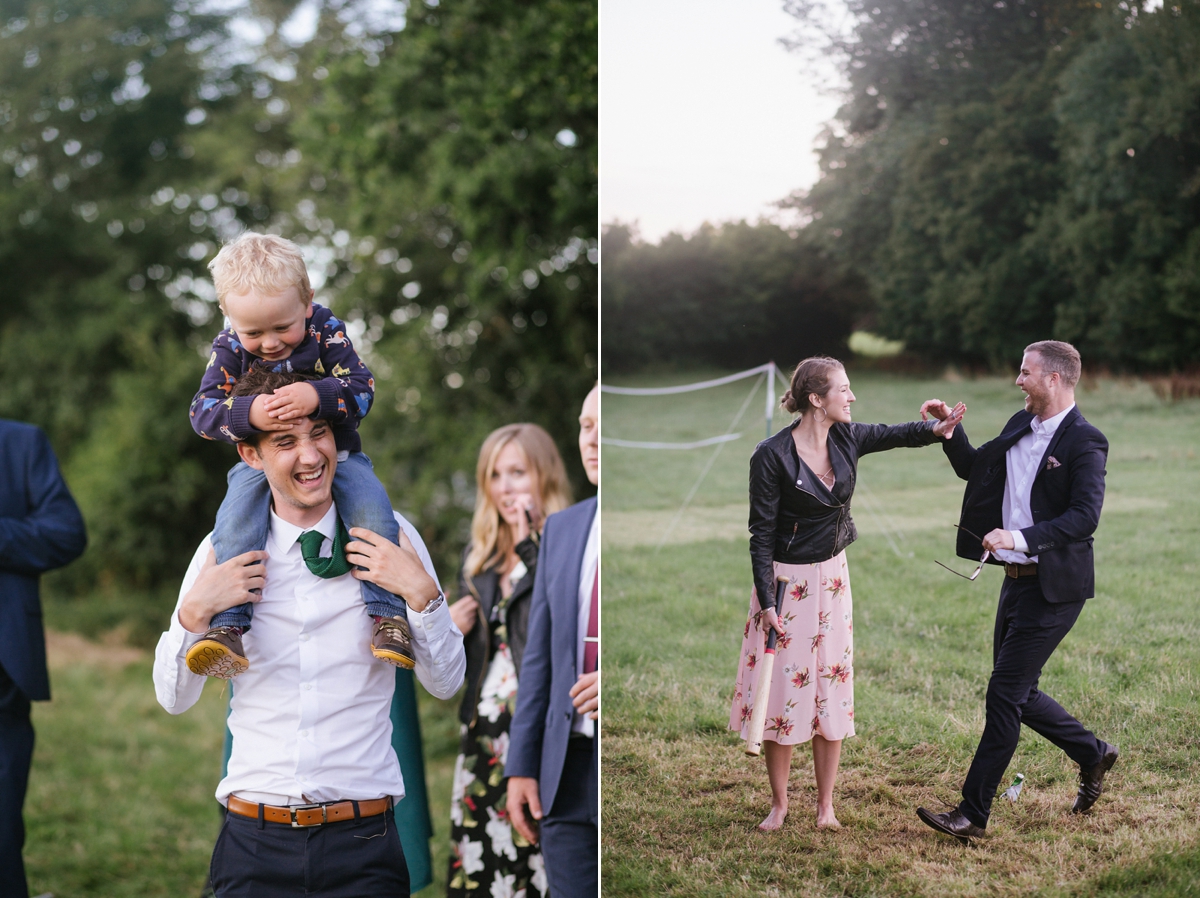 "I loved the whole day. There was a really lovely moment the next morning where Rob and I were up first and we started tidying up in the orchard. It was just the two of us and we had the music back on and we were dancing around and tidying. After all the excitement and the run up to the wedding, then the actual day itself, that was our first moment of calm and time together and it was lovely. Then everyone who had stayed over started filtering down the field to help us tidy up and we had an amazing morning with our wonderful friends and family. It took us over a week to set everything up and it was all down by that afternoon. All of them are stars."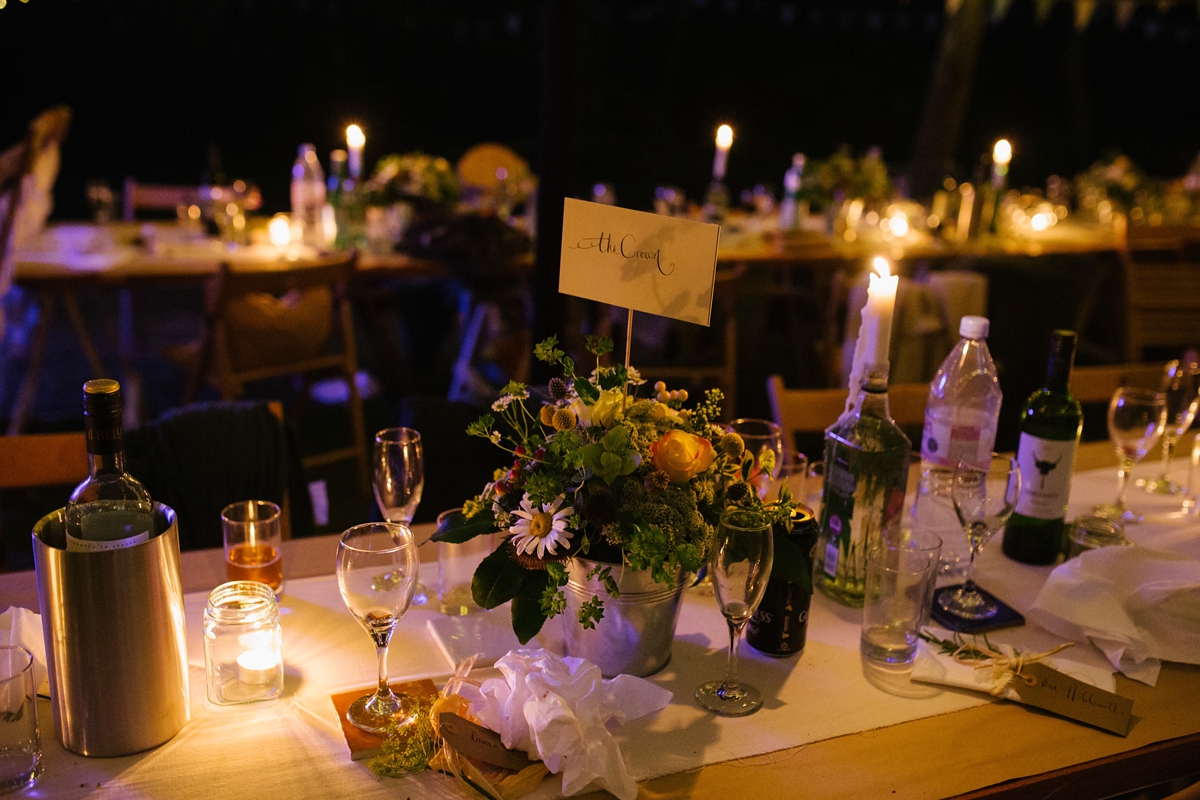 Words of Wedded Wisdom
"My main advice would be do what you want. Don't be led by people trying to sway you to do things a certain way, invite people you don't want to, have a venue you're not sure about etc. Just do your own thing because it's your wedding and it can be anything you like.
Accept help. It's great fun to do things yourself but if people want to help let them. It's so lovely having a little team doing things together and people really like to be part of it. They want to help because they love you and it makes for brilliant memories to get friends and family involved."
"Be organised. There is absolutely no harm in 'doing a Monica' (Friends reference) about organisation. The more you can do in advance just do it and get it done. We had a big A1 board with each part of the day and loads of subheadings and lists. We worked out what we wanted at each point of our wedding and what we needed to do to make it work. We looked at what we could do well in advance and what jobs needed doing the week before. A lot can be said for making lists and more lists and lists of lists, works a treat."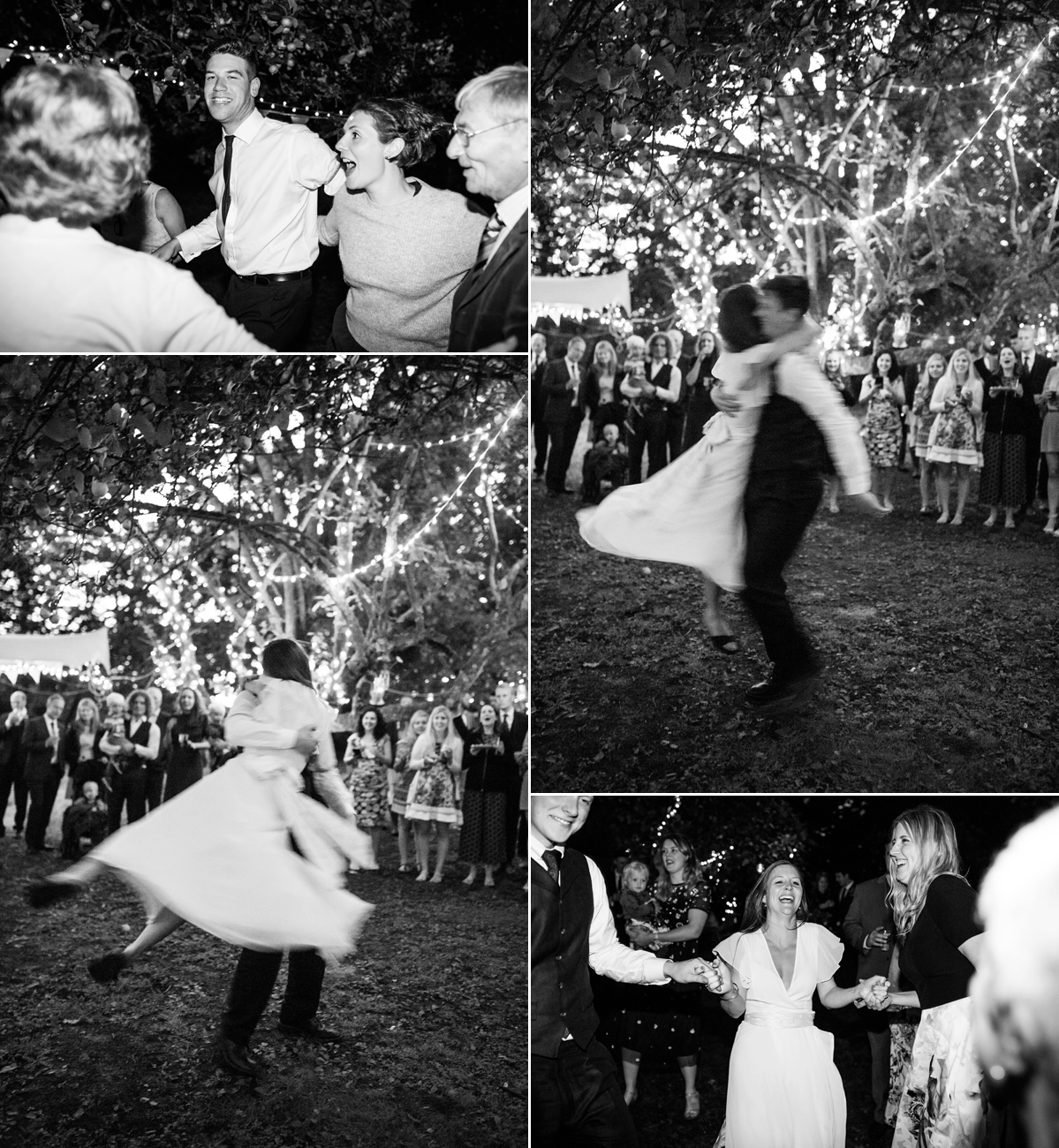 "Try not to worry too much about every little detail. It's lovely to have lots of nice details and the likes of Pinterest are brilliant for ideas. However if you miss things or forget things or can't afford it no one will notice. Don't bother stressing about what colour your bridesmaids are going to wear or if all the men have the same suits or if everyone is going to like the food you've chosen. The more you worry the less you'll enjoy the lead up and the day. Just chill out and enjoy it. The whole time we were doing this we said as long as we have people, food, drinks and music we will be alright, the rest is a bonus.
Don't get carried away with guests. Really have a talk and a think about who you want to be there and if you're not sure about someone, why aren't you sure. Do not fall into the trap of inviting people because you feel like you should or because you went to their wedding or because someone says you should. These are really important people who you want to spend your (hopefully) one and only wedding day with. We had about 65 people and it was perfect, we got to speak to everyone while still including everyone who is important to us. It's not always that easy with big or extended families and the popular people with thousands of friends, however do think hard about your invitees."
"I also am a firm believer of this one, don't feel you have to invite plus ones! By all means go ahead but we decided we know our friends and family really well, if they're dating someone we probably know them and if they're not everyone is brilliant at chatting and no one would feel alone or left out. We often have people round or do things intergrating our friends and family anyway and that made it extra special as everyone pretty much had connections with at least a handful of other people there. We decided if we had plus ones there would be about 9 and actually if you give people a plus one they'll probably bring someone. We said to ourselves do we want 9 people we don't really know at our wedding and if we do wouldn't we want to invite more people who we know rather than the 9 strangers!"
"If you want to do a speech just go for it. Rob asked me if I would say something as he thought it would be nice and I said I would. I thought about it a bit before but ran out of time to do any notes so I did some quick bullet points late the night before the wedding! When it came to it I was suddenly really worried but it was absolutely fine because you're talking to and about people that you just adore so it's easy. I was really glad I was able to say my little few minutes to thank my wonderful husband and friends and family. I think the husbands don't get enough credit on the wedding day. People always go on about the bride but it's both of you, that's the point!
A DIY wedding is so much fun but you will be absolutely shattered. Just be prepared!
We didn't really set a budget, we just saved as much as we could for the year we were engaged. We put together costs for all the essential things we needed to have and then tried to look at cost effective solutions for anything we could. In total I think we spent around £10K with everything included. The added bonus is that we've got loads of drinks left over; people are suggesting we use them up at an anniversary 'festival' next August in the orchard!"
And finally if you have an outdoor wedding buy blankets. Ikea sell blankets for about £1.50 or something like that and we bought about a dozen and it was one of the best things we bought. Everyone used them for shelter / warmth / seating / sleeping and it was money very well spent."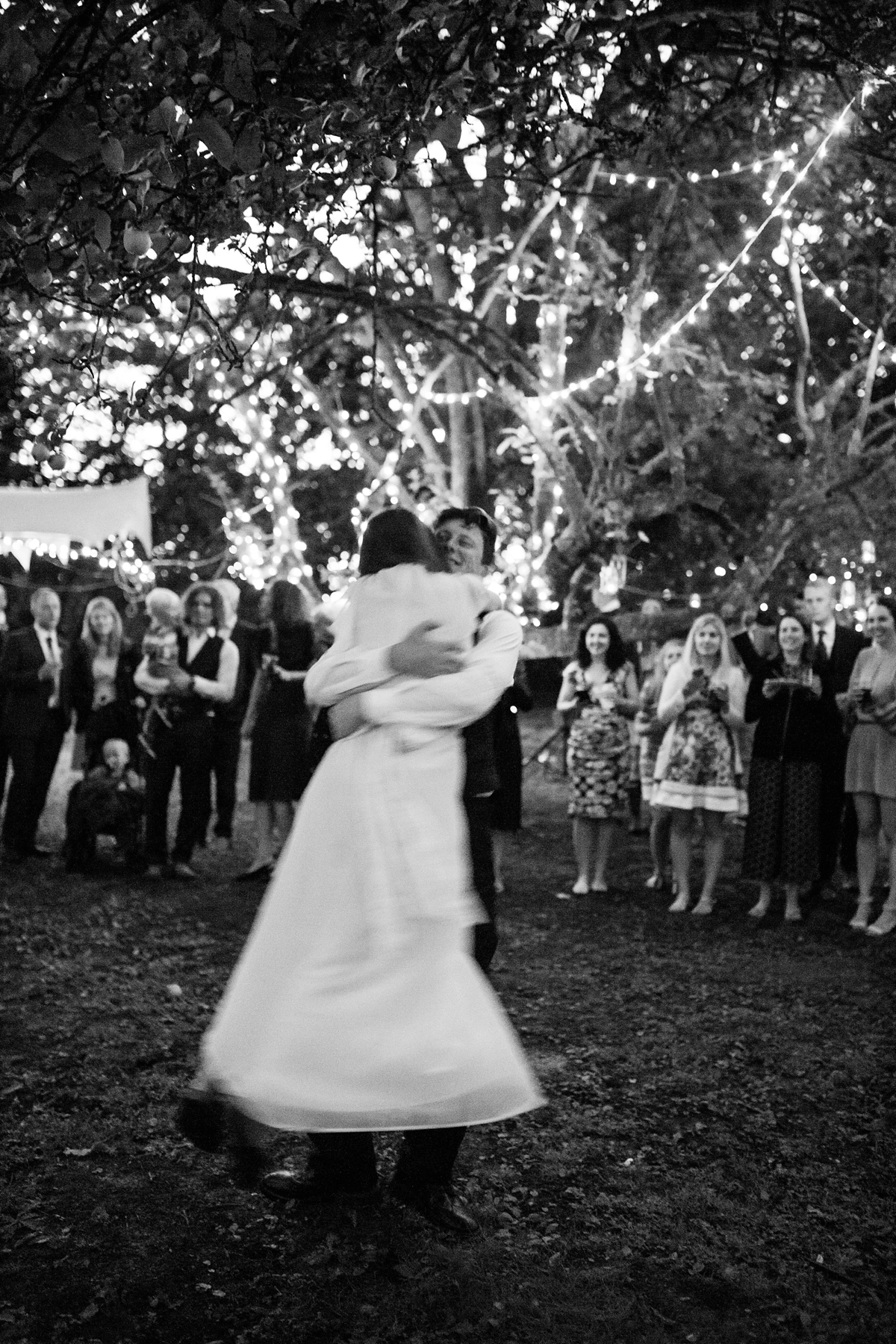 Such incredibly wise and helpful words and golly gosh – I'm going to have to find a field with a beautiful apple orchard now and replicate Imogen and Rob's relaxing day for my next summer party! I feel so blessed to have been able to share their utterly lovely wedding day and can so see why they adore their photos by the gorgeous Emma and Pete. Proof that you really don't need to spend a fortune and by going bespoke and handmade you can create your day just how you want it to be – and it's such a wonderful way to involve family and friends in the planning to make it a fun process.
Here's to a week of ticking off from your seemingly never-ending wedmin to-do lists lovely ones!
Love Jo -xo-