Hello there! How's your week been so far? I can assure you it's about to get just that little bit better because I have a gorgeous celebration to share with you.
The beautiful outdoor union of wedding photographer, Kerrie, and Russell, a senior manager for a construction firm, took place on 10th June 2017 at Dedham Vale Vineyard in Essex. The couple chose the al fresco venue for its proximity to their home, a blank canvas site hire which enabled them to bring in their own suppliers and most importantly, their beloved dog.
Film and photography by Sally T Photography
Kerrie chose her striking Charlie Brear ensemble from Mili Mili Bridal Boutique in Colchester. I adore the accents of lace, the movement of the fringing and the subtle hue of her fabric belt, beautifully tying in her copper Dune shoes and the origami cranes nestled in her braided up do. I am so envious of Kerri's origami skills, sitting alongside fresh blooms from Triangle Nursery.
"I'd admired the Charlie Brear tassel skirt from seeing previous Charlie Brear brides featured on Love My Dress, but immediately assumed I could never afford it. I even went down the route of attempting to make my own dress as it was something I really struggled to spend a lot of money on to only wear once."
Images by Sally T Photography
"I'd been interviewing Lauren from Mili Mili for my podcast about finding your wedding dress when she mentioned having a Charlie Brear designer day, and I asked whether the skirt would be there. It wasn't so she ordered it in for me to try. I went fully thinking I'd try it on just to get it out of my head but as soon as I wore it I had that 'moment.' All dress budgets went out of the window and I just went for it – I loved that it was so different, I could have shimmied in that skirt forever! It was such a lovely experience shopping there.""I've worked with both Amanda and Claire for years now, and when I turn up at a wedding and see them both there, I know everything is going to go smoothly, timings will be spot on and everyone will look incredible. There was no one else I could have trusted with hair and make-up. Claire even accommodated me completely changing my mind about my hair on the day and created a style different to what we settled on at the trial."
Kerrie layered the Earl Grey and Wild Bluebell fragrances from Jo Malone to create her big day scent and accessorised with earrings gifted to her by her mum on the morning of the wedding, and a bracelet given to her the same day by Russell. Amanda of AS Bridal Makeup applied our bride's glowing make-up, while her softly braided crown (oh I have such hair envy!) was created by Claire of Luxurious Hair & Beauty.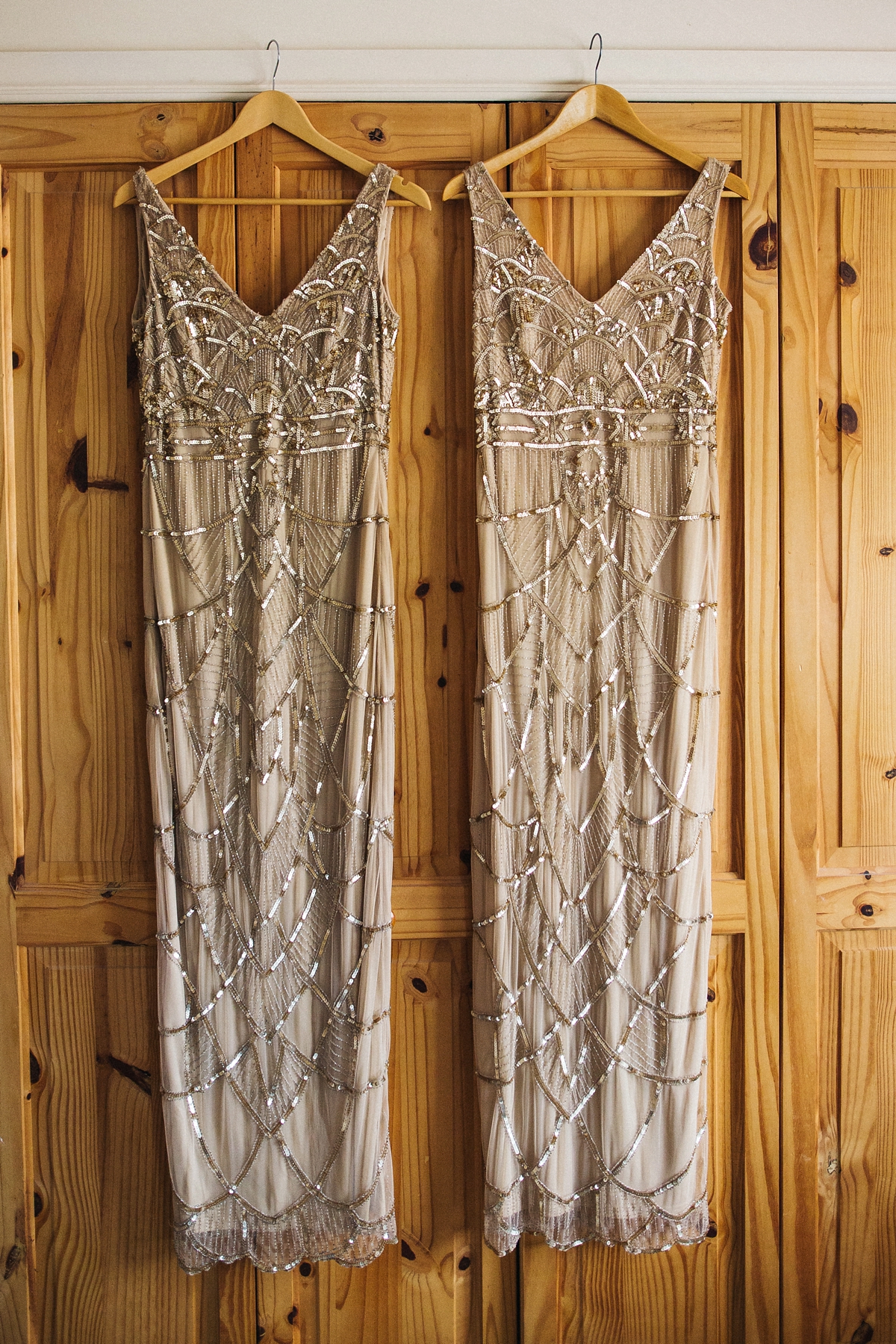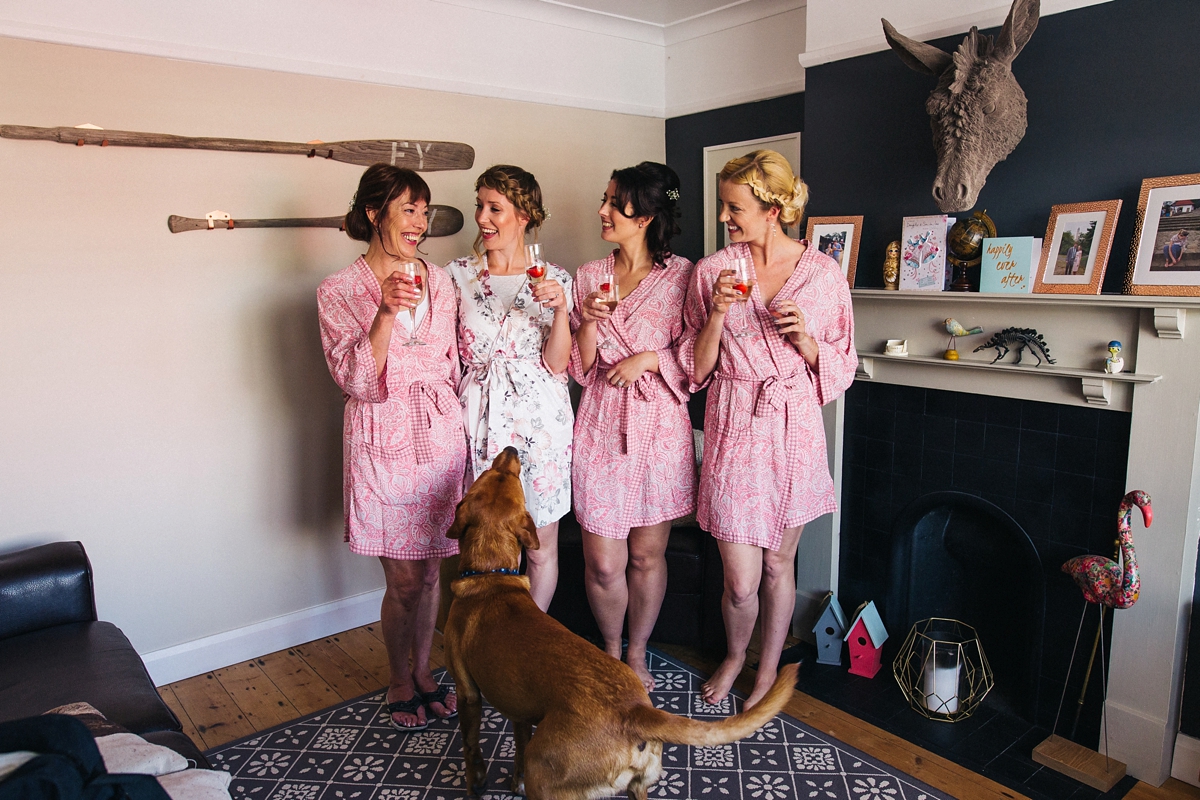 The bridesmaids also had fresh blooms from Triangle Nursery woven into their hair, contrasting with their beautifully beaded House of Fraser gowns. The Flower Arranger provided three green and white bouquets, studded with copper paper flowers made by Rachel Emma Studio, in a further nod to the  metallic accents running through the day.
"I made my nephew Charlie's 'Here Comes the Bride' sign and Russell wore a tie from River Island and buttonhole by Rachel Emma Studio. The best man, ushers, dads and step-dads ties were colour matched from Russell's tie by Swagger & Swoon. He proposed on Christmas day 2015 so we had an 18 month engagement, mainly because I had to fit our wedding in around all of those I'd already booked for other couples!"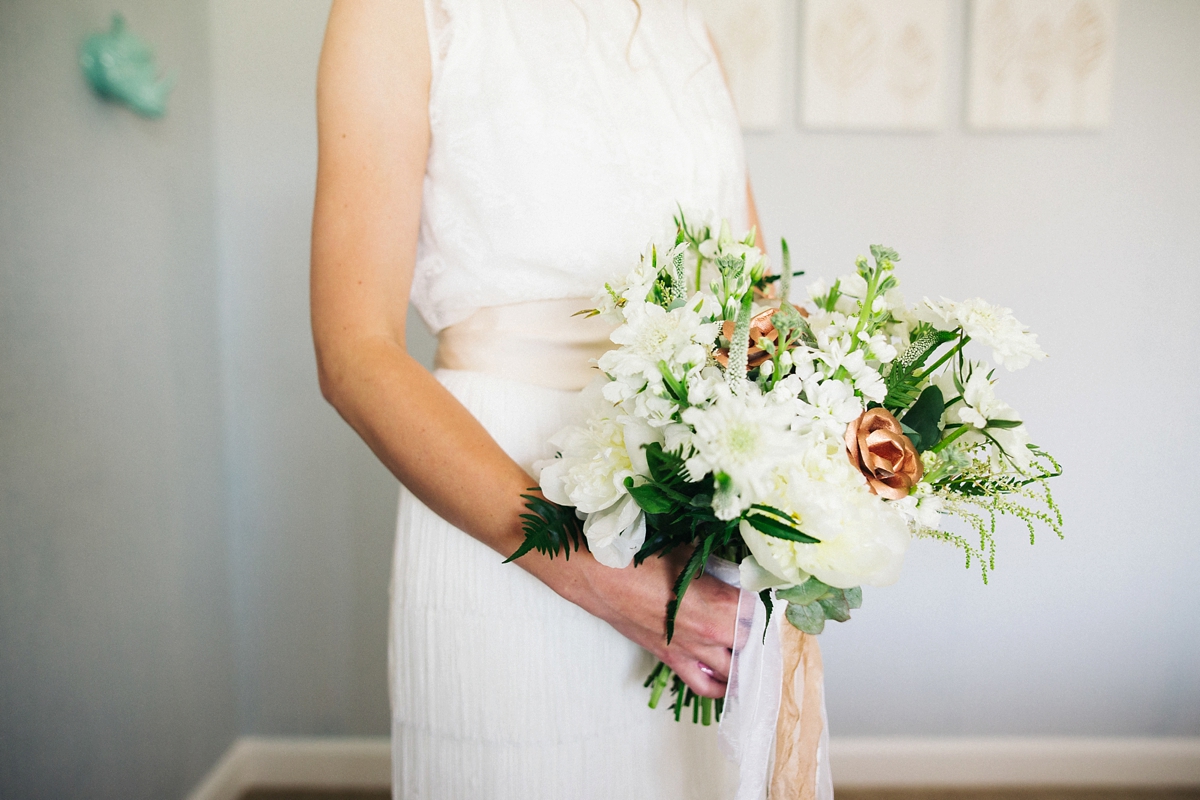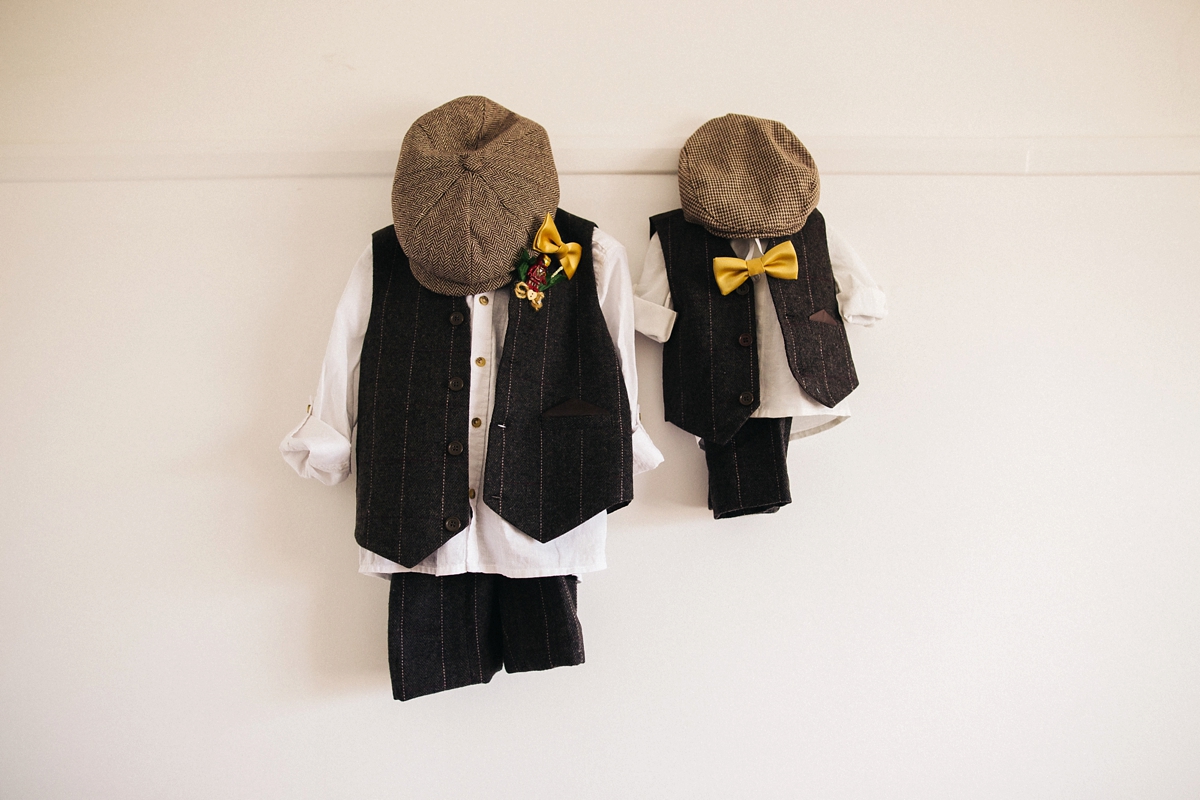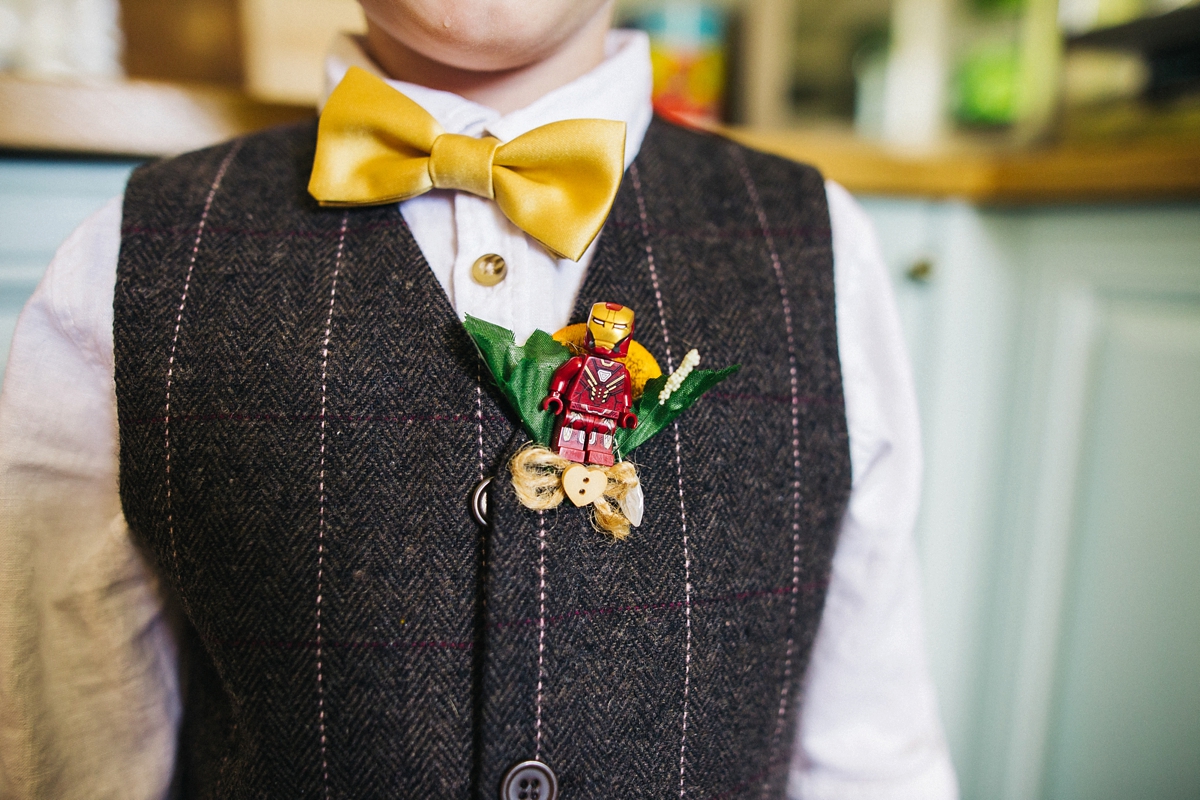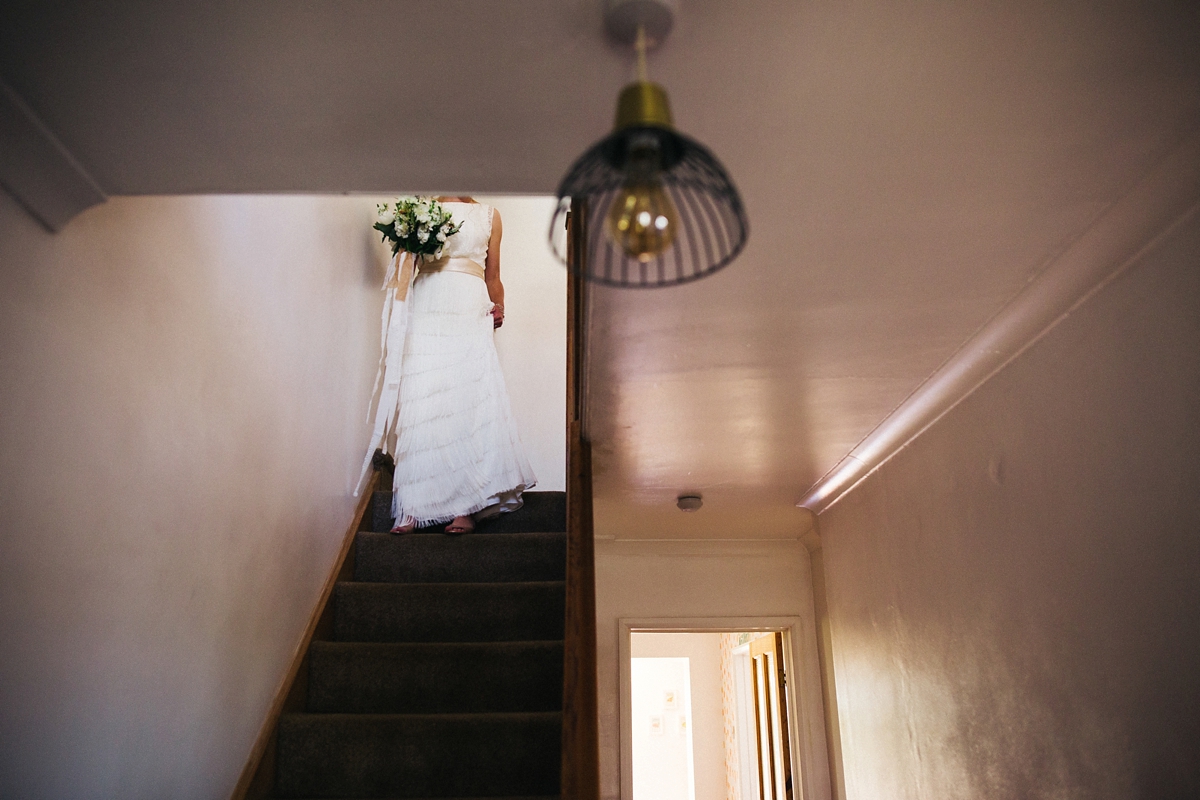 Kerrie and Russell booked the services of Caroline Gould as their on the day co-ordinator, Caroline ensuring that everything ran smoothly and to time, working out any last minute niggles and allowing the newlyweds to spend truly precious time with their loved ones, safe in the knowledge that events would unfold as they planned.
"Having photographed many weddings, those without co-ordinators always seem to be the ones that couples find more stressful and less enjoyable. So we hired Caroline not really knowing how valuable she'd be until the day itself. It was by far the best money we spent."

Kerrie walked down the outdoor aisle with her dad to Bombay Bicycle Club's Fairytale Lullaby performed by band The Thumping Tommys. I adore the fluttering fabric bunting that Kerrie created to flank the sun-dappled ceremony space, it lends such a whimsical softness to the woodland setting. The bride and her best girls also crafted the gorgeous macramé backdrop which marked the top of the aisle, a beautiful piece of DIY that now hangs above Kerrie and Russell's bed at home.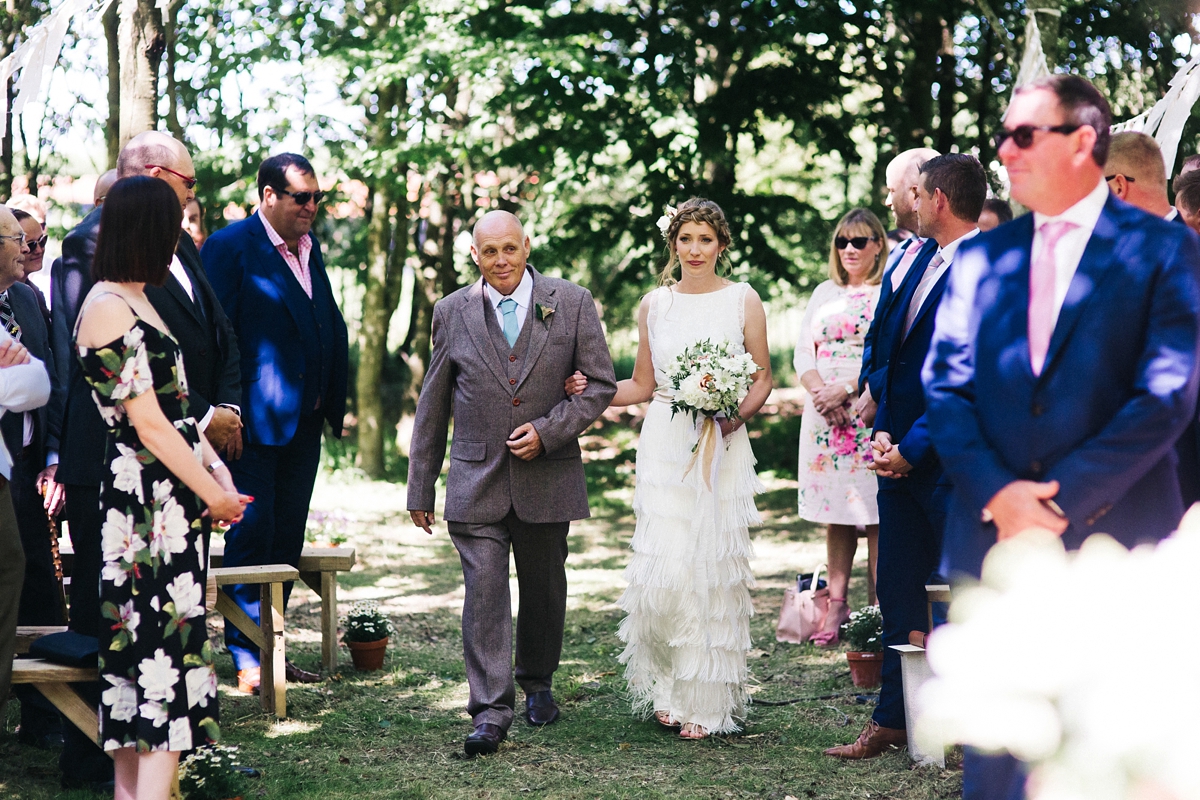 "We had a celebrant-led wedding in the woods at the vineyard, so we tailored our entire ceremony to be more personal. Bridget Garret was fantastic at getting to know us and put together a wonderful ceremony full of personal stories. We wrote our own vows together and did do a bit of cheating by googling what to say. Because our ceremony wasn't legal we had a small ceremony with our mums in attendance three days prior. It was a run of the mill registry office affair just to get the legalities out of the way."

The newlyweds exchanged simple silver bands bought from Number Ten Jewellers in Brighton, last minute purchases from the same place the couple sourced Kerrie's engagement ring. They were both impressed with the helpful, friendly service. The couple's gorgeous pup Tagg served as the world's cutest ring bearer before they walked hand in hand back up the outdoor aisle as husband and wife to the fitting sounds of Home by Edward Sharpe and the Magnetic Zeros.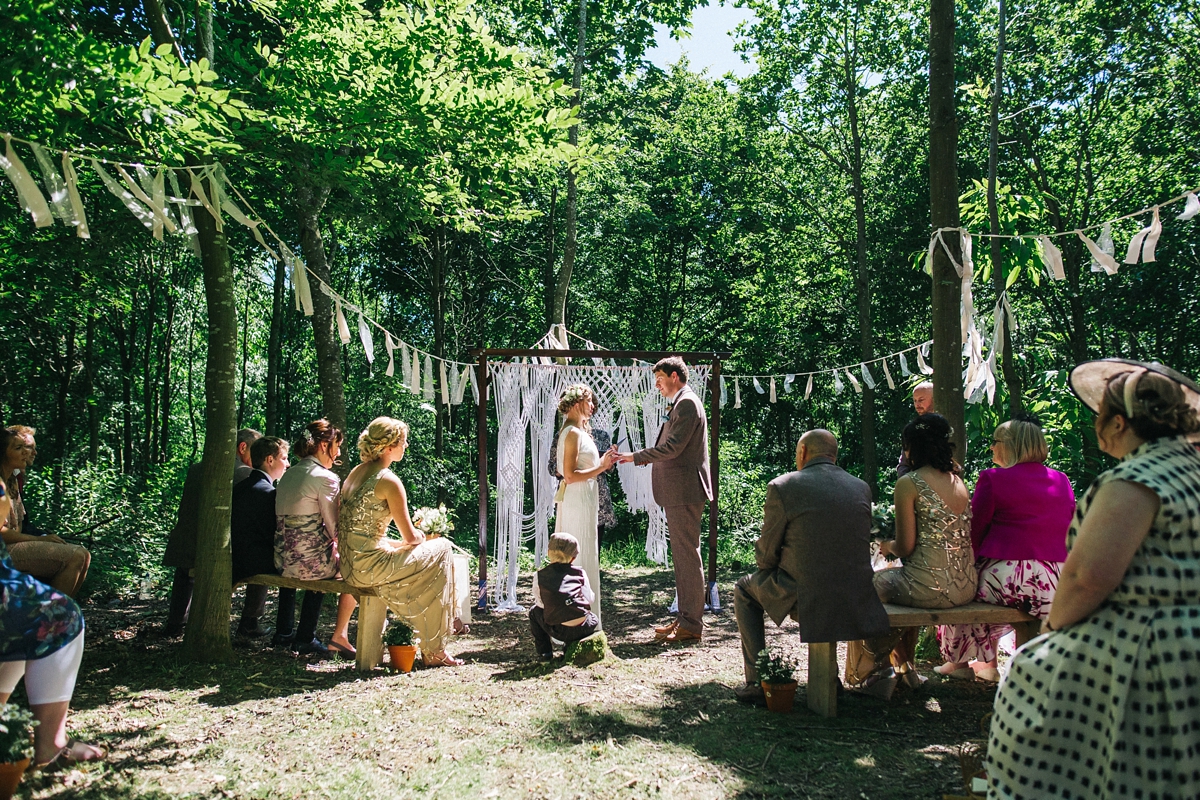 "We had two readings; 'Falling in Love is Like Owning a Dog' by Taylor Mali, because our dog, Tagg, means the world to us (he brought our rings up the aisle), adapted slightly to make it less American and a little shorter; and 'Marriage' – we thought it was very poignant and quite realistic. We didn't want anything too soppy at the ceremony and both of these worked well."
"Marriage is about giving and taking
And forging and forsaking
Kissing and loving and pushing and shoving
Caring and Sharing and screaming and swearing
About being together whatever the weather
About being driven to the end of your tether
About Sweetness and kindness
And wisdom and blindness
It's about being strong when you're feeling quite weak
It's about saying nothing when you're dying to speak
It's about being wrong when you know you are right
It's about giving in, before there's a fight
It's about you two living as cheaply as one 
(you can give us a call if you know how that's done!)
Never heeding advice that was always well meant
Never counting the cost until it's all spent
And for you two today it's about to begin
And for all that the two of you had to put in
Some days filled with joy, and some days with sadness
Too late you'll discover that marriage is madness."
=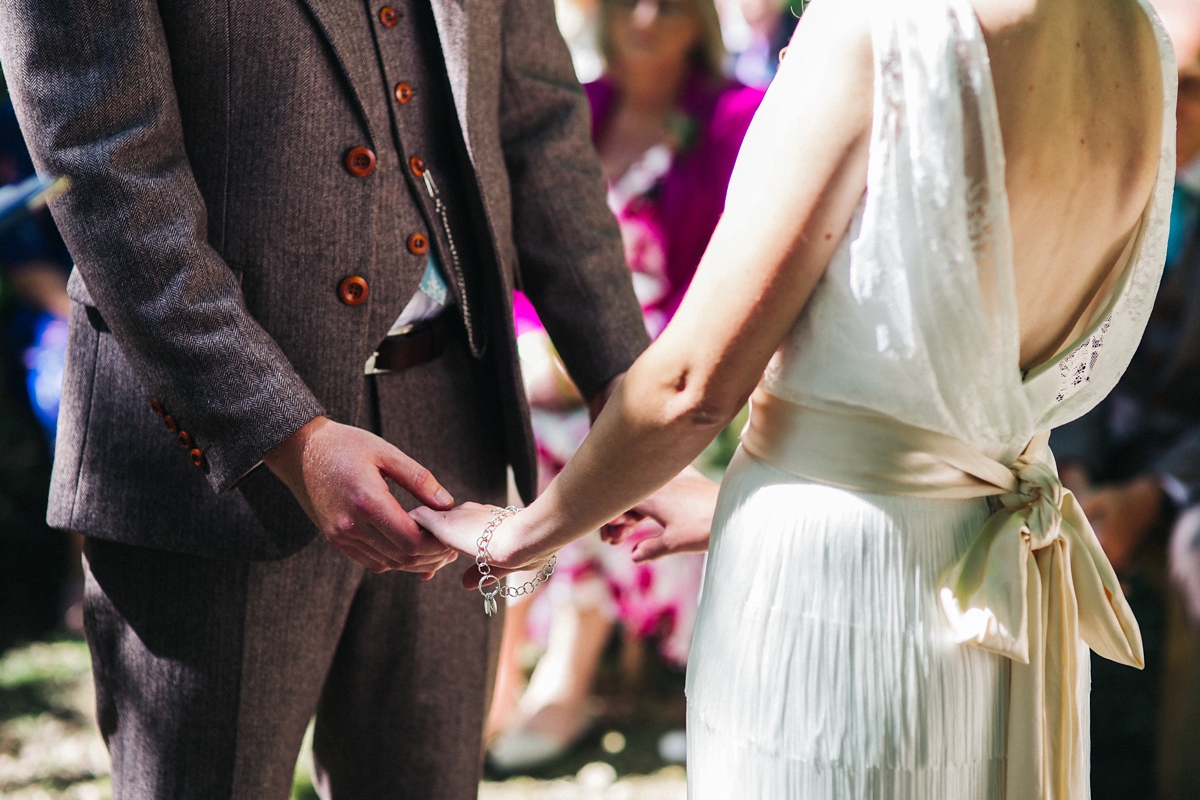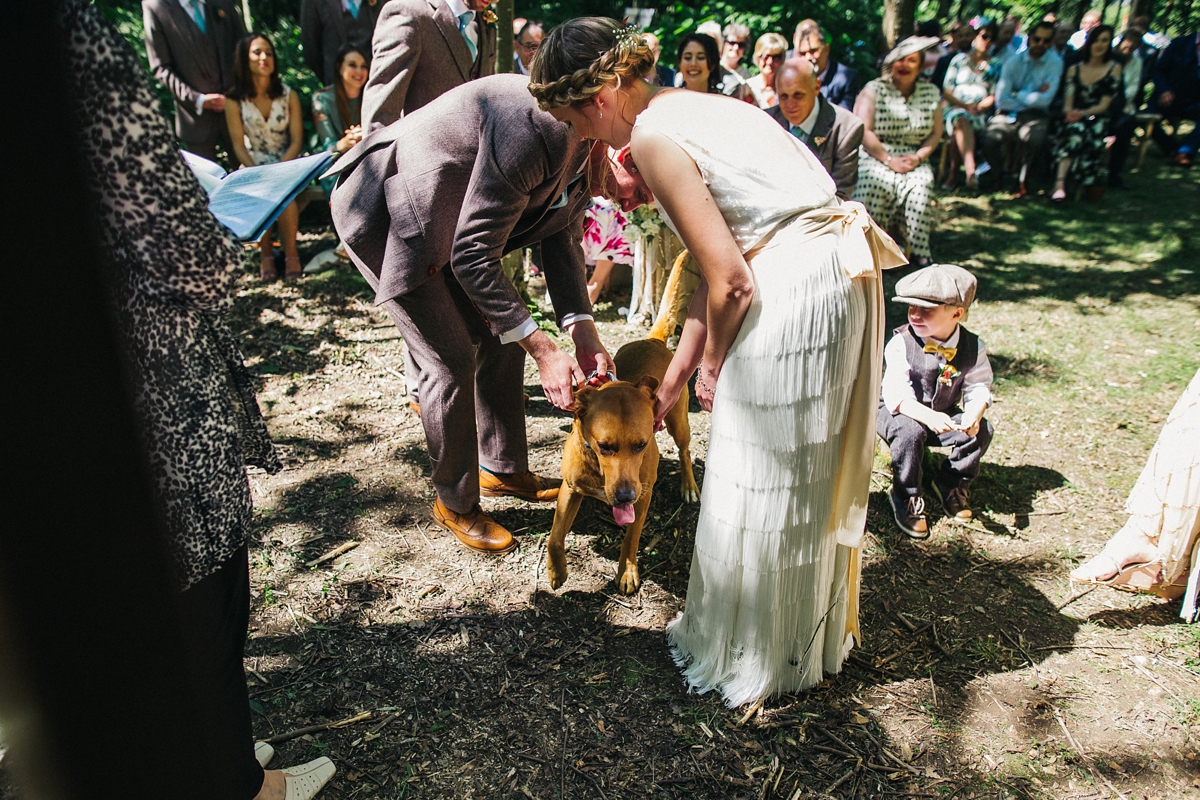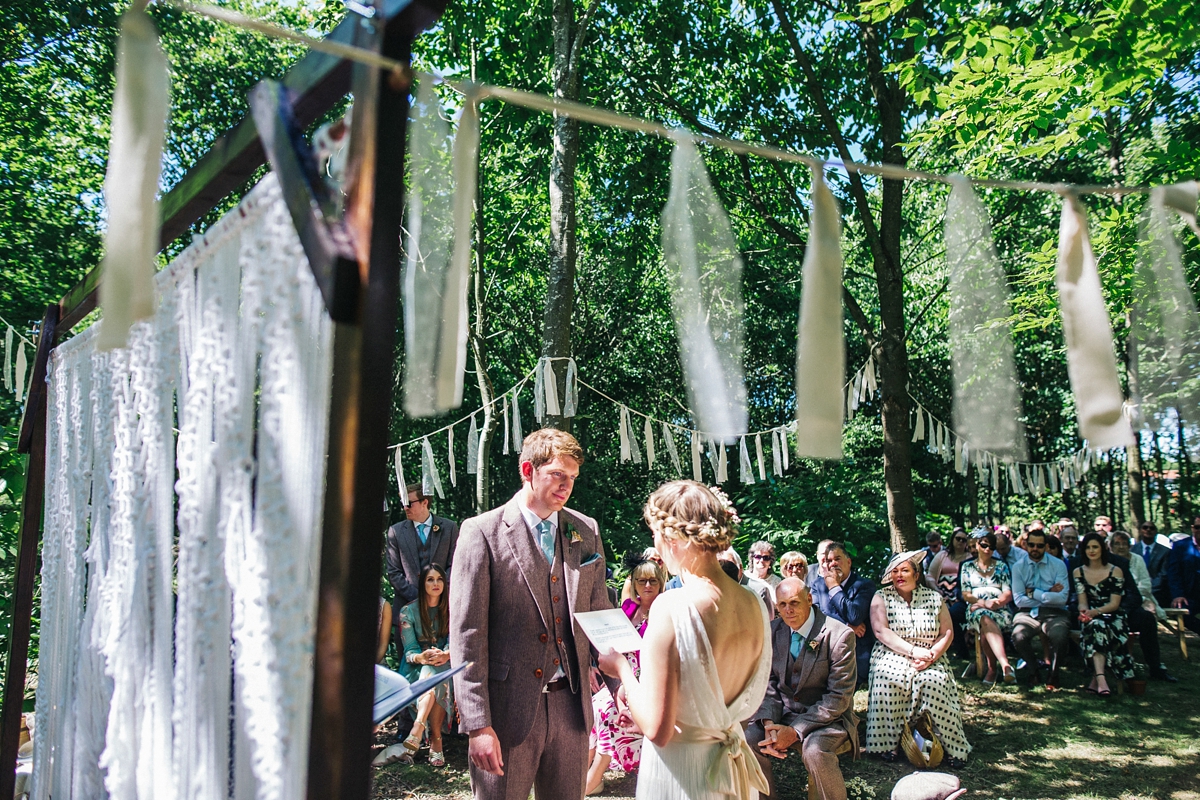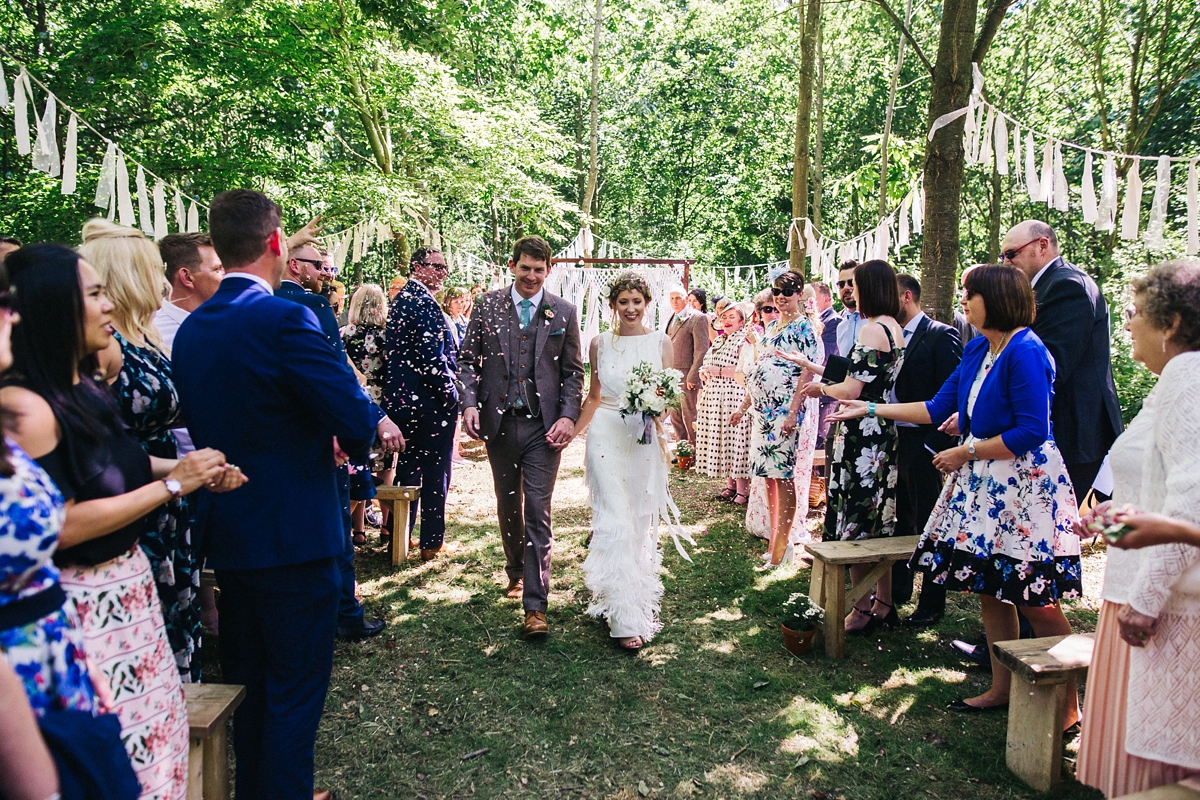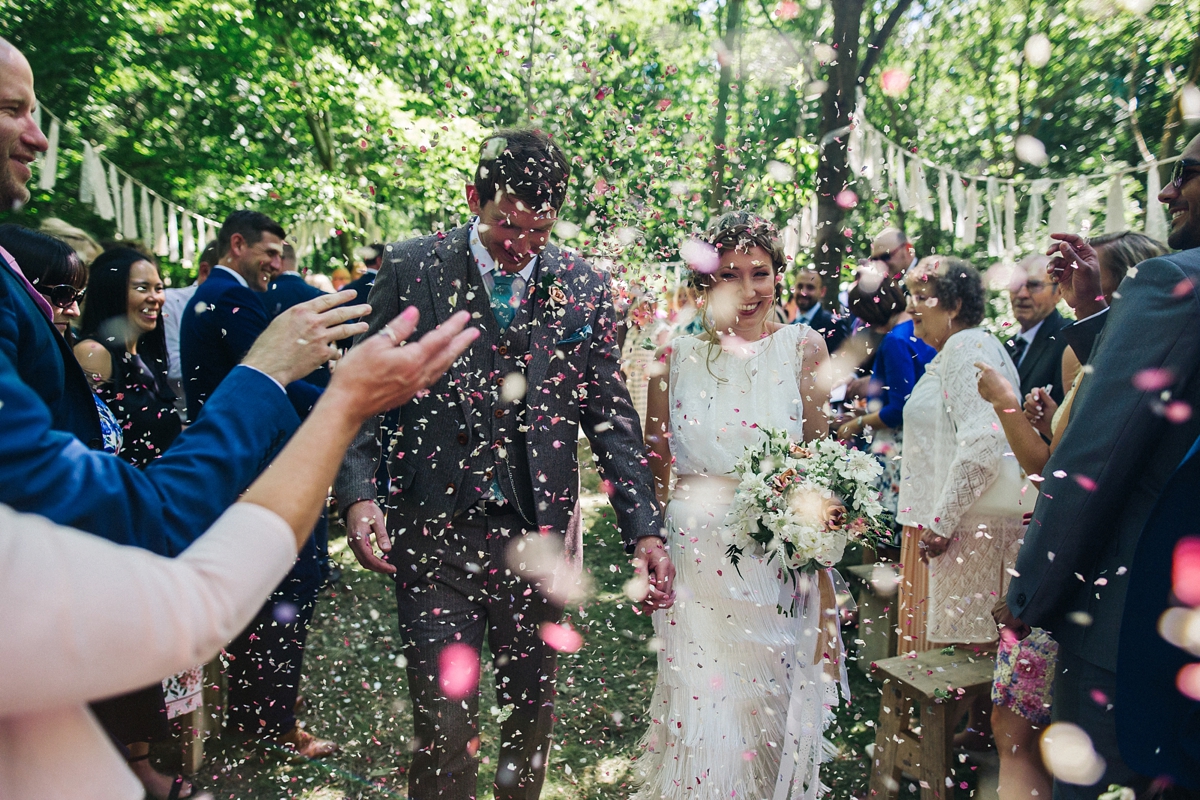 I always wonder how a wedding photographer comes to choose the fellow professional to document their day – it must be such a difficult task! Kerrie and Russell turned to Sally of Sally T Photography to shoot their union as it unfolded, her reportage style sensitively capturing all of those love-filled moments, punctuated with soft, emotive portraits and meaningful details.
"We chose Sally because I'd always admired her work. She fit into our wedding day so seamlessly we barely noticed she was there, but she managed to capture everything. I loved looking back not only on the big moments but the candids she captured of our guests just mingling and enjoying themselves. It's so lovely to relive the day through her photos. We loved that Sally also offered stop motion video. We didn't want a videographer but fancied a little video to look back on and this captures the day so well."
The Wedding Marquee Company provided the structure for the couple's reception, threaded with homemade bunting and strung with festooned bulbs. Kerrie and Russell purchased more fresh blooms from Triangle Nursery to decorate the long tables, arranged the day before the wedding, and picked ivy and jasmine from their own garden.
"Ivy and jasmine came from our garden, my bridesmaid Kerry made the grey linen table runners and I had collected tin cans to spray copper to arrange flowers in. I also purchased a selection of IKEA vases to use on the tables as well."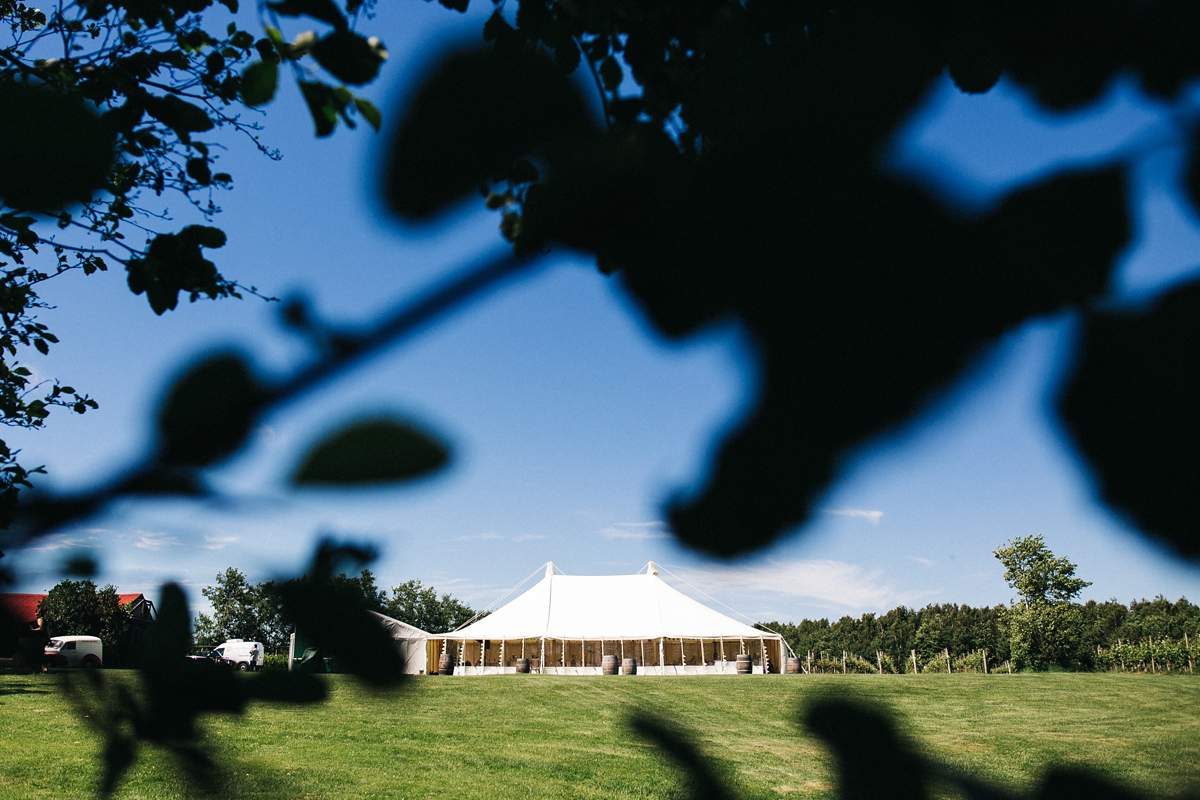 "My mum and sister-in-law made all the bunting in the marquee (around 150 metres) and Russell's dad and my step-dad made us our bar. We made the cocktail sign and used a peg board to display all the drinks and Russell's brother designed all of our stationery including invitations and menus we than had them printed at printed.com."
"I also designed some postcards in place of a guestbook, where guests could leave us their marriage advice or write some well wishes. We loved reading these after the wedding day."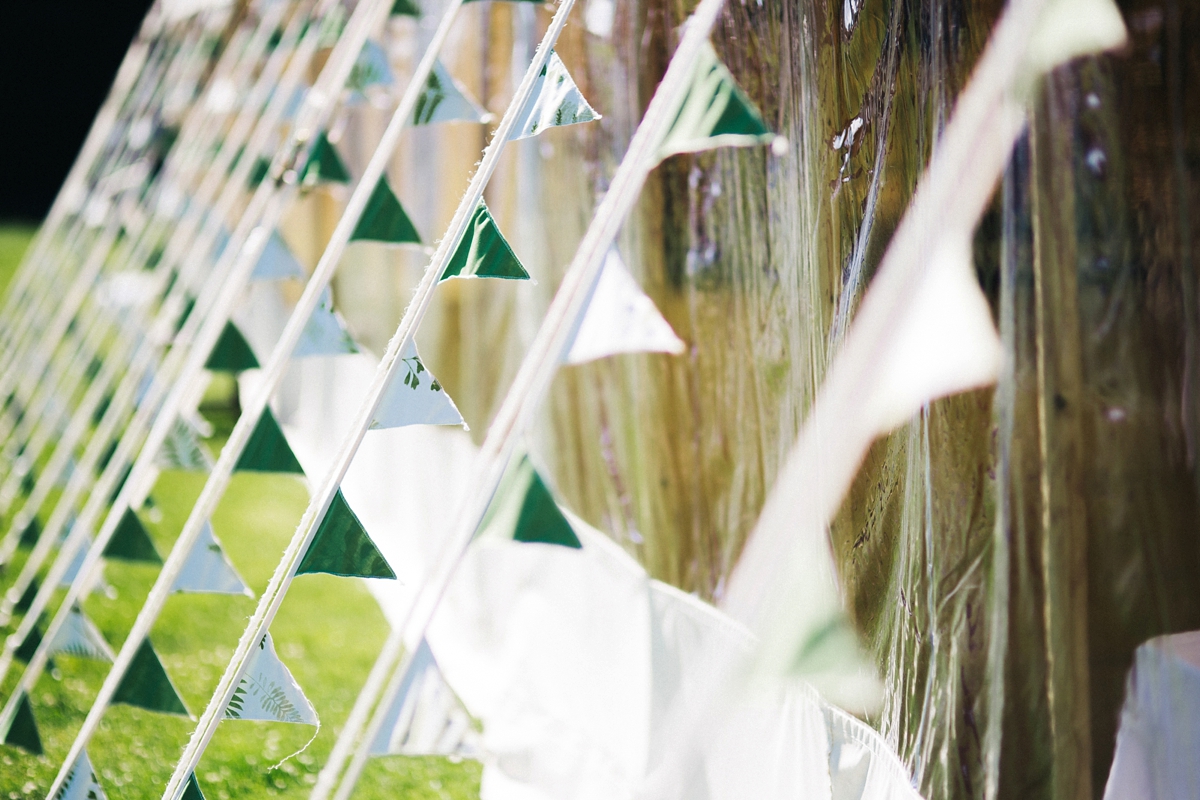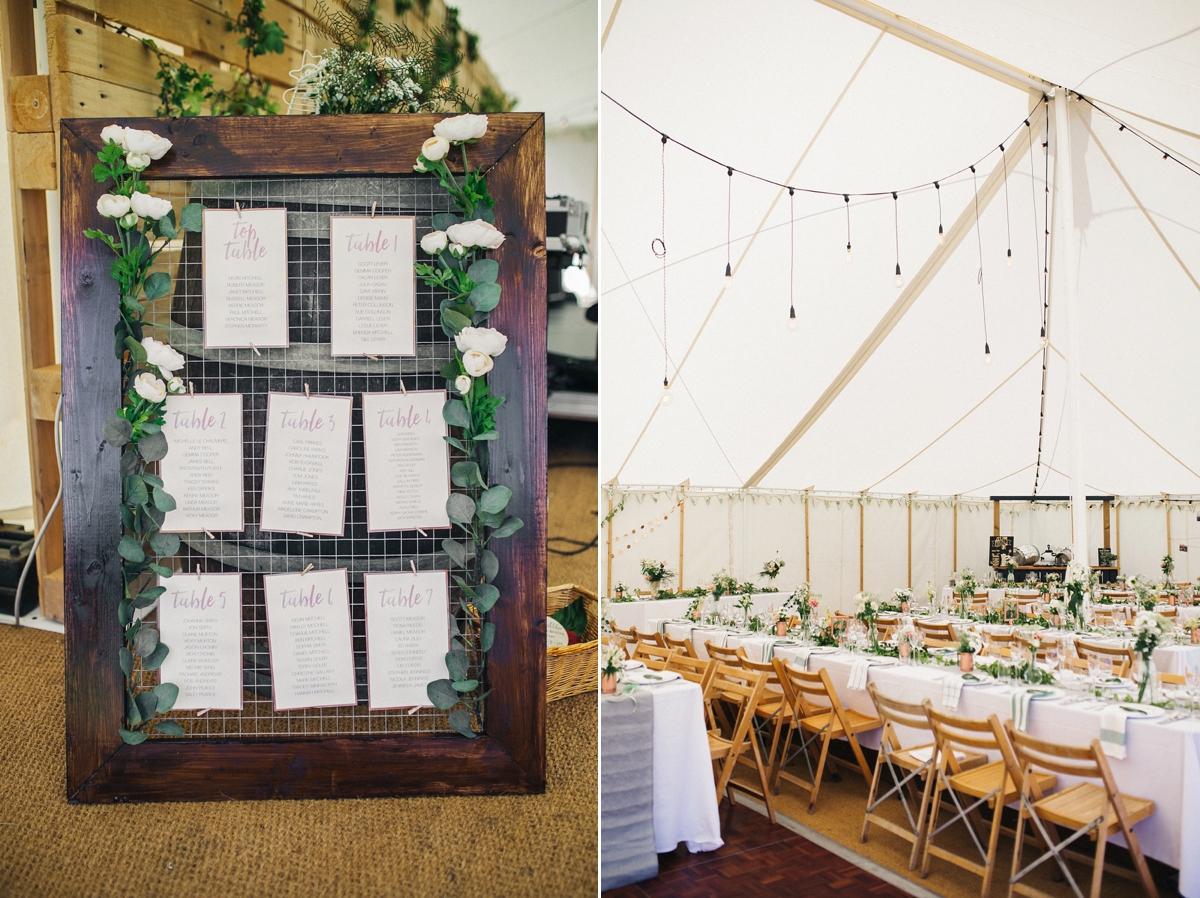 "We opted for simple décor that reflected our surroundings. We had an emphasis on botanics and greenery because we had so much available to us, and we enjoy being outdoors with the dog on long walks. The Dedham Vale is such a gorgeous part of Essex and we're so lucky to have it on our doorstep – we just wanted to encapsulate that. We stuck with really muted colours; greens, whites, blushes for flowers and then modernised it all a little with touches of copper and gold."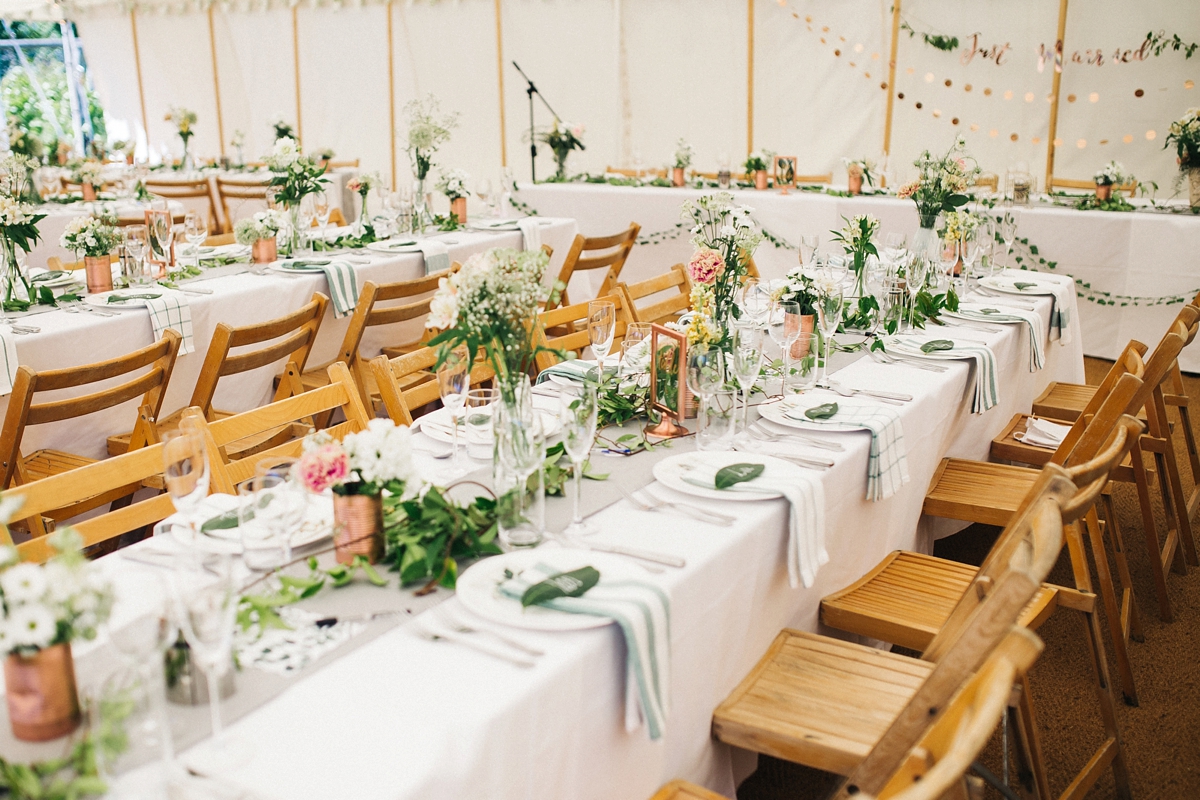 Linda Hamilton Catering provided a wedding breakfast which catered for all of the couple's loved ones, including plenty of options alternatives for the gluten-free and vegetarian guests. Kerrie and Russell also treated their guests to gourmet hot dogs in the evening, served from a vintage van, and instead of a wedding cake, their wedding party baked a scrumptious array of sweet treats. Kerrie also designed little badges as favours – such sweet momentos of the day.
"We served large picnic style canapés such as scotch eggs and sausage rolls as canapés, which meant we could get away with just a two course dinner later on. Linda created a fun spring menu which would have guests passing bowls around, creating a reason for them to interact with each other. We also nominated a guest on each table to carve the lamb to make this part a little more fun. We had lamb with a pea, asparagus and feta salad and new potatoes followed by giant summer berry pavlovas for guests to serve up between them all."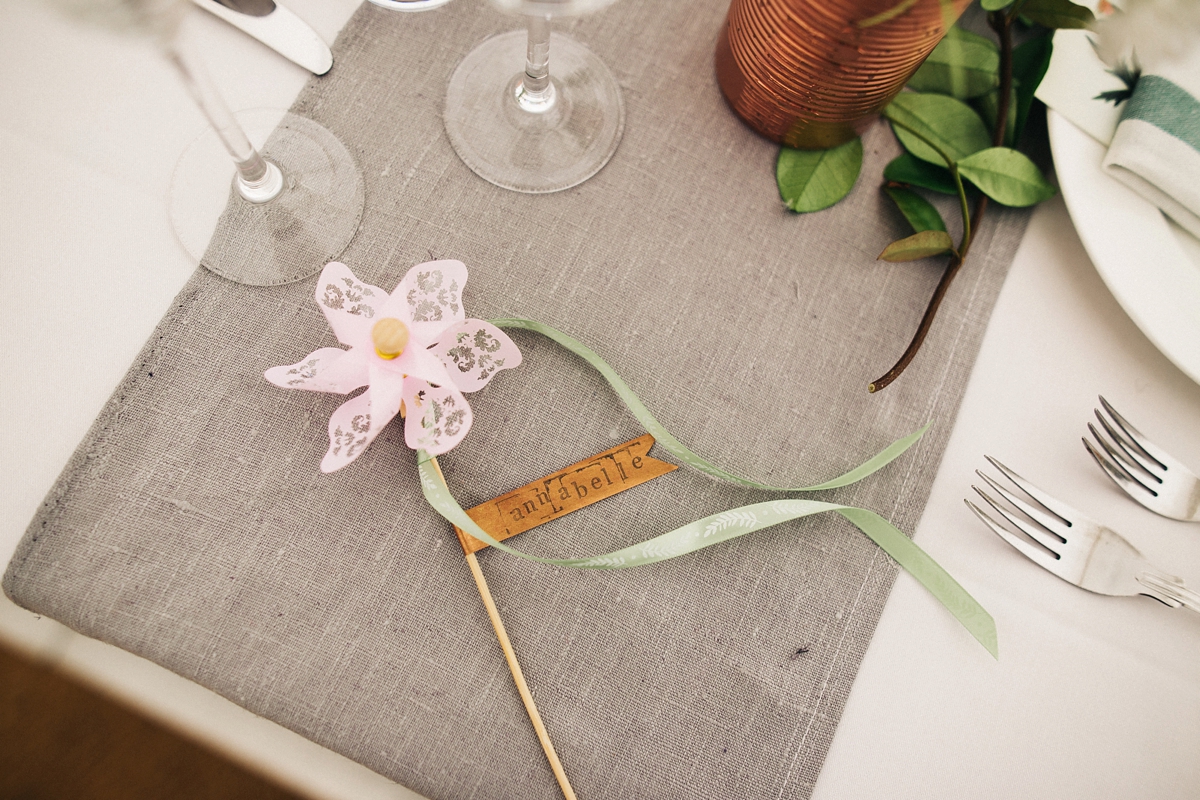 "I designed some badges, which we had made by Awesome Merchandise and guests could then help themselves to as many as they liked. But we didn't provide favours on the table – it seemed like a waste of money and by that point we'd spent a lot."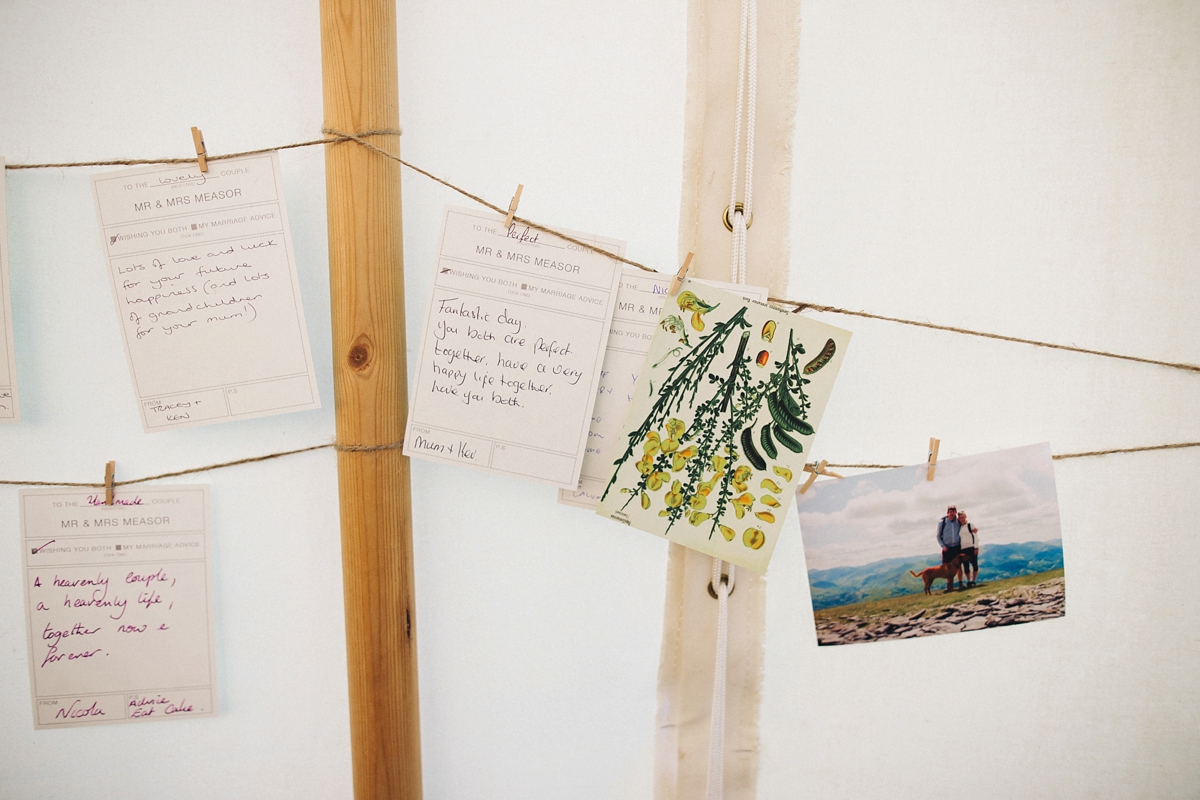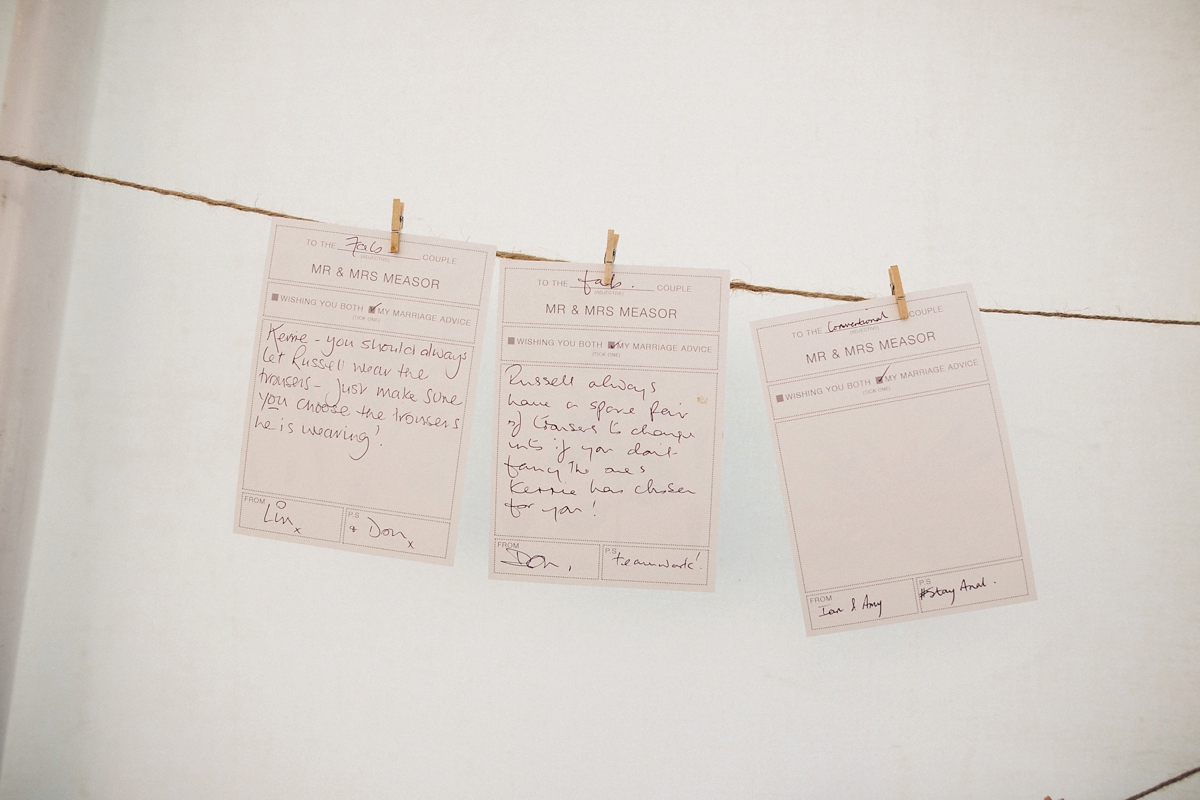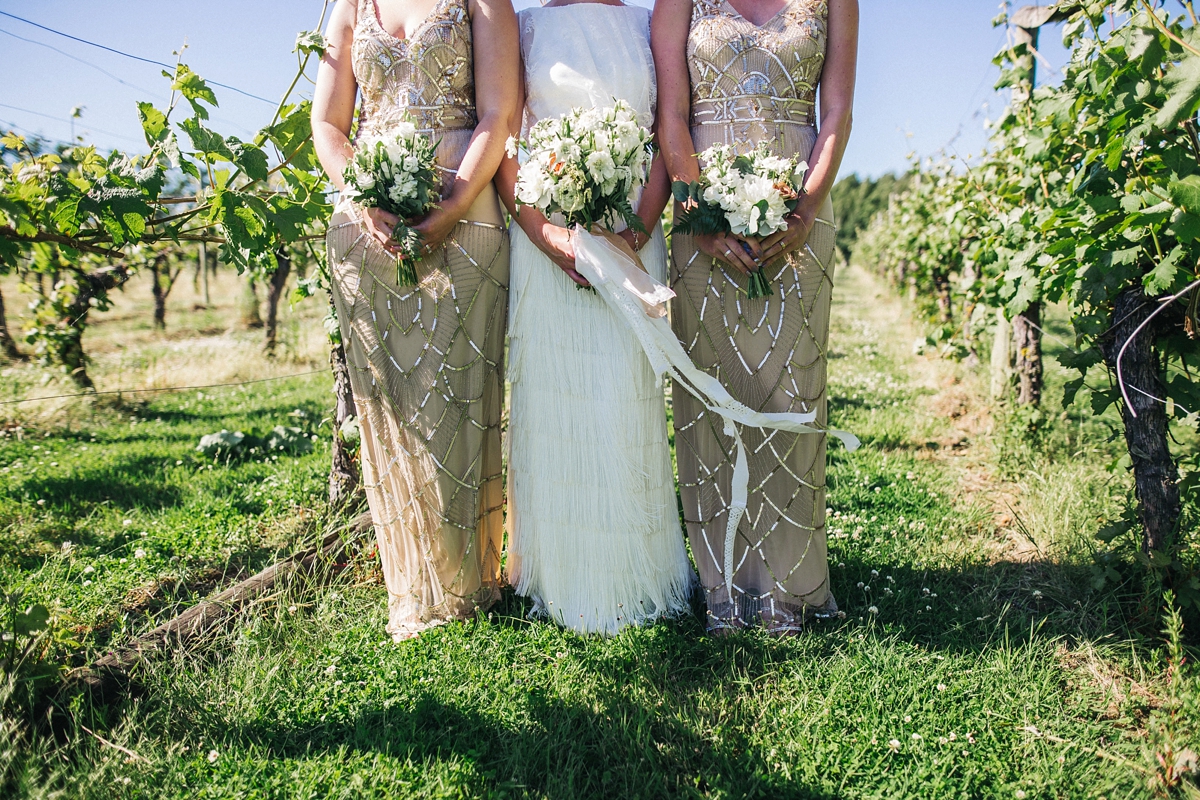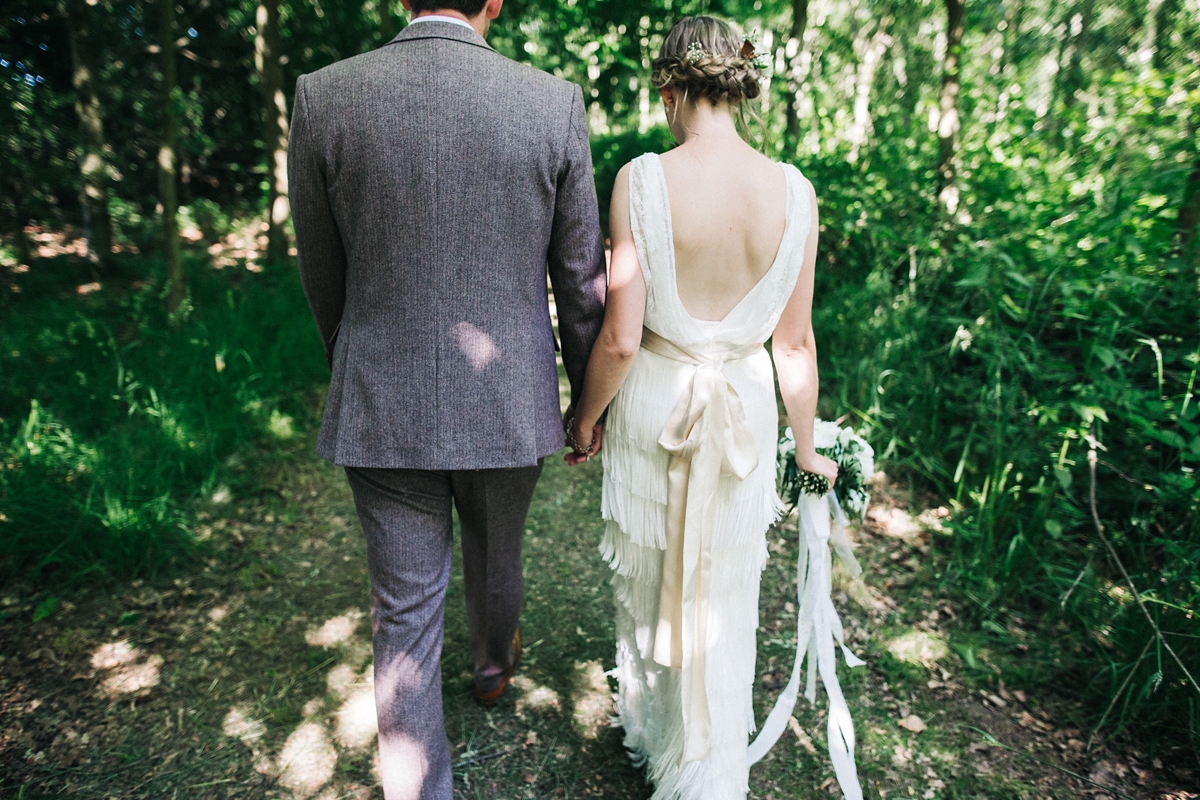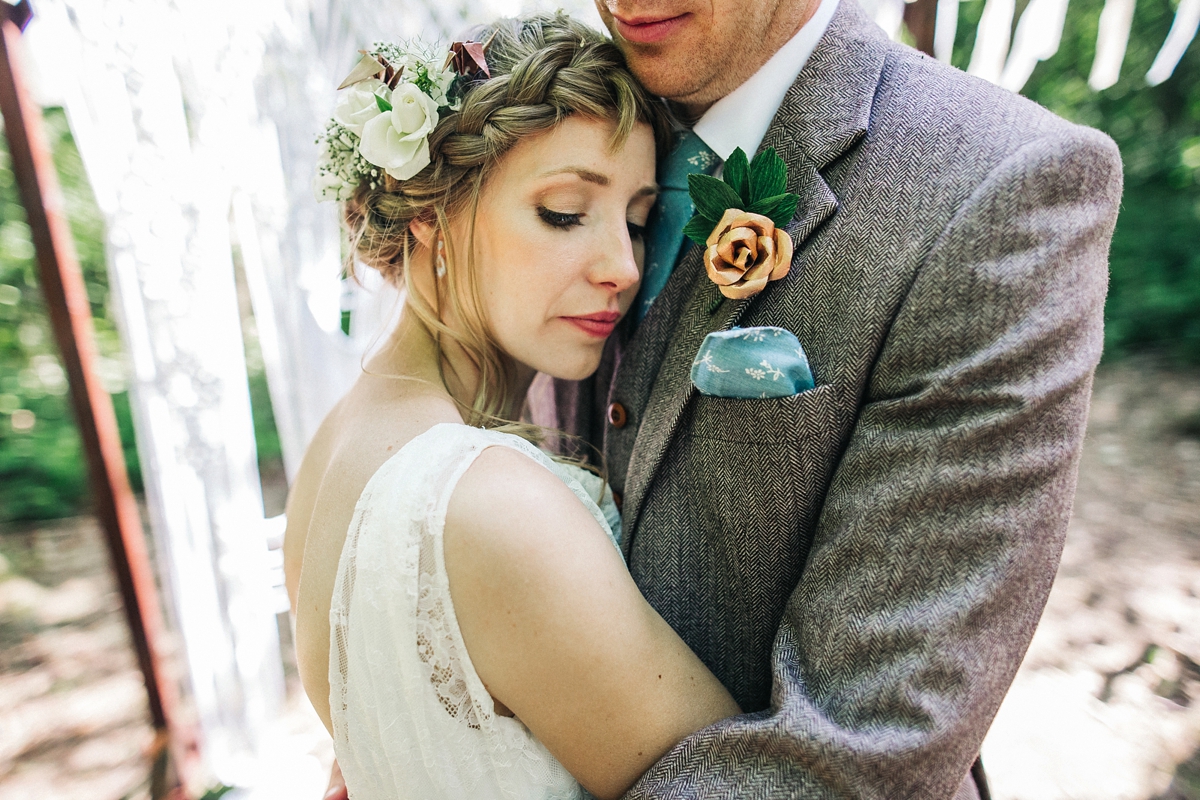 The couple booked band The Thumping Tommys to play folk music outside in the June sunshine, creating the soundtrack for the ceremony in the woods and leading a procession from the ceremony site to the marquee. Cushti performed in the evening, playing a mix of modern and older music which kept the dance floor decidedly packed.
"We chose 'Toothpaste Kisses' by the Macabees for our first dance as we both love the song and have seen the band perform a few times (we managed to catch their last tour a few weeks after the wedding too.) Russell's aunt and uncle secretly arranged for us to have dance lessons in the lead up to the wedding so we did a choreographed routine – nothing too fancy, but it did mean we avoided the awkward shuffle."
"From start to finish we loved every single moment and only wished it could have lasted much longer. It is incredible to have everyone you love in one place for the day. There will probably never be an occasion like that again for us, so it was wonderful to float from group to group knowing you knew everyone so well."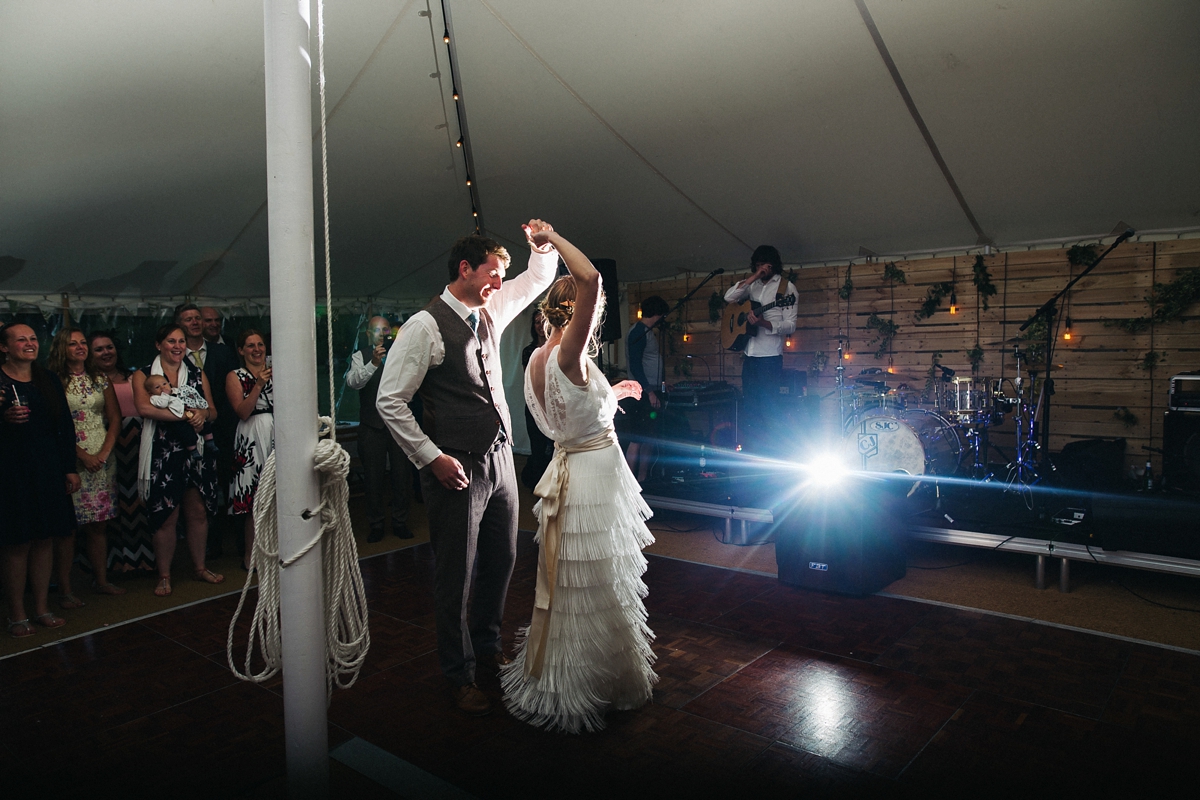 Words of Wedded Wisdom
"We didn't really set out with a budget in mind. I think its difficult to, because unless you've been married before you have no idea how much a wedding costs. We were very lucky that our parents generously donated payments for certain suppliers and my dad had set aside some money too. However we still paid for a large bulk of the wedding ourselves and hadn't expected help financially – although we were incredibly thankful for it. We haven't added up final sums but we think the wedding day must have cost around £15-£18k."
"If you DIY a lot of your wedding, be prepared to give up lots of your time to the cause and stay organised about it all. I kept the week before the wedding free to ensure things were finished and ready in time and still had a lots of late nights that week trying to get things done."
"Our wedding was in June and we began making the macramé backdrop in February. I'm so glad we did because it was incredibly time consuming. But I'm so proud of all the things we made and created ourselves and we still use them around our home as permanent reminders of our day."
"Also, sometimes DIY'ing doesn't necessarily mean you'll be saving money. It can cost as much as paying someone or hiring, but I love making and crafting things so I knew a lot would be homemade. But sometimes it works out best to just pay someone – I did this with the paper flowers, as all my attempts had been terrible and in the end I opted to pay someone who knew what they were doing!"
"I'd also recommend asking someone to record your wedding speeches if you don't have a videographer. I really regret that we didn't because we enjoyed them so much and I would have loved to have watched them all back."
"The only thing I'd change is not buying two barrels of beer! These were barely touched and so we had to tip them away as they wouldn't keep. But it's so difficult to guess what your guests will drink on the day when you provide the alcohol yourself."
I can't tell you how grateful I am to Russell and Kerrie (who you can find on Instagram by the way) for allowing us this privileged insight into their gorgeous day. And a big thank you also goes to Sally T Photography for these lovely images, which are making me long for summer!
With love,
Em x