Are you all looking forward to the weekend? I can't wait for mine as I'm heading to Derbyshire for a reunion of my dad's side of the family. It's the first time this lot have got together properly in years. Only one more day to go.
We always remark that we see each other at weddings and funerals but don't actually do anything to properly make memories together in between, so we've booked out an entire farmhouse and are spending a long weekend doing just that. Paddy and Rachel, whose wedding we're sharing today made it a really family-oriented affair too, asking Rachel's uncle, a bishop, to marry them. The romantic wedding film by Moon and Back captures the dreamy, romantic feel of the day so well.
The bride and groom are both secondary school teachers and married during their long summer holiday on 8 August 2017 in the spectacular setting of Arundel Cathedral, West Sussex with a reception afterwards at Upwaltham Barns. Pretty and romantic tones of soft peach ran through their entire day, and both the cathedral and reception were adorned with flowers and candles for a really beautiful look.
Film Moon and Back
Photographer Julia and You has done an incredible job of photographing the relaxed morning of the wedding, as well as the incredible splendour of the cathedral. Julia specialises in light, natural, unposed photography and this wedding is the perfect example of her work. We are very proud to list her on Little Book for Brides; take a look at her listing here.
"We chose Julia without hesitation – I am really particular when it comes to photography and when I saw Julia's work, I knew she was the photographer for us. We looked at others but none compared. Her style is all about natural light and prettiness. We had an engagement shoot with her and had such a fun day so we knew then we'd made the right choice."
Photography Julia and You
"The way they film each couple is like something out of a movie. They capture such small details that bring back all the emotions of the day. There is something so special about seeing all the ones you love enjoying the day as much as you."
On the morning of the wedding, Rachel and her maids got ready with the help of Sam Bloch of SB Makeup, who created such an ethereal look.
"Sam and Charlotte did the most incredible job on all the girls and my mum. It was flawless and lasted the entire day. We can't recommend Sam highly enough. She is an absolute artist. Tony Brown and David Ackroyd from Toni & Guy did all our hair. They were amazing and Tony completely exceeded my expectations with how he did my hair. We'd had a few practices, but on the day it was better than I could have ever wished for."
The bride's dreamy white gown is an Annasul Y design which she purchased from Teokath in Wimbledon.
"I'd seen dresses by Annasul Y and Lusan Mandongus in magazines and when I saw the dresses in person, I was totally smitten. The soft layers of lace and beading were breathtakingly beautiful. I just knew I'd found the one when I tried on my dress with a deep back to it. My mum had happy tears which was also a sign it was the right one. There is a real specialness about Annasul Y 's dresses."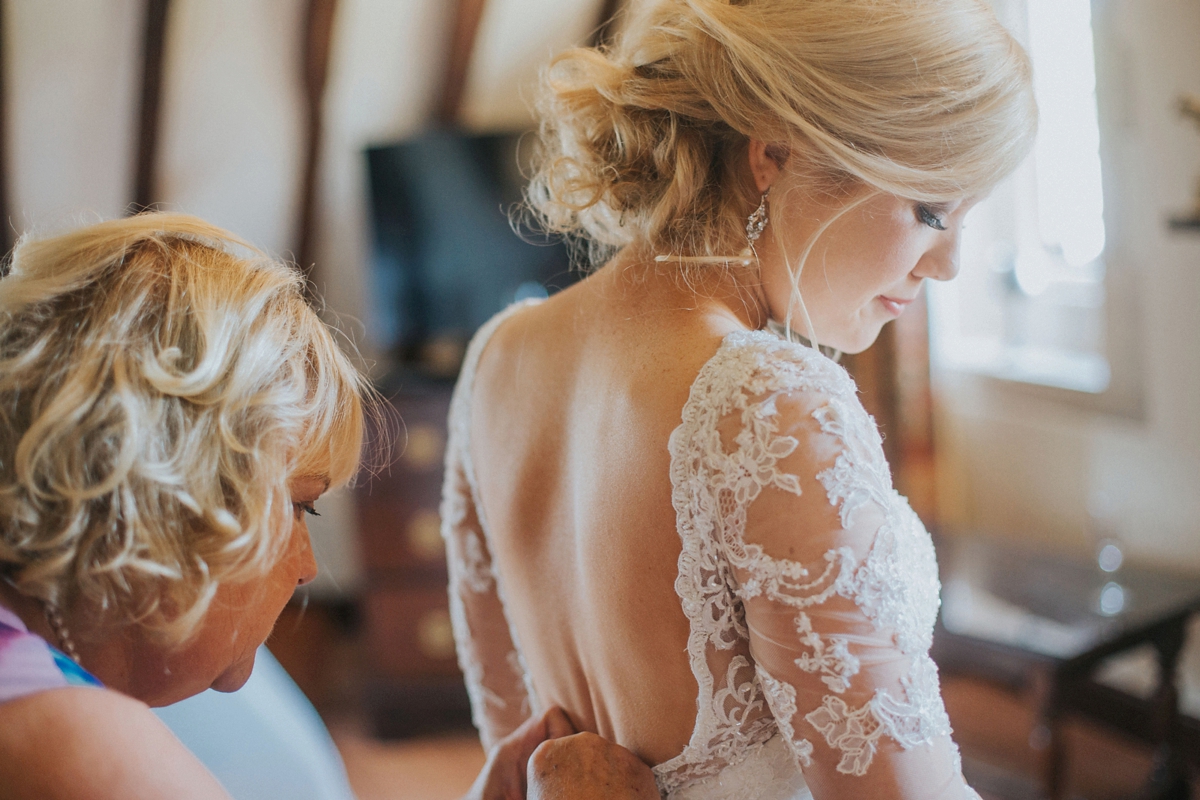 If this style captures your heart then you can see other Love My Dress brides who wore Annasul Y gowns here.
Rachel's white veil is so sublime – a cathedral-length lace-edged style with beading which trails behind her so wonderfully, especially as she walked down the aisle. For even more glamour, she chose classic Jimmy Choo heels in glittered silver, adding clip-on embellishments to make them special to her.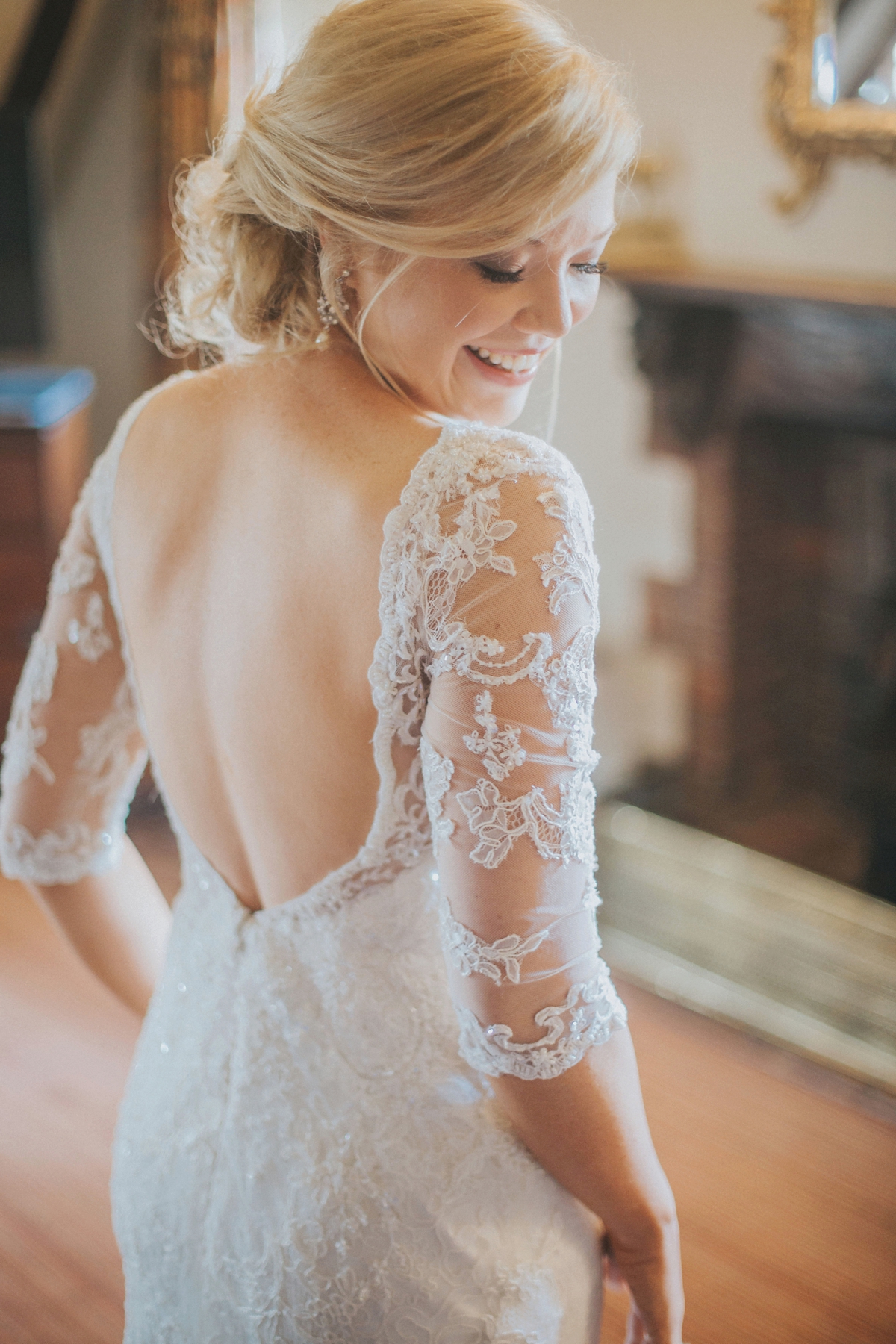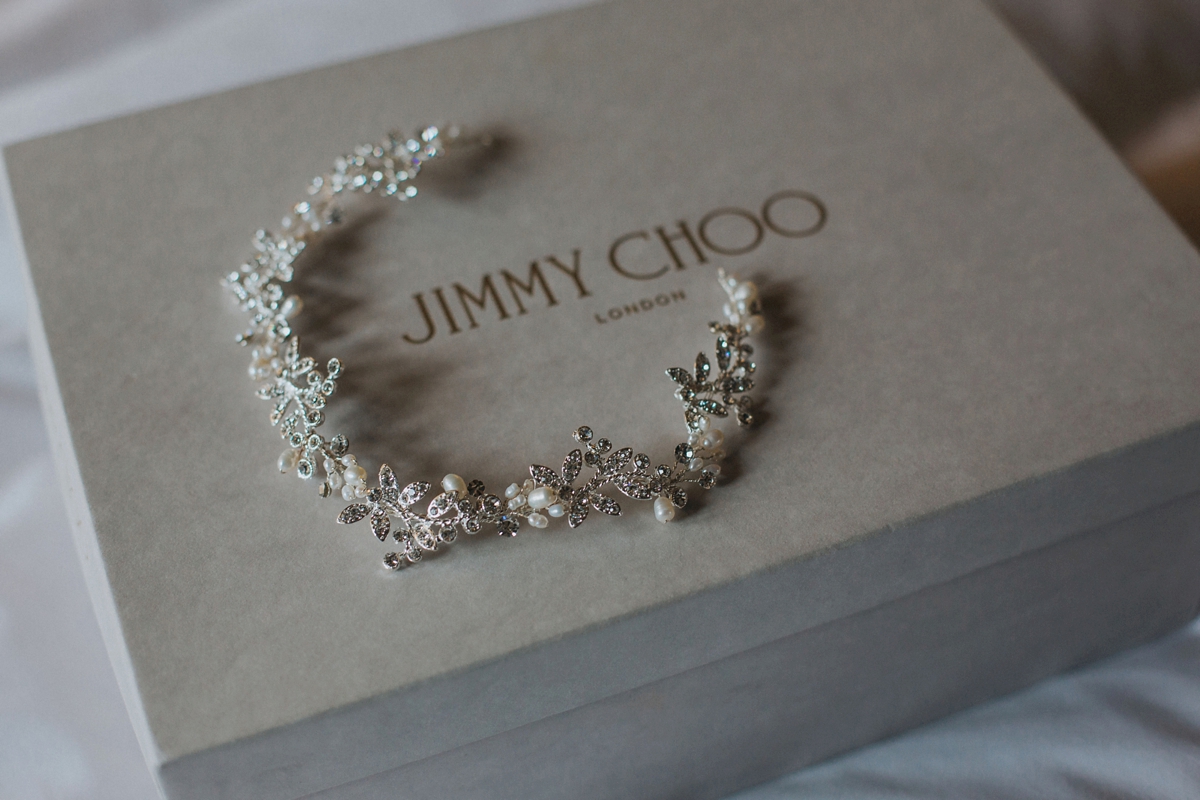 "I bought a diamanté hair vine. It worked perfectly over the top edge of my veil and added a very delicate amount of sparkle. Because the neckline of my dress swept across the collarbone I didn't want to wear a necklace but I went for sparkly drop earrings with a pearl by Stephanie Browne, bought from Liberty in Love."
Florist Wild Willow created beautiful flower arrangements to transform the simplicity of the barn venue into something totally special.
"Laura had a really natural way about her and she understood my vision for very natural, unstructured flower arrangements. My mum and I had been collecting little crystal vases and our florist filled them with small pink roses and foliage. We also had tall centrepieces which were filled with greenery and roses. We weren't using any other sort of decoration in the venue so the flowers were a real statement."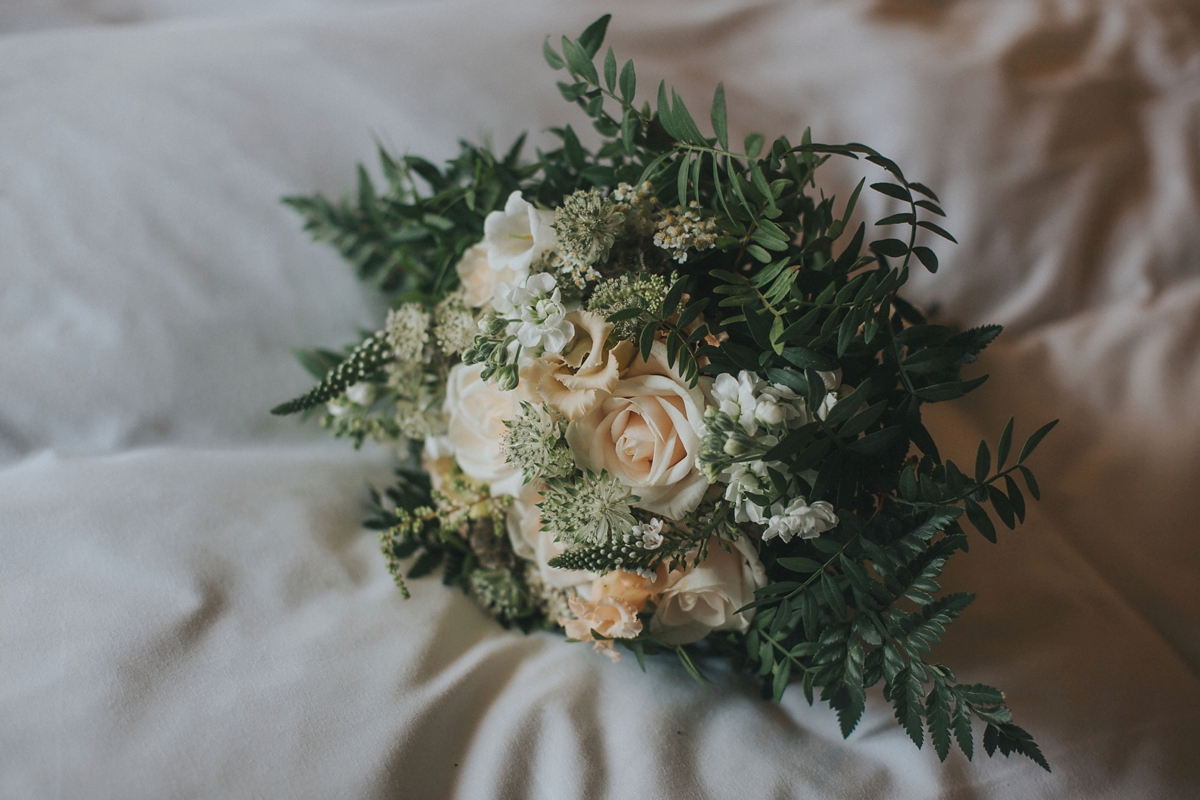 Rachel travelled to the cathedral with her dad in style in a top-down 1930s-style Beauford Convertible. She entered to Wagner's 'Bridal March', and followed her bridesmaids and flowergirls up the aisle to meet Paddy.
"When I arrived at the church and saw the bridesmaids and flower girls all together it was a vision of absolute beauty and everything I could have imagined."
Rachel is an art and photography teacher, and her eye for detail is clear in her beautiful stationery designs.
"I designed the stationery myself and then had the invitations professionally printed. All the other stationery I made at home and hand painted each to finish. My dad wrote out the place setting name cards to match on khadi paper."
I love the story of how Rachel met Paddy, and their proposal too, so over to the bride to explain more.
"We met at the school we were working in. I was organising a fundraiser for a school trip to Zambia and we were putting on a 'Britain's Got Talent'-style show. Paddy was new to the school and grouped together with a couple of other male teachers to form a 'band' named Wrong Direction for the show. He sung a version of 'You Don't Know You're Beautiful' and it was love at first sight!"
"We were together for just over three years before Paddy proposed. It was my 30th birthday and he took me away as a surprise. We went to Munich then he hired a car and drove us through Austria to Slovenia. We stayed in a gorgeous 'Disney-esque' hotel right on Lake Bled and he rowed me out to a little island in the middle of the lake and proposed in front of the church. Being a photography geek I'd brought the camera and tripod and had been setting up the camera to get a picture of us in front of the lake; when I turned round, Paddy was down on one knee."
"A passer-by started snapping away on my camera for us so we have lots of photos to remember the moment by. Unbeknown to me, before we met, Paddy had been backpacking around Europe and had visited Lake Bled previously. He said it was the most beautiful spot on earth and when he found the person he wanted to marry, he would bring her to Bled to propose."
The couple live close to Arundel and chose to marry in its beautiful Cathedral.
"My uncle is a bishop and offered to marry us but he is based in the north. We looked at churches in our diocese and my mum suggested Arundel as it is so beautiful and I visited there as a child. The Bishop of Arundel agreed to allow my uncle using the cathedral for our wedding and Upwaltham Barns was nearby so it worked out perfectly."
"We just wanted it to be beautiful so we had lots of flowers and soft colours that all tied in with each other. We were really lucky in that the cathedral had flowers in the church already and so by the time our flowers were added to the inside, it was absolutely stunning. The Barns are naturally very pretty, so lots of flowers and candles made the setting perfect."
The church ceremony was a traditional service led by her uncle, with readings of 'Song of Songs, Chapter 2: 10-13' by Paddy's brother Mark and an extract of 1 Corinthians 12:31-13:8 read by the bride's sister Megan.
"We weren't allowed non-scripture readings during the service but we were able to print extracts in our Order of Service so we included the 'The History of Love' at the front, and 'Desiderata' at the back.We had very traditional vows as a religious wedding was something we both wanted and felt very true to us. During the rehearsal, I cried and was very choked trying to read them. The following day for the wedding itself, it all came so naturally and it was the most joyous of moments. Being up at the altar and saying our vows I couldn't stop smiling and that moment when we were pronounced man and wife and Paddy fist
pumped the air – that still makes me giggle."
"Paddy had bought my engagement ring from Beaverbrooks so we returned there for our wedding bands. I chose to go with a diamond eternity ring which is totally unique as they made it especially for me. Paddy went with a matte platinum band with engraved lines running through it.
The groom had ordered a tailor-made three-piece suit in navy from Moss Bros. Its pink and grey paisley lining adds such a fresh touch, and he had their initials and wedding date embroidered onto the inside of his jacket. Worn with a white silk tie, brown Russell & Bromley shoes, Montblanc cufflinks and a Ted Baker tie clip, he looks suitably smart for the magnificent church service.
"My parents had given Paddy a Swiss pocket watch for Christmas the previous year which Paddy saved for the wedding day. I gave him a Navy Tag Heuer watch on the morning of the wedding so he was well kitted out to get him to the cathedral on time!"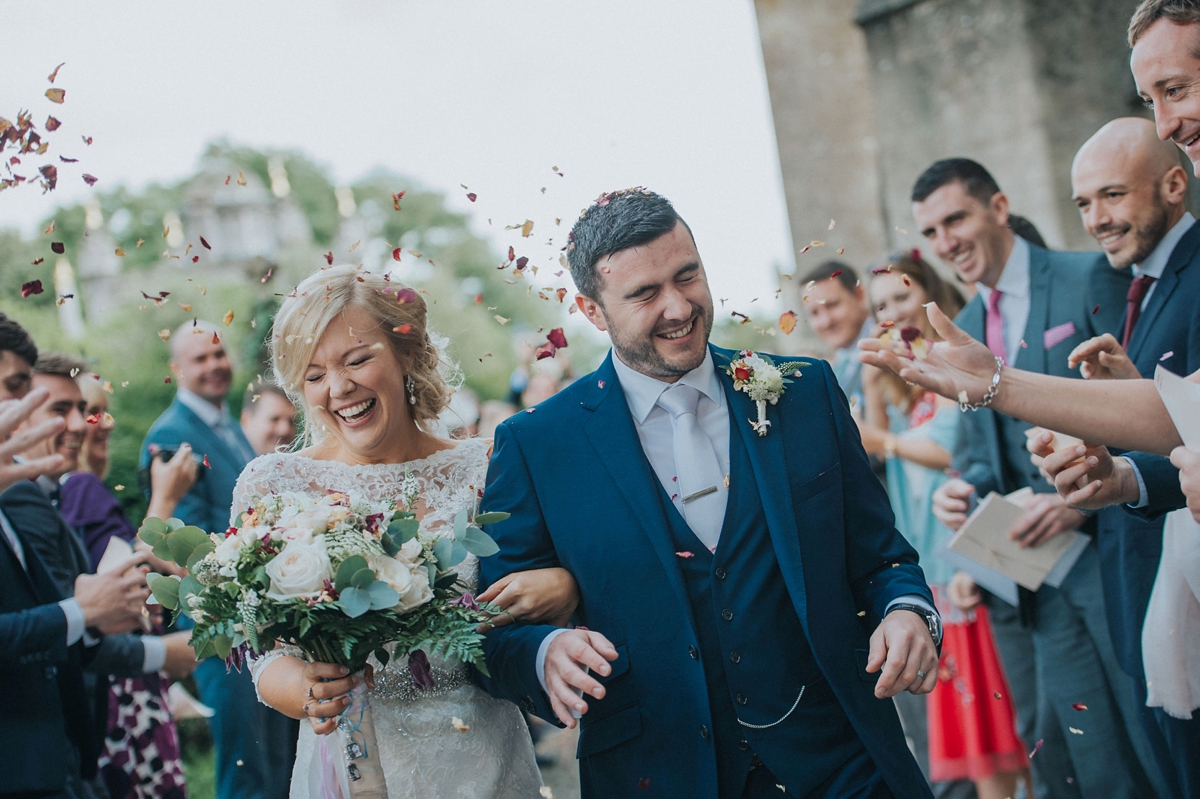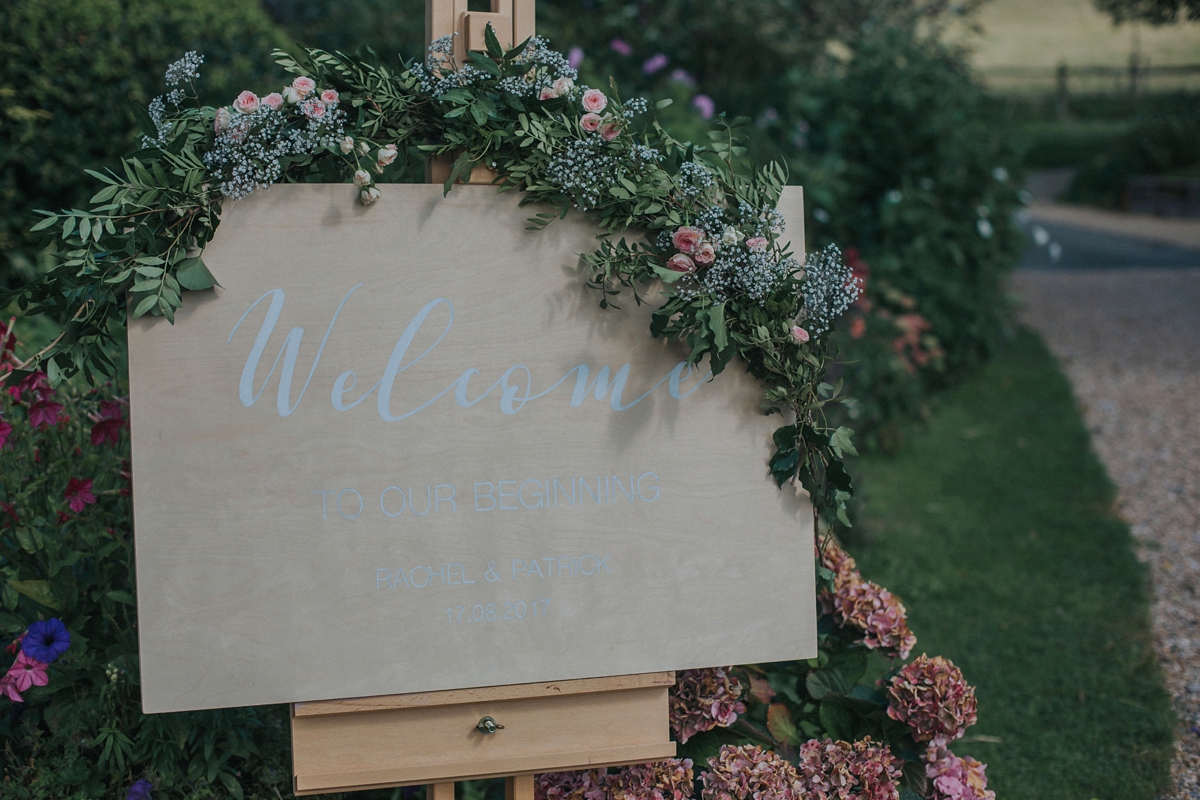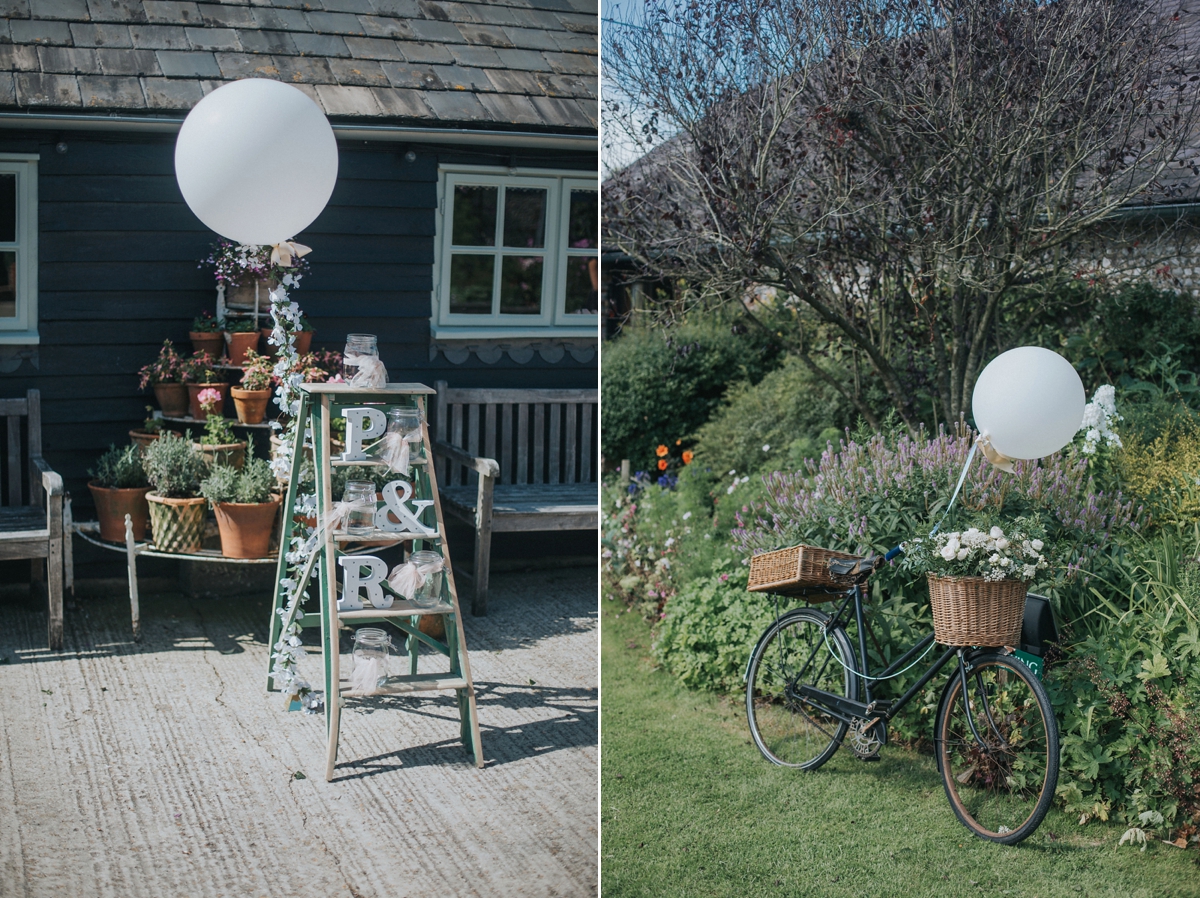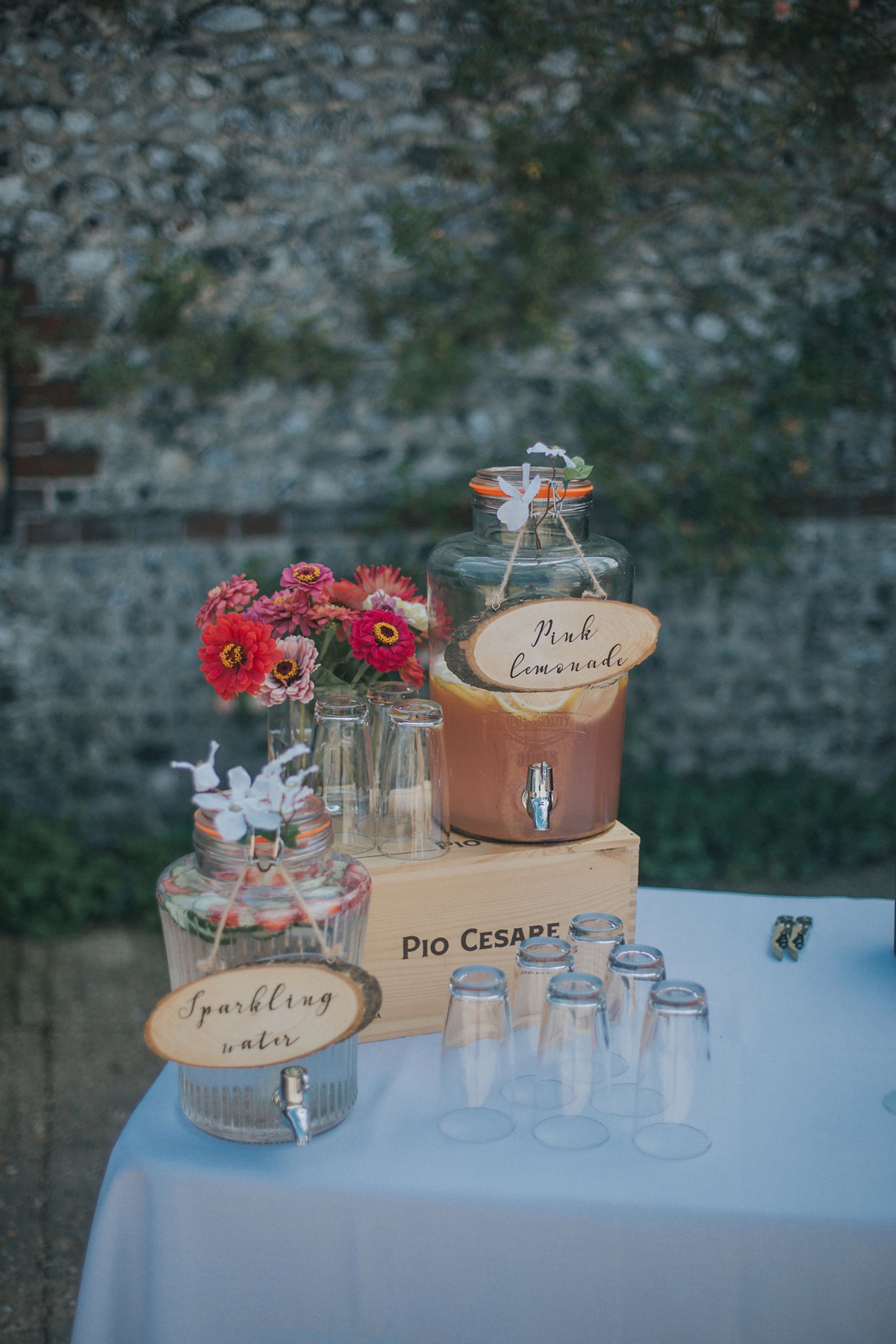 Rachel chose cream chiffon dresses from Little Book for Brides member Monsoon for her little flowergirls. Fresh, pretty flower crowns of roses, berries and ribbons adorned their hair, whilst the bridesmaids had sprigs of gypsophila. Paddy's nephew was dressed in a mini Ted Baker suit to match the groomsmen, with a cute little bow-tie too.
The six bridesmaids looked sophisticated and elegant in their pink and watercolour pink multiway 'Annabel' gowns from Jenny Yoo. What a dreamy, romantic look. They added their own jewellery as well as a rose gold Ted Baker bangle which the bride gifted them on the day.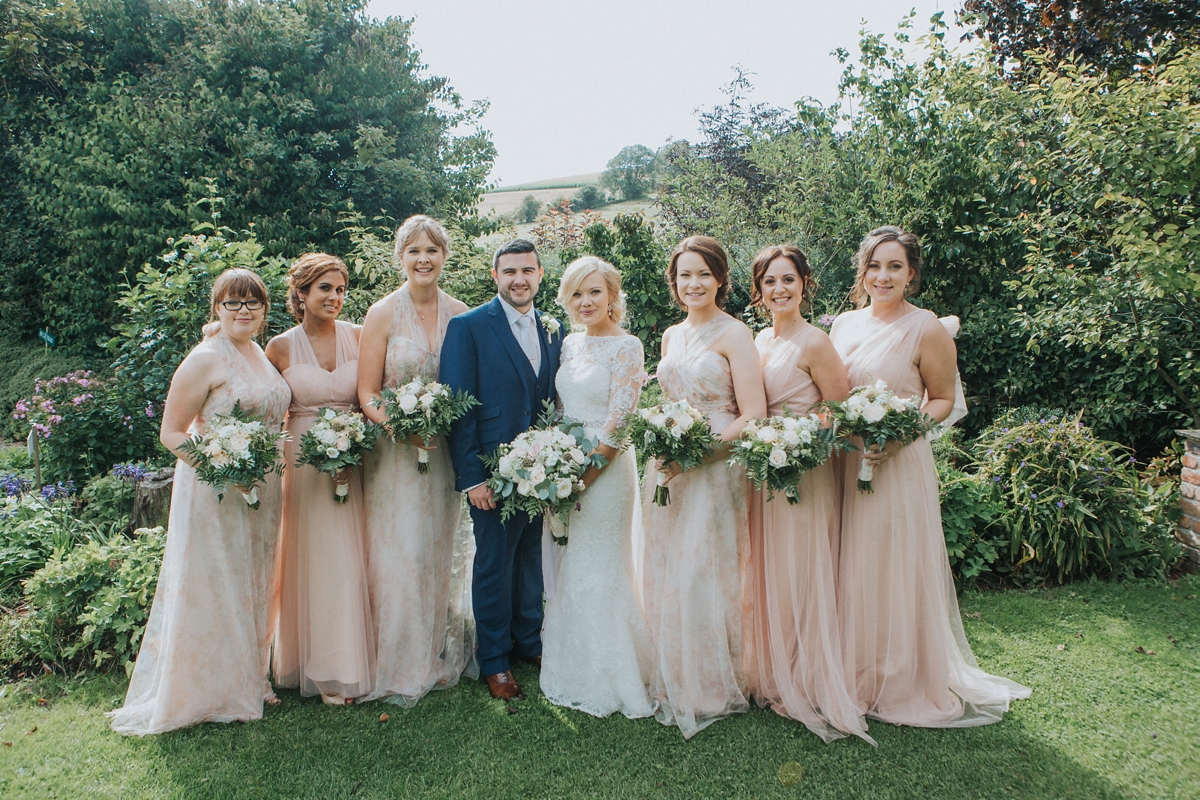 Additional decor items included lots of candles in the barn and courtyard, a vintage ferris wheel bought by Rachel's dad and decorated with vintage ferris wheel fairy lights and a Moroccan snug area complete with Romeo y Julieta cigars and personalised matchboxes.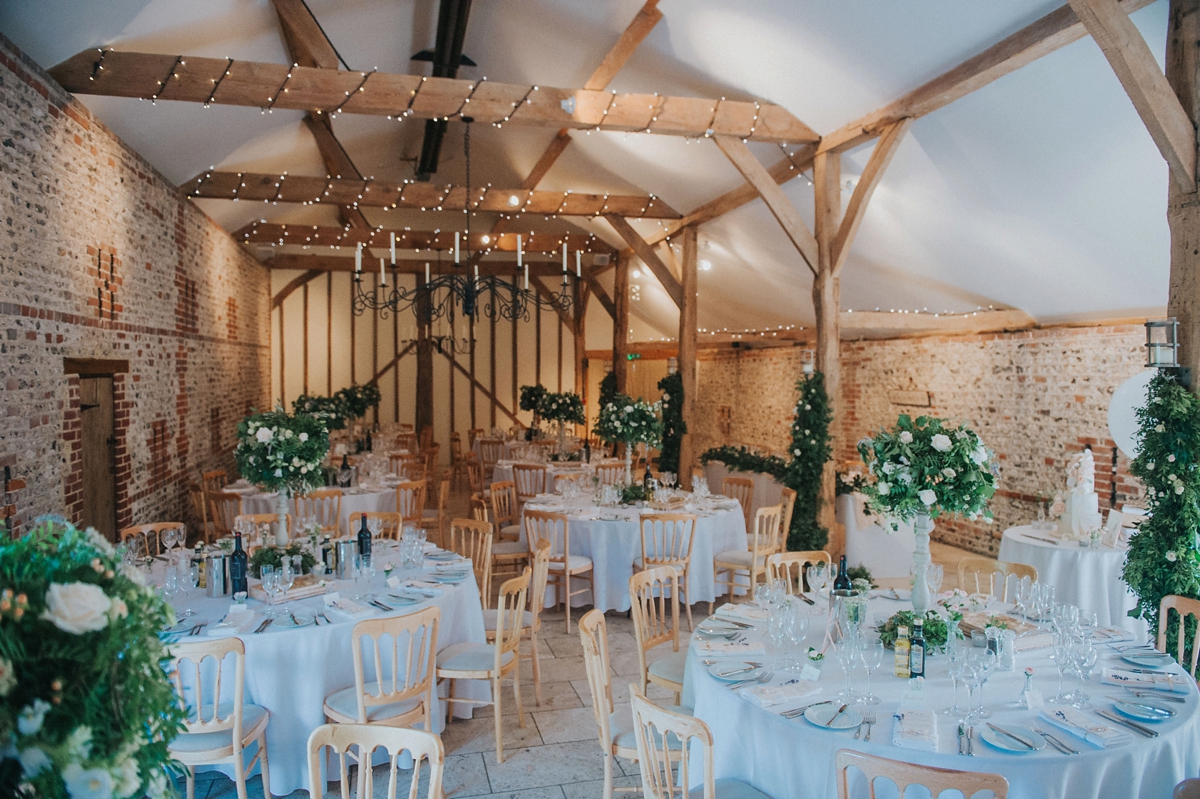 As the guests arrived and throughout the drinks and canapé reception in the courtyard, Liemba added ambiance with an acoustic set.
Upwaltham's own in-house caterers Nibbles2Nosh designed a delicious three-course menu for the wedding breakfast.
"The food at the barns is out of this world and so many people commented on how delicious it was and how incredibly full they were after the meal. In the evening we had fish and chips and halloumi cones along with wedding cake!"
In a complete surprise to Rachel, Paddy and a friend performed during the speeches.
"Paddy and another original member of 'Wrong Direction' grabbed their guitars and Paddy sung to me. That was such a wonderful surprise and really did just make the evening so special."
"Donna from Willow & Bloom Cakes worked with us to design us the most spectacular cake. It was so, so pretty and the best part was it tasted delicious too. We had four layers; chocolate Guinness, passionfruit; Champagne and strawberries, and a traditional boozy fruit top tier which we have kept."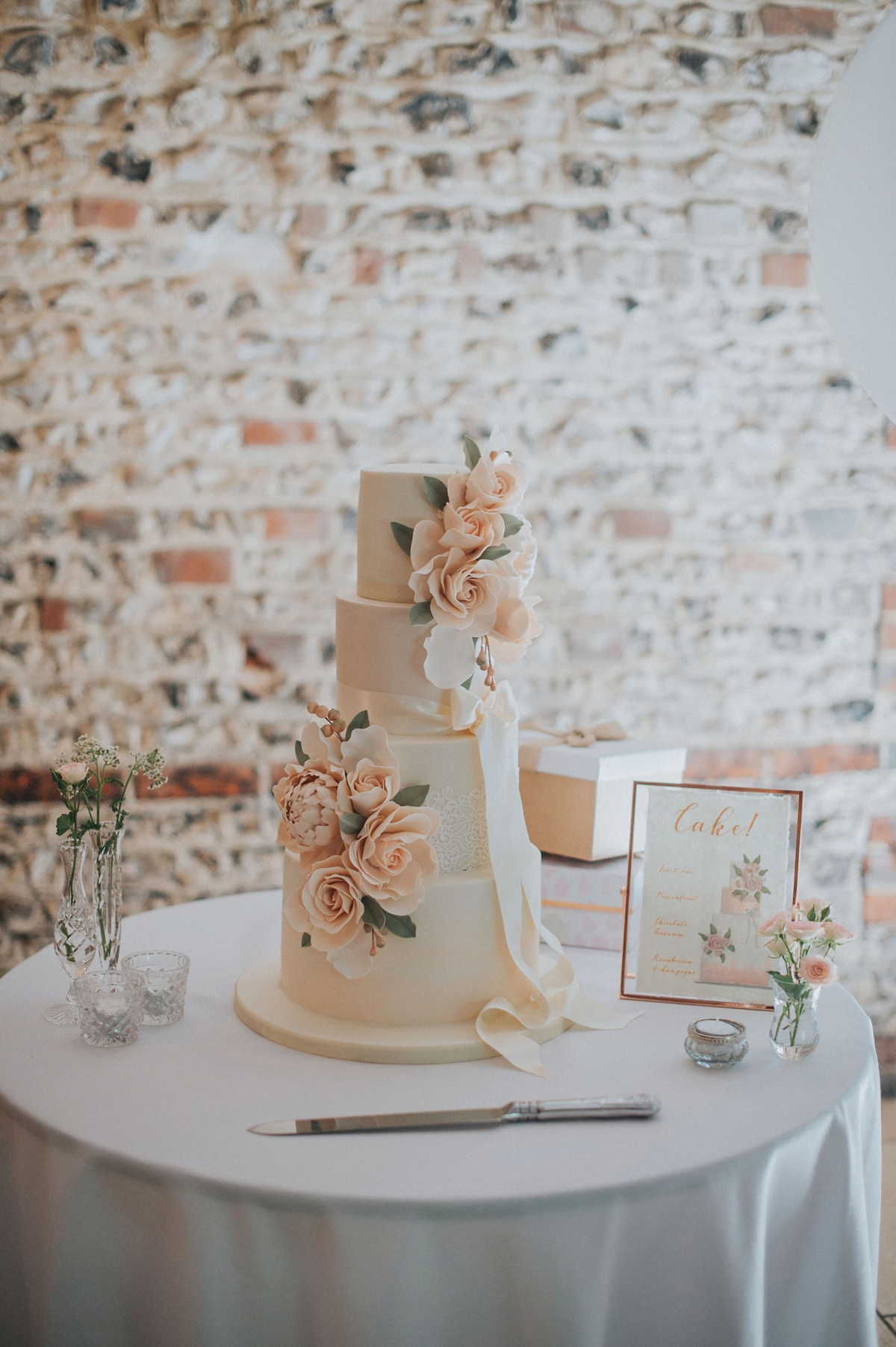 "We made two different CD soundtracks to look like vinyls each with different playlists. The first playlist was based on our married guests' first dance songs."
"We included a song track list on the back of the vinyl to feature each married couples' names alongside the track they had their first dance to. The second sound track were 'song requests' from all our other guests."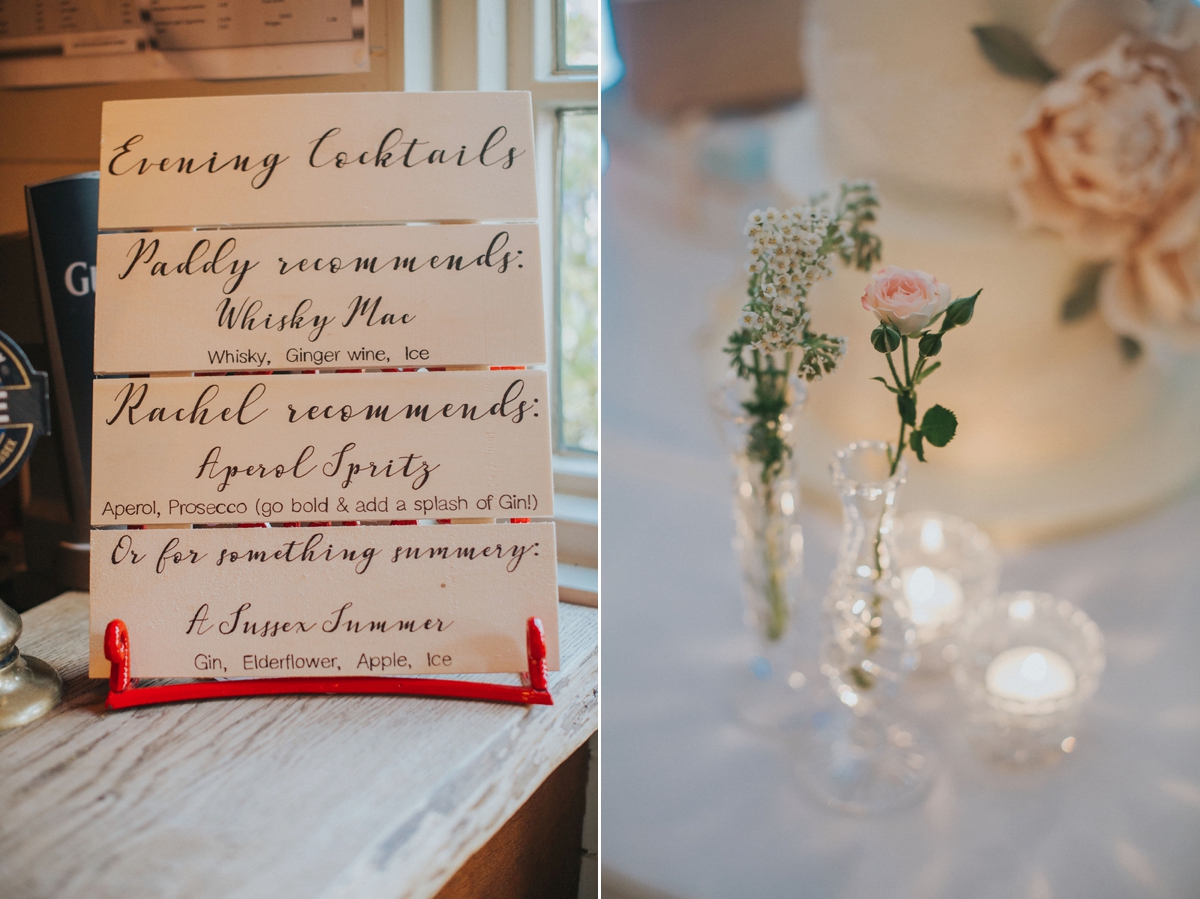 Rachel found plenty of ideas on these pages to help her put together her perfect day.
"I loved looking at the 'real weddings'. I found so much inspiration from looking at what other brides do and the styling of the venues. It also really helped me to communicate to our suppliers the sorts of things we were after."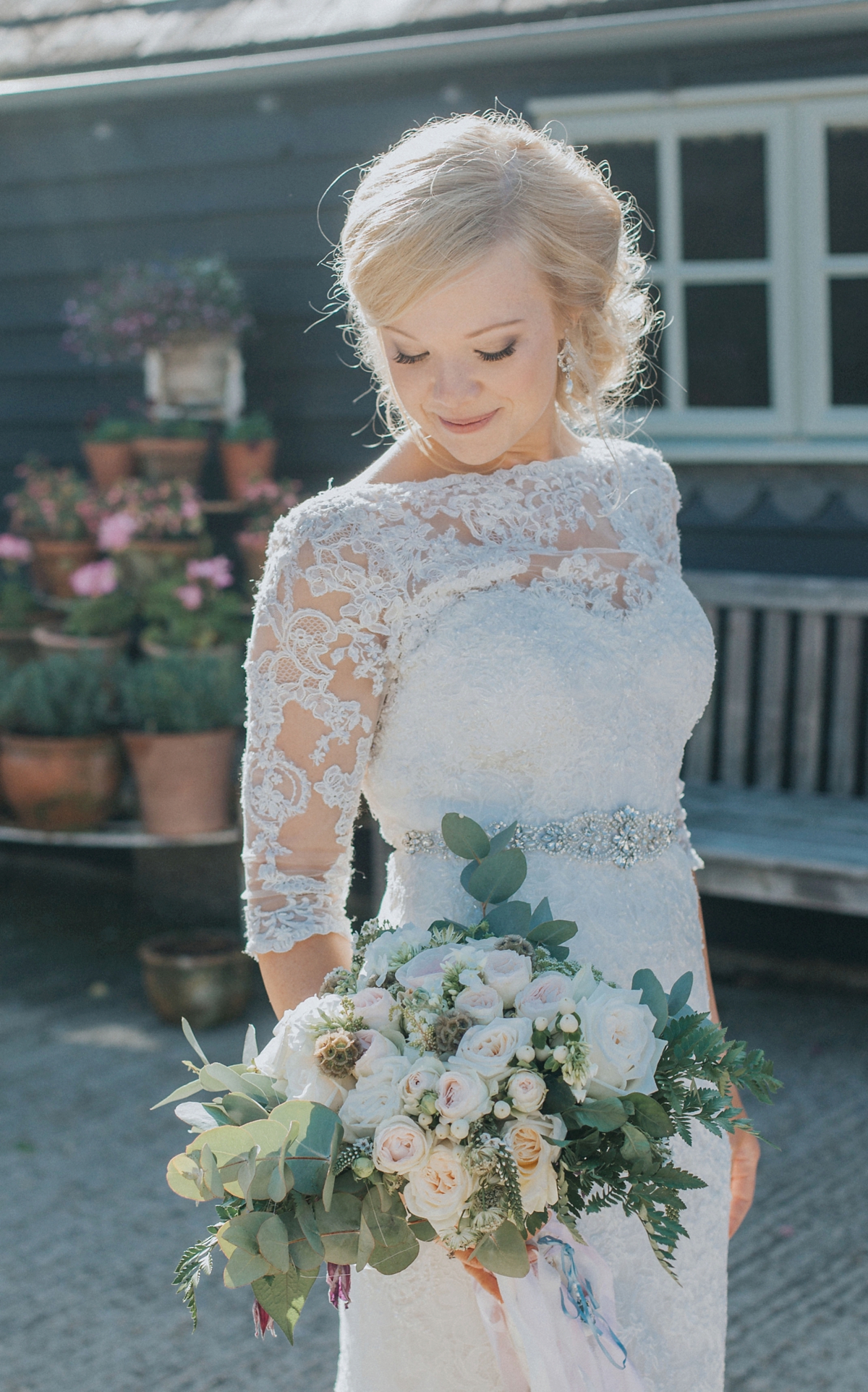 Rachel and Paddy put lots of thought in to their entertainment, asking The Last Chase to play into the evening, hiring a Caravan Photo Booth, and setting up a little teepee for the children, which they used as a secret hideaway. Their wedding favours are so pretty and thoughtful; sachets of forget-me-not seeds tied with ribbon and a stem of lavender and personalised CDs.
They chose to have their first dance to 'Mae' by The Gaslight Anthem.
"Paddy and I first got talking about music when we met and we discovered we both had a love of the same band. It felt only right that our first song was one of theirs. 'Mae' is really beautiful and its opening lines are 'stay the same, don't ever change'. It was really poignant, completely personal to us, and it was the first real decision we made about our wedding, the very next day after Paddy proposed."
Words of Wedded Wisdom
"My dad reminded me to walk slowly down the aisle. I was so grateful as you forget how fast you walk, and it really made us slow down and take it all in. It was like slow motion and I got to see all our guests' faces as we walked towards the altar."
Thank you so, so much Paddy and Rachel for this insight in to your day. Rachel, you looked wonderful in your gown. I simply love the joy and laughter that Julia and You has captured a sending thanks to you too for your photographs. Have a lovely weekend, everyone.
Ele xx