One of my absolute favourite floral styles is the wild, undone look, with sprays of blowsy blooms and foliage tied together for a natural and organic feel.
If you're like me then I have the feeling you're going to love this Scottish wedding and all of its flowers. The bride and groom are Mr and Mrs Johnstone who married in a laughter-filled humanist byre ceremony and barn reception at Harelaw Farm, Fenwick, Ayrshire, Scotland on 15 July 2017.  With a lace, tweed and pheasant theme, their day combined Scottish tradition with a few Texan twists and the couple aimed for a posh country vibe and house party atmosphere. The bride is a freelance sound engineer mainly working with BBC Scotland. Originally from Texas, she moved to Scotland ten years ago to study Scottish music at university. She met Mr Johnstone, an ambulance technician with the Scottish Ambulance Service, on an online dating site and they hit it off immediately, getting engaged a few years later at Osteria del Cinghiale Bianco in Florence.
"Once we had been dating for three and a half years we talked about getting engaged and married and decided to embark on getting a ring designed together. My mom gave us some gold and stones she had from when she was a jeweller and we worked with Brazen Studios to have them reworked into an engagement ring and wedding band. The ring wasn't ready for our holiday to Italy but we were having such a wonderful time Alasdair decided it was the right time to ask. The pressure was off him though as since we had been designing a ring, he knew I would say yes!"
Images by Kellee Quinn Photography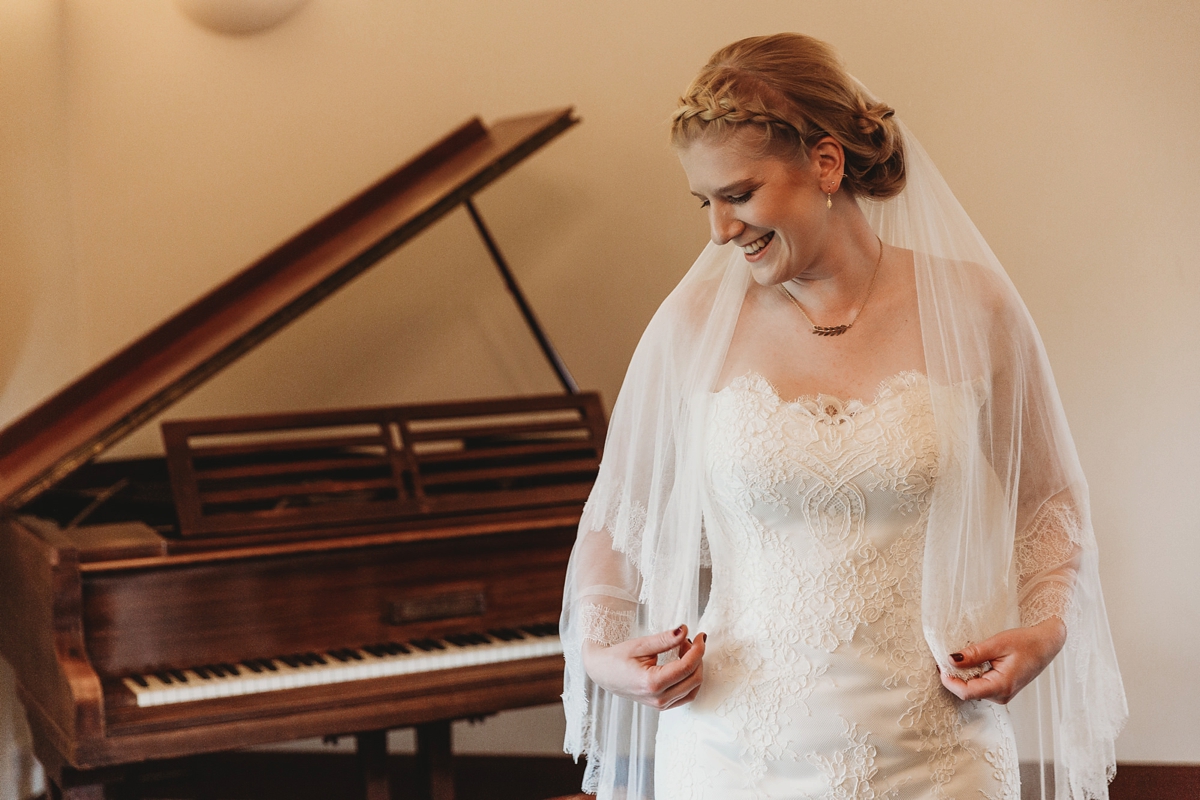 The couple held their wedding in the byre and barn at Harelaw Farm, a relatively new venue and worked closely with the venue's wedding coordinator Sarah Plant in the run-up. I'm thrilled that they used this blog to help them define their style.
"I still look at Love My Dress even though my wedding was months ago! It was great being able to have a look at how people used venues and filled spaces. Many of the weddings were of a similar aesthetic to what I liked so it helped with ideas and seeing what I liked and what I didn't.""Alasdair and I were one of the first couples to visit Harelaw Farm as they began their journey to become a wedding venue. We visited it almost exactly a year to the day before we got married there. There were still tractors in the reception barn, two pigs in the bar and the area where the ladies toilets would end up was rubble and didn't have a roof!"
"We absolutely loved the potential we saw in the venue and any fears we had about investing in an unfinished venue were allayed by the owners Donna and George and their passion for what they were doing. We love how the journey of the venue is part of our wedding story."
"Our florist was Melanie from Briar Rose Design. I was utterly blown away when she turned up with the flowers. We gave her fairly free reign in regards to design but I wanted them to be a bit wild with greens, pastels and a pop of burgundy. I knew we had picked the right florist when I mentioned a pair of pheasant wings a friend had dried for us and she jumped at the chance to incorporate them into our arrangements in the ceremony byre. Melanie was an absolute delight to work with, has a wonderful eye for arrangements and likes to use Scottish-grown flowers whenever possible."
The deep pink, lacy gowns worn by the bridesmaids are the Lovely as Lychee dress from Modcloth worn with vintage-inspired, cream Mary Janes from Modcloth and the same leaf earrings as the bride. Necklaces were from Etsy shop JadeLillie and the bride made the striking lace hair accessories herself.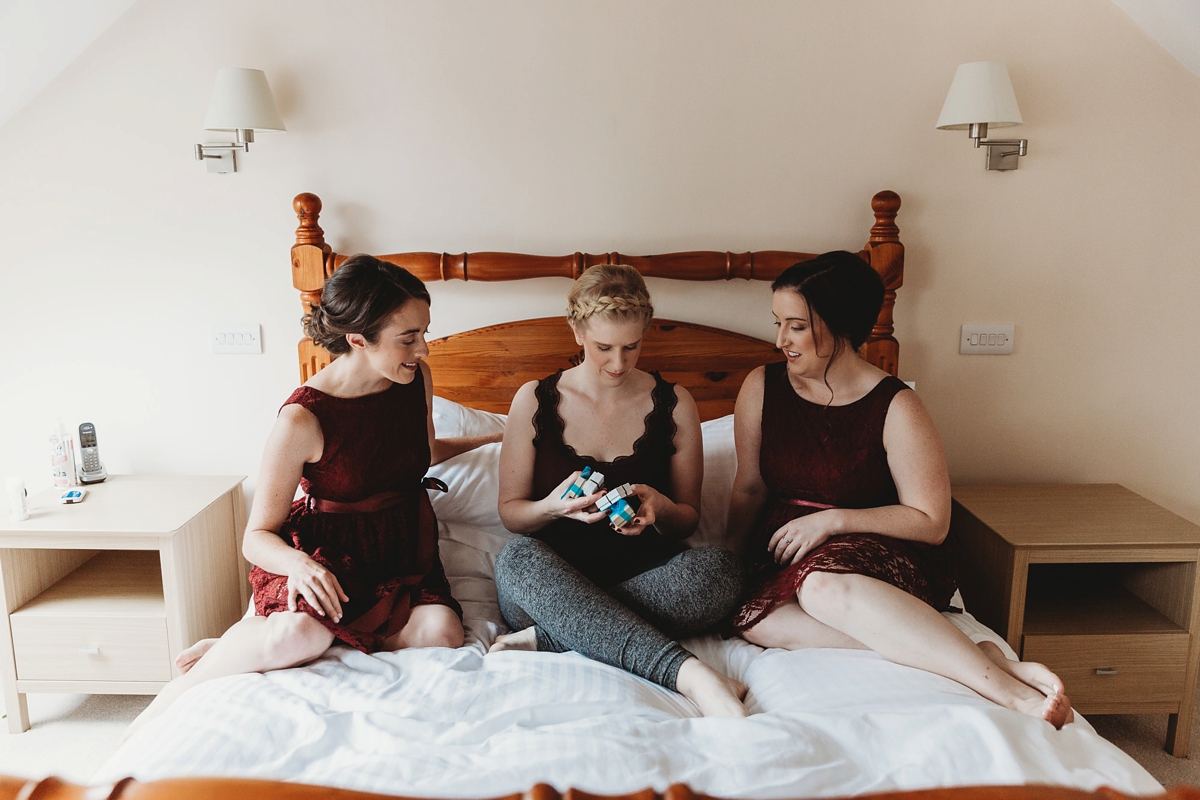 "After visiting the Isle of Burano in Italy I taught myself how to do Punto in Aria lace and thought it would be a great idea to make hair pieces for my bridesmaids and myself. I'm not always the best at finishing projects however and was trimming threads on the bridesmaids' pieces the night before the wedding!"
"My piece is still half finished, months later! I copied bits of the lace and added little personalised details for each girl."
This crafty bride is a talented lace-maker and has a serious life goal of learning all the different lace-making techniques. Having a lacy gown was a must for her and she found her perfect style in the Jocelyn by Augusta Jones from Anne Priscilla Bridal in Glasgow.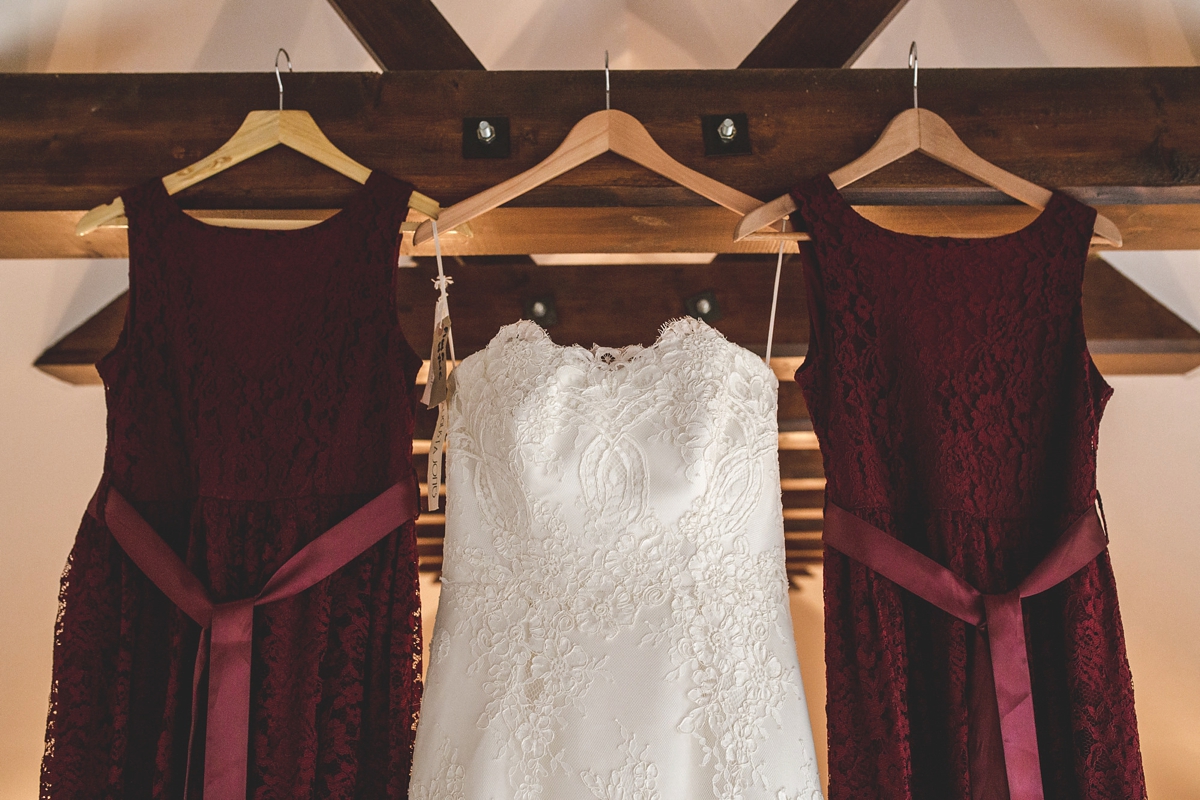 "I was looking for lace that stood out and as soon as I saw this dress I fell in love with its overlay. The lace was placed beautifully and with purpose which made it stand out to me. I believe in shopping fate and this dress and I were meant to be."
"We found it in a shop I used to live next to on the day before my mom flew back to the States. It was the right size and because it was a sample dress it was reduced but still in perfect condition! It suited the day and venue so well, and I felt so comfortable in it the whole day."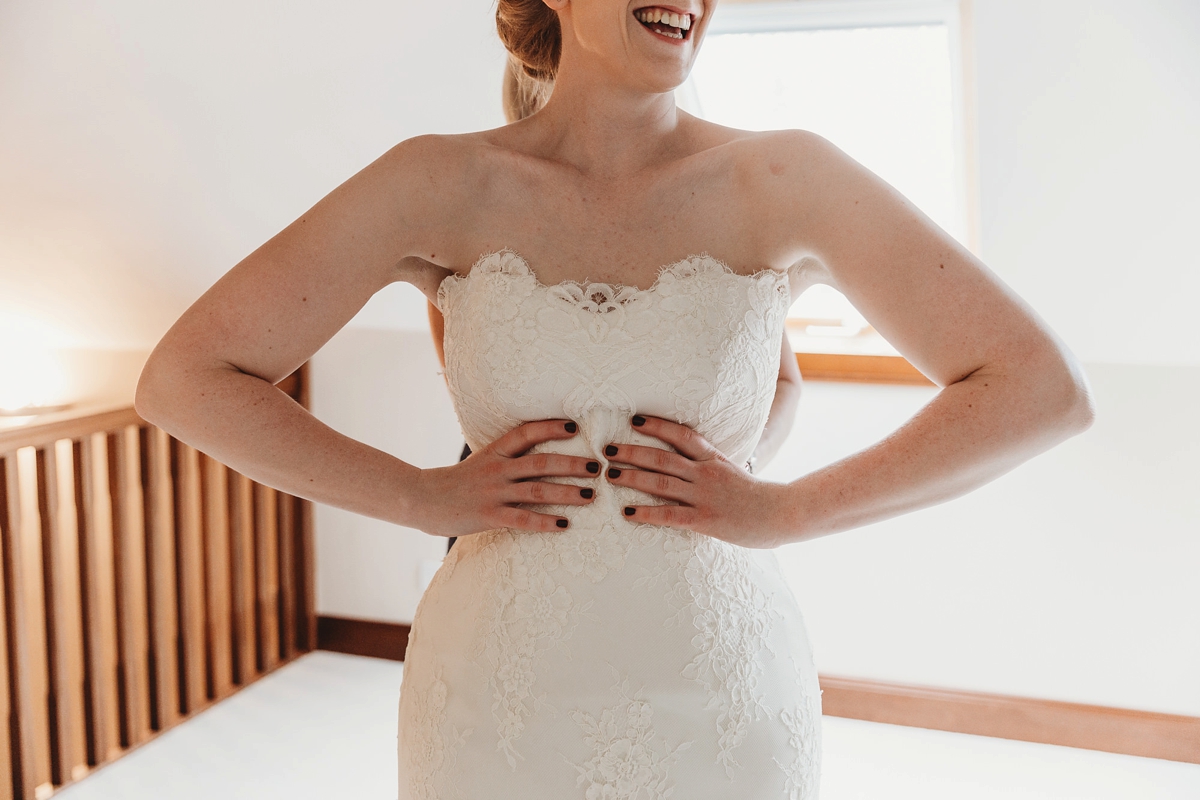 Now, Little Book for Brides member Arabesque Direct in Perth has a divine collection of bridal shoes for you to choose from. The bride found her Pink shoes here and the team dyed them a deep pink to match the bridesmaids' gowns. You can find out more about Arabesque and get a special 10% discount on their Little Book for Brides listing here.
"I was in and out of Arabesque in about ten minutes including trying my shoes on! I had fallen in love with the Cupcake shoes by the time I had gotten there and would have been devastated if they hadn't fit. They were really comfy and the lace went with my dress perfectly. I brought in a belt from one of my bridesmaid's dresses so they could match the dye, and the shoes ended up gorgeous. The lace dyed a lighter pink which was a stunning effect, and a happy accident by-product of the dye process."
To match the lace of the gown the bride selected a Chantilly lace-edged two-tier silk veil from AsYouLikeItStudio on Etsy.
"After much indecisiveness on the length I settled on a two-tier fingertip length. The lace edge was important and I love how it mimicked the scalloped edge of my dress."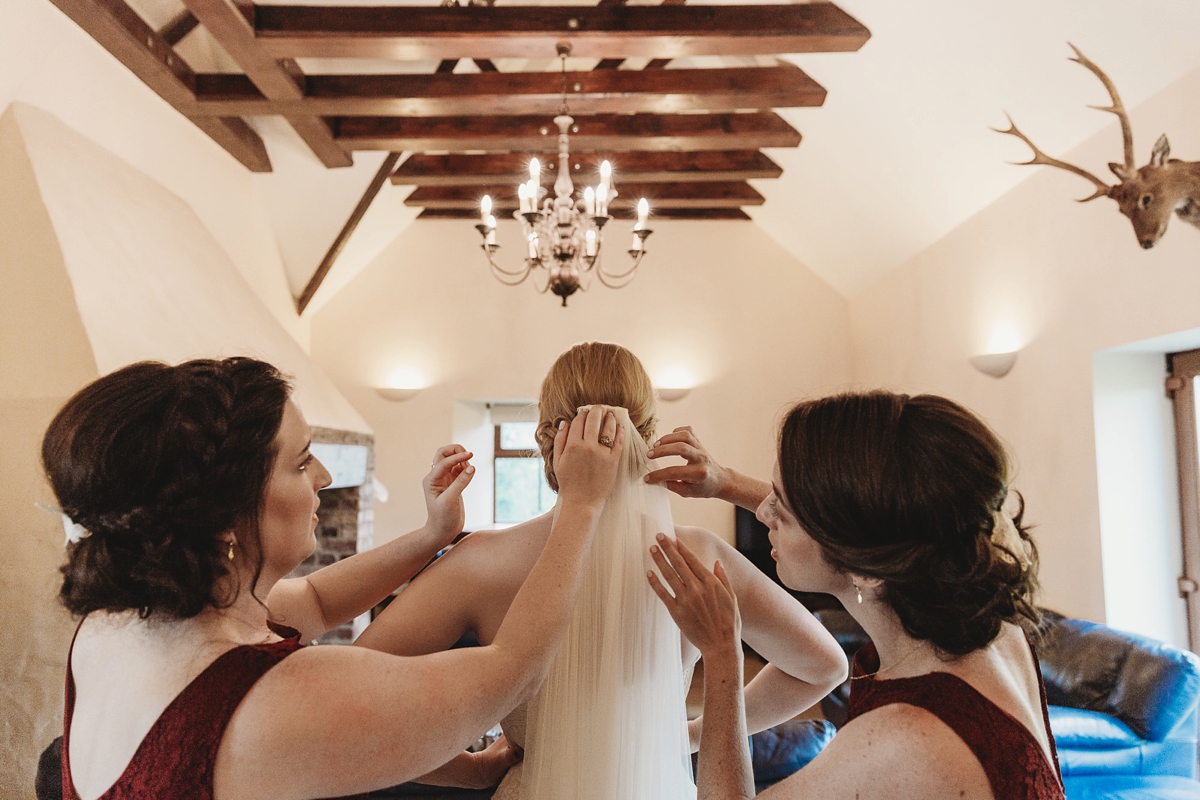 It looks so romantic pinned simply into her bridal up-do which was styled by AMM Hair and Makeup. I adore the bride's jewellery – a custom-made necklace of olive leaves in dull gold from Etsy shop RockRose Jewellery and simple leaf earrings by JoOntheMoon1 on Etsy.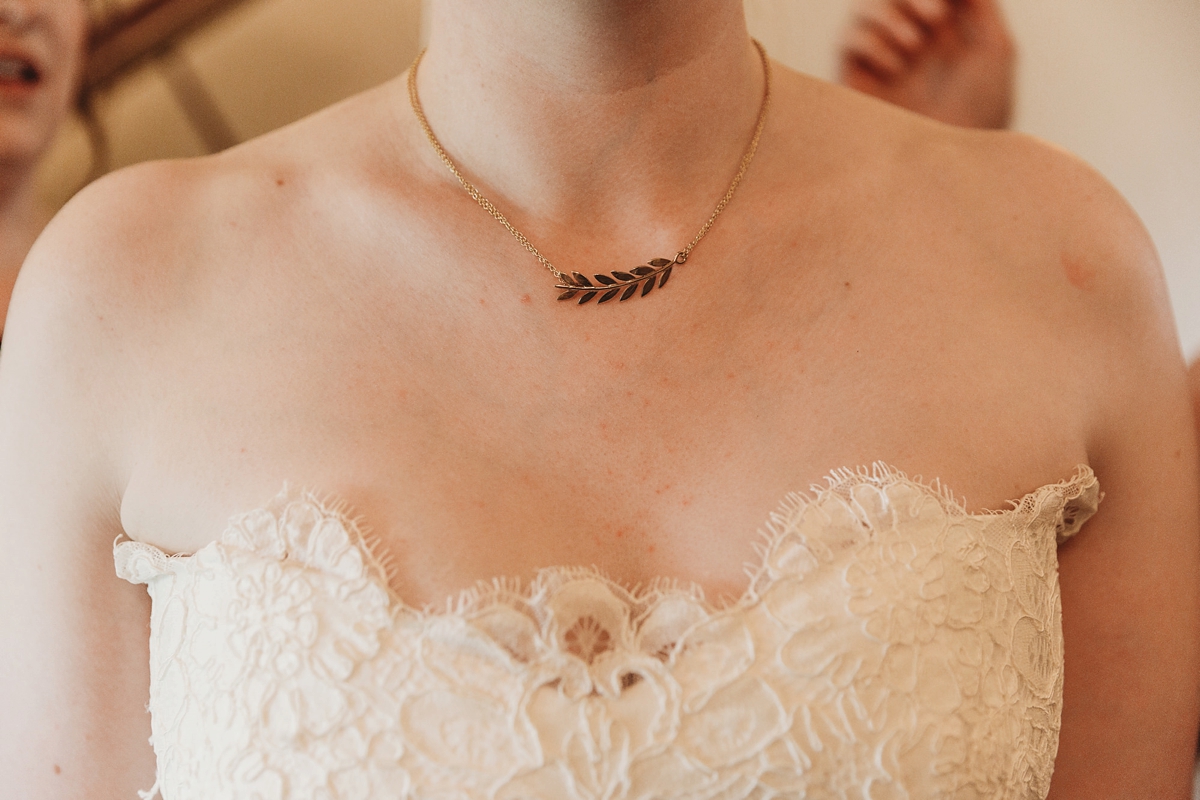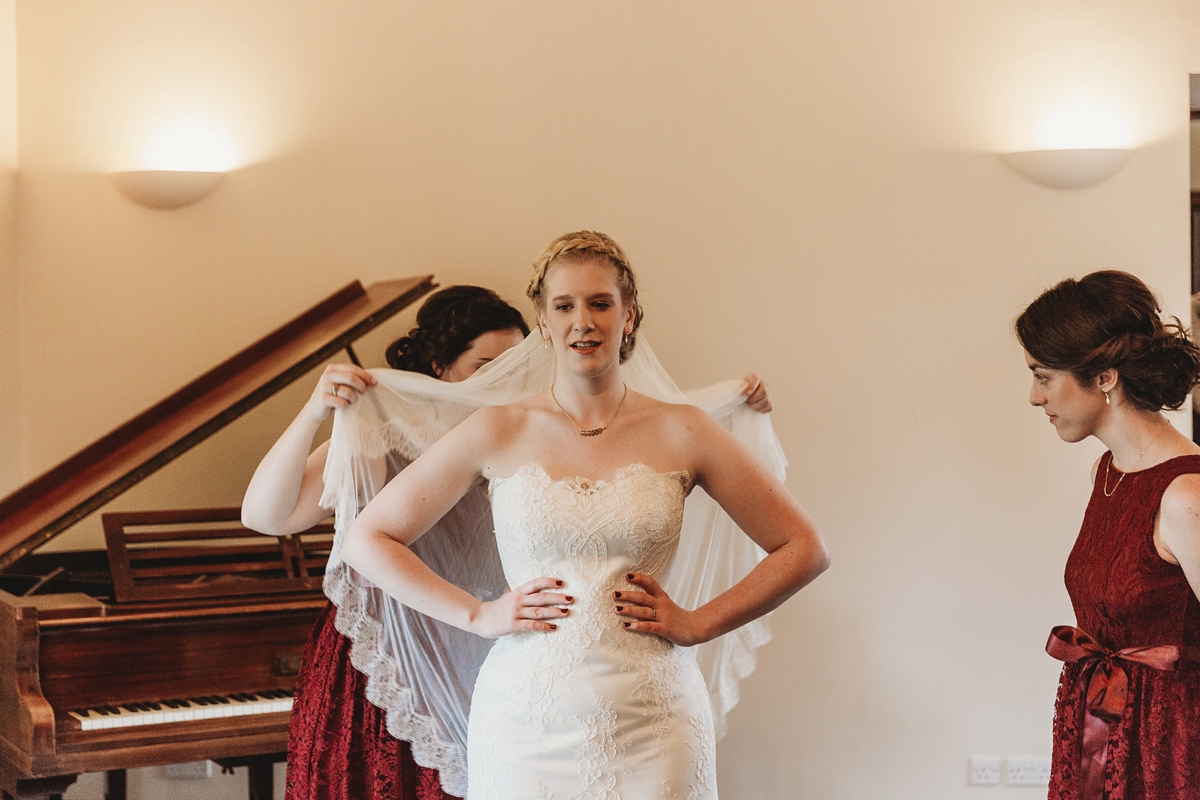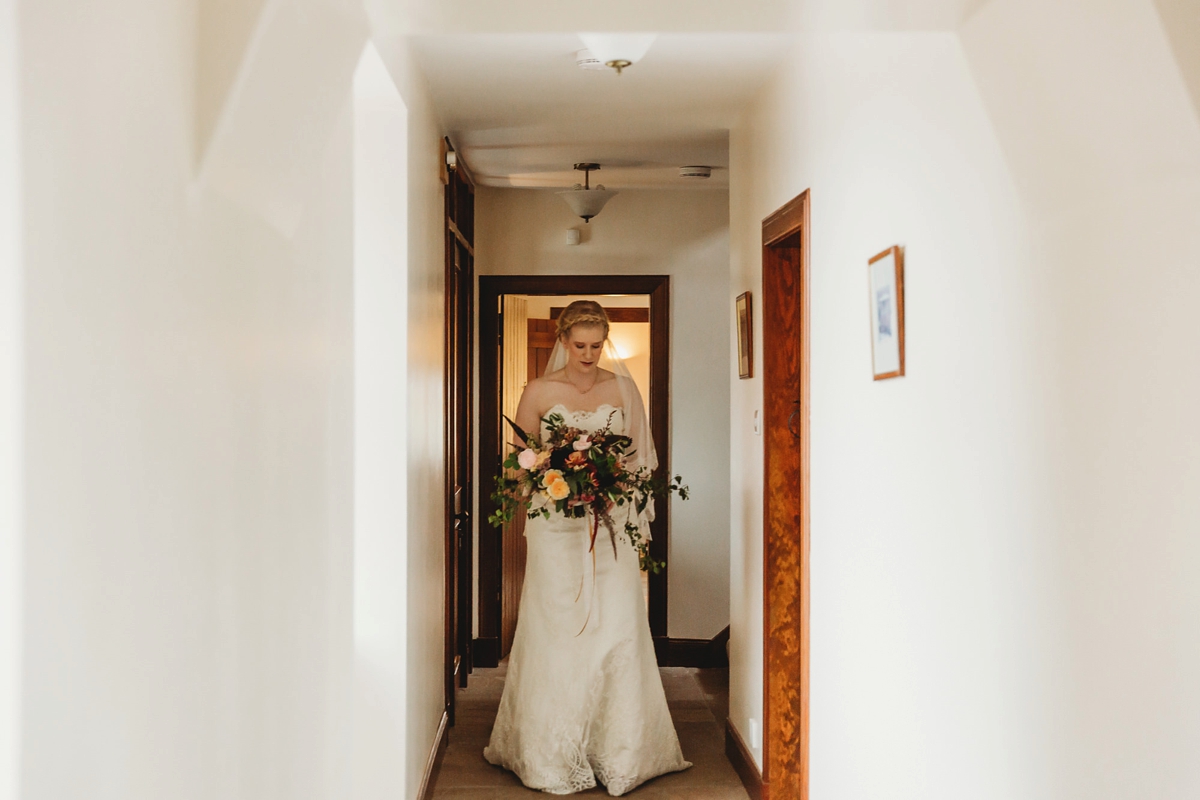 The couple loved that the whole wedding party was able to stay in the farmhouse the nights before and after the wedding, making it easy for them to decorate in the morning, spend the afternoon with loved-ones and chill out in the evening before a relaxing wedding morning getting ready.
Mr and Mrs Johnstone put together a loose theme of lace, pheasant feathers and super-personal touches to create a really romantic look and welcoming atmosphere for their guests.
"I've become involved with the pheasant shooting season with Alasdair's father and because of this we have an abundance of pheasant feathers. I felt better knowing where all the feathers had come from and had even sourced the wings in the ceremony arrangements myself."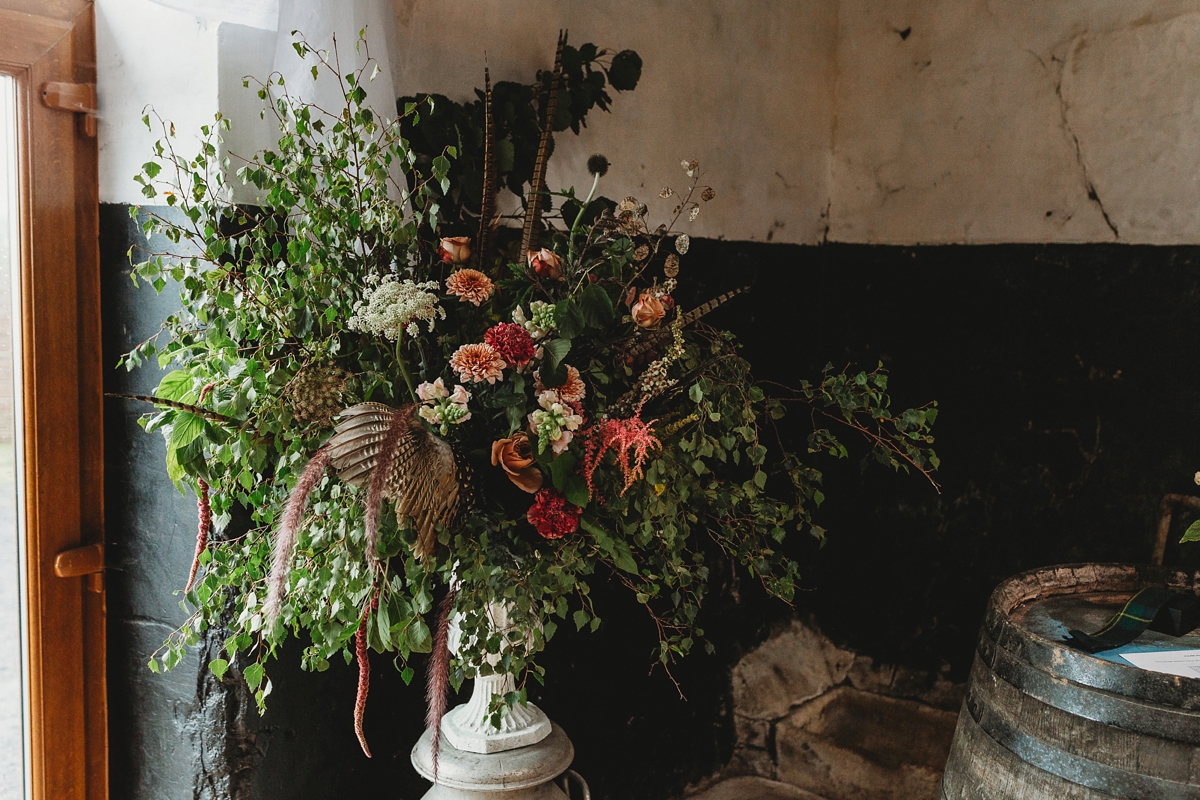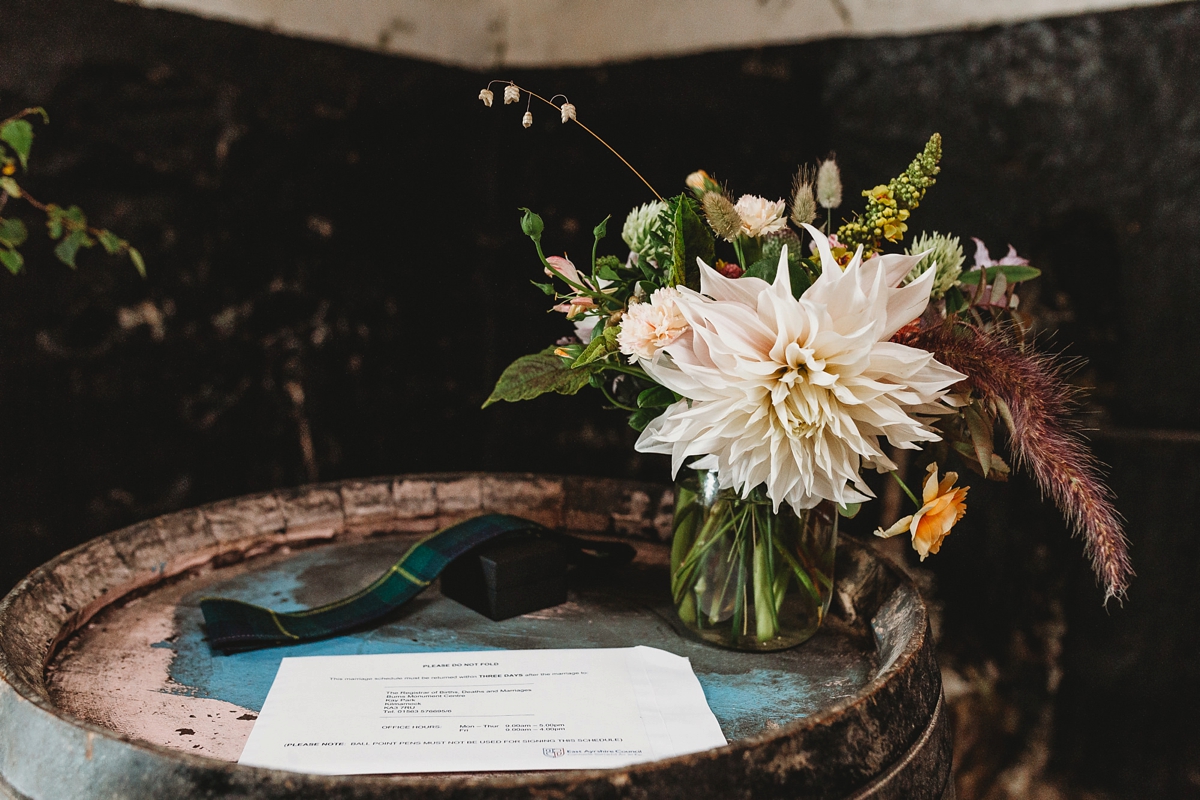 The groom's outfit was a kilt in the family's Johnstone tartan from his uncle's shop Boarstone Tartans, a wedding gift from his parents. Have you noticed the teeny succulents in his buttonhole?
"Alasdair's brothers were co-best men and also got Johnstone kilts from Boarstone Tartans to match Alasdair and their dad. My brothers were groomsmen and wore family kilts. My younger brother wore our late grandfather's Ross kilt and my older brother wore our late uncle's Scottish Rugby Tartan kilt. They both got tweed jackets from McCalls Highlandwear in Glasgow."
The bride and her father walked together to the ceremony byre as one of her friends Jessica Burton played the clarsach, a triangular harp.
"She kindly learned 'Half Acre' by HEM for me and her arrangement on clarsach was beautiful. This song has been one of my favourites since I was a teenager and I couldn't think of anything else that was as calming to me for that walk down the aisle."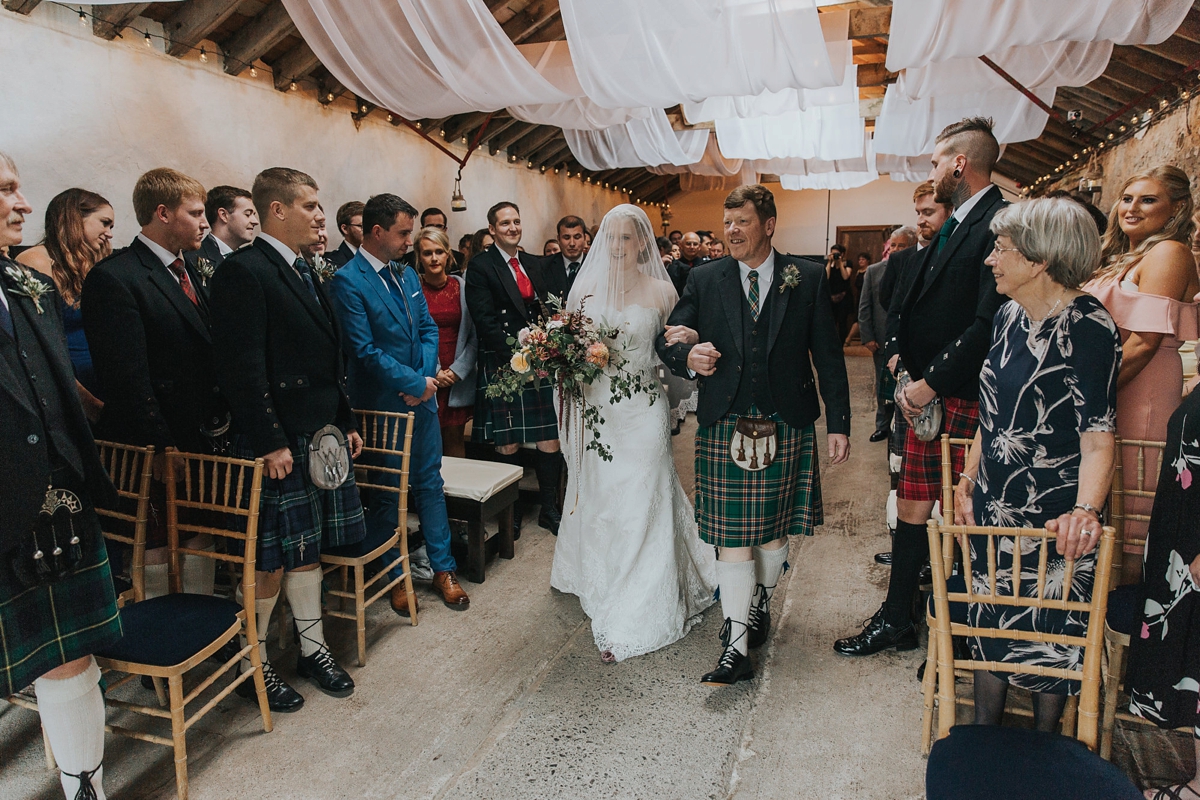 The laughter-filled ceremony was led by humanist celebrant Halde Pottinger who combined heart-felt vows with a humorous approach for a really personal feel.
"It just suited us so well – bits of comedy, lots of love and just enough sappy to glue it all together. It was so wonderful getting to share it with our closest family and friends, and lovely to be able to look out into the crowd and see their reactions."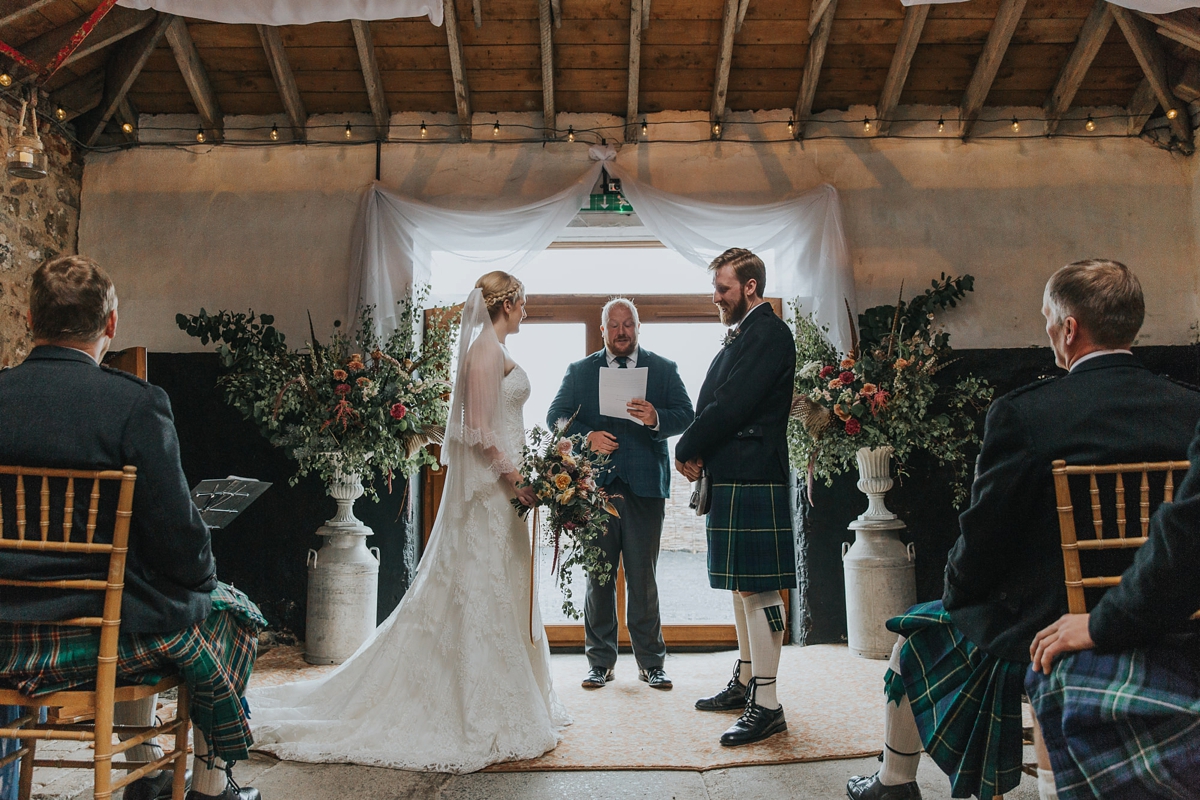 "We used the normal humanist vows and our celebrant asked us to send him three things we loved about the other and one thing we would change. My three things were Alasdair's curiosity, mashed potato making skills, and his confidence whilst Alasdair's were my intelligence, drive, and affection. His negative thing was my poor self-control (cookies are my downfall), while mine was his inability to follow rules in board games!"
The couple designed Mrs Johnstone's wedding ring themselves with Brazen Studios using a colour-changing sapphire, amethysts, diamonds and gold from the bride's mother's time as a jeweller. The groom opted for a plain brushed titanium band with a wood lining from Jewelry by Johan which is perfect for wearing beneath his gloves at work.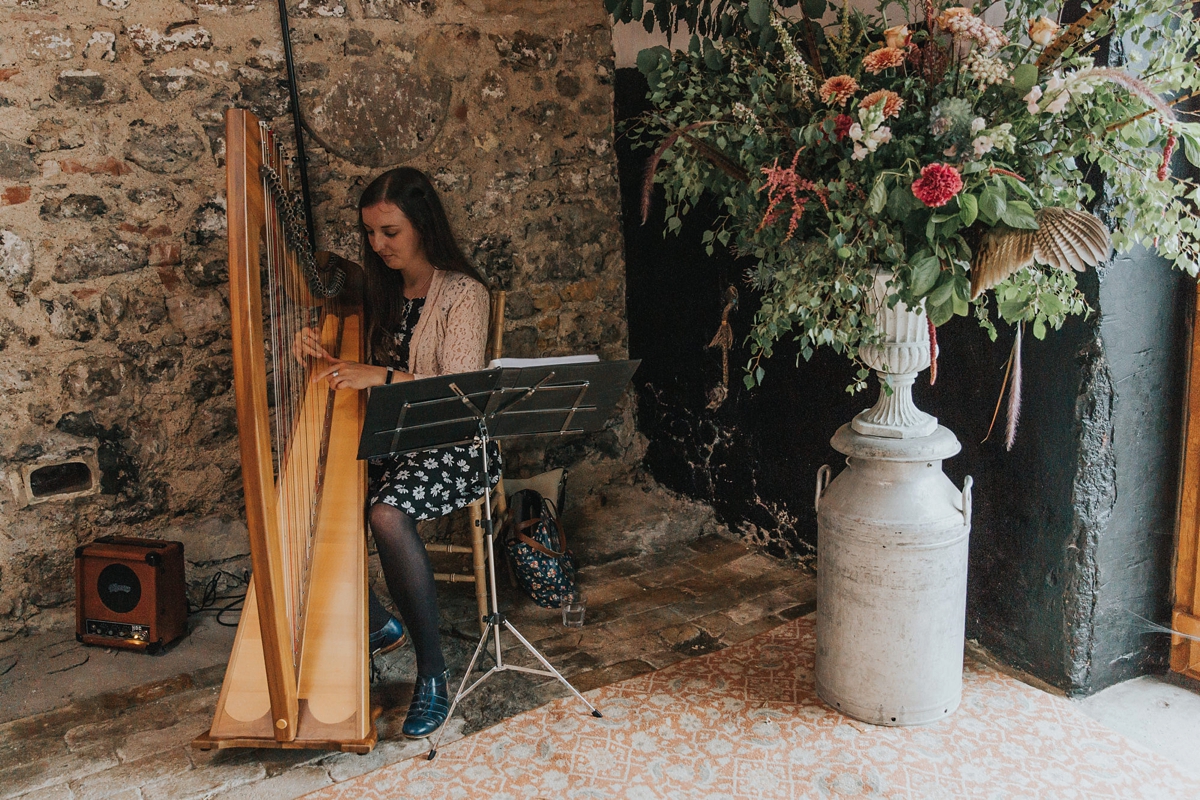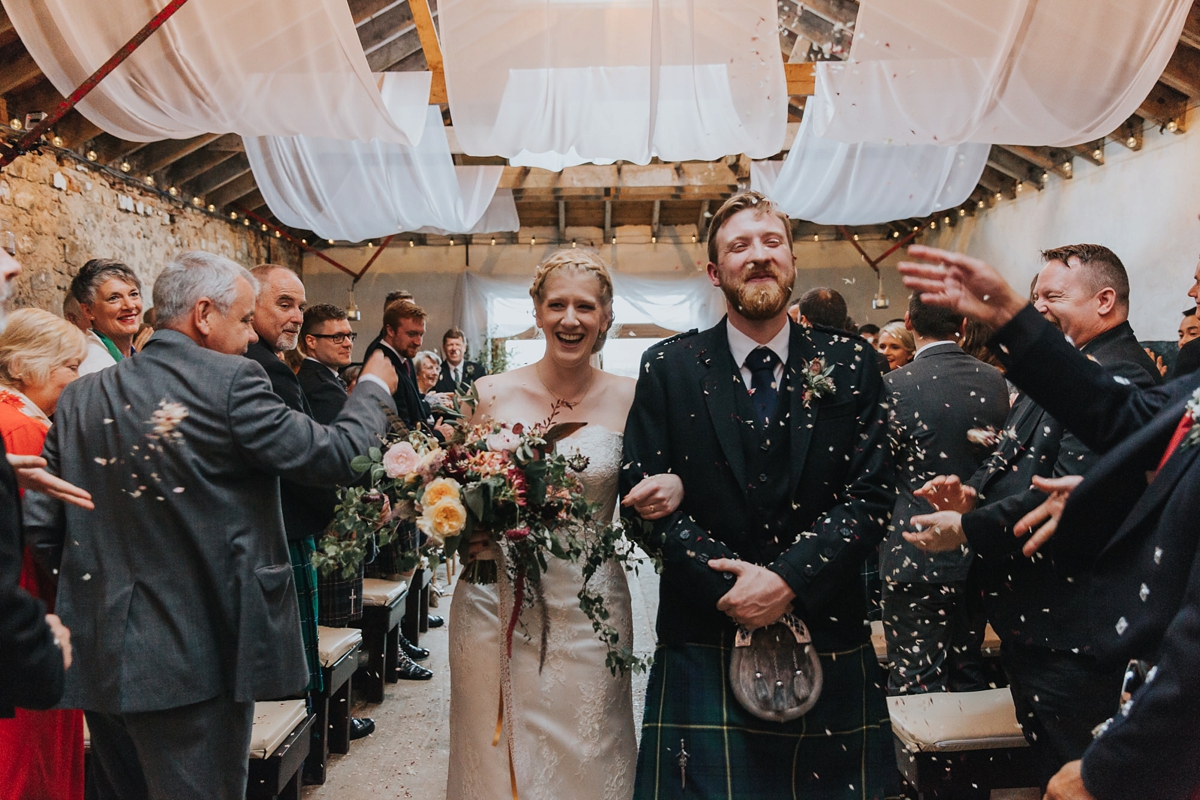 After the dinner the newly-weds headed out with their photographer Kellee Quinn Photography to capture these atmospheric and joyful pictures. Luckily, the bride had foreseen changeable weather, so she switched her shoes for practical cowboy boots for the countryside photos.
"I decided to bring my cowboy boots along so that we could get out and take some photos in a field surrounding the farm. After dinner I changed into the boots and decided to leave them on the rest of the night. They are my 'proper' pair of Ariat boots that I bought before I moved to Scotland ten years ago."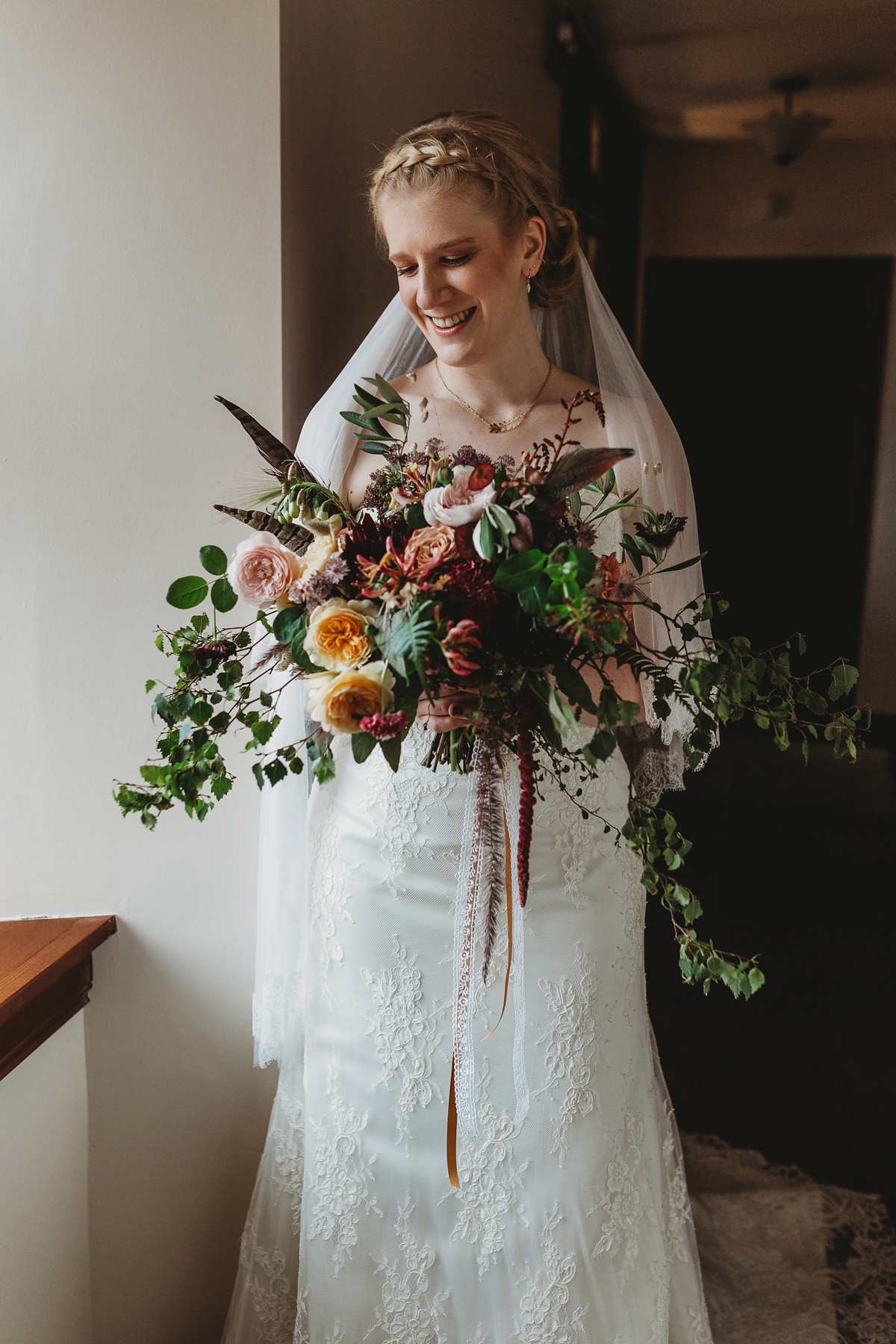 "Kellee had done a couple of photoshoots at our venue and I had started following her on Facebook after one of those. Since Harelaw Farm is so new I thought it would be a good thing to hire a photographer that knew the place and knew where to get the best shots. Kellee was determined to make sure each wedding she shot was as individual as the couple and she has such an amazing energy."
"On the day Kellee was like a tall photo-taking ninja! She was great with the guests, making sure that people were where they needed to be for photos without being pushy, and kept up the humour and good vibes! I love her bright clean style and we are all so happy with the photos she's delivered."
After the ceremony, the newly-weds and their guests left the byre to go over to the beautifully-dressed barn for the reception. The catering was organised by Harelaw Farm, who love to support the local community by hiring chefs and waiting staff from Ayrshire college and devising a menu using local Ayrshire produce.
"The big barn stands out without much décor so we added very little. We painted the schedule for the day on an old pallet and put twinkly fairy lights and ivy around that and the seating chart pallet. I wound fairy lights on copper wire around fake ivy and had that trailing along the long trestle tables. I wanted the lights to mirror the fairy light canopy that hangs up in the barn. It added a lovely romance to a very rustic barn. We used burlap and lace table runners, tweed covers for battery packs and pheasant feathers in bouquets and the table arrangements."
Mr and Mrs Johnstone put so much thought into their favours, tying in both of their heritages with their love of boardgames to create lovely handmade favour bags.
"Each favour bag had a custom dice, rules for a quick game, a Texan praline, and some Scottish fudge. My mom made the bags herself and used her sewing machine to add our names and the date to each one. We put a white boar on the custom dice we had made to highlight where we got engaged."

The totally unique cake with its ombre-effect buttercream icing was decorated with real succulents and foliage for a rustic, natural look.
"I wasn't overly-excited about the cake until we went to a cake tasting at Bakery47 and met Anna Luntley. We decided on a two-tier cake with a bottom tier of maple pecan to tie in some Texas and a top tier of salted caramel with peanut butter buttercream as we're big peanut butter nuts! We also had two fruit cakes baked by my mother (brought across from America in her hand-luggage) and beautifully iced by Bakery47."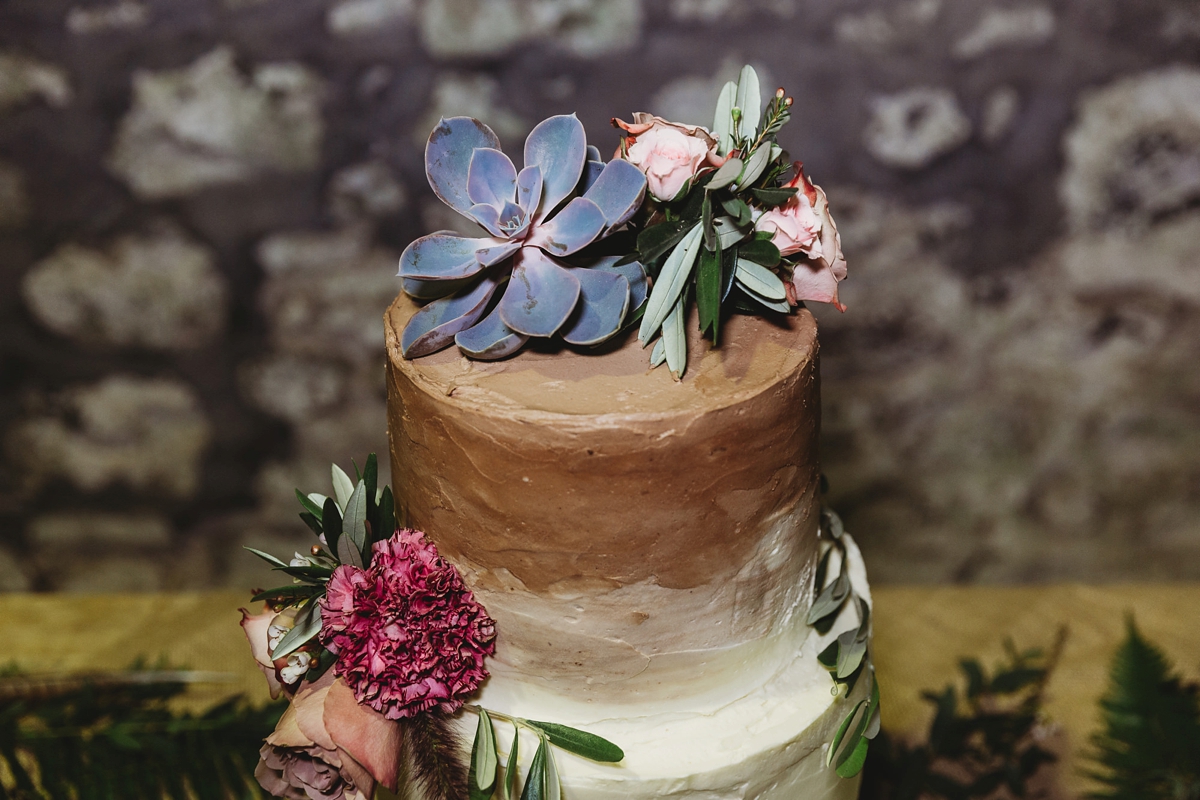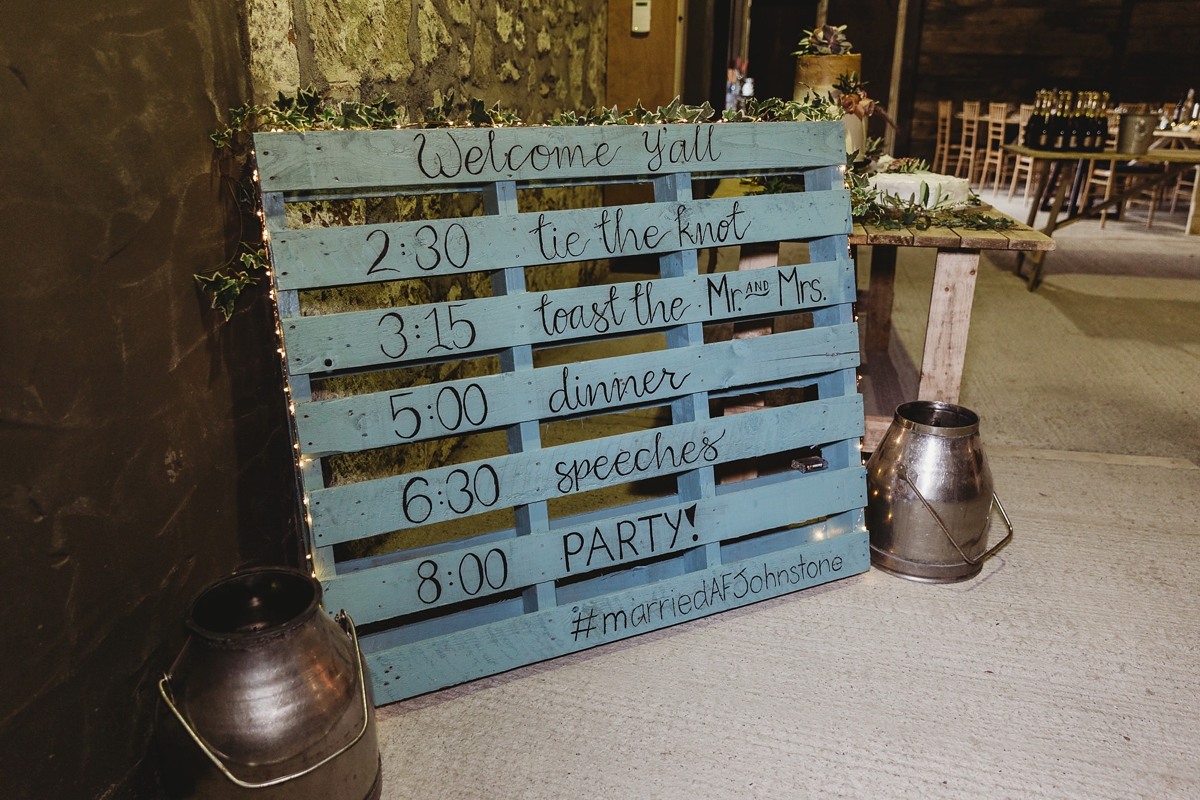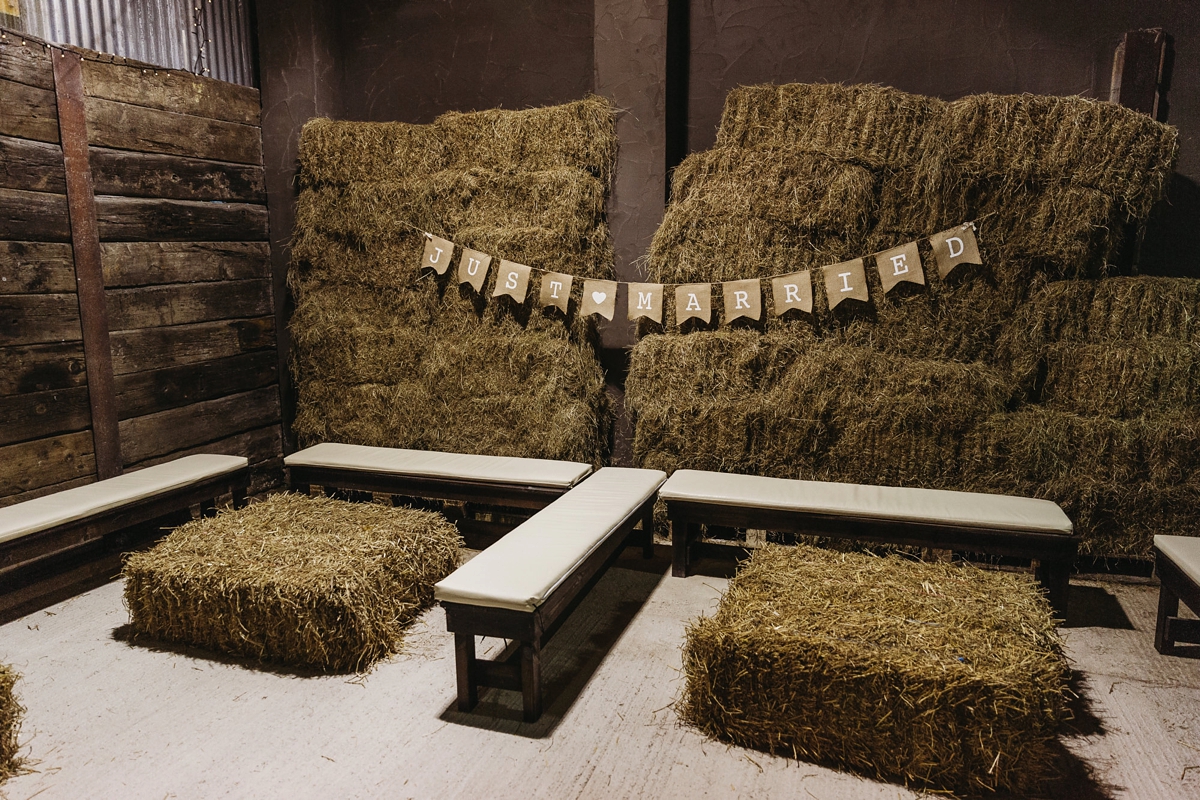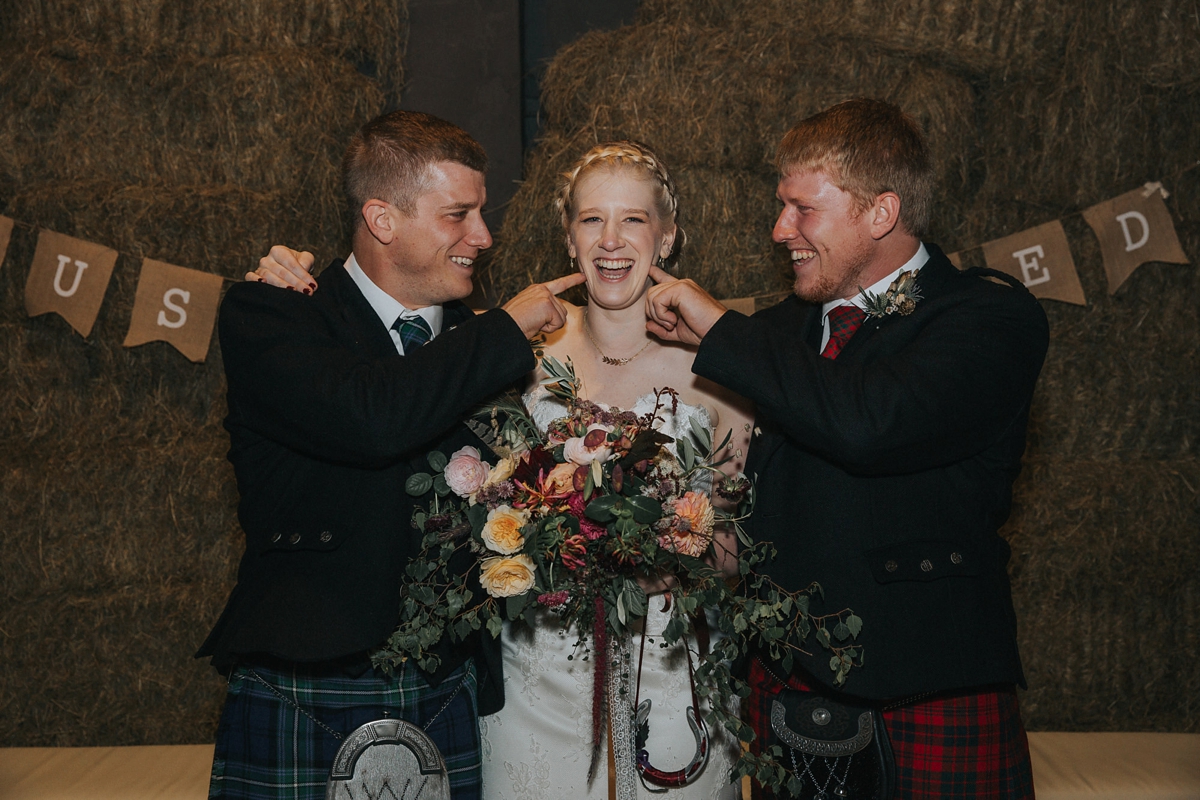 "Alasdair enjoyed going around all the tables at the end of dinner to check in with everyone. Making sure they were all having a great time was a highlight of his day. I loved getting to relax and have a cup of tea with my family after everyone had left and reflect on the day. Getting to catch up on what happened in the 'boy side' of the house; hearing about all the bits I'd missed was wonderful!"
"The only part of my wedding that I'd been thinking about for years was my wedding band. I absolutely love ceilidh dancing, and have a BA in Scottish Music, so take my ceilidh bands very seriously! I'm so glad we decided to hire the Glenfinnan Ceilidh Band as I could relax knowing the music would be world-class and everyone would have a great time. The dance floor was full the whole night and I had one of my bridesmaids DJ the band break so that my American friends could get a bit of swing and blues dancing in."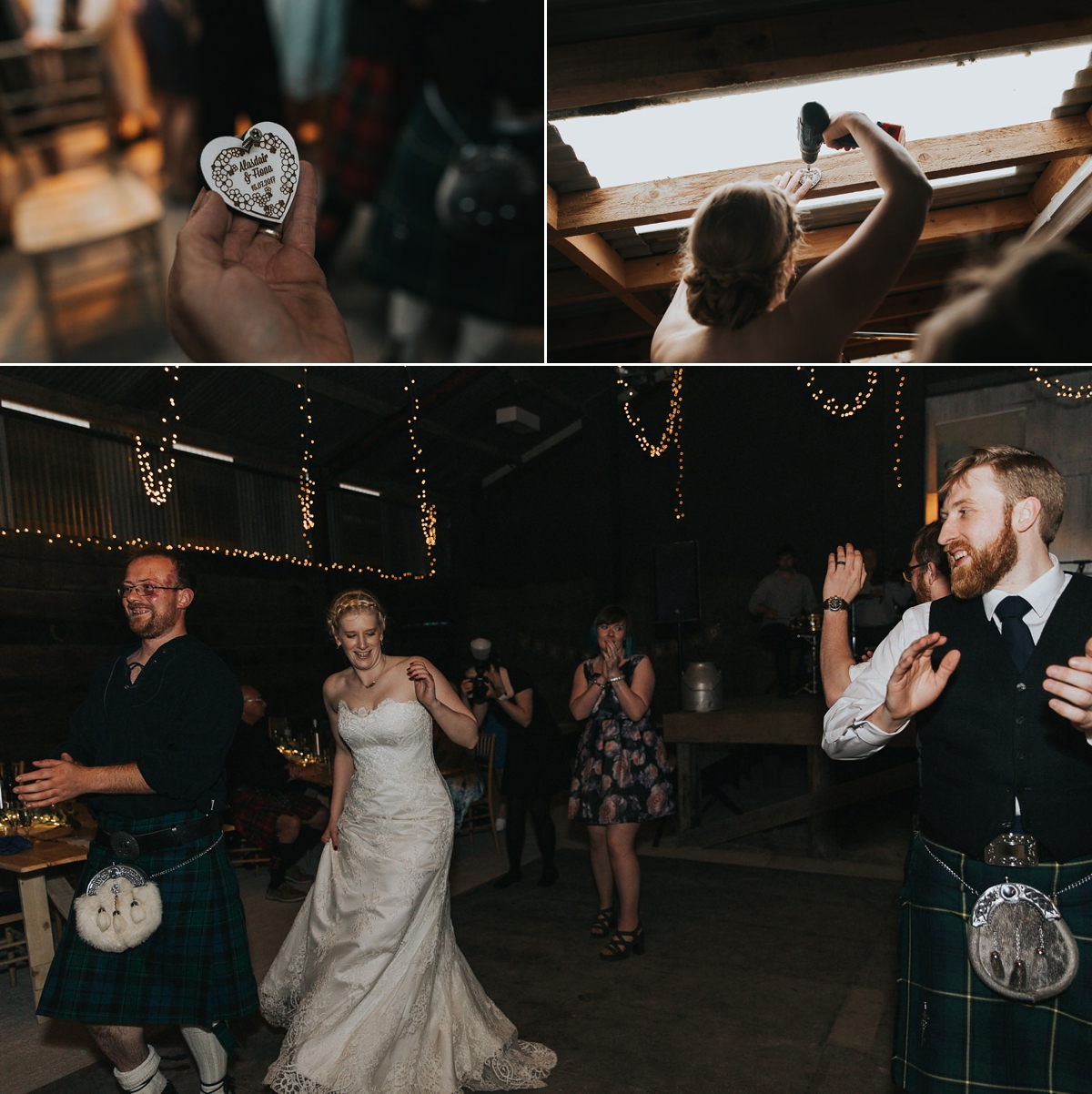 "The fiddle player used to be in a band called Blazin' Fiddles who were an influencing factor on me moving to Scotland to study music so it was a full circle thing having him play at our wedding."
The ceilidh band played the first dance, a waltz which ended up with the bride and her dad teaching the groom the night before the wedding!
Words of Wedded Wisdom
"Figure out which parts or details are important to you and try to stick to those, but leave room to compromise on the things that aren't as important. I was too worried at times of becoming a 'bridezilla' and had to remind myself occasionally that it was okay that I thought a particular detail was important."
"You can't change the weather so embrace it. Having a wedding in Scotland in the summer is always going to be a roll of the dice as to whether it will rain or be tropical so plan for the eventualities. We kept an eye on the weather in the days running up to our wedding and that helped me and everyone prepare for a day of rain. It was absolutely pouring during our ceremony but stopped later in the evening letting everyone enjoy a bit of fresh air. I think the rain helped make our day amazing as it meant everyone was inside mingling together rather than spread out across the grounds."
"If we were to go back in time and do it over again I think I would have tried to spend more time with friends who had travelled so far to be there. I hope they know how much it meant for them to join us to celebrate."
Wow, what a day! Thank you so much Mr and Mrs Johnstone for giving us an insight into your spectacular wedding. I'm in awe of your lace-making skills. Sending so many thanks to Kellee Quinn too; we do hope to see your photography again on Love My Dress.
Ele xx