London is one of my favourite cities.  Although I've never lived there I have spent many happy days exploring and I never feel like I've seen even a quarter of all it has to offer.
The Docklands area is one of my favourites – it has obviously changed a lot since its busy industrial heyday but the buildings are beautiful and there is such a sense of history there.  Today's London wedding took place on the East India Quay right on the river and embodies all the best parts of the city – a real treat.
Imogen and Gareth married at Our Lady of Muswell Roman Catholic Church, London followed by a modern London- themed reception at Trinity Buoy Wharf on the 17th of June 2017.  The couple got engaged at the Grand Canyon while spending a year travelling and the ring was purchased in the antique quarter in New Orleans, which makes it a very special reminder of the trip, as well as of the proposal itself.  The talent behind today's beautiful photographs was Shelby Ellis, who I'm thrilled to say that Imogen and Gareth found via our own Little Book for Brides, of which Shelby is a member.
"We clicked with Shelby right from the beginning, meeting in a relaxed pub setting.  We loved her relaxed attitude and attention to detail .  On the day we hardly noticed she was there but then she made sure that we got the photos we had discussed in our previous meetings that we had forgotten about in the excitement of the day.  Everything was perfectly captured and we couldn't recommend anyone more highly."Images by Shelby Ellis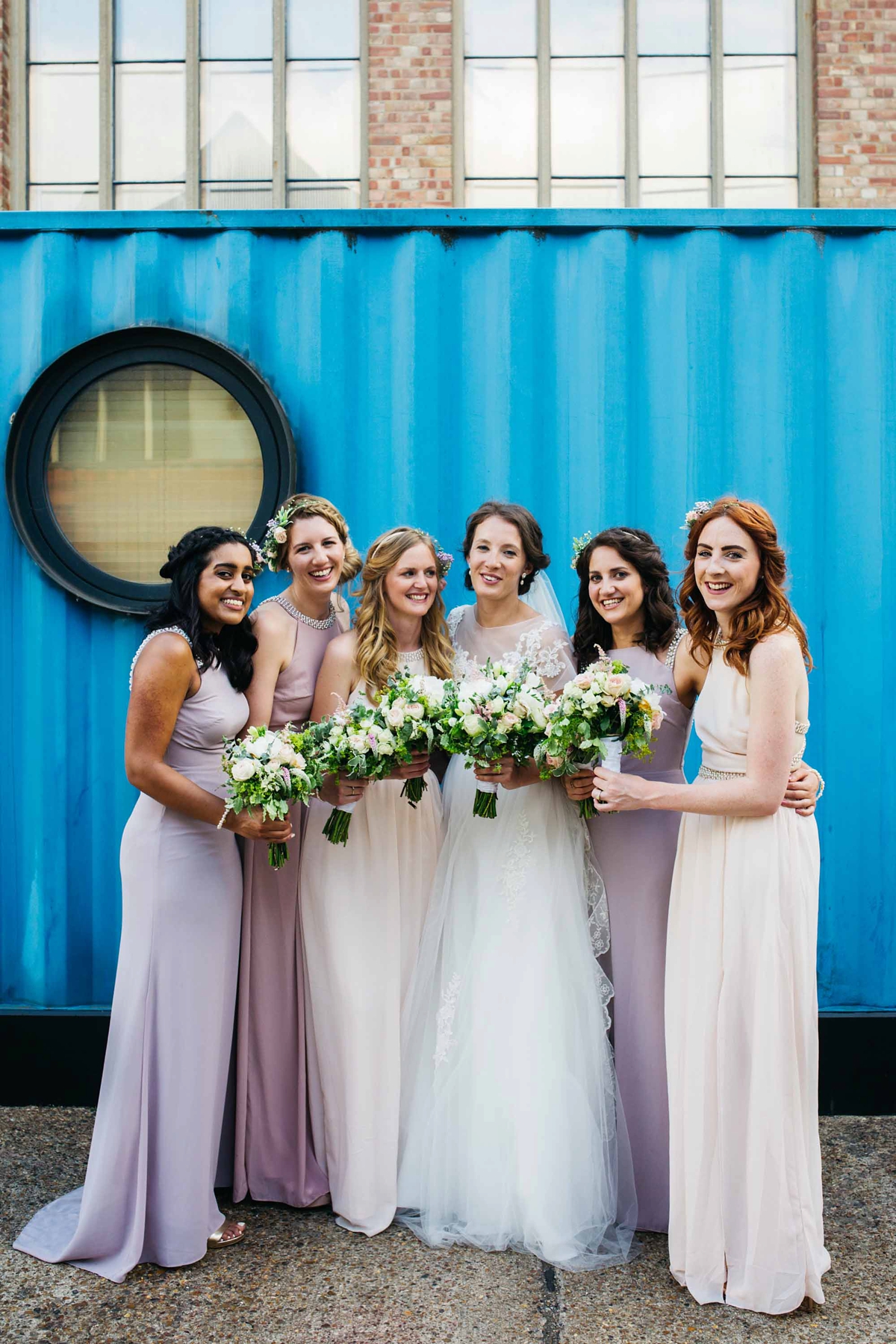 "We knew we wanted a massive party as we are both from big families and everything is done en-mass.  We both grew up in and still live in London so this was a massive influence as well as it being the city which inspired me to study architecture.  The colour scheme was quite pale and muted with pale pinks and greys and lots of greenery. I don't like things overly fussy, just clean lines.""I loved being able to get ready in my family home as this gave me a sense of reassurance and I didn't have a chance to feel nervous.  Everyone said I looked so calm when I walked down the aisle.  I didn't properly relax though till the speeches were over and we were on the dance floor with everyone who means the world to me.  That was the best bit as everyone I loved was in one room- that's when you realise what an amazing day it is as it won't ever happen again."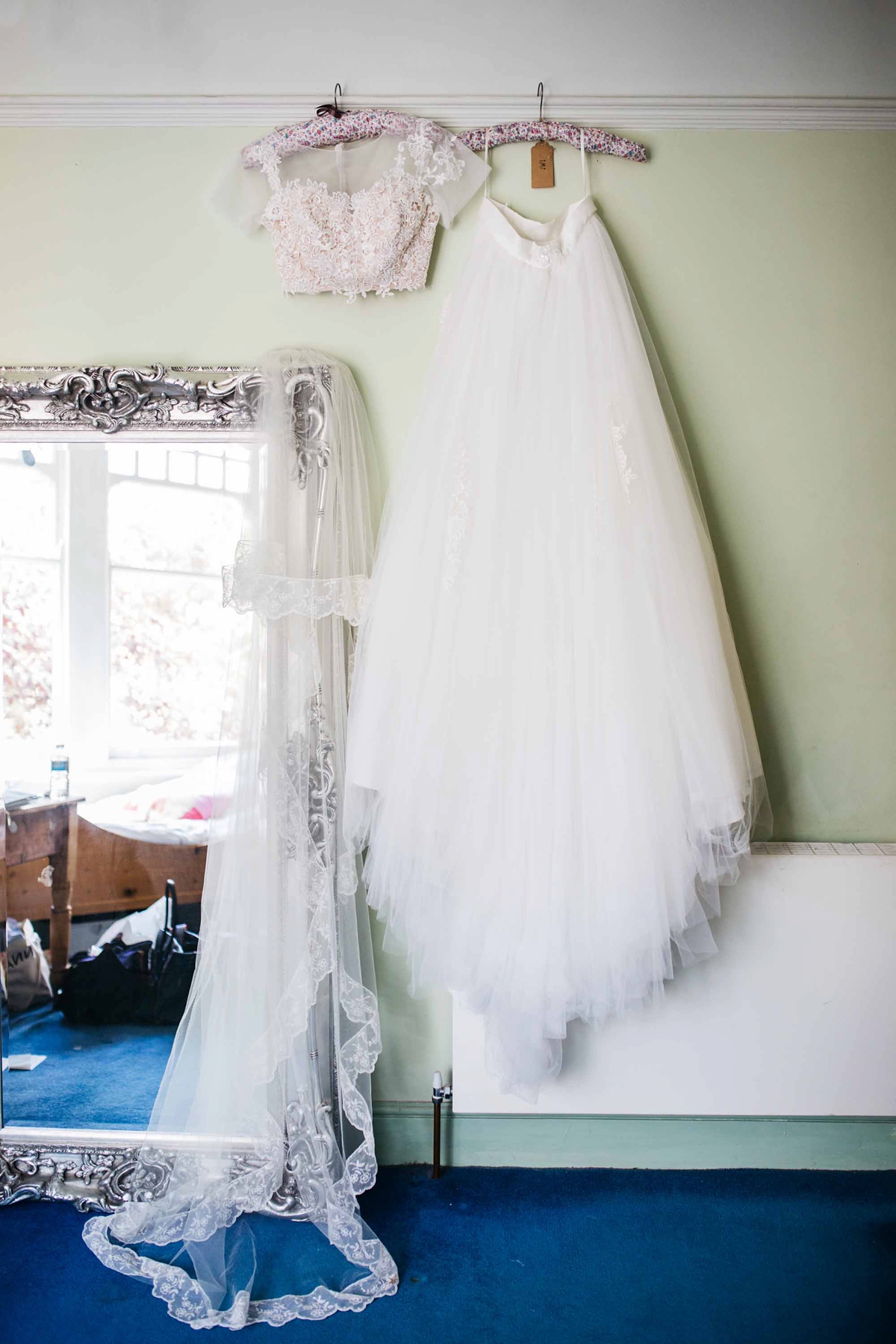 Imogen's veil was a cathedral length, lace trimmed veil which belonged to her mum.  I love a bit of family history on a wedding day.
On her feet Imogen wore shoes from the wonderful Rachel Simpson (a member of our Little Book for Brides), while for accessories she chose a pearl and crystal hair comb from Etsy and two sets of earrings (for day and evening), also from Etsy.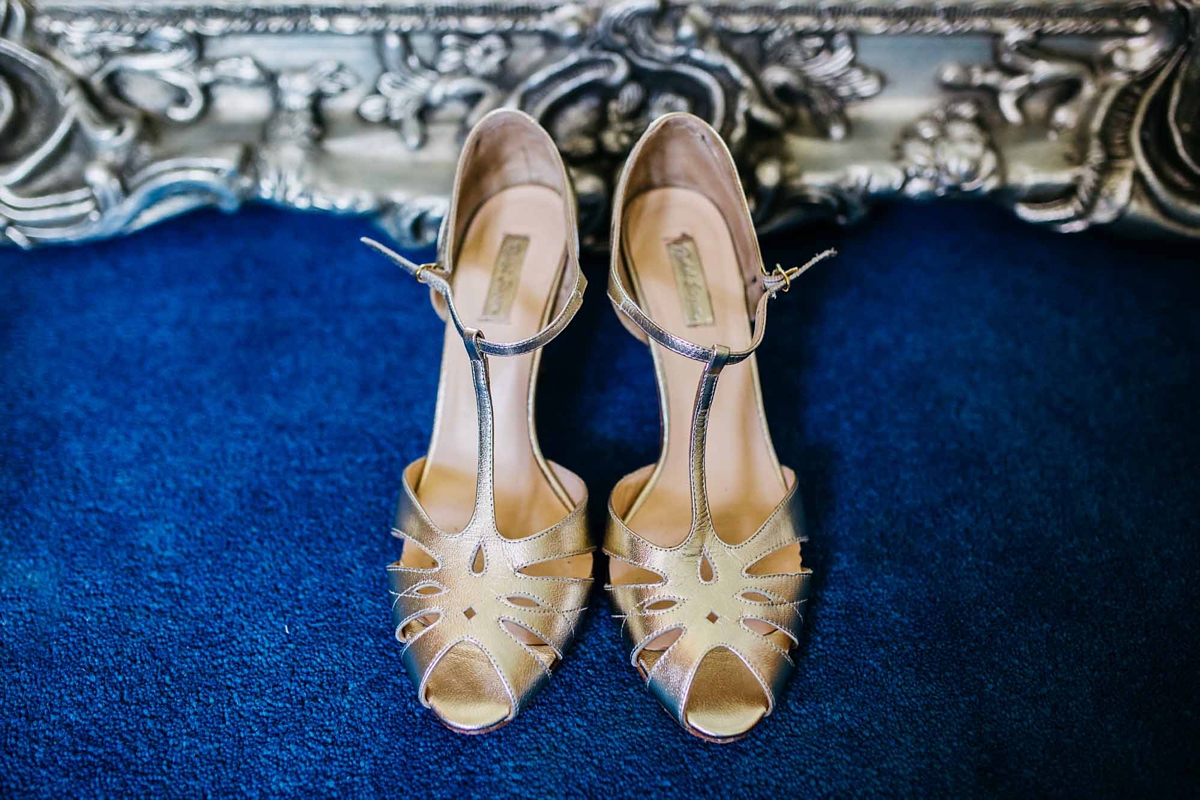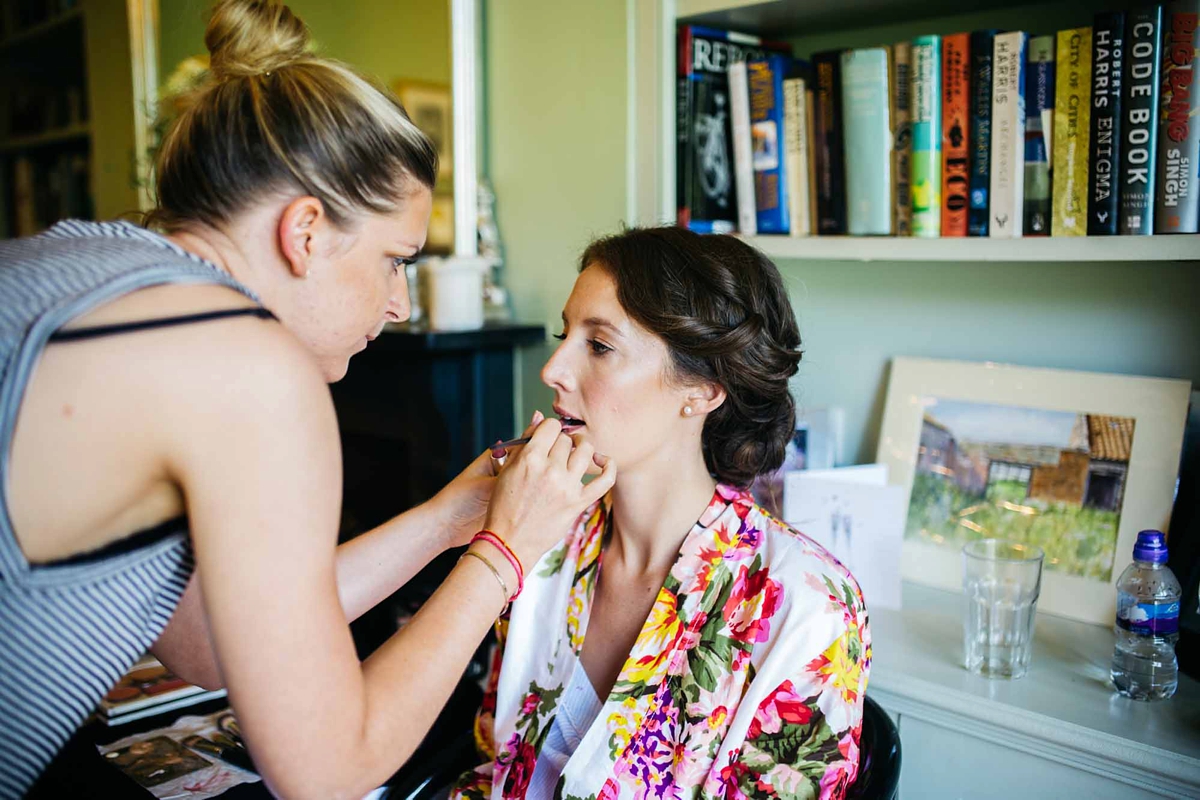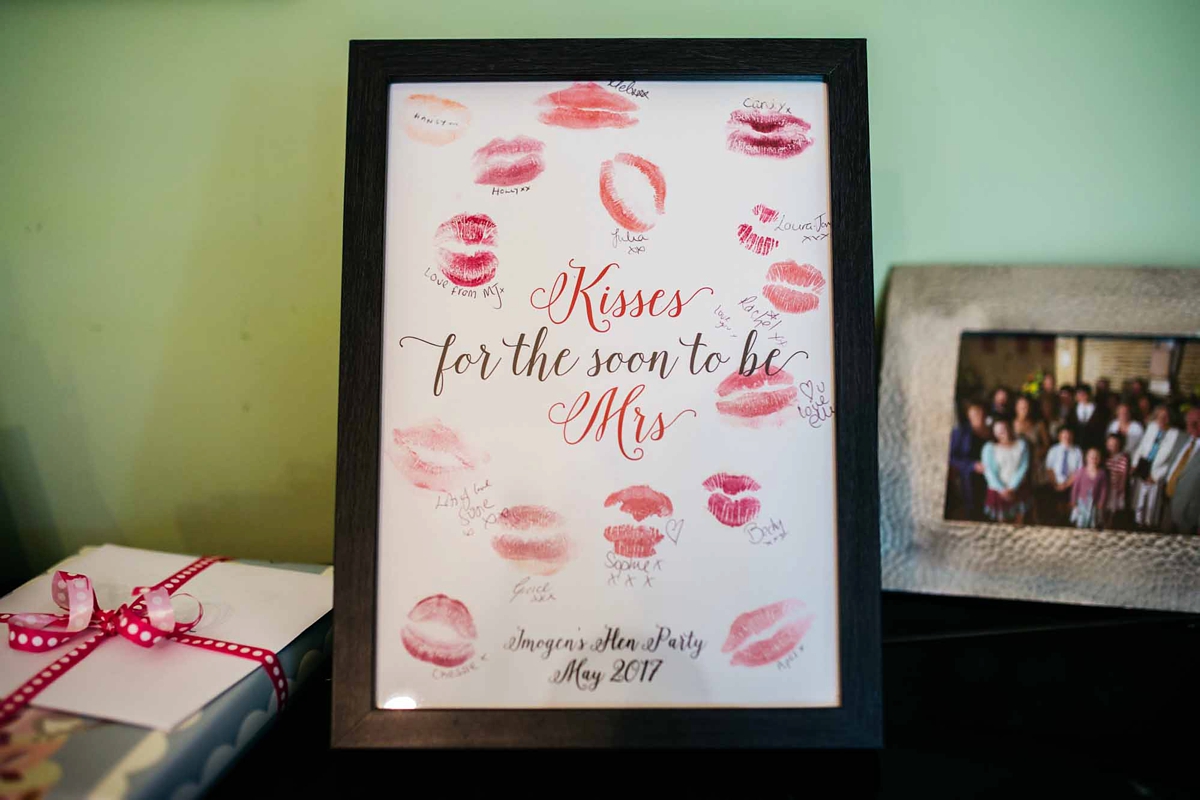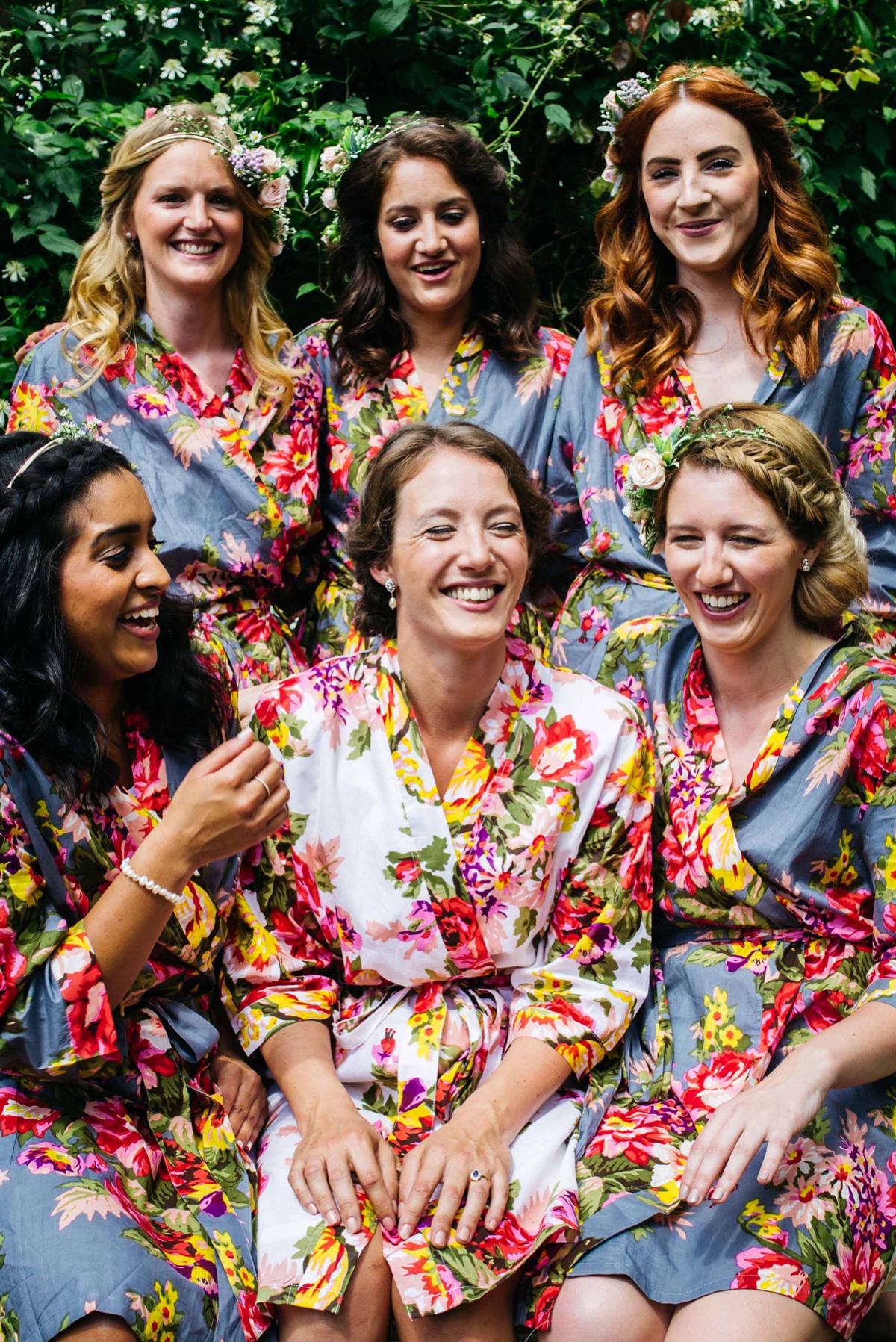 Imogen wore a beautiful dress which began life as a Charlotte Balbier gown, purchased from Confetti Bridalwear in Tring, which she had altered to create her dream outfit.
"I went to try on a Charlotte Balbier silk skirt at Confetti Bridalwear, which was the best move I made as I met Sarah who owns the shop and is an amazing seamstress (although I didn't buy the skirt).  I went back a second time and Sarah suggested making a dress from scratch so we discussed materials and shapes and then while looking through the rail I found a sample Charlotte Balbier dress which was the perfect basis, so I bought it.  Sarah heavily altered it to make my dream dress and then made me a separate top for the evening party."
" I felt truly like a princess and felt it flattered my shape.  I will forever treasure the experience of having a dress made as it truly is a unique dress and I always like something a bit different.  Sarah was very patient with me.  I also loved the fact it started off as a Charlotte Balbier dress and that she is a British designer."
The bridesmaids looked lovely in the 'Maya' dress from ASOS in various shades of purple and pink, worn with metallic sandals of their choice, flowerbands made by a friend of Imogen's mother and pearl bracelets from Not On The High Street.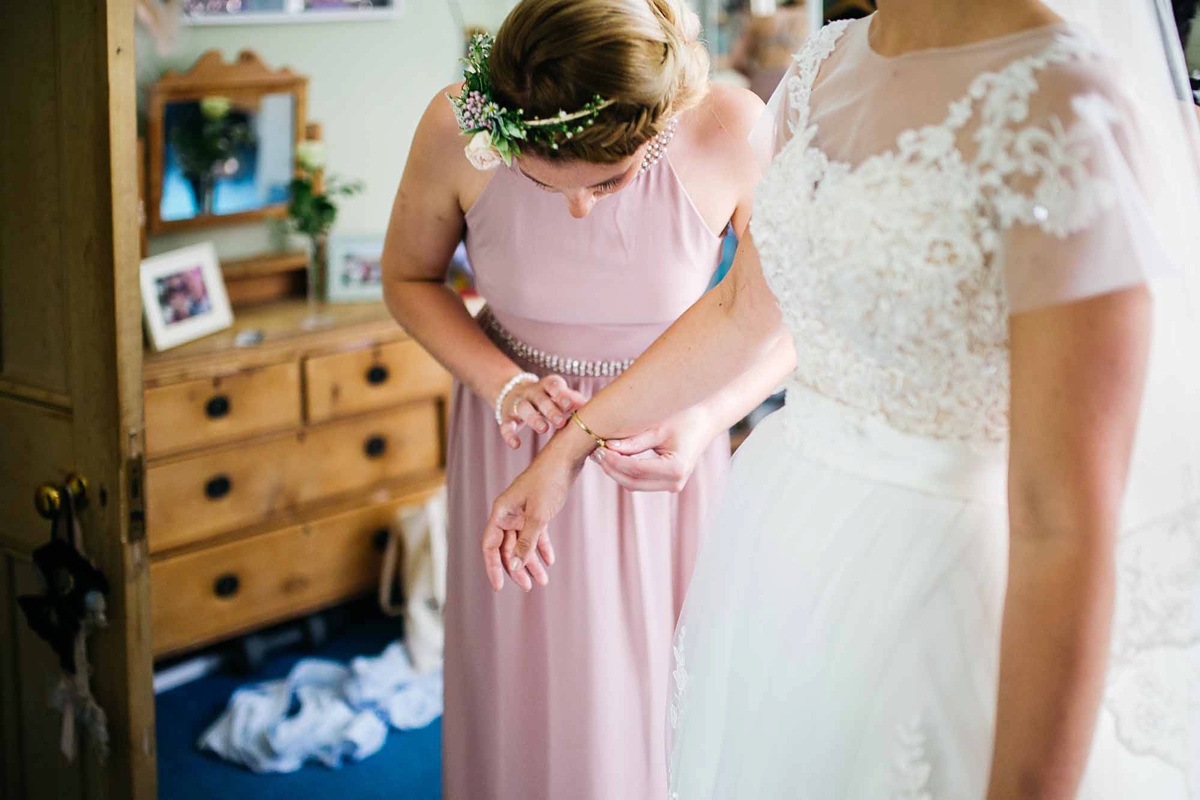 Imogen wore her hair in a loosely gathered and elegant up-do. She opted to use local hairdressers, 
Toni and Guy
. Her makeup was natural and she chose a pink lip to complement the tones throughout the day, including the bridesmaids gowns. 
Louise Goodson Bridal
 was the bride's chosen makeup artist. The finished look was relaxed, pretty and feminine.
"My mum's friends  did the bouquets and button holes, my mum did the venue flowers and the church flowers were done by a family friend from the parish.  The theme was greenery with pastel colours and pink roses and hydrangeas.  The church flowers exceeded any expectations and were stunning for such a vast space."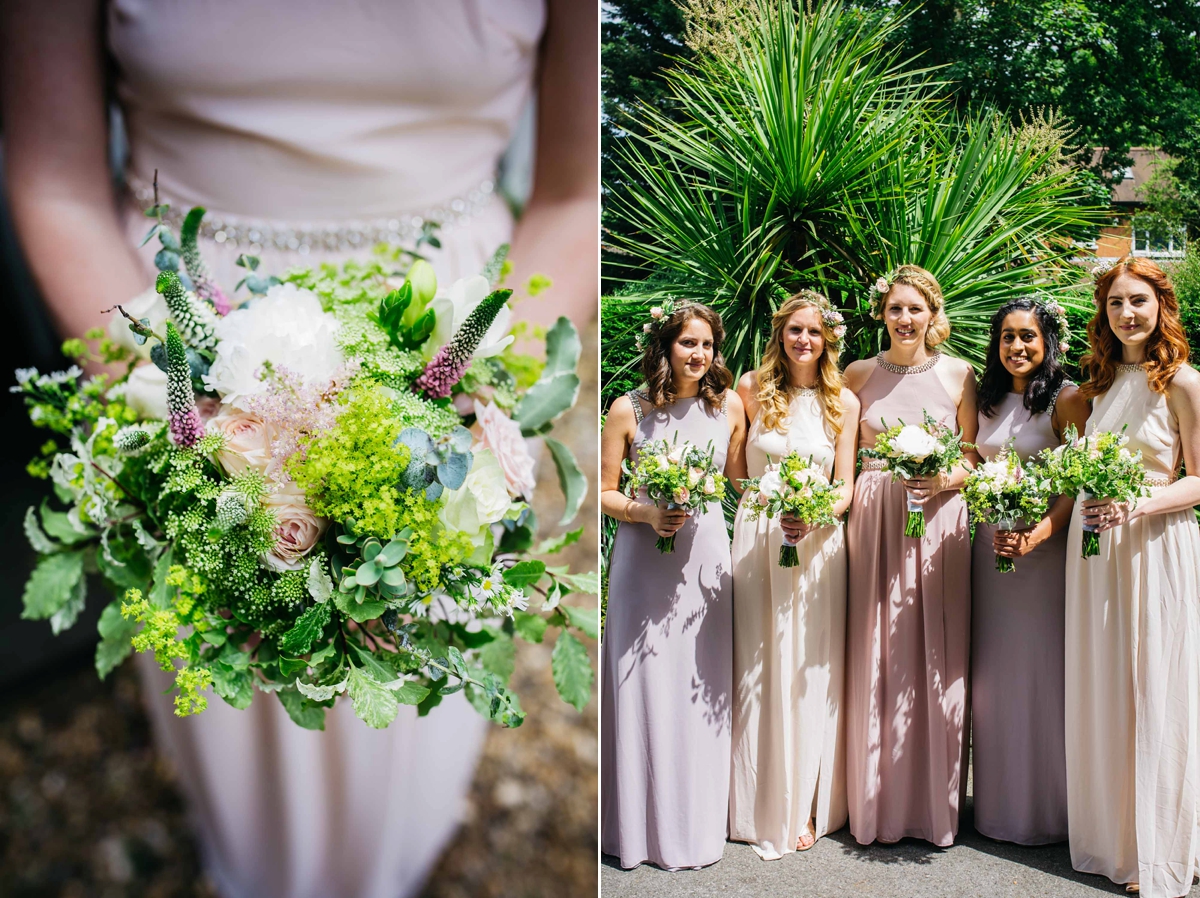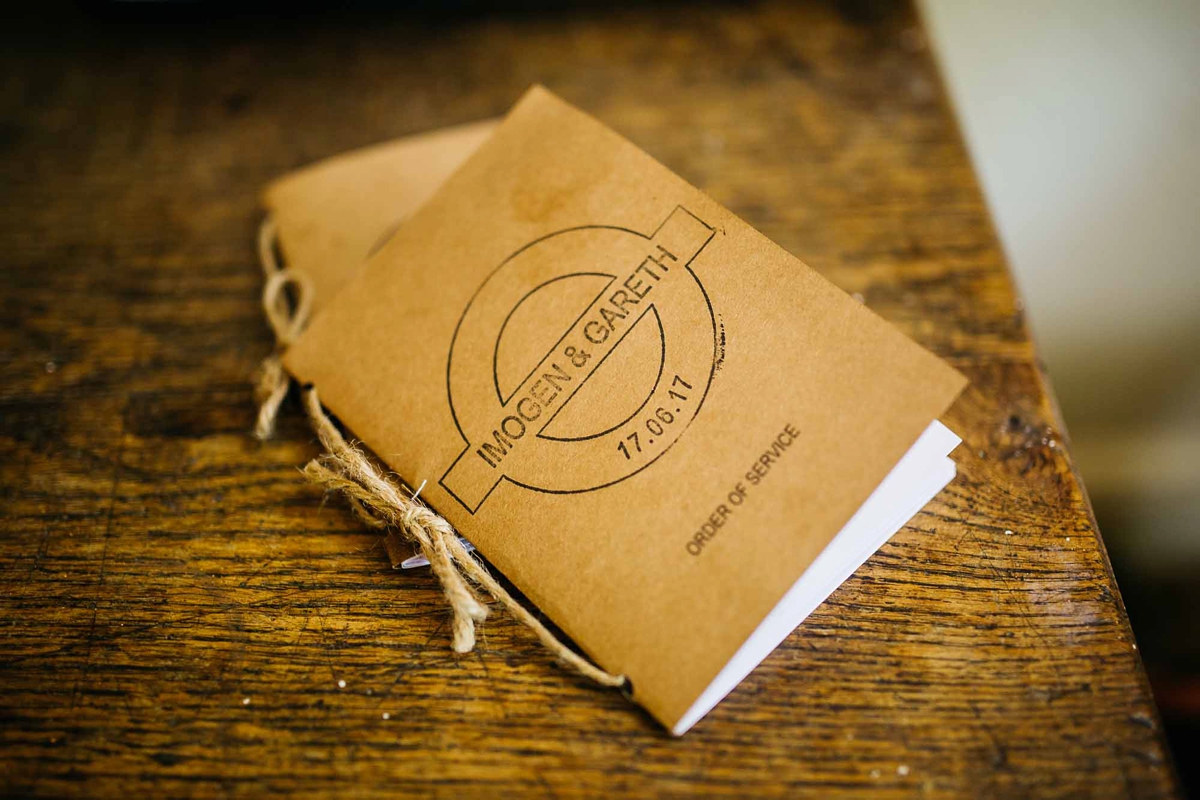 Gareth looked very smart in a suit by French Connection at Moss Bros, worn with a handmade liberty print tie by Sunshine and Daisies.  He and his groomsmen also wore matching rugby cufflinks (as that is how they all met), with Gareth's inscribed with the wedding date.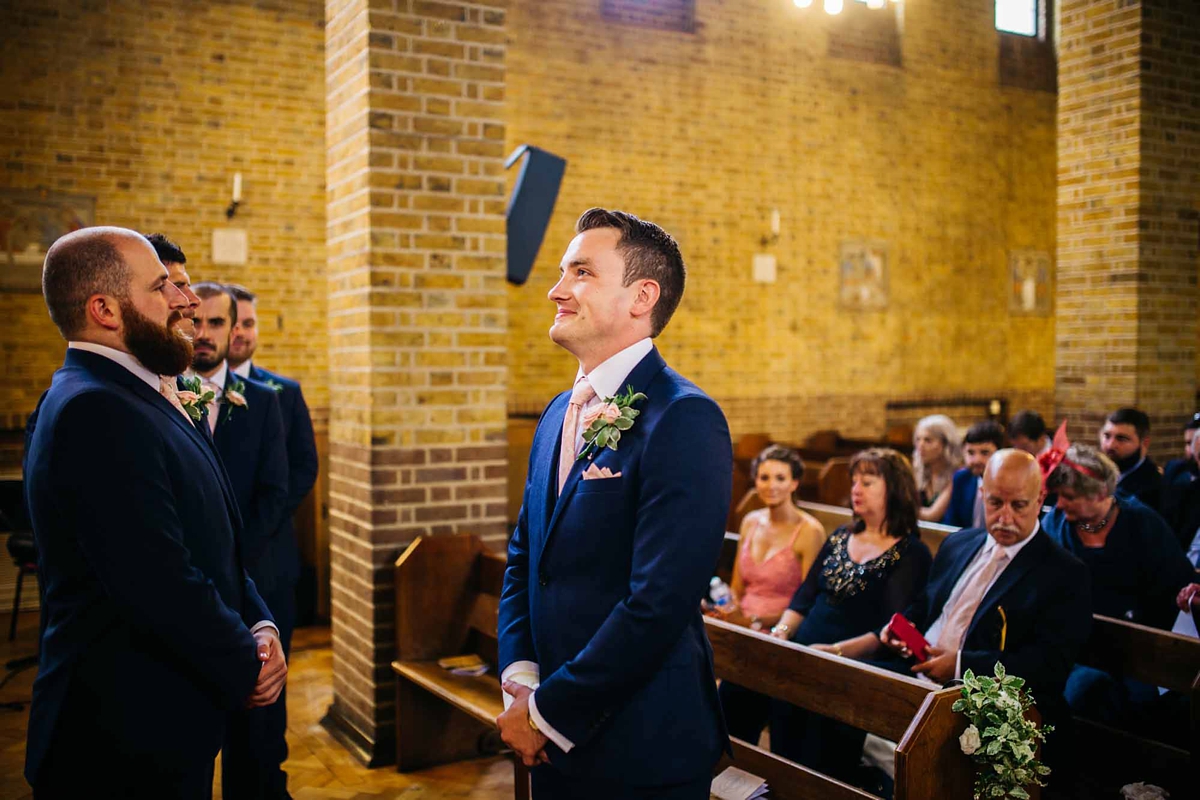 Imogen and her dad travelled to the church in a white London taxi (hired through Lux Cars), which allowed them a quiet moment together before the ceremony.  They walked down the aisle to 'Canon in D', preceded by the five bridesmaids and the little pageboy- quite an entrance!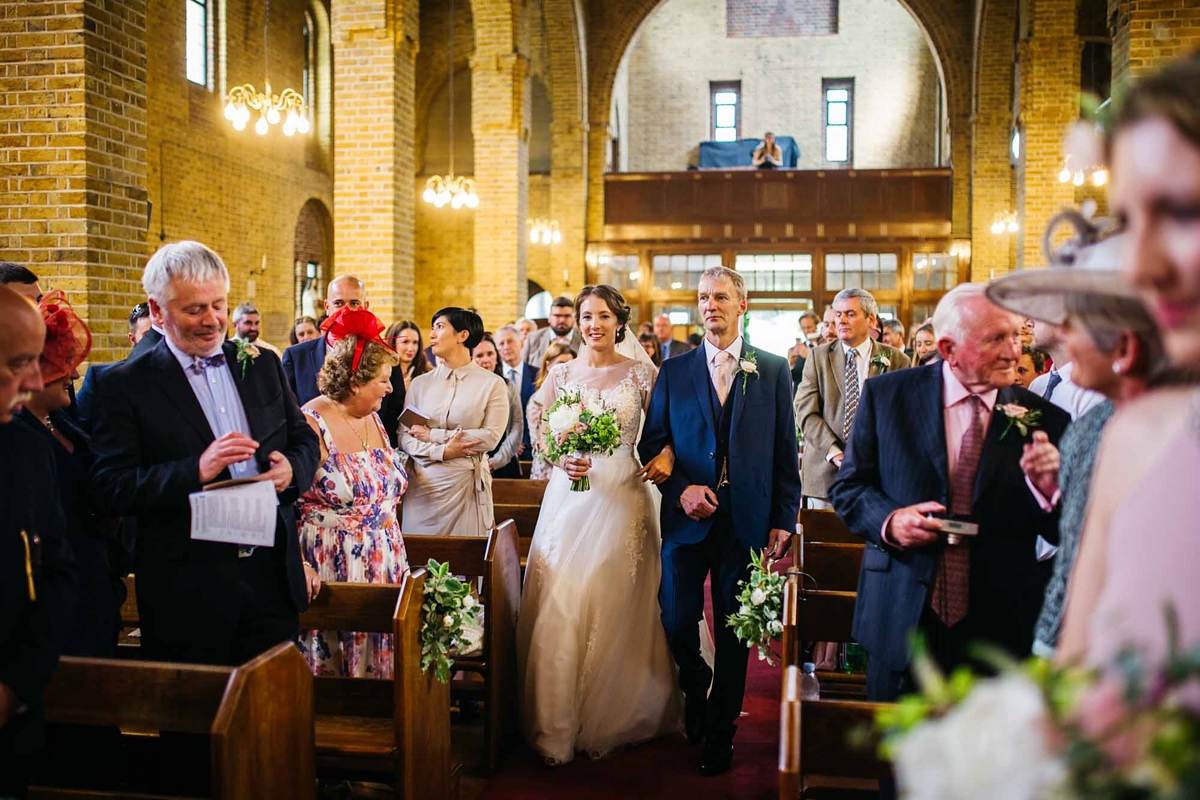 Imogen and Gareth spoke the traditional Catholic vows and exchaged rings to seal their promises to one another, Imogen's from Jewellery Cave in Hendon and Gareth's from Ernest Jones.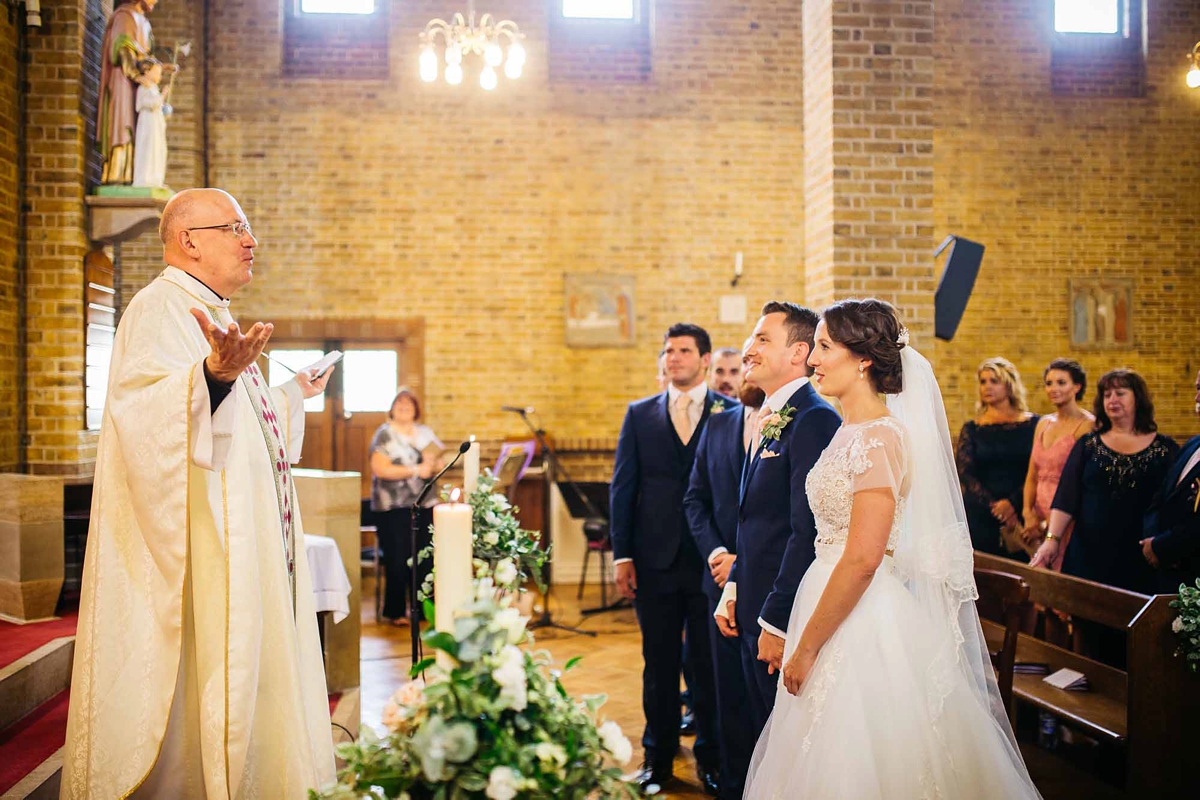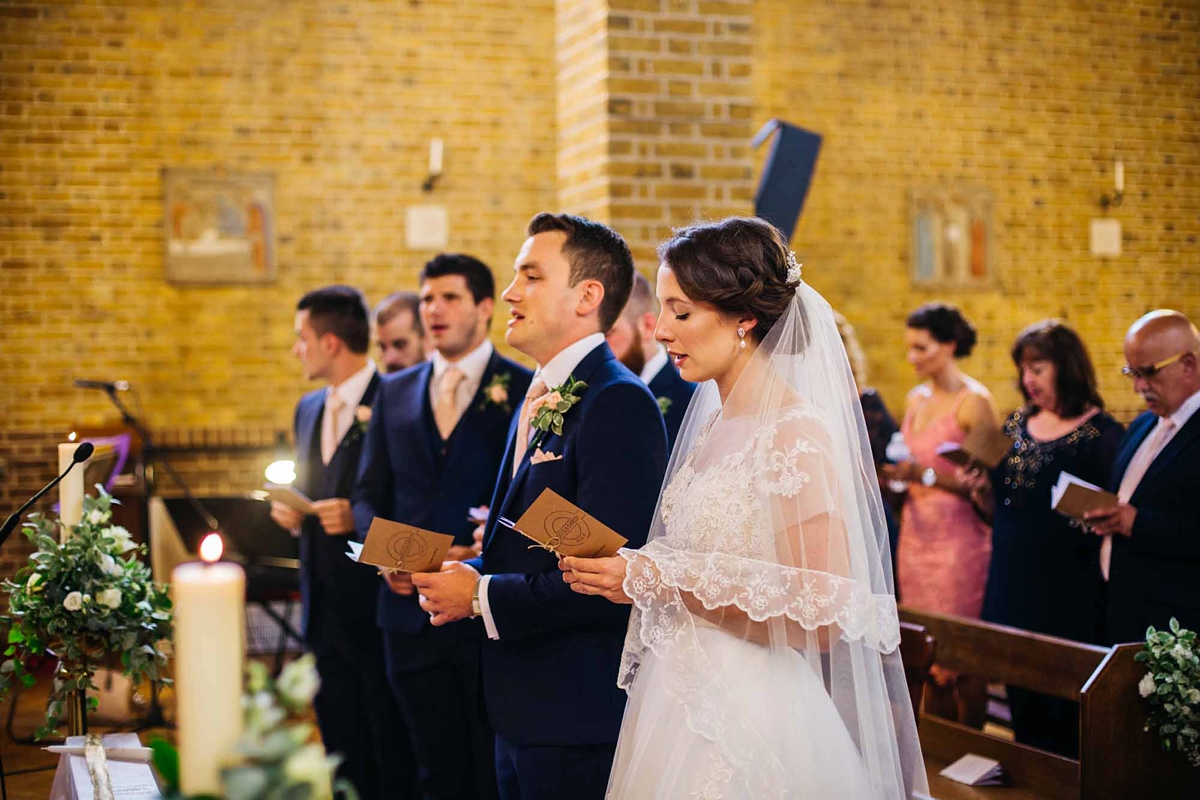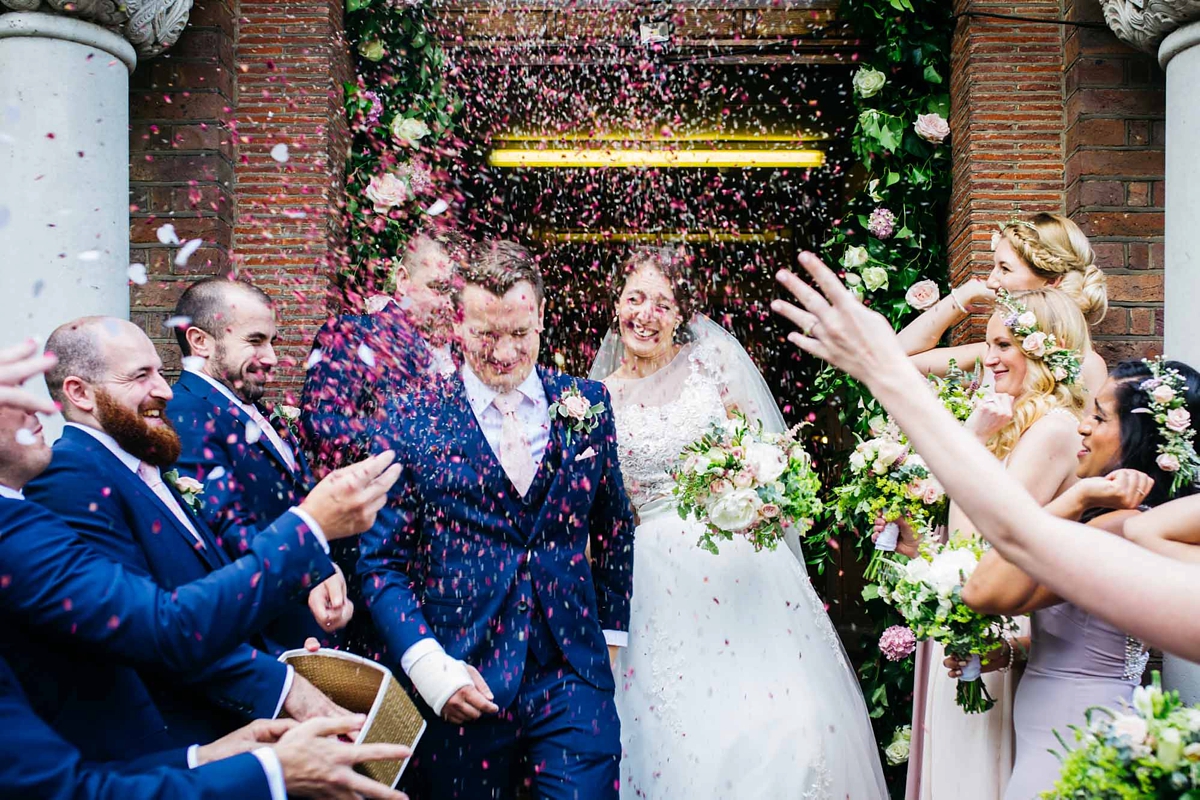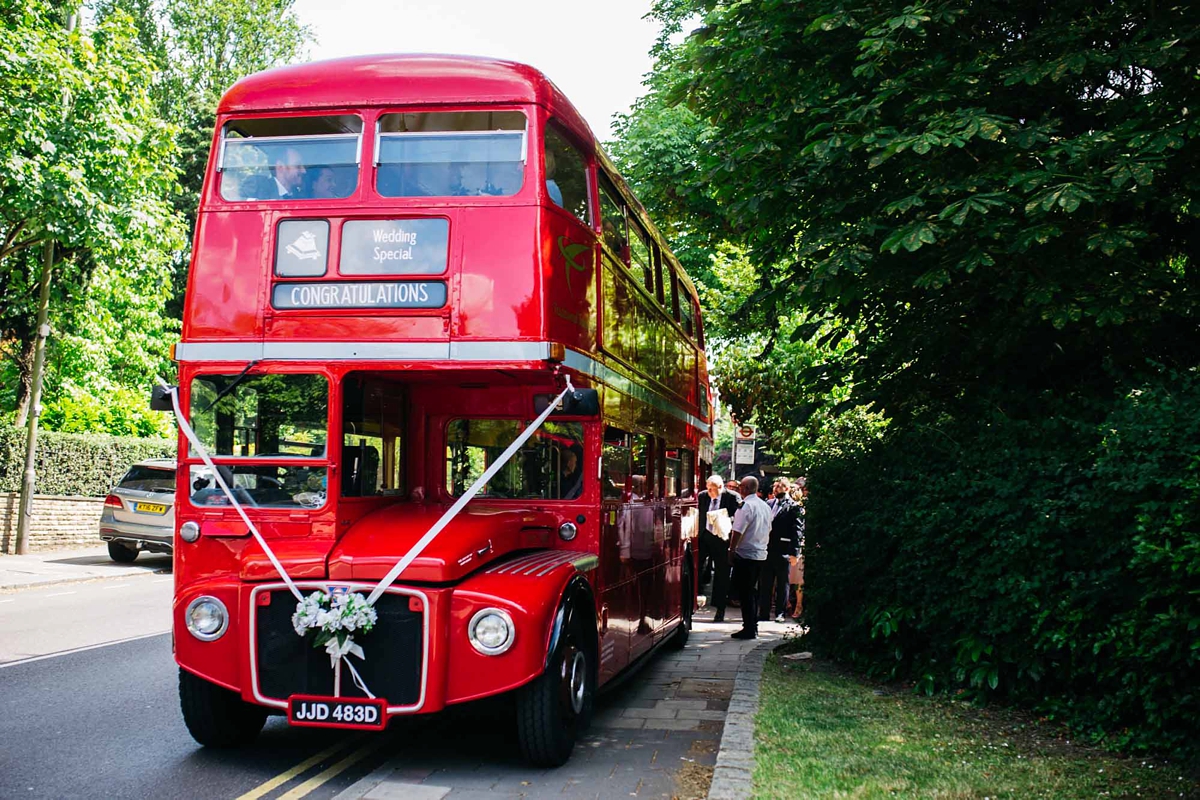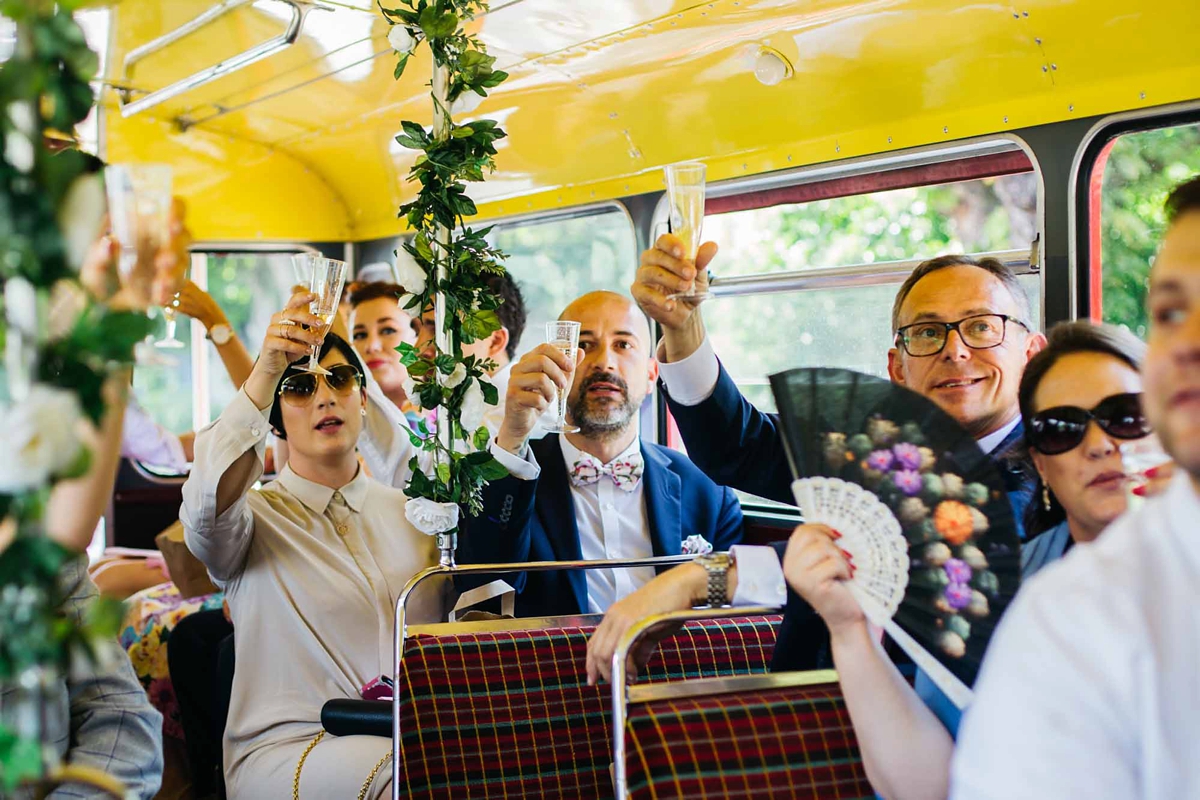 "To fit in with the London theme we hired red buses from Traditional Travel to transport the guests from the church to the venue.  We provided a snack in a brown paper picnic bag as well as prosecco – the groomsmen and bridesmaids had a lot of fun trying to pour this while the bus was moving."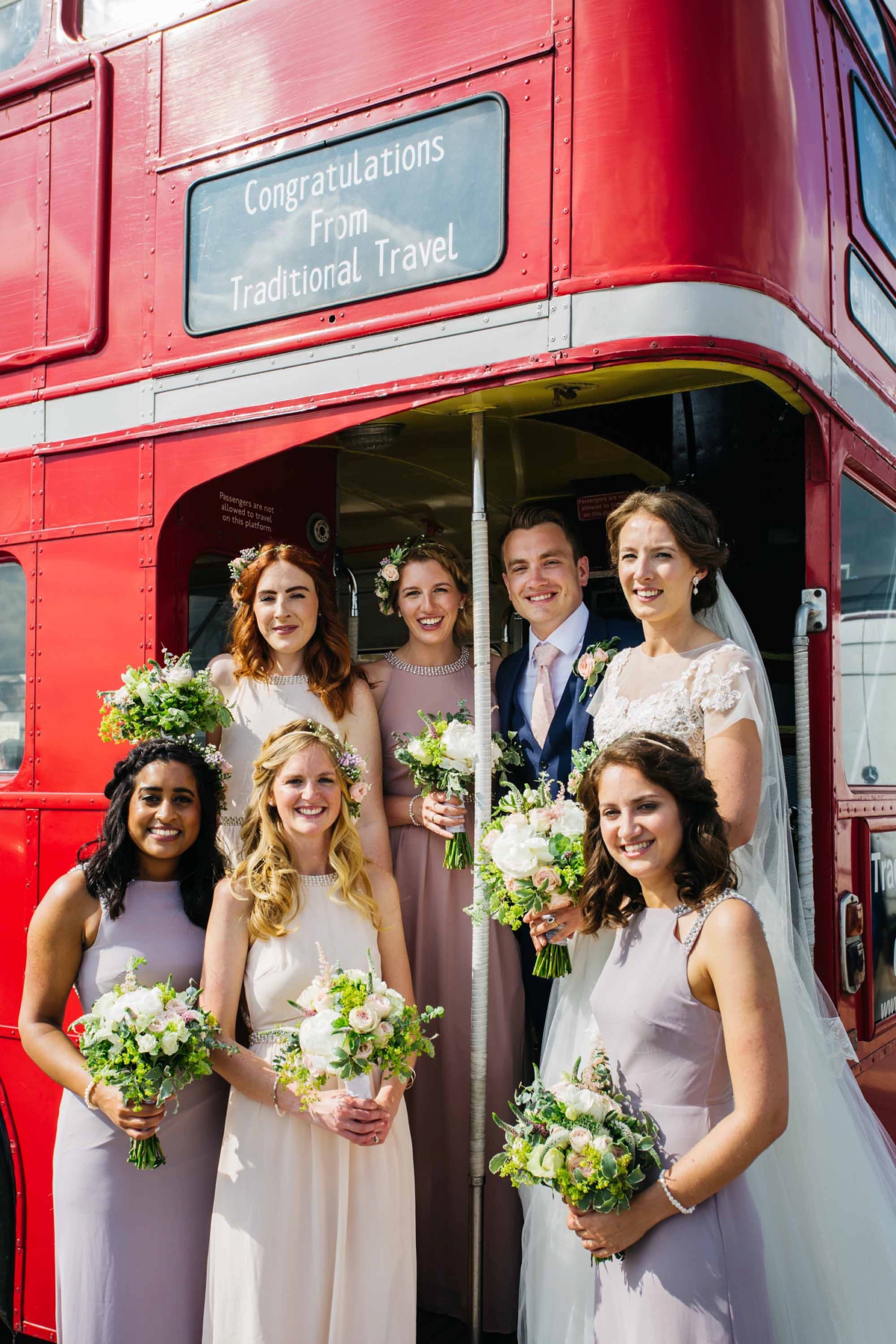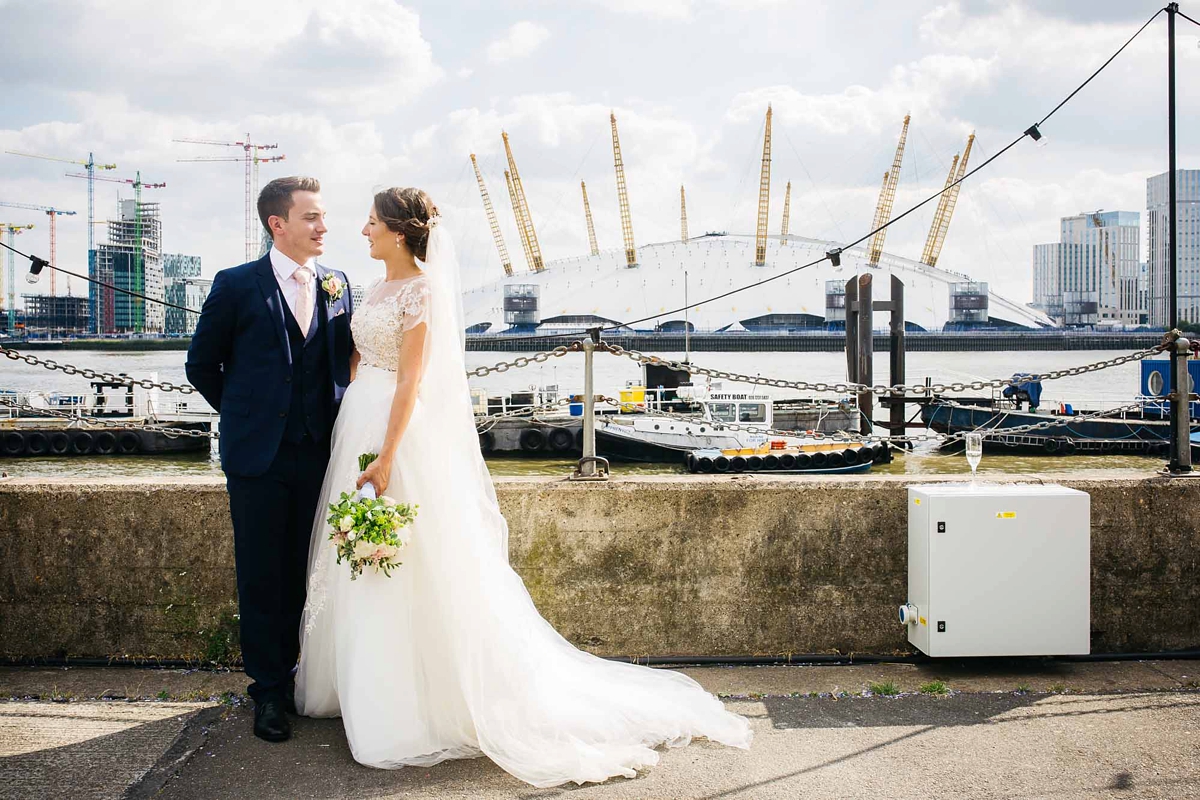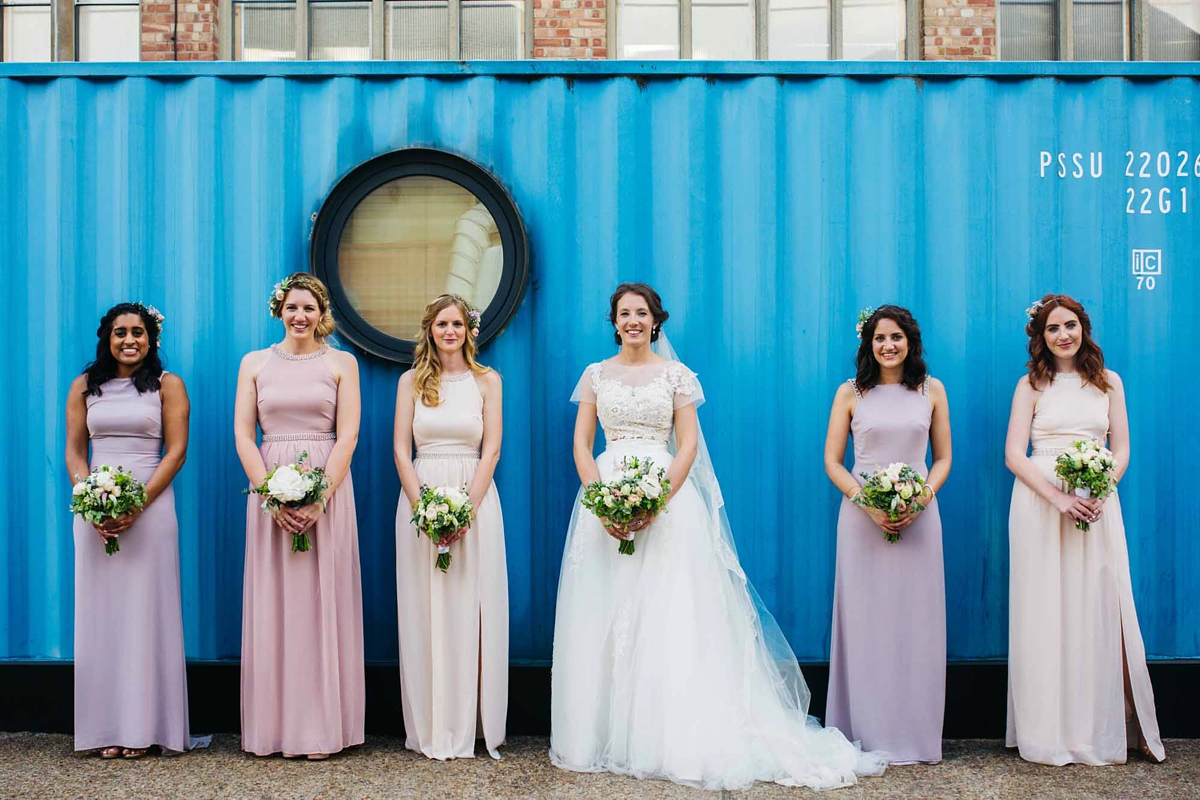 "As an architect the reception venue was very important to me (Imogen).  Trinity Buoy Wharf was the first venue we visited and I knew from that moment our reception was going to be there.  The location on the Thames with the view of the docklands added to the London theme, and the lighthouse was absolutely stunning."
The table plan and welcome sign were by one of the bridesmaids, who is an illustrator – April Illustrations, while Imogen did the rest of the stationery herself.
"We had travel card save the dates, and then for the invitations I laser cut the London skyline out of navy paper and created a wedding logo manipulating the London underground sign which I used for the RSVP's.  I also had this made into an ink stamp at the English Stamp Company and we used this to stamp the picnic bags, the order of services and the sweet bags.  I also printed out a bespoke London underground tube map for everyone to sign so we now have a piece of art work for the wall at home."
Catering was the work of The Taste Experience who did a fabulous job.
"We ended up going for the informal sharing buffet style lunch.  Dessert was a trio of our favourite puddings which was simple but effective."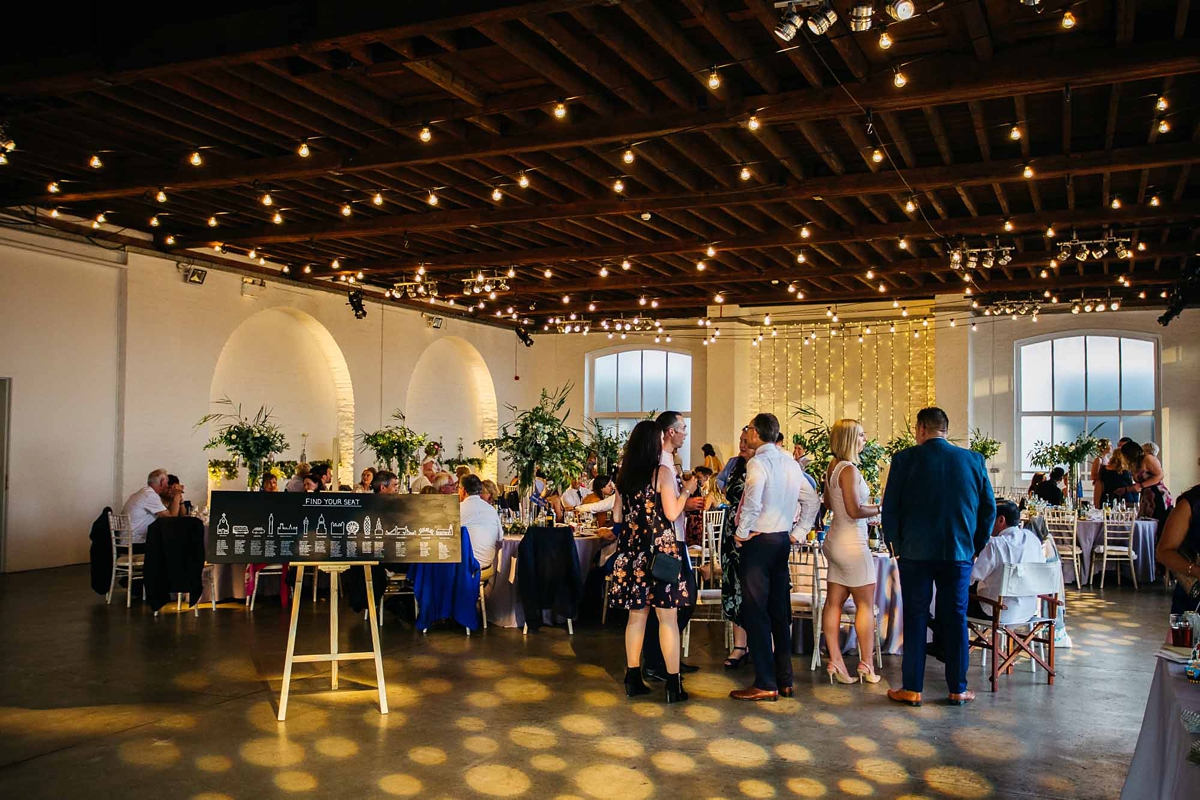 "I wanted to have big tall table decorations so we cut down foliage from friends gardens and added roses and lizianthiams to create a forest-like feel.  We had light pink English roses for the button holes to carry on the British theme and the bouquets were a mix of pastel roses and peonies. The flowers were the most stressful part as my mum was up till 11:30pm the night before flower arranging and then up at 6am to finish them off.  They looked stunning though."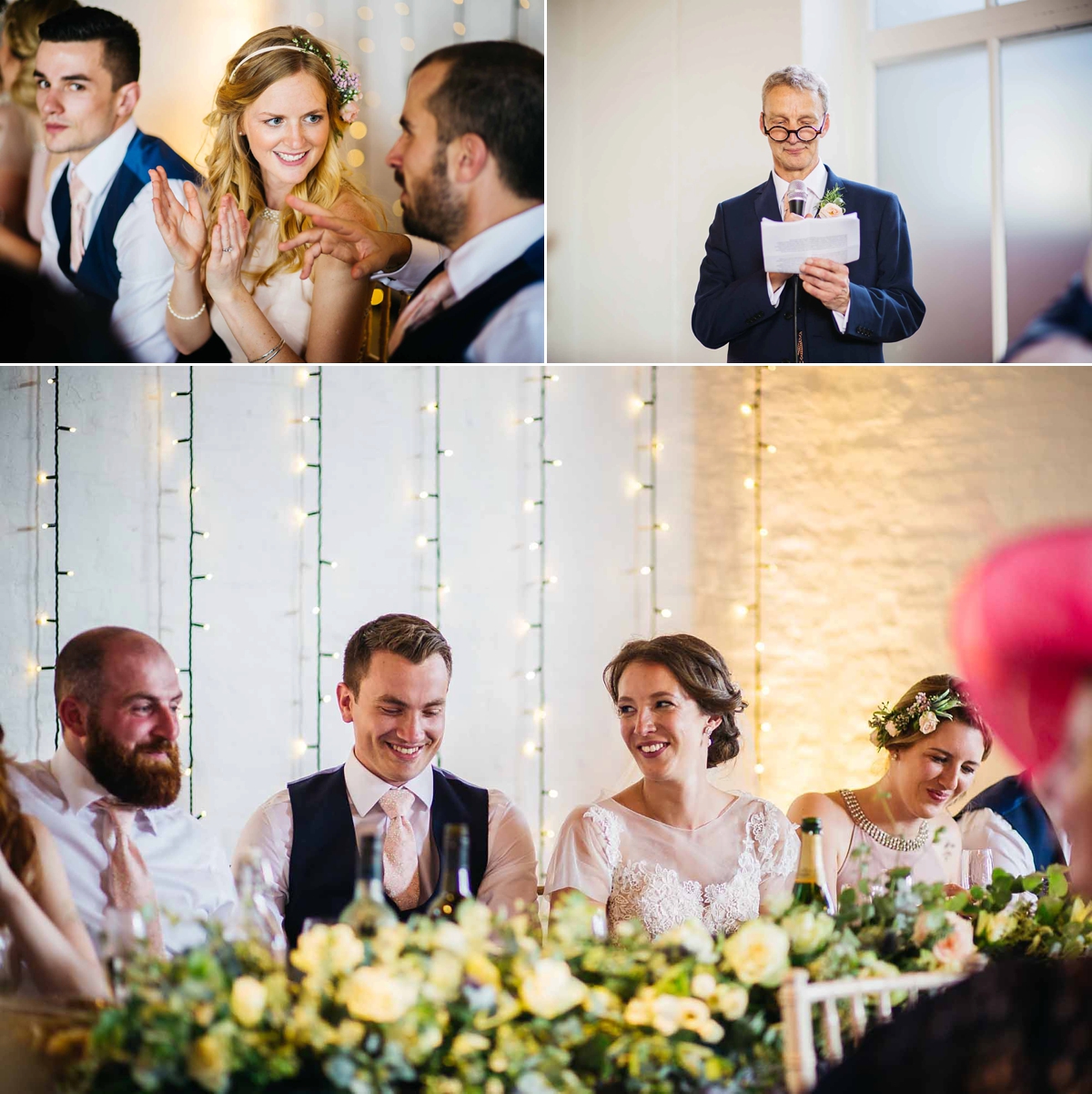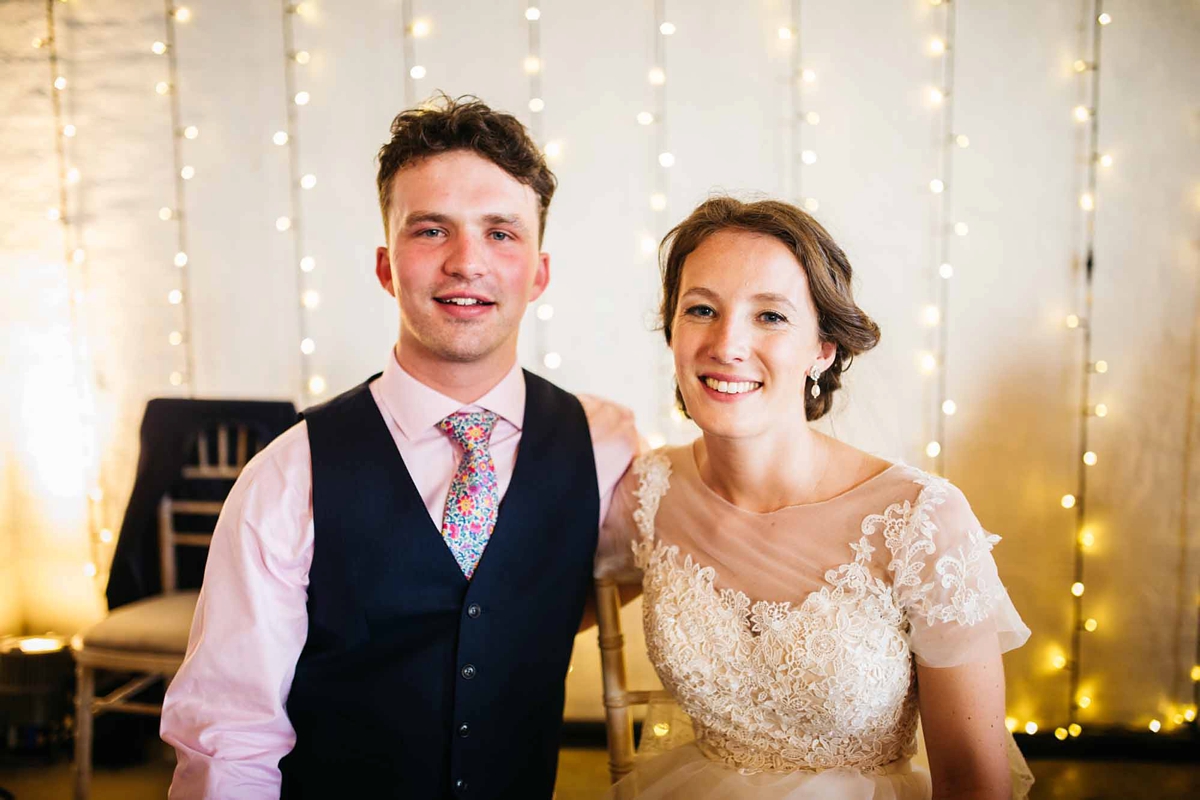 The beautiful  cake was baked by Gareth's mother and a friend.
"We were going to go for a naked finish but decided on a light coloured frosting instead.  We then covered the cake in foliage and flowers. It was very organic but worked perfectly."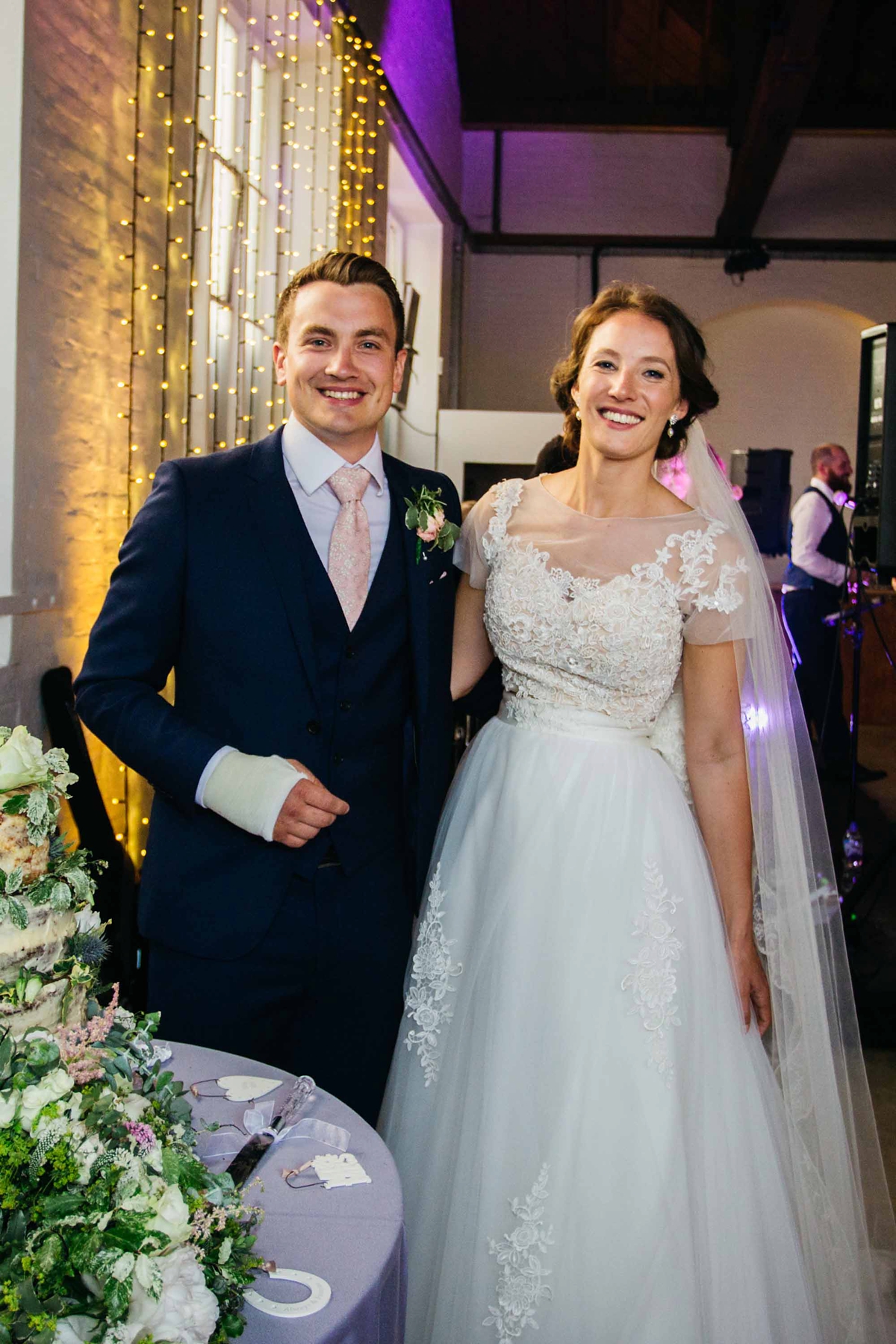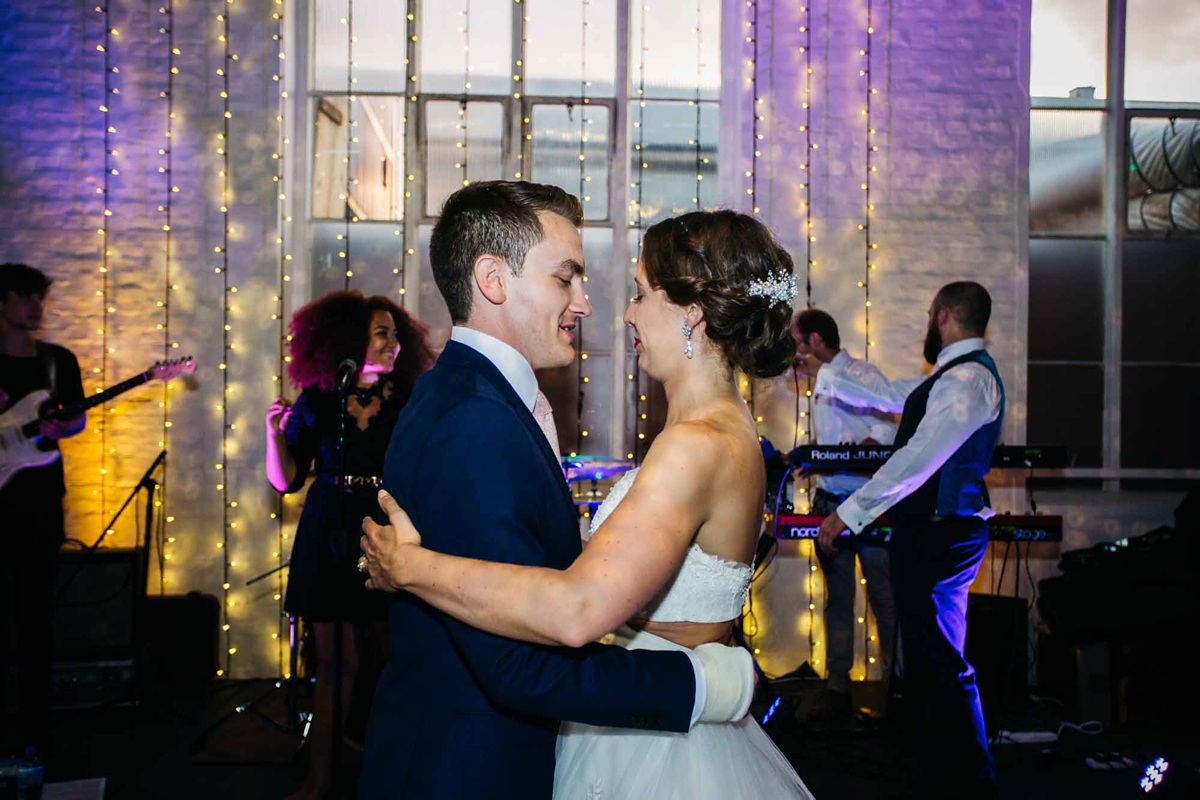 For entertainment Gareth and Imogen hired the Rhythm Junkies through Tailored Entertainment who made sure the dancefloor was heaving at all times.
For their first dance Imogen and Gareth chose 'Rule the World' by Take That as apparently Gareth is known for his love of boy bands and they went to see the band when first dating.  It also had a slow beginning which meant plenty of time to twirl under the mirror ball.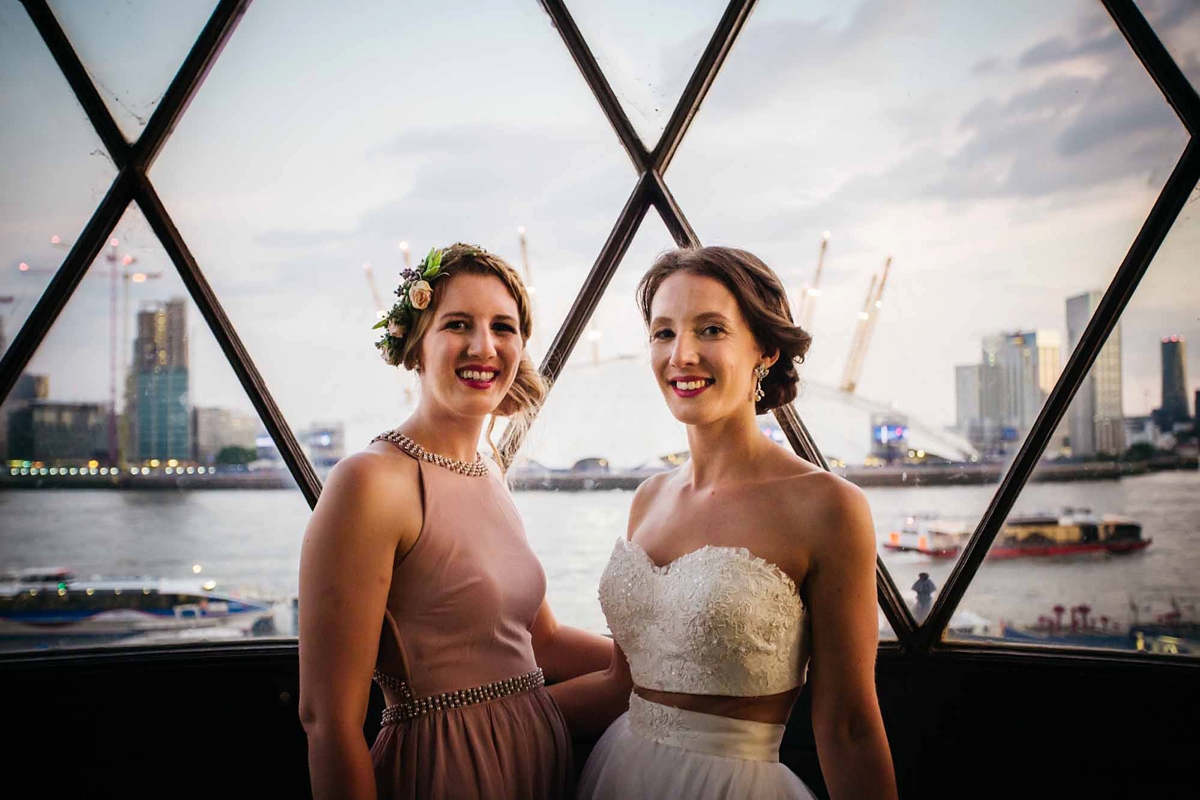 Words of Wedded Wisdom
"Work out what matters to you the most and spend your money on this.  To me it was all about having the venue which was the most expensive part of the day but it gave us the most amazing pictures and  tied the wedding together perfectly.
Go for an engagement shoot if your photographer offers this, its totally worth the money as on the day we were totally relaxed.  Also get a second shooter for those additional shots.
Finally, have fun!"
Huge thanks to Imogen and Gareth for sharing this glorious day.  For more London weddings, take a peek here for endless inspiration.
S x