Hello lovely ones, I hope you're well and not suffering from any back to work blues! When this incredible wedding set in the majestic Scottish Highlands landed in my inbox, I spontaneously burst into my own version of a ceilidh happy dance.
The very aptly named newlyweds Adam and Eve chose a spring day for their stunning nuptials on the 28th of May 2017 at Inshriach House, Aviemore. Let's begin with a snapshot of their beautiful day, created by the incredibly talented Eileen of Sugar 8 Wedding Films.
"Adam and I always wanted to get married in the Scottish Highlands as it is probably our favourite place in the world and to us, the most beautiful. I have been going up there on holiday every year with a big group of family and friends every year since I was born (my parents started the tradition when they were at university and it's still going strong although the group has evolved over the years!) and Adam and I love camping there too so the area has a very special place in my heart."
Images by Mark Pacura Photography
"We liked the idea of our wedding having a similar feel to this holiday – our nearest and dearest relaxing and having fun together in beautiful surroundings as usual, but with a wedding at the end of the week! Inshriach House was the only venue we actually viewed as we fell in love with it as soon as we found it.""We fell in love with Mark Pacura's photography when we saw another wedding he did at Inshriach. He was great to work with on the day and we got just what we wanted – relaxed, natural pictures that capture the beauty of the venue. We are delighted with our pictures and would definitely recommend him."
Have you discovered the utterly beautiful designs from the Romantique collection by Claire Pettibone? Eve's stylish lace gown was the 'Cheyenne' style, complete with an illusion neckline, motifs, and a train.
"When I got engaged I started pinning images of dresses I liked and when I looked at the Pinterest board later I discovered that I had pinned this dress several times! I loved the shape of it, the train, the beautiful back detailing and the style of the lace. It seemed relaxed and comfortable so appropriate for the kind of wedding we were planning. I also liked the fact that it was quite timeless looking – neither old fashioned nor modern, and a little bit different."
"I visited Blackburn Bridal as they were our nearest Claire Pettibone stockist and 'Cheyenne' was the first dress I tried on! As predicted it was perfect – I usually have a good idea of what clothes suit me – so after trying on a few other dresses for fun I bought it then and there. It was the only dress shop I visited and they were lovely."
"Hair was by Suzanne McMahon with makeup by Sam Whitby and both were lovely and great to have around on the morning of the wedding."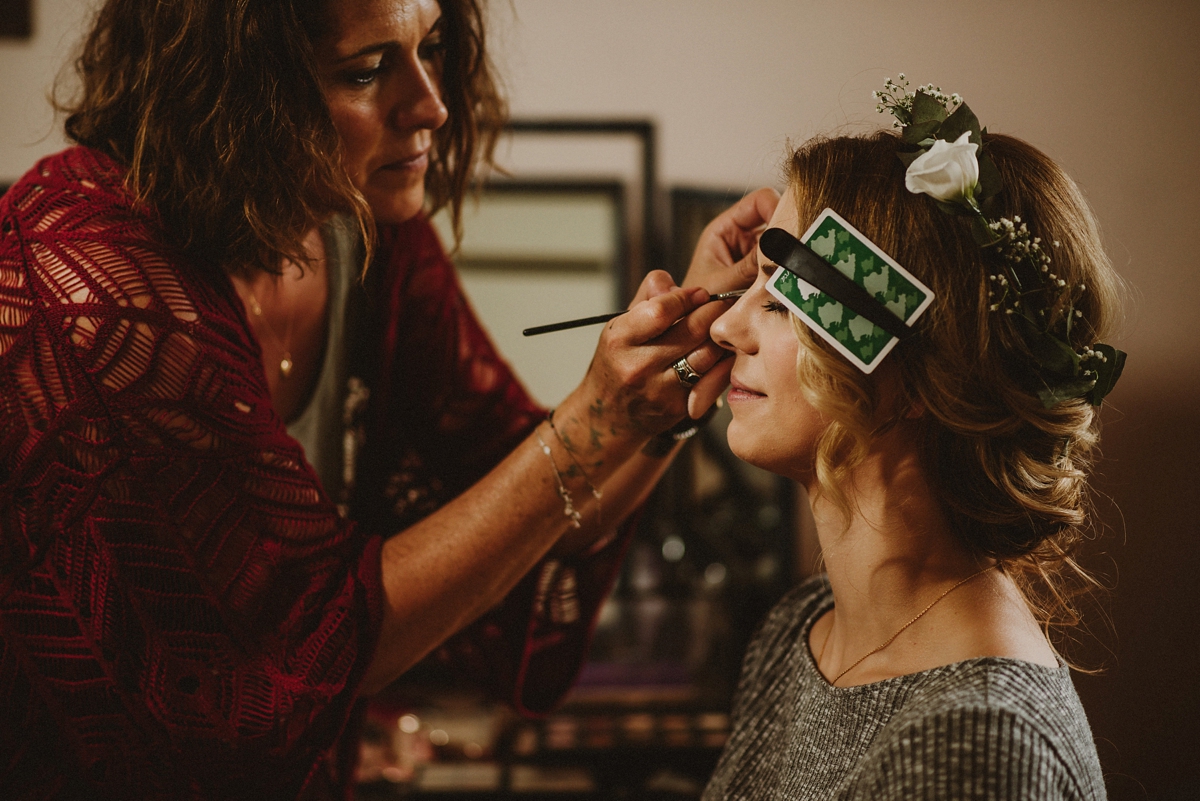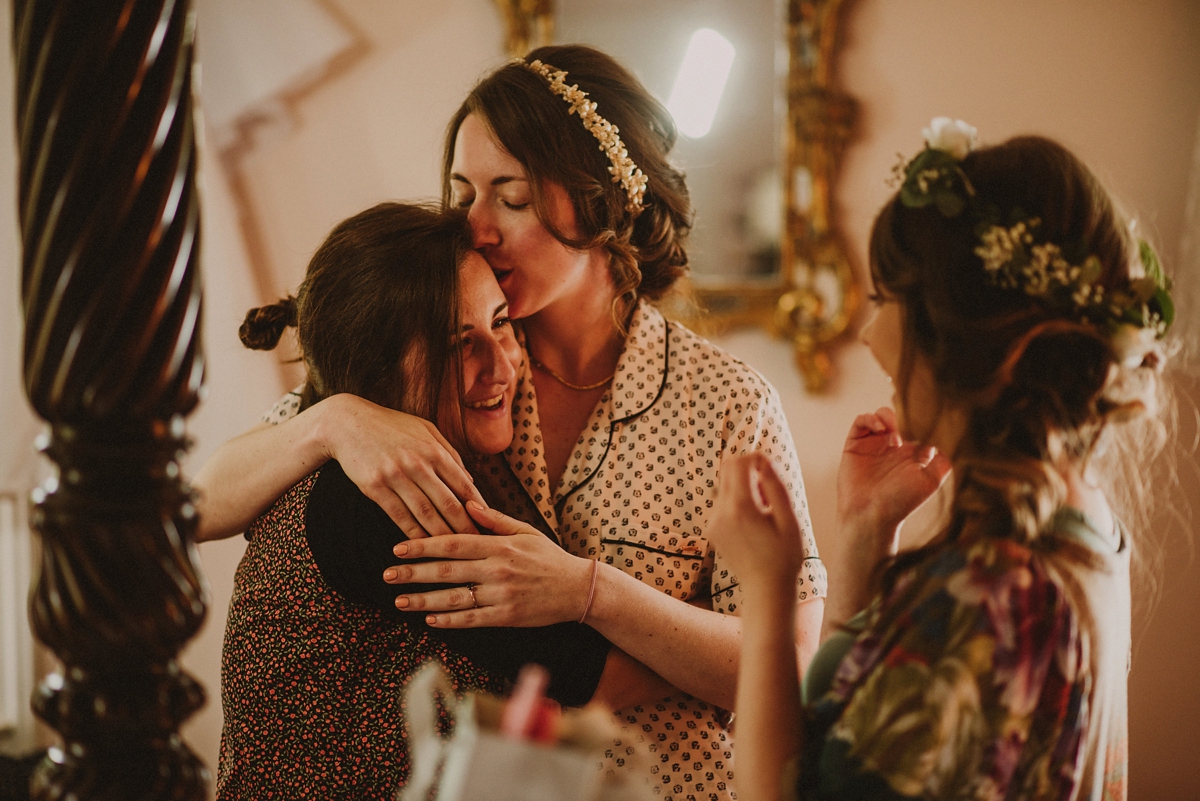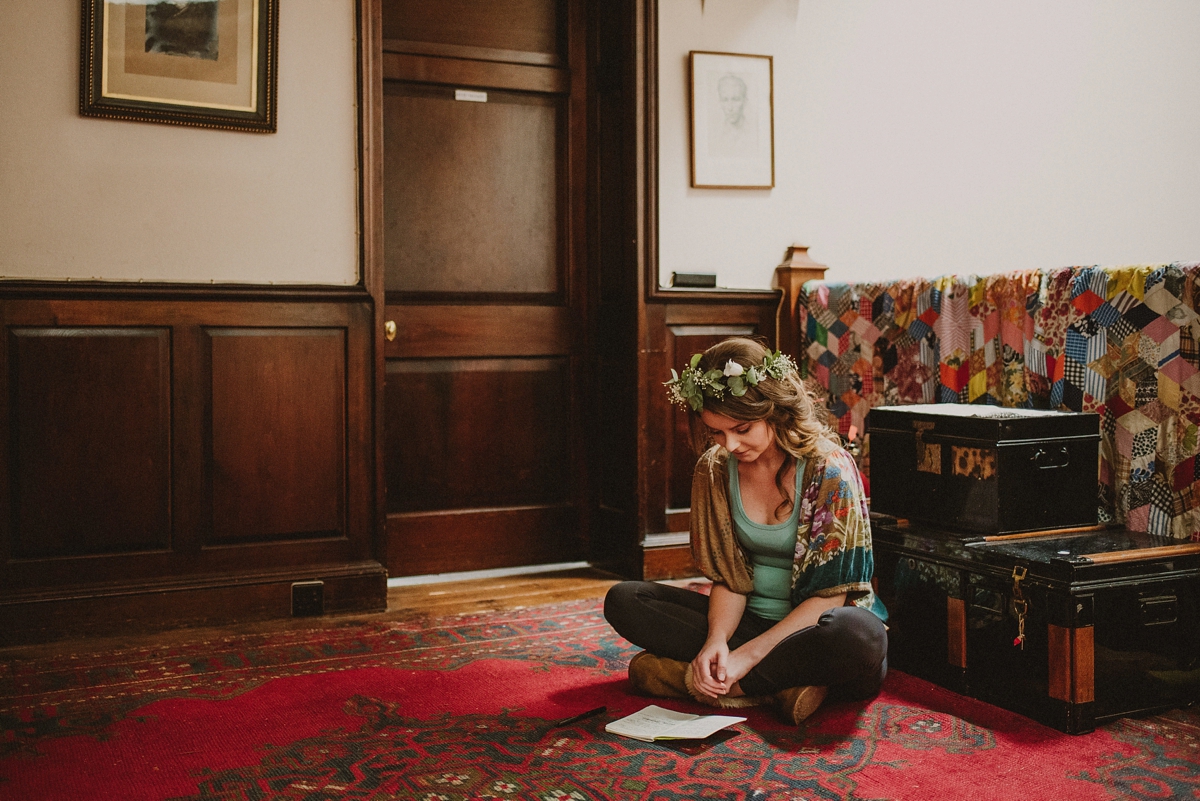 The pretty blooms were sourced from a local florist and others were either grown by friends or picked from the venue's grounds. Then a team of helpers prepared the stunning arrangements. What a great way to involve friends and family in the wedding prep!
"My maid of honour's mum was in charge of the flowers and she had a proper production line going on with lots of helpers making the bouquets, table arrangements, archway, hoops hanging from the ceiling and little posies which went in beer bottles. My brief was that I wanted the flowers to be very relaxed and natural and I asked for them to include a lot of greenery, fragrant herbs and white flowers. I think they did a wonderful job and it was really lovely to see everyone coming together to help make our day special."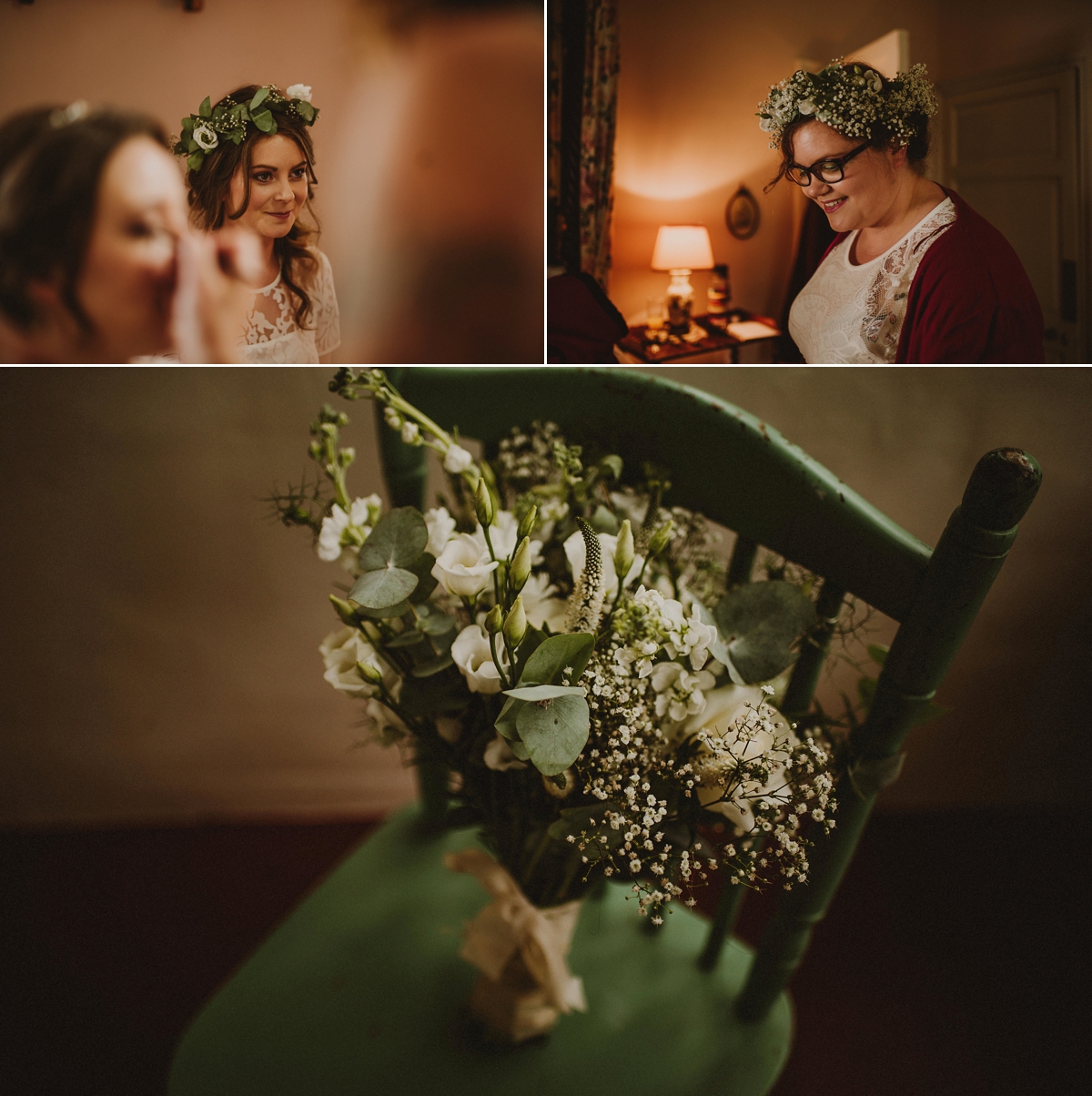 To finish off, Eve accessorised with vintage pearl earrings borrowed from her mum (they were an anniversary present from her dad), a garter borrowed from a bridesmaid, and a spritz of YSL Rive Gauche.
"I wanted a new perfume for the day but after much hunting I couldn't find anything I loved apart from this. My mum used to wear it as a teenager up until when I was very little so I liked that it had that connection to her."
"I'm not particularly bothered about shoes so didn't want to spend too much. I chose a pair of pinky/nude sandals with a chunky heel and ankle ribbons from Topshop. I loved the ribbons which made me feel like a ballerina and they were pretty comfy on the day."
Not only are there the sweetest community of brides-to-be and recent brides in the private Facebook group, but they're super helpful too; coming up with a fab suggestion for Eve and her very special family heirloom.
"I wore a wax flower crown which my grandma wore on her own wedding day 70 years ago! I didn't know she still had it, and when she got it out for me to try on I fell in love. It was still in relatively good condition but she wore it on the back of her head so it was much too big for how I hoped to wear it."
"The Love My Dress Facebook group suggested I have it restored by Waxflower Vintage and she did a beautiful job of cleaning up the flowers and rearranging them to the shape I wanted. It was lovely to be able to wear a something so precious."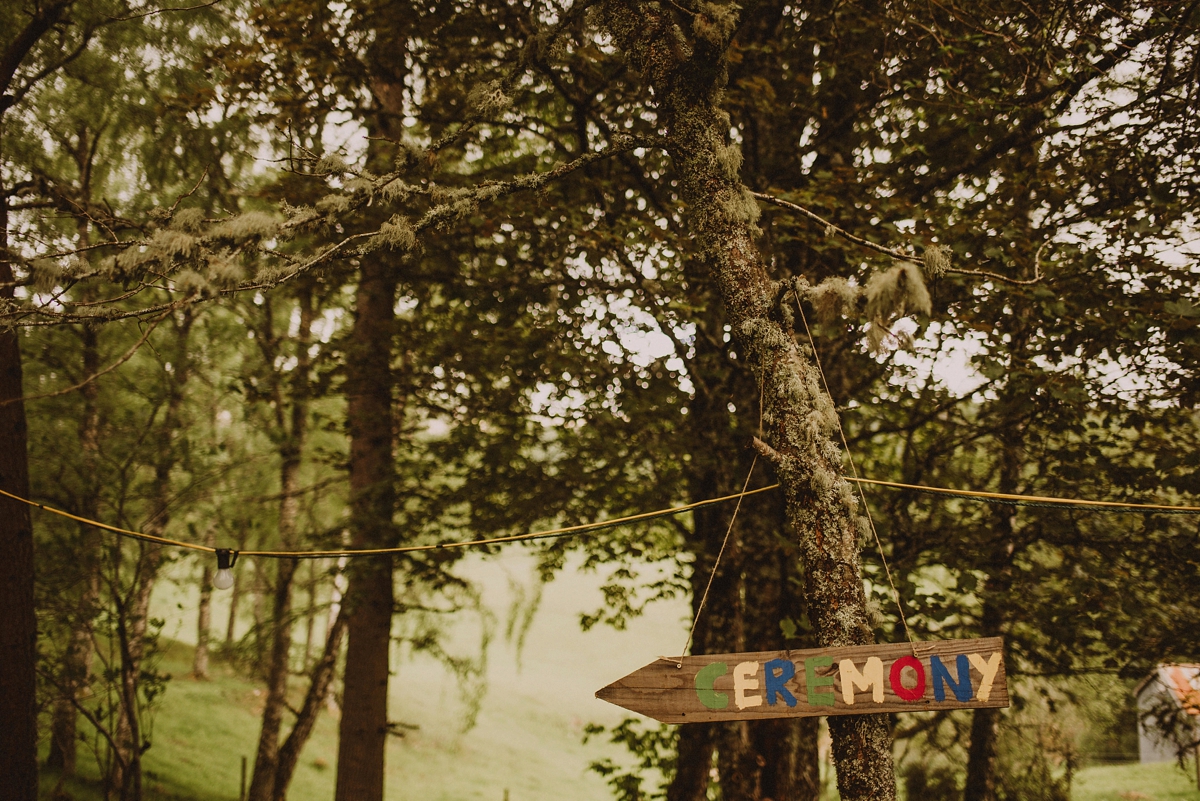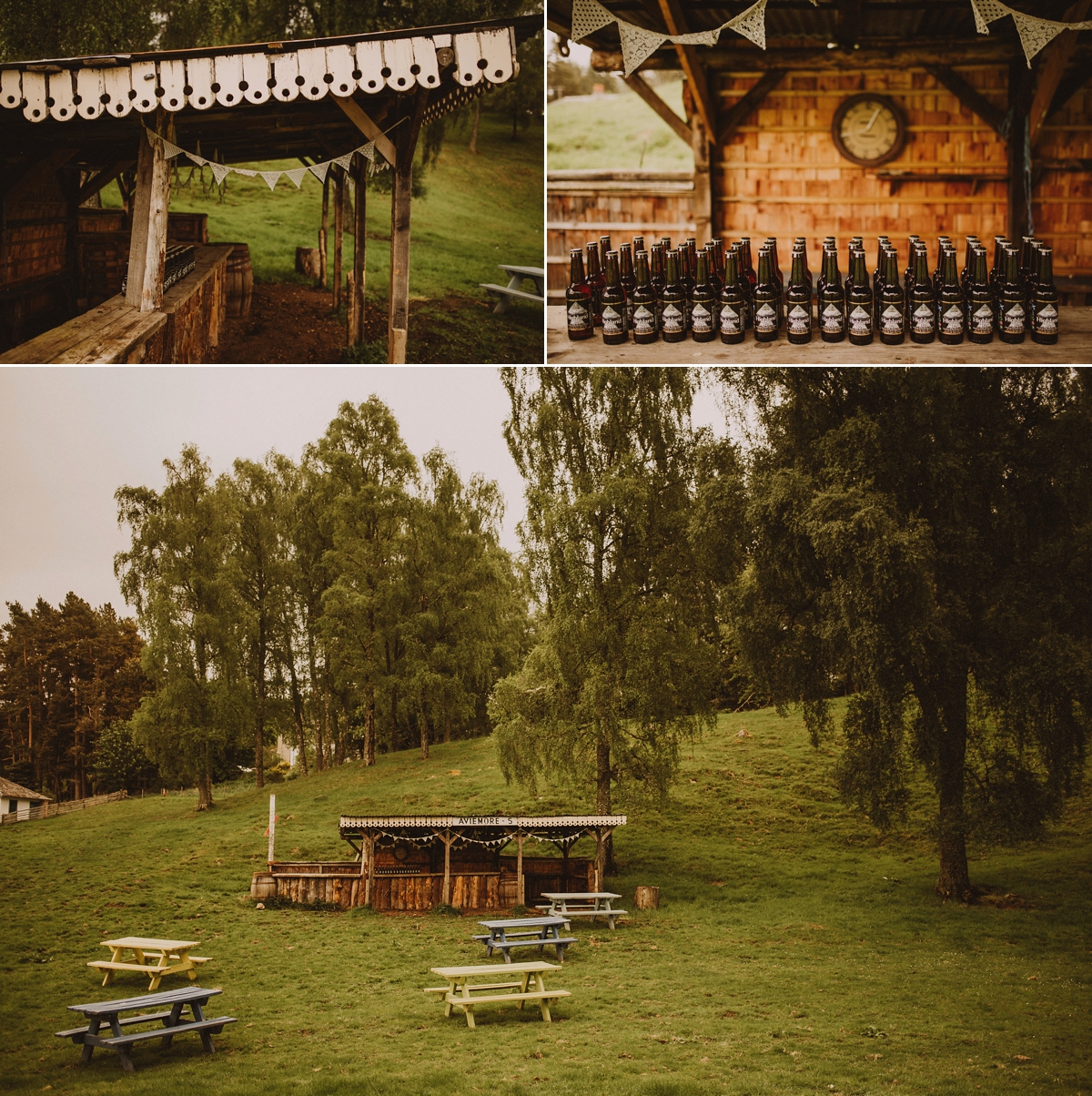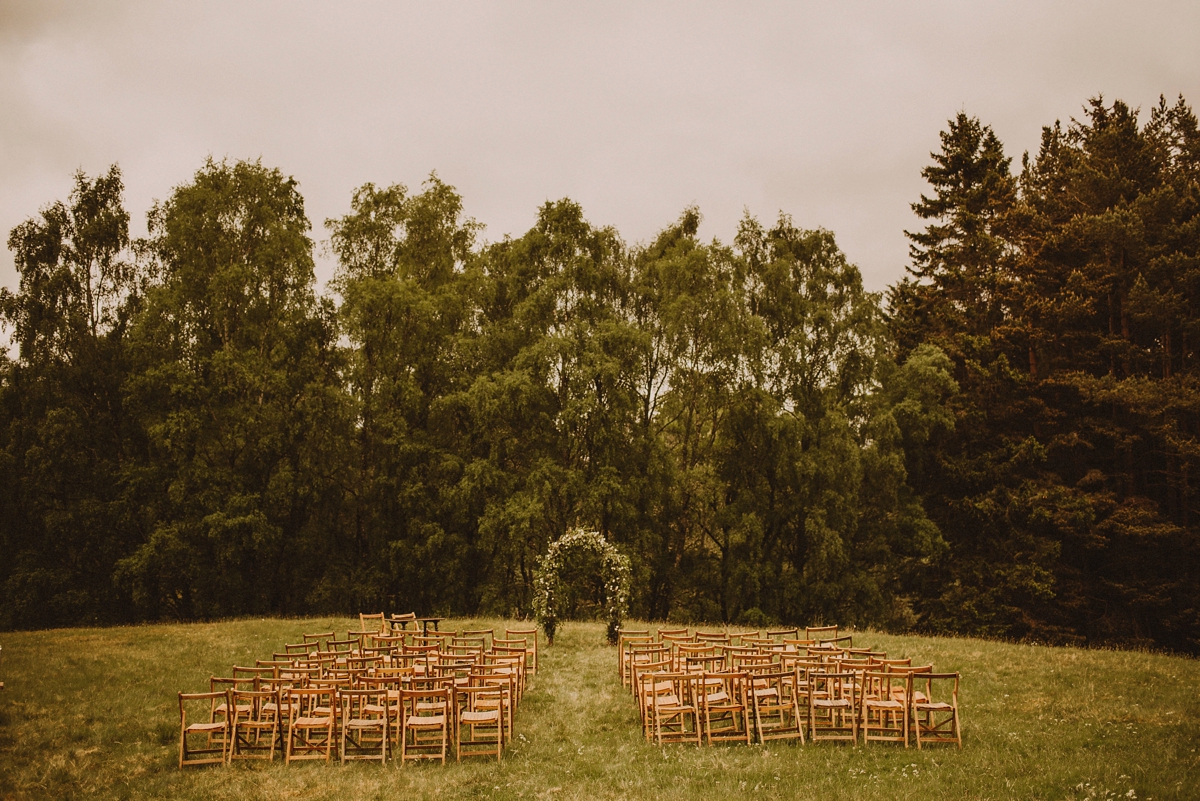 "Adam is in the military and I'm a teacher. We met online (on the site Plenty of Fish!) in March 2013. We got engaged on a trip away for our three year anniversary in March 2016 and so we had been together for just over four years when we got married."
"I will admit that I had guessed Adam was going to propose the weekend he did because he always gets really excited about surprises and drops really obvious hints! His plan was to propose on the top of Ben Nevis as we both love Scotland and hill walking, but unfortunately I wasn't very well on the day and really struggled with the climb."
"I was determined to get to the top (as I had a good idea of what would happen when I got there) but in the end he put me out of my misery half way up while we were having a coffee break. So I did end up being surprised after all!"
The gorgeous maids all chose their own dress – with the brief by Eve to be in white and either short or mid-length – as she wanted them to wear dresses that suited them and that they felt comfortable in, so they all looked and felt their best.
"Their dresses came from H&M, Warehouse, ASOS and one was hand made by my bridesmaid Tiffany! We didn't actually see all five dresses together until the morning of the wedding and I couldn't believe how well they all ended up going together. I love bridesmaids in white and they all looked so beautiful. And my flower girl wore a very similar dress to her mum's dress."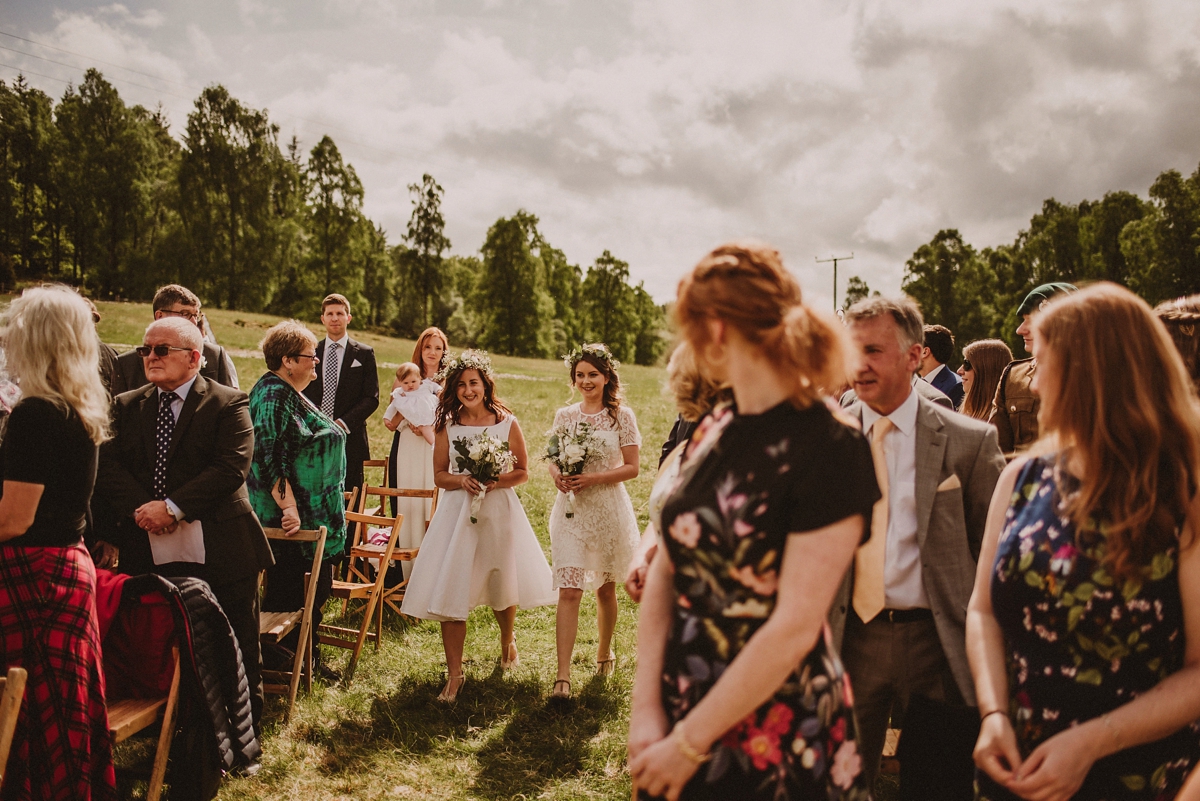 "My bridesmaids wore flower crowns which they each made themselves on the morning of the wedding. We had a run-through in advance and found them very easy to make. The actual crowns were made of eucalyptus, gypsophila, white roses and wild flowers/greenery picked in the grounds. I loved that each crown looked a bit different and I thought they looked stunning."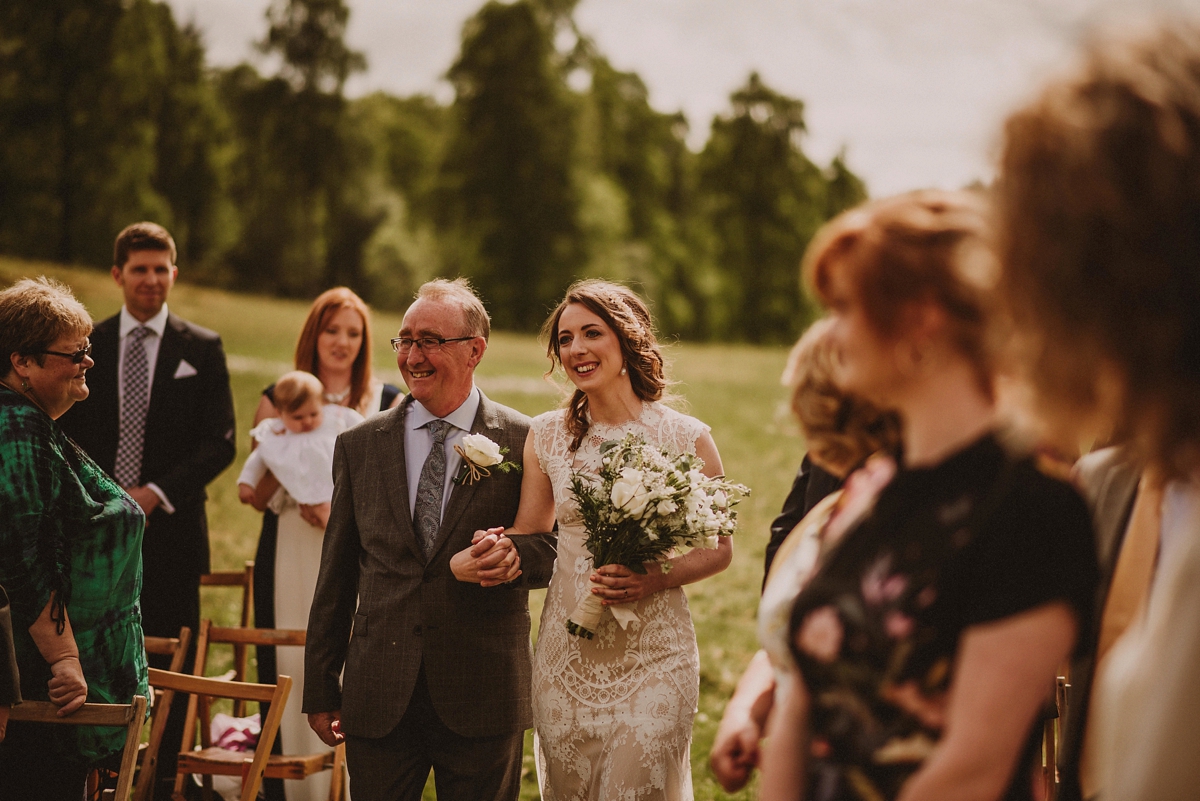 "Adam wore his military No.1 dress uniform which looked really smart and special. His best man wore the same uniform but without Adam's gold braiding. We didn't really have groomsmen as such – everyone just helped out as needed! Most of Adam's friends from work wore their No.2 dress uniforms."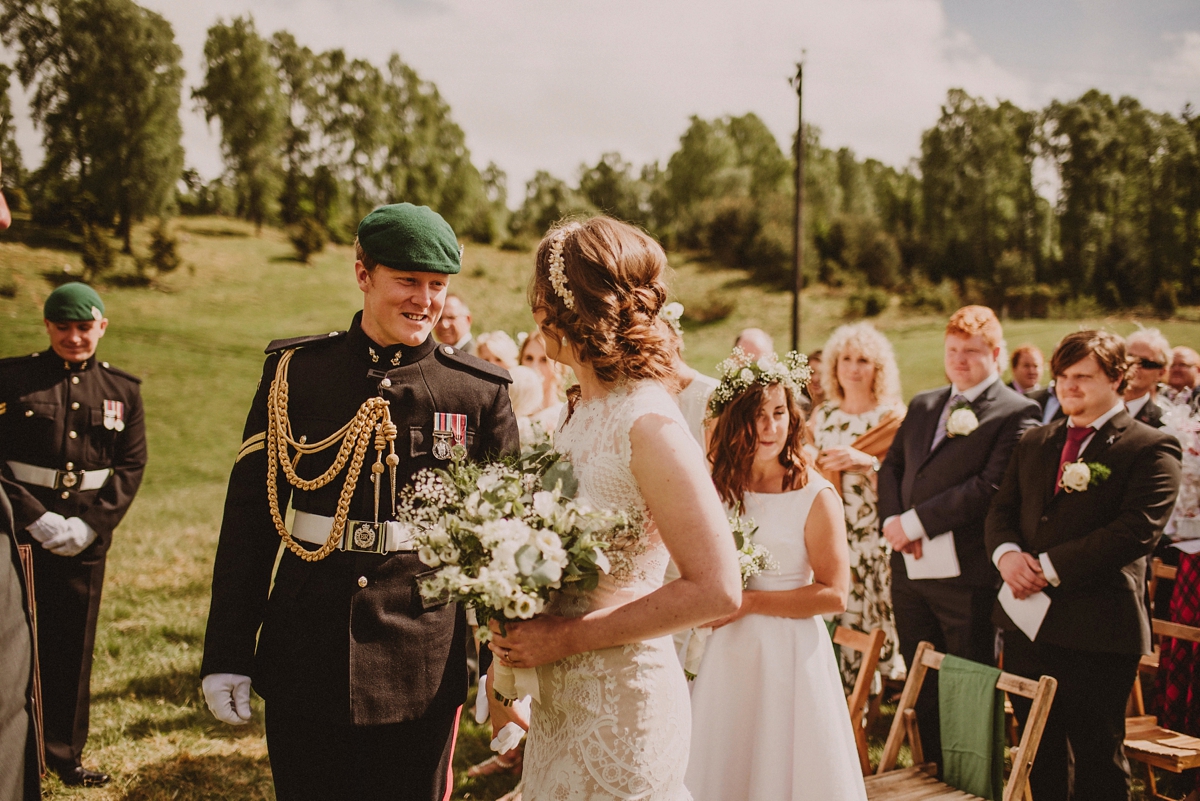 "I have always thought that 'Northern Sky' by Nick Drake would be the perfect song to walk down the aisle to and it really was. I was accompanied by my dad for the walk for our humanist ceremony, which we tailored from scratch."
"It included some words about us as a couple, our thoughts on marriage, a hand-fasting ceremony, our own vows as well as the legal part, and we followed the vows by singing 'Lean on Me' by Bill Withers with all our guests."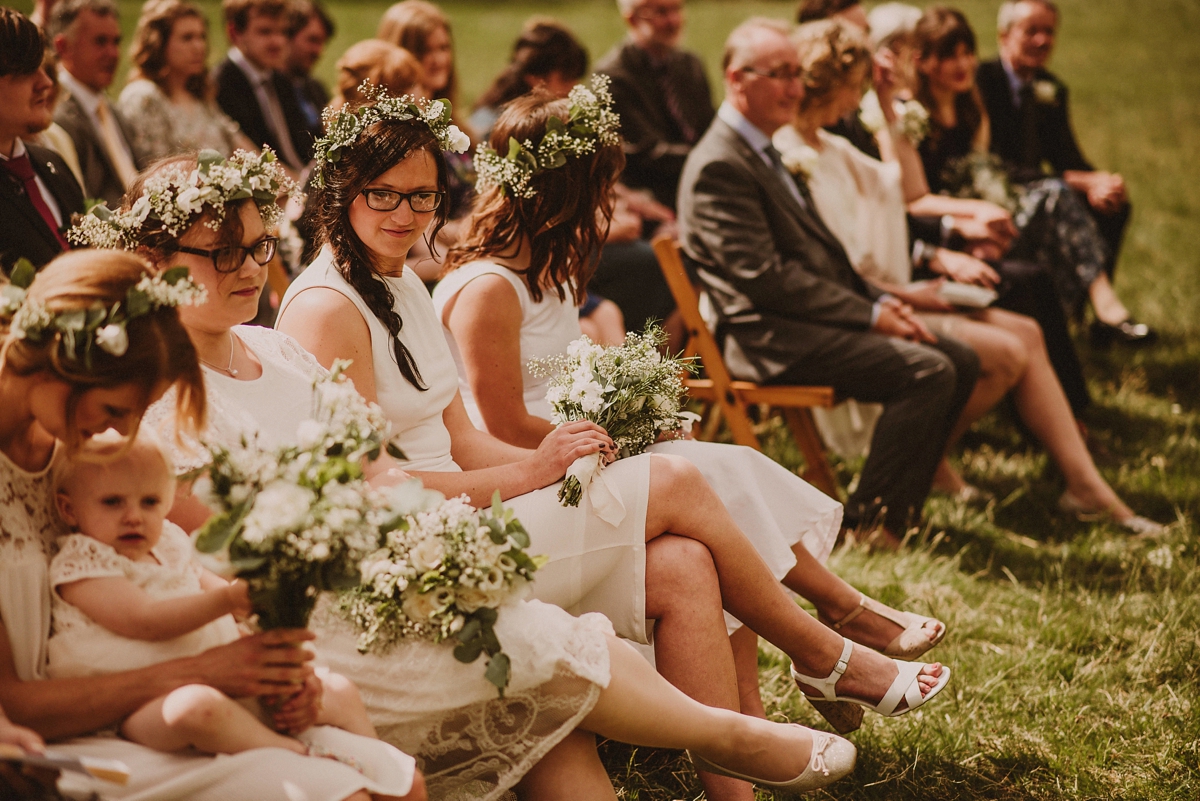 "We chose to do that because there is something so uplifting about singing with others and obviously as it was a humanist ceremony there were no hymns! Lean on Me is a song we both love and sing to each other, and we loved the message of being supported by our family and friends as we journey though this next stage in our life together."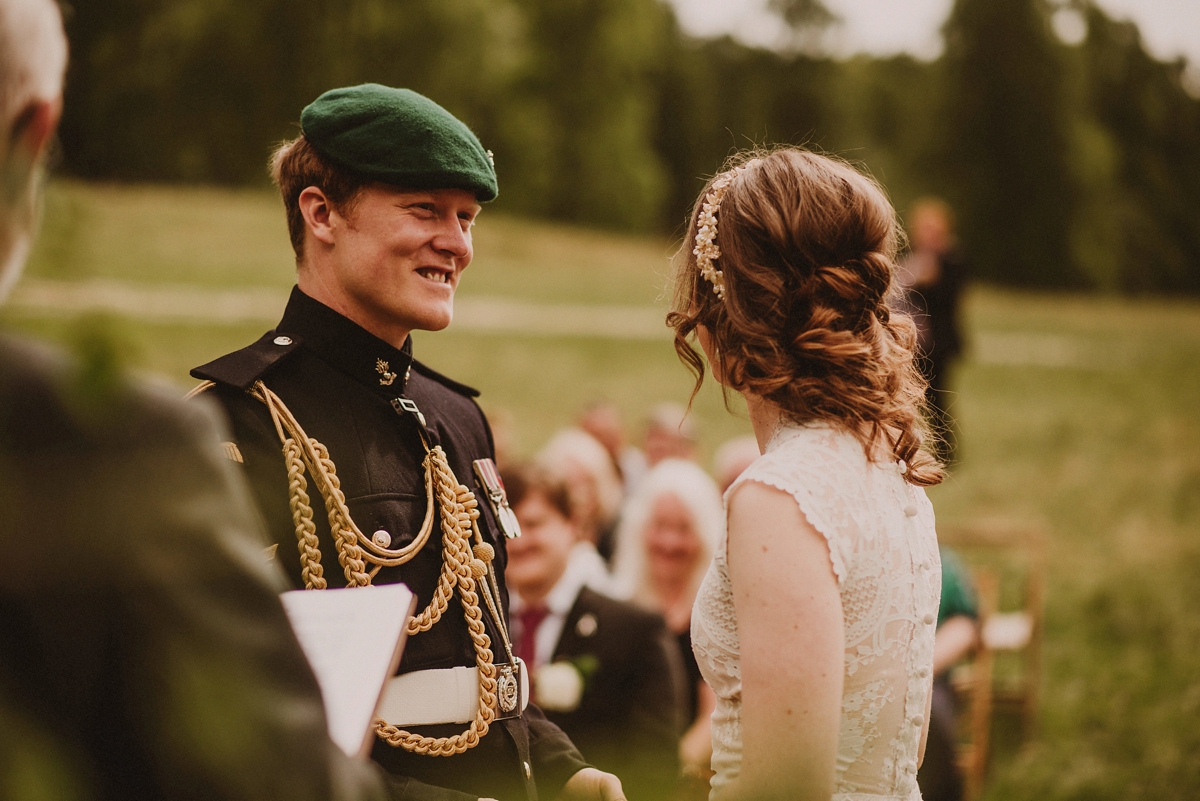 "We had two readings read by our brothers. 'Love Listen' by Ann Gray we just chose because we liked it and our second reading was 'I Like You' by Sandol Stoddard Walburg which is a little book that I bought for Adam on our first Christmas together, and we always quote it to each other! It's long but this is how it starts:
I Like You by Sandol Stoddard Warburg
I like you
And I know why.
I like you because you are a good person to like.
I like you because when I tell you something special,
you know it's special.
And you remember it a long, long time.
You say, Remember when you told me something special
And both of us remember.
When I think something is important
you think it's important too.
We have good ideas.
When I say something funny,
you laugh. I think I'm funny
and you think I'm funny too.
You know how to be silly
That's why I like you.
Boy are you ever silly.
I never met anybody sillier than me
till I met you. I like you because
you know when it's time to stop being silly.
Maybe day after tomorrow.
Maybe never.
Too late, it's a quarter past silly.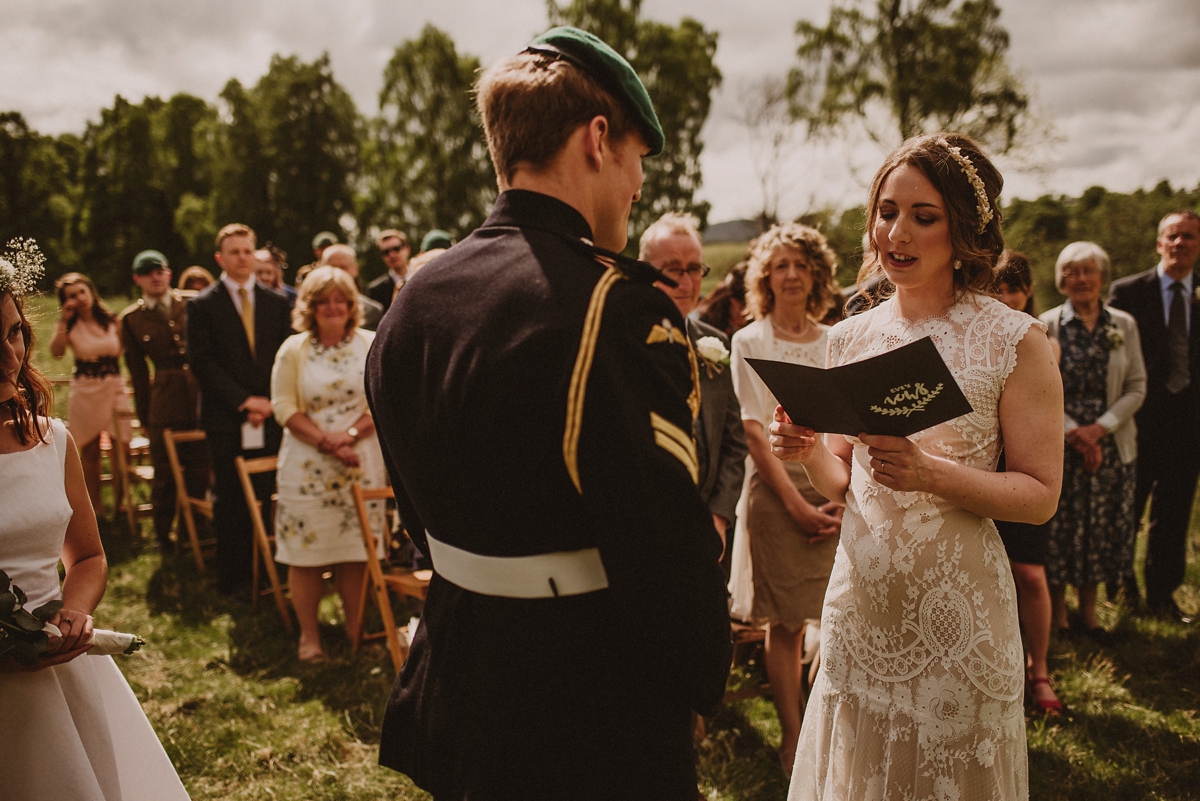 "We chose plain, rose gold bands from 77 Diamonds. We liked the idea of our rings being matching, and we went for rose gold to go with my rose gold and black diamond engagement ring. I love them and think the rose gold is really flattering and a little bit different while still being simple and classic."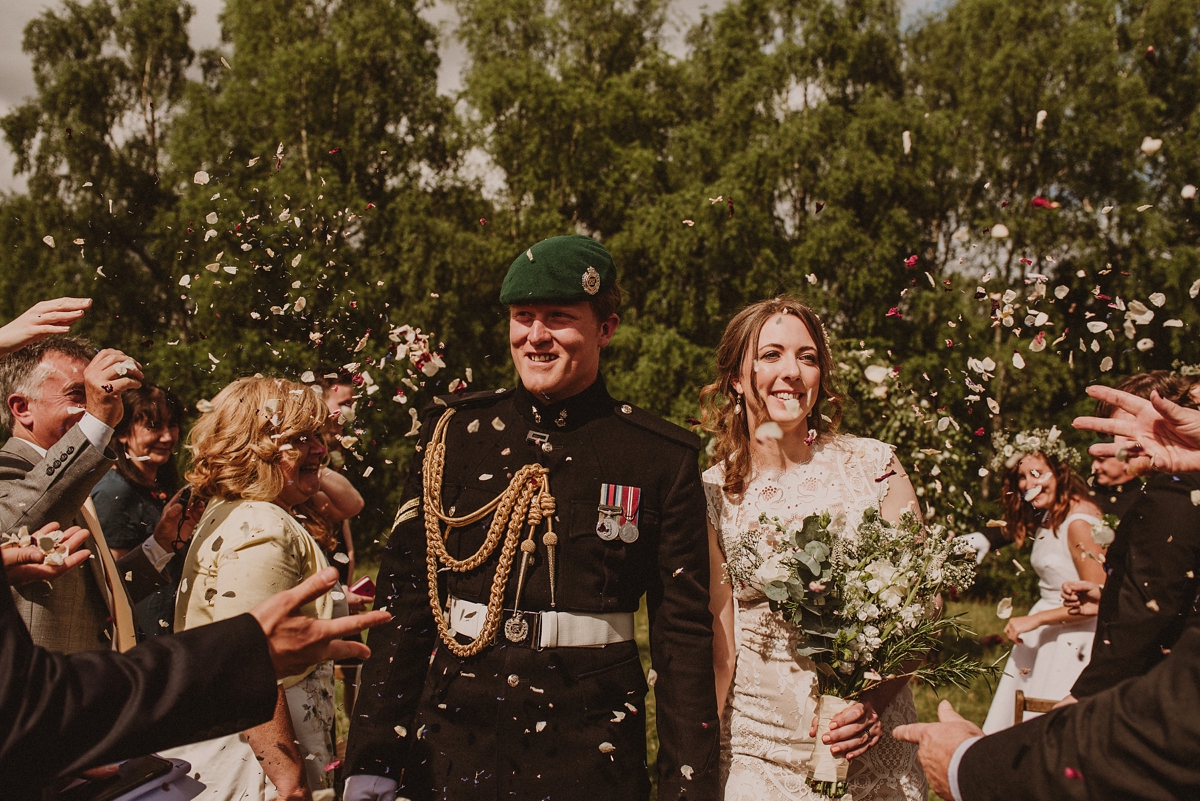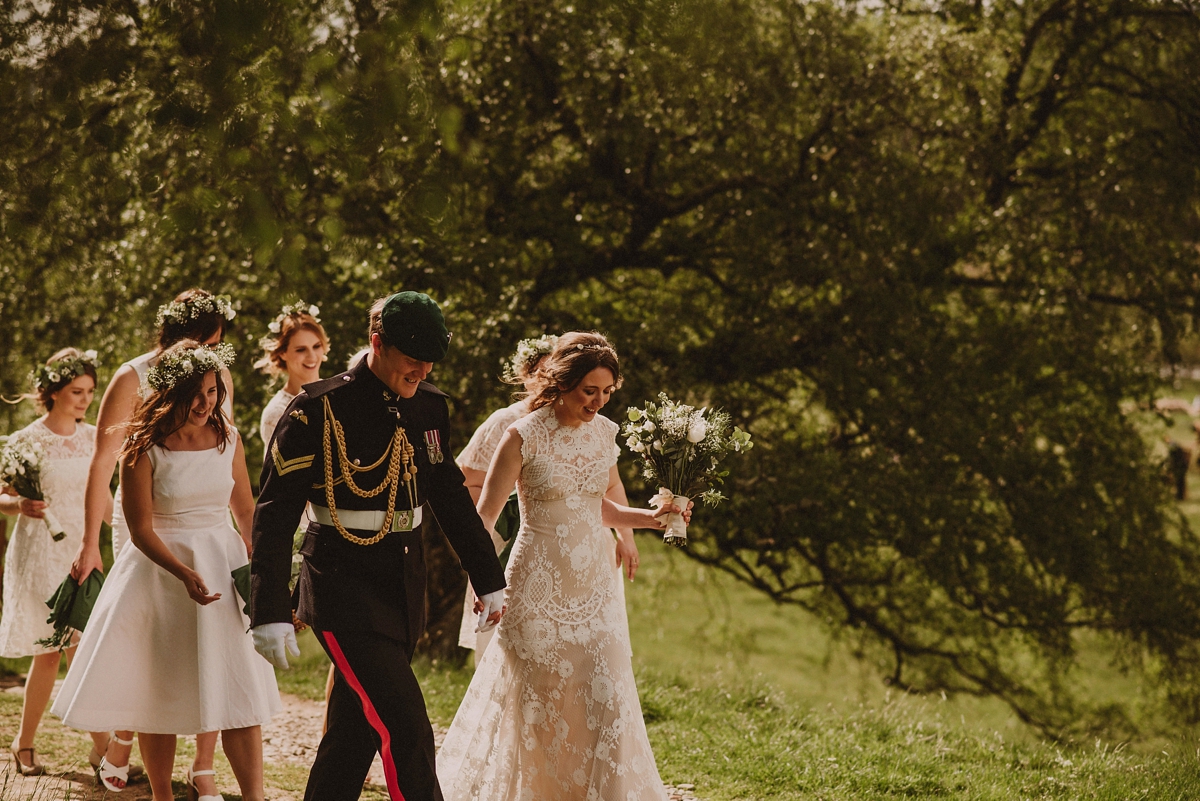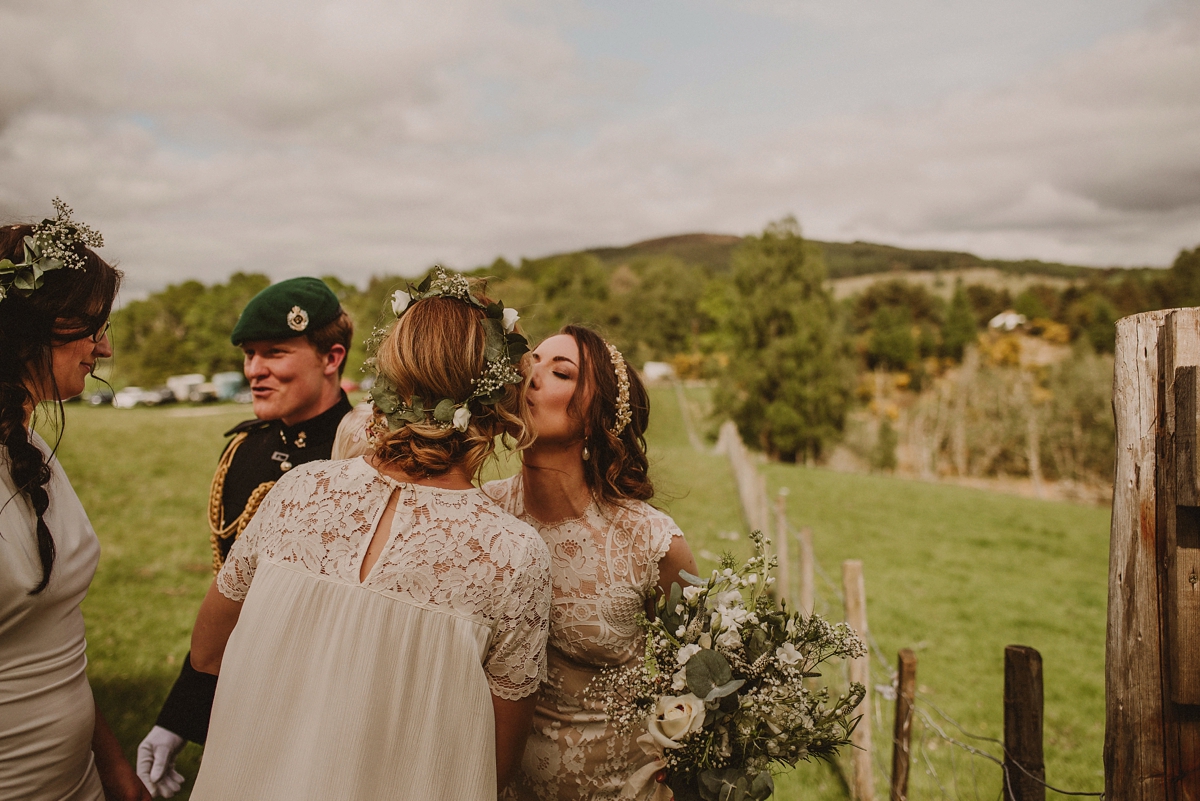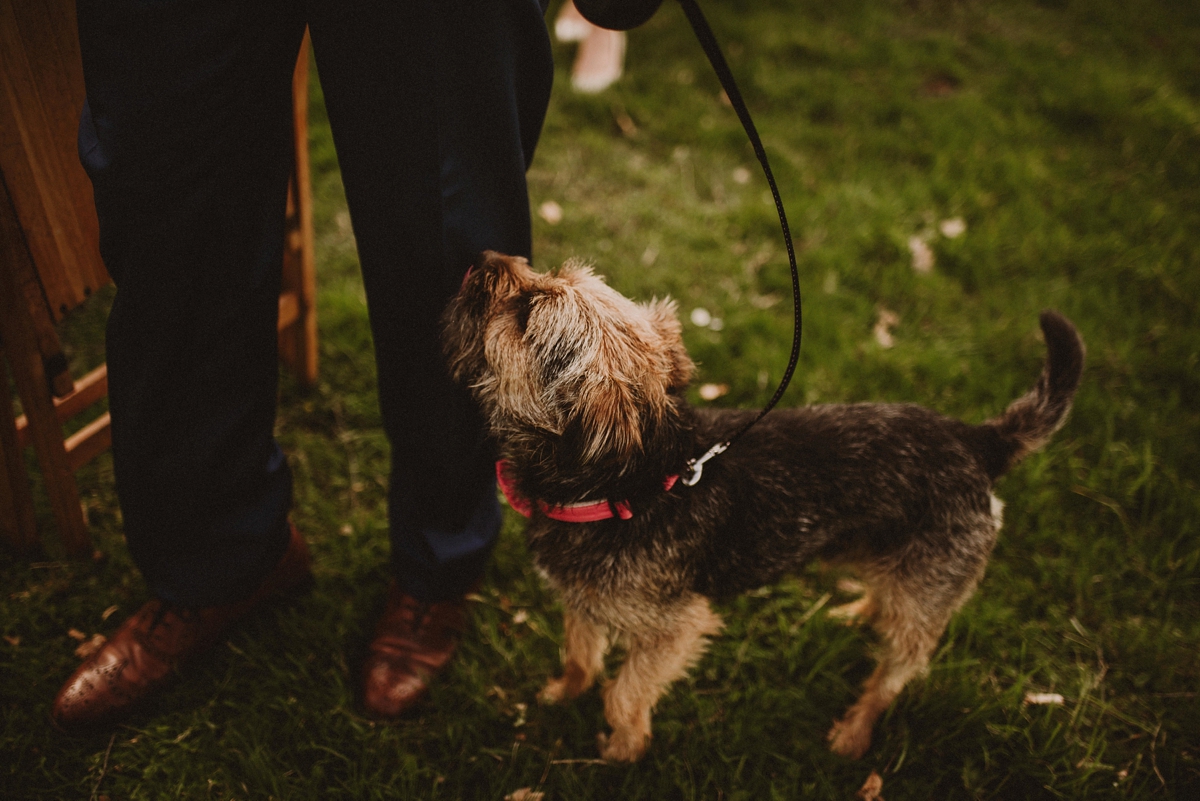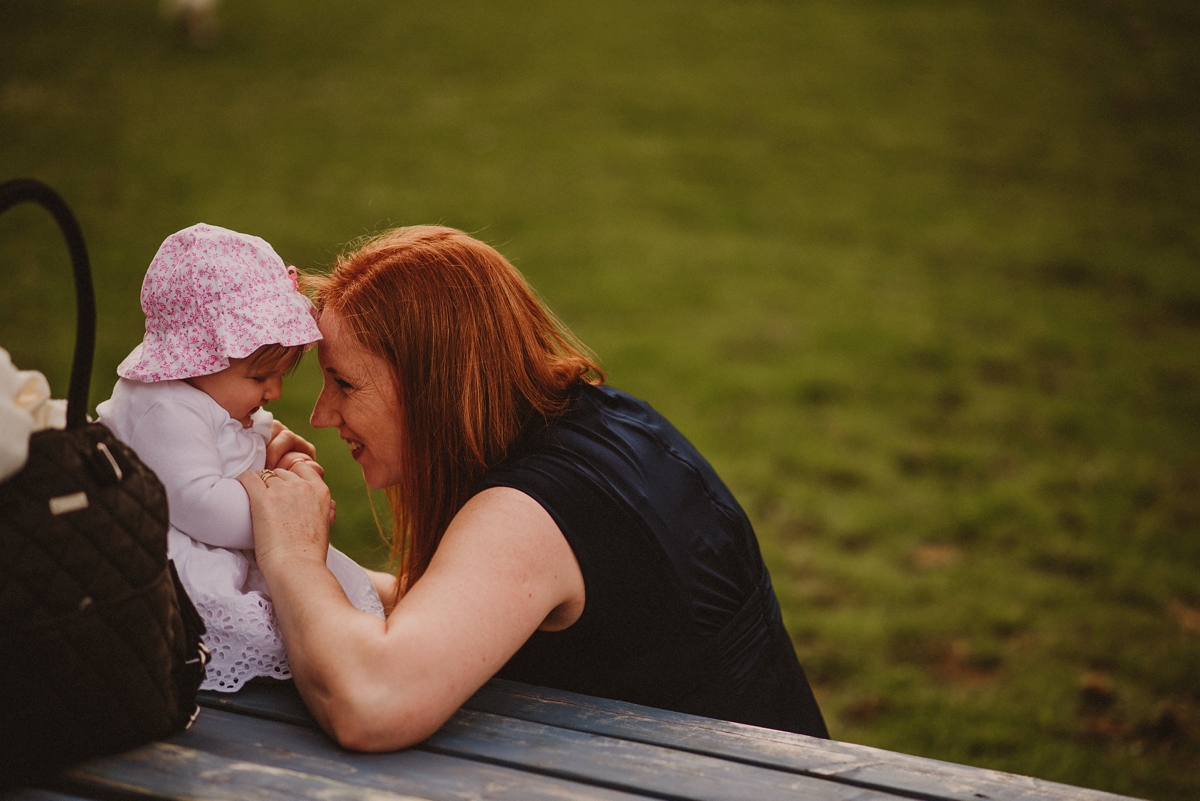 Eve and Adam were keen for their wedding to be relaxed in style with lots of natural elements to fit in with the beautiful surroundings. Eve made all the invitations, table plans and signs herself and the vintage style wooden tables and chairs were hired from Virginia's Vintage Hire and various other bits of furniture and props were brought into the marquee from Inverhall Marquees from the house.
"I made the name places by spraying plastic animals gold (I tried to choose an animal which suited each person!) and writing each person's name on a brown luggage tag tied around the animal's neck. I went on a calligraphy course before the wedding at Quill in London which was a lovely day out with my mum which helped me in making all the stationery and I was pleased with the results!"
"We made a big wooden photobooth frame during the week before the wedding, hung all our props from a coat stand, and set a camera up on a tripod in front of it."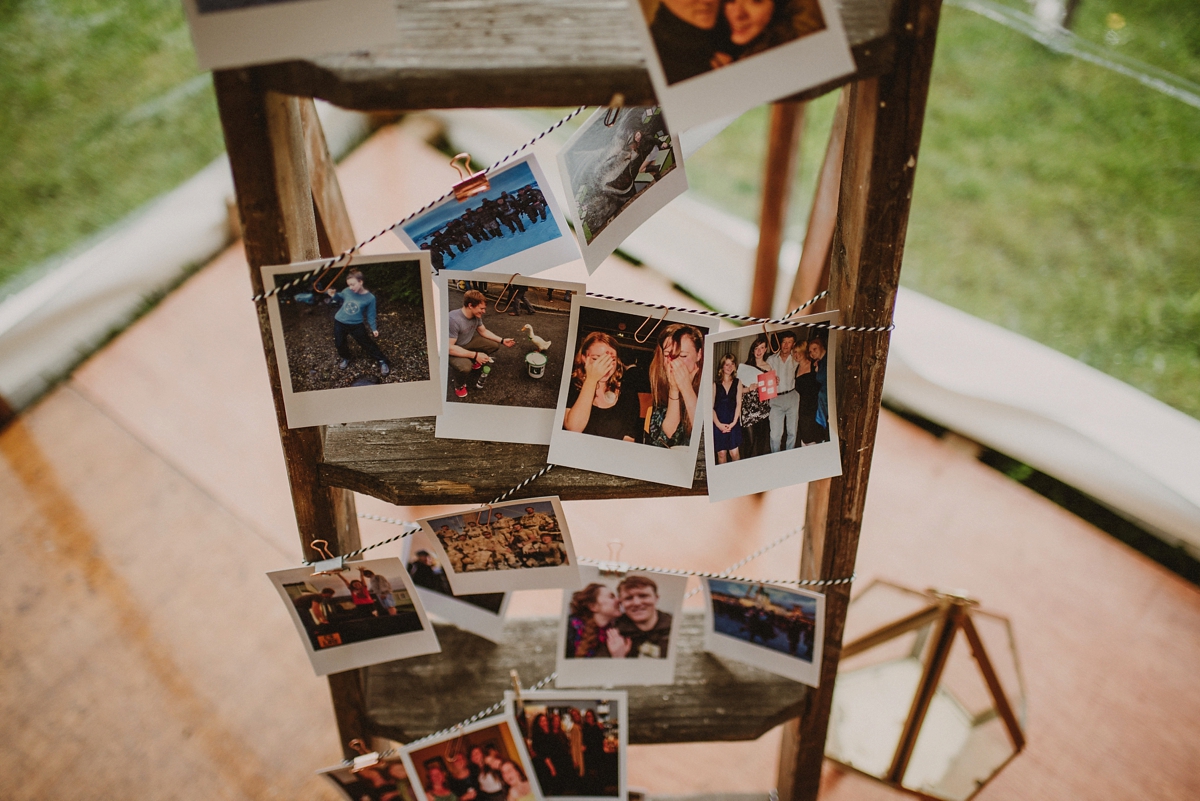 "On the tables we had beer bottles with pretty labels which we had spent the year collecting (Adam is a huge craft beer fan) and we filled some of them with candles and some with flowers. We had lots of fairy lights around the marquee and in the flowers on the table, and lots of tealights around the room in various holders I had collected over the year. The white tissue papel picado came from Viva La Frida and looked beautiful hanging from the ceiling."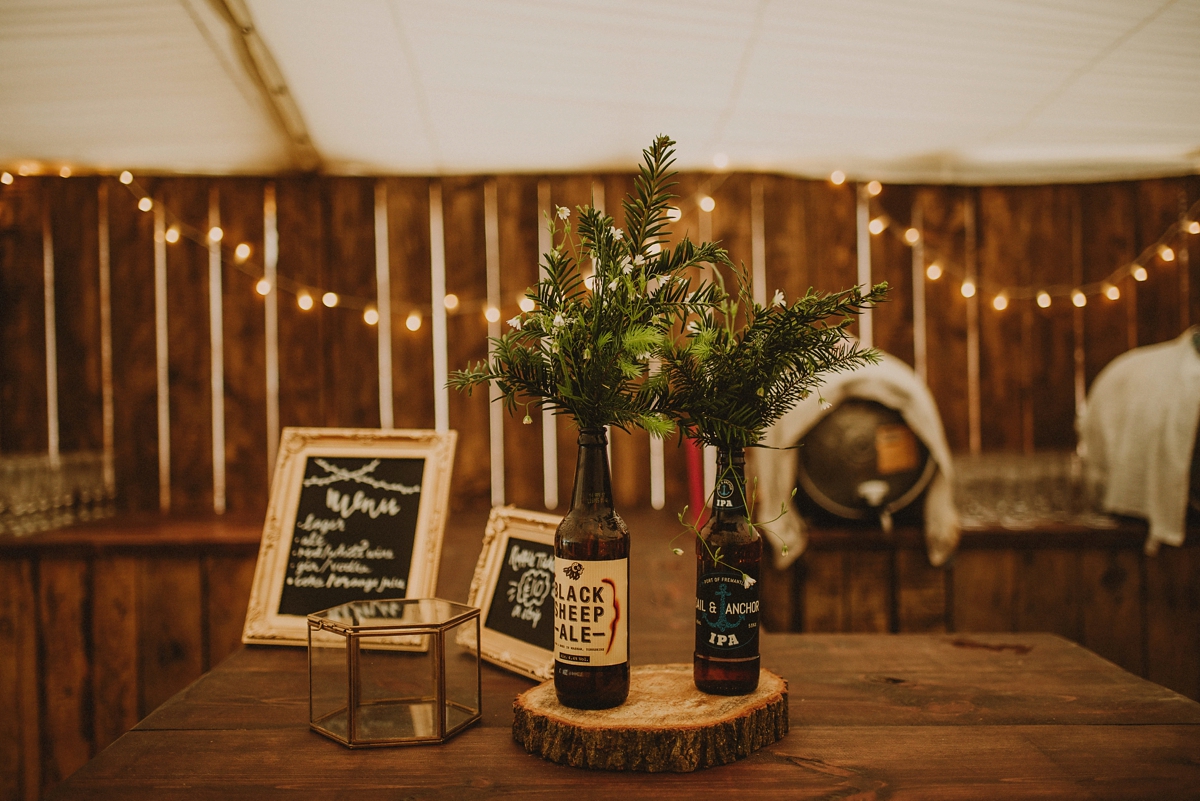 The bride and groom sought caterers Wild Rover Food to provide the delicious feast.
"We loved our caterers. Their food is sustainable, ethical, seasonal and locally sourced wherever possible, which we love, and they cook it on site in their field kitchen. We loved how they came out and told all the guests about the food and its provenance before the meal, and we had delicious sharing platters and a family-style meal (an amazing venison stew) which one guest from each table was nominated to serve. We bought the drinks from Majestic Wines and barrels of local ale from Cairngorm Brewery."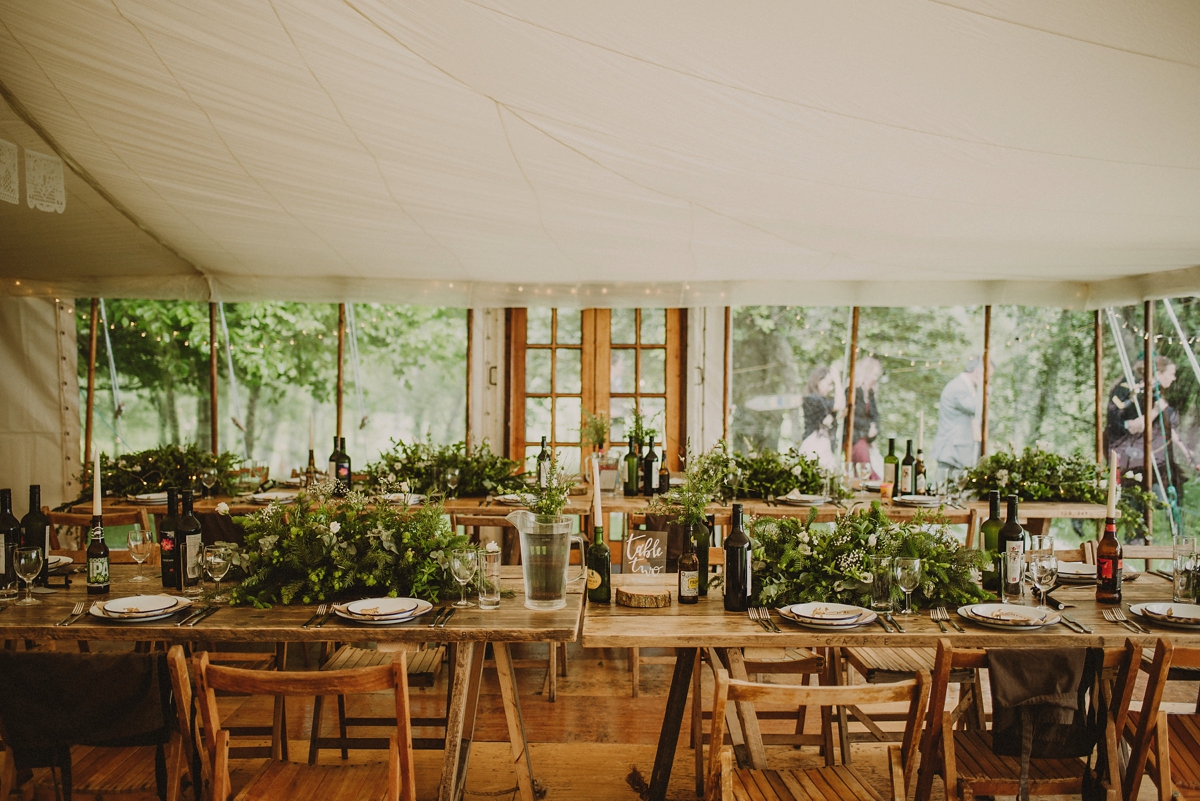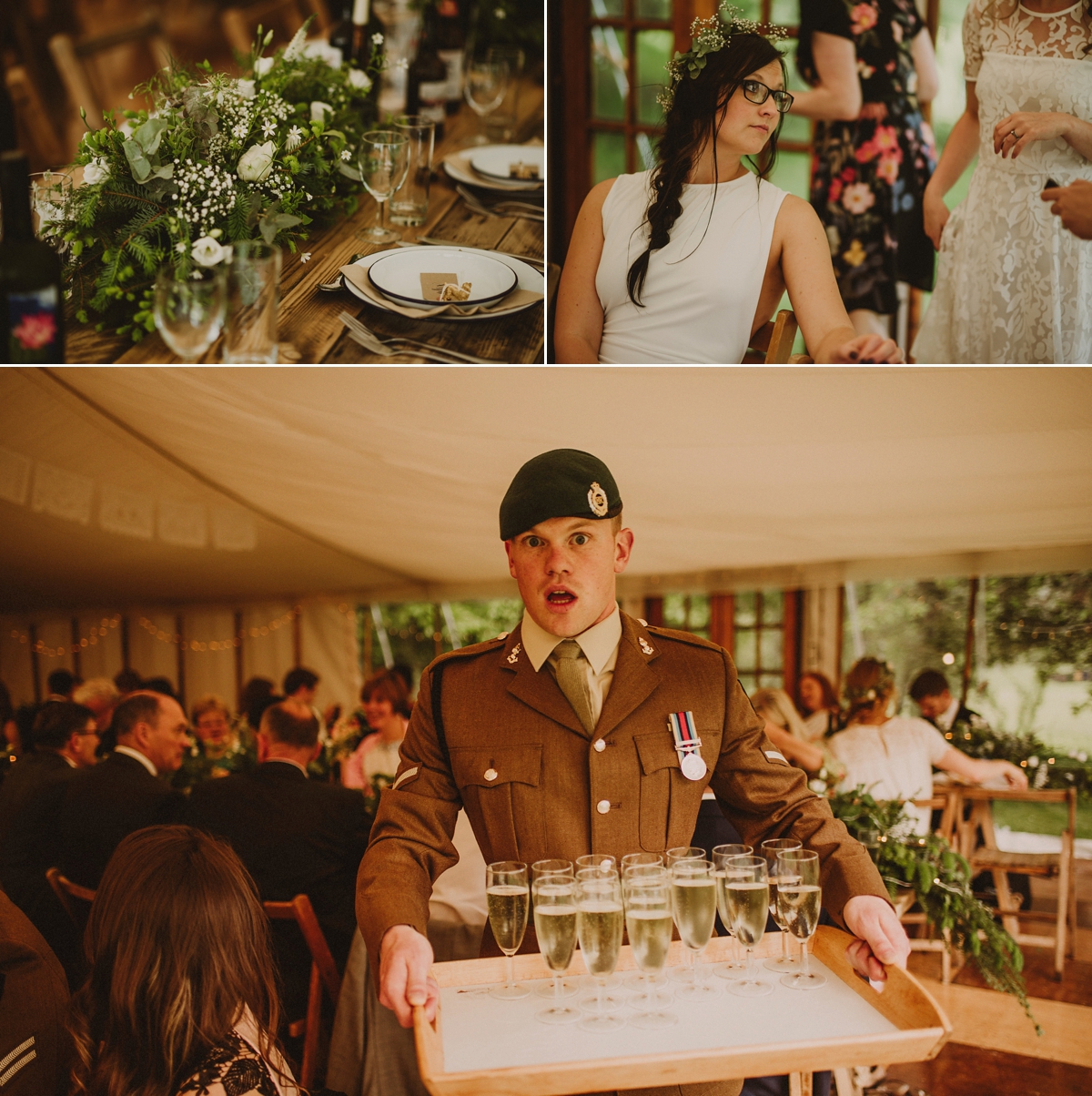 "I was only ever going to ask my mum to make our cake as I have never had a piece of cake I have enjoyed more than my mum's! She made a huge, tiered version of her standard chocolate cake with chocolate ganache and decorated it with flowers and a gold cake topper from Not On The High Street."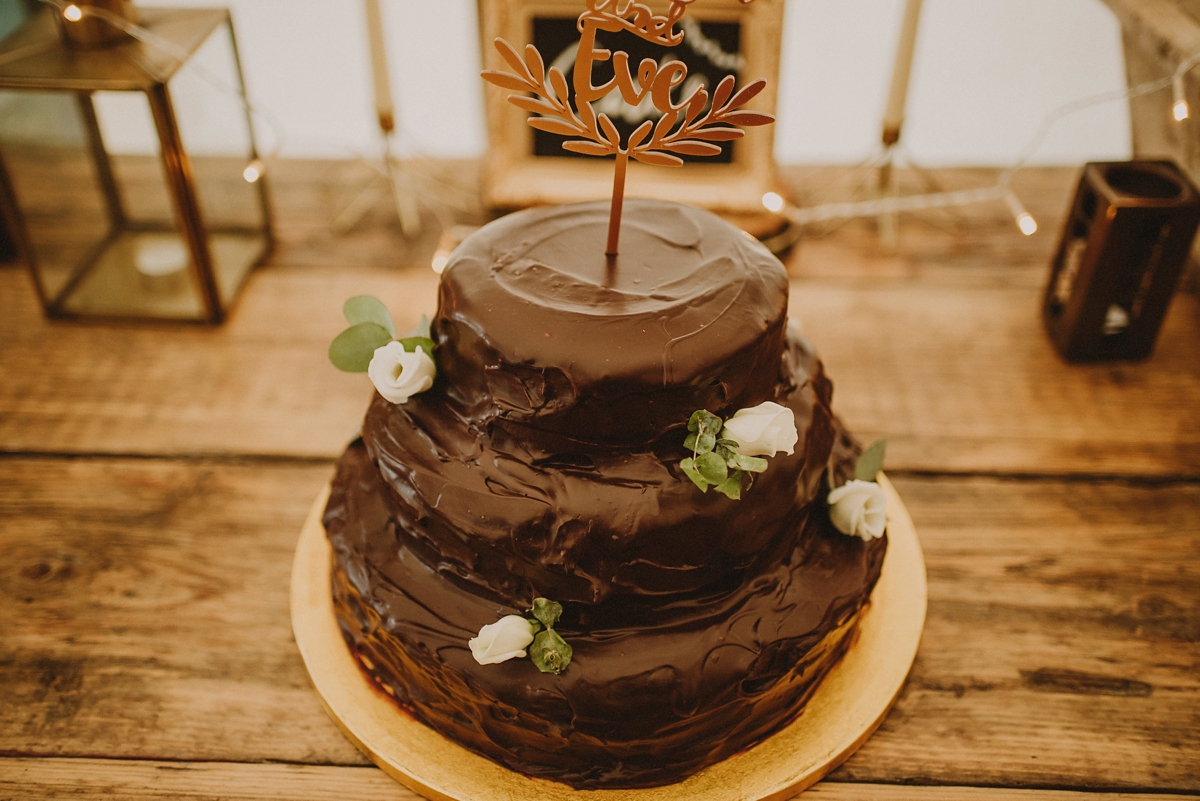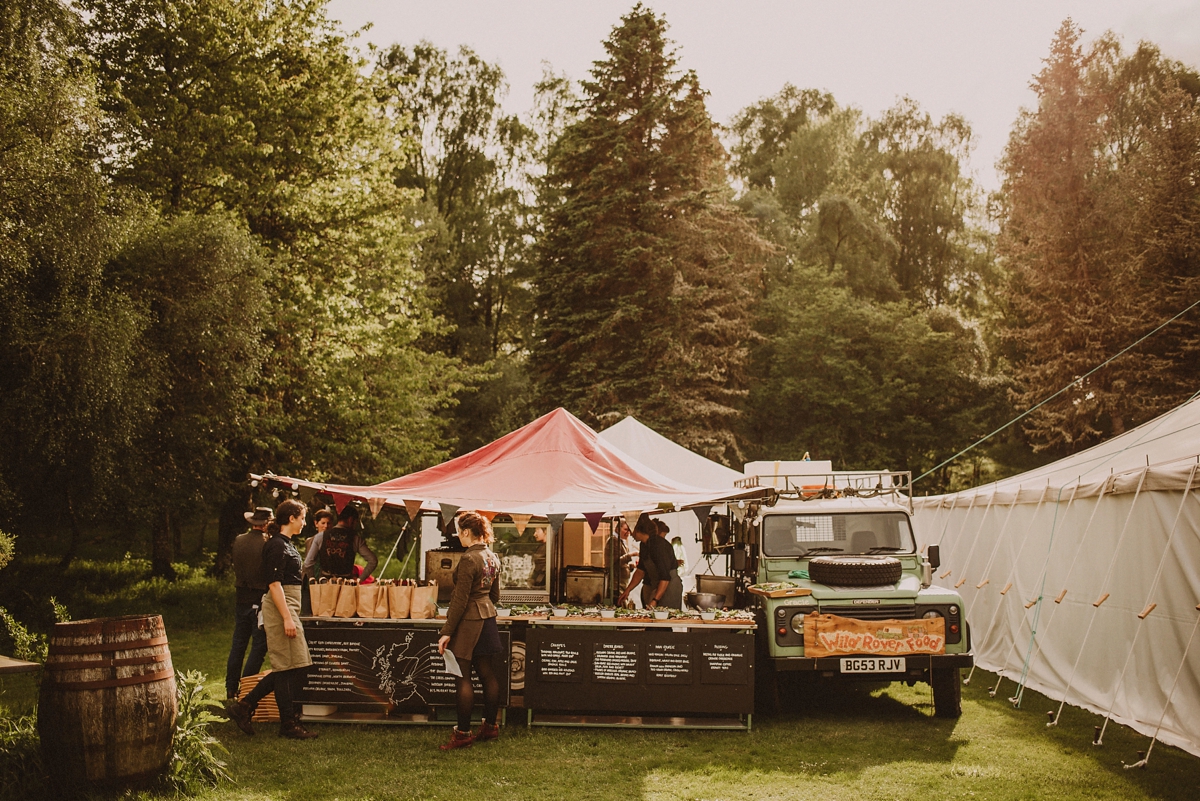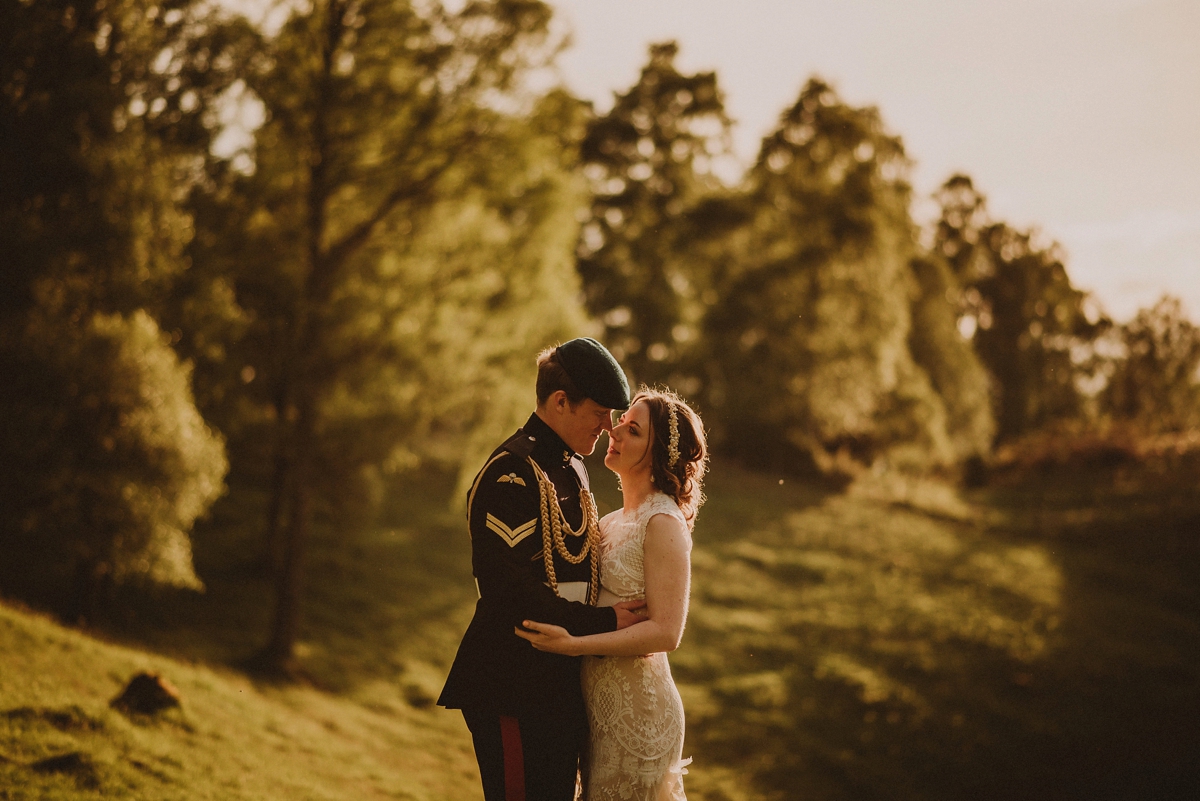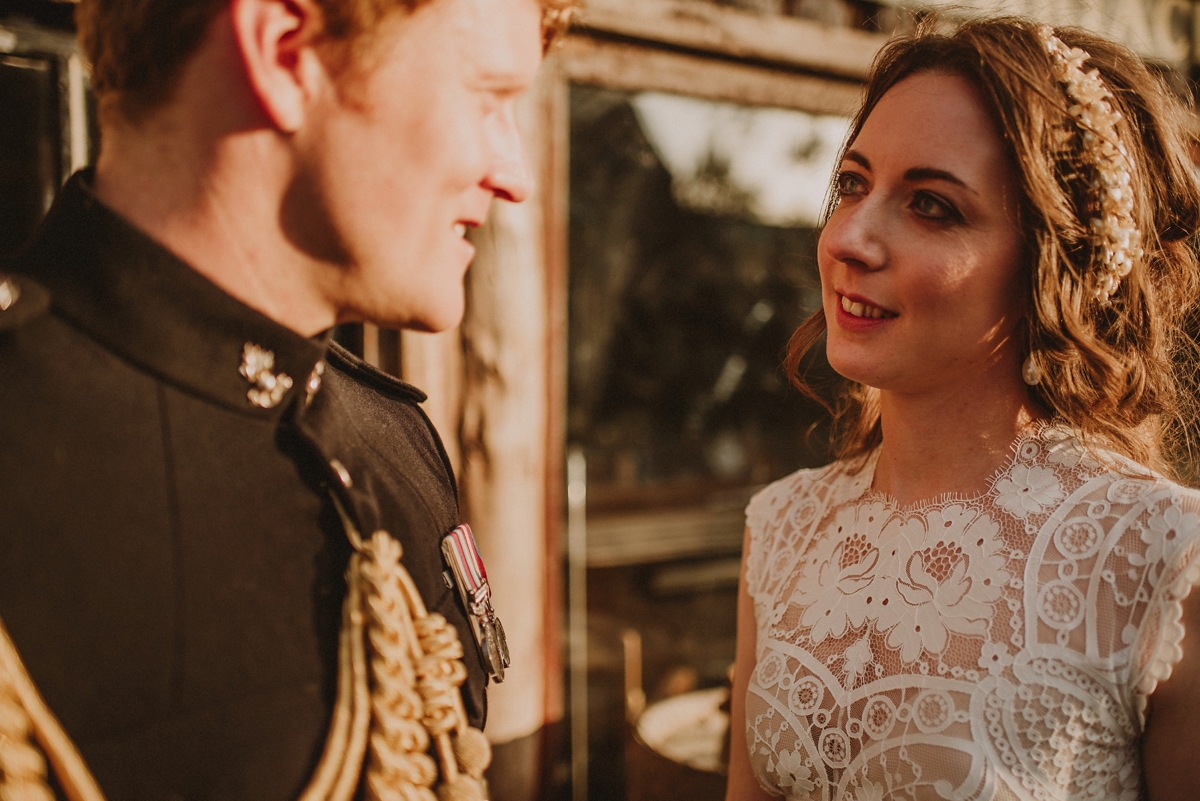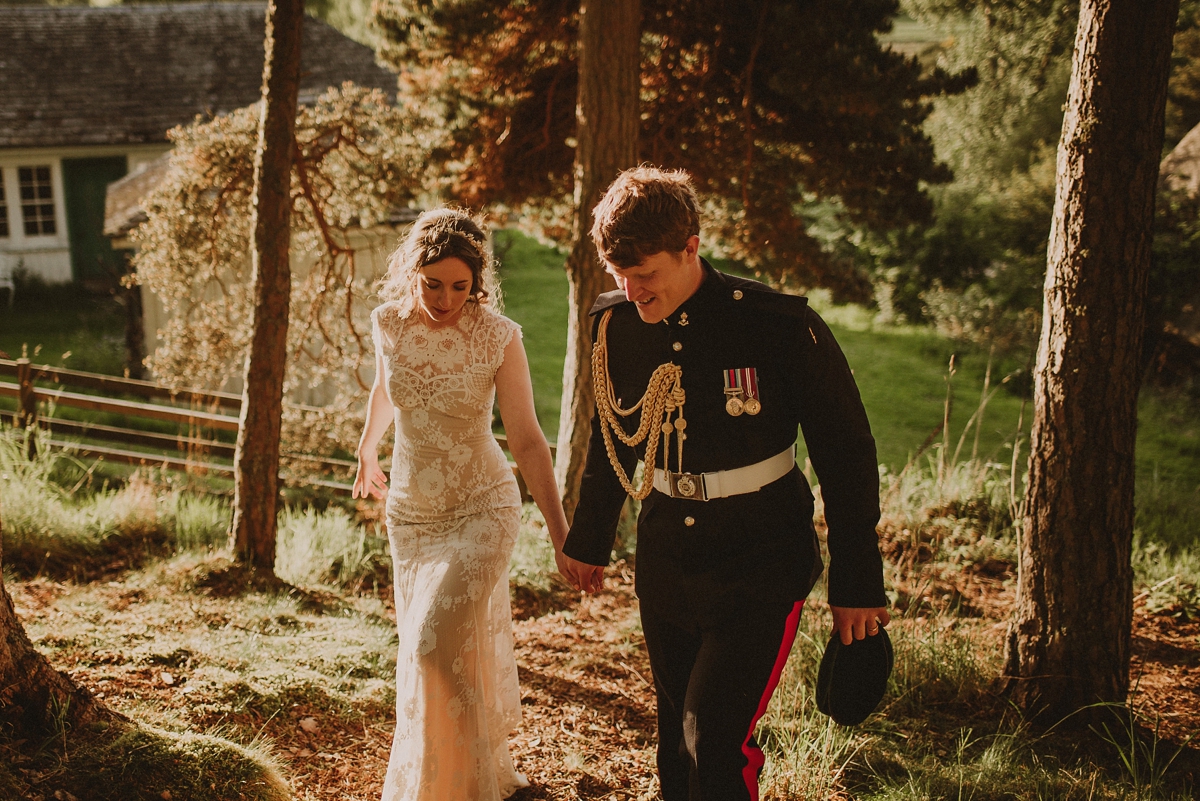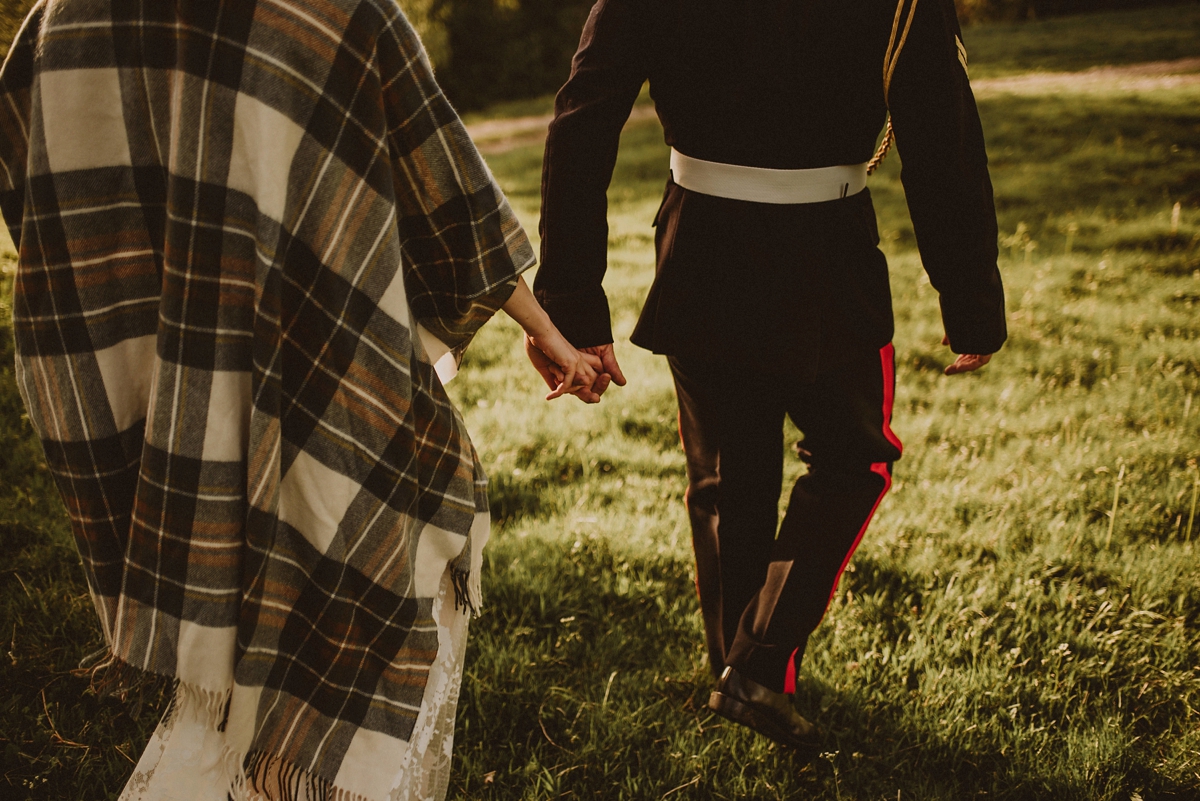 To stay warm as the day progressed to evening, the beautiful bride covered up in the outdoors with a wool wrap by The House of Bruar.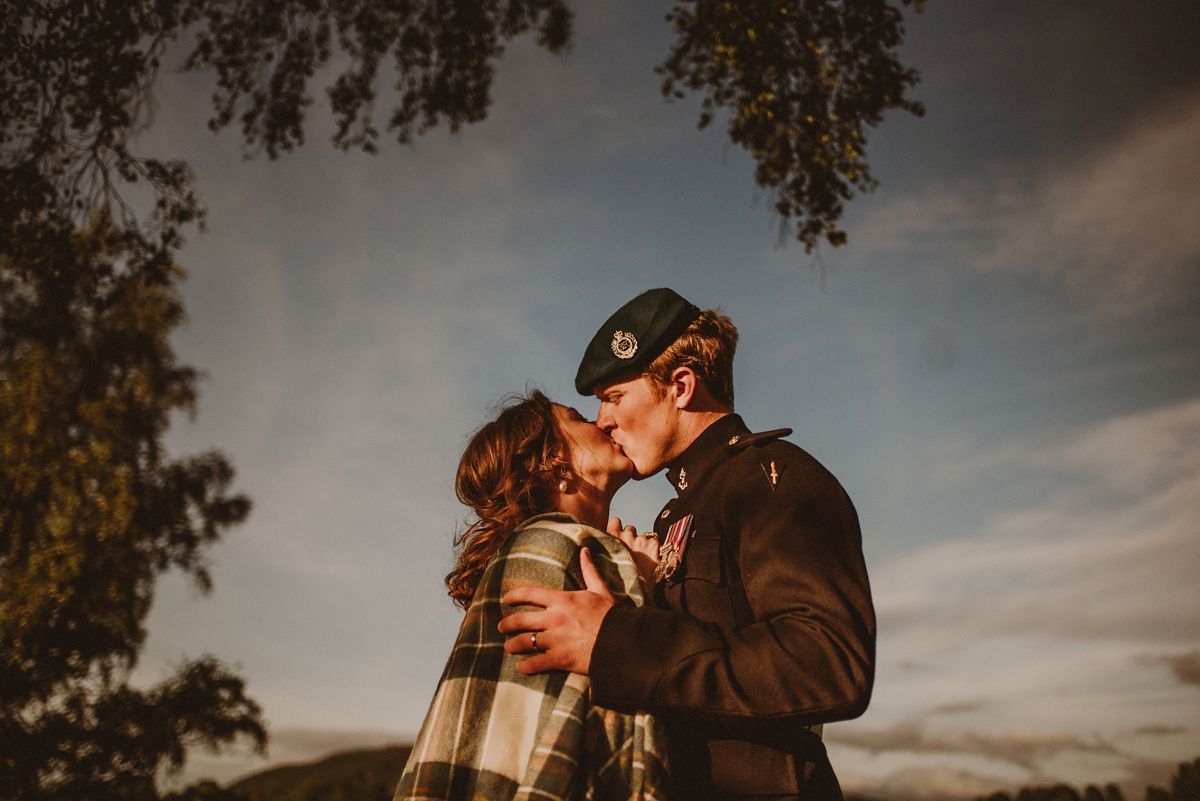 In the evening, the couple arranged ceilidh band Callanish, who played a combination of ceilidh music with a caller and 'normal' wedding music – and this proved to be their favourite moment of the big day.
"We picked them as we absolutely love a ceilidh even though we and most of our guests were terrible at it. But you can see from the photos and video how much fun it was and everyone loved it! I loved getting ready with my bridesmaids and having some quiet time with just Adam and I during the photos, but I think that the ceilidh has to be the best part. I just could not stop laughing the entire time and it was the most brilliant fun."
"I also love the way that ceilidh dances are designed so that you get to dance with everybody in the room at some point during the dancing, which was really lovely!"
"We didn't have an obvious choice for a first dance and just picked 'Have I Told You Lately' by Van Morrison because it's a song we both love and find really romantic."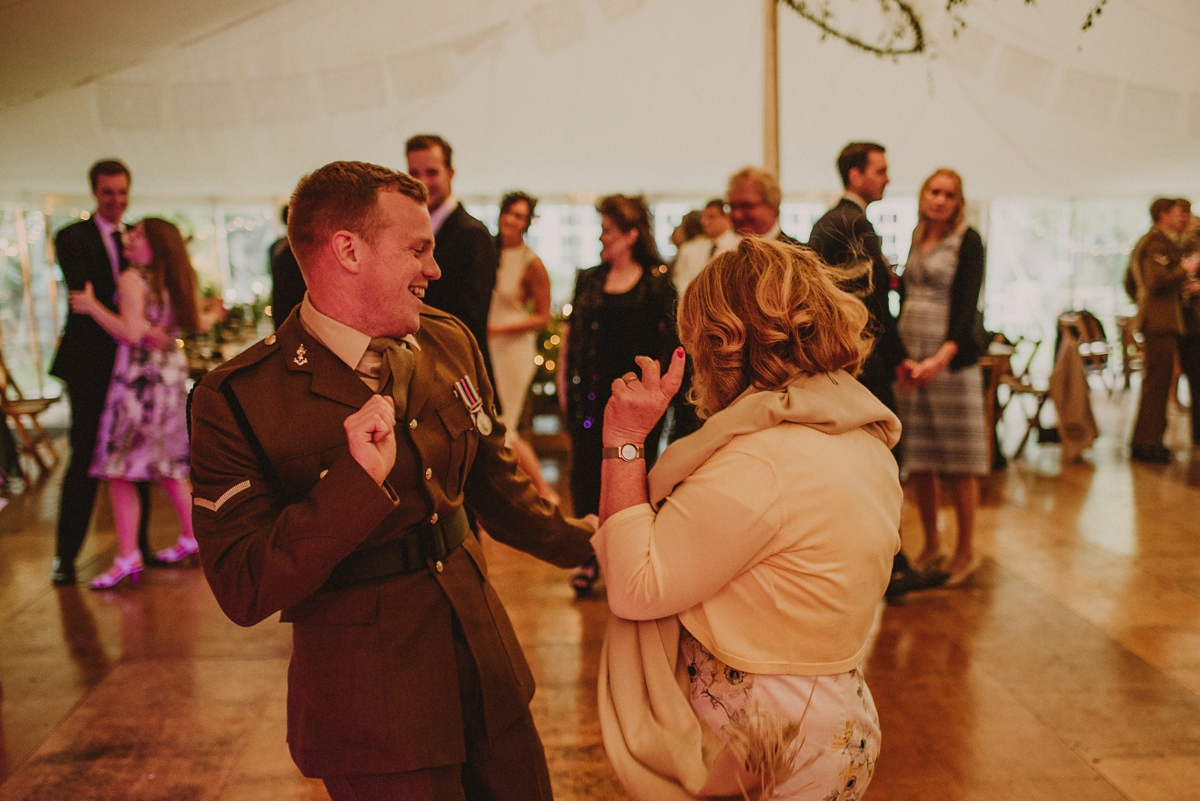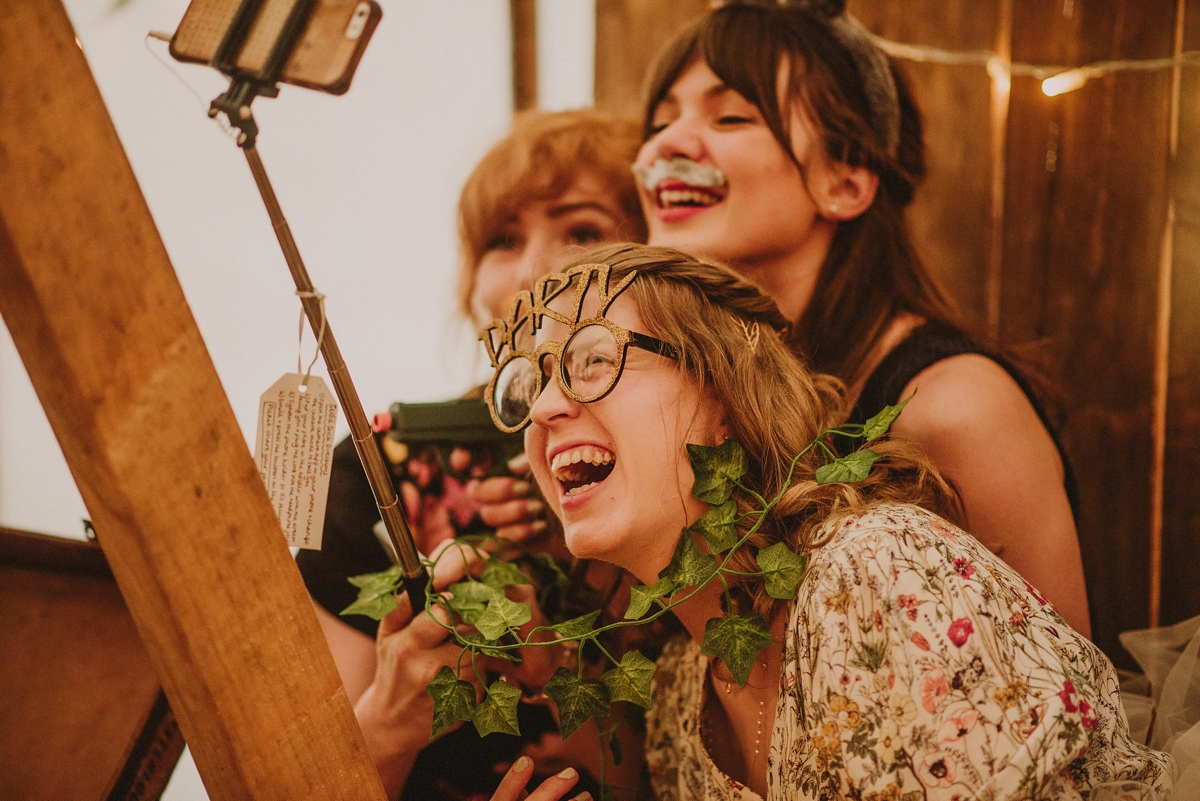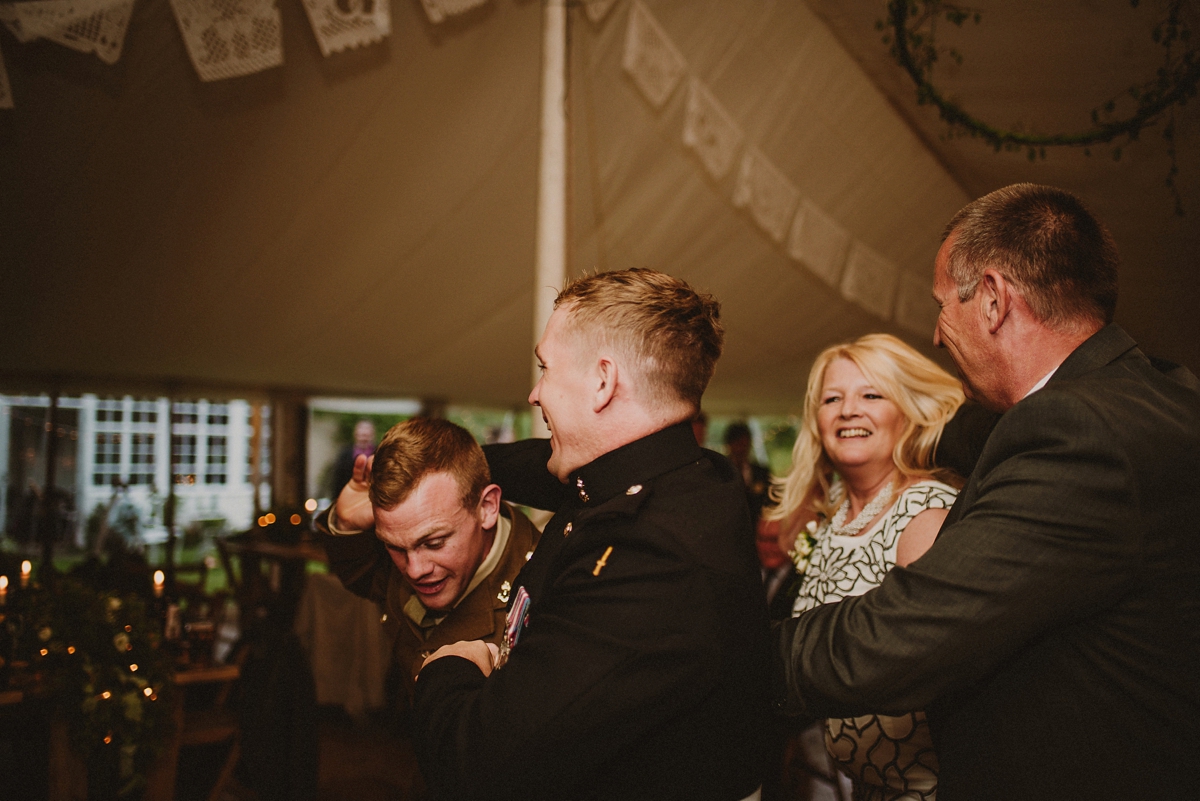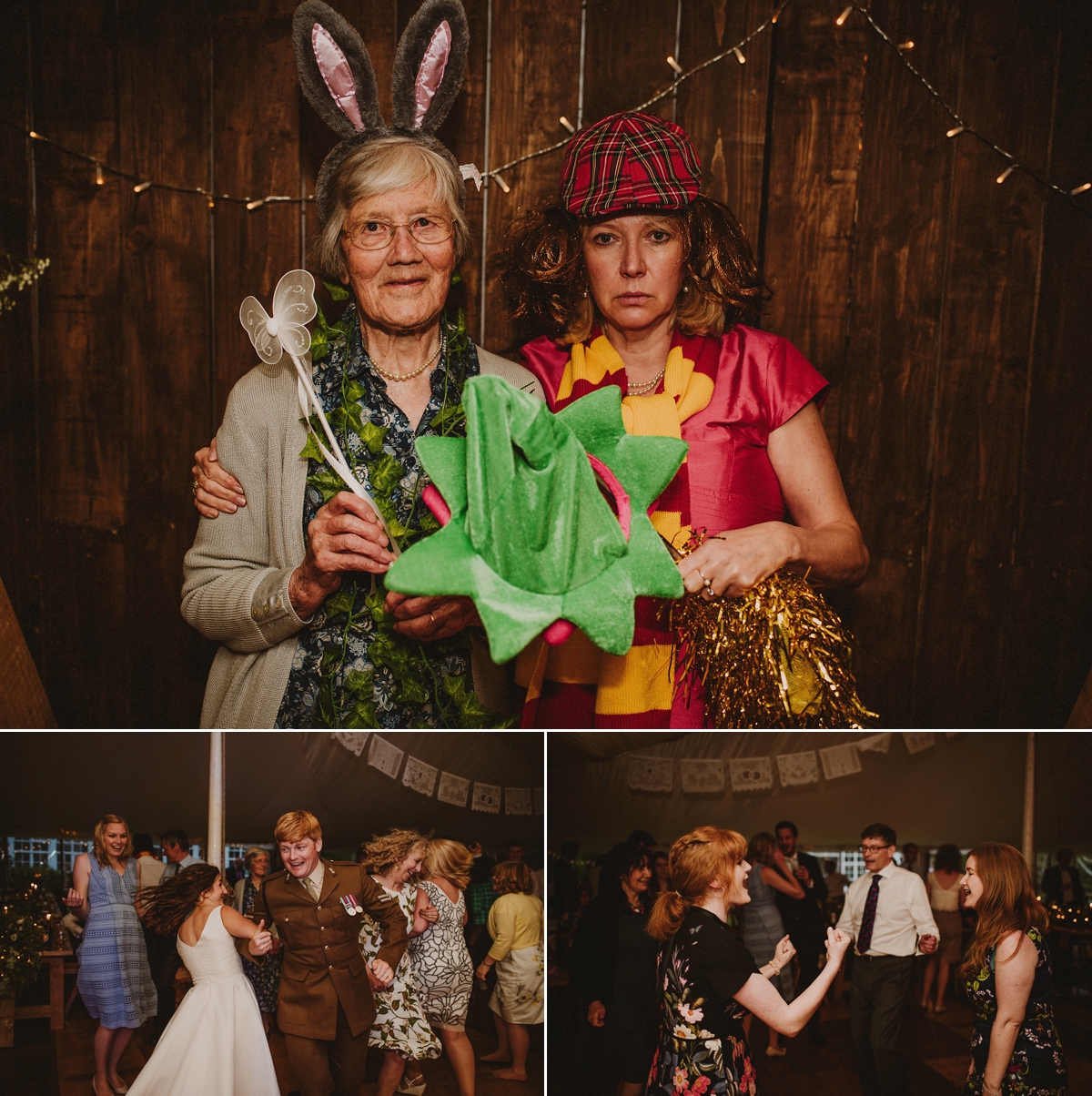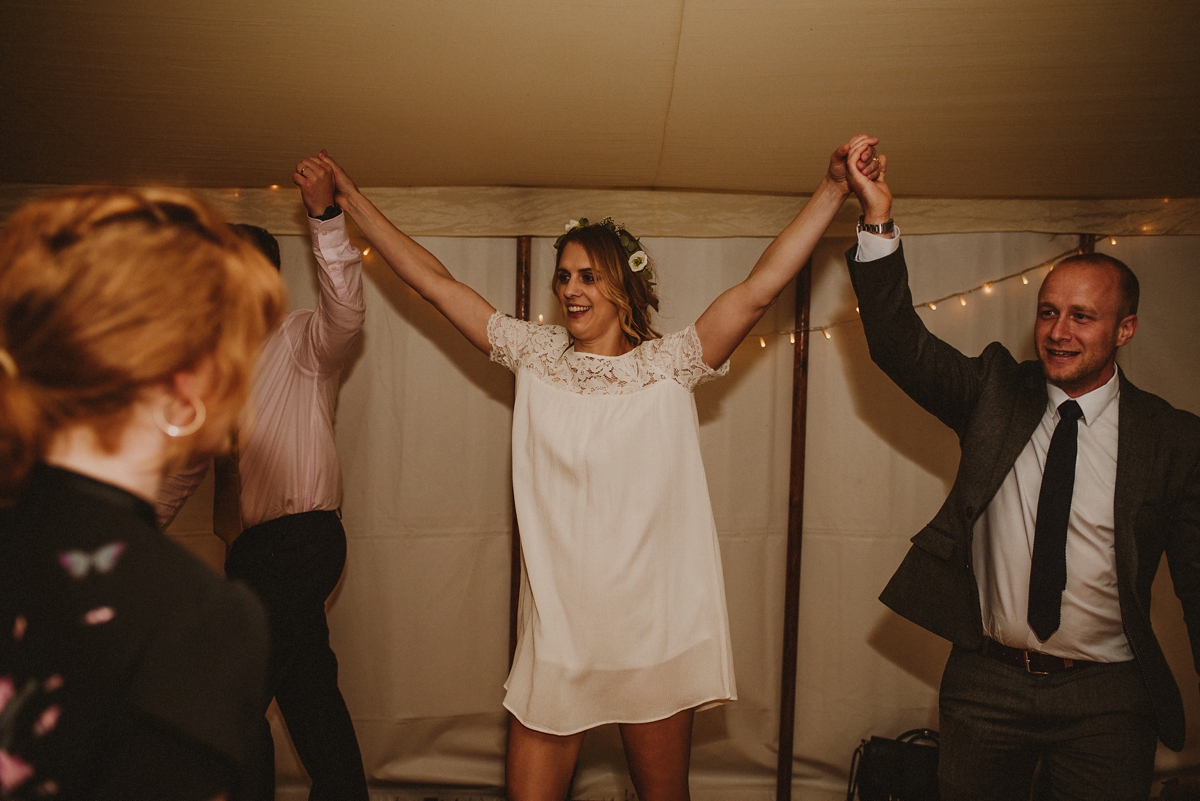 Words of Wedded Wisdom
"If you are DIYing much, start earlier than you think you need to, to minimise last minute stress.
Make the most of this special time. I used every possible excuse to enjoy the planning period – I invited my mum or friends to join me for all my dress fittings and followed them up with prosecco, had fun DIY evenings with my bridesmaids and Adam and I did our planning in the pub.
Take a break from Pinterest/wedding blogs at a certain point before the wedding. I took so much inspiration from them, but when it got close to the wedding I found that they started stressing me out and making me worry my day wouldn't be that perfect, plus I was getting too many new ideas that I couldn't possibly add to my to-do list."
"Definitely consider a venue where you can stay with family and friends the week before the wedding. It was so amazing to be surrounded by so many loved ones during such a special time, we had so much fun and I'm so glad we were able to do spend it together.
I also wanted to mention that I did a speech and had a bridesmaids' speech too – the five of them each said a little bit. It was important to me to have women's voices as part of the speeches and I loved both doing my speech and hearing them!"
I totally second Eve's helpful advice. Pub planning sessions with my fiancé were such fun and I highly recommend to all future brides out there to do a speech – and I love the idea of the maids speaking too. I've so adored bringing you Adam and Eve's most delightful day, so much so that I'm off to book a glamping weekend away this coming autumn to get my nature fix!
Thank you so much to Mark for capturing the spirit of the couple's glorious week-long celebrations – and for even more inspo, take a peek at these beautiful weddings featuring Claire Pettibone gowns from our archives.
Love Jo -xo-