Happy Monday gorgeous ones, how are you all today? It feels like January has lasted an awfully long time, but now, as February raises its pretty, ever-so-tentatively-springlike little head, longer days and brighter skies might be just around the corner. The celebration I'm about to share with you holds the promise of summer – of love, light and laughter, of freckles on your shoulders and balmy golden evenings.
Without further ado, allow me to introduce you to Naomi, a teacher, and her beau Hamish, an outdoor education officer, who wed on 5th August 2017 at the gorgeous River Cottage. They chose their venue for its organic principles, and because it's in an area they've always loved and camped in – which is exactly what they did with their loved ones after they tied the knot.
"We were led by the season and getting married in such a beautiful place meant there was very little needed to embellish. An important part of the wedding was that lots of friends and family camped in a nearby field – we had a big camp with bell tents, a fire and games. It was so much fun having everyone together for the weekend and a few people went to swim in the sea on Saturday morning before the wedding, which was impressive."
Images by Emma Stoner Photography
The bride's best girls were by her side as she made her vows to Hamish, resplendent in champagne silk gowns crafted by the dressmaker who altered Naomi's David Fielden dress, while the flower girls wore pretty frocks from Monsoon. Photographer Emma Stoner was on hand to capture every moment of the day, scoping out the venue in advance to find the best locations for some relaxed newlywed portraits once the wedding party arrived at River Cottage."Emma was really lovely to work with. She came to visit the venue with me a few weeks beforehand so she could scope out photo locations (including finding where the chickens and pigs lived!) She worked incredibly hard to take photos of all the details and we have loved looking back at things that we missed during the flurry of the day. We would certainly recommend her and her photos are a total delight. The only thing we regret was not getting a second shooter – they could have caught the campsite and sea swimming."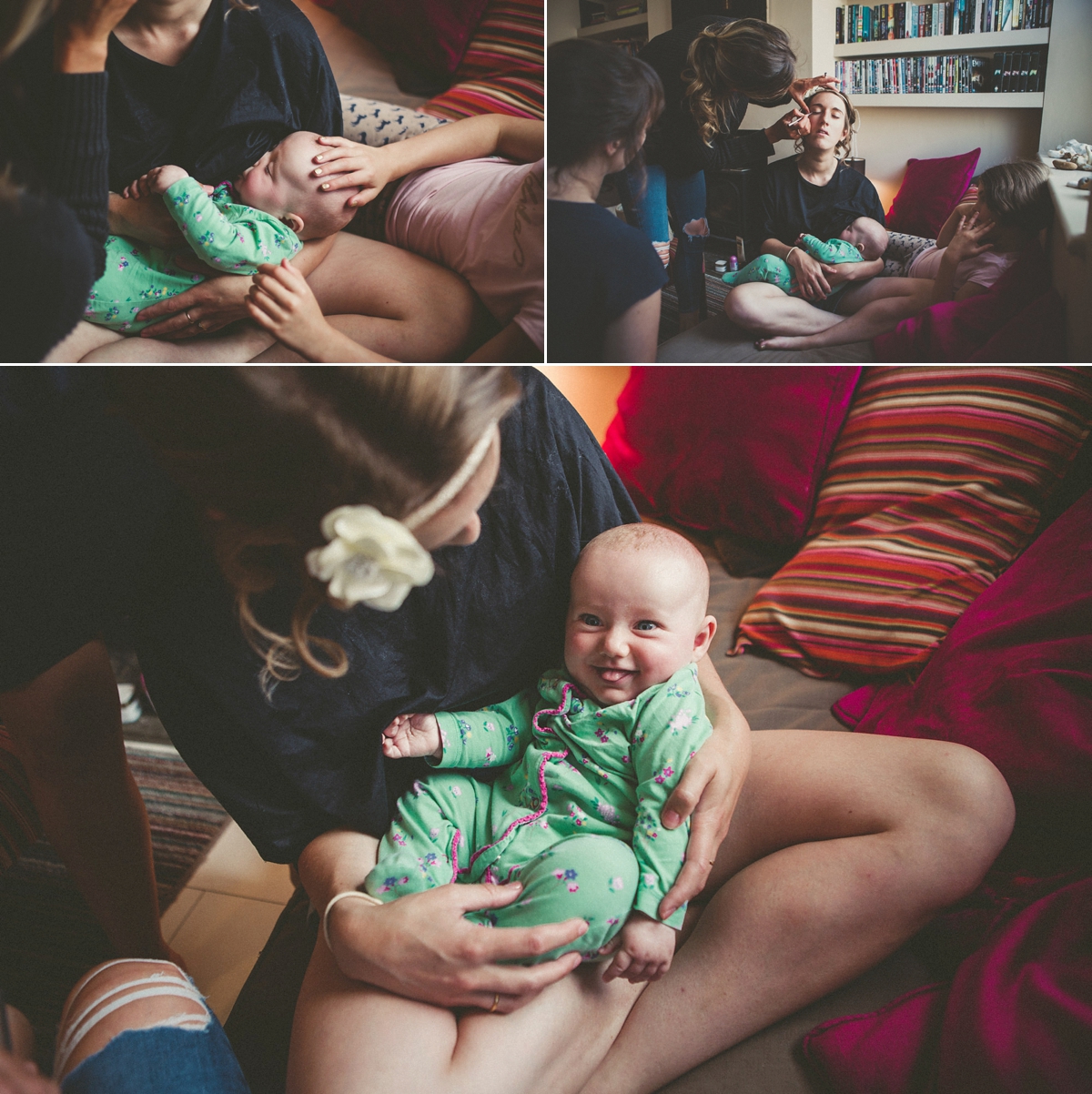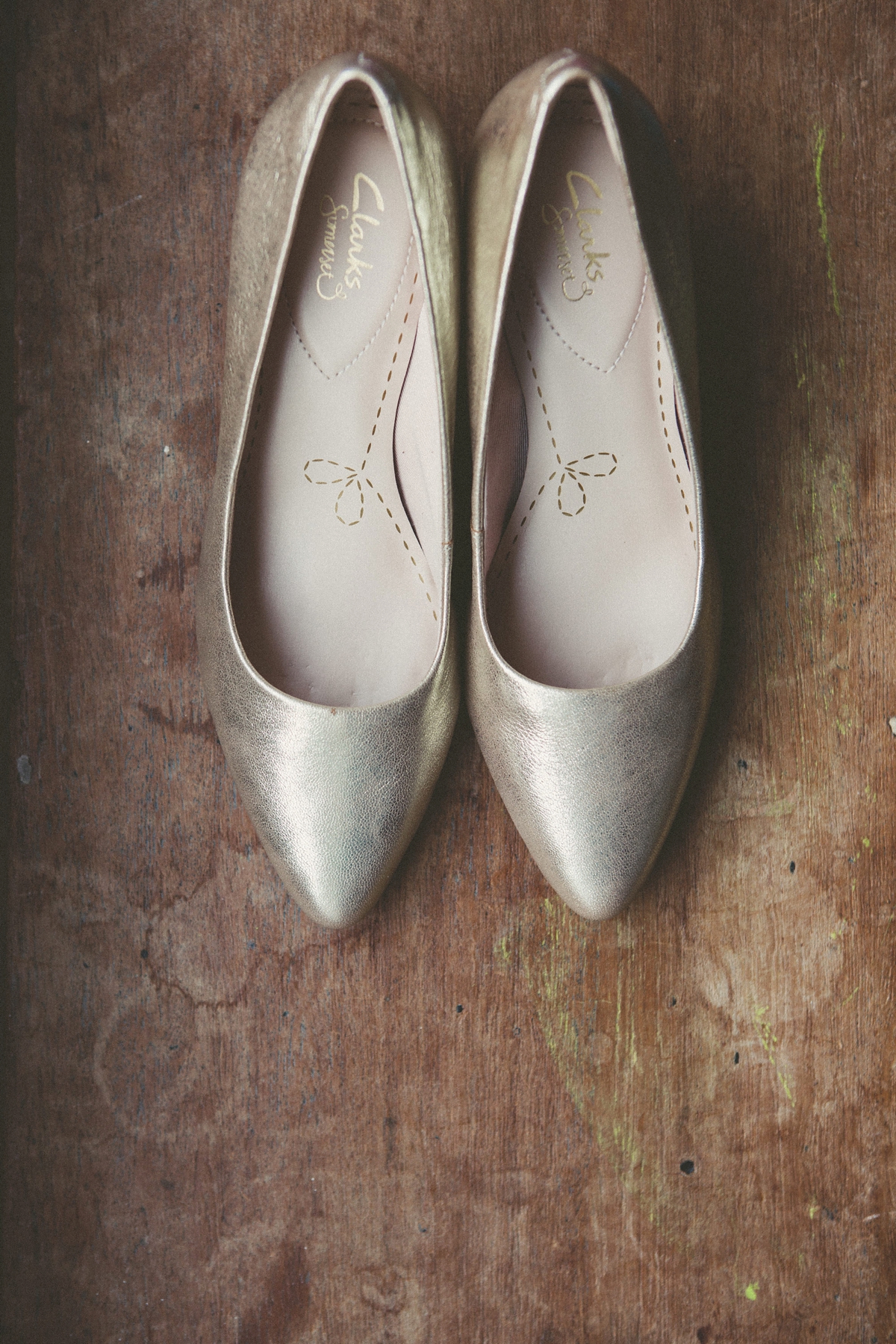 Naomi serendipitously stumbled upon her golden-hued gown in a charity shop in South Kensington early last year, later customising her find with the help of a dressmaker. Hamish too sourced his lovely Reiss suit jacket in a charity shop. The couple met at university and decided to promise each other their forevers after Hamish proposed in Fiesole near Florence in February 2016.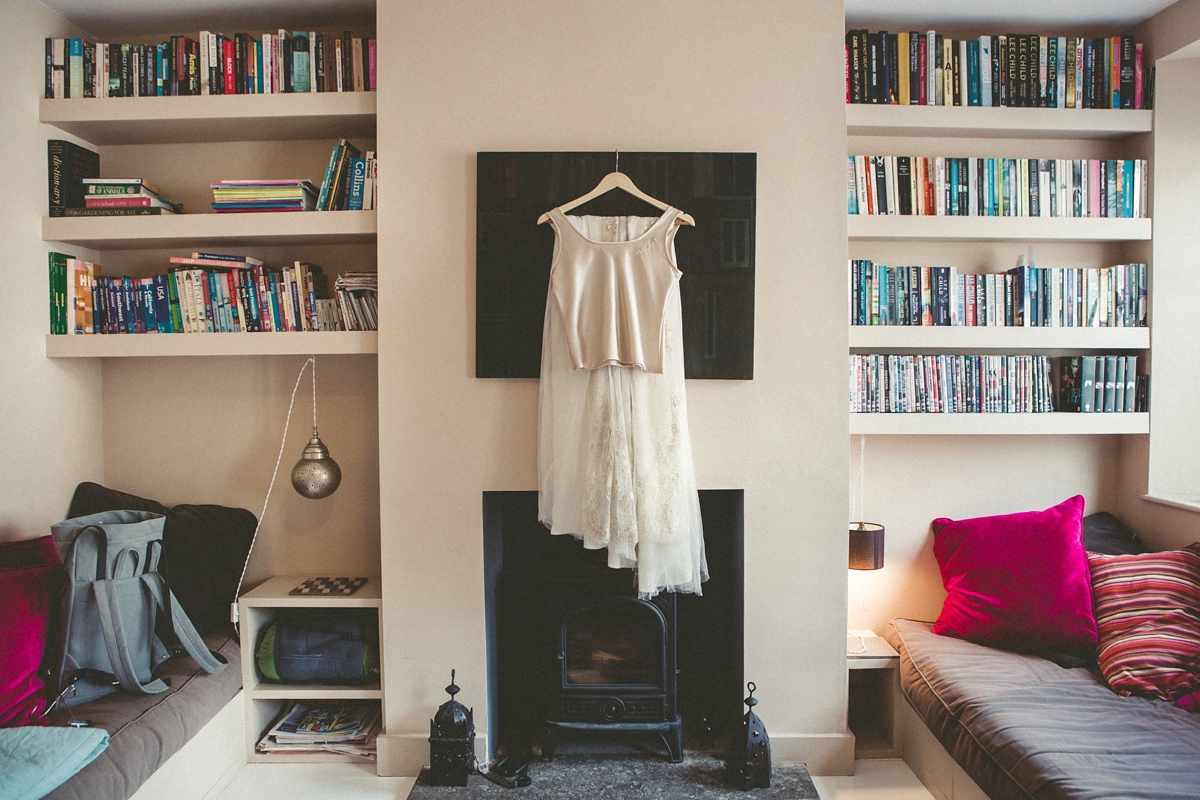 I can just visualise the stunning backdrop to this all-important question, with views over one of the most beautiful cities in the world (not that I'm biased at all after my Italian nuptials).
"I found a David Fielden dress for £70 in a charity shop (Royal Trinity Hospice shop on Bute Street) in February this year with a £2800 price tag still on it. It was made from lots of extremely fine layers with a beautiful gold scalloped lace layer on top."
"I came across it by accident and I didn't look at any others, being massively pregnant would have made it impossible to do so – I was eight months pregnant and I loved it, but had no idea if it would fit me!"
"By the time I had had our baby, Flossie, I realised I needed a dress that would allow me to breastfeed during the wedding and life was suddenly more complicated! Luckily I found a dressmaker who (reluctantly) chopped the Fielden dress in half, making a beautiful skirt. She then made a simple silk cami top to match the gold lace in the skirt."
"It was so practical and I loved wearing it, even if it ended up splattered in mud from the pigs, being paired with wellies and getting filthy around the camp fire."
A few simple white roses were pinned into Naomi's hair, her soft locks styled by a hairdresser from Reflections in Axminster. Her subtle, glowing make-up was applied by her lovely bridesmaid Anna, Hamish's sister. Our bride didn't wear perfume, but instead applied environmentally friendly glitter to her happy face as the day progressed. Sparkly and safe – I love it!
"The flowers were done by my mum's incredible friend Mary. She was an absolute joy to work with and created beautiful displays. We loved working with her as she was keen to create seasonal bouquets and arrangements and was really happy to work with our simple green, white and pink colour scheme."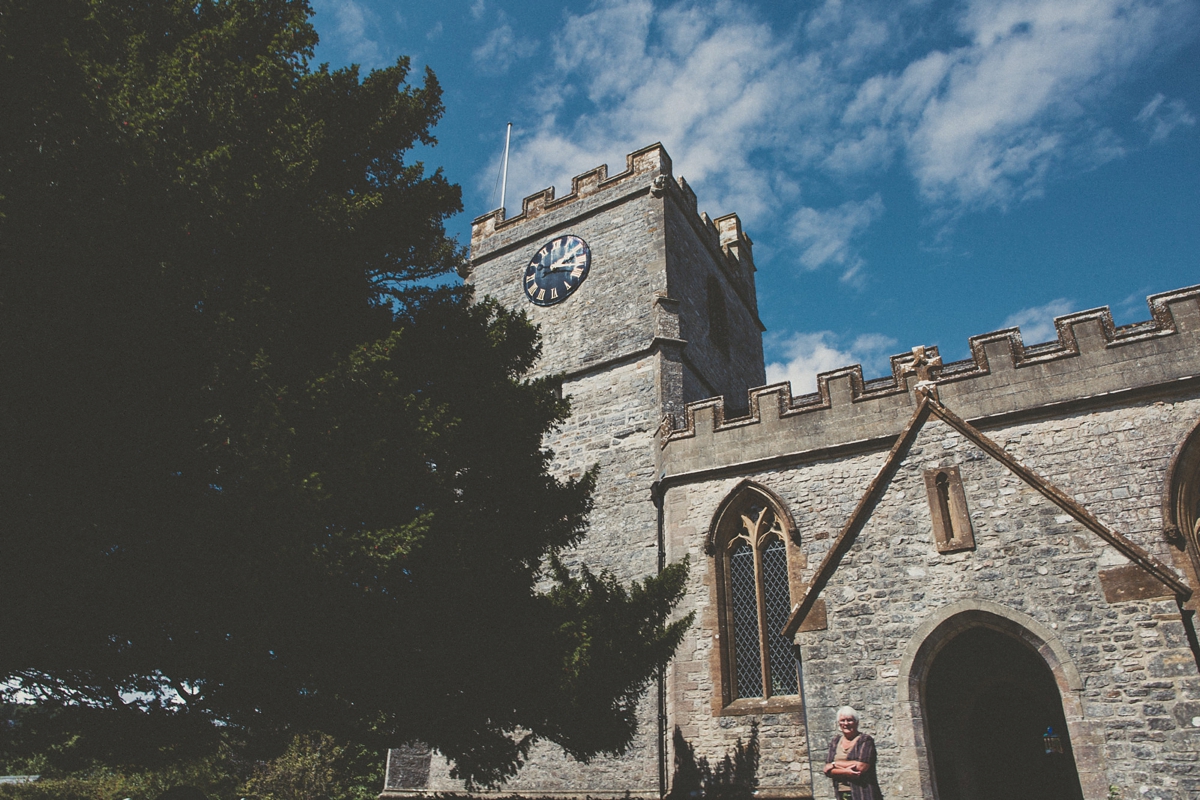 Naomi walked down the aisle with her dad to the sounds of Johnny Flynn's Waiting for You. I can only marvel at the vibrant cerulean ceiling she and Hamish wed under – what a divine colour. The couple chose two readings for their ceremony, beautifully delivered by selected loved ones.
"Hamish tells me the best bit for him was when I finally arrived at the alter 25 minutes late. I didn't factor in getting a 4-month old baby as well as myself ready and only got myself dressed at 1.30 with the church a 15-minute drive away and the ceremony at 2."
"We both love Keats and Bright Star is a beautiful poem, even more so as Hamish's godmother read it for us. It was pretty emotional. My godfather read Shakespeare and it was also incredibly special."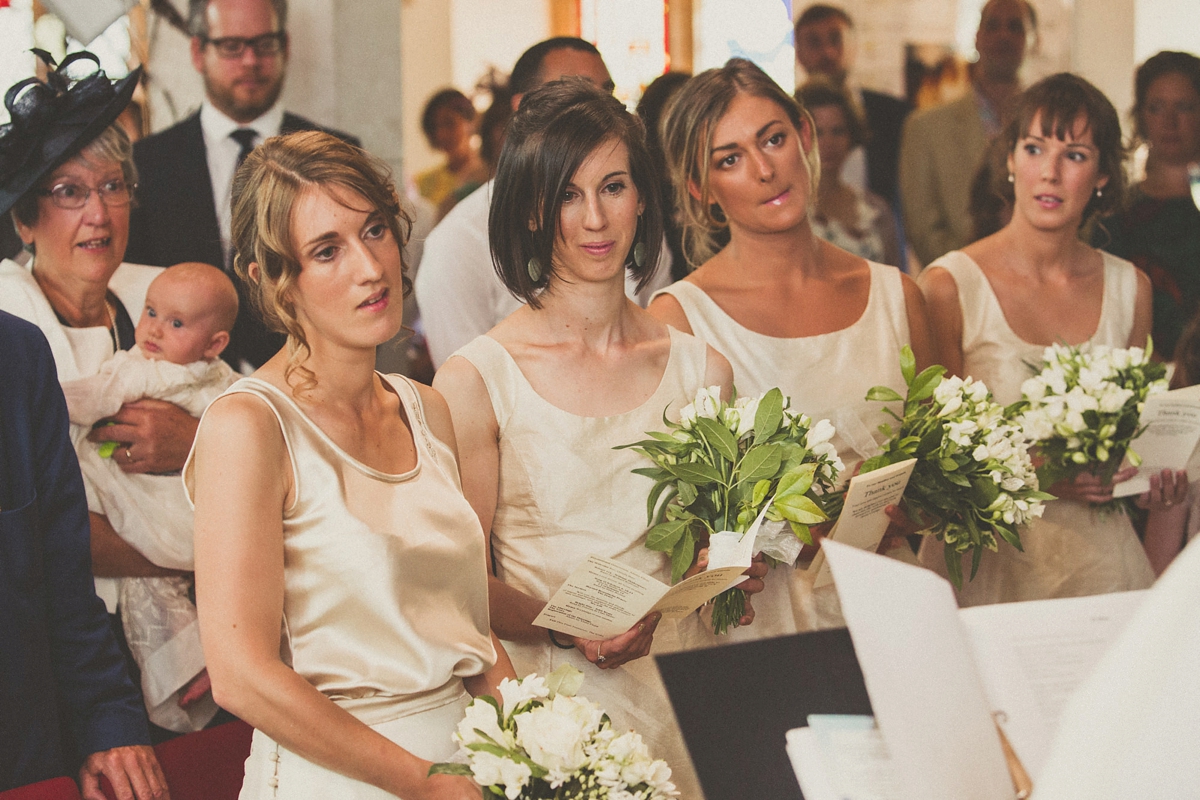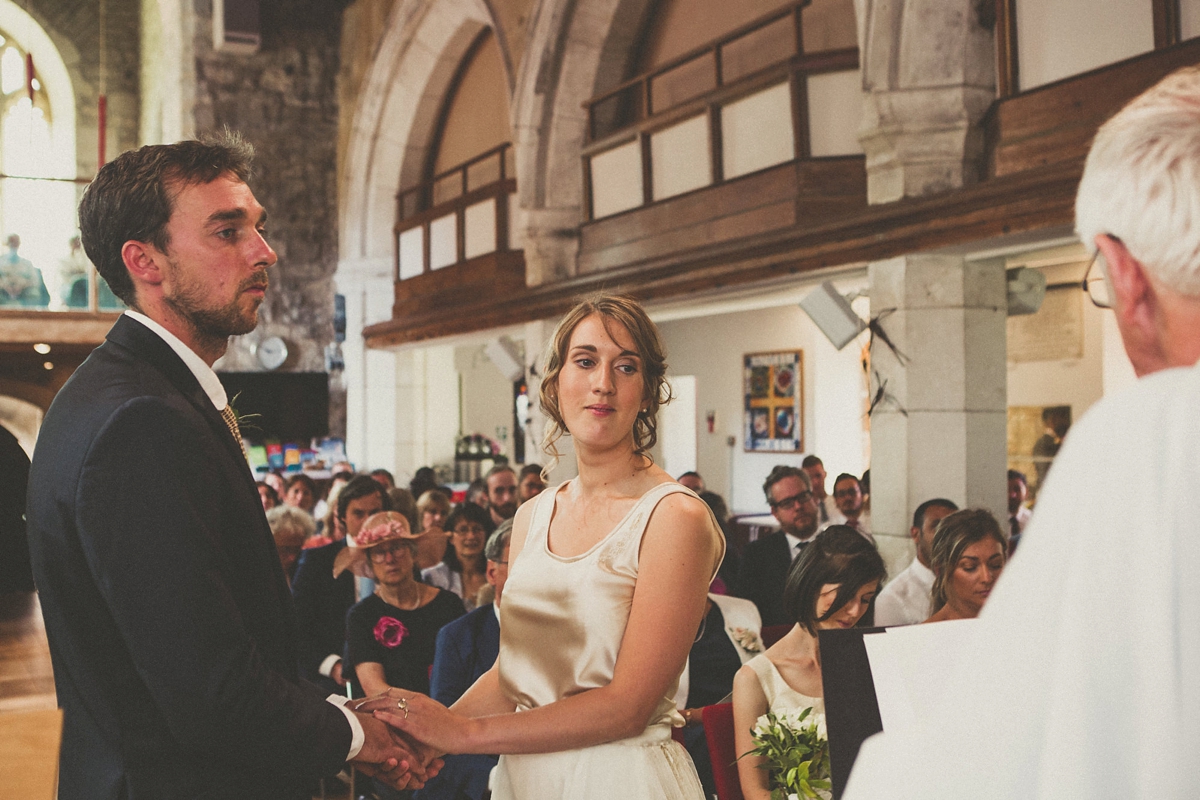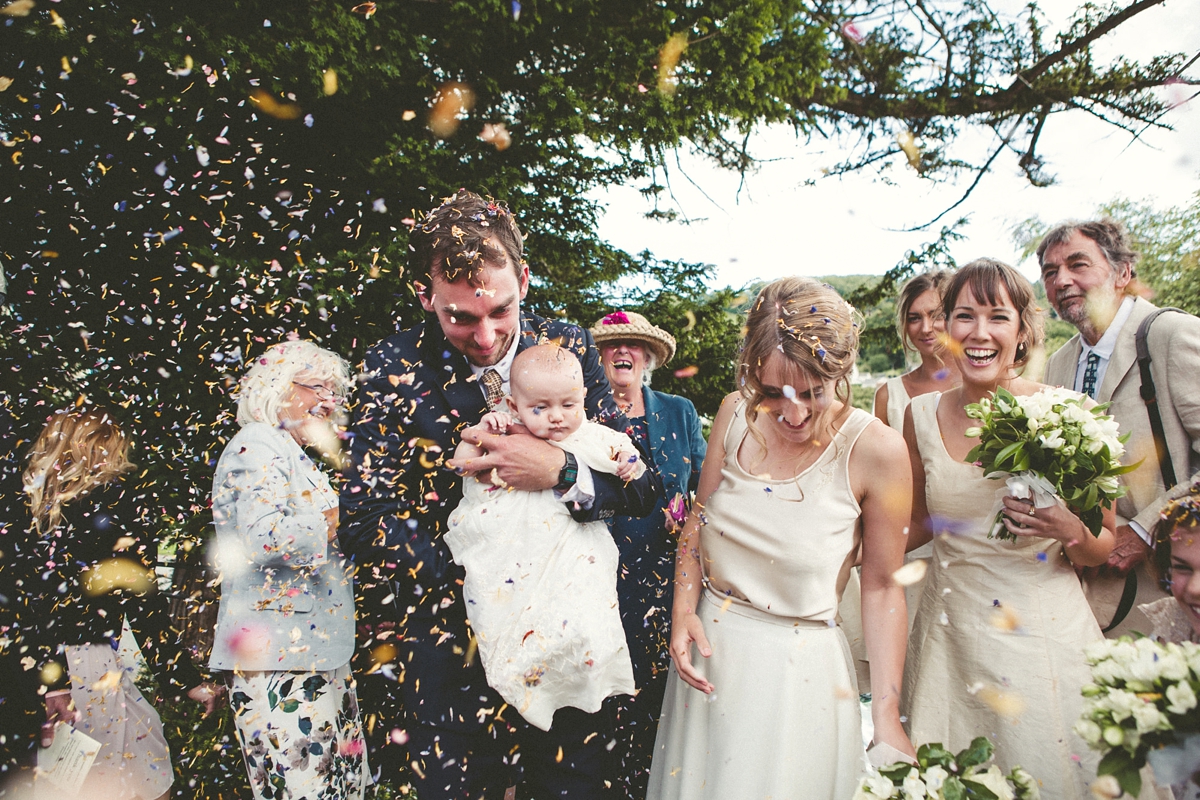 "Being in the garden at River Cottage was pretty magical and we also loved taking a moment alone together to visit the pigs! The most fantastic feature was the cake with the contrasting pinks and greens. It was stunning and made by Hamish's mum, Rosemary. She is an incredibly talented gardener so created a beautiful display of roses and greenery to decorate it. It was also totally delicious. The combination of deep pink roses and sage leaves was stunning."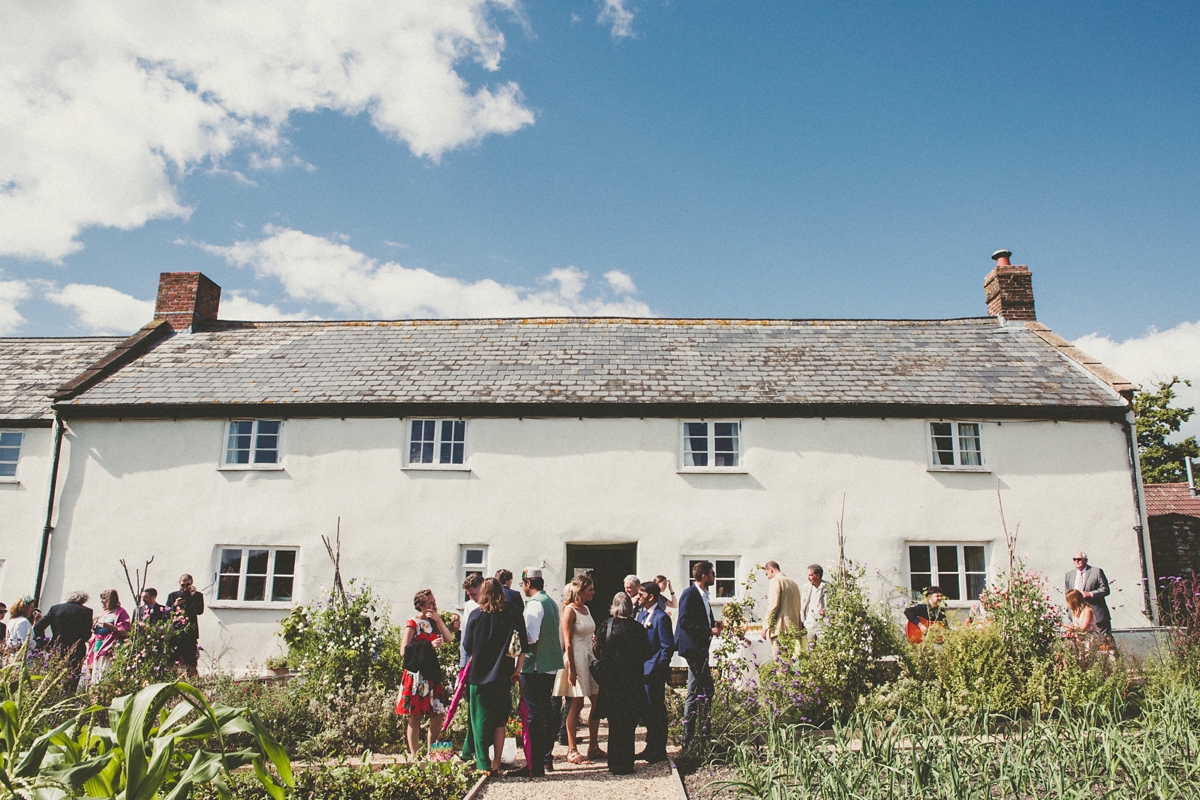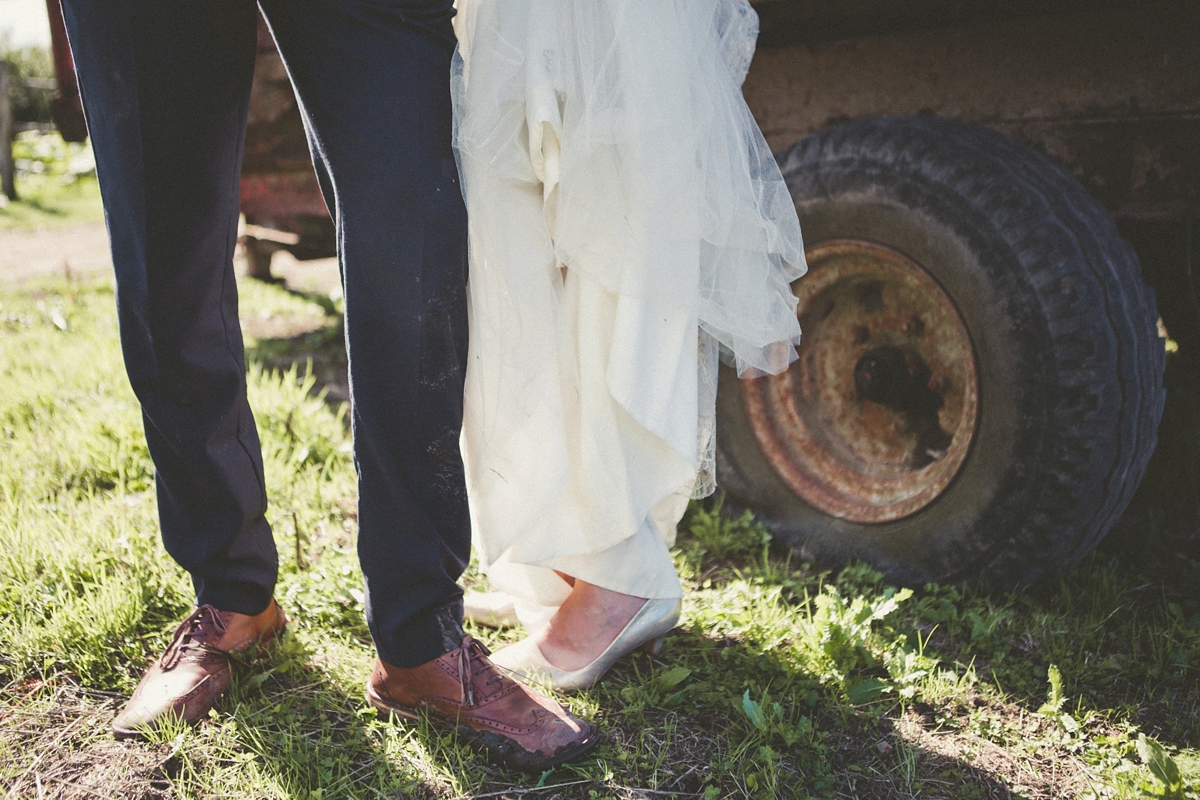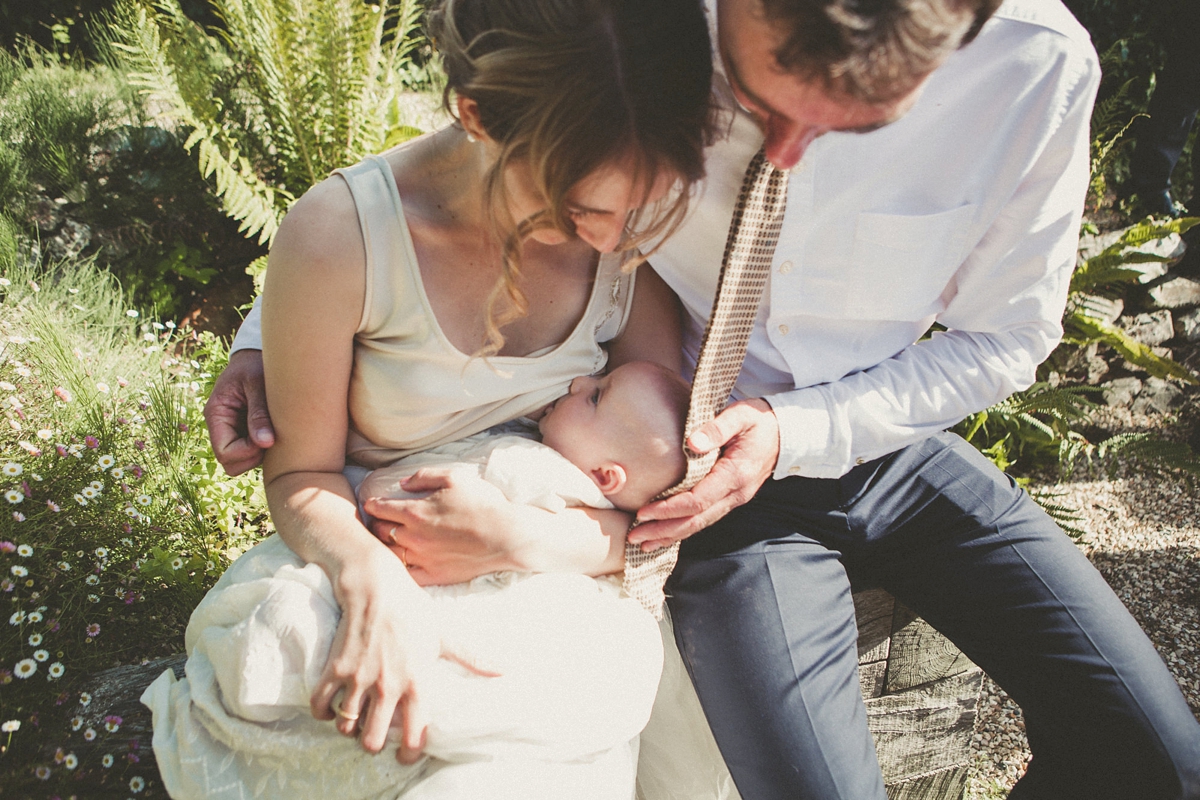 Catering was provided by River Cottage, a delicious wedding breakfast supplemented with vegan brownies for dessert, baked by Naomi's sister and bridesmaids, Megan. Full of scrumptious organic fare, the guests then danced the night away to a brilliant ceilidh band, assembled by Matt Tarling. The couple absolutely loved this part of the day, and were so glad they went for a first dance after some initial trepidation.
"We had seasonal flowers in pink, green and white in jam jars along the tables and the personalised photos on each place setting were pretty colourful and worked with the simple wooden tables."
"The personalised photos included images of guests when they were younger and special occasions like their own wedding days or holidays we had been on together. We also had a few photos of people as babies, which surprised them."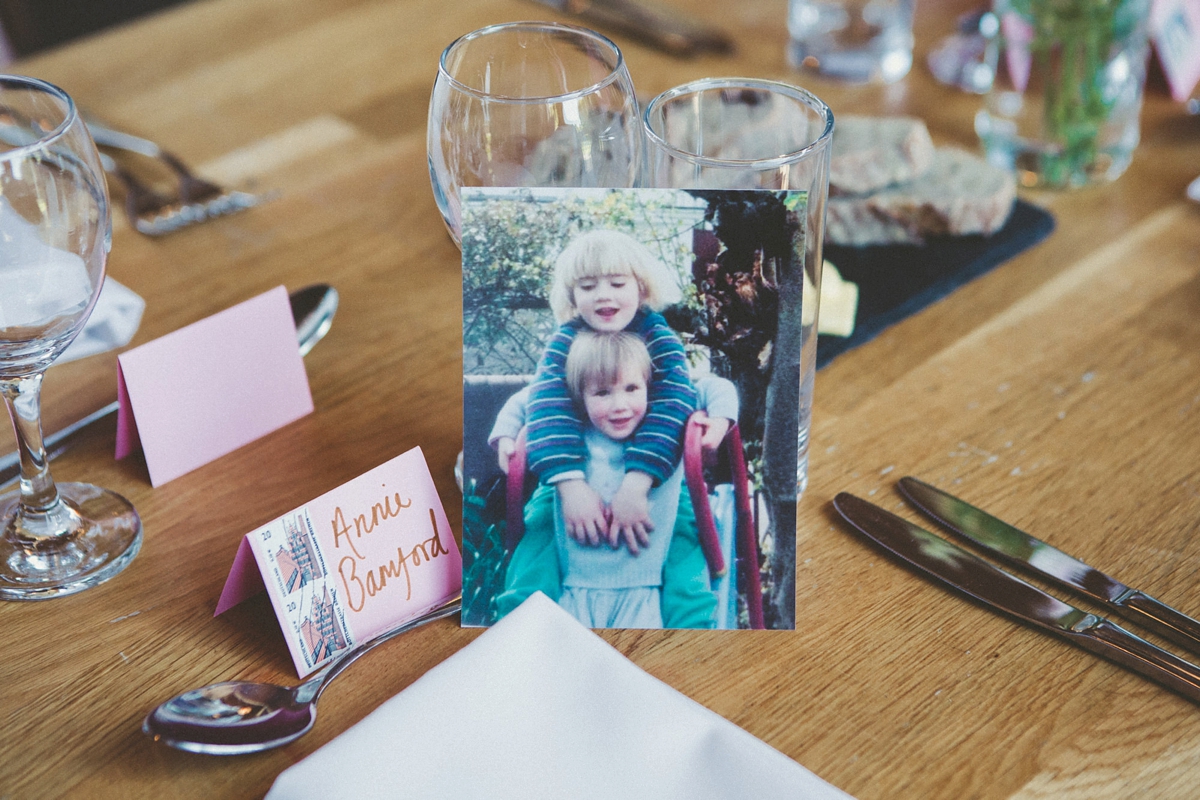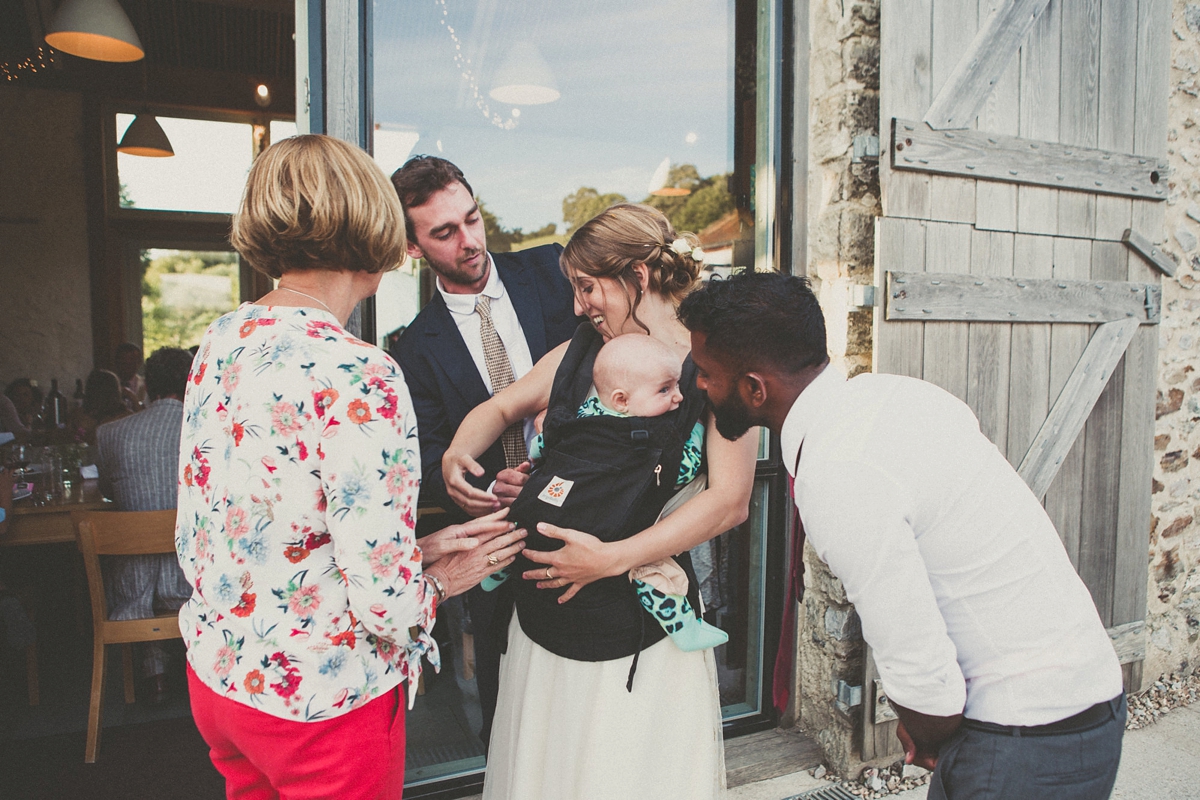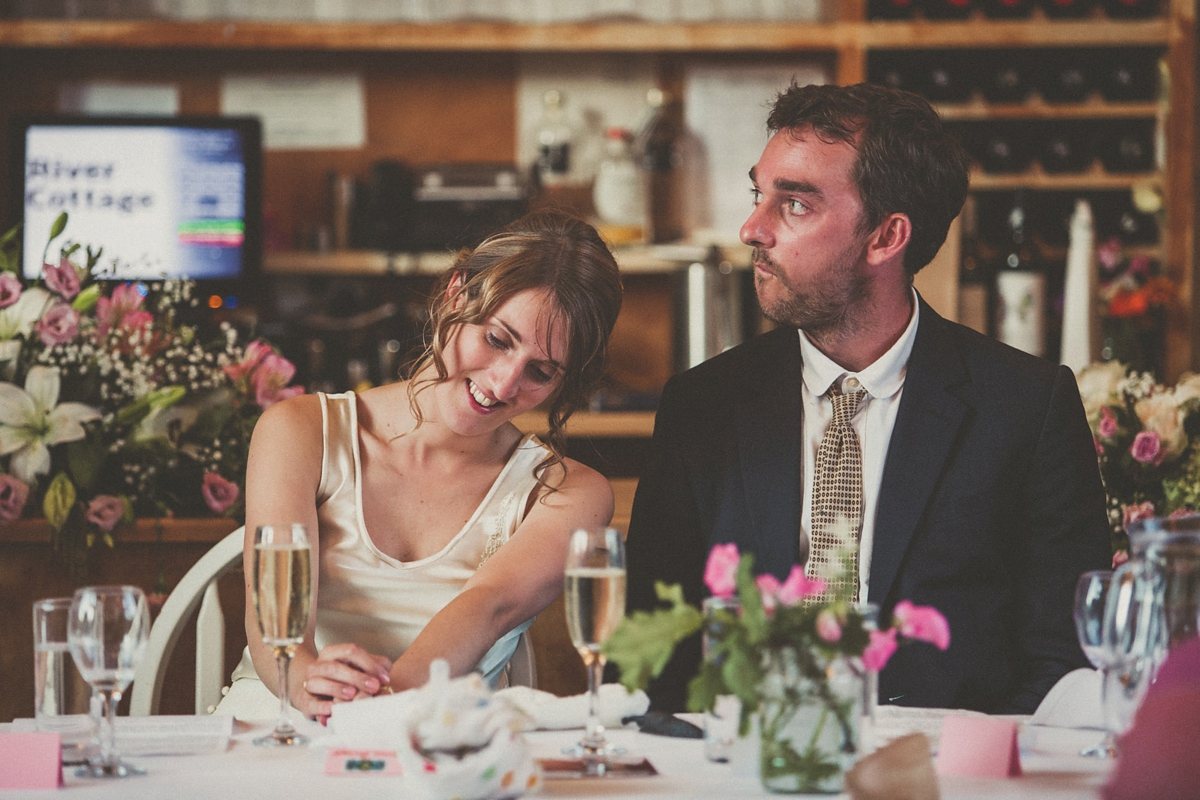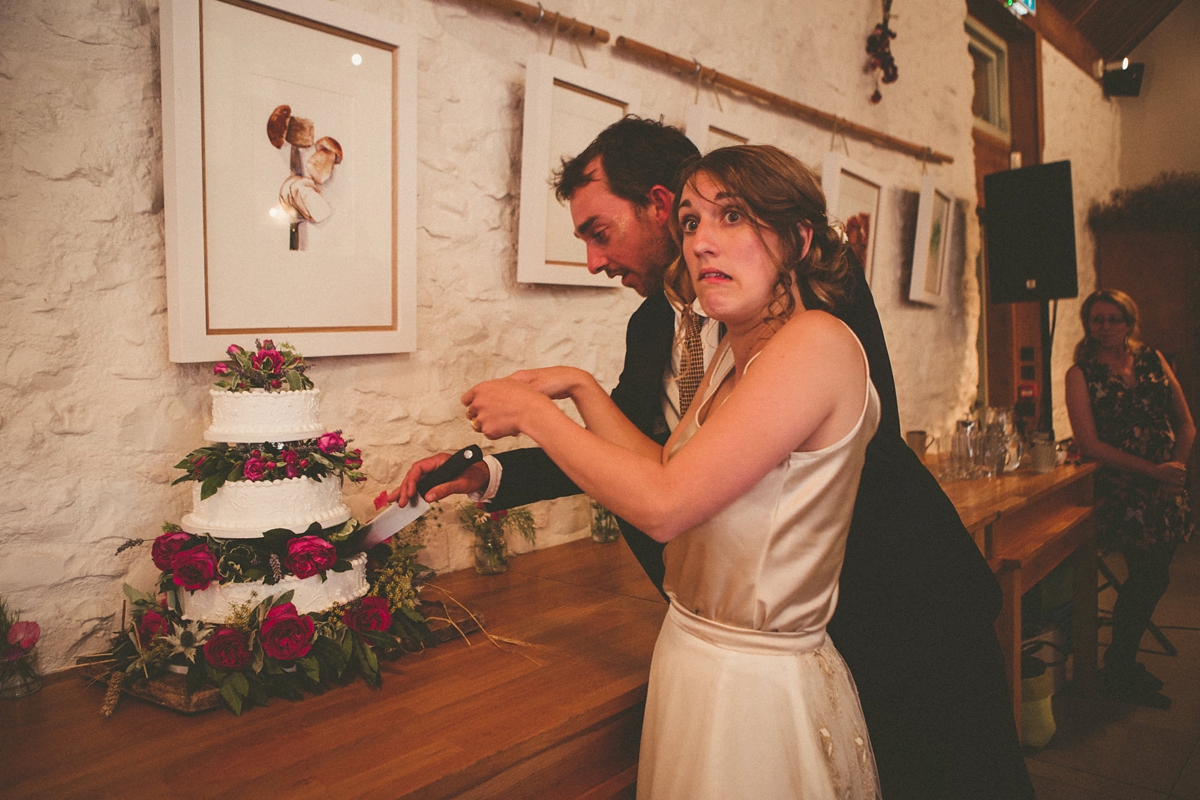 "Our first dance was to This Time Tomorrow by The Kinks. We weren't sure about a first dance but our friend Len was our DJ and he made sure we had a song we totally loved. Thank you Len!"
"Later on in the day we painted biodegradable glitter on our faces. Normal glitter is made of tiny pieces of plastic which end up in the soil and water; however we were lucky enough to discover Wild Glitter, which stocks biodegradable glitter. The colours were incredible."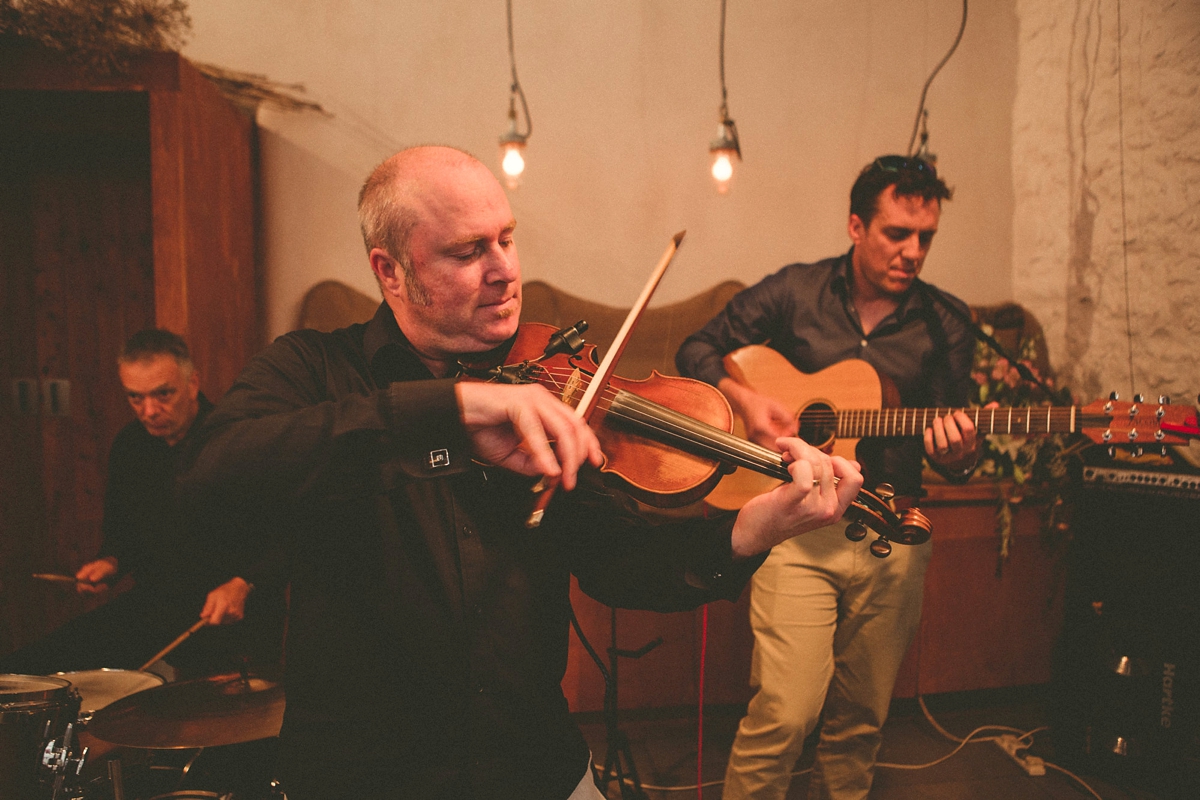 Words of Wedded Wisdom
"Make sure your partner has lots of jobs and you don't take on too much stress of the details yourself. I spent loads of time fretting about timings, then messed them all up anyway."
"It didn't matter and the River Cottage staff were incredibly kind about adapting to my hopeless timekeeping."
That just leaves me to say a huge thank you to the gorgeous Naomi, Hamish and of course Emma Stoner Photography for sharing this beautifully relaxed and lovely day with us all.
On a personal note, I'll be taking a break from your screens for a little while, so I wanted to wish you a very fond Auf Wiedersehen. I choose the German goodbye to signify (somewhat cheesily) that is not goodbye, but until I see you again. Love My Dress has been a huge part of my life these past few years, from the initial oh-my-god-I'm-getting-married, through my own (long) wedding planning journey, to Annabel allowing me to pen these amazing real wedding features for you, to newlywed bliss, to all that comes afterwards – the solidarity, the we-are-a-team-nobody-can-break, the laughter, the joy and also the heartache of a world that's not always kind.
Marriage is without doubt one of the best things I have ever done, but speaking to and meeting you – our lovely readers – many of you now friends, sisters and allies – that is way up there. You have enlightened me, enriched my life and my god you've made me laugh until I snort tea (it HURTS) more than I care to admit.
Until I see you again,
Em x