Oh well hello lovely readers and welcome to the weekend. Whatever you're up to today, I hope you have the most amazing time and, if you're out wedding dress shopping today – good luck!
Should your mind be on wedding gowns right now (and I don't blame you at all if that's the case) then I think you're going to love this feature. Today, we're taking a look behind the scenes at Jenny Packham.
We'll hear from Jenny herself about the craftsmanship that goes into each dress and we'll step inside the London flagship boutique. Come along with me…
Now I've had the HUGE pleasure of writing about Jenny Packham on several occasions for Love My Dress and every time I've done so, I've found more things to love about this label. The 2018 bridal collection is insanely beautiful and takes stunning, contemporary bridal design to a whole new level. If I use the word 'breathtaking', it's absolutely justified.
So, what really goes into these amazing wedding dresses? What fabrics and embellishments bring the designs to life? What gowns are super popular and what works for different styles of bride? Well, who better to hear from than Jenny Packham herself as we take a look at these gowns in detail?
"Euphoria is our best selling global style. I love the contrast of the delicate lace and soft tulle. Euphoria's hand embroidered sequin and crystal embellishments and six metre train add instant glamour."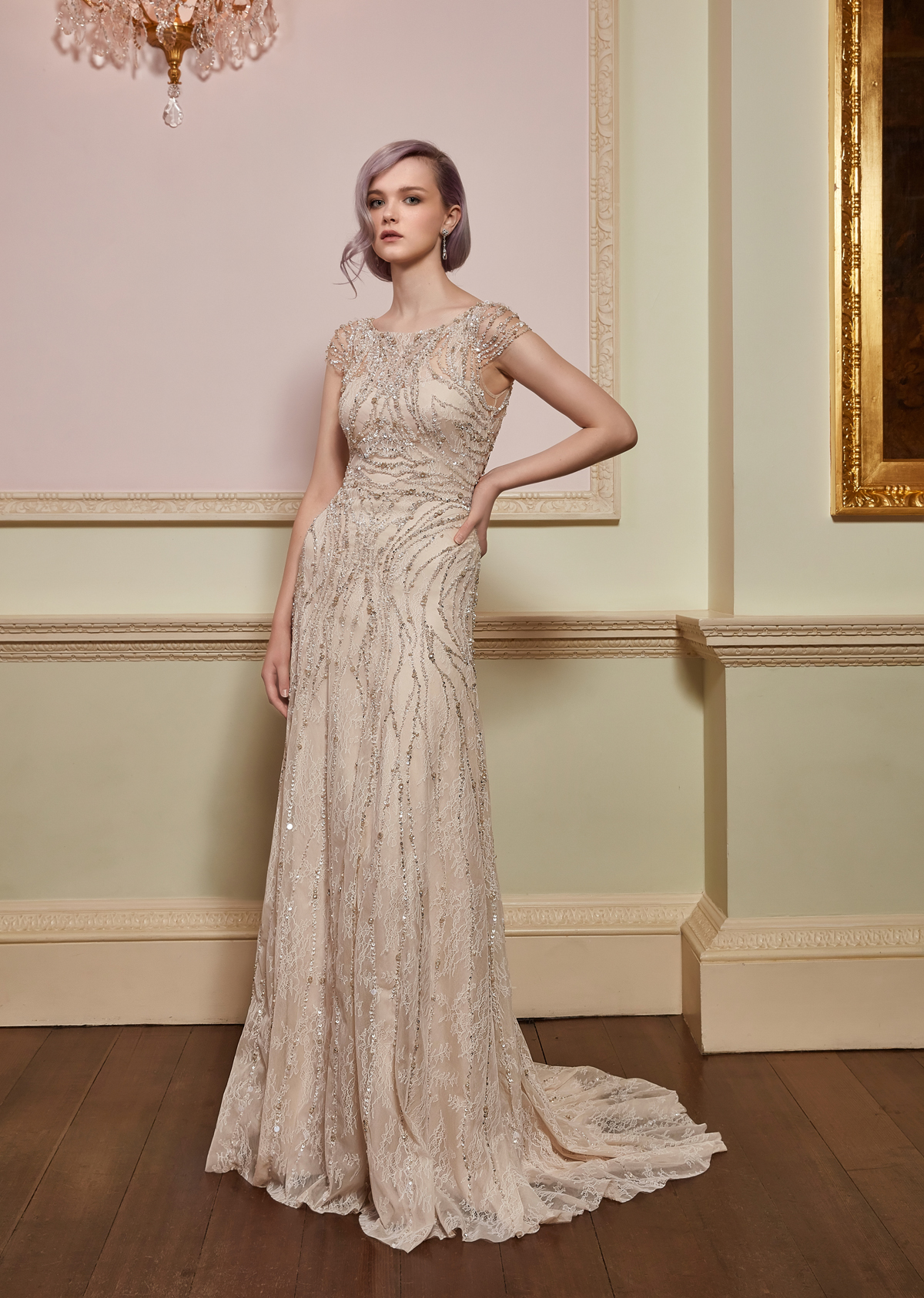 "Dare is the perfect choice for a bride wanting an equally glamorous look as it features 19,500 silver sequins and crystal embellishments hand woven on ivory tulle."
"My separates collection has been very popular. The style is signature Jenny Packham with the versatility to make the look more individual. The Magic top is one of our best-selling separates. Over 68,000 delicate beaded tassels, crystals and statement stones adorn Magic. Style this top with the Magia tulle skirt or the Clemence palazzo pants for a ceremony to reception look."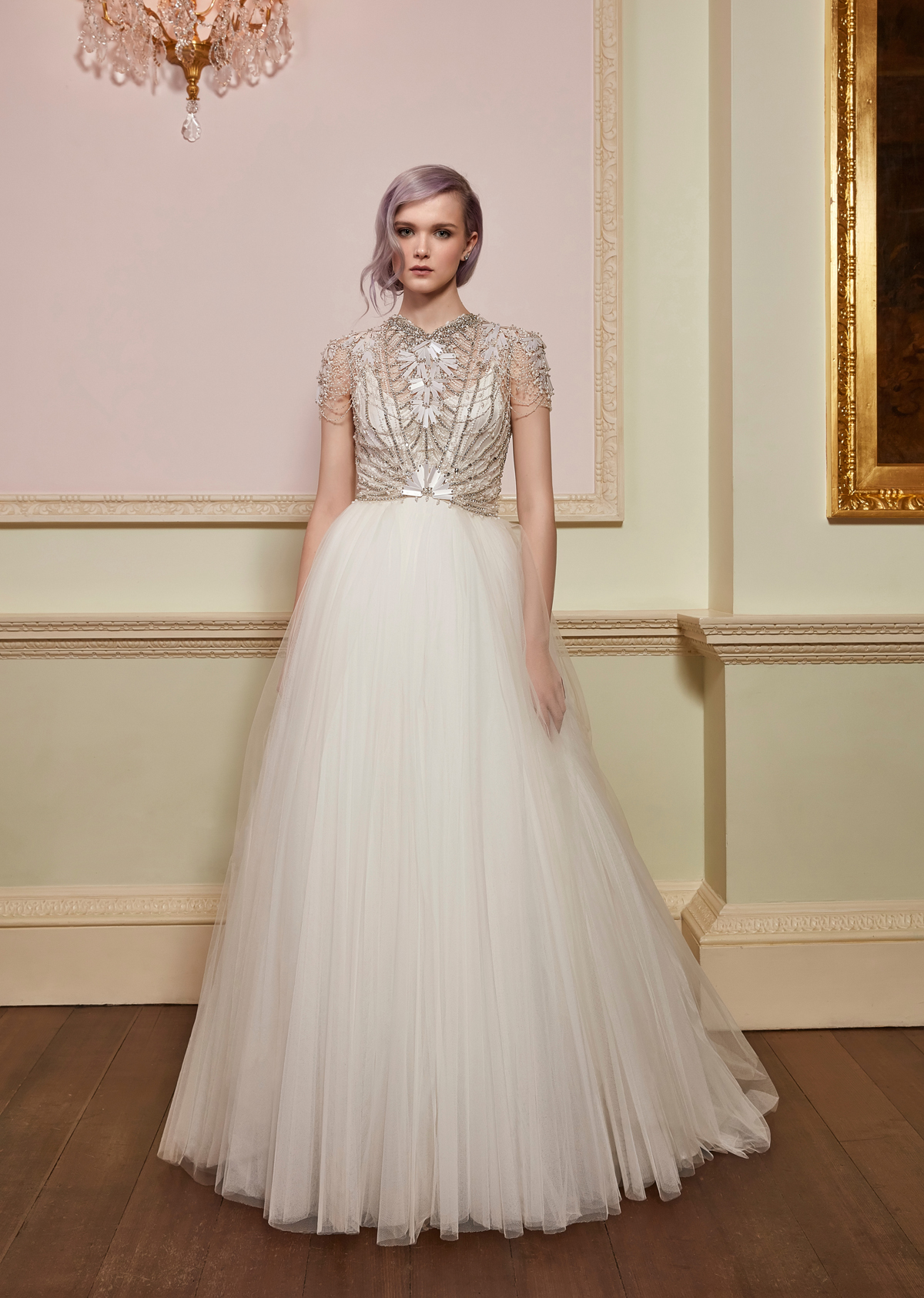 "Honour is one of my favourite gowns from the latest collection. I love the delicate silver flower sequins and pearl beadwork that have been hand woven onto the softest ivory tulle. The pearl embellished neckline completes and finishes the look."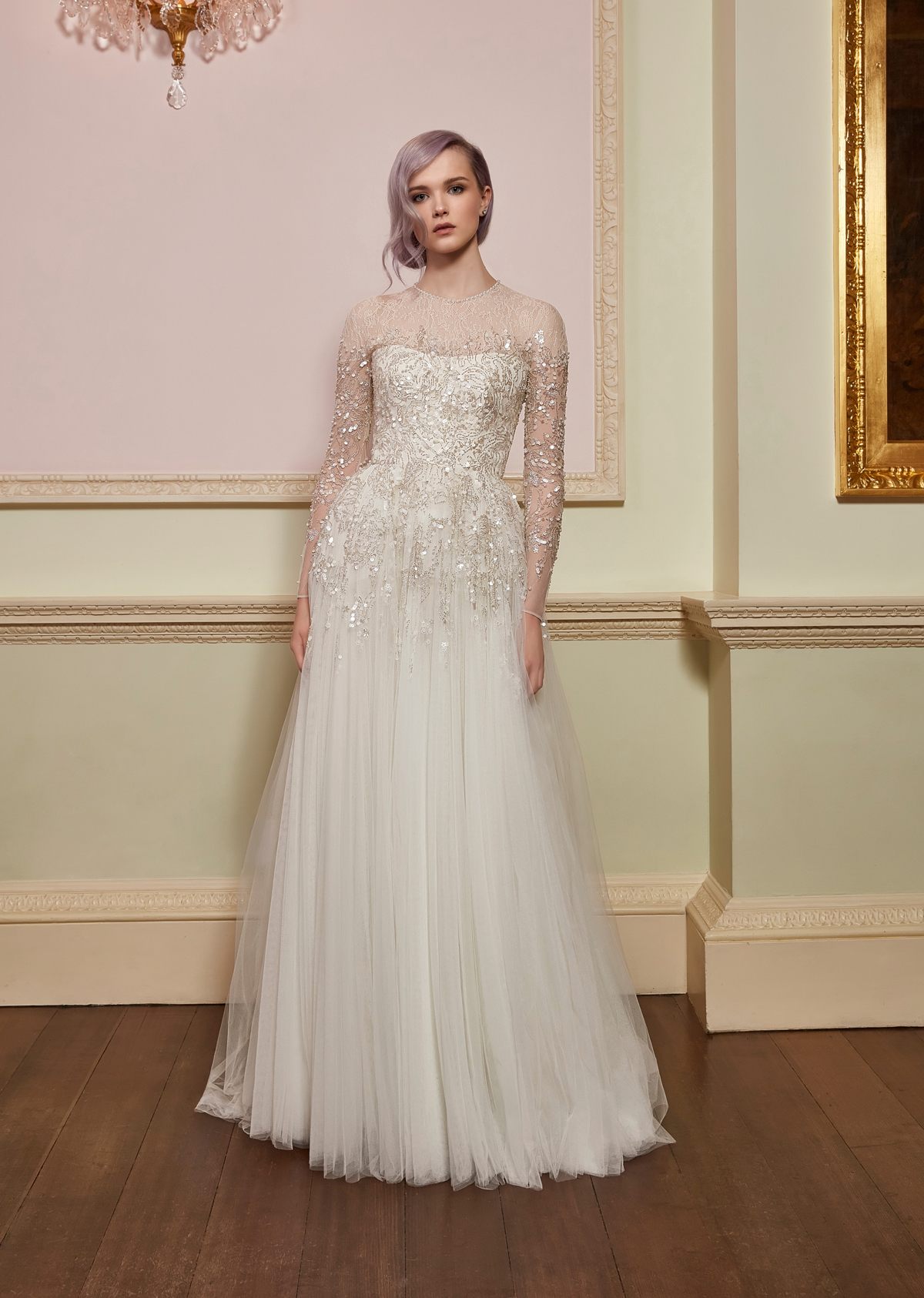 "Freedom is a romantic gown featuring gold sequin embellished flowers hand embroidered on barley tulle. Blowsy sleeves add a hint of bohemia to this style and it's perfect for a country wedding."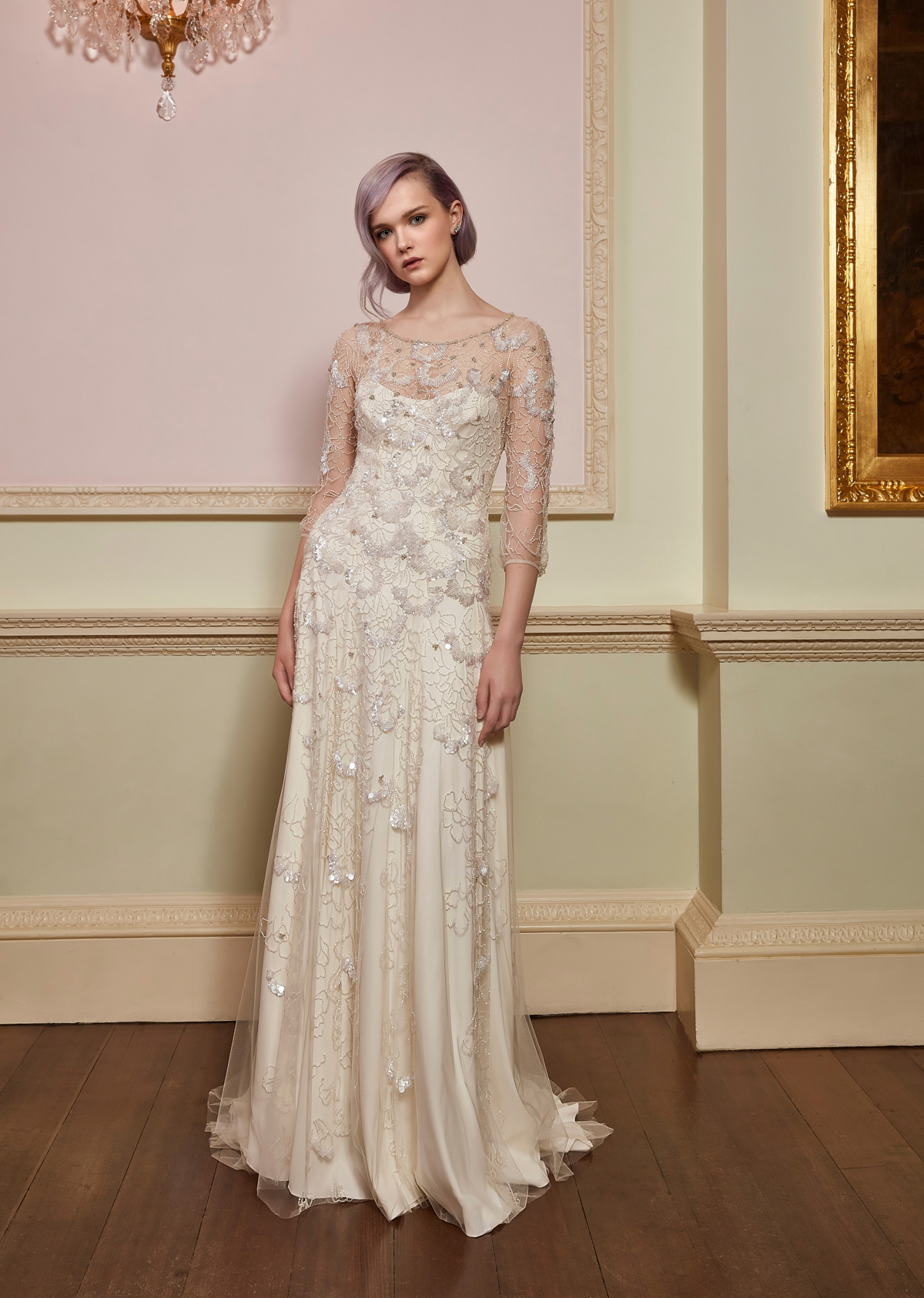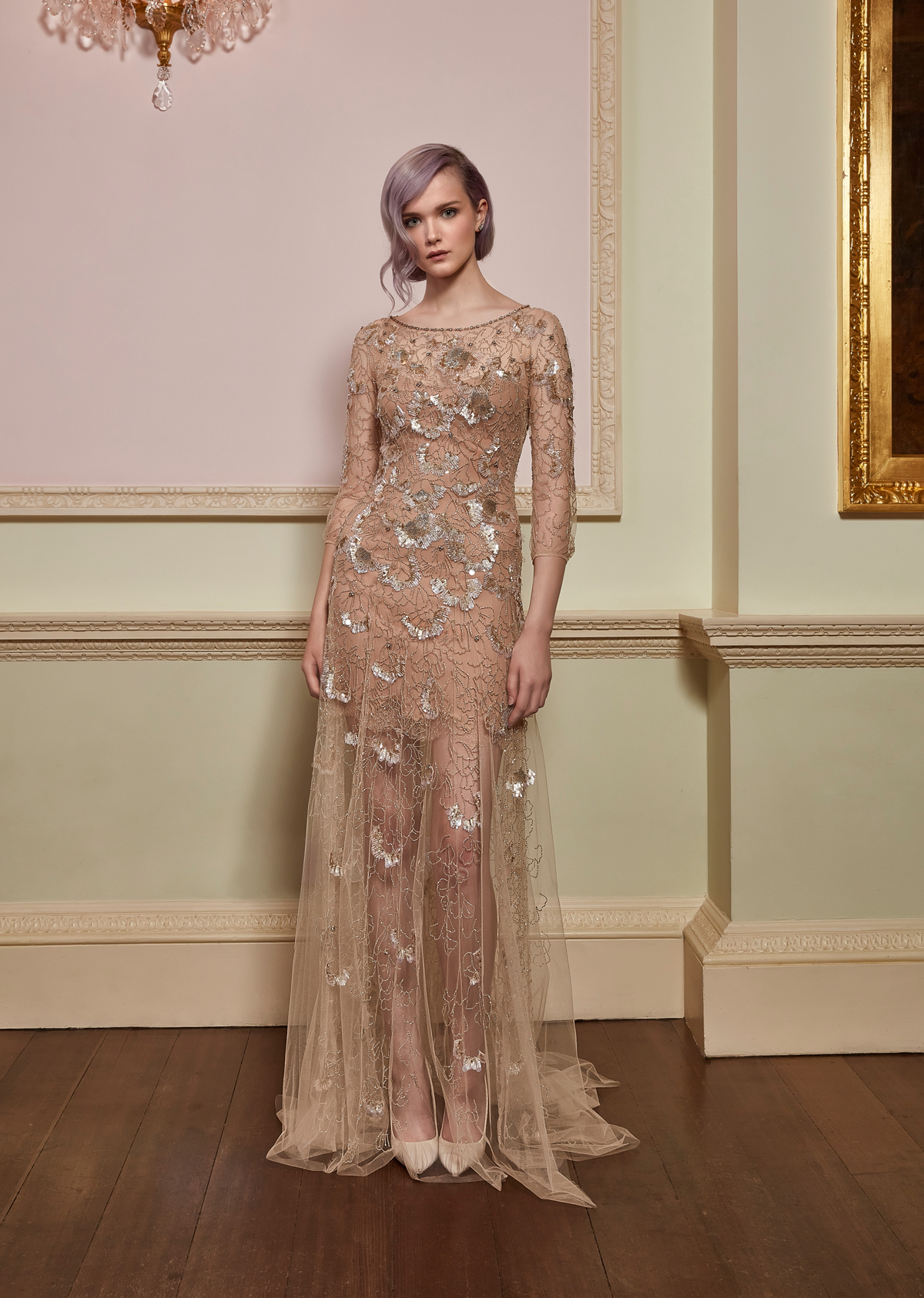 Could you even choose your favourite Jenny Packham gown? Every time I look at the collection, another design grabs my attention! If you're wondering how to select The One from such a dreamy selection then there's one place you need to go – the Jenny Packham London Flagship.
Your bridal appointment at the London Flagship will be nothing short of incredible. Firstly, the space is just fantastic and you'll feel welcome the moment you step inside.
Then, the dresses. Oh yes, you'll have the whole collection at your fingertips AND an experienced member of Jenny's team by your side to guide you through the whole selection process. Try on your selection of gowns, personalise your look and find the Jenny Packham gown for you in this amazing location. What more could you want?
Jenny Packham – stunning designs, impeccable craftsmanship and an unforgettable experience for brides. Perfection.
To find out more about wedding dresses by Jenny Packham, just take a look at the website. If you'd like to book your bridal appointment at the London flagship, contact the team on [email protected] or via +44 (0)20 7493 6295. You'll find the door to wedding dress heaven at 3A Carlos Place, Mount Street, London, W1K 3AN.
Love,
Tamryn x
There are no photos with those IDs or post 681397 does not have any attached images!