Oh my, have I got something special to share with you! Today's bride Lisa is wearing perhaps the most divine, most unusual wedding gown you'll see all day. So are you ready?
On 7 September 2017 Lisa, who works in retail for Le Creuset and Craig, who works in a bank, married in a humanist ceremony on the beach at Glen Golf Club, North Berwick, Scotland. With just fifty guests the couple's day was small and intimate, with a relaxed, outdoorsy feel.
"All in all we wanted a personal ceremony with some light-heartedness and humour, good food and drink and lots of laughing and dancing. We wanted our wedding to be quite relaxed and fun. We had quite a small wedding as we wanted our family and close friends to share the day with us and be able to spend time with all our guests. Craig and I are both very laid back and this was reflected in our wedding – we did not want anything that was too formal or extravagant as it wouldn't have felt very 'us'. 
Photography Kalisterscope Photography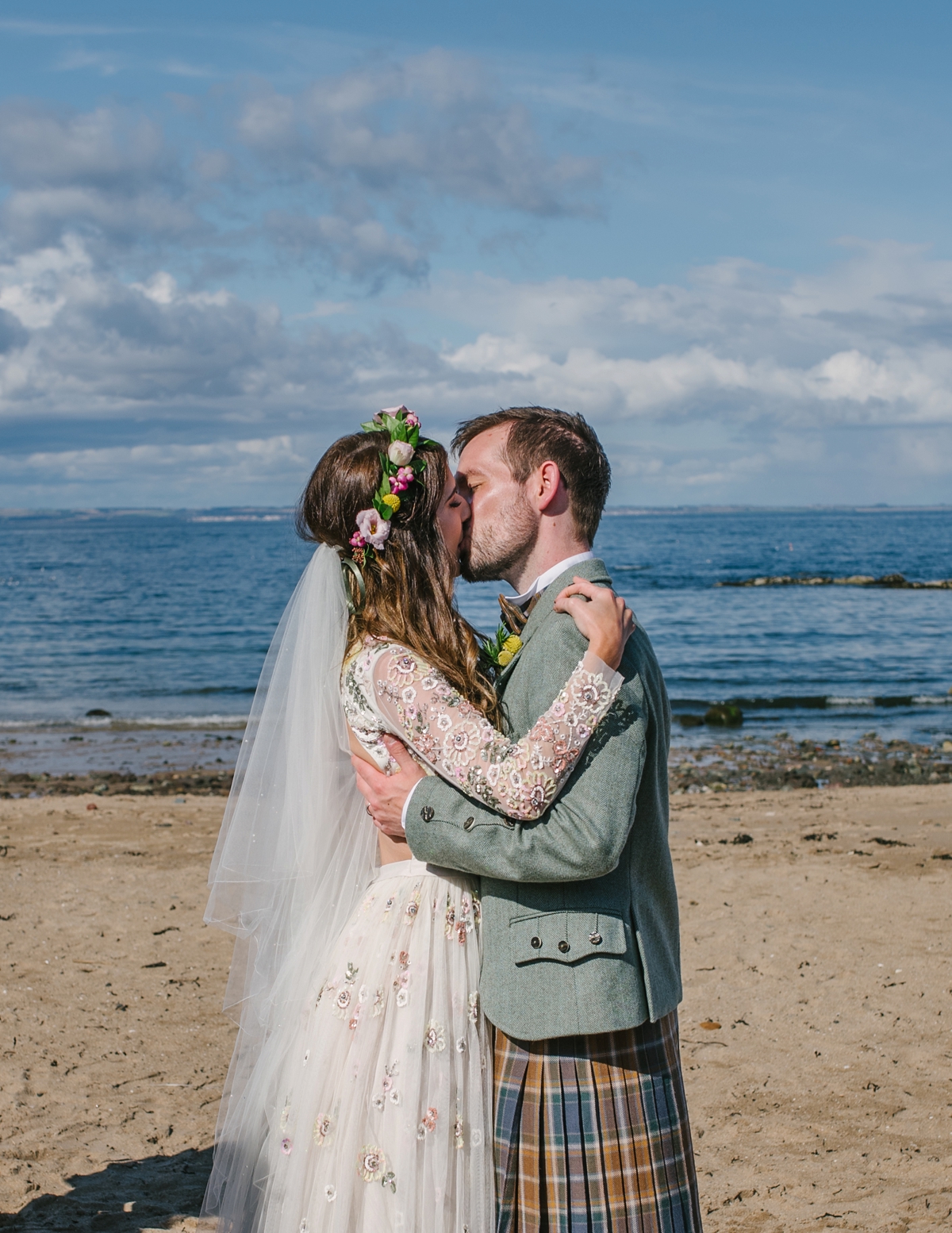 When I saw these photos I instantly fell in love with Lisa's exquisite choice of gown – a Needle & Thread gown with a deep v back, long-sleeves and a slim-fitting tulle skirt, beautifully embroidered with colourful flowers.
"I had seen a few Needle & Thread dresses online and loved the styles so I decided to order one to see if it suited me. I loved the long sleeves and all of the beautiful embellishment and the open back. It arrived and I tried it on and to my amazement it fitted me and it looked gorgeous so I decided that was the one! It was in fact the ONLY dress I tried on and I didn't want to confuse myself by trying on lots and I really don't think I would have found a more beautiful dress anywhere! I absolutely love how much detail was in it and the embellishment sparkled beautifully in the sunlight."
"It wasn't actually from their bridal range but to me it was exactly what I was looking for – something a bit quirky and different. My dress has got so many compliments and I am so happy I chose it and that I managed to find 'the one' without any stress or dramas."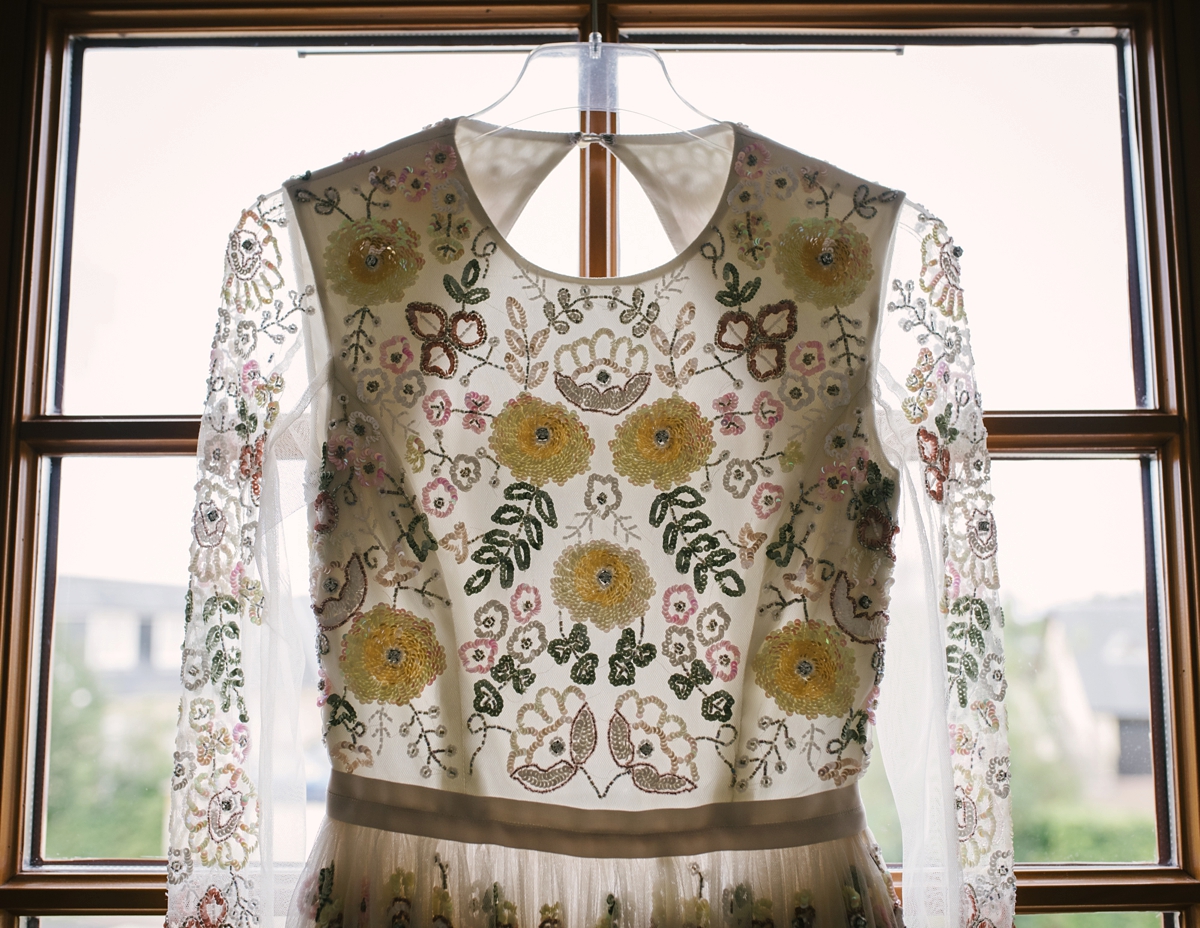 Sweetpeas Floral Design created the beautiful, sumptuous bouquets and flower crowns.
"I wanted my flowers to be colourful, vibrant and fun! Ruth at Sweetpeas put together beautiful bouquets and made a gorgeous flower wand for Maddie my flower girl. She used were vuvuzela roses, orange dahlias, buttermilk stocks, carthamus, mystic gem fuschia roses, caspedias and pink cosmos. I also opted for flower crowns for Emma and I and we absolutely loved wearing them! The gent's buttonholes were blue thistle and craspedia and again these were stunning and a bit quirky."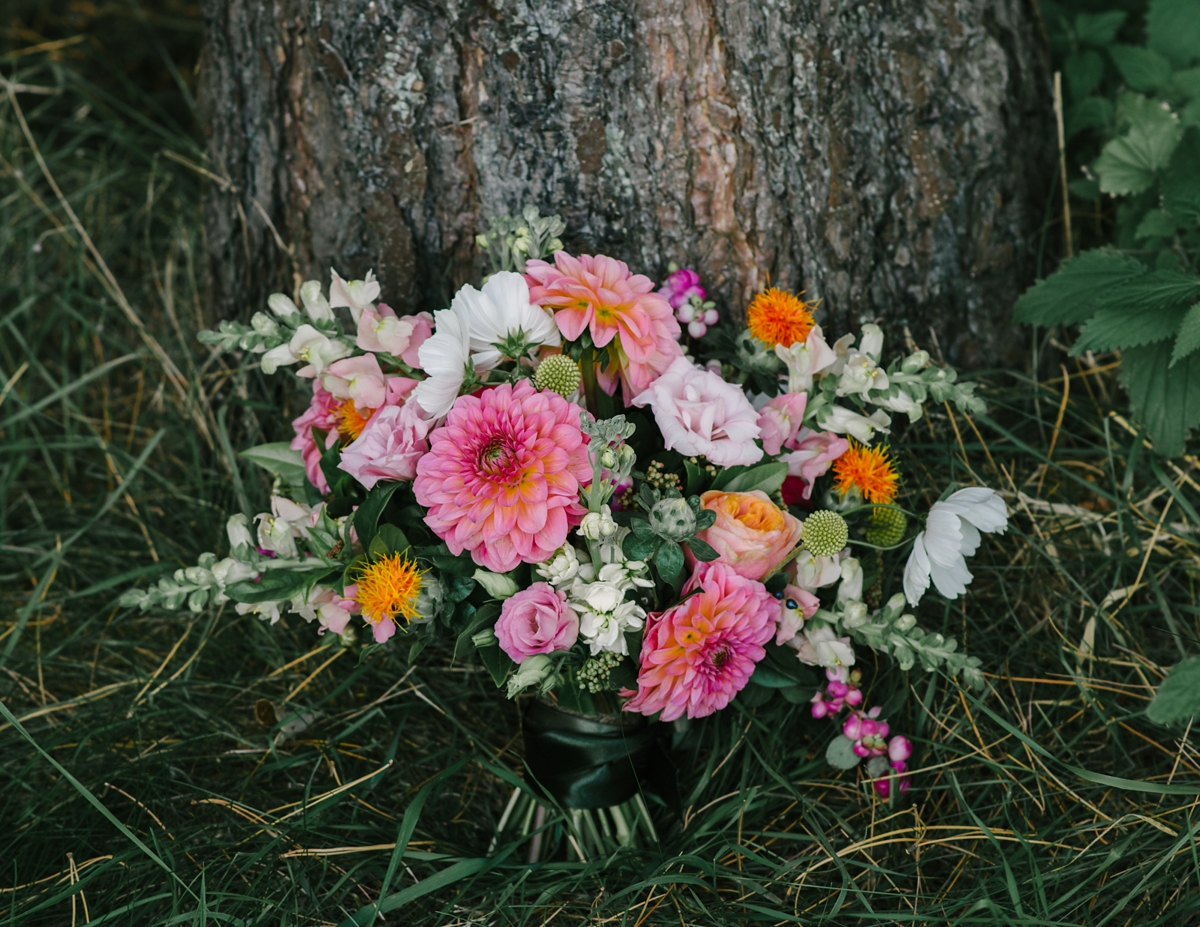 The bride found her pale pink shoes at Dune London; I love how the flowers on the embellished gold heels subtly mirror the embroidered detail of her gown. Lisa kept her earrings simple, allowing her gown and that beautiful floral crown to shine. She found them at Bloom Boutique at Not On The High Street.
"My granny wanted to buy me earrings to wear on the day so she told me to pick whatever I liked and she bought them for me. I wanted something understated and simple as my dress had a lot of detail in it."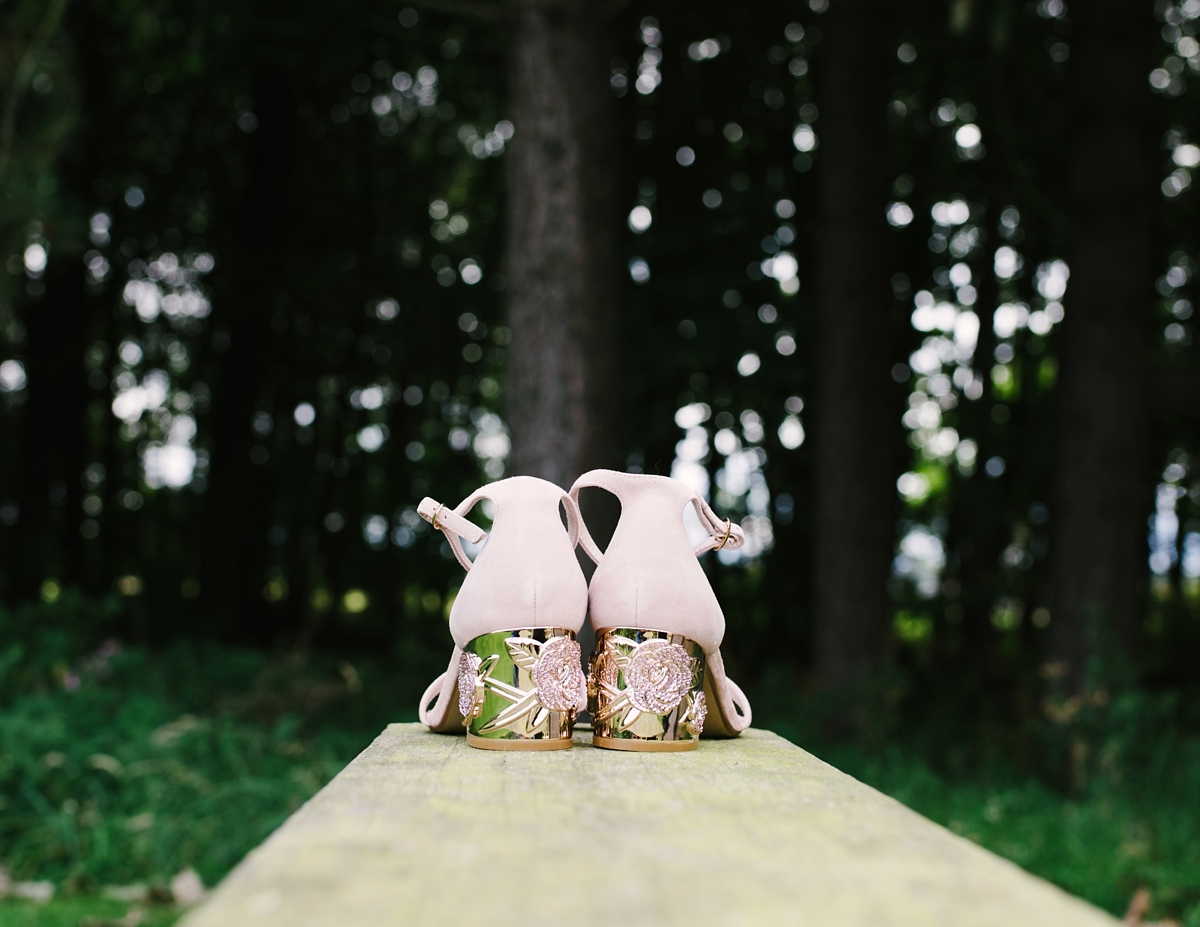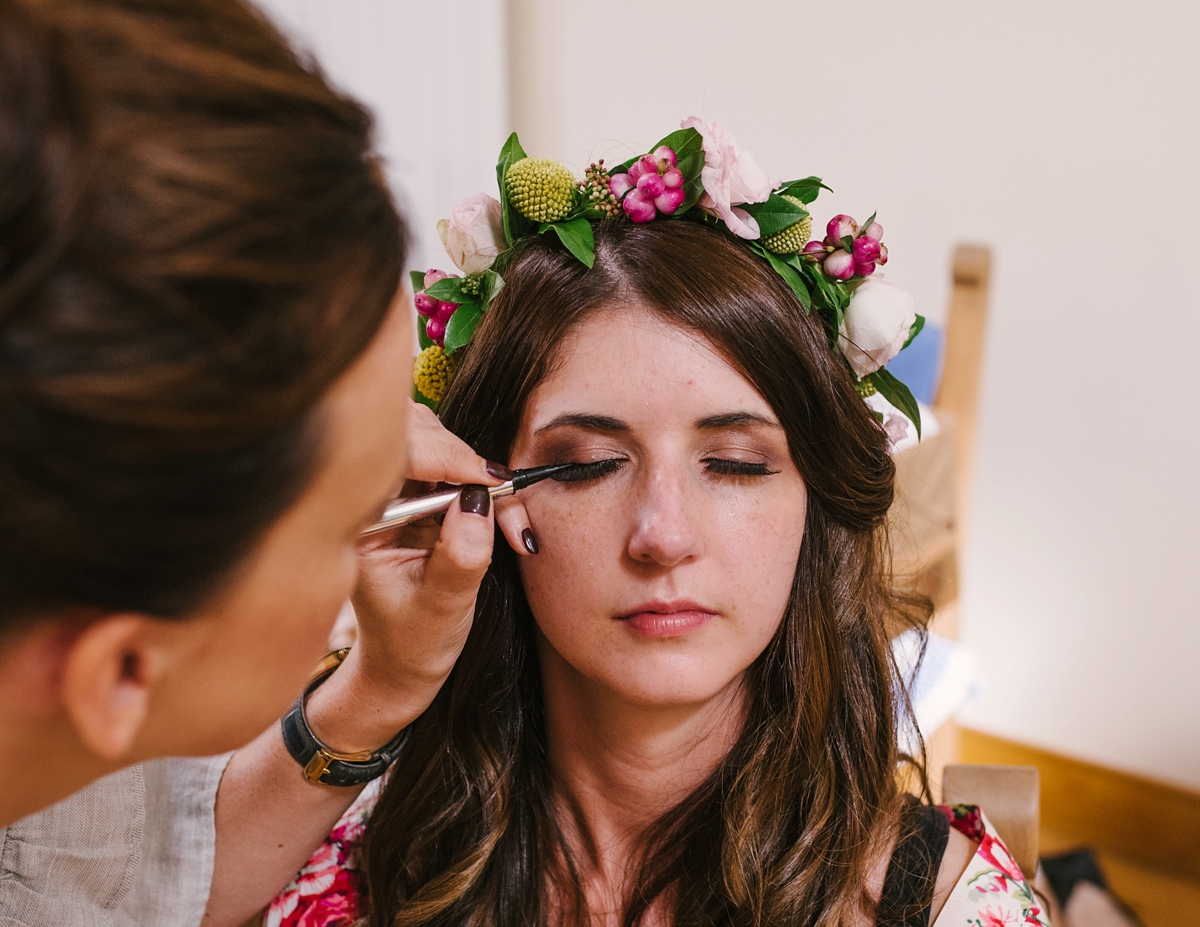 Lisa's twin Emma was bridesmaid and chose her elegant Grecian-style gown from TFNC at ASOS, wearing it with her own wedding shoes. Isn't the flowergirl, Lisa's niece Maddie, adorable? She wore a cute, structured dress from Monsoon –  perfect for the day with its rich floral detail.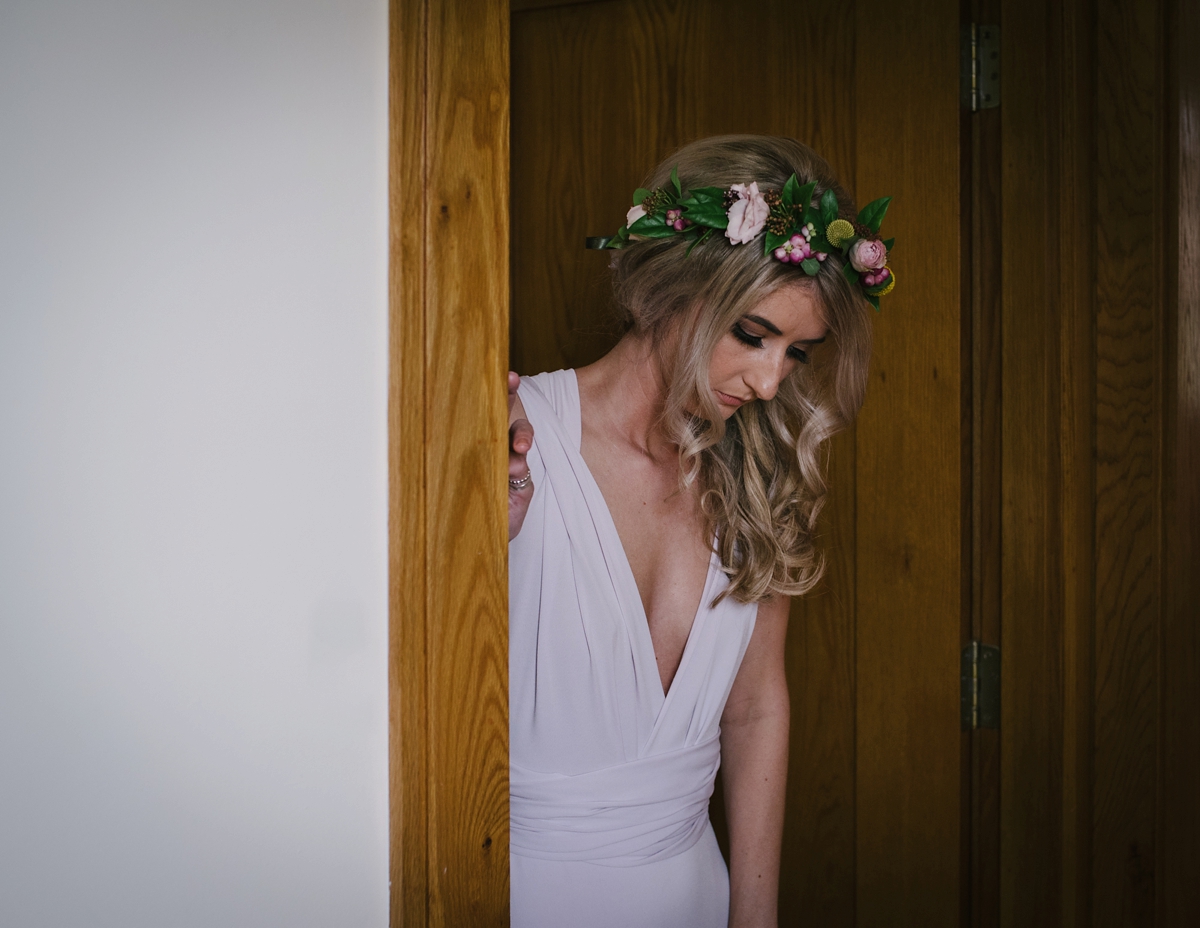 Lisa and Craig have been a couple for over eleven years, so have a long history together
"We met when we were both working in the same department store when we were nineteen. It took a while before Craig finally asked me out and we have been together ever since!"
"It's been a bit of a long running joke with our family about how long we have been together without being married but Craig finally popped the question after ten and a half years together with the help of our Cavalier King Charles spaniel Cleo. That was on 26 August 2016 and we didn't want a long engagement so set the date for September 2017."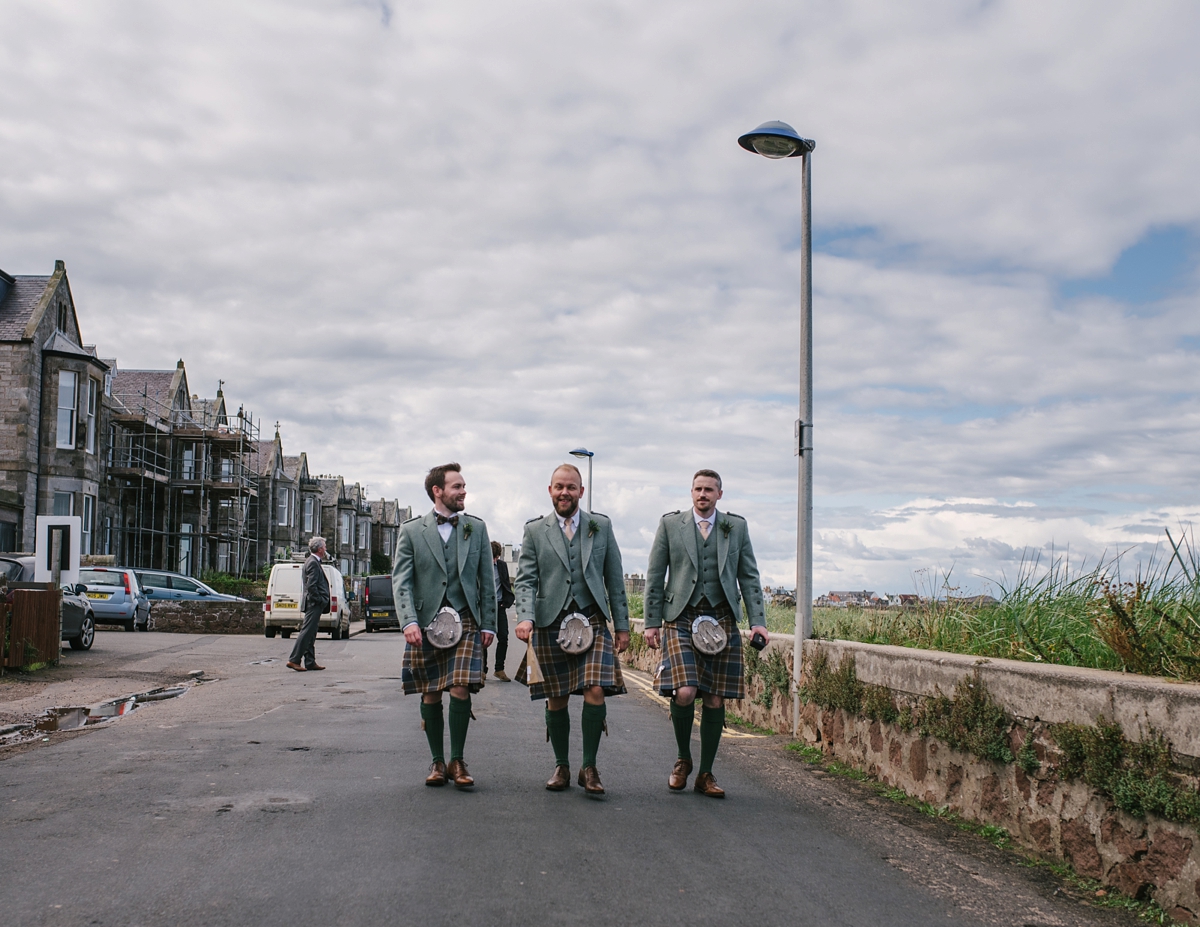 The couple  were so lucky that the 7 September dawned bright and sunny, so they were able to marry right on the beach by the sea. A Scottish piper played 'Amazing Grace' as the bride and her father walked on to the beach. The couple's humanist celebrant Brian Hawkins helped them to write the ceremony and vows to make everything completely personal.
"We wanted the ceremony to include our story of how we got together and we also wanted a bit of humour in there. We wrote our own vows and declarations to each other which included Craig saying that he loved me because I make him laugh on a daily basis while I said that I love Craig because he would always swap his chocolate dessert with me as he knows I love chocolate as much as I love him."
"As the ceremony was on the beach we were able to have our dog Cleo there and this was really important to us as she is our little baby! My auntie Janette even made her a special wedding collar so that she was appropriately dressed for the occasion."
Lisa and Craig opted for a humanist ceremony at the seaside clubhouse of Glen Golf Club, North Berwick.
"We chose it because of the amazing views onto the stunning beach and Bass Rock. It also meant that weather permitting we could have our ceremony and drinks reception on the beach which we loved the idea of! My mum and dad live in North Berwick so we regularly go to visit them there and it is such a beautiful place."
Lisa's Richard Designs veil came from Gwenne Wedding Services, was worn by her twin sister to her own wedding, and was Lisa's 'something borrowed'.
"It went perfectly with my dress. There were some diamantés on the veil which sparkled beautifully and it looked stunning against the open back of my dress. I loved wearing my twinnie's veil as we have very similar tastes and growing up we were always borrowing each other's clothes so why not for my wedding?"
The two readings chosen were 'Union' by Robert Fulghum read by Lisa's auntie, and 'I Choose You' by Tyler Kent White read by her mum. During the signing of the marriage schedule nephew Kieran played guitar and sang 'Here Comes The Sun' by The Beatles, learnt especially for the day.
"Our ceremony was absolutely magical. We had planned to have it outside on the beach (weather permitting) but we were worried about the Scottish weather forcing us to go to plan B. We were so fortunate that on the wedding day we had perfect conditions for the ceremony on the beach and this meant of course that Cleo was able to join us too – there was even a pod of dolphins jumping out of the water. After the ceremony we had our drinks and canapés on the beach so it was a really fantastic chilled out reception. It was also great that our young niece and nephew could happily run around and play on the beach too."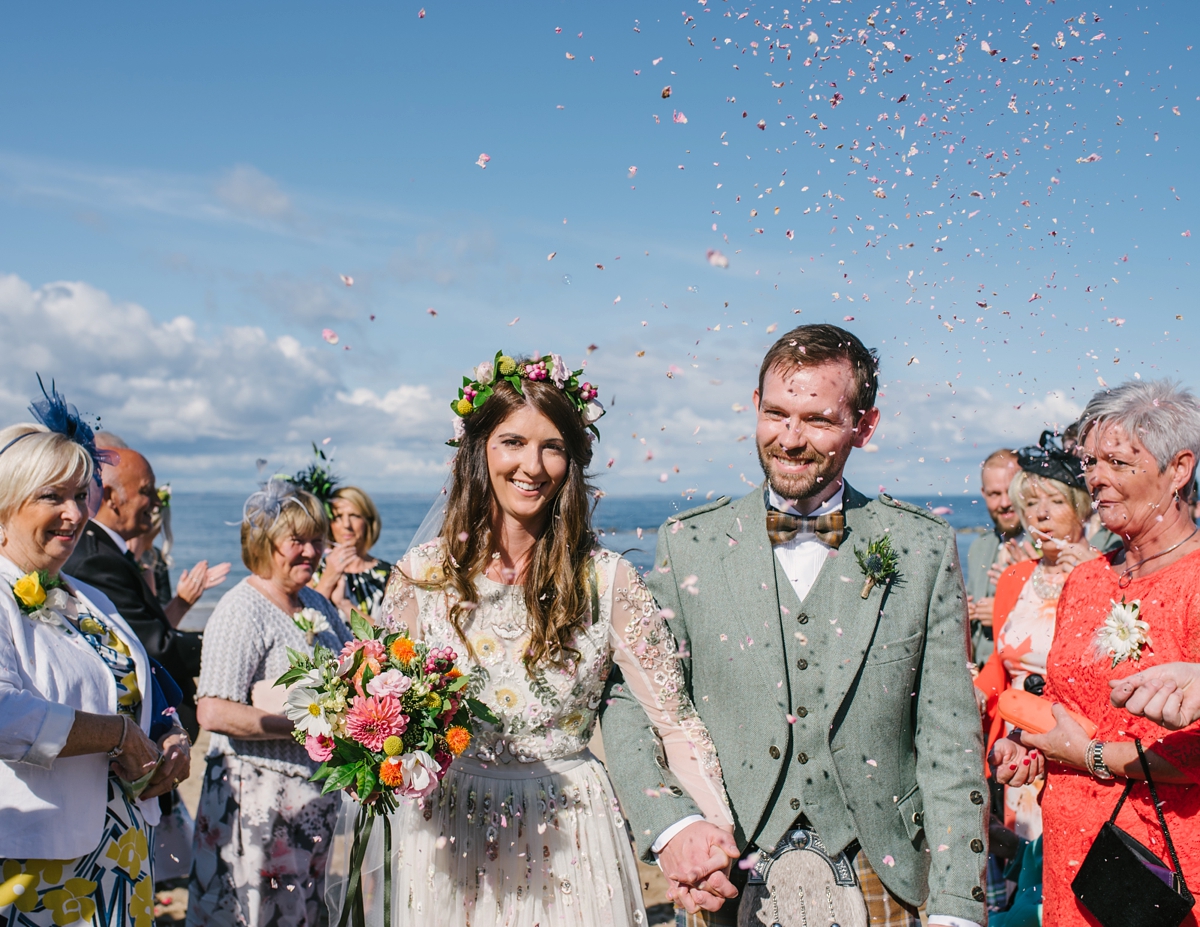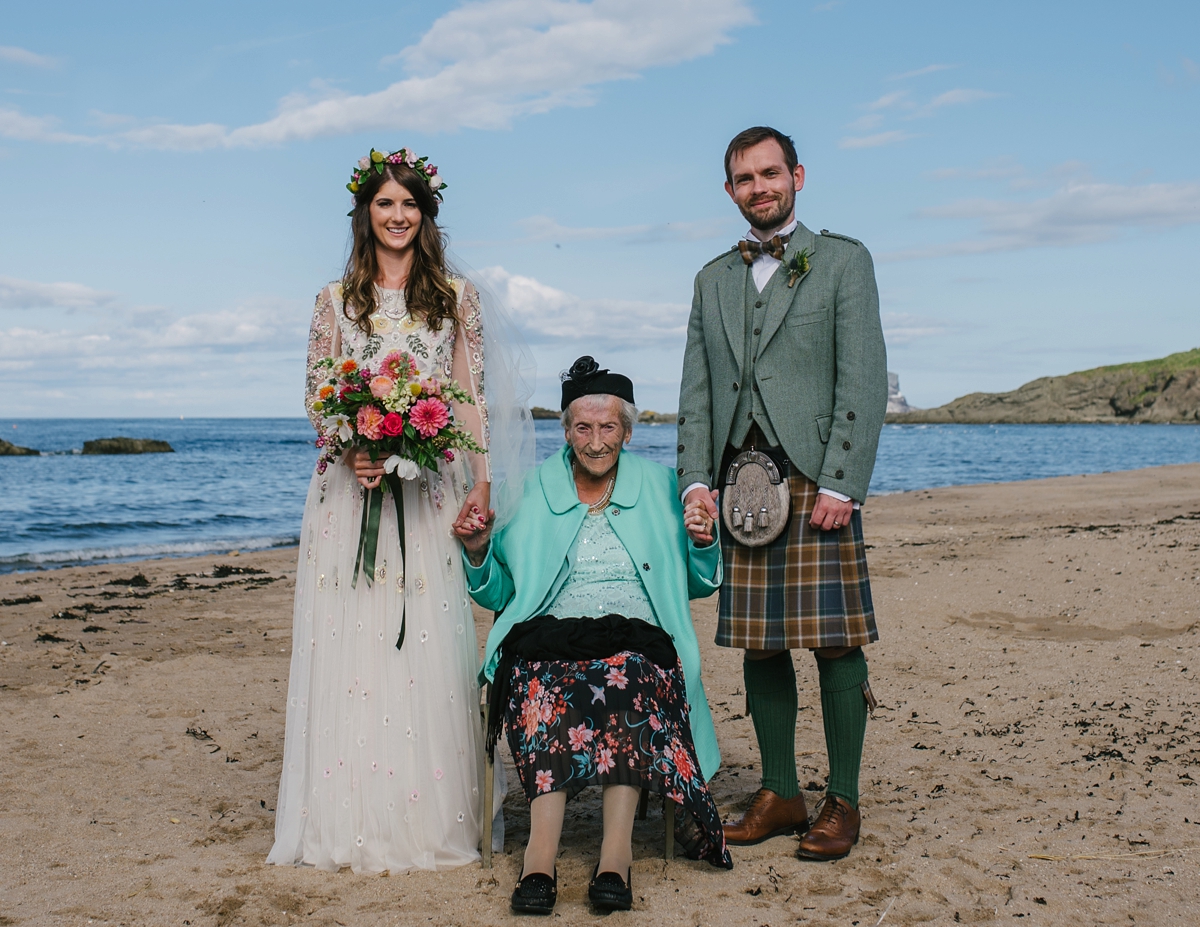 These beautiful coastal photos are the work of Suzanne Lister of Kalisterscope Photography.
"We found Suzanne through a friend, had a look at some of her photos and absolutely loved her style! We met for a couple's shoot about a month before the wedding and Suzanne put us at ease and made us feel comfortable in front of the camera.""
On the wedding day Suzanne captured the whole day perfectly from the bridal prep to the last dance and fireworks on the beach! We are thrilled with all our photos and would absolutely recommend Suzanne to anybody looking for a wedding photographer."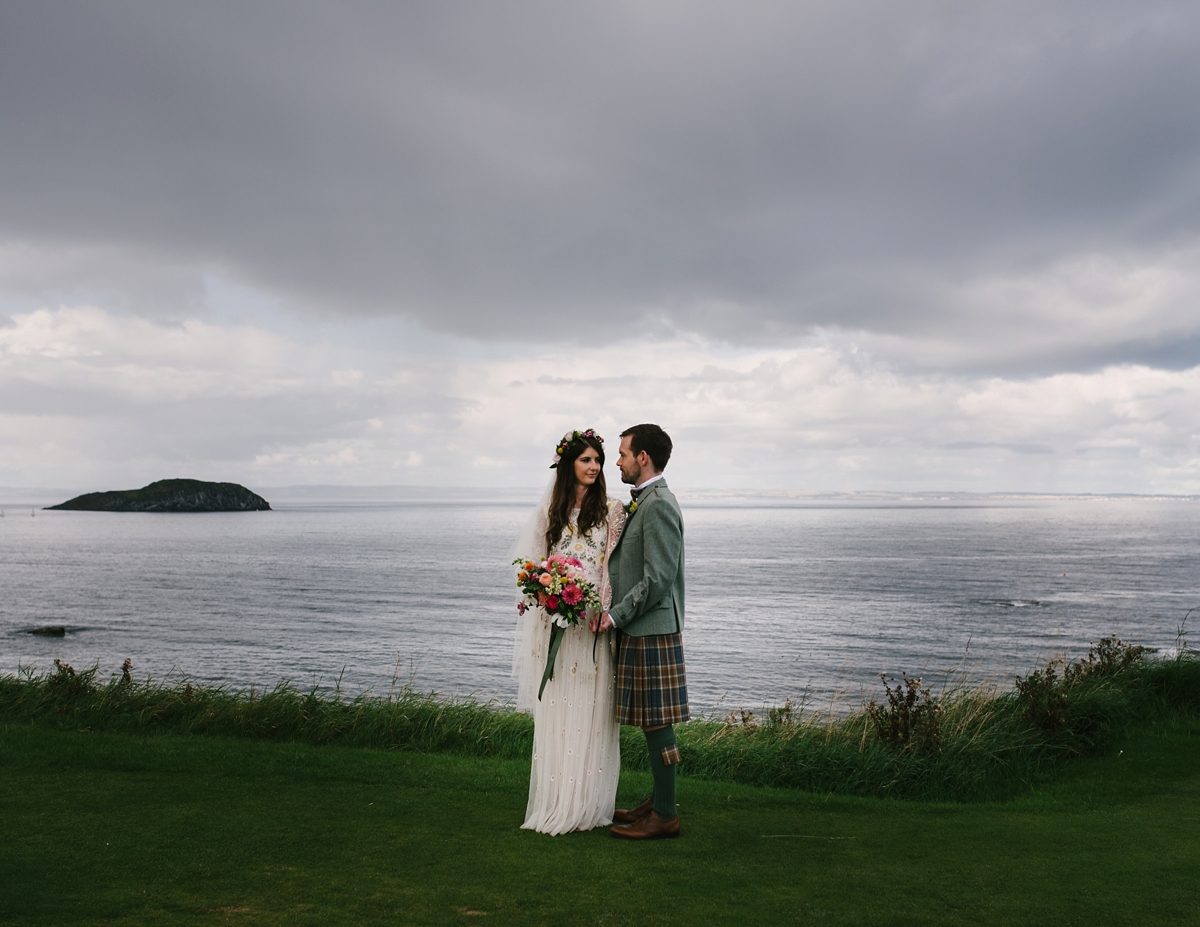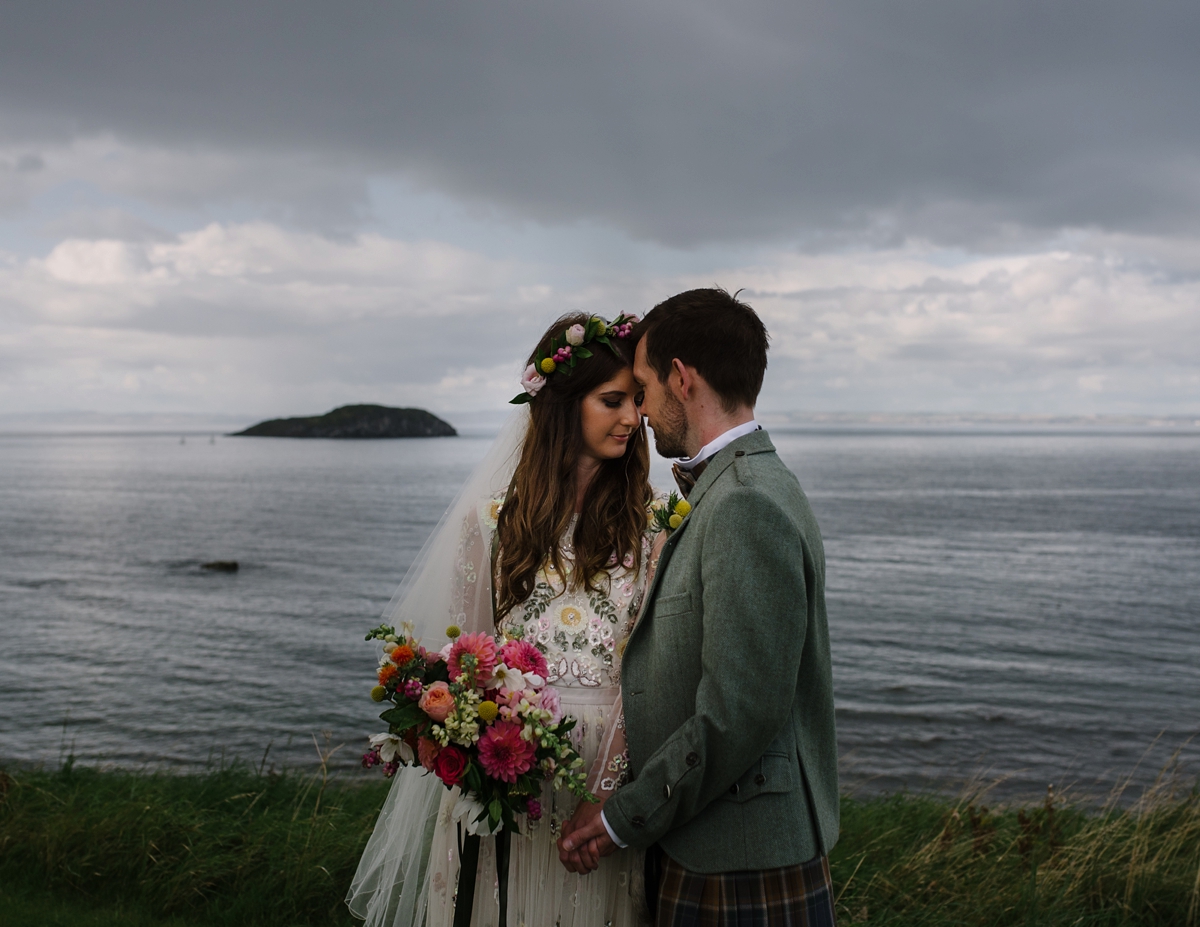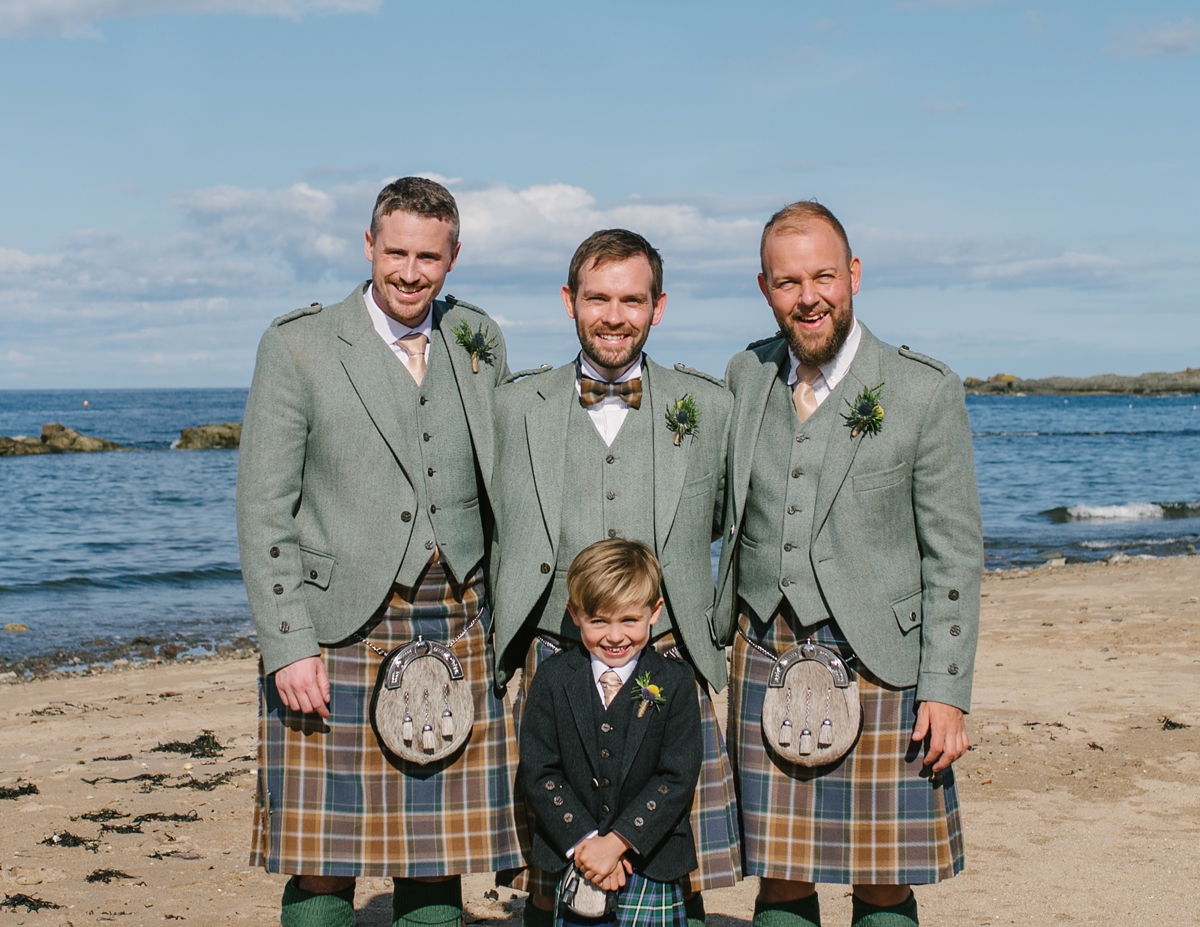 The wedding party moved inside the clubhouse for the wedding breakfast and party, decorated beautifully by Lisa, Craig, their friends and family.
"We decorated the venue ourselves using various items purchased online including bunting, fairy lights and photos attached to string lights. We also bought our own flowers to put on the tables in glass jars we collected in the run up to the wedding and we had the table numbers in jars filled with sand from the beach."
"Our friends and family all helped us decorate and we were really thrilled with how the room looked. As place settings we had a name card slotted in to the back of various plastic toy animals we spray painted gold to give all the guests their own 'party animal'! The room was quite plain and it really was all about the amazing views so we just needed some pops of colour and a few decorations to bring the room to life."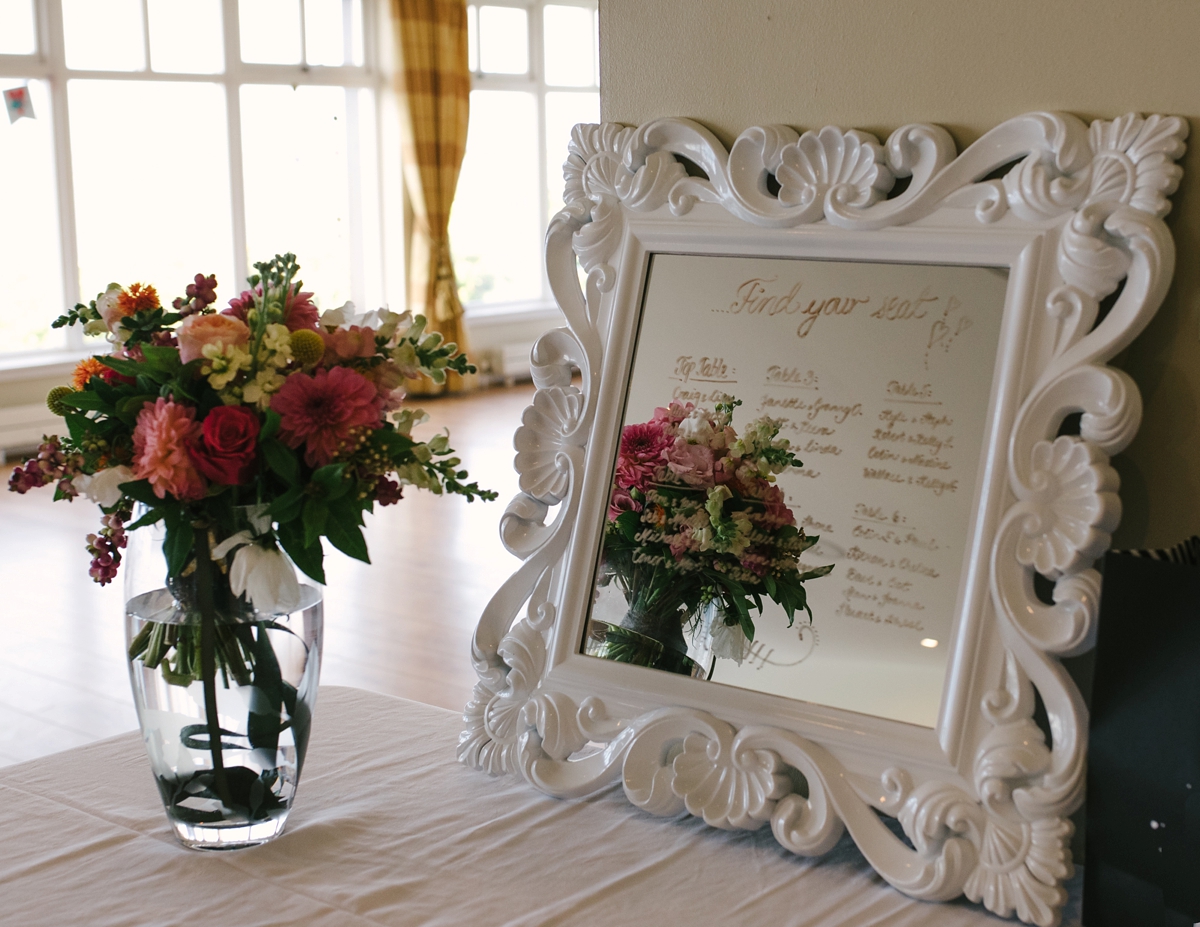 Favours were Scottish tablet made by Craig and biscuits by Lisa's sister-in-law Keera. Their cake was a quirky one-tier showstopper of a mixed berry and caramel cake from Mimi's Bakehouse.
"We were not too fussed about having a traditional wedding cake – we just wanted a cake that tasted good and this was a real crowd pleaser."
I love how Craig and Lisa have really included their family and friends in making their wedding day what it was.
"We wanted guests to feel very much a part of the day so we included various people in stories in the ceremony and speeches as well as having photos of ourselves and our guests hung up around the room. In the evening we had a DJ to ensure everyone was up dancing and we also had a Bubble Photo Booth to keep the guests entertained – everyone loves a photo booth and they could take the photos away as a wee souvenir."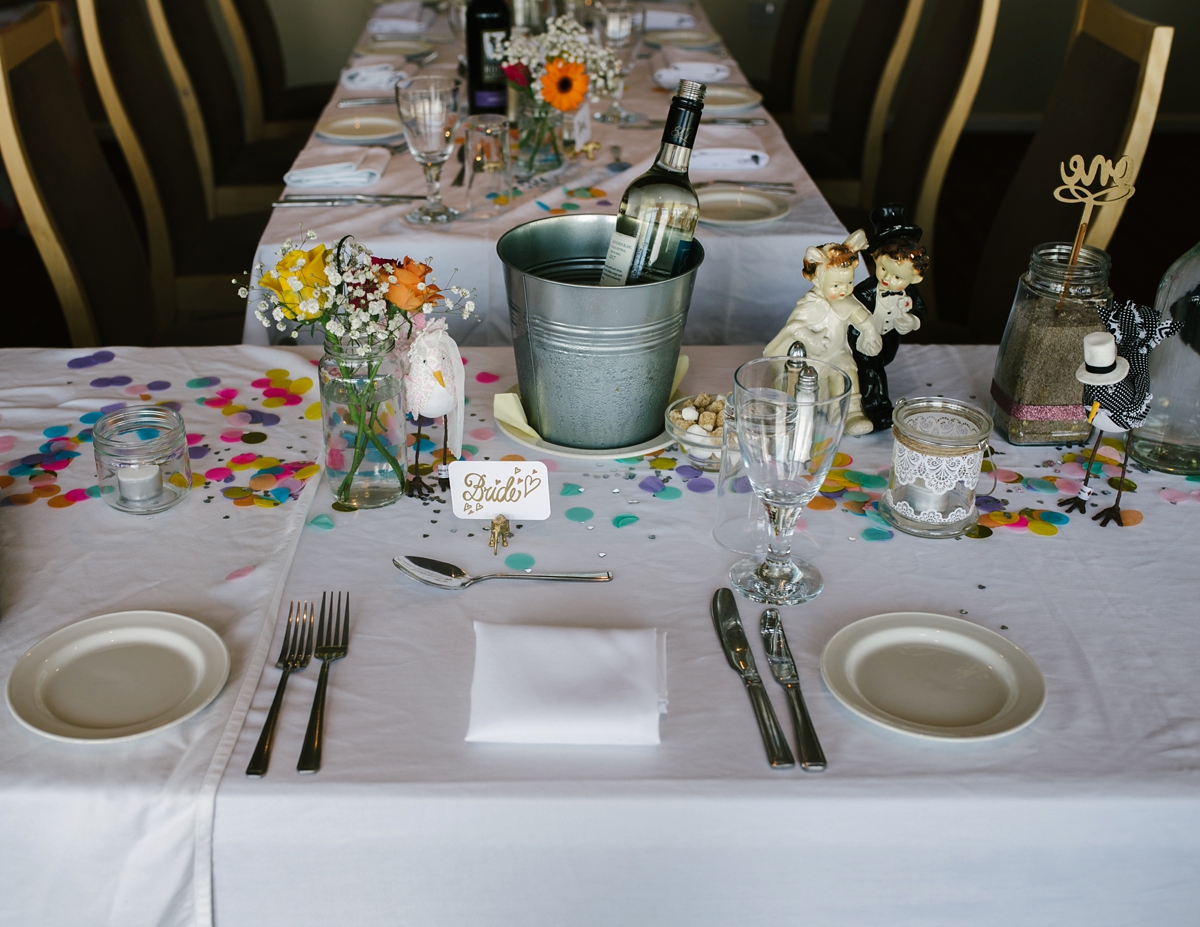 "We also bought fireworks from Edinburgh Fireworks Store to let off on the beach in the evening and we had giant sparklers. This was a really fun part of the night and great excuse for everyone to go back out to the beach."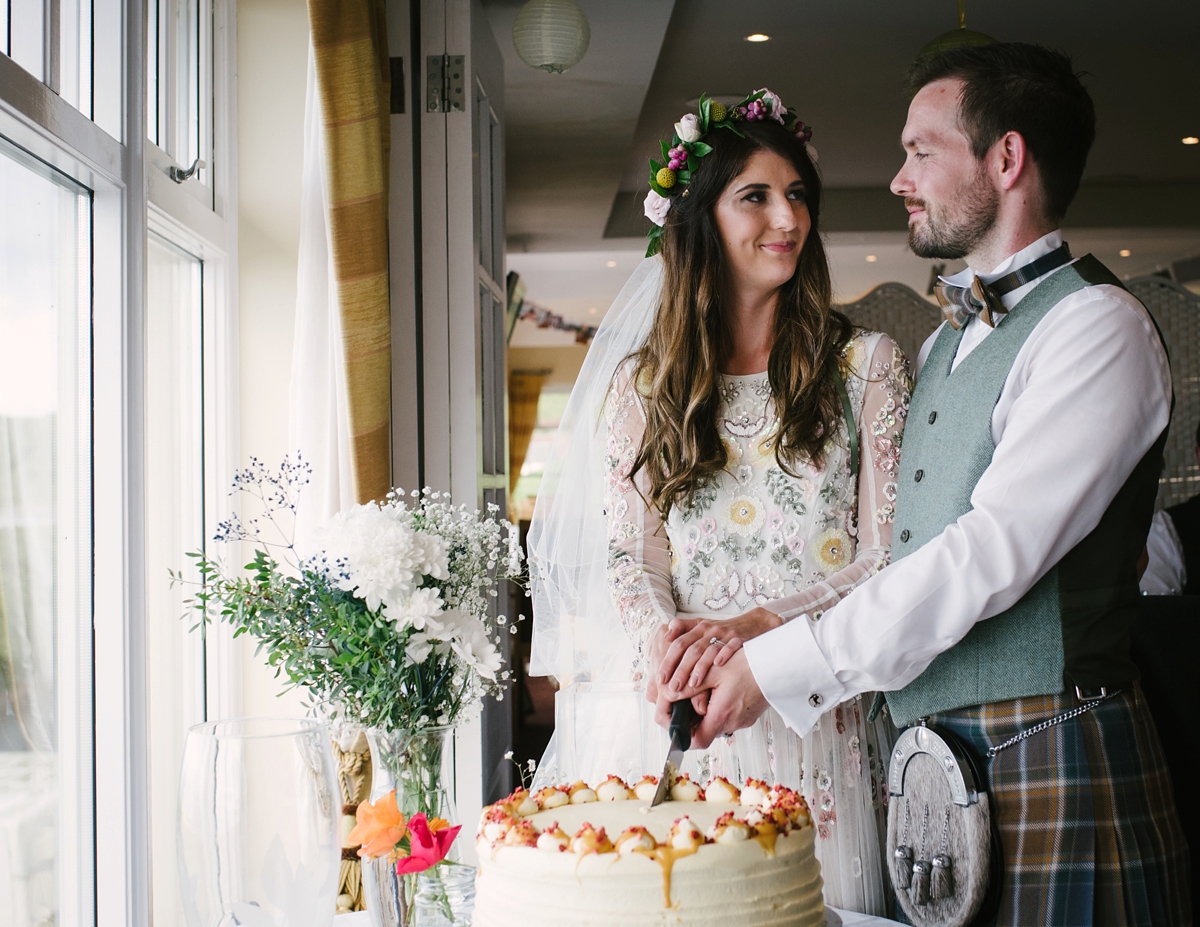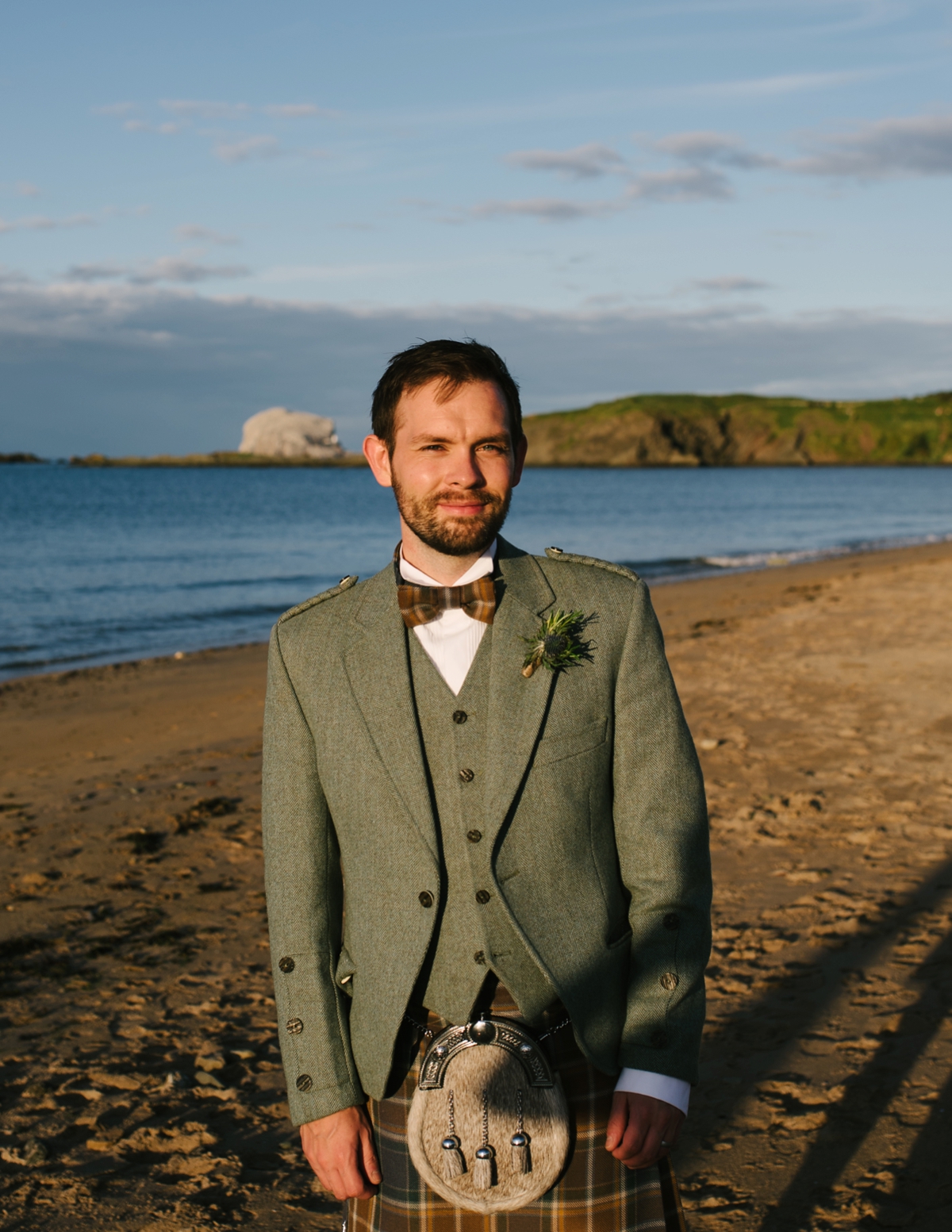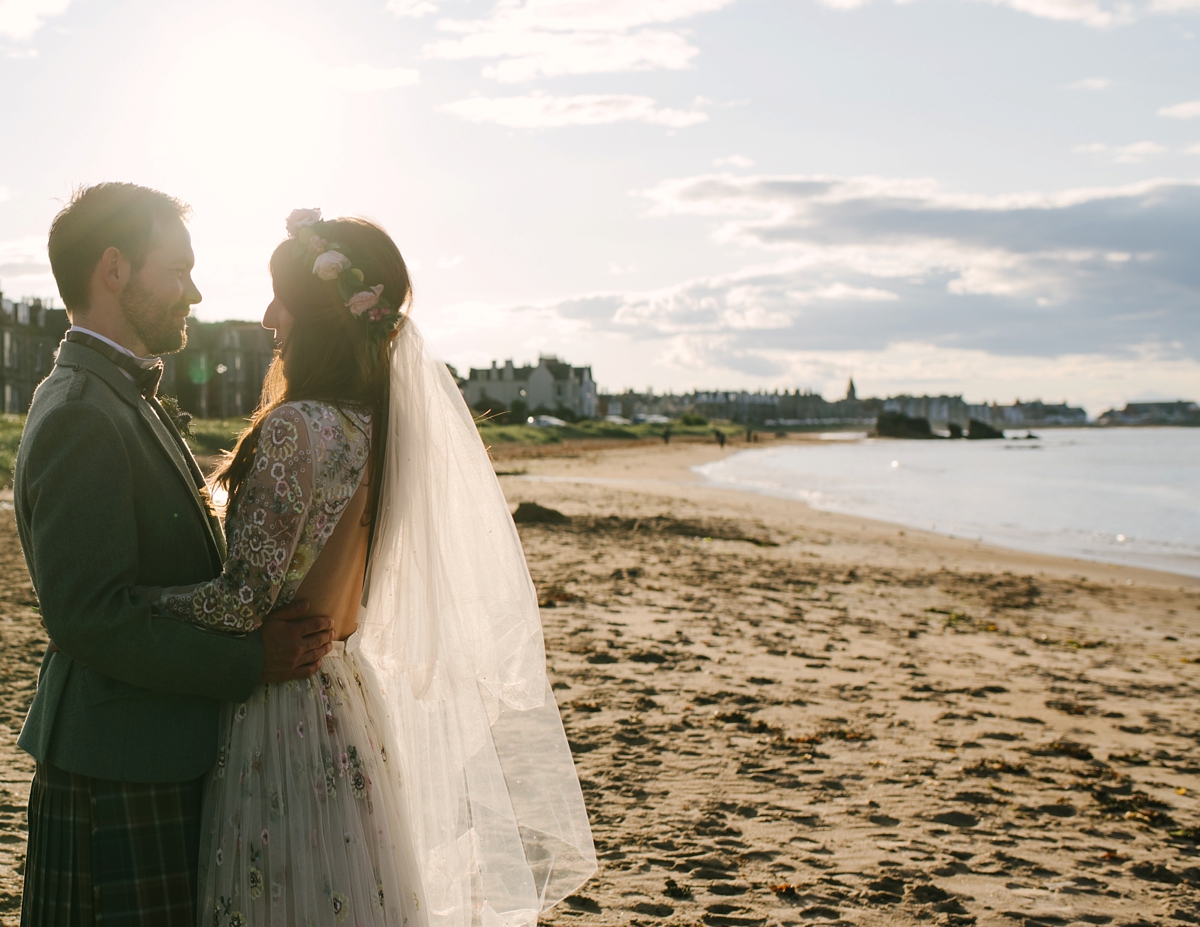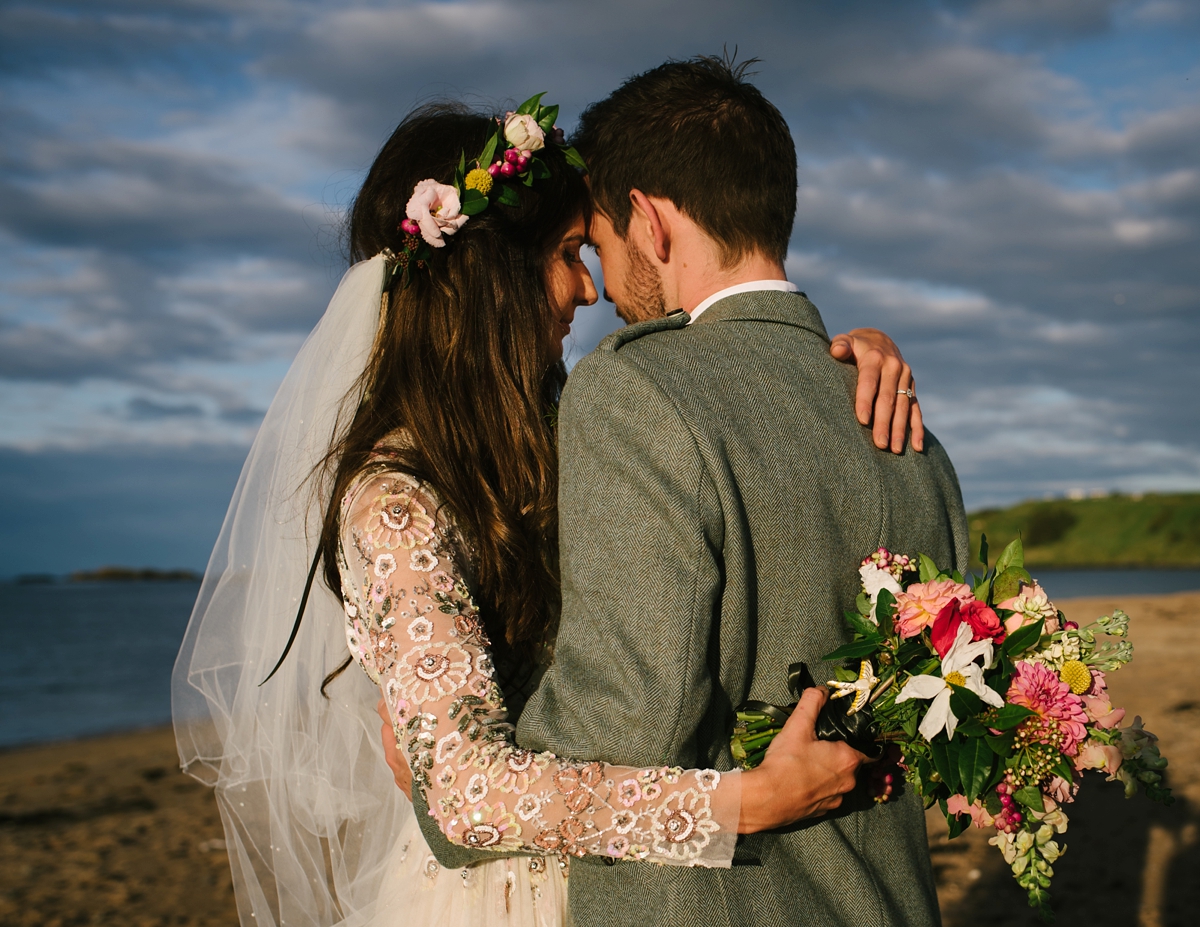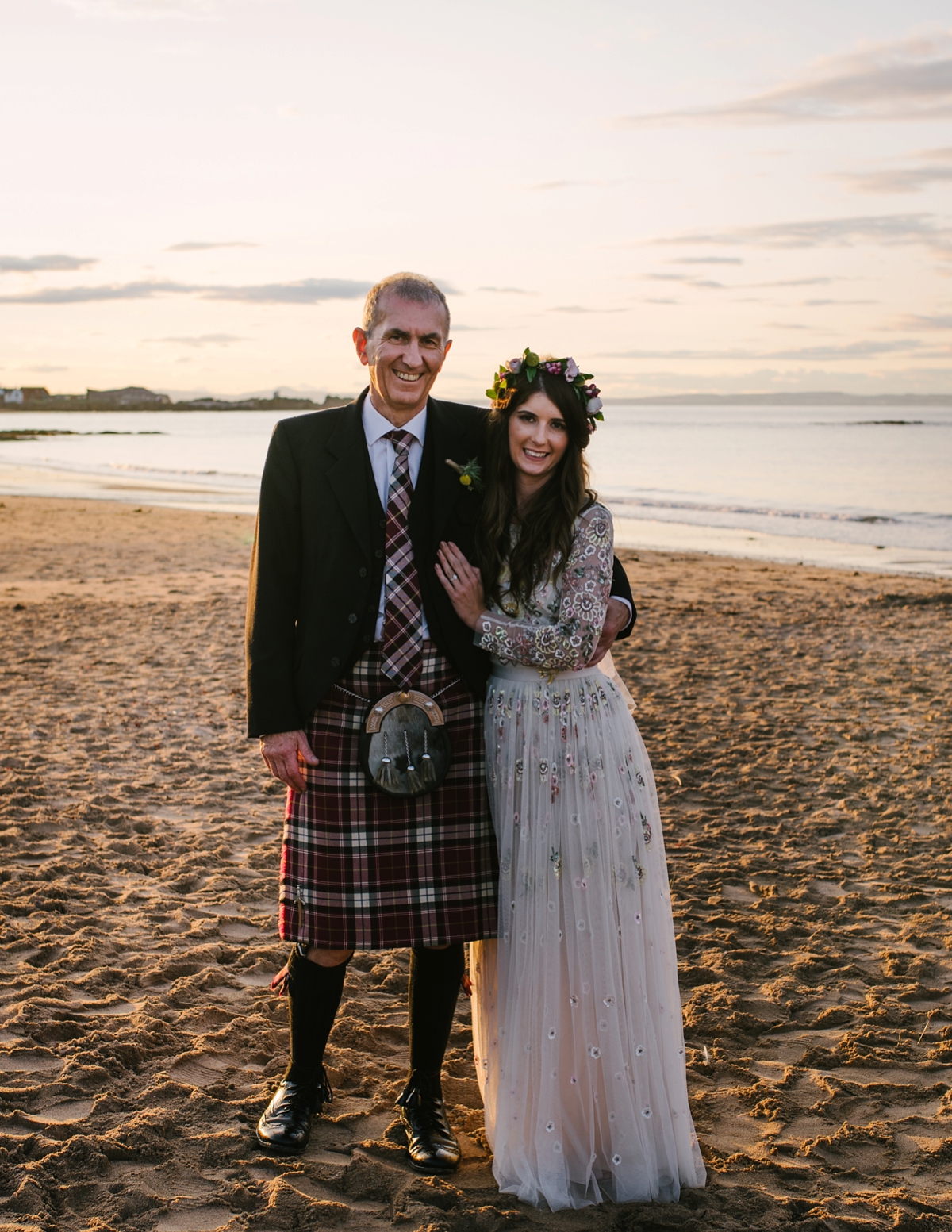 "Our first dance was to 'Baby I'm Yours' by The Arctic Monkeys. I let Craig choose the first dance song. He chose this as he thought it was a modern take on a classic song and the lyrics were very fitting for our wedding day."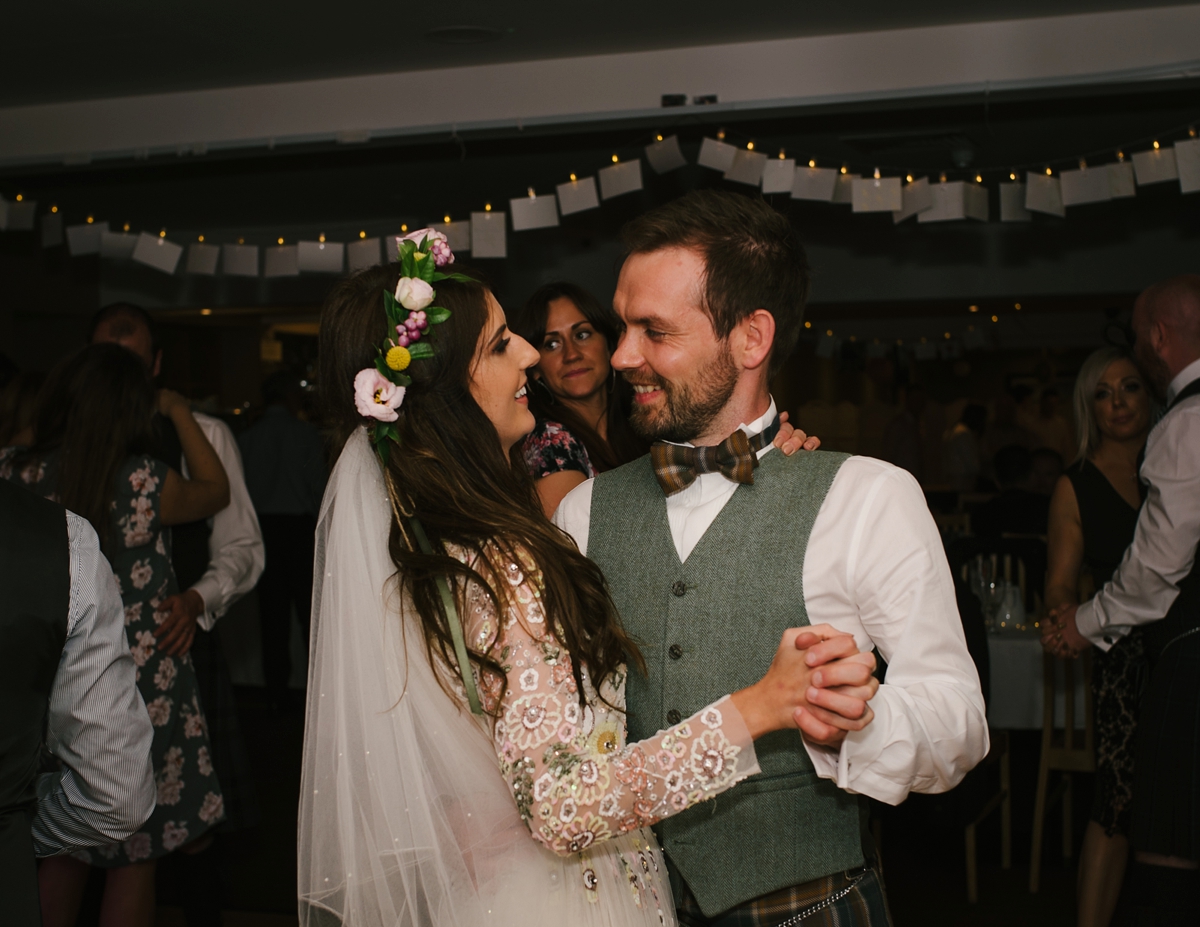 Words of Wedded Wisdom
"Enjoy every minute and really savour the hours leading up to the ceremony when you are getting ready as the feeling of anticipation and excitement is immense!"
"Don't feel under pressure to follow certain traditions if they aren't your style – just focus on what is important to you as a couple or add in your own ideas."
"If you are on a tight budget don't worry too much – although it can feel almost impossible to cut costs associated with a wedding it can be done and don't be afraid to ask friends and family for help – they love to be involved in the prep! Pick what is most important to you when it comes to allocating where your budget goes – for us we wanted amazing photographs to treasure so we picked a very talented photographer."
"We tried to stick to quite a low budget as we didn't want to overspend! It is quite difficult as all the little things add up but we ended up spending about £6,000 in total and that included everything from dress, rings, venue, food and photographer. We chose to opt for a non-wedding cake in order to save some money and the one we got cost just £75 but was super tasty. We also saved money by decorating the room ourselves."
Well I'm going to return to this wedding again and again I think to drink up every detail of this beautiful gown. I'm so glad that you were able to hold your ceremony on the beach, so many congratulations and thanks for your advice to other brides.
Ele xx