I'll be honest – I LOVE earrings. I pick and choose a different pair every day to suit my mood and when it comes to Christmas and birthday time, there'll always be earrings on my wish list.
Of course, your wedding earrings are even more special and you'll want to select the perfect pair for the big day. Today, Victoria Swan, founder of the multi-award winning accessories brand Glitzy Secrets, with her tips for choosing the perfect wedding earrings, joins us.
By the way, Glitzy Secrets are offering 20% off all earrings purchased by no later than 7th February. Simply use the code LOVEMYEARRINGS when you checkout and your exclusive discount will be applied to your order.
"We often notice how stunning someone's earrings are but sometimes we'll also notice how beautifully they flatter the person wearing them. Choosing the perfect pair isn't rocket science and simply considering basics such as your face-shape and stone cuts will have people commenting on how amazing your earrings look on you."
So, what are the steps to selecting the most beautifully flattering earrings? Here's Victoria's rather brilliant cheat-sheet.
Consider your face shape
Round face – go for slim-lines to elongate such as long thin drops that finish just beyond the chin. Even if you only wear studs, consider vertical rectangular studs rather than a round stone to give the illusion of length.
Square face – go for styles that finish above or below rather than level with your jawline. Choose softer cuts such as oval, heart or round rather than angular stones.
Heart shaped face – go for earrings with a small stud and wide drop such as classic teardrops or styles that curve away from the face beautifully balancing the lower face.
Long face – go for styles with horizontal width such as bold round studs, drops with oversized cut stones or delicate designs that have a wide design. Keep the length well above or below your jaw and avoid earrings that finish a centimetre or two above your jawline.
Oval face – go for oval faces can carry off all styles but to really enhance your face shape, choose oval cut drops.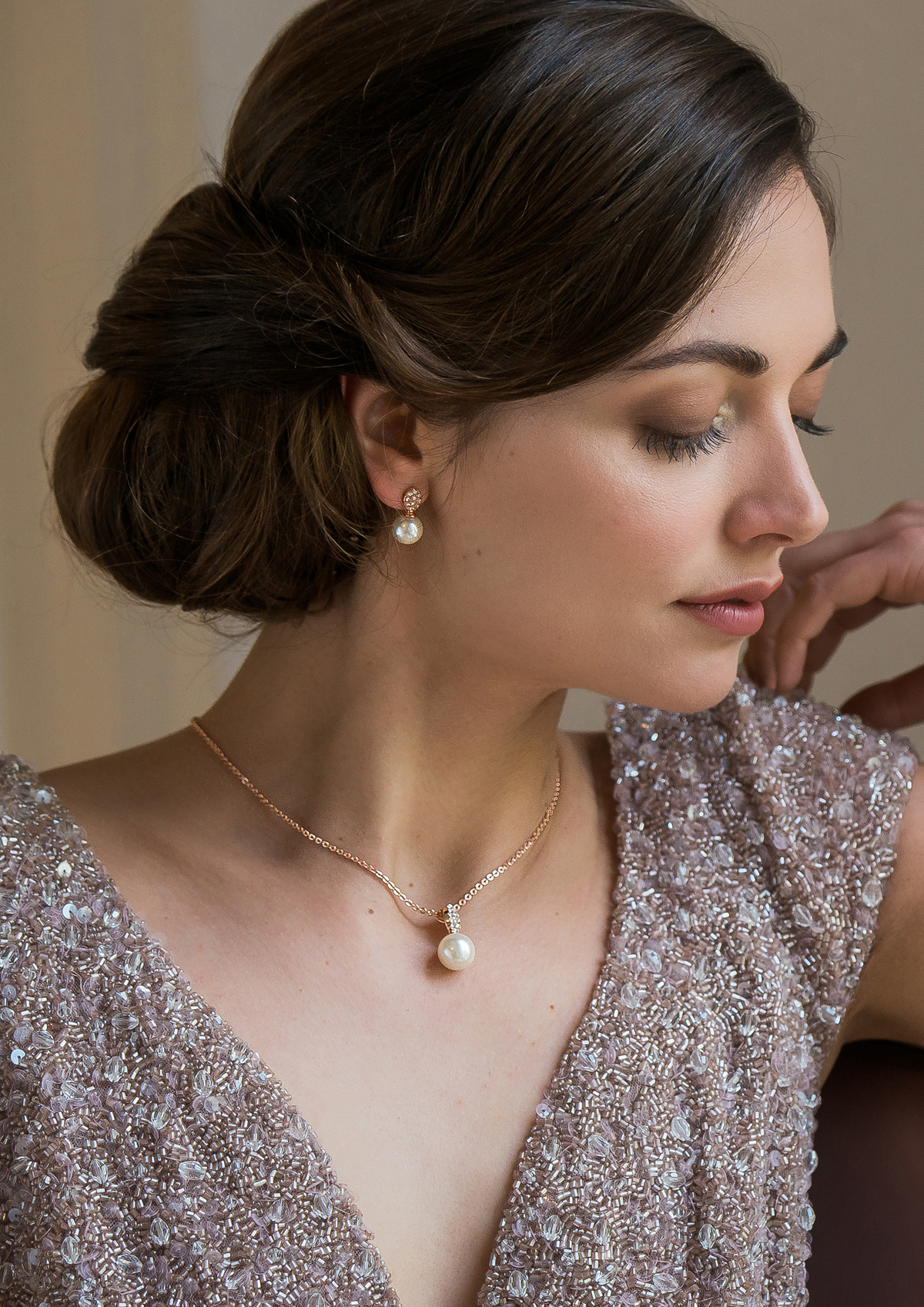 Stay true to your style
Earrings have the power to instantly change your style and look. While many brides tell us they really want to wear something different to their usual studs or they're concerned the chandelier earrings they adore might be overpowering, we will always try to encourage them to stay true to their usual style. Step it up or down a little but, trust us, it's so easy to feel self-conscious when wearing earrings outside your comfort zone for the first time.
Try these simple ways to create a subtly different look:
If you only wear studs, either choose a larger stone or a design adorned with clusters of crystals. If you really want to go for a drop, keep it petite.
If you adore drops, try a different cut. If you mainly wear teardrop styles, try oval or rectangular lines.
f you love bold chandeliers but feel they would be too bold for your big day, try a long slim drop for an elegant but eye-catching style.
Think about your wedding gown
If your gown is embellished with crystals or pearls, choose wedding earrings adorned with complementing materials to accentuate the detailing.
Balance a heavily encrusted dress with petite earrings or a pair with simple cut stones.
A simple dress in fabric such as silk can beautifully carry off a pair of gem-encrusted dazzlers.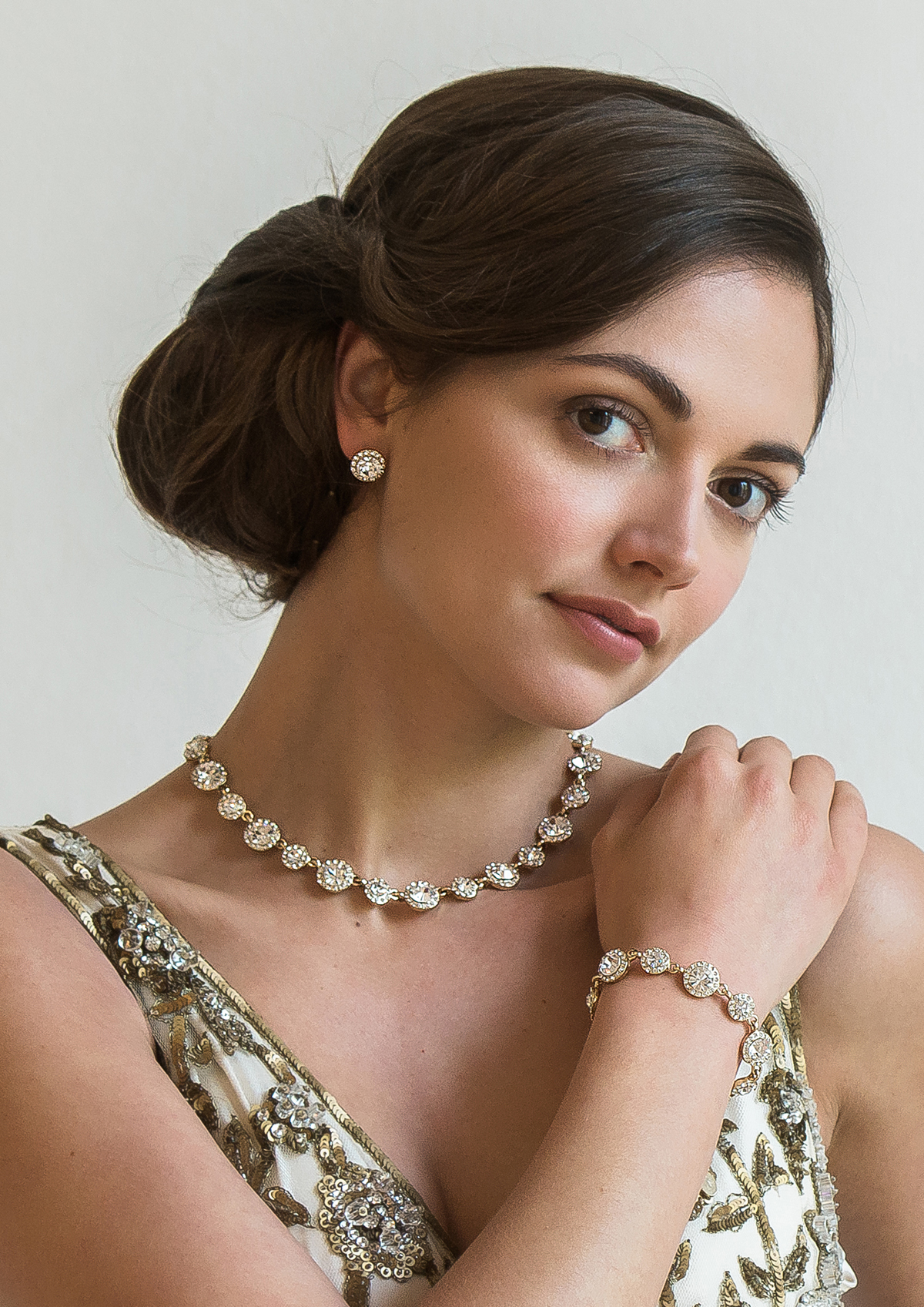 Graceful in Gold jewellery set
(individual items can be purchased separately)
If you adore vintage style, choose a style that captures your favourite era
1920s & 30s – Look for long geometric lines reminiscent of the Art Deco movement to play peek-a-boo beneath your hairstyle. Consider pearl droplets or rich emerald gem accents for an authentic look.
1940s & 50s – Unleash your inner Hollywood Starlet with a pair of diamond replica cubic zirconia drops – after all Marilyn, did say they're a girl's best friend. Or, embrace the timeless elegance of Grace Kelly and Audrey Hepburn with classic pearls.
1960s – Go for bold button styles or daisy-adorned earrings a la Mary Quant or incorporate Monochrome for a 60s Mod look.
And there you have it – the simple steps to follow for perfect wedding earrings. A huge thank you to Victoria for her fabulous advice.
There are no photos with those IDs or post 681394 does not have any attached images!
Now it's time for you to choose your earrings AND remember to enjoy a rather marvellous 20% off all earrings at Glitzy Secrets. Simply use the code LOVEMYEARRINGS when you checkout and your exclusive discount will be applied to your order. This offer closes on 7th February so hop on over to Glitzy Secrets now.
To browse the entire Glitzy Secrets collection, just visit their sparkling website but don't be surprised if you find it tough to choose from all their stunning designs. You have been warned!
Love,
Tamryn x
There are no photos with those IDs or post 681394 does not have any attached images!