Happy Tuesday lovelies! My gosh, do we have a breathtaking wedding to share with you today, a barn wedding bursting with laid-black, girl-next-door style glamour.
Tash and Rich are both graphic designers and their wedding took place at the beautiful Wick Bottom Barn in Rockley, Marlborough on the 30th of September last year – a day the couple surrounded themselves by family, friends and a few tiny dinosaurs 🙂 Tash looked sensational in a fitted lace gown by Rue De Seine.  The long sleeves give it a sort of 1970's feel while the low cut back makes it definitely a modern gown.  With her hair in loose waves (styled by Chloe Bridal) Tash looks every inch the relaxed, yet still elegant, bride.
"I'm not a very girly girl, and all the dresses I tried on previously felt too formal, showy, or glamorous.  I wanted something relaxed and elegant, and definitely comfortable – I was planning on eating a lot of tasty food after all!  When I tried on this dress I felt very at home in it."
Photography by Benjamin Wheeler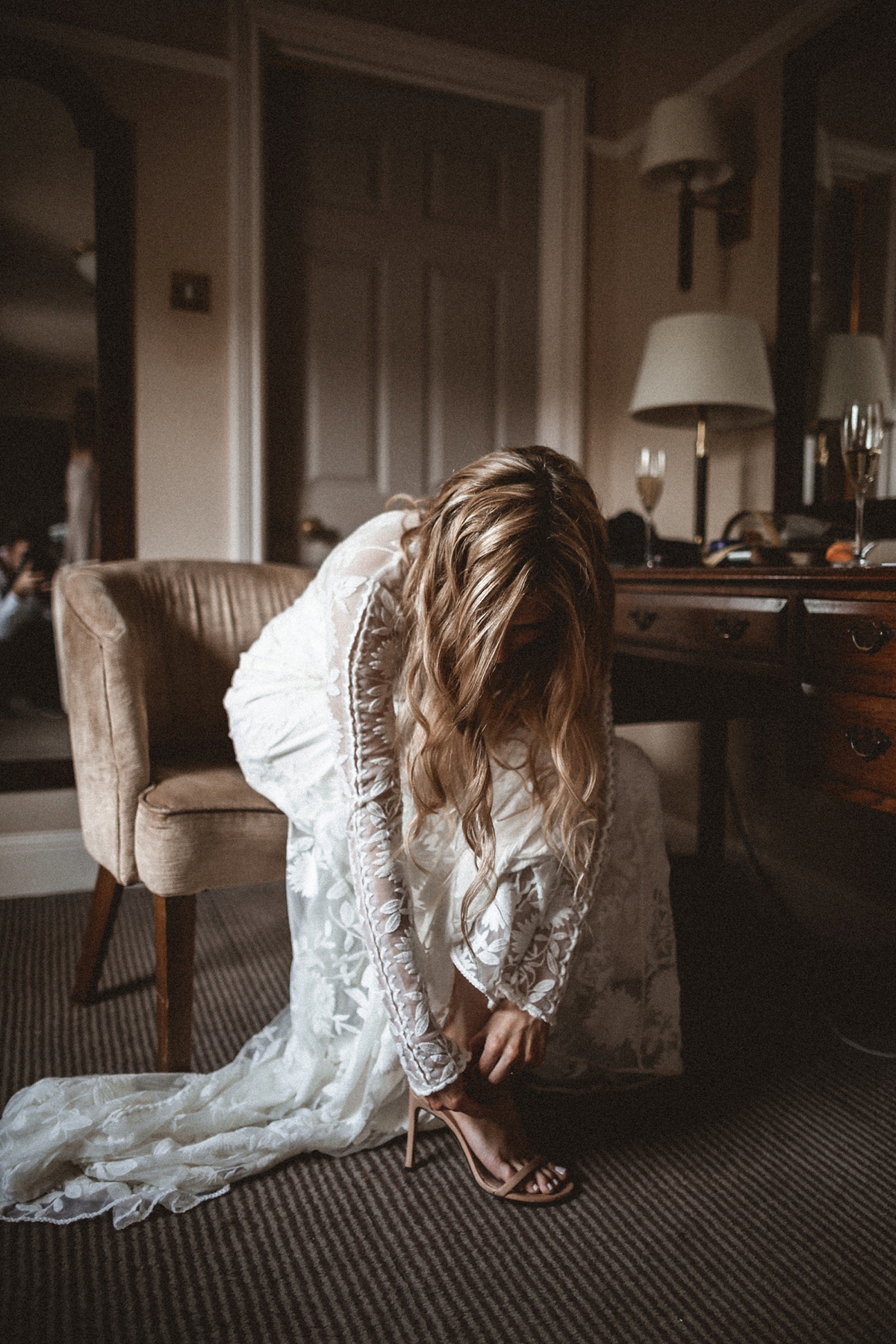 "We wanted everything to feel relaxed and informal, in-keeping with the rustic location. Paired back, simplistic and natural with nothing that would seem out of place in a barn setting.  Having said that, I love dinosaurs, so we had to have a few prehistoric touches here and there!  We chose Wick Bottom Barn as we wanted a blank canvas, free of the rules and regulations that often come with more formal wedding venues."On her feet Tash wore heeled sandals by Stuart Weitzman, while for scent she opted for Do Son by Dyptique, her daily go-to perfume.
"I wanted to smell like myself! I think it's a good idea to keep a few things familiar on the day, and wearing my usual perfume helped me stay relaxed."
"One of my bridesmaids also gave me a collection of personal charms that I wore all day, with something old, new, borrowed and blue on it (plus a tiny silver T-Rex).  It was the sweetest memento, and I didn't want to wear anything else."
Rich cut an elegant figure in a beautifully tailored Burberry suit, accessorised by that gorgeous smile.
"Rich and I met at art college eleven years ago, and decided to give it a shot a few days before starting university in different cities.  Needless to say it worked out alright.  Rich proposed on our ten year anniversary, and we got married thirteen months later."
"The stationery was all designed and painted / handwritten / printed ourselves, sometimes using my grandfather's sixty year old typewriter!"
The bridesmaids looked lovely in pale gowns by our Little Book For Brides members, Rewritten. Rewritten was created in 2016 by friends Katie Arnott and Frances Hudson, who, frustrated by the choice of dresses for their own bridesmaids, decided to create their own. Luckily Frances is a fashion designer and Katie has some pretty crazy business skills.
Their gorgeous bridesmaids gowns are designed for all of those damn cool bridesmaids and awesome party guests out there – think beautiful dresses which are chic, sophisticated, a little bit bohemian and take an entirely modern approach to evening wear. Bookmark their site now ladies!
The whole day was captured on camera by super-talent Benjamin Wheeler.
"Ben was exactly what Rich and I were looking for, someone who could capture the atmosphere of the day in the most natural, authentic way.  His photography is stunning, and we felt so privileged to have him shoot our wedding!"
Tash was accompanied down the aisle by her dad.  I love how relaxed Rich looks in the moments before the ceremony too.
"We kept the ceremony lighthearted, short and sweet.  We also wrote our own promises, including a couple of silly ones to give everyone a laugh."
"For readings we chose an extract from 'Leaves of Grass' by Walt Whitman and a reading from 'The Voyage of the Geneve' by Michel Mermod.  It's worth spending a bit of time away from the internet looking in libraries and bookshops for something a bit unusual or unique to you."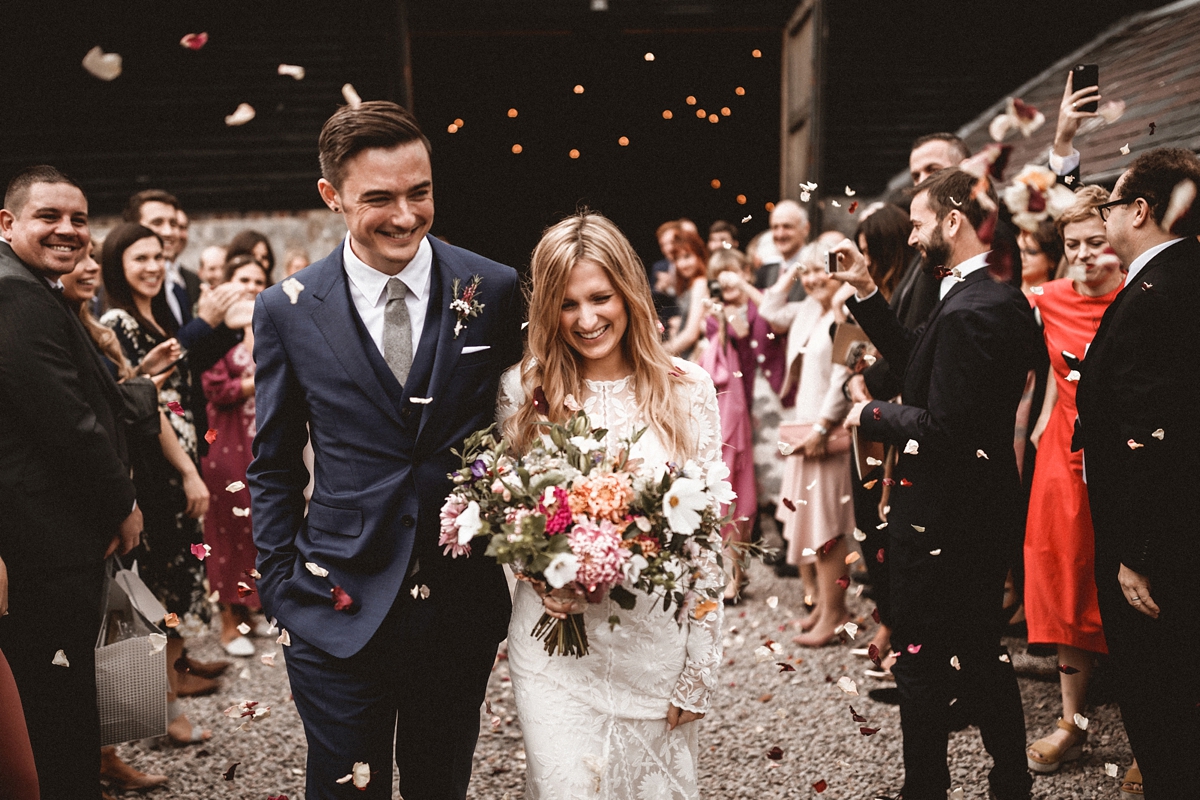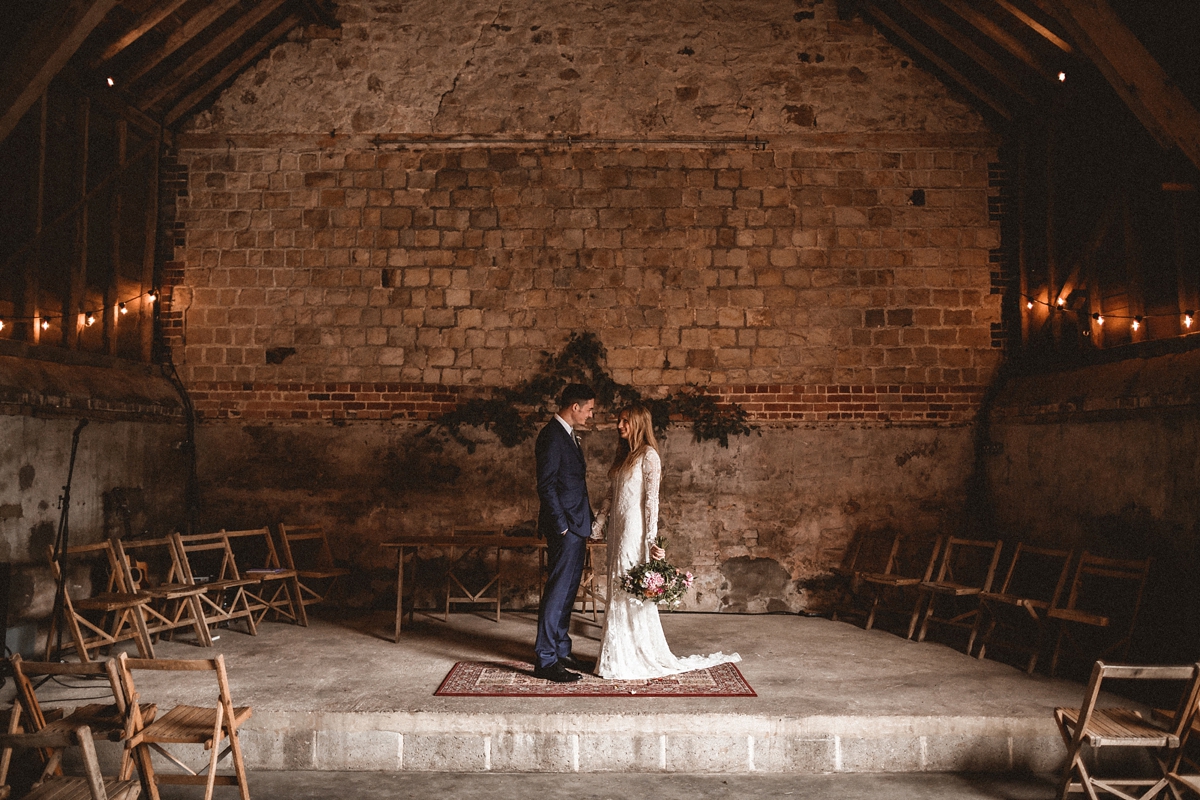 Ahh, Rue de Seine produce some of the most amazing bridal gowns for the modern bride who isn't too fussed about wearing anything formal or fancy. If this kind of gown is up your street, we advise you make an appointment to visit Leonie Claire Bridal – one of the best British stockists of this much sought after French bridal fashion brand.
Long lacey sleeves for the win!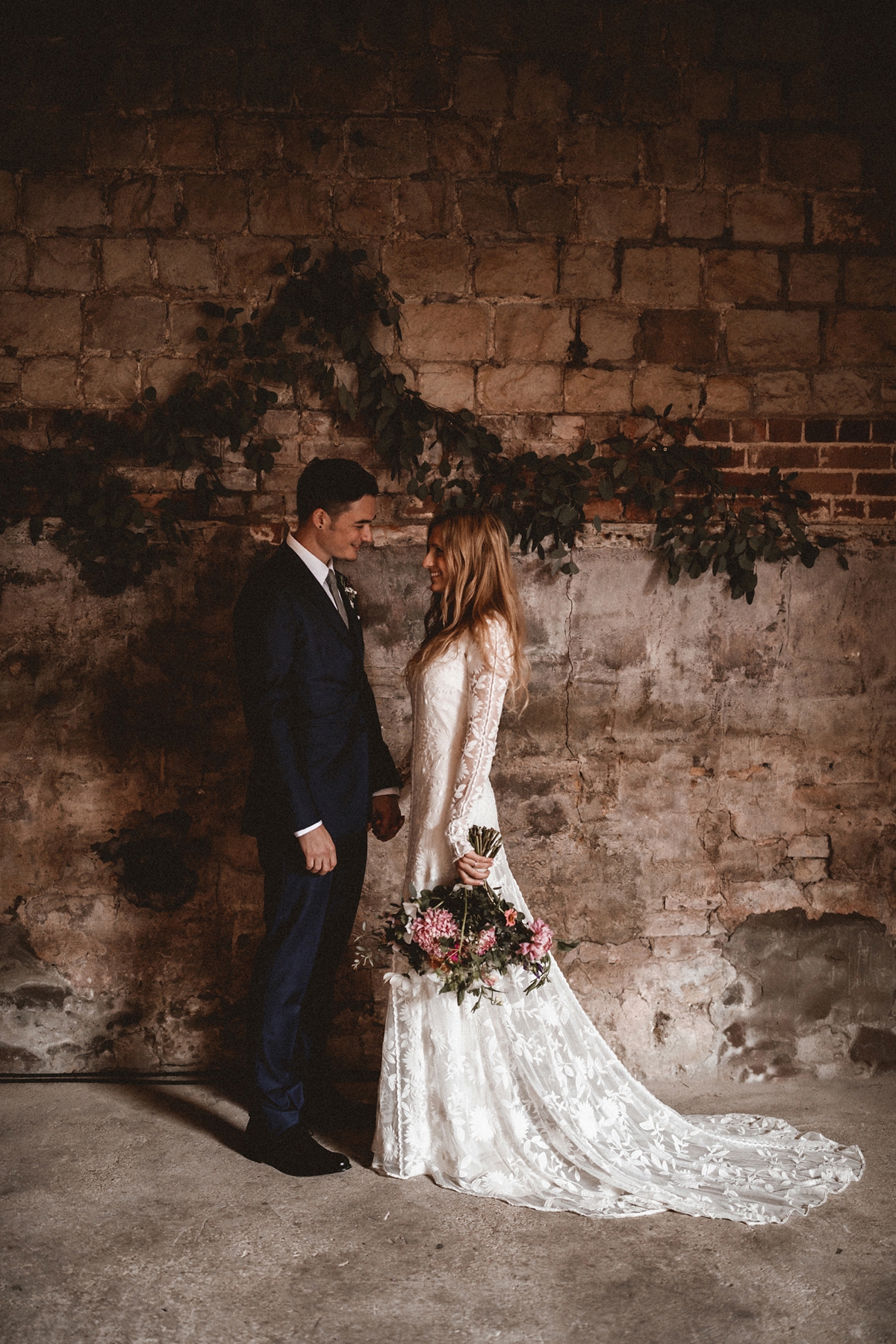 A collaboration between florist Floribunda Rose and growers Buckets of Blooms, Buckets and Bouquets provided the flowers for the day and did an incredible job.  I  especially love the amount of colour and texture within the bouquets.
"Sarah and Niki offer the best option for couples who can't necessarily afford to splash out on formal wedding flowers, but have a creative eye and want to give it a go themselves.  Sarah made up the most beautiful bouquets from Niki's locally grown blooms, and my mum did an incredible job creating all the table arrangements in the glass jars I had collected."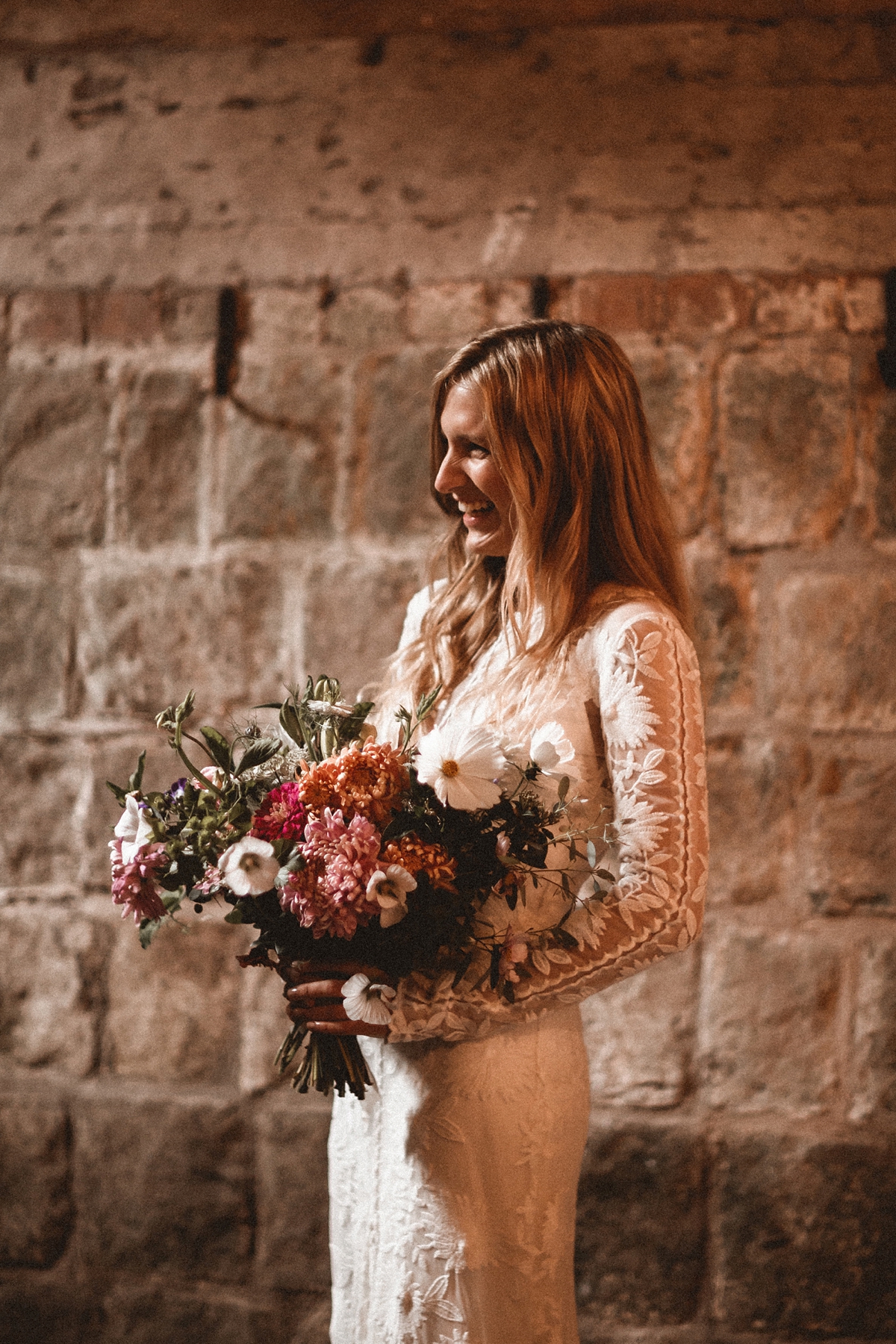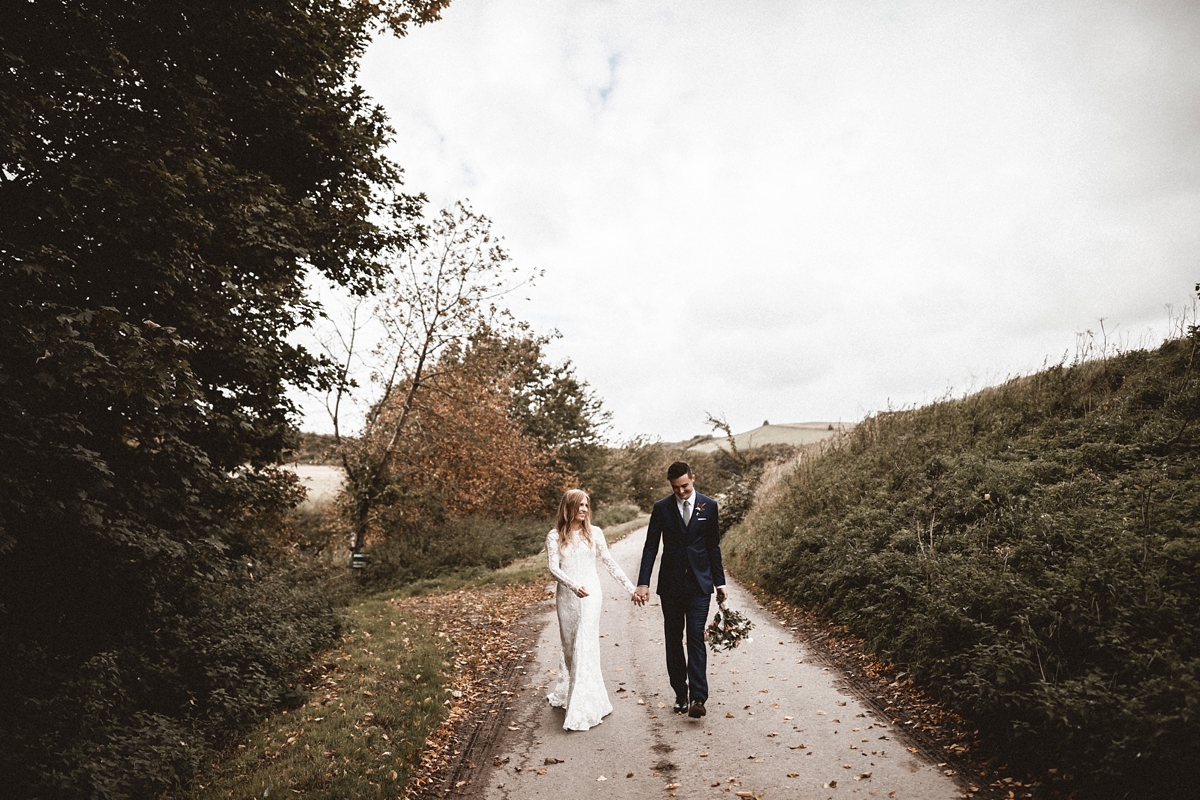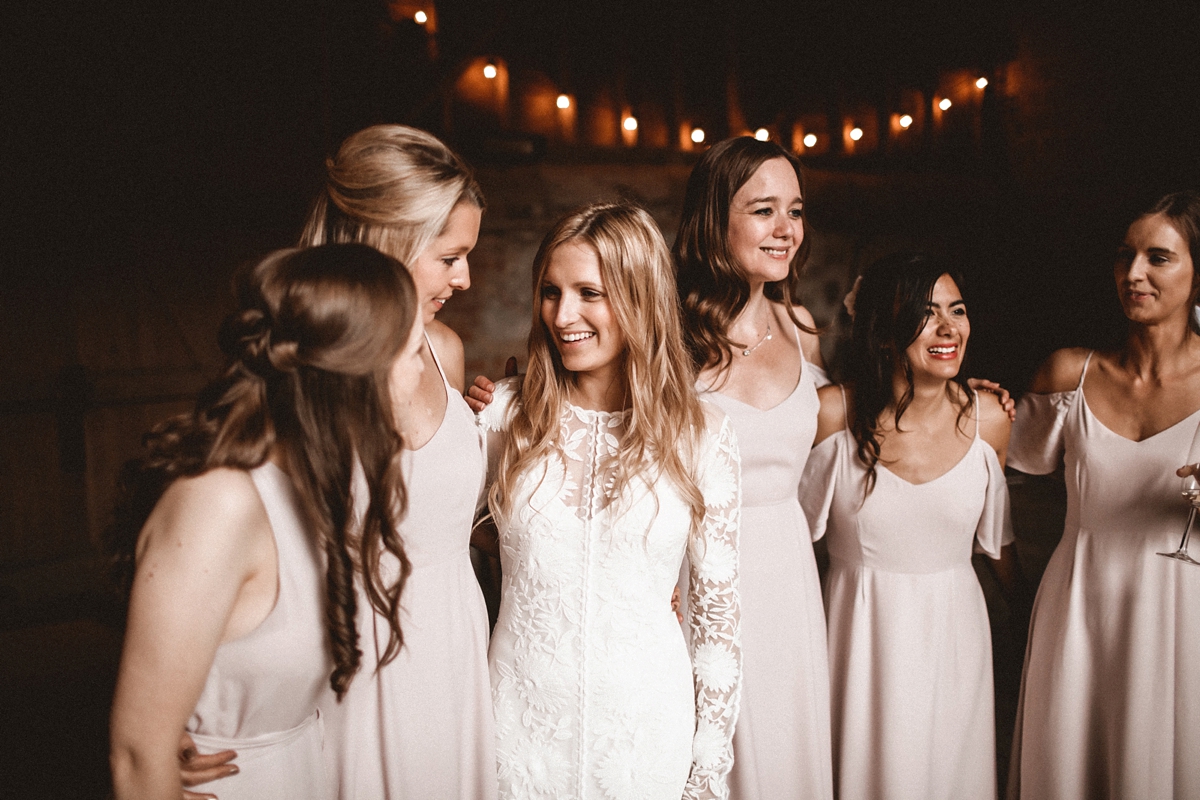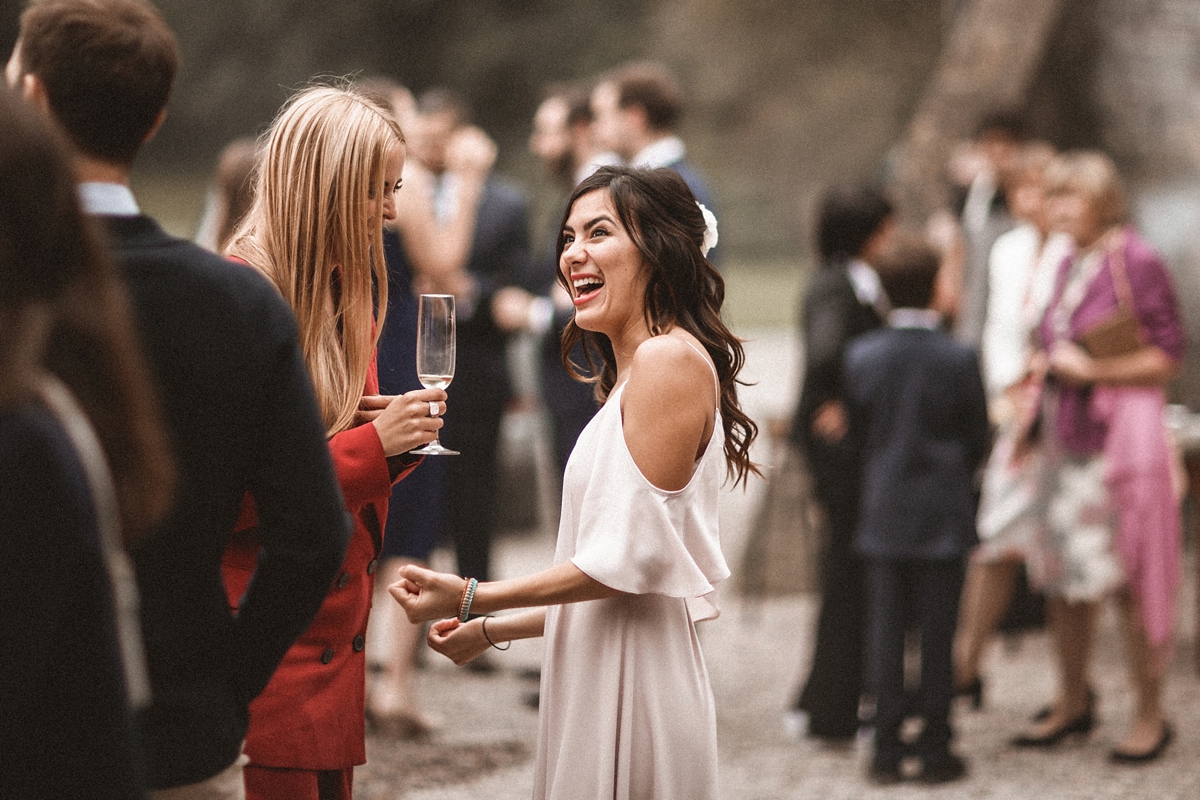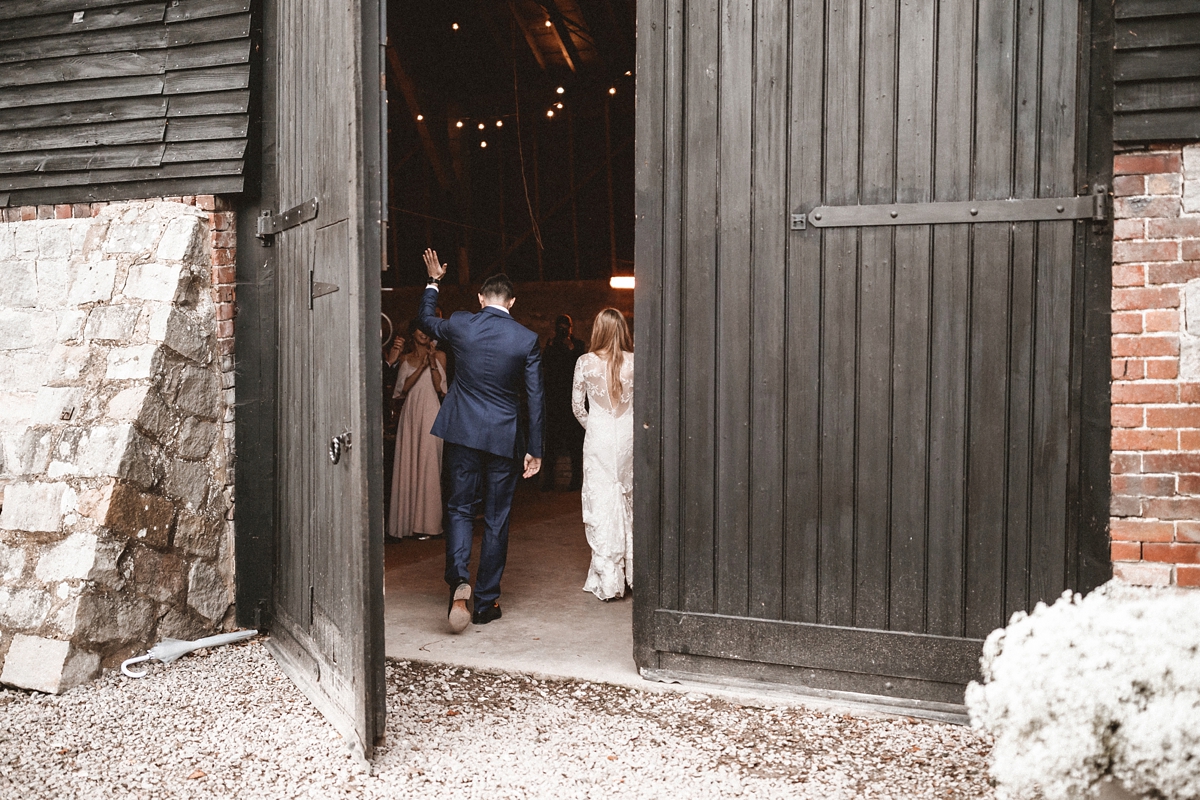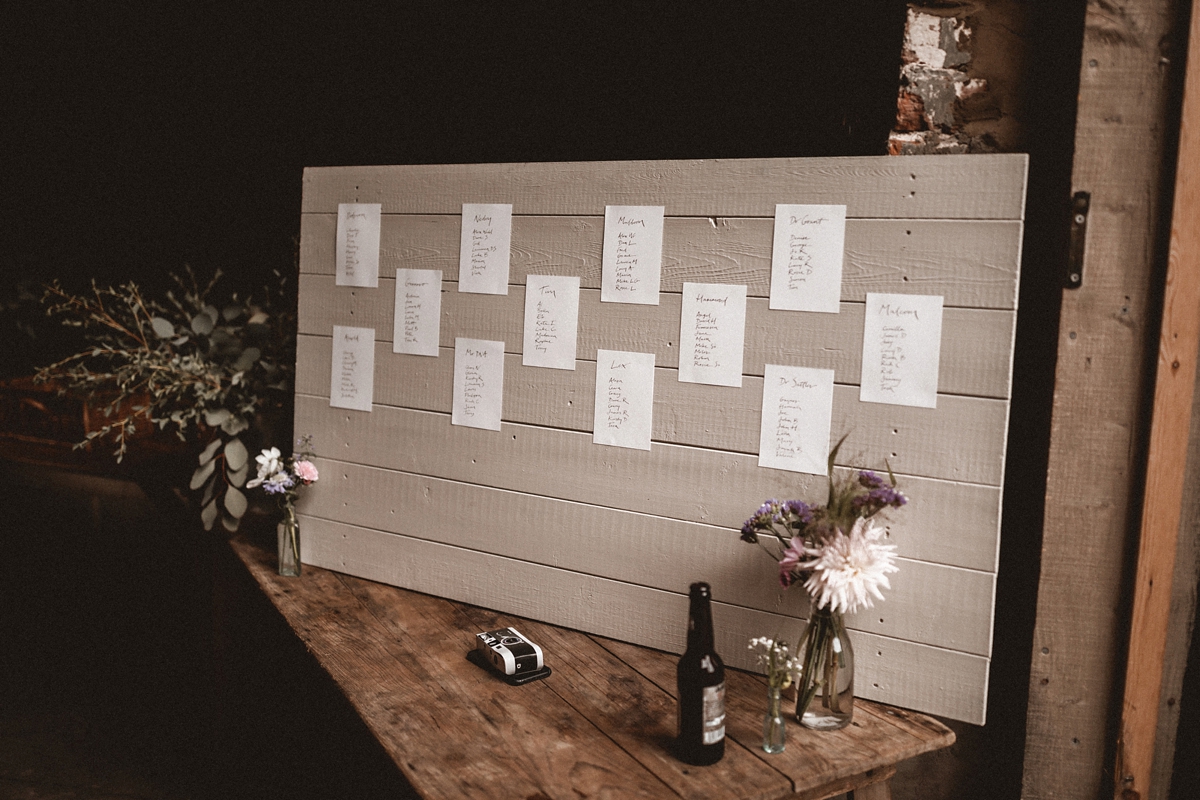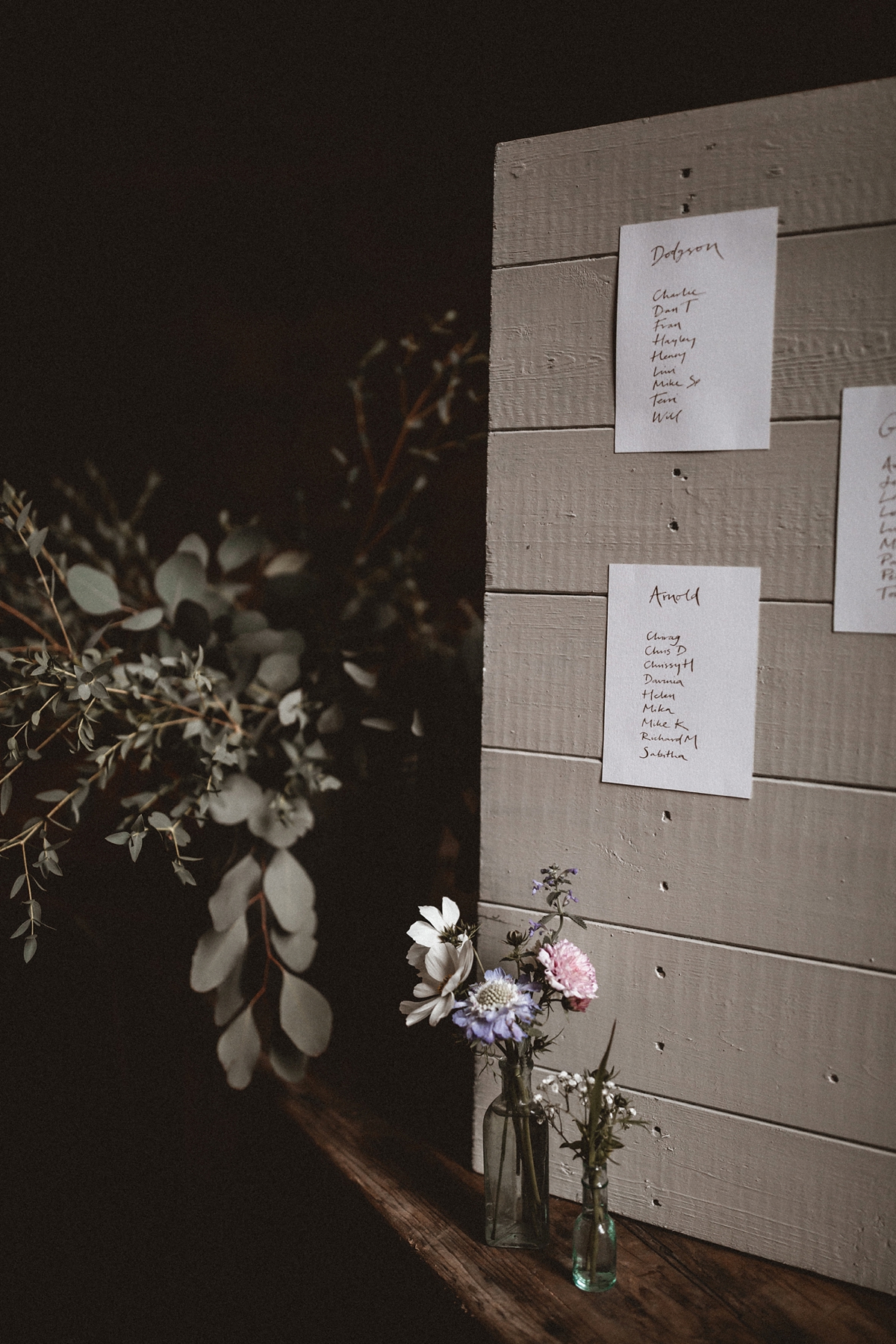 "We hand painted all our signage on bits of an old shed we demolished a few months back, and I collected over one hundred vintage green glass bottles to arrange the flowers from Buckets of Blooms.  I tied a few eucalyptus branches to the wall behind the stage, and arranged some baby's breath in a couple of large milk churns to hold the barn doors open."
" On all the tables were model dinosaurs from the Natural History Museum that we spray painted metallic gold.  Everything was tied together with the amazing job that Paul from Lighting Fantastic did with the festoon lights throughout the whole venue.  It made the whole place feel magical."
Catering was the work of Slo Street Food.
"Chris, Nina and Ed make the most amazing Asian street food.  Although their background is in street markets and supper clubs, we convinced them to take the plunge with us and they prepared all the food for the day, including some incredible BBQ satay during the reception. They were absolutely phenomenal from start to finish, creating delicious sharing style food that got rave reviews from everyone."
"We wanted a fruity sponge cake and something that wouldn't look out of place or too formal for the venue. Lauren of All Cakes and Sizes  did such a great job, and we were able to customise every element of the cake.  It was tough deciding which layer tasted the best – orange and cardamom, lemon drizzle or a classic Victoria sponge."
"I have a mild obsession with popcorn, plus I get very anxious at the idea that the people I'm hosting might go hungry, so we handmade little bags of sweet and salty popcorn that we popped in apple crates and served during the reception and after dinner.  This acted as favours too."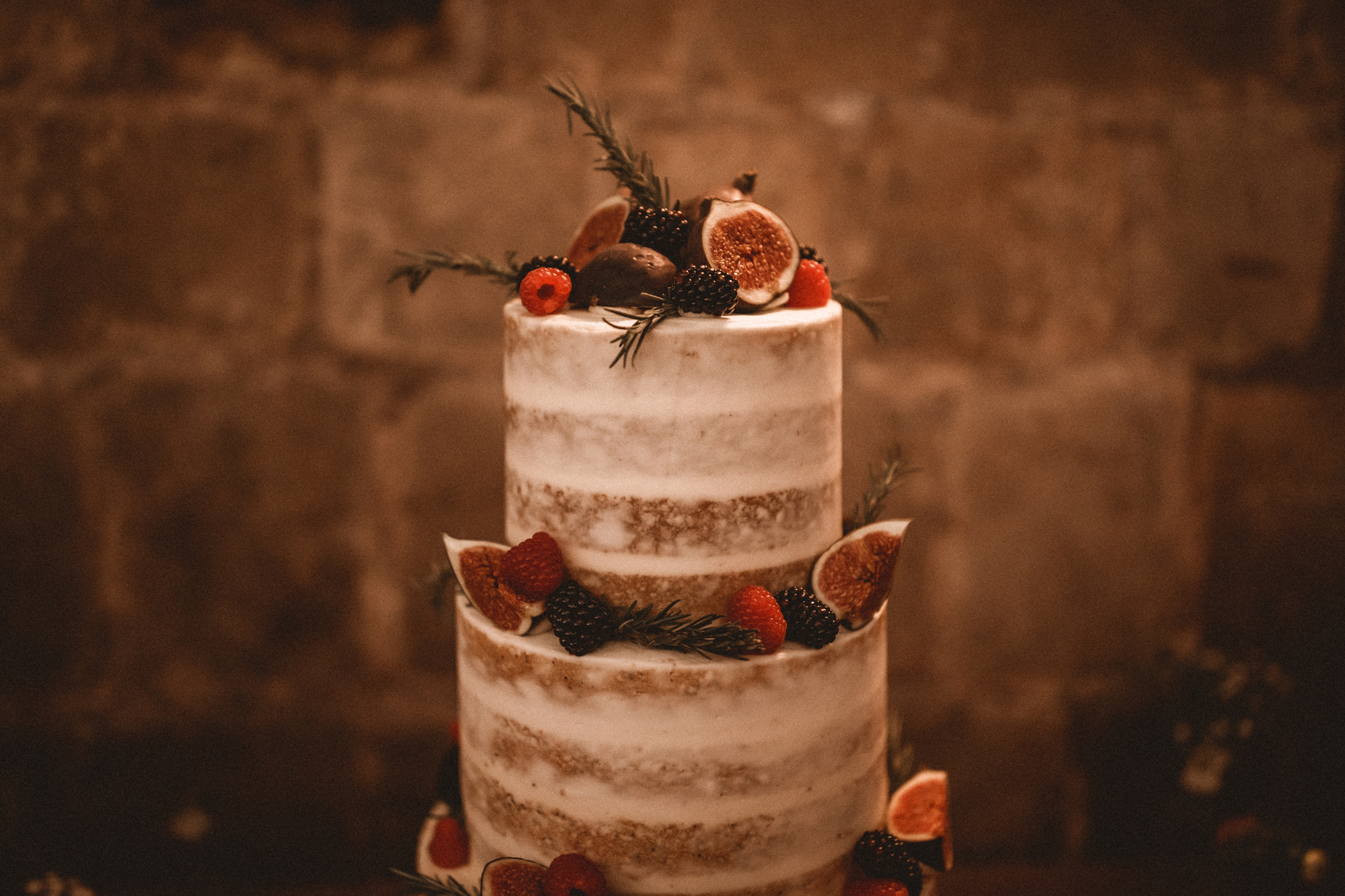 Entertainment came in the form of band Rockit (booked through Function Central), who kept the dance floor absolutely heaving all evening.
"I really enjoyed watching our friends and family have a great time, let their hair down and celebrate together.  We said from the start this is all about throwing a big party for the people we love the most to thank them for their support over the last decade.  I wouldn't have done a thing differently, despite pretty much winging it on the day with a lot of the logistics."
Words of Wedded Wisdom
"Don't expect the day to go perfectly.  Things will go wrong, accidents will happen, things will get forgotten.  Try not to worry.  Focus on the most important thing – your happiness and the happiness of those around you who have chosen to celebrate with you.  You'll probably get wine on your dress or cut your toe minutes before the ceremony (just me?), but you get to marry the person you've chosen to spend the rest of your life with, eat tons of tasty food and dance the night away with your best friends and family."
"Buy a multipack of glow sticks to bring out when people are dancing, it loosens everyone up and gets strangers talking.  Make a 20ft skipping rope and start a competition.  Hug and kiss your parents often, it's one of the best days of their lives too."
Huge thanks to Tash and Rich for sharing this gorgeously relaxed day.  Does a barn wedding set your creative juices flowing?  Take a peek here for lots of lovely inspiration.  If Tash's Rue De Seine gown is what made you stop though, take a look here at other brides wearing this wonderful designer.  Just make sure you have a bit of time- there are so many fabulous ones!
Much love,
S x