Happy New Year! We're so grateful you've pried yourself away from that almost empty box of Quality Street (inevitably littered with a few unwanted toffee pennies – or is that just my family?) to join us today. I hope you're having the most wonderful festive break and there aren't too many sore heads out there from last night's antics.
You've made the best decision you'll make all day – I have the most stunning, nature-inspired celebration to share with you all – the stunning union of Salla, who works in marketing, and Simon, the co-founder of a microbrewery. The couple wed on 22nd July 2017 at Kansallissali, followed by a party at Villa Andania, both in Helsinki. Their breath-taking wedding film by videographer Richard Leng says it better than I ever could so let's start there.
Film by RL Films Co
Salla chose the gorgeous Hunter gown by Rue de Seine, a perfectly whimsical, bohemian design for her nature-inspired nuptials, purchased along with her flowing veil from Leonie Claire Bridal. We're so proud to support this gorgeous boutique through our curated directory, Little Book for Brides; they stock some of my all time favourite designers. Salla paired her dress oh-so-beautifully with rich red velvet heels from Saint Laurent and a spritz of Les Fleurs by Mayan Njie, chosen for its floral, natural scent.
"I fell in love with Rue de Seine's designs even before I got engaged – I absolutely love their 'cool' bridal gowns for the untraditional bride. I particularly loved the Stevie Nicks inspired sleeves of my dress."
Photography by Jaakko Sorvisto Photography
"We wanted our wedding day to be representative of the beautiful summer days we have spent in Finland. The quiet summer cabin life and the simplicity of Finnish nature inspired us a lot and guided our flower, food and music selections. Another important element for us was to make the wedding a representative of the values around equality we uphold. We wanted to walk down the aisle together as a sign of stepping into our marriage together."Her flaxen hair was styled into perfectly tousled waves by Folk Helsinki and her peachy-perfect make-up was applied by Aino-Sofia Kojonen. Simon looked every inch her stylish equal in a suit from Hardy Amies, paired with a shirt and tie from Reiss, and shoes from Clarks.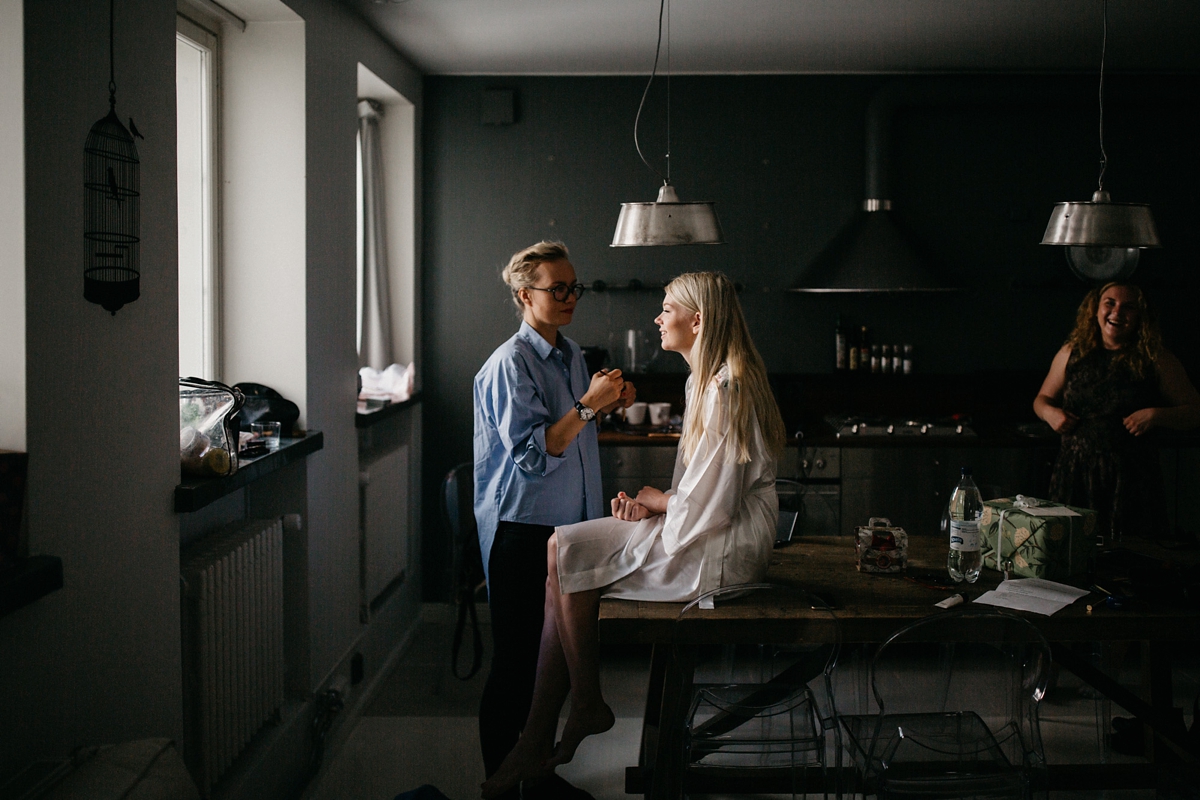 For Salla and Simon, honouring equality and modernity were all important, and I love that they chose to walk down the aisle together to the beautiful Avril 14th by Aphex Twin.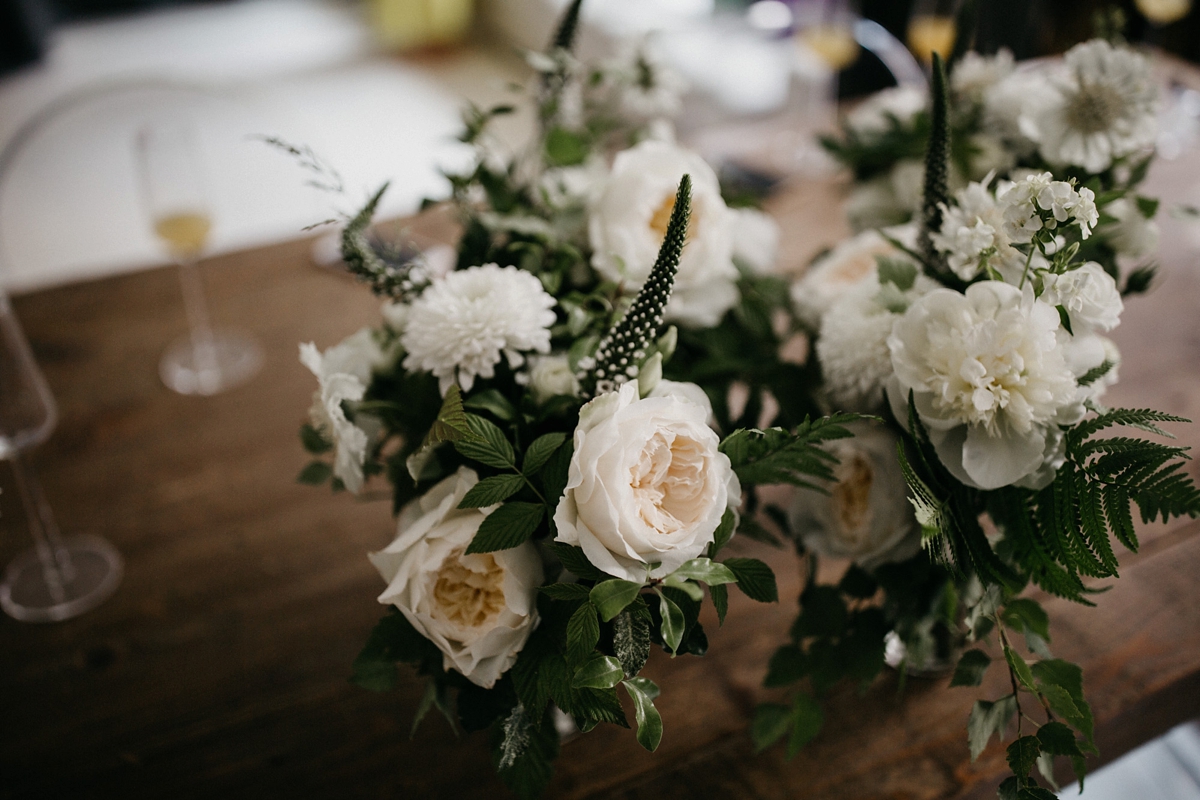 "Simon and I met online in December 2011, however our paths had nearly crossed several times during the 7 years that preceded; for example, we lived one street across from each other in East London, both often visiting the same corner shop, my school friend from my small town in Finland worked with Simon's childhood friend for years (I even met his friend before Simon) and we were even present at the same house parties and gigs."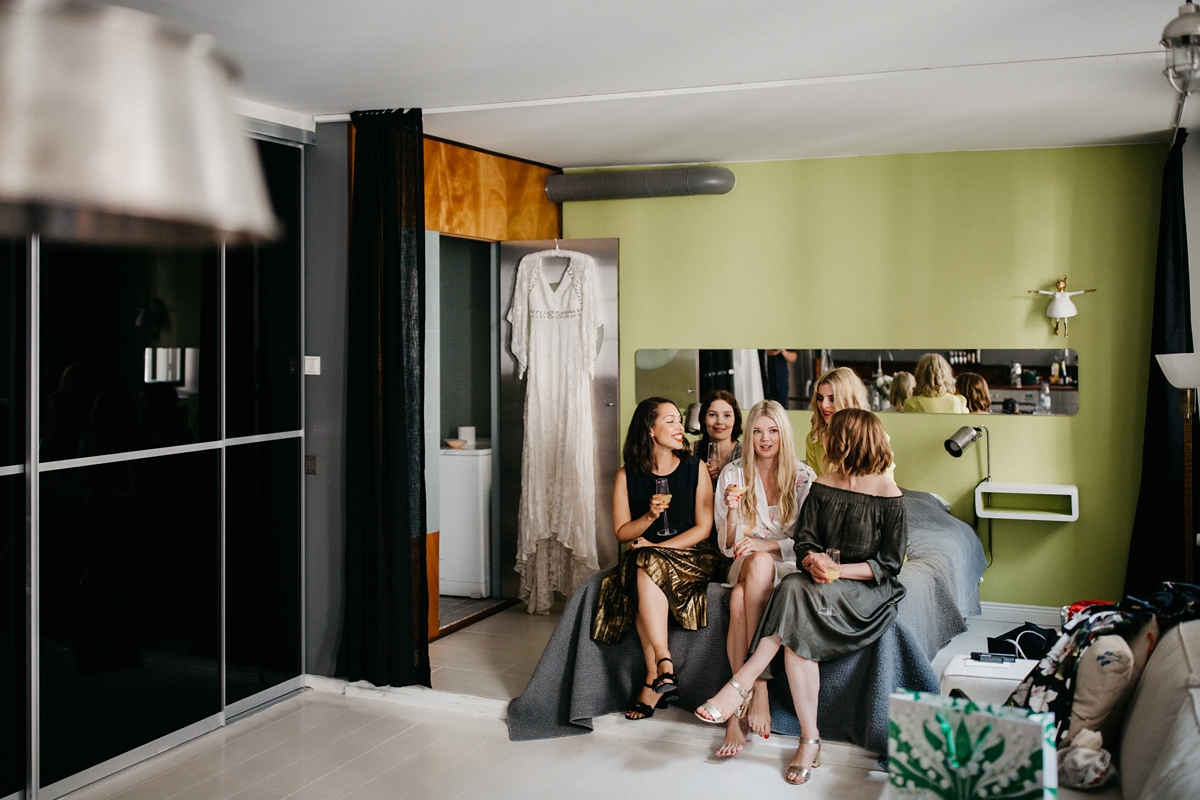 "We got engaged in October 2016. We're a modern couple so we both agreed that engagement was on the agenda, however it took Simon to pop the question at our house on a rainy Wednesday evening to the tune of fairy lights, candles and flowers. We walked down the aisle together as we felt we wanted to step into our marriage together. We also did a 'first look' before the ceremony started which was a fantastic private moment for just the two of us."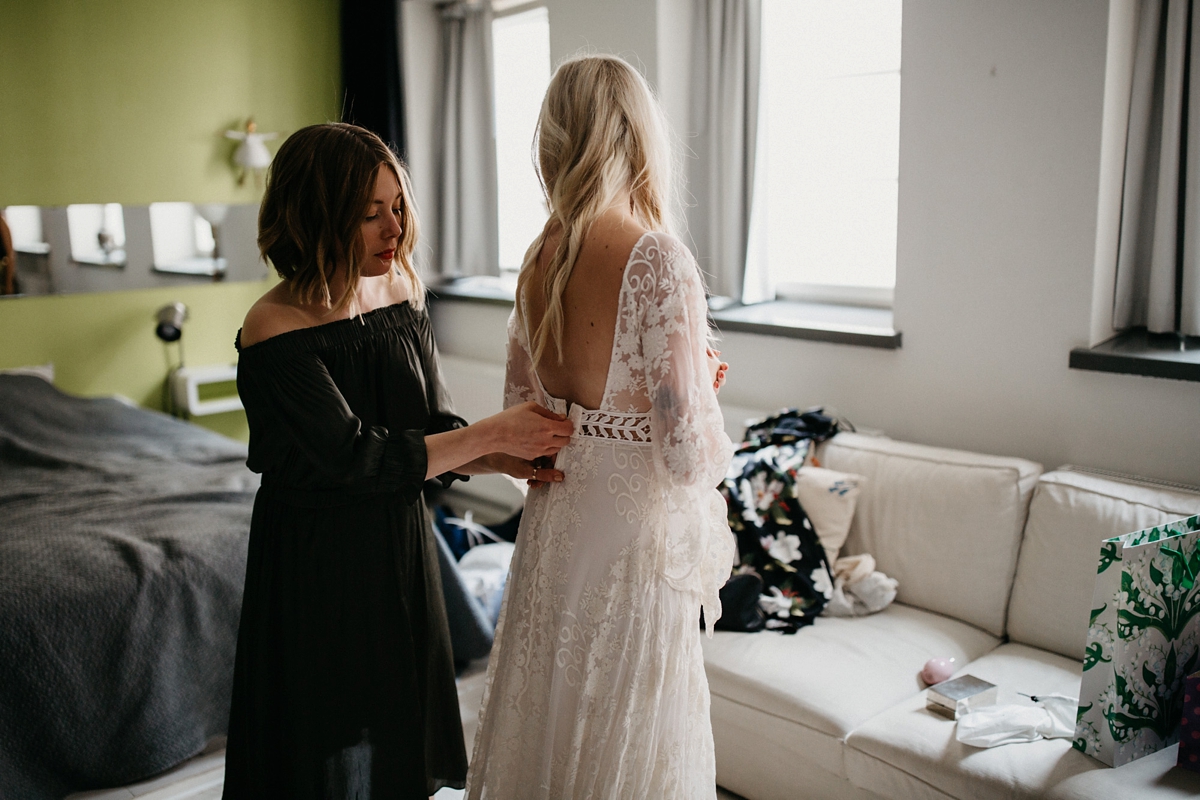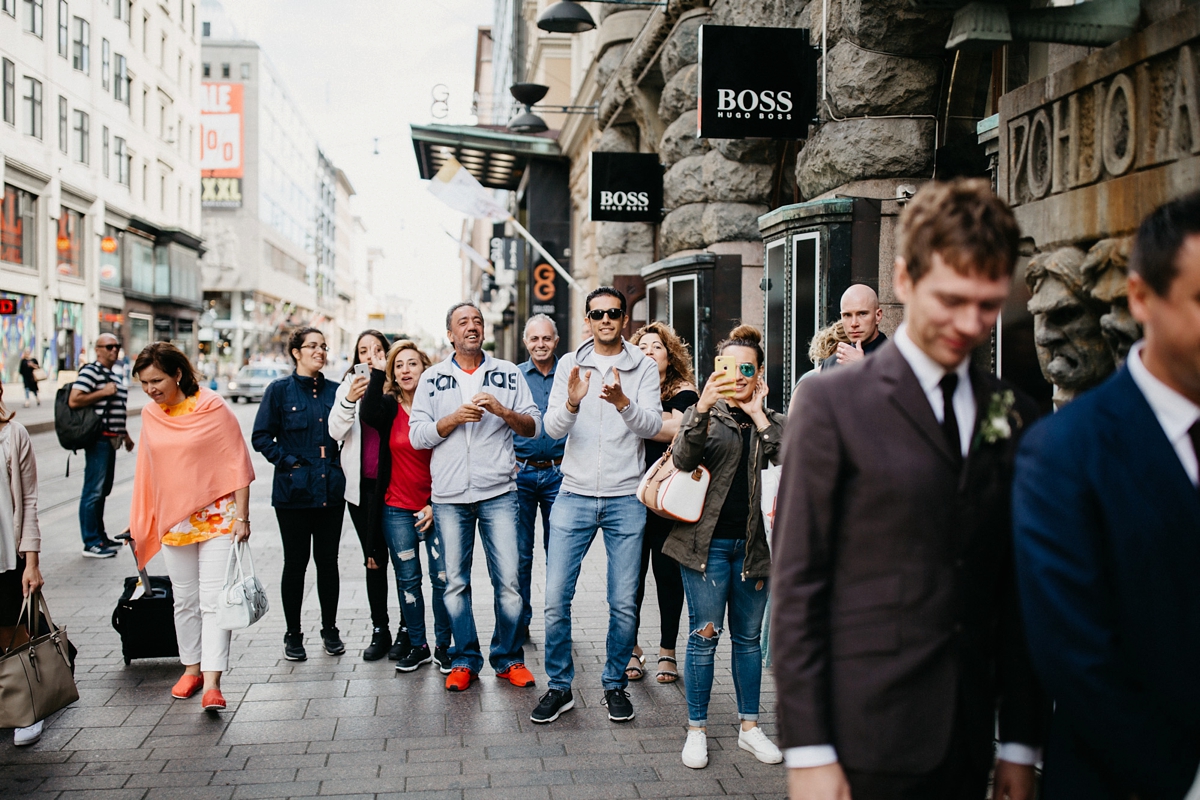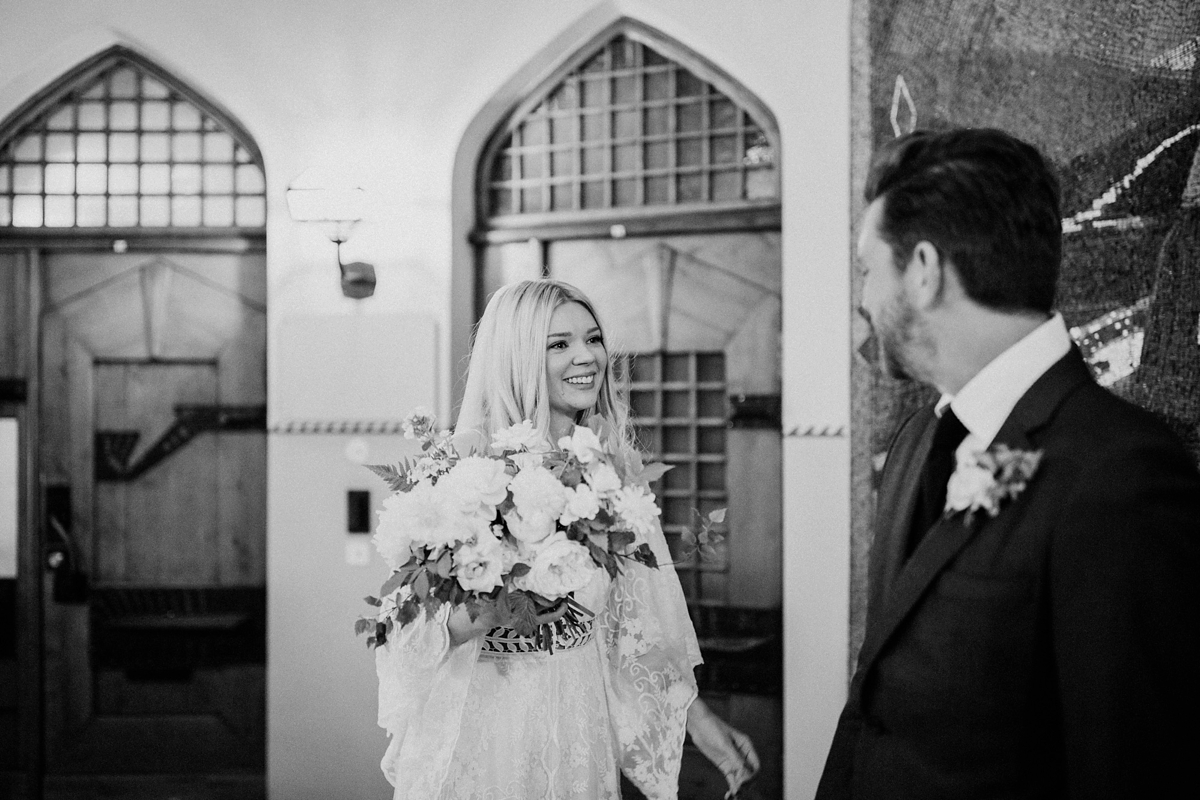 Salla and Simon exchanged vows in keeping with their intimate Finnish civil ceremony and had friends give two readings during the ceremony, Nocturne by Finnish poet Eino Leino, and Kahlil Gibran's On Marriage:
Love one another, but make not a bond of love:
Let it rather be a moving sea between the shores of your souls.
Fill each other's cup but drink not from one cup.
Give one another of your bread but eat not from the same loaf
Sing and dance together and be joyous, but let each one of you be alone,
Even as the strings of a lute are alone though they quiver with the same music.

Give your hearts, but not into each other's keeping.
For only the hand of Life can contain your hearts.
And stand together yet not too near together:
For the pillars of the temple stand apart,
And the oak tree and the cypress grow not in each other's shadow.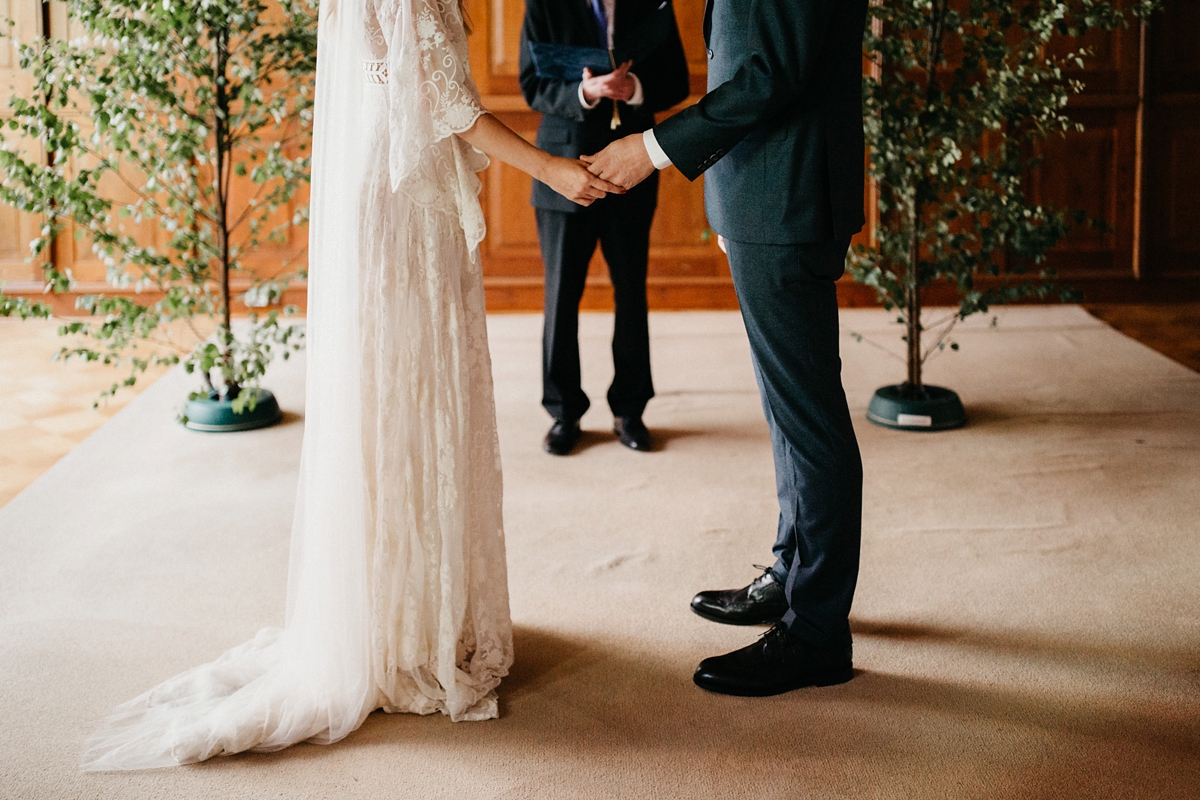 I adore the ceremony space Salla and Simon chose for their union, a warm wood panelled room redolent with carved references to Finnish folklore and the light is simply gorgeous, expertly captured by photographer Jaakko Sorvisto. Jaakko has also beautifully documented the incredible surroundings of the couple's reception venue – these images have a raw quality that perfectly conveys the simple majesty of the Nordics.
"Jaakko was just fantastic! He has an incredible eye and his use of landscapes and nature in collaboration with wedding photography is breathtaking. We met with Jaakko a few days before our wedding to discuss the details of the day and he really made us slow down and think about the upcoming day with more clarity. He was a calming influence and the end result was just perfect."
"And Richard was absolutely brilliant; we cannot recommend his work enough. He totally got our vision of a wedding film that felt natural and delivered the most beautiful memory of our wedding day. A lot of the guests commented afterwards that they hadn't realised we were having our wedding filmed, which made for candid, natural-feeling footage. Richard's fantastic eye and aesthetic is spot on and he just gets it."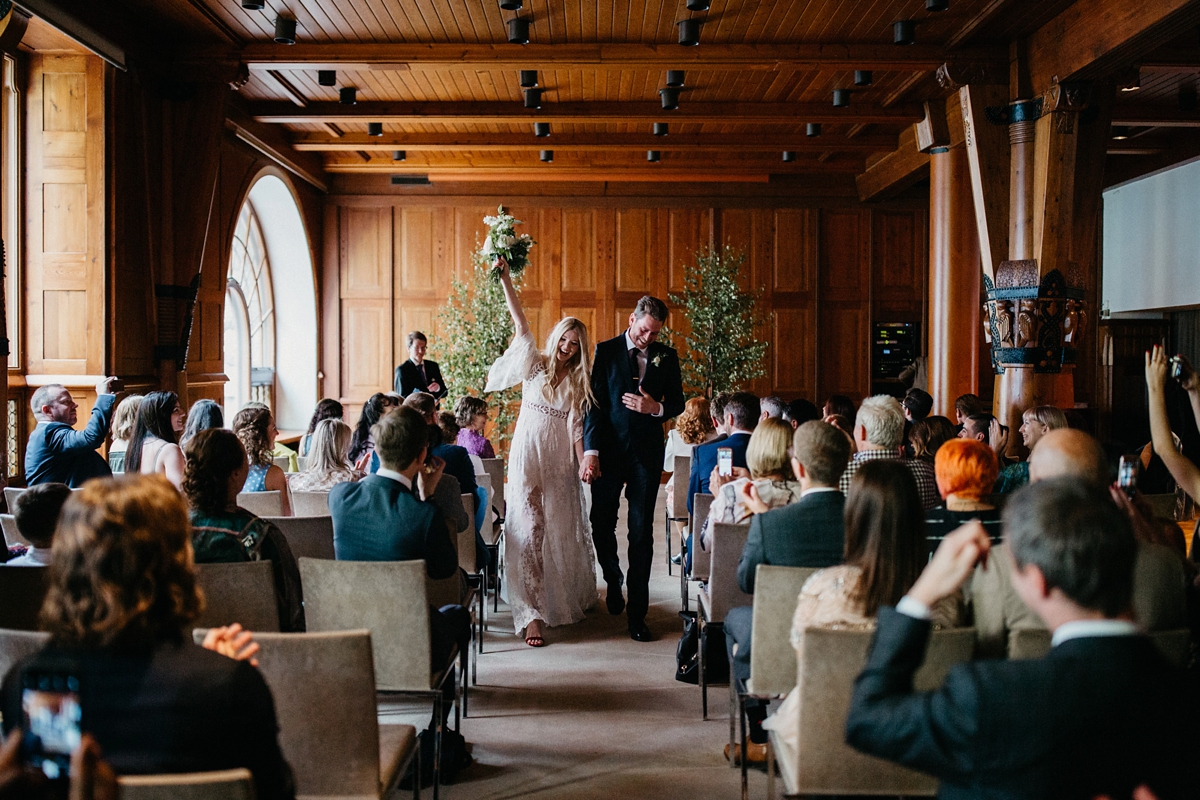 Salla and Simon journeyed to their reception at Villa Andante in a sleek red vintage Jaguar, greeting their guests at the jetty as they disembarked the wooden boat that transported them through the Finnish archipelago from the ceremony to the after party. Event planners Hey Look took care of the floral, graphic and decorative aspects of the day, emphasising the natural beauty of the Finnish landscape.
"We wanted a Finnish forest theme for our wedding; simple, romantic with natural green and white flowers and birch elements. Hey Look decorated our ceremony hall with birches and delicate green and white flowers for our party venues. They also used birch bark and other forest-y elements at our tables."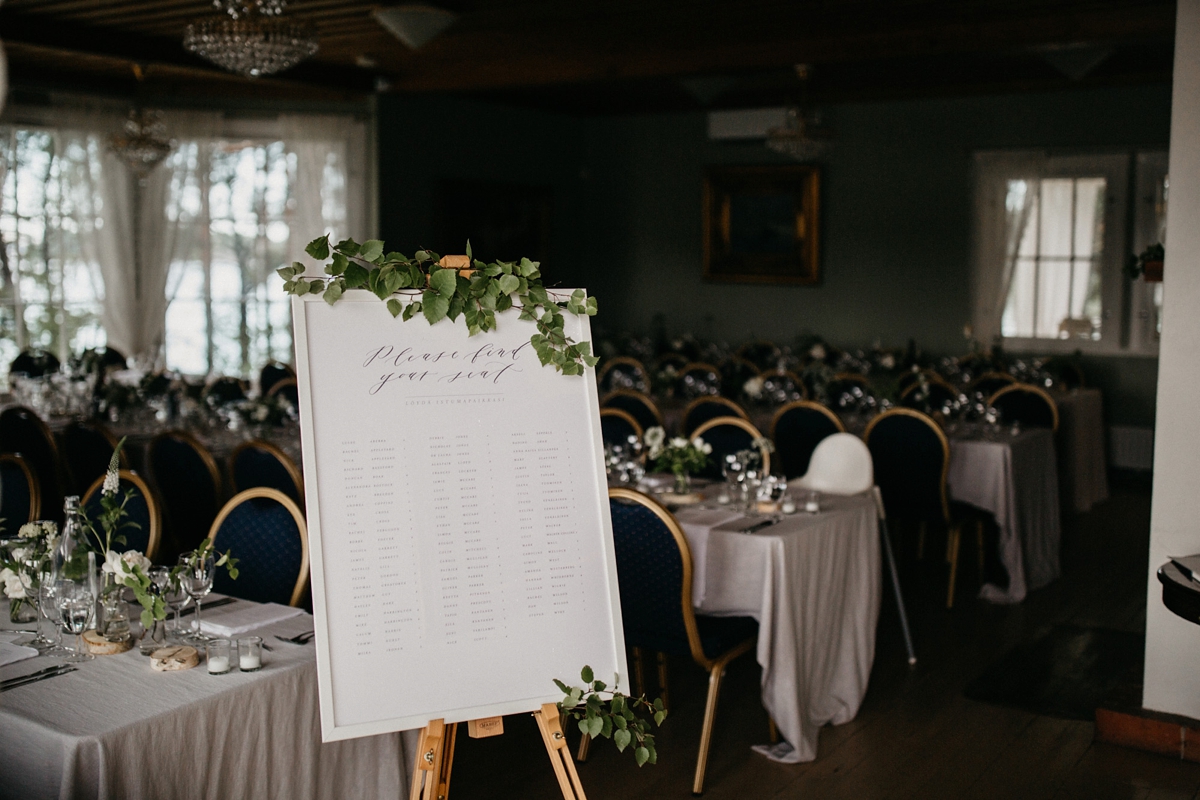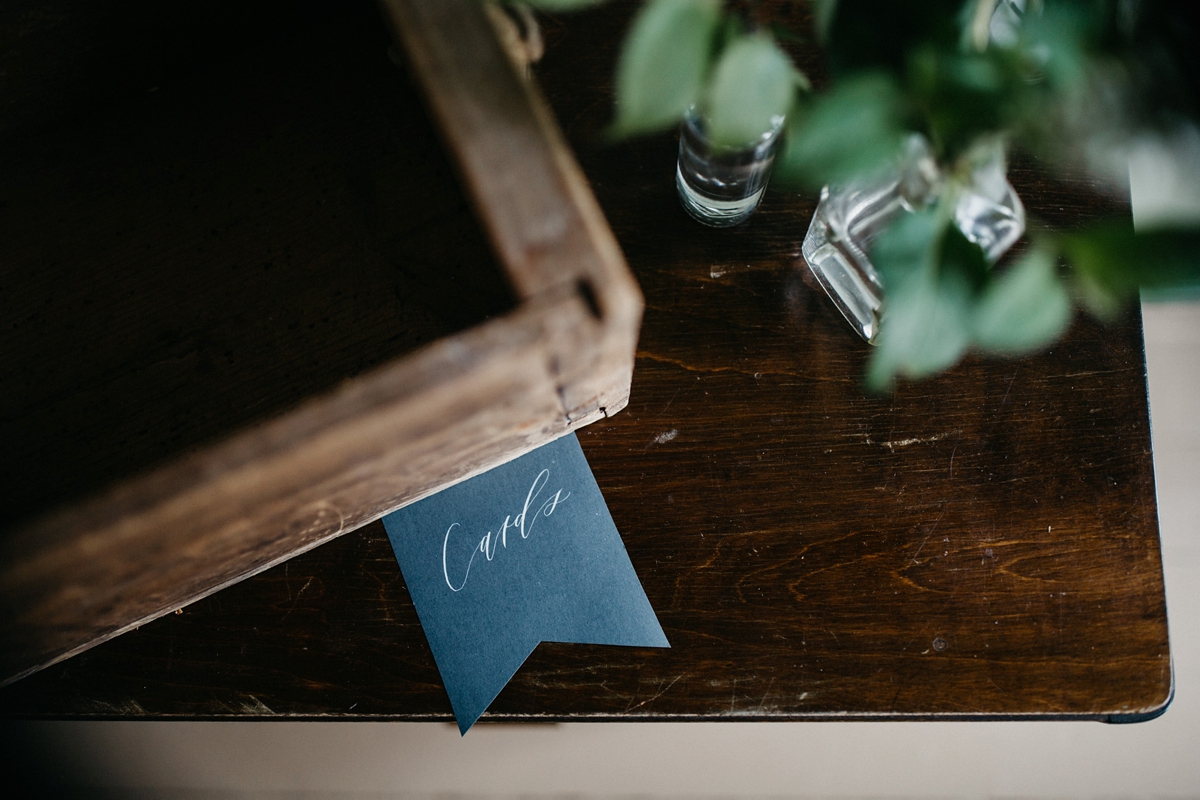 Theron Catering supplied a scrumptious chocolate brownie cake as well as the evening meal for the newlyweds and their loved ones, a cosy, communal dinner served against a backdrop of towering ancient trees and glass-like water. I love the images of the wedding party spilling out onto the wooden deck with drinks in hand, the location of the villa seamlessly and effortlessly blurring the lines between the cosy indoors and staggeringly beautiful nature.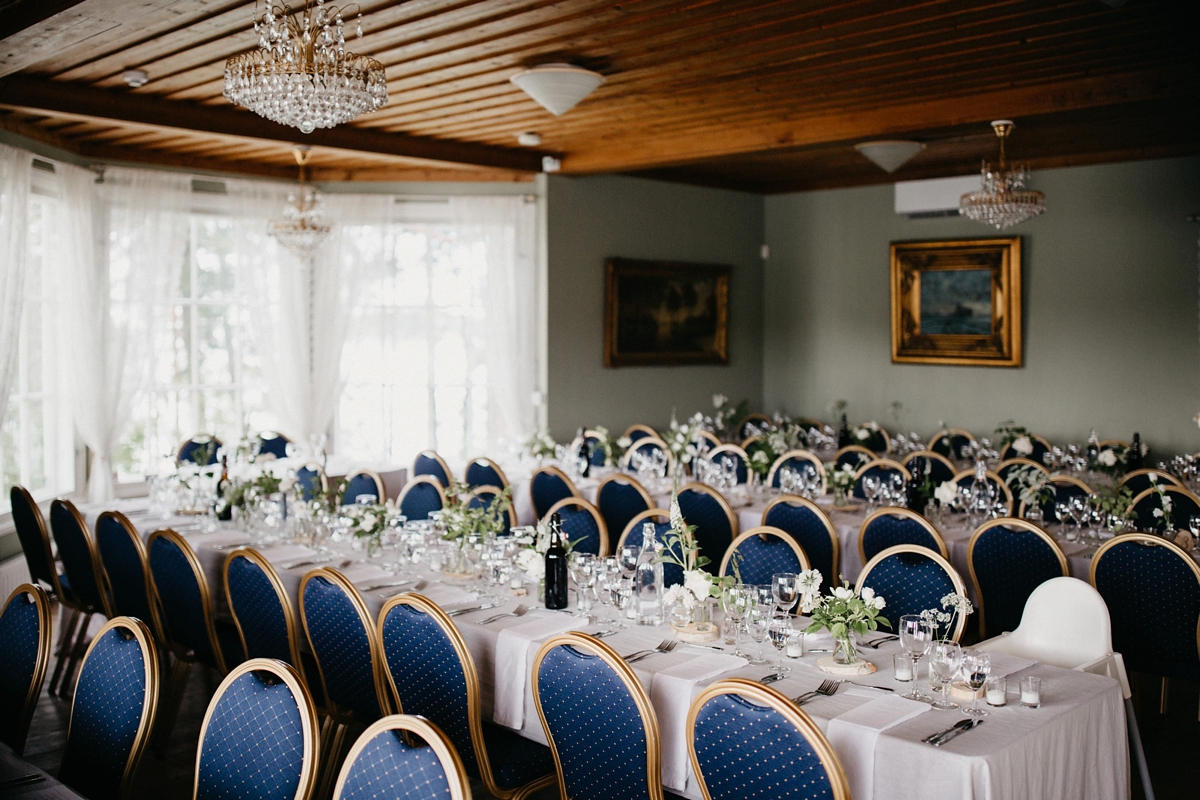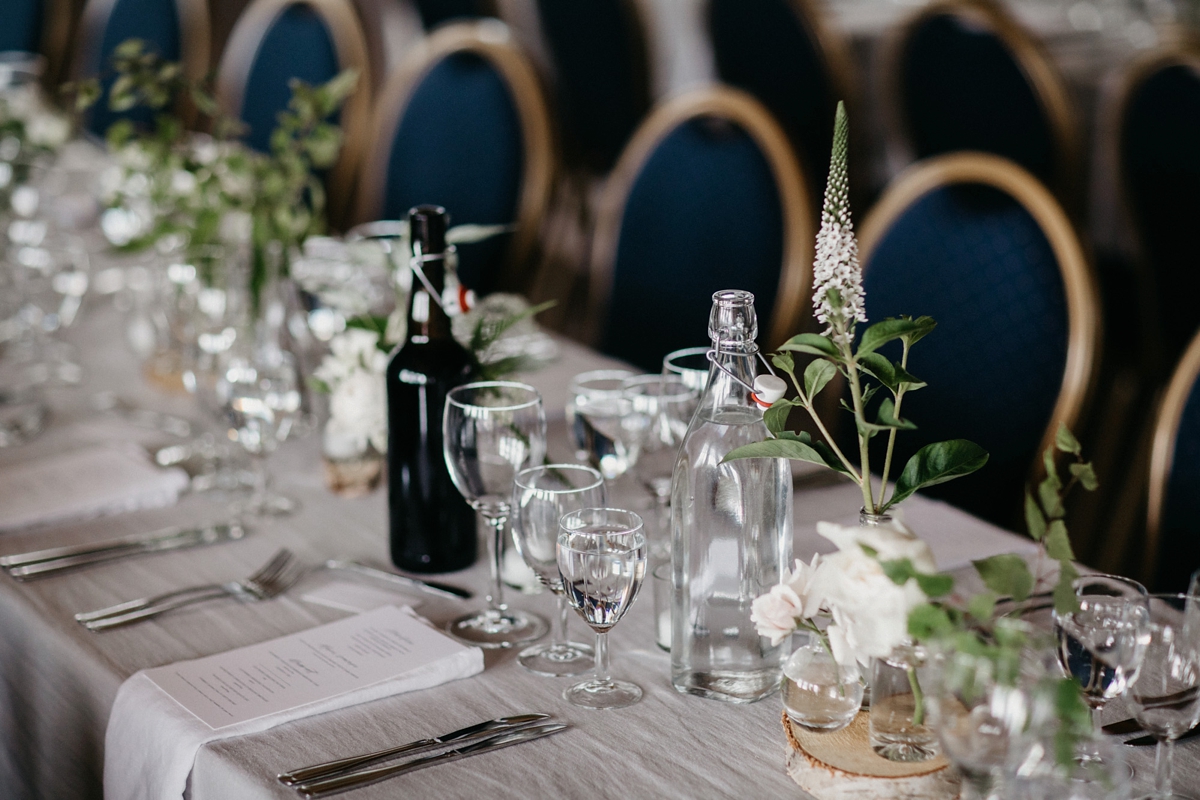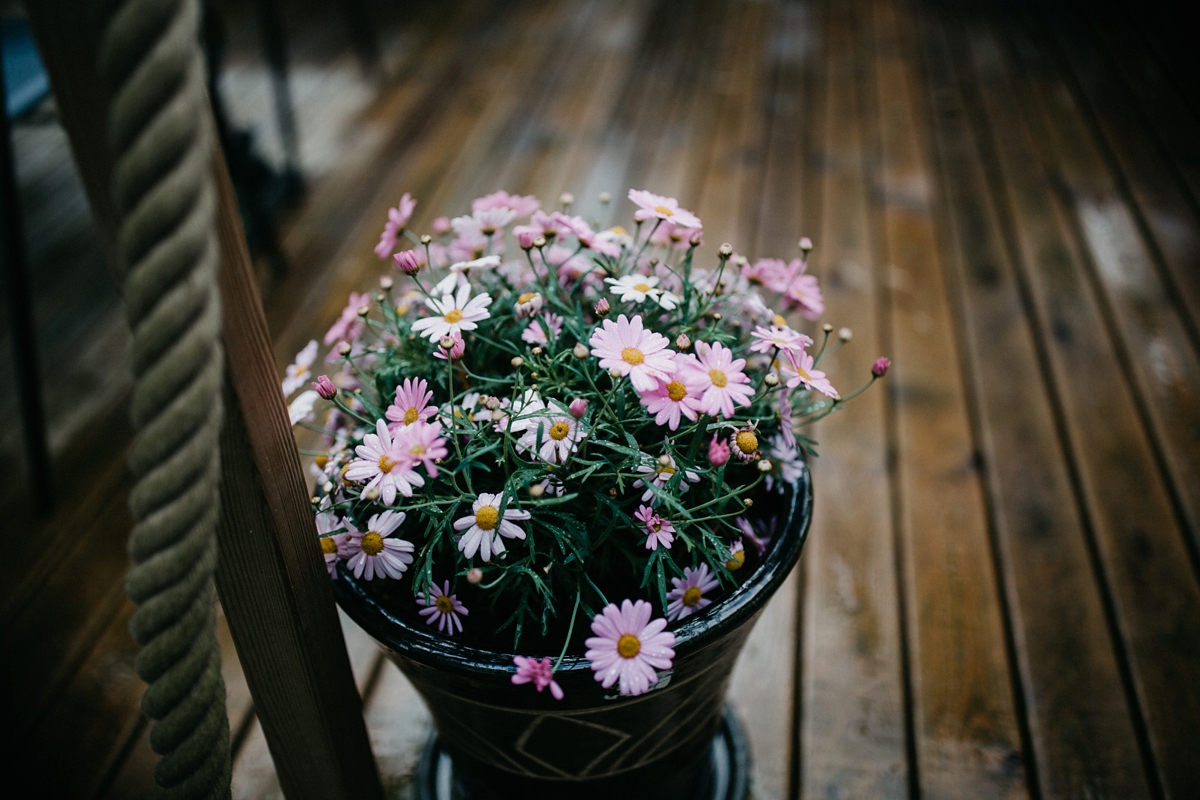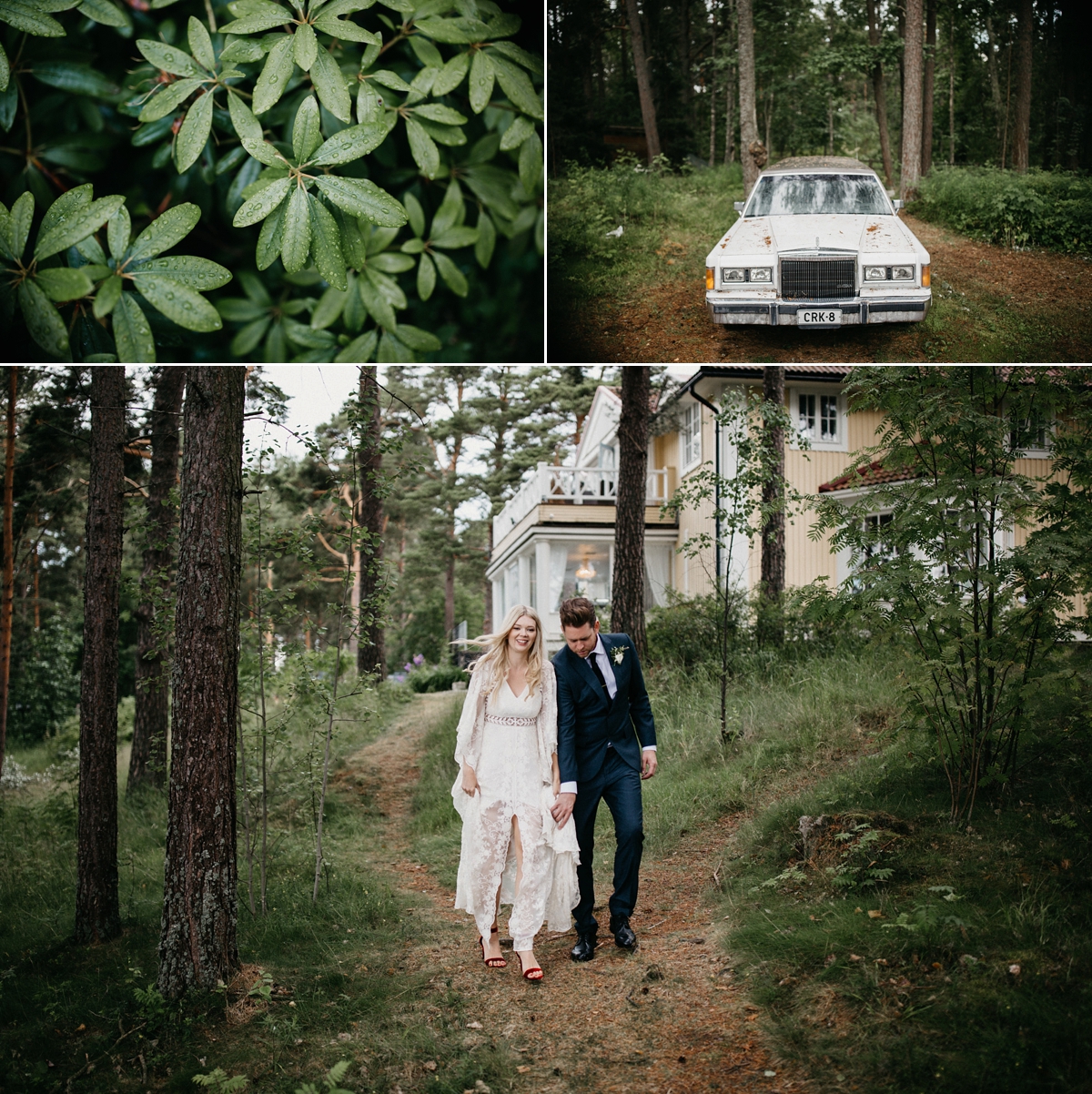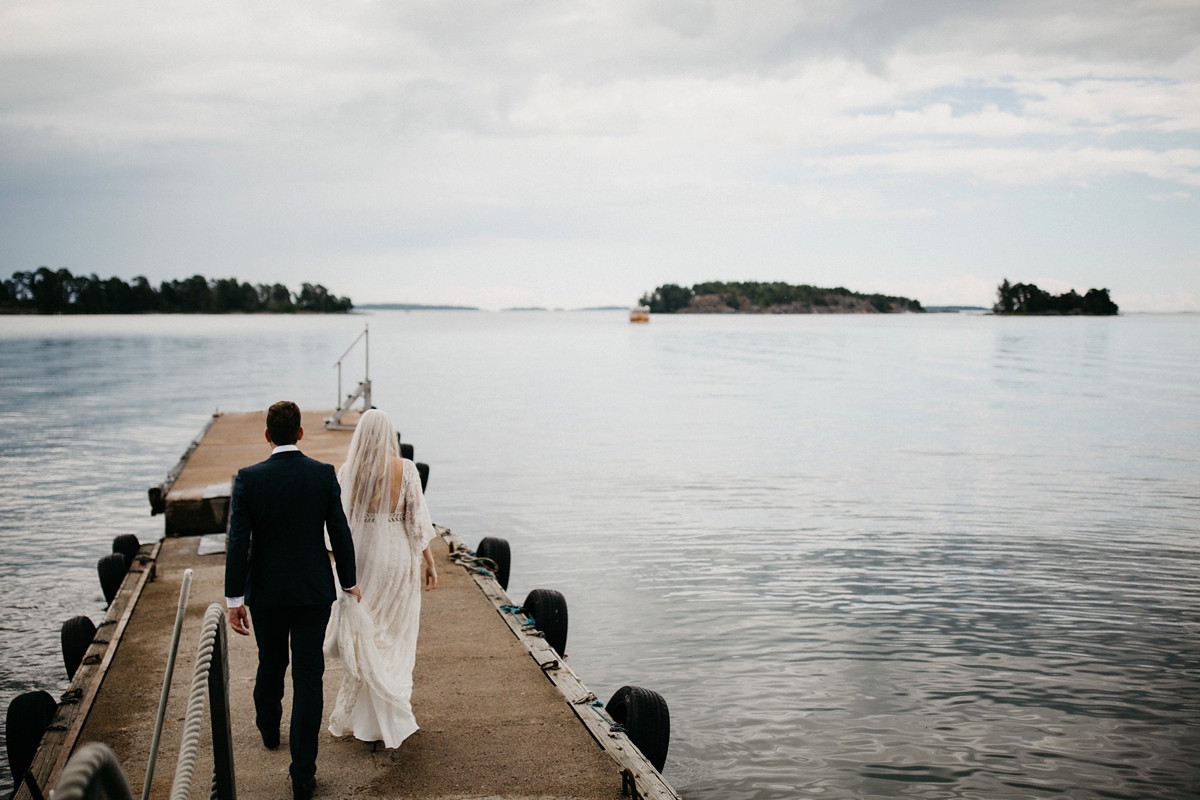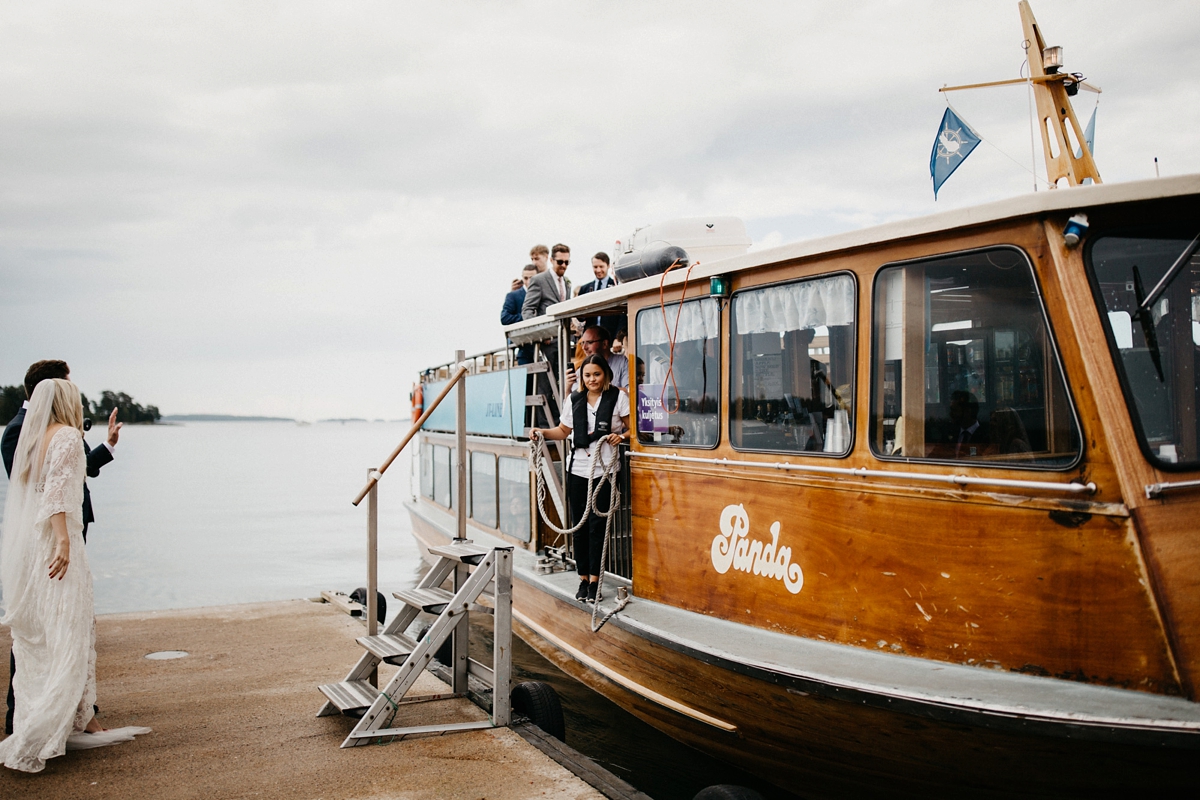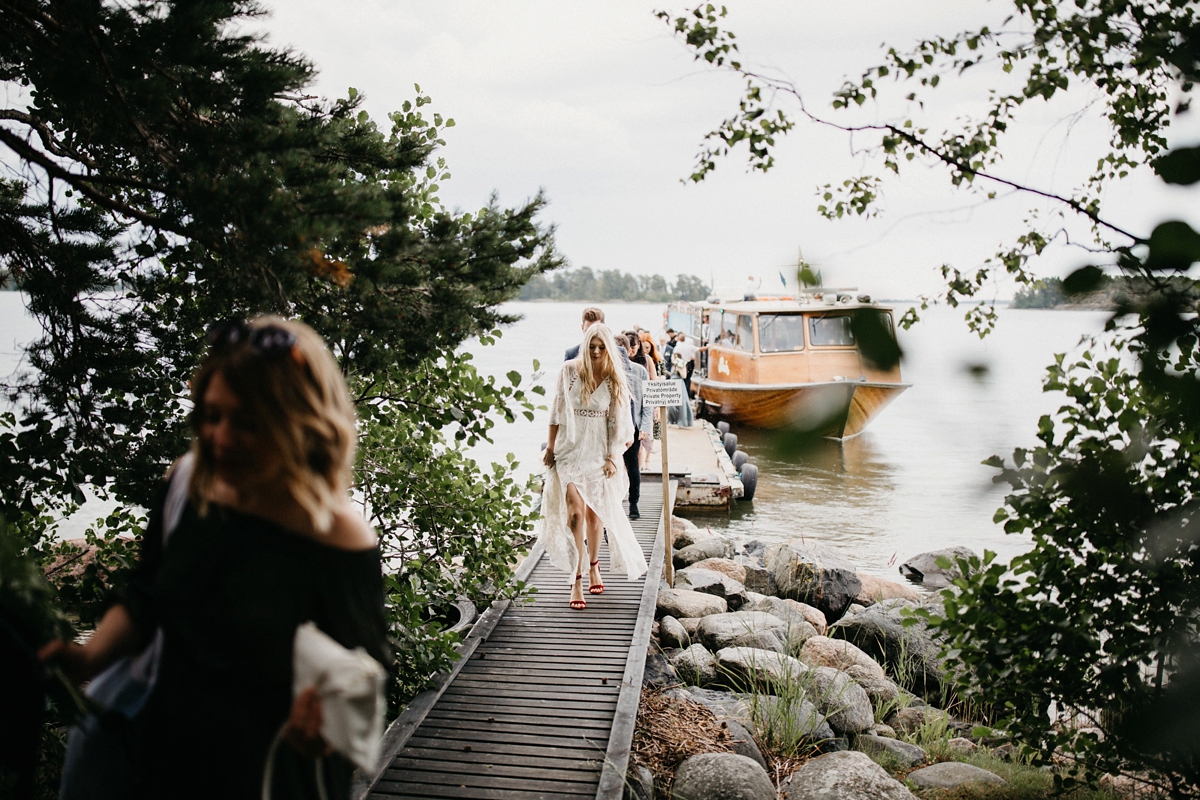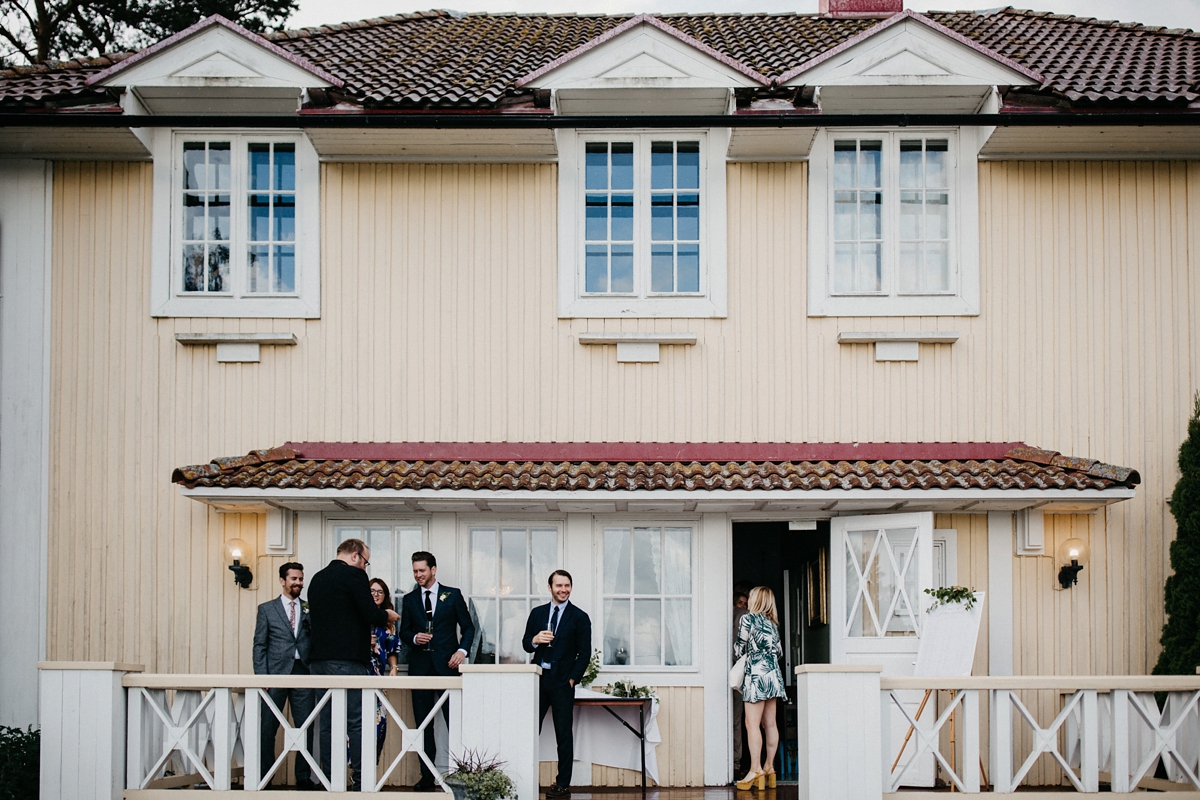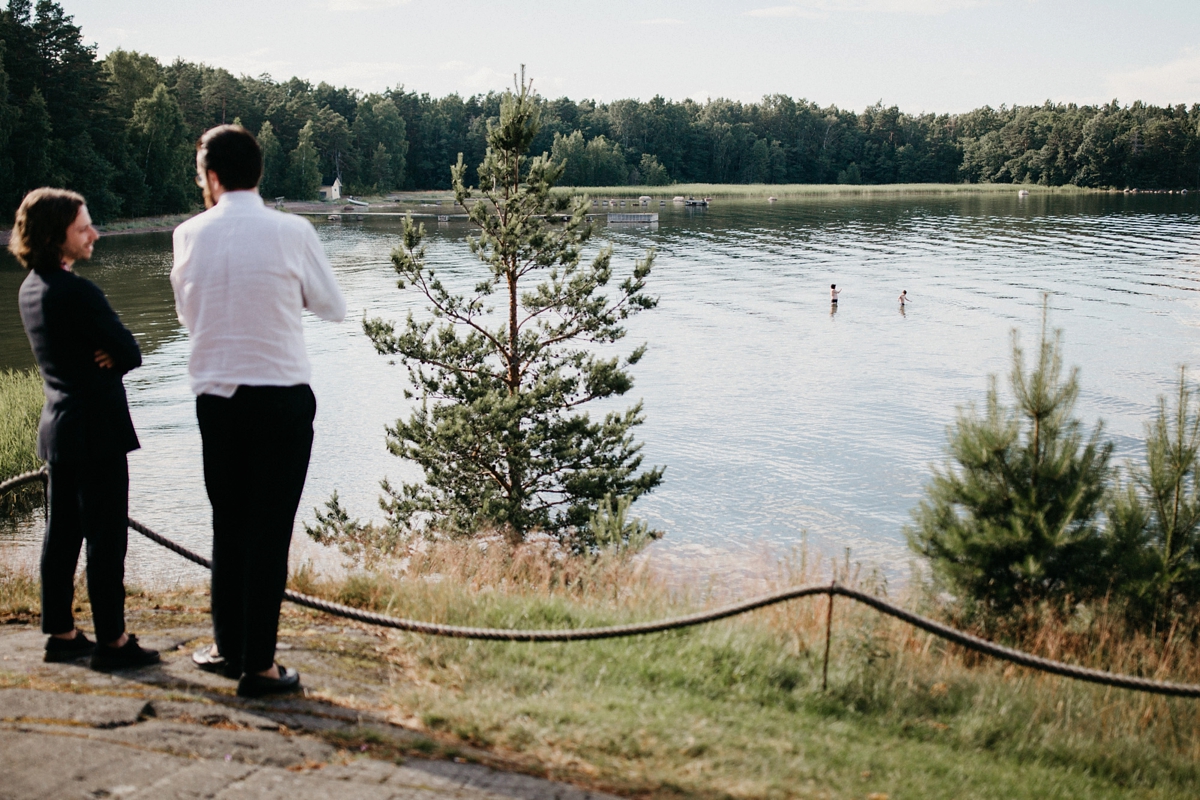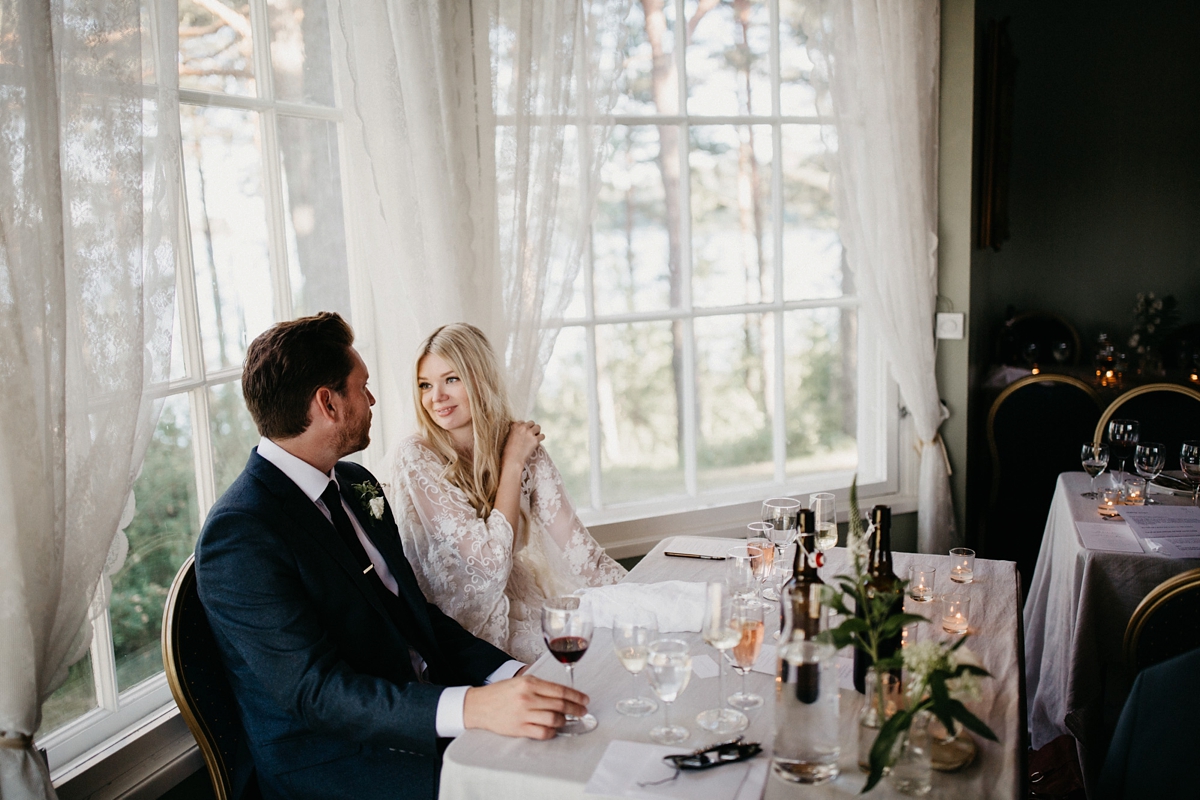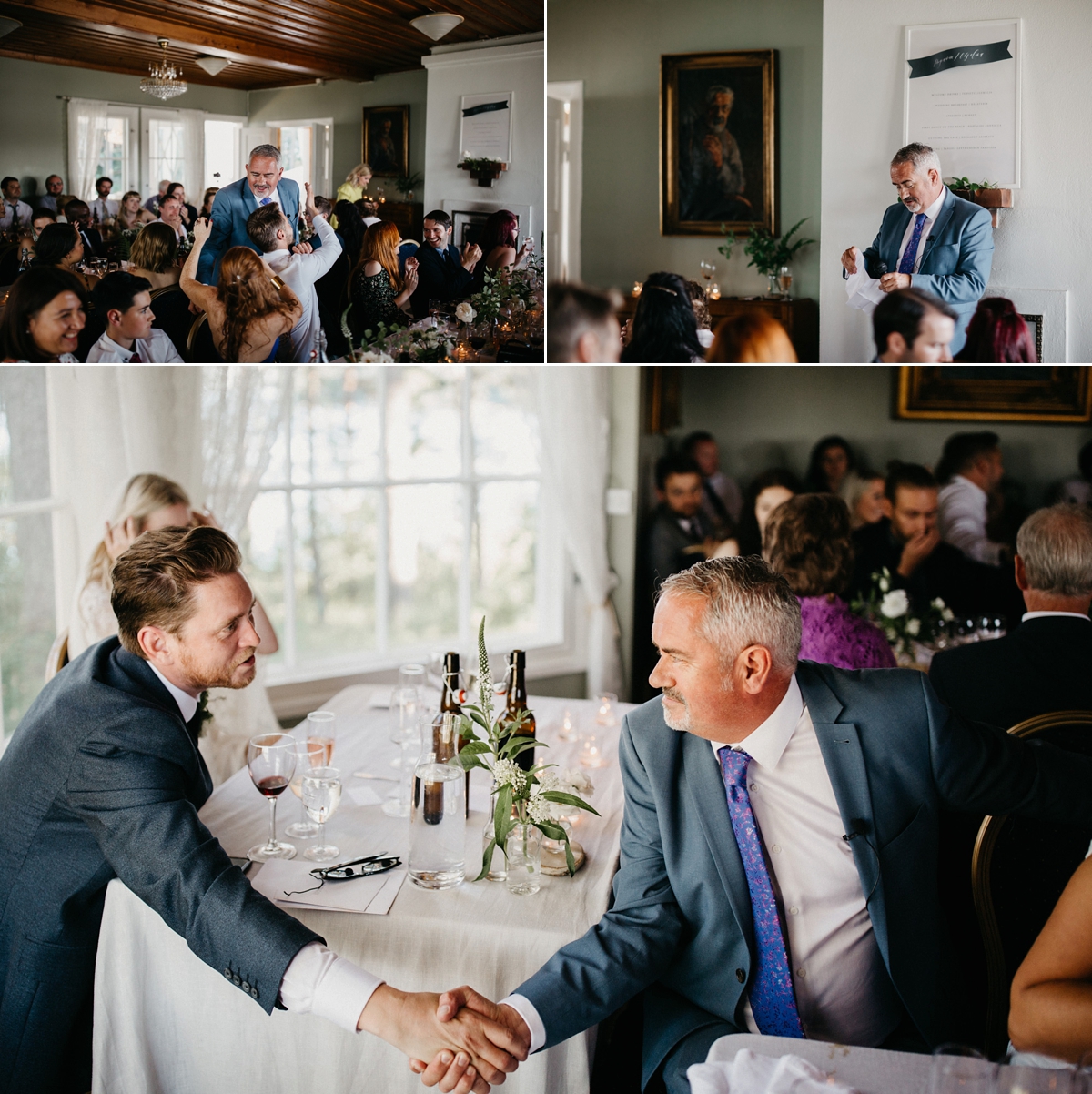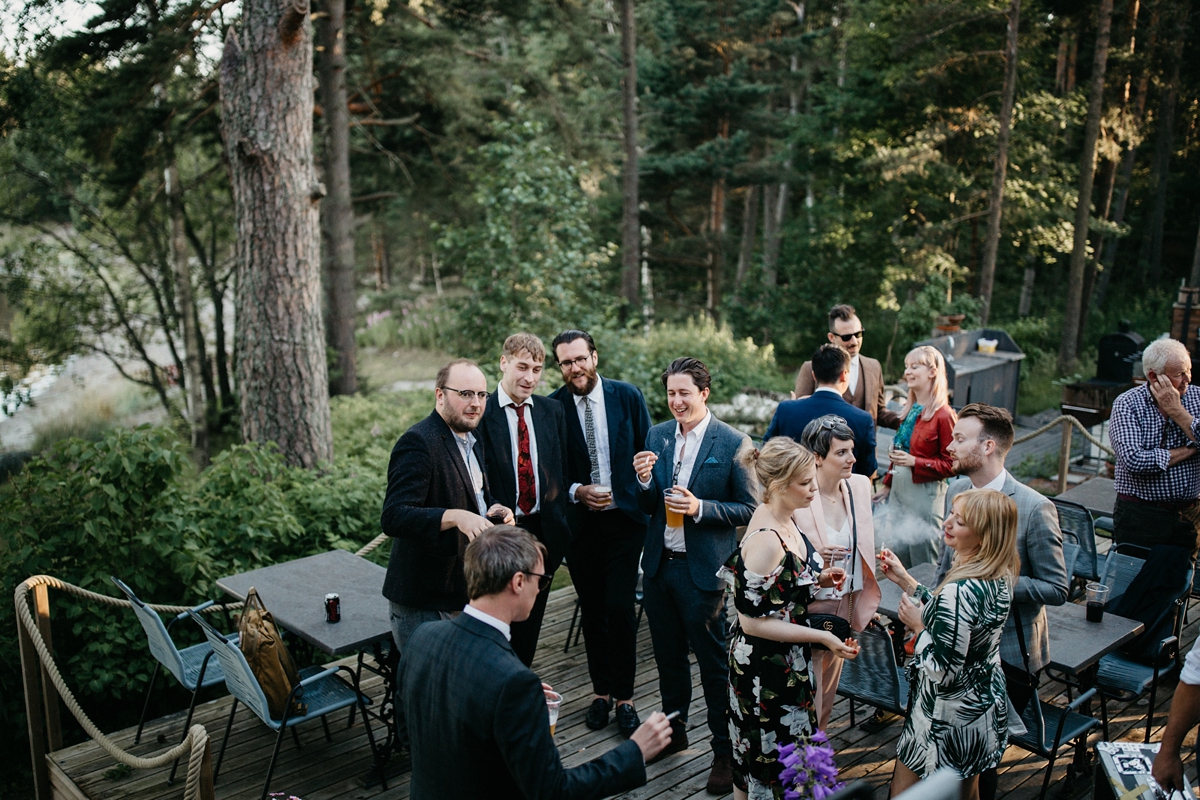 The couple ventured barefoot down to the beach for their first dance to the traditional Finnish waltz Valssi menneiltä ajoilta, played on the accordion. Friends later played Northern Soul and rock and roll records at the villa, the soundtrack to a night of joy and revelry if I've ever heard one.
"There are so many favourite moments. Our wedding waltz on the beach was pretty special and just how we'd imagined it – and we only nearly fell over once! Seeing our friends and family dance the night away was also amazing."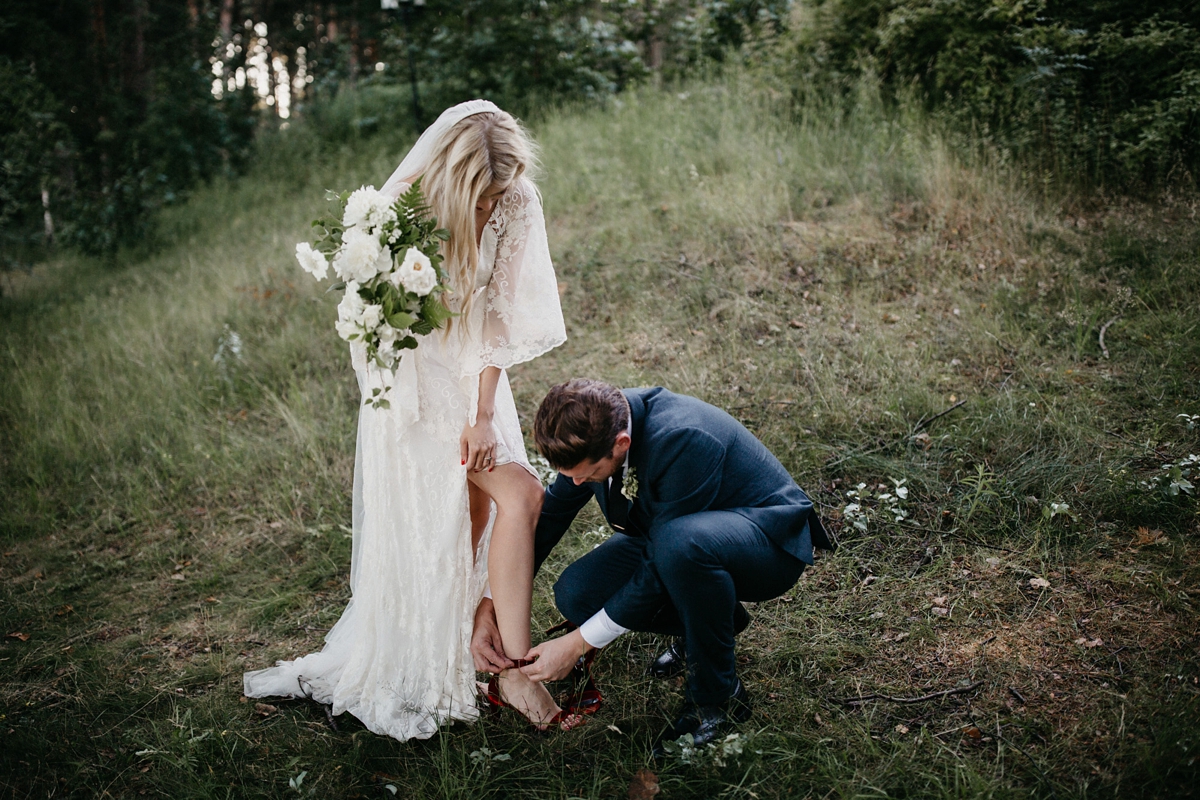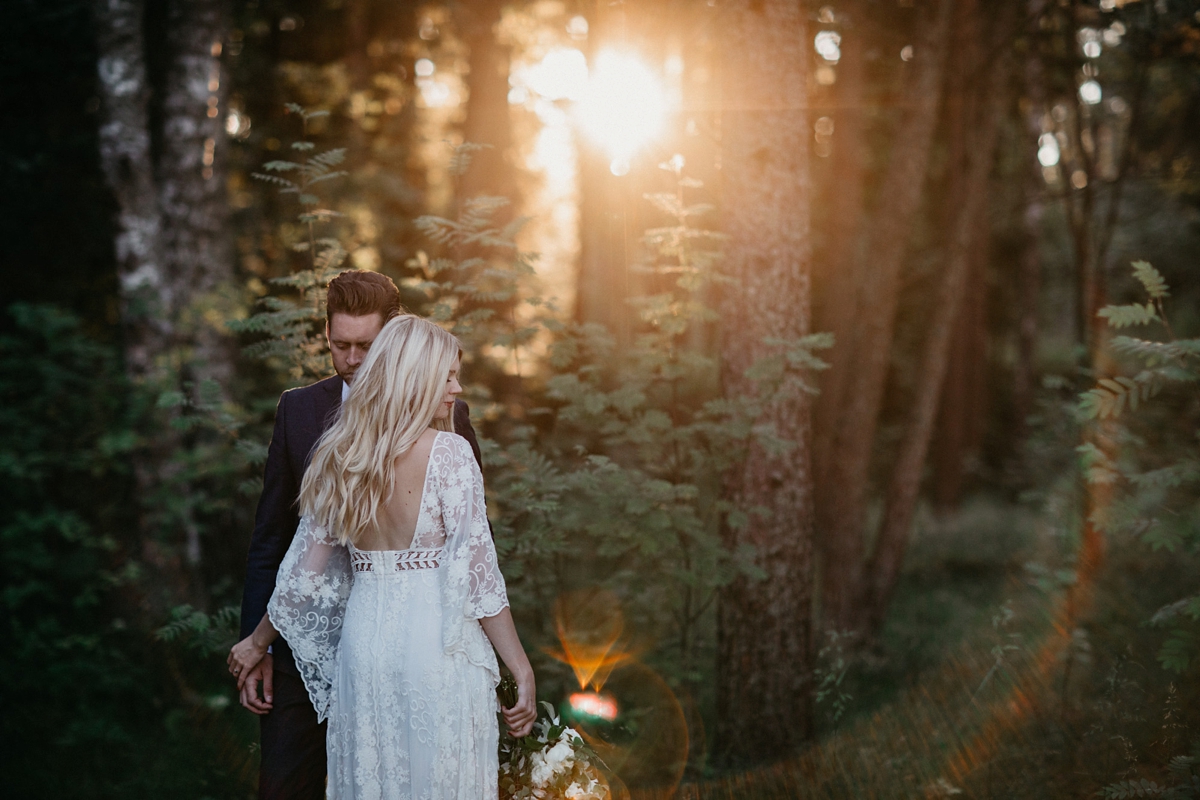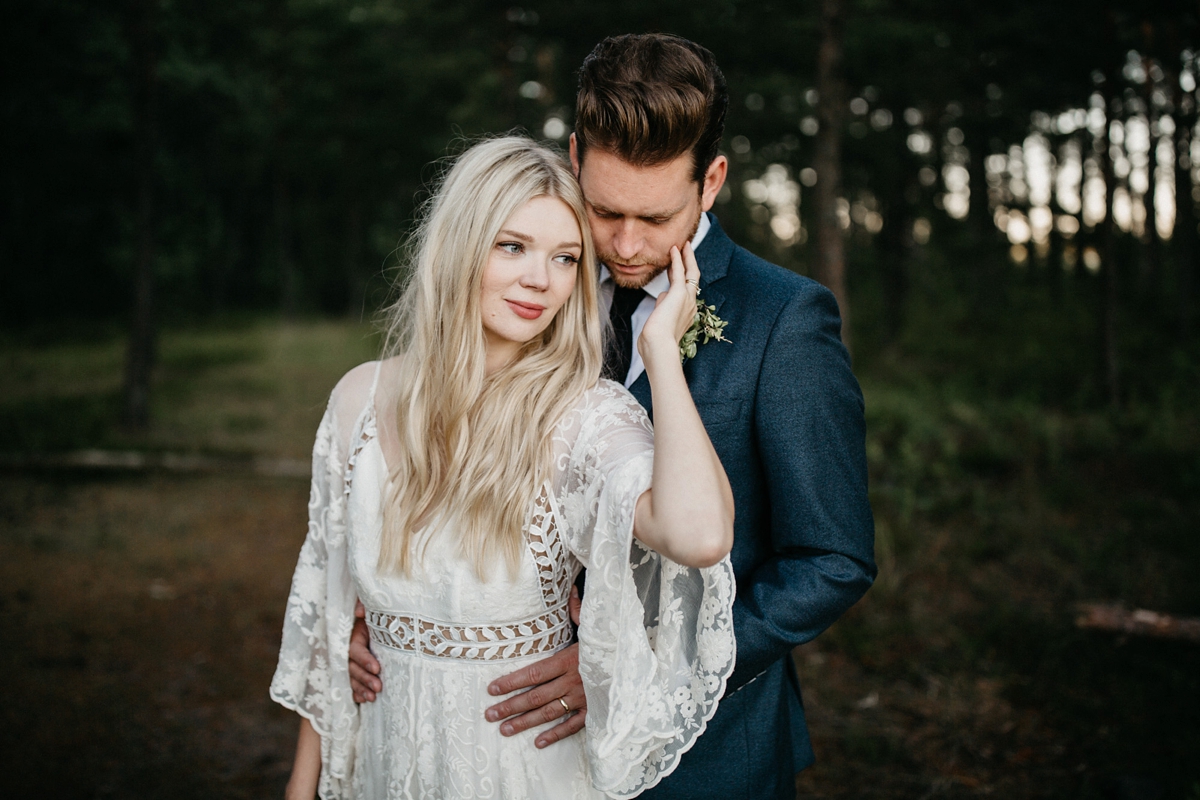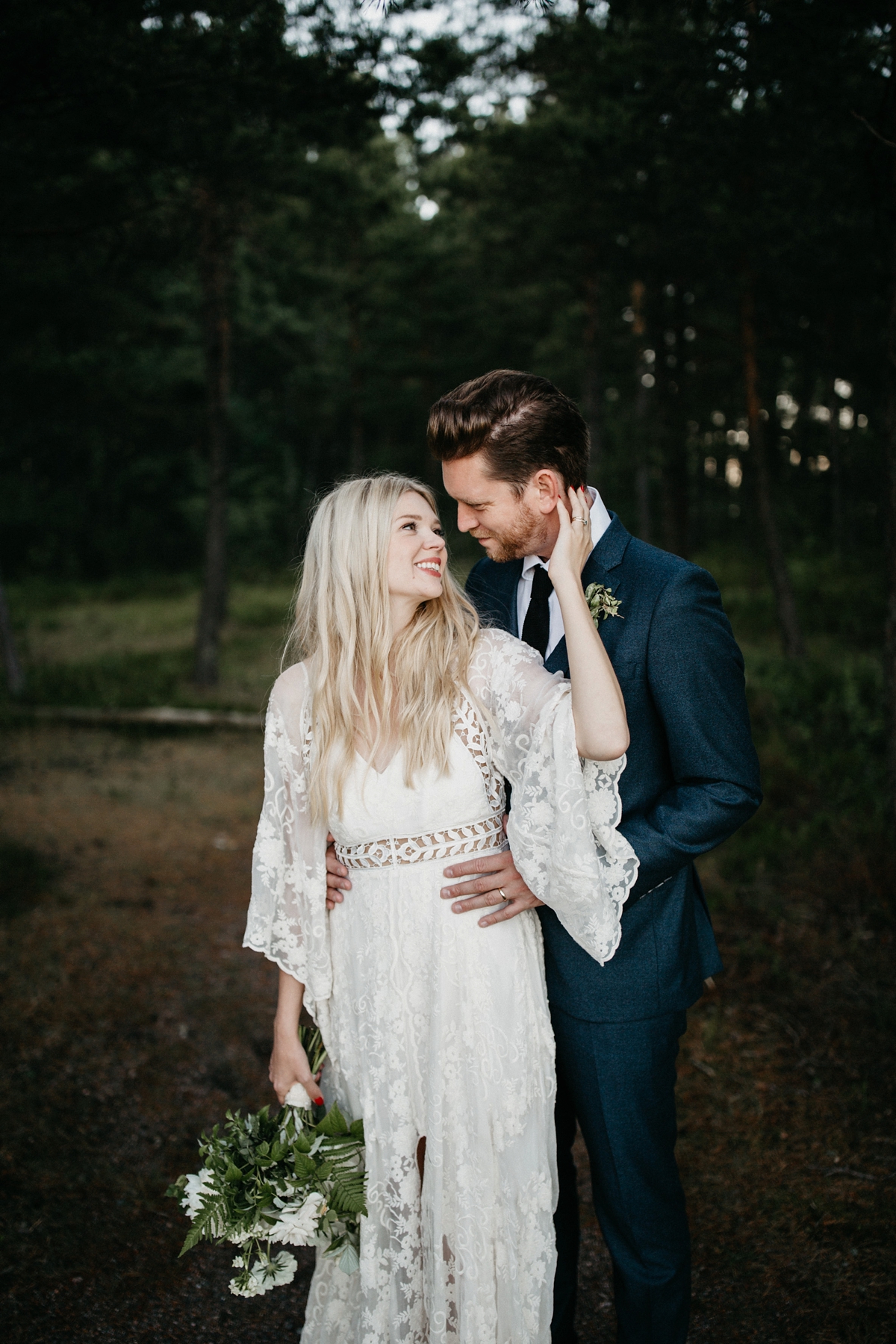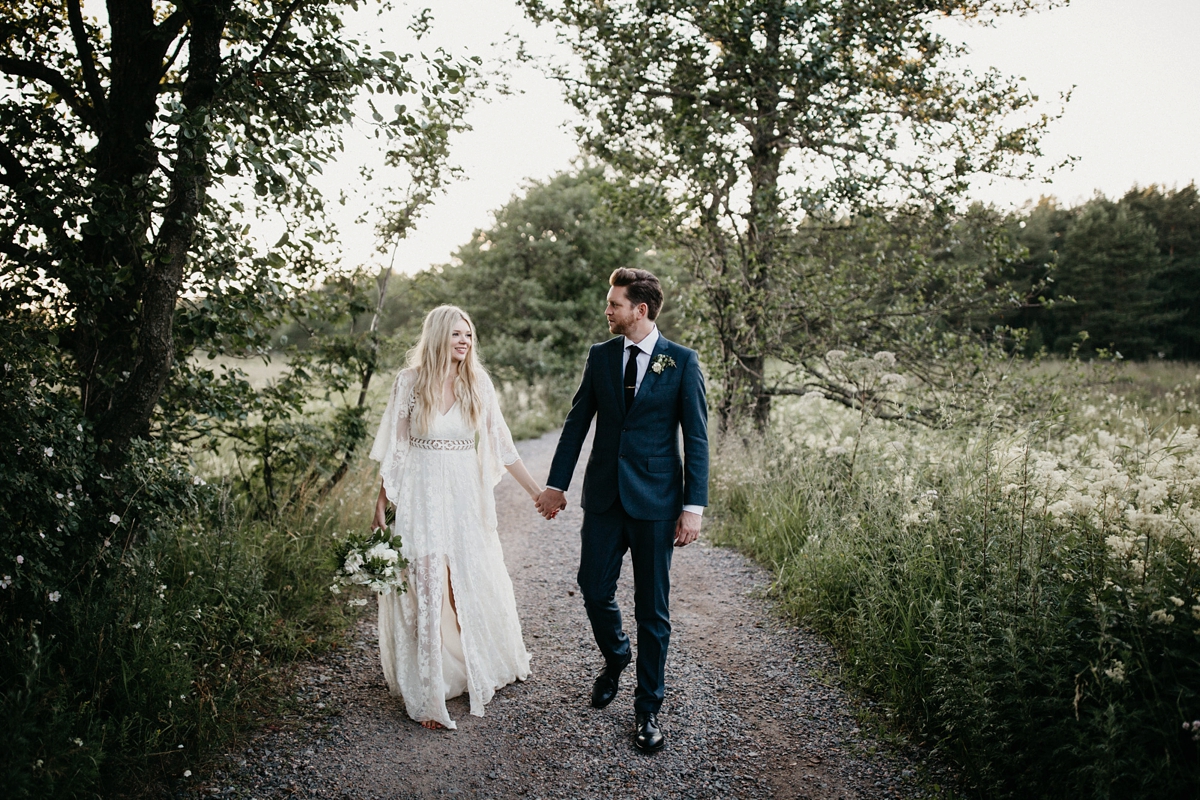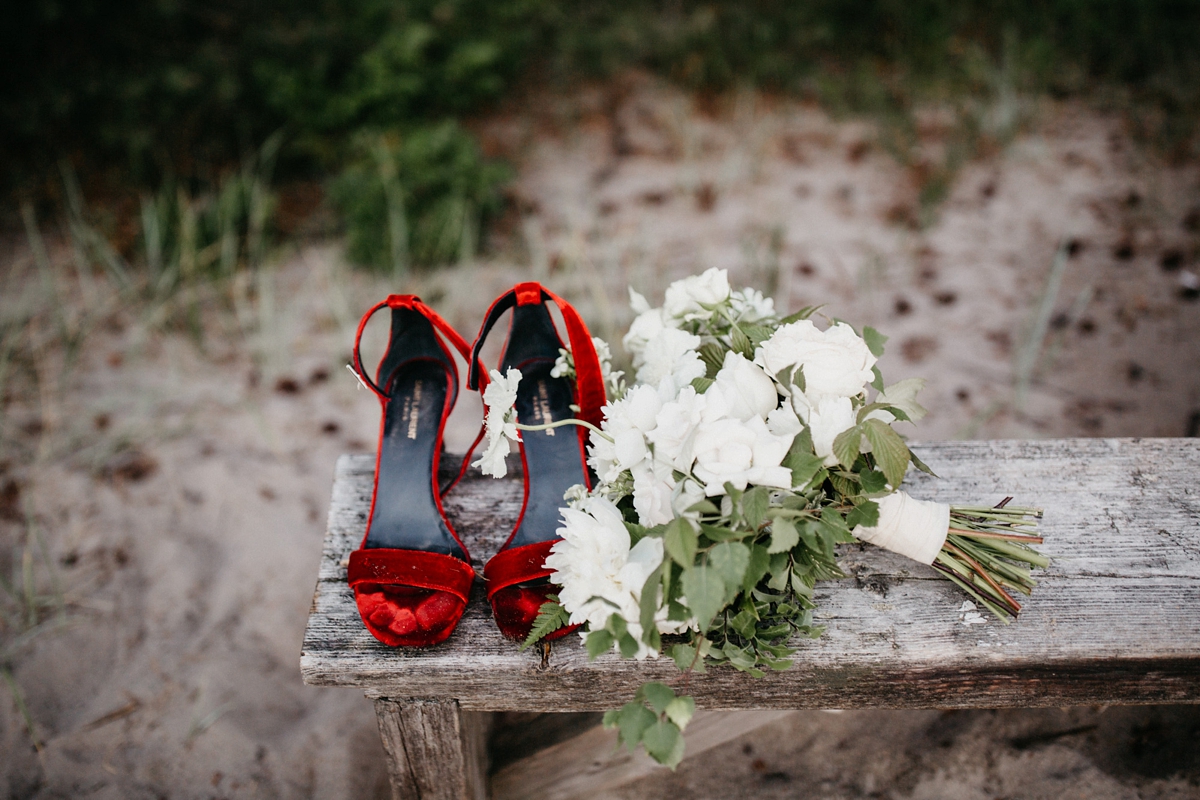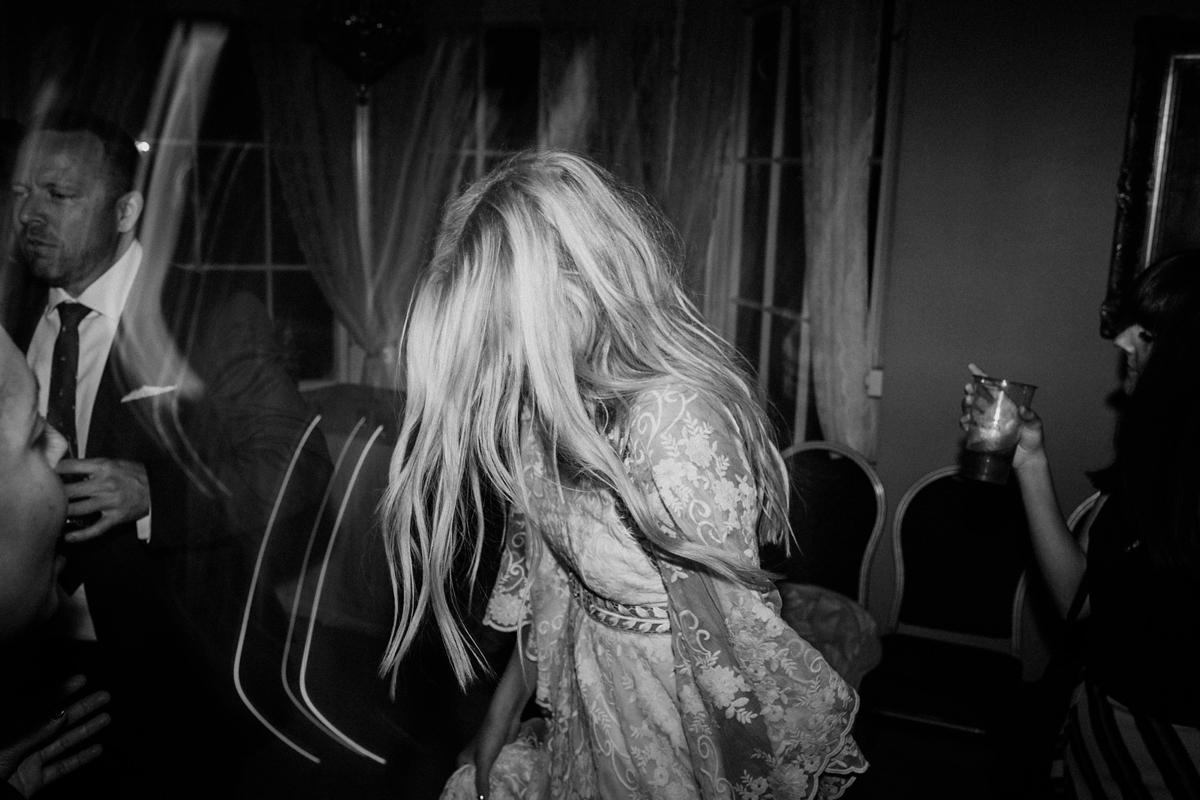 Words of Wedded Wisdom
"There were small things that we'd probably change with hindsight but nothing major.  As we had a destination wedding, the three days before were super hectic. If at all possible, I'd find some more time to relax during those days or spend more time at my destination in advance of the wedding."
"I wish I could have been more 'present' on the morning of the wedding. I'm an organiser and a bit of a perfectionist by nature, so I couldn't help worrying about some of the details on the morning of the wedding rather than focusing and enjoying the day. We were still getting things ready the night before so I found it hard to let go. It's easier said than done, but try to find a way to calm your nerves and really get into the day from the start."
I can't thank Salla and Simon enough for kicking off our 2018 real wedding features in such stunning style. Our thanks too of course also go to Jaakko Sorvisto Photography for these gorgeous images – stills that make me want to jump on a flight to Finland first thing tomorrow.
Wishing you all a happy, healthy and love-filled new year.
Em x