Happy New Year lovelies! I hope you had a splendid Christmas break, and are fresh and ready for a lovely, lovely wedding today. I literally could not wait to share this with you once I'd seen it in my inbox.
Think bold, modern design paired with a rustic, relaxed barn venue, dreamy sunset portraiture and soft greens. So are you ready? On 17 July 2017 Mr and Mrs Edwards married in an outdoor civil ceremony and barn reception in the heart of Kent, at The Great Barn in Rolvenden near Cranbrook. Their wedding style was characterised by simple modern detailing with pretty touches of soft green and white, all against a natural, relaxed backdrop to allow their guests to chill out and relax.
Mrs Edwards' boldly-patterned, figure-hugging gown was designed by Rue De Seine, and there are simply no words to describe how incredible she looks. Found at Leonie Claire, a bridal boutique that we support on our curated Little Book for Brides pages, the gown combines a delicate slip with a striking lace overlay – isn't it wonderful? I especially like the deep V-back edged with lace and those long sleeves which come down over her wrists; incredibly elegant.
"I absolutely loved the lace and how bold but delicate it is. It's something completely different and reminded me of trees and plants. I just fell in love instantly."
Photography Paul Fuller Photography
Paul Fuller Photography has perfectly recorded the natural, relaxed tone of the day in his work.
"When we found Paul's photos we instantly fell in love with his style of work. We knew he would capture our day exactly how we wanted, and he exceeded our expectations with what he captured for us. The photos are perfect and we are so glad we had him."
 With just simple Kurt Geiger shoes, antique earrings found at a shop in Brighton and her engagement ring – the bride looks chic and stylish. Some of my favourite brides on Love My Dress pair a striking gown with more natural, relaxed accessories and styling and Mrs Edwards is a perfect example of this.
Her hair was styled into a curly updo and adorned with pretty sprigs of pure white gypsophila, and she carried such a pretty, loose, wild bouquet of soft green eucalyptus, pink dahlias and big white daisies –  a real summer celebration.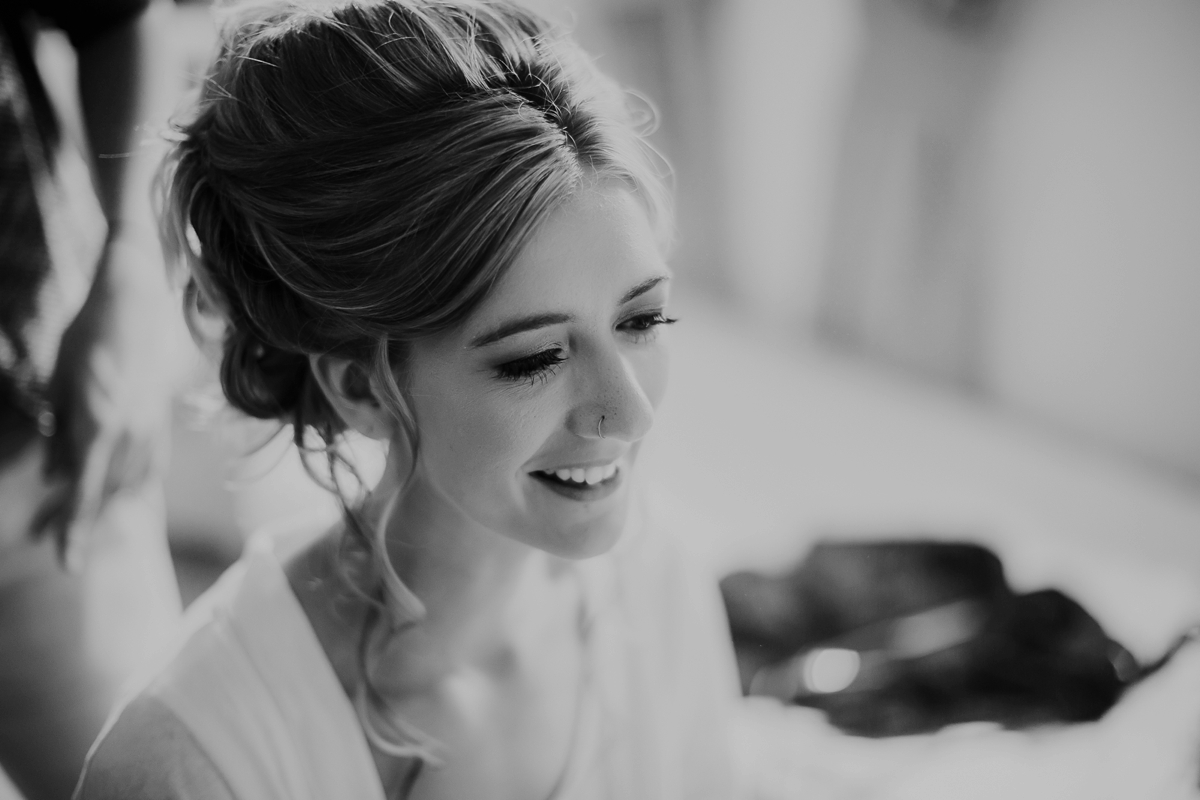 The groom set the tone for the relaxed day with his choice of Noose & Monkey suit with a white shirt, fastened with a collar pin from Boohoo instead of the more formal tie.
His style was echoed by the groomsmen in their navy Next trousers, navy polka dot braces from ebay and brown brogues.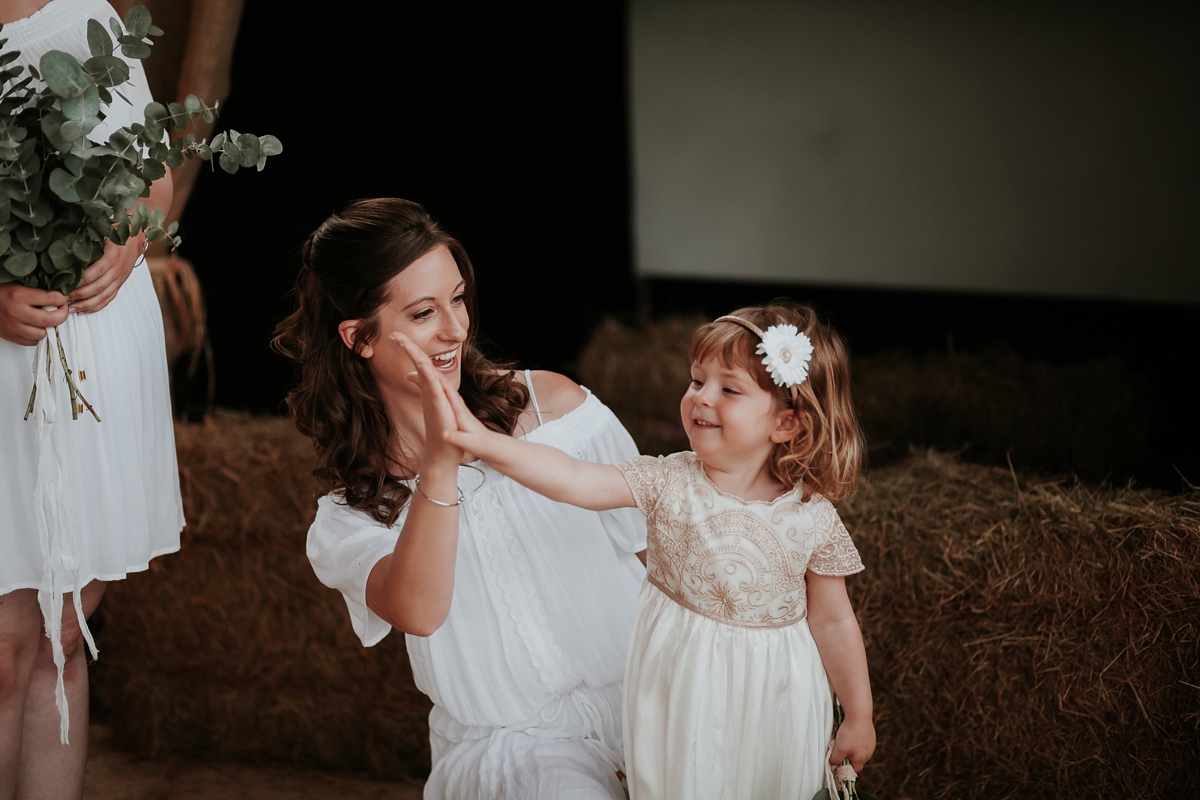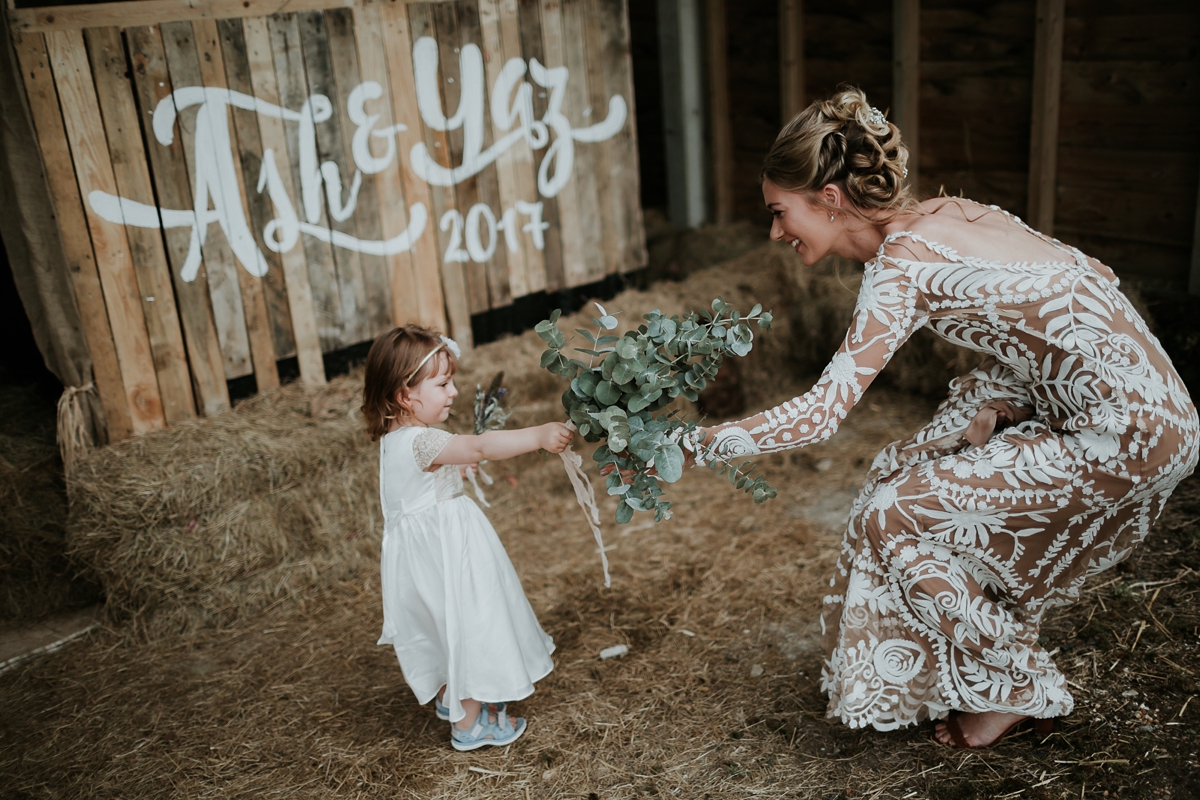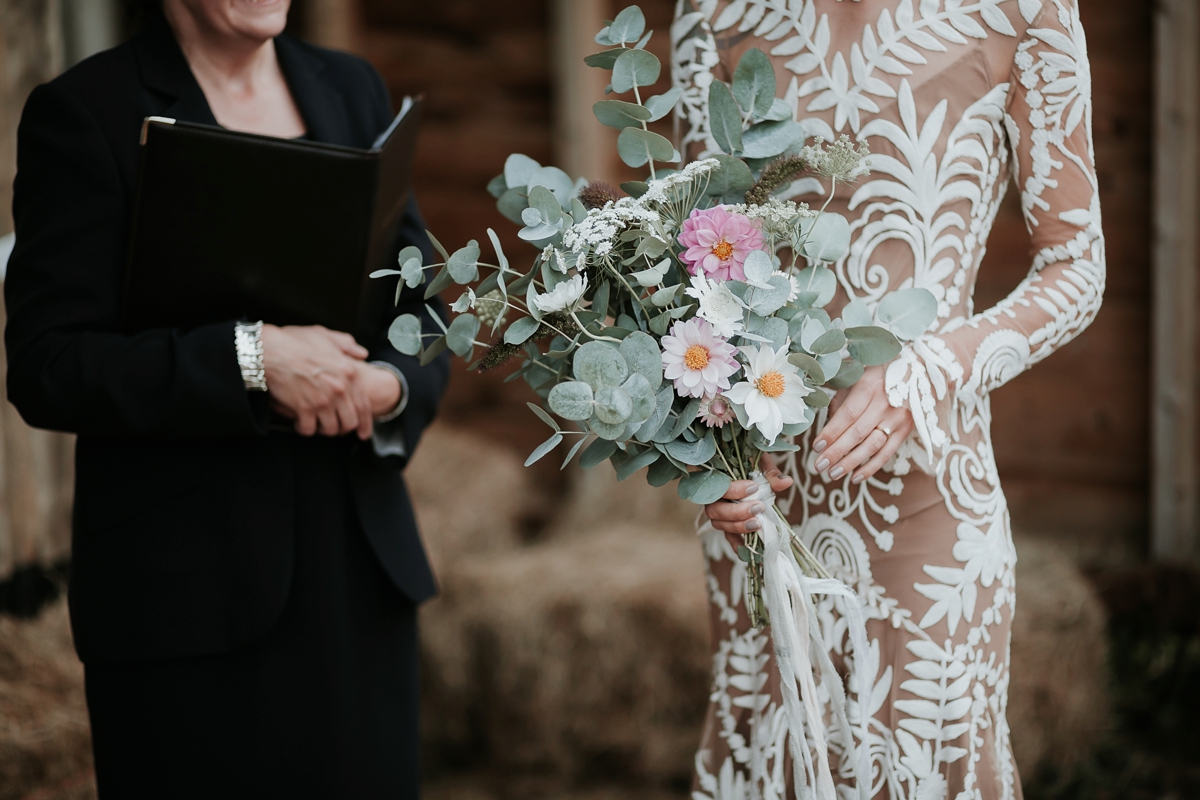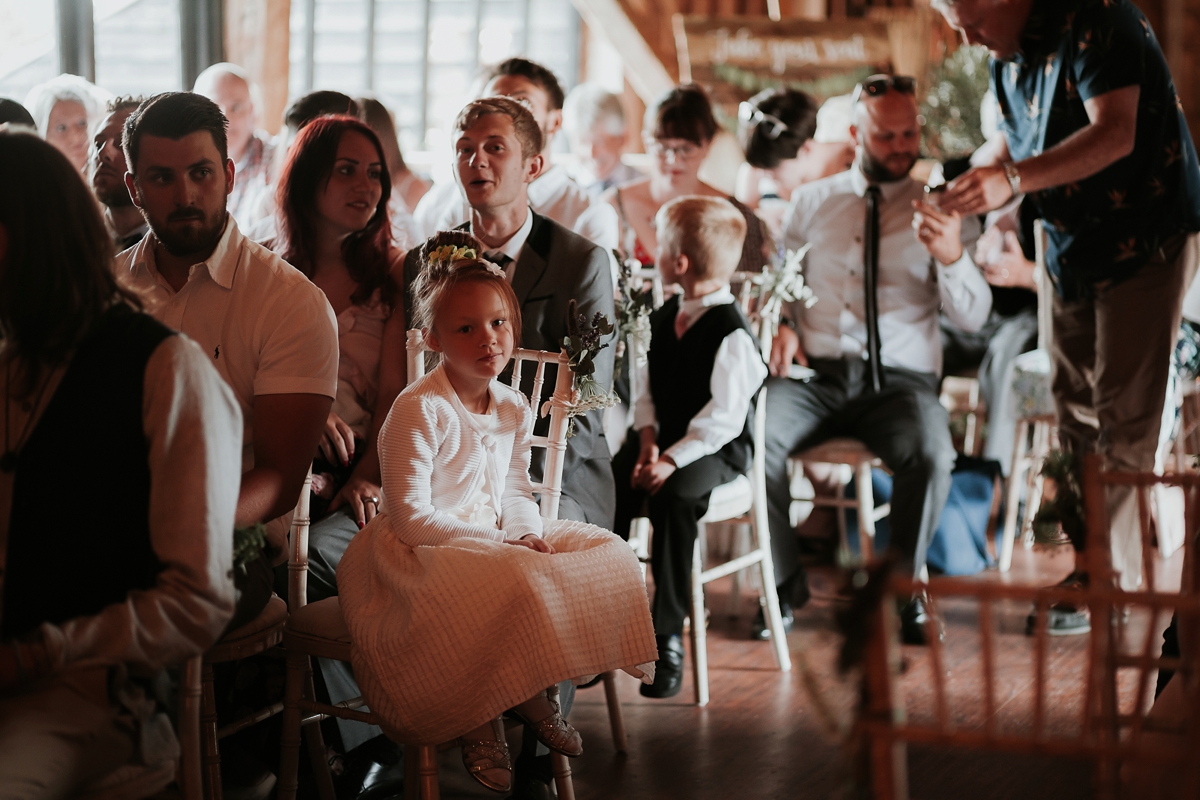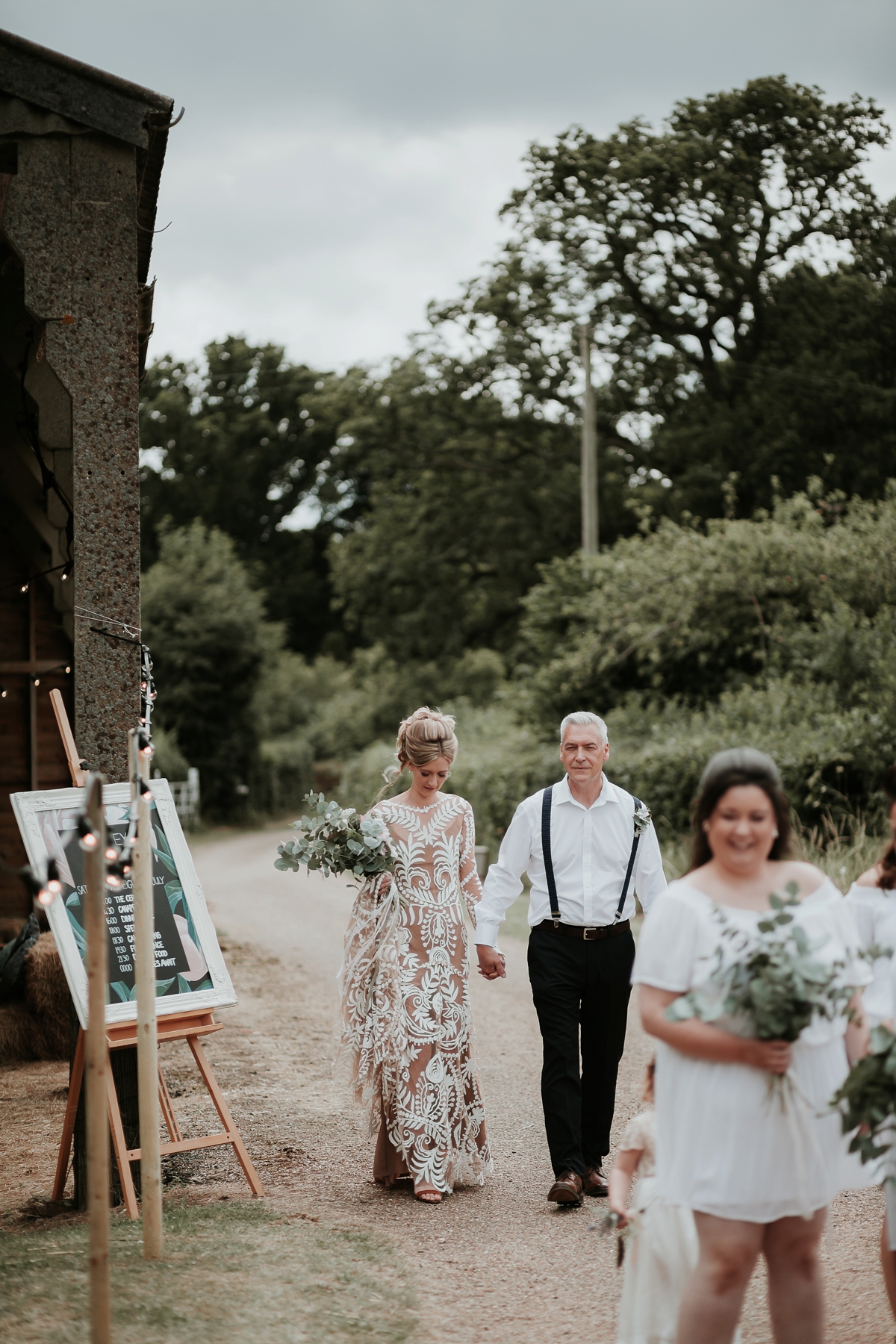 The bridesmaids wore short white, off-the shoulder dresses found at Primark, along with simple Primark shoes for a summery, chic feel, and carried natural bouquets of eucalyptus.
What do you think of the flowergirl's cute little dress? It's from Monsoon, and you can see more of their designs on Little Book for Brides here.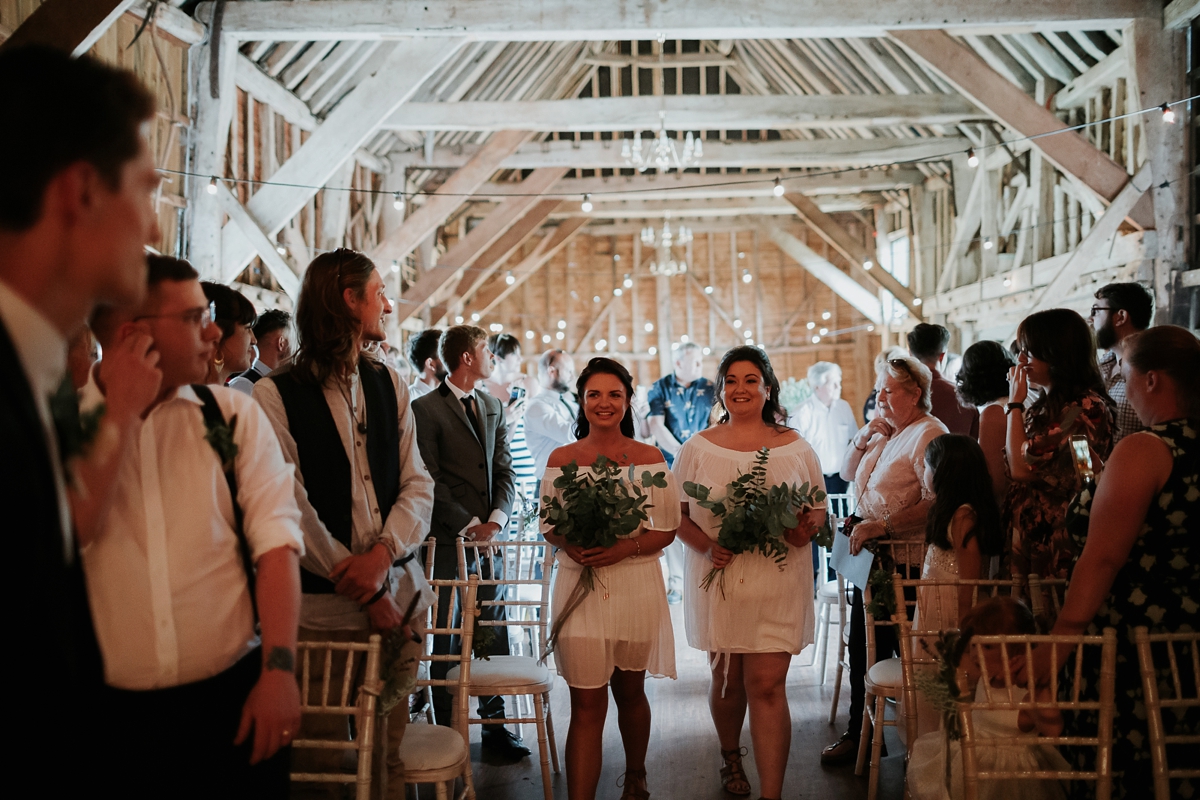 The couple own an independent clothing company together, designing and selling unisex t-shirts and caps. They first met when they were fourteen, met again at college three years later and then went to universities near to each other. Mr Edwards proposed whilst on a bike ride at their local beach, and they set the date for three years later.
The bride's father drove the bride and her mum to the barn, then walked hand in hand with her down the aisle, as Bob Marley's 'One Love' was played on an acoustic guitar by Andrew Keeping.
Mr and Mrs Edwards' wedding rings, made by Wakefield Jewellers in Hythe, have such a meaningful story behind them. Have any of you considered this?
"We were given gold from our close family members, our parents and grandparents and had the gold melted down to create our own wedding bands."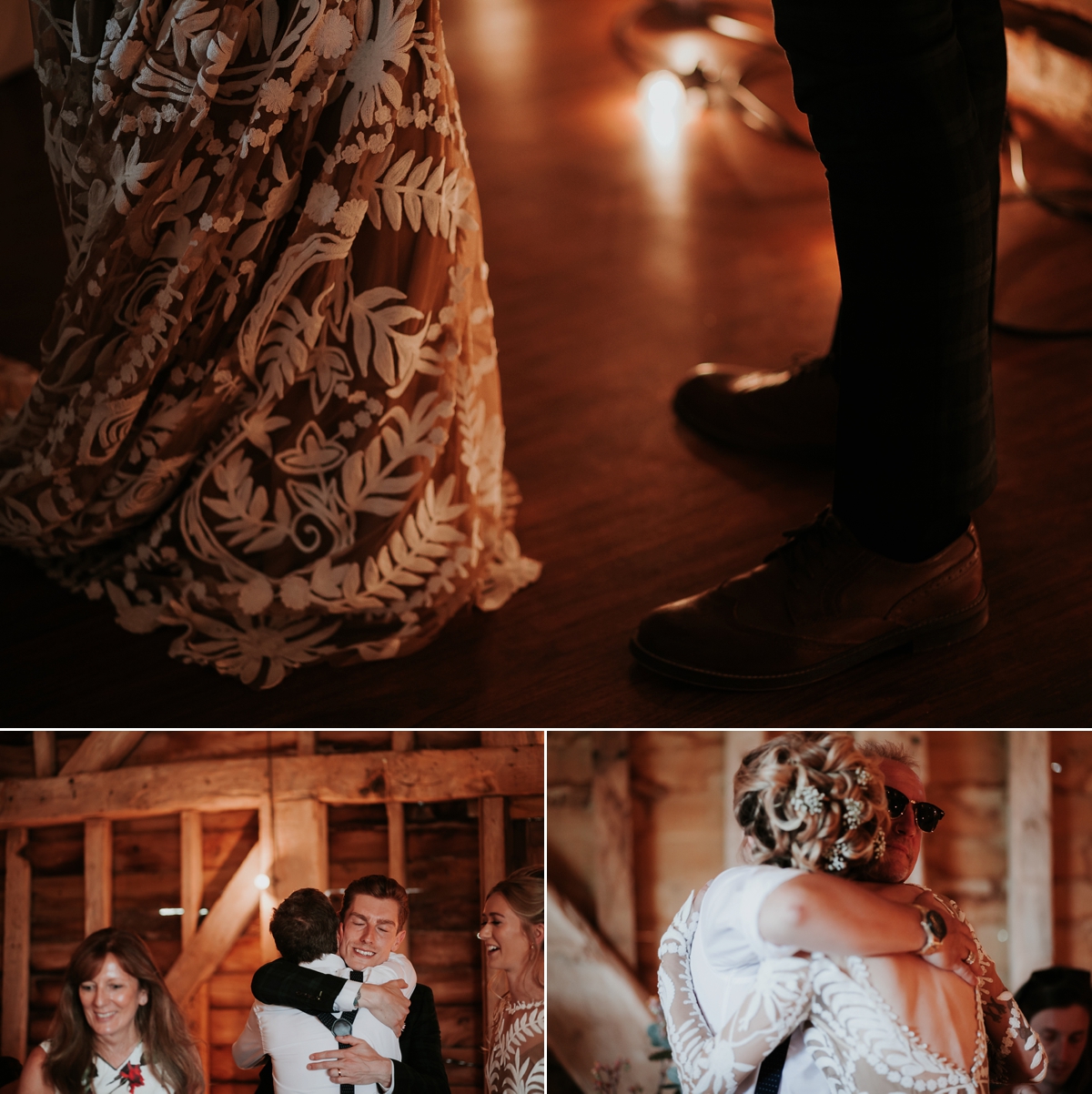 The sun was shining for the newly-weds, so after the ceremony they headed outside to relax in the gardens and enjoy more guitar music and delicious canapés from Home Gurr'own. As well as providing the food and flowers, Nicci also co-ordinated the day for the couple.
"We could not recommend any one better than Nicci and her team. They did such an incredible job of the food and the whole wedding from planning to the end of the wedding day. They are one amazing team and will make you feel so relaxed."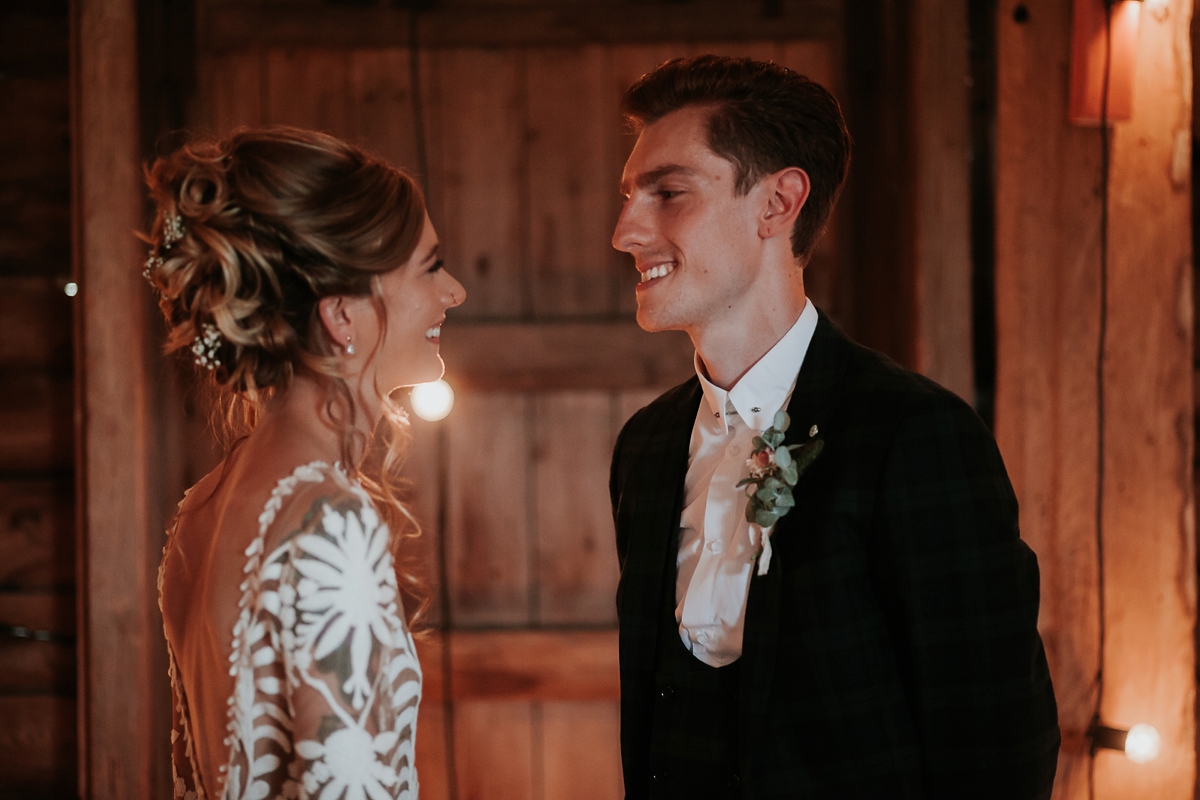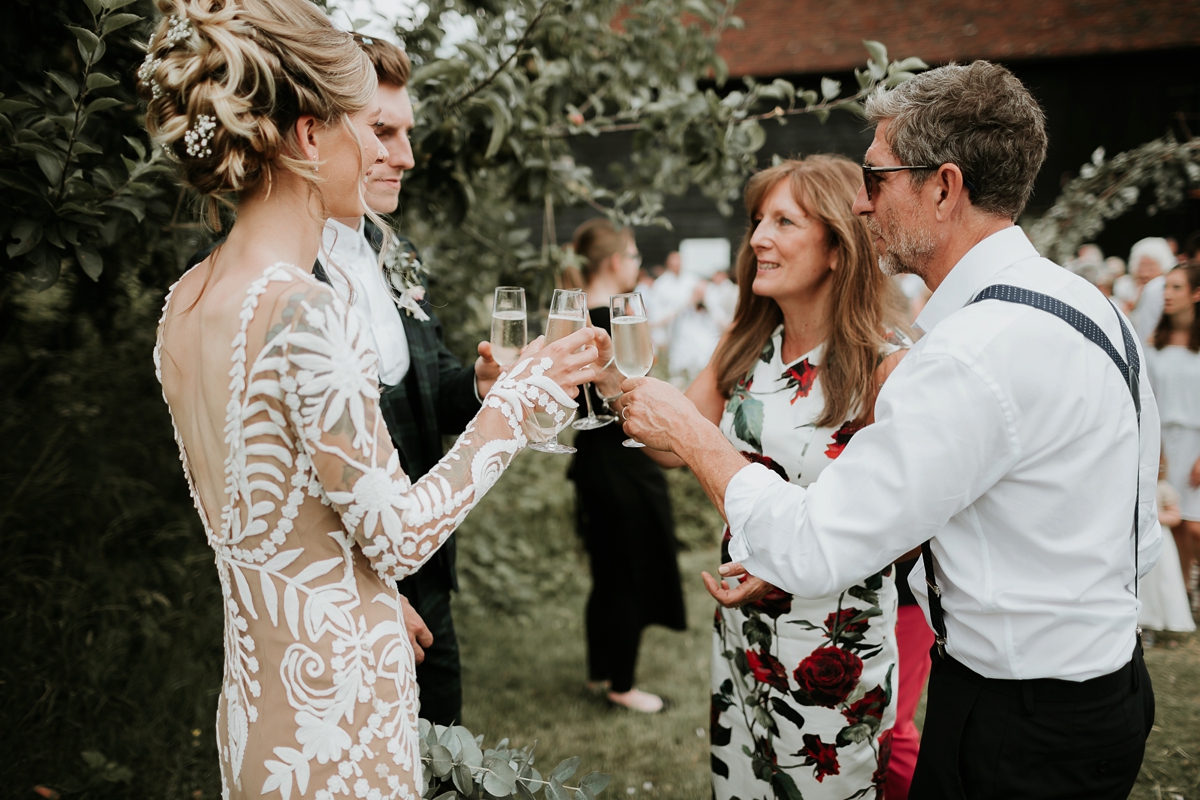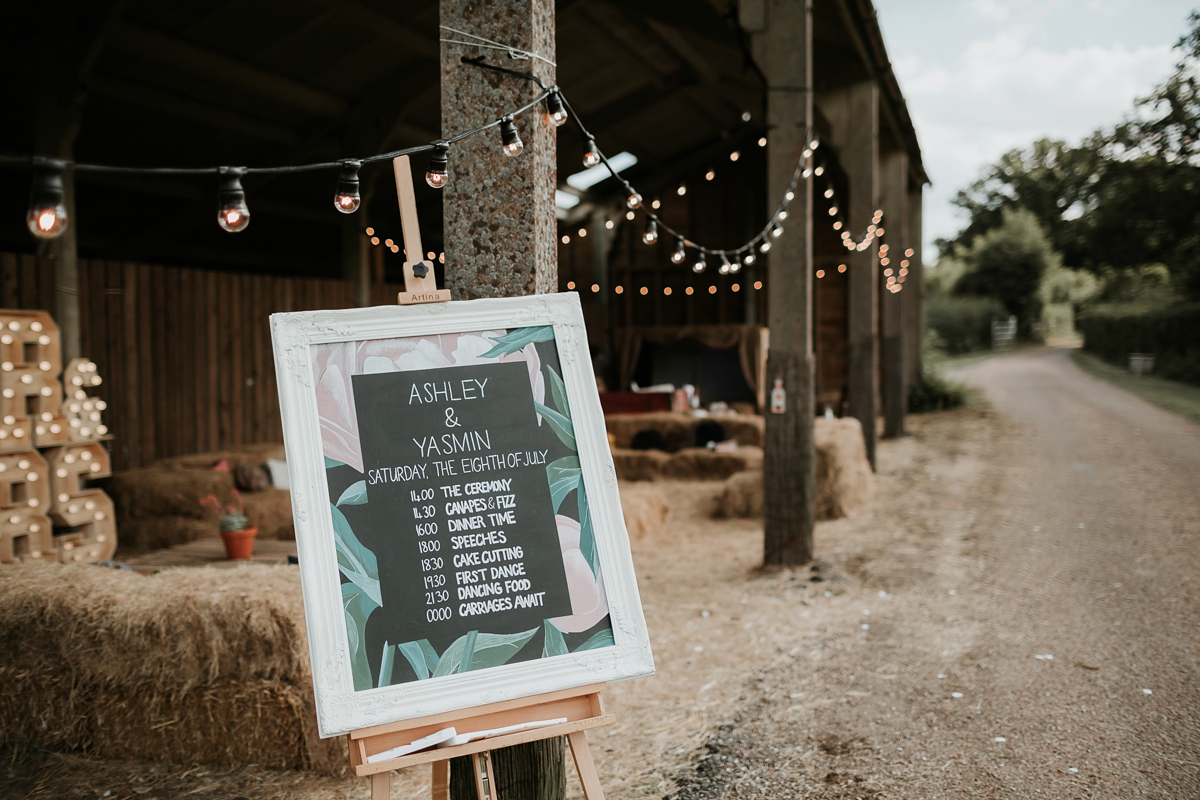 The Great Barn, Rolvenden suited the couple's natural, relaxed style perfectly and they got super-creative to transform it into a magical, summery space for the ceremony and reception.
"We chose the venue because it was an empty shell for us to do what we liked. We had the barn, an outside barn and an orchard to decorate how we wished."
The table plan complemented the natural theme as it was made from dried eucalyptus leaves pegged on to twine. The couple made this, and designed and made all of their own stationery too. Take a look at the menu cards for inspiration for an elegant, natural style.
"Our caterers Home Gurr'own did our bouquets and buttonholes, and the eucalyptus on the tables. All the flowers around the barn and outside for decoration were cuttings from my mum's garden and my nan grew lots of succulents for us too. We chose to use eucalyptus because we wanted to keep with the natural theme and simplicity. I had a few dahlias in my bouquet for a bit of colour too."
"We hired festoon lighting and we made our own light up 'LOVE' letter sign for the end of the barn. All around the side walls of the barn we had jars and bottles that had candles in or flowers or greenery that was cut from my mum's garden. We also had succulents that my nan had been growing for us. We had a timeline of photos of us growing up and to more recent strung along the barn door and a ladder outside decorated with jars and bottles and tin buckets full of greenery from my mum's garden."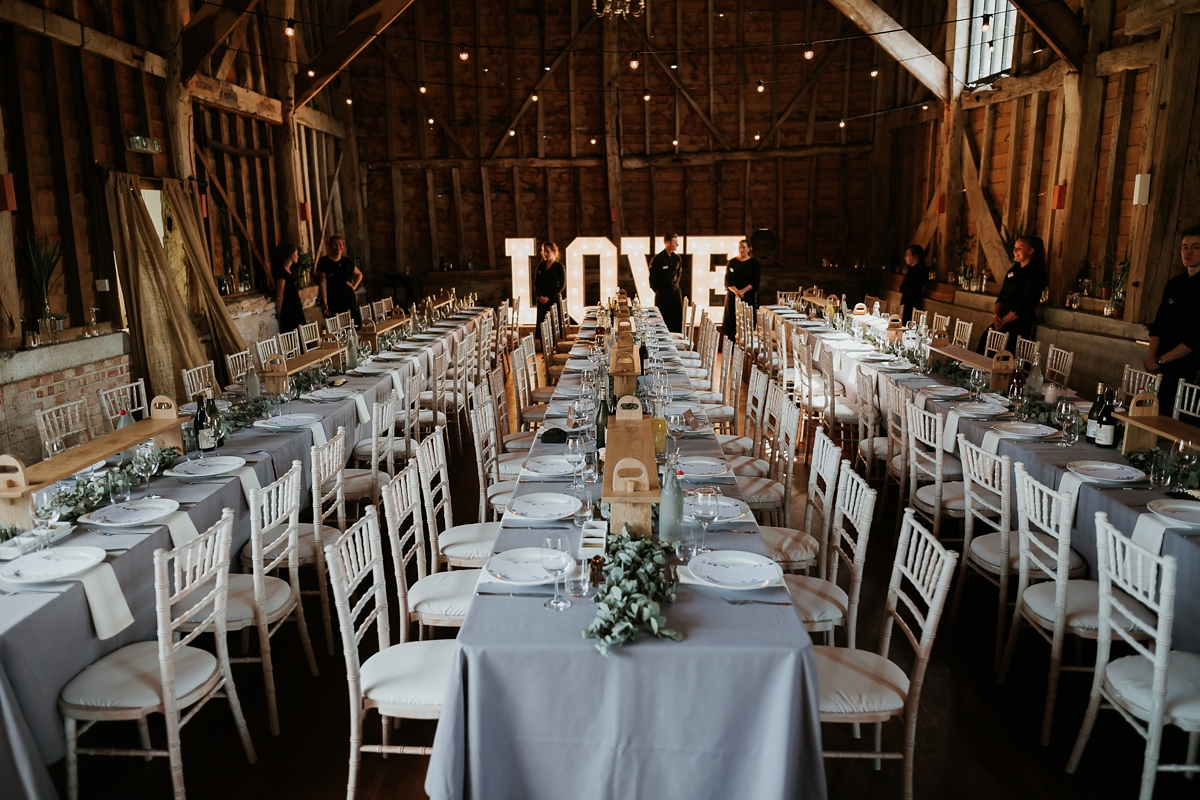 The wedding breakfast was served at long trestle tables in the barn, adorned with soft green eucalyptus garlands and simple glassware. I really love this combination of rustic charm and simple elegance.
"Our cake was by Taylor Made Cakes of Tenterden and was gluten-free; no one even knew! We wanted to keep it natural with a rough icing look and a few sprigs of greenery."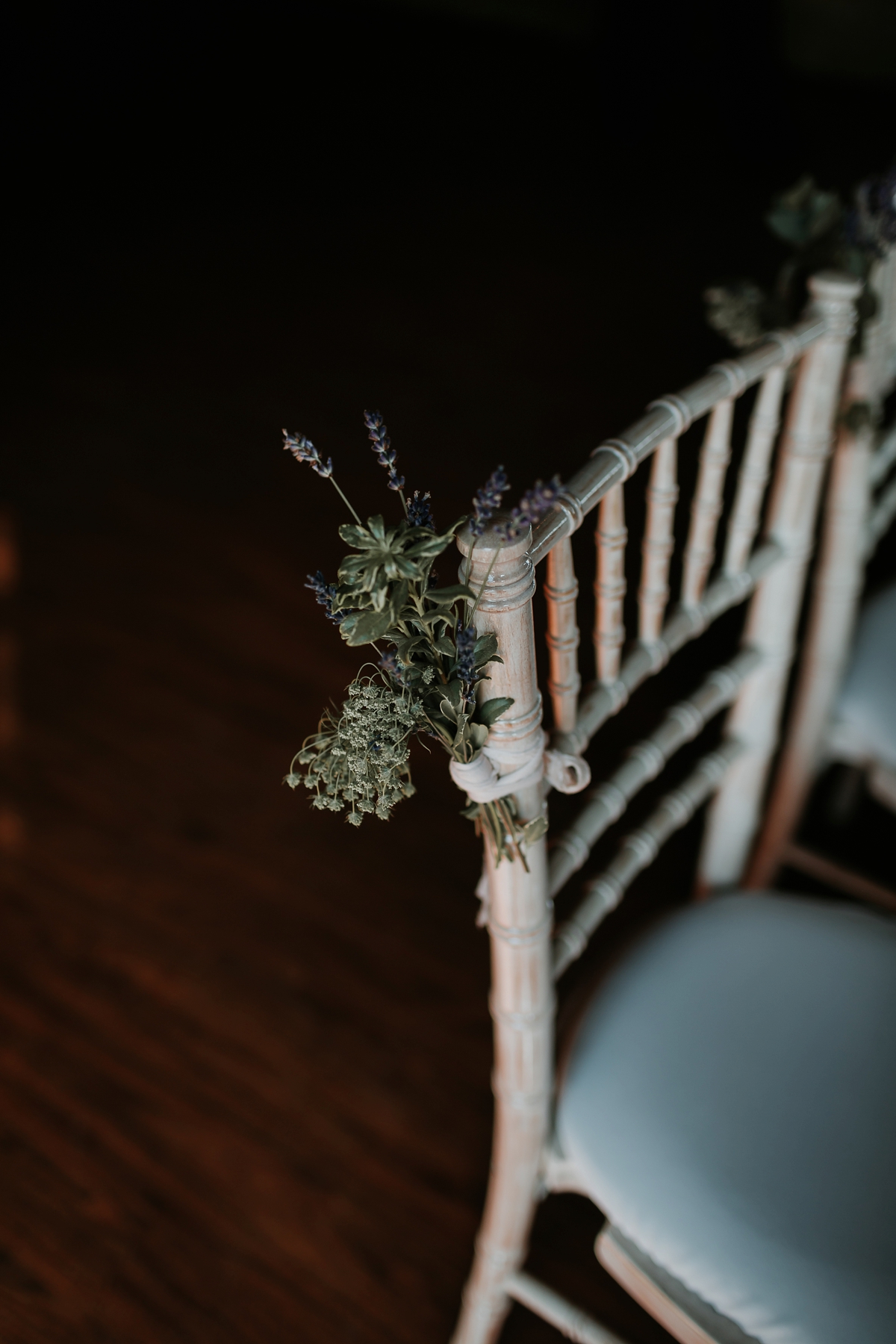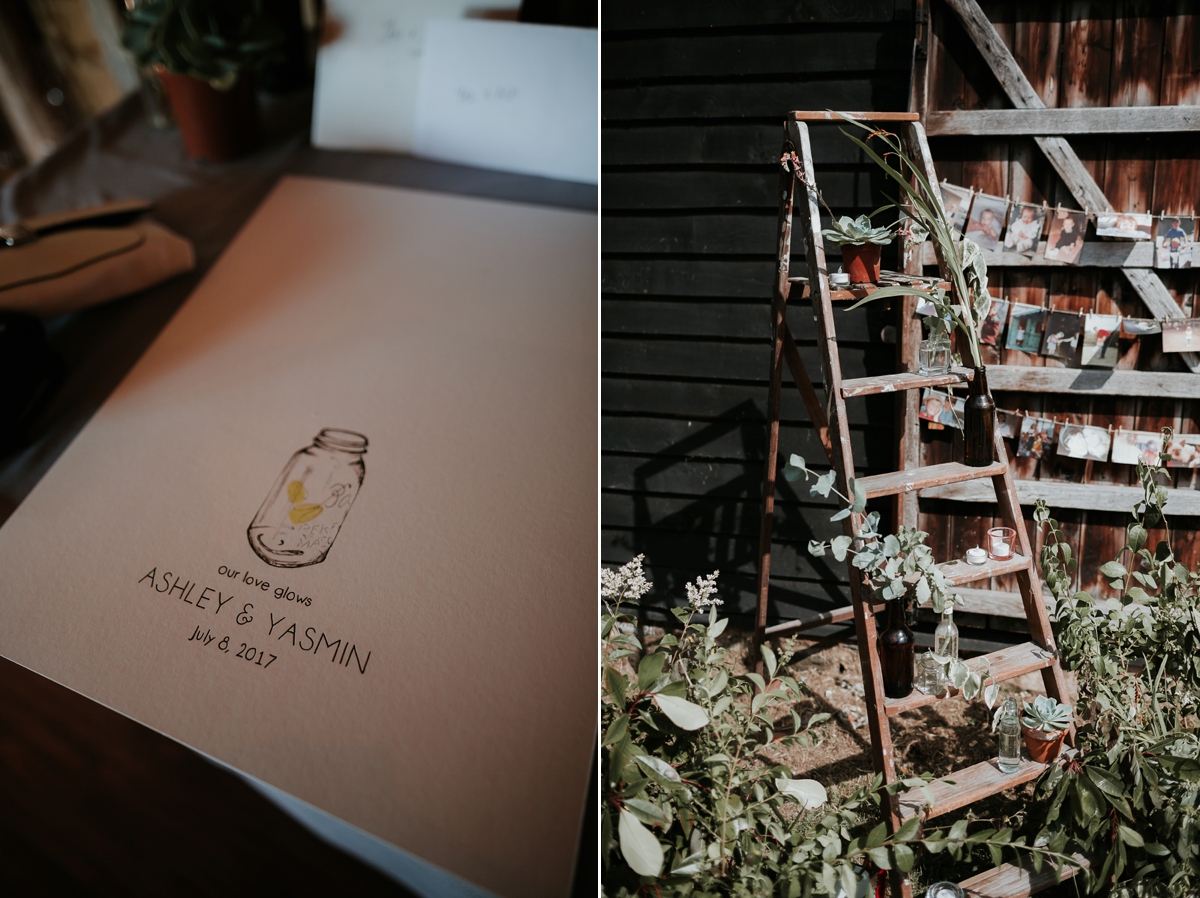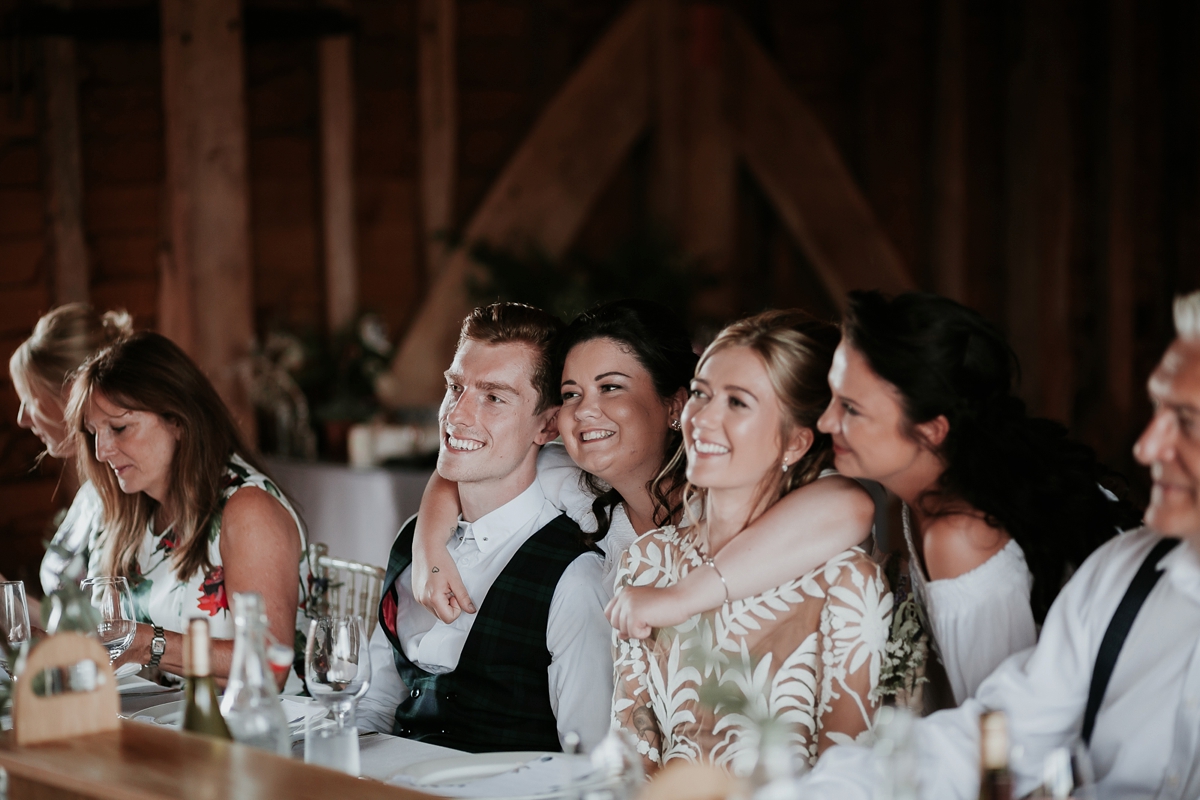 The outdoor barn was decorated with more festoon lighting, as well as a home-made 'Mr & Mrs' light up sign. Seating was hay bales topped with home-made cushions next to tables made from pallets, and Mr and Mrs Edwards filled an old suitcase with blankets in case people were cold.
They really have thought of everything and everyone in their creative planning. Their wedding cinema sounds epic and the orchard lit with hanging candles in glass jars and bottles looks magical.
"At the end of the outdoor barn we made a cinema for anyone that wanted to just chill and watch some Disney Movies and used an old cart that was already there as a sofa for anyone to watch from. Next to that we had a little craft table for the children to draw or create what they liked."
"For the orchard we made two teepees and decorated them with eucalyptus and had a box of toys (including hula hoops, cheerleading pom poms, paper planes, boules and badminton) for the kids to play with."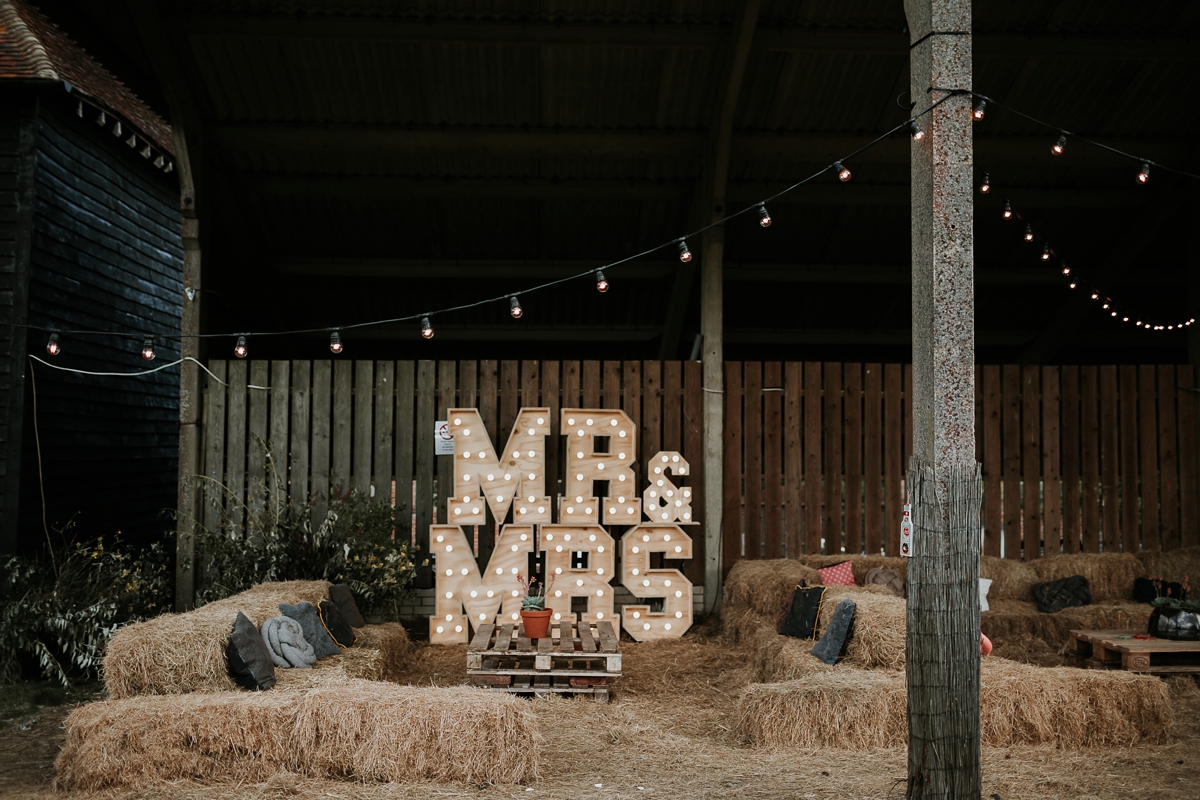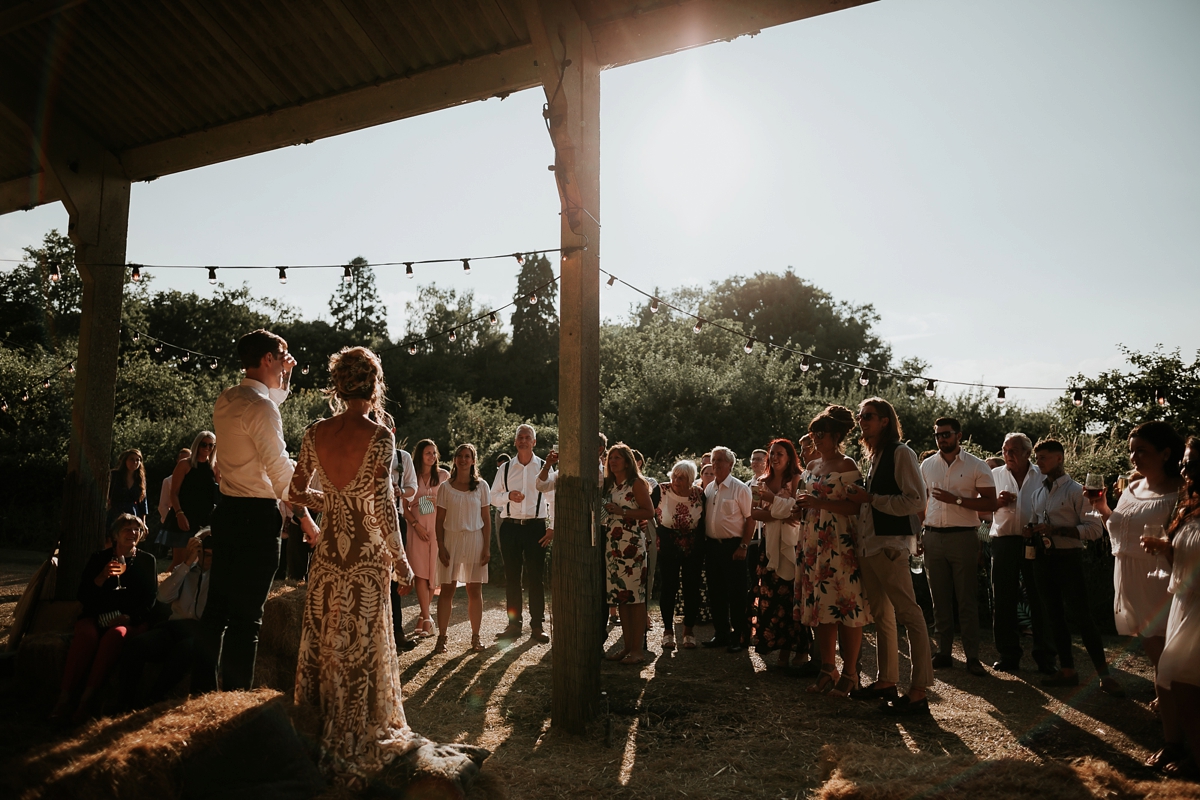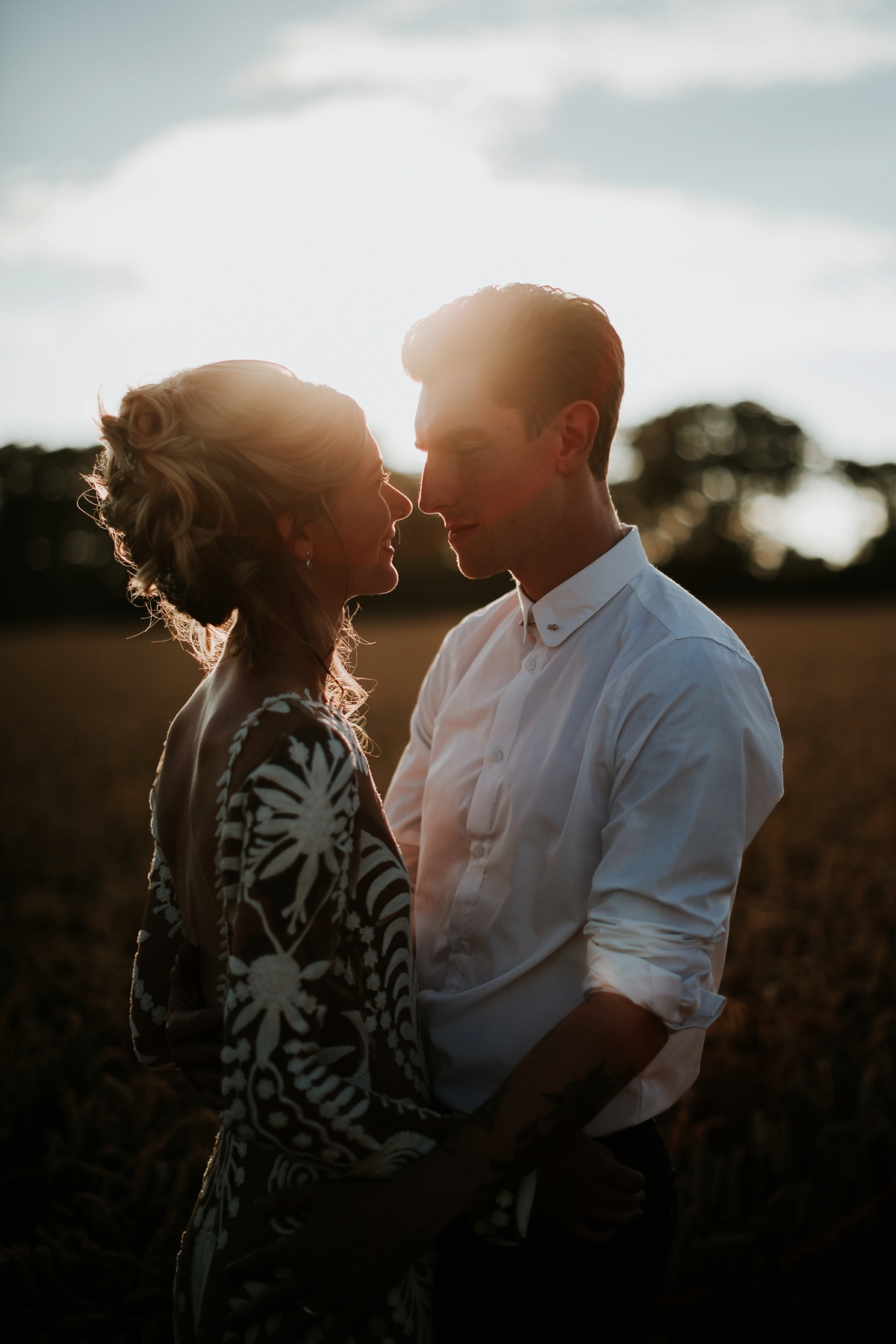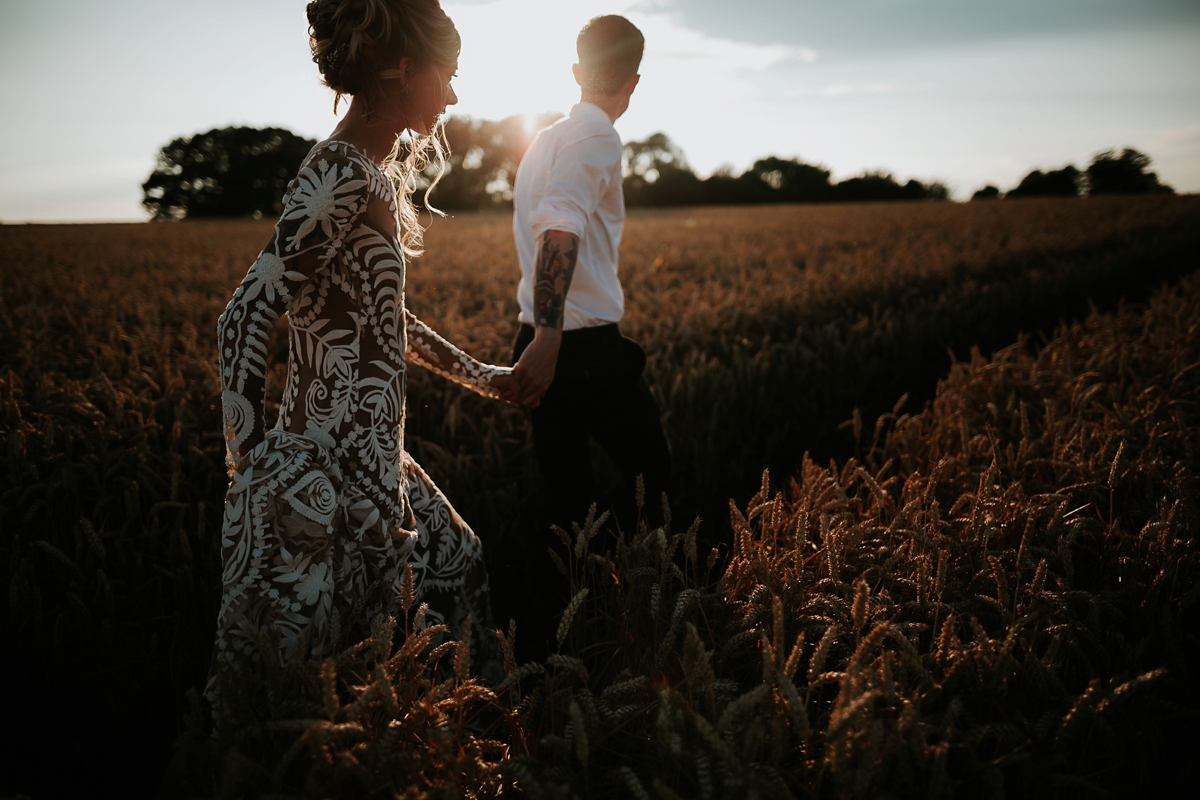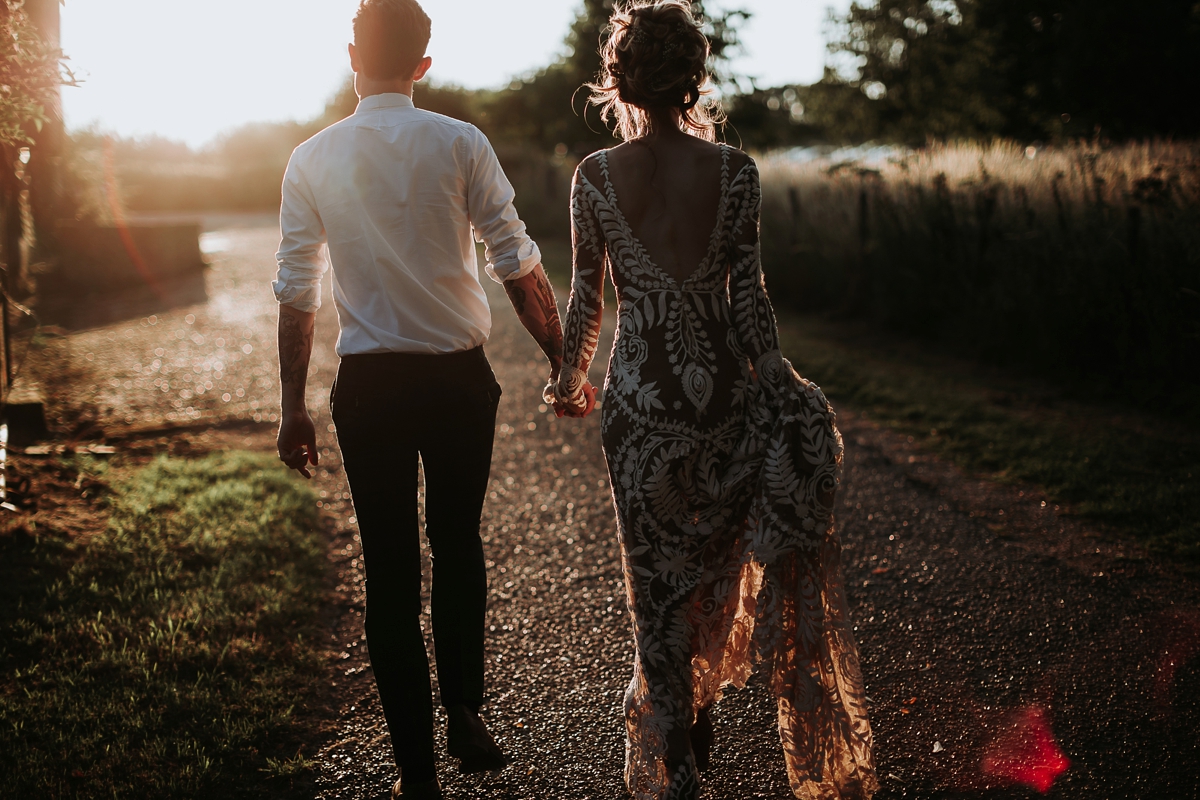 The evening festivities continued with dancing to music from East Sussex DJs and more games outside in the teepees, as well as chilling out in the cinema zone.
Words of Wedded Wisdom
"Make sure you do what you want to do, as it is your day and no one else's. You have to be happy with your choices and just make sure you enjoy the day and take in as much as possible as it goes by so quickly."
"We had close family help us three days before the wedding to set everything up and it was so lovely to do this, everyone really enjoyed it and loved getting involved."
"If you are thinking of doing a DIY wedding, I highly recommend having someone help to coordinate the day for you. If we hadn't had this I think we really would have struggled, even with simple things like getting all the tables and chairs moved for the evening and meal. It is worth having the help."
"We spent three years planning our wedding and we are glad we did this. We booked our venue three years in advance to make sure we could save and also figure out what we wanted for our day. As you go through different ideas, one month you might like a certain style then you might like something else, so you can whittle it down to what you really want."
What a lovely wedding to start the New Year with. Sending so many congratulations and thanks to Mr and Mrs Edwards; I'm in awe of your creativity. From all of us too, sending many thanks to Paul Fuller Photography for these photographs.
Ele xx