Lovelies, let me present you with the simply delightful wedding of Kate and Steve Kennedy. They tied the knot a few summers ago on the 21st of August at Vila Bled in Lake Bled, Slovenia.
Kate is founder of The Destination Wedding Co – a UK-based wedding planner for adventurous couples celebrating in Europe and beyond – and Steve develops renewable energy projects. The groom proposed in this absolutely picturesque part of the world and the couple felt connected to this location, so chose to hold their nuptials here. I just adore these words below by the beautiful bride (and look out for her helpful destination travel and wedding planning tips peppered throughout!).
Kate donned the bewitching 'Penelope' style by Watters, which she purchased via Agape Bridal Boutique after discovering this treasure of a boutique via Love My Dress. I adore the bronze underlay, layers of tulle, and leafy lace detail with a soft illusion neckline.
"Whilst on the search, I had several dismal experiences in archaic studios. I felt like a wee girl and these hefty traditional dresses were wearing me. All of this dissolved the moment my Mum and I stepped into the warm, magical and beautiful studio of Agape Bridal Boutique. The ladies really understood the trials of finding a young, fun and modern dress appropriate for a summer destination wedding."
Photography by Petar Jurica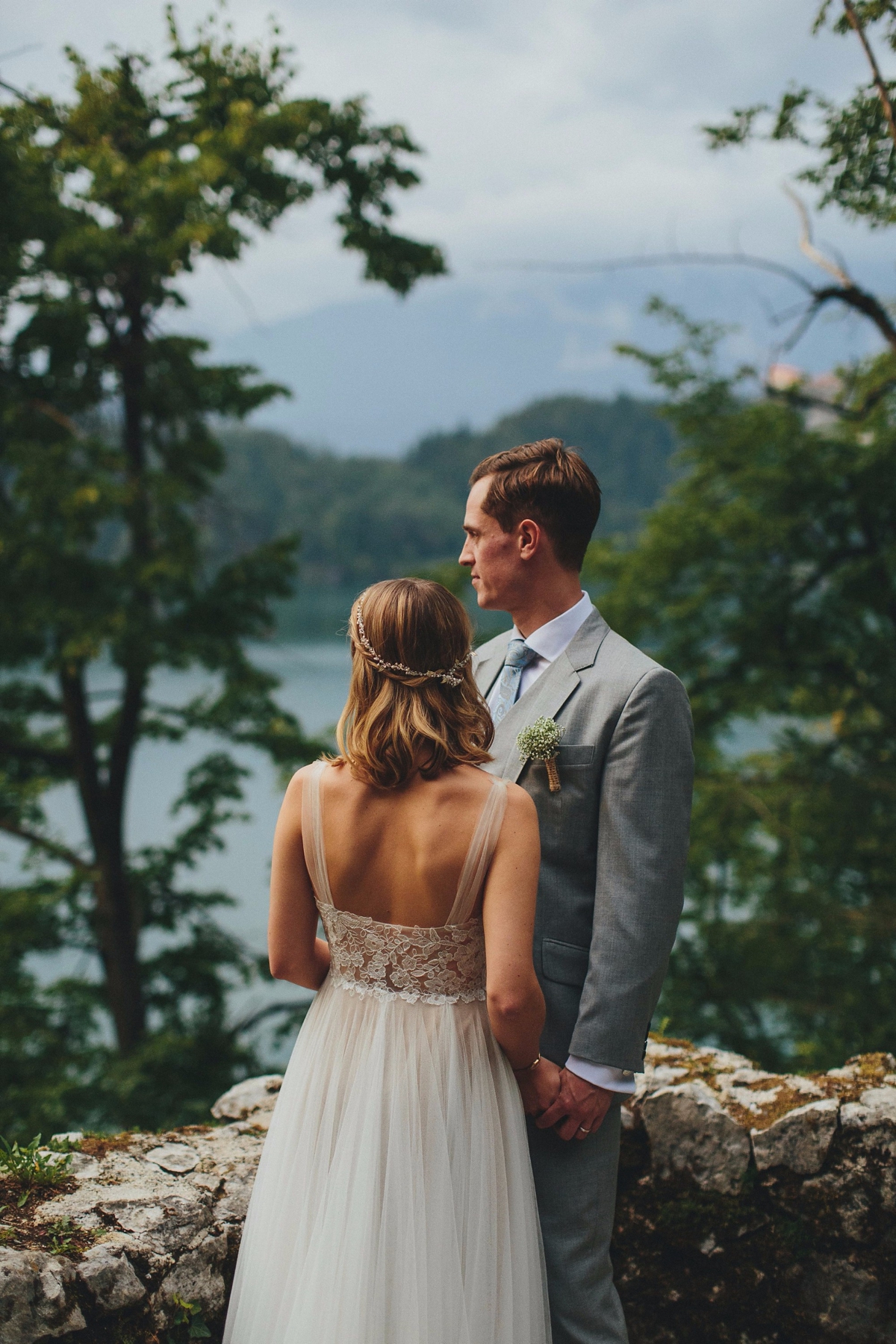 "Another consideration was the Slovenian custom for the groom to carry the bride and in turn the dress up the islands 99 steps to the church! Although a fairly unique requirement, the Agape team were so accommodating. It was the ethereal, dreamy dress I longed for and I felt truly enchanting in it."
"We returned to Lake Bled in Slovenia – where Steve popped the question – to get married. As cheesy as it sounds, this is where we first said out loud we want to be together for the rest of our days. Although I didn't realise it at the time, this has cemented my view that it's so important to have an emotional connection to where you choose to get married. This comes in all forms, but if you've got the right human in a setting that makes your heart sing, you can't go wrong."
"We were conscious to keep true to the sentiment of the day and make it reflect us as a couple. With such a striking natural backdrop of the lake, mountains and the idyllic church island, we didn't want a huge amount of décor and styling. For us, the setting took centre stage accompanied by a few key words to bring it all together; ethereal, natural, adventure and our campervan!"
"We met in my freshers week in a tragic night club and after a few months of pretending it was a casual encounter, we rented a campervan for a week long holiday. We spent every waking and sleeping moment together and had the best time."
"Several campervan trips later, by which time we had our very own 'Gus the Bus', we visited Lake Bled. Whilst rowing to the little island with the church on top, Steve told me the custom for grooms to carry their bride up the 99 steps to the church and if they make it they will have a long and successful marriage."
"Completely oblivious to where this conversation was leading, I replied "…and what if he drops her?" then they're doomed. No pressure Steve!"
"As we arrived on the jetty, Steve got down on one knee and asked whether he could marry me and carry me up the steps. To the applause of a few tourists, he did just that and didn't falter, not for one moment thinking he'd have to do it again two years later!"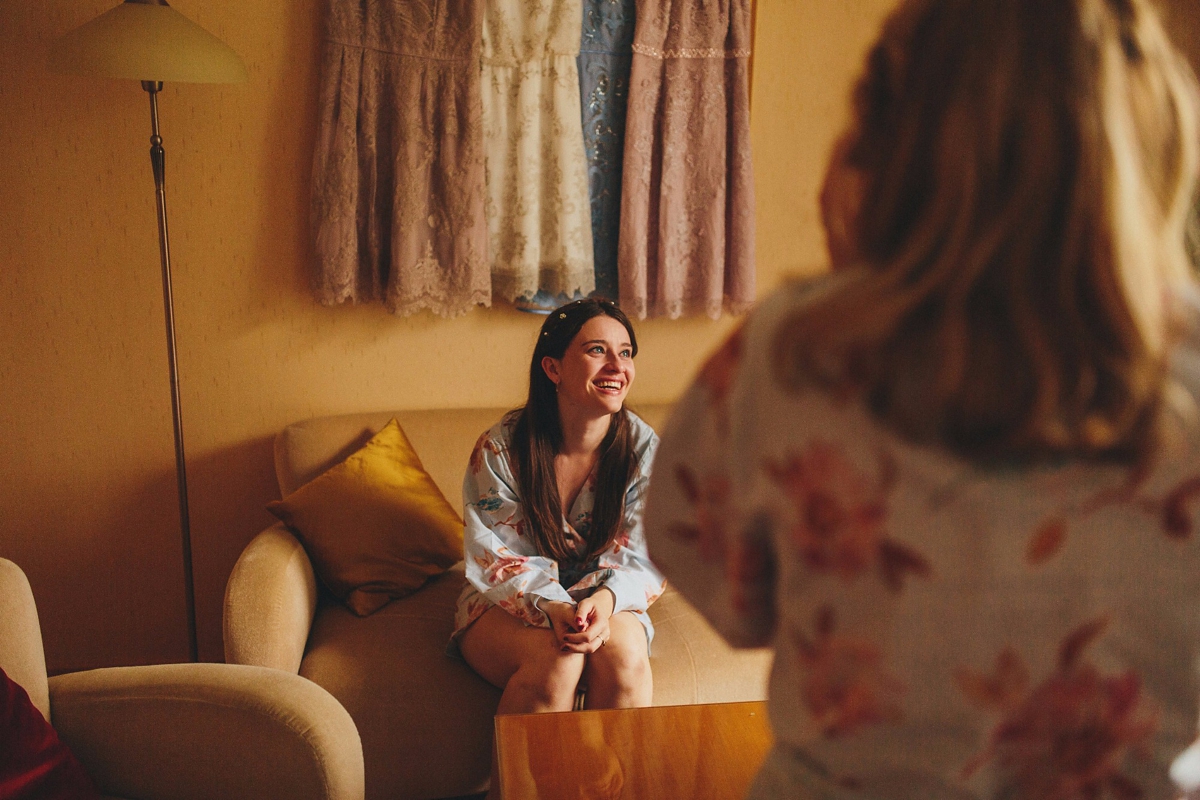 The gorgeous maids wore fabulous frocks from Monsoon with intricate beading and embellished tulle overlay in a range of complimentary colours, paired with their own shoes, and each received thoughtful gifts from the bride.
"When the girls arrived on the morning of the wedding, they were greeted with a box of goodies to open; a card, dressing robe from Pretty Plum Sugar, and a personalised leaf bracelet with their initial."
Spaans Florist prepared a beautiful set of hessian-wrapped rustic flowers; small gypsophila posies for the flower girls, daisies for the bridesmaids and a large wild flower bouquet for Kate. The bouquets were later utilised for the table centres for the reception – a top tip from the resourceful bride!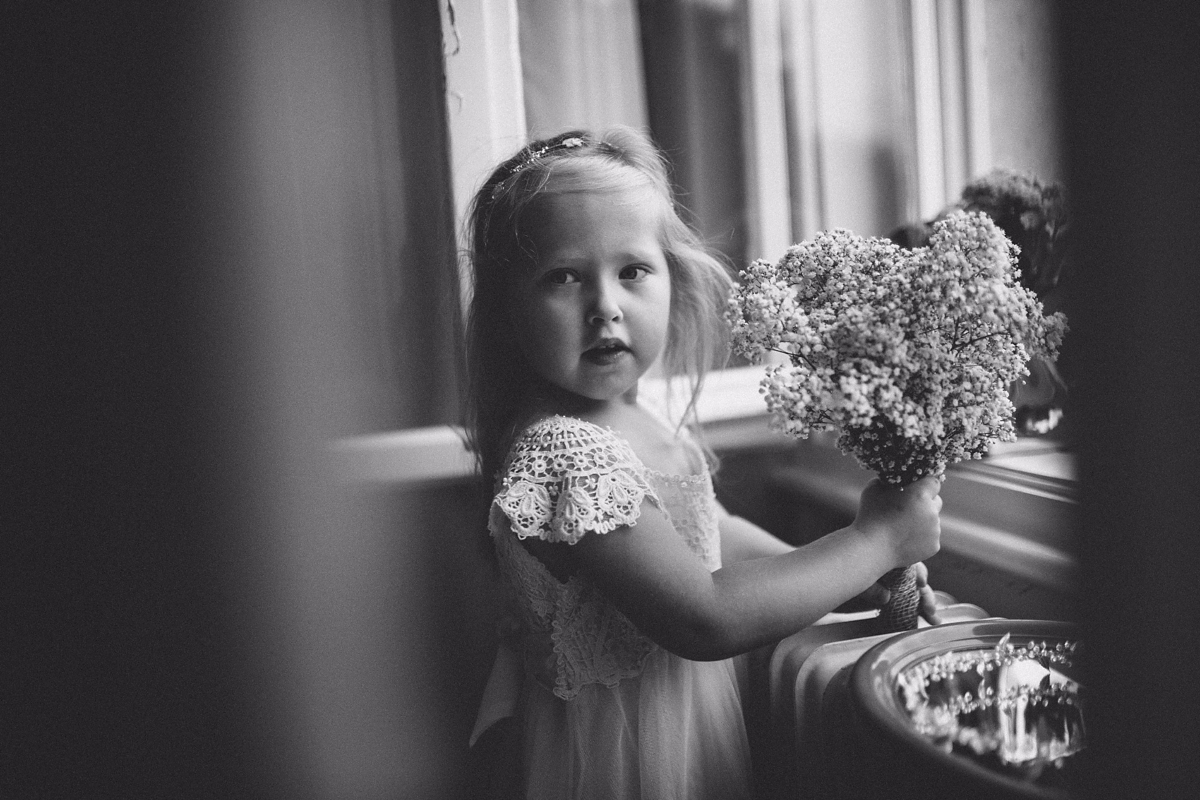 "Monsoon – a fab Little Book for Brides supplier – did the perfect age range of 1-13 years for our littlies. Not to mention the best mix of beautiful crochet detail and whimsical layers of tulle."
"After a lesson, the girls styled their own German hair braid with pearl grips. They also braided the flower girls' hair with gypsophila flowers."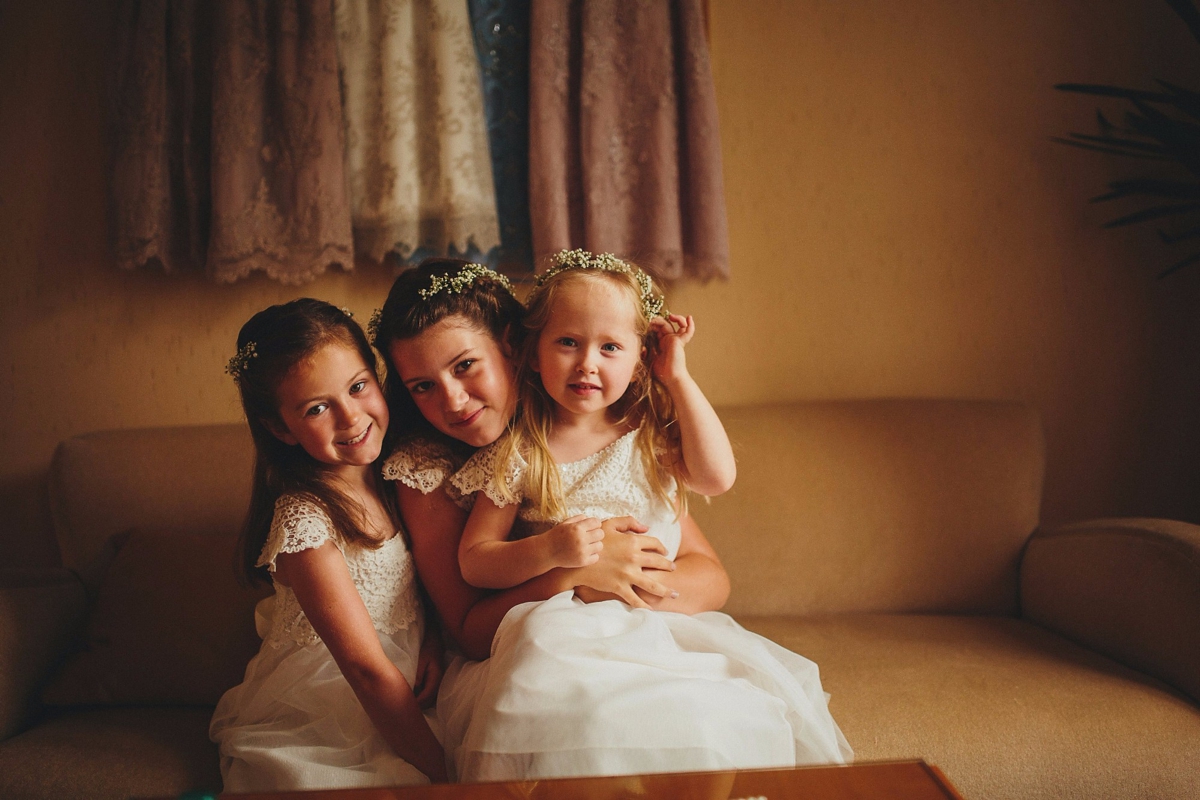 Adding a simple tulle veil that flowed softly into the skirt of her dress, also from Agape Bridal Boutique, a nude pair of Louboutin's aptly named 'So Kate', and an intricate bespoke halo she commissioned by silversmith Laura Donovan, Kate completely nailed the ethereal look. She wore her hair in soft waves by Irina Kysselef, with make-up by Sasa Godejsa and added a spritz of Dior Addict Eau de Toilette; one she keeps for special occasions and Steve would be familiar with.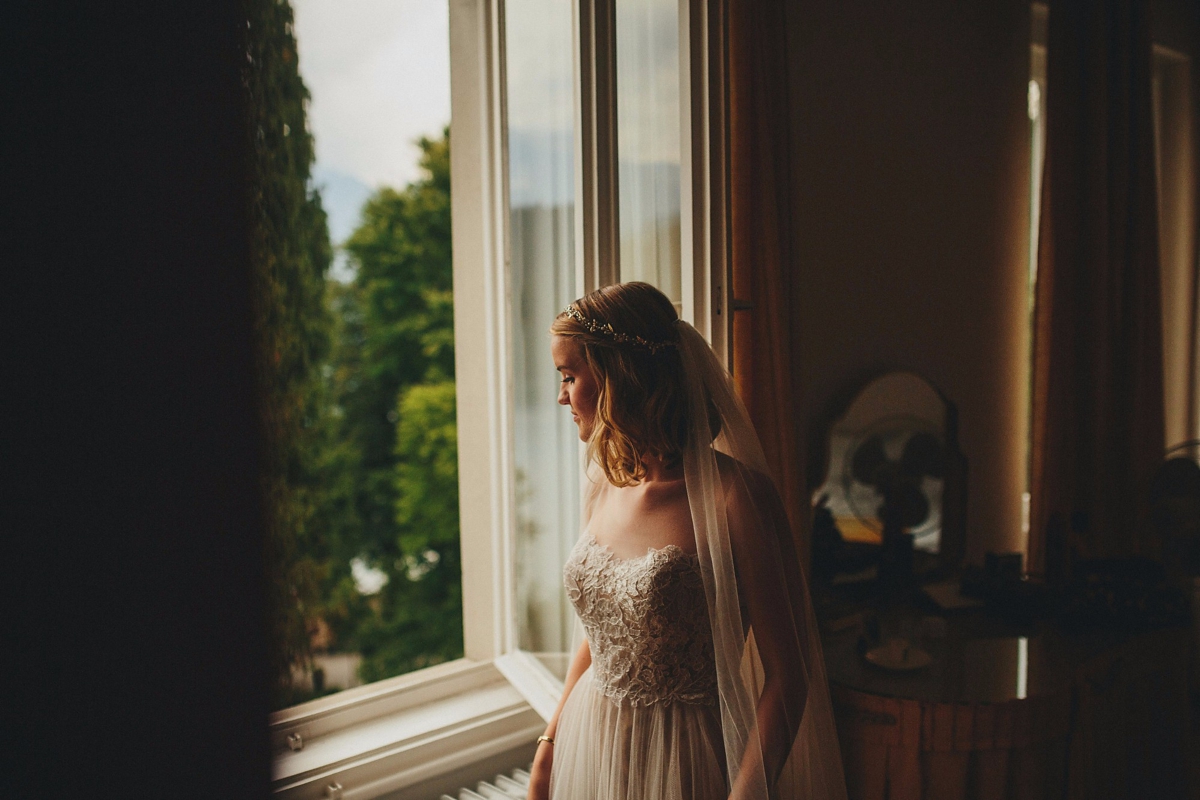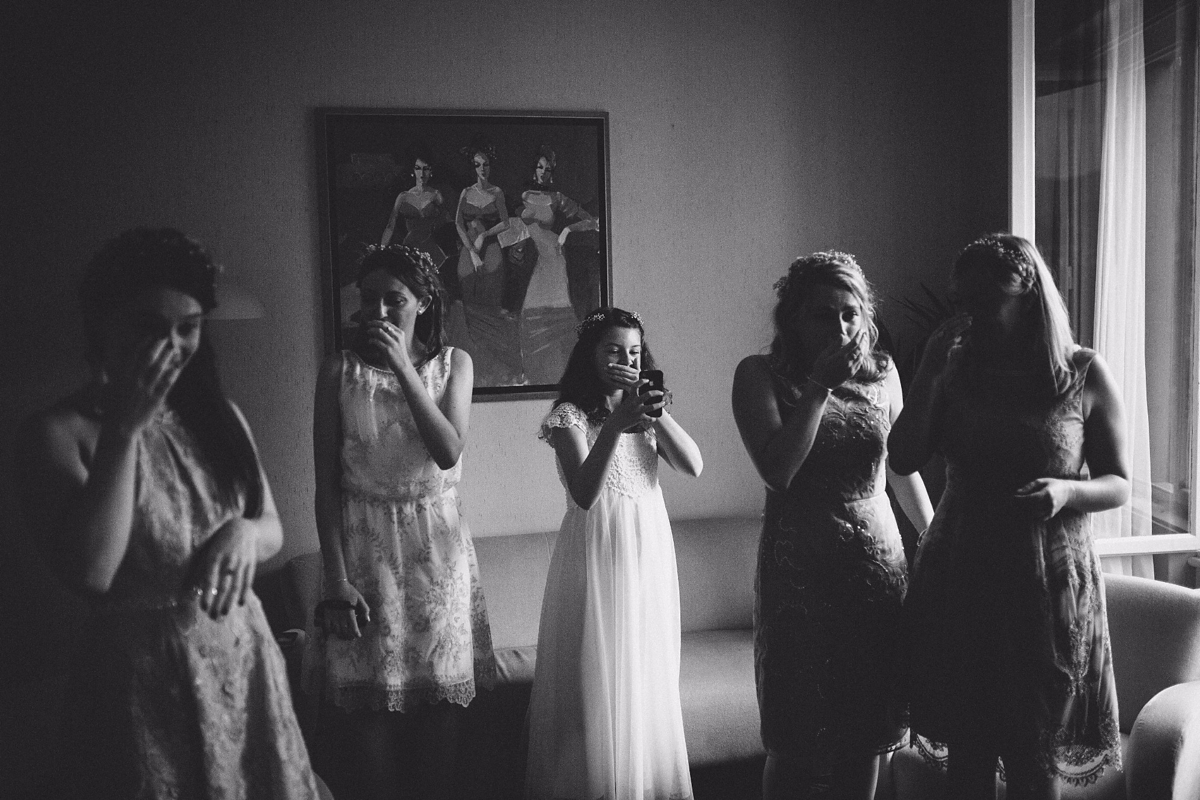 "I was really humbled to wear my Grandma's dainty gold watch as my 'something old' to have them with me on the day. I hope it's provided us with some good fortune as it was Grandad's wedding present to Grandma on their wedding day 63 years ago."
As a wedding planner herself, Kate wanted to relax and enjoy all that they'd loved and laboured over, rather than event manage her own big day – a very wise move!
"We got in touch with Petra Cuk of Da Petra to take the reigns. I gave Petra our wedding schedule and she was an absolute star. I see the value in this first hand, as so many of my clients get in touch in the last few months of their planning when pressure's accumulating and time is running short. There's no shame in asking for help."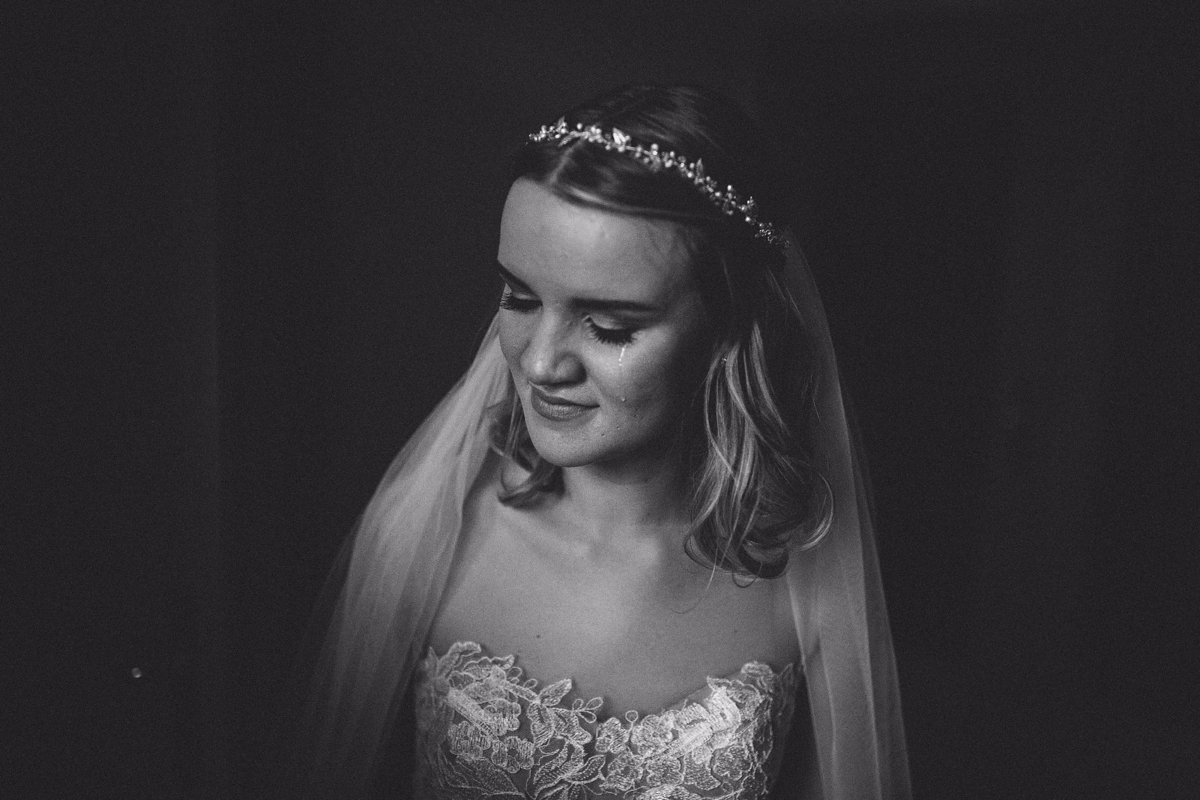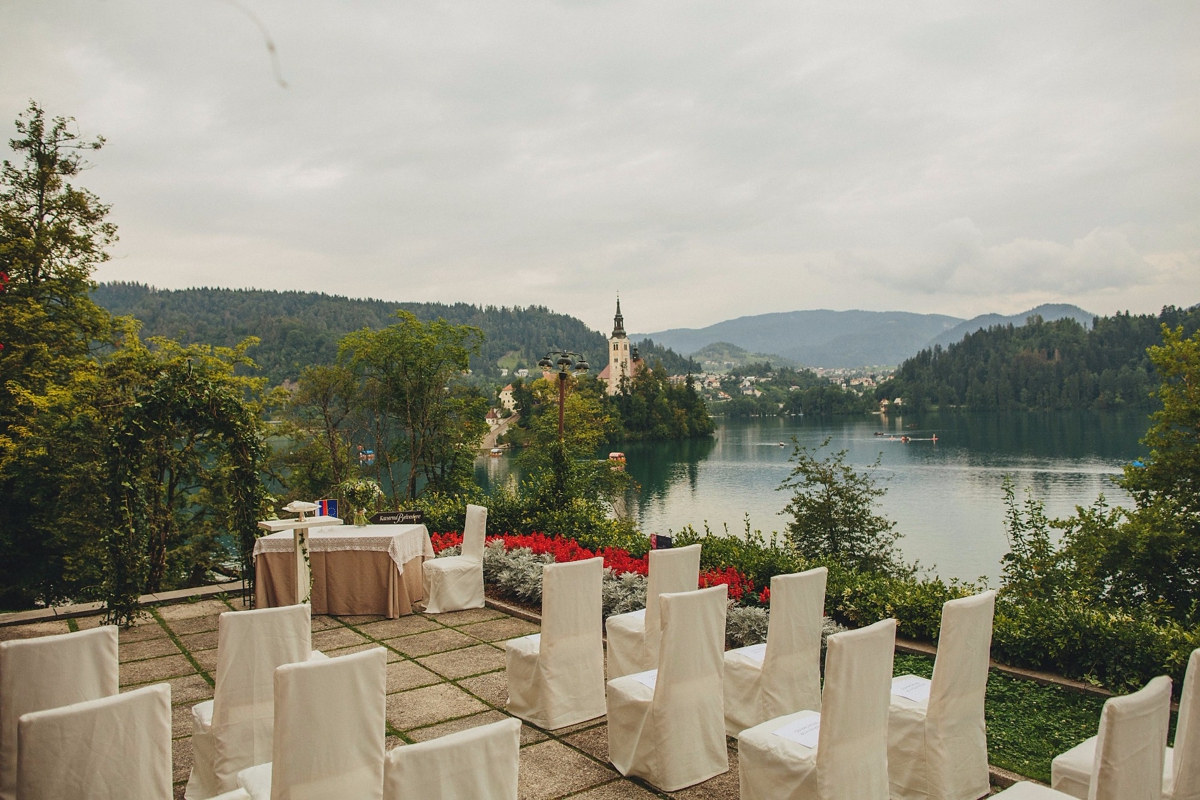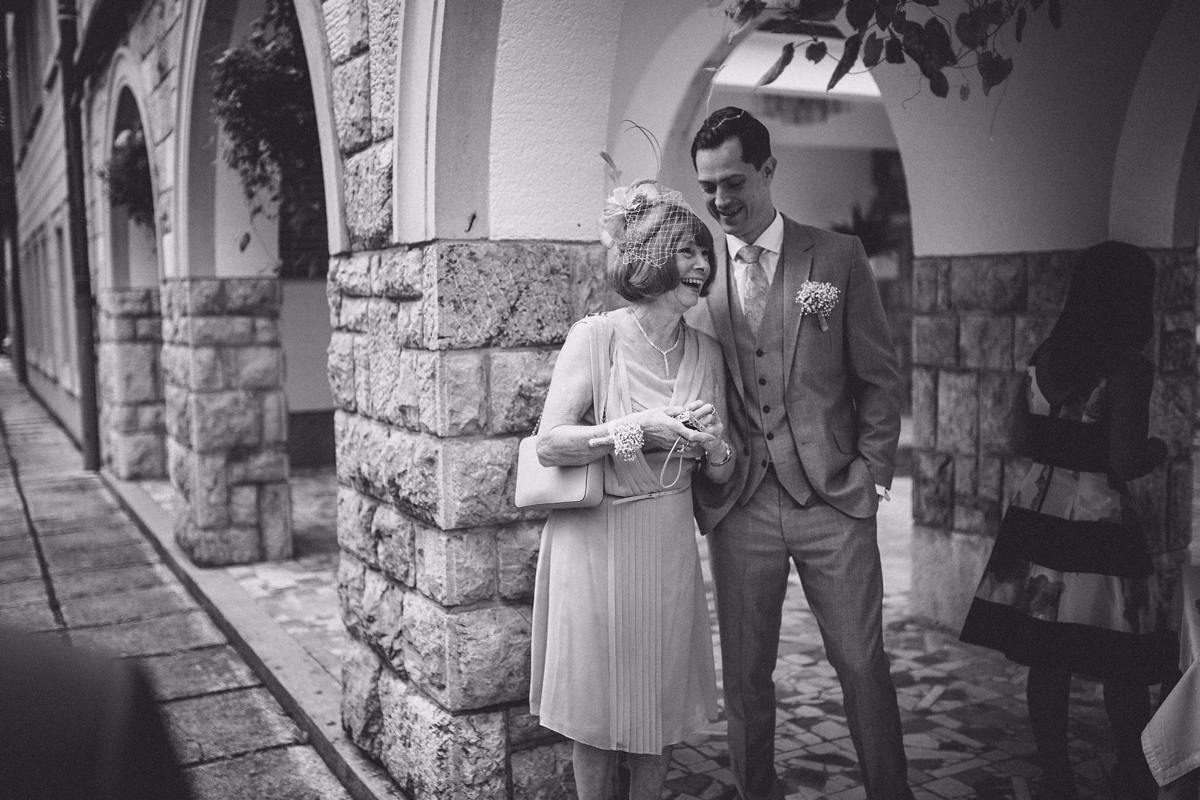 Vila Bled is the former summer residence of Yugoslav President Tito and completely full of charm and period features. The groom and his gorgeous bride pushed the boundaries and were the first couple to have the ceremony on the peaceful terrace – both really wanting to feel close to the lake, be outdoors and have the scenic landscape frame their ceremony.
"My dad accompanied me down the aisle to 'Arrival of the Birds' by The Cinematic Orchestra; the song that was playing as we first drove around the lake two years before. On our first wedding anniversary 'paper', I gifted Steve a frame of our vows written in calligraphy. They're a lovely keepsake and reminder of our commitment. There's a section that resonates with us both;
Marriage is only the beginning of new discoveries. May they be full of joy, understanding, warmth, laughter and readiness to get to know new life together. May the links, interwoven between the two of you get stronger and stronger in the awareness that the best things in this world can not be seen or touched but felt in the heart. If any bad moments come we would like to wish you to be able to overcome them together and never forget that happiness is like a flower which needs the sun and the rain. It is not possible to force happiness to come, it is put together like a mosaic and you yourselves will have to keep on looking for the right stones to fit in.
Steve sported a tailored bespoke suit in grey with a paisley tie and a suave pair of tan leather shoes from Ted Baker with some very jazzy blue laces. The best man, Steve's brother Jim, and father of the bride wore their own suits. I love these words describing the help Jim gave to the couple.
"A true entertainer, Jim organised a jam packed, albeit hazy, stag do in Amsterdam and gave a wonderful speech with family photos on the projector – a touching ode to Alan, their late father. It meant a lot for Jim to be the best man as he's seen our relationship grow from the very beginning."
"Smith and Green in Hatton Garden are proficient in their knowledge and craft, so we returned there to have our wedding rings designed. For me, a platinum band set with diamonds that has a ribbon pinch, sitting flush with my engagement ring. Steve's platinum band has a subtle curved twist that matches the intertwined motif."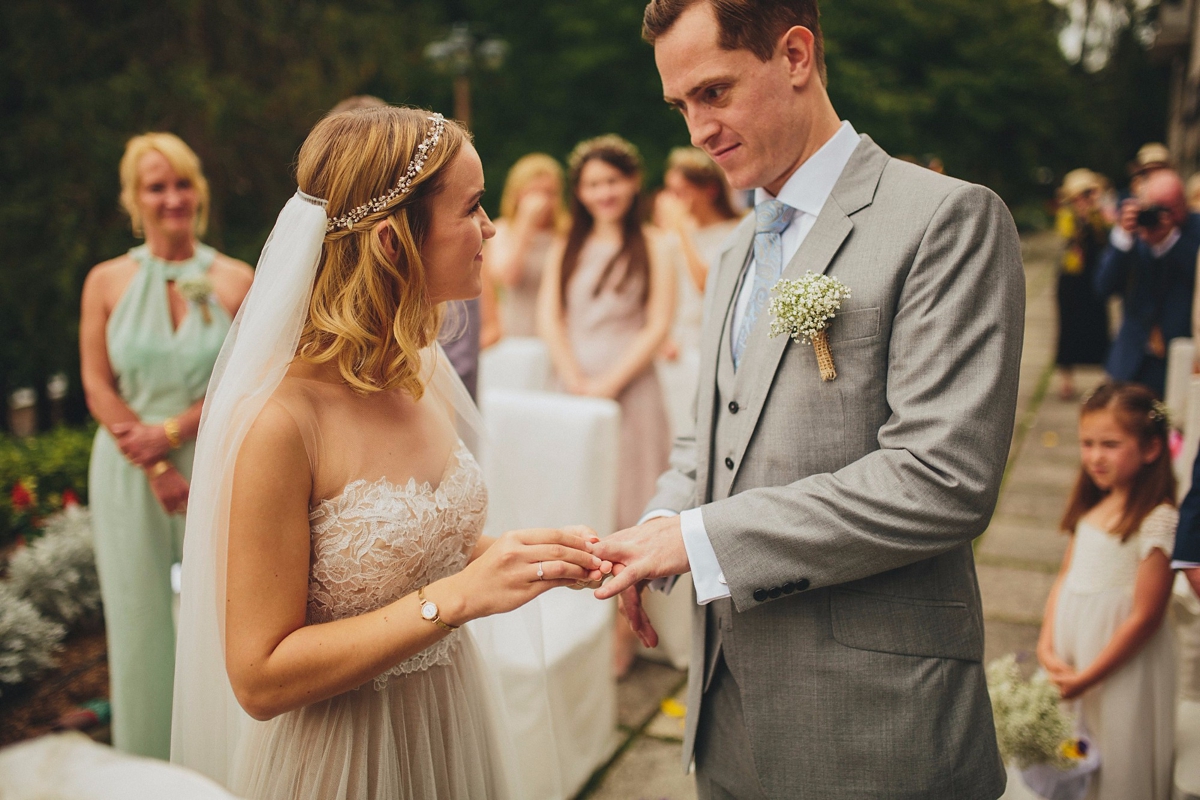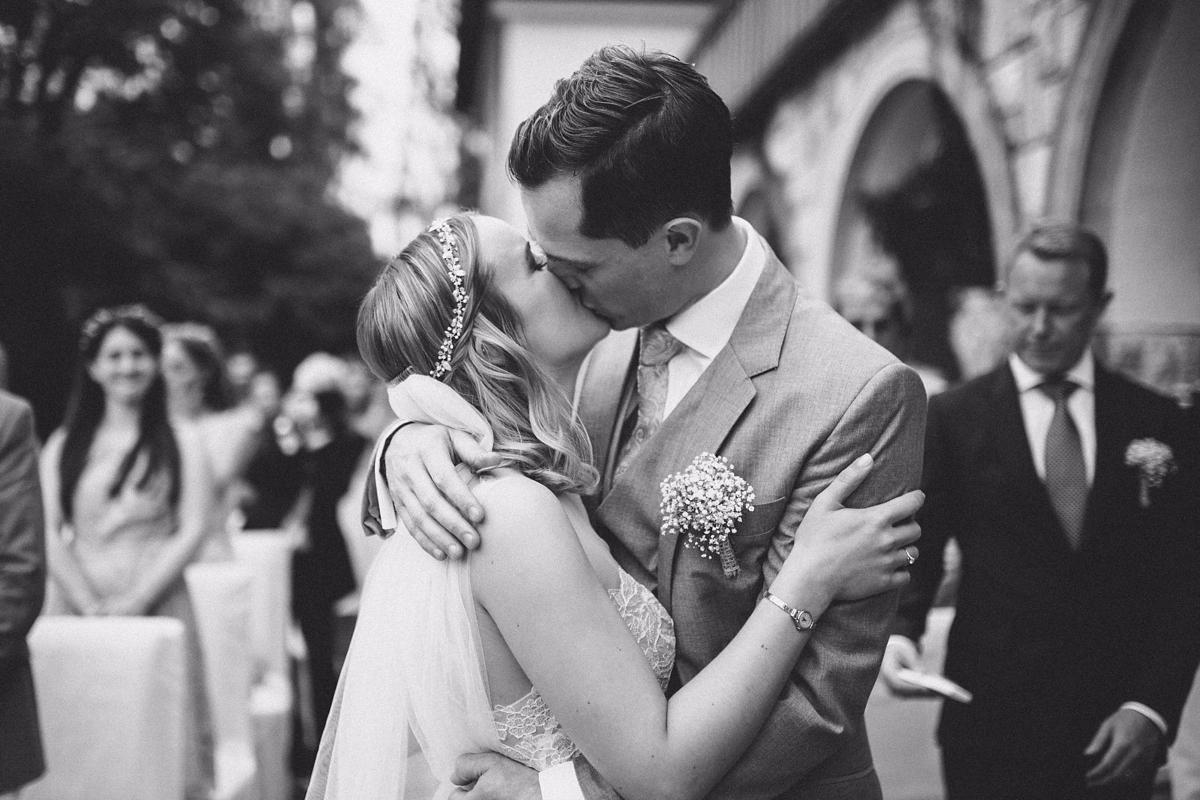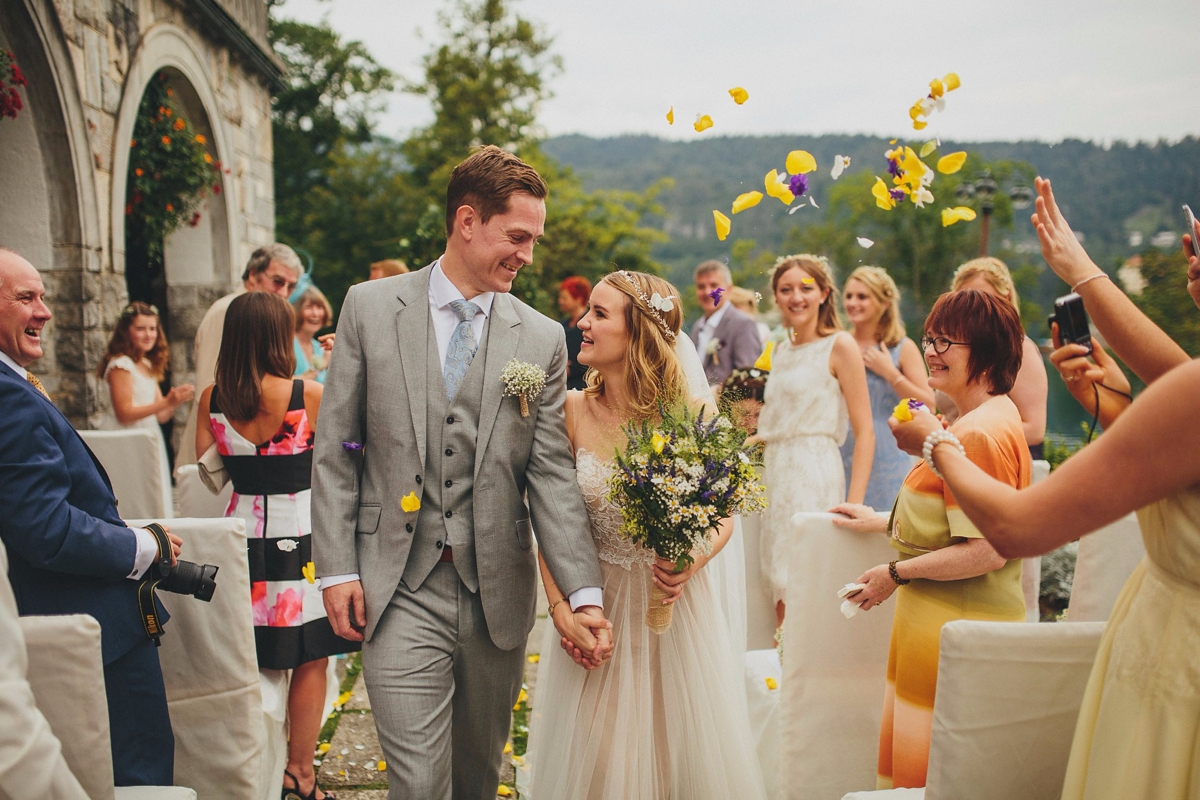 Kate and Steve were keen to find a photographer who was able to capture the emotion, as well as one who was a destination wedding expert. Their wishes were answered with the talented works of Petar Jurica.
"A big family trait is my affectionate nature and there isn't a day when my eyes don't well up (in a good way!). Proficient in destination weddings with a natural approach, Petar Jurica Photography was the best choice and we could not have been more thrilled with the treasured photographs. For such a giant of a man, he is very shy and sweet, and my oh my what a talent."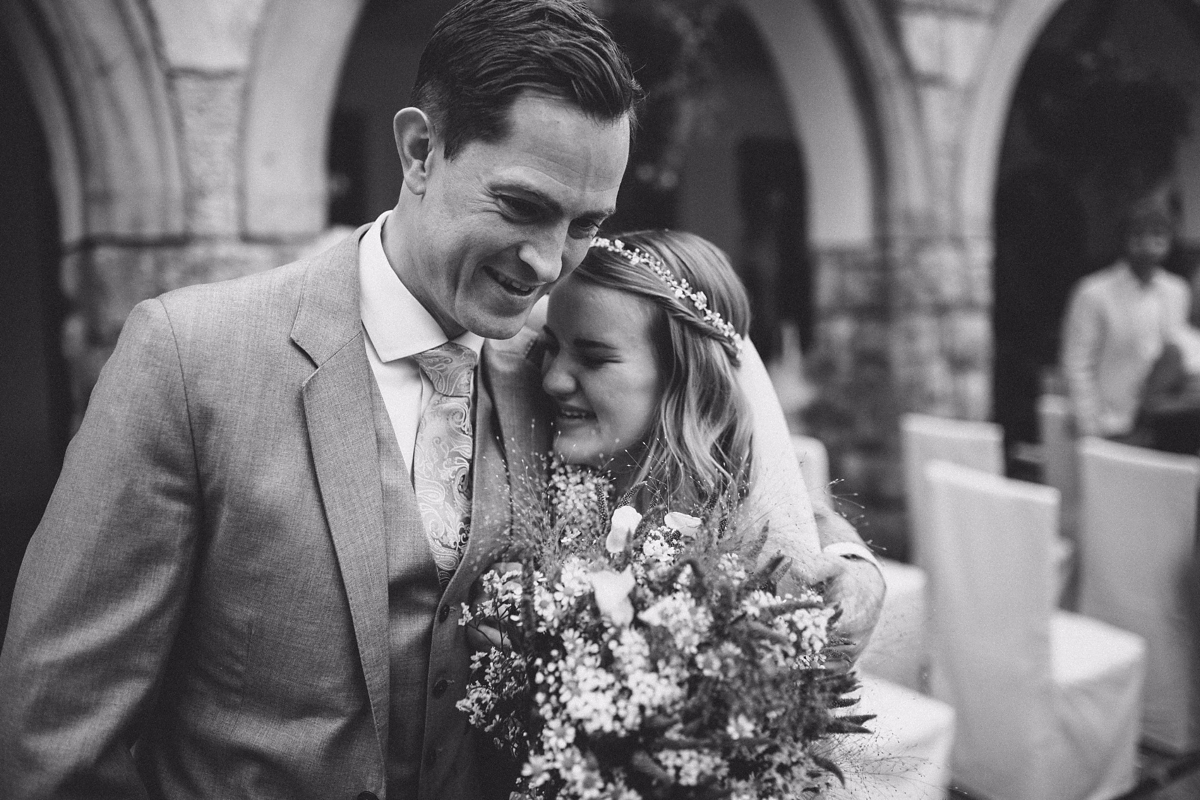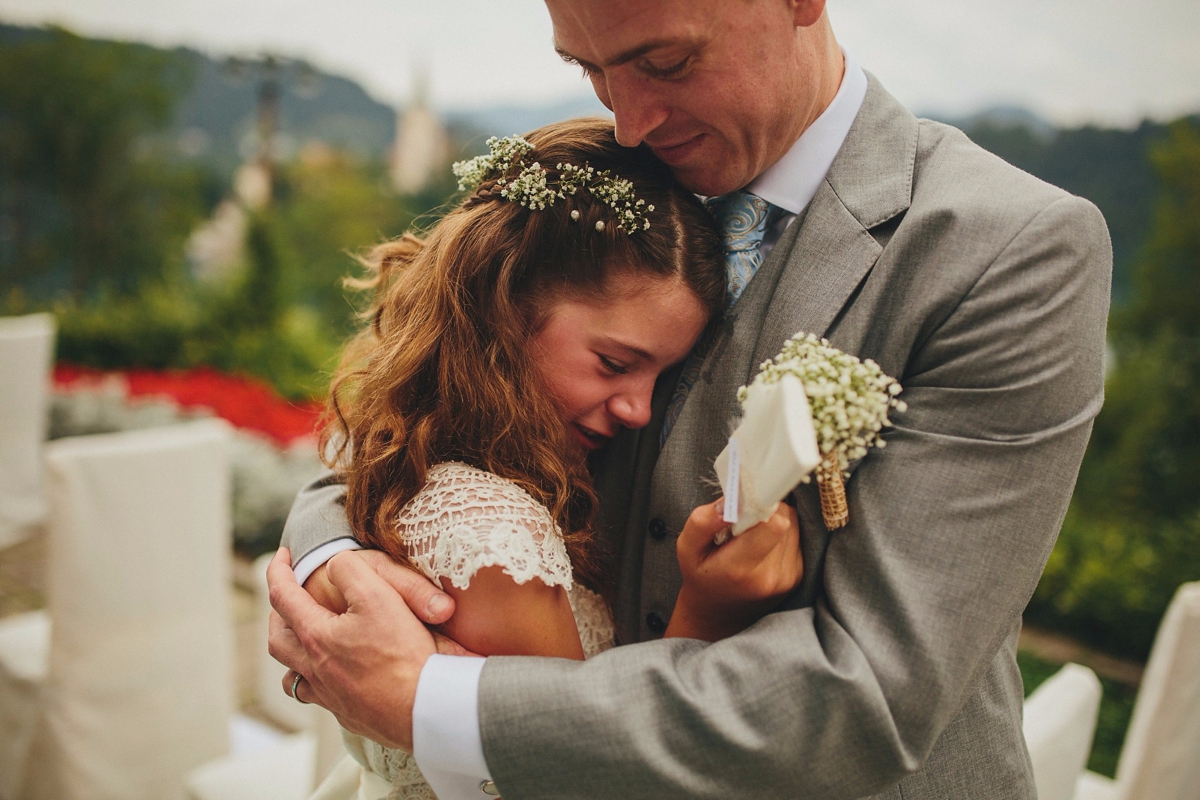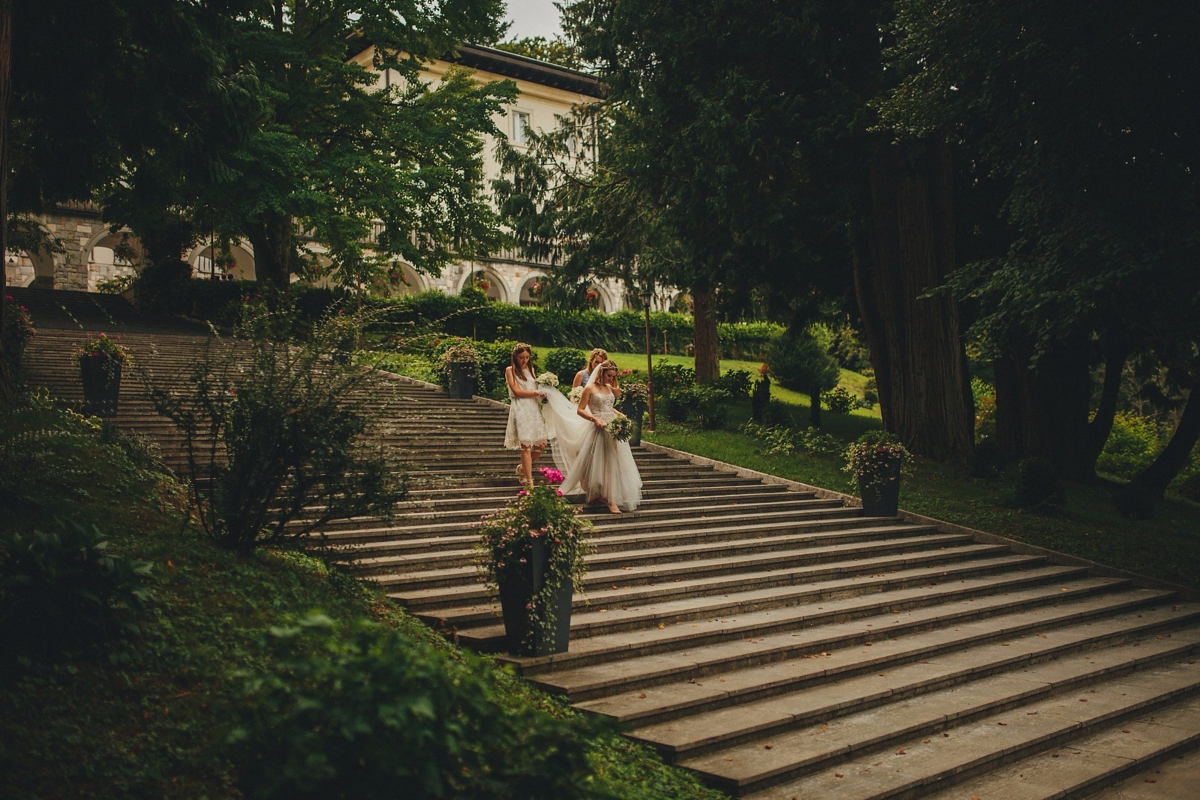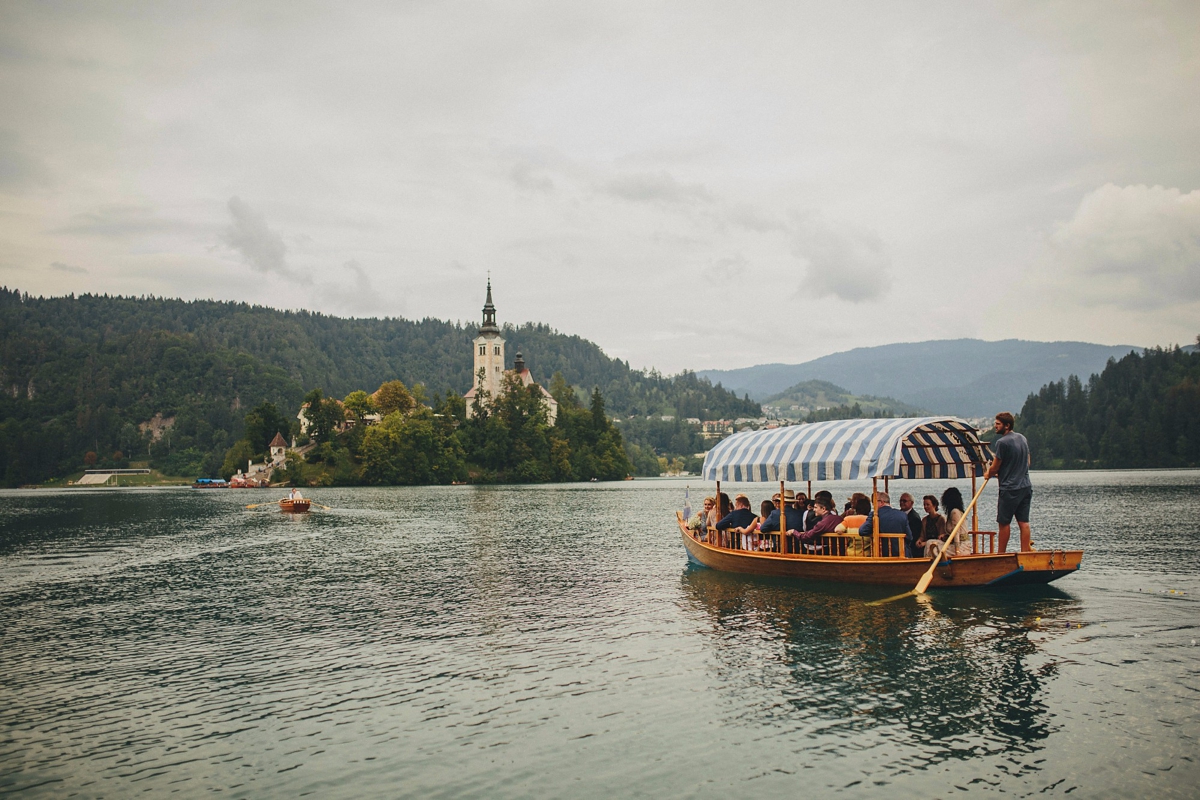 "The only transport we had on the day were two 'Pletna' boats which carried our guests across to the island church. Steve and I took this opportunity to row out just us two and have a few moments together as a freshly married couple."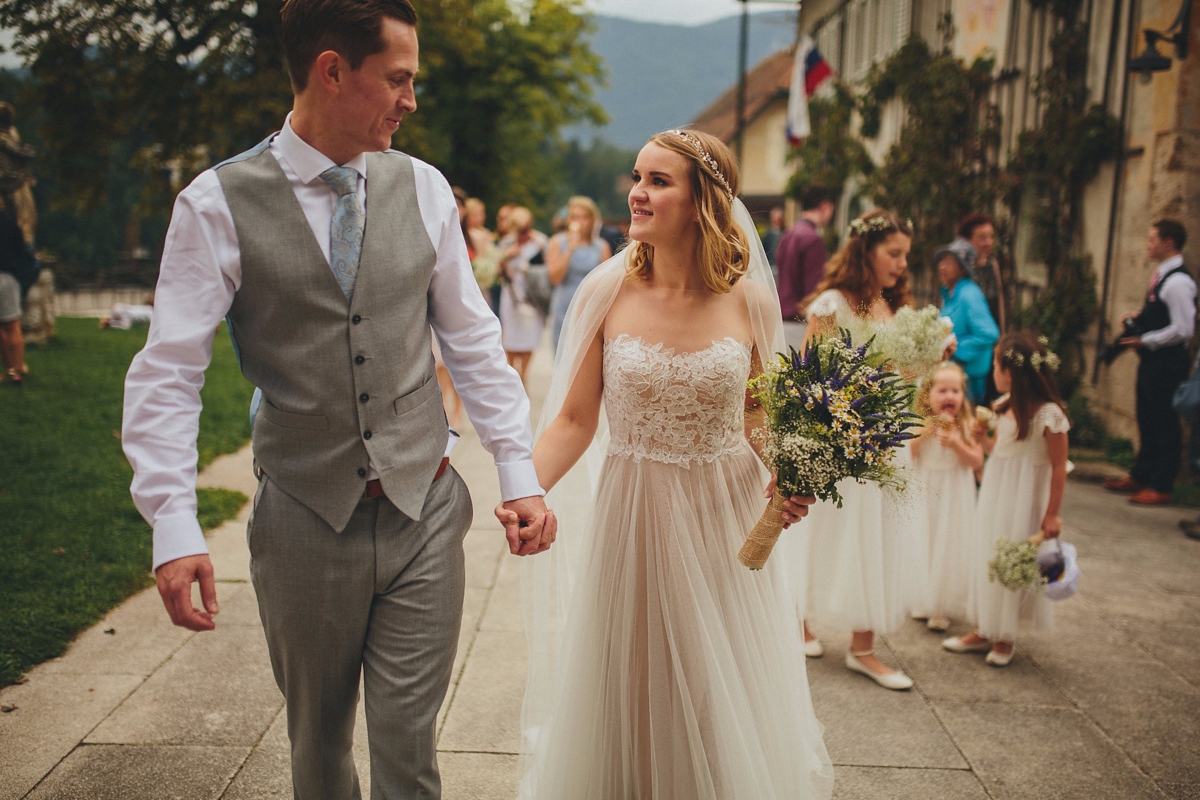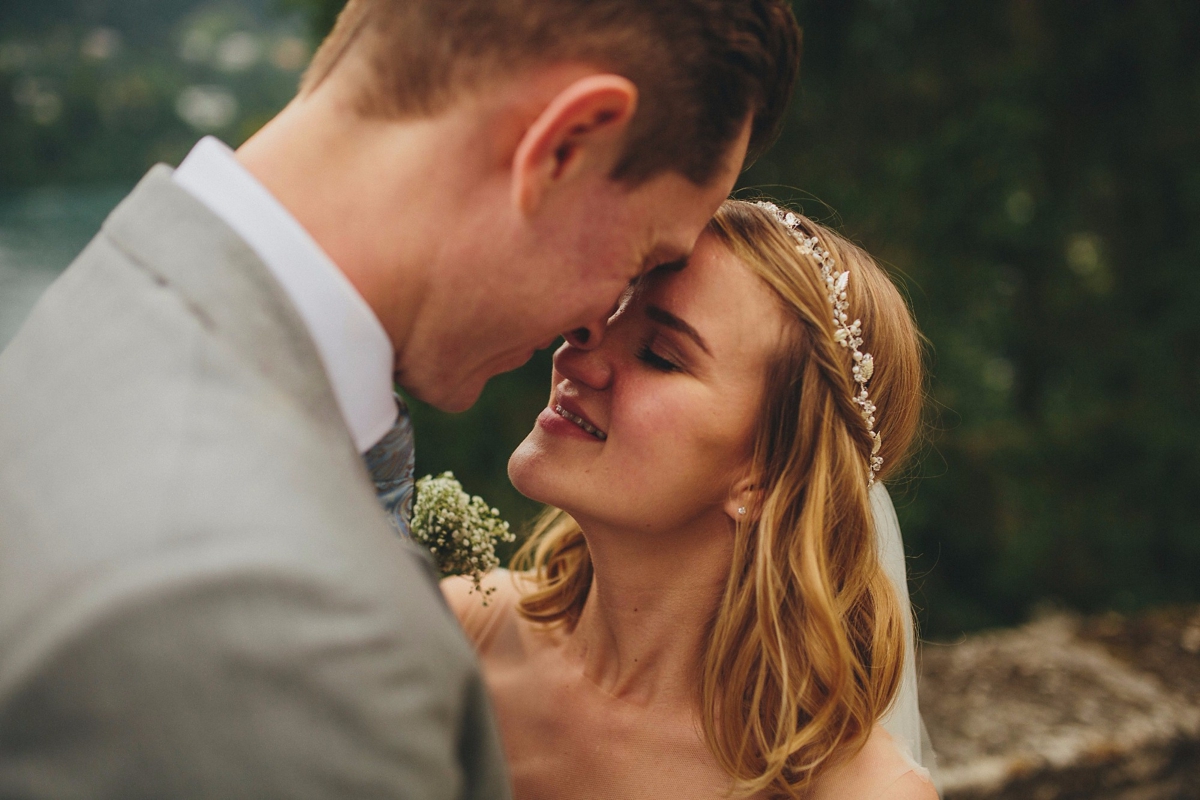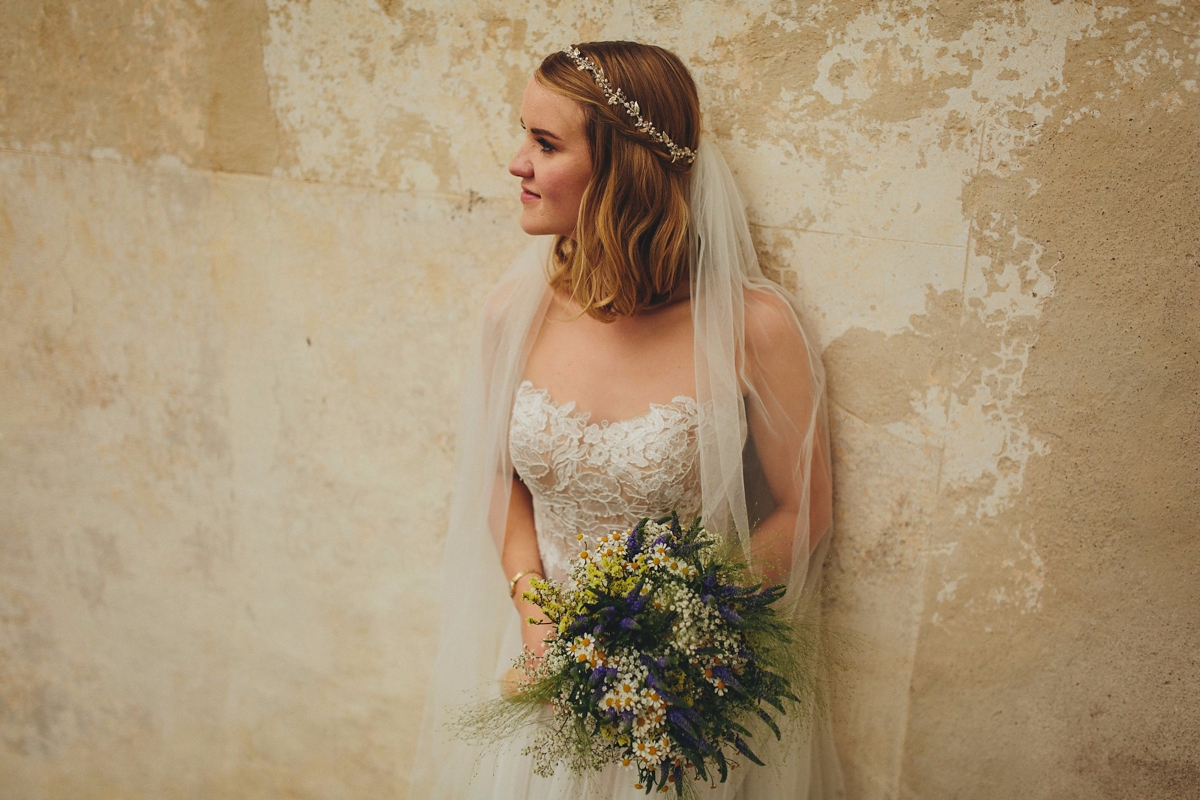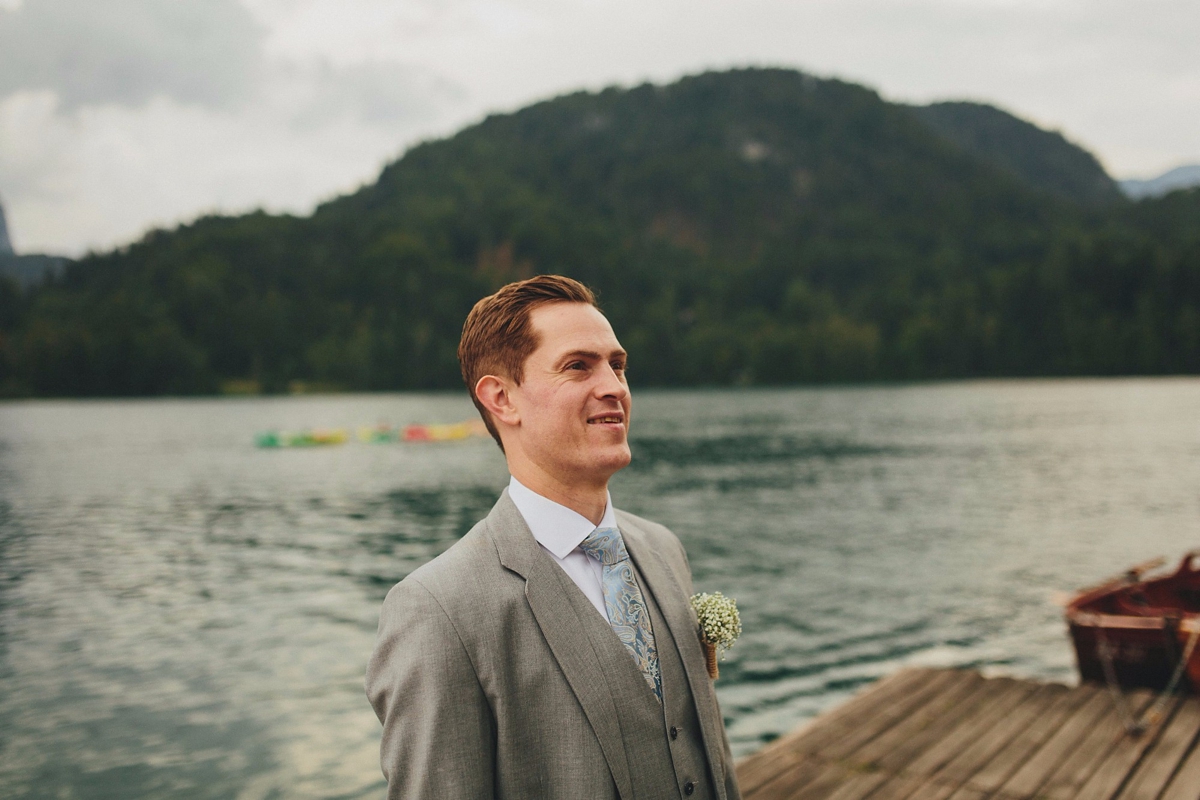 Steve totally delivered on the custom of carrying his new bride up the staircase – what a star!
"After a toast on the terrace, we made our way down the grand staircase to the jetty where we sailed to the island church. Our guests lined up the staircase to watch as Steve carried me up the stairs, with only a pause half way up, he made it and we went to the church to ring the wishing bells."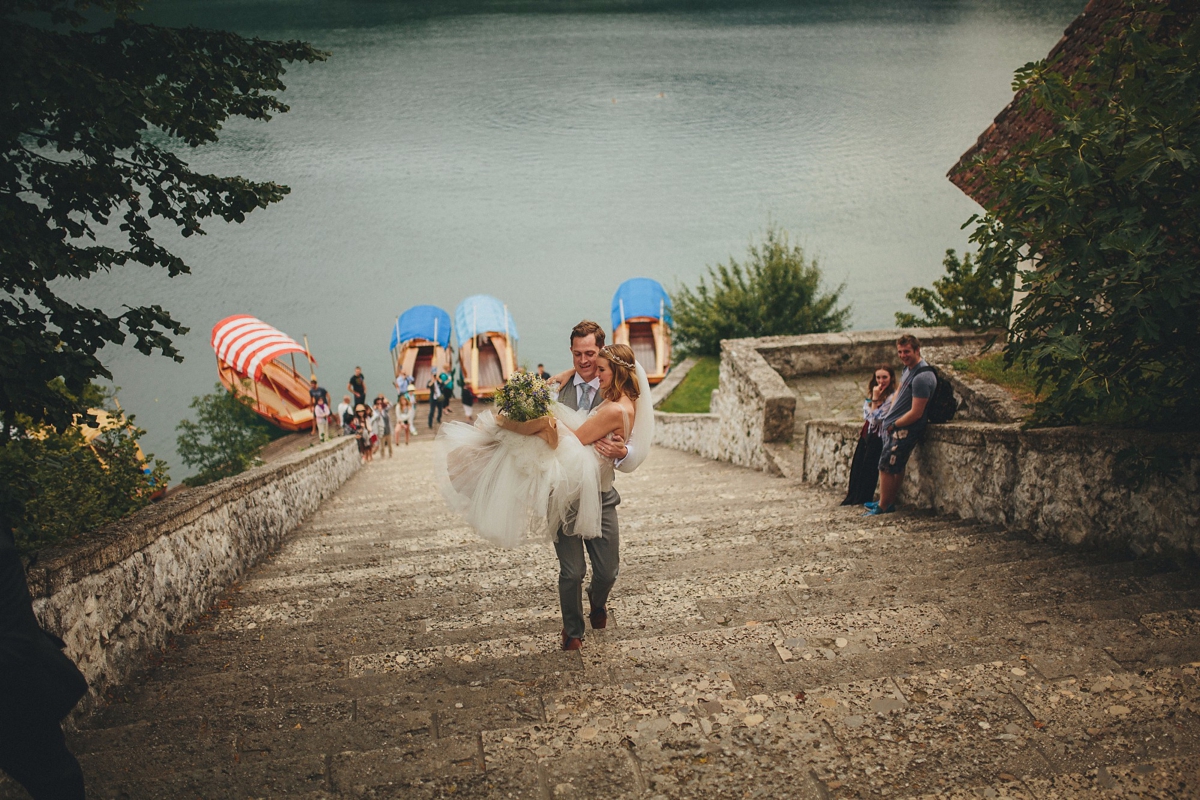 Guests were led up a foresty path to an incredible treehouse-style structure – and where President Tito held his diplomatic tea parties! – which was the setting of the couple's reception.
"Sinead from Papergrace prepared travel-themed save-the-dates and invitations, to which we added a detailed insert of travel and accommodation information – a must-have to make life easy on their guests travelling to a destination wedding. Armed with my label maker and campervan stamp, I then made the order of the day and place names with rustic luggage tags."
"Little personal items greeted the guests on their way into the reception venue with photographs, our Welsh newlywed sign as a nod to my home and an intricate cross stitch made by Steve's Mum Pauline of us on our travels. Steve thoughtfully designed a custom made atlas as our guest book. Our guests filled it with recommendations for our future adventures and funny anecdotes from the day.
Favours for guests were sweet little pots of honey and honey brandy by Fer Medica. And the bride and family members helped out with sorting a range of handmade decor.
"I set the family a task of collecting quirky and ornate jars to contain candles for the reception. Abby and I spent sunny Sundays with our crafty decoupage and actually melted the wax in to create the candles. They provided a warm magical glow into the evening and with plenty of life left in them, the guests took them home as souvenirs."
"My Aunt Amanda of AM Curtain Designs crafted our hessian table runners and gifted us a large mason jar candle with personalised stitching 'Mr and Mrs Kennedy' and our wedding date which took pride of place on the top table. Laser-cut wooden table numbers sat in a bunch of wildflowers along with sprigs of gypsophila in the cutest of the collectable jars."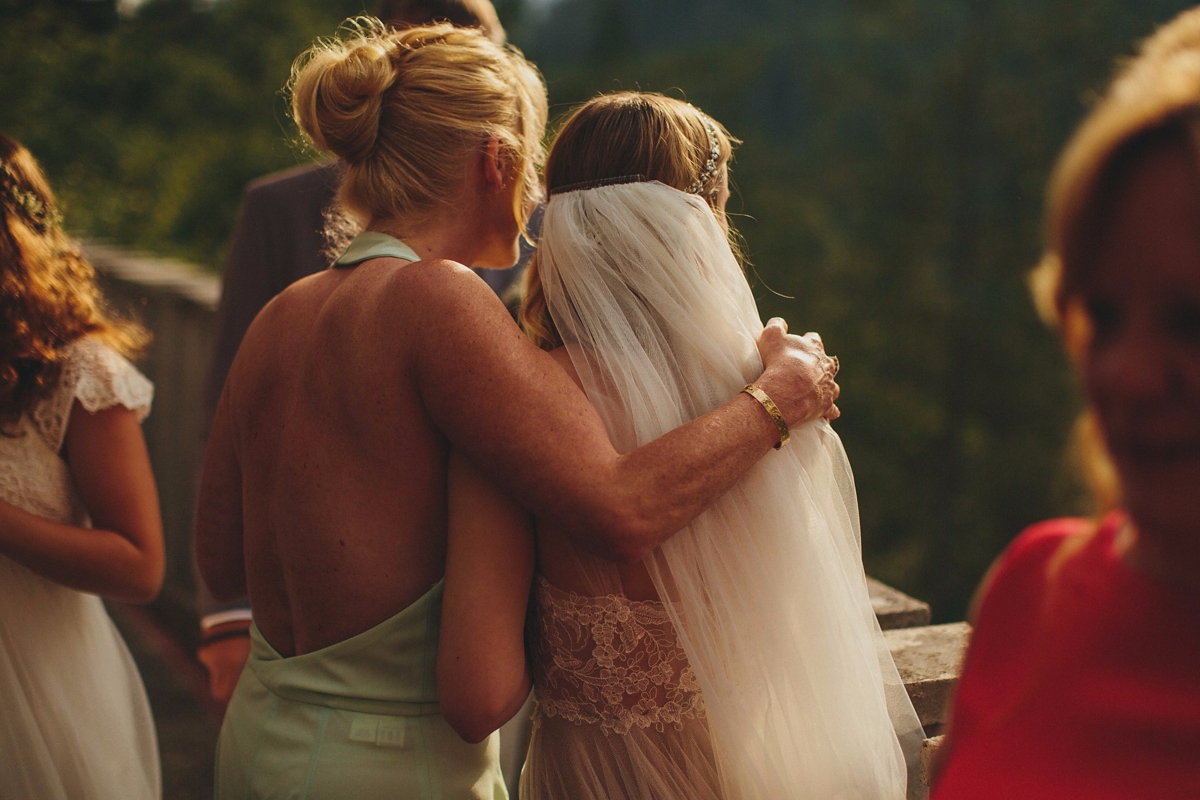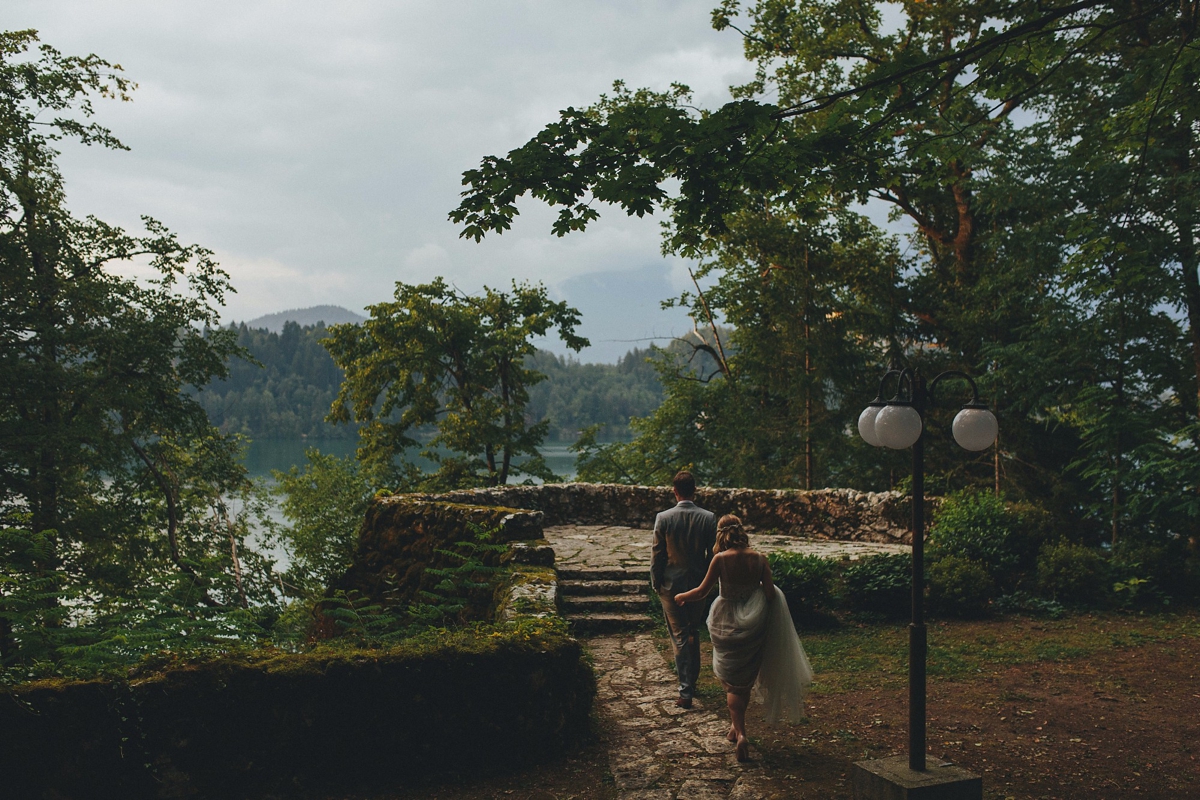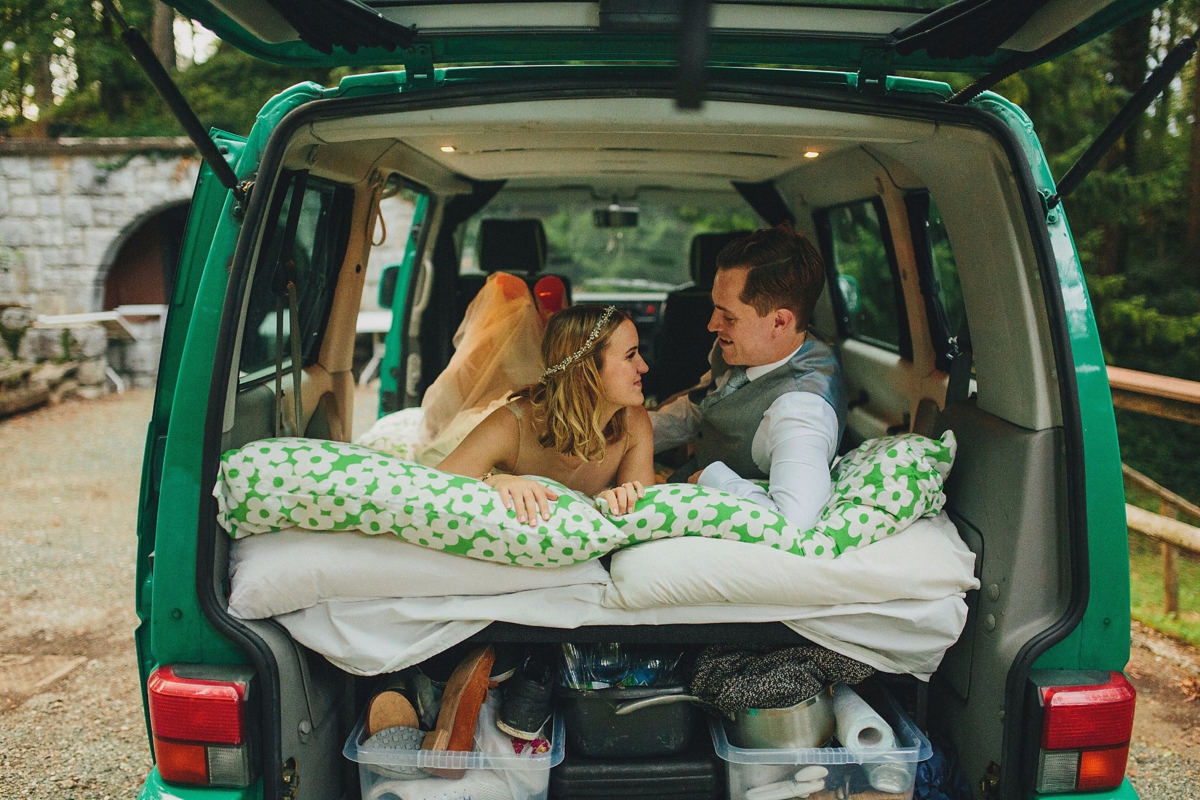 This is just the loveliest gesture by the groom's daughter Abby – and the bride's favourite moment of her day.
"At the end of the speeches, Abby came to the floor where she picked up her guitar and sung 'Count on Me' by Bruno Mars. Emotions took over and she wavered half way through, but her lovely Auntie Denise coached her to the end. It was so endearing and there was not a dry eye left in the room. It was really important for us all to come together as a family and I can't thank Abby enough for this little cherry on the top of a magical day."
"I've often yearned to do it all again and not change a thing; now however one little addition would be to have a wedding video. There are some extraordinary videographers out there these days with not a crumb of cheesiness in sight!"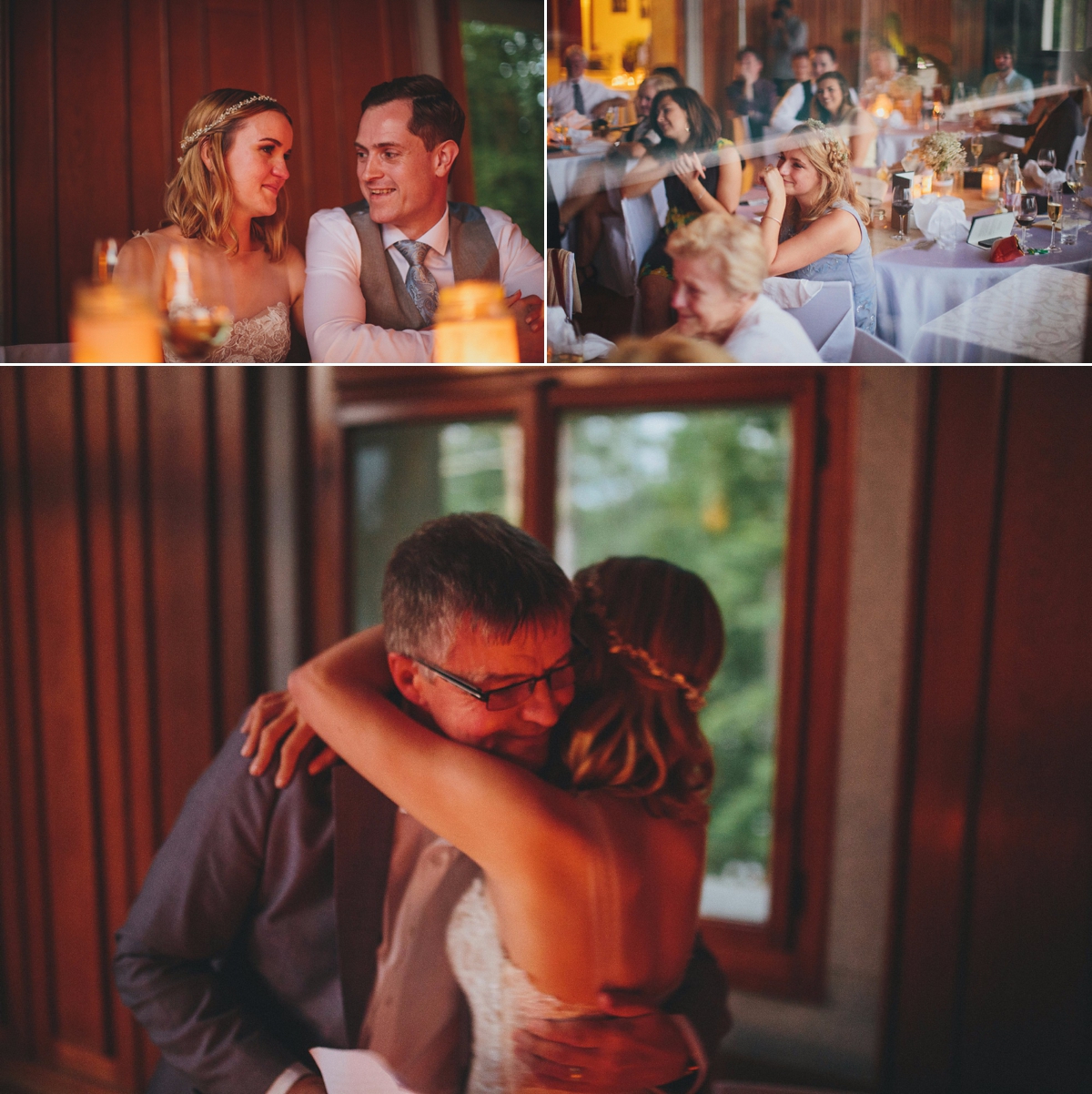 "A salute to our treasured campervan, we had a green VW wedding cake. The cream-filled cake had a lemon, chocolate and a classic vanilla and raspberry flavour for each tier. It travelled with us and we were still eating it way into our honeymoon!"
A carefully crafted series of playlists by Steve with a mix of Motown and classics made for some serious shapes on the dancefloor. After the last song of Fleetwood Mac, Kate's cousin Phil brought out a guitar and carried on the night with sing-along renditions of Oasis.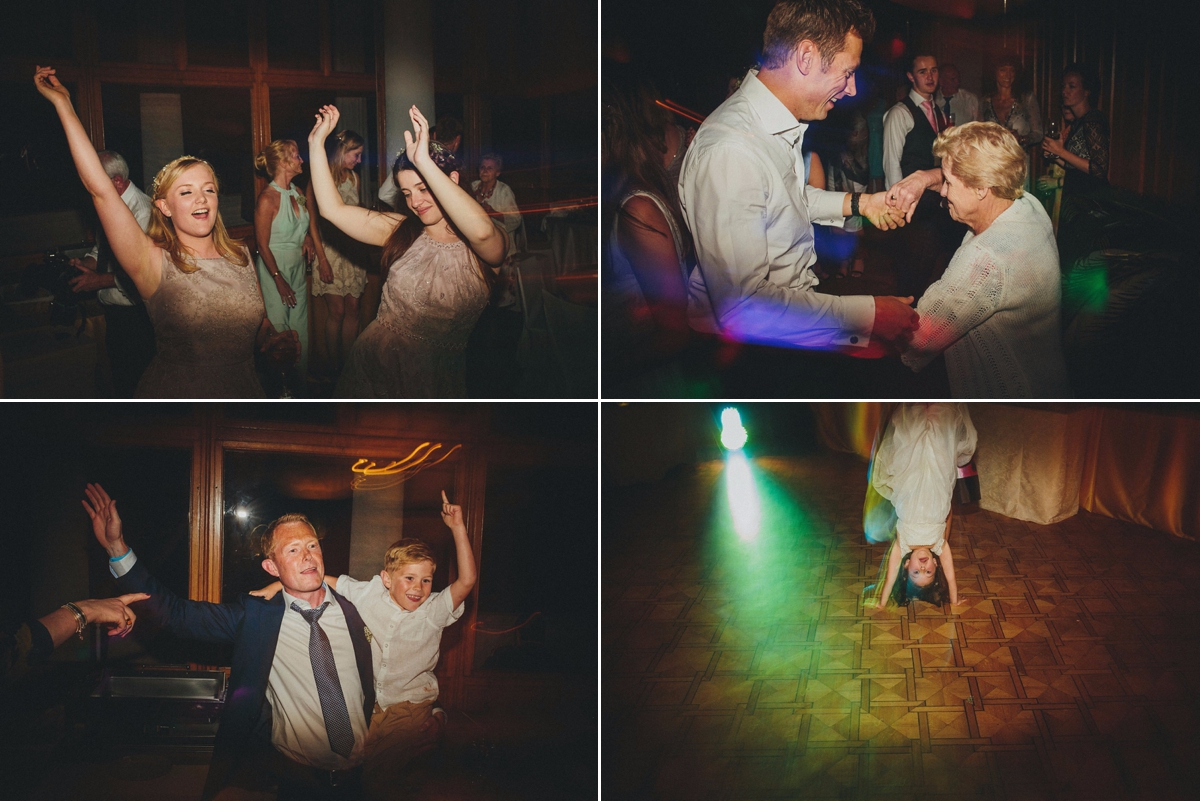 Words of Wedded Wisdom
"My top tips for a destination wedding are:
Know your legals; it's a whole world of mumbo jumbo even without a language barrier."
"Extend the celebrations; none of this "the day just goes too fast!", you've got your nearest and dearest across borders so make the most of it!
Choose the right planner for you; a wedding fairy that understands your priorities, knows your vision and you can communicate with ease."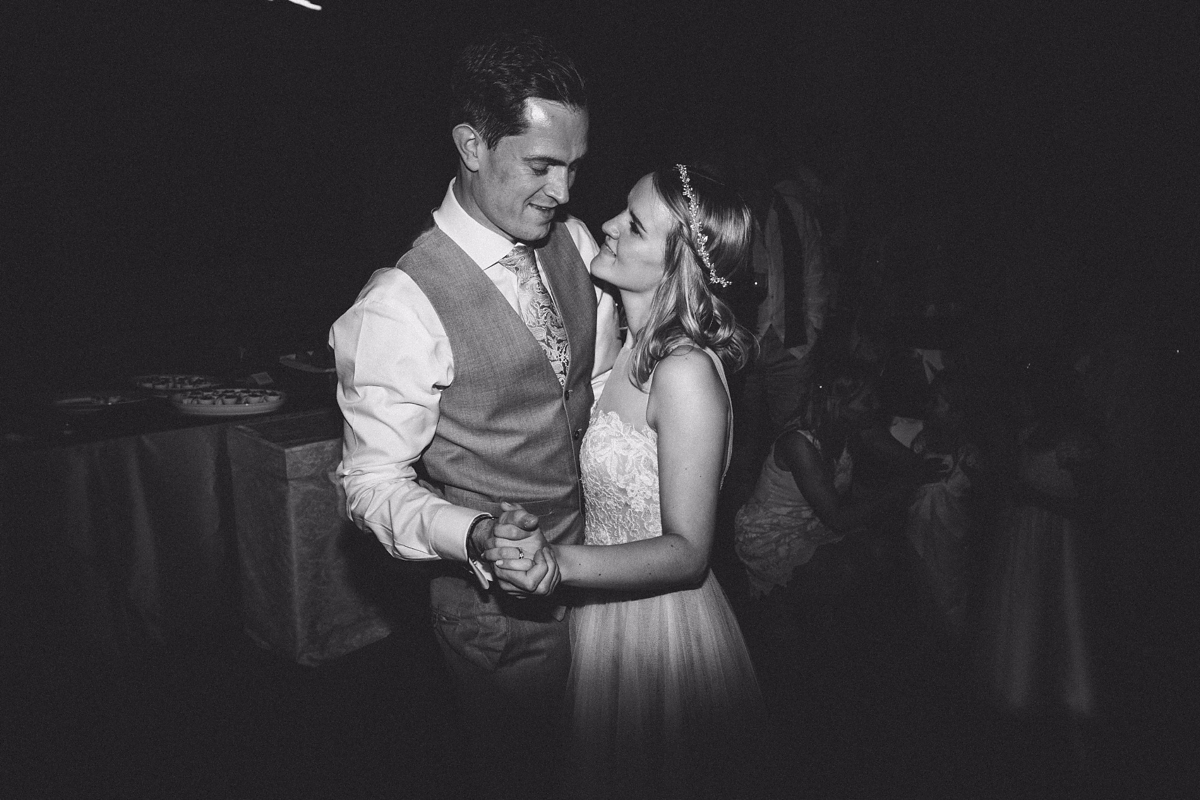 I'm so chuffed to have been tasked with bringing you all the delights of Kate and Steve's utterly stunning day – and a very big thank you to Petar for catching such picturesque images of the location and all of their heartfelt moments. If you've just got engaged and are thinking of heading over the seas, take note of these most handy hints (and Kate's fabulous ethereal style) for your own destination wedding. And be sure to take advantage of the search function to browse the LMD archives for more gorgeous Watters gowns.
Love Jo -xo-