Welcome to 2018 lovelies! I hope you had a jolly break and consumed numerous mince pies. Whether you've just discovered this beautiful blog, or an avid reader from way back, I've such a classically elegant wedding to share that is certain to inspire and cause delight upon first sight of these stunning images by James Morgan of JLM Wedding Photography.
The new Mr and Mrs Maguire – bride Kathryn who is a fostering social worker and groom Stephen, director of a landscaping company – tied the knot at St Lawrence Church on the 27th of August 2017. They chose their local church and one with special meaning, as Kathryn's mother and father married there also. The couple then held their celebrations at the impeccably grand Rossington Hall; a Grade 2 listed Victorian home they both fell in love with as soon as they viewed it.
"We wanted our wedding to be classic and timeless and keep things as simple as possible to ensure the wedding was elegant. We chose the colour scheme of black, white, gold and dusty pink and felt these colours complimented one another. Rossington Hall is such a beautiful old building we did not feel we needed to decorate the venue to show off the character and age of the Hall. We wanted our day to be one that everyone remembers and we feel this is one of the best wedding venues in Yorkshire."
Images by JLM Wedding Photography
"James Morgan of JLM Wedding Photography was great from start to finish. He was very patient throughout the day and without people noticing took beautiful pictures, capturing every moment. James has a great eye for detail and is able to capture great light and photo opportunities. He worked with us to ensure we got the photos we wanted of our wedding day and we are delighted with the results."
Donning the 'Jodie' style by Ronald Joyce, Kathryn is the epitome of elegance.
"After trying many dresses on I realised I liked Mikado fabric, as the material hung so well and appeared simple. I loved how the dress tapered in on my waist and how the bateau neckline complimented my shoulders and felt the dress resembled something Audrey Hepburn would wear."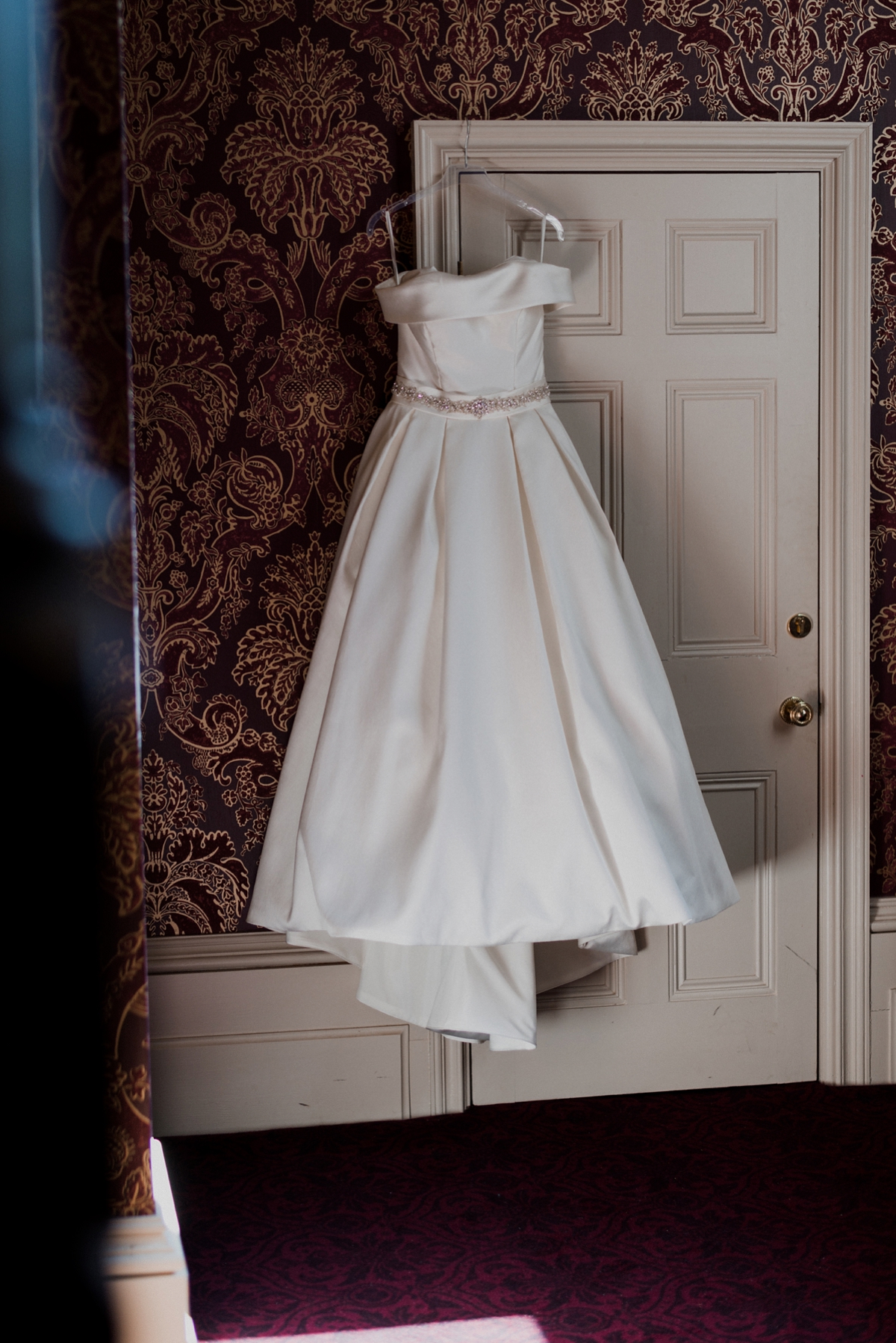 "Once I added my veil, I felt really happy in the dress and comfortable and loved how elegant the dress felt."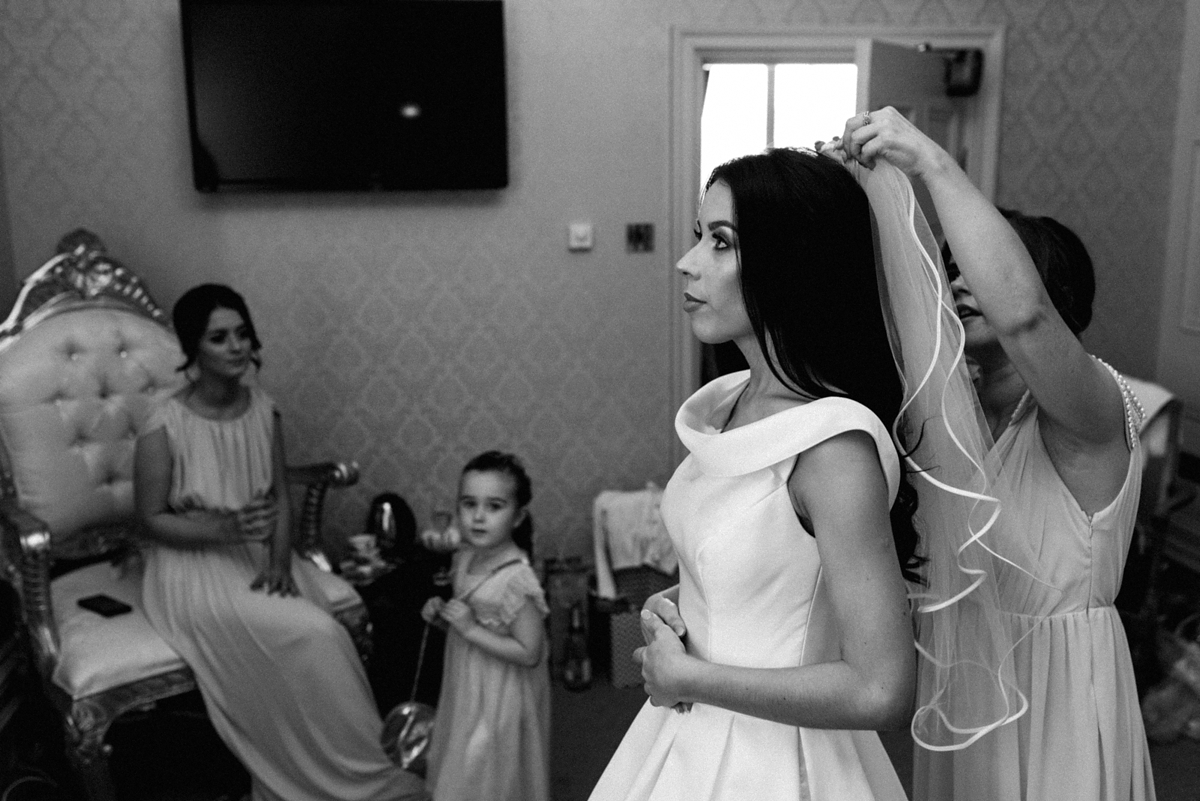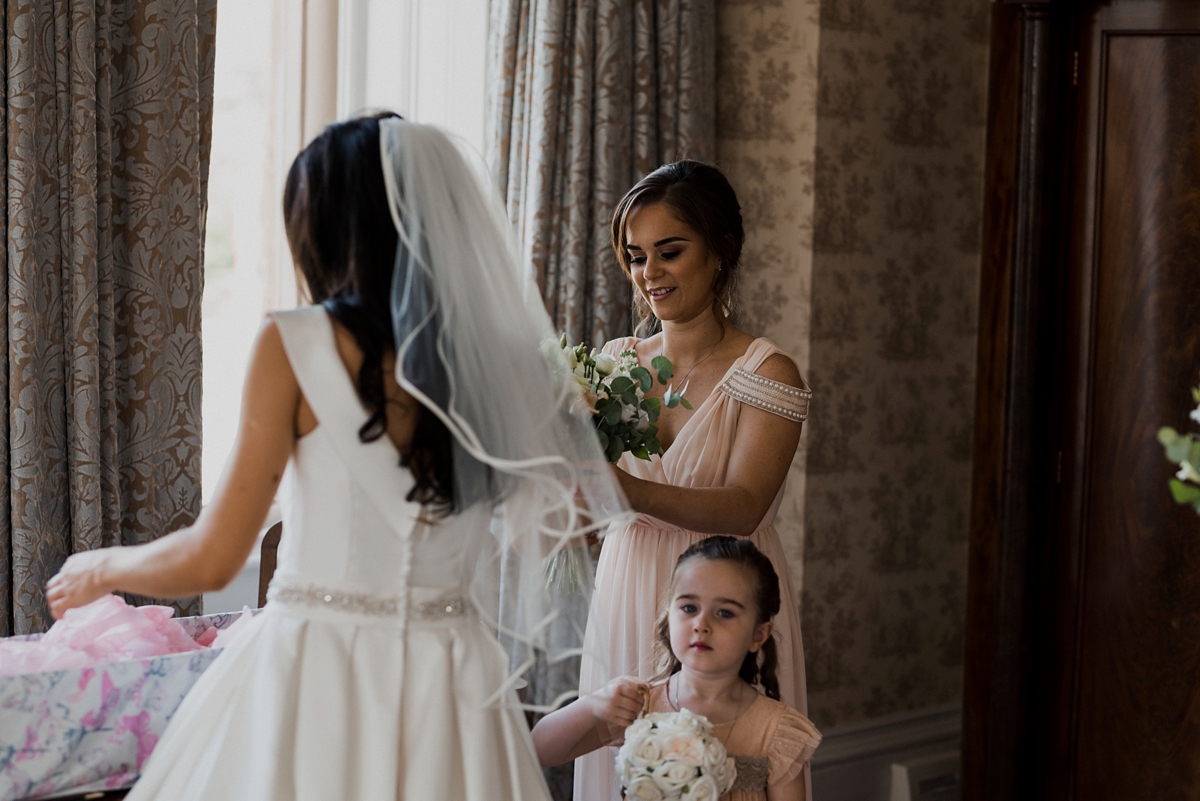 The couple bought each other perfume and aftershave as their wedding gifts – Jean Paul Gautier for Kathryn and Calvin Klein Escape for Stephen.
Kathryn chose Nine West small-heeled satin shoes via the website Shoeaholics and she kept her jewellery simple with pearl earrings from an antique shop in Pickering.
She also added a garter from ASOS and her stylish hair-do was by Nicola Holt, with make-up by Rachel Holland.
"All three bridesmaid's dresses were brought from ASOS and each wore a different dress to compliment their figure and to ensure they were comfortable. The dresses were all shades of light pink. Rebecca wore flat velvet dusty pink shoes from Dorothy Perkins and Natalie and Charlotte wore nude high heels brought from New Look. The bridesmaids all wore their own jewellery which they felt comfortable in. And the flower girl Francesca wore a dusty pink dress from Next."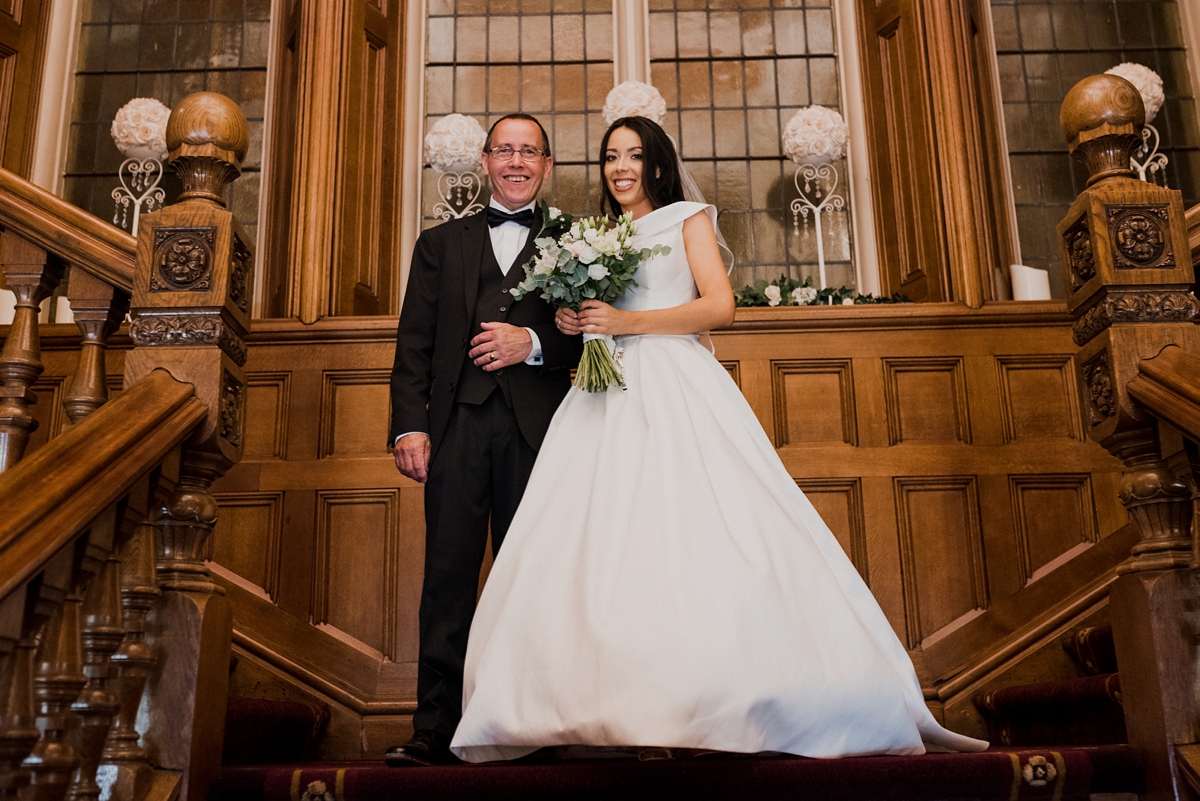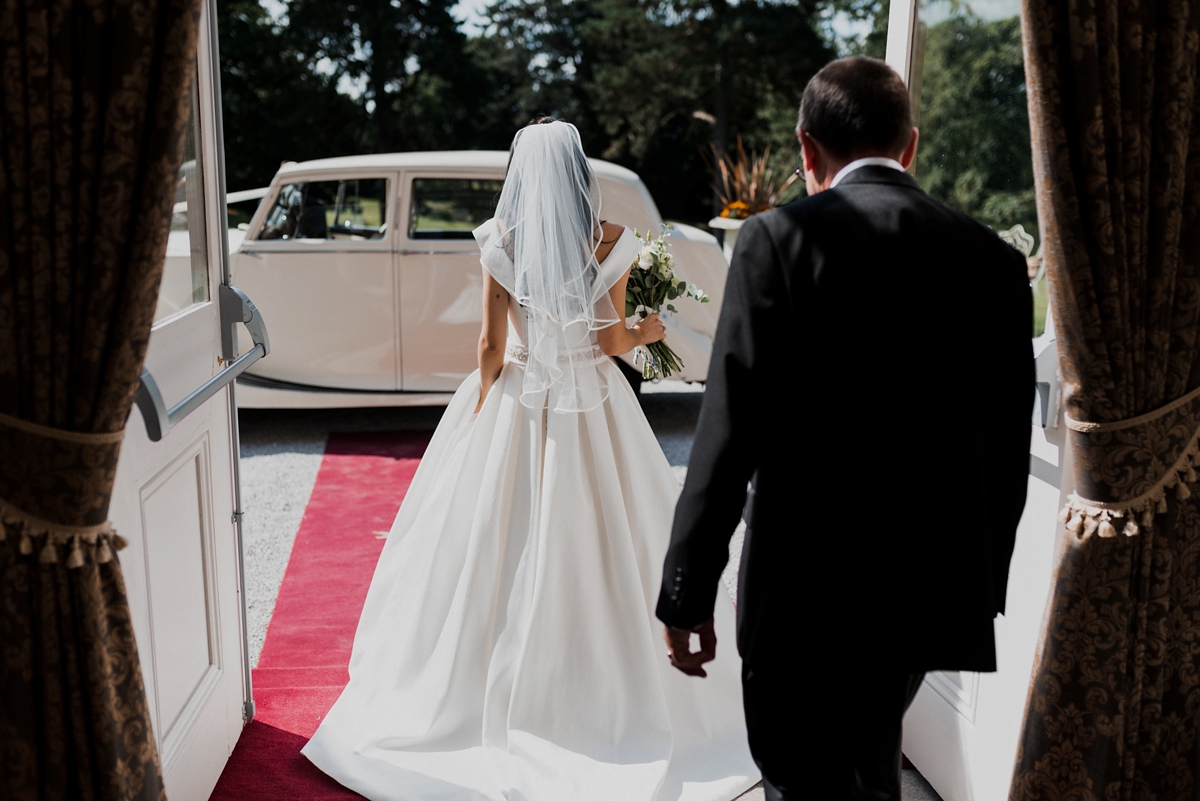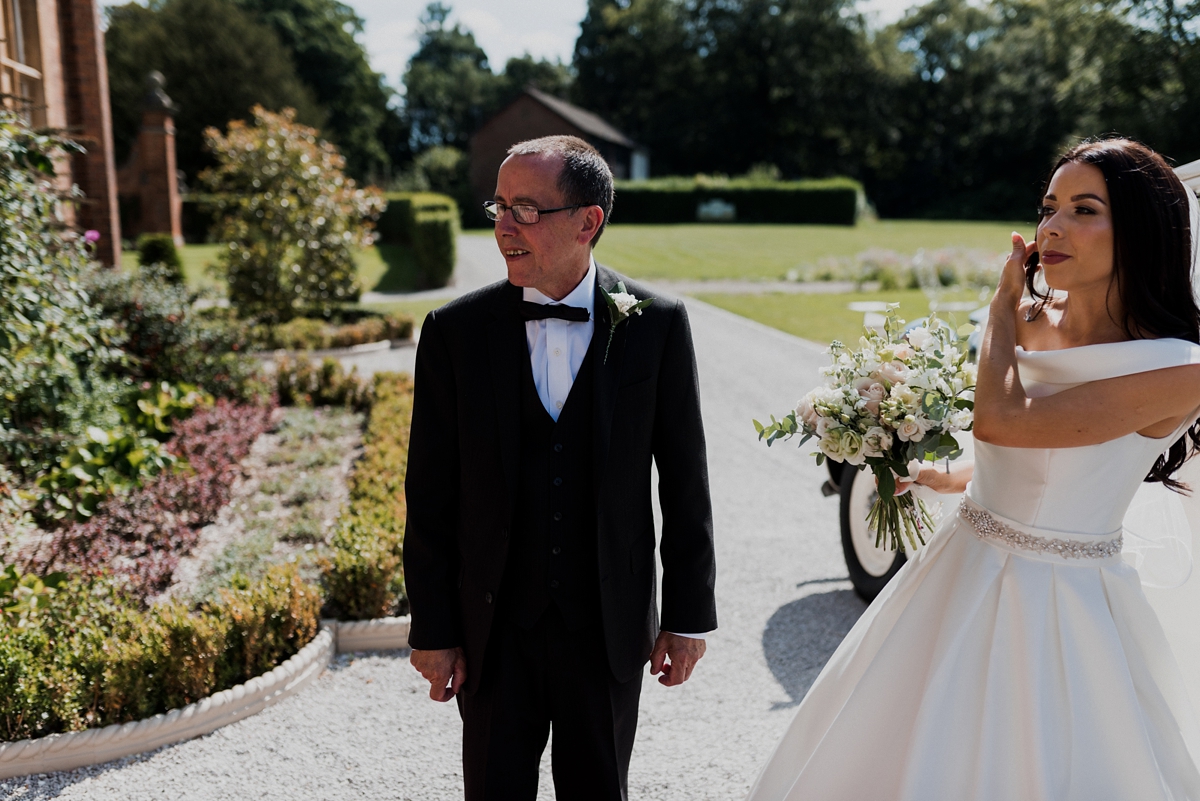 "I have known Pauline of Dalrimples Florist since I was a young child and know she takes lots of care into ensuring your flowers are fresh and beautiful. I love white roses but felt the bouquet needed to be broken up with light pink flowers and greenery so they stood out from my dress."
"The bridesmaids had a smaller bouquet of my flowers, which complimented their dresses. Pauline made a great artificial pomander for my flower girl, which she has been able to keep as a keepsake and memory of our day."
The handsome groom's attire – a black suit, bow tie, shirt and braces – was via Skopes, with cufflinks from Suit Direct. His party consisted of best man Deano Wood, best woman Stephanie Stewart, and groomsman and groomswoman Jamie Fletcher and Rachel Furr, who have all been the couple's friends forever.
"We were close friends before we fell in love in May 2009 and in January 2010 we moved in together. On the 2nd of May 2015, Stephen proposed at the Savoy Hotel in London whilst we were away."
The bridal party travelled to the church in a classic Rolls Royce Silver Wraith from Cupid Carriages. Kathryn was accompanied by both her father and grandfather for the aisle walk to traditional church music. The couple did not tailor their vows, however the Reverend completed a reading for them as an addition.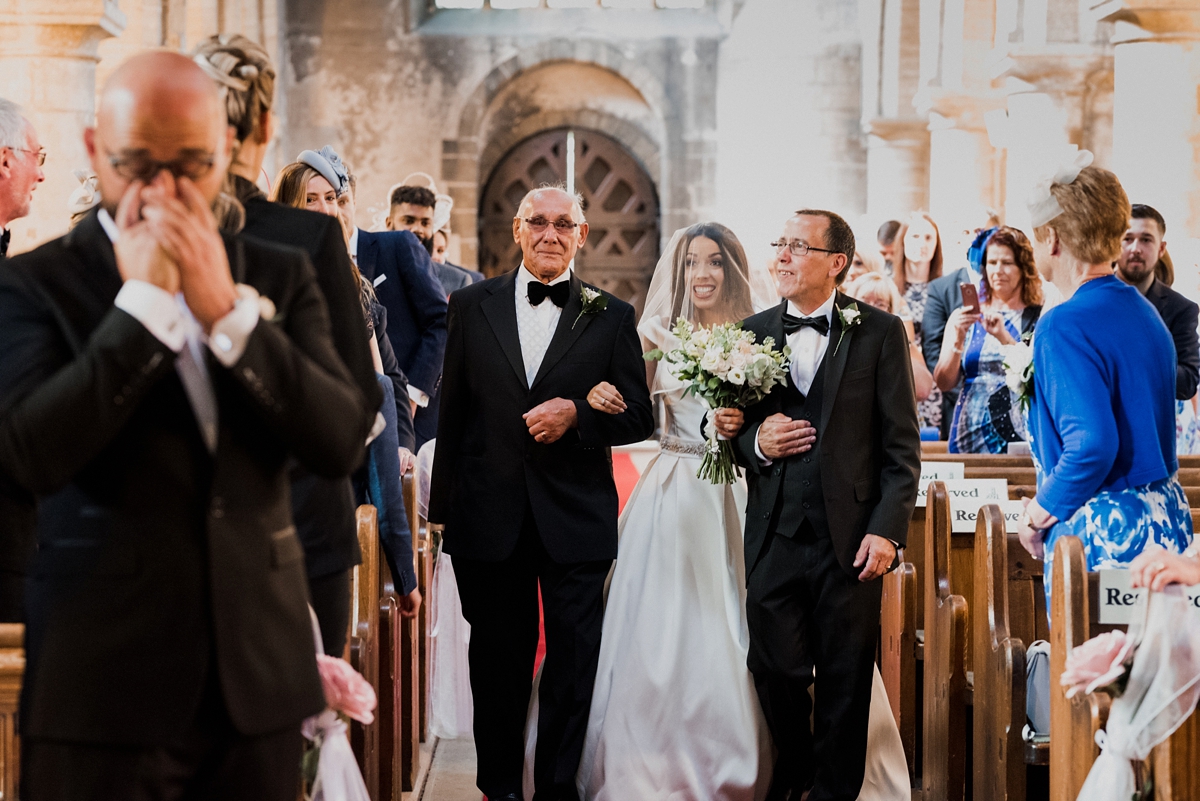 Getting the perfect relationship (Colossians Chapter 3, verses 12 – 17)
As God's chosen ones, holy and beloved, clothe yourselves with compassion, kindness, humility, meekness, and patience. Bear with one another and, if anyone has a complaint against another, forgive each other; just as the Lord has forgiven you, so you also must forgive. Above all, clothe yourselves with love, which binds everything together in perfect harmony. And let the peace of Christ rule in your hearts, to which indeed you were called in the one body. And be thankful. Let the word of Christ* dwell in you richly; teach and admonish one another in all wisdom; and with gratitude in your hearts sing psalms, hymns, and spiritual songs to God. And whatever you do, in word or deed, do everything in the name of the Lord Jesus, giving thanks to God the Father through him.
"Both of our wedding rings are from Beaverbrooks – I chose a platinum diamond round brilliant and emerald cut ring, whilst Stephen's is a white gold wedding ring."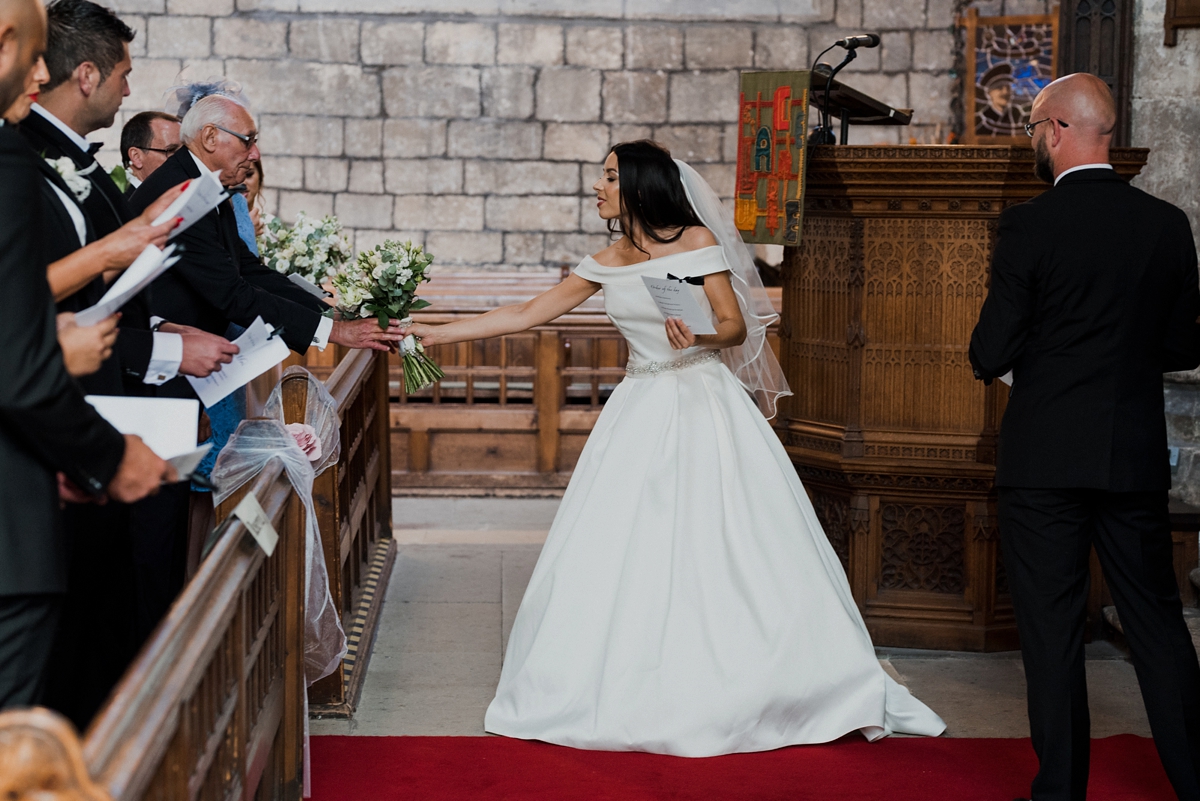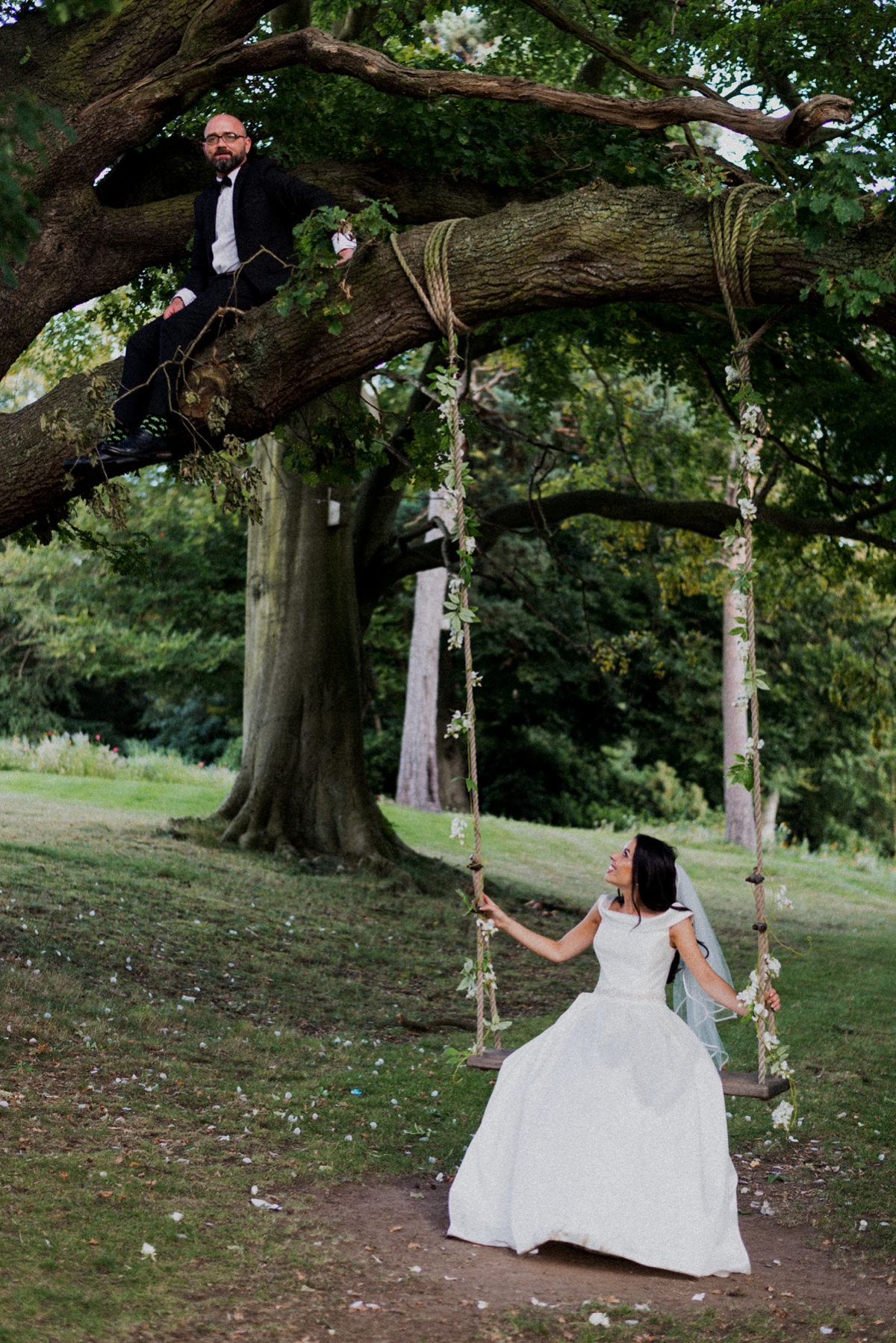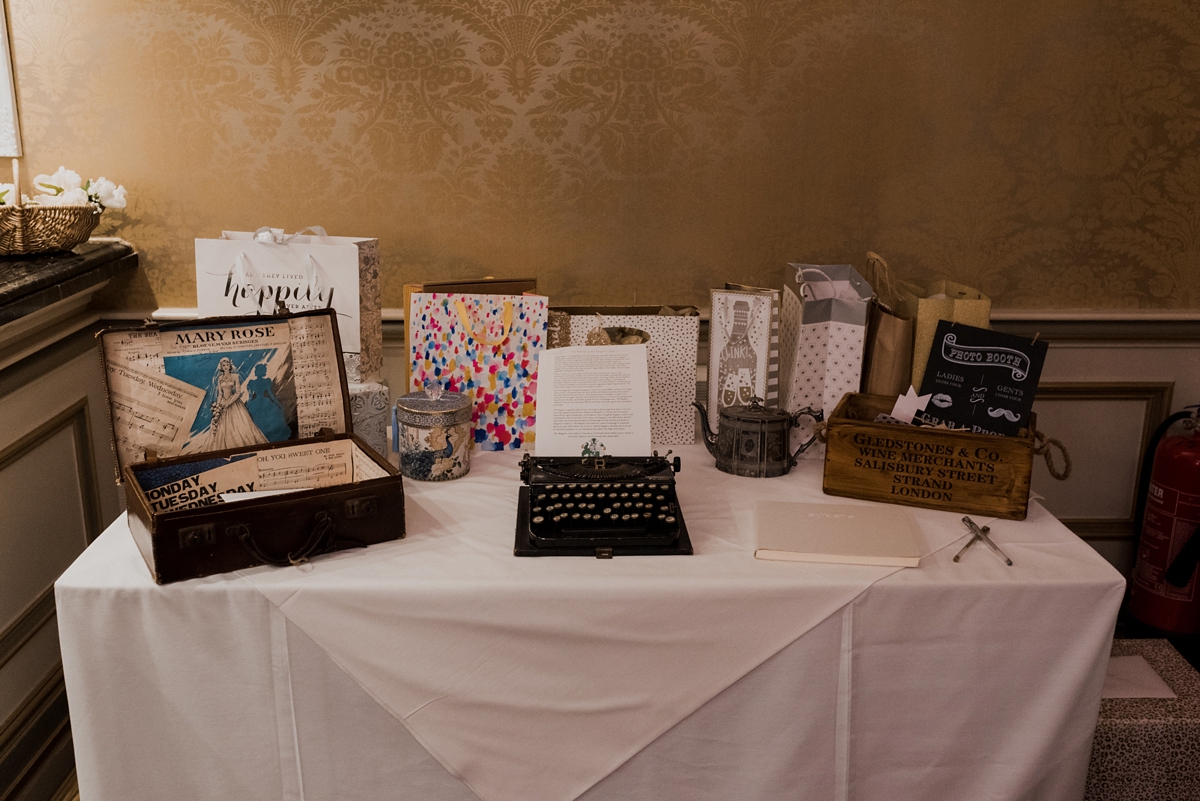 The bride and groom got crafty with the the stationery, designing and making the order of the service, menus, place cards/Irish prayers, mirror table plan and invitations themselves, with table numbers from TK Maxx.
Keeping the decor simple due to the grandeur of the venue, just a few items were all that was required to add charm to the couple's timeless day. An antique typewriter held the history of their name, Maguire, and a leather suitcase backed in old music sheets held wedding cards, whilst a silver teapot had flowers in for decoration on the present table.
"The best part of our wedding was the speeches. The room was full of every emotion from laughter, happiness, and sadness. I was so proud of my dad, my best man and my husband. The second best part of our wedding was the evening disco when our friend played his mix for the last 30 minutes. As you try and make everyone happy during your day, this was the time we could totally relax and dance the night away."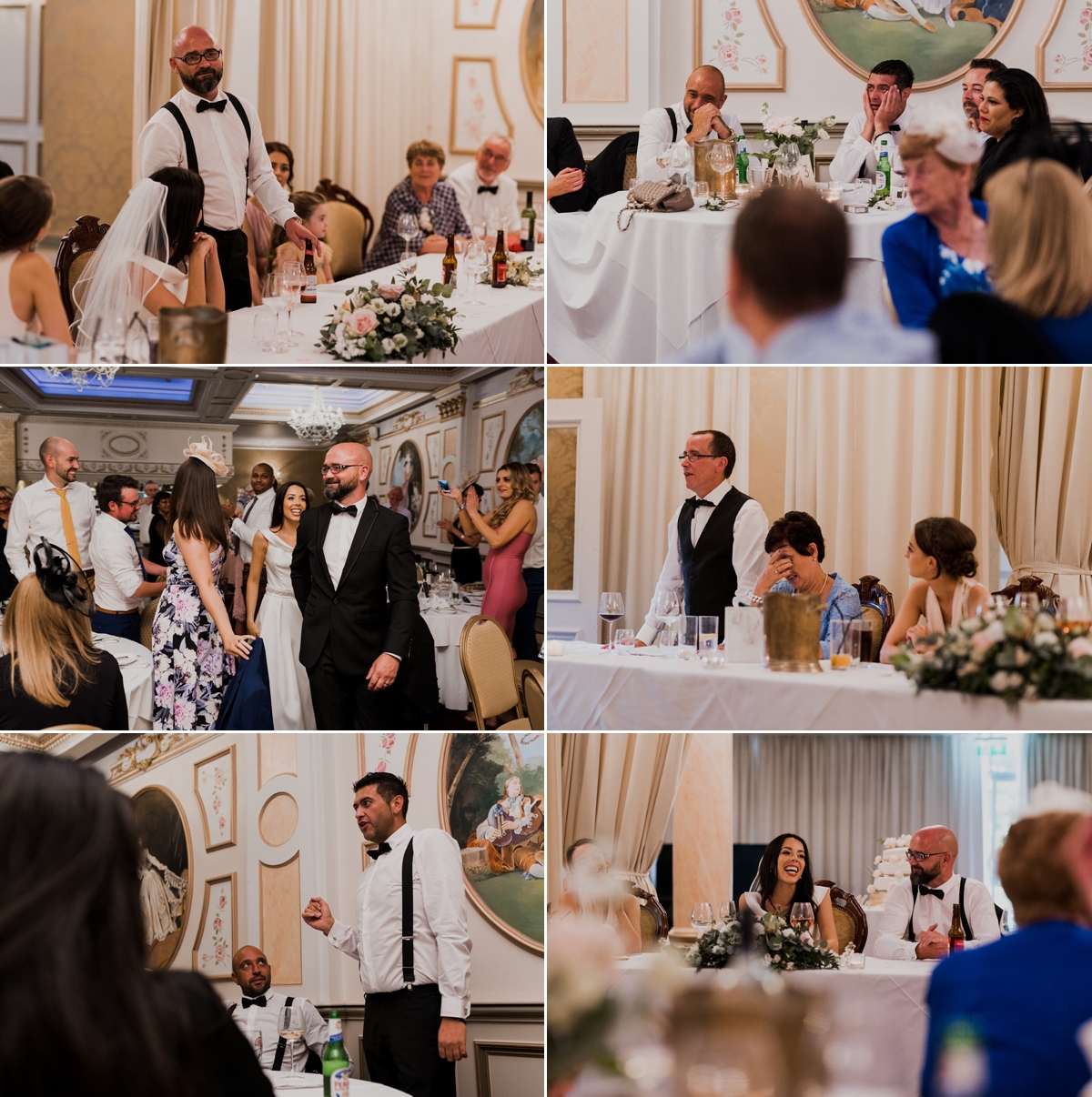 The venue prepared delicious cuisine for the wedding guests – and the wedding cake was made by the couple's friend Nicola.
"The cake was three tiers of chocolate, jam sponge and lemon and decorated in white icing with a gold trim and fresh flowers to finish it off. We asked our friend to make our cake as they are always delicious and we knew it would be made with love."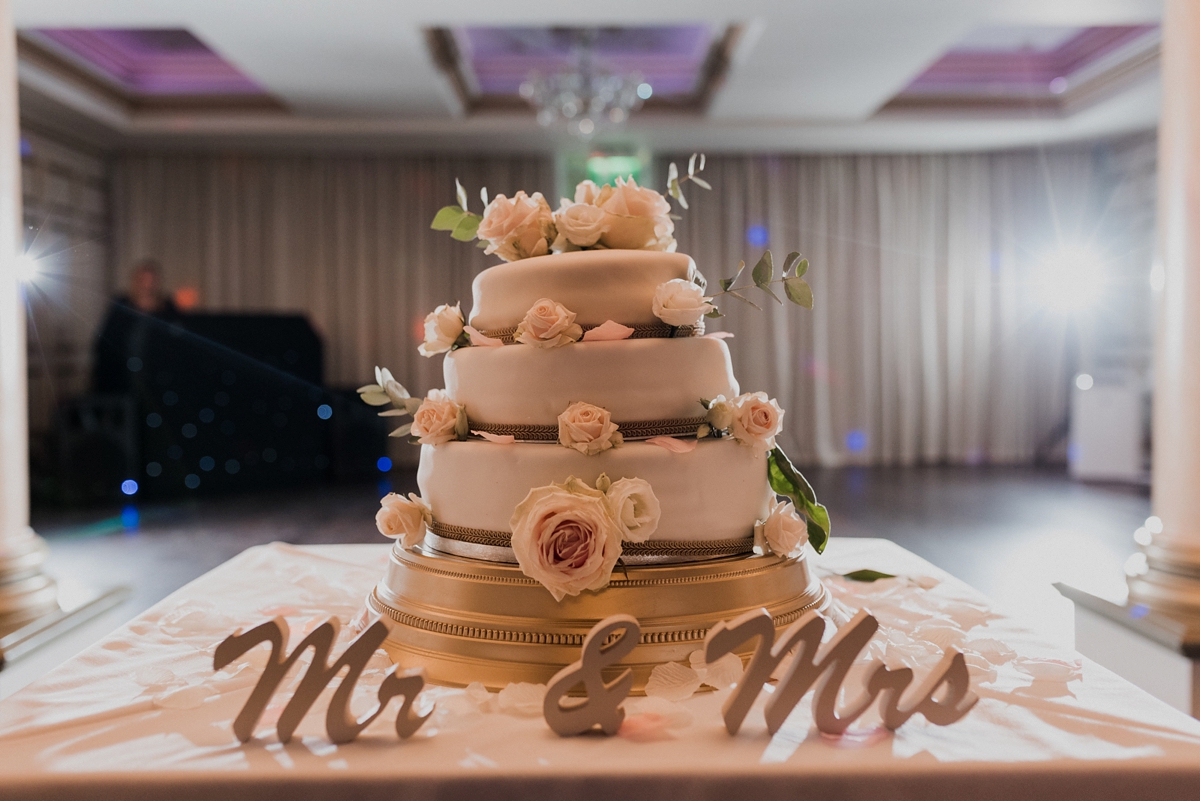 Armthorpe Markham Colliery Band, a fantastic brass band, played for the guests on the lawn at Rossington Hall over drinks – and in the evening, all were entertained via Emily's Disco.
"Our first dance was sung by Otis Redding – 'These Arms of Mine.' We both love the song and love the film Dirty Dancing which the song features in."
Words of Wedded Wisdom
"Start your planning early and slowly buy things every month so you are not left overwhelmed at the last minute. This really helped me, as I did not feel stressed at the last minute as I slowly bought and made items throughout the year."
"Also, shop around for items and sales; don't be scared to buy bridesmaid's dresses early. I brought mine the summer before in the sale and saved lots!
Pin everything you like and then reflect over your theme and take items away to simplify the wedding."
"We did not have a budget in mind but wished to keep costs down as much as possible. The price of our venue was more than we had in mind, however after falling in love with the building nothing compared to it and we worked extra hard to have the wedding we wanted. The overall total for all of our wedding including stag/hen do's and honeymoon was £17,500."
These are great tips – take note future brides! I've so adored bringing you Mr and Mrs Maguire's simply delightful day and thank you to so very much to James for beautifully capturing such precious memories for the newlyweds.
I urge you to check out these classic and elegant weddings from the huge LMD archives if you're keen to add a timeless feel to your day, just like Kathryn and Stephen.
Happy New Year!
Love Jo -xo-