Did you read our beautiful annual magazine, published shortly before Christmas? It's an absolute cracker and full of useful suppliers links, promotional offers and links to over 20 of our favourite real weddings from 2017.
Those of you who have, will probably recognise these images – sent in by fashion and commercial stylist Emma Horn, who has long had a love of weddings and in particular the whole wedding dress style, they beautifully capture that almost indescribable essence of 'glamour' that we so utterly adore here at Love My Dress.
Through her job as a stylist she had never had the opportunity to style a wedding shoot. So when moving from London to Bath and meeting the famous award-winning couture wedding dress boutique owner Carina Baverstock of Carina Baverstock Couture, and the super talented photographer, James Hacker, she knew she would soon get her chance. Hacker, an established wedding and commercial photographer in Bristol, was tired of seeing the same style of wedding shoot. For example, bride in a field with floaty dress or a bride photographed in a barn with bunting and wild flowers. These styles of photo-shoot have their place but Hacker wanted to break that mould and do something different.
When I first saw these images, I whooped for joy, because, I too saw a new slant on bridal styling  – a fresh, energised photoshoot oozing bridal glamour. I fell hard for these images in no time and emailed Emma right back to accept her submission. I hope you enjoy these images as much as I do.
Images by James Hacker
Gabrielle by Clinton Lotter
"This season with designers celebrating a return to glamour and luxury, Emma was excited about shooting a story which was all about dressing up. Selecting the most glamorous samples from Carina, Emma and Hacker wanted to make sure they showed the dresses off to their best. Rather than shoot on location they used a studio, shooting against a clean white and grey backdrop to allow the dresses and accessories to be the stars of the show."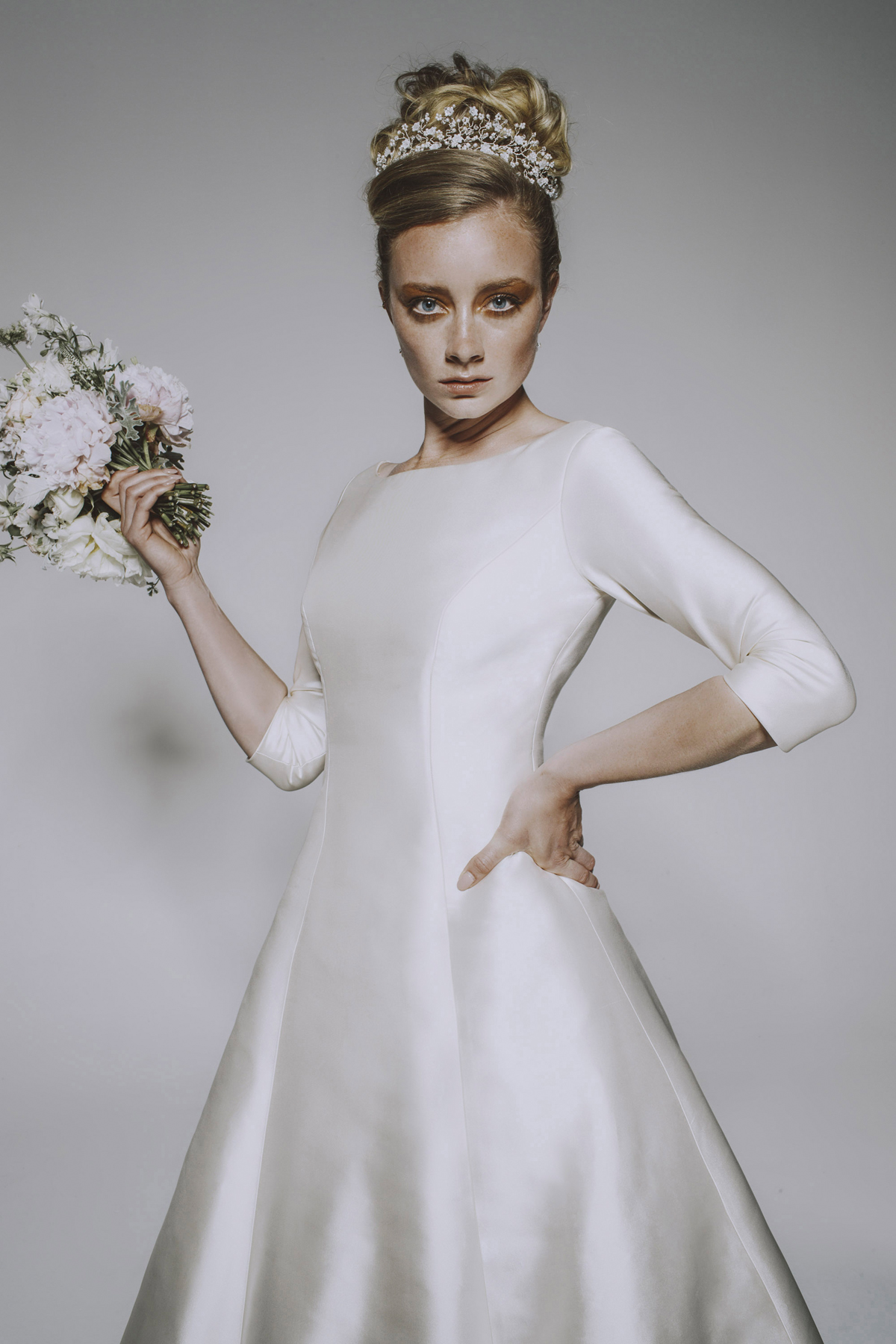 'Maybe This Time', by Stewart Parvin
"Hair stylist Abigail Constanza and make-up artist Lisa Caldognetto were on set for the shoot – which took place on one of the hottest days this summer in a basement studio, so they had their work cut out."
"Two strong and assertive models – Nia and Kate, were booked through Ginger Snaps. The models were encouraged to show off their confidence and strength in the images while at the same time allowing their beauty to shine."
"Emma explains: "We were so excited to photograph dresses from some of the UK leading designers but we didn't want whimsical and wafty. We wanted our brides to be totally in charge and self-assured, to embody modern day glamour. Working with such beautiful and exquisitely made couture dresses was a real honour and pleasure."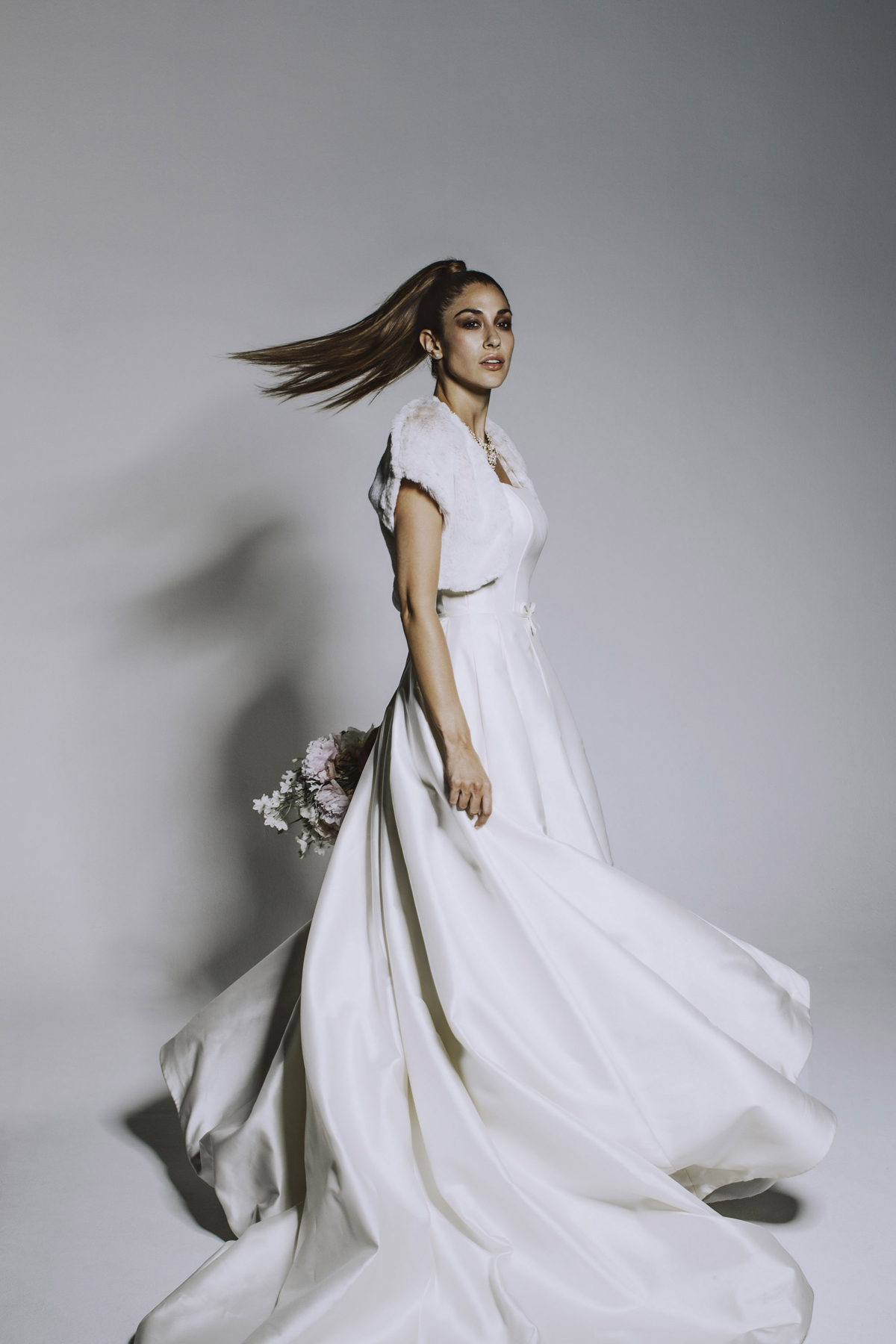 Karolina, by Caroline Castigliano
"Hacker tells us: "By working in the studio we could really concentrate on the lighting, getting the right camera angles, the perfect way the model moved and their emotions. We were able to create different hair and make-up looks to suit each dress and Emma spent time styling the whole look, by choosing just the right pieces of jewellery, shoes, hair accessories and flowers to bring the whole look together."
"It was important the models didn't do their usual bride faces and stands, so they were asked to jump around, shout, laugh, be angry, give lots of attitude to shake up the usual bridal serene vibe. The models found this funny and at first couldn't work it out, but soon they completely got into the swing of things and found their inner bite."
"To compliment the quality and class of the dresses Emma needed to find jewellery and hair accessories of the same calibre, so she approached Hermione Harbutt who has shops in Chelsea and Bristol. Hermione jumped at the chance to be part of the shoot and all her exquisitely made pieces of fresh water pearls and Swarovski crystals looked stunning."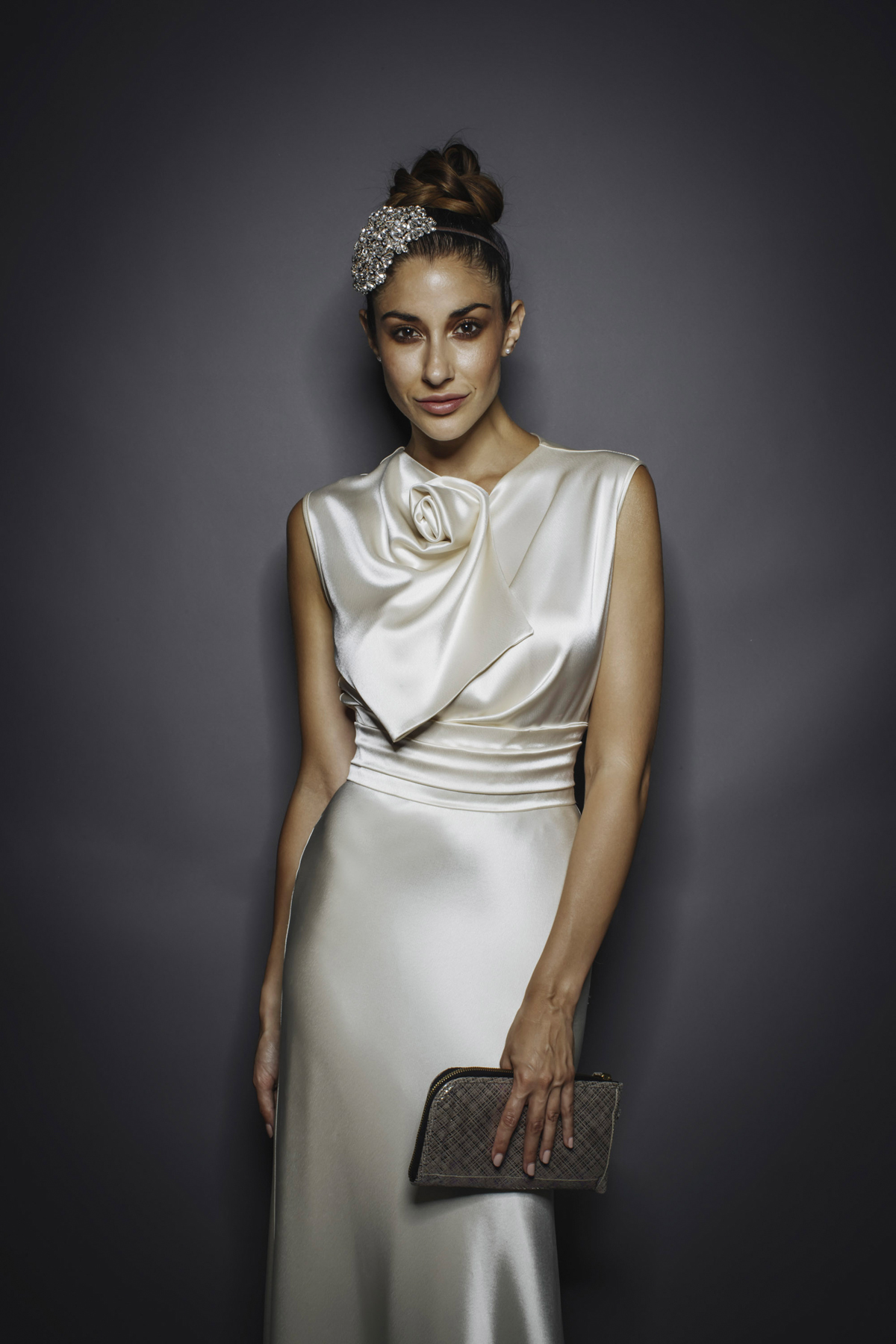 Wallis Simpson, by David Fielden
"Coming from both a costume and styling background Emma wanted to add some drama and interest to the images so called in some beautiful stoles by Blanche in the Brambles. A bit of fur and feather always add to the wow factor."
"The net veil worn by the model Kate in the Stewart Parvin dress 'Blue Moon', was from a new Bristol based veil designer, Rebecca Anne Designs. As well as showcasing the established front-runners in the wedding dress world, Emma wanted to champion the up and coming stars of the future."
"Shoes and bags came from Chanii B in Bath, a great boutique and online shoe shop selling quirky and unique but beautifully made bridal and designer shoes, boots and bags."
"Last but by no means least flowers were by Flowers by Passion, also based in Bath. Owner Johanne Wood, knew exactly what was needed after Emma showed her the shoot mood board. The bouquet was made up of a soft palette of seasonal flowers and put together in the relaxed but beautiful Flowers by Passion way."
Blue Moon, by Stewart Parvin
Utterly beautiful, I think you will agree. Brides, if you adore your modern, luxury, bridal fashion, then I encourage you to arrange a visit to the award winning boutique, Carina Baverstock Couture.
My thanks to the super talented stylist Emma Horn and photographer James Hacker for choosing to share these images on Love My Dress.
Annabel x