All of the weddings delivered into my inbox make me completely melt and wish that I'd been one of the lucky guests with an invitation.
And then I received the utterly delightful spring nuptials of Amber and Jonathan – held on the 8th of April 2017 at Mellow Farm in Dockenfield, Surrey – and I was speechless. Lovelies, it's time to take a break over a hot drink as you view all the little details captured beautifully in this snippet by Ben Walton, who was recommended to Amber via the Love My Dress private Facebook group. Amber and Jonathan, although based in the US, decided to marry in the UK – and as luck would have it found a perfect location in the home village of the bride's parents.
"By chance my dad happened to notice a wedding happening at a farm venue within their village. They went to look at it and took pictures and we committed immediately, even though we couldn't visit in person for another 6 months! It was the blank canvas we were looking for and I loved that it was in Dockenfield, the village my dad and stepmum had lived in since I was little."
Film by Ben Walton Films
"I had never been the girl to spend hours imagining her wedding but within days of getting engaged I became a bit of a Pinterest addict and quickly established some key themes. I was keen to have a boho/vintage vibe with a touch of old school glamour, and I knew I wanted lots of lace, vintage furniture and glass bottles and a flower crown. From there the rest evolved as I scoured LMD's real wedding features and Pinterest for ideas. We just went with what we liked, as I was conscious that I didn't want to have anything too matchy matchy. I looked for styles and colours that would compliment each other rather than conform to a particular scheme."
Images by Charlie Davies Wedding Photography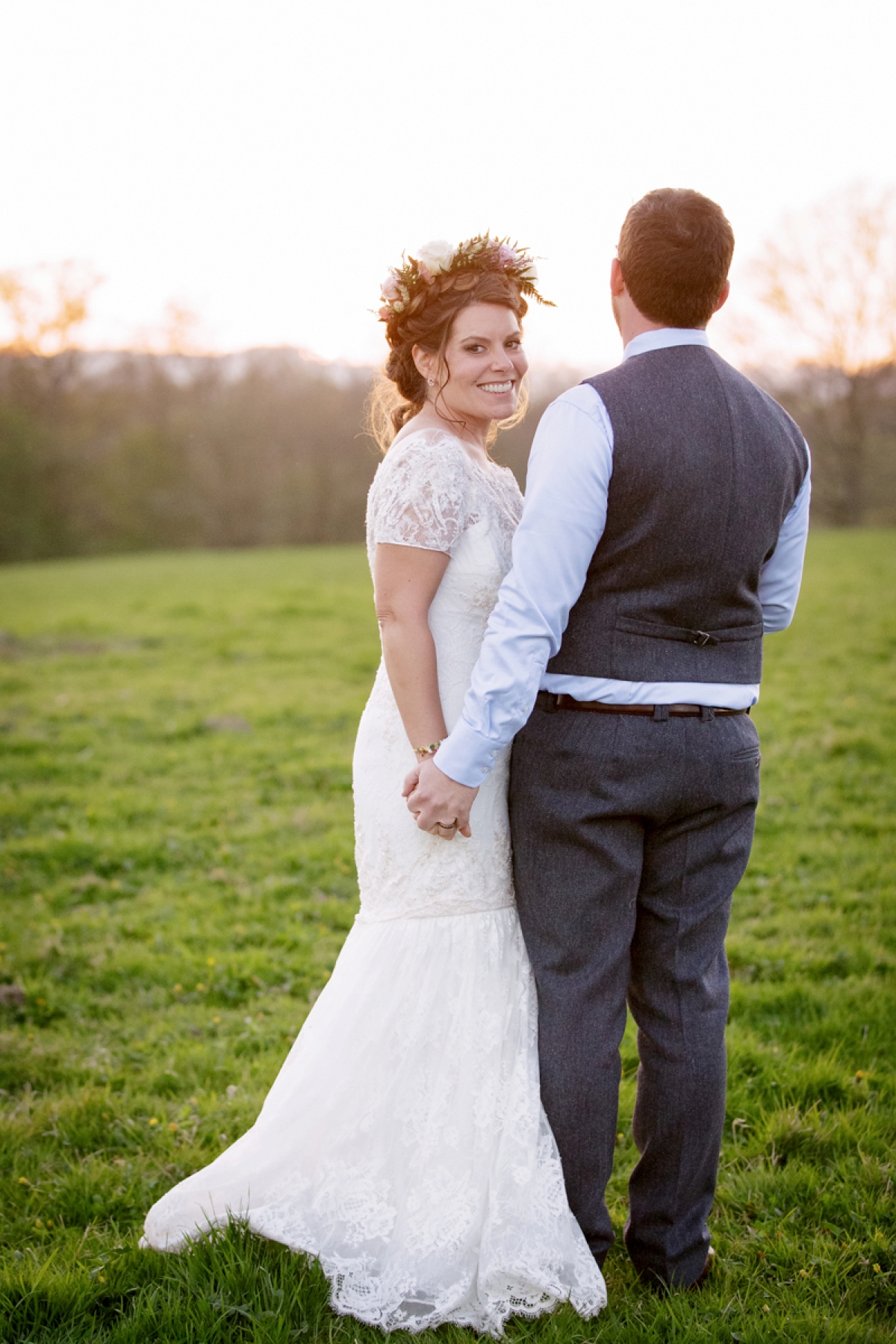 Clever Amber soon realised that it would be handy to enlist the help of someone on the day, to take away any of the stress which some brides and grooms can experience by doing too much themselves on their actual wedding day. Again, the private Facebook group provided assistance with a recommendation.
"As the day approached I started to realize that I needed to relinquish control on the day. One of the Belles from the group recommended Sama Hemsley of Utterly Wow who offered a day of coordination service. We FaceTimed and I loved her immediately (well, actually, I loved her after I saw her beautiful wedding on a blog!) and I knew she was the person to steer the ship for me on the day."Are you finding it tricky to narrow down your dress to just one for your big day? Amber decided to go with two – a stunning lace day dress, then a boho dress for the relaxed evening celebrations.
"During the day I wore a Marchesa gown from BHLDN, which I saw in the sale for a bargain price and thought I may as well order it 'just to see!' It was about a foot too long for me, but even folded up around my waist I just loved it so much, so I found a local seamstress to make adjustments for me. I loved the lace and the detailing on the back; it felt special but not like I was playing dress up."
"Throughout the planning I toyed with the idea of having a separate 'reception dress' for the evening and must have purchased 10+ little white dresses! In the end I settled on a Free People lace dress that felt in keeping with the vintage/boho feel of the the rest of the styling and particularly the bridesmaids and meant I could dance unrestricted."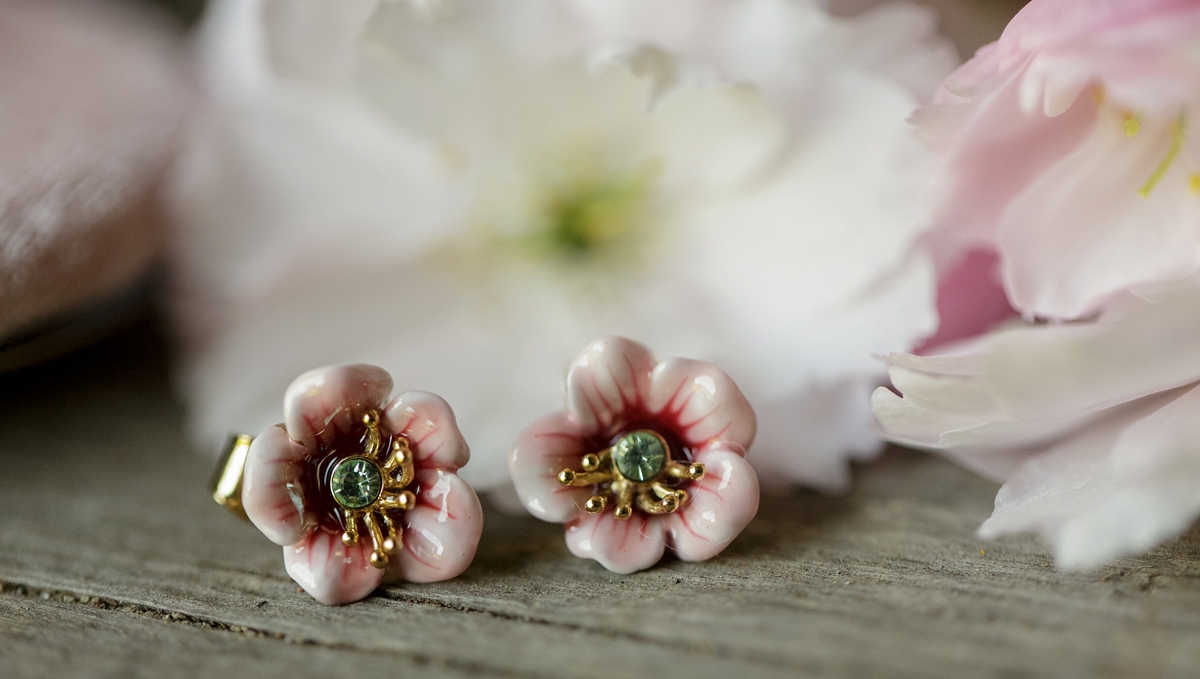 Amber added a gorgeous pair of blush velvet block heels from Valentino with ballerina laces, then in the evening changed into a pair of nude Charles Jourdan stilettos. Her whimsical woodland earrings and bracelet were by Les Néréides and both gifts to herself
"Pam Wrigley was recommended to me by my original make-up artist after she had to cancel. I had a trial with her in December and just immediately loved her, she's so warm and funny and exactly the person you want around on your wedding morning. She totally understood the look I was going for and made me feel so beautiful. Pam also brought her assistant Erin who made all my bridesmaids look absolutely stunning."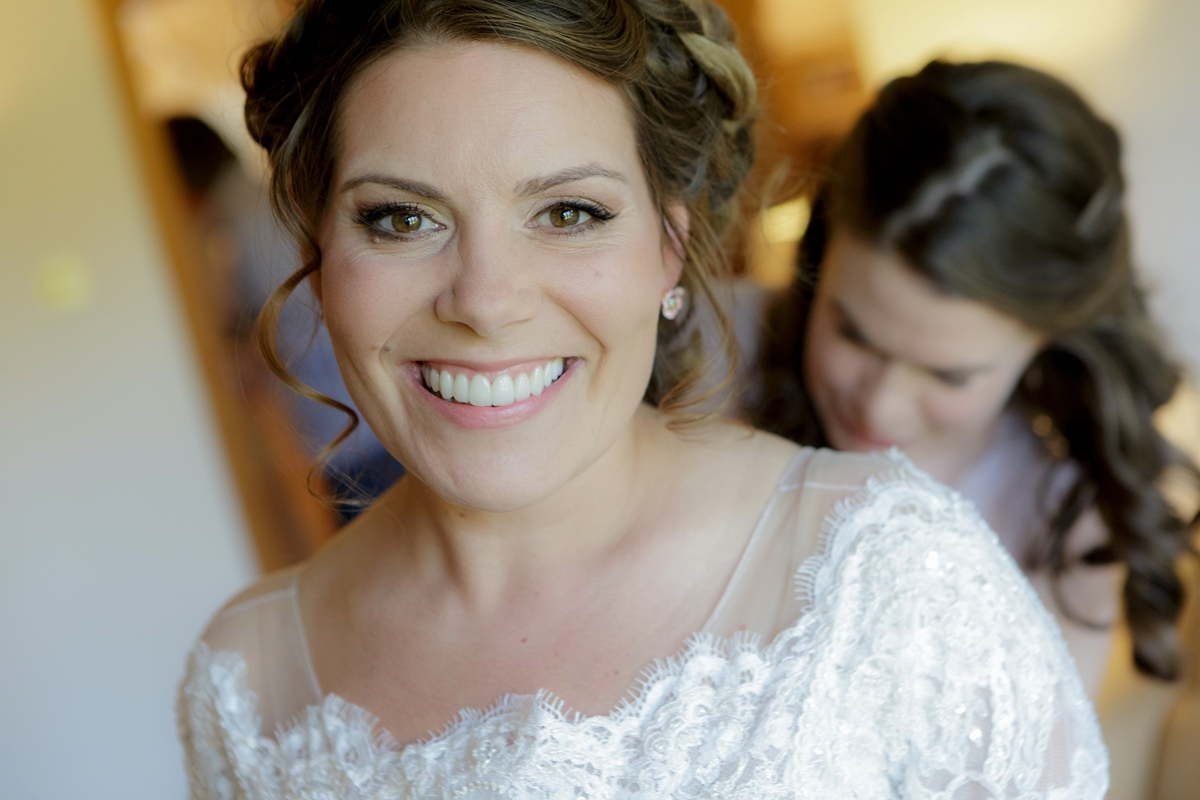 The pièce de résistance was her incredible flower crown from Folky Dokey.
"I absolutely fell in love with Gez's work when I saw it on Love My Dress and sent her some images of my mock bouquet; my step mum made all our bouquets and we had done a practice run on one of my trips back to the UK. I asked Gez to make something to compliment it. It was absolutely perfect, I felt so beautiful wearing it and it totally made the outfit for me. She was also so lovely to work with."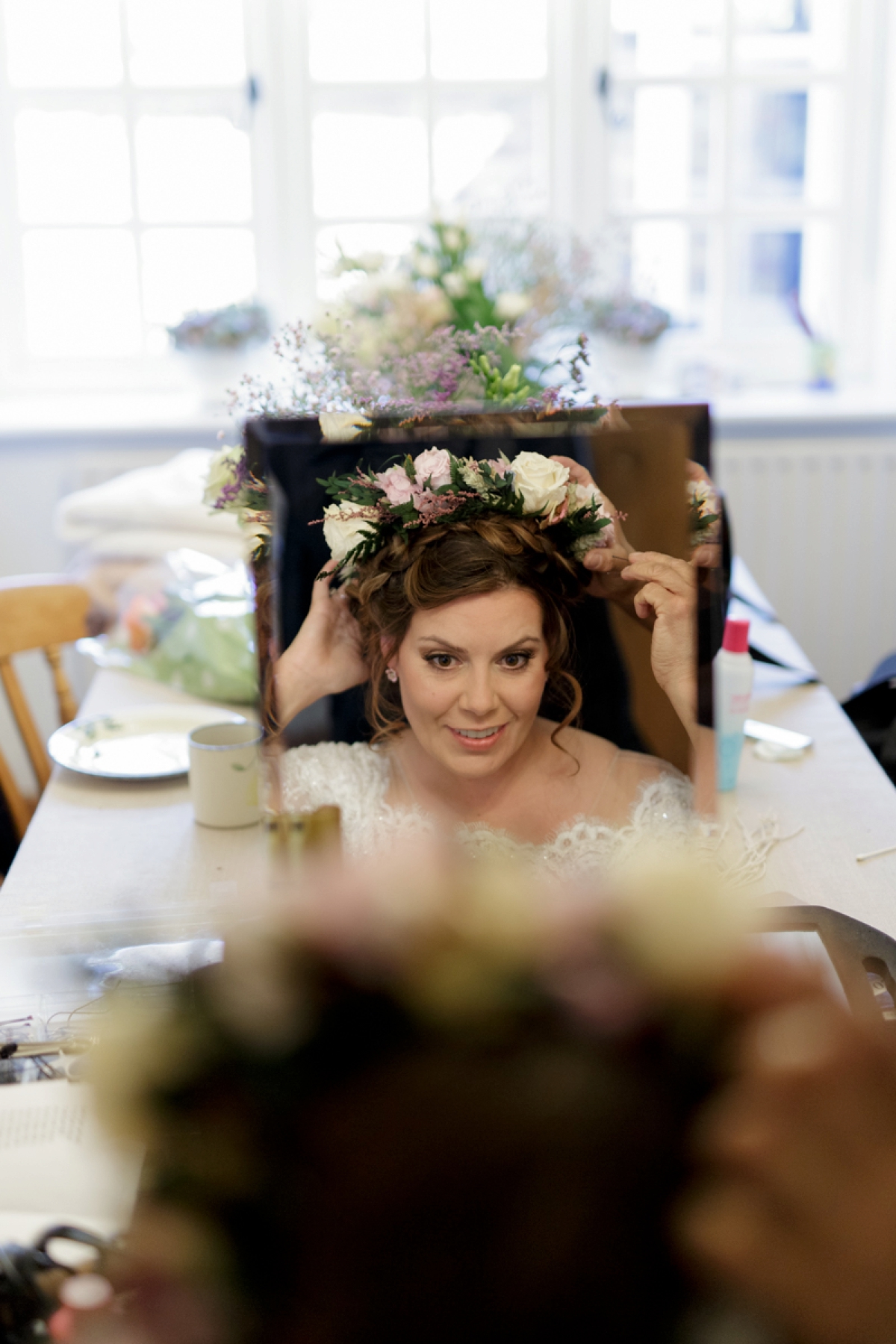 "I wore Mimosa by Commodity as I loved the fresh orange sent. I was using marmalade vodka for my signature cocktail (Amber Haze: Prosecco, marmalade vodka and bitters) and my maid of honour made marmalade favours for the American guests, so the scent just seemed to capture so many elements of the day and it's how I will always remember it."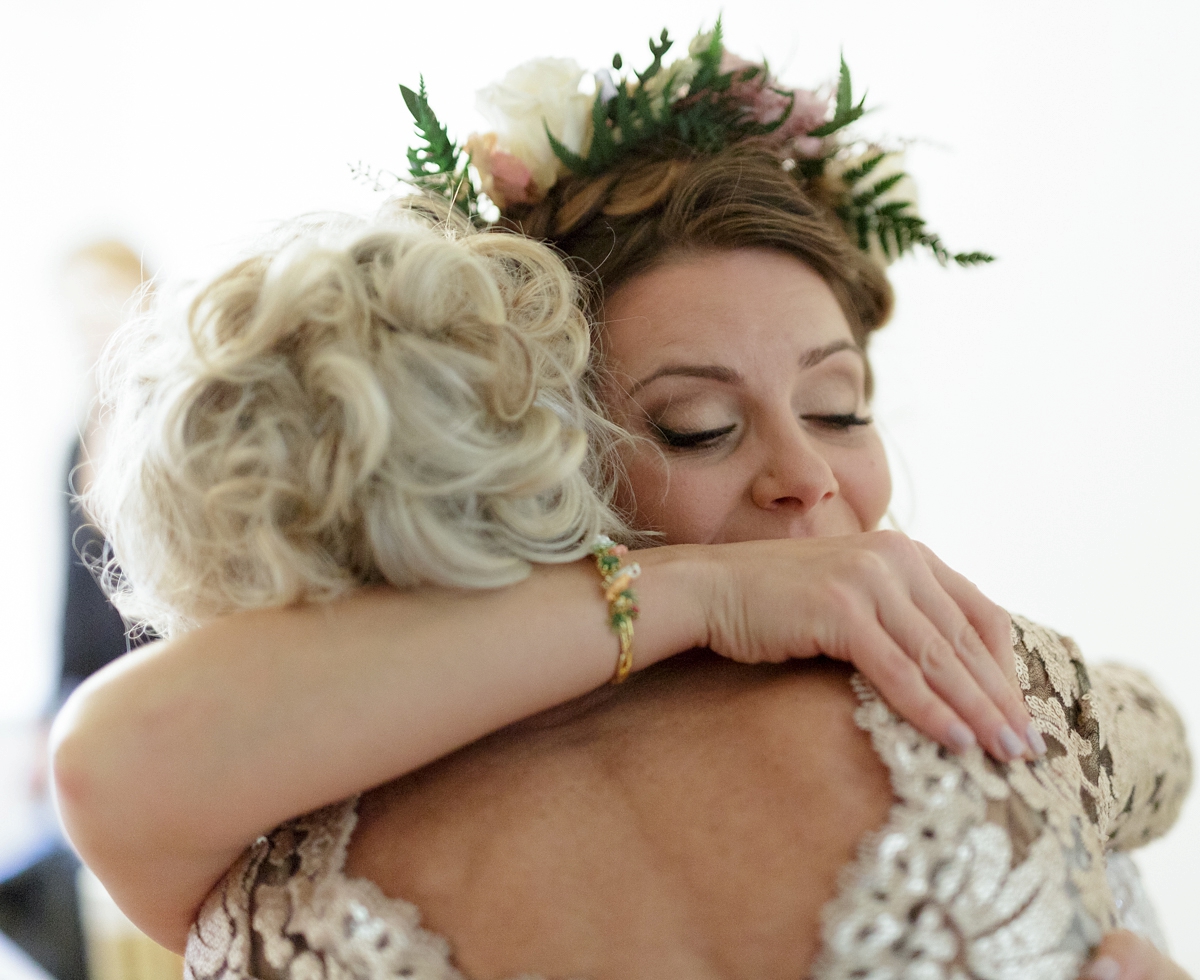 The beautiful maids wore mismatched dresses also from BHLDN and paired with their own shoes and accessories and pretty crowns of preserved baby's breath crowns via 'Noon on the Moon' on Etsy.
"I wanted them all to wear different dresses that complimented each other. I asked them to choose from the site but they were all so sweet about wanting me to have a say, so it really ended up being a joint effort. I didn't actually see them all together in the flesh until we hung them up just before the wedding and they looked incredible together. My maid of honour found out she was pregnant four months before the wedding and so we did have a moment of panic that we would have to rethink her form fitting dress, but it turned out to actually look even more beautiful with a bump!"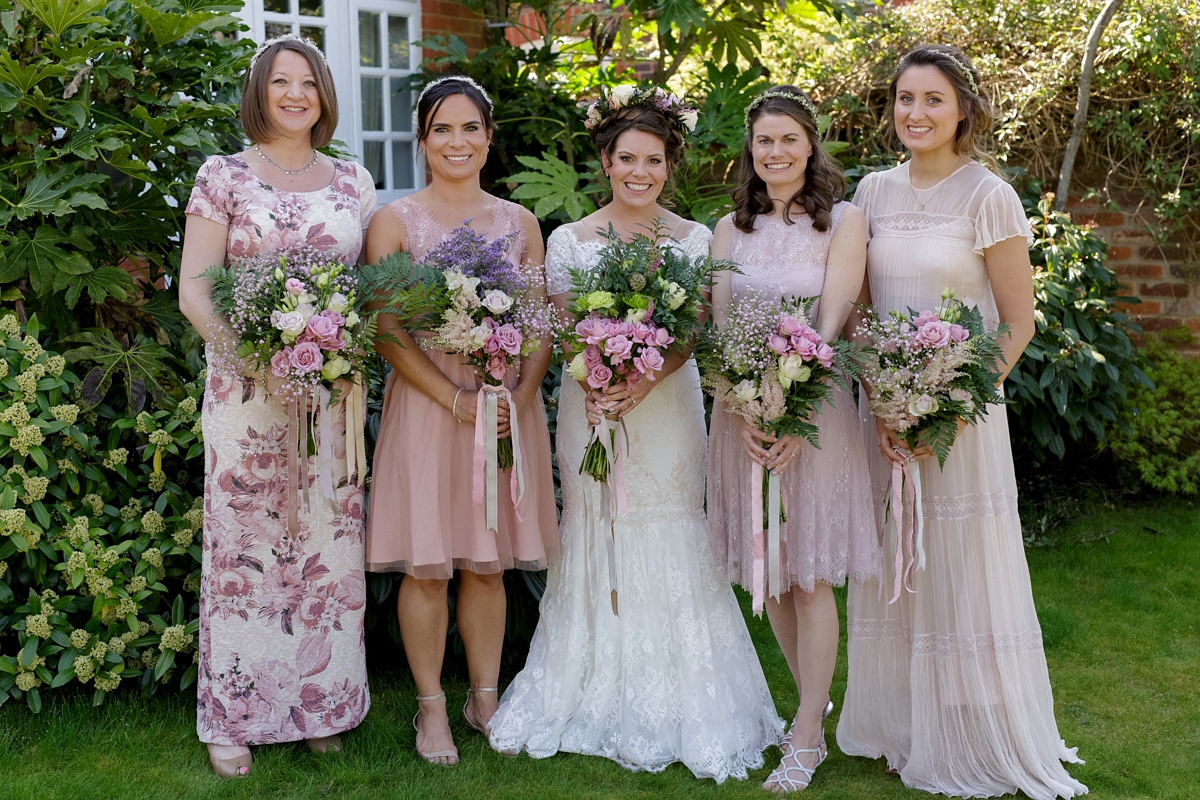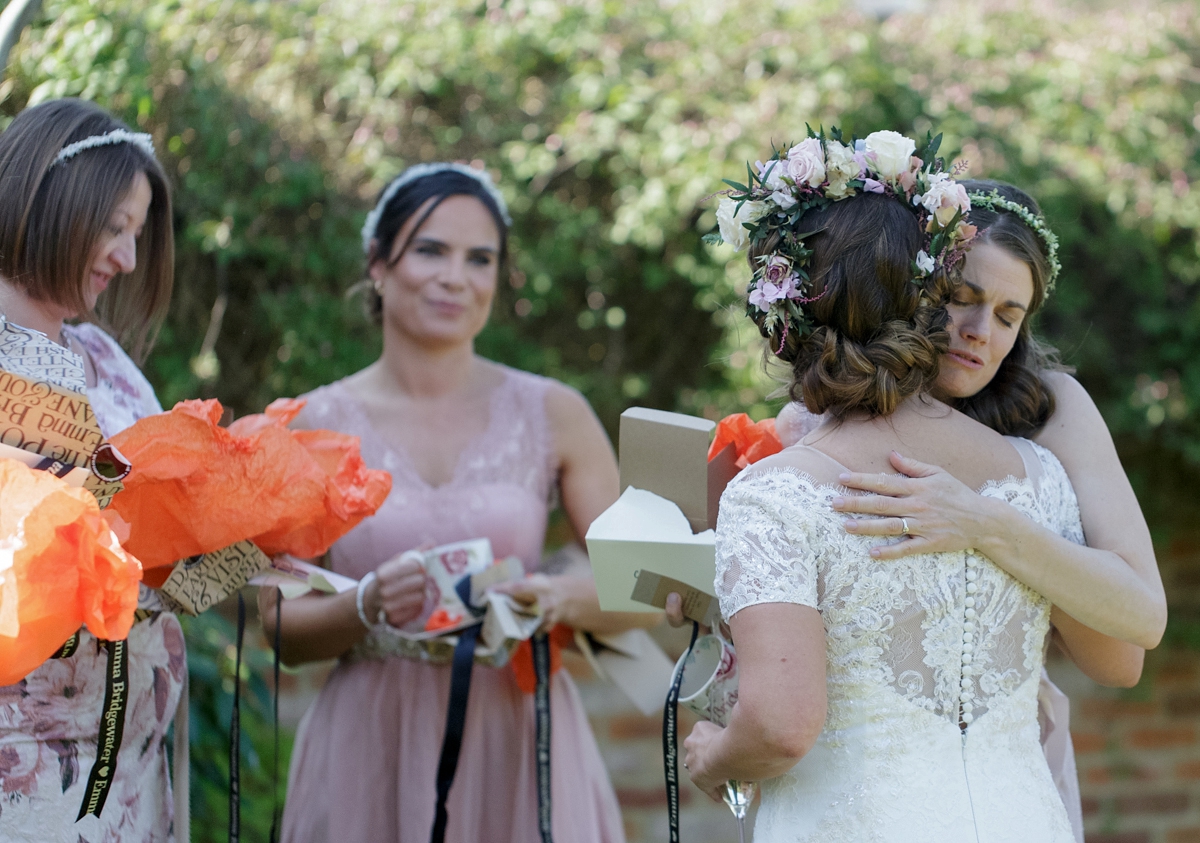 The stunning florals, including the table arrangements and bouquets, were prepared by Amber's step mum.
"The pictures I loved were of huge wild hand tied bouquets and I thought, how hard can that be?! Of course, the answer is a lot harder than it looks, but Sylvia did an amazing job and it was lovely to have so many elements of the day that were hand crafted as it just felt so personal. We picked the flowers together at a local garden centre. I know nothing about flowers so I just walked around randomly picking up things I liked; I wanted a lot of greenery and for it to be big and we added some bolder pinks for a little colour."

"There were a lot of traditions we did away with, but having my Dad walk me down the aisle was very important to me and not one that I would have ever forgone, in spite of the fact it's a little archaic. It was a really special moment and we managed to not trip over, which all those close to us knew was a very real possibility! I chose Nina Simone's 'Feeling Good' – the words summed up the moment perfectly and I loved the sense of drama."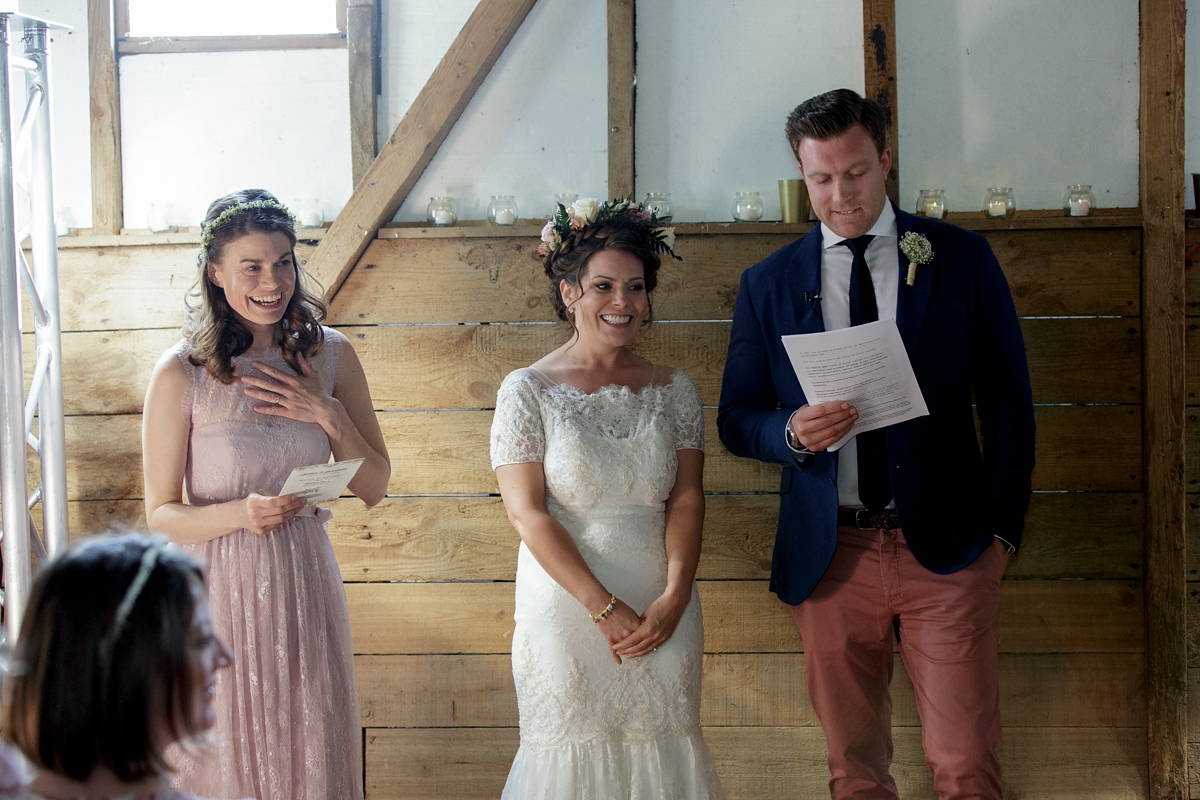 "We got legally married in California before the wedding which meant we had the freedom on the day to make the ceremony whatever we wanted it to be. My brother and I had this long running joke about him officiating my wedding ever since Joey did it in Friends. When Jonathan discovered how much hiring an officiant was he put his skepticism aside and agreed to Andy doing it. I gave him some guidelines and he wrote it himself, it was very personal to us, sweet and funny. My favourite moments were when he said tongue in cheek 'By the power vested in me' and everybody laughed and 'Jonathan, you may kiss my sister!'"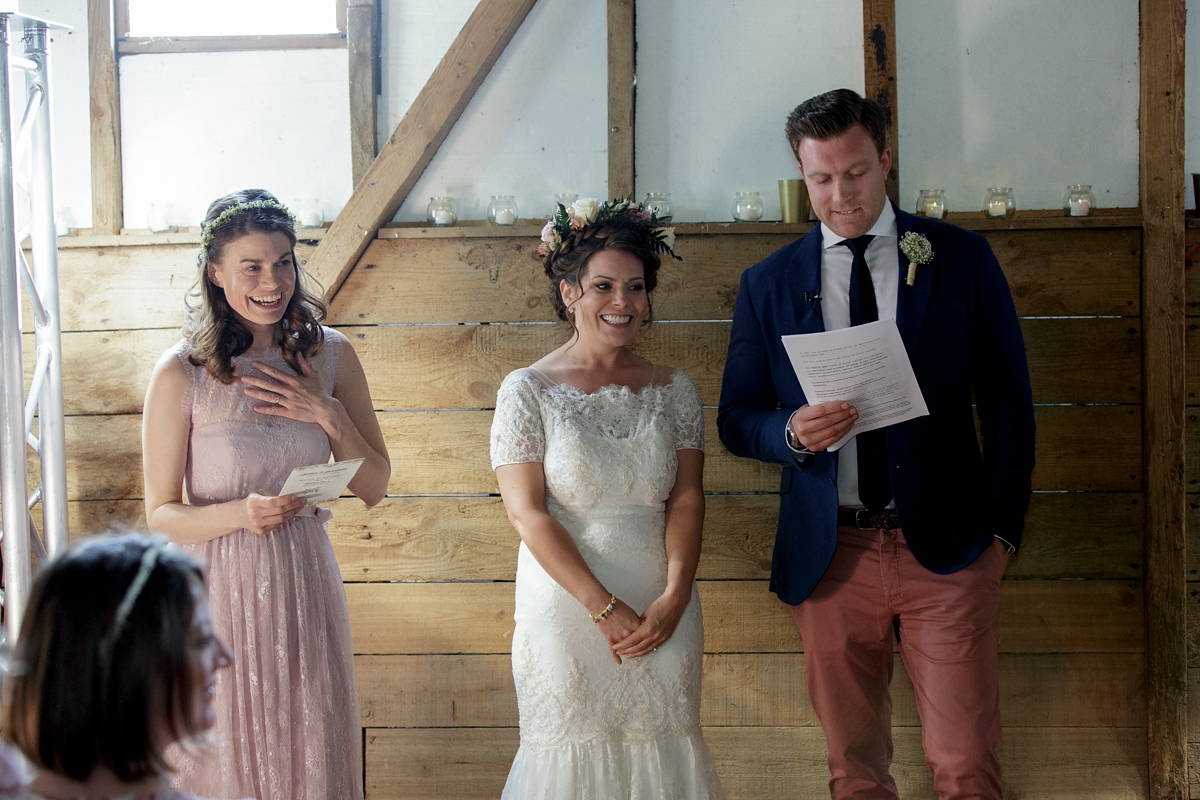 "My sister Clare chose and read 'To Love is Not to Possess' by James Kavanaugh:
To love is not to possess,
To own or imprison,
Nor to lose one's self in another.
Love is to join and separate,
To walk alone and together,
To find a laughing freedom
That lonely isolation does not permit.
It is finally to be able
To be who we really are
No longer clinging in childish dependency
Nor docilely living separate lives in silence,
It is to be perfectly one's self
And perfectly joined in permanent commitment To another–and to one's inner self.
Love only endures when it moves like waves, Receding and returning gently or passionately, Or moving lovingly like the tide
In the moon's own predictable harmony, Because finally, despite a child's scars
Or an adult's deepest wounds,
They are openly free to be
Who they really are–and always secretly were, In the very core of their being
Where true and lasting love can alone abide.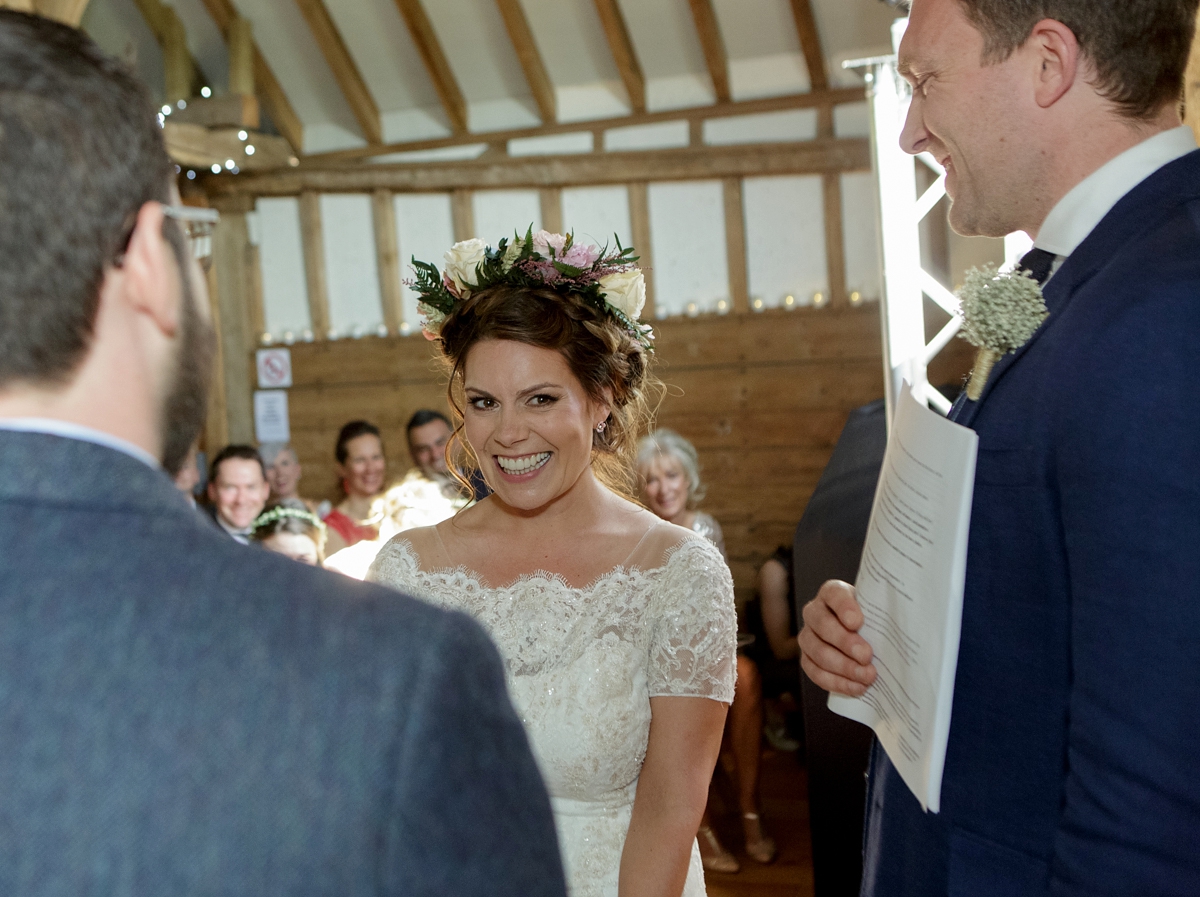 JoJo, Amber's parents' dog, was the utterly adorable ring bearer. The tailors at Room Ten made him a bandana in matching tweed with a little pocket for the rings.
"I knew I wanted something vintage to match my engagement ring. I found my wedding ring online, in an antique store in Georgia, the same town that Jonathan's other grandmother had lived. It also happened to be in my size so it just felt like fate. Jonathan wanted something a little quirky and considered all manner of weird and wonderful things before finding a store 'Hawkins Handicrafts' on Etsy that made rings from old Jack Daniels barrels. It's perfect and so much more him than a traditional one."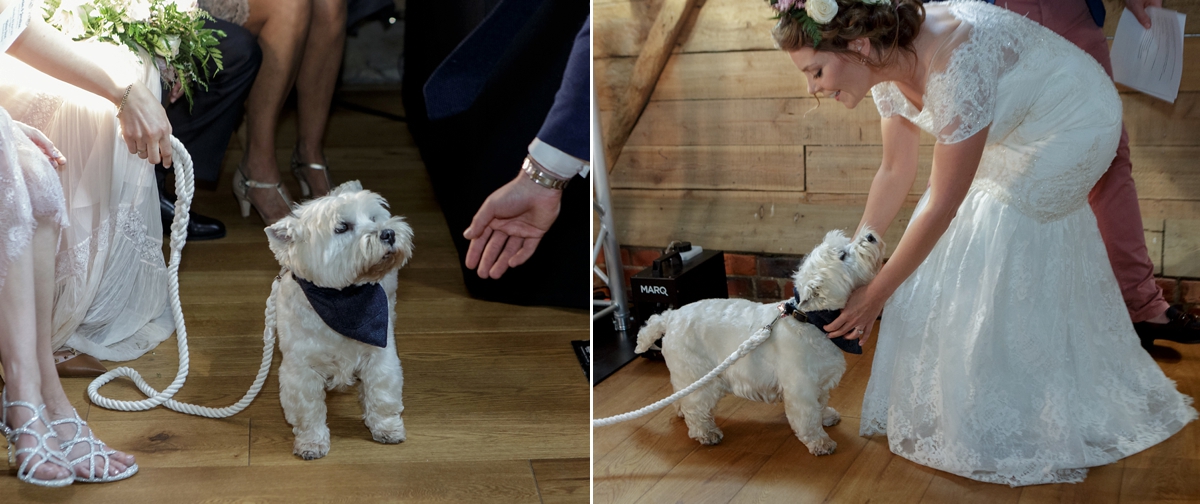 Jonathan looked dapper in a tailored three-piece herringbone blue suit, shirt and belt from Room Ten, a floral tie and pocket square from Poser Club and brogues from Loake. Amber's dad also had a suit made from Room Ten – and the groom chose to buck against one major tradition.
"Ever the non traditionalist Jonathan opted not to have a best man or groomsmen, although I asked three of his friends and his sister to give speeches so they weren't all about me – and my brother who also acted as officiant was able to stand by his side in the wait for me to walk up the aisle."
"At the time of getting married we were both both product managers based in Silicon Valley, California. Since then we've moved to Seattle where Jonathan works for Amazon and I'm following my dreams of working in the wedding industry. Planning my own wedding opened up my eyes to how fulfilling my life would be to take the project management and product launch skills I picked up in my corporate career and put them towards something more creative. Scary, but exciting!"
"We both started working for the same company around the same time – Jonathan in the Californian office and me in the London office. He would frequently travel to London for work and, as he put it in his wedding speech, we started spending time in my natural habitat – the pub! It all went from there. We had a long distance relationship for 2 years and then I got a transfer to California. We lived together for just over a year before we got engaged in June 2016."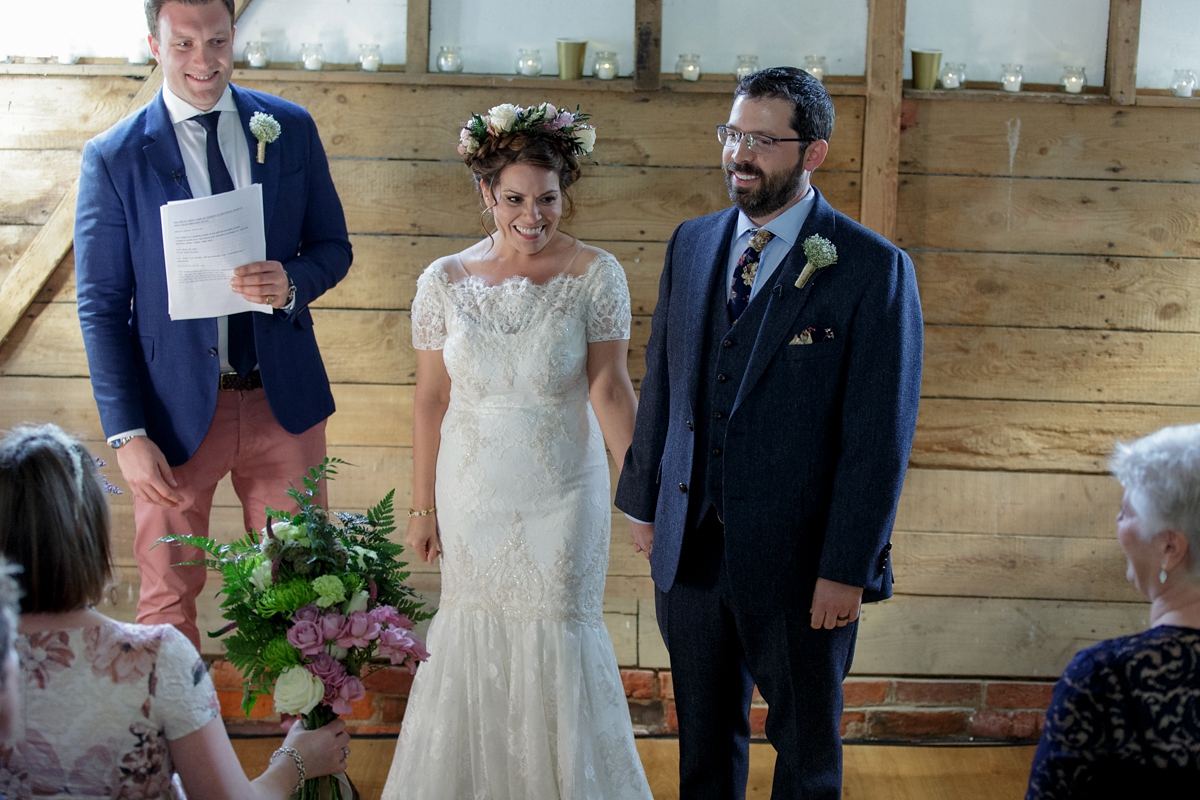 "We were on holiday in Iceland and had taken a trip to the Heimaey Islands. One afternoon we went for a hike to a cliff top famous for puffin sightings and I was admiring the view when he started saying something about it being strange that we were on an island when our first trip together had been to an island (Jersey) and I turned around ready to ask what on earth he was talking about to see him on one knee! He tells me my initial reaction was 'what the f*** are you doing?!' although it's all such a blur I don't remember."
"He had a ring that belonged to his grandmother, apparently he had had it for months after asking his Mum for it on his last trip home. It was perfect! I was blown away and over the moon. Whilst I knew we would spend our lives together I didn't see marriage being on the cards, as he had always been quite anti the concept! I was prepared to accept it wouldn't happen because I loved him more than I loved the idea of marriage (just!) so words can't describe how taken aback and downright happy I was to know not only that he was prepared to take that step, but that he had also put so much thought into the proposal."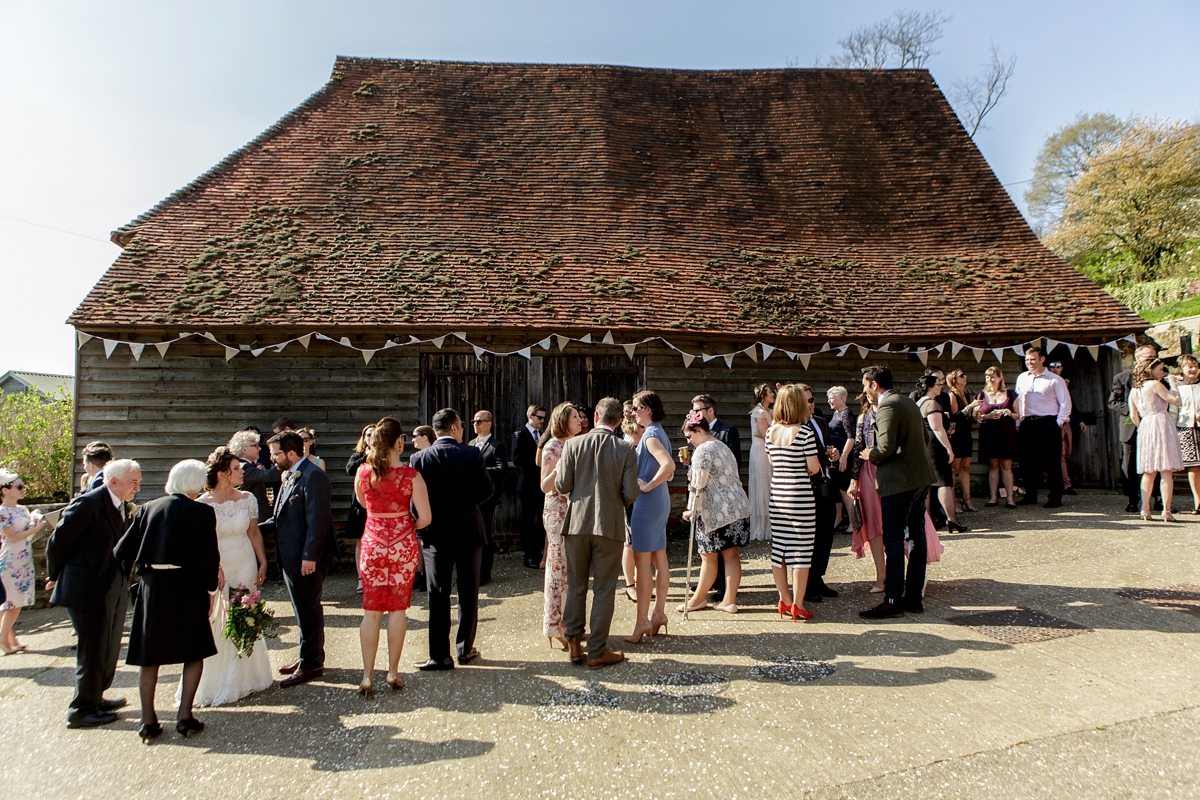 The decor and DIY was the part of the planning that Amber enjoyed the most – and as you can see in these images her efforts are evident.
"When I was a kid I would spend all my free time making houses for Sylvanians out of old boxes and scraps of wall paper and carpet, or painting and drawing. As I got older I lost sight of those passions and rediscovering them was one of the unexpected joys of getting engaged."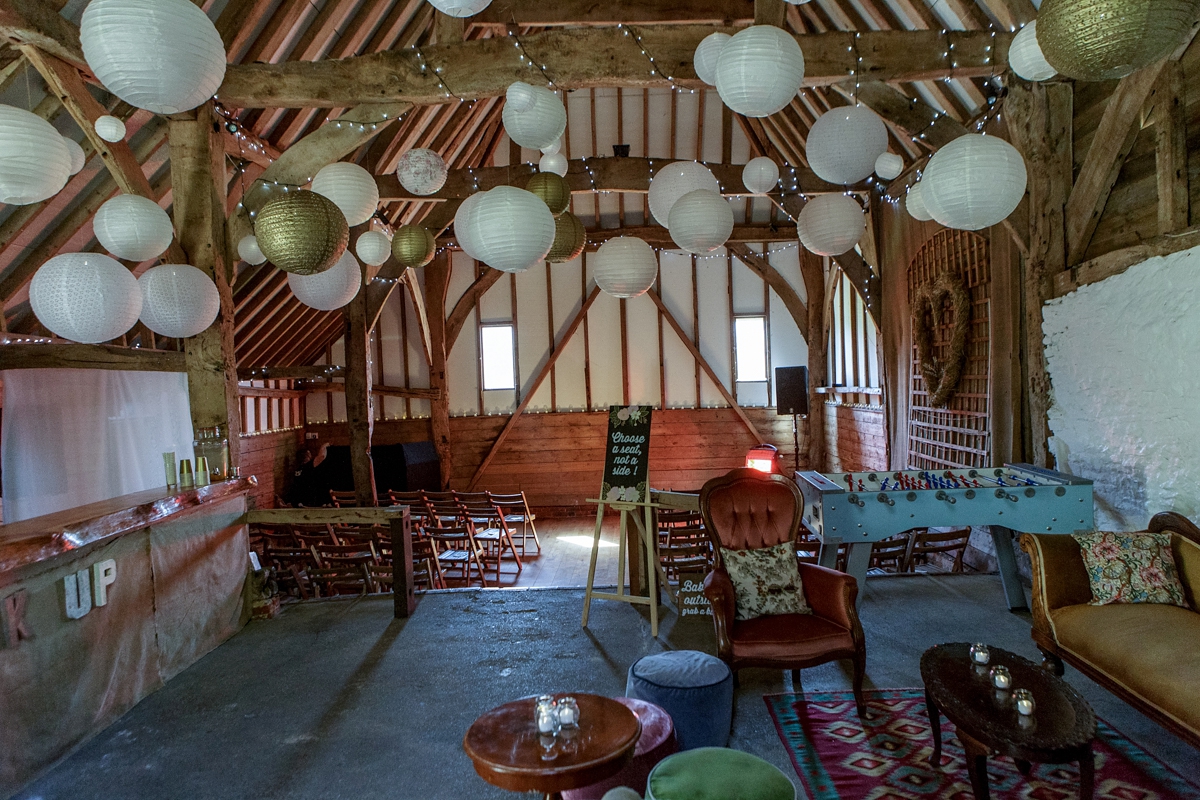 "We arranged an eclectic range of vintage furniture from the Classic Crockery Company as part of the decor, which fitted in with the relaxed vibe of the day. There was also a music theme to the decor. I spelt out 'Don't Look Any Further' which is 'our song' on the Chicken Shed wall with gold balloons and did the same at our Candy Bar with 'Sweets for My Sweet'. I handpainted an 'I Bet That You Look Good On The Dancefloor' sign and a 'Baby, it's Cold Outside…' one for our blanket box. I covered some of the venue's trestle tables with an assortment of vintage lace tablecloths, filled both buildings with tealights and my amazing sister and brother in law hung assorted paper lanterns from the ceiling."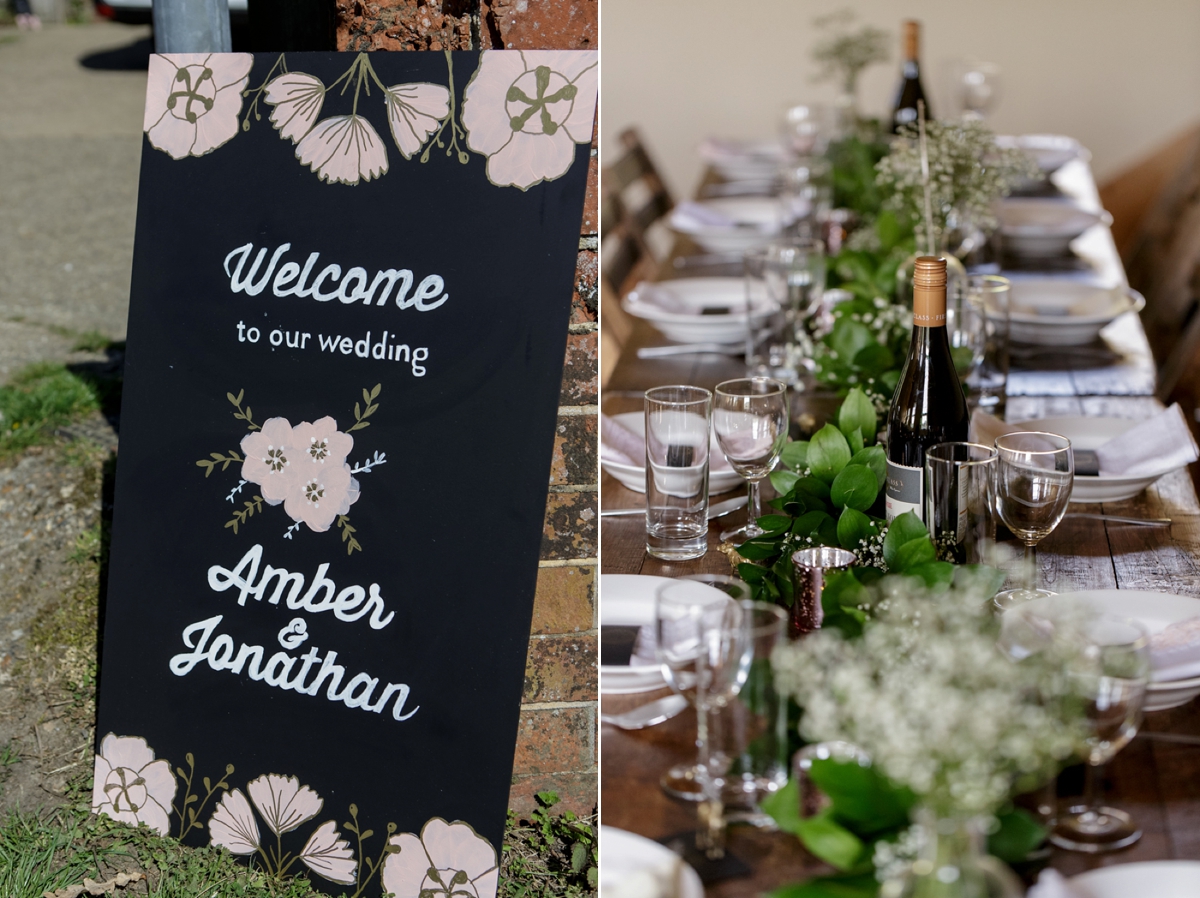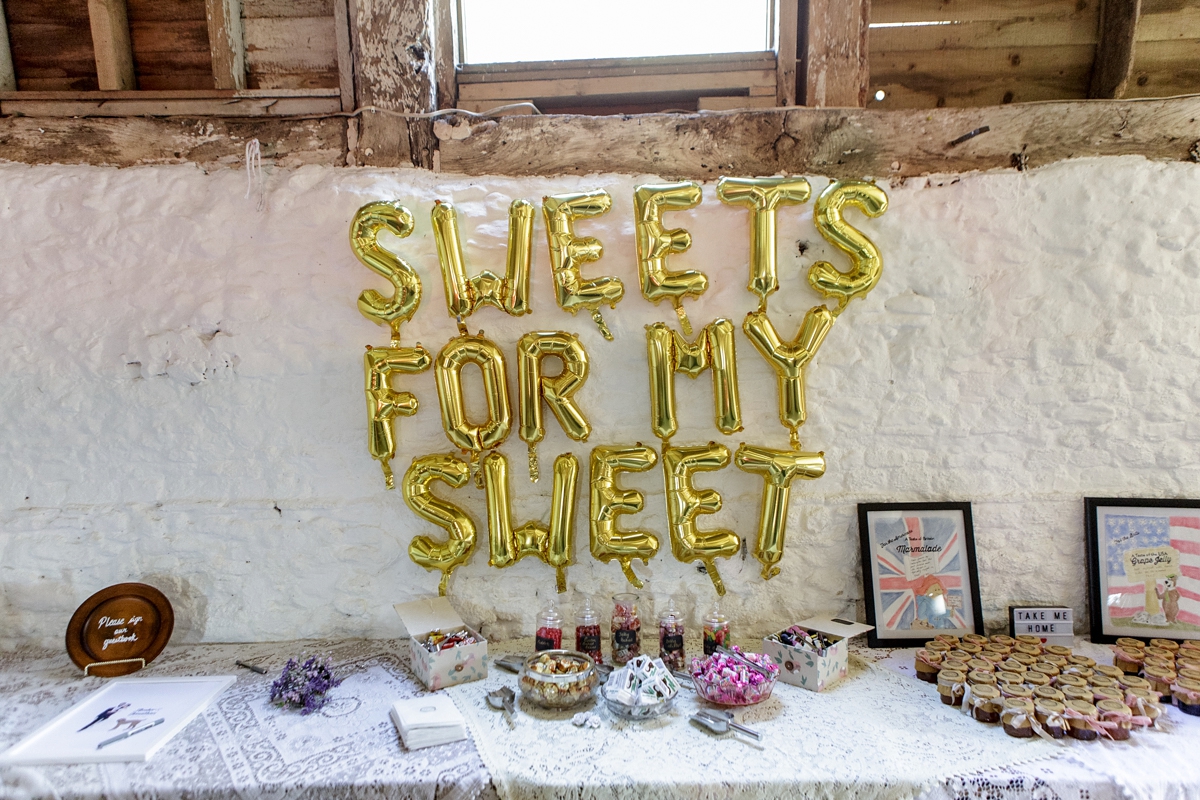 "The wedding favours were marmalade for the American guests and grape jelly for the Brits, made by my maid of honour and her dad, both preserve aficionados!"

The bride and groom served a delicious curry feast for their guests by local street food vendor Howard of Legend of Curry.
"We'd never been to a wedding that served curry before,  so it felt suitably unique. Howard brought over samples for us when we were visiting at Christmas and they were incredible. On the day he set up his gazebo and we chose a Chicken Tikka Masala, Lamba Kofta and Red Lentil Curry to cater for different tastebuds, served with pilau rice and gluten free pakoras and there was more than enough for seconds and thirds! In the evening we hired Simmons Crêperie who brought their vintage van and cooked up the most delicious crepes and galettes outside the main barn."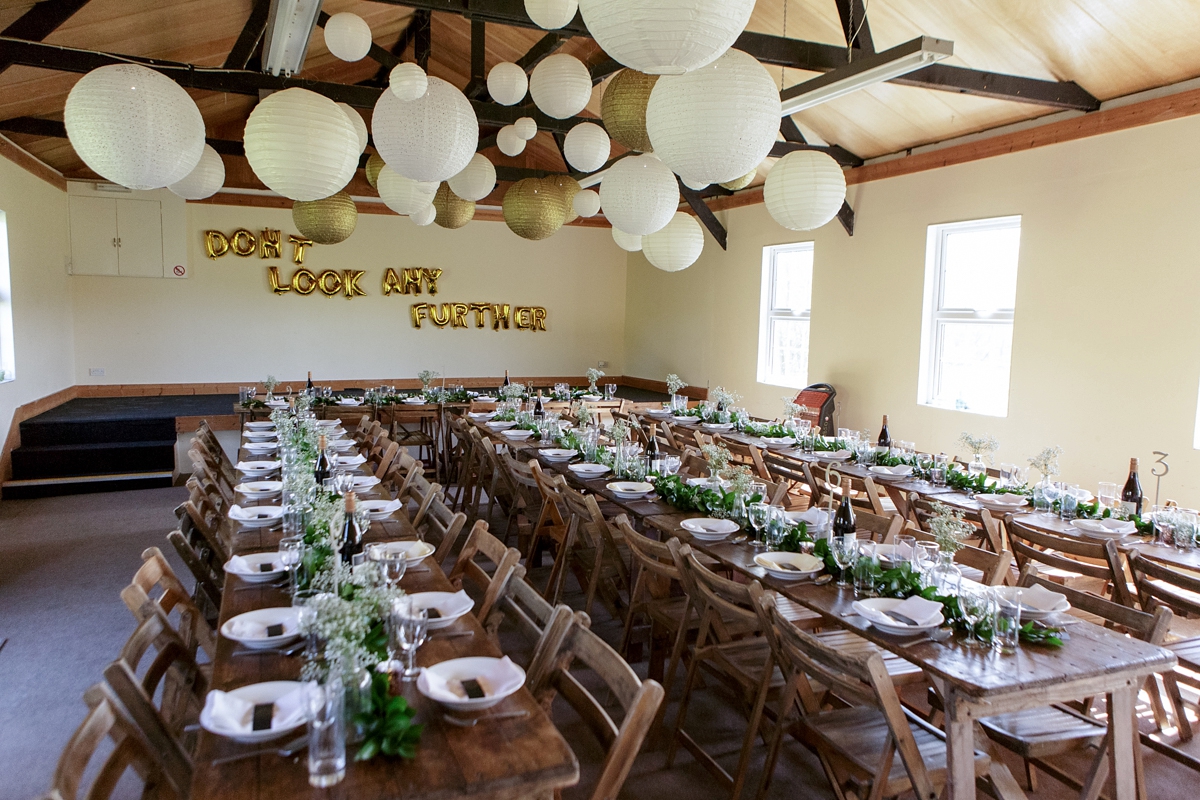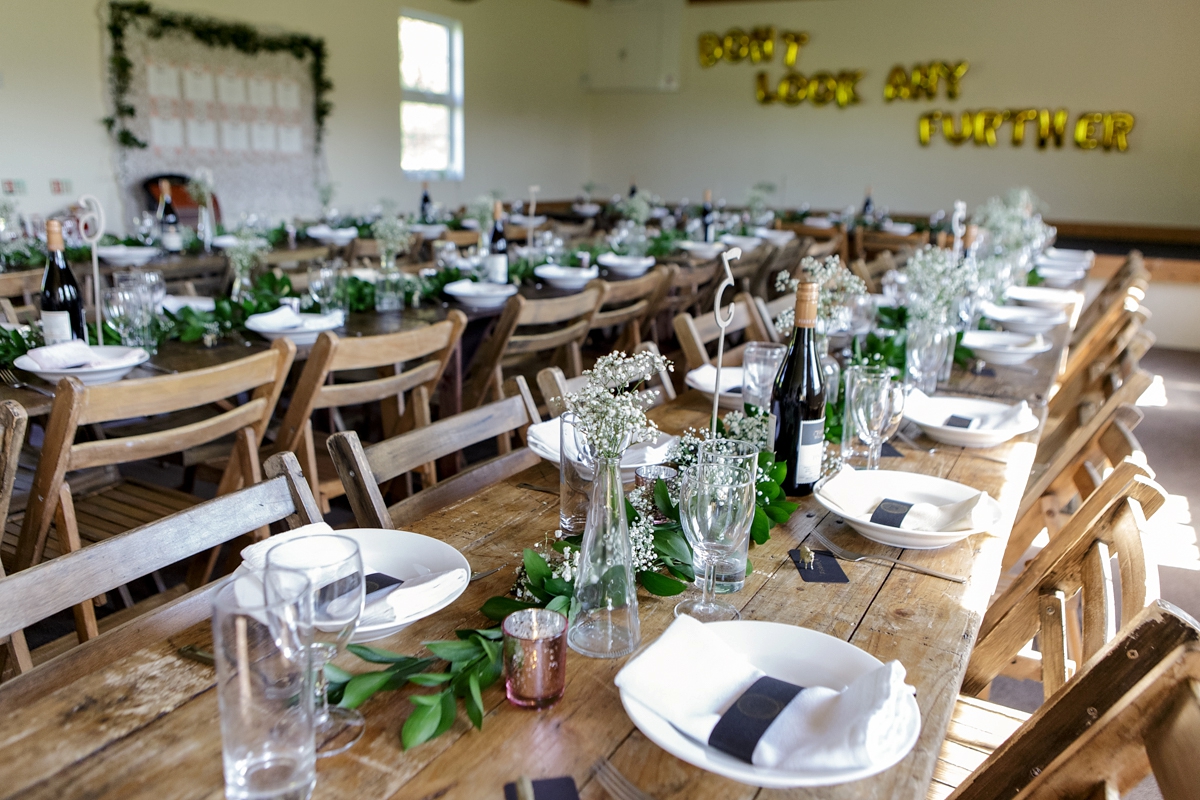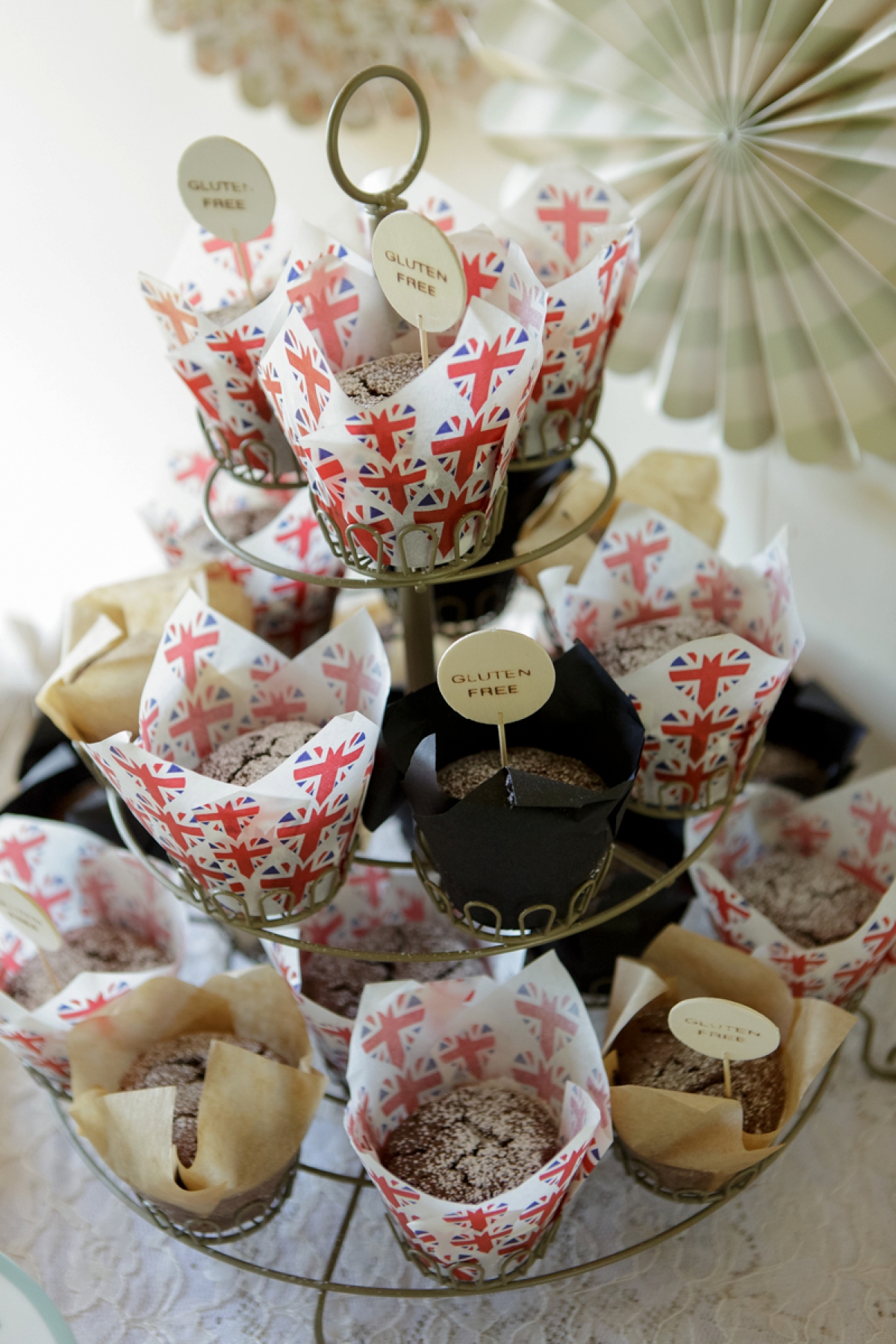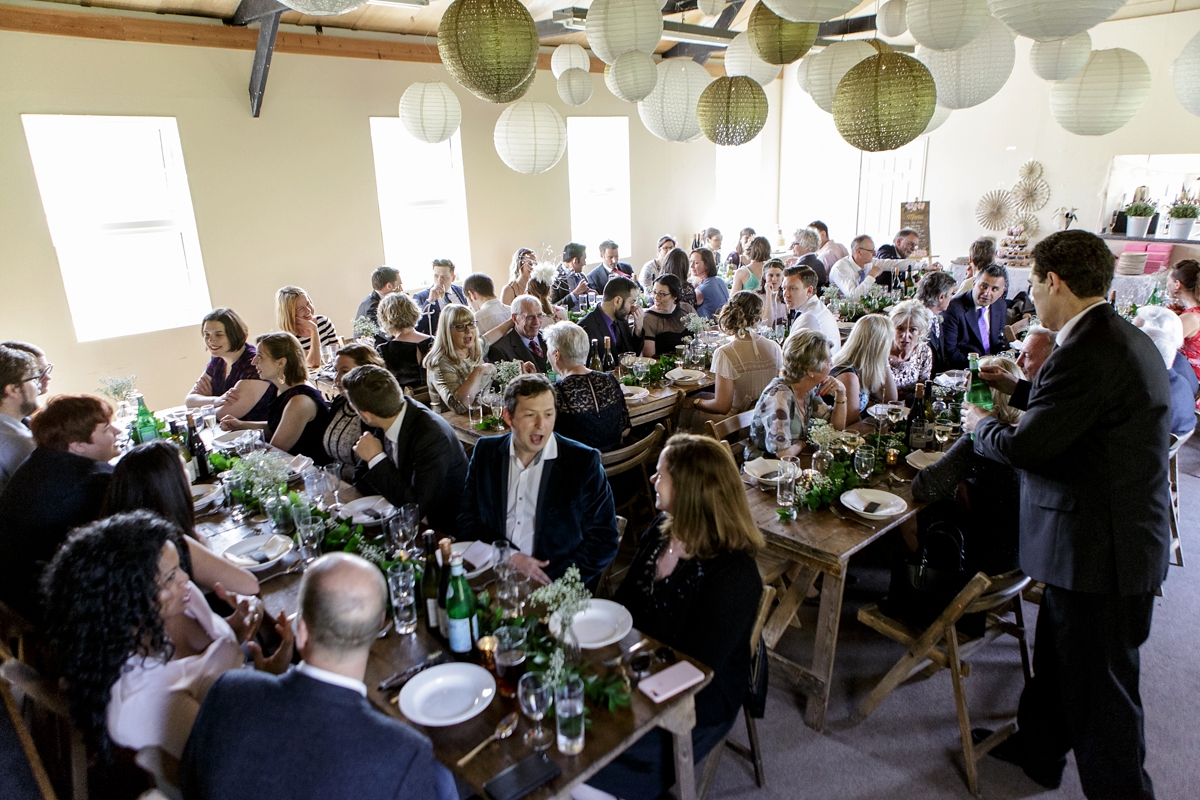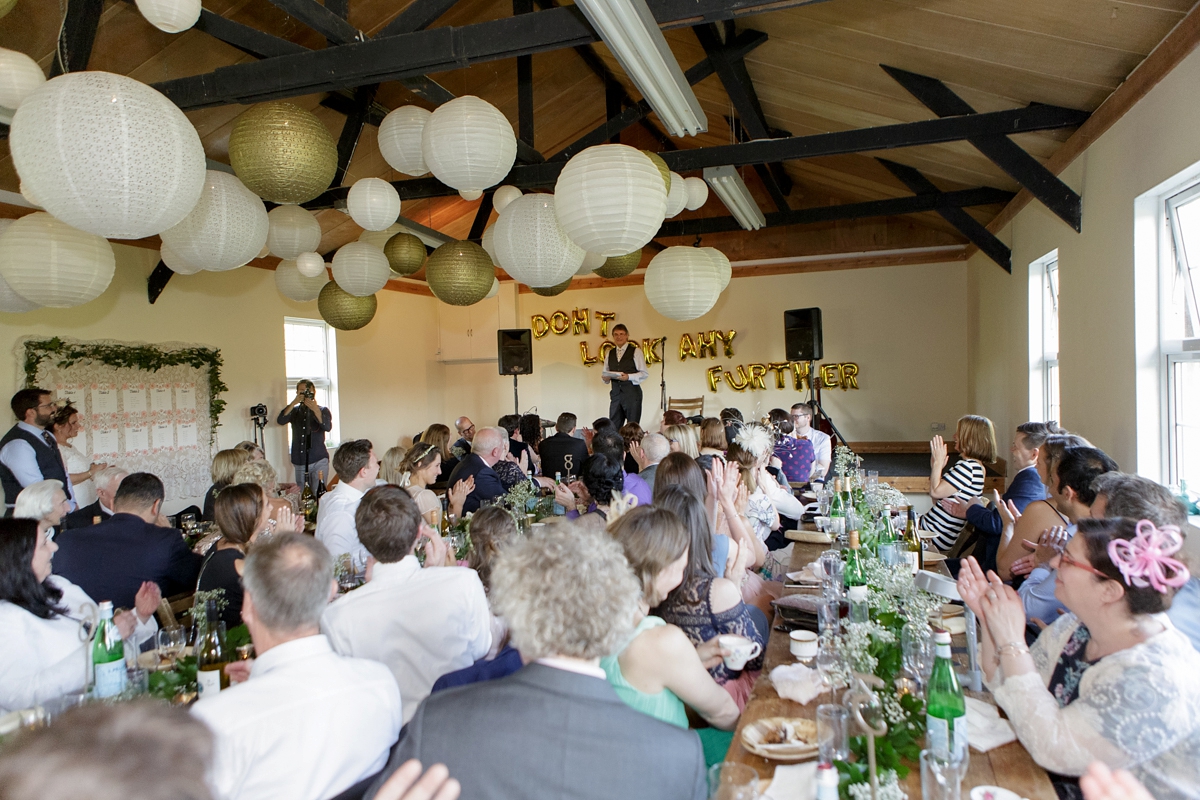 Although sorting the wedding stationery was very nearly the end of their engagement as it was tricky to agree on what they both wanted, the couple found their stationer via Etsy ('SimplyPressedPS') who made simple but beautiful letterpress invites and created a website for all the details and RSVP's. Amber loved the invites so much that they became a theme for the day and the DIY items.
"I used the same font and floral design on our signage, menu, and table plan. I also purchased a stamp from Etsy that I used on the confetti bags, favours, place settings, cake boxes and match boxes – it's fair to say I went a little stamp crazy. What was lovely was that guests really did notice and appreciated all the little details."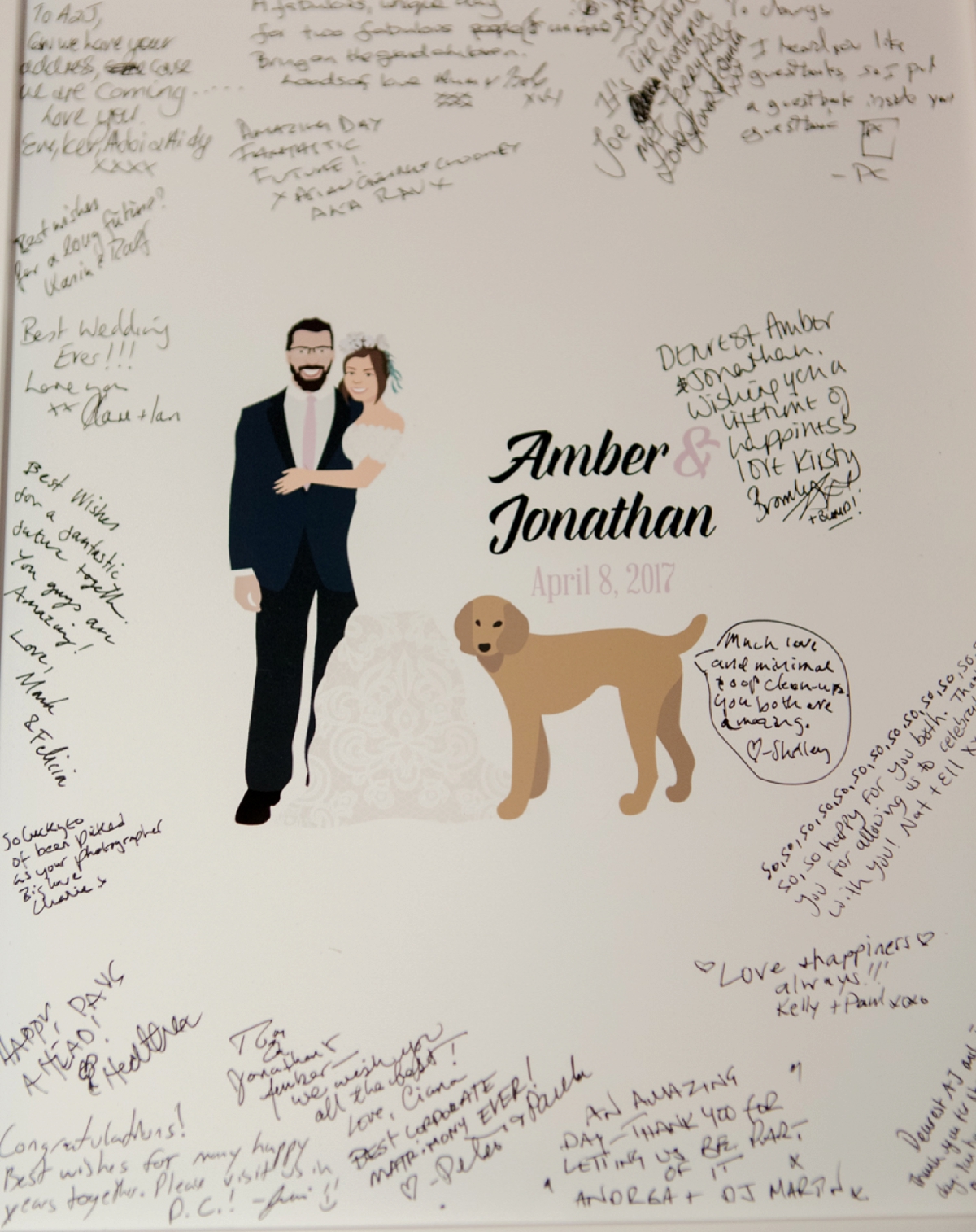 The couple had an engagement shoot with their photographer, Charlie of Charlie Davies Wedding Photography and were highly impressed with the resulting images, as well as his singing skills!
"I stumbled across Charlie's site when looking for photographers in Farnham. I immediately loved the evocative quality of his pictures, how beautifully he captures the landscape in his shots as well as the people, and all the special little moments. I also loved that he stays until the end to capture all the drunken fun, so many other photographers I looked at left shortly after the first dance."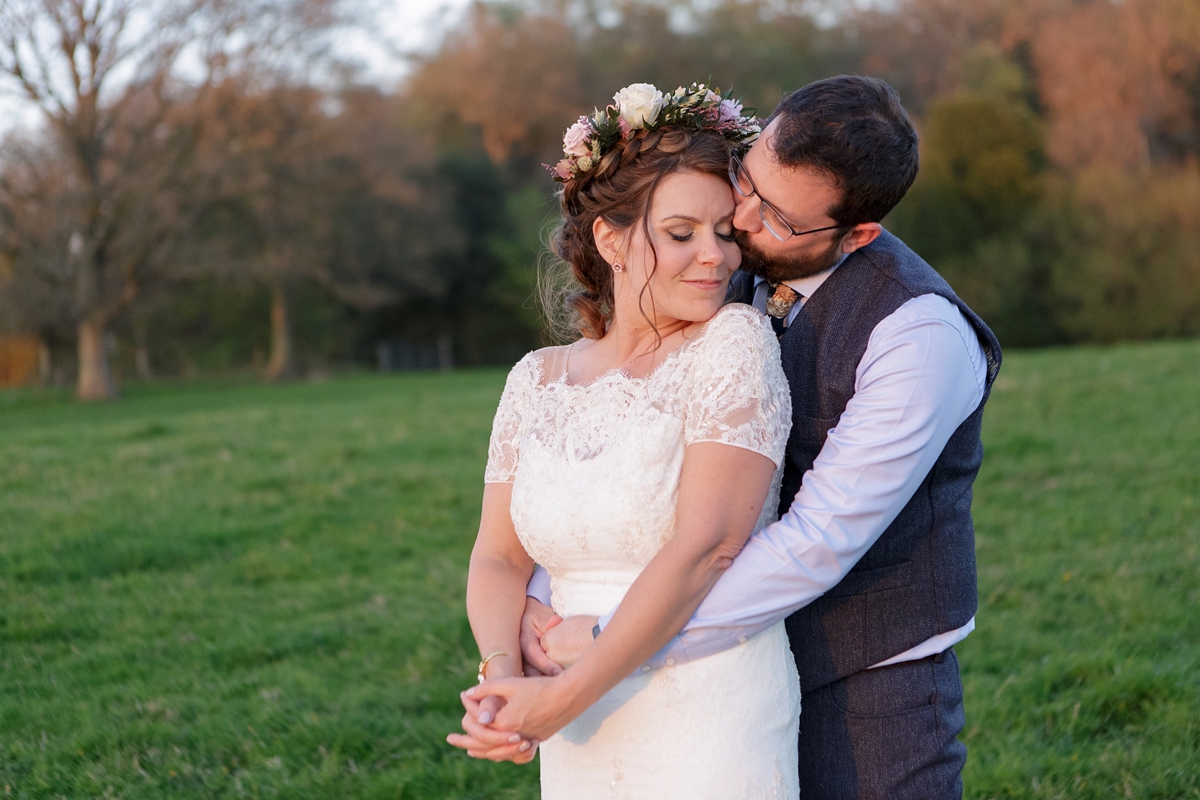 "I hear so many people saying about their photographer 'we didn't even notice them' and whilst I get what they mean, I can't say the same of Charlie! Whilst he was definitely unobtrusive whilst taking the candid shots and perfectly captured the natural moments, he also got up and sang an amazing and completely unrehearsed version of U2's 'One Love' with our wedding singer, led everybody in an accapella version of Oasis' 'Don't Look Back In Anger' when the power went out at the end of night and gave us a lift to the hotel after a mix up with taxis. He's just a total star and I can't recommend him highly enough."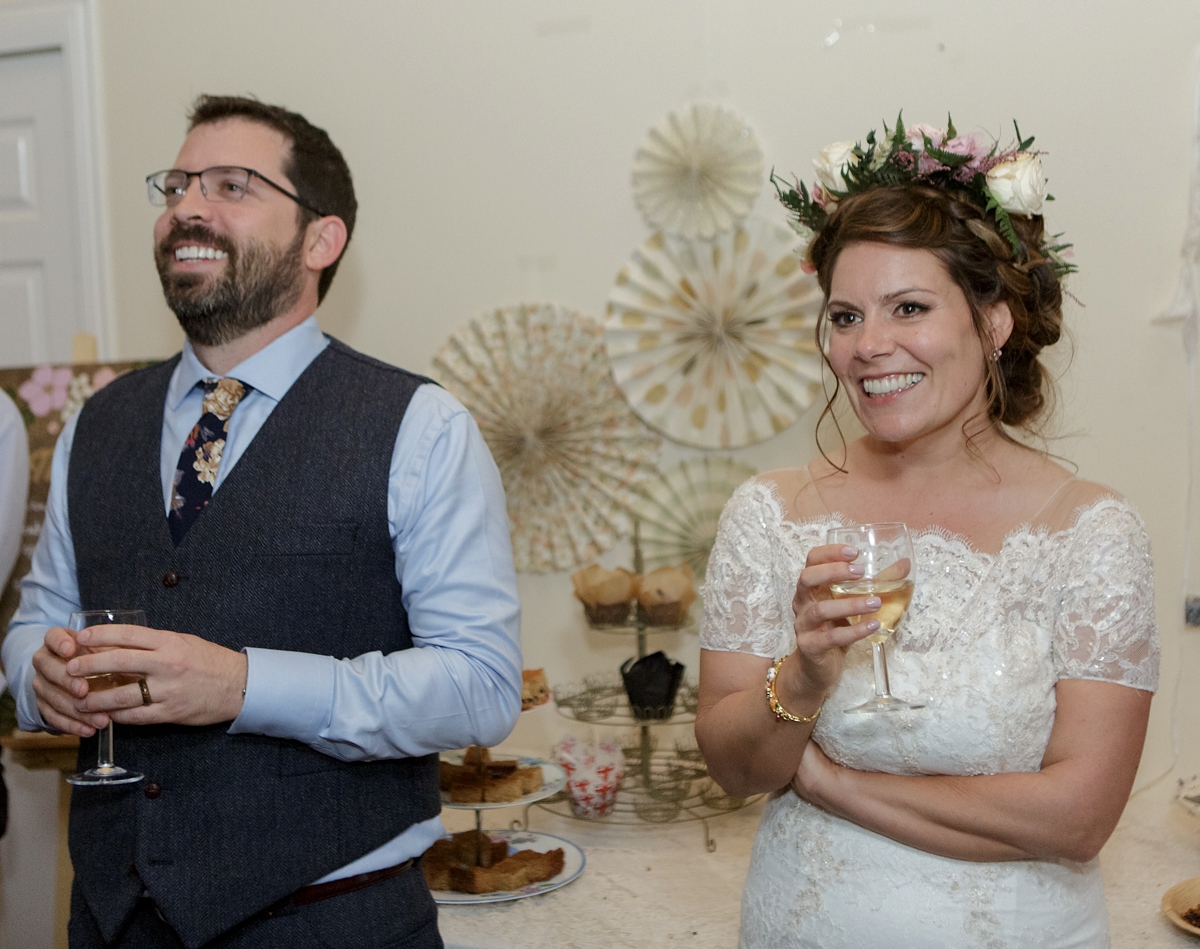 "My favourite moment was probably right after my speech. I'd written a rap parody of 'The Fresh Prince of Bel Air' theme tune and was really worried about getting too drunk on champagne and messing it up so I was quite reserved up until that point! Afterwards I changed into my evening dress, got started on the cocktails and danced all night with all my favourite people in the entire world. It truly was the best party ever."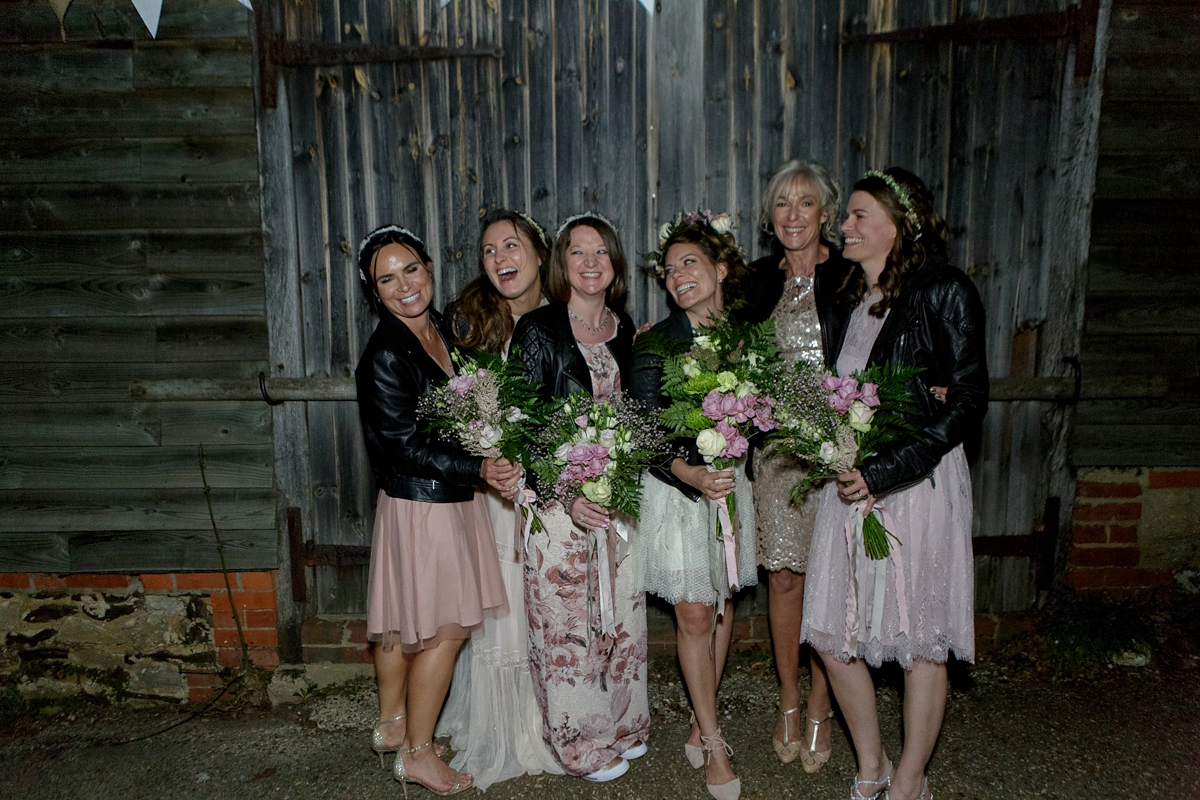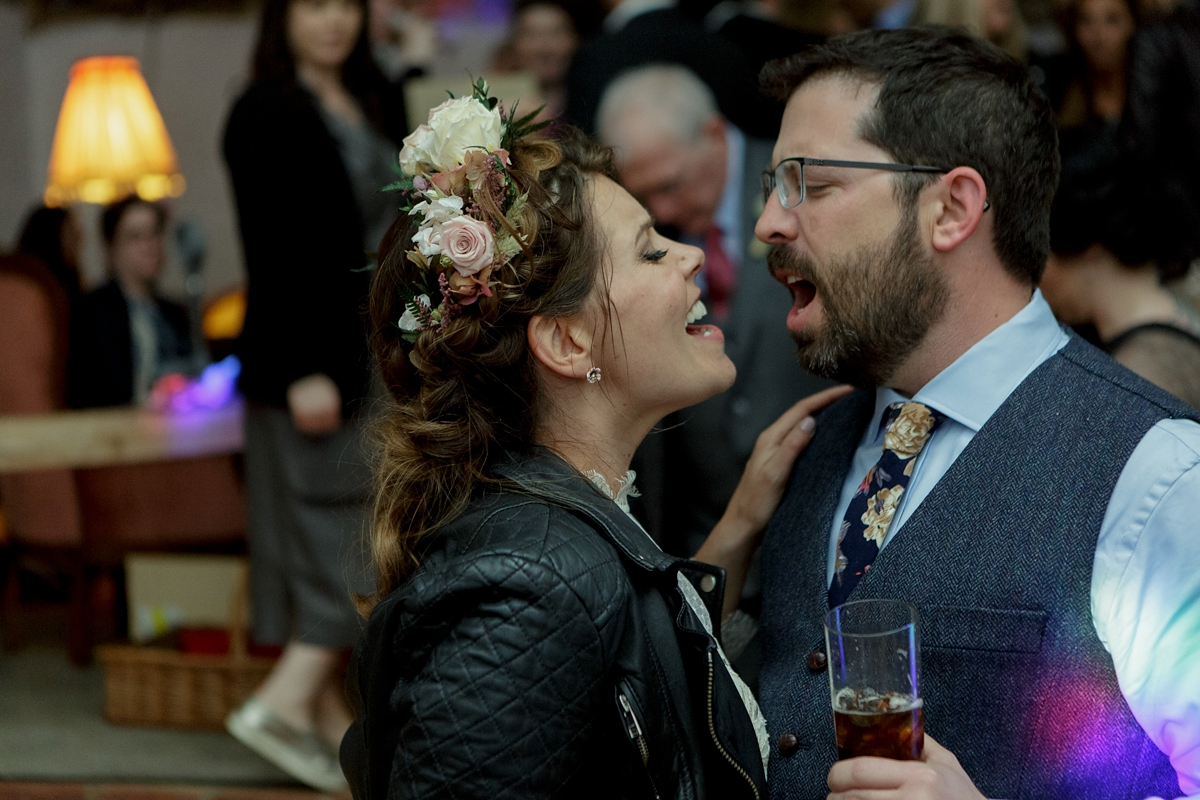 "My old friend Flick played an acoustic set during the meal. I met him when I was 18 and living in Windsor and he played the local pub circuit (he still does), I would drag my friends to every pub in the area to see him play on a weekly basis and always said when I got married I wanted him to play! We hadn't seen each other for 10 years so it was wonderful to catch up and he was as talented as ever."
"After the curry and speeches we had a pub quiz organised by my maid of honour Kirsty and our good friend Elliott and in the evening we had a DJ, a friend of a friend, who played all our favourite tunes and did an awesome job of keeping the dancefloor thumping. We also hired air hockey and table football which got used more than I imagined with some very serious tournaments interspersing the drinks and dancing!"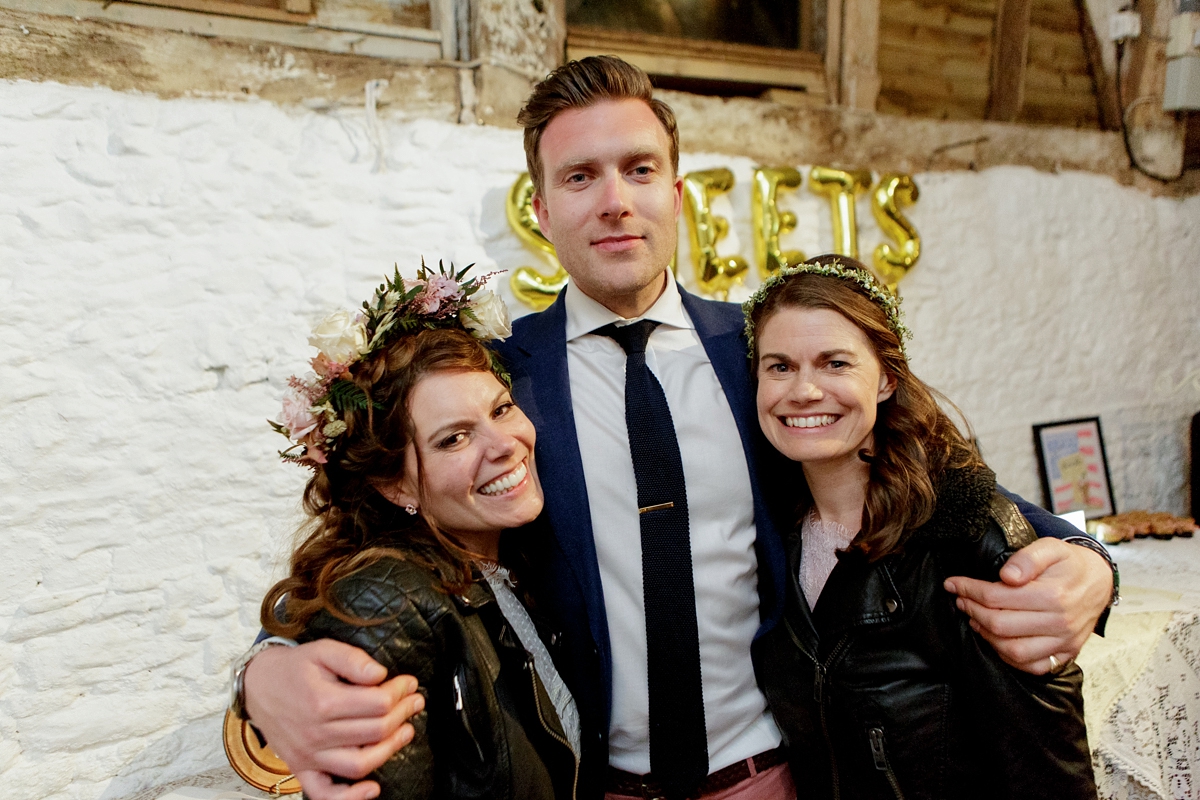 Words of Wedded Wisdom
"Spend time working out what you want your day to be like, rather than thinking about what a wedding should be like. Pick the traditions you like and don't be afraid to dispose of the ones that don't work for you. I thought of the day as a party that I could incorporate some wedding traditions into, rather than the other way around.
Also, don't put pressure on yourself to lose weight, buy the expensive cream, or any of the other things that wedding magazines scream at you. Your fiancé is marrying you so chances are he already thinks you're pretty damn hot, and all those people coming love you exactly as you are. There is so much pressure to look 'the best you've ever looked' but on the day you will, regardless of those extra pounds or laughter lines. There is something about being that happy that makes you look the best you've ever looked. Of course, an amazing make-up artist and photographer and a gorgeous dress may also have something to do with it!"
"I loved the diverse range of weddings featured on Love My Dress and how creative people were. The DIY elements are my favourite part of the features and there are just so many beautiful and stylish ideas. The private Facebook group is also just such a wonderful place. Annabel has created the most supportive group of smart, kind and strong women who genuinely care about each other. The advice, insight and recommendations were invaluable and having a place to share your crazy wedding emotions with people going through the same thing stops you looking quite so loony in the real world!"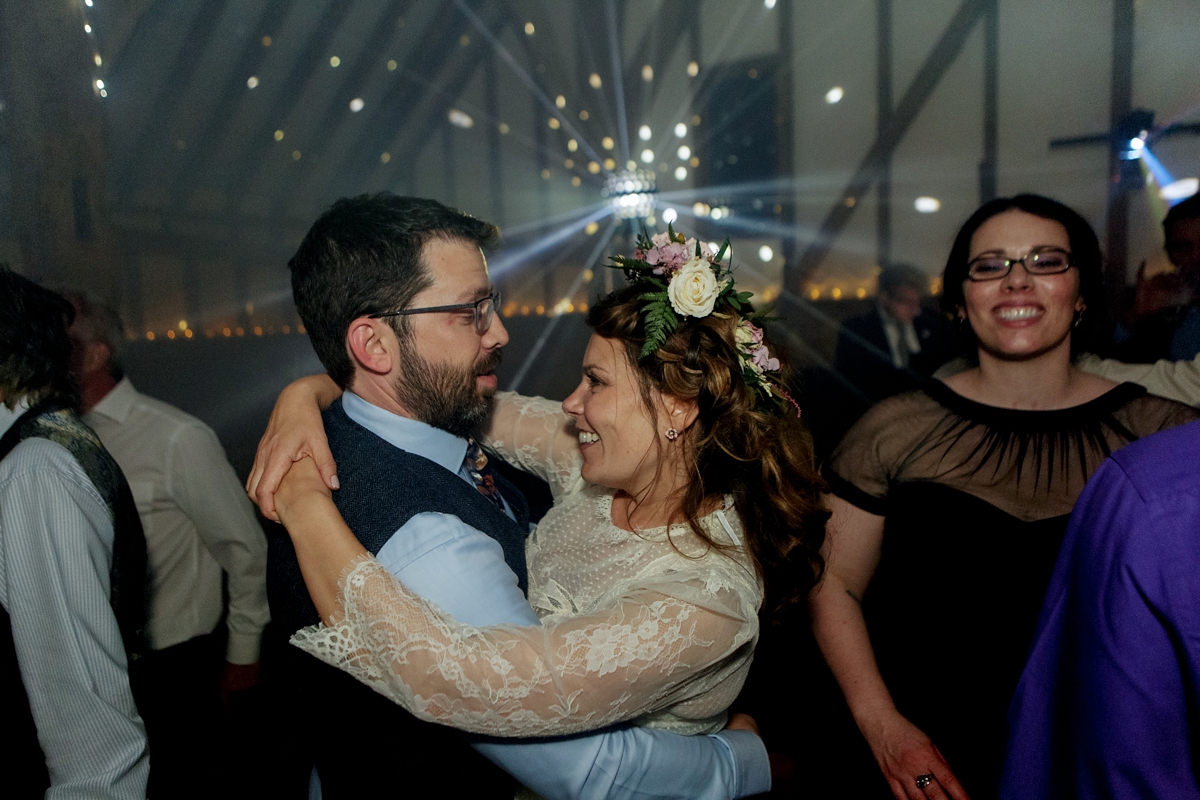 So. Much. Prettiness! A huge thank you to the lovely Amber and Jonathan for sharing your simply gorgeous day. The fun, love and style oozes from every picture by the talented Charlie.
Here's to a productive weekend lovely ones – maybe a spot of wedmin after being inspired by the brilliant DIY touches above?!
Love Jo -xo-