I love the countryside; the views, the quiet and the green. But at heart, I'm a city girl which is why my husband and I chose to have a city centre wedding.
Our city is such an important part of our lives that it would have felt odd to get married anywhere else. And so it was with today's bride and groom, solicitors Dan and Helen, who chose a Birmingham city wedding for their marriage on 27th May 2017.
"It was a very easy decision to have a city wedding. Dan is Birmingham born and bred and Birmingham has been my adopted home since 2009. It's our home and it's a fantastic city. There was no particular style, only that we wanted the details to mean something to us."
Photography by Lisa Carpenter
Dan and Helen were initially a little wary of being the focal point for photographs, but their wonderful photographer helped them to relax and enjoy the process.
"What can we say about the wonderful Lisa Carpenter! Lisa was our perfect photographer. She was fantastic, made us feel at ease and really listened to what we wanted. It was as important to us that Lisa capture all of our guests and all of the things that we couldn't see. I still don't know quite how she managed to be in so many places at once on the day. The photos are absolutely stunning and we would highly recommend her!"Dan and Helen met in 2010 when they were working at the same law firm in Birmingham, and Dan proposed in February 2016 on a weekend away in the Brecon Beacons.
"It was a grey and rainy day but Dan (strongly) suggested that we should complete the four waterfalls walk near Ystadfellte. Three waterfalls later, I remember asking Dan if we really had to go to the fourth waterfall (it was very cold), but he was adamant! Once we had waited for a large group of school children in hi-viz jackets and their teachers to walk behind the fourth waterfall, it was our turn."
"Dan stopped under the waterfall, pulled out a box (with a beautiful trilogy ring in it) from his pocket and asked me to marry him. I said yes (obviously)! We got married 15 months later."
Being 5′ 11′, Helen found dress shopping a little tricky, but she struck gold with (sadly now closed!) Quello in Kenilworth.
"I really struggled to find a dress that I loved. I tried on lots of dresses, lots of different styles and fits. I knew I wanted something simple but, at the time, everything seemed to be very ornate; it was quite overwhelming."
"After exhausting many local shops, my sister in law Ciara agreed to drive me to Kenilworth as I'd seen a sample dress in the sale on the Quello website that I loved the look of. Unfortunately, the dress I had loved on the website was not long enough but to make the most of our visit, I picked out some other dresses to try, including Saffron."
"I loved how comfortable it was, the high neck but low back and the beautiful scalloped train. It fit perfectly without any alterations and when I took my mum back to Quello to try the dress on for the second time, it was an easy decision. I absolutely loved wearing it on the day and can't thank Charlotte from Quello enough for the fantastic service."
To find her hair and makeup artist, Helen asked the advice of her colleagues and found out about Hannah Kenney.
"Hannah completely understood that I wanted to look like me (but the best version of me) and is possibly the calmest person I have ever met! The perfect person to have around you on your wedding morning."
Dan and Helen chose two florists for different elements of the day.
"The bouquets and buttonholes were made by the wonderful Clair Cruickshank of Bella Lily flowers. I had a general idea of what I wanted and Clair created three beautiful bouquets in bright pink and white and a very large number of buttonholes. The bright pink was perfect against the pale green bridesmaid dresses. Lily Jones Flowers created two lovely pedestal displays for the church."
Dan's suit was from Clements & Church on Church St in Birmingham.
"It was originally a two-piece suit but Dan was able to get a waistcoat made from the last yard (!) of the same fabric from their warehouse. Clements & Church provided a great service throughout."
Dan accessories his suit with a Liberty cotton tie by Kate Temple and mahogany brown shoes from Loake.
Helen explained further about why their venues were so meaningful to them.
"We got married at St Paul's Church in the Jewellery Quarter in Birmingham. It is in the middle of a beautiful Georgian square, just outside the city centre. It is a really special place to us because our first flat together was on St Paul's Square, overlooking the church. We wanted to get married in Birmingham and St Paul's Square is a lovely setting as well as being very special to us – we couldn't imagine getting married anywhere else.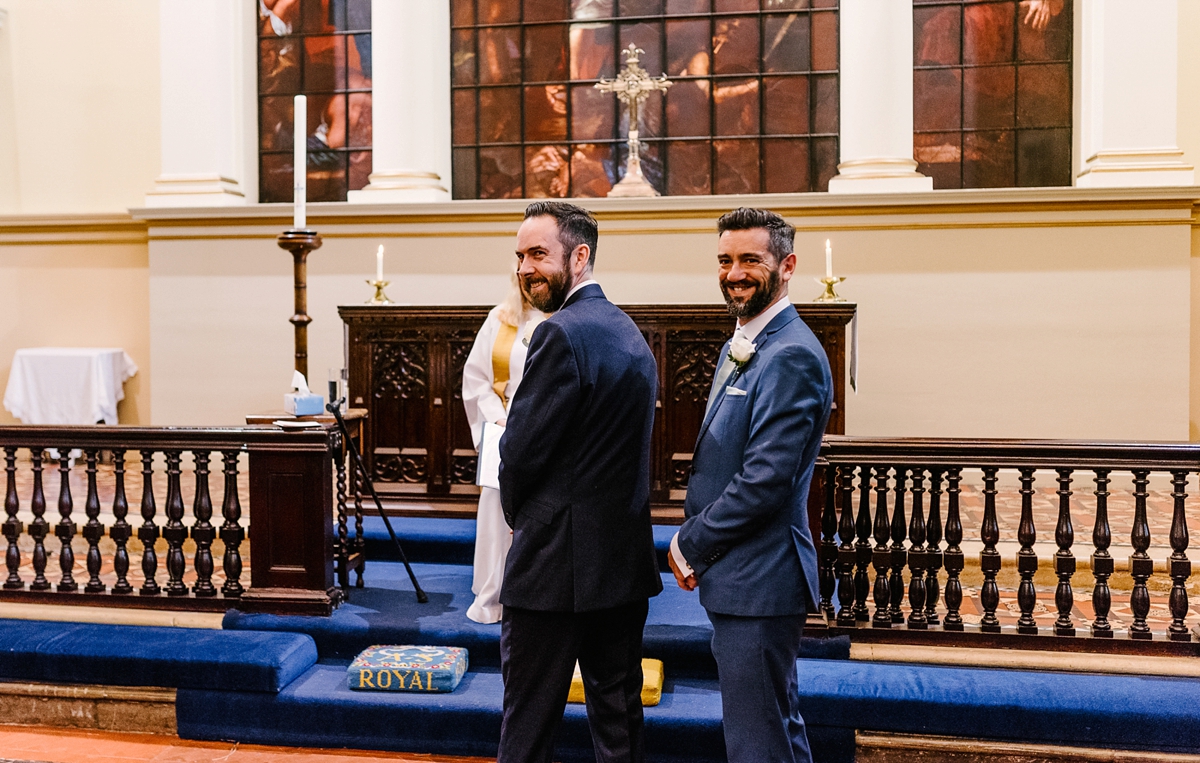 Helen chose to walk down the aisle with her father to Pachelbel's Canon in D – a tune that Helen loved ever since she learnt to play a simple version on the piano as a child. For the other church music, Dan and Helen's family friends Dan, Gez and James O'Connell played their own versions of Van Morrison's 'I'll be your lover' and also an original song called '10th of July', which was written by Dan's dad Paul as an anniversary gift to Dan's mum Honora. The moment was particularly poignant as Dan's dad passed away last year.
Something a little bit unusual also happened during the ceremony!
"Our wedding ceremony was made even more special as a group of overseas tourists asked if they could come into the church to have a look around just before the service started. They ended up staying for most of the service!"
For her bridesmaids, Helen chose pale green ASOS dresses to compliment their brunette colouring. Both Helen and her sister Claire wore shoes from Rainbow Club at House of Fraser and Meg wore ribboned ballet pumps from Next.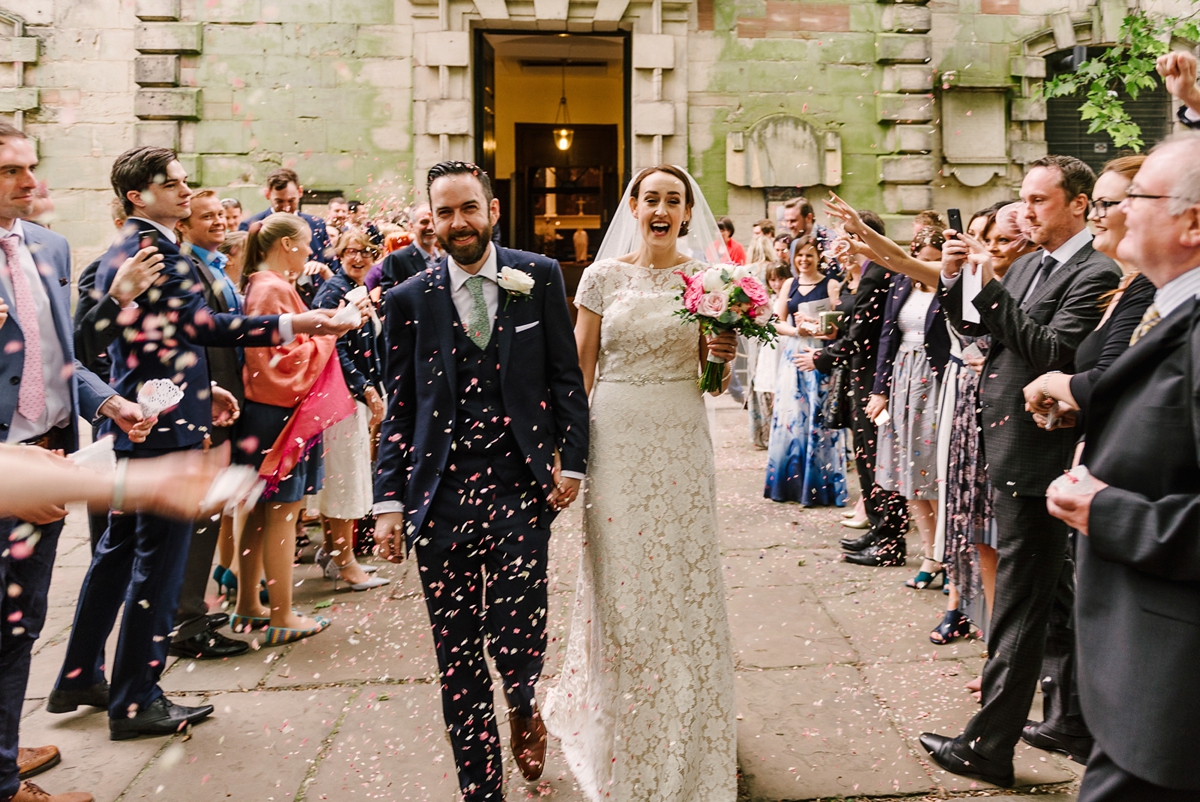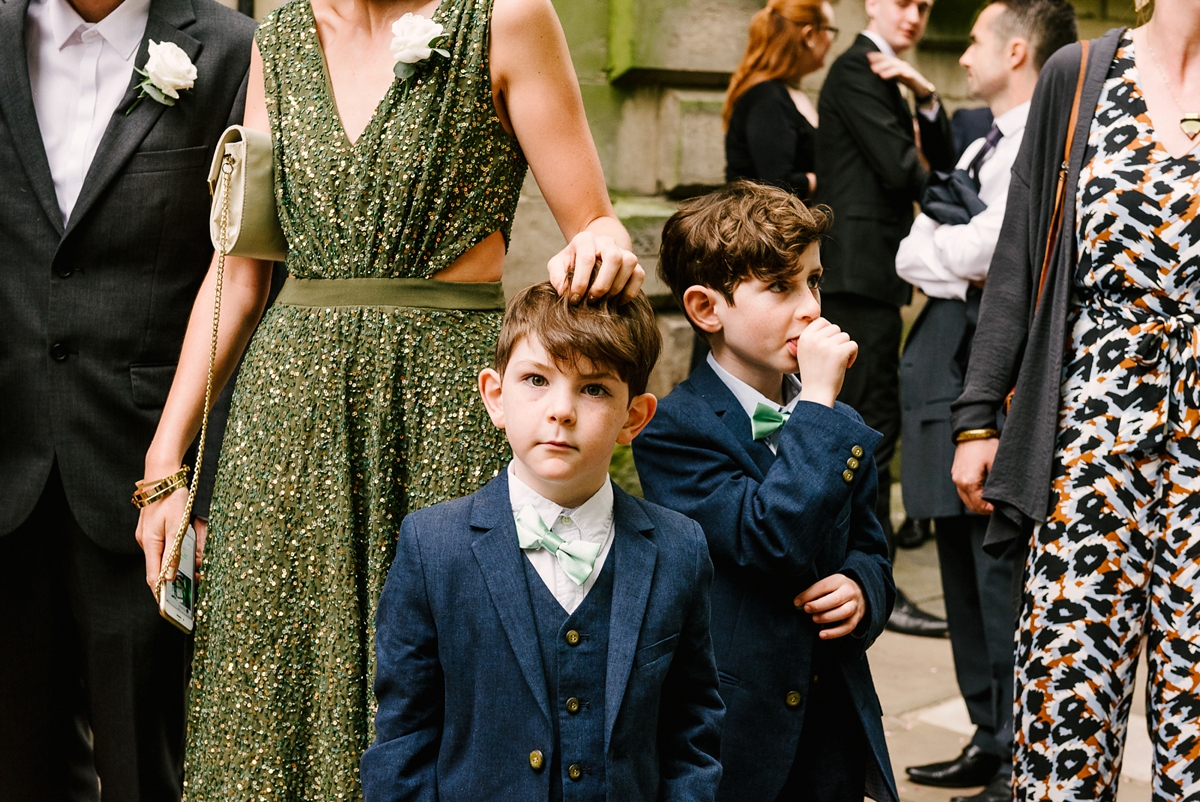 "For our reception, we chose The Studio on Cannon Street in Birmingham. Despite being in the heart of the city centre, it's hidden away and is somewhere many of our guests did not know. It is so central with such great spaces, it made it a very easy decision."
"We used the fantastic main room with vaulted ceiling for our wedding breakfast and dancing, but there is also a lovely bar for reception drinks, a mezzanine level (which we turned into a kids' area with bean bags and video games) and everyone loved the fantastic roof terrace. Katie and her team were absolutely brilliant! They were very happy to let us use the space as we wanted which we really appreciated.
The Studio also provided our catering; a selection of canapes, a three-course meal and some bacon butties for the evening! Huge thanks to them for catering for a full range of dietary requirements, we had so many compliments."
For their theme, Dan and Helen drew on Dan's time in Japan, as well as Helen's love of macarons and their shared love of gin.
"Dan lived in Japan for four years and there is a Japanese legend that promises that anyone who folds a thousand origami cranes will be granted a wish, happiness and eternal good luck. Dan's sister, Áine, suggested origami cranes as a motif for our wedding which resulted in us making over 1000 origami paper cranes to decorate the venue (with a bit of help from our "origami army", including my hens!) We used the paper cranes to scatter on the tables and on the strings of the balloons."
"Having searched the internet for décor inspiration, we both loved the idea of using large helium balloons to add some colour to the venue. It proved to be a bit of a logistical nightmare as, once inflated, you can't get them through doors! We sourced balloons online and hired a helium canister locally."
"We both love gin and gin became a big part of our theme. We used gin bottles as our table centres and table names. Each gin we chose had a meaning to us, for example, we chose Eden Mills' "Love" Gin for the top table and "Sibling" gin for the table with Dan's siblings. We also offered a selection of interesting gins with a variety of garnishes as reception drinks which were a real hit."
"Since I ate my first macaron at a pop-up restaurant at Loaf community bakery in Stirchley in 2010, I developed a minor obsession. Dan bought me an online macaron course a year later and, after a number of fails, macarons became a bit of a speciality. Gin was part of our theme on the day so homemade G&T macarons seemed the obvious choice. This wasn't without its stresses and my whole family had to help out with filling and packaging (240 of them) the day before the wedding. We were a bit disappointed when they all got eaten!"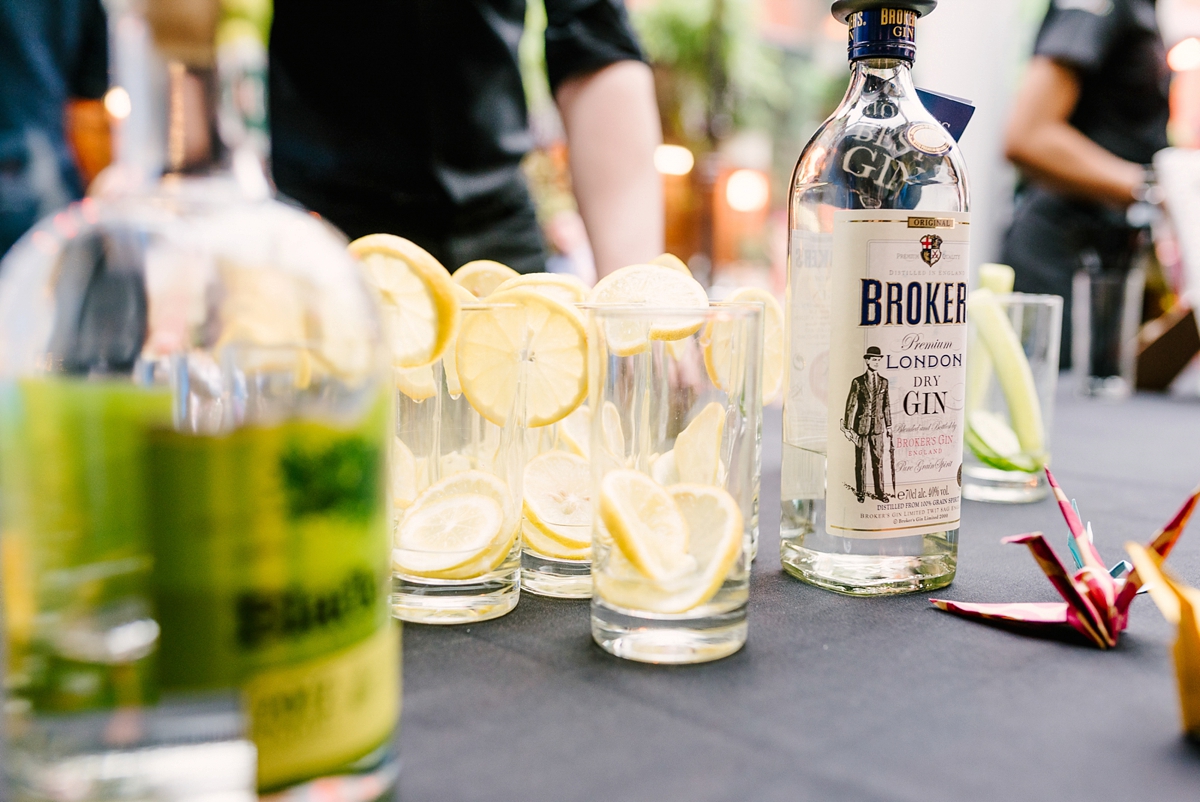 "For our stationery, we worked with Dan's immensely talented brother Mark, a graphic designer, to create an identity with beautiful hand lettering and our origami crane theme. We used this on our invites, table plan, menus and a projection during the evening entertainment. Having a simple but memorable identity that could be used throughout the visual aspects of the wedding worked really well."
"We dressed the venue ourselves with some help from the team at the Studio. This involved spending the day before the wedding with an industrial size helium canister inflating lots of 36-inch balloons and attaching these to the gin bottles with strings made from origami cranes. Not the most relaxing way to spend the afternoon before your wedding day (the morning was spent filling the macarons), but as with much of the wedding, it meant things could be done the way we wanted them to be."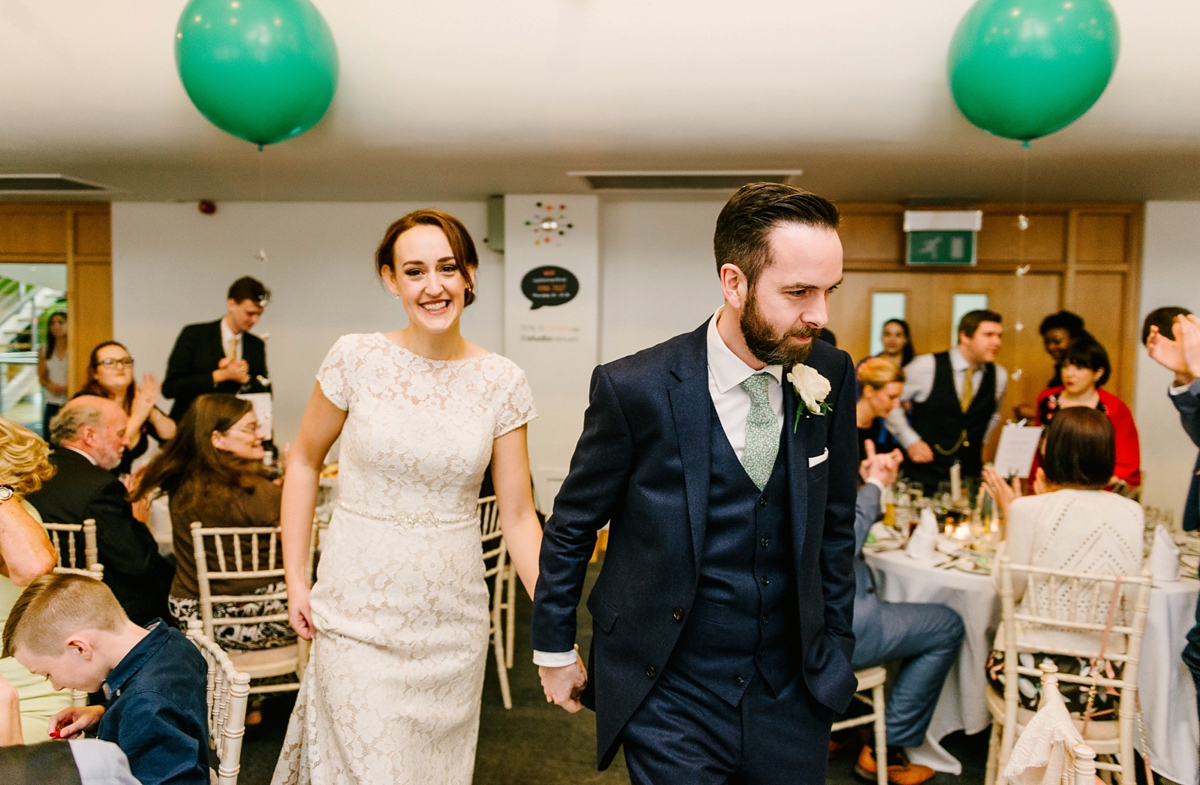 Cranes were a big part of the stunning cake and stationery too.
"Our very talented friend Ruth was tasked with creating our cake. As soon as she came up with the idea of paper cranes swooping down a simple white three tier cake (fruit cake, chocolate cake and victoria sponge), we knew it would be perfect! It far exceeded expectations, looked stunning, and was absolutely delicious!"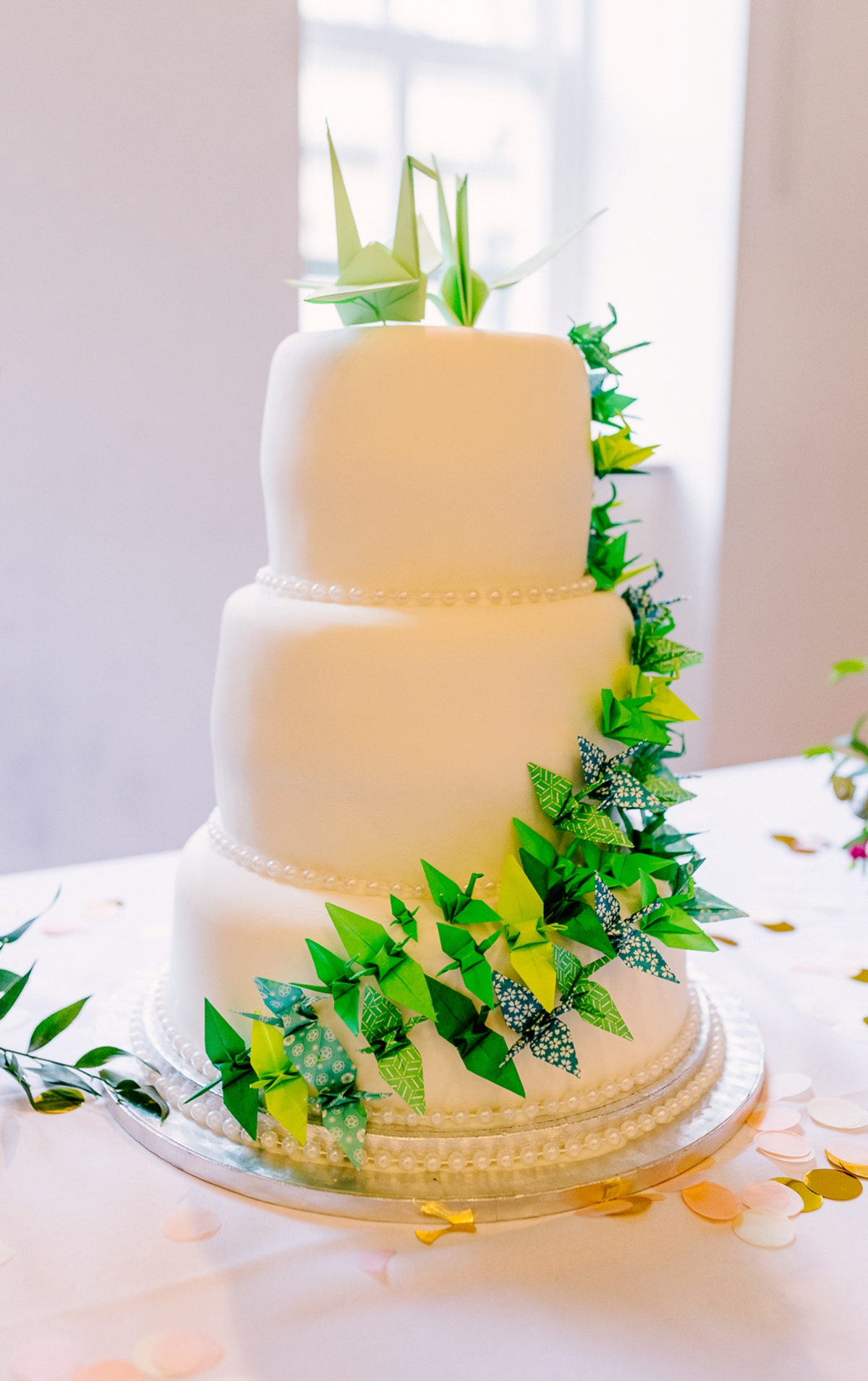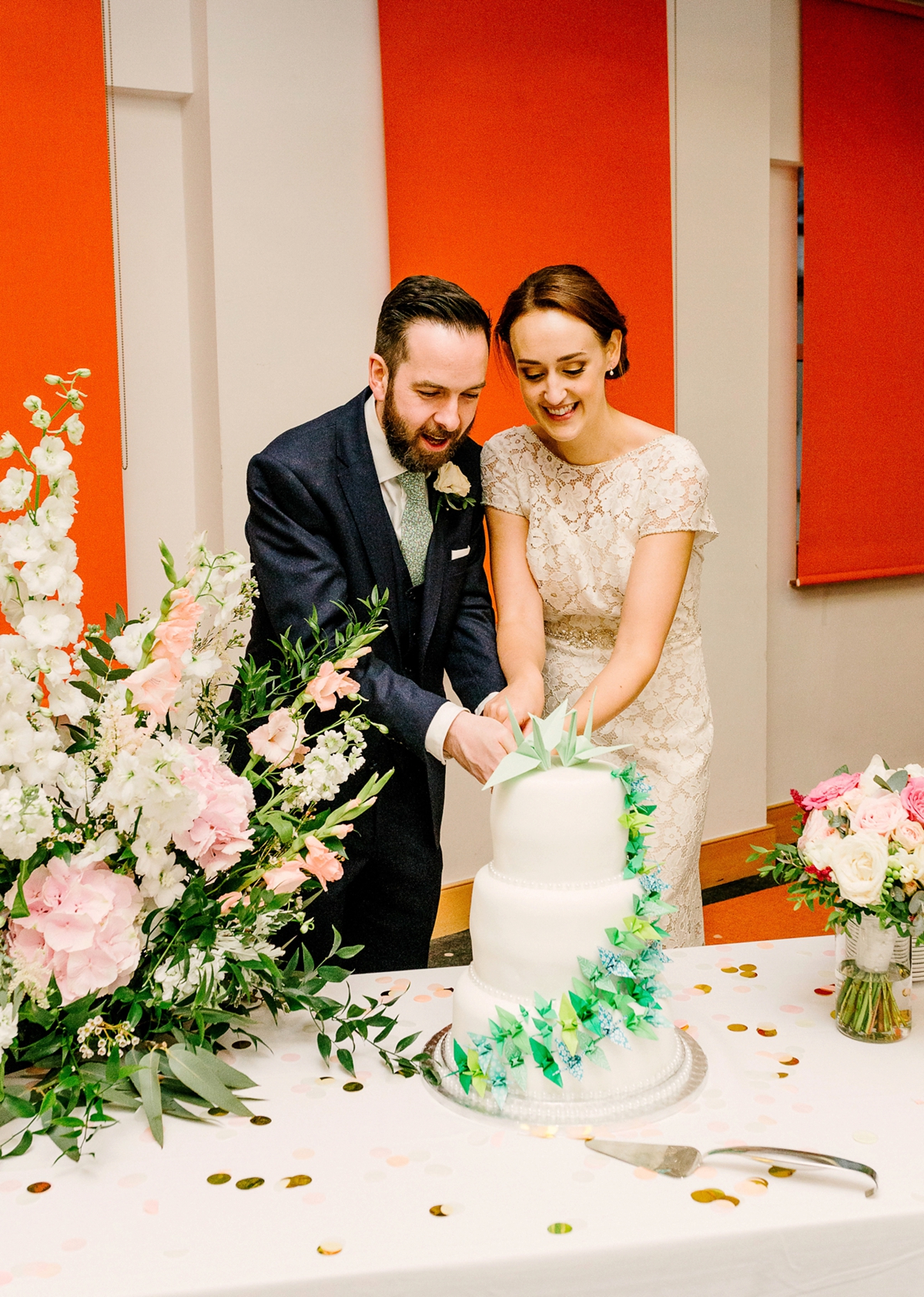 The family connections for the music continued at the reception with another family friend, Phil Bond, played keyboard during drinks. Later in the evening local legend Sam Redmore DJ'd. During the evening, the couple had a first dance, despite Helen's nerves. After some practice runs at home, the couple decided on 'Cover Me', by Percy Sledge.
We asked Helen about the highlights of her day, and she said it was hard to pick just one.
"There are so many! My dad's beautiful speech is definitely up there but walking down the aisle and seeing Dan turn around with a huge smile on his face made my heart skip a beat. The last hour or so of the evening with lots of our closest friends on the dance floor, dancing to some of our favourite tunes, was a perfect way to round off the day."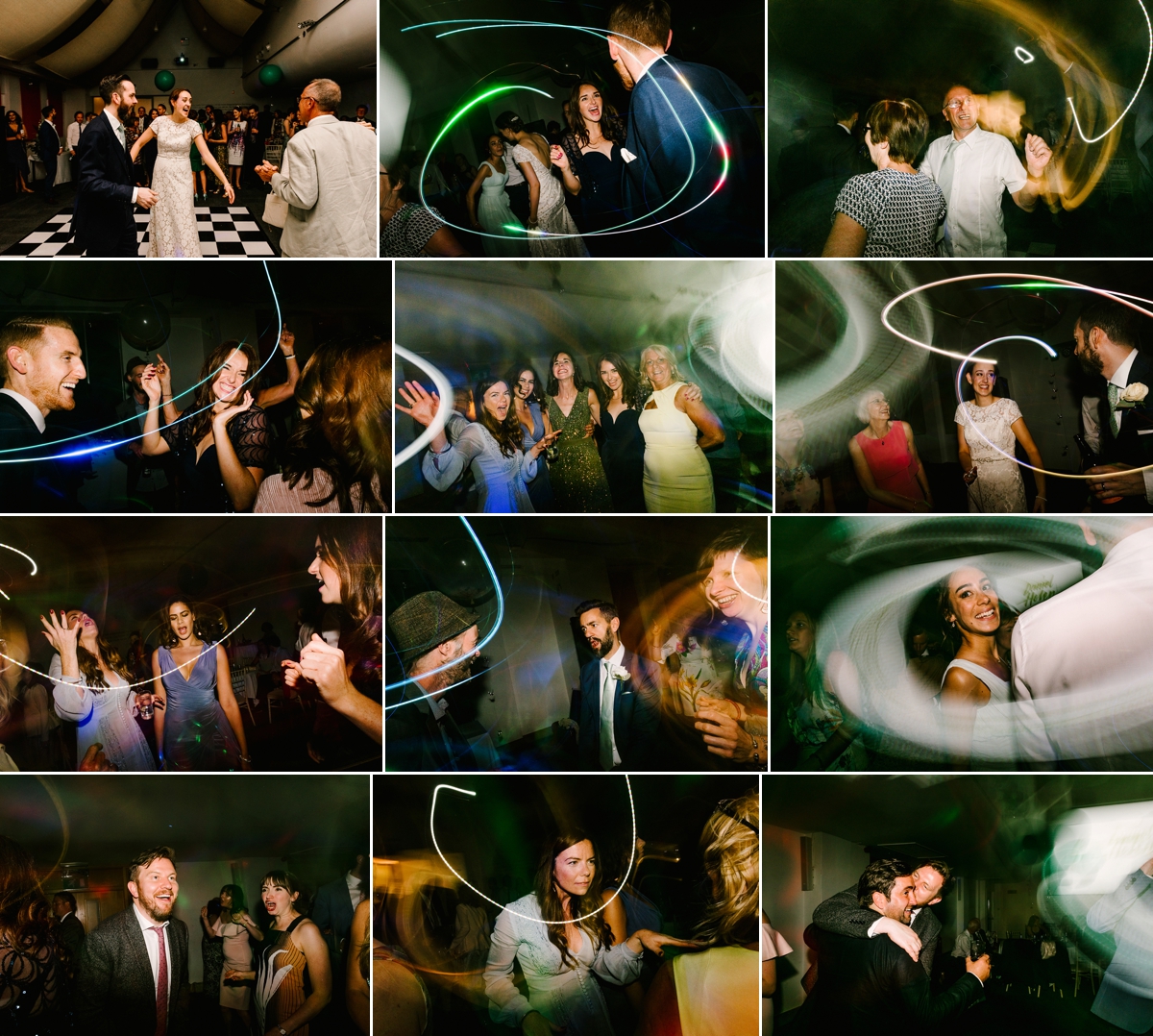 Words of Wedded Wisdom
"The best advice we were given was to make time to be together by ourselves (even if just for 10 minutes) during the day. The day goes so quickly and you are understandably the centre of attention. We love thinking back to those few snatched moments when it was just the two of us."
"My other piece of advice would be to ask for help if you need it! There is so much to do in the lead up to a wedding, delegating specific tasks to trusted friends and family really does help."
I love the contemporary elegance of Dan and Helen's day, and I'm not ashamed to say that I had a little emotional moment when I read the part about the song "10th of July" being played during the signing of the register – I bet there wasn't a dry eye in the church! Thank you so much for allowing us to share your beautiful wedding, Dan and Helen, and to Lisa Carpenter for the use of your wonderful photographs.
Sarah x