I have the most wonderful modern and quirky wedding to share with you today. Megan and Patrick, both doctors, married on the 17th of September 2016 in church in the Somerset town of Bruton where they got engaged, followed by a drinks reception at At The Chapel and then dinner, drinks and dancing at modern art space, Hauser and Wirth.
"We read about Bruton when living in Australia – it sounded like a very unique place and was the home to our hero, Kevin McCloud, so when we returned home we booked a weekend away there.   We fell in love with it immediately and returned a few times before getting engaged there over Christmas 2015."
Photography by Philippa James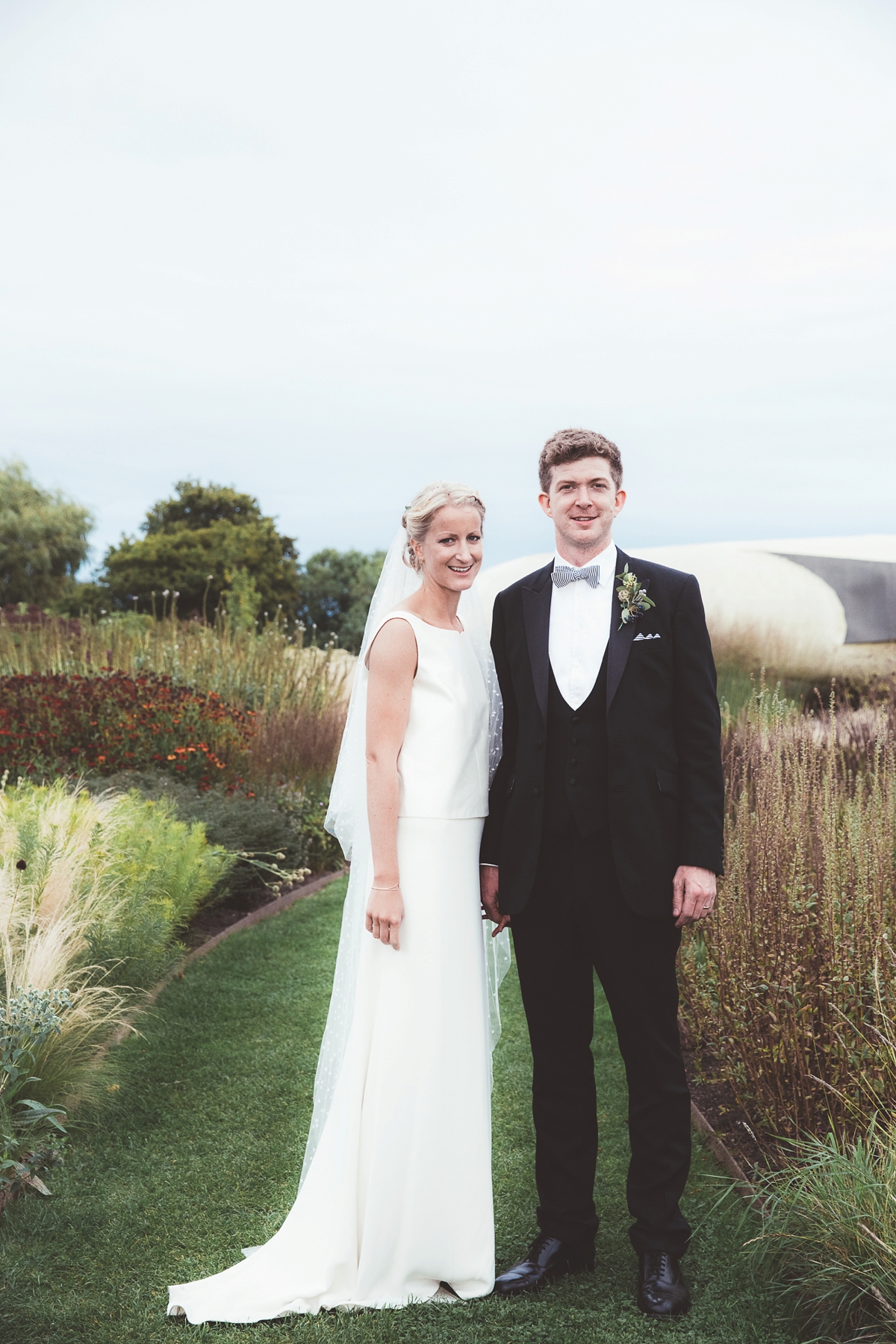 Megan looked sensational in a modern two piece gown by Laure de Sagazan, which she purchased from The Mews Bridal in Notting Hill, alongside her beautiful two-tier veil.
"I don't often wear dresses and originally started looking for a trouser suit, but once we confirmed it was going to be a church wedding I felt I had to err on the traditional side.  I felt much more comfortable in a two- piece outfit, thinking that I could possibly re use the top at a later date.  The Mews Bridal was a breath of fresh air.  The nonchalant, beautiful French assistants were helpful without being overbearing and fussy and there were so many unusual styles – I could have taken ten different outfits home!  I wanted something plain and classic, similar to what my mum wore for her wedding.  Most importantly, I felt the outfit reflected my normal dress sense and I felt entirely comfortable in it.""We met as junior doctors working in A&E.  When we first started dating I had a job in Australia planned and Patrick was about to embark on a six month charity tour cycling the length of South America, so our first year together was via Skype!  Patrick then came to live and work with me in Melbourne until we both managed to get training posts back in the UK.  We got engaged at Christmas 2015 in Bruton and then decided to get married the following September, on the same date as my parents got married thirty-nine years earlier."
"Due to our busy work schedules we wanted somewhere where we didn't have to spend much time decorating and neither At The Chapel nor Hauser and Wirth needed much decor.  The team at Hauser and Wirth were just fantastic and we couldn't have done it without them."
"The wedding was a collaborative project between Patrick and myself the whole way through and this was very important to me."
On her feet Megan sported a pair of rather spectacular gunmetal heels by Jimmy Choo, while for scent she chose The Noir by Le Labo.  Her earrings were by Latelita, purchased from Wolf and Badger.
Megan chose to wear her hair in a braided up do by Roxy Farrier, dressed with eucalyptus leaves, which gave her whole look a wonderful Greek goddess feel.  For make up she chose to use Bobbi Brown products, and kept things beautifully natural.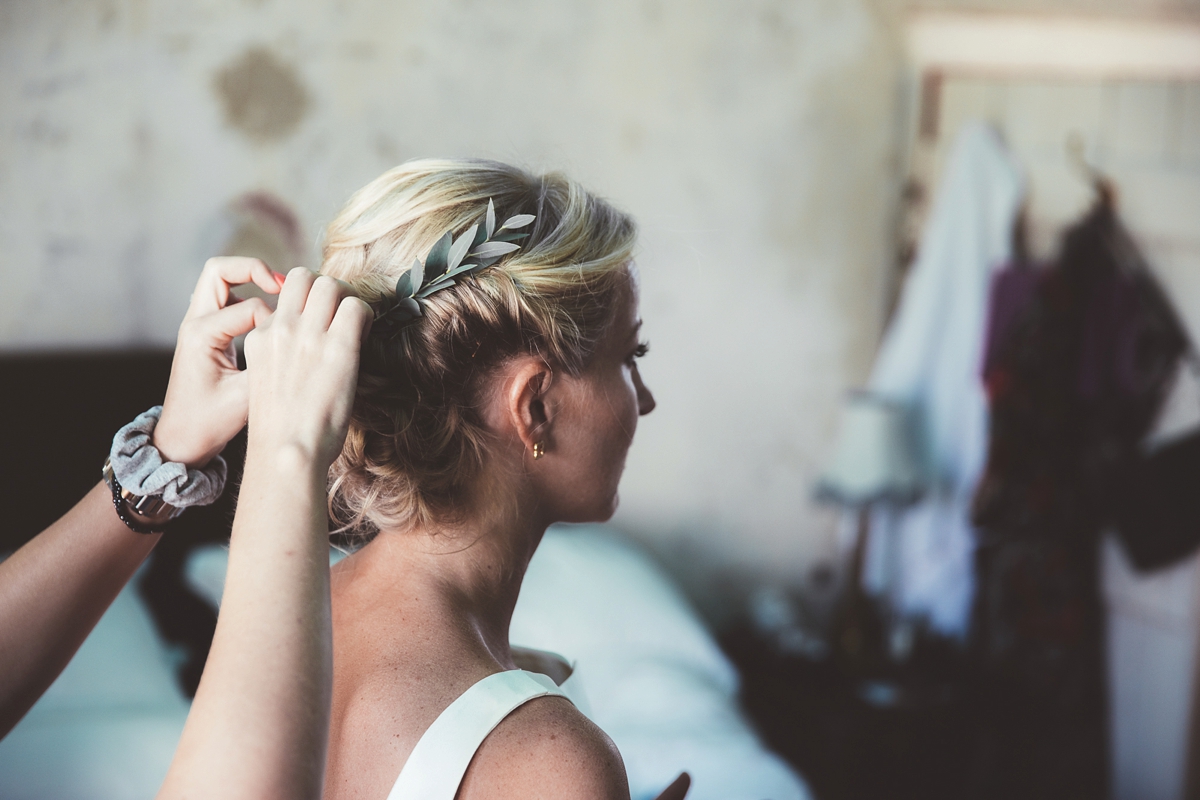 Patrick looked very smart in a three-piece suit from Gresham and Blake, paired with a stripy bow tie and pocket square from Mrs Bowtie, shoes from Church's, cufflinks from Skultuna and socks from The London Sock Exchange.
"We had previously attended a wedding in Palm Springs and we loved the dress code of black tie.  It gave a formality to the rustic setting."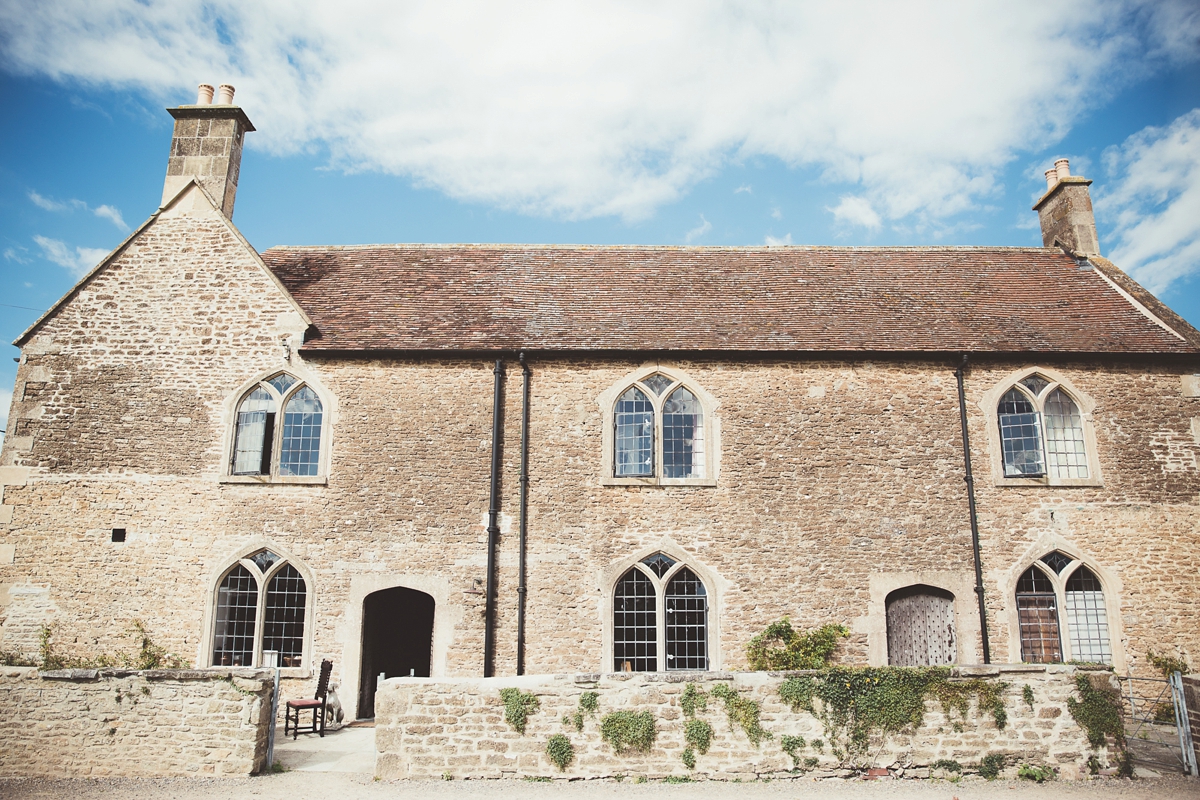 The crisp and modern stationery was the work of Basil and Ford.
"Matt and Lucy were amazing at being totally collaborative with us and designed a simplified 'logo' of the dovecote building that is iconic to Bruton.  They're an absolutely fantastic team who go out of their way to make your stationery unique."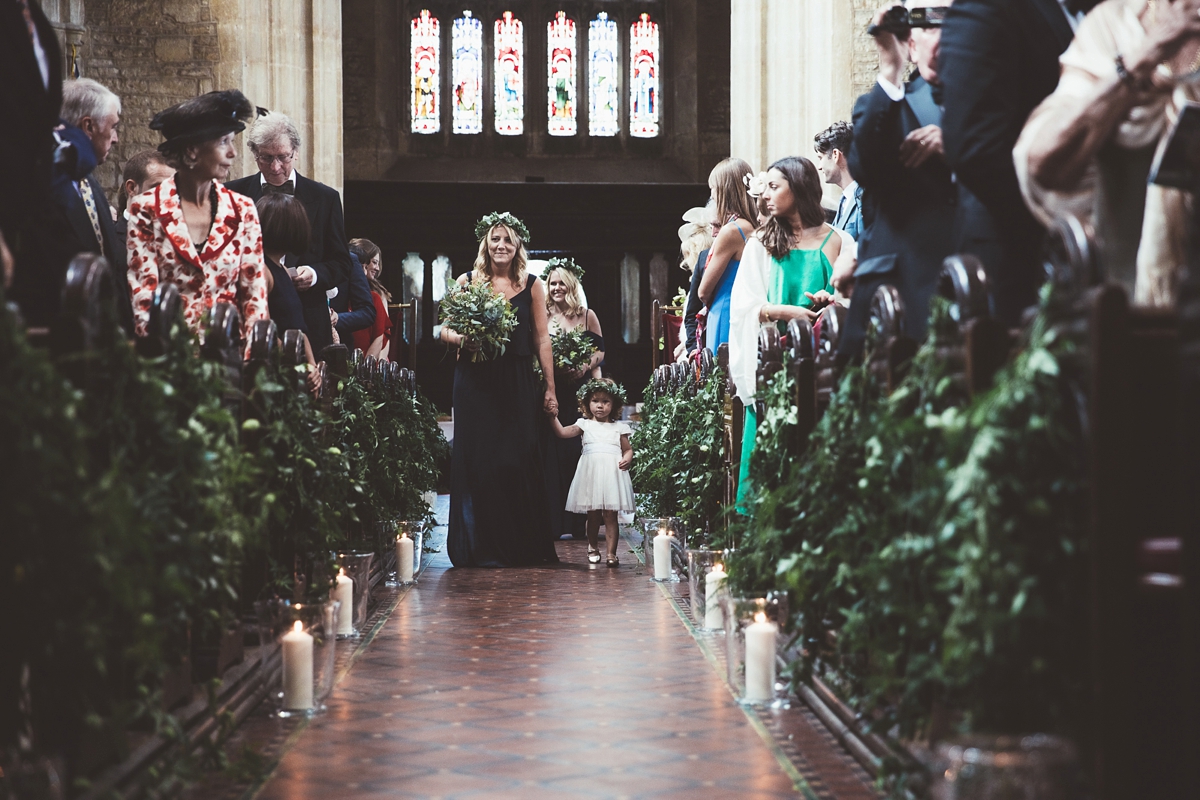 "The veil was my favourite part of the outfit and something I never thought I would go for.  The intricate embroidered fleur de lils made it something very special."
Megan was accompanied down the aisle by her dad to 'In Paradisum' by Faure.  I just love how incredibly proud and pleased Megan's dad looks (and how much he is clearly enjoying driving that sporty car).
Megan and Patrick chose one reading ('Union' by Robert Fulgham) and two quotes in the Order of Service booklet- the first was a quote from 'A Farewell to Arms' by Ernest Hemingway and the second, a passage from The Letters of Ted Hughes.  The Hemingway quote was as follows:
And you'll always love, won't you?
'Yes'
'And the rain won't make any difference'
'No'"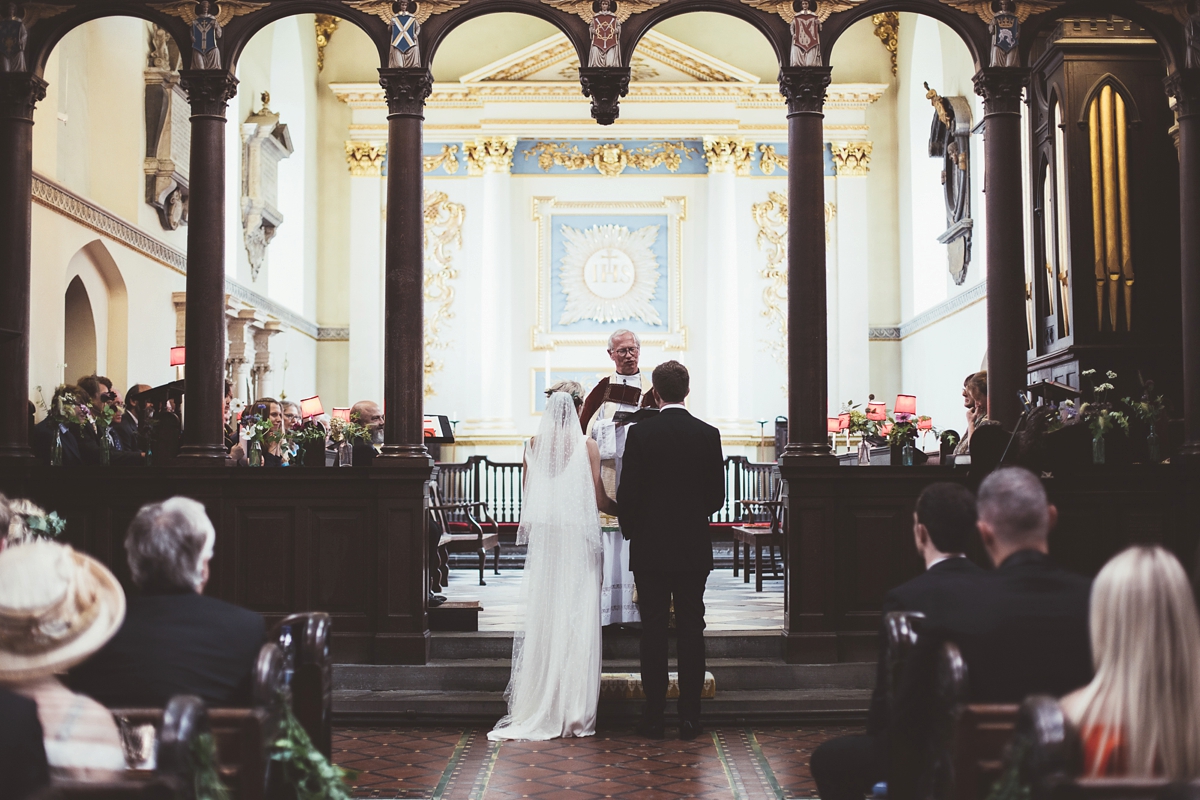 "Patrick chose the engagement ring on his own at Camelot Diamonds in Brighton and he found one that perfectly demonstrated the art deco design he was aiming for.  We then got our wedding rings from the same place."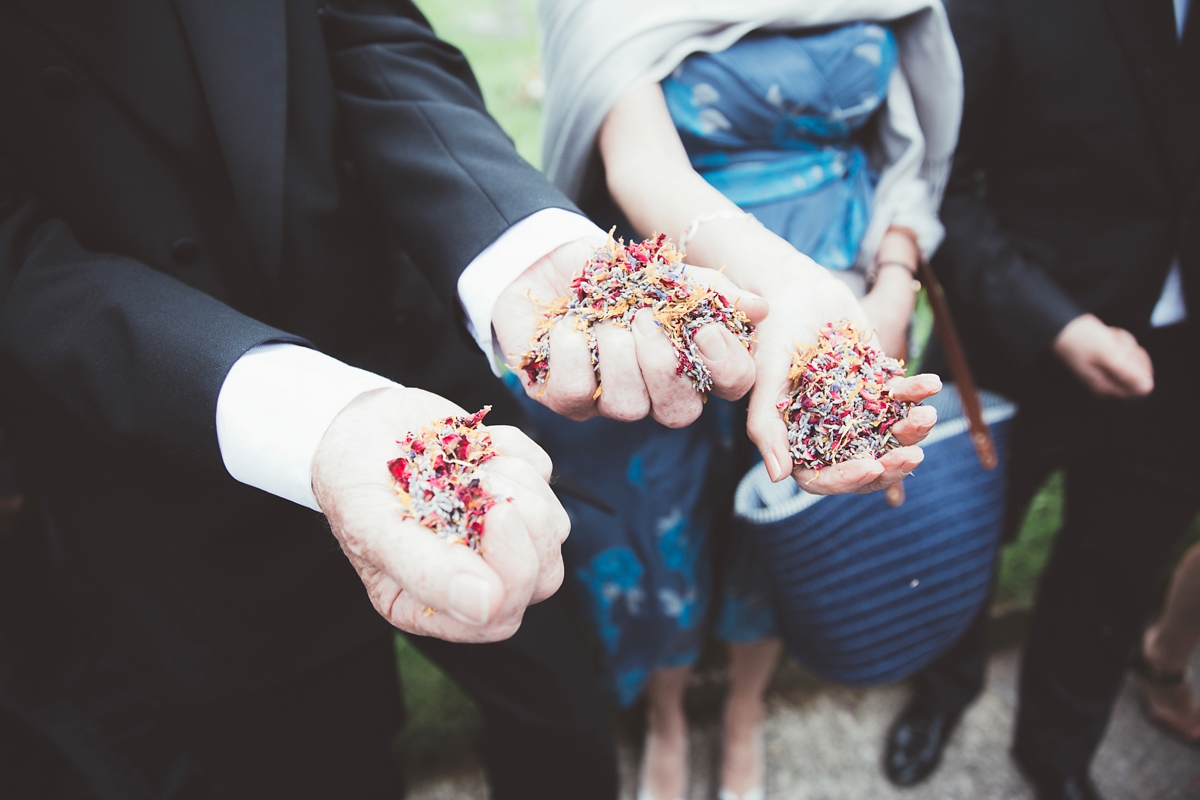 Patrick and Megan left the church to a storm of confetti, and everyone walked the short distance to At The Chapel for a drinks reception and photos.
Later, everyone moved to Hauser and Wirth for a delicious meal, provided by on-site restaurant Roth Bar and Grill.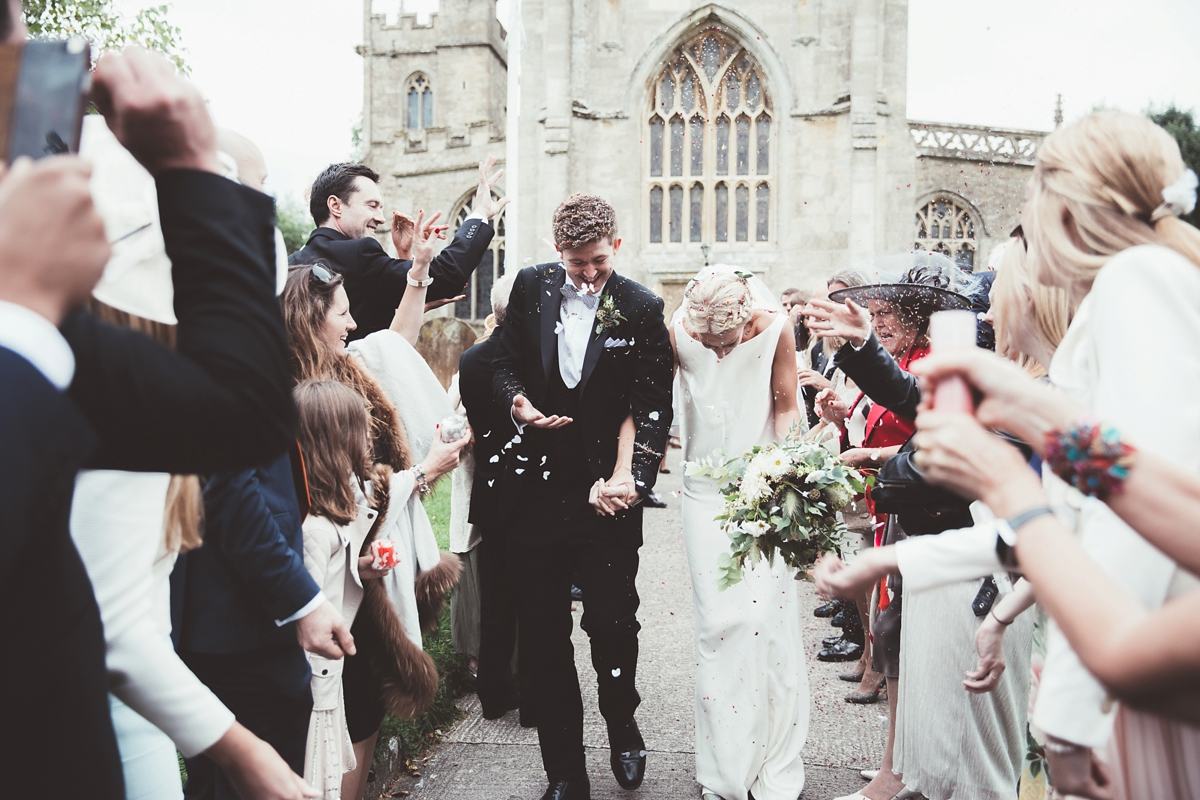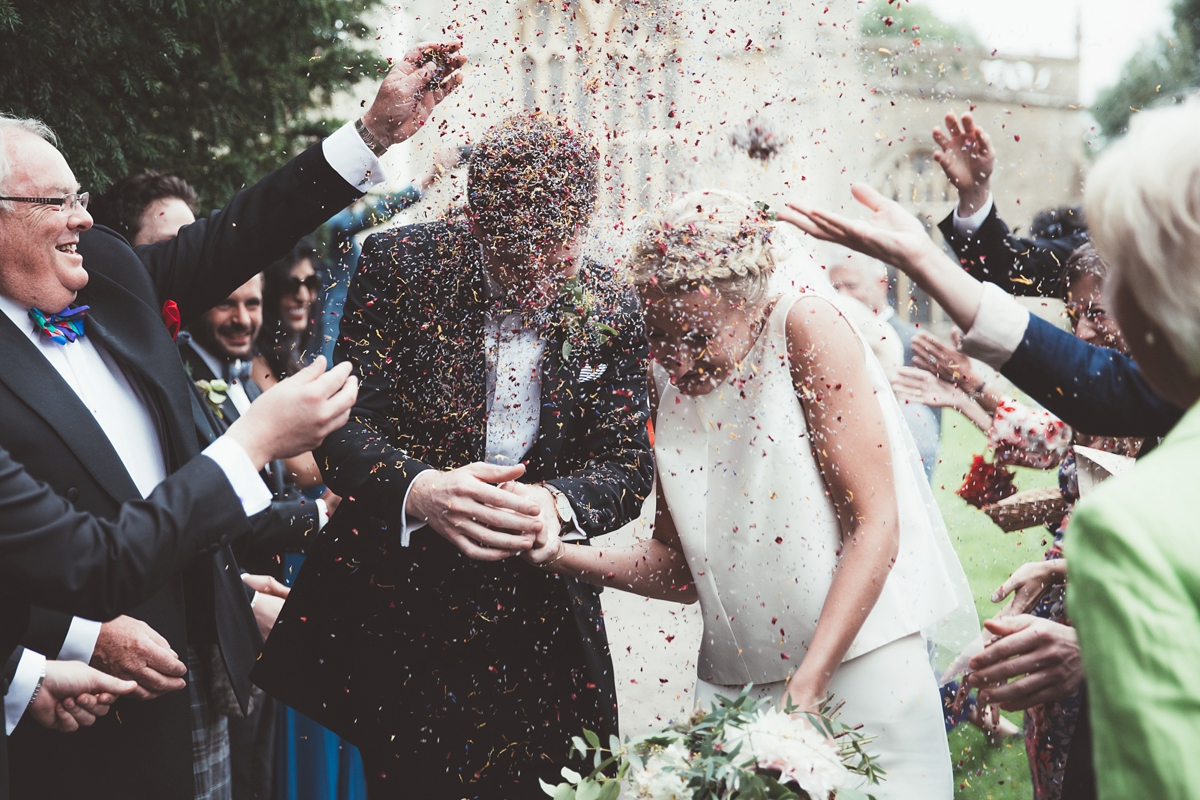 The beautiful floral arrangements and bouquets were the work of Alexa Montgotmery of Rose and Fern.
"Alexa makes the most stunning creations that seem relaxed and undone.  Hasuer and Wirth and the famous Piet Oudolf landscaped gardens influenced the style of flowers we used as the gardens are at their peak in September and Oudolf focuses on wild flowers native to the country he designs his gardens in.  Eucalyptus was added as a link to our Australian adventures."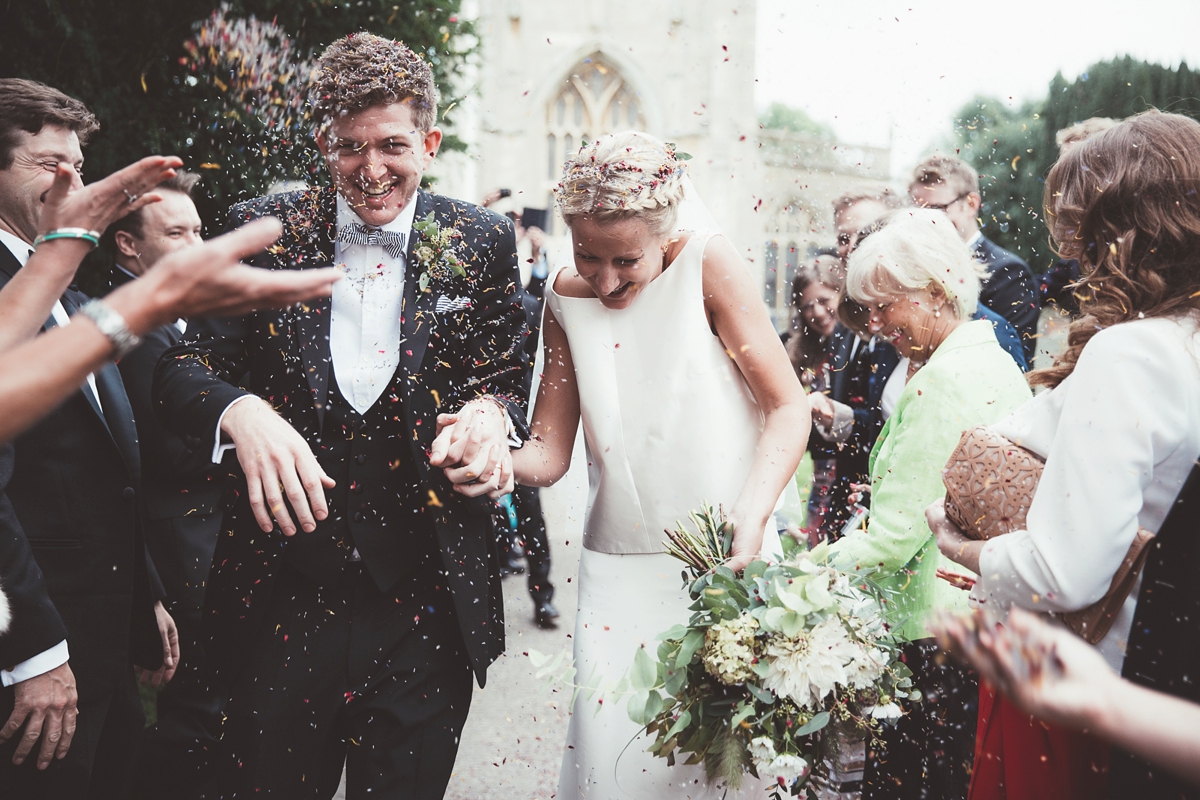 Today's beautiful photographs come to us via the talented camera of Philippa James.  I just love Phillipa's realistic style and her use of natural light.
"I noticed Philippa's photos on Facebook long before I began to plan; it was the first time I had seen a style of wedding photography that felt real and raw.  Energy and emotion spilled out and it didn't feel like they had been doctored within an inch of their life to make them appear glossy or too perfect."
"It was one of the first things we booked.  I got the impression she would understand and take advantage of the rather unusual setting of our wedding, surrounded by beautiful pieces of modern art."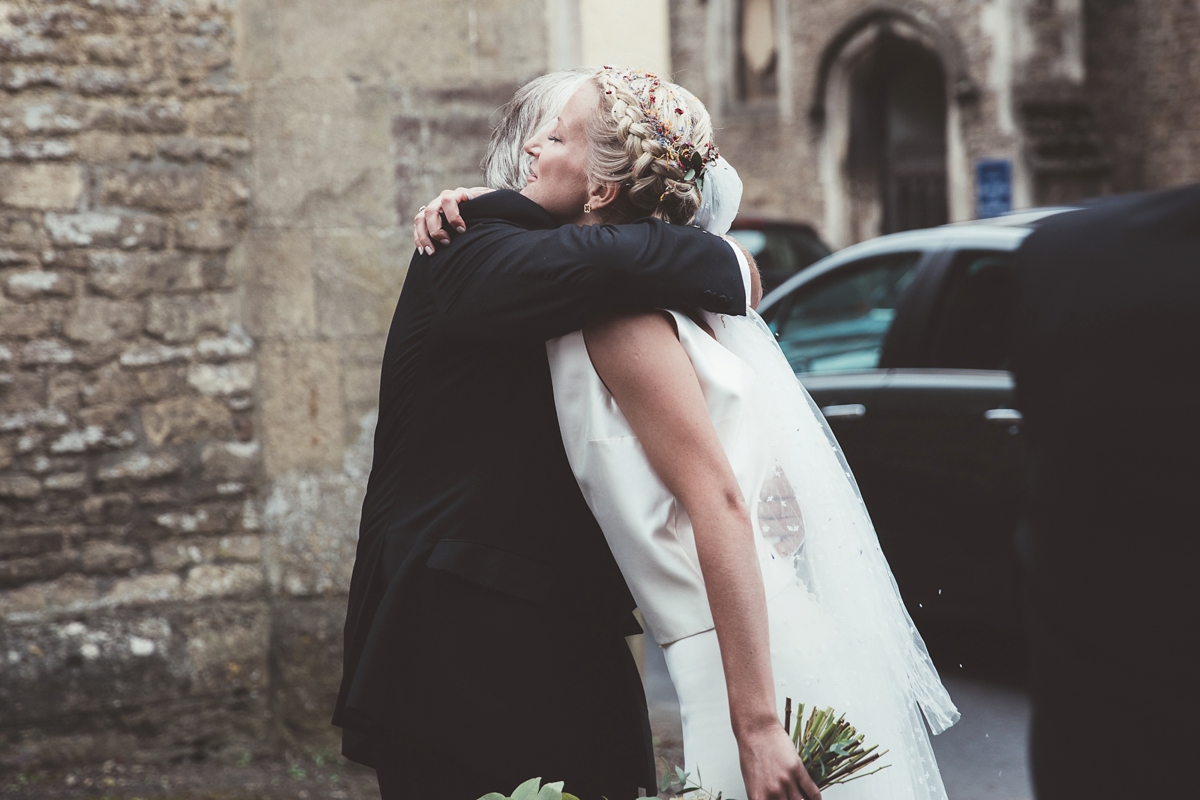 The bridesmaids looked chic navy blue gowns from ASOS and Reformation. worn with their own shoes and eucalyptus crowns they made themselves.  The little flower girl kept up the eucalyptus crown theme, paired with a gorgeous white dress from Les Petits Inclassables, via The Mews Bridal.
Patrick and Megan also chose to have their day documented on film, and chose their friend Tiana from Holey Matrimony for the job.
"I love the raw quality of the video.  It truly feels like its filmed from the point of view of a guest having an awesome time among the crowd and I've watched it almost every day since.  Most importantly it feels like we're watching our wedding, not a glamorous film about someone else's experience.  I couldn't recommend Tiana more highly."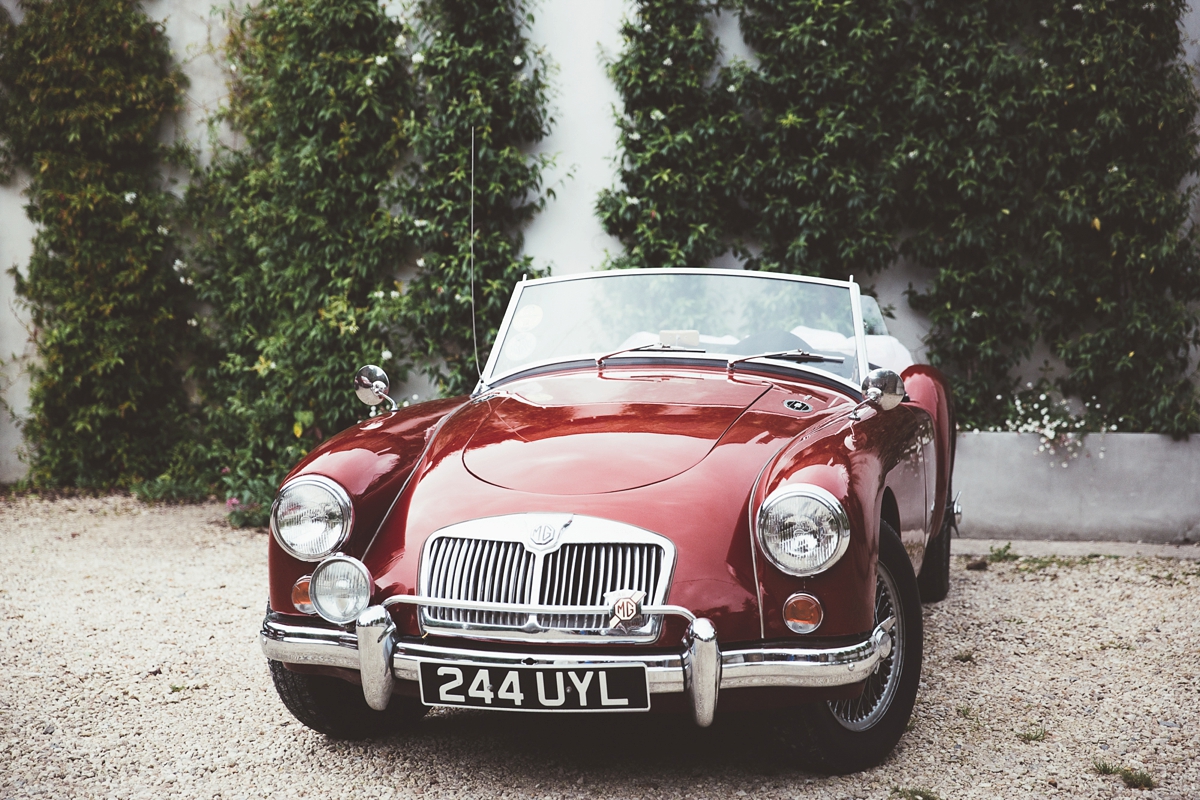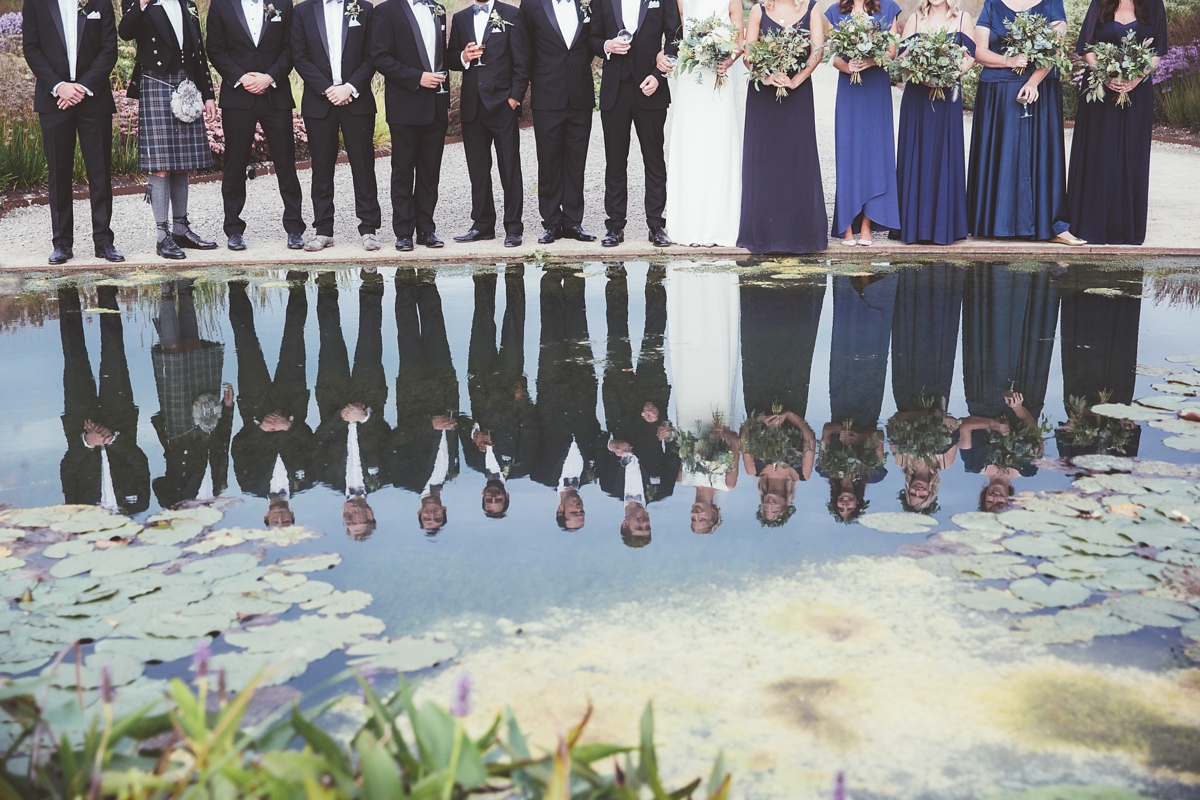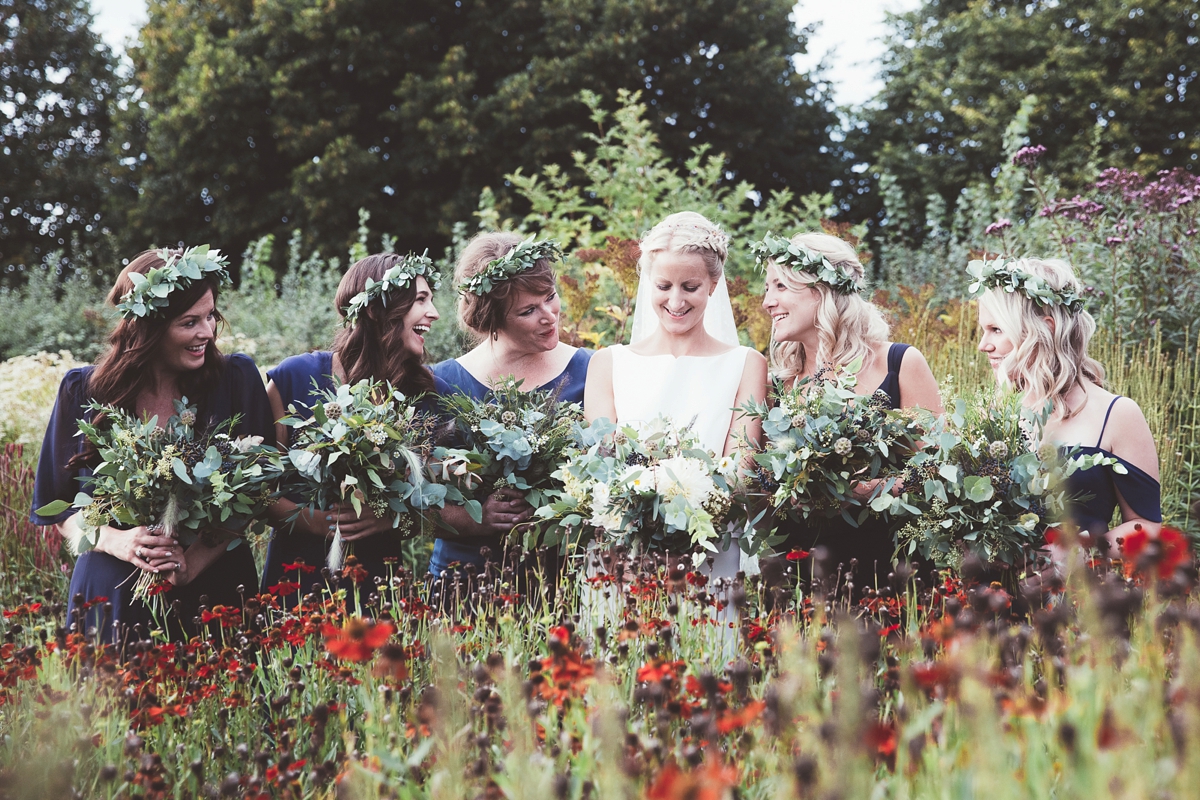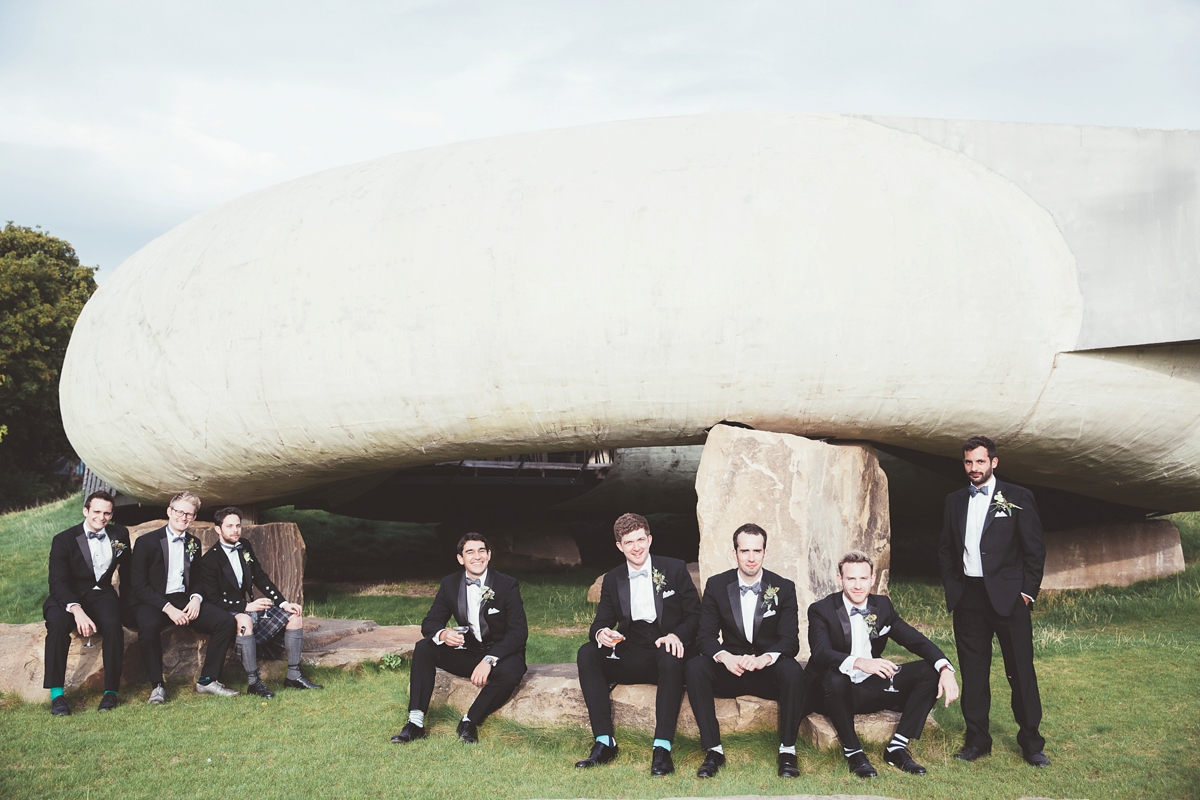 "The speeches were my favourite part of the day.  It was the one thing I had no control over and didn't know what to expect.  All three blew me away and I have never laughed so much and been so happy, staring out at similarly euphoric friends and family.  I wouldn't have changed anything."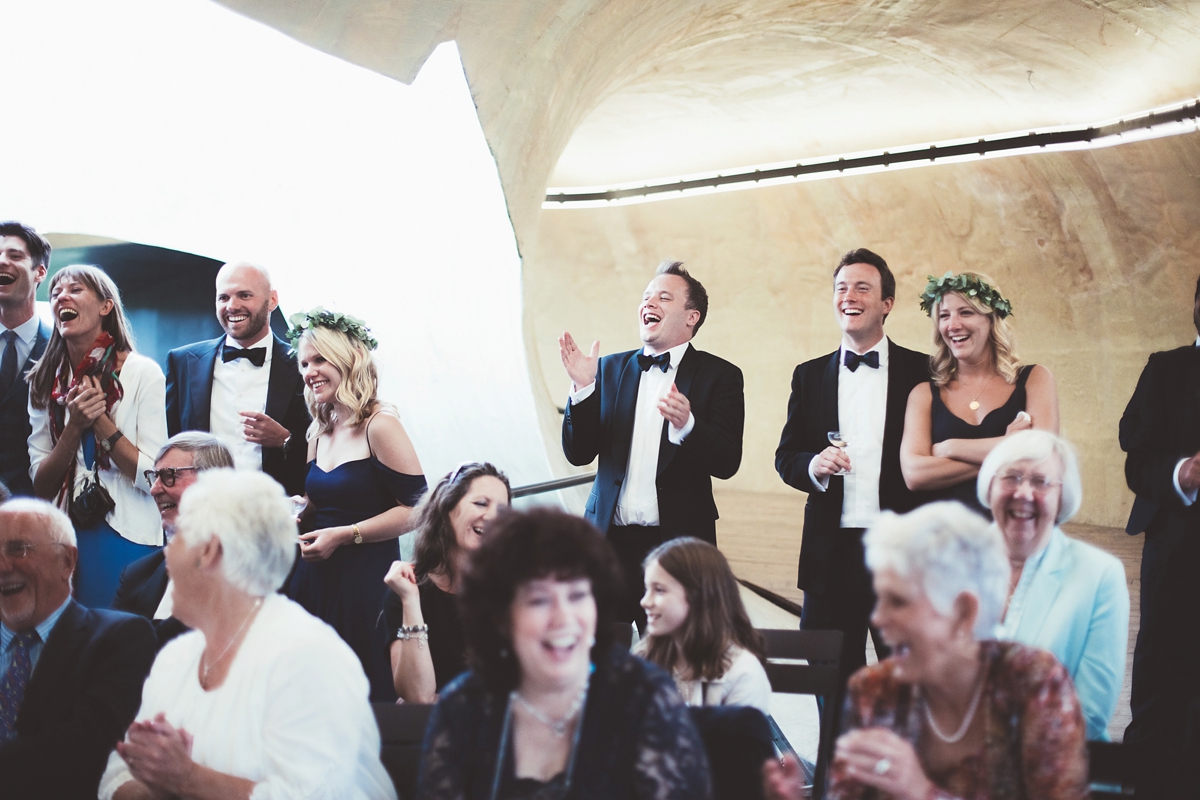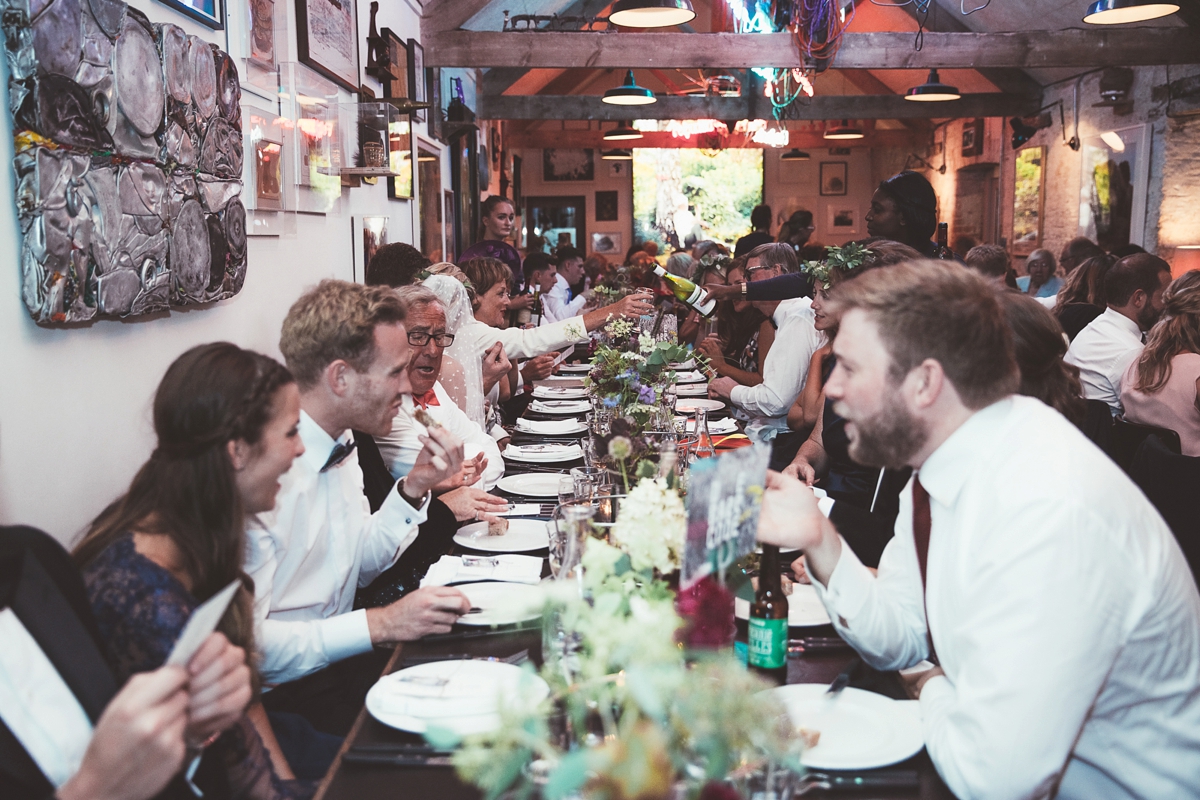 "Our cake was by Tamal Ray of Great British Bake Off fame who is a friend of ours from work.  We showed him pictures of the inside of the venue and shared a Pinterest board but mainly let his imagination go wild!"

Evening entertainment came in the form of band Soul Patrol and Iona Fitzgerald, the resident DJ for Hauser and Wirth, who kept the dance floor filled all evening long.  For their first dance, Patrick and Megan chose 'How do you like your eggs in the morning' by Helen O'Connell and Dean Martin.  And why not, hey?
"We didn't want something too sentimental and fancied something a little tongue in cheek.  We could do proper dance moves to it and we sing it whenever we're making scrambled eggs together!"

Words of Wedded Wisdom
"Don't fret the small stuff.  No one remembers what colour of ribbon was holding the napkin together.  Enjoy the time with your family.  Do a video."
"Relax.  There are no rules for what should be done.  Do what feels natural to you.  People appreciate integrity over uniqueness."
Huge thanks to Patrick and Megan for sharing their beautiful wedding day with us all.  If, like me, you're just crazy about Megan's beautiful two piece dress, take a look here for some more beautiful Laure de Sagazan gowns on Love My Dress brides.
Until next time,
S x
Credits & Thanks
Photographer - Philippa James Photography
Film - Holey Matrimony
Venues - At The Chapel + Hauser and Wirth, Bruton, Somerset
Bride's Dress - Laure de Sagazan, purchased from The Mews Bridal, Notting Hill
Shoes - Jimmy Choo
Veil - The Mews Bridal, Notting Hill
Earrings - Latelita, purchased from Wolf and Badger
Scent - Le Labo
Bridesmaid's dresses - ASOS + Reformation
Flower girl's dress - Les Petits Inclassables, via The Mews Bridal, Notting Hill
Hair stylist - Roxy Farrier
Groom's outfit - Suit, Gresham and Blake; bow tie and pocket square, Mrs Bowtie; shoes, Church's; cufflinks, Skultuna; socks, The London Sock Exchange.
Flowers - Rose and Fern
Catering - Roth Bar and Grill (wedding breakfast)
Rings - Camelot Diamonds
Entertainment - Soul Patrol + Iona Fitzgerald, resident DJ for Hauser and Wirth
Stationery - Basil and Ford