Well what a few days! If you're a regular visitor to our site, you'll have noticed the absence of any new features yesterday and so far today – I'm so sorry about that everyone. Rare, if ever is the occasion that we miss publishing anything at all.
My personal Instagram stories explains the absence over at @annabelbeeforth – there are times when work and everything else has to be put on hold to focus on family. Thank you so much for your lovely kind messages. My little girl is feeling much brighter today and we're hoping she will be discharged from hospital by the morning. Because of the upset to our schedule, I've moved things around a little, because you guys deserve one killer wedding to enjoy today, after waiting so patiently. And I am beyond excited in that respect to be sharing this particular set of images with you.  Zara, a freelance hairstylist and co-founder of the brilliant London based Portraits Bridal Hair and Make-Up Agency married musician Henry, who is guitar technician for George Ezra, on 7th July last year.
The couple tied the knot with a Catholic Church ceremony at St Mary Moorfields on Liverpool St in London, followed by a reception and celebration at The Antholgist on Gresham Street. This wedding is insanely gorgeous and involves a super stylish modern bride who employed the services of a most talented independent bridal designer to create her gown. The vibe and style of the day evolved around the couple's own eclectic lifestyle…
"As a couple we are definitely very eclectic and random. We both love art and Henry is a musician and we are both a little bit all over the place in terms of style. I definitely have a love for the Twenties and Thirties and also adore the 70s era and I think this came across in the final design of my dress but overall, we just picked stuff that we both liked, there were no heavy themes, just a real random mix of stuff."
Photography by James Frost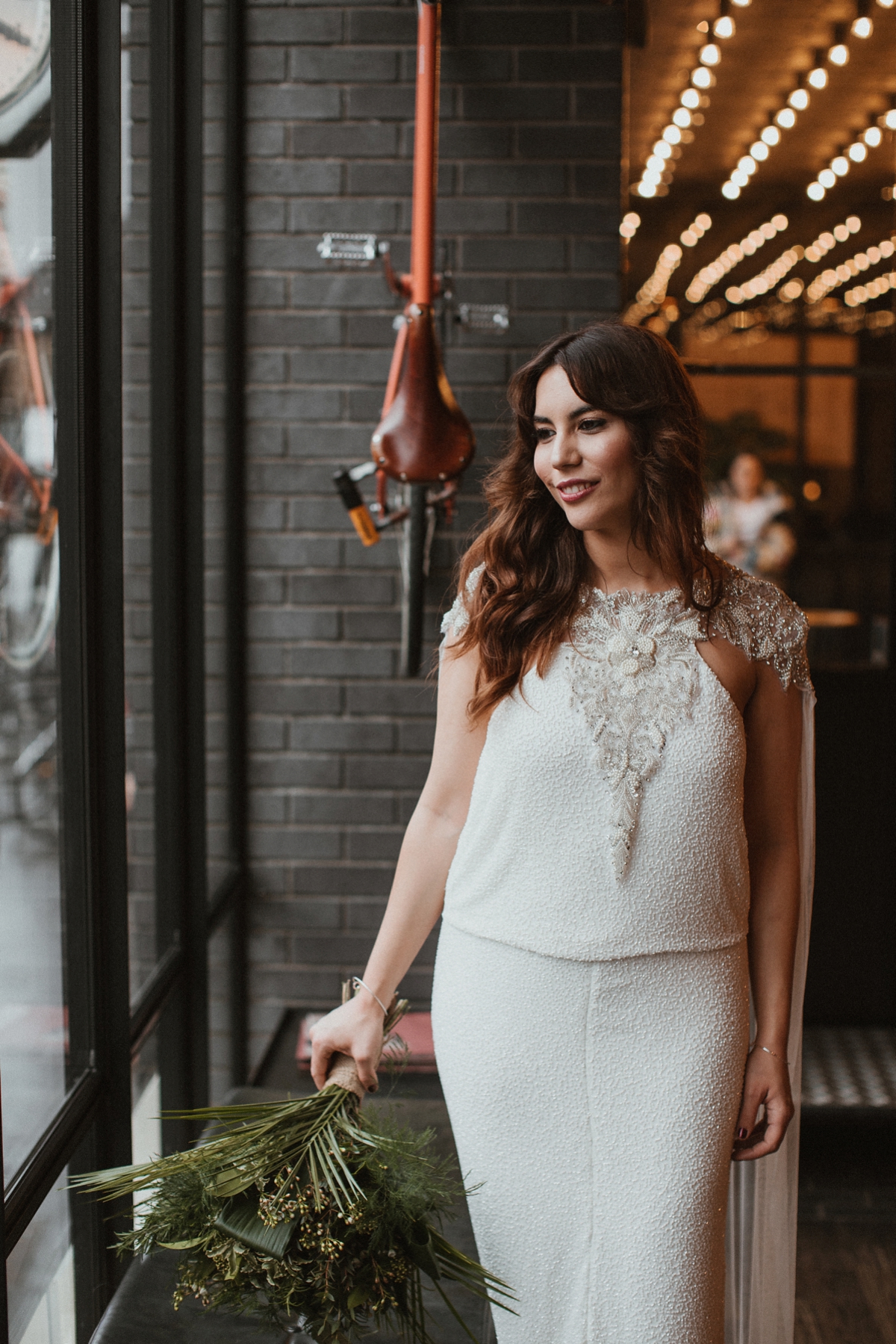 "We wanted to plan a wedding that felt very natural, friendly, and un-stuffy and where people could relax and just be themselves too.I would like to think that this also reflects our values as a couple so felt that it was true to us. We always kept this in mind when planning the wedding and tried to think of how comfortable our guests would feel and what would make them happy as well as us. Despite some advice that I have heard about being selfish and doing exactly what you want to do, I also feel it is important to treat your guests with care and thought and to show them exactly what they mean to you, after all they are at your wedding because they are dear to you and vice versa."Being the co-founder of Portraits Bridal Agency, Zara had a team of beauty experts all readily available to provide hair and makeup styling on the day.  Her own makeup was styled by Nadia and hair by Danielle. Then her team members Holly and Jo styled the bridesmaids.
Zara wore a stunning beaded gown by designer Kate Edmondson, which she teamed beautifully with a long, sheer, tulle cape by Gibson Bespoke.
"After putting on a bit of weight due to a leg break I felt very self-conscious about going along to different wedding dress boutiques and feeling quite exposed during the process which led me to Kate, who I have worked with previously! After picking her brain I just felt that Kate's bespoke wedding dress service was the right option for me. We designed the dress from scratch together. I loved working with Kate who listened to my ideas and helped create the perfect dress to flatter my figure."
"She started by sketching out the initial ideas based on what I had discussed with her and once I had approved the design the calico sample was made and then tweaked until I was 100% happy with it."
"I must admit the process was more difficult than what I had imagined as, although I got to design my own dress alongside Kate, I also had to make lots of necessary decisions on exactly how it should be, down to the tiniest detail, I even got to pick out the amazing heavy beaded material."
"Seeing myself in the calico mock dress made it hard to imagine the final result, but when it came round to the final fitting and I got to try on the completed dress, I finally got the WOW moment I had been waiting for all that time. Imagination and faith in Kate was definitely key to remaining calm throughout the process."
"I must say I couldn't have been happier with the final result and so pleased that the dress is one of a kind and so unique to me! It ticks all of the boxes with it feeling both modern and vintage with both a 1930's and 70s twist to the design. I absolutely love it!"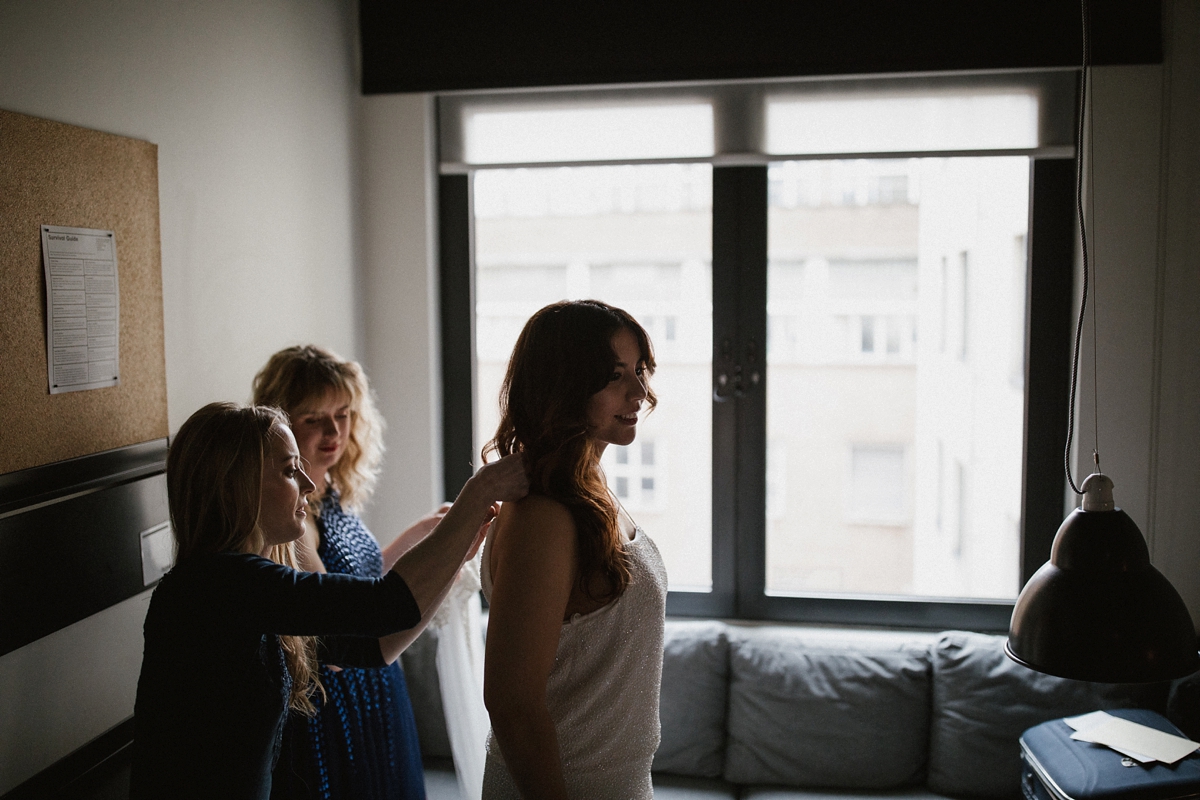 "I had been pinning various capes to Pinterest since the moment I got engaged and always knew that I wanted to incorporate some kind of cape into the final design. There was one that always stood out to me and I just loved it so much but I wasn't quite sure where the image had come from or who it had been designed by, which was so frustrating."
"The time was getting super tight to make the cape and I was really starting to lose hope on finding anything suitable when, after days and hours of trawling online and Etsy, I came across a designer who seemed to have a multitude of capes to sell, BINGO! I contacted the shop owner (Debbie of Gibson Bespoke), along with the inspiration image of the cape I had been carrying around for so long and could not believe my luck when I received a message back to say that it was in fact her own design."
"I opted for something almost identical to my dream cape in the 'Lakshmi cape', which I felt completed the dress and worked really well for my walk down the aisle, as all of the detail on the back was just incredible."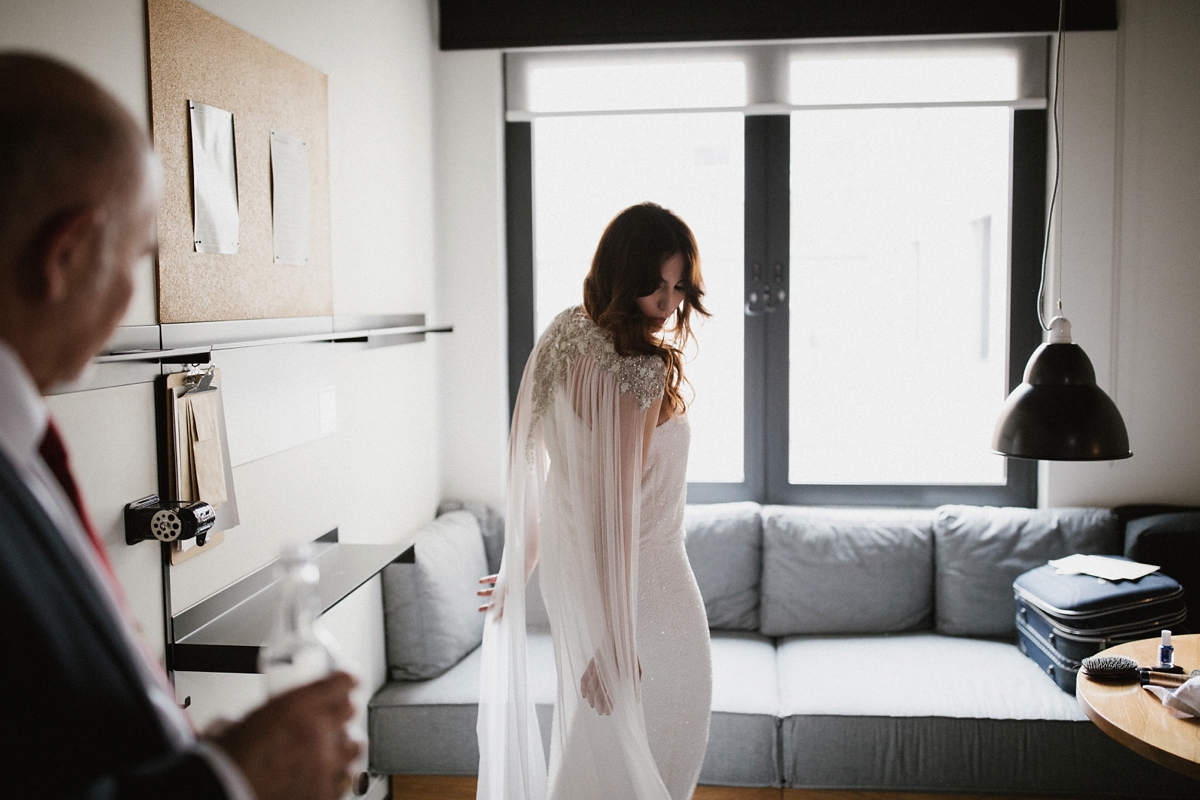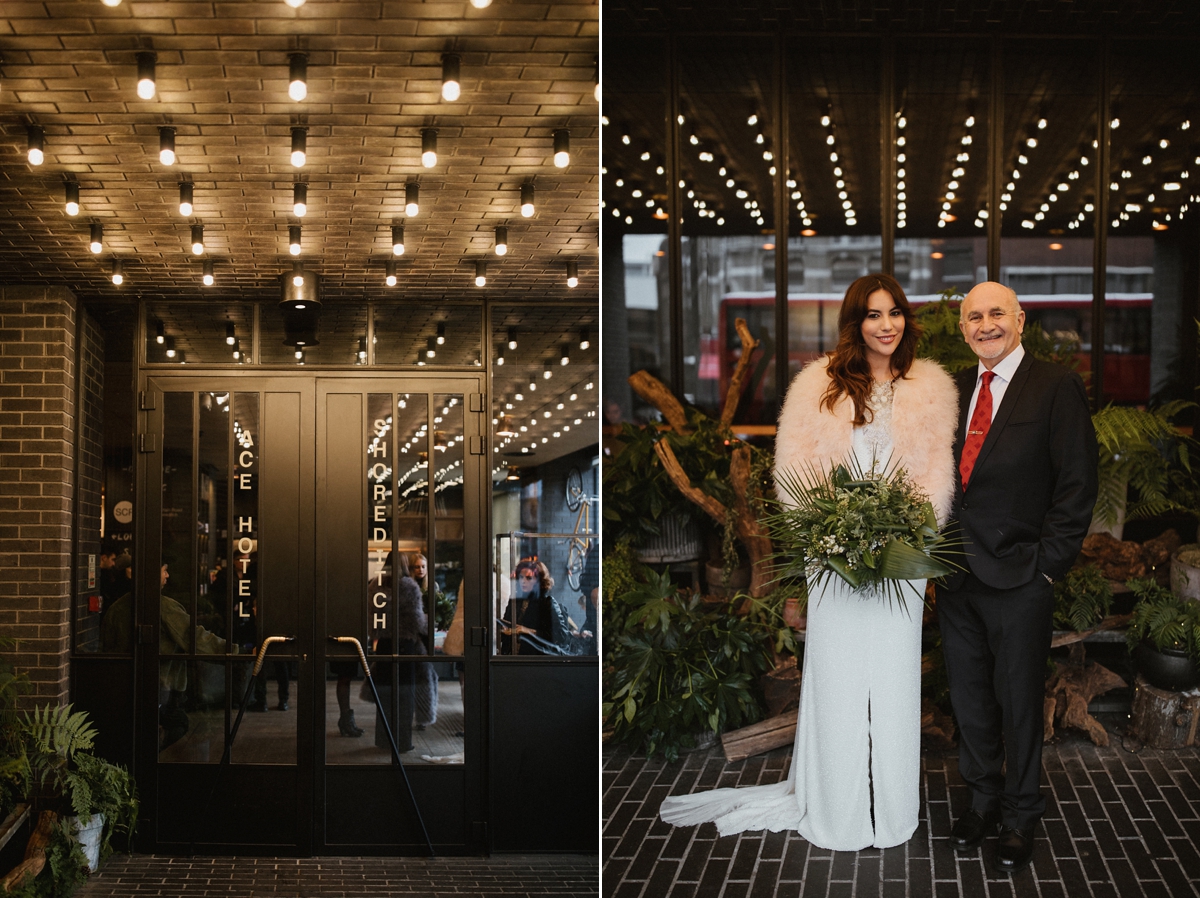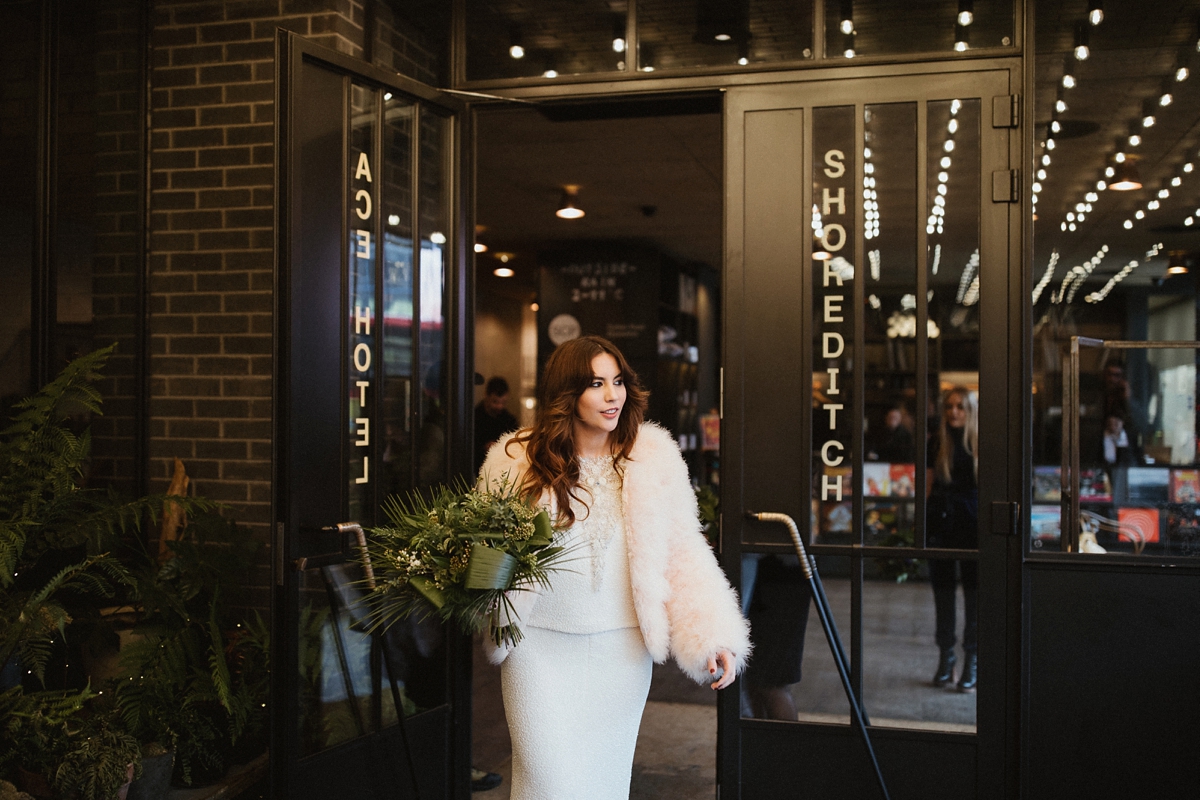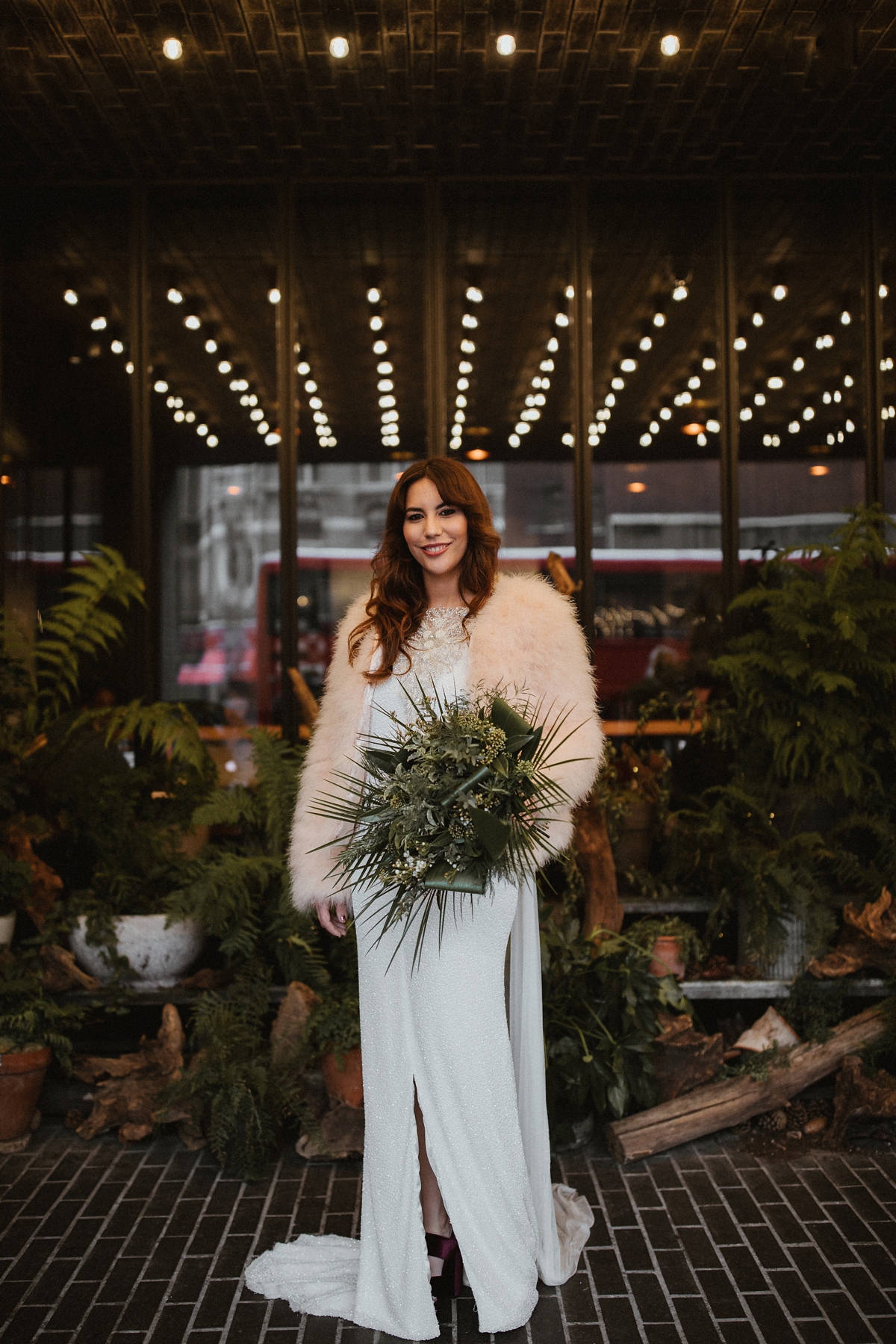 "A styled shoot I had seen on Instagram by @archive12 bridal shop inspired me for the bouquet. It was a vintage style, tear drop, mixed foliage bouquet which was totally green and spiky looking, which I loved, as it felt very me and not too girly. The Bridesmaids had wild flower and mixed foliage bouquets with hints of purple."
"My florist was my lovely primary school friend Danielle Franklin, who also helped dress the venue on the morning including the tables and the special chair for those that have passed (mentioned below). The tables were all dressed with Ivy running through the centre of each wooden bench, which complimented the rose gold sequin table runners perfectly."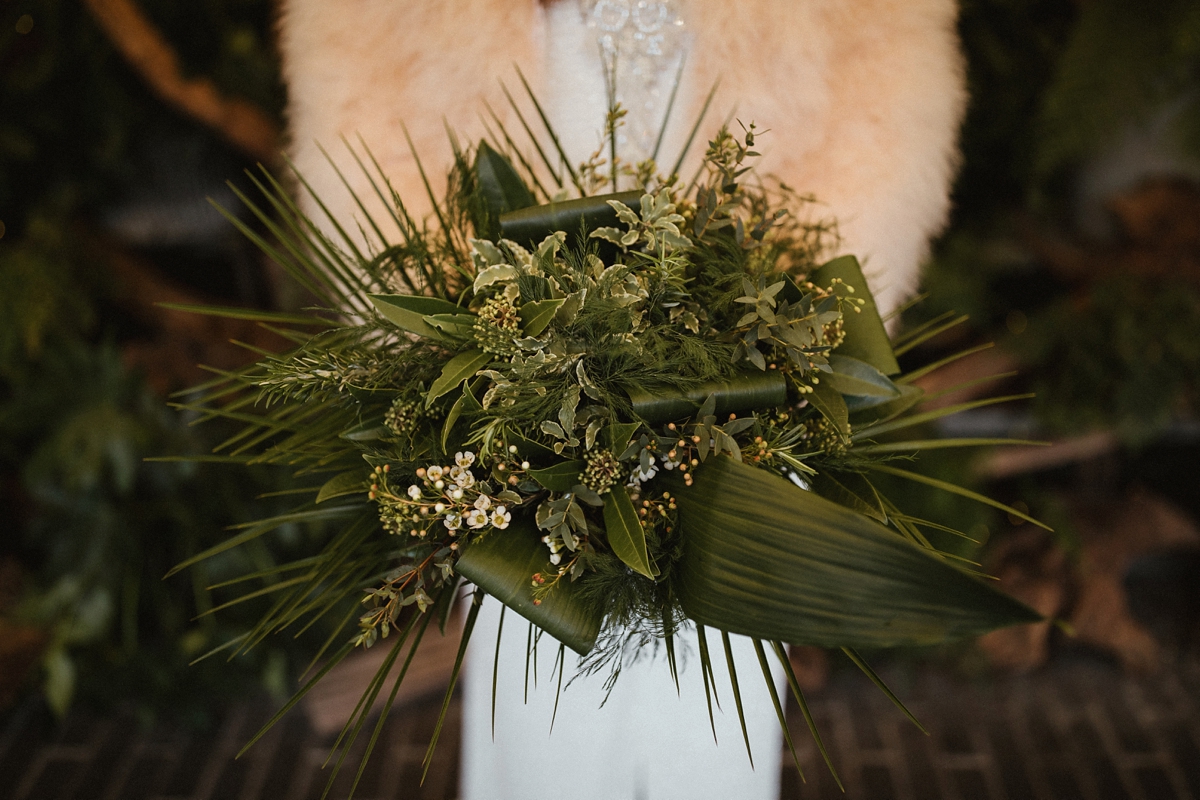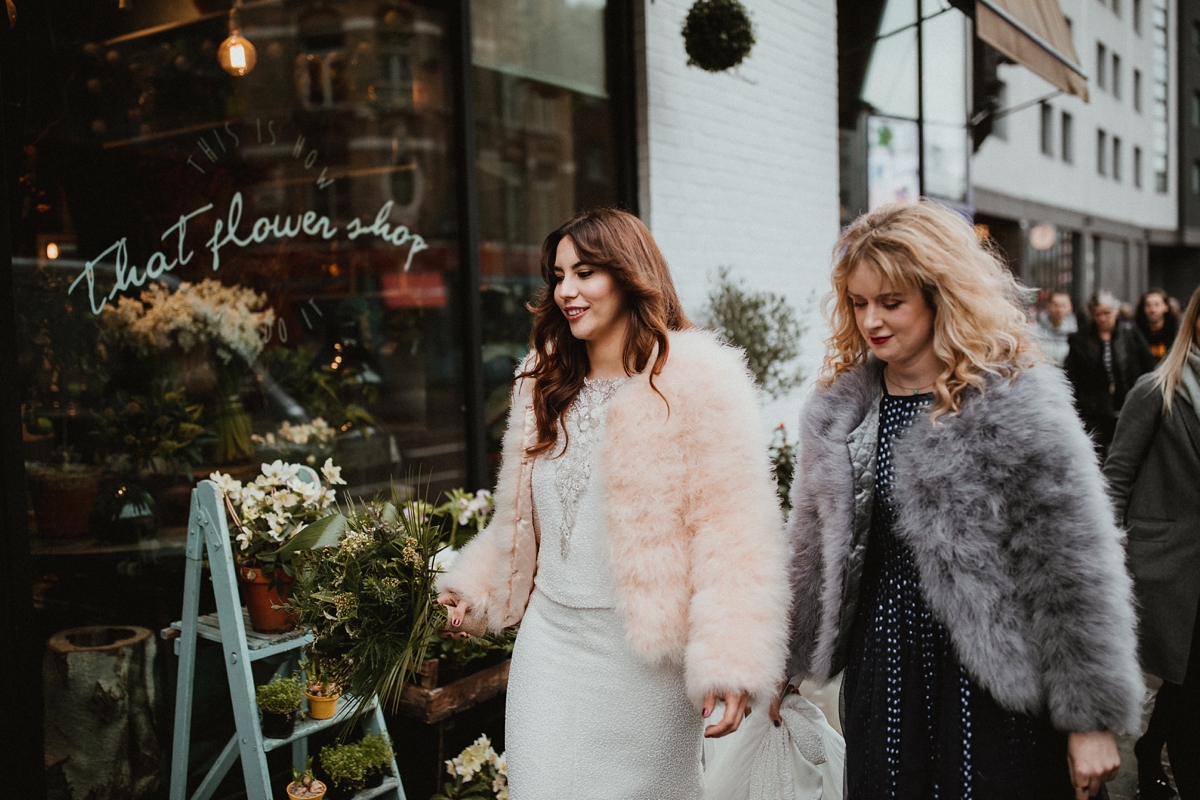 "My bridesmaids wore what they wanted and we all brought our ostrich feather jackets from Karizma. I brought all of the bridesmaids a birthstone necklace from Orelia."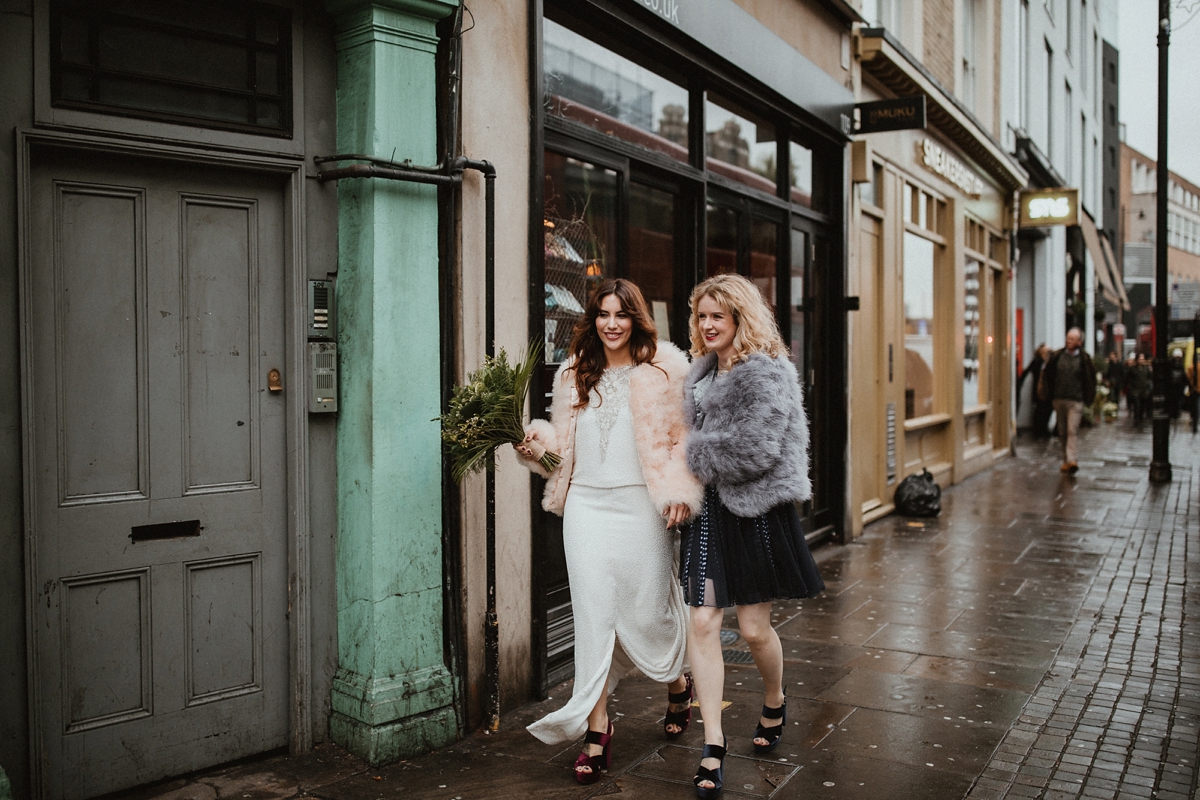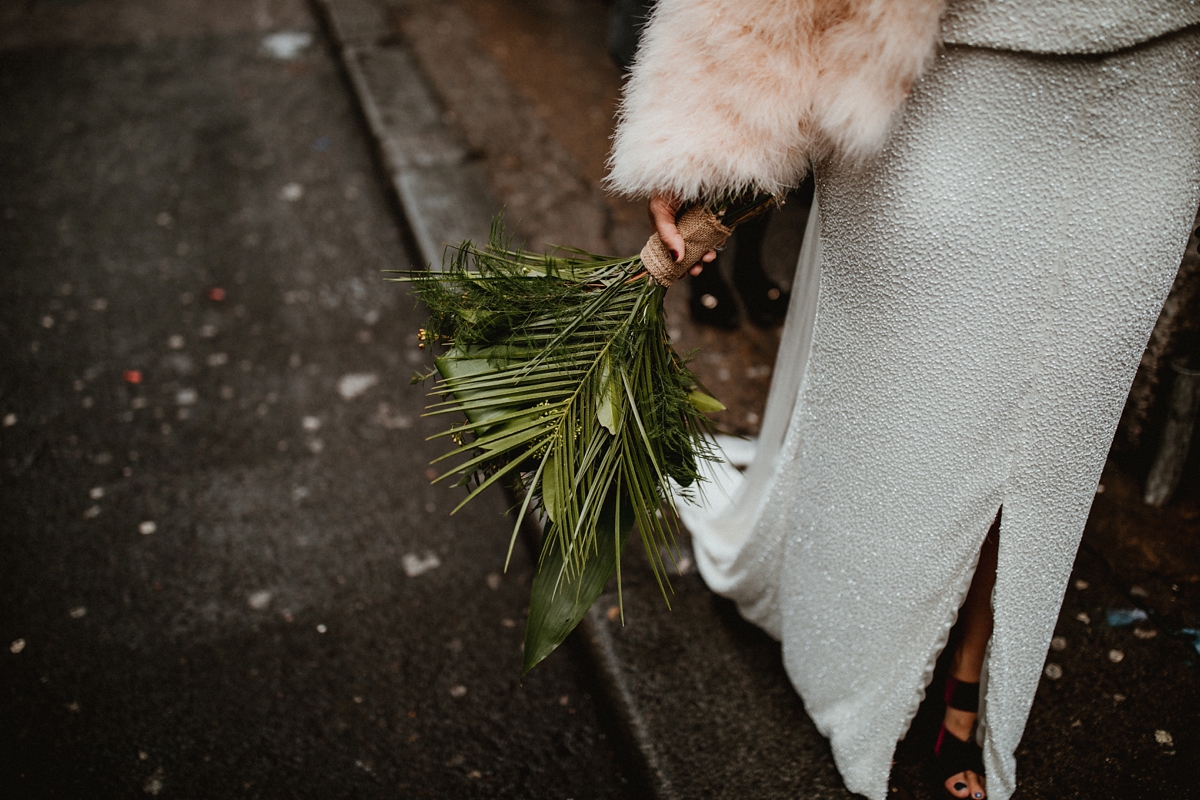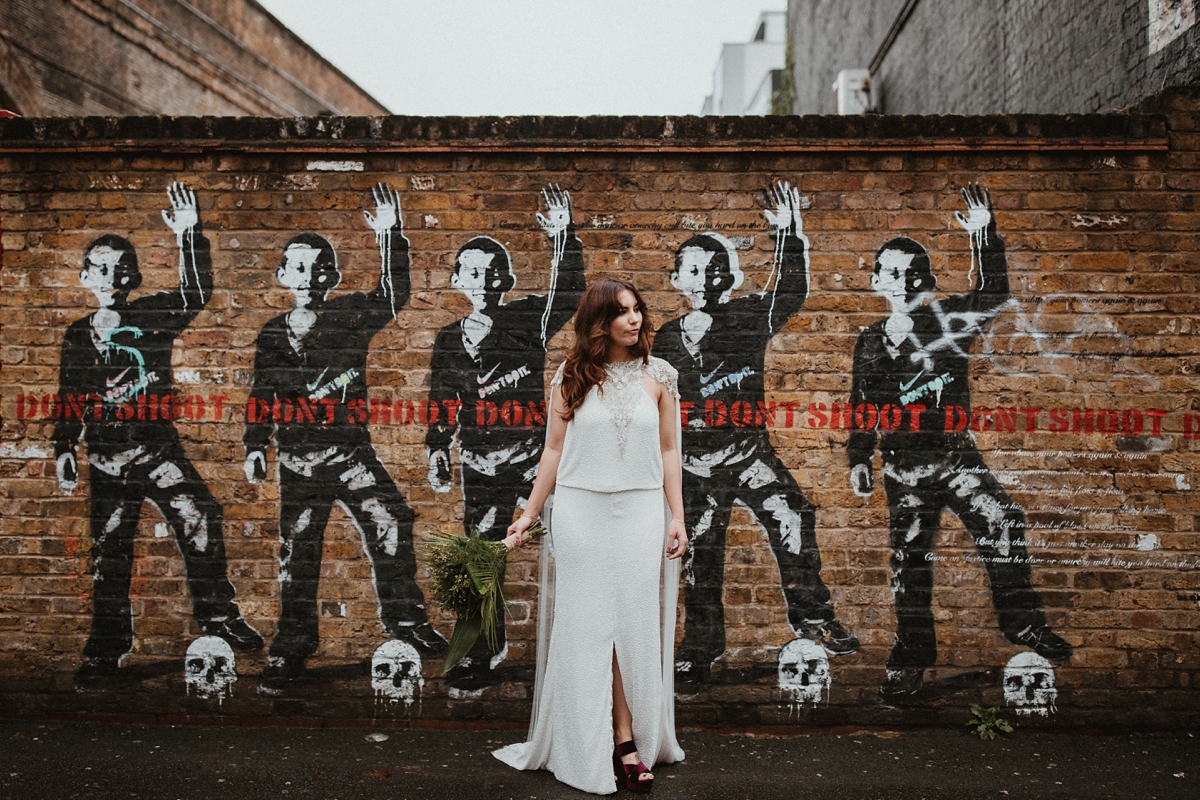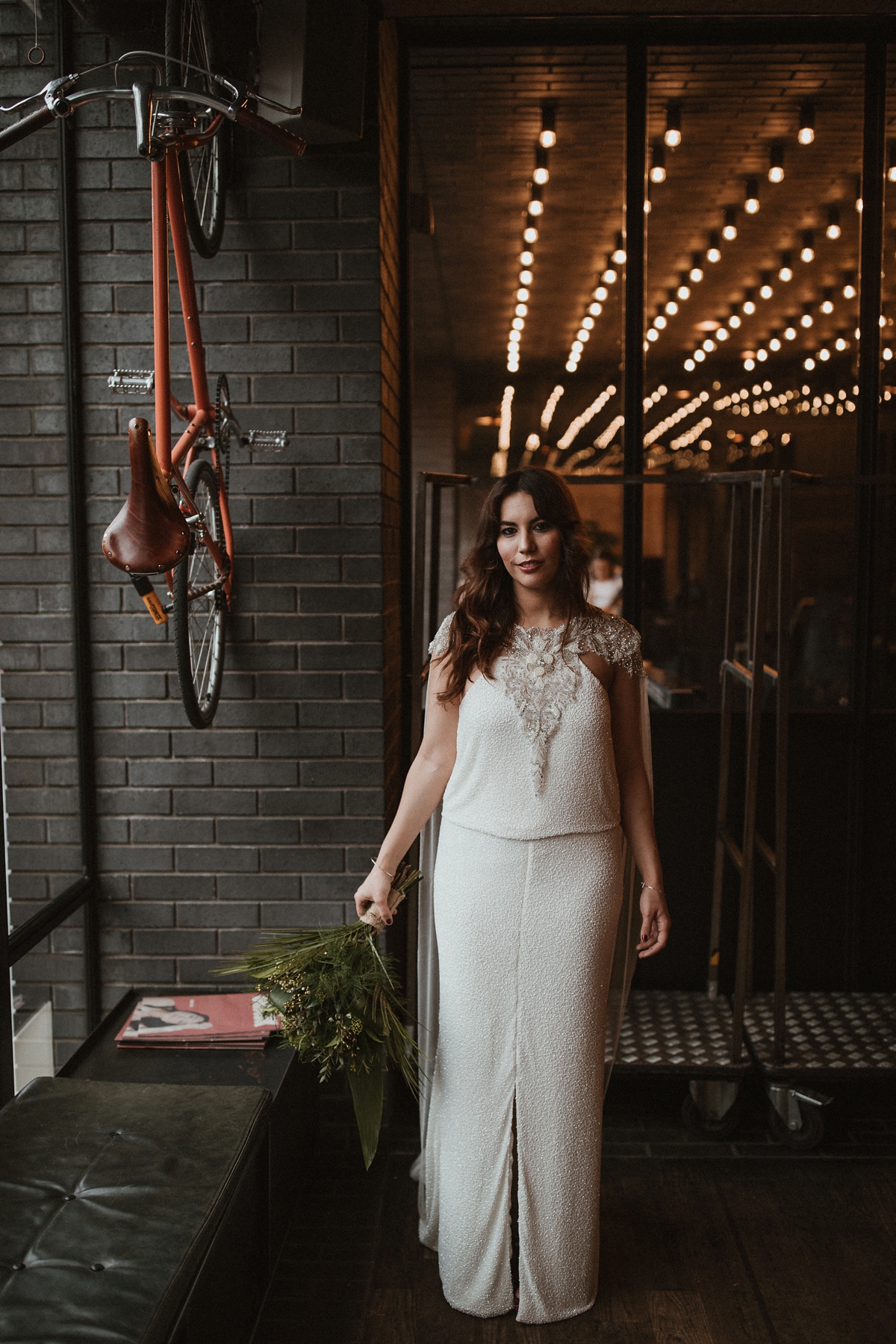 "Henry and I met through a friend who we now affectionately refer to as 'Cilla Black' – we were both hanging out at the Cat and Mutton on Broadway market, where I used to work as a hairstylist, and we ended up in the notoriously dodgy Dolphin Pub where Henry showed me his best moves, teaching me to play pool. We began dating regularly and clicked right away and have now been together for 8 years. We spoke about marriage very early on and knew that this is what we both wanted for our relationship, however we took our time and Henry finally proposed after 5 years in 2015"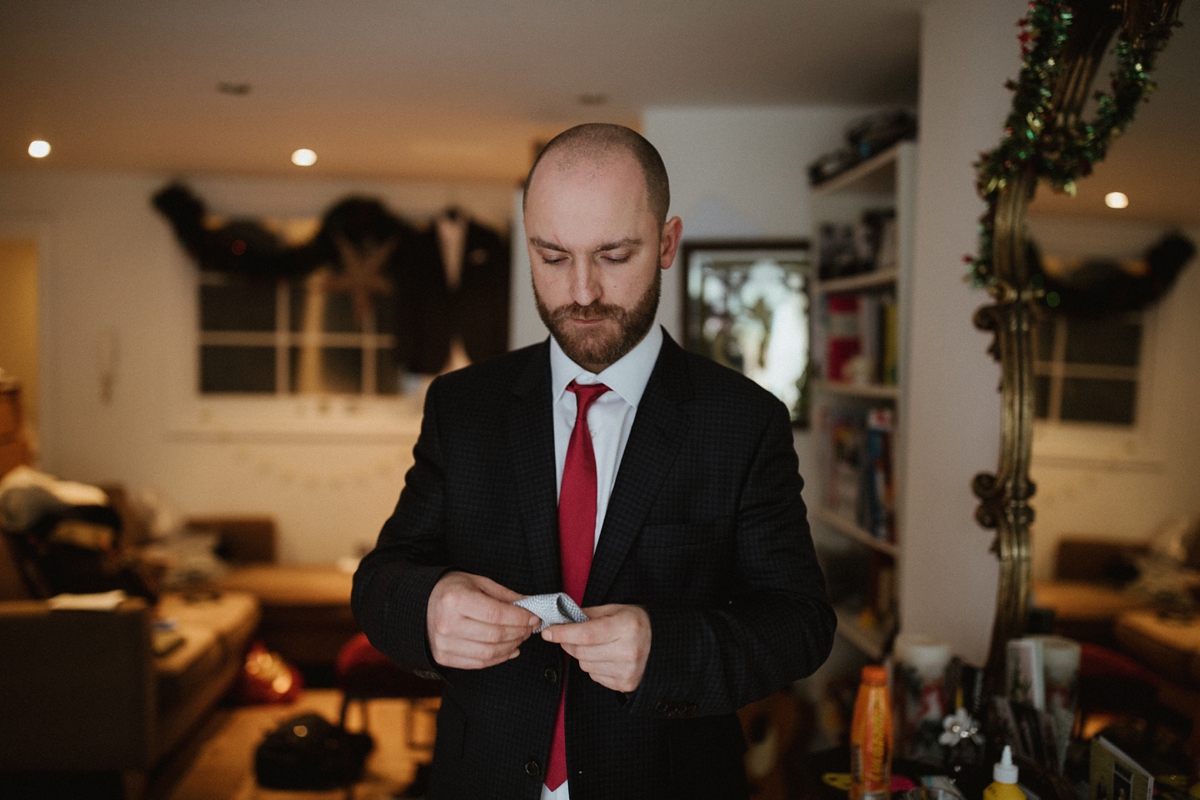 "The proposal was something I had expected quite a bit earlier if I am honest, we had spoken about it so early on in our relationship that I just assumed he would have asked me sooner. My lovely mum was diagnosed with Lung Cancer in 2012 and after a year she lost her battle so for Henry, he just felt it wasn't quite the right time with everything so raw and up in the air."
"We took a much deserved break together in May 2015, jetting off to the Greek island of Evia, a few days in Henry had organised a surprise meal on the private beach of the hotel we were staying at and they created the most idyllic set up for us. We got to the beach and I was so taken aback to see that a special table had been set up just for us and we were the only people there – just in time for the sunset, which was just magical."
"Henry had organised some old classic tunes we both love listening to together, and I remember laughing, as Nenah Cherry's Buffalo Stance was the song of choice. It started to feel a bit awkward as we both kind of knew what was happening and Henry had carefully planned the menu with the chef based on things we ate together, with him being the chef of our relationship."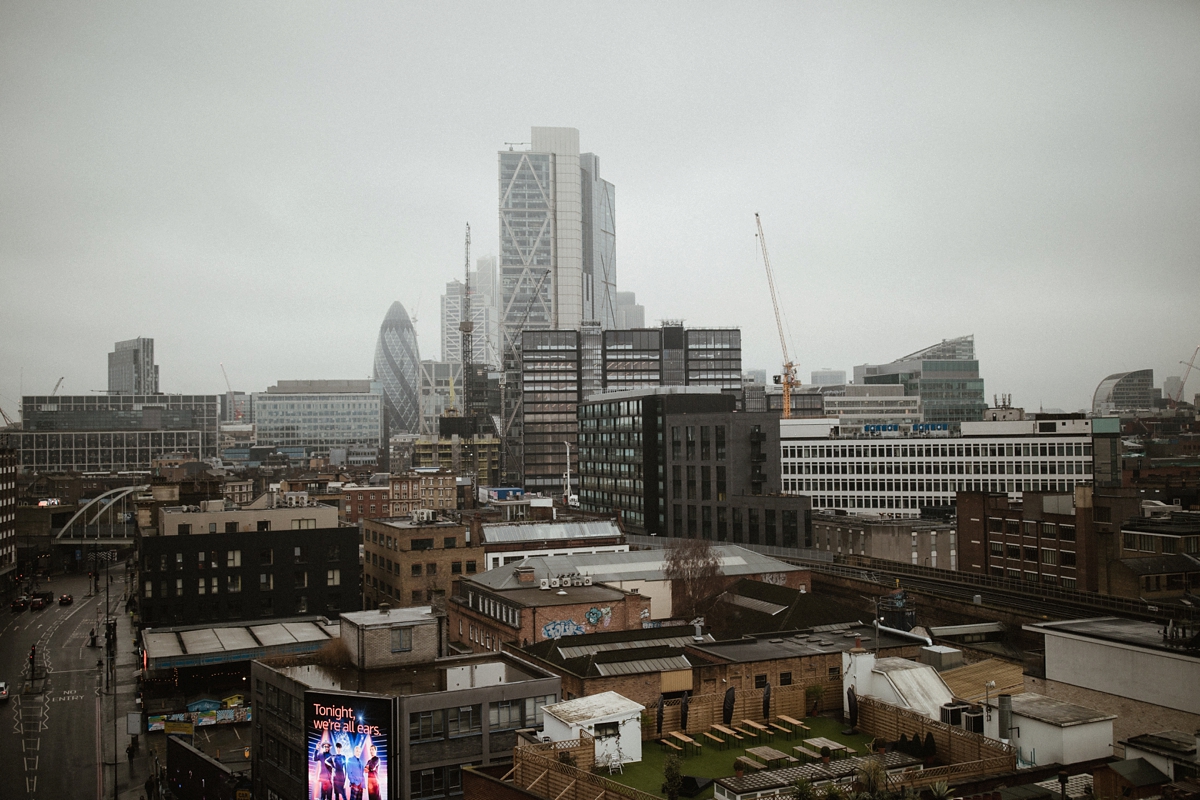 "I panicked a little when they brought me out the Chicken and mushroom pie, a Henry classic, I was convinced they had put the ring in the pie so I nervously and very carefully picked my way through it!! To my relief, there was no ring in the pie, so I relaxed a little more at this point. The ring box had been buried in a vase filled with sand in the centre of the table all along and Henry got down on one knee. I laughed hysterically as I said yes and the feeling was just the most magical I have ever felt."
"Growing up as a Catholic, I always knew I wanted to get married in a Catholic church but also knew that I didn't want Henry to feel obliged to do so as he's not really religious. Father Chris at St Mary Moorfields made us both feel so relaxed and accepted so Henry didn't mind at all. We both absolutely love the feel of the church as it is very intimate and also the oldest and only catholic church right in the heart of the city so it has a lot of history and felt very special to us."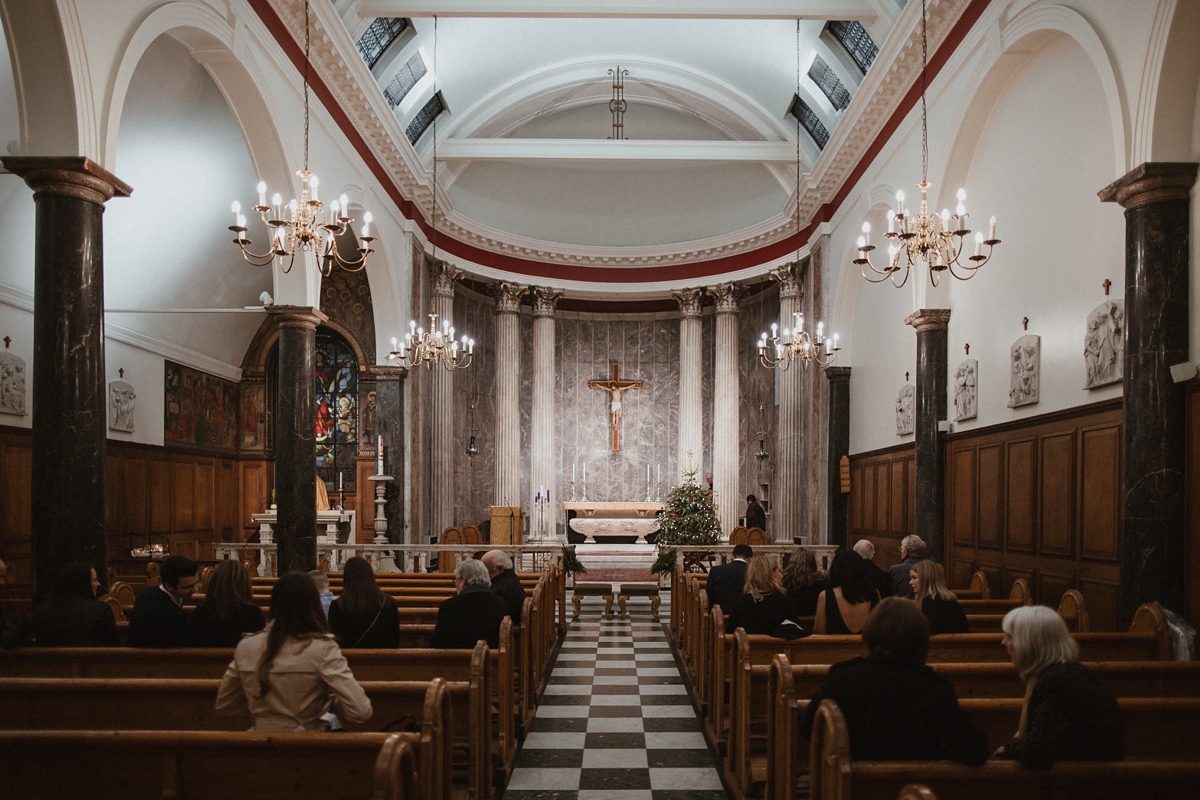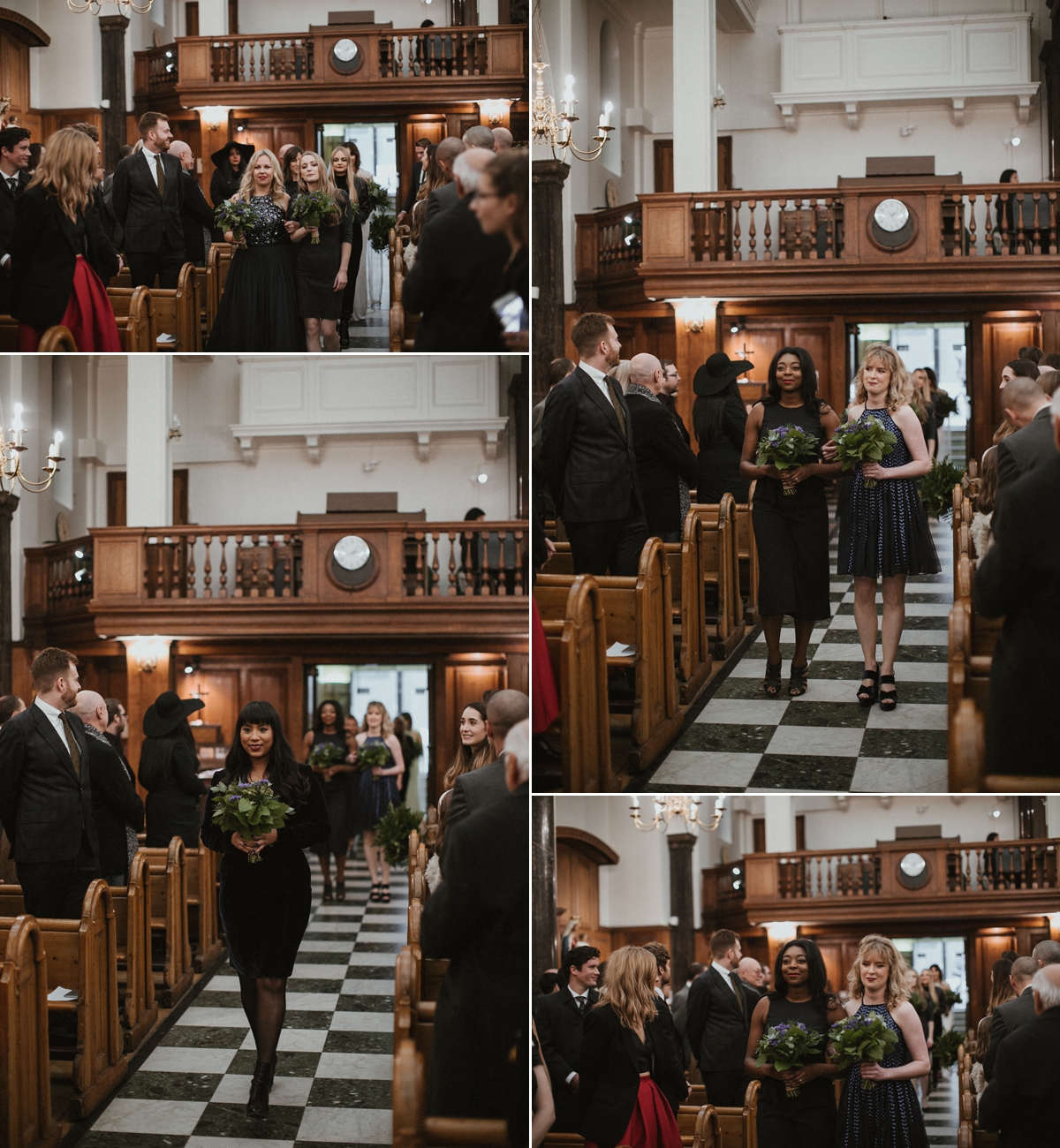 "Our rings were from Hamiltons in Hatton Garden, who we found via a friend's recommendation. Henry designed my engagement ring knowing that I prefer a dark stone and noting too girly. He got me a beautiful black diamond ring designed from scratch and which I adore."
Zara's father accompanied her down the aisle and the couple kept the ceremony fairly low-key in terms of their readings.
"We kept it very classic for the church, with classic church readings during our ceremony."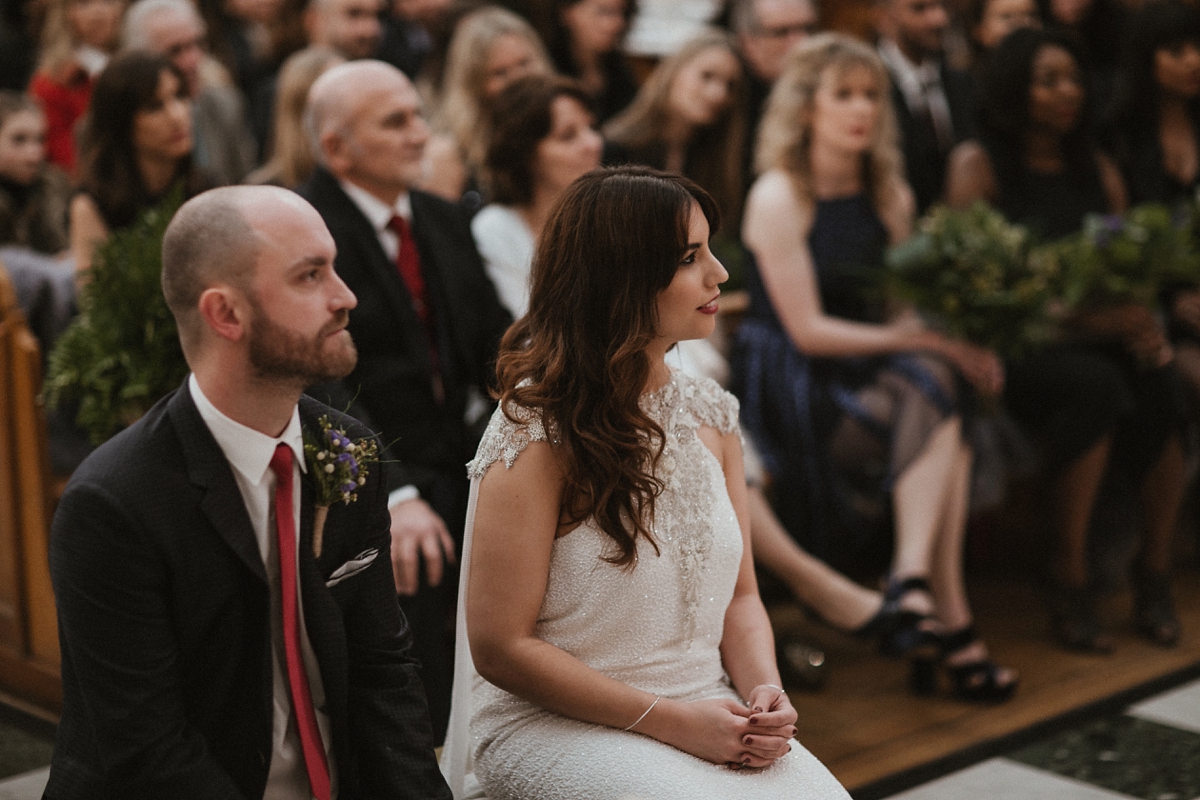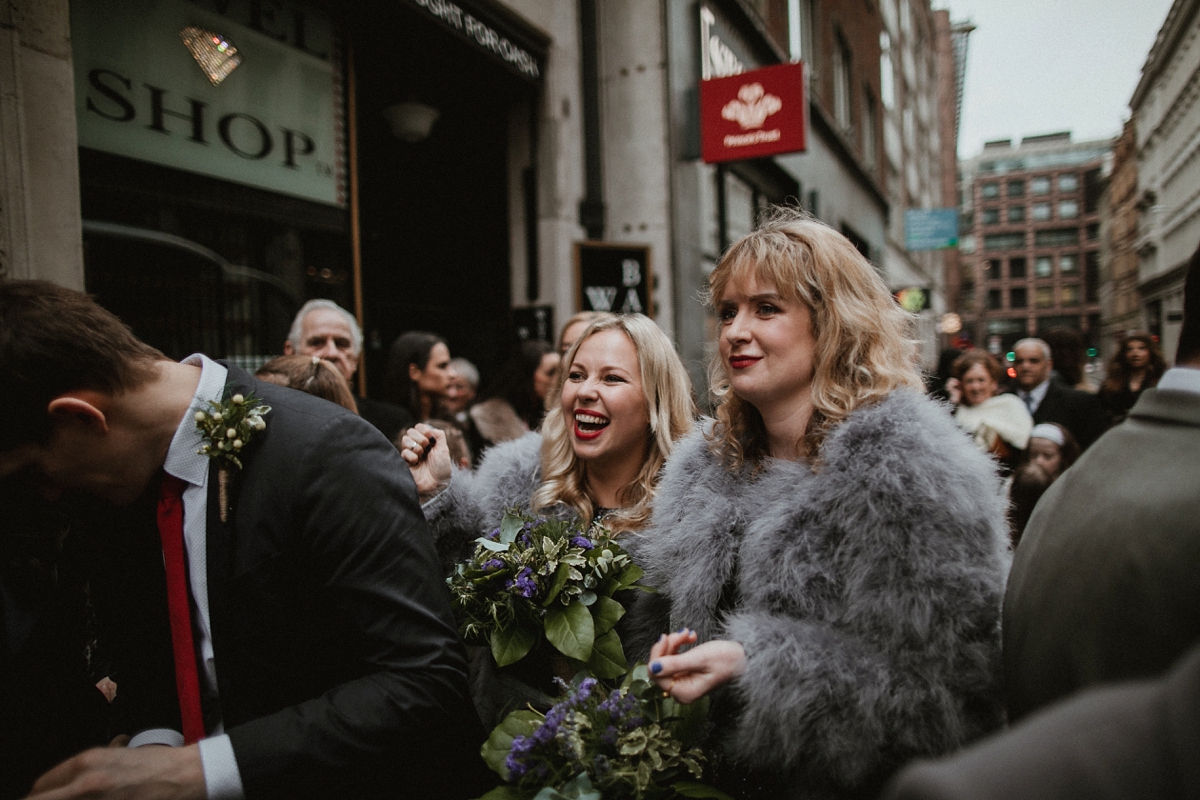 "We used Paperless Post for most of the invites as from experience of receiving formal invites I would always lose them and never reply (very naughty of me)."
"I sent some posted invites to some of the older guests and used Etsy to find a great supplier called The Vow Sheffield (who also supplied our confetti)."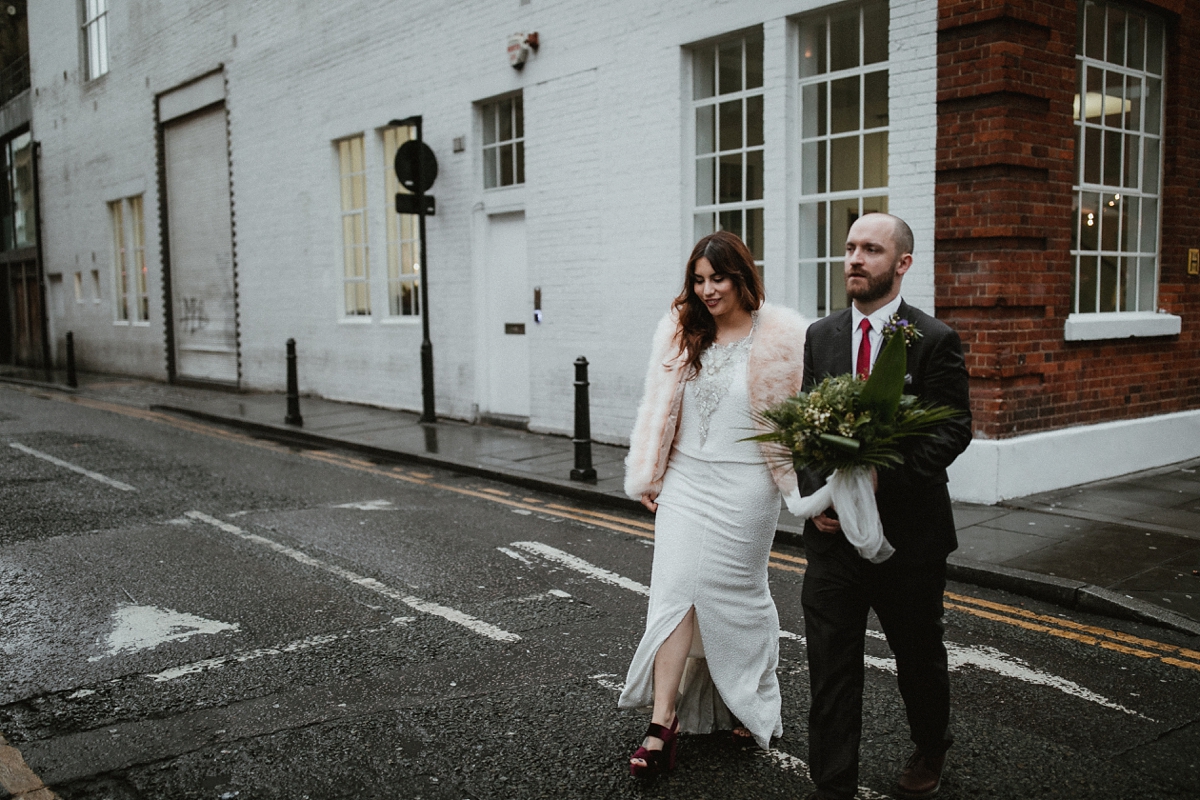 The couple's photographer was the highly sought after and brilliantly talented James Frost (whose work we've featured previously on Love My Dress).
"I met James on a bridal photo shoot and instantly loved his quiet and relaxed personality, which was very calming. It was great getting to know him prior to making a decision on the booking and it took the stress out of booking someone blindly! I absolutely loved James' photography style and kept going back to it to swoon over his incredible instagram posts. I just knew I had to have him on the day."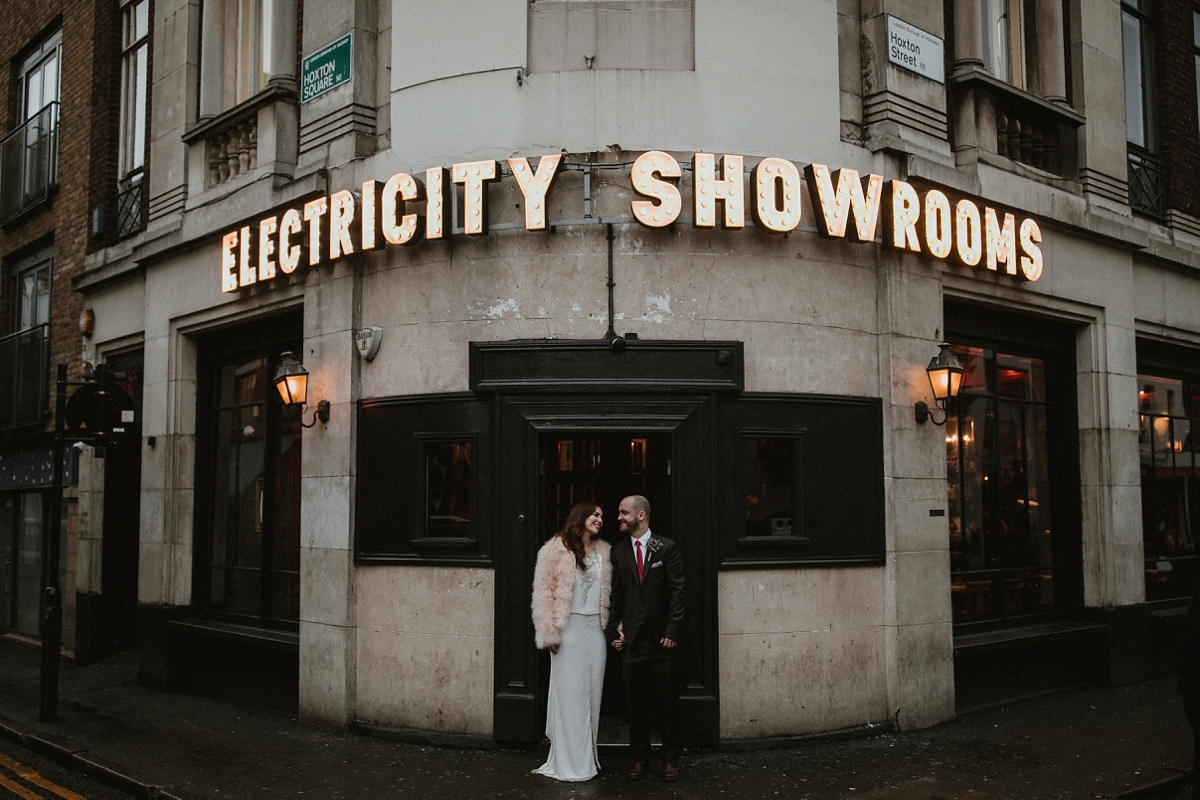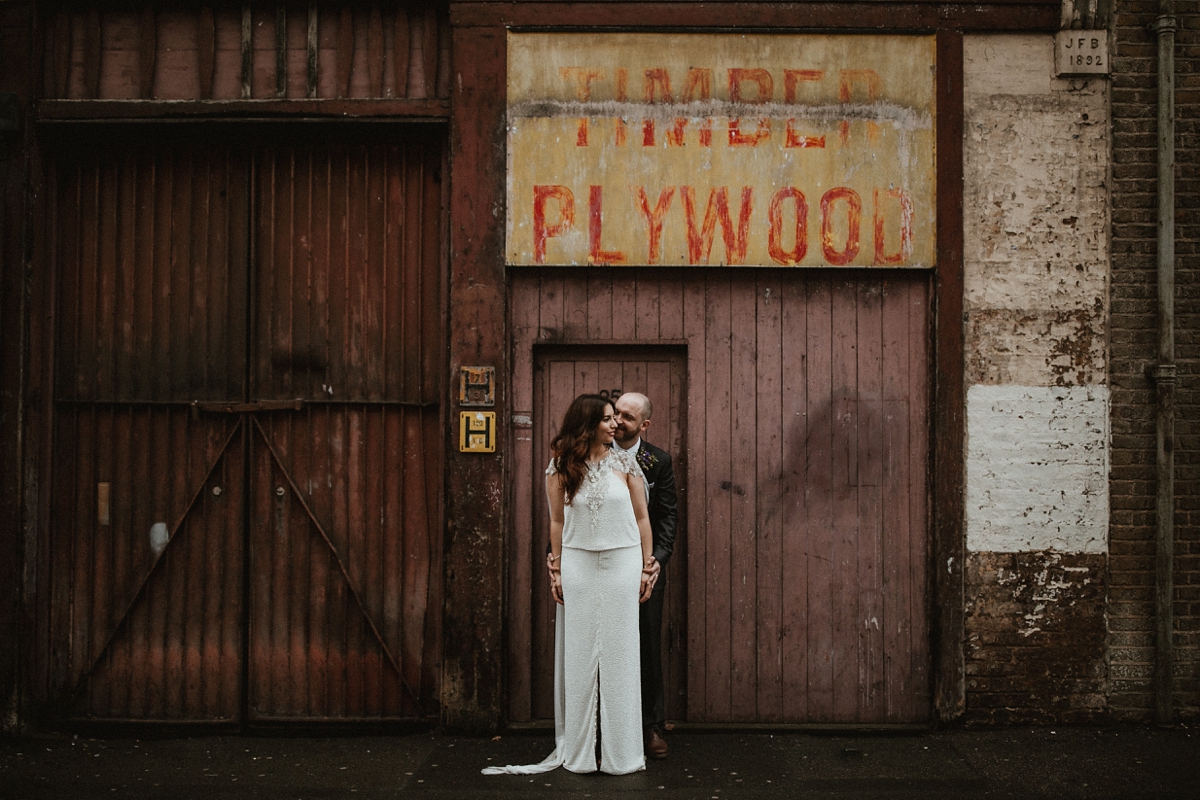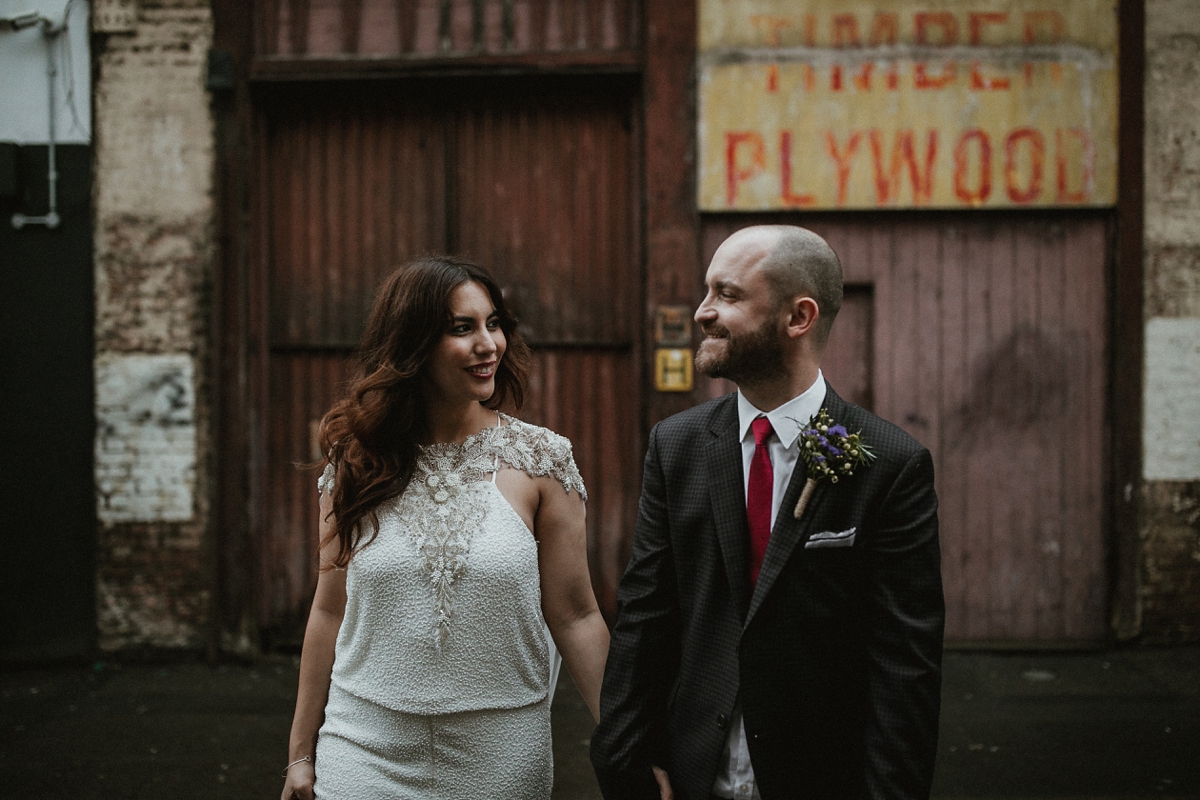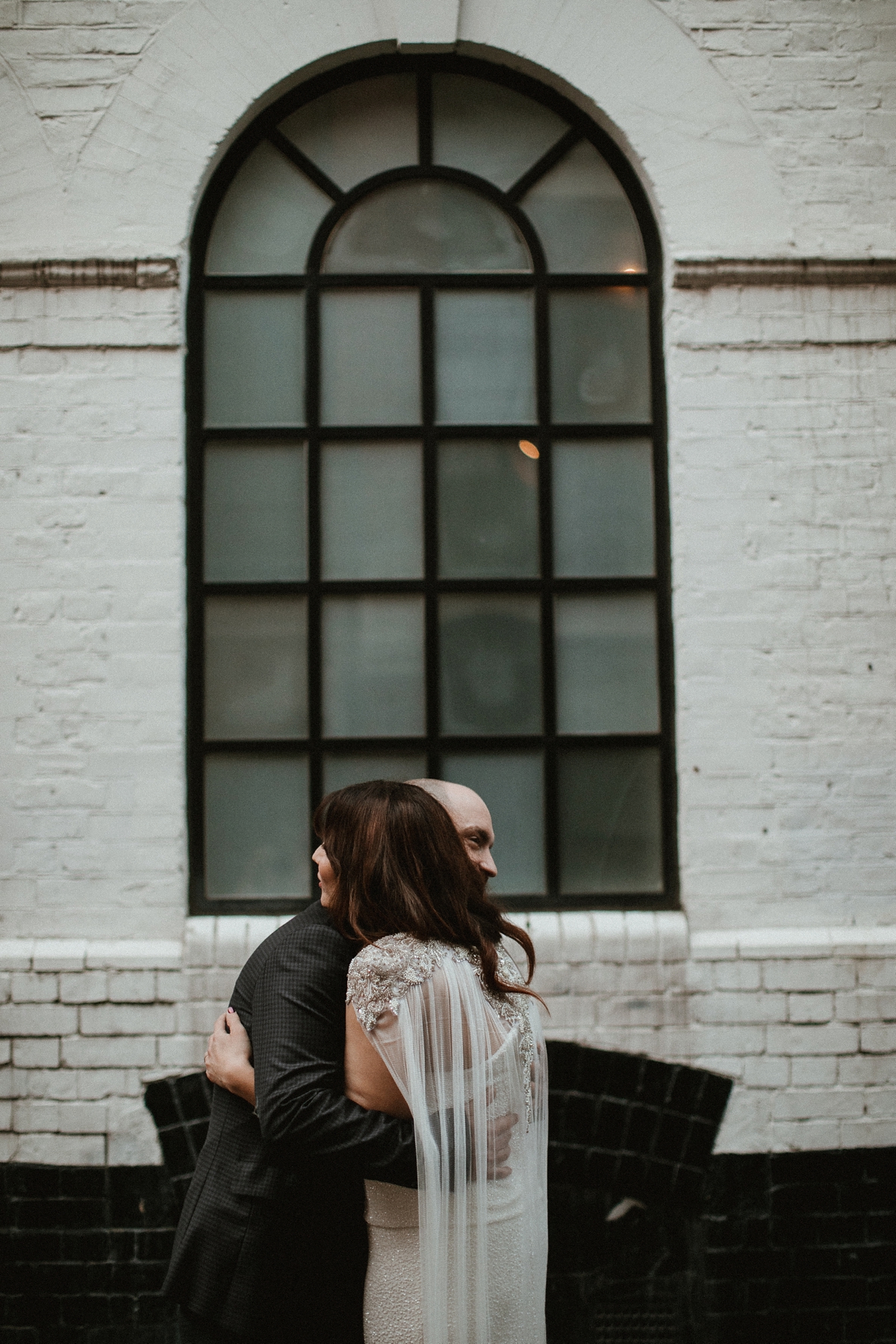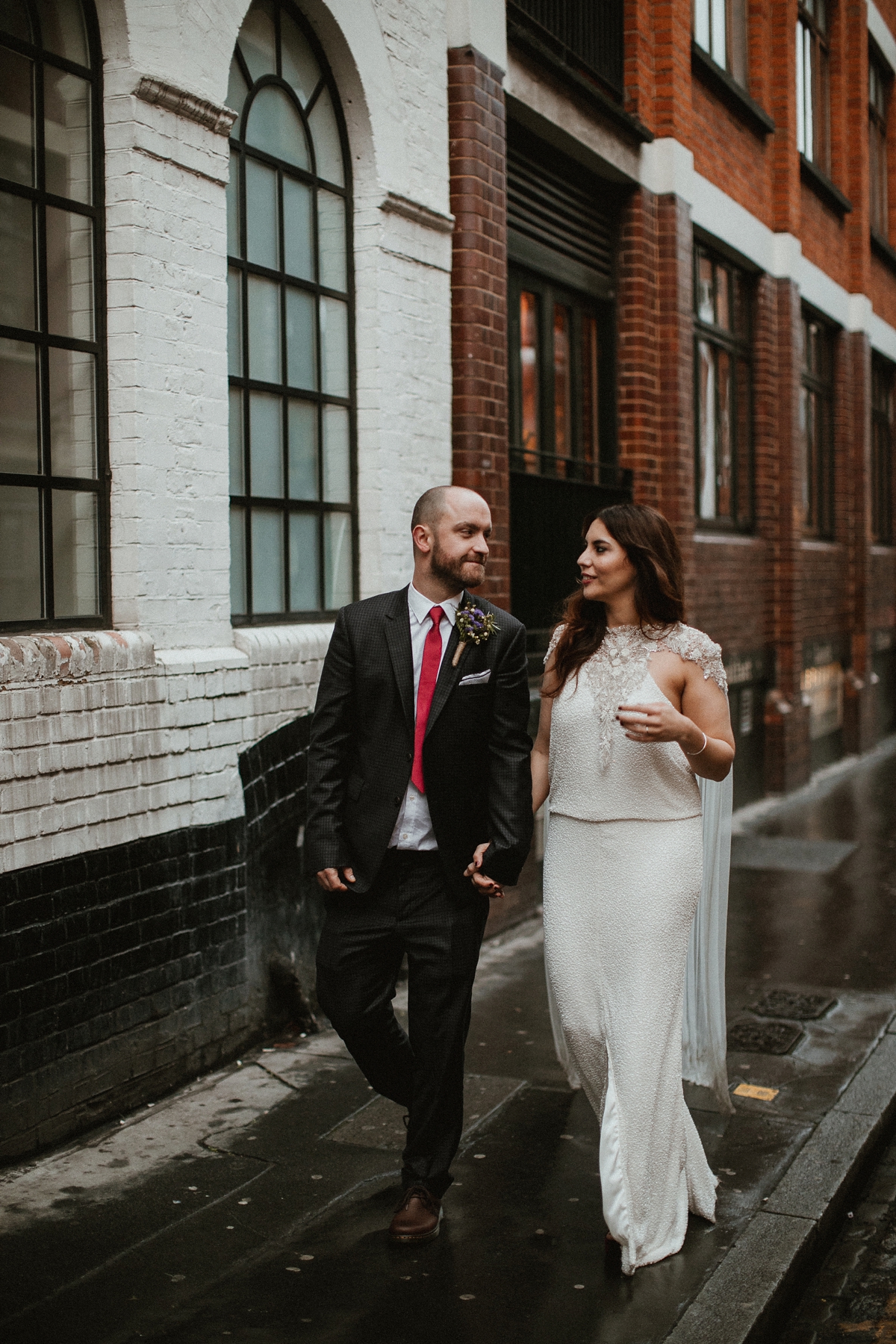 "We both always wanted a London wedding as we are both originally from London and we just felt that it was right – there was never even any other discussion or option really. We had a large wedding of 200 people so wanted a venue that felt spacious and not overcrowded and that also was within our budget."
"We loved the idea of a blank canvas venue initially and looked into warehouse spaces but we then realised the huge amount of work and stress that this may bring us, especially without having a planner on board!  was very disheartened and had almost given up hope on finding the right venue, but when we finally saw The Anthologist, we knew instantly it was the one. With all of the little details already in its décor, it was quirky enough and had lots of nooks and crannies for the guests to explore throughout the day and even some exposed brick walls to give it that warehouse vibe we were initially after!"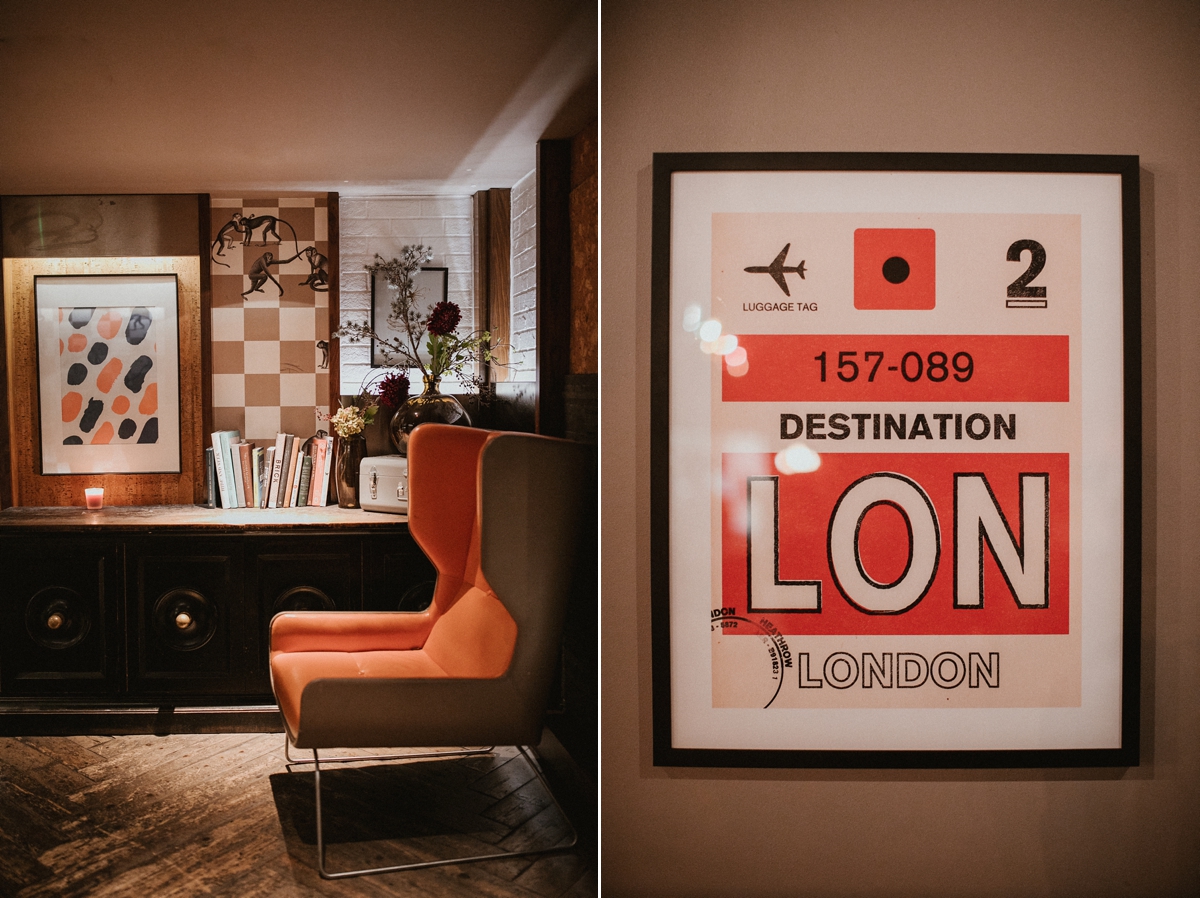 "After meeting Will, who was head of the events team at The Anthologist, we were further swayed to book the venue as Henry and I just adored him! He was super pro and ran a very organised operation. The staff at the venue put us at ease immediately and I have absolutely no regrets picking The Anthologist to host our special day."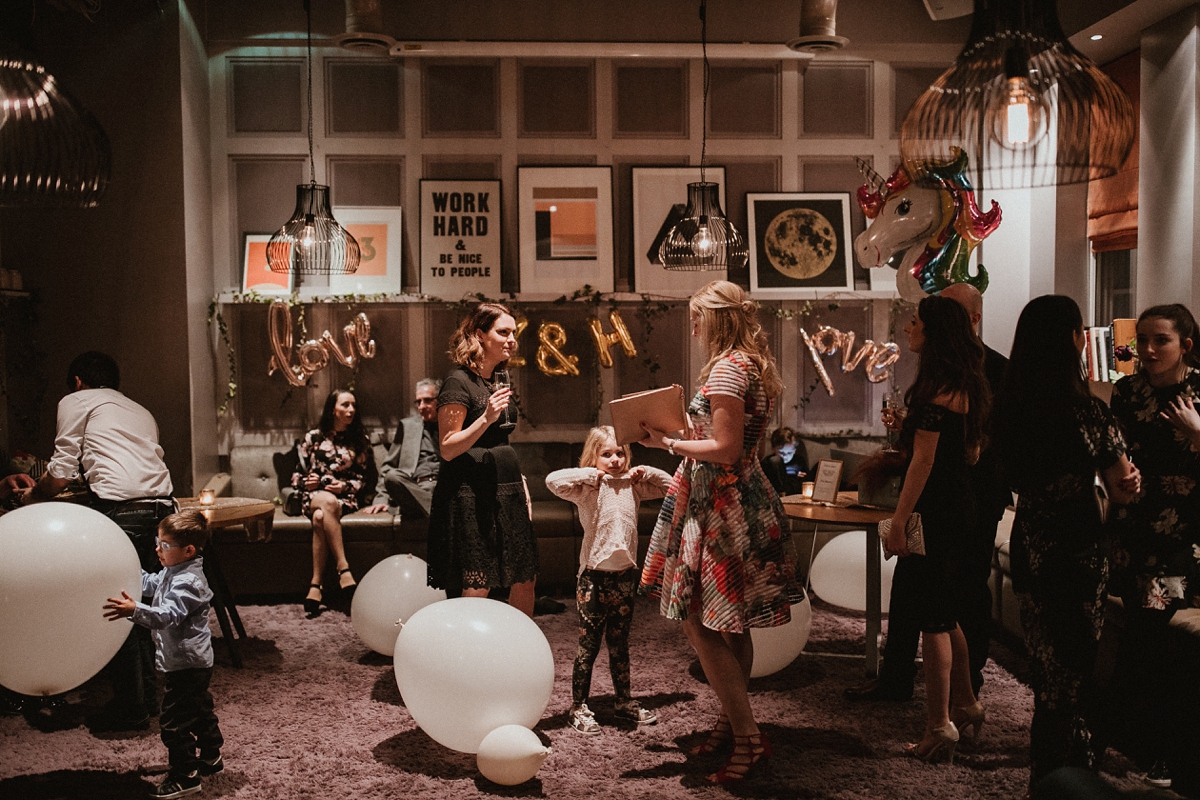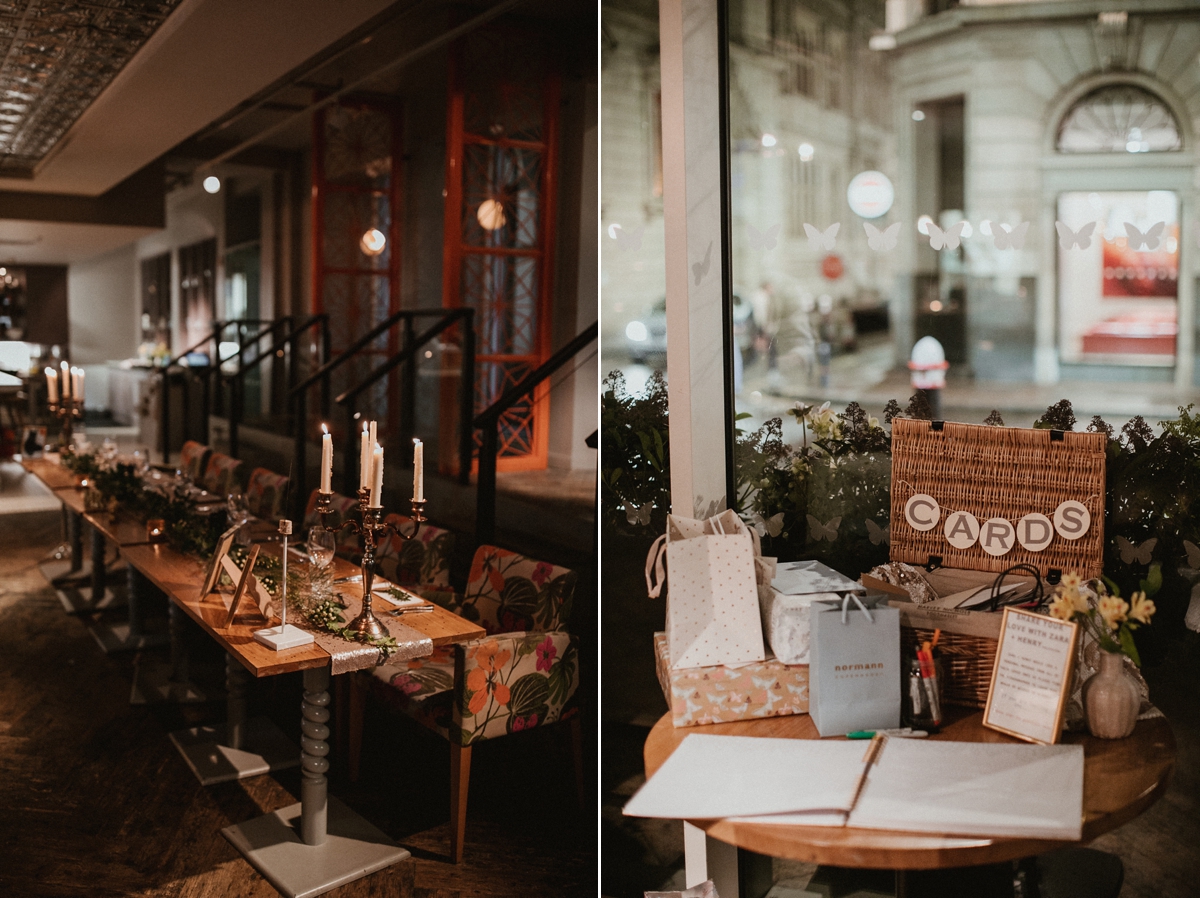 "Our table plan and numbers were a DIY effort inspired by Pinterest. We mounted an old bit of MDF with rose gold sequin material, added the old records around the edge and names in the middle. We brought the old vinyl's from a charity shop and henry made little wooden holders and we spray painted the numbers onto the records."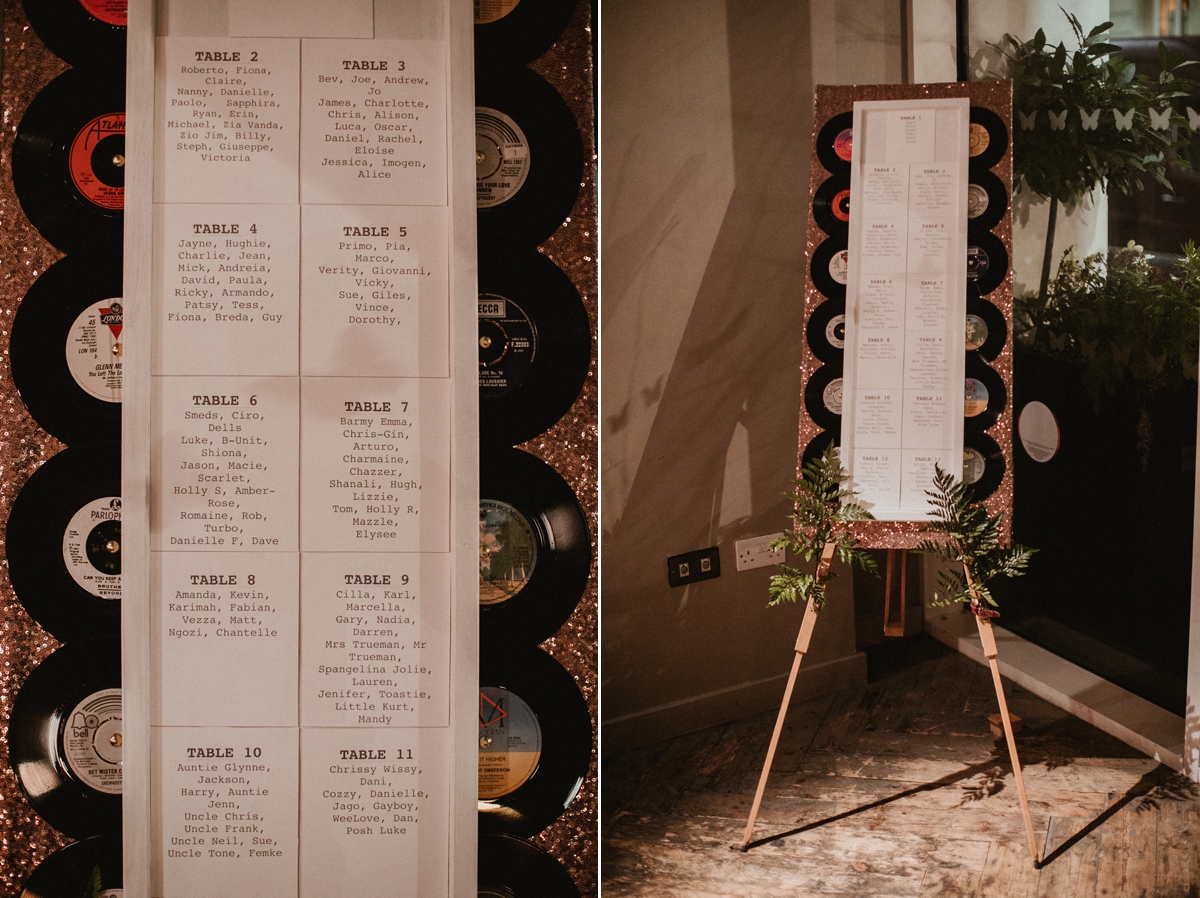 "We made our own placecards – Henry ordered a stamp kit with individual letters from Ebay and we ordered Vintage looking Keys that doubled up as bottle openers for our favours. The keys came from Etsy shop Handstampology. They came complete with luggage tags and we printed each persons name or nickname (for a personal touch)."
For entertainment, the couple hadThe Mangrove Steel Orchestra for guests.
"The most magical moment for me was the surprise steel pan band that greeted me on arrival. It is my favourite musical instrument and I had been getting annoyed with Henry for not letting me book entertainment on arrival as he wanted to save money by playing music from his laptop instead! The sound was incredible and gave me goose bumps from head to toe and it was just so thoughtful from Henry. I wish they stayed even longer they were so good." 
"The venue was pretty complete but we got our sequinned table runners from Rebecca at Glimmer & Threads. We added a personal touch with a wig corner as I am a wiggy at Les Miserable so felt it was quite fitting."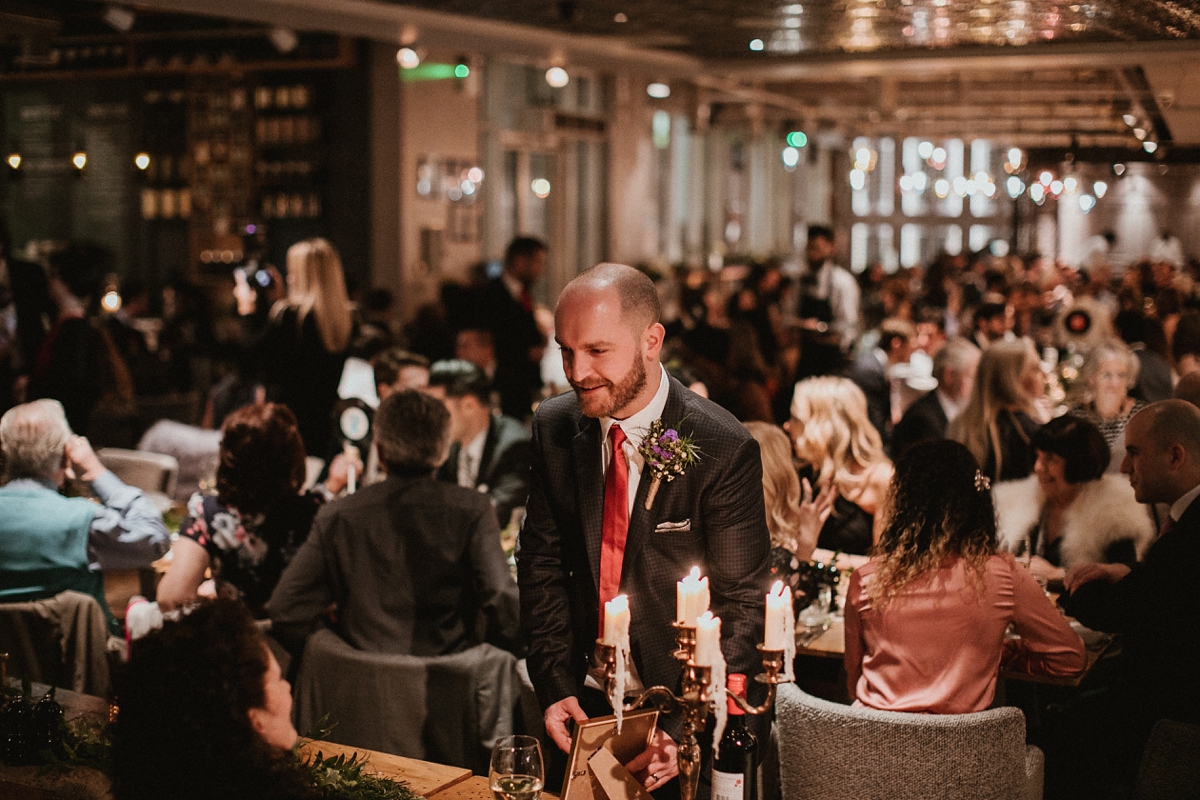 "The Anthologist provided all the catering -the food was delicious and service provided was impeccable! So many guests passed comment on how impressed they were by staff at the Anthologist and the lovely hearty food with very generous portion sizes! Menu tasting was probably the most fun part of the wedding panning process as we were so well looked after."
"We hired a popcorn machine with a staff member via Sweet Impressions UK. Adeola was absolutely lovely and went down a storm at the wedding!"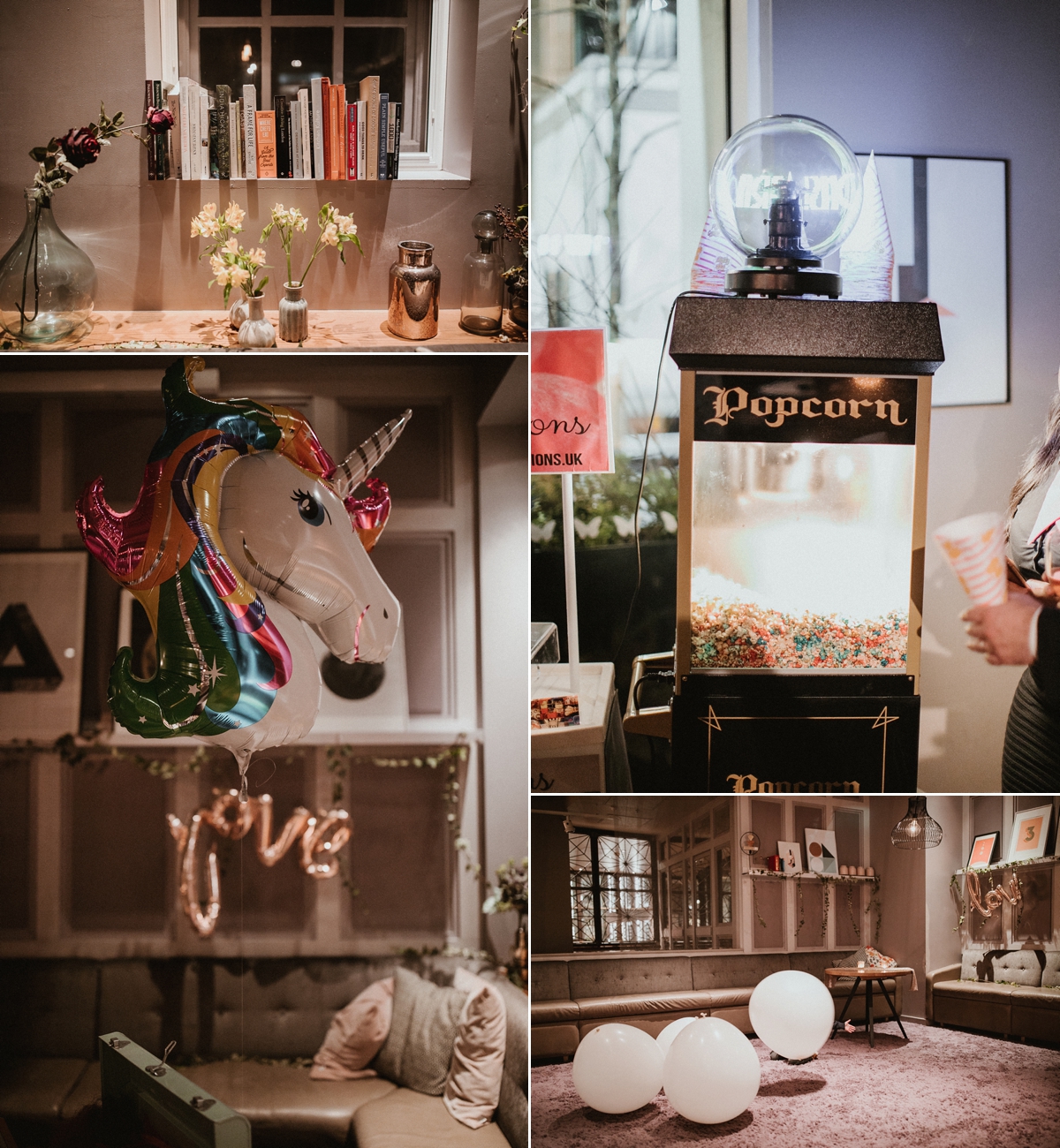 "Our cake was made by Finch and Garter Cakes, the founder of whom is a friend of mine who owns from Les Miserables who is always supplying the most incredible cakes to the cast and crew!"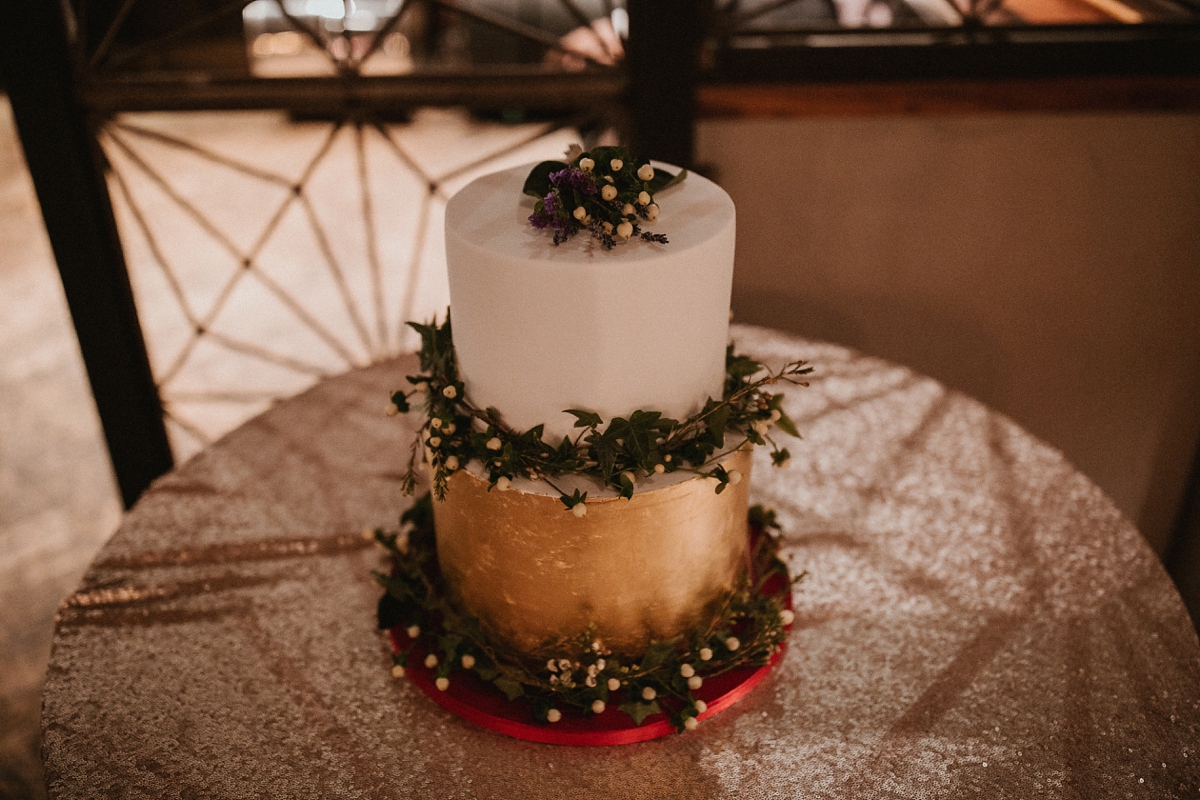 "We created a special chair for those that had passed away from our families. I brought a vintage rocking chair from ebay and covered it in feather fairy lights and Ivy and we put their pictures in frames around the chair with a nice poem to go with the display. We also included pictures of our cats Hank and Daphne – We kept these on the top table for a personal touch."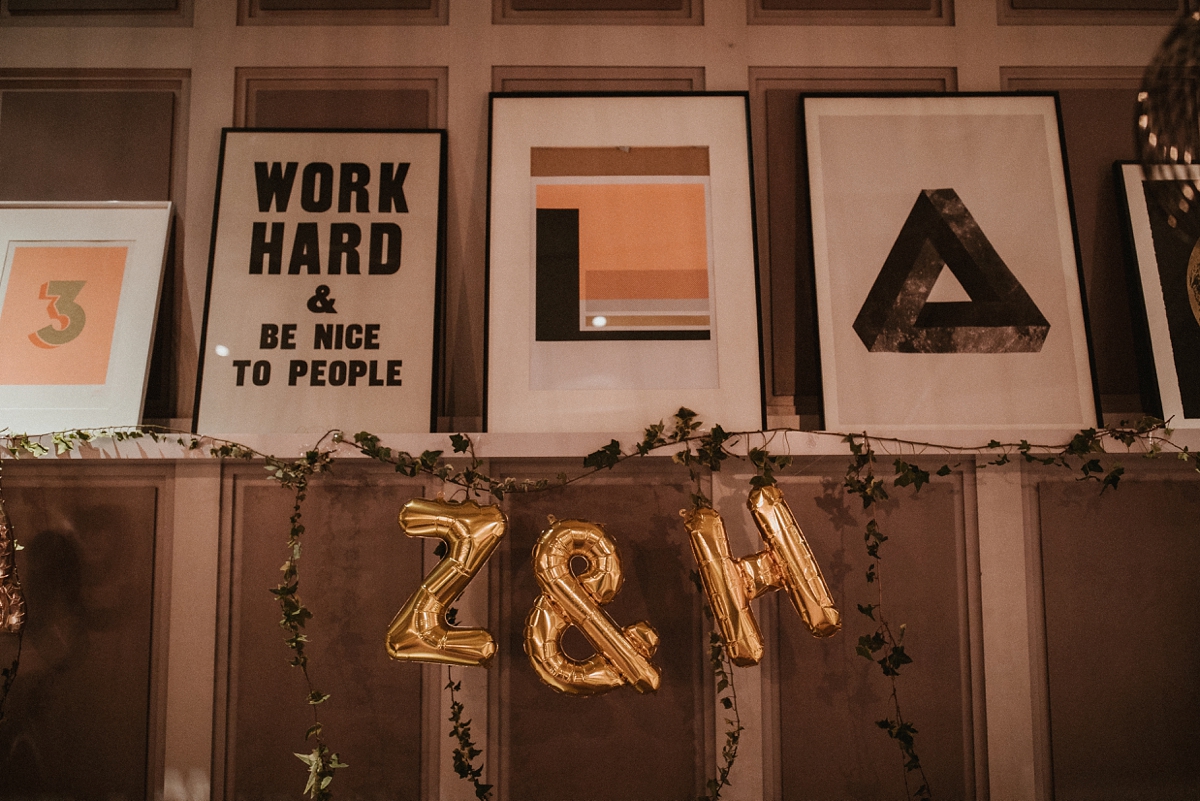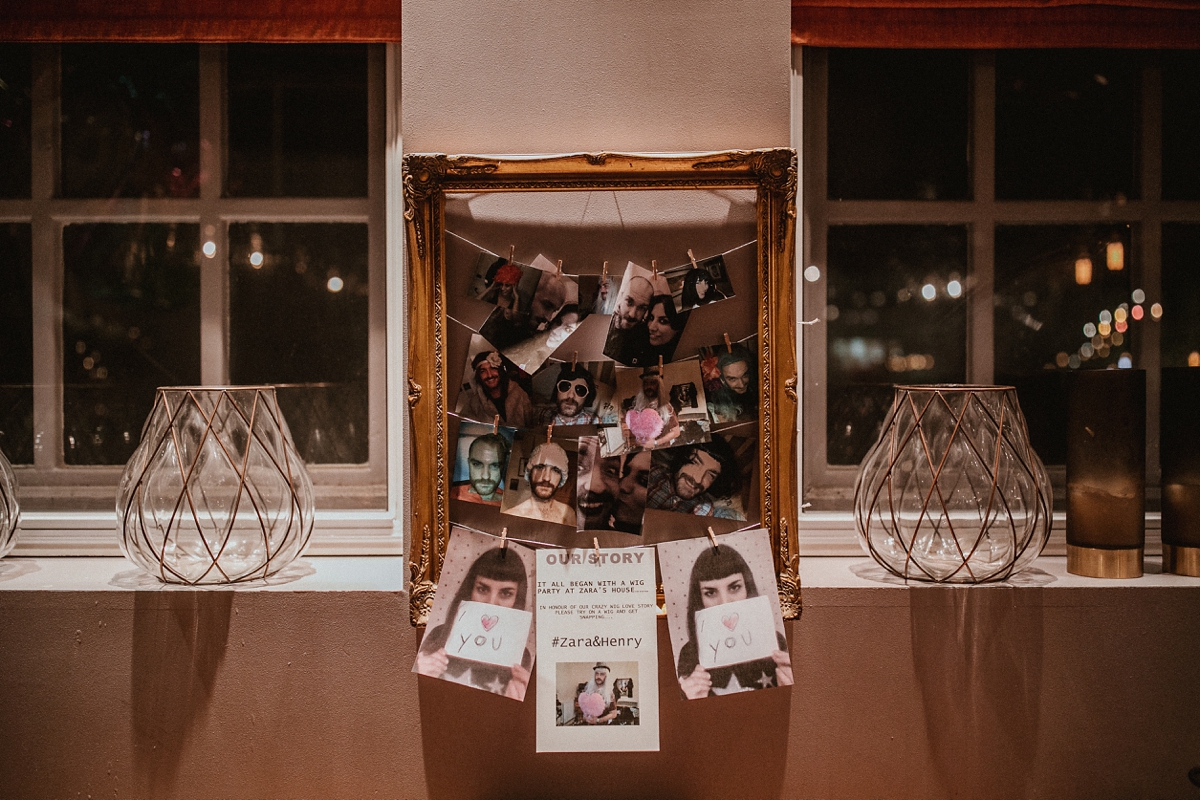 "Our first dance was to Nina Simone's 'My Baby Just Cares for Me'. I nearly missed the official first dance, as it was such a relaxed wedding people were just up and dancing right away after dinner. I really wasn't up for the first dance as the thought gave me chills haha."
"Henry really wanted to dance to something silly and ironic with us using props etc but I just cringed at the thought. We also didn't want anything too romantic or cheesy as again, massive cringe! We settled on the Nina Simone song after much deliberation and it turned out to be the perfect mix fun and cool."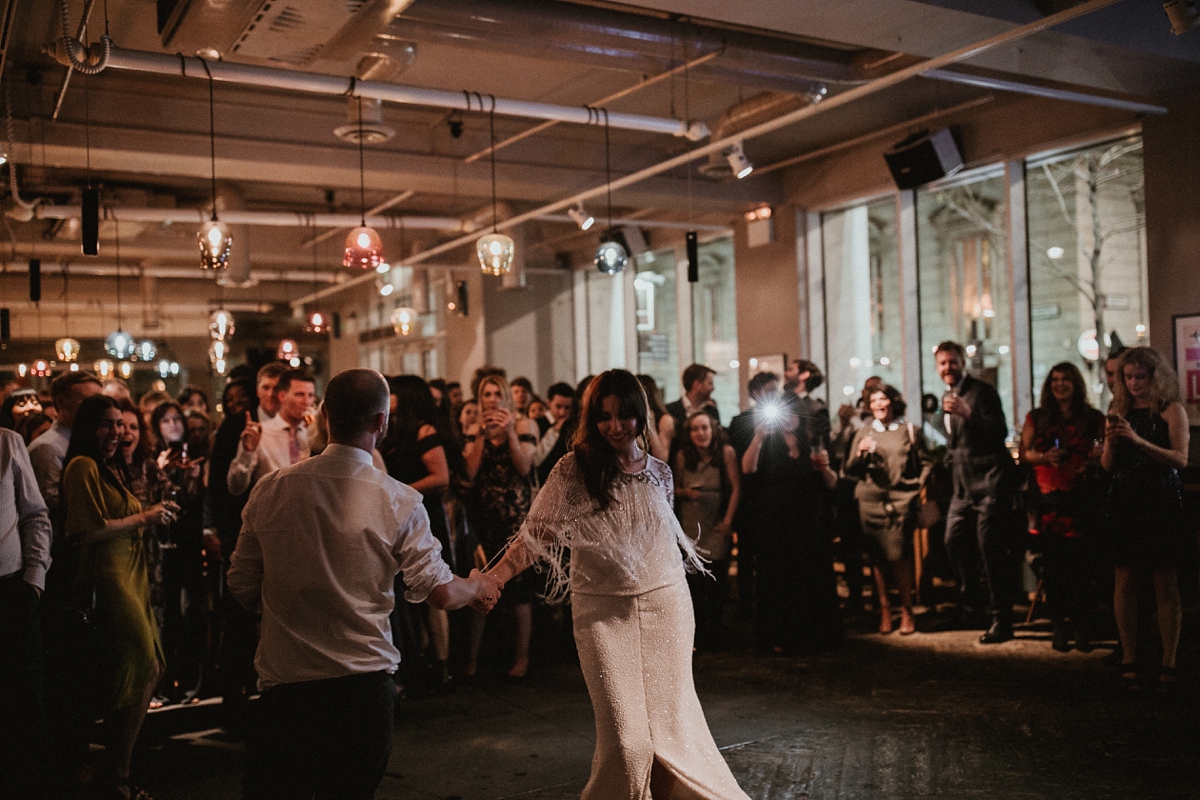 In the evening, Zara donned the Mitzi cape by Eliza Jane Howell, which she purchased via the Sassi Holford boutique.
"I actually saw this cape on one of my own clients originally and instantly fell in love with it! I felt it would be a very cool addition and easy to wear for the evening. Plus I always love a moving tassle pose in a photograph, so this worked perfectly for the first dance."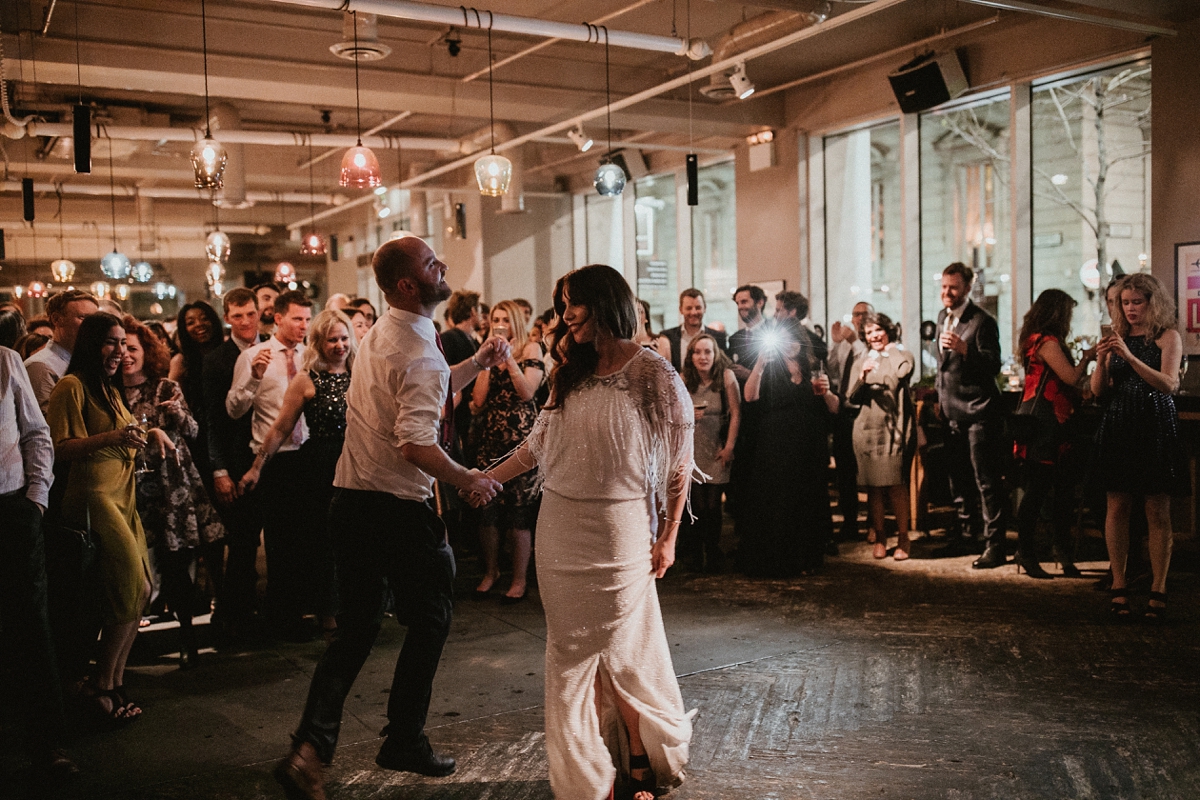 "Henry performed a set of his own with 9 songs some covers and some of his own songs. His music industry friend made up the rest of the band. – Henry Spenner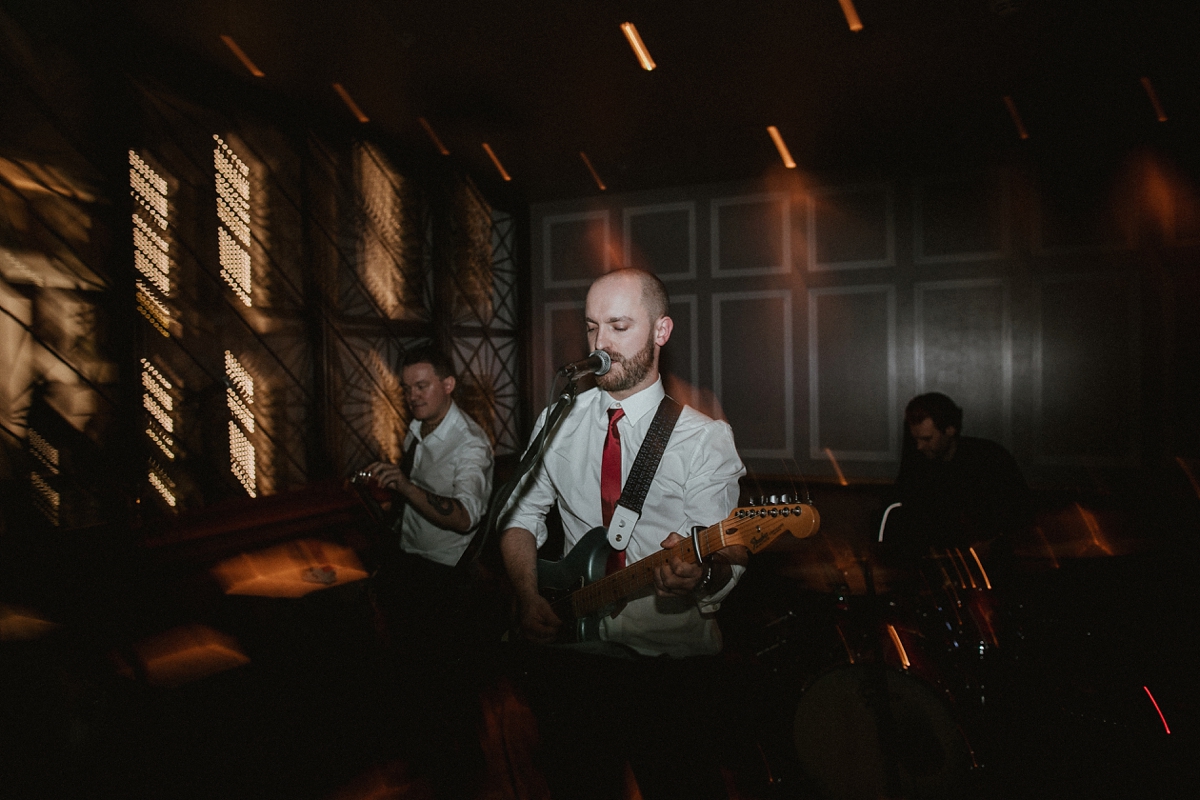 Words of Wedded Wisdom
"As much as we plan the day, there will always be a chance that things can go a bit wrong. I was planning to have a relaxed final week, I really wanted to visit a spa and chill out and generally have time for personal grooming etc. This didn't happen!! My dad very nearly didn't make the day due to a Christmas bug that knocked him for six and saw him in hospital just 2 days before the wedding. Luckily he pulled himself together to make it for the actual day.
My bridesmaid had an emergency root canal the day before and I also ended up visiting the emergency dentist the day before the wedding with a suspected root issue! You really couldn't have made it up. And then, after a more relaxed wedding eve, with three of my bridesmaids (very lovingly) giving me a foot massage and painting my nails in a last minute attempt to spruce me up, we had an emergency situation on the wedding morning where my bridesmaids suddenly fell ill and we had to call an ambulance. She was looked after and dosed up and just about made it to the wedding thanks to the amazing ambulance service!"
"After experiencing many mishaps and serious problems in the lead up to our wedding, I think the advice I would give would be not to get stressed over the small things. Although you want things to be absolutely perfect, it is not the be all and end all if the little things go a bit wrong. Ultimately the most important thing is that your closest friends and family are there to see it and support you through the day.
The thought of my dad not making it was so tough to digest and also put into perspective the silliest things I had been worried about (arguing with henry over the table plan aesthetic springs to mind, cringe!) Be happy and don't let the small things get to you or override the excitement of planning the wedding."
"Our budget was originally 10k but all things considered, it went way over this (probably almost by double sadly) and we weren't that realistic about the mounting costs that sprang up along the way."
Things I would have done differently; I would have brought a nice robe or outfit to wear on the morning of the wedding – with all the craziness I forgot and wore a rubbish old T-Shirt which doesn't scream glam in the pictures. I would have started the bespoke dress making process earlier as time ended up a little tight at the end which was stressful.
Iwould have made a speech myself – I know this is non traditional for the bride but I feel I should've said a few words but nerves got the better of me and I ended up not planning one. I also forgot to tell Henry what to say on my behalf. Ad finally, I lost our cake topper which said 'Mr + Mrs Spenner' – oops!"
Why, I don't believe there could have been a more beautiful wedding that we could have shared today. I cannot recommend Zara's Portraits Bridal Hair and Make-Up Agency more highly if you are considering booking hair and makeup services for your wedding. They are utterly wonderful, and better still, they will be exhibiting at the Most Curious Wedding Fair in London next month – I'll be there, will you?
Love Annabel x