With summer still not here, I think a summer wedding is just what we need to remind ourselves it really did happen, and will come again. And today's wedding not only gives us some of the sun we're so desperately craving, but also some serious style inspiration from our bride.
As a Set Design and Art Directing pair, it's no surprise that the wedding of today's couple Beth and Jamie turned out to be a visually inspiring affair.  Taking place on 27th August 2017 and held at the Clyngwyn Bunkhouse in Pontneddfechan, Wales, it was a joyous occasion filled with DIY touches, a hearty menu and dancing until the early hours.
"We wanted the wedding day to be an incredible party and a bit of an adventure that represented both of us. And above all, we wanted it to be unlike a 'normal' wedding. It was very DIY which allowed the whole thing to feel personal to all our guests and the decor to reflect the place we were in. Beth also discovered a Japanese tradition of the bride making 1000 cranes for the wedding for good luck, so they had a big visual role during the dinner."
Photography by The Curries
The couple invested their photography budget in The Curries – a London-based photography duo whose natural style and ability to capture the real moments of the day caught the attention of Beth and Jamie.
"We met them at our friends wedding where Jamie was the best man. They are wonderful people and they fit in brilliantly with our wedding party and guests. They went above and beyond and were so subtle we never really noticed them taking the photo's…ninja's!""We visited the Bunkhouse on our first holiday together. It's a beautiful and remote B&B at the foot of the Brecon Beacons with lots of land and waterfalls either side."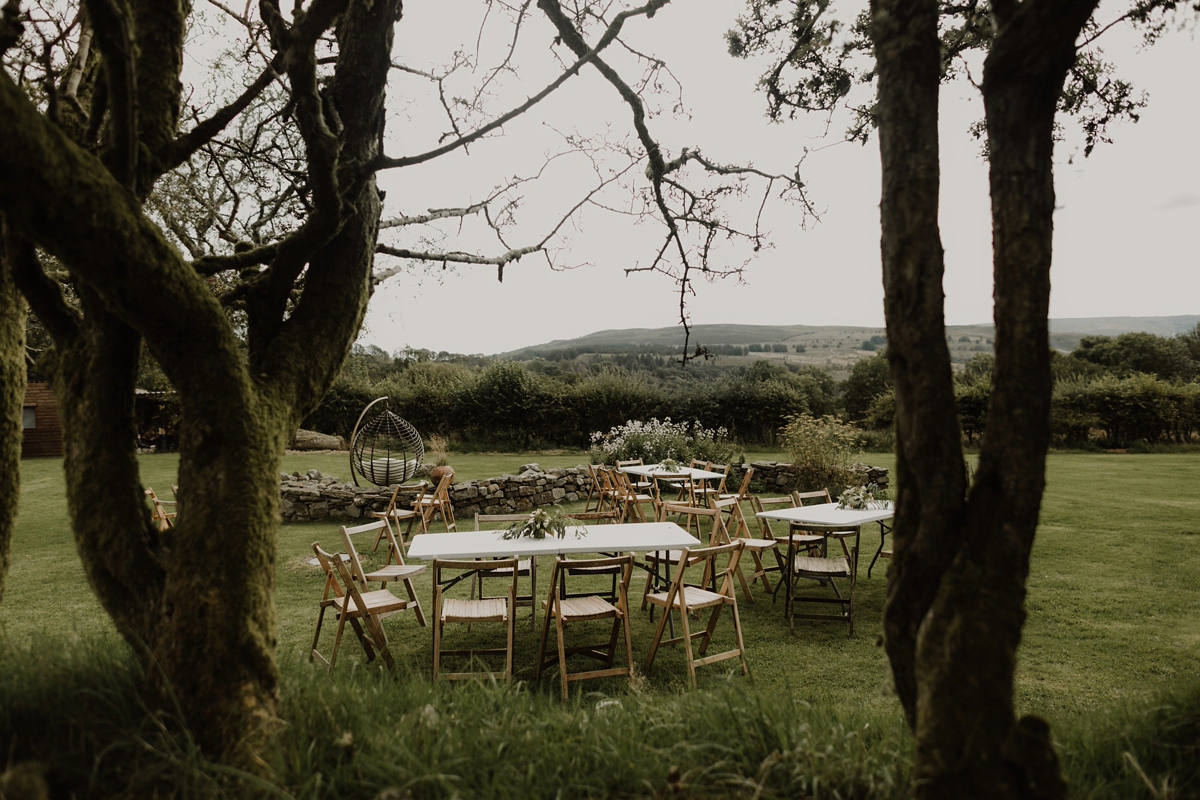 The pair met through Beth's best friend Laura who also played the violin in the band Jamie is in.
"We met at her birthday dinner in a Thai restaurant in Waterloo. We had actually met about a year before that too. Jamie's band played in Sheffield and they stayed at Beth's house but we hardly noticed each other. We got engaged after a year and a half together and got married nine months after that."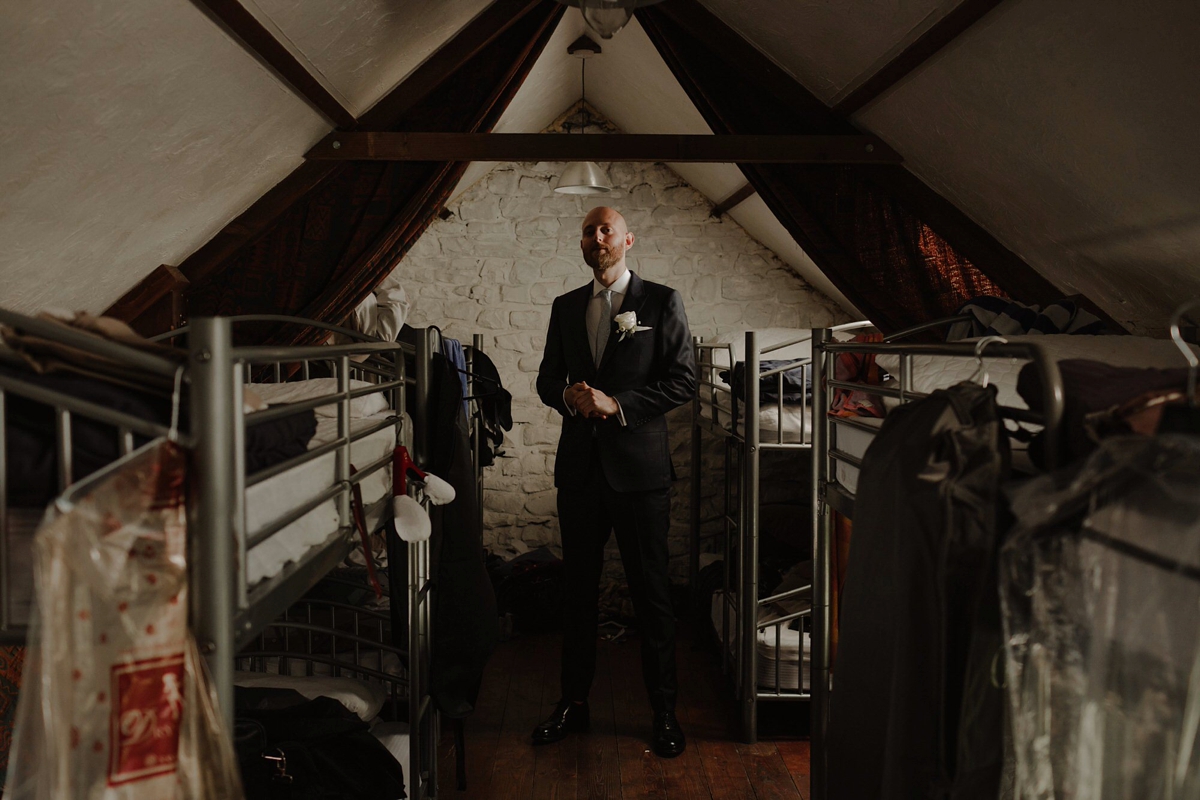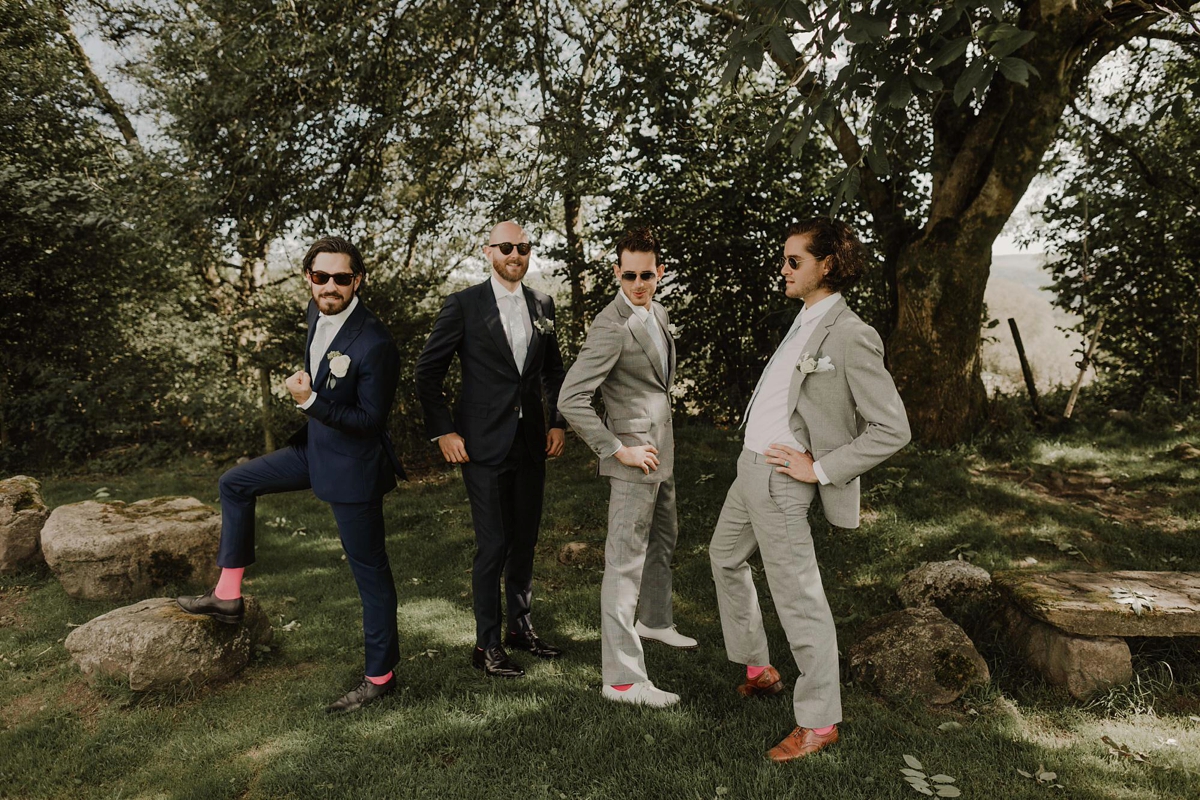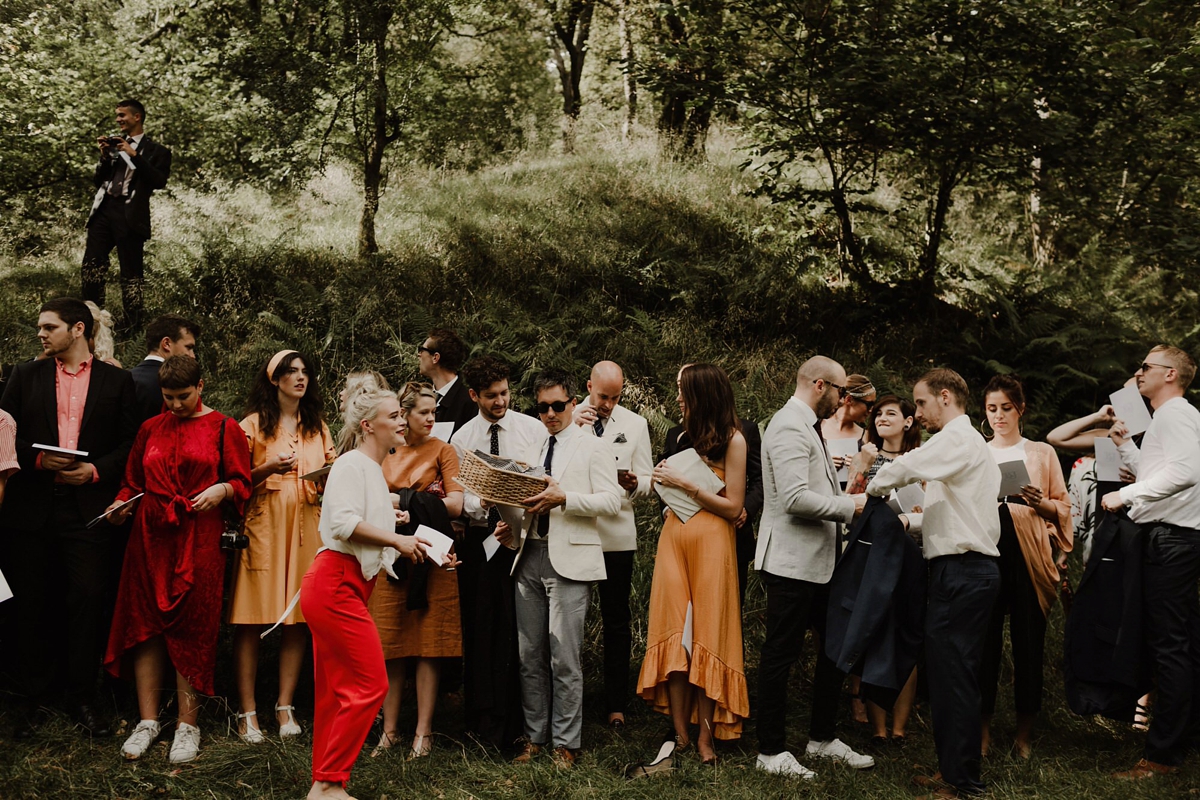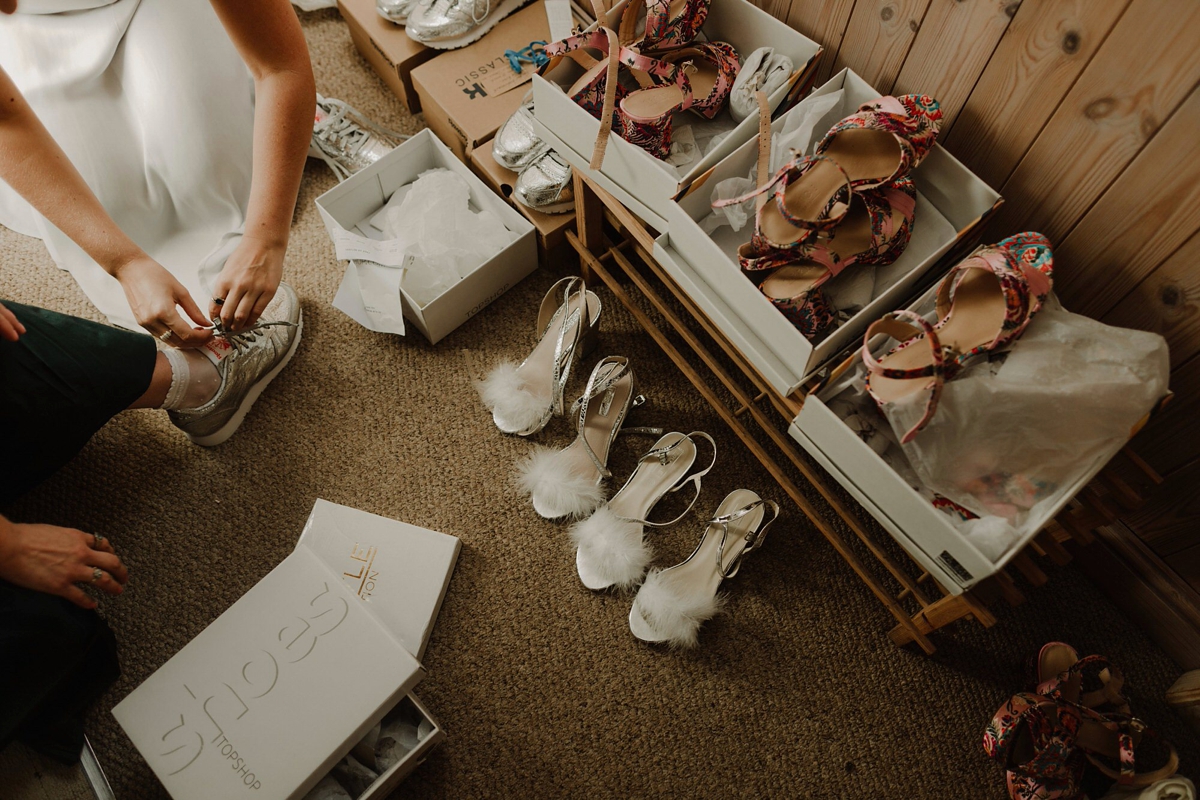 Beth was led down the aisle by her brother Charlie in a non traditional but beautifully elegant forest green skirt from MaxMara and white shirt by Uniqlo, and in keeping with the break from the norm, the bridesmaids wore Reebok Classic trainers and matching ASOS dresses.
"I loved that I didn't see any grass stains on the skirt after a night of dancing. I felt really comfortable and like myself."
"We also gave my bridesmaids the choice of what to wear and they decided they all wanted to dress the same. We found a dress at ASOS that fit them all perfectly even though they're all of different shapes and sizes."
"We all wore matching Reebok Classics for the walk down to the ceremony. For the dinner I had two pairs of different heeled, but same style white feather shoes (a smaller heel for when my feet got tired)".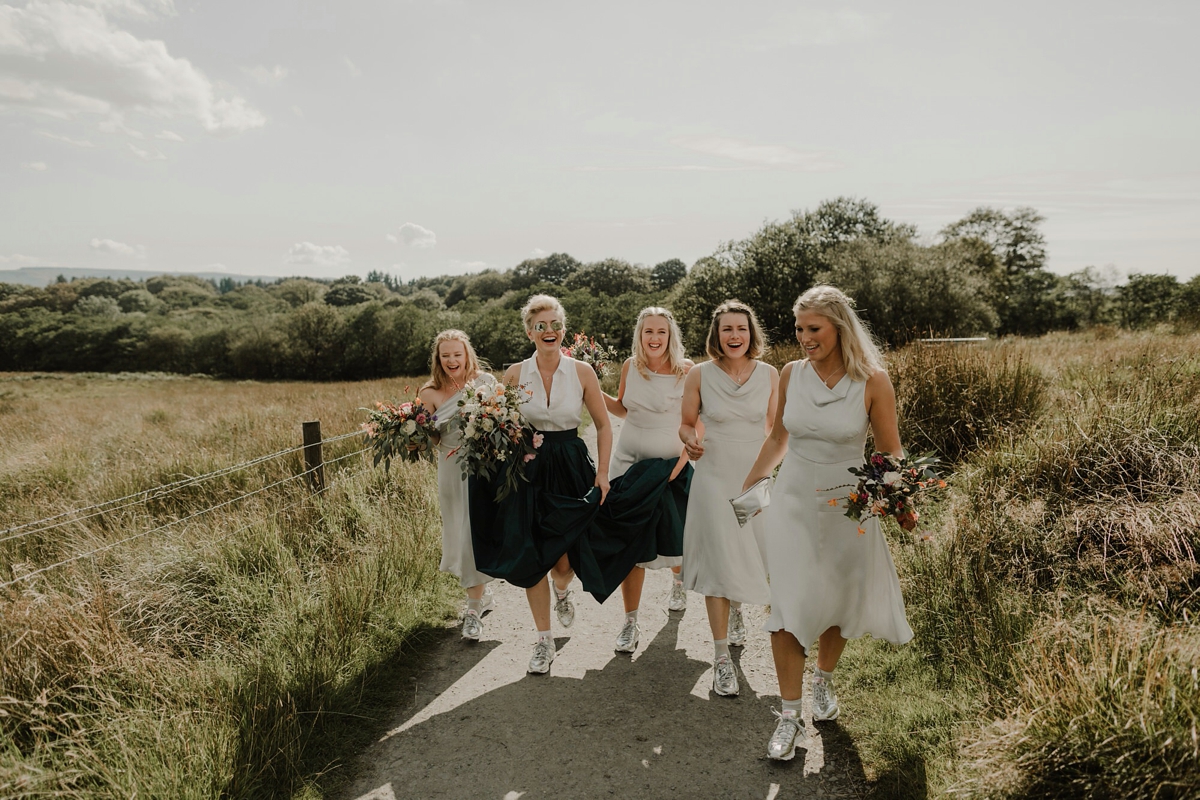 To compliment Beth and her bridesmaids wedding looks, they each carried a bouquet of beautiful natural blooms created by Nikki and Laura Mallows with flowers sourced from the nearby fields and forests by the couples friends the day before the wedding.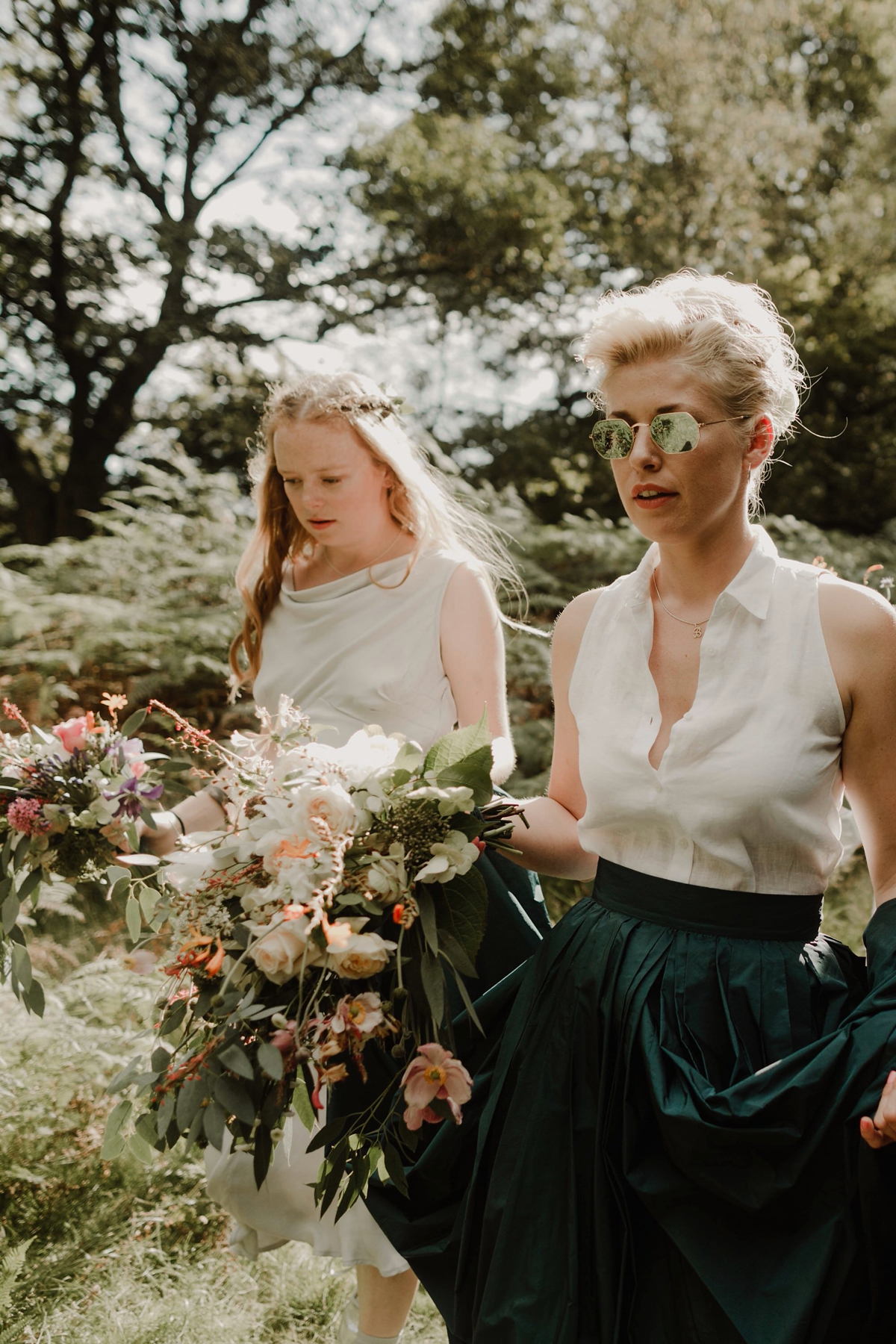 After a civil ceremony a few days earlier at Camden Town Hall, the couple chose an outdoor ceremony for the wedding day, a short ten minute walk down to the river and in the stunning woodland surroundings.
"We had a civil ceremony a few days before which gave us the freedom to have our actual wedding anywhere we wanted. Each of our four parents led a part of the ceremony to bring different aspects of us to it."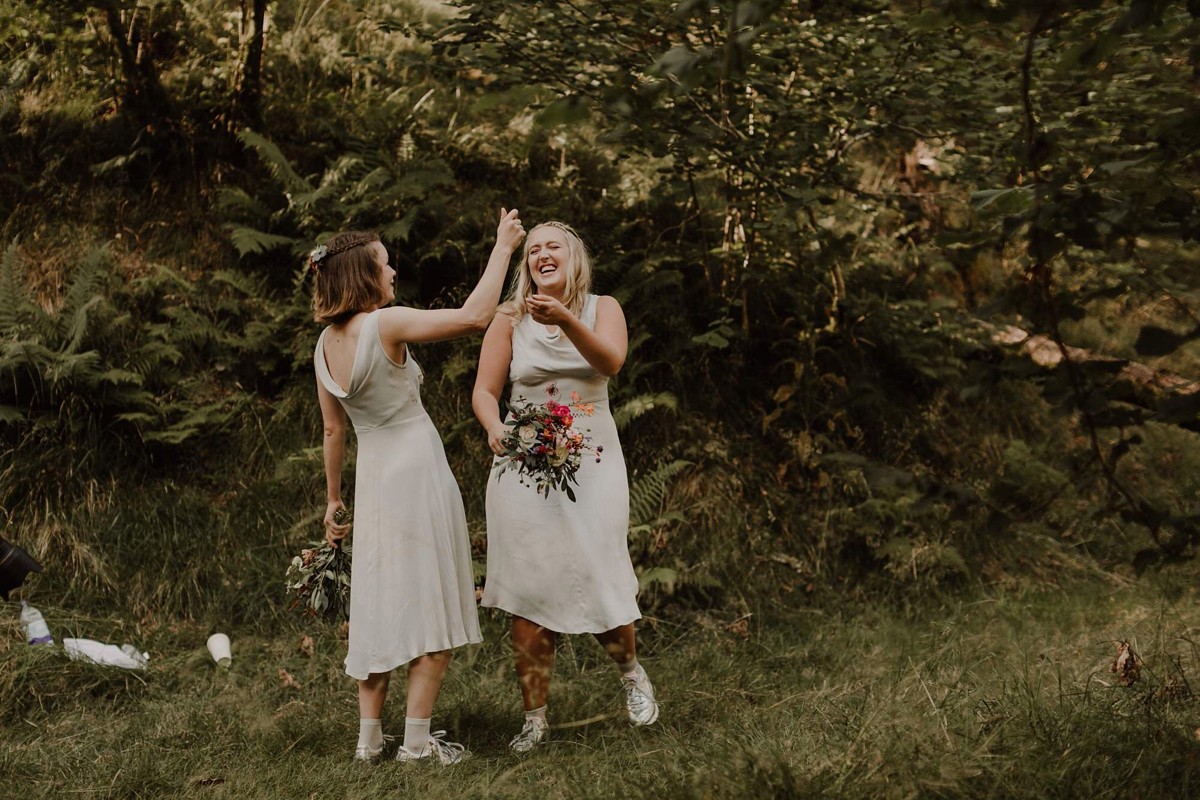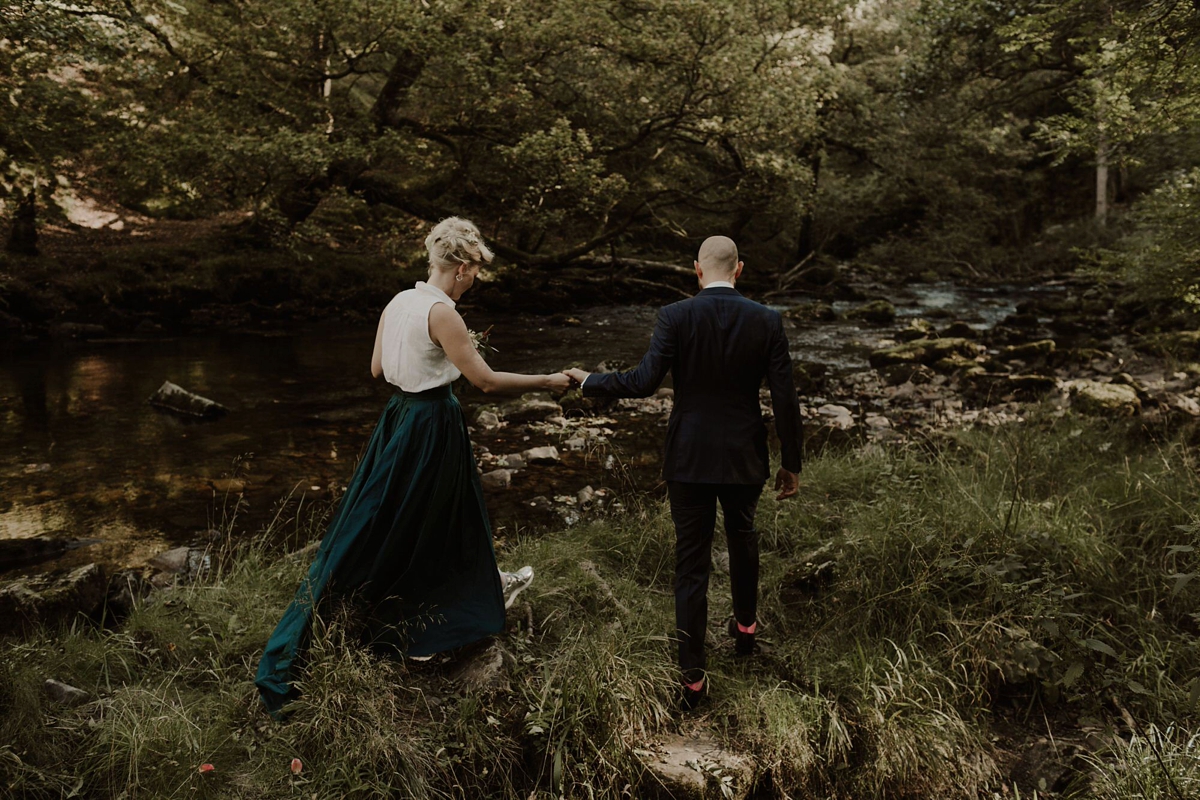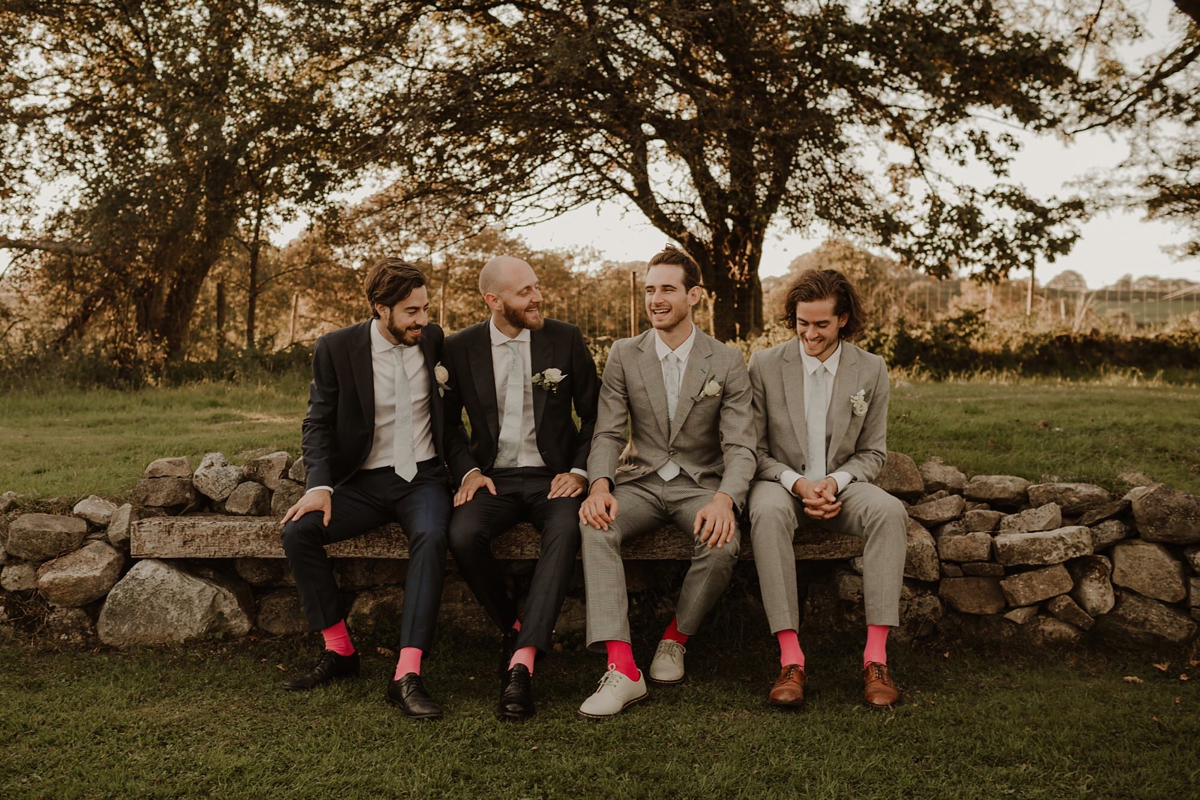 Following the outdoor ceremony for which the couple struck gold with the weather, the wedding party and guests headed inside the marquee erected at the venue. The wedding breakfast by MiCasa Catering and speeches were followed by a first dance to 'The Power of Love' by Huey Lewis and The News, and then various friends DJ-ing their favourite tracks late into the night.
"Alexis at MiCasa Catering created food so delicious that at the tasting the Mother of the Bride cried with joy! Food was always one of the most important parts of the wedding planning for us and we spent a long time trying to find a wedding caterer who could create the menu we wanted and who lived up to our standards. As soon as we met Alexis we knew there was no question about who was going to do it. Oh, and Jamie drew each of our 170 guests for the placemats."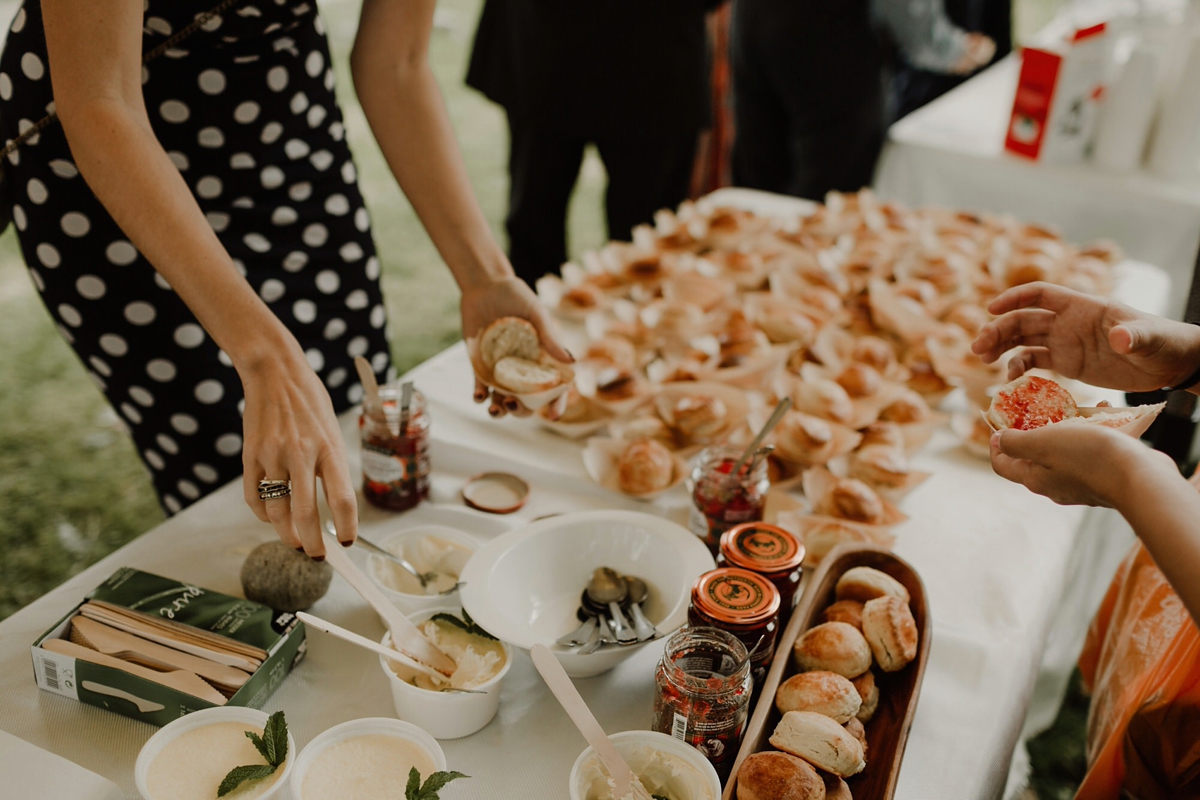 "Our cake was made by Fleur and Clare Harrison who made a series of four different lemon cakes to be served to all, and a classic fruit cake to take centre stage. The model of us on top of the cake was made by Beth."
As a final send off the couple surprised guests with a firework display and a secret dance tunnel…
"At 11.30pm following the fireworks we opened the secret dance tunnel. Up until that point it looked like it might contain farm equipment and was covered with 'no entry' signs. Once we opened it our guests danced until the sun came up!"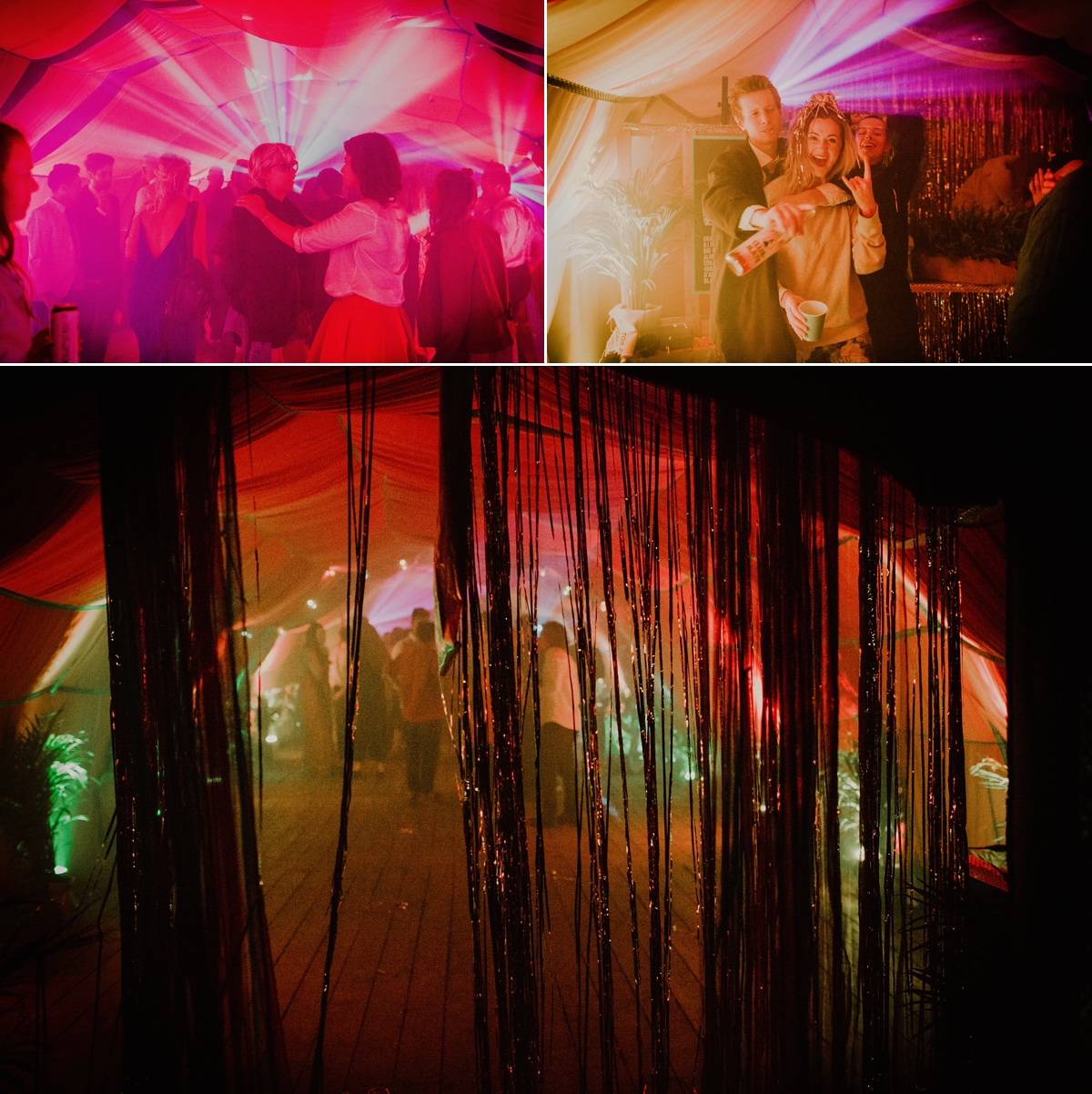 Words of Wedded Wisdom
"Firstly, you can't do it wrong. Secondly never underestimate the skills and talents of your friends and family and lastly, enjoy the planning, you don't get many moments as a couple to create something like that".
A huge thank you to Beth and Jamie for sharing such a cool, different and spectacularly stunning wedding with us, and to The Curries for capturing the day.
Much love,
Holly