I've an extra special treat in store for you lovelies with the simply stunning wedding of Zoë and Ben Duerden. Zoë works as an event manager, whilst Ben is an assistant accountant.
St Anne's Church in Woodplumpton was the setting of their wedding ceremony on Friday the 22nd of September 2017, followed by a knee's up celebration at The Great Hall at Mains in Lancashire; an exclusive use venue Zoë used to work at. The beautiful bride donned a divine Ronald Joyce dress – the 'Graziella' style in blush – and added a jacket made from the same material as the skirt.
Being an event manager, you might think it's an easy job when it comes to determining the style for your own wedding, but Zoë was keen for her day to include elements that hadn't been seen before. She left the running of the day to her trusted team at the hall and focus on bringing gold and pink touches to her beautiful big day. My ultimate favourite touch was the statement floral chandelier – just stunning!
"Having been a part of over 500 weddings in my career, I knew that I wanted things that I hadn't seen before which was so hard to plan! Christine, Mel and Kelly at The Great Hall are the team I worked with when I was there and I knew that planning my own wedding would be a double edged sword, so leaving the running of the day in their hands was so easy, as they worked in exactly the way I would. The room is a completely blank canvas, with no 'must use' suppliers, meaning I could use the suppliers I knew from work and trusted implicitly."
Photography by Nick English
"I was recommended by my general manager at the time to go to Orchid Designs. I had fallen in love with Ronald Joyce and Orchid Designs had a designer weekend on, so I went along with my mum and Nannie to see what they had. I was convinced I wanted a sleeved satin 'Grace Kelly-esque' number, but was conflicted in my head, as having tried on ivory and white dresses they just didn't suit my skin tone. 'Graziella' transformed my figure and I fell in love with the many many layers of tulle. It also came in blush, which I had decided was a must as it suited me so much more than the paler tones."
"My engagement ring is yellow gold, so I took this as a starting point. We went to visit Dawn at Creative Cover Hire, and she provided pale pink drapes and fairy lights for the ceiling along with the linen for the tables. We chose a matt gold sequin table cloth for the top table and cake table, and also added festoon lighting in the garden to bring the warmth outside. We also had uplighters in the room to take away the cream walls. The other thing I was really keen for was a statement piece in the venue, with the huge chandeliers dominating the room I wanted to make a feature.
The room is so high it can take big installations, so we settled on a large floral chandelier dressing which blew my mind when the venue manager sent me a picture the day before."
Jo Coole was the creative force behind the stunning bride's hair and make up, as well as make up for her mum and bridesmaids, whilst her regular hairdresser Sota Salon did the hair for her pretty maids. Zoë added a pair of statement Irregular Choice shoes that were recommended by a fellow bride on the LMD Facebook group.
"I found the 'Nick of Time' shoes in gold and pink matched my scheme and were so fun I had to have them. They were sold out in most places but I found a pair in my size from Scorpio Shoes."
For the  little maids, their dresses were Yumi Girl via Debenhams, and the bride chose blue for the two older girls and pink for the youngest, so that she would walk first in pink and Zoë would be last. The wee male helpers wore attire from Next.
"I was in love with the sequin bridesmaid dresses that are on the market but with four maids I couldn't stretch to them. I kept an eye on all the usual places, and was able to buy them at the right time from Debenhams."
"They are No 1 by Jenny Packham in midnight blue. The girls added flower crowns from Elle of Floronets and I bought my adult maids a bracelet each from Not On The Highstreet, engraved with their initial."
The bride wore pieces of jewellery with such heartfelt meaning behind them.
"My dad gave me a very fine rose gold Thomas Sabo bracelet the evening before the wedding inscribed with my family nickname which is "Bo", bought from Tienne. My mum and dad gave me a pair of diamond studs to wear which are made from diamonds in my mum's engagement ring. David Burns Jewellers in Tarleton made the studs along with my wedding ring."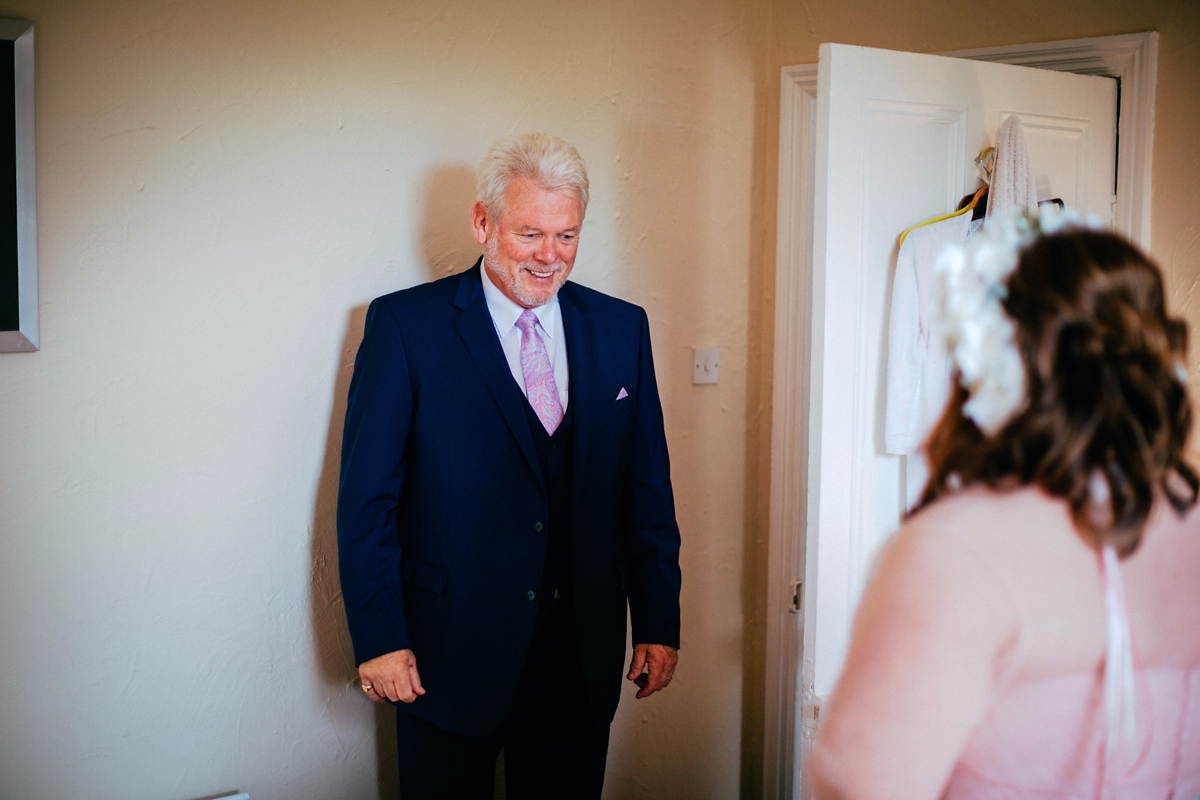 "Ben and I went to choose our wedding scents together, but I ended up being intrigued by the Jo Malone 'Scent My Wedding' experience. My mum had booked a weekend away in Newcastle for us, so as a thank you I booked this in Fenwick's for us. I would recommend any bride to be to do this – there is no pressure to buy, and it is a lovely experience to enjoy with someone special."
"Some ladies I know have done it with their male other halves and that would be a great experience too. I love bergamot and sandalwood, quite masculine scents, so I bought the grapefruit body crème to keep it fresh, I then layered with the Oud and Bergamot cologne."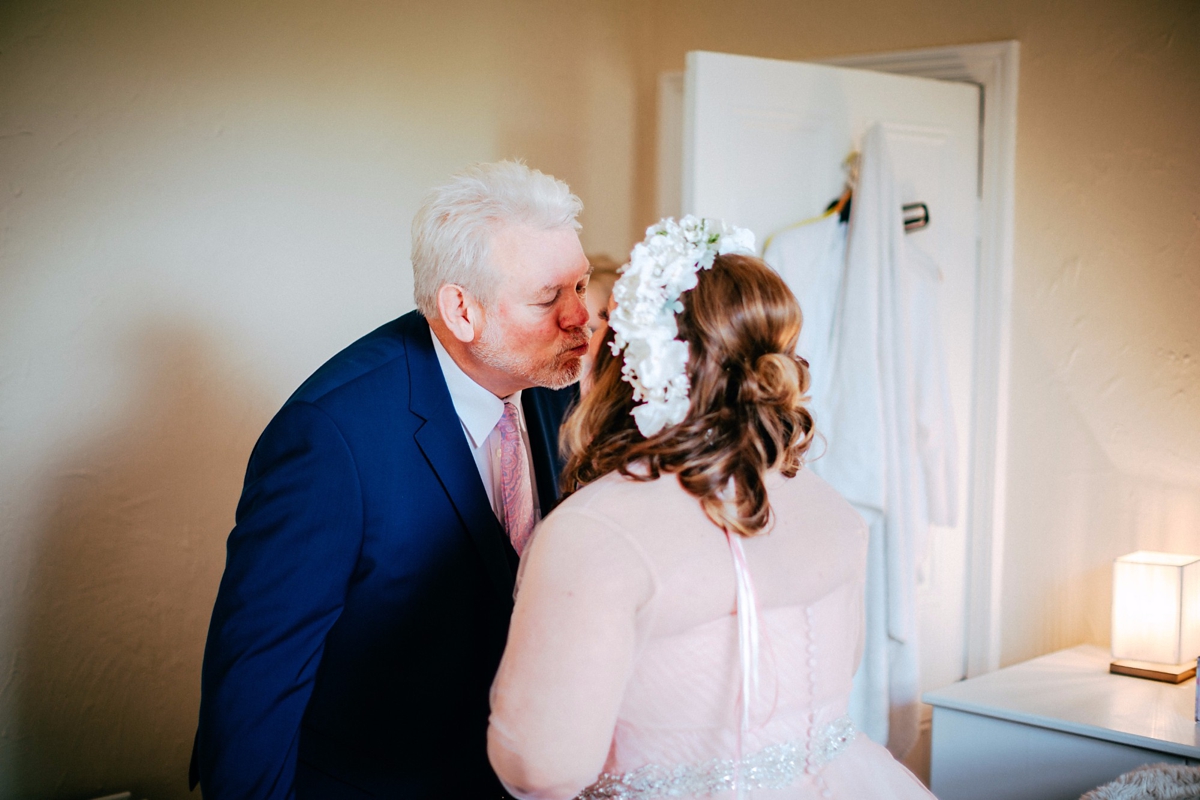 "My very talented cousin, Elle of Floronets, is a crafty artistic type who has made floral crowns before. I was determined to wear a floral crown as my mum had had one at her wedding to my dad in 1982. I asked Elle if she could make some crowns for myself and my maids, and she surpassed herself. She even made a mini one for my four month old niece! She made them in Sydney and transported them to London and then on the train to Preston as a wedding present for me, and the fact that she made them makes them all the more special."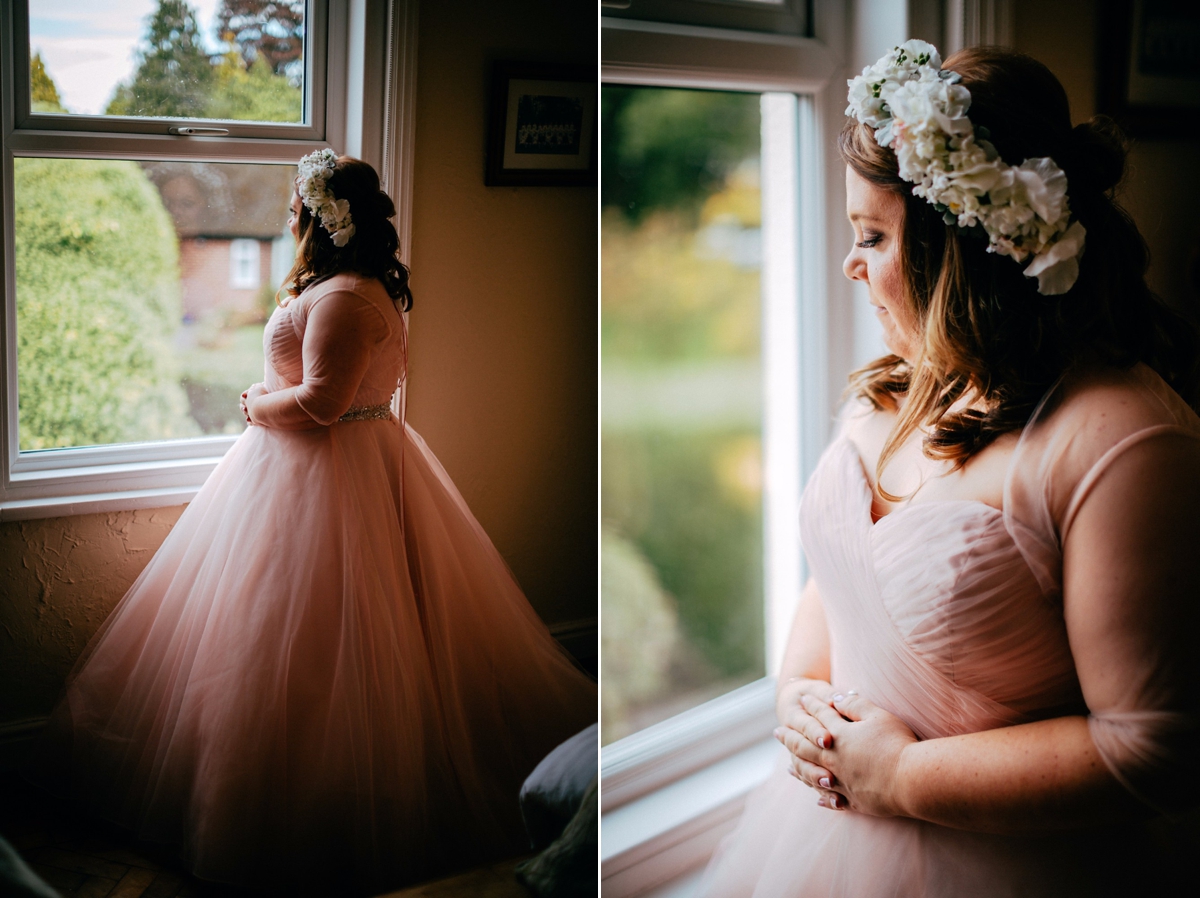 The couple's florist, a local legend, created absolutely stunning floral displays, using a mixture of silk and real flowers.
"Margaret Mason is a bit of a legend in the local area. She is over 80, works 6 days a week and on her day off is the organist in her church. I hadn't ever met her in person, but had seen her creations often in my working life. I knew that the flowers were going to be a wonderful journey for my mum and I to experience together so I made an appointment to go and see her – I was almost scared as I had heard what a strong imposing woman she was! She immediately understood the look that we wanted to achieve, and invited us to her barn in a neighbouring village. What a treasure trove!"
"With my dress being blush and the linen too, we went for all creams and whites, mainly hydrangeas with some roses thrown in too. My maids had the palest pink hydrangeas and roses, and my mini maids had a mini version of the bridesmaid's bouquet. My bouquet was all cream hydrangeas and I fell in love!"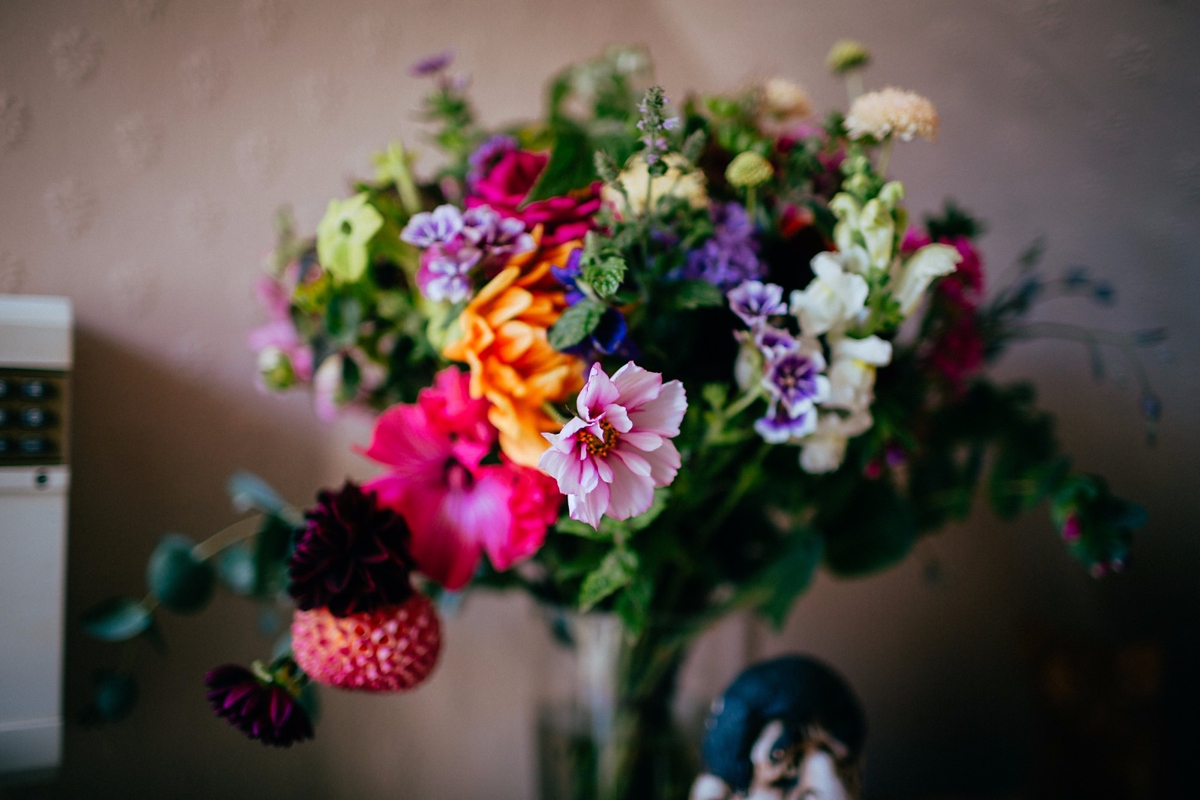 "Ben and I met online. I had joined in a bid to become more confident in myself and Ben had come out of a long-ish relationship. It was at the end of my subscription and Ben was my "last date before a break". We went for a drink at an Irish bar in Preston, but I drove in case I needed a quick getaway! It turns out I didn't need to worry, he was lovely."
"My parents have a static caravan on Lake Windemere and Ben and I have spent lots of long weekends there when we needed to get away. With no phone signal and no internet up there we got to spend quality time together at the beginning of our relationship – we both lived with our parents when we met so privacy was scant! Ben confessed to my mum over a year before he proposed that if he ever did propose he would like it to be at the caravan on the jetty we always went down to on arrival."
"On the 5th August 2016 we headed to the caravan, and Ben insisted that we went to the jetty – I couldn't be bothered because I was super hungry. He made me anyway, and we sat there watching the lake. There was already a couple sat on the end of the jetty, where Ben wanted us to be, and I kept poking him saying "I bet he's going to propose!". He didn't. When that couple left, Ben made me move to the end, and then as I was looking at the lake got down on one knee and asked me."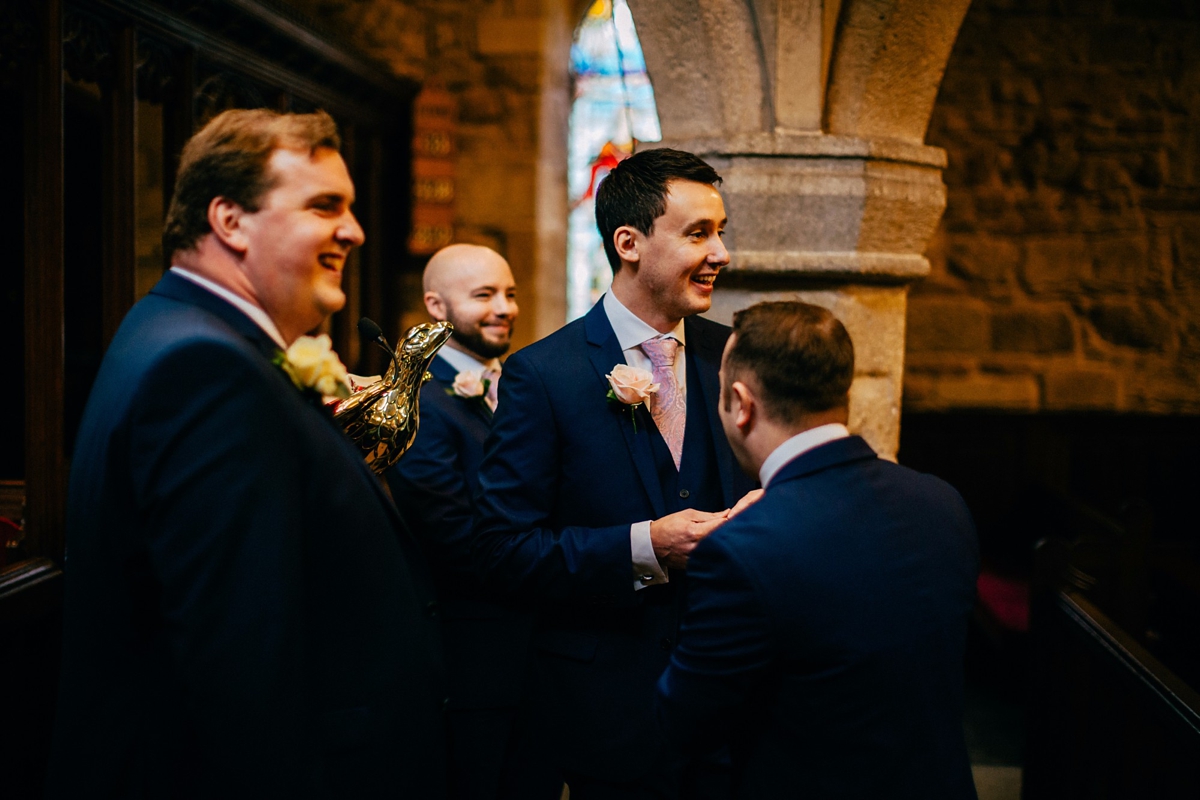 The handsome groom invested in a stylish tailored suit in a blue hue that he could keep.
"We went to Hellewells in Preston which is a menswear shop that has values from the days when men bought clothes to last! He was able to get a suit that matched the ones his groomsmen has chosen perfectly, but that also fitted him perfectly, and is beautiful quality, that he will have for a lifetime. Ben also had a pair of oxblood brogues from Hellewell's, and his shirt was from there too. I bought Ben an engraved rose gold pocket watch from a seller on Etsy to accessorize the look as I knew he wouldn't have a watch on the day."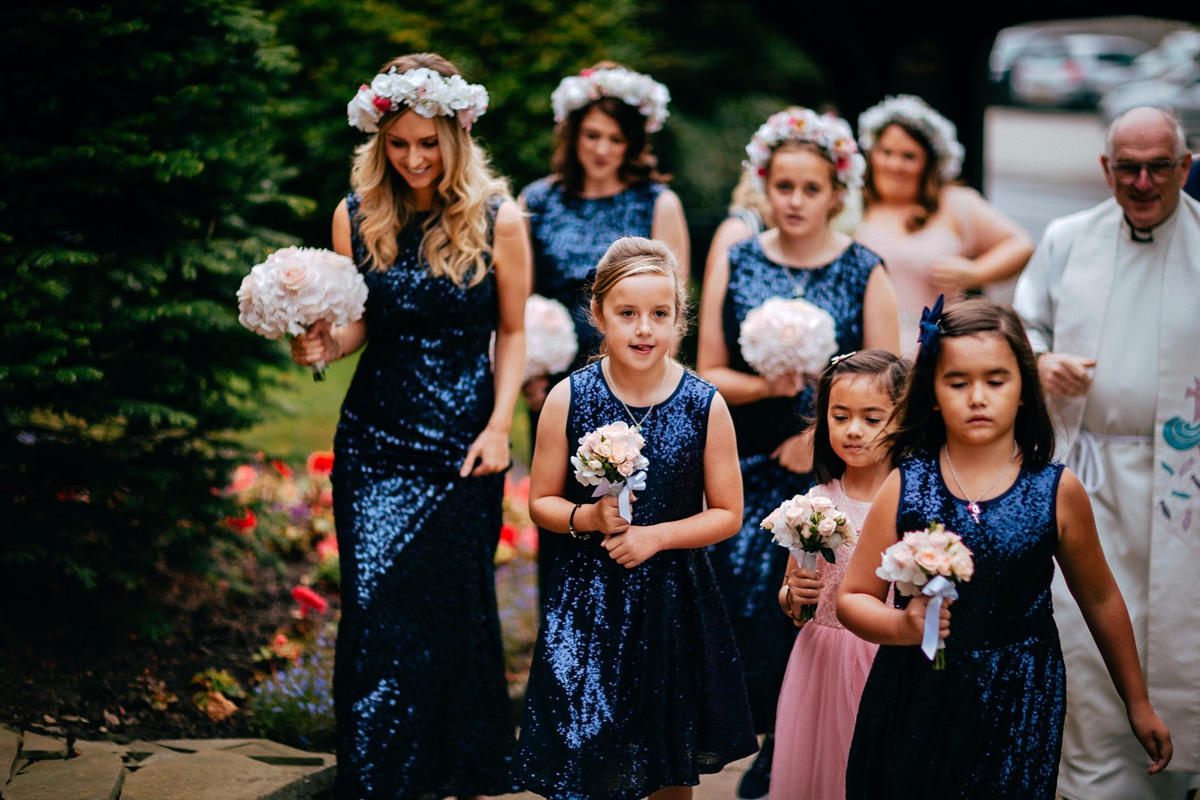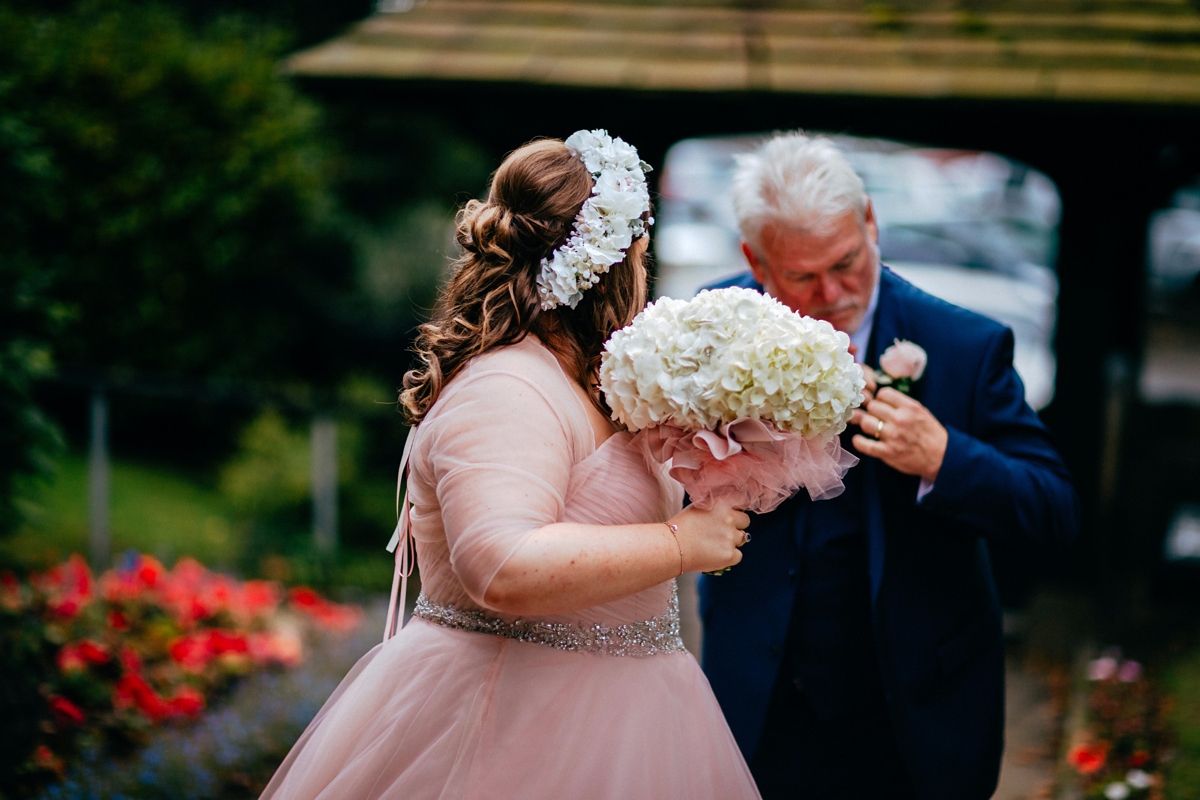 "It was important for Ben to get married in church and I am really glad that I went with the idea. In the year we spent planning the wedding I enjoyed attending and rediscovering worship as an adult. My dad Chris accompanied me for the aisle walk to a recording of the Wedding Processional from The Sound of Music. I love musicals, and any traditional songs I listened to I felt were too jaunty or too sombre, whereas this one brought back lots of happy memories."
"We had the traditional Church of England vows and my godfather, Chris, and Ben's uncle, Trevor, both read for us. Chris read Romans 12:9-21 'Love In Action'. Reverend Michael said that he hadn't heard this read at a wedding before but how appropriate it was. The reason we chose it was for the line 'practice hospitality' as we love having guests to cook for, but the more that we read it and understood it, the more we felt that it spoke to the fundamental foundations of a marriage, and how to be a good person."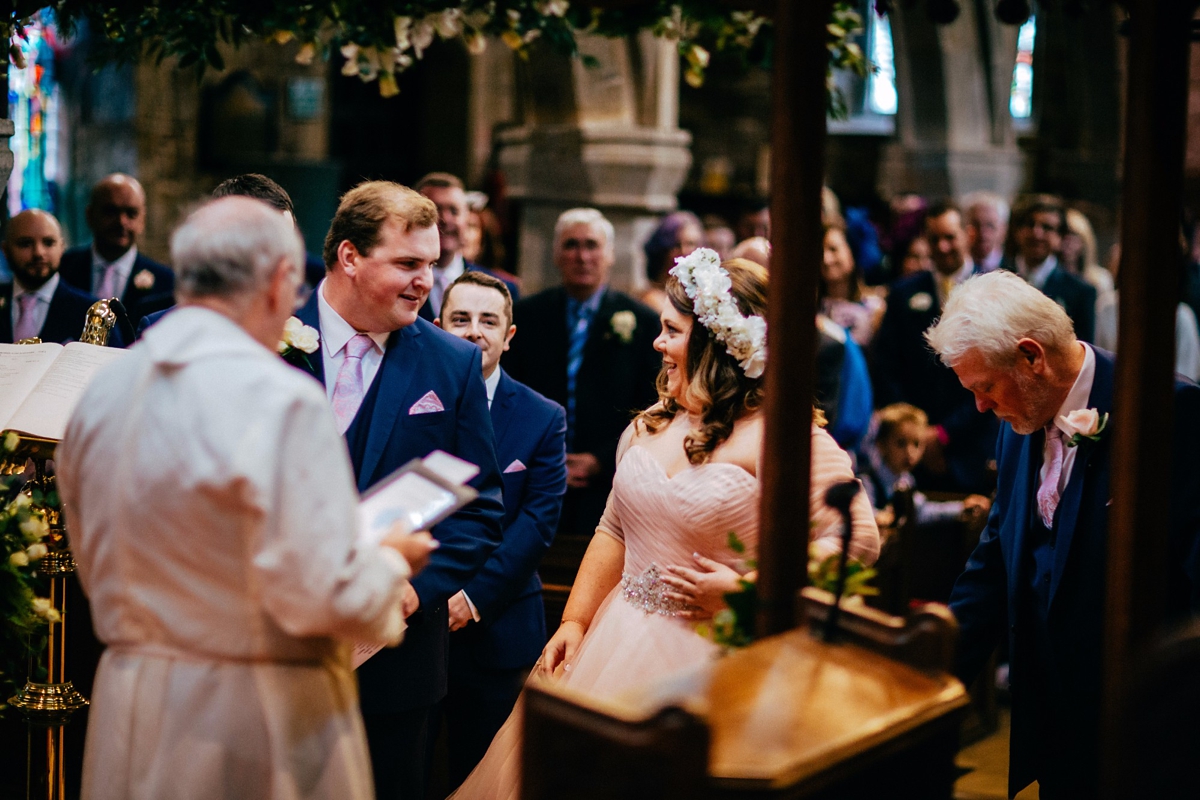 "Ben's uncle, Trevor, read 'Sonnet 116' by William Shakespeare. Trevor is a spiritual man and we asked him to choose a reading that he thought was appropriate for our wedding. He had read this piece at Ben's oldest brother's wedding and wanted to repeat as he felt it had brought them good fortune. He ad libbed before reading this explaining the reasoning behind the choice and had the congregation in the palm of his hand!"
Let me not to the marriage of true minds
Admit impediments. Love is not love
Which alters when it alteration finds,
Or bends with the remover to remove.
O no! it is an ever-fixed mark
That looks on tempests and is never shaken;
It is the star to every wand'ring bark,
Whose worth's unknown, although his height be taken.
Love's not Time's fool, though rosy lips and cheeks
Within his bending sickle's compass come;
Love alters not with his brief hours and weeks,
But bears it out even to the edge of doom.
If this be error and upon me prov'd,
I never writ, nor no man ever lov'd.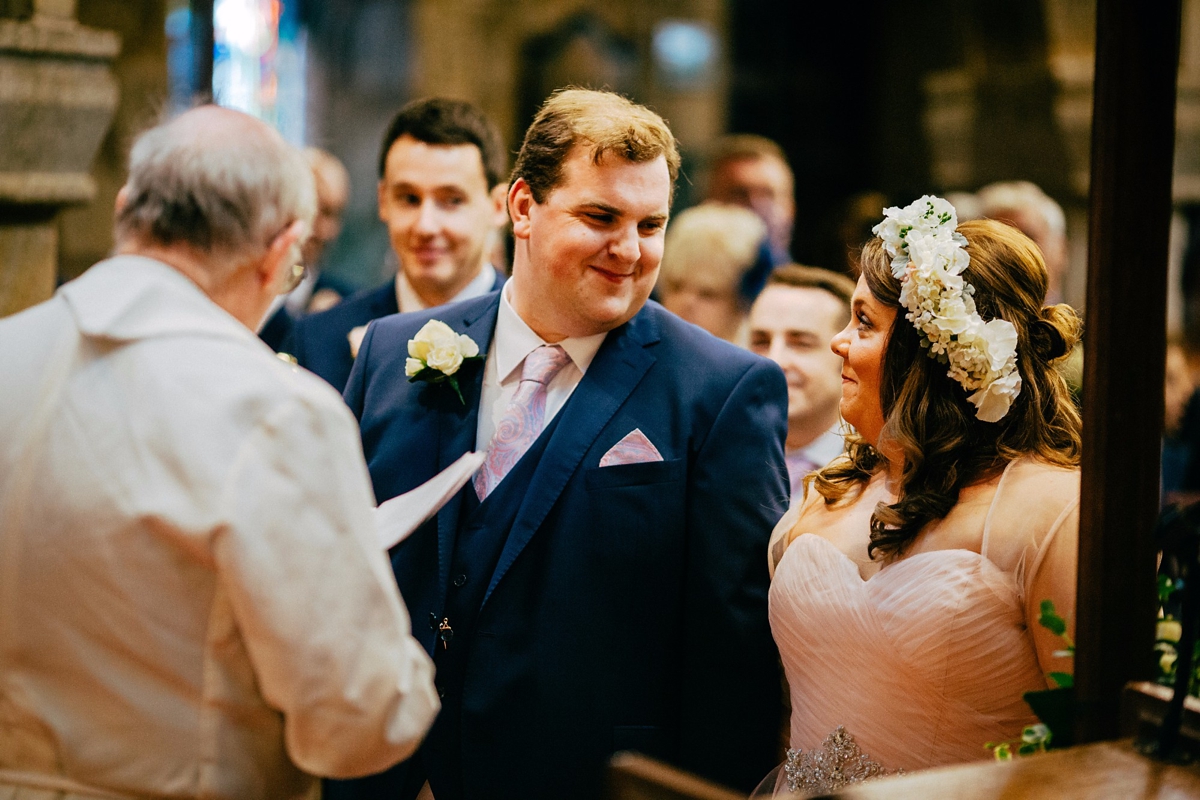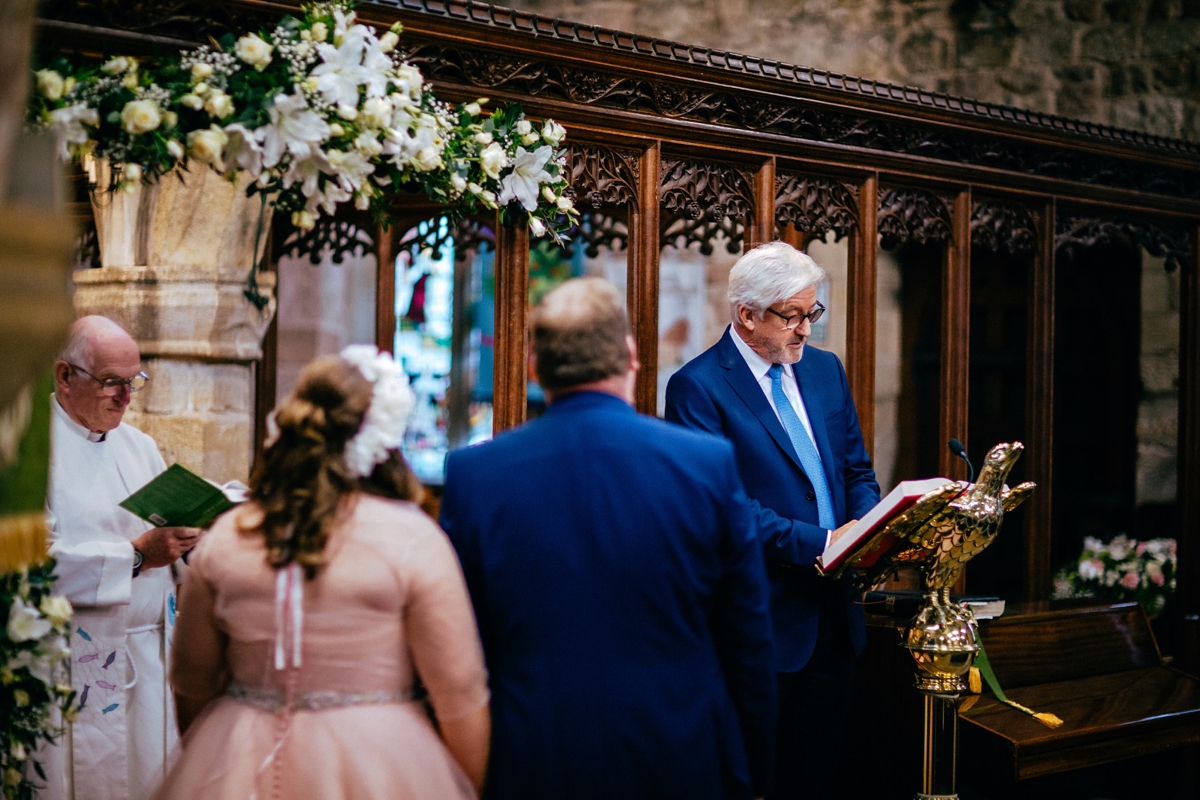 "My wedding ring was made from the Welsh gold of two of my great-grandma's wedding rings which made it so special for me. The gold in the rings is over 150 years old and more than fulfilled the 'something old' part of the day! I went to see David Burns as I was determined to have a plain gold ring with no wishbone or cut out as I wanted to be able to wear it without my engagement ring if needed and for it not to look lost. He is so clever and managed to raise my engagement ring so that the set worked together."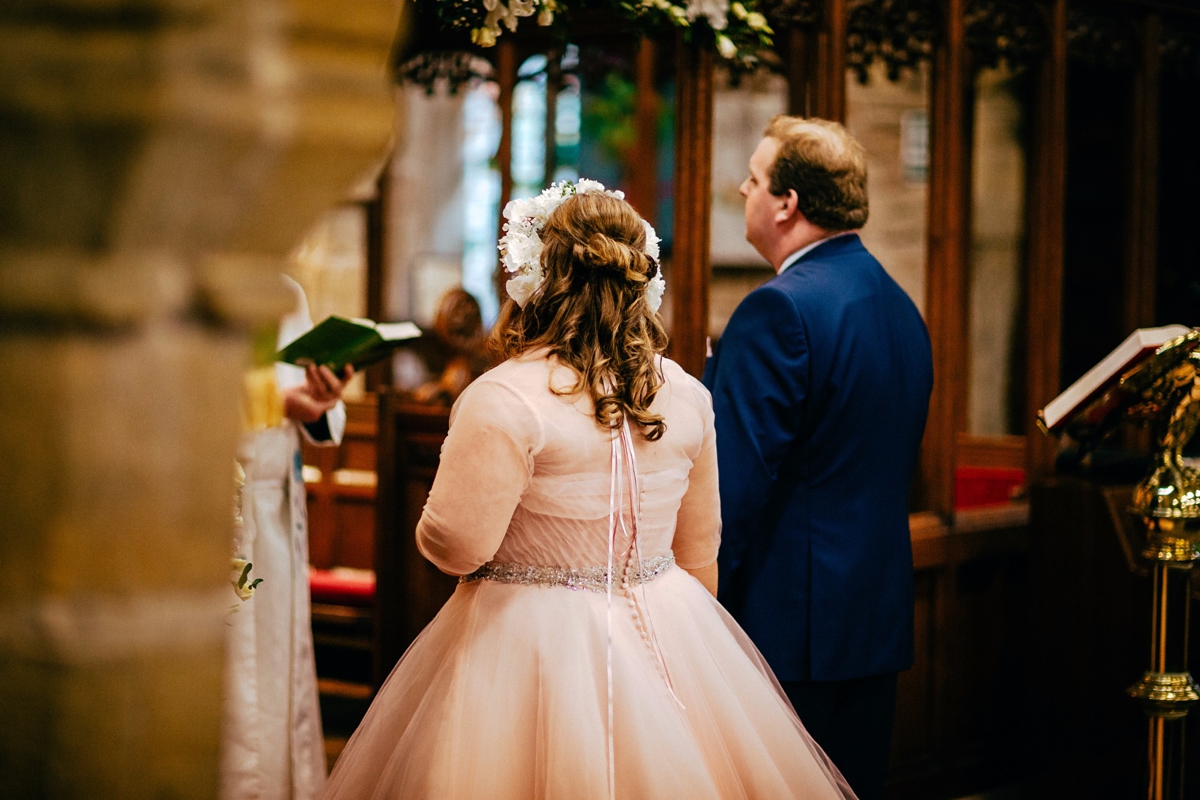 "Ben spent a lot of time researching the type of ring that he wanted to have. He doesn't wear any jewellery so knew that he wanted something lightweight and individual. He found Damascus steel rings on the internet and after conversations with Simon and Gill from SiCraft Designs on Etsy, he settled on light Damascus steel outer with a wooden inlay. Each ring is made to order so it is completely unique and he absolutely loves it. The service from Simon was amazing and they kept us updated every step of the way."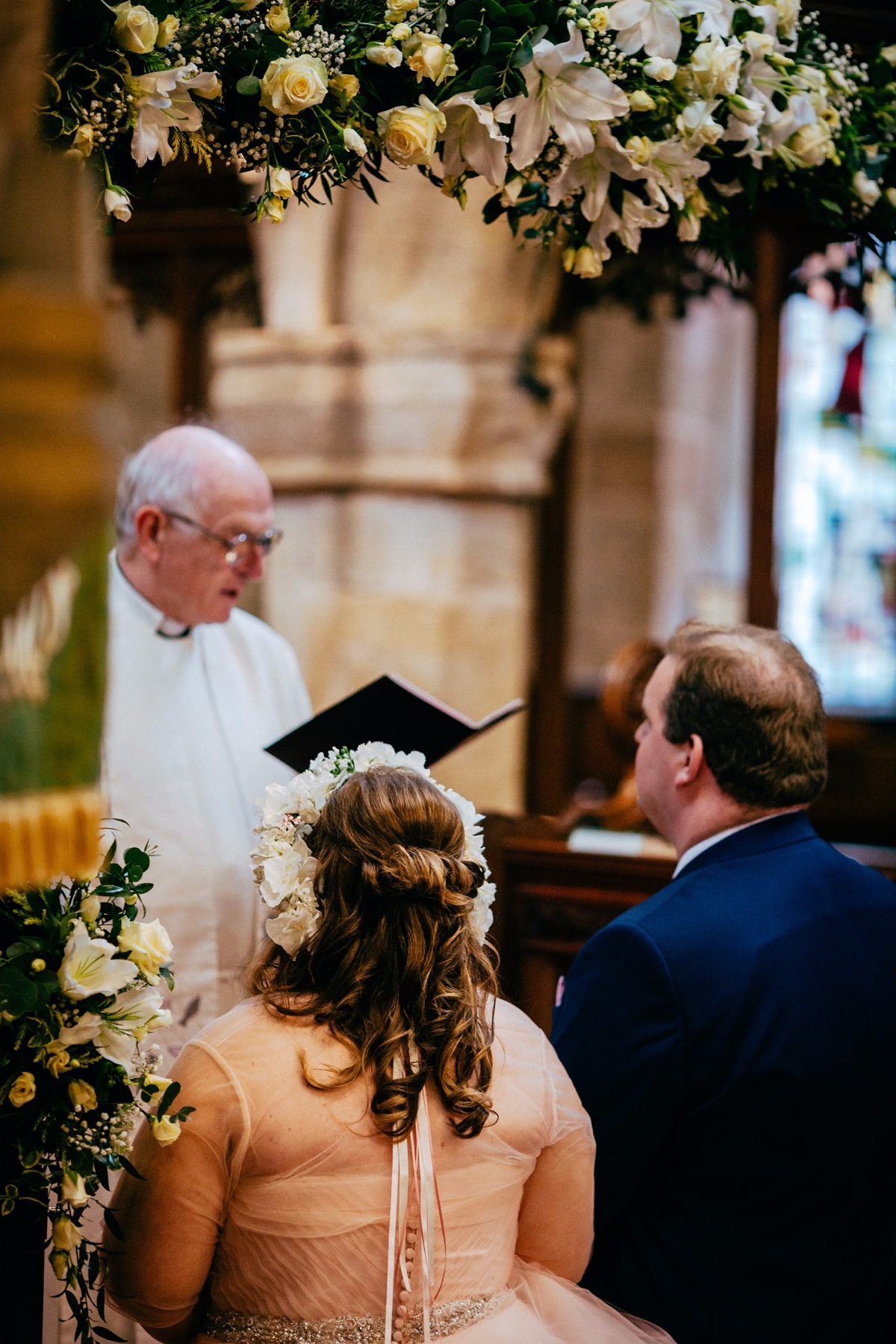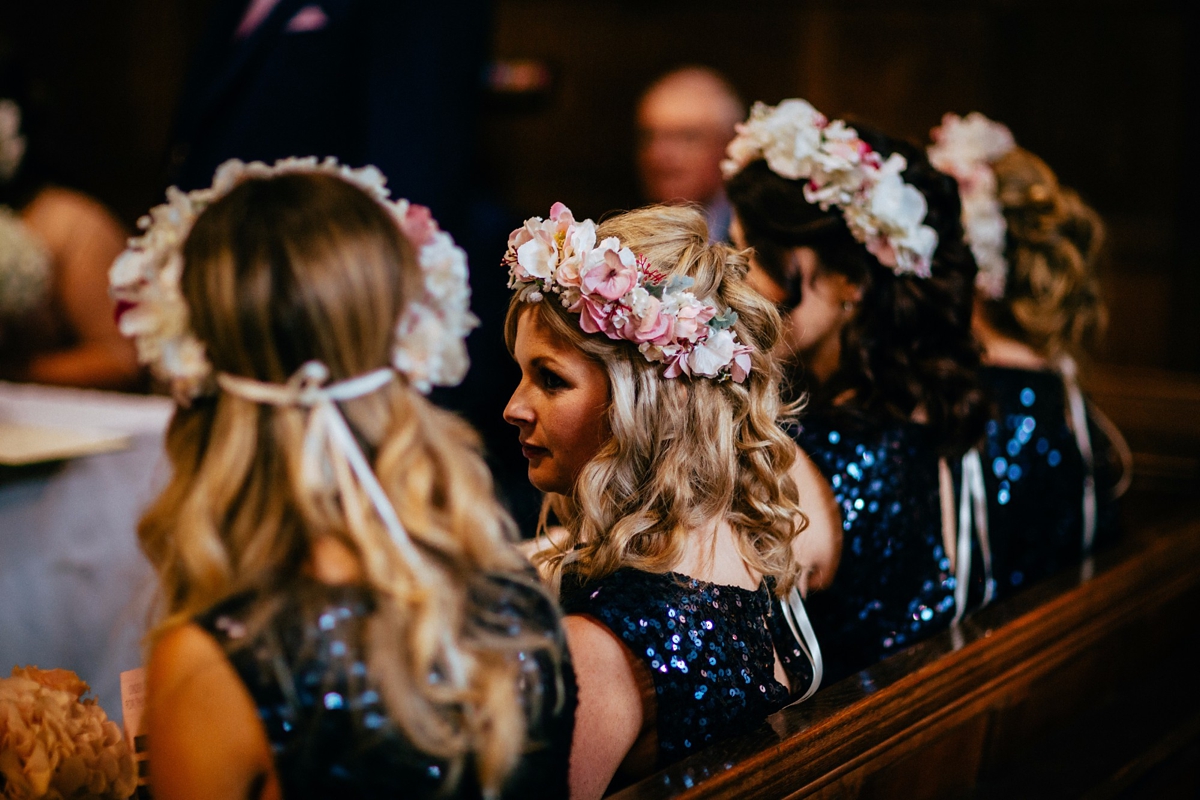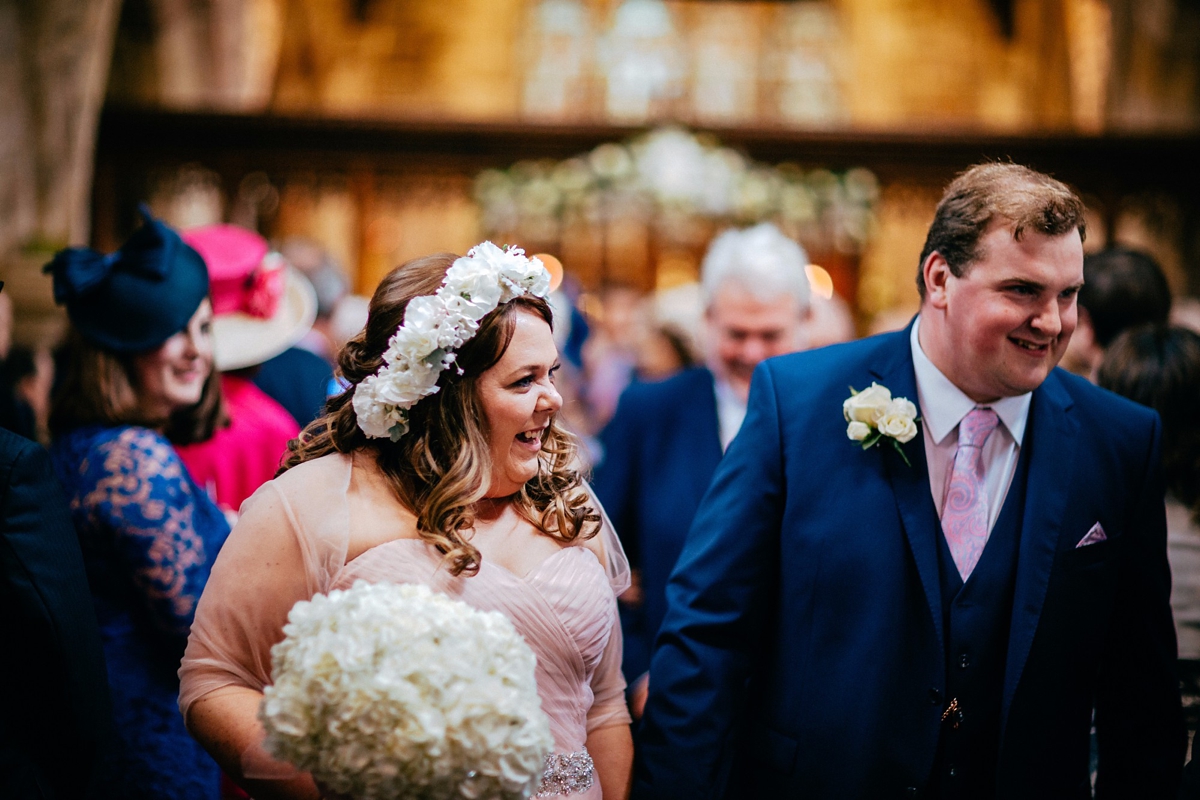 "Our photographer was Nick English Photography. I have worked with so many photographers over the years that I was overwhelmed and quite scared about making this decision. Ben came up with the solution that if I chose two or three I loved, he would make the final choice, and Nick was the person he chose."
"I loved the warmth in his photos. When looking at his website and blog, he likes to get the best out of his subjects by making them laugh and this was something that was really important to us. We also liked how relaxed Nick was. We didn't have to worry about anything, he was there to capture every moment and originally I wanted to have two photographers but after seeing his work I realised we didn't need to. I would highly recommend Nick not only for his photographs, but for being such a joy to work with, nothing is too much trouble and from seeing him lying on the wet floor outside he will do just about anything to get 'the shot'!"
"We found our videographers Winnington & Coe with about two weeks to go – as we were let down by our original choice – through a plea on the Love My Dress Facebook group. Ben was super responsive to my fairly begging message, and he and Elle were superb on the day. They were in the background again and although we are still waiting for the final edit, we were very impressed with the way that they conducted themselves."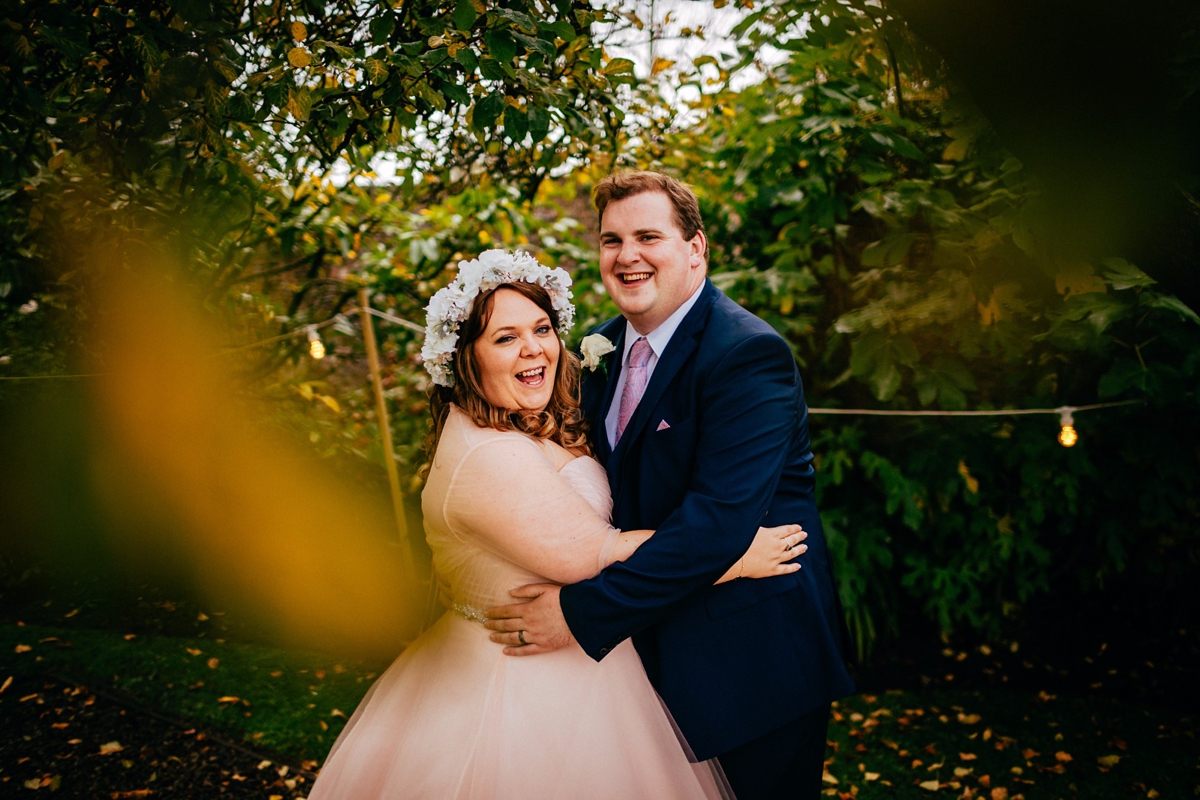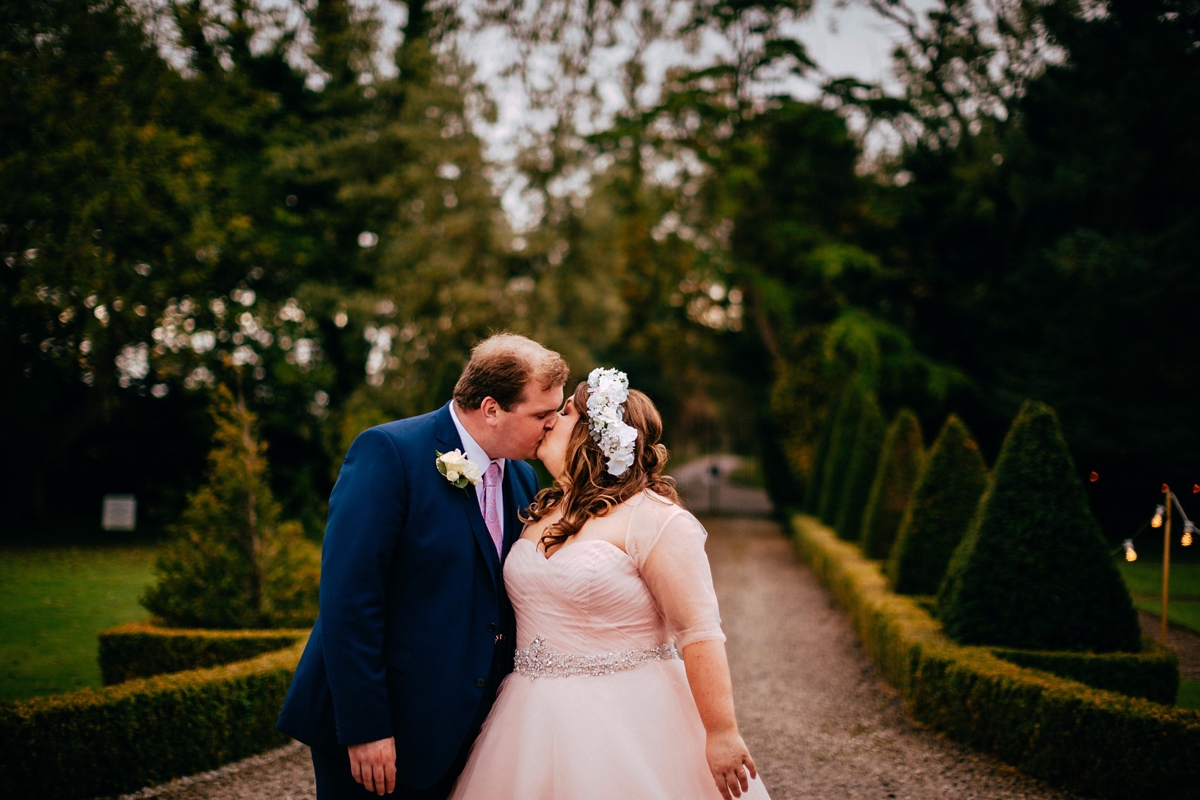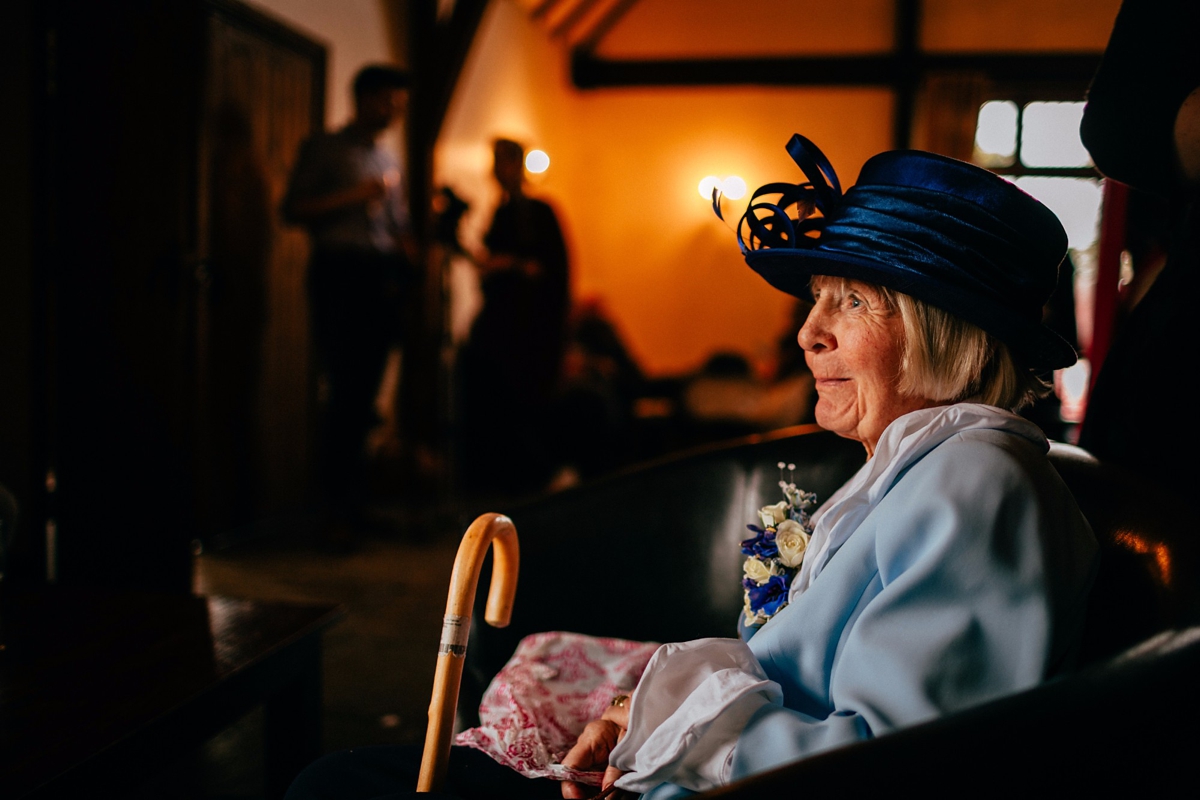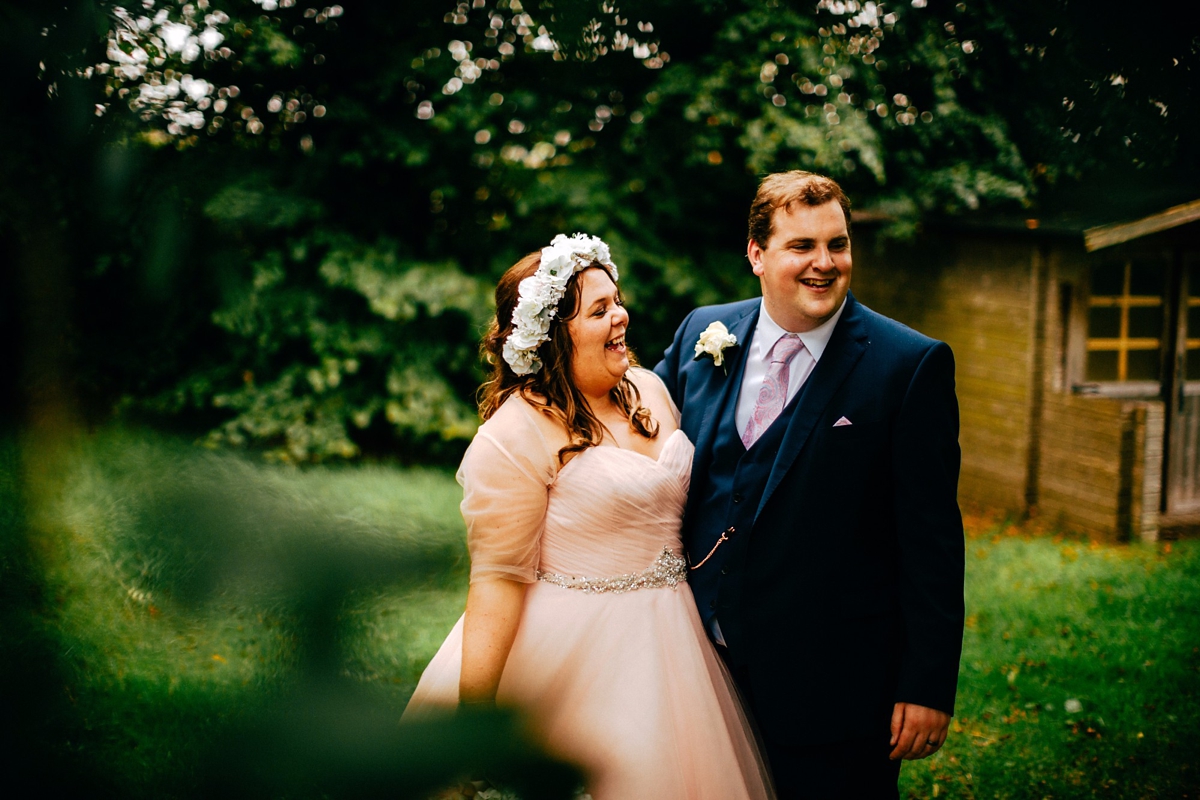 With her passion for stationery, the bride wanted beautiful stationery to pepper throughout the day.
"For our invitations we used Strawberry Sorbet as I wanted something formal and classic, and their letterpress stationery is beautiful. For all of the other stationery elements, I designed them using www.canva.com and printed them with www.printed.com. I wouldn't have been able to do this without the wisdom of the Love My Dress Facebook group!"
"I enjoyed creating every piece, and there was a lot of pieces to go around. Our table plan was a great personal touch – we hung pictures of every guest for them to find themselves and see where they were sat – it created a talking point in the room."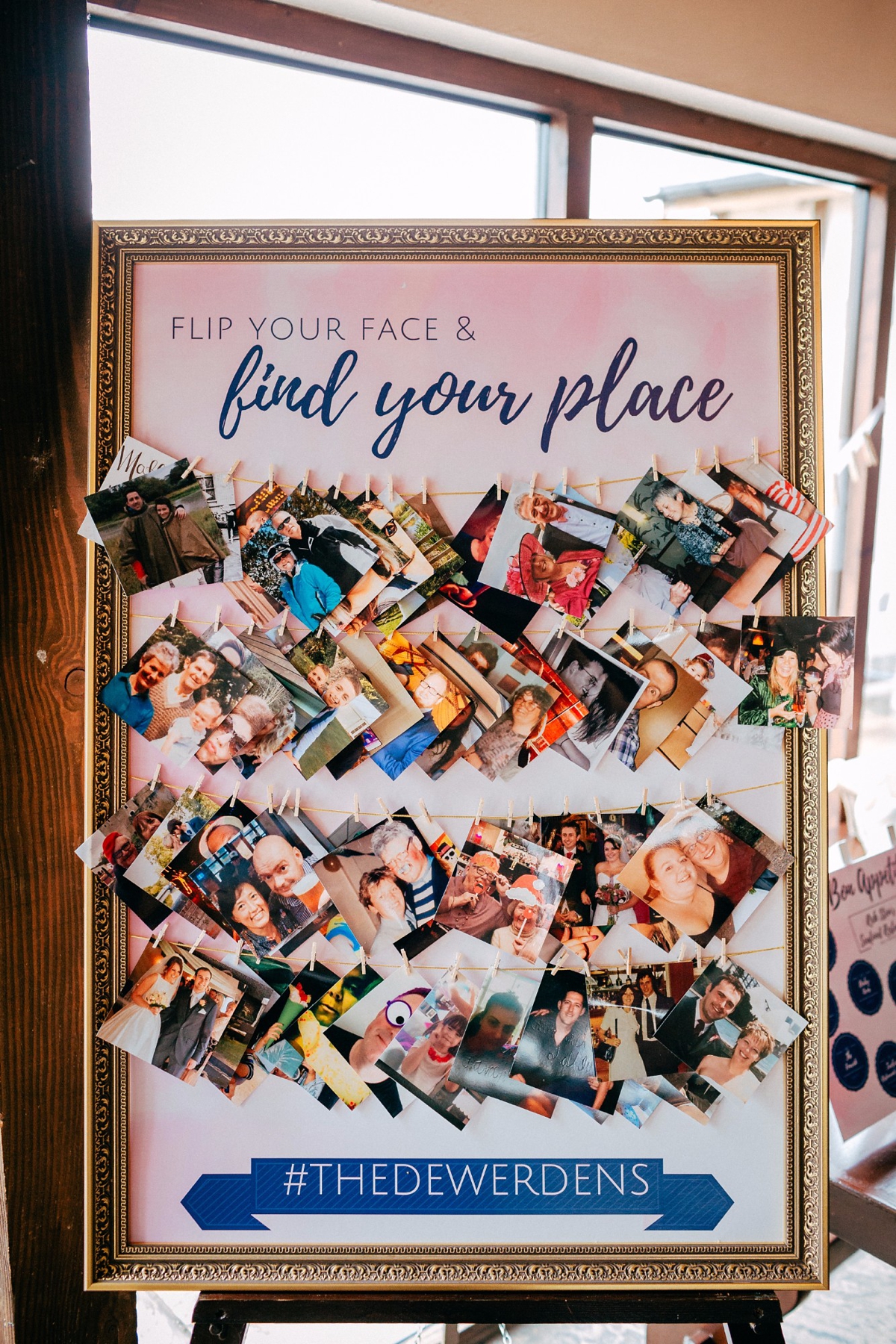 The new Mr and Mrs Duerden had a range of tricks up their sleeves to keep guests entertained throughout the celebrations.
We had a pack given to a 'captain' of each table, who had to wear a sash and run the speech sweepstake on each table. We had also asked guests on our wedding website to give us an interesting fact and put them onto a bingo card to get people up and moving around the room talking to each other. Ben and I mixed up all of our friends on every table so hopefully some new friendships were made!"
"We also gave each table pots of glitter and some aloe vera and this was the hit of the day. It cost about £3 per table but everyone got involved even my 86 year old uncle had a glittery moustache by the time the speeches rolled around! We also created WedLibs for each guest to fill in rather than a guest book and these have given us lots of laughs after the day."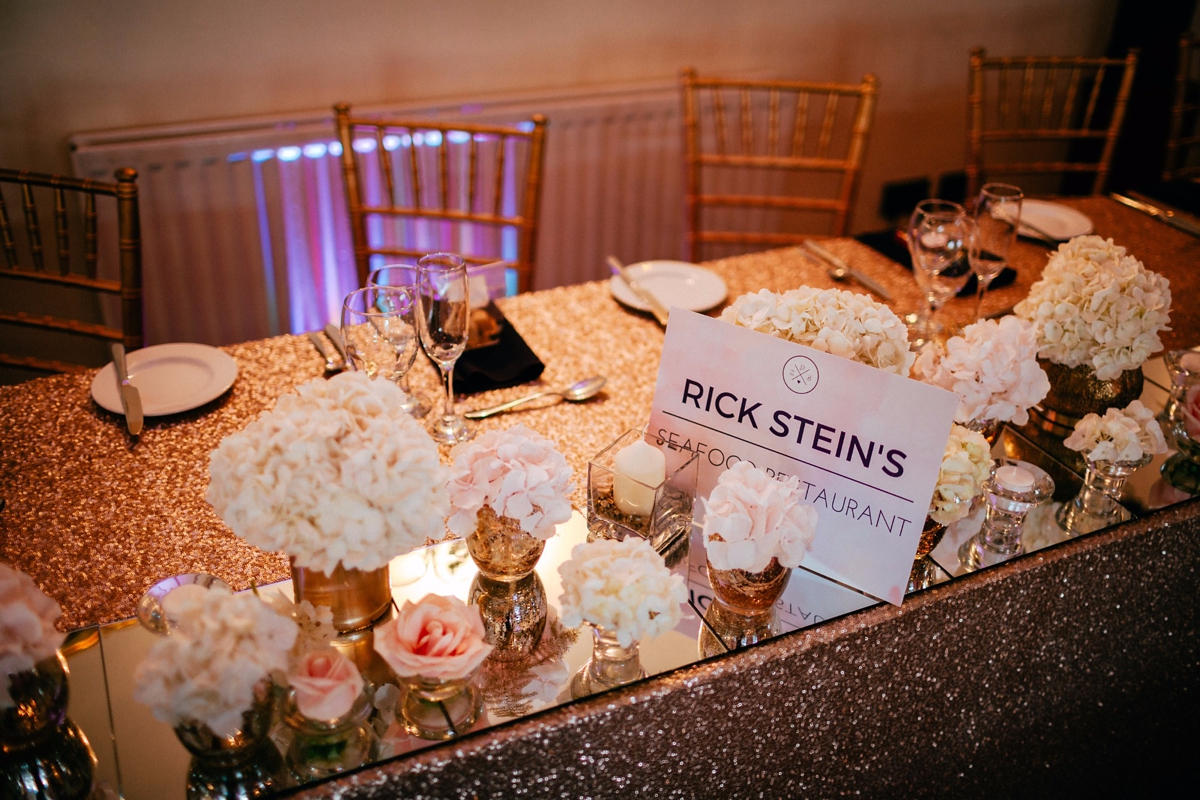 "The only thing I wanted at our wedding was Paul Guard. In my wedding coordinator life, Paul is always my recommendation to any brides or grooms wanting to bring their party to life. Turns out as soon as we set a date my parents had booked Paul, knowing how much I wanted him there. When I got out of the car at the venue I could hear the strains of his music and I was so excited! He is the best wedding singer around, getting guests involved, reading the room and injecting so much fun into the afternoon. He sang throughout the drinks reception and wedding breakfast, and even let my dad unleash his frustrated entertainer on the crowd!"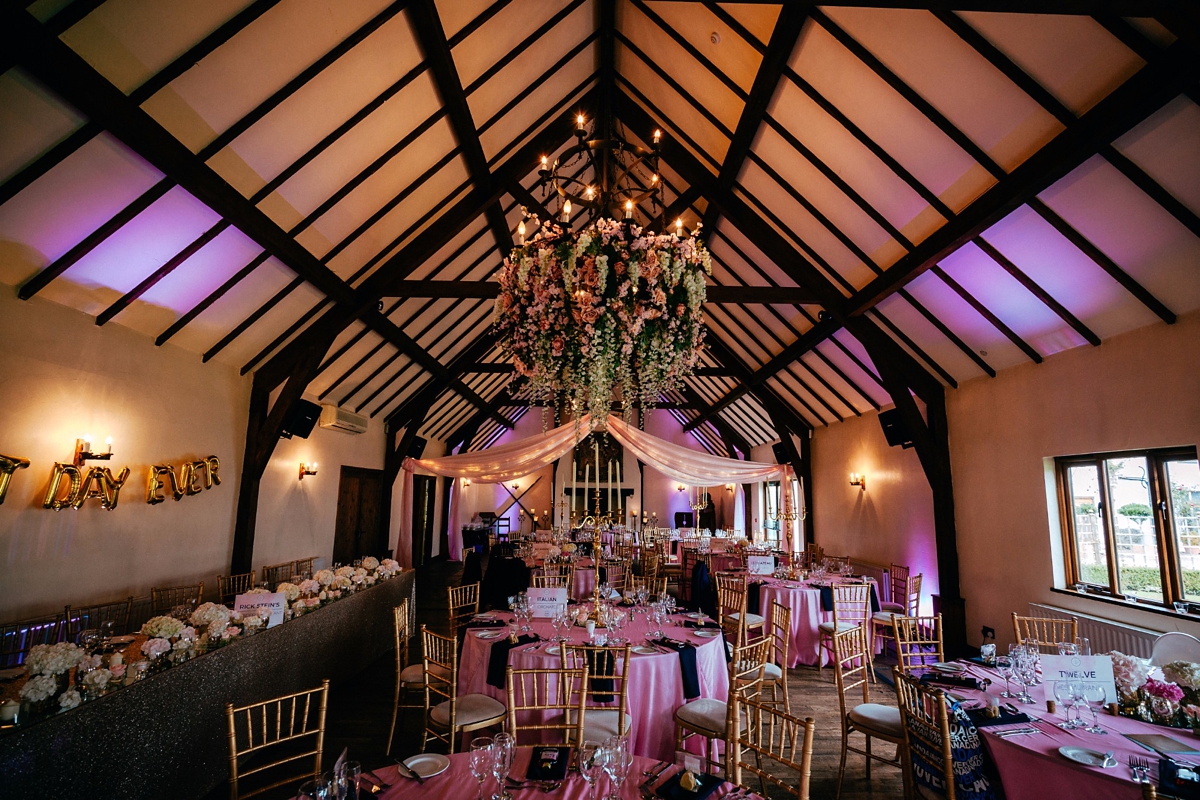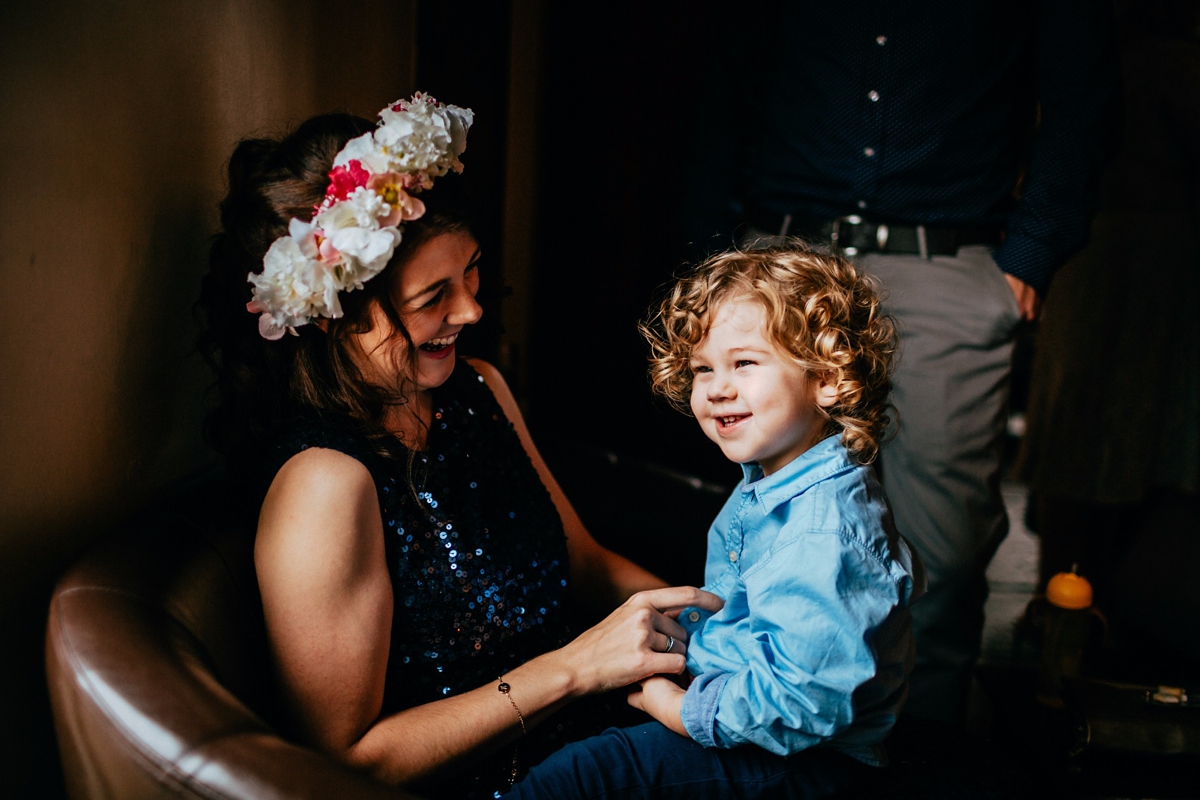 Food and drink were paramount to the enjoyment of Ben and Zoë's day – and the bride knew from her very early days of working in the industry that if she ever got married, Twelve Event Management had to be the ones to provide the food.
"We were able to offer all of our guests a choice menu of Fleetwood Cocktail or Potted Salt Beef, Duo of Gressingham Duck or Fillet of Scottish Salmon and to finish (the most important part for me!), Lemon Tasting Plate or Knickerbocker Glory. We finished with a mini cheesecake for each table to enjoy with the speeches."
"They also provided canapes of Haggis and Neaps, Fleetwood fish and chips and chicken skewers with hoisin sauce. The haggis went down really well surprisingly! Our guests were blown away by what was served as it felt over and above any standard banqueting offering."
The couple's delectable four-tiered cake was by Broadway Pantry and they were able to include their fluffy ginger cat Humphrey in the celebrations via the sweet cake-topper from Etsy.
"We found a cake topper supplier that could laser cut a fluffy cat onto the topper with the bride and groom and a phrase of our choice. We went with 'You're My Favourite' as it's the phrase we always say to each other, and a high five because we love giving positive affirmations to each other."
"A last minute addition was 'Best Day Ever' balloons provided by Think Party!. I am so happy we stuck with those as they are on every picture of the top table and I love them!"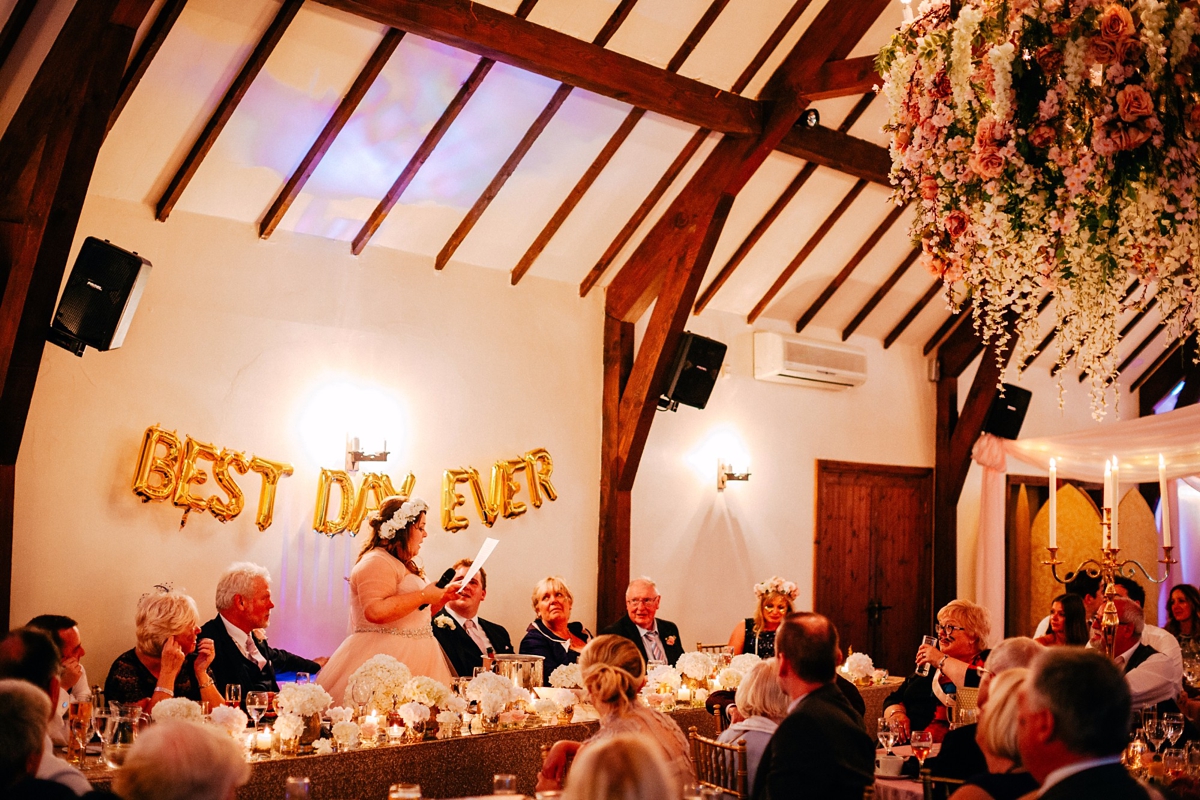 "We really struggled to choose a first dance track – I am a lover of music from the 70s and 80s, whereas Ben is much more up to date! We settled on Madness "It Must Be Love" as it was upbeat and happy with a sincere message. We also went to see Madness in August on the anniversary of getting engaged and it cemented our choice."
"I was so happy all day. Everywhere I turned I saw my friends and family enjoying themselves and that is a gift that I will always treasure. Nick was able to take Ben and I away from the crowd at several points during the day and this was very special; I loved being able to just spend time with my new husband. We wanted fun, love and laughter and couldn't have wished for more! Everyone got on board with all of the games we planned and it was amazing."

Words of Wedded Wisdom
"It's a cliché to say but enjoy it. There were times when all that occupied my thoughts were the placement of a word on the table names or the exact colour of the bridemaid's dresses without looking at the bigger picture of marrying my best friend.
Take up offers of help, people want to help you so give them jobs. You will not have enough time for everything in the days leading up to the wedding; prioritise and delegate!
Join the Love My Dress Facebook community. It is a place full of love, affection and advice from beautiful women in different stages of their wedding journey.
Do what YOU want to do. Don't be forced to adhere to tradition or follow a certain path – every risk we took paid off, despite the fact that "no one has seen that at a wedding before".
On a practical note, negotiate and haggle on everything. As a professional, if someone asks for a discount I will generally give them something because they asked so the worst that can happen is that they say no! Although I did all the stationery myself, I outsourced nearly everything to the professionals for ease in set up and on the day, so I wasn't worried about who was doing what because I knew everything was in hand.
Remember that you are marrying your best friend. It won't matter if you lose a bridesmaid, you rip your dress, you don't have time to get your lashes done (all of which happened to me) – it is all trivial in the big scheme of things."
"For all brides – DO A SPEECH! I was convinced after one of the Belles said how important it was to her to do one, and I wrote it in one sitting. I was slightly worried that Ben and I may cover the same topics, but we didn't. Both he and my parents couldn't understand why I would voluntarily do a speech, but I felt this was my opportunity to speak about my love for everyone in the room, but especially Ben. I made everyone cry, and surprised a lot of people, but I wanted to punch the air because it felt so amazing to have done one!
Being larger than your average couple, we were adamant that we weren't going to change the way we live for our wedding day. I didn't go to a specialist dress shop, and wasn't made to feel like an outcast for being a plus sized bride. I feel it's really important that brides are made well aware that it doesn't matter what size you are you shouldn't be pressured into feeling that you aren't perfect just the way you are and have to have a certain style of dress because you don't fit with a certain aesthetic.
Also, I didn't have any time for suppliers who made me feel bad about myself, or assumed that I couldn't afford them (which surprisingly there were a few of!). It's your wedding day – you should get what you want! The suppliers we did choose made us feel like their only wedding ever to have taken place, which is how it should be!
Love My Dress has always been my go to for inspiration, I love the way the pieces are written and the diverse selection of weddings shown. I love that there is a wide range of topics covered, and not just wedding after wedding. I am interested in the industry from a business perspective and the posts from suppliers and From The Heart pieces also resonate."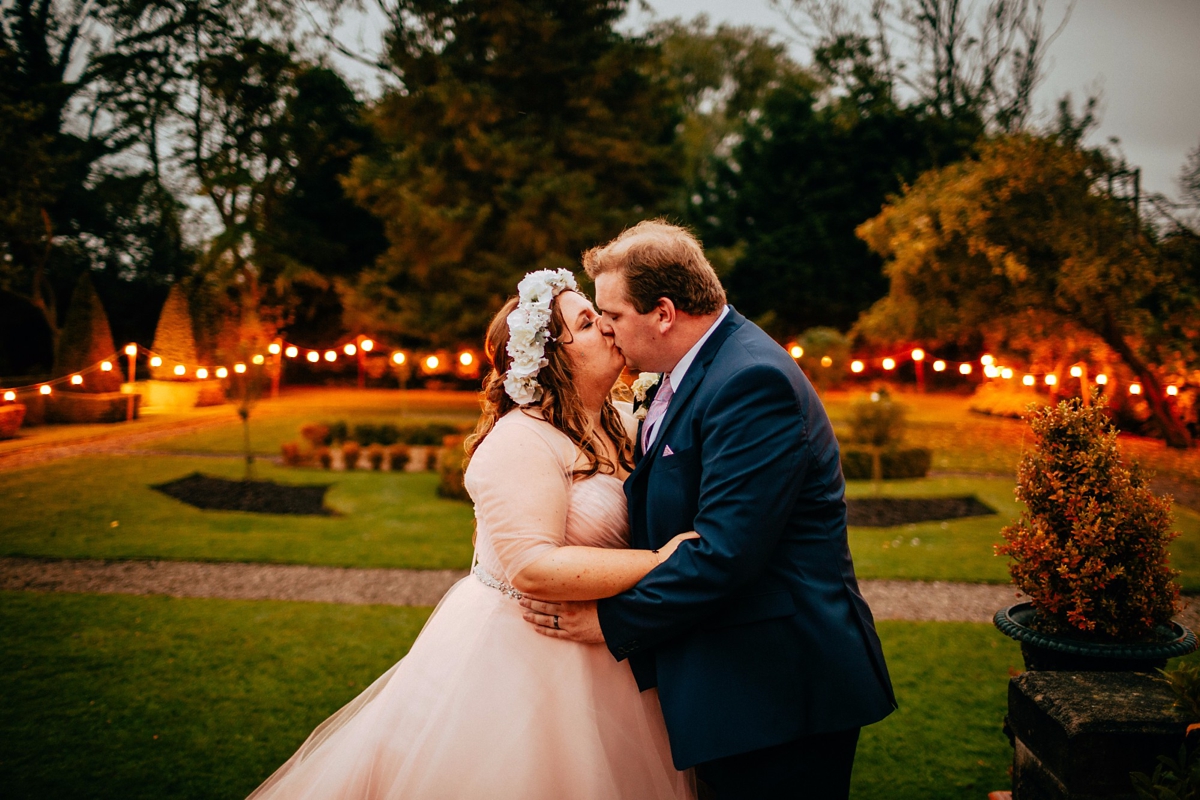 I've just adored being tasked with sharing this delightful couple's big day and Zoë, I'm so chuffed you found such helpful hints from the Belles in the LMD Facebook group. I know that the lovelies out there currently amidst the planning stages will take great comfort in your utterly heartfelt and wise words above – thank you so much.
Before you go, be sure to browse our extensive LMD archives here for more stunning Ronald Joyce gowns.
Love Jo -x0-