Well it's Sunday, lovelies, and wrapped up for you today is the loveliest of wild, outdoor, beach weddings. So sit back with a hot cup of tea or coffee and enjoy these beautiful photographs by The Curries.
The bride and groom are Katharine and James, who married on 29 June 2017 in a ceremony right on the rugged Scottish coastline on a tidal island off the Isle of Mull in the Inner Hebrides. The couple live in America where Katharine is a registered nurse and James works in sales and business development. They flew over to Scotland so they could marry on the beach by The Croft, a 19th century islander's cottage that has been in James' family for over fifty years. The breathtaking landscape had a huge influence on the feel of the day, and the couple felt it important to source local materials and suppliers to create their version of a non-fussy, remote, Scottish island vibe with a flair of vintage, romantic, simplicity.
Having decided on their venue, Katharine began to put together an idea of her day taking inspiration from and adapting ideas she liked in magazines.
"As soon as we picked James' family Croft in Scotland as where we'd be getting married, it was pretty clear a lot of what I was seeing in the magazines wasn't exactly going to work. I took ideas from what they had for a more formal or metropolitan wedding and spun it remote, Scottish, island style. In the end we focused more on providing great food and wine and having a fantastic band than worrying too much about the decor or having other 'things' at the wedding. We mostly wanted to focus on the time we spent with our friends and family."
Photography The Curries
These photographs which really capture the untamed, raw landscape are by The Curries, whose work we've had the honour of sharing many times here on Love My Dress. They come so highly recommended by Katharine and James, and the photographs really do speak for themselves. Those of the sun setting over the water, and the 'first look' with the ocean behind have to be my personal favourites.
"One of the only things I knew for a long time if I ever got married is that the photographs for my wedding would be important, and not something I wanted to brush over. There were a few criteria I started off with when looking for a photographer from across the ocean to help narrow down my search.""I started with ones that were local to Scotland/Glasgow or the Hebrides and/or who had shot in remote island locations before and who I thought might be able to deal with the 'elements' AND who seemed to have a unique eye for catching 'in the moment' shots. I was looking at it from an almost photojournalist style. Additionally, my husband was really nervous about too many corny/posed shots and feeling like the cameras would be in his and his family's faces. Insert The Curries!"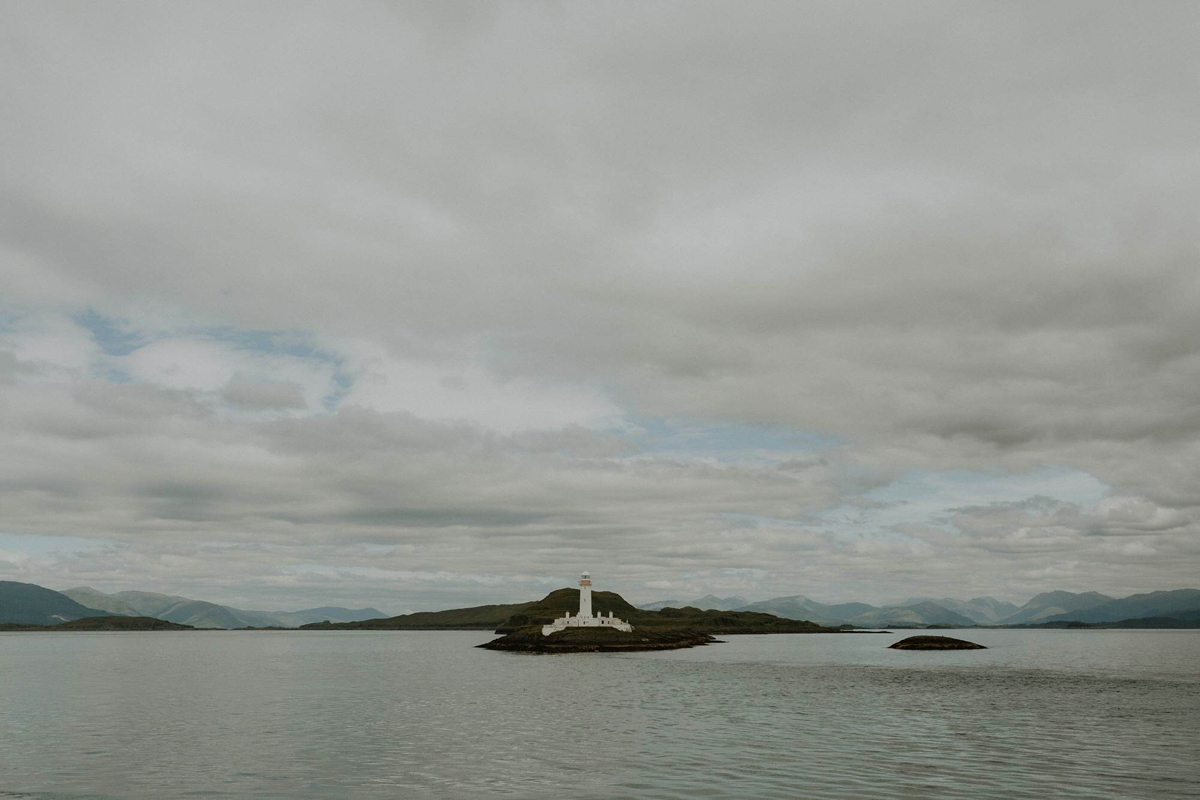 "I knew from the second I saw their portfolio that this was the couple that needed to photograph our wedding! The Curries were absolutely incredible and helped in putting at ease all of our questions and concerns along our journey of planning our big day. They were very responsive in the months leading up to it and when the big day arrived they were very easy-going and completely meshed in with our friends and family.
They captured amazing moments and were incredibly flexible when the weather did not cooperate. It poured on and off during our ceremony and the wind gusts were topping fifty miles per hour during the reception."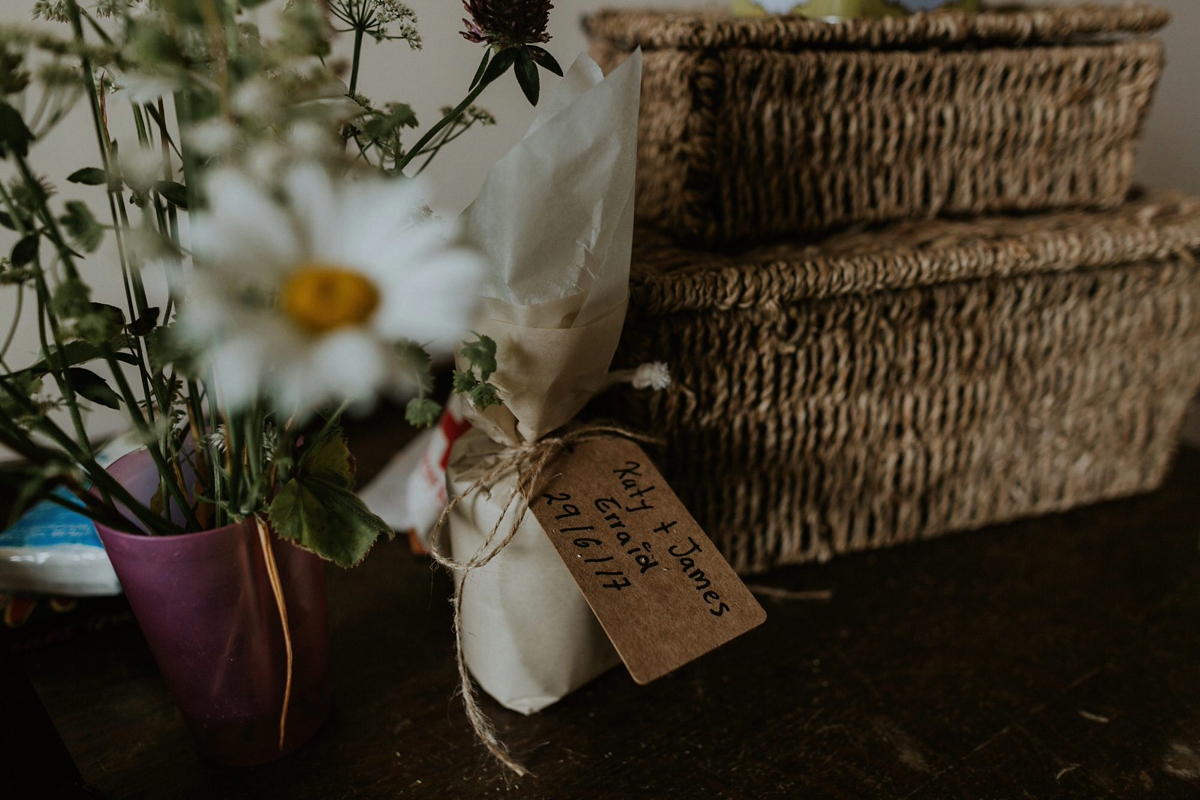 "The weather was only getting worse overnight and resulted in The Curries having to leave very late on the wedding night so they'd be able to get to their morning ferry. In the midst of all this they were so nice and professional and didn't miss a beat in catching so many amazing moments from the time they were with us. We are absolutely thrilled with the photographs they captured."
"The first look was such an incredible moment that we'll never forget. We highly recommend taking a portion of the day to devote some time with just the two of you and your photographer. We were able to clear our heads and enjoy the moment and really take in everything that had come together to get to this point and what we had to look forward to the rest of the day and from here on out. Not to mention we got some stunning photographs to remember the day!"
It sounds as if the couple had so much support and help in planning and sourcing different elements for their wedding.
"We met in high school and were good friends for years but did not start dating until after college. We got engaged on the top of Mount Monadnock, New Hampshire on 26 September 2015 and were engaged for one year and nine months before we got married. We didn't start planning our wedding until about a year before the big day because we were still trying to decide where and what we wanted to do. It was a tough decision to plan the wedding from 3,000 miles away, and also to ask our friends and family to travel such a long way to attend."
"But as soon as we got engaged our close friends and family were excited to hear we were considering a potential Scotland location (we had been hearing their suggestions of it since we started dating!), so, in the end, we just went for it! It was great to see how excited and dedicated our family and close friends were to adventuring to such a remote location but also pitch in and help in pulling off the wedding once they were there!"
"I was not the type of bride who knew exactly what I wanted for my wedding from a young age or even since getting engaged. It was quite overwhelming at the beginning. Reflecting on many weddings James and I had been to we knew pretty early on what we'd want to focus on and what we were less concerned about."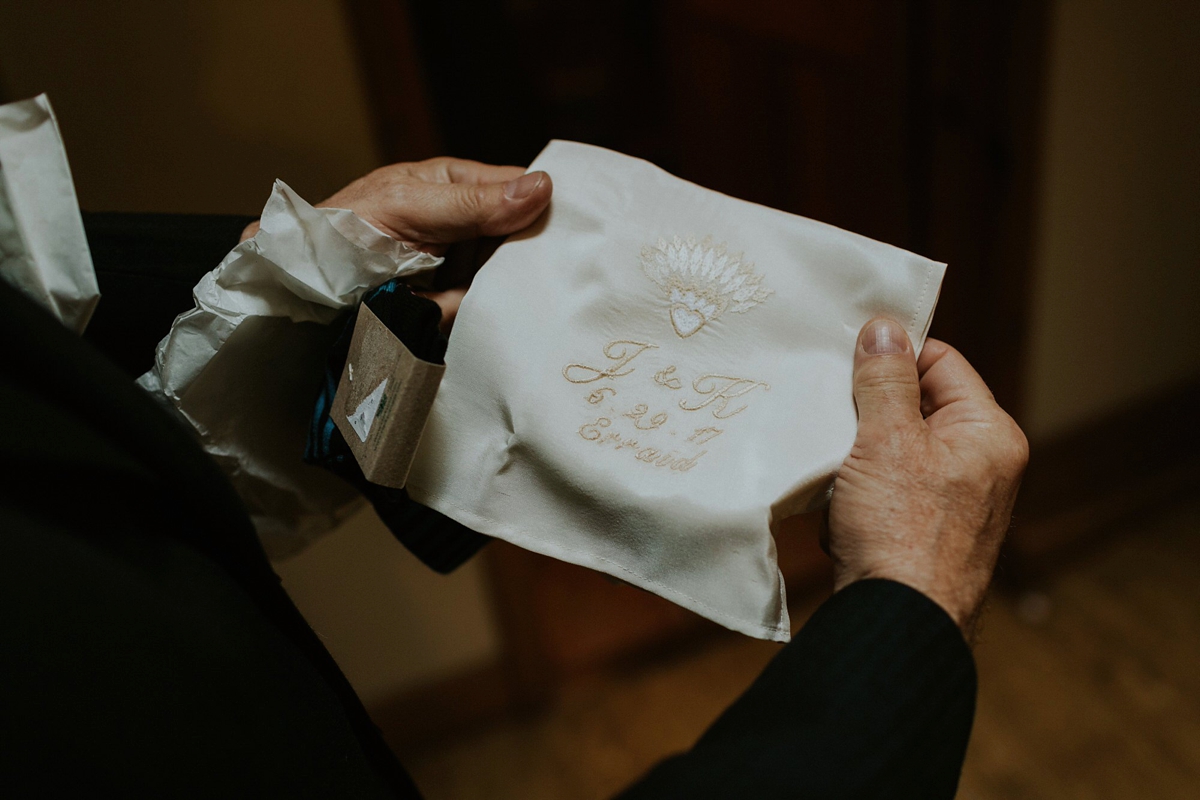 "Making some of the larger decisions (like having it in Scotland) really helped to inform our decision-making and inspiration about how we wanted the day to go/feel. We definitely used the location as our biggest inspiration and tried to incorporate a non-fussy, remote, Scottish island vibe (or what we consider that to be) with a flair of vintage, romantic, simplicity.
A lot of focus was put on using local resources as much as possible whether it was food-related or materials used for decorating the tent."
"The fact that we were on a remote Scottish island and with limited resources really put things into perspective about what type of wedding we would have. It would have felt over the top and completely out of place to use a lot of glitz or frivolous decorations. One of the most important things to us was that our guests enjoyed themselves and that they got to experience the island and get a feel for why we hold this place so near and dear."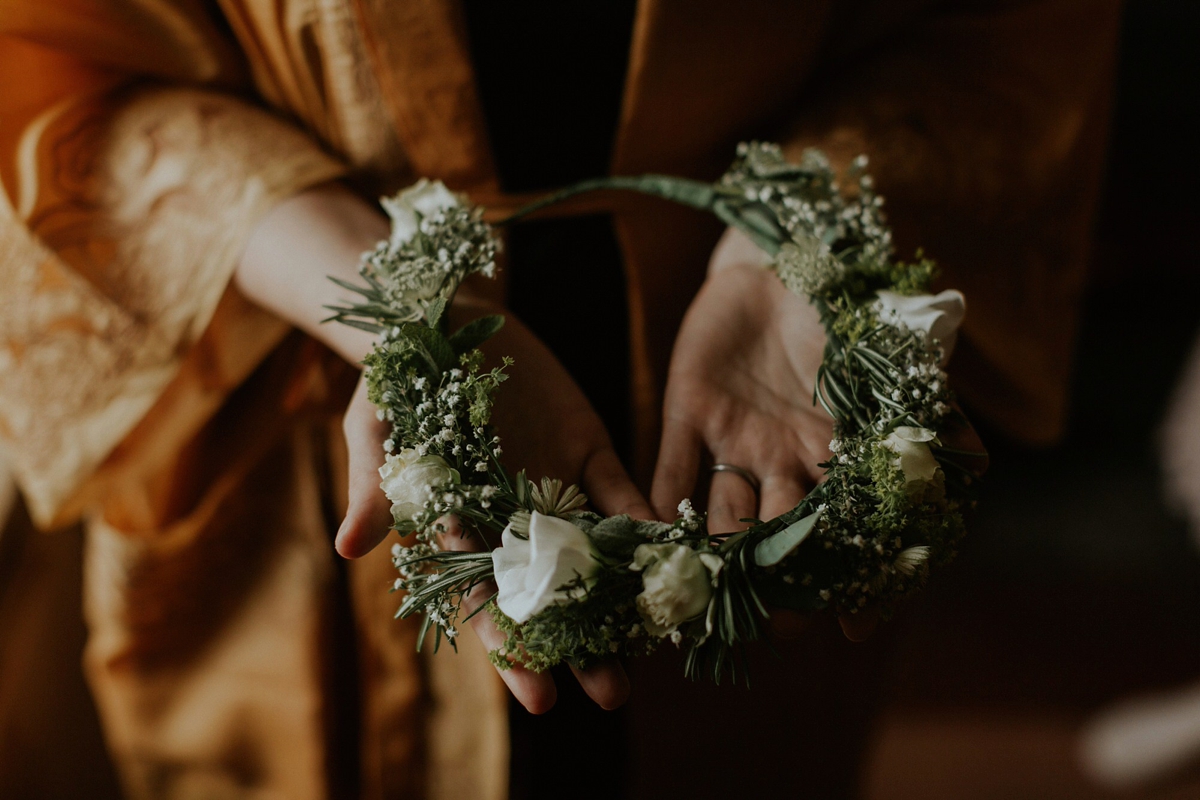 I feel that Katharine's gown suits the day so well; simple and pretty with a relaxed, boho vibe through the choice of fabric and its floor-skimming skirt. If you look carefully you'll be able to see the most exquisite embroidery on the dainty bodice featuring native Scottish plants. It was designed and made by James' brother's long-term girlfriend Liz of Liz White Couture.
"She is an incredibly talented couture dressmaker and together we designed my dress from scratch. It was custom-made and driven by combining elements of dresses that I had tried on. I also kept in mind the fact that our wedding was on a remote Scottish island and the weather would be incredibly unpredictable (which it was the entire week of our wedding!) and wanted to make sure the dress would not feel out of place given the location and vibe of the island backdrop. My absolute favourite part about the dress is the custom embroidery of local flowers and plants native to Scotland throughout the bodice that Liz designed and made herself. I also loved the vintage fabrics Liz picked including hemp/silk satin and silk chiffon in an ivory tone."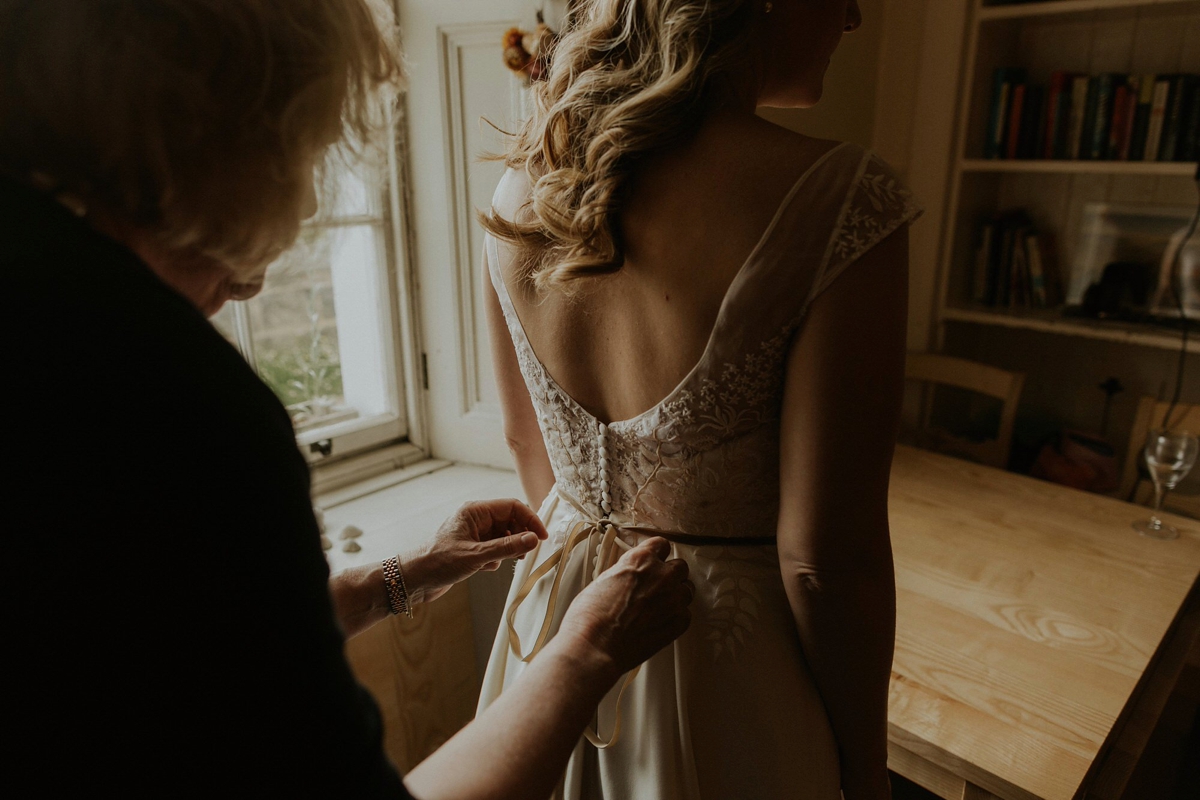 The gorgeous tule veil veil was also made by Liz White Couture; I just adore the way it flows behind her in the breeze. Worn with a green and white floral crown Katharine's style is simply beautiful. In recognition of the weather she donned a pair of light blue Hunter wellies and finished her look with pearl stud earrings borrowed from her mum. This relaxed bride styled her own hair into loose ringlets  with the help of her sister, and applied make-up for a fresh, natural look.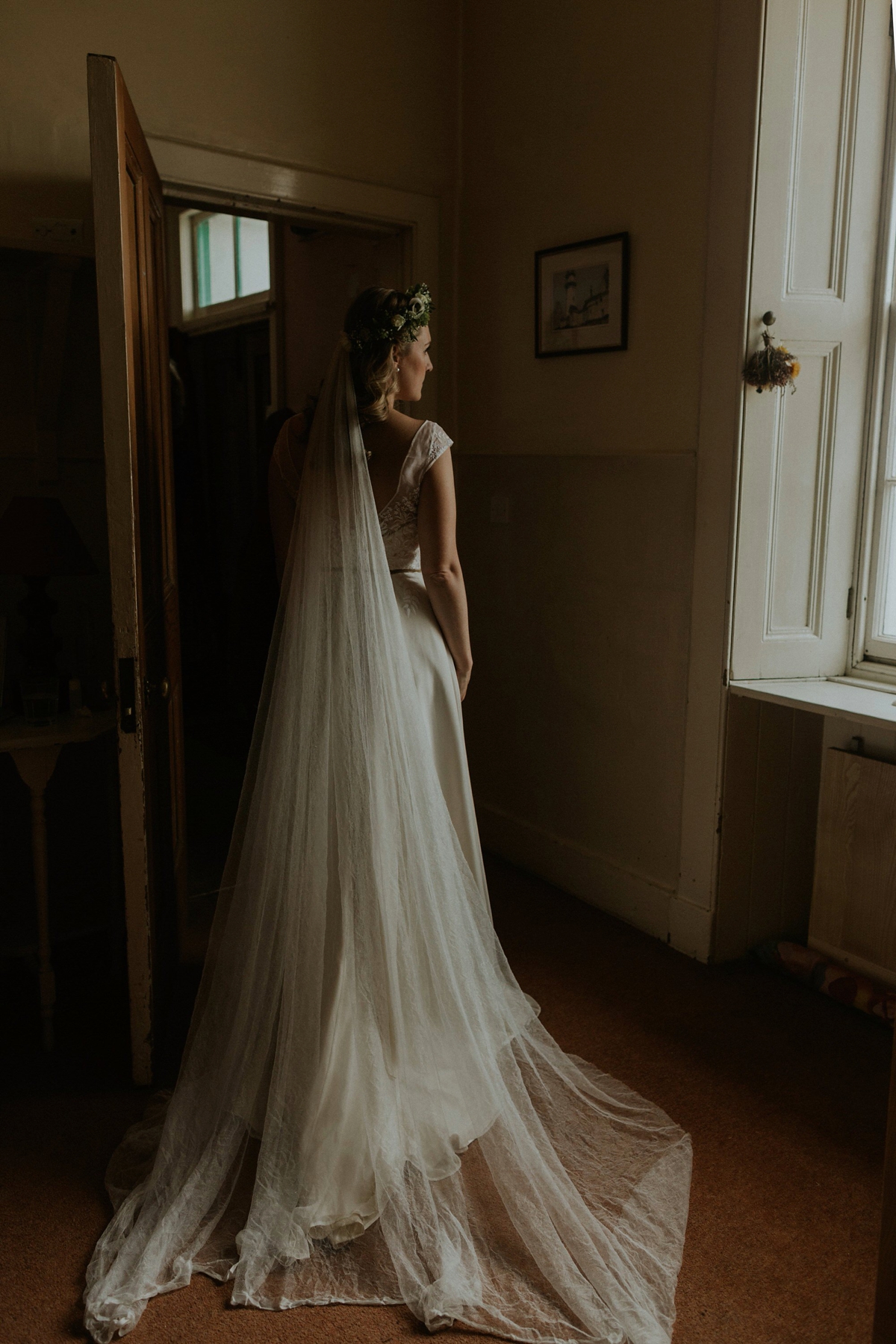 Katharine's sister was maid of honour, choosing a lacy BHLDN James dress in light petal pink to match the fabric of the bride's dress, and added a pretty beaded and jewelled belt by Liz White Couture. She wore a similar floral crown with splashes of pink, and rose gold and moonstone drop earrings from Monica Vinader. Recognising the wet and windy conditions outside, she donned three-quarter length Hunter wellies.
Travelling to the island was an adventure for the couple and their guests, and they thoughtfully created welcome totes to herald their arrival on the island.
"We chose to do a welcome tote for our friends and family that travelled from afar. We had so many other things to focus on to make our wedding day come together that we decided the welcome totes would be better upon our guests arrival to the island than waiting for the wedding day."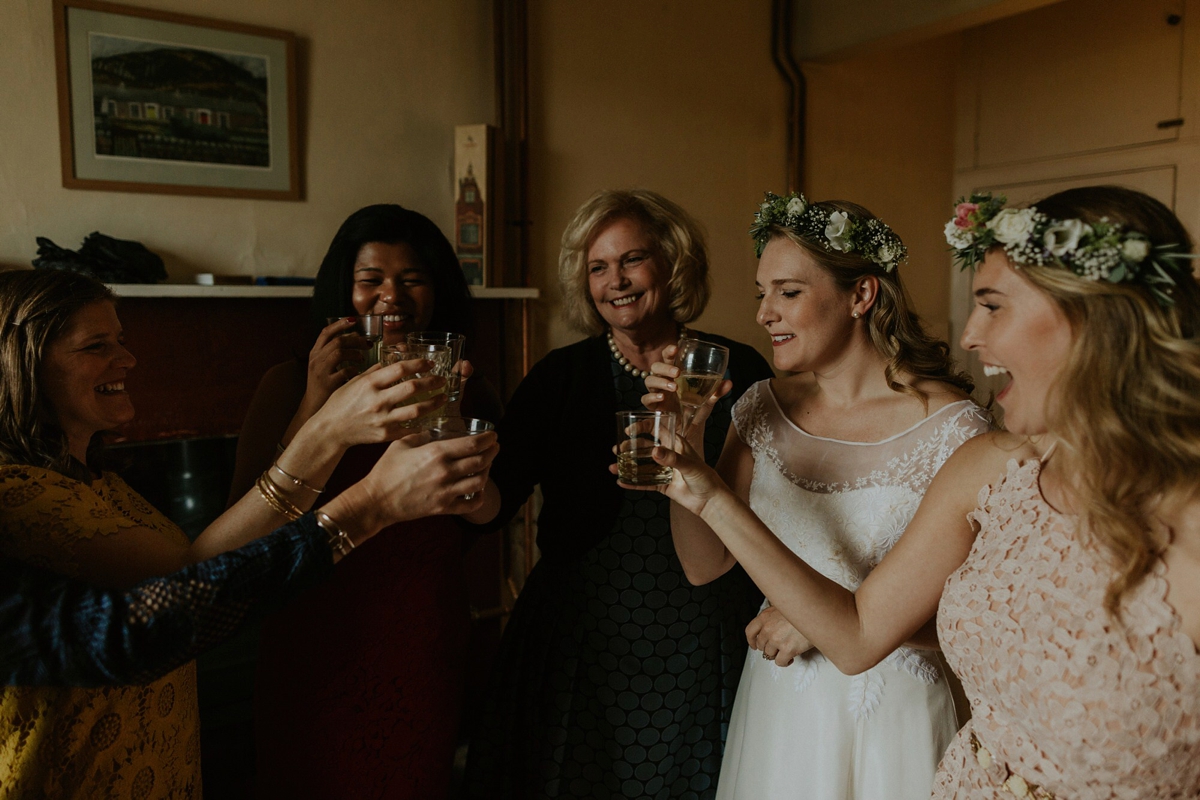 "Then at the wedding there were so many sweets and treats that I think (and hope) no one noticed there weren't any specific favours.  The canvas totes were printed local to our Massachusetts home and incorporated the imagery from our invitations. We included a 'welcome packet' that included stationery detailing the schedule, food, and what there was to do on the island. We also hand-wrote a welcome note for each of our guests welcoming and thanking them for travelling so far to celebrate with us."
"In addition my mom Sally, who loves to paint and draw as a hobby, created a custom map of the island that we gave to each guest as well. We gave each guest a candle that is made on the island and provided a few snacks including buttery shortbread, crisps, candy and water. My mom also had custom M&Ms made with our faces on them that were set out on the wedding day."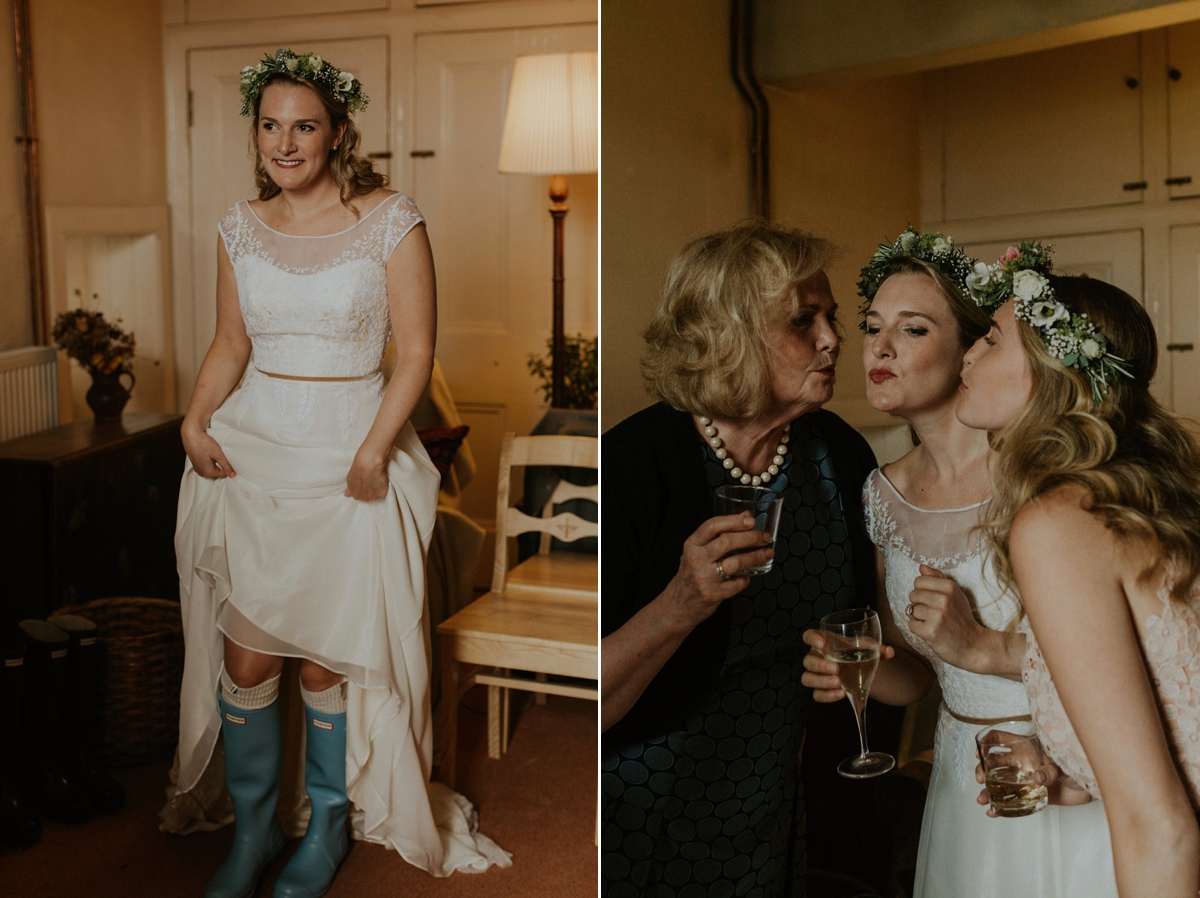 On the morning of the wedding Katharine got ready in the picturesque village – a row of old lighthouse keeper cottages where most of our guests also stayed. Along with her father and sister, she then braved the elements to walk from the village and down a dirt path to the ceremony on the beach in front of the Croft. Her mother joined them to escort her the final few steps to where James was waiting for her.
"A family friend is an amazing artist/builder and created a crest for the wedding and a sketch of the croft that were integral to our invitations. I created our invitations with the imagery using a DIY invitation site. They were printed on Laid stationery in a soft white finish with a subtle ribbed texture."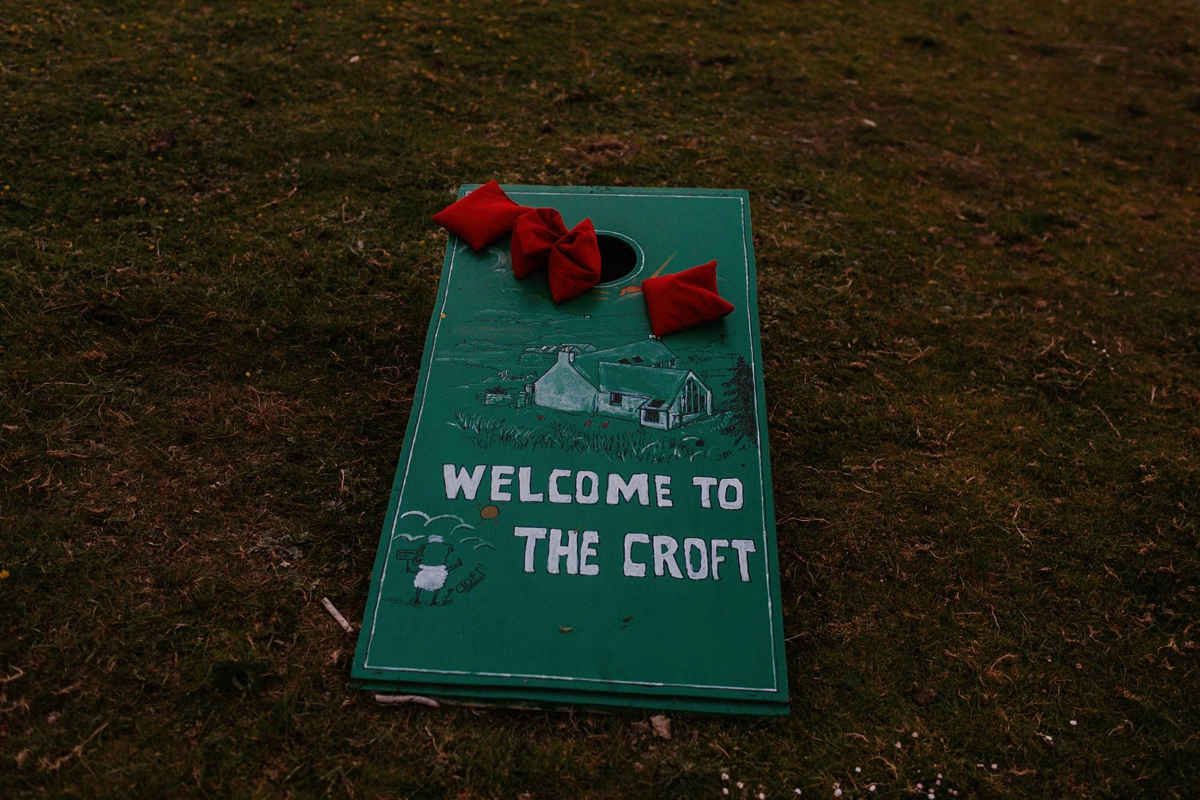 The groom had chosen a tweed suit, completely custom-made by a company here in the UK.
"James had always had his eye on a tweed suit and as the wedding plans started to formulate he knew that this was the perfect time to go for it. He researched companies in the UK who made classic style tweed suits but with modern fitting. He found Bookster Tailoring who provide completely custom tweed suits with a wide range of options and styles. It was a lot of fun picking out each and every detail of the suit, right down to the colour of the buttonholes and placement of pockets. It was challenging to do most of the sizing and communication remotely but in the end it fit the setting and style that defined our wedding from top to bottom."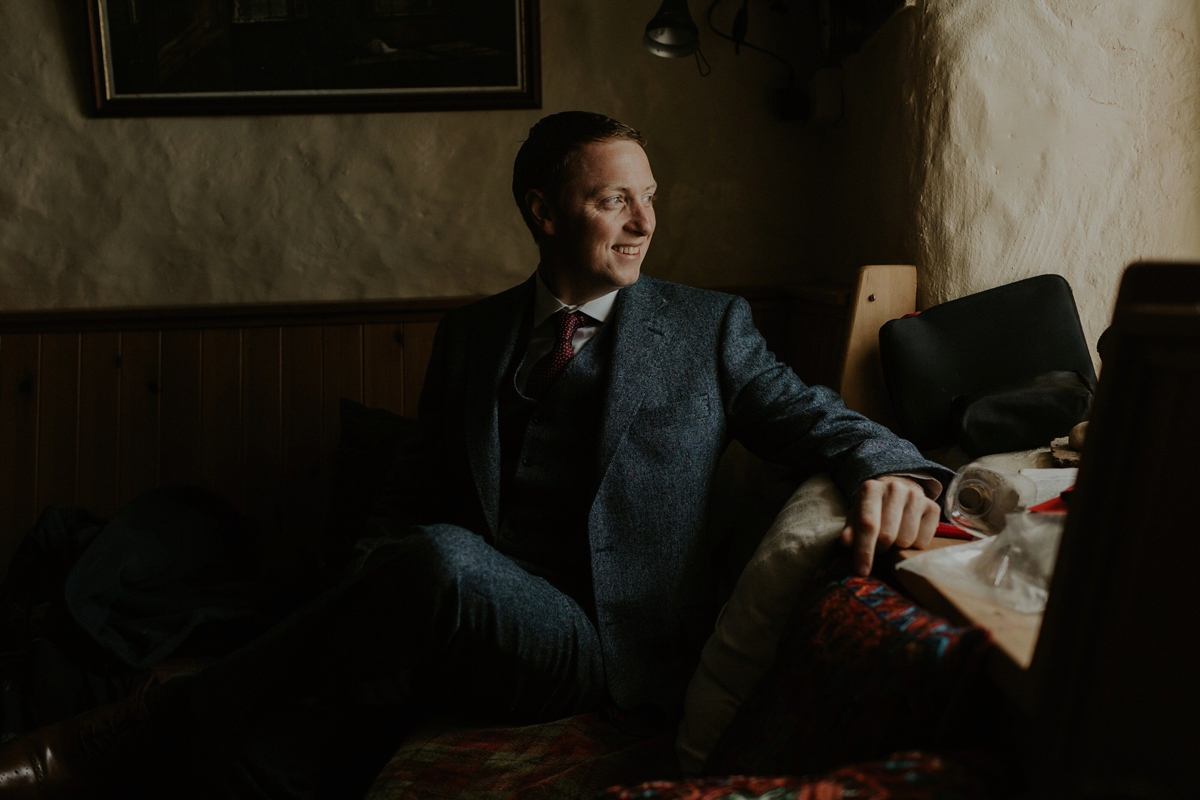 Liz White Couture designed and made his red and blue poppy tie and pocket square and James polished off his look with brown leather shoes.
The local registrar Veronica McDougal officiated the beach ceremony and traditional handfasting under a homespun arch of drift wood and paddles. In a lovely touch, James' Aunt Gerry played the fiddle as the bridal party walked on to the beach. The ceremony looks relaxed and natural, the guests just gathering together on the beach to share the love and hear the vows.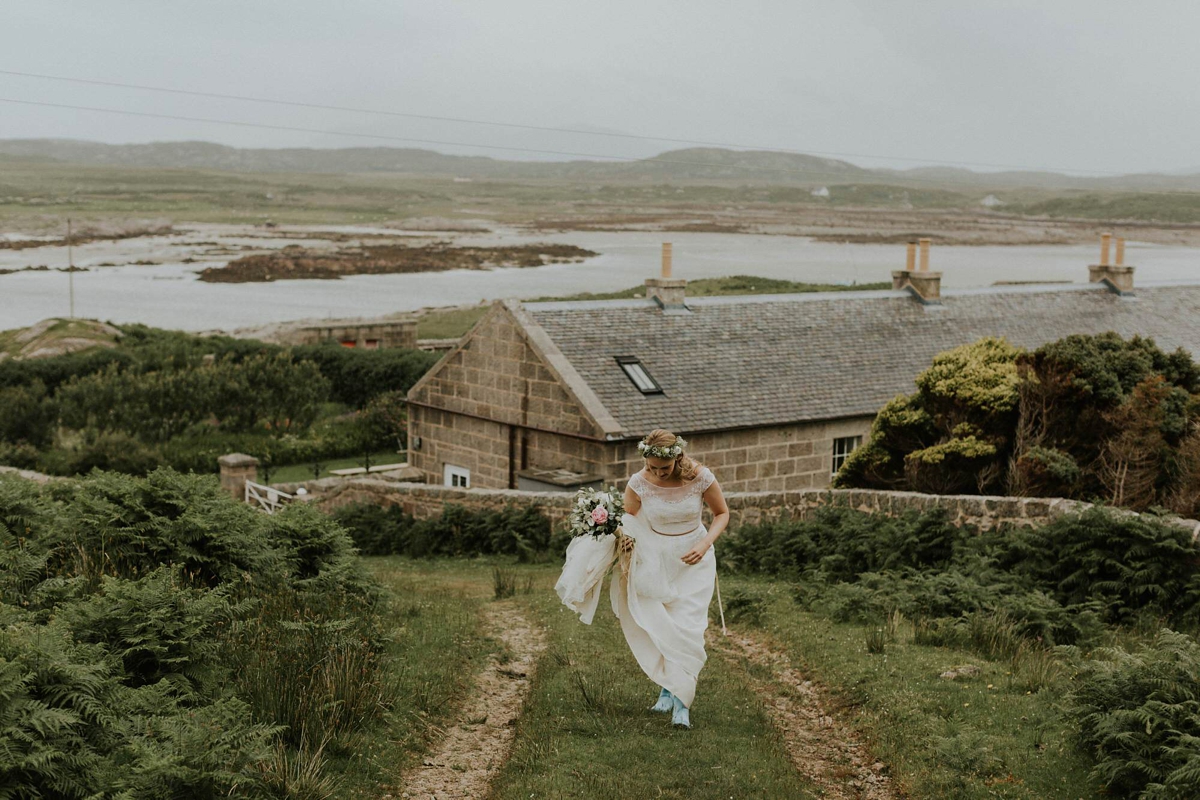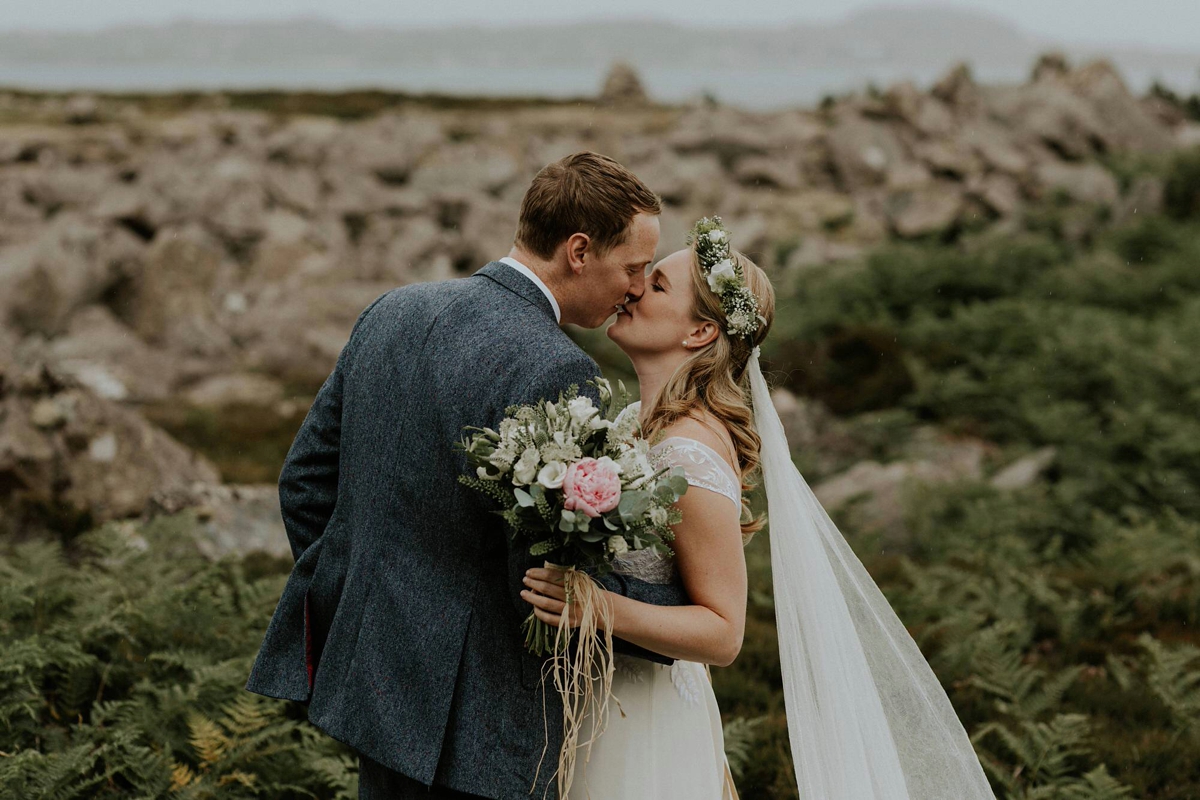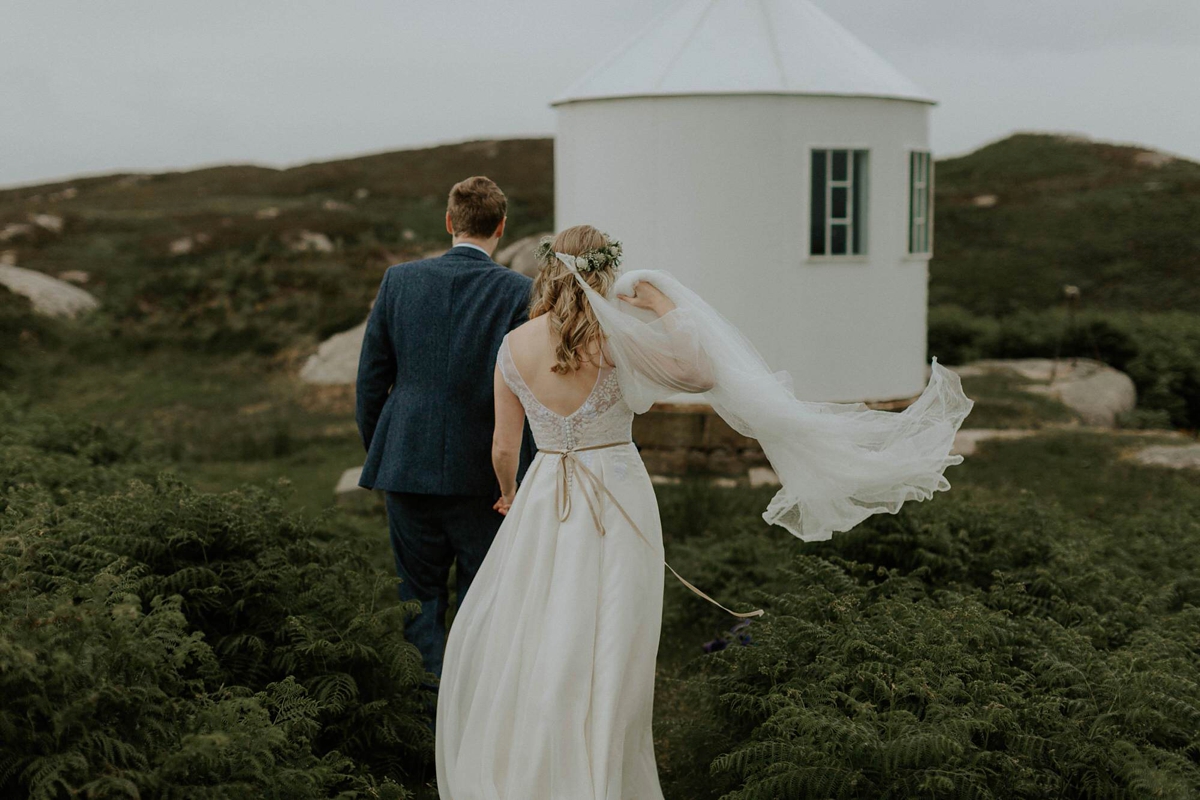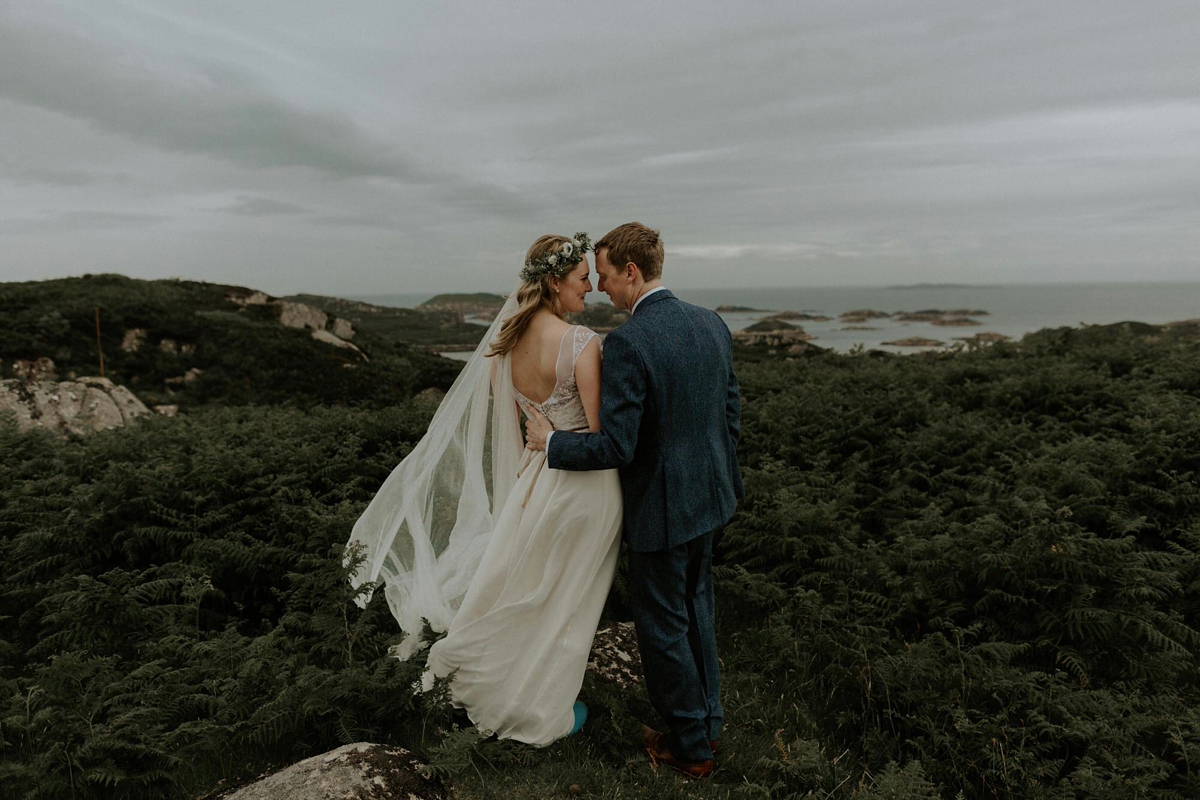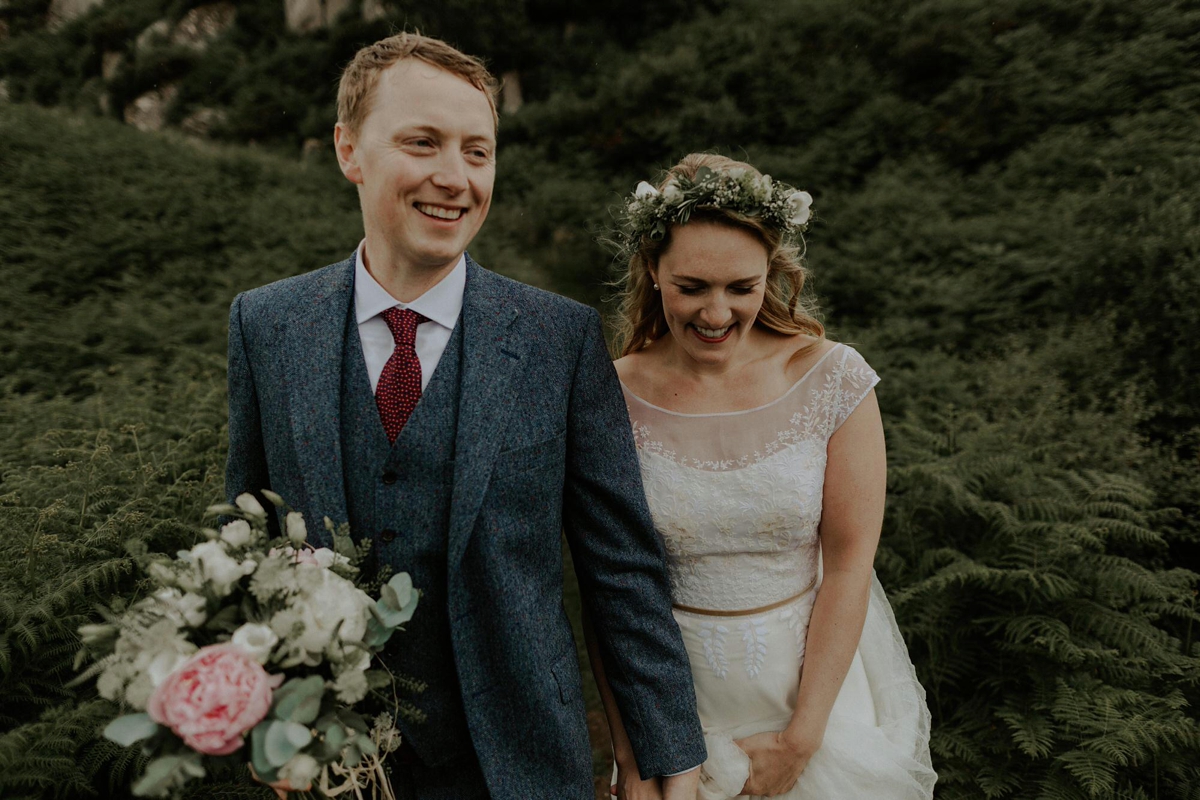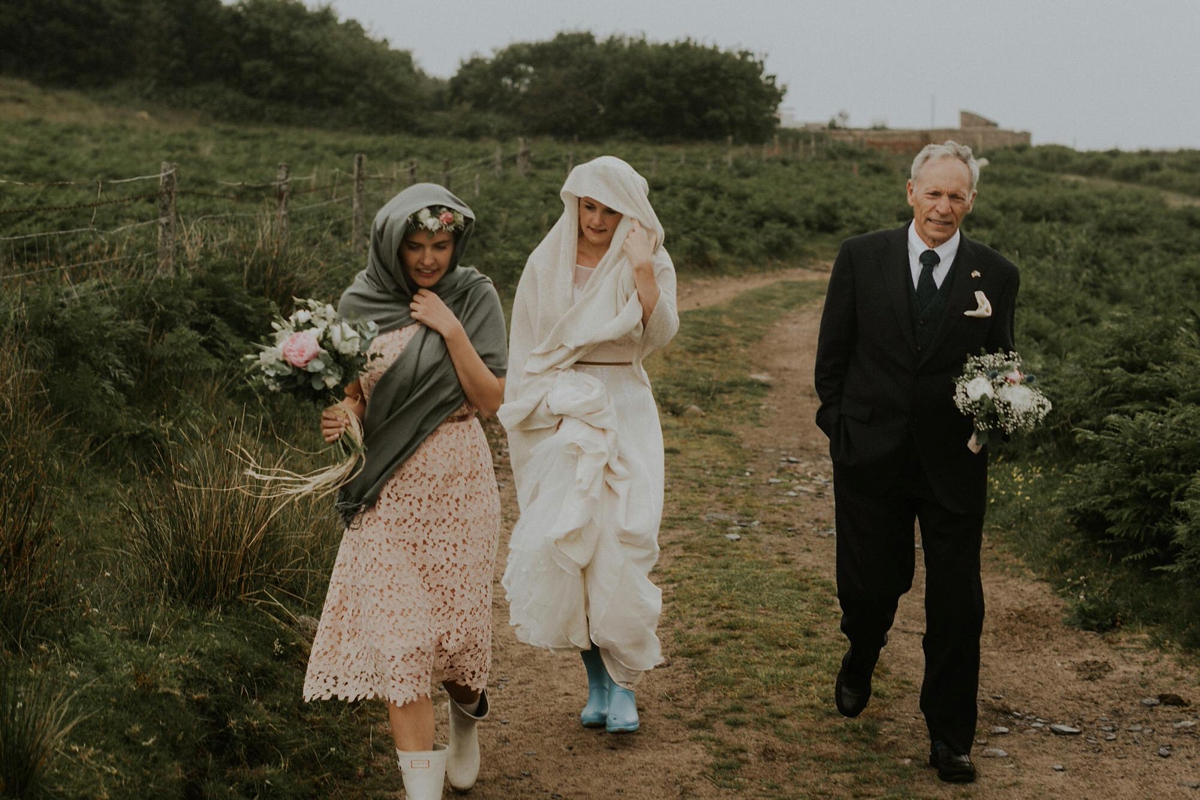 "The vows and ceremony was a little last-minute in planning, which may or may not be that way in a lot of weddings but was definitely the way for ours given our travelling logistics and not being able to meet with Veronica until we were physically in Scotland (which was less than two weeks before our wedding)."
"We both wanted some sort of unique aspects to the ceremony and were open to Veronica's suggestions as we were interested in incorporating a few different things. We came to the table with a few ideas of our own."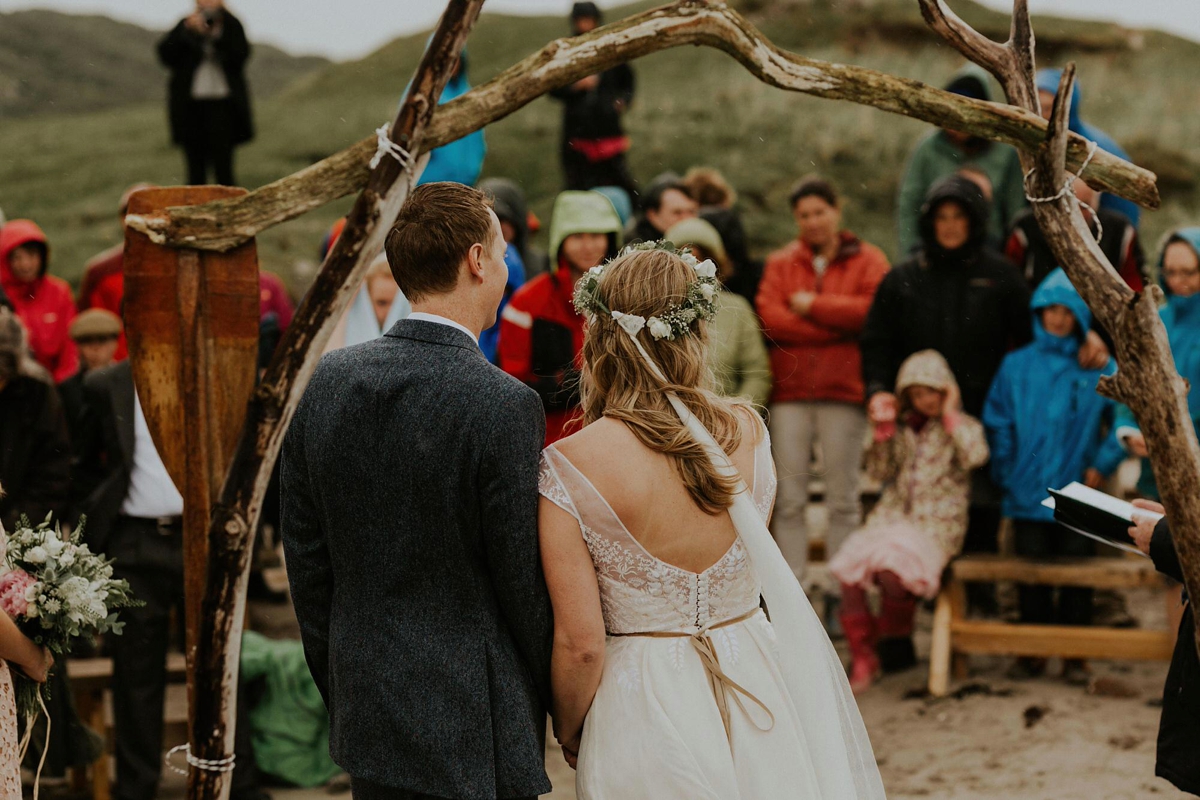 "We had researched handfasting and incorporated that in our ceremony using a local piece of tartan ribbon. In thinking of something unique early on we asked our family friends the Burgesses if they were open to singing something. Over the years visiting the croft, we have fond memories of Rosie and Nigel singing songs and wanted to be sure and incorporate this for the rest of our family and friends to enjoy."
"They offered two Gaelic song choices and we picked one called 'The Circle of the Ocean'."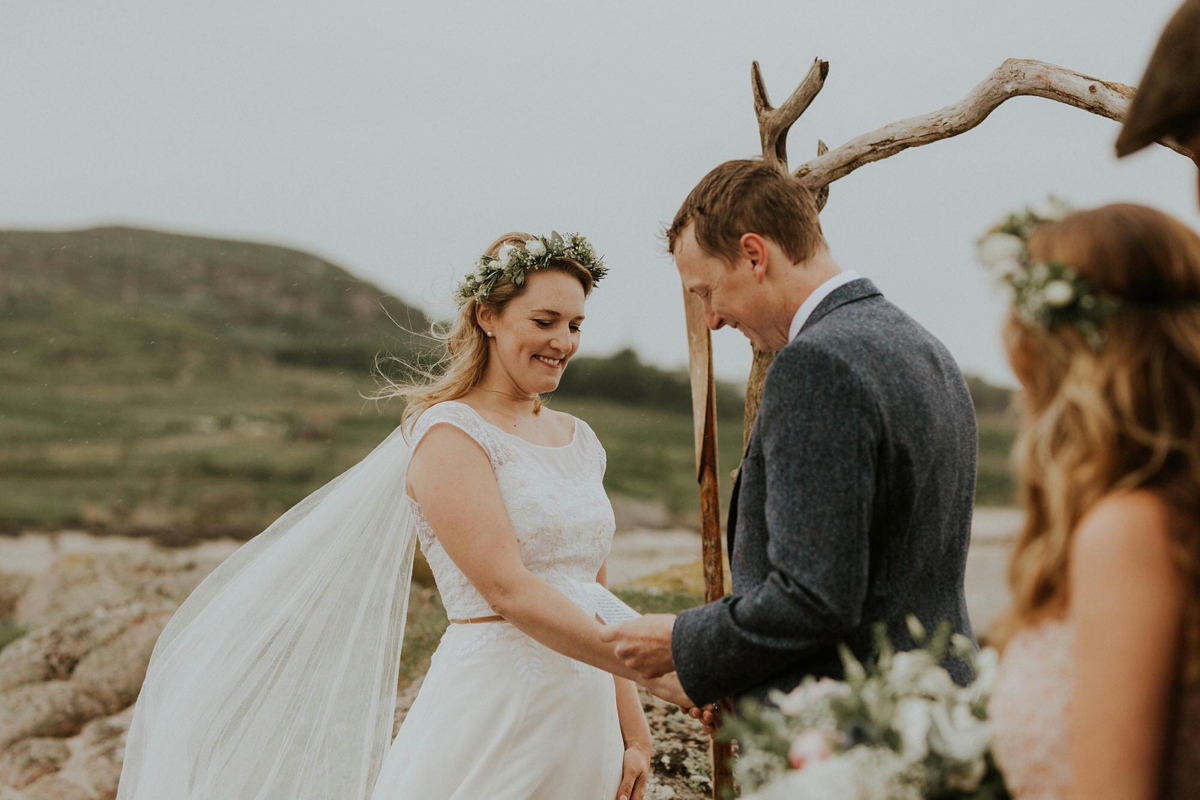 "We also knew we wanted to write our own vows but we both were a little lost at where to start. Even with the best intentions of wanting to start writing them early you get caught up with how much there is to do leading up to the big day. We are definite procrastinators and that didn't help! It was a last-minute crunch but we pulled off writing our own and are both so happy that we did our vows that way."
"To help tie together our own vows we both ended each with a poem/promise:
'Today, I give you my heart. My promise, that I will walk with you, hand in hand, wherever our journey leads us, living, learning, loving, together, forever.'"
The rings exchanged were crafted by friends of James' who make jewellery in the diamond district in New York City.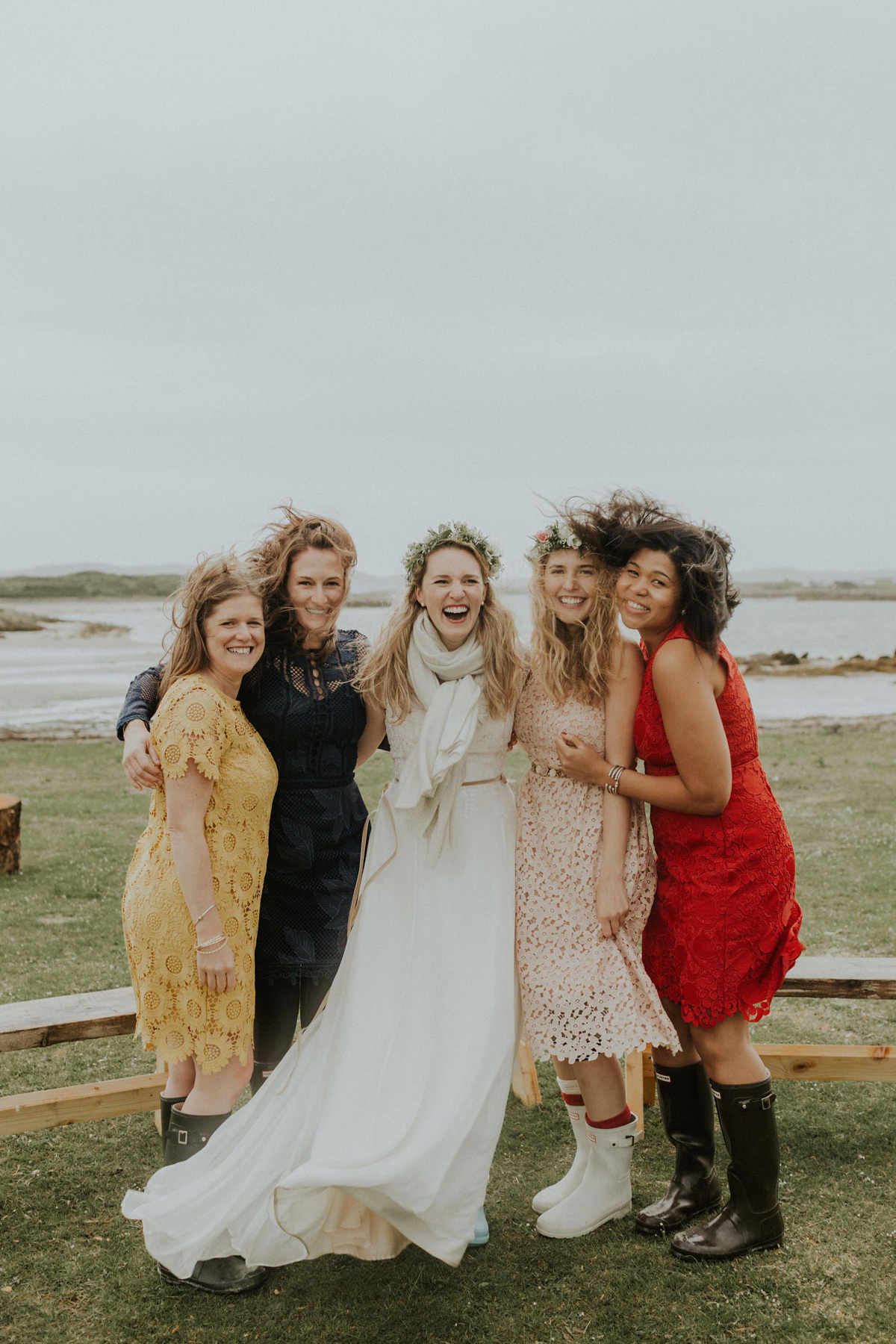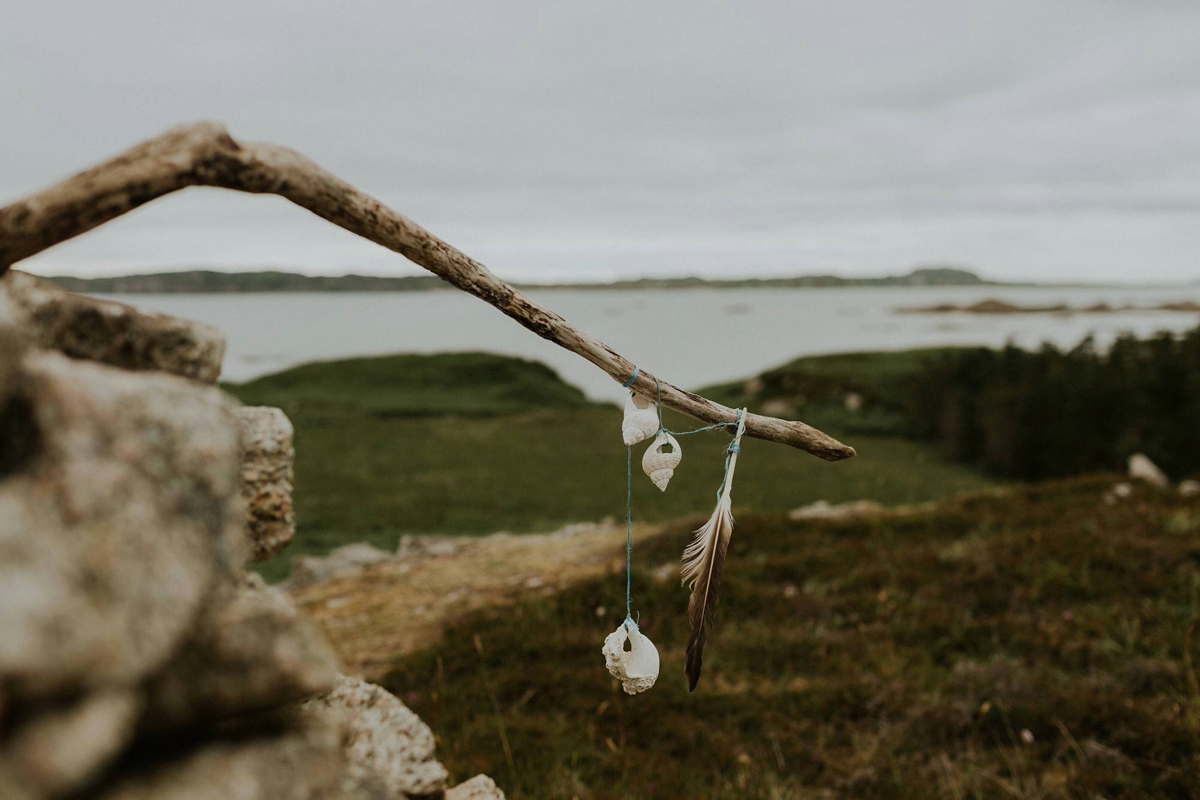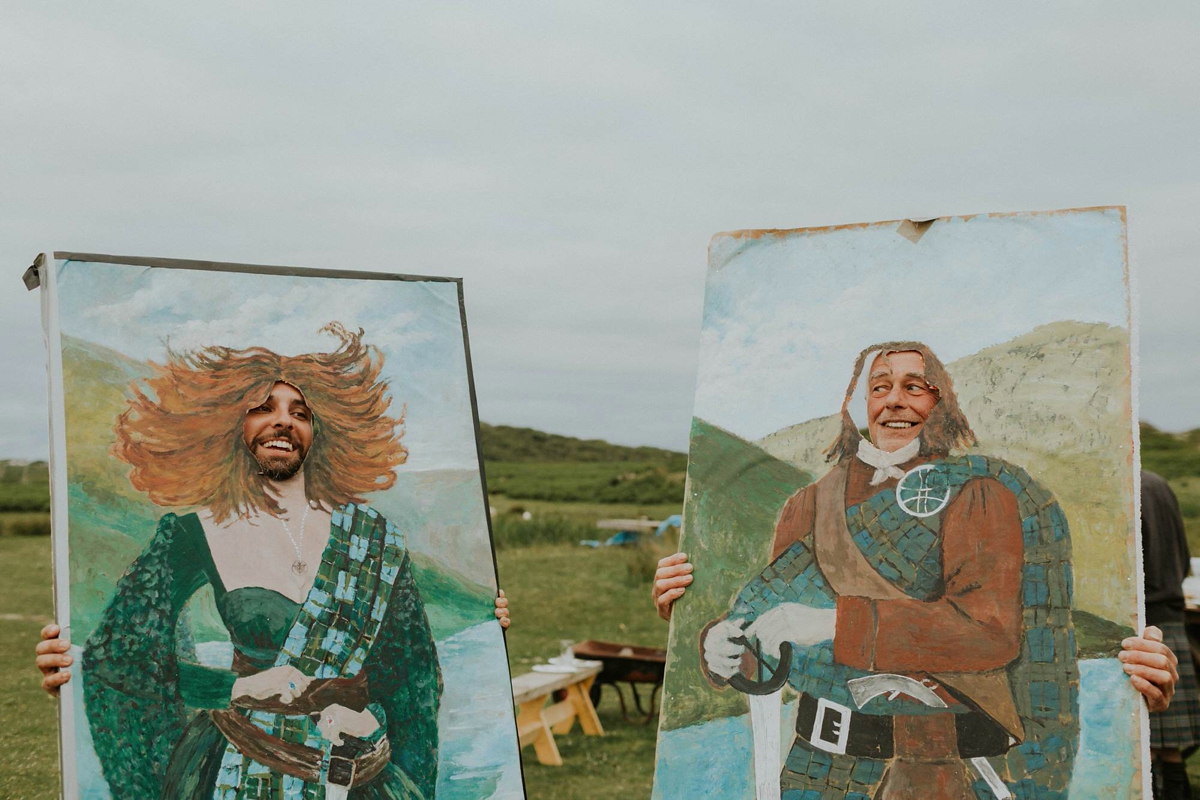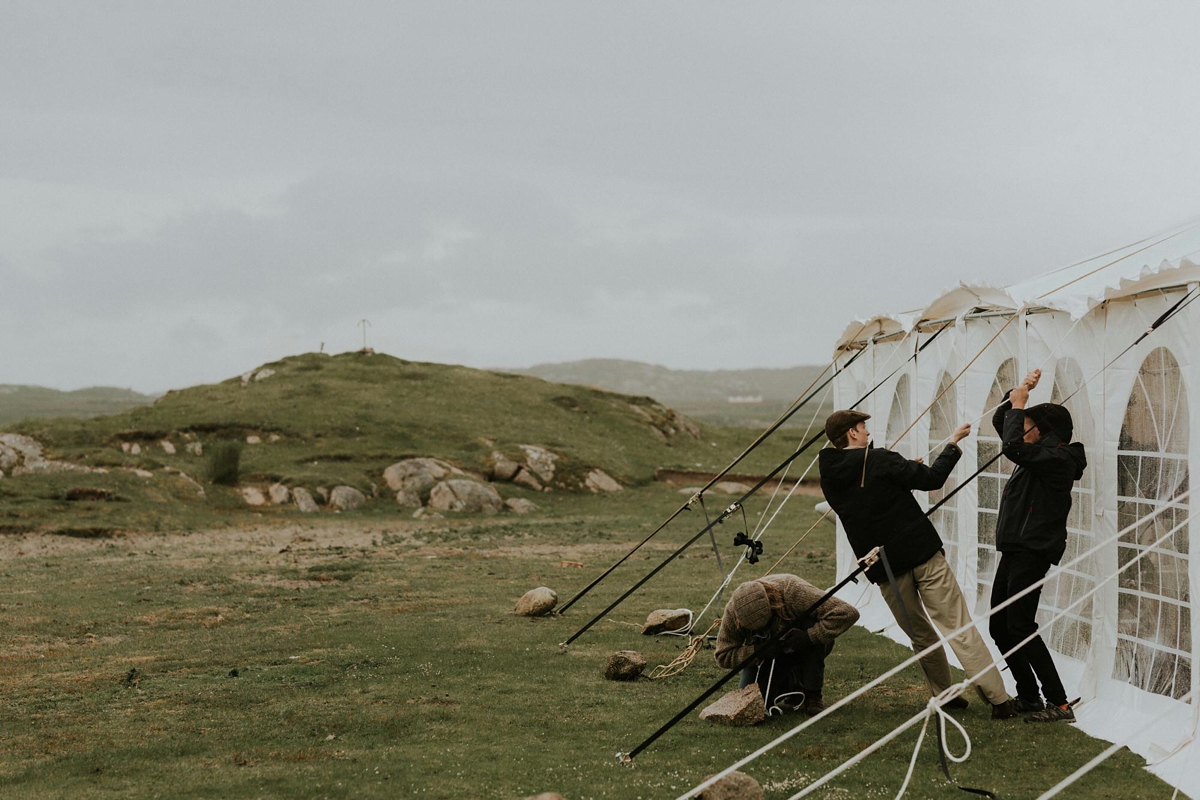 After the ceremony the guests were able to escape the gales to celebrate in the Croft and the beautiful tent put up in the grounds. I love its wild, natural styling. Clusters of bracken decorated the tent poles, and hanging balls of bracken, arranged by a friend, provided a statement centrepiece down the centre of the tent.
The table had a simple burlap runners along with flower arrangements in mason jars with lace and burlap decorations, and the splashes of colour came from planters and welly boots filled with wildflowers and a wheelbarrow overflowing with blooms.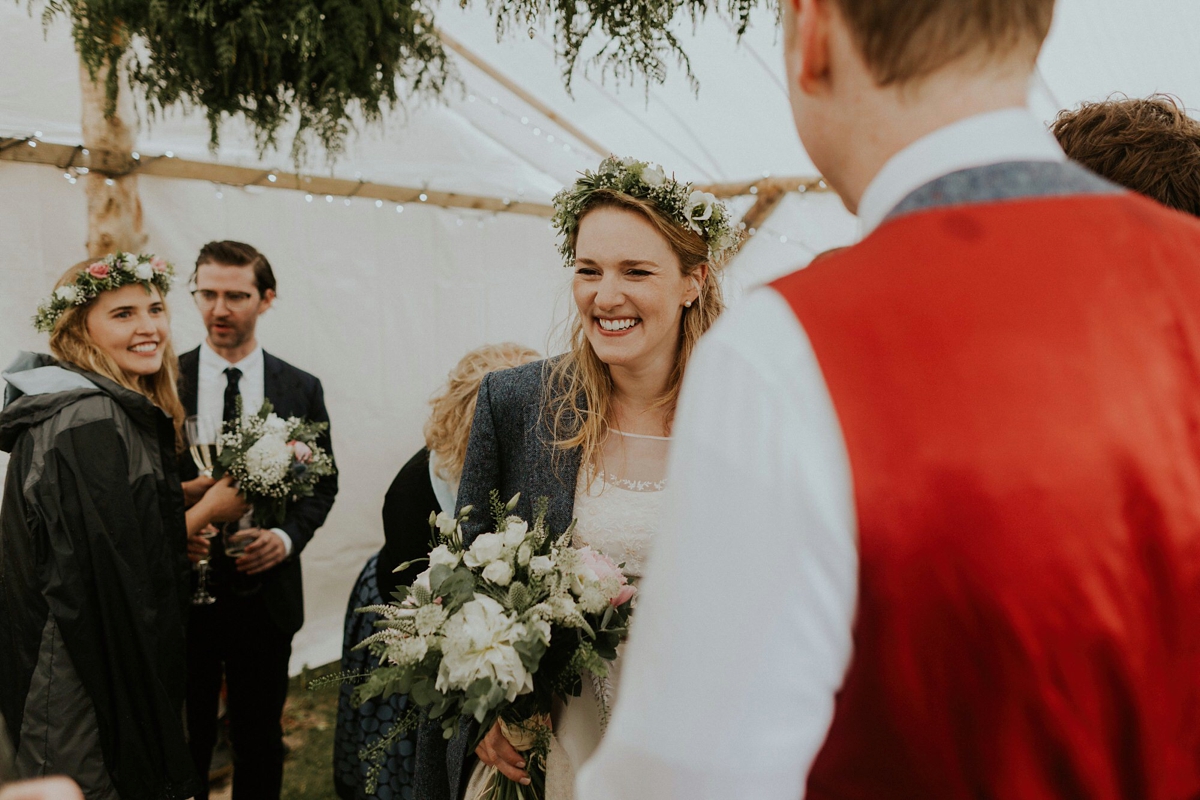 "I ordered flowers through Island Petals by Roz Matthew. James's mom Judy was trying to grow flowers for the centrepieces but had never done that before (even though she is an incredible gardener!) and again the weather is always unpredictable so there was no guarantee they'd grow and be ready for the week of the wedding."
"Roz knew our situation and was very supportive of what we were trying to do. So while I ordered the flower crowns and bouquets through her she was very flexible about the bulk flowers/arrangements ordering. In the end we could not use as many of Judy's flowers that would have been fresh-cut as we had hoped (a lot ended up beautifully blooming the week after!) so I did order a few dozen peonies etc. and we made our own centrepieces."
"Judy's flowers that had been planted in planters and old welly boots worked out very well in decorating around the tent. The one flower I knew I wanted to incorporate were peonies, which were my late grandmother's (on my mother's side) favourite. Otherwise, I wanted to keep them simple. Other flowers and greenery that were included were thistles, wax flower, lisianthus and eucalyptus. Herbs like lavender and rosemary were also incorporated into the flower crowns."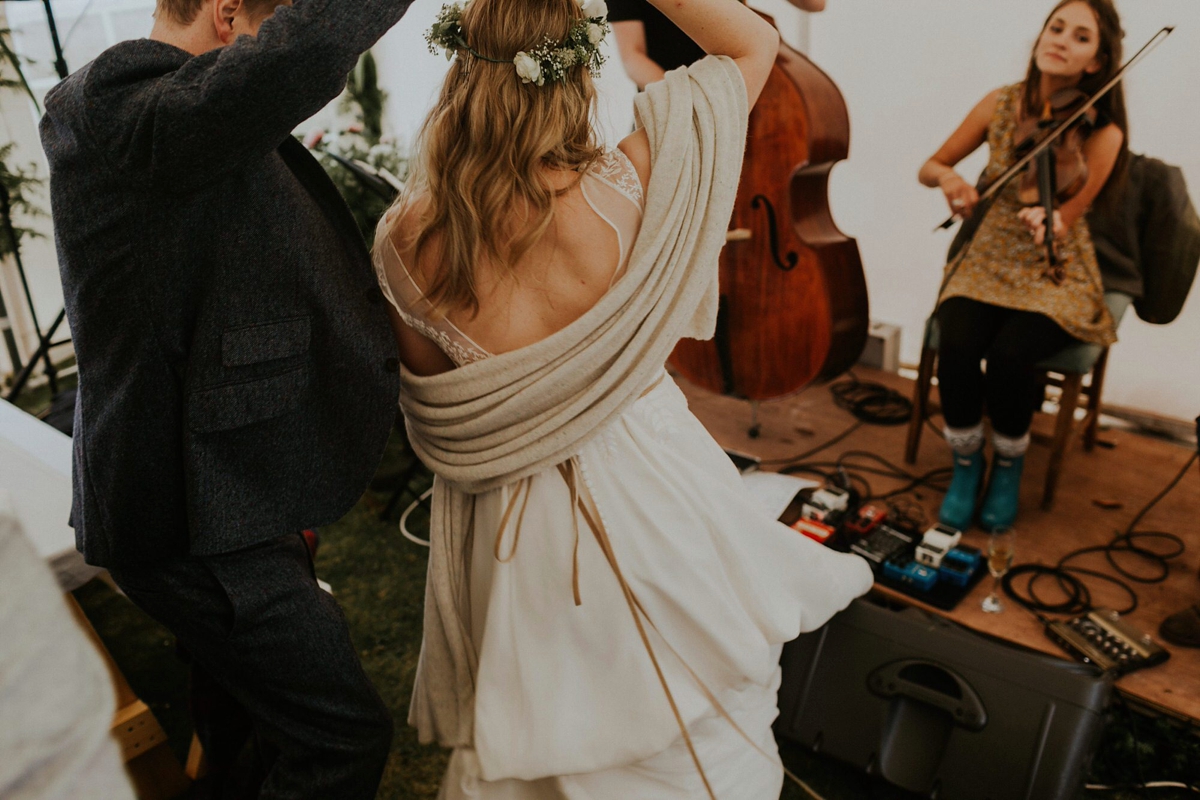 The couple are so lucky to have such talented friends and family, and the wedding breakfast was actually a homemade feast planned and delivered  by James' Uncle Giles and his mum Judy. Delicious-looking dressed seafood platters, dips and crudites and a 'make your own' dessert table were the order of the day.
"They helped us in planning and executing our menu. Our family always jokes how the two of them should open a restaurant! In addition, a lot of our guests that came early are into cooking and helped in the prep and execution of our wedding day menu as well! The food was definitely a highlight of the wedding day."
"Giles and Judy were also integral in planning food for the rest of the week for a lot of our guests that arrived and stayed for several days surrounding the wedding. We had to plan far in advance in order to feed so many people for such an extended time for such a remote location."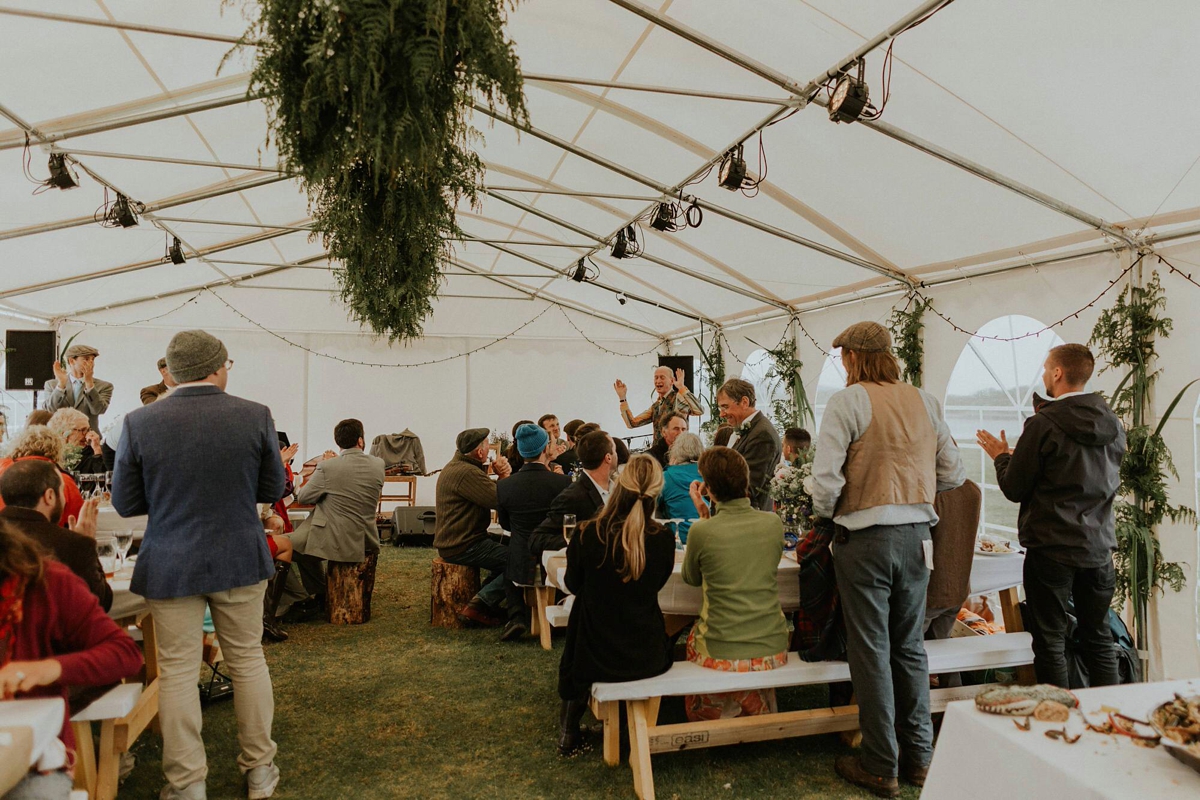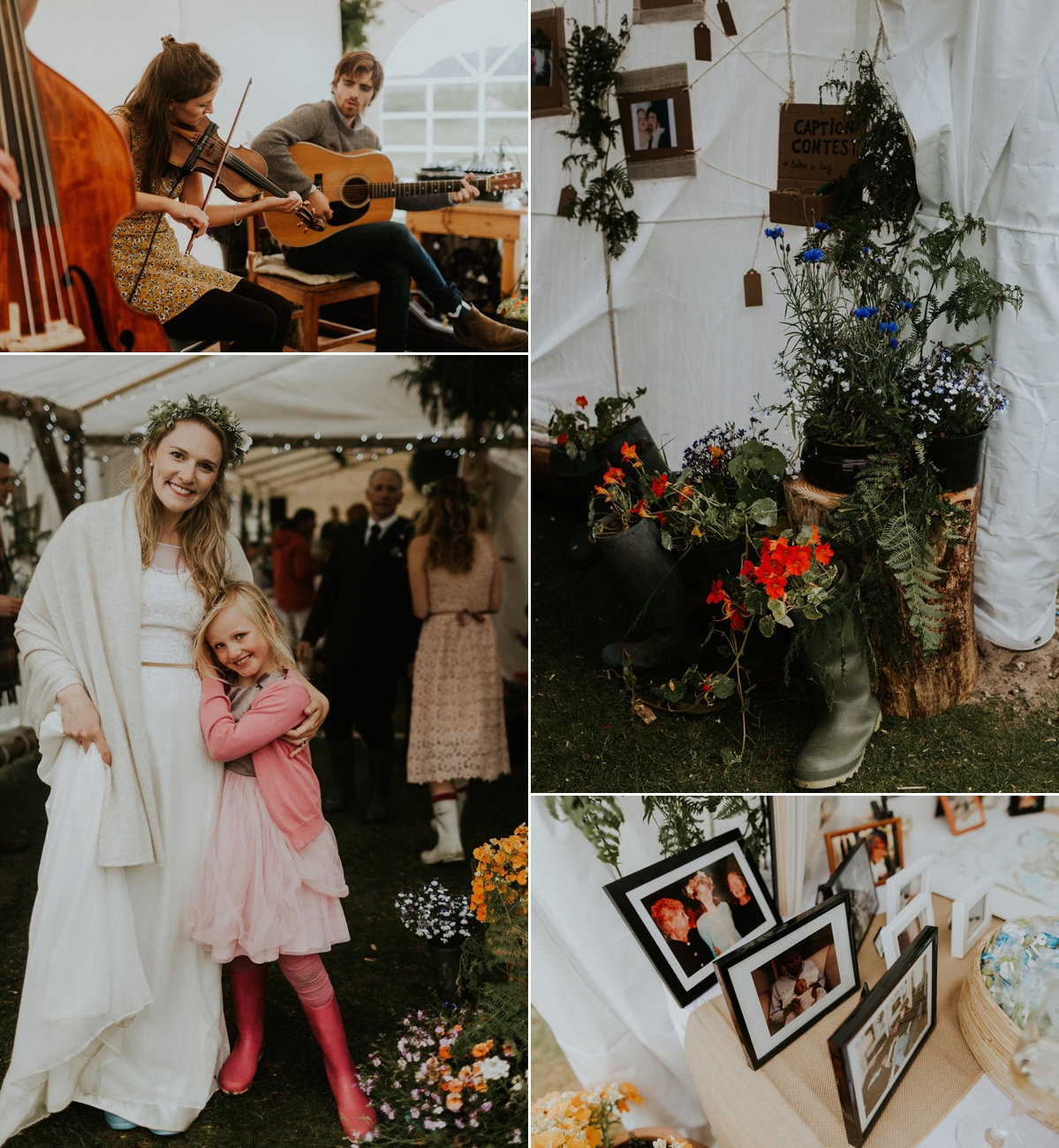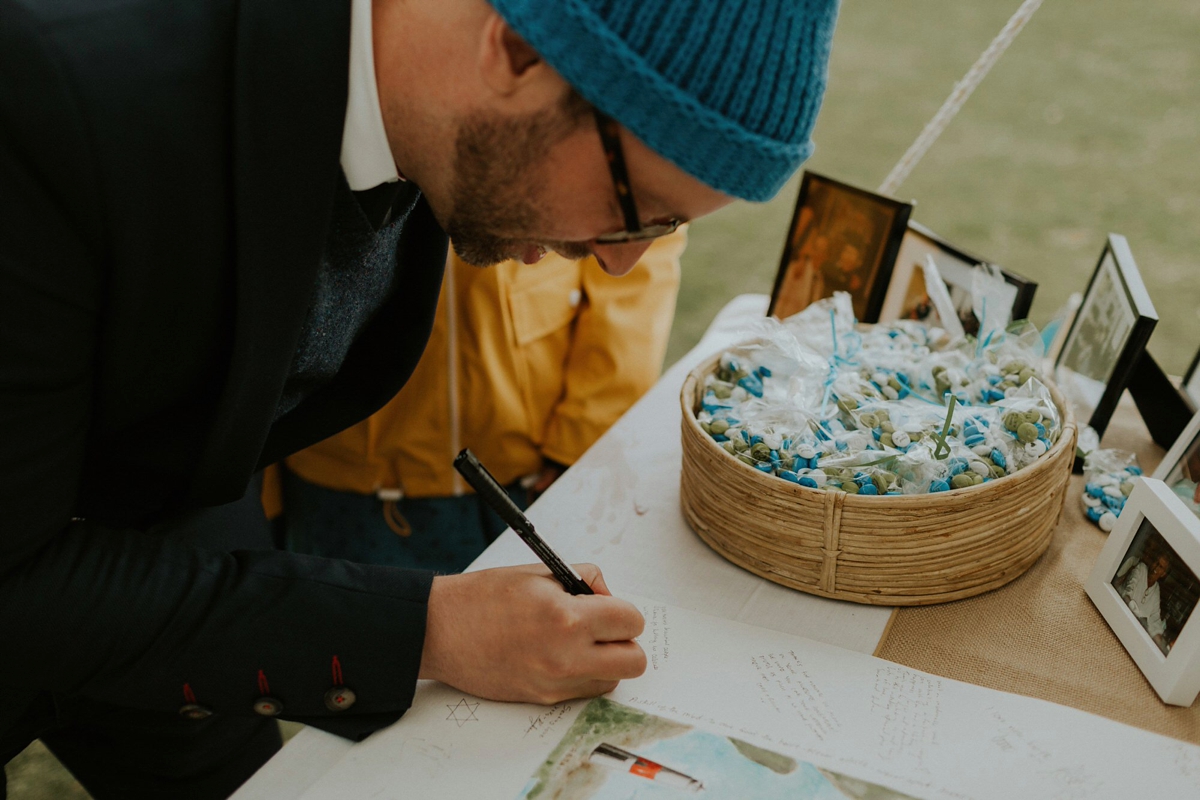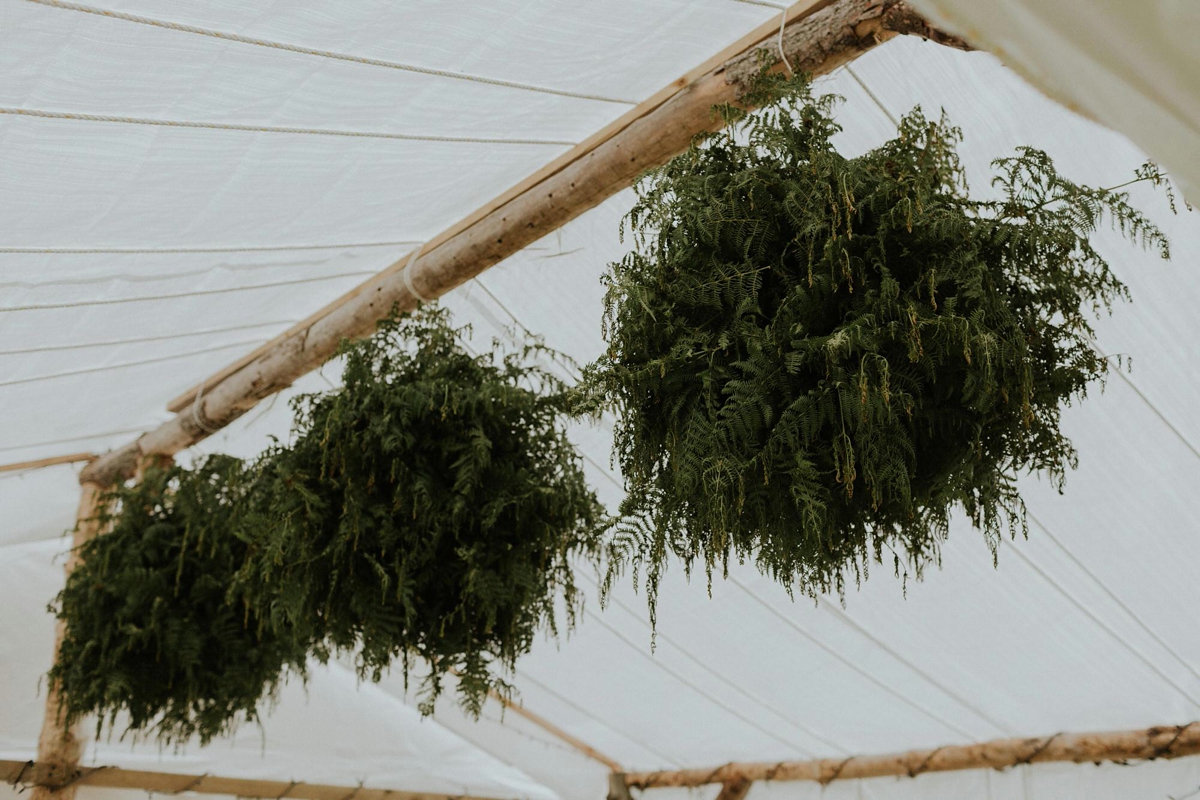 I am very taken with the idea of a layered crepe cake, one of the options for the guests to enjoy.
"We had three different cakes that were made by James's mother, aunt and family friends. One was a gluten-free chocolate cake, another was an orange cardamom cake and the final one was a Dutch layered crepe cake."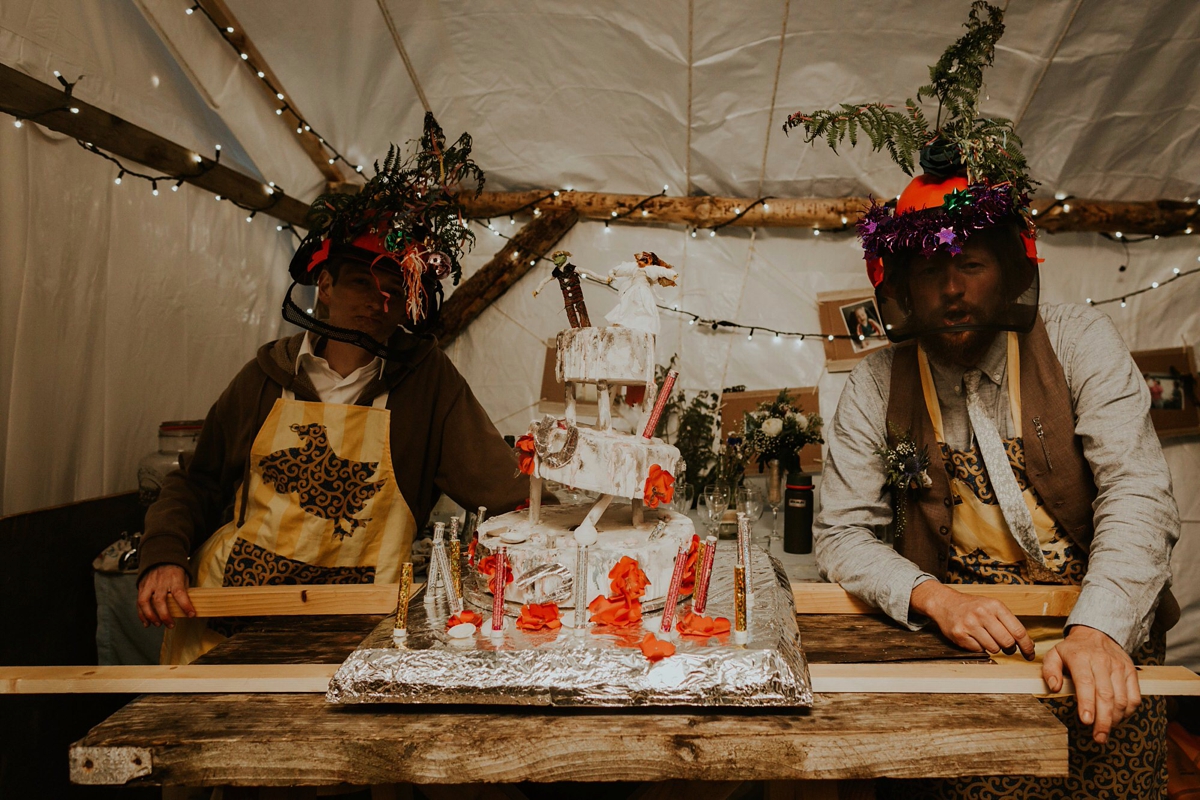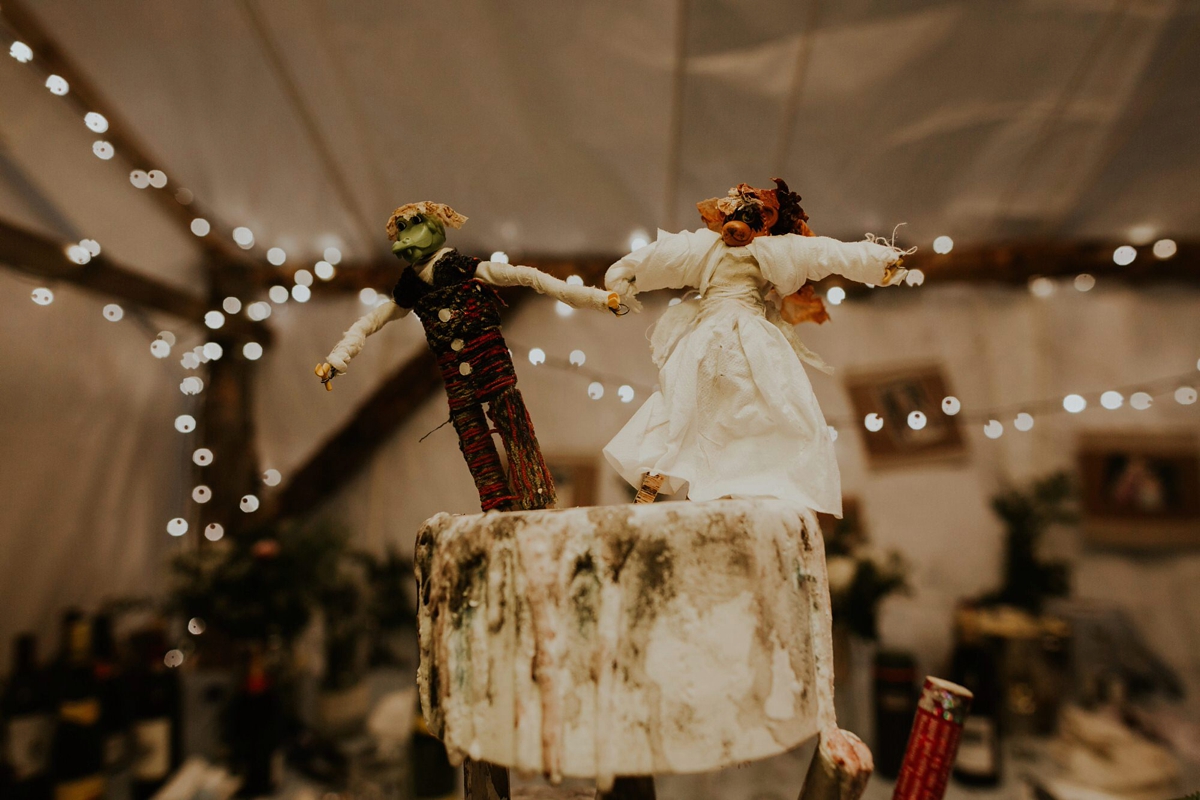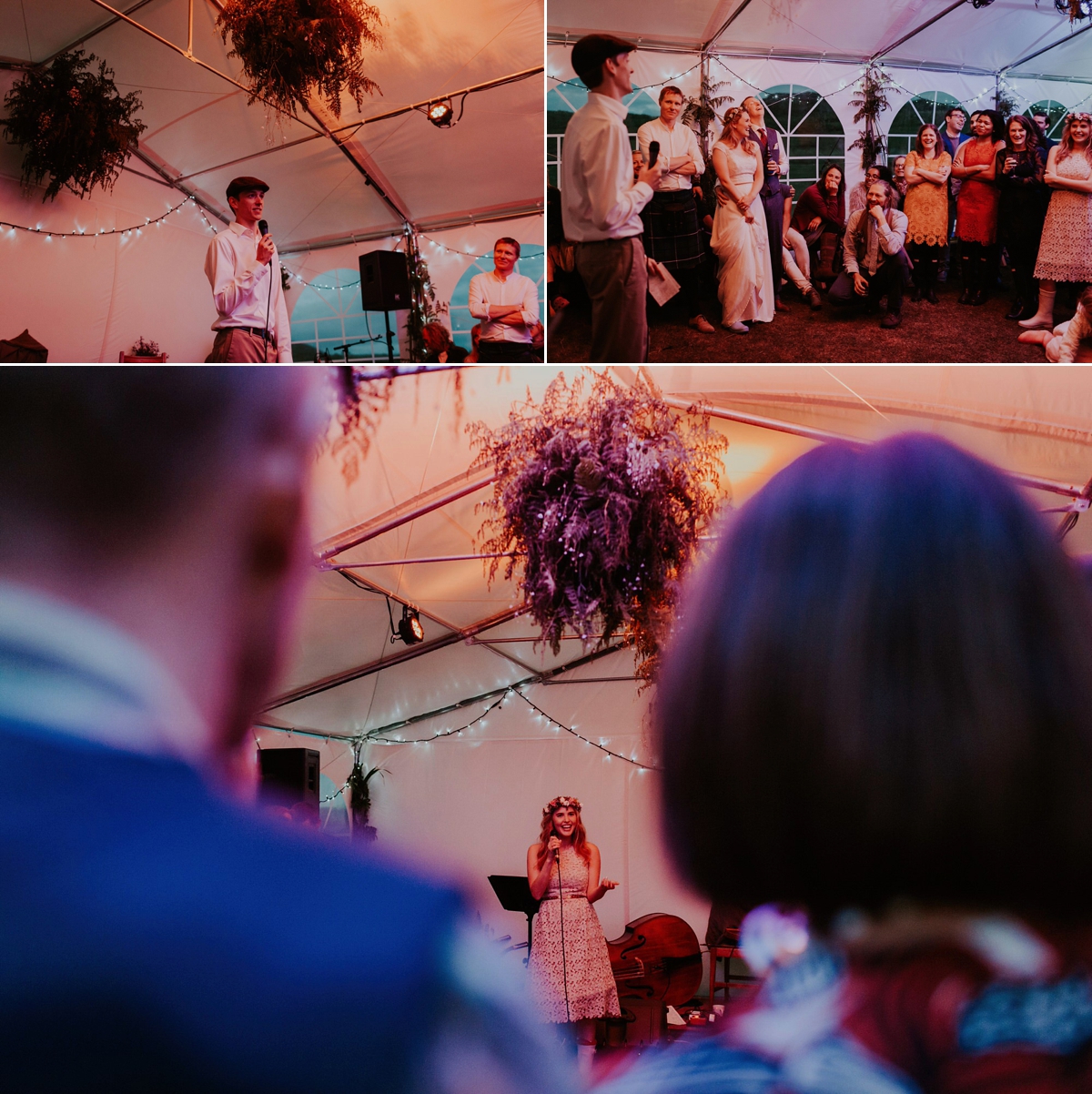 "We did had a 'first dance' song picked out that we were going to play from a computer but as the ceremony began and the band played a 'warm-up' tune we felt in the moment that the song we had picked wasn't right and spur of the moment asked the band to play a traditional Scottish waltz as our first dance and to open up the Ceilidh. They agreed and we are both SO happy with our last-minute change. It was the perfect way to kick off the ceilidh dance! In addition, we didn't dance too long on our own and had the rest of our guests come and join us on the dance floor to finish out our slow dance! We loved doing this and I think our guests enjoyed it too."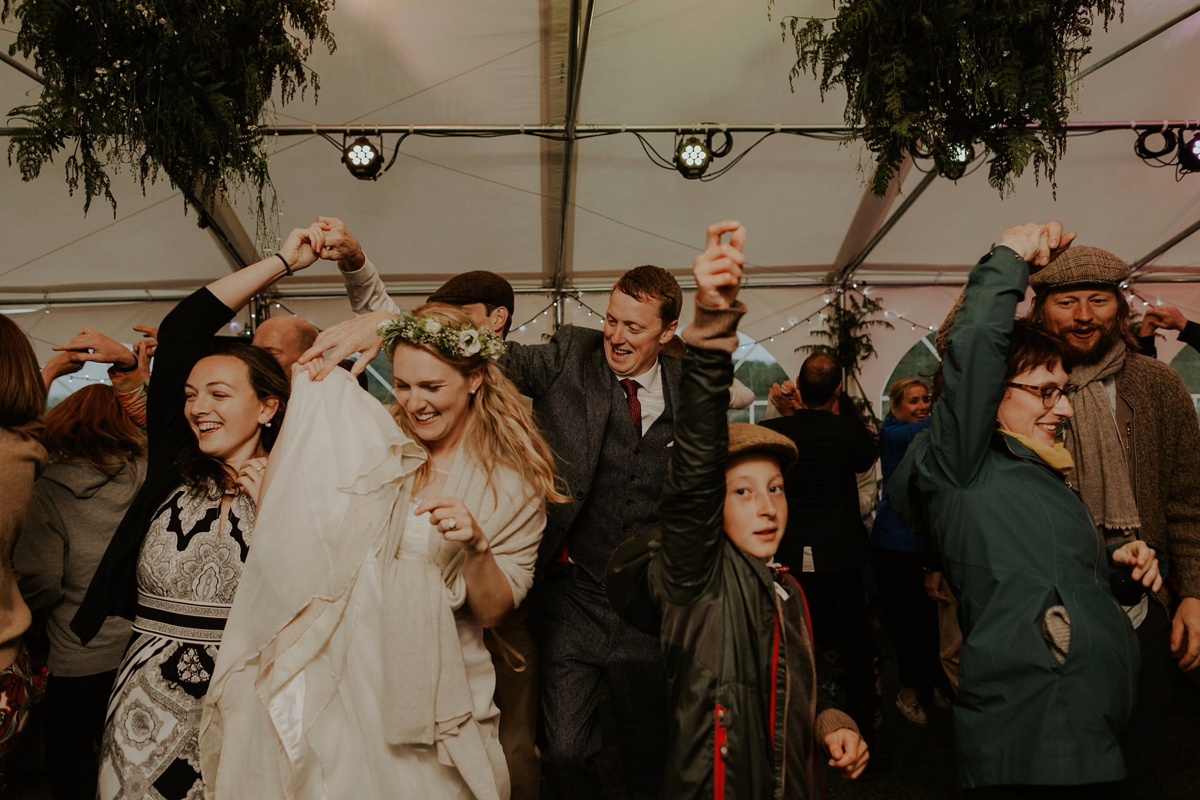 The newly-weds, family and friends all gathered in the tent away from the elements for the evening entertainment – a Scottish ceilidh, who performed on the home-made stage made of wooden pallets.
"We were able to hire a fantastic local band so that we could have a traditional Ceilidh. We also put together a late night dance party playlist for after the band was done playing that featured a huge spectrum from classics like the Beatles and Chuck Berry, to newer favourites like Daft Punk and Odesza."
"We stayed pretty much happily within budget. Given our DIY mentality and execution, we focused on things like wine and beer, sourcing high quality and local food and also the band."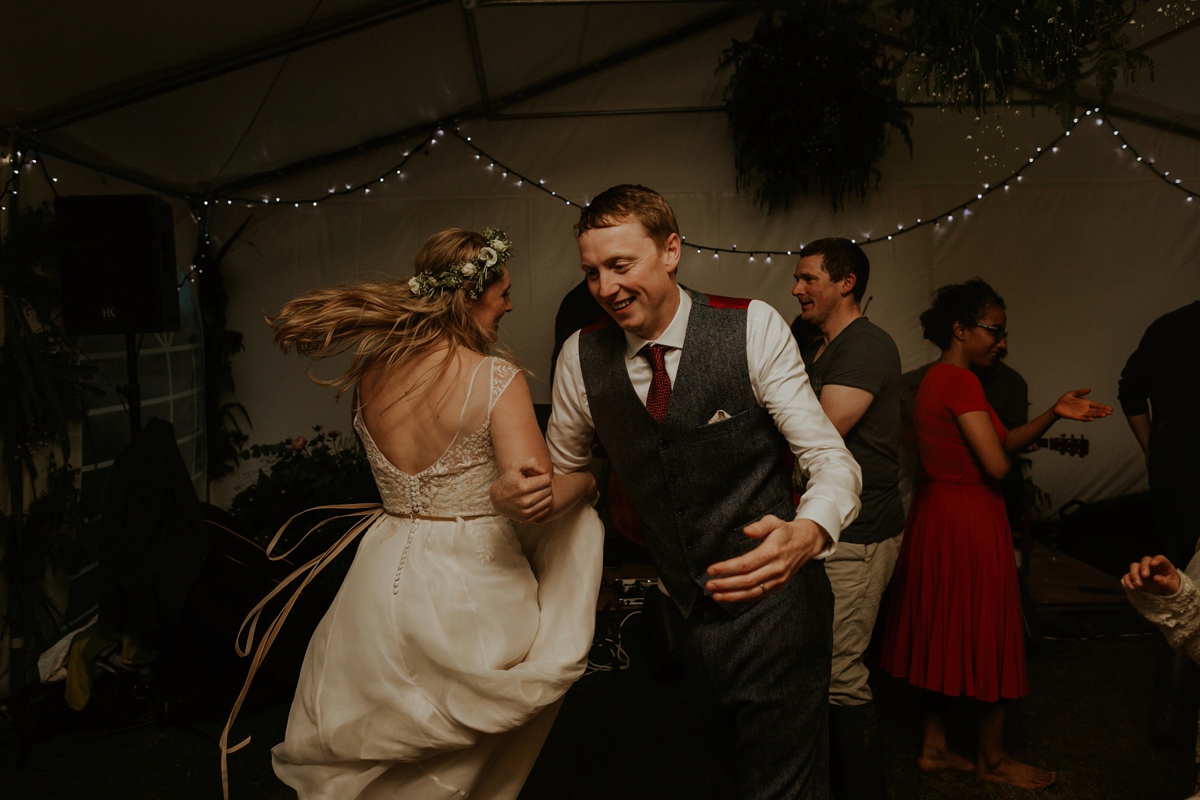 Words of Wedded Wisdom
"I think the most important part at the end of the day is choose and do what will make you and your partner be happy. There can be a lot of cooks in the kitchen offering their opinions who at the end of the day love you and just want to help. Kindly thank them for their opinions and take them into consideration but always take a step back and talk with your partner on your own and come to your own conclusions."
"The other thing is focus on what is important to you and delegate not so important items to help clear your plate. That way you can focus on things that are near and dear."
"Ultimately, there is no right or wrong in what you choose for your wedding day. What's important is keeping true to your vision while having the flexibility to deal with any challenges that may come your way (and there's always something that pops up no matter how meticulous you are!). For us, surrounding ourselves with the people we love, good food, delicious wine and a fantastic band culminated in an extraordinary day! All that really matters is the bride and groom having the best day ever."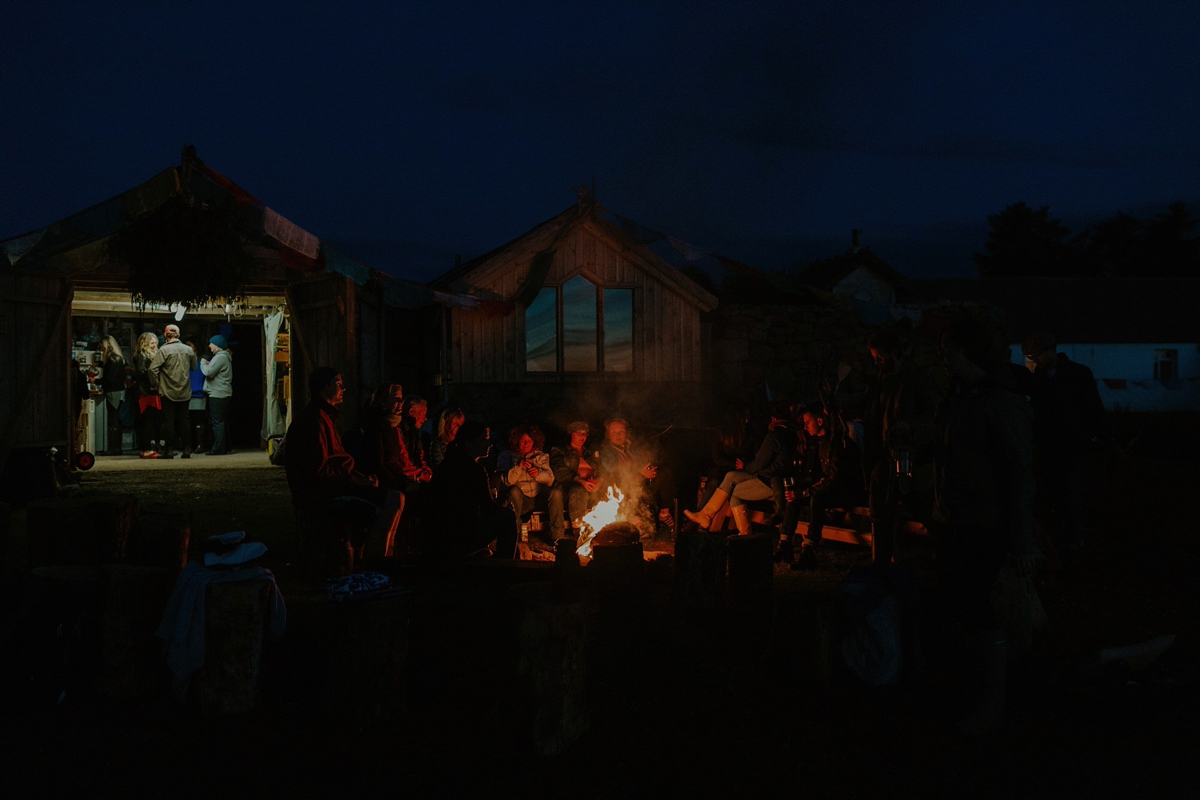 Please join me in sending congratulations and thanks to the newly-weds for this insight into their intimate and wild wedding. Those touches of bracken and the relaxed, beautiful gown are so, so lovely. Thank you as ever to The Curries too for your captures of this incredible landscape and the joy of the day.
Ele xx