Whilst writing for Love My Dress I've had the absolute joy of sharing two beautiful weddings at Scottish venue Crear, perched on the edge of the land with magnificent views towards the Isles of Islay, Jura and Gigha.
Today I'm returning there for a third time, and I can't wait to share this summer celebration and its natural wildflower inspiration with you today. If you haven't yet visited our gorgeous curated wedding supplier directory Little Book for Brides, please open up a new tab right now. This couple found some of their suppliers there, including Ruth Atkinson whose work we're enjoying right now. We really are so privileged to list Ruth Atkinson on the directory, and you can see her listing and claim a 10% discount here.
"We fell in love with Ruth's honest style of photography the moment we saw it. Her photos are true works of art. She has an incredible ability to capture little moments of emotions and affection, which document the emotional experience of the day as well as the events. Ruth and Tom's (her husband) genuine and relaxed nature put us both completely at ease; we just wish we had known them longer so they could have been guests at the wedding!"
Photography Ruth Atkinson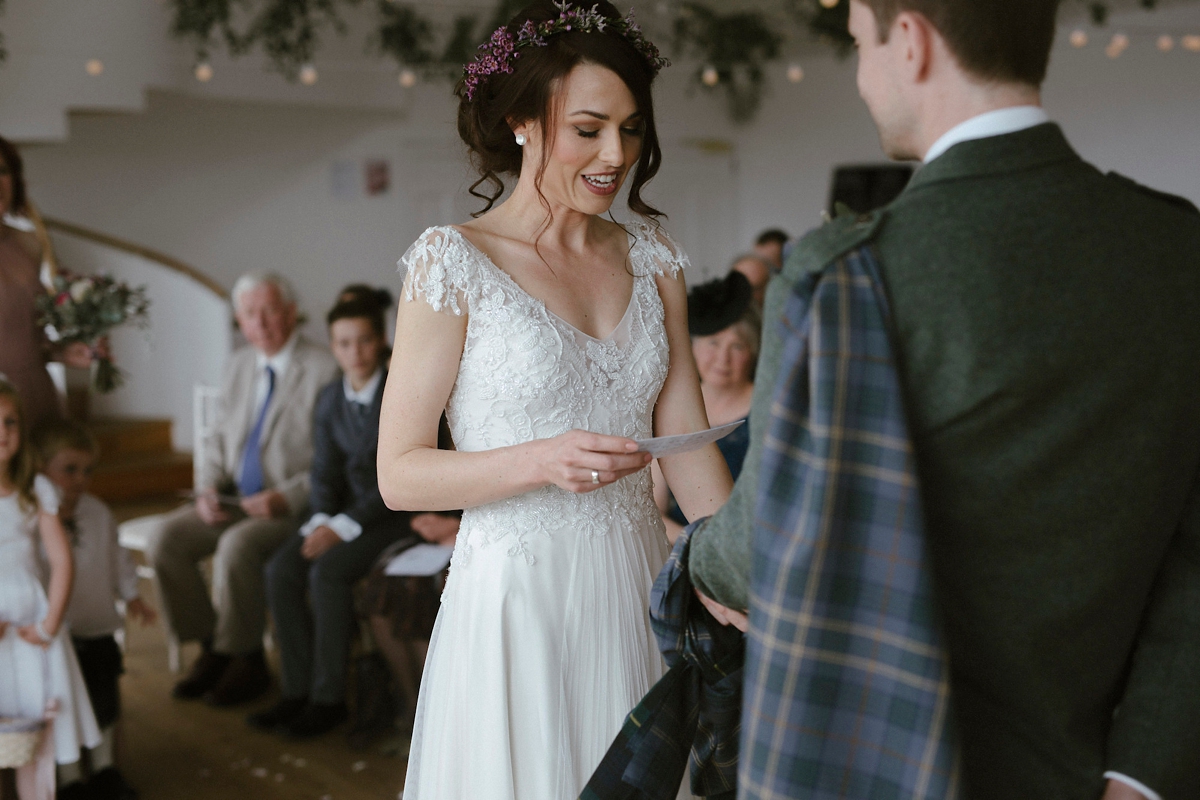 Steven and Holly married in a humanist ceremony at Crear, Kilberry, Argyll, Scotland on 29 July 2017. Having fallen in love with the beauty of the wild, awe-inspiring surroundings, they wove wildflowers and soft muted pastels into their day, the main hue being the delicate purple of the thistles and heather that surround Crear. You might also notice some charming allusions to 'The Owl and the Pussycat' too. It's wonderful to hear that the couple were inspired by other weddings at the venue which they'd seen on Love My Dress.
"We both fell in love with the beauty of Crear. The venue and location were the main inspiration for the colours and natural materials we used. Because the venue and location was so beautiful we chose soft muted colours and wild flowers, which enhanced the view rather than taking away from it."
"We were also inspired by other weddings at Crear that we had seen on Love My Dress, which had used wild flowers and created a woodland feel. Another inspiration was our natural animals – the Owl (Steven) and Pussycat (Me). We used illustrations from 'The Owl and the Pussycat' instead of table numbers and had a linocut of 'The Owl and the Pussycat' instead of a drawing of us at the wedding – it was pretty cute."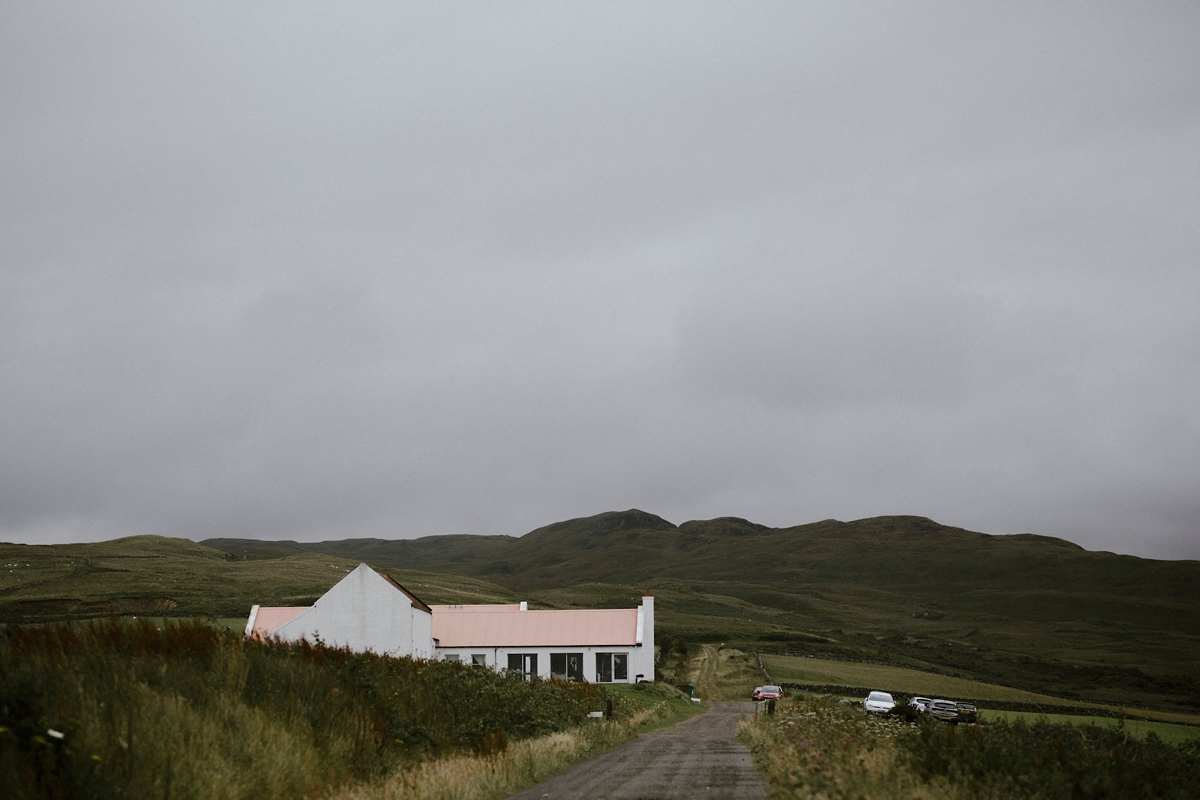 Crear is the perfect blank canvas venue, especially with its astounding views. Florist Sophie from Cosmos Floral Design accentuated the high ceilings and really celebrated the Scottish landscape with her floral styling.
"We wanted wild flowers with soft pastel muted purples. Sophie helped us create a woodland theme which we fitted in with the beautiful scenery of Crear. She did this by hanging ivy on the ceiling beams and by placing candles, wild purple flowers, and green moss on log slices of varying sizes. Crear kindly let us use their rustic ladders, on which we hung ivy and photos."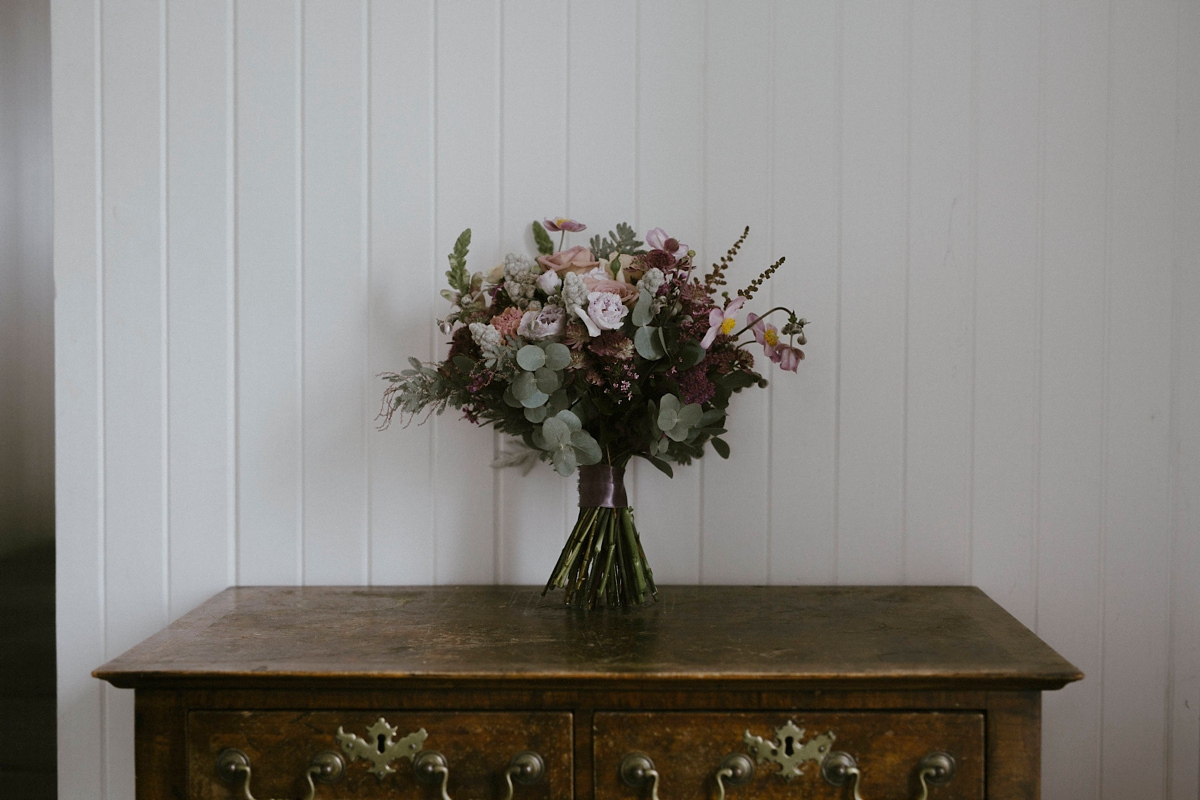 In her hair, a super-pretty floral wreath of waxed flowers and limonium, put together by Sophie at Cosmos Floral Design set the tone for the natural, woodland vibe of the day. Her delicate earrings and necklace came from Koko Jewelry.
Doesn't the bride looks so elegant and pretty in her beaded gown? I'm really taken by the exquisite cap sleeves and the sweetheart neckline – so flattering.
"I loved the romantic style of the dress with its beautiful bead-work. The very talented stylist and designer Sam at Amaline Vitale picked the dress out for me when after seeing some photos of Crear. I wasn't initially looking for a dress with a train but it worked perfectly with the dramatic scenery."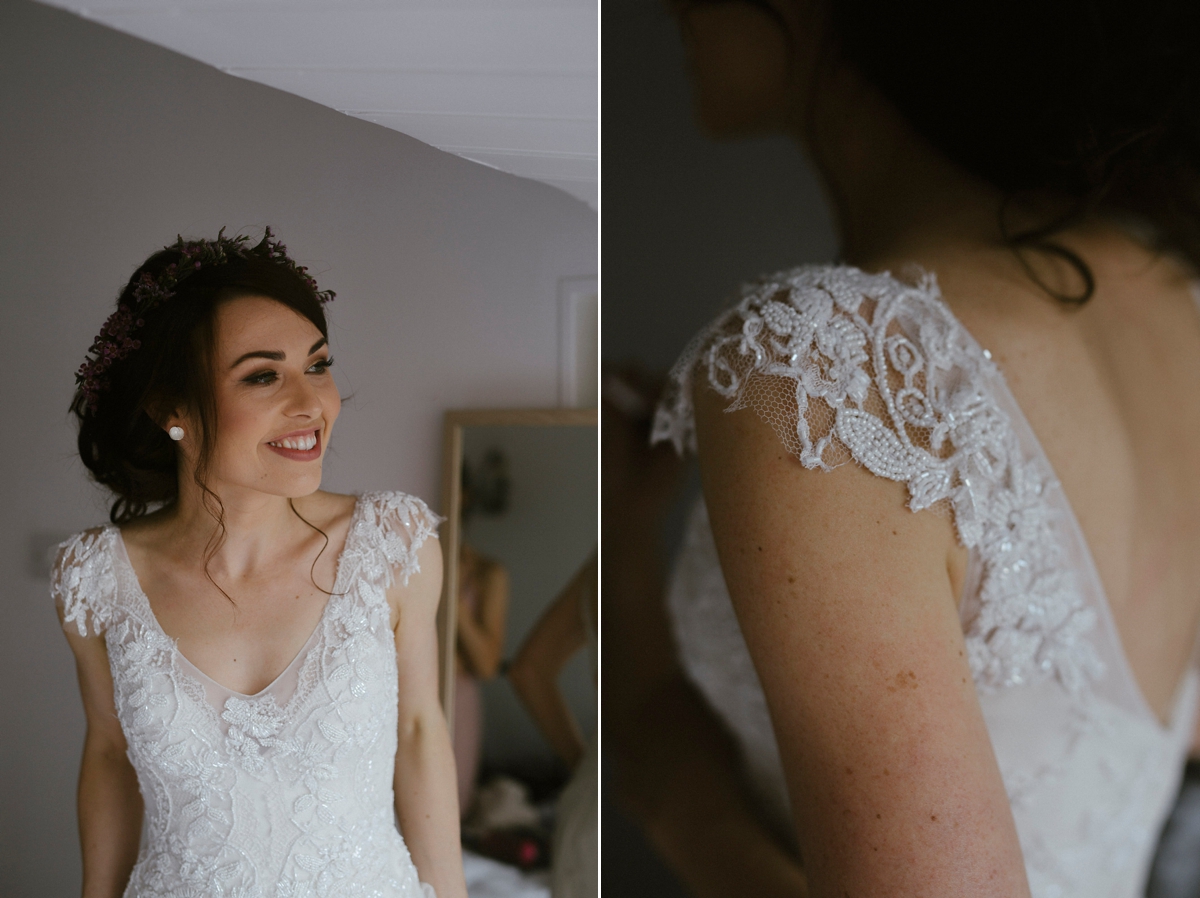 The bridesmaids donned long halterneck gowns from Alfred Angelo at Modern Vintage in a shell pink, topped off with soft muted purple and white roses in their hair. I love the modern but romantic look. The bride's and bridesmaids' hair was styled into relaxed updos by Anne-Marie McElroy with make-up expertly applied by Naimh Giffen from AMM.
"These girls were so calm and relaxed on the day. They created a lovely vibe and made the morning run smoothly."
As a Scottish groom, it was only natural that Steven would wear a kilt in his family Fermanagh tartan, choosing an Argyll jacket from House of Henderson. His groomsmen wore their own family tartans, making quite a show in these fabulous images.
The little pageboy wore the family tartan kilt with a Ghillie shirt and the flowergirl a cute Monsoon dress.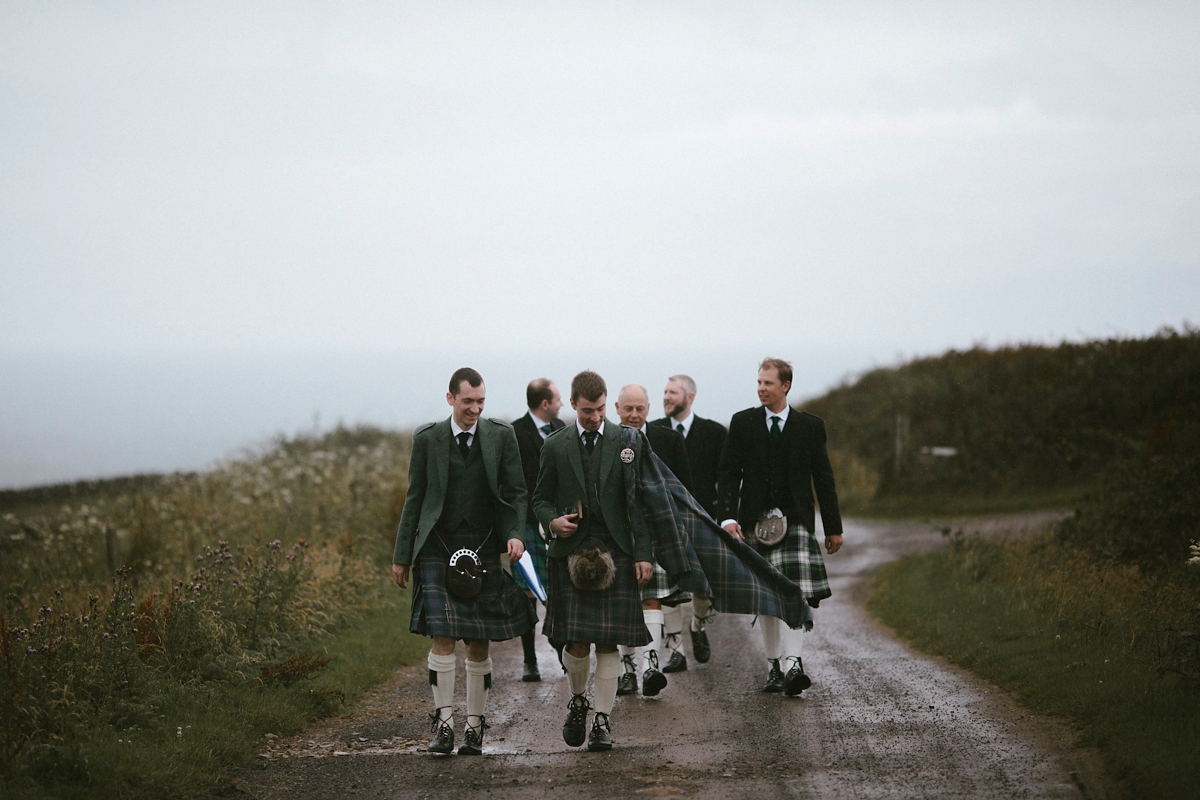 The bride and groom met in Melbourne, and had a long engagement to allow their Australian guests to save up for a summer in Scotland.
"Steve and I met in Melbourne at a friend's party. Being new in town Steve asked me to show him around Melbourne and I became the best tour guide he'd ever had! We got engaged on a remote beach in Wilson's Promontory in Victoria six years later (after living in Glasgow together for a year, and doing long-distance for one and a half years). Seven and a half years later we got married at Crear."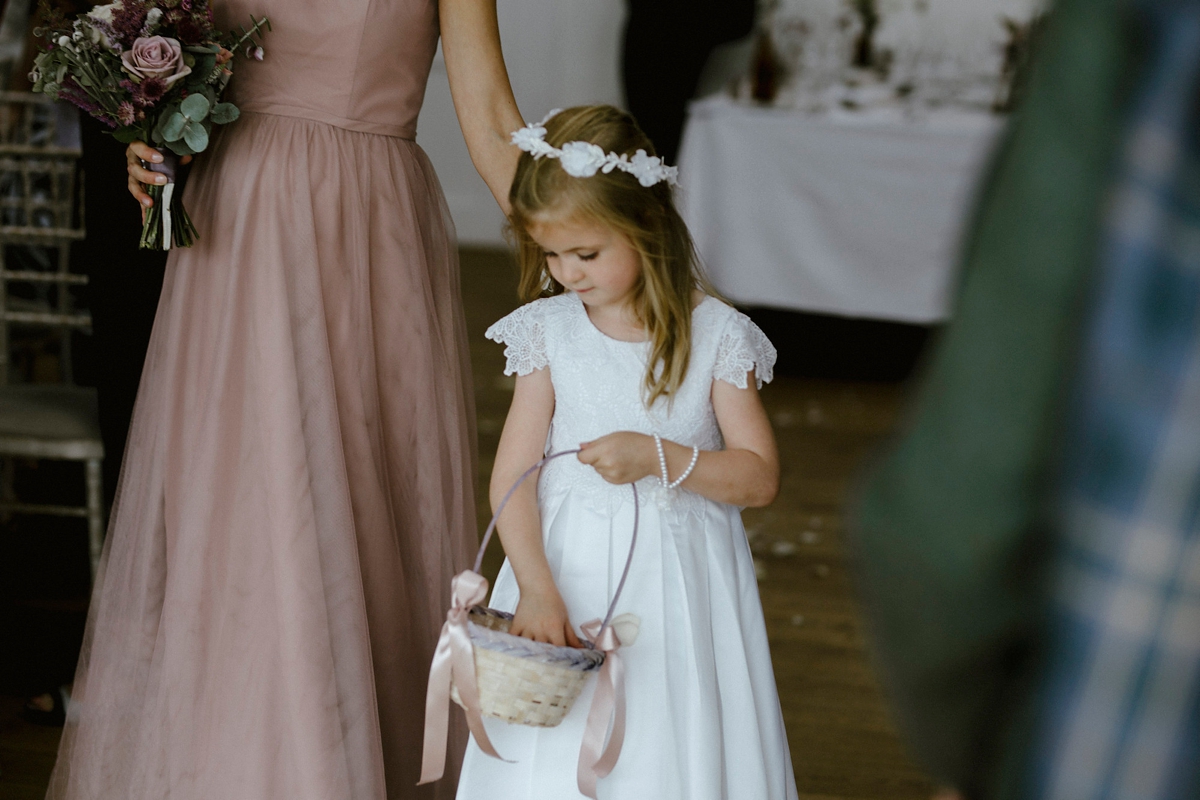 One of the bride's best friends Emily, played the acoustic guitar and sang a beautiful version of 'Just Like Heaven' by The Cure as the bride walked down the aisle, accompanied by her mum and dad.
Humanist celebrant Annie Loughlin conducted the ceremony, and the bride and groom exchanged vows that they'd kept secret from each other until that moment.
"Our favourite part of the day was our vows. We hadn't heard each others' vows before the day. The vows were beautiful and completely captured the type of people we are to each other and the relationship we want to keep in our marriage."
"We chose two readings: 'The Gay Science' by Nietzsche and 'Bidie-in' by Diana Hendry and Hamish Whyte. The extract from Neitzsche's book is a bit of mantra that we like to live by (plus I quite like existential philosophy). We chose 'Bidie-in' because we thought it was a lovely, funny and light Celtic blessing."
The bride's simple diamond wedding ring was by GN Designer Jewellers whilst the groom designed his with Lord Coconut. How about this idea for a truly personal and meaningful wedding ring?
"We chose Steve's creative wedding ring supplier because they had a particular design which allowed you to feature the coast line of your wedding location on the ring itself. Steve has the Argyll Peninsula (including where Crear is located) on his ring."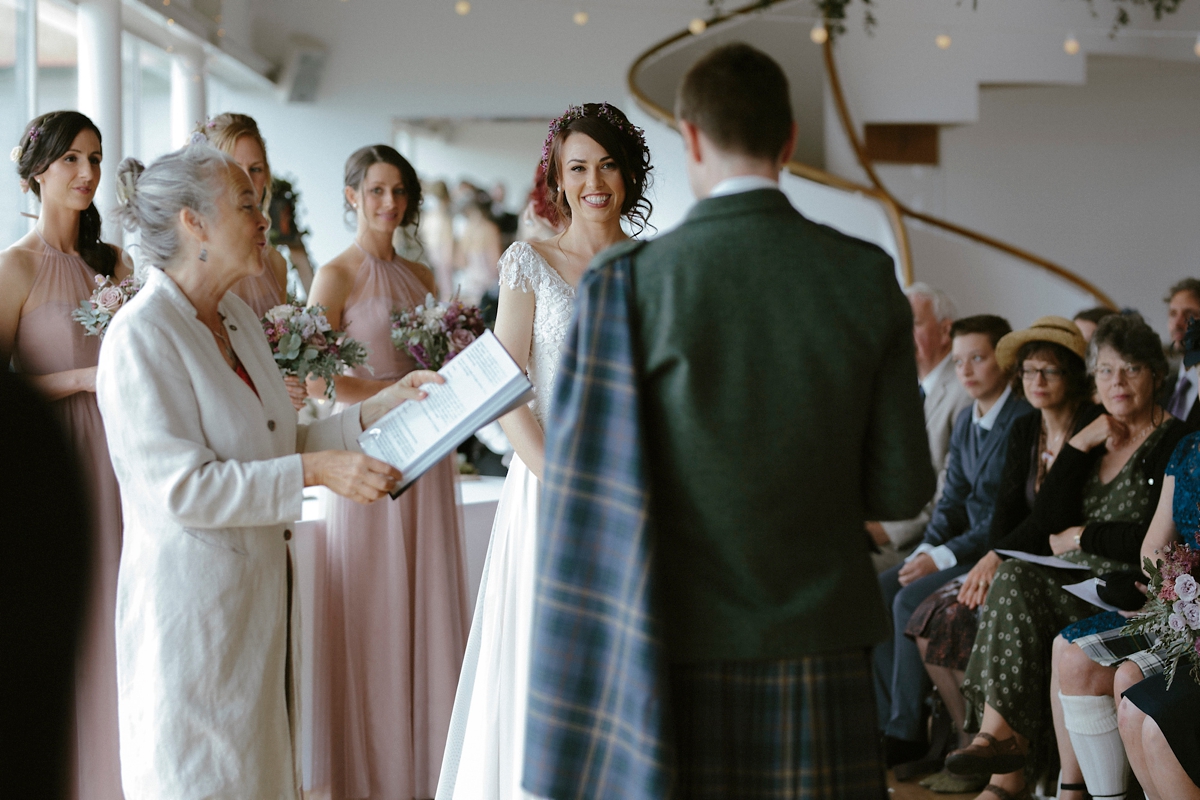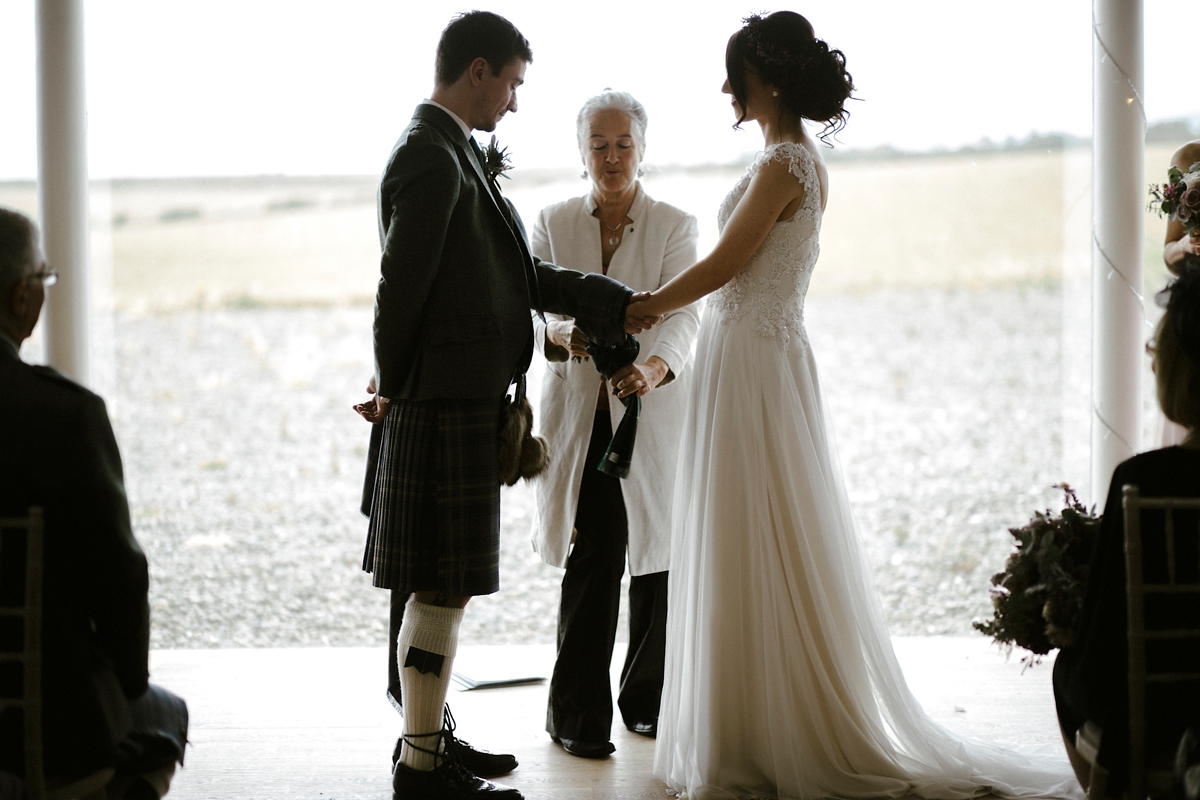 The charming stationery, which features a hand-drawn illustration of stag's antlers with flowers and foliage, was sourced from Minted Wedding.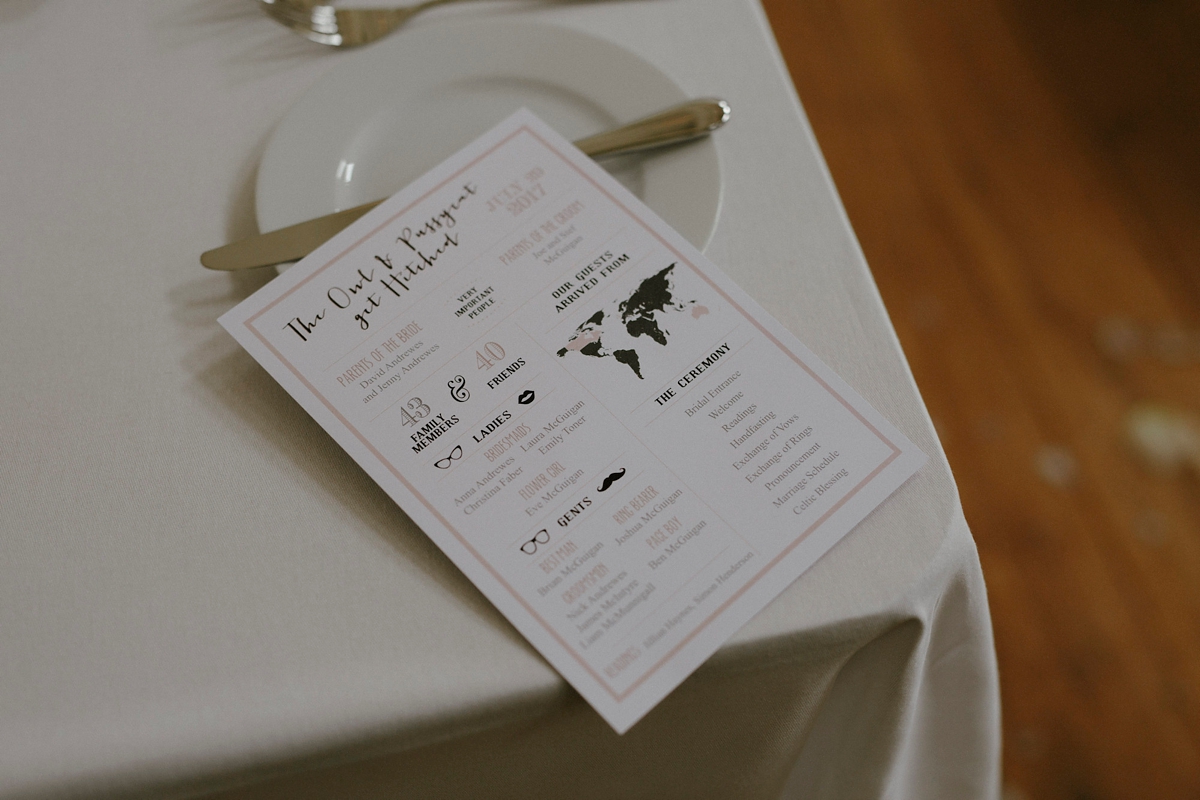 Following the ceremony, the couple were able to spend time together on the beach, whilst Ruth Atkinson captured portrait shots in her signature natural, relaxed style. Those landscape shots speak volumes and capture the feel of the day so well.
"Steve and I went down to the beach with our photographers and videographers. We had a few private moments while also feeling a bit like movie stars as we got photographed."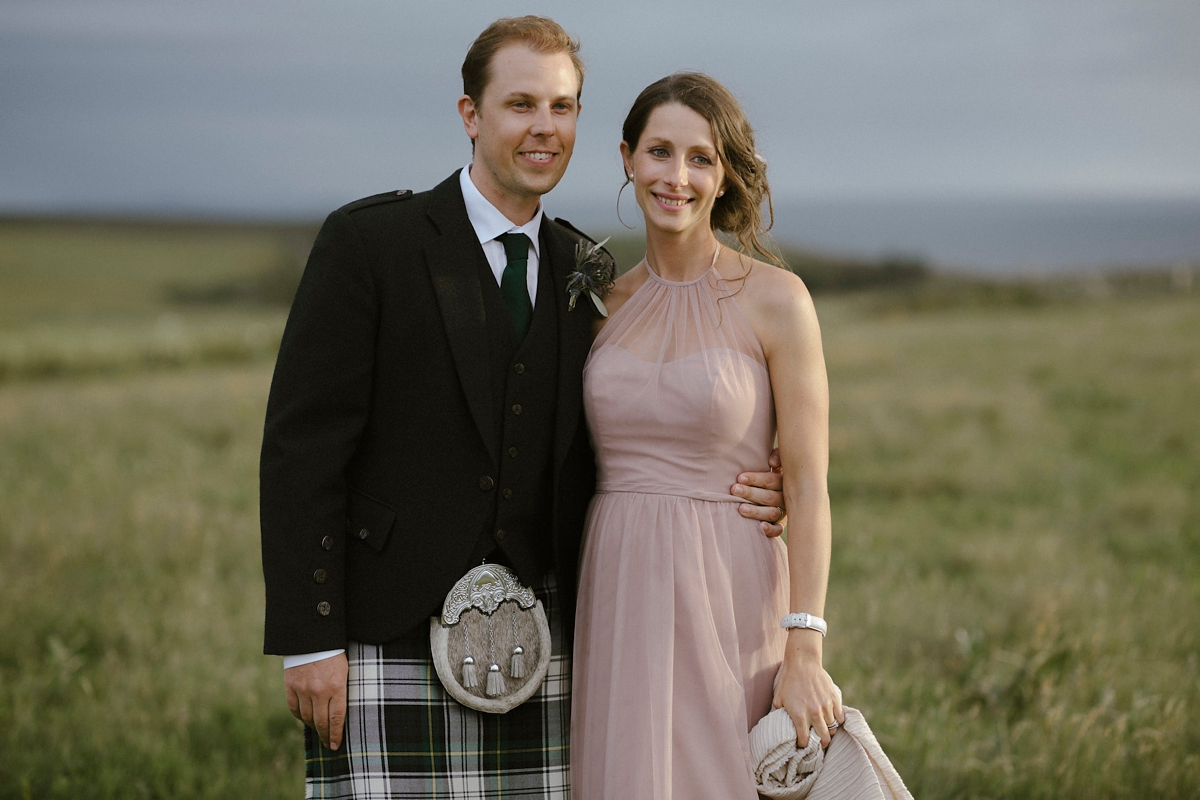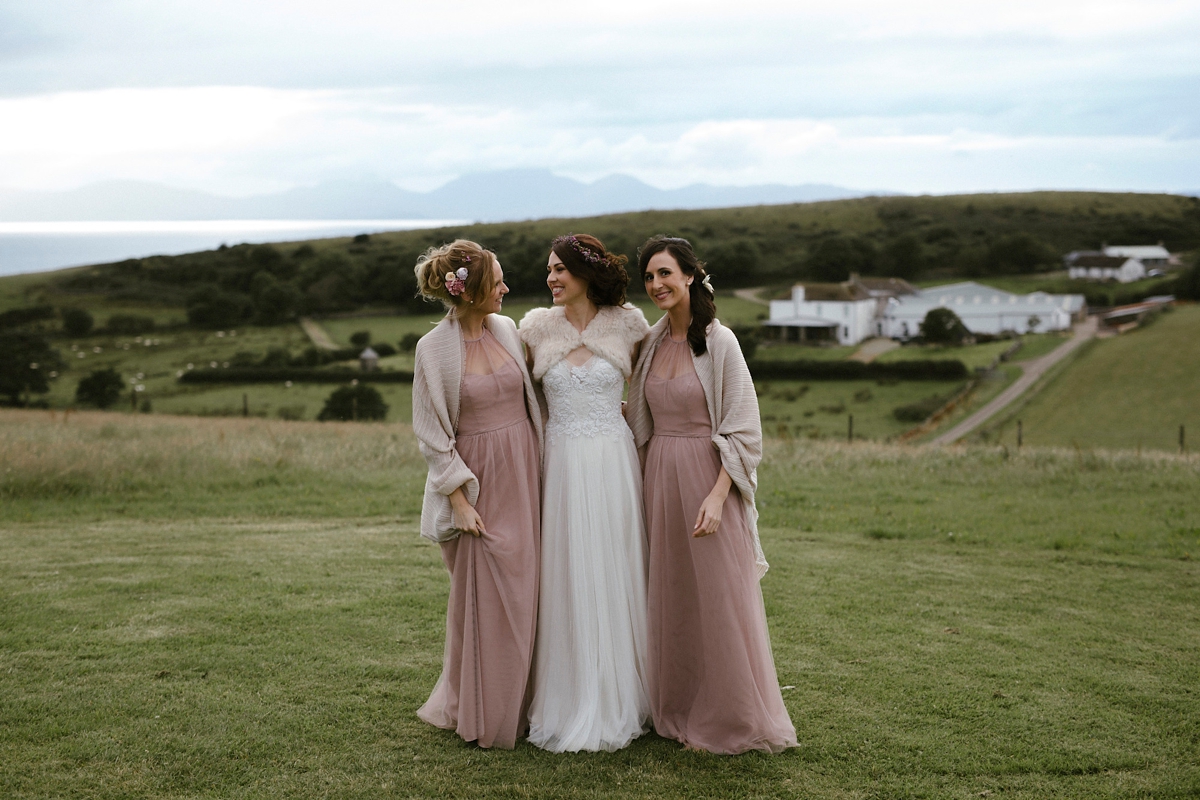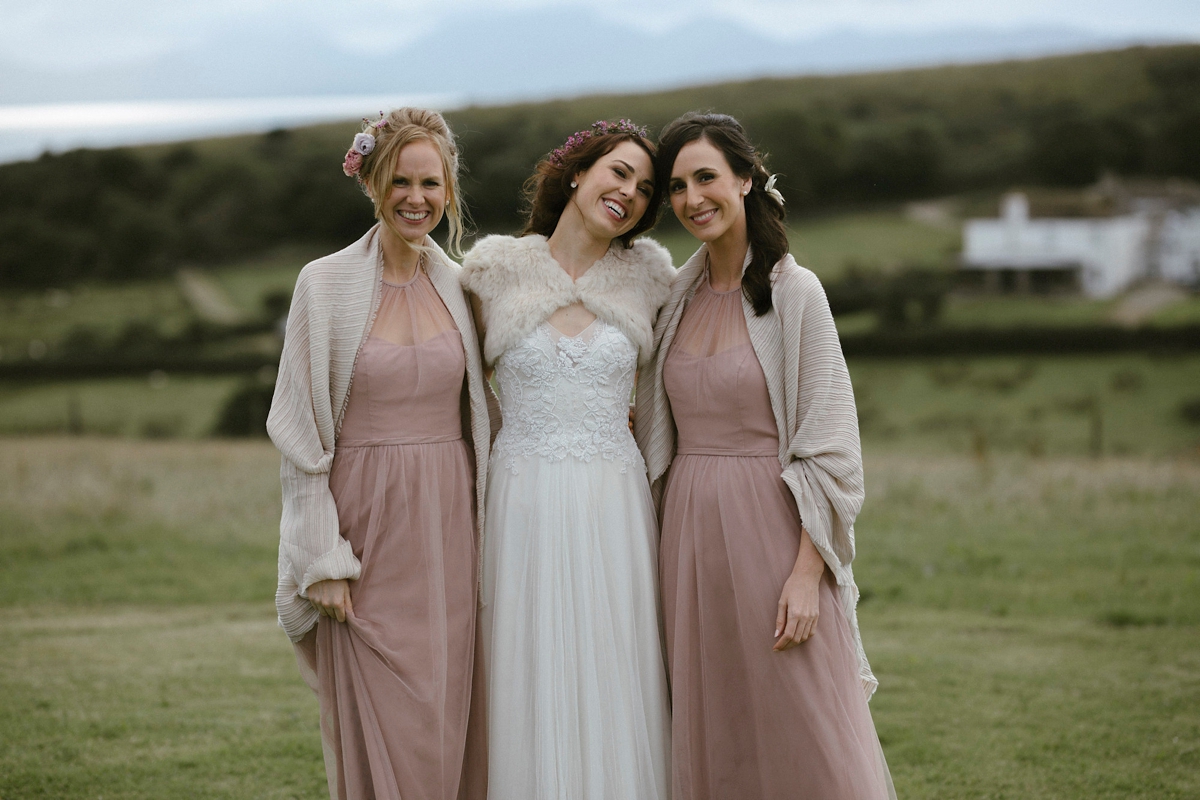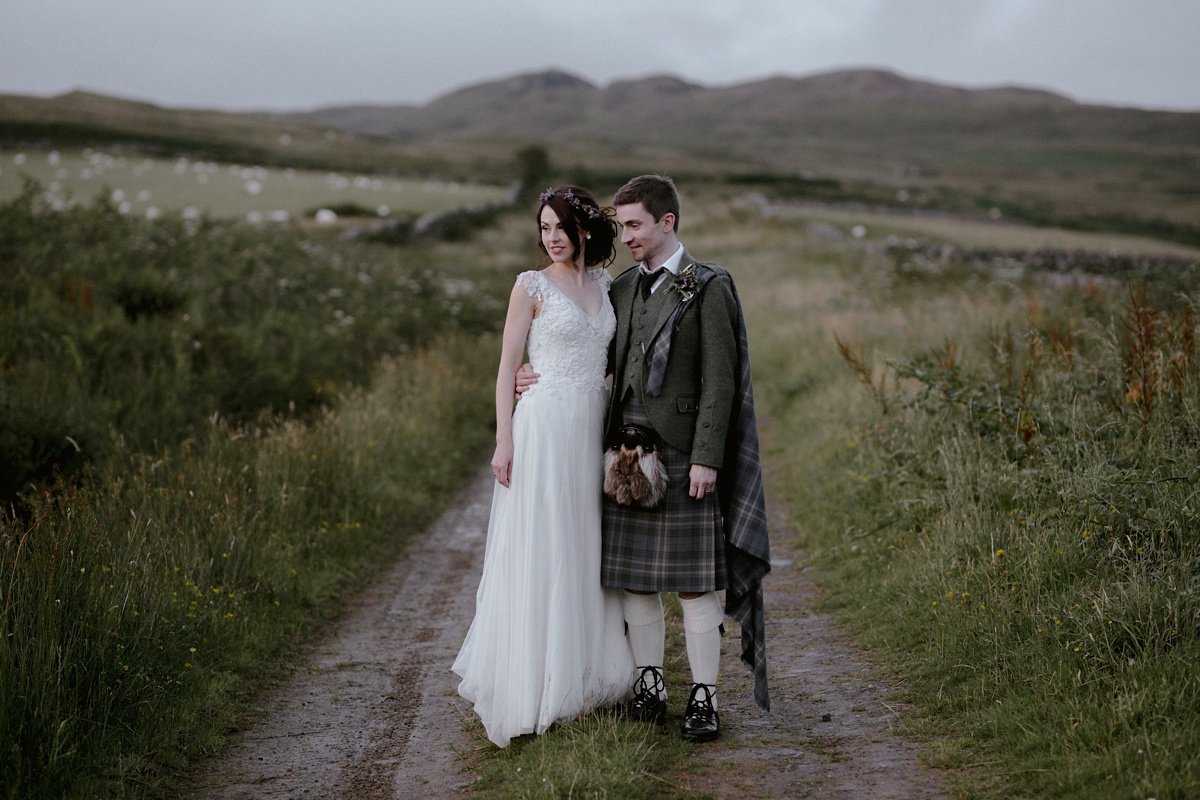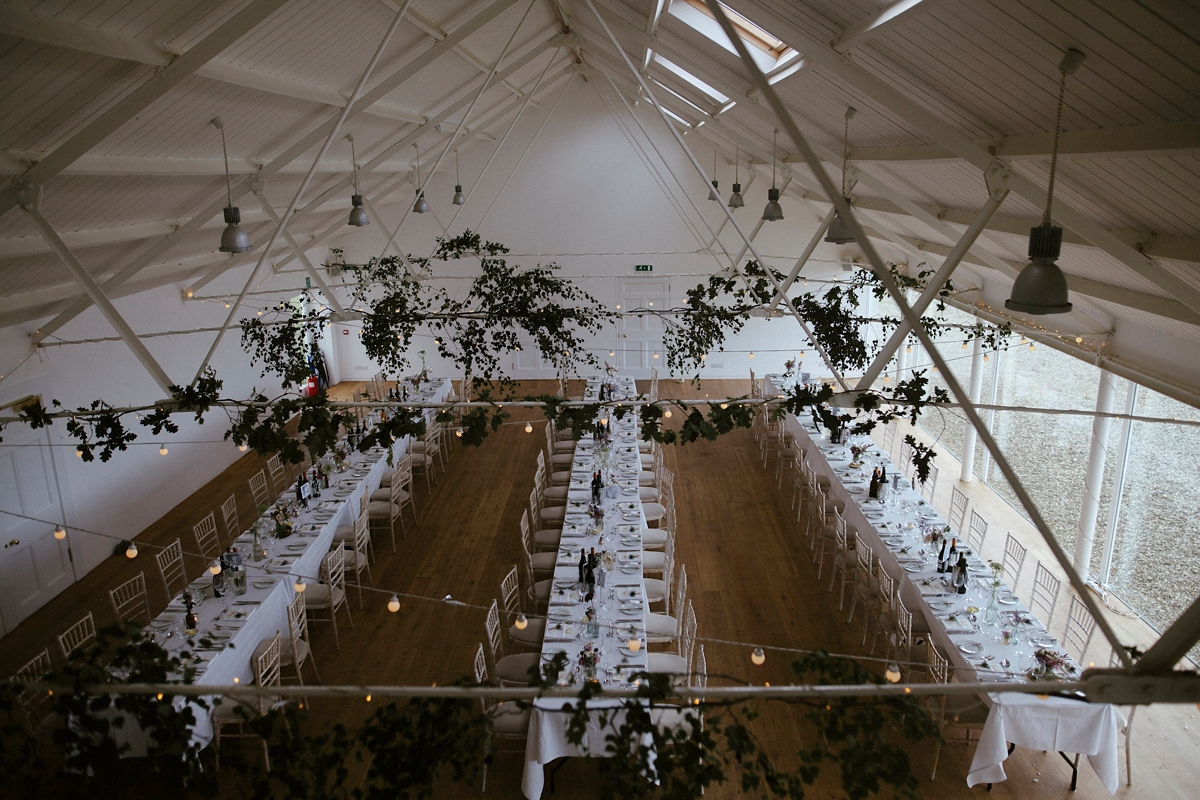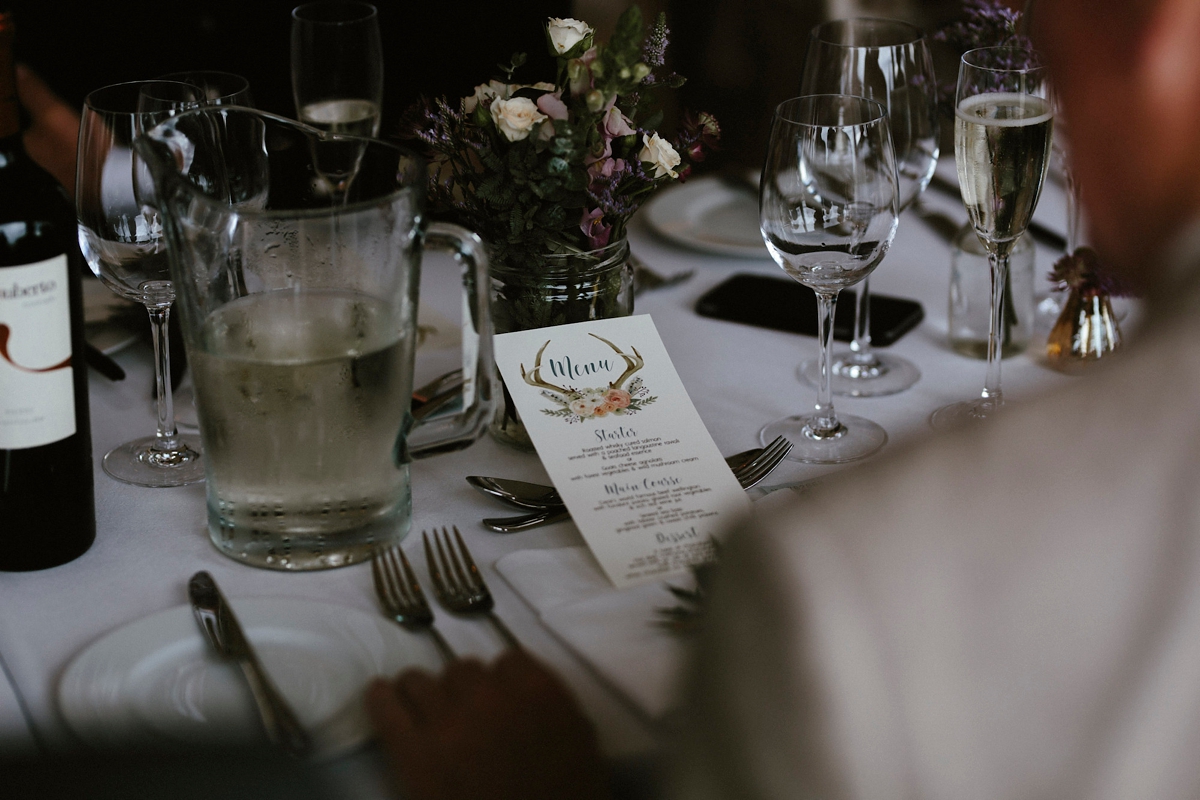 The newly-weds planned a really fun idea for favours to break the ice and get the party started.
"Instead of doing favours we had a raffle. Our Australian guests had a blue ticket hidden in their folded napkins and our Scottish guests had a yellow ticket. The raffle was a great way of our guests getting to know each other. A different guest was asked to pick out each winning ticket and before doing so they said their name, where they were from and how they knew the bride and groom. We had four prizes for the Australian guests and four for the Scottish."
"The Australian guests won Scottish prizes including Haggis, Whiskey, a Celtic strip and a vintage bottle of Irn Bru. Our Scottish guests were given Australian prizes, which were a bottle of Australian Shiraz, Tim-tams and Vegemite, an AFL St Kilda jumper and an AFL (Aussie Football League) football. It added another event to the evening which was great fun."
Crear's in-house caterers served up a wedding breakfast on long trestle tables overlooking the coastal view, and the simple, semi-naked cake took pride of place.
"We wanted a simple cake with natural flowers and a cute owl and pussycat cake topper. Flora Kelly from Morningside Bakes was so lovely and helped create a very tasty cake for us."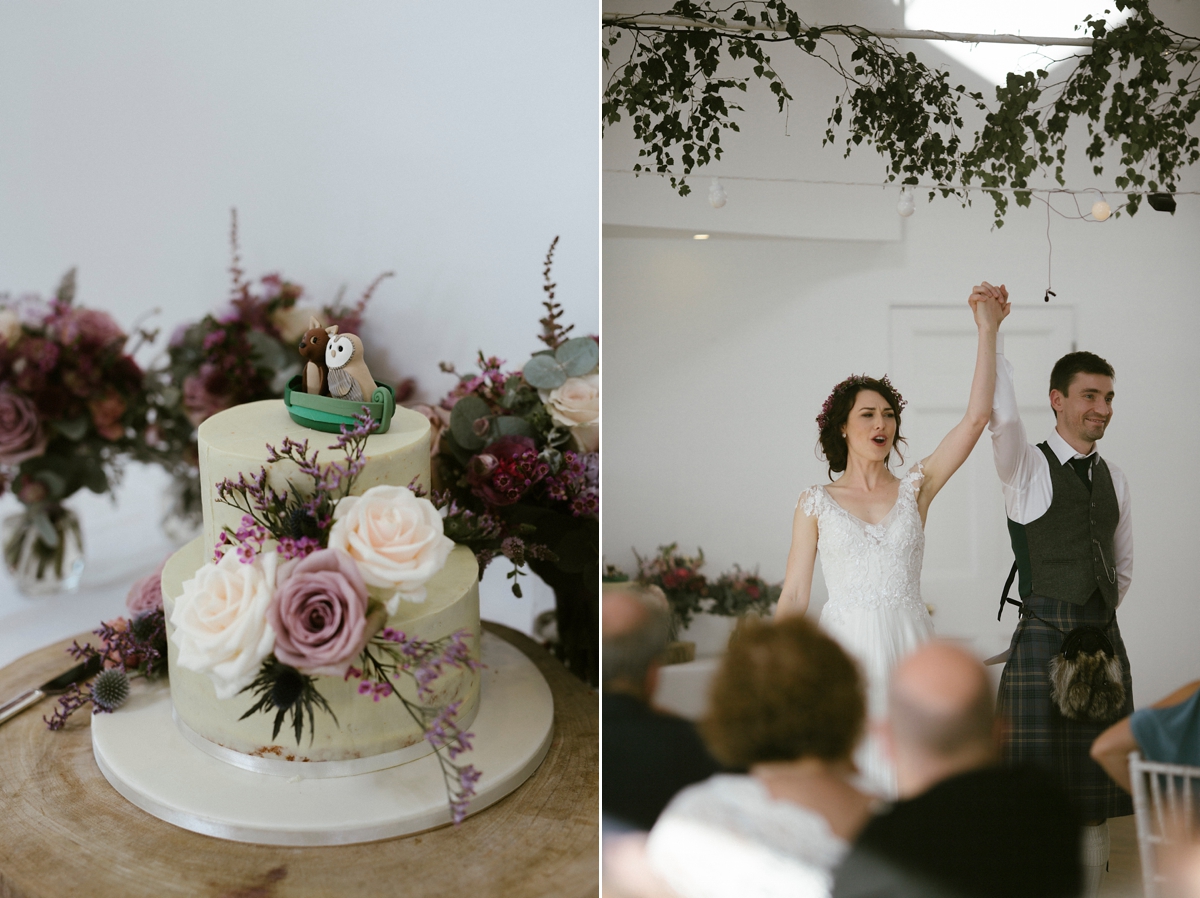 The couple's day was captured on film by Rupert Shanks, who they can't praise enough.
"A pretty phenomenally talented videographer! We searched for months to find a videographer who could blend the speeches and vows with music and capture real emotion on the day. As soon as we saw Rupert's work we knew he would deliver on all fronts and we weren't disappointed! Rupert's gentle and non-intrusive nature meant he seamlessly videoed the day with us barely noticing he was there."
In traditional Scottish style, Cask Strength Ceilidh Band rocked up to play a ceilidh. Oh, and the bride changed into a bespoke dress in the family tartan made by Linda Doble to mark her entry into the clan.
"I wanted to get into a dress made from Steve's family tartan at the wedding because I thought it would be fun to dance and I was excited about formally joining the McGuigan clan."
"Our first dance was the Gay Gordons ceilidh. Each member of the bridal party was asked to join in during the dance. This dance started off the ceilidh for the evening."
Words of Wedded Wisdom
"Being so busy in the lead up to our wedding meant that I couldn't linger too long on decisions or get too obsessive about the details. That was definitely helpful as the details of a wedding can easily get in the way of remembering why you're getting married in the first place."
"I would recommend writing down what you want most from your wedding and what you want your guests to experience and decide how important a decision is on that basis. For us, the wedding was an occasion to intimately celebrate and share our love for each other with our closest friends and family. The decisions that helped us do that were the most important and deserved the most thought, while other details were relegated to the quick decision pile."
As a lover of wild, open landscapes I've enjoyed every aspect of this Scottish wedding. Thank you so much Holly and Steven for letting us share your celebration on Love My Dress; I hope you had a wonderful day. If you've been inspired by Crear, I invite you to enjoy other weddings held here featured on our pages. And as always, thank you to photographer Ruth Atkinson. We're delighted to share more of her work on the blog here.
Ele xx