We've quite an an archive of literary inspired weddings here on Love My Dress and this particular day makes a most splendid addition to our collection.
Candida and Dimitri, married on the 1st of July 2017 at the stunning Signet Library in Edinburgh.  I promise you, this is one of the most elegant weddings you've ever seen, and so full of love.
The couple met while working at the same department store as students and got engaged in the most romantic manner, in Scotland's beautiful capital city. Candida wore an exquisite lace gown by Annasul Y, which she purchased from The Secret Dress House in Reigate, Surrey, along with her custom-made veil.  We are absolutely thrilled to support this beautiful bridal boutique and we recommend them highly in our Little Book Book for Brides wedding directory.
"This was the third dress I tried and I just knew the moment I put it on that it was for me.  I loved the lace detail, the neckline and the low back.  I had the sleeves custom-made by The Secret Dress House as I wanted to make the dress a little more bespoke."
Film by  Edinburgh Wedding Videos
"In terms of choosing our wedding colours of champagne and white, we just wanted something simple as the venue was so detailed in its architecture and design and we didn't want to distract from that.  However, we wanted our wedding to be as personal as possible and to show our personalities and creativity throughout."
Photography by First Light Photography
The talent behind today's beautiful light-filled images is Ditte Solgaard Dunn of First Light Photography.  I especially love those pictures of Candida and Dimitri in the breeze at Arthur's Seat.
"First Light Photography gave us the most amazing photographs and memories of our special day.  Ditte is a fantastic professional photographer with years of experience that shows through in all her work.  Having photographed many weddings too, she knows how to capture the most precious moments that in my experience a lot of photographers can often miss.  Ditte is also constantly remarkably calm and can make even the shyest person feel so comfortable in front of the camera. (Our families simply loved her!)  My husband and I are so happy that we chose First Light to be with us on our special day and can't say thank you enough."
"We had been living together for two and a half years when Dimitri told me he had won a weekend trip away to a UK destination of our choice.  I randomly chose Edinburgh, although unknown to me, Dimitri had already booked everything and even secured me the time off work with my boss.  Whilst taking a tour of Edinburgh Castle, we stepped into the Great Hall where Dimitri asked a member of staff 'please can we get a better view of the gallery?'  Unknown to me, this was code for "we're here!"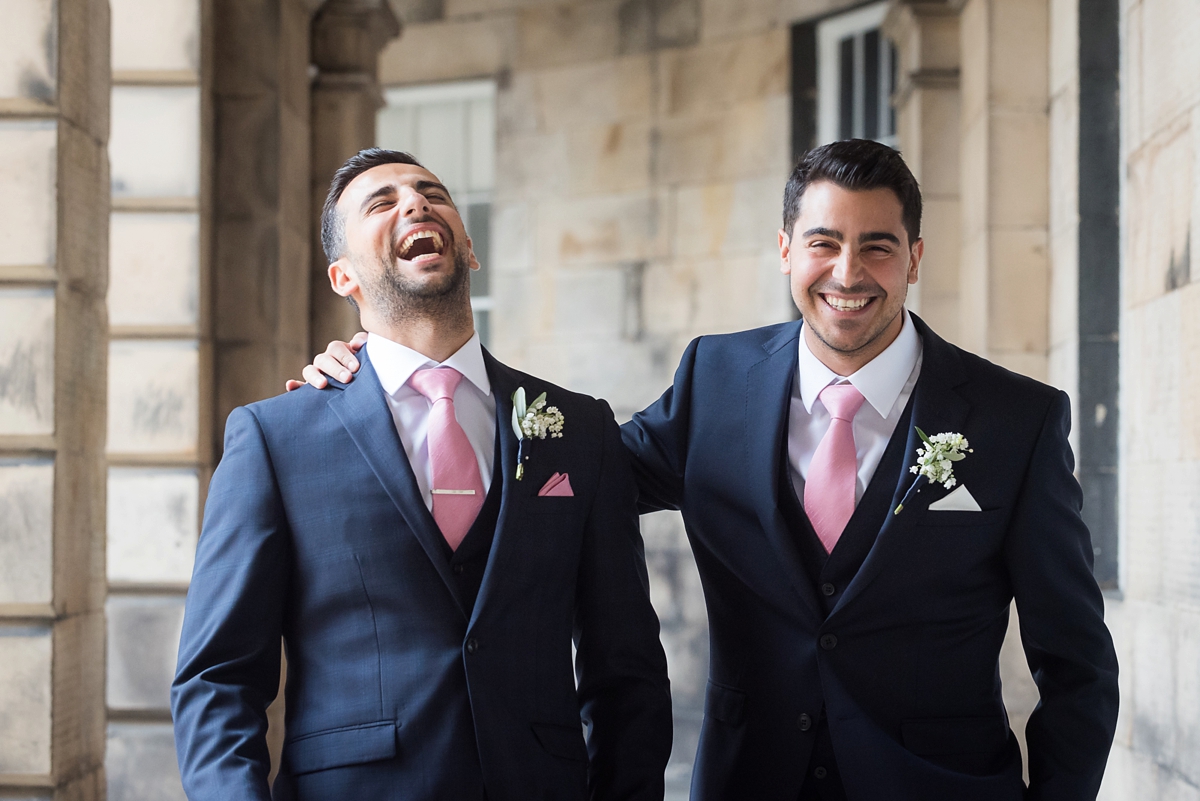 "We walked up a winding staircase to the balcony that overlooks the Great Hall – which was filled with candles, red roses and Champagne – and Dimitri popped the question.  It really was so special and a moment I'll never forget.  When we got back to our room to get ready for dinner that night, I walked in to find Champagne, chocolates, a beautiful new dress hanging on the wardrobe and a card written to me from my best friend who had known about all the planning.  It's safe to say I was quite overwhelmed."
"We viewed a few prospective wedding venues but when we stumbled upon the Signet Library we knew it was 'the one'.  We both loved the history of the building and it is also home to thousands of books – some of which are over 500 years old.  It was just stunning."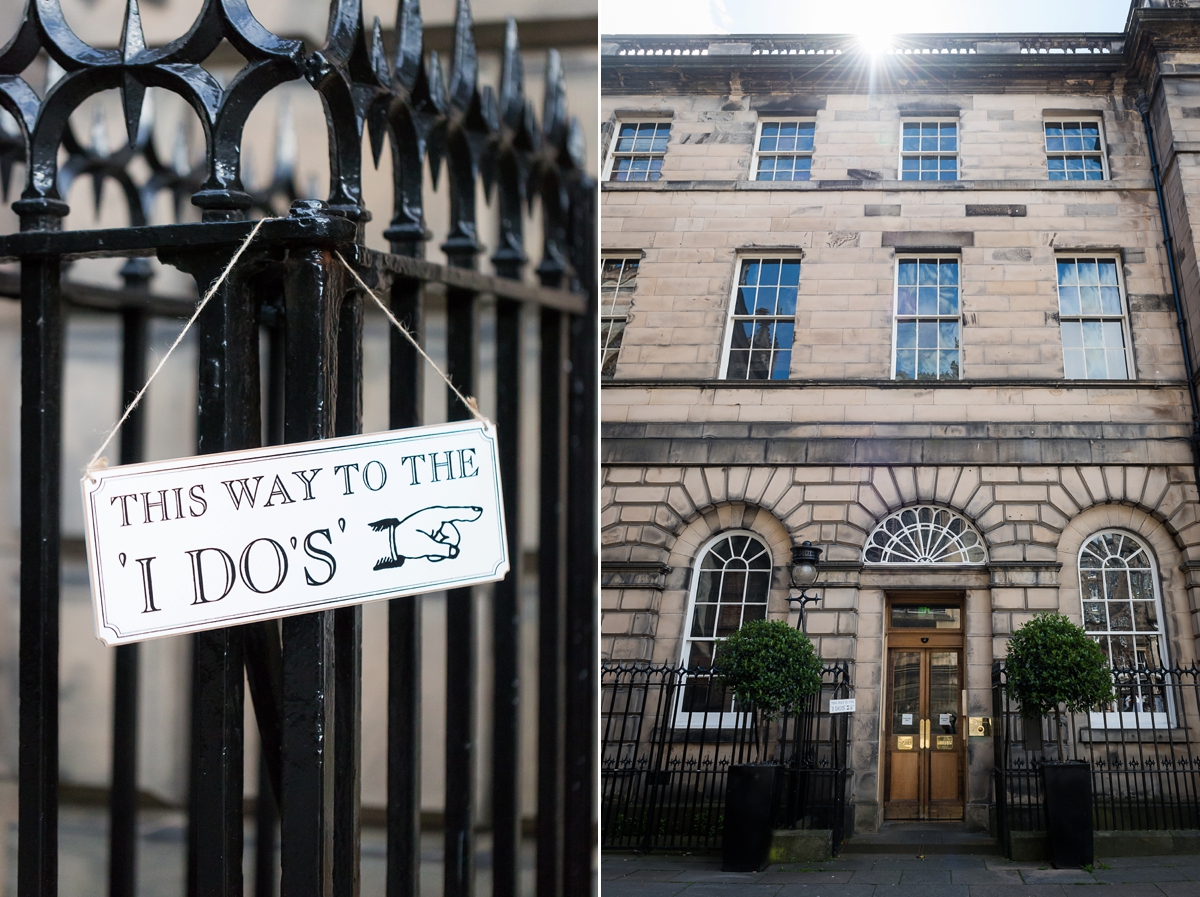 On her feet, Candida wore an elegant pair of heels by Badgley Mischka, purchased from Bloomingdales, NYC, while she also went New York in her perfume choice with Tiffany & Co Eau De Parfum.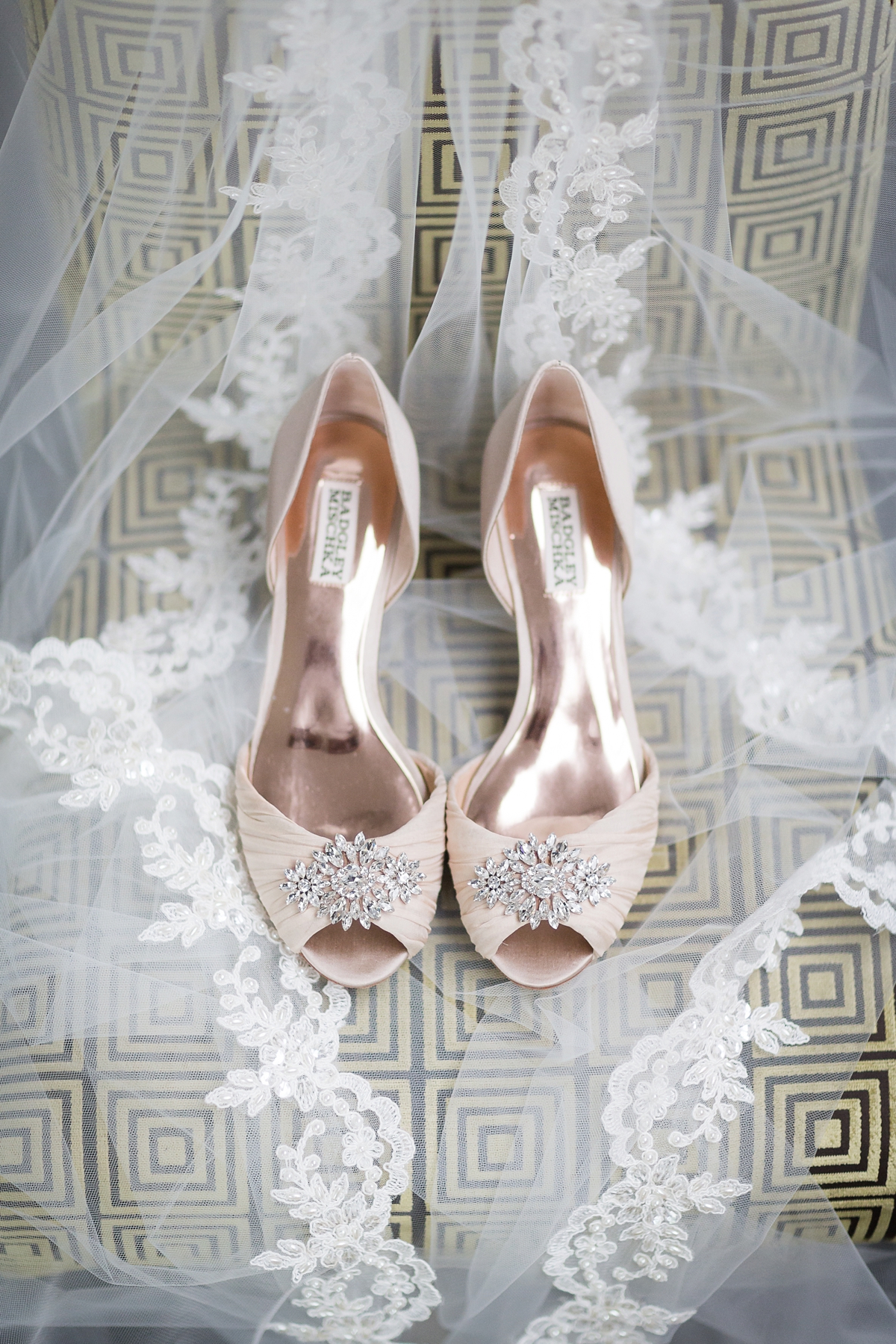 We love the literary inspired stationery! And what a gorgeous touch for a literary inspired wedding being held in a beautiful historical library setting.
"Deciding on a book theme allowed us to really have fun and create some really special bespoke things with our stationery (by Southside Publishing), including the place settings and table names (which were named after our favourite books)."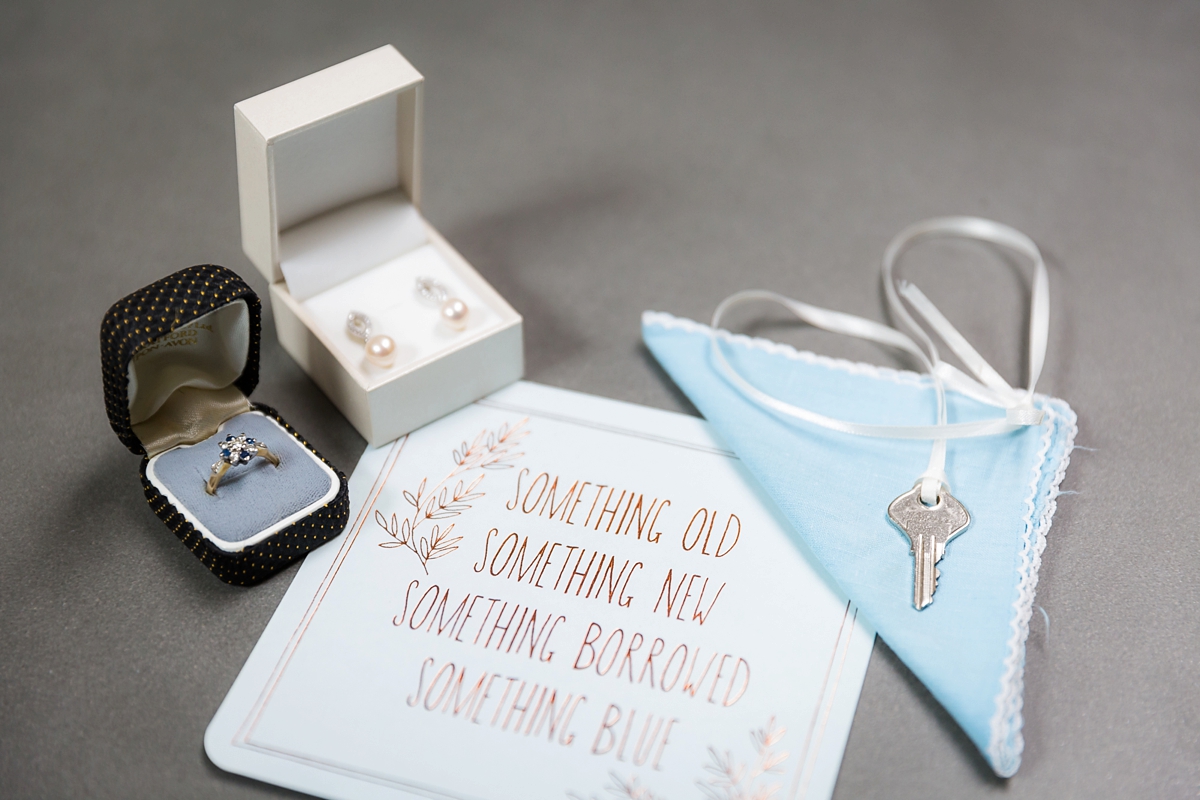 In her hair Candida wore fresh gypsophila, while for a final touch she added a pair of drop earrings from Molly and Pearl via Not On The High Street.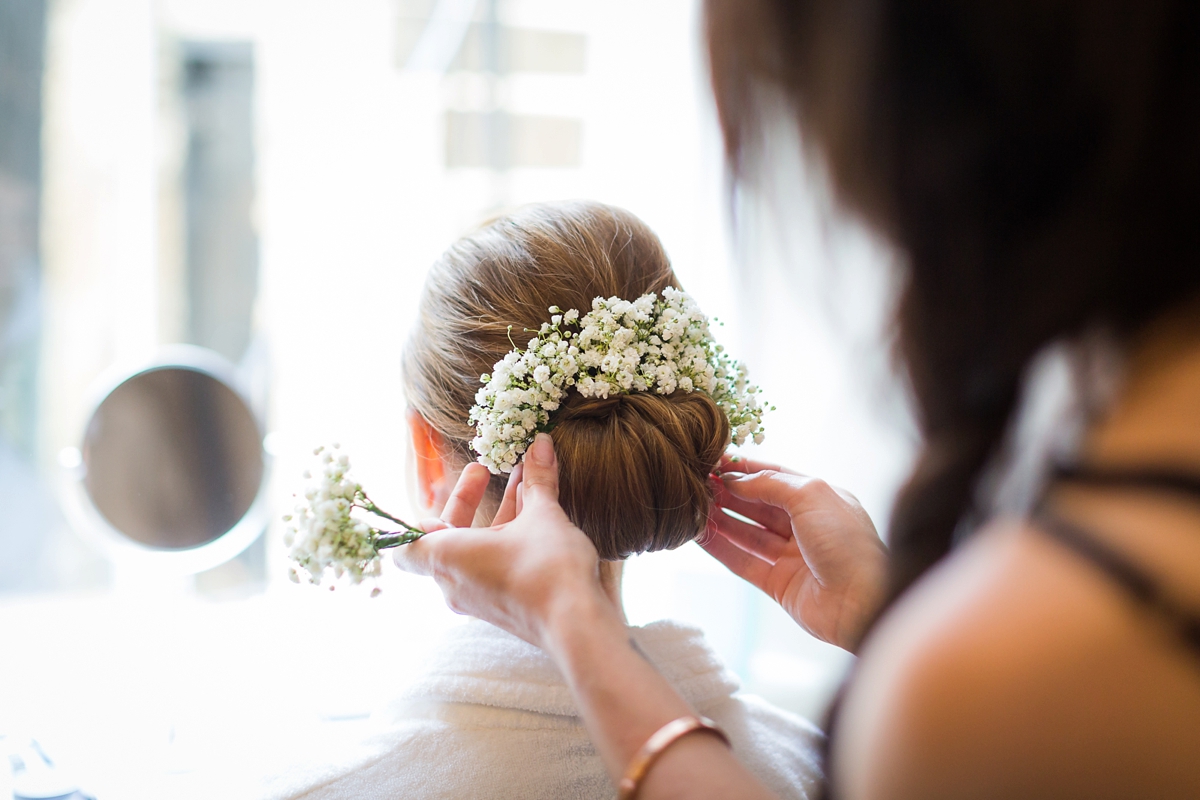 Candida opted to wear her hair in a sophisticated up do by Ladylux Salon and added gypsophila.  She did her make up herself and enjoyed helping her little flower girl with hers too!
The bridesmaids looked so elegant in their pink gowns from In One Clothing, worn with shoes from Dune, flowers in their hair and accessories from Mia Lia.  The little flower girl looked ultra cute in a white gown from Just Dresses while the tiny page boy was completely adorable in a Little Legs Baby Kilt and Startrite Shoes.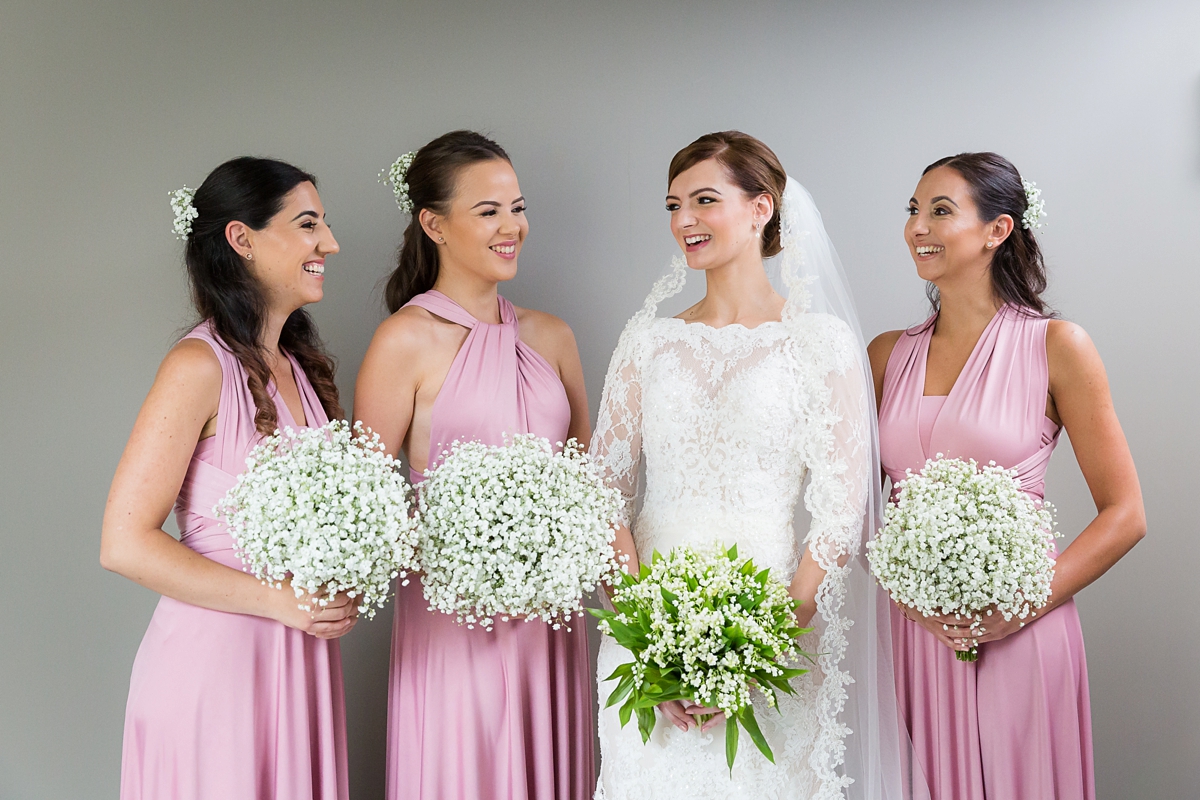 The beautiful bouquets and incredible floral arrangements were the work of Planet Flowers.  Those gypsophila displays are spectacular!
"I wanted very simple and romantic white flowers, so opted for a lily of the valley bouquet, because I love the fragrance of them and gypsophila for everything else."
Candida arrived at the venue in a 1958 Rolls Royce Silver Cloud I, hired from Majestic Wedding Cars Edinburgh and her dad accompanied her down the aisle to Pachelbel's 'Canon in D', played by The Cairn String Quartet.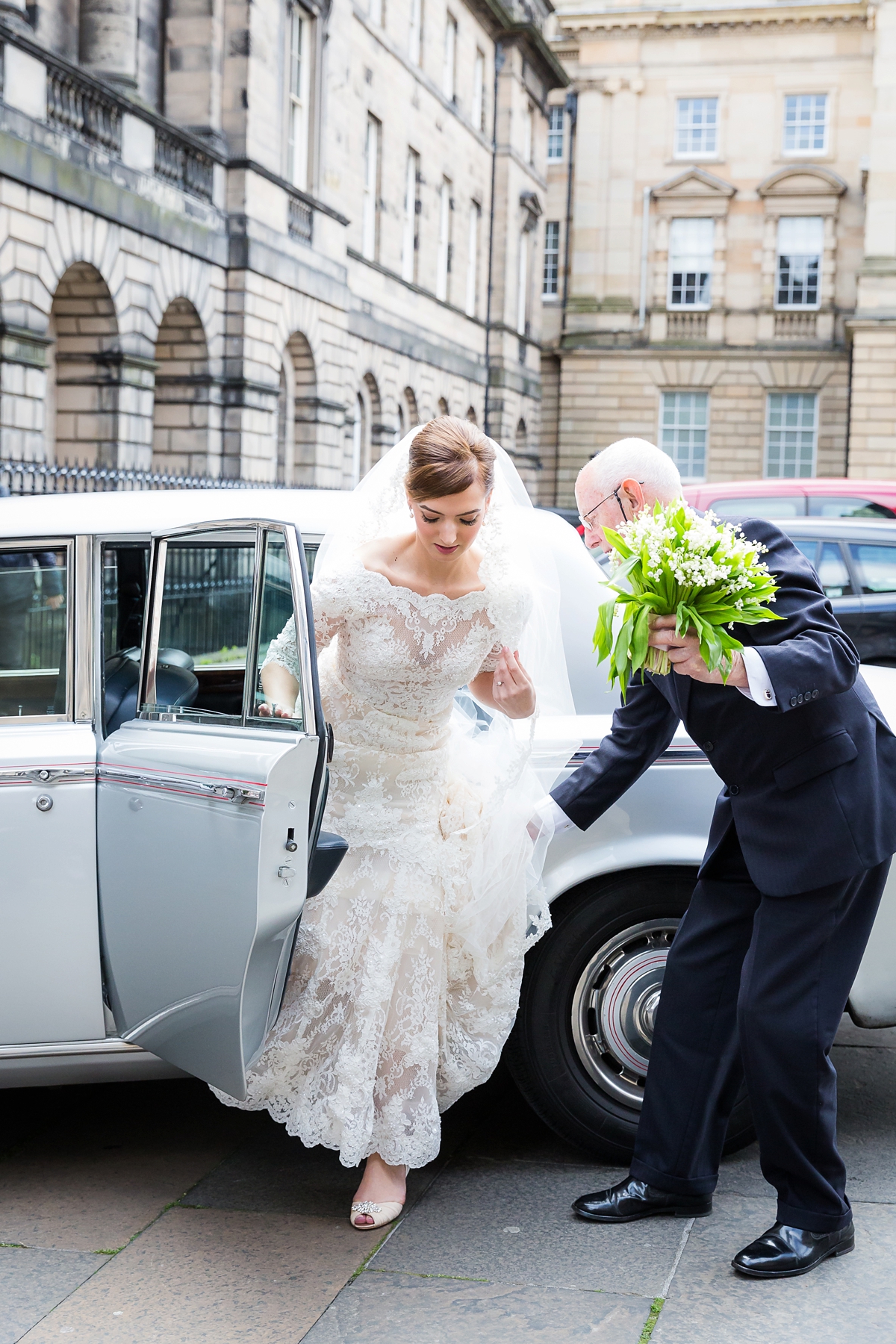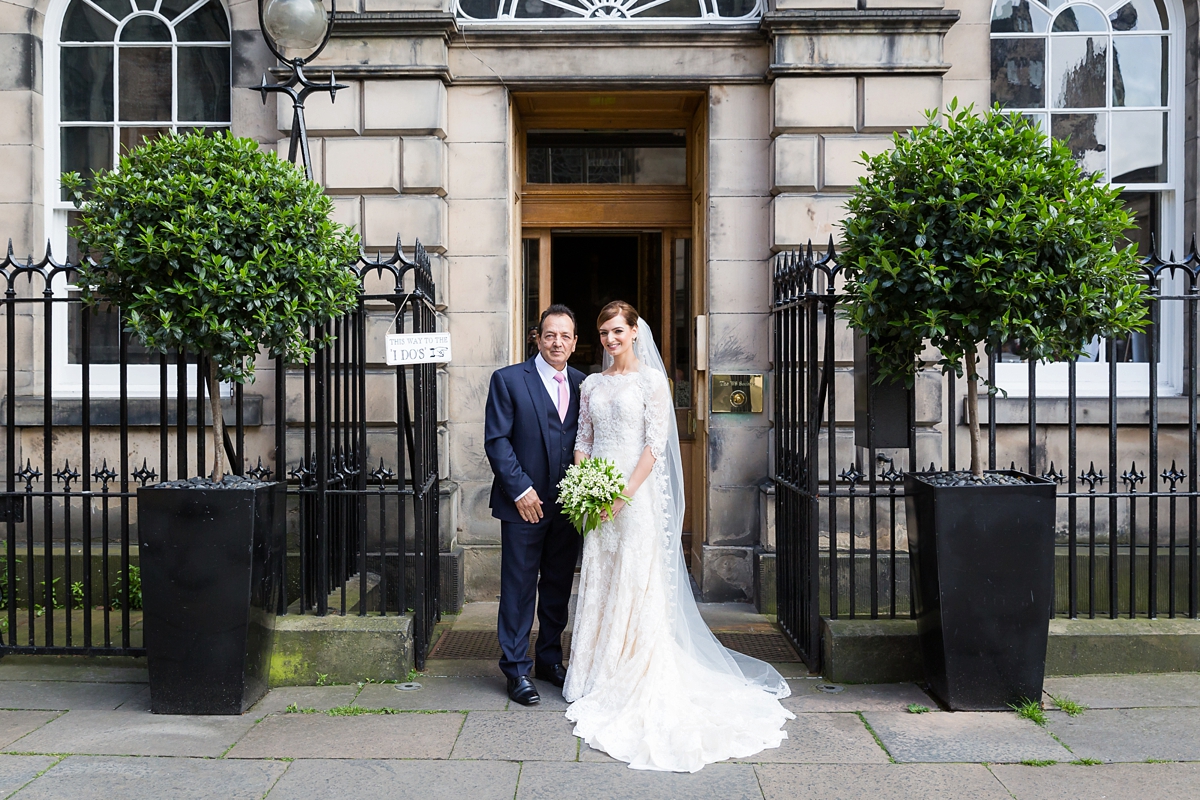 Dimitri and Candida kept their vows very traditional and exchanged rings from Tiffany & Co.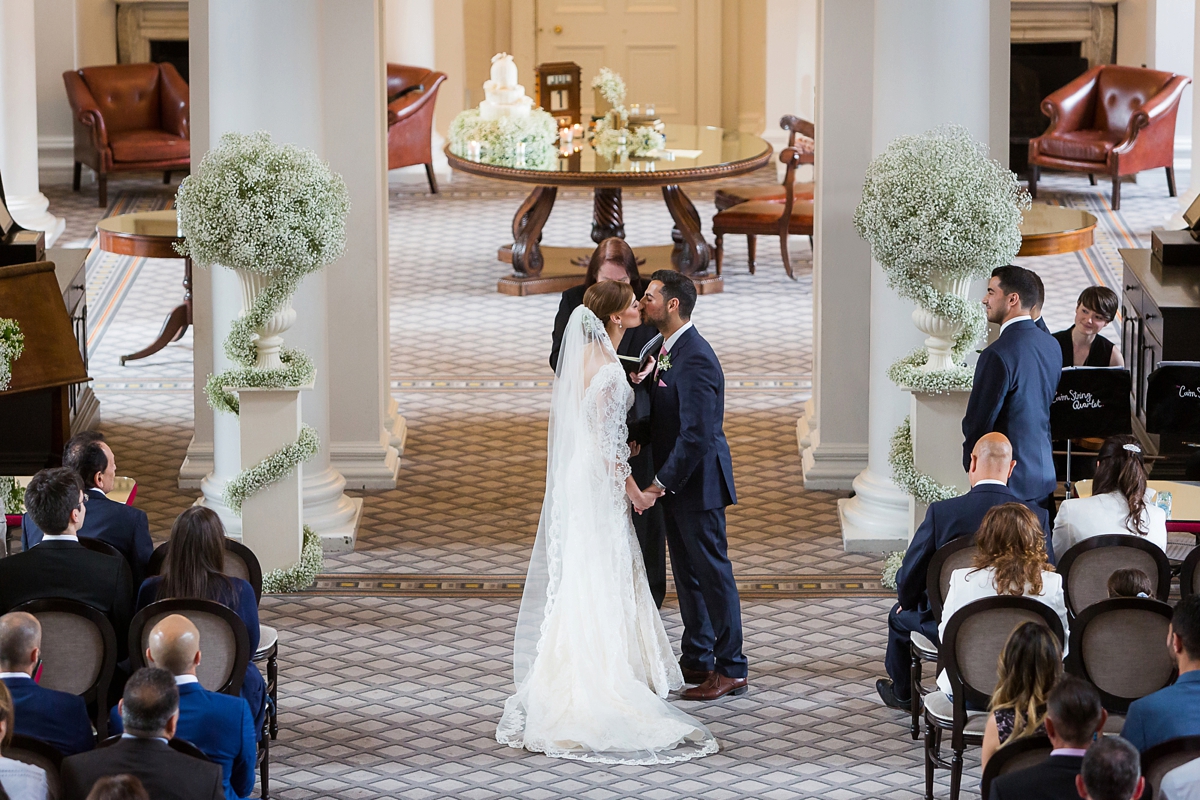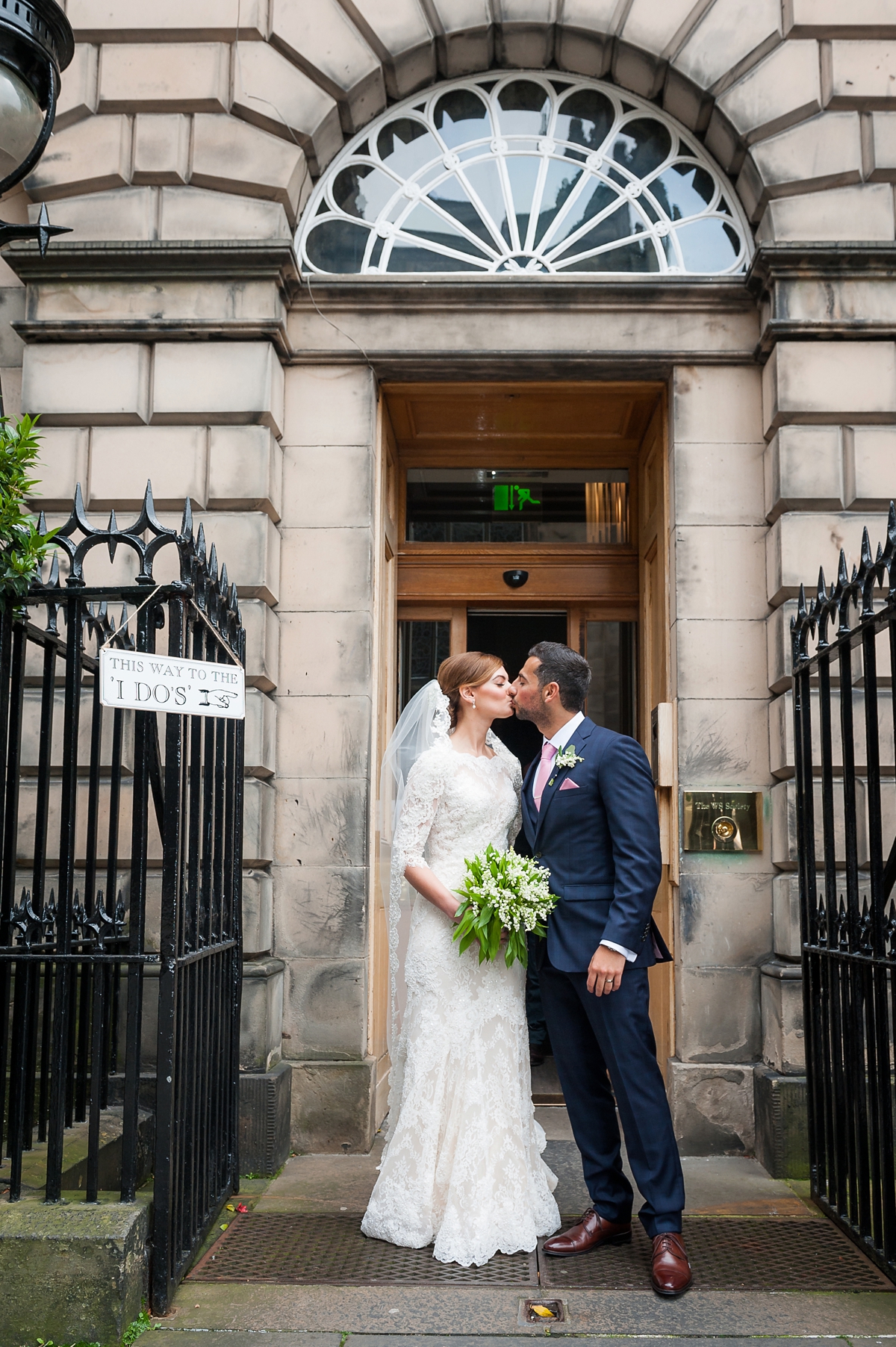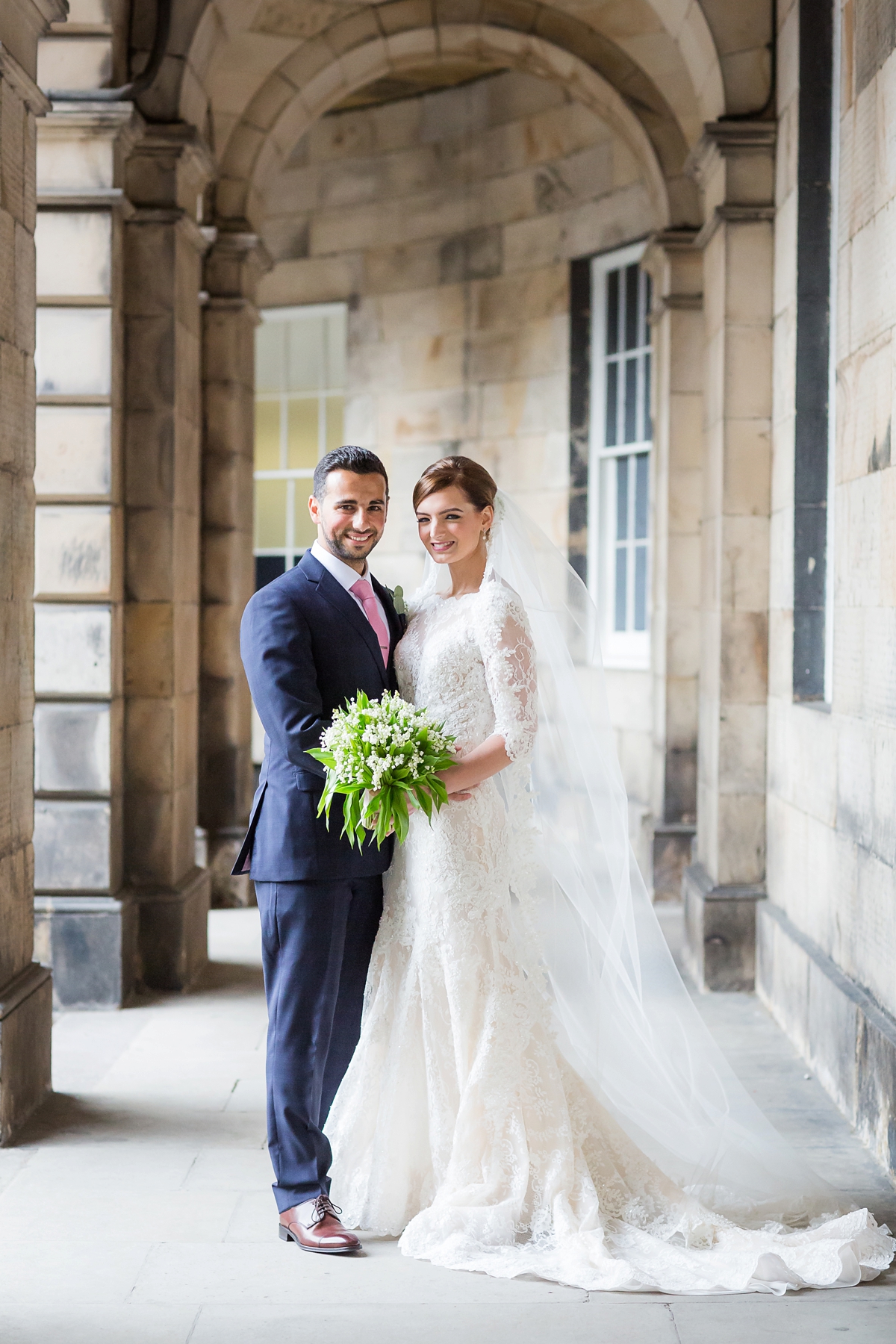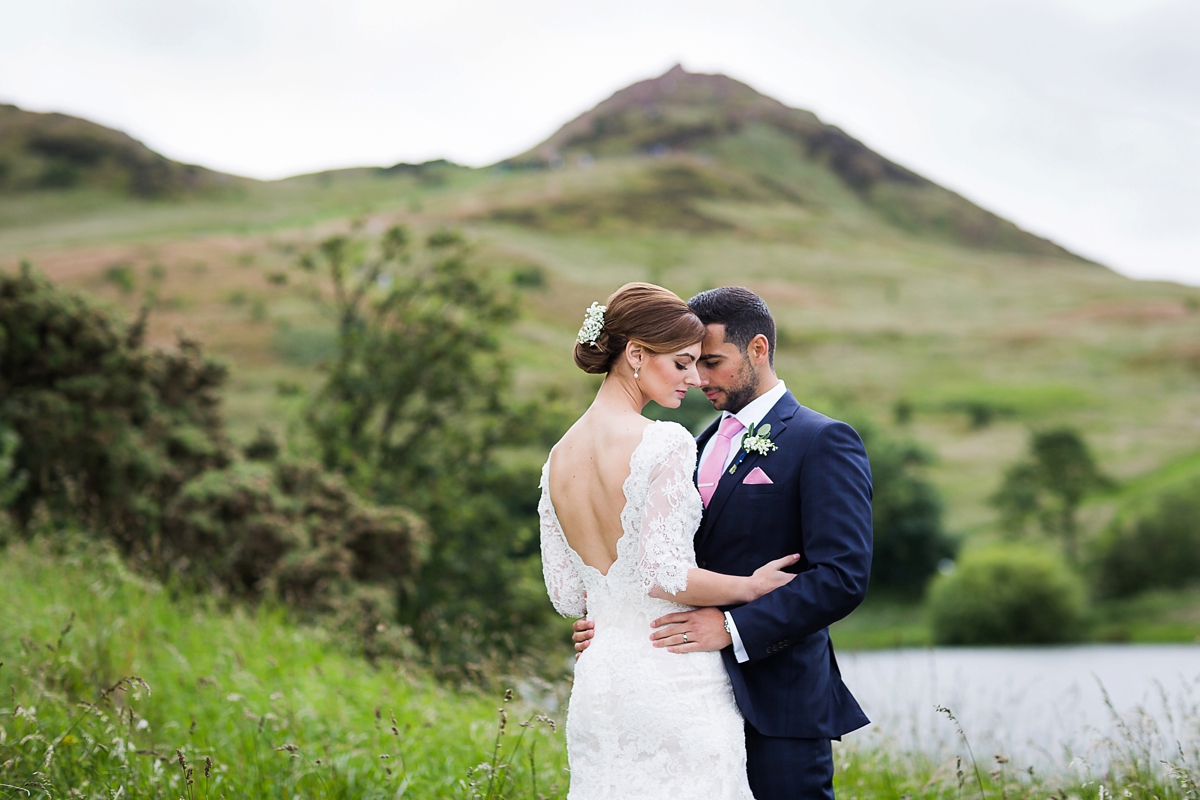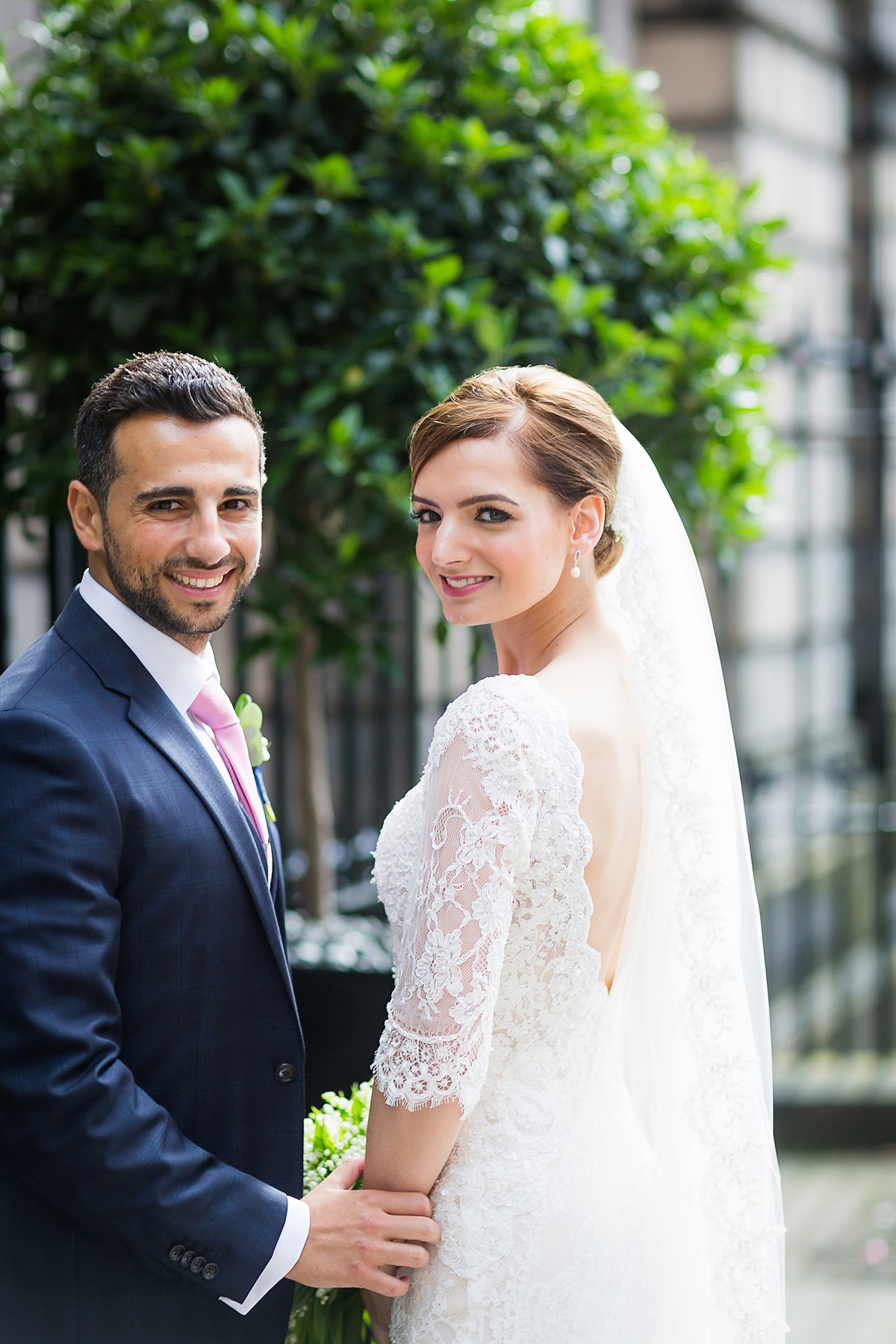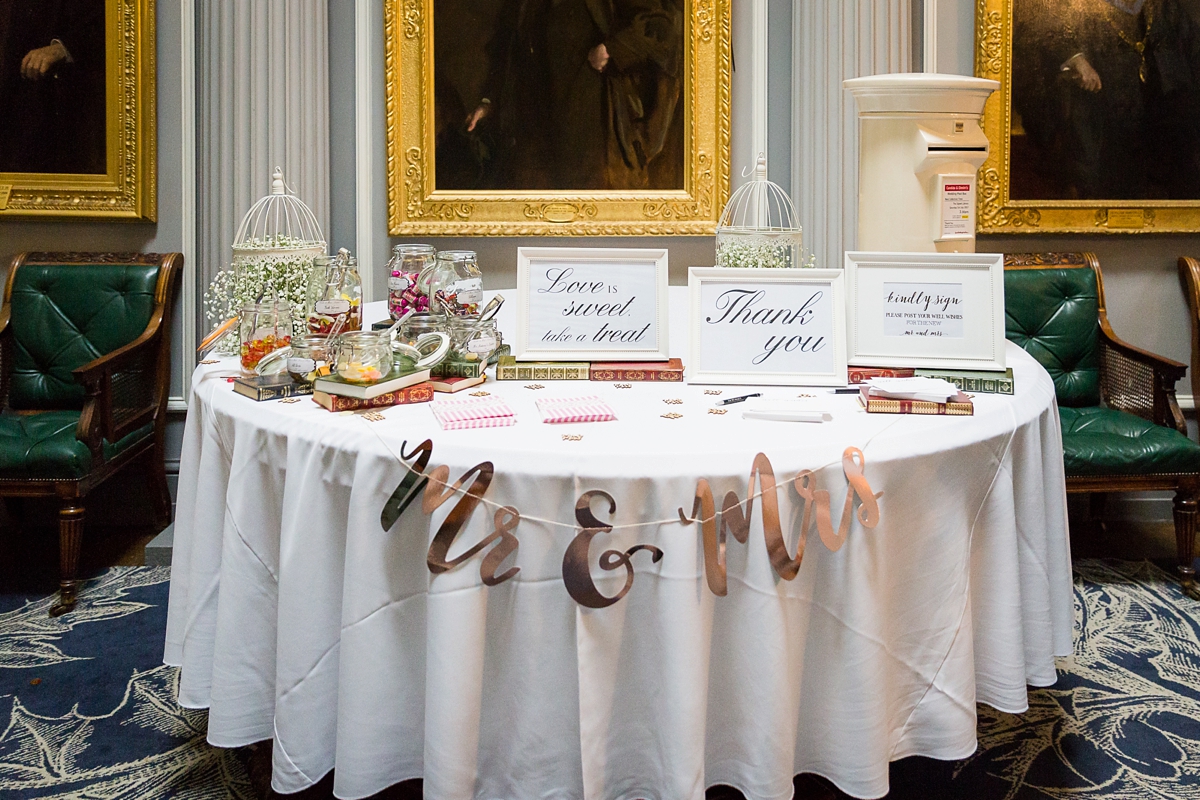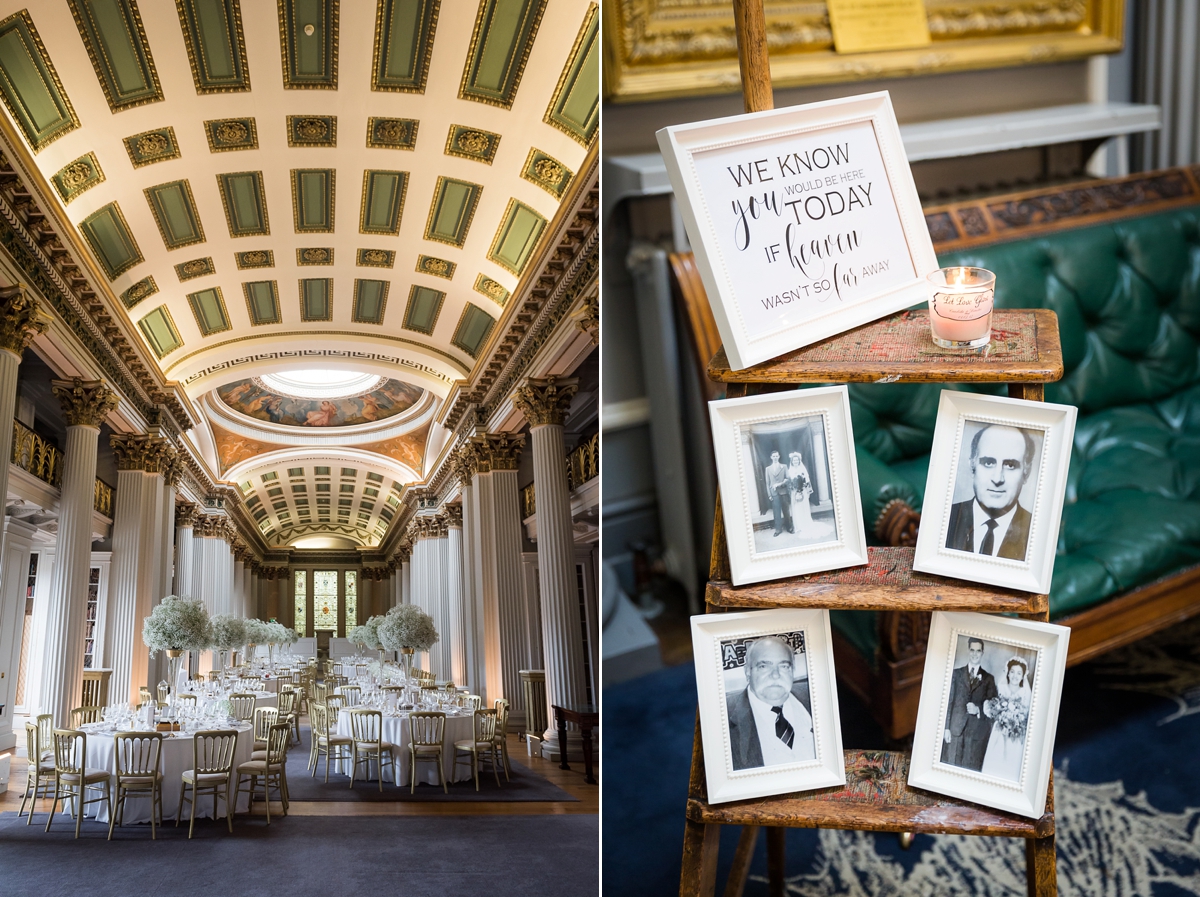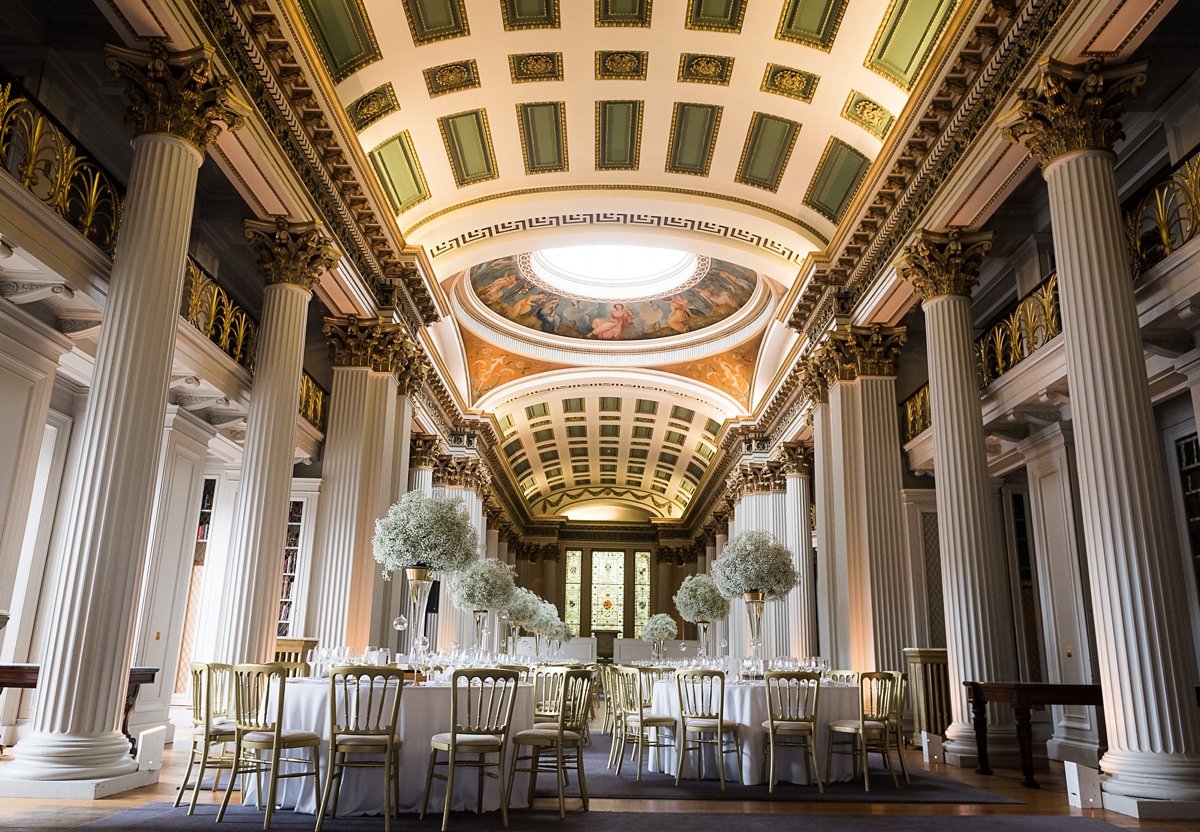 As the venue was already so elaborate, Candida and Dimitri decided to keep their additions relatively simple, adding only huge bouquets of gypsophila and a personalised letter box, courtesy of Your Wedding Post Box.
"As Dimitri loves whisky, we used Just Miniatures to create bespoke miniature bottles of whisky with a personalised label for all our male guests.  For the ladies we bought lots of vanilla scented candles from IKEA and created our own bespoke label to stick on them before placing in a white organza bag.   The children also had their own special little favours of sweets and arts and crafts to ensure they weren't feeling left out."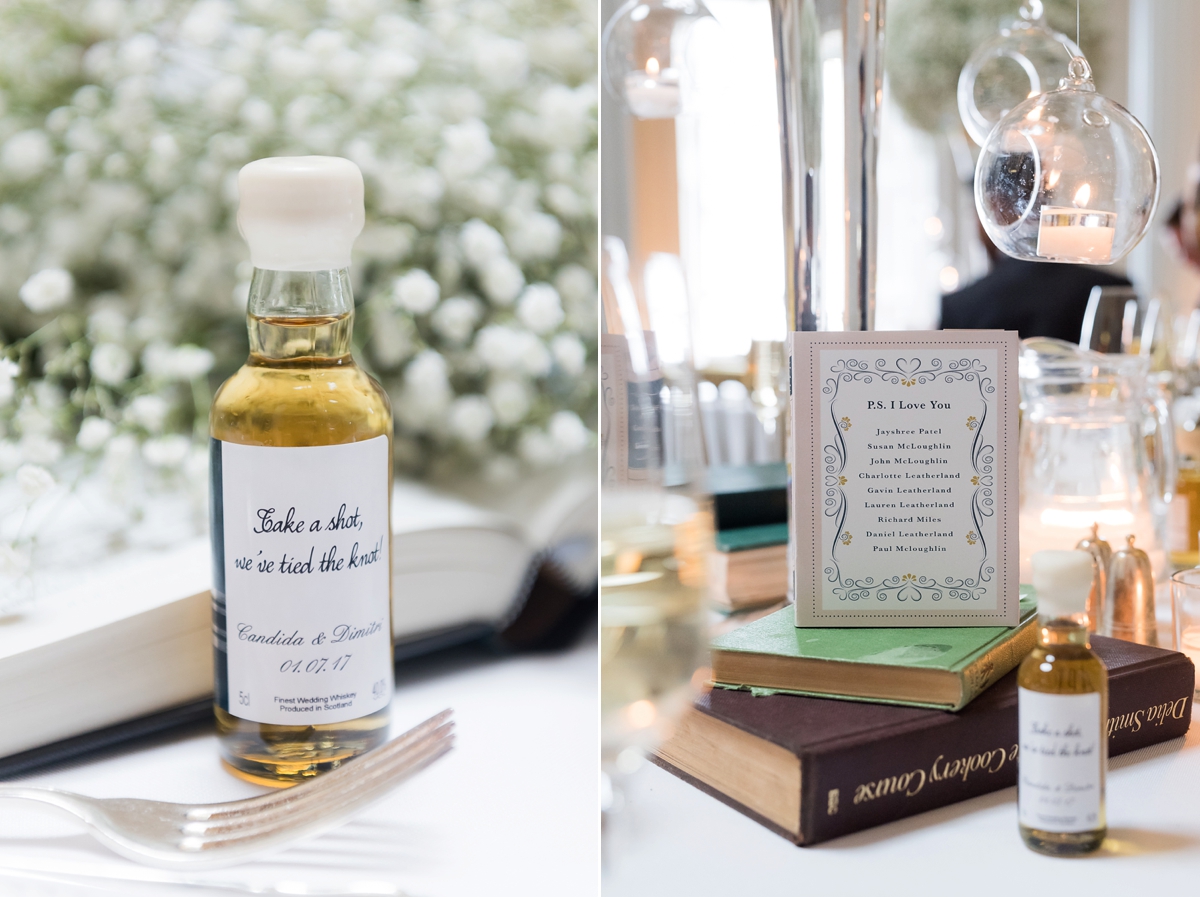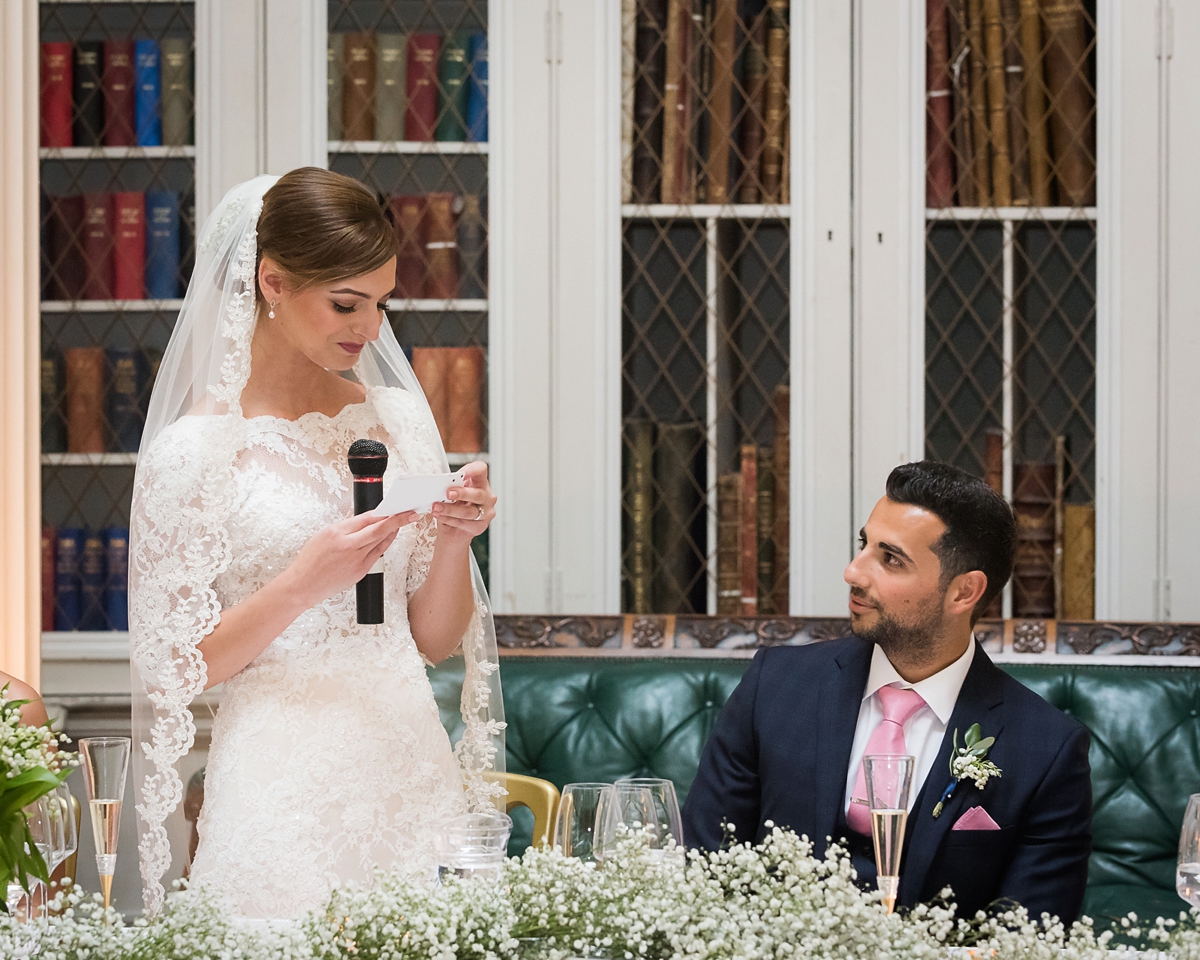 Catering was the work of Heritage Portfolio, while the fabulous cake was made by Liggy's Cakes.
"As we had birdcages decorated with gypsophila around our venue, we choose the three-tier cream and Champagne coloured bird cage wedding cake to complement them.  It looked really elegant and was a little different from a traditional wedding cake."
"For later on in the evening we hired The Bygone Booth.  They created a very theatrical experience and our guests loved using all their props and taking away their printed pictures as souvenirs."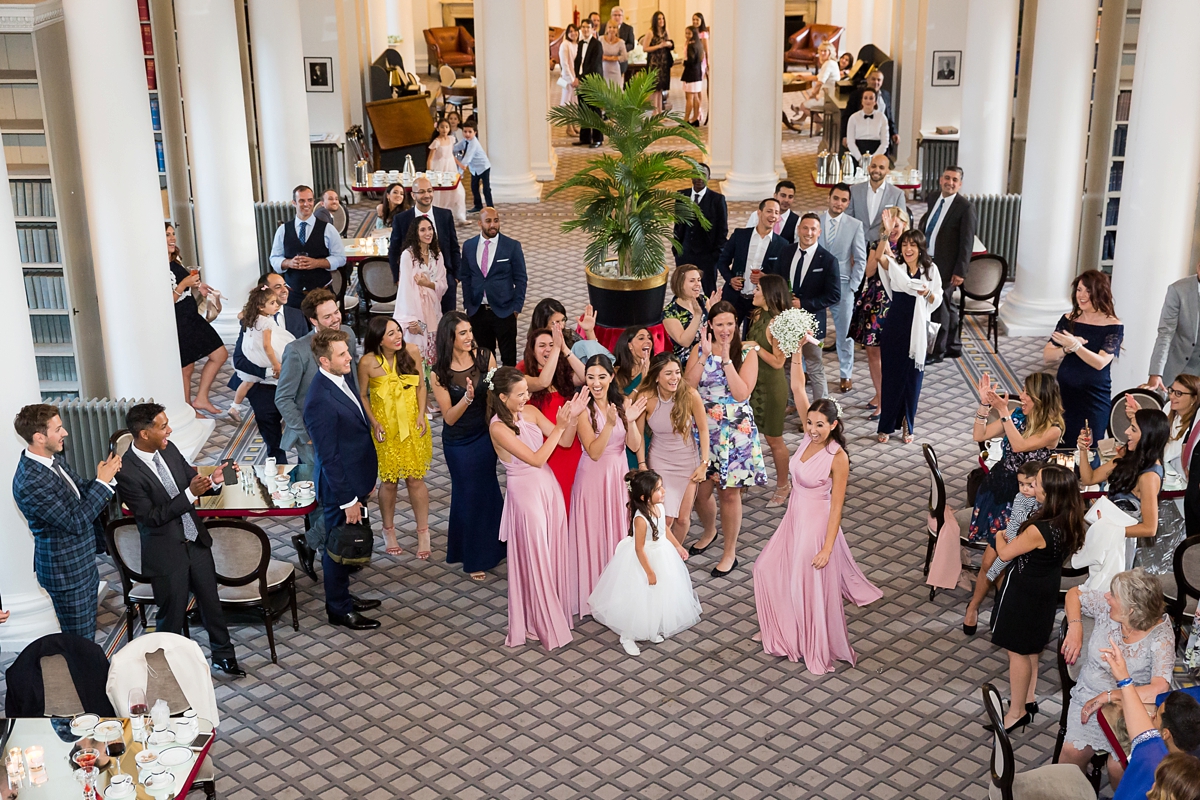 The evening music was provided by DJ Phetta and as Dimitri is of Greek heritage, a few Greek traditional dances were danced as well, including a  'Kalamatianos' for the ladies and a 'Sousta' for the men.
"It's so difficult to choose a favourite part as the whole day was simply so perfect with all our friends and family there to share it with us.  However, one moment that sticks out for me is when all the ladies did the Greek dance.  Everyone gave it a go and it was so lovely to see both our cultures merging and having a great time together."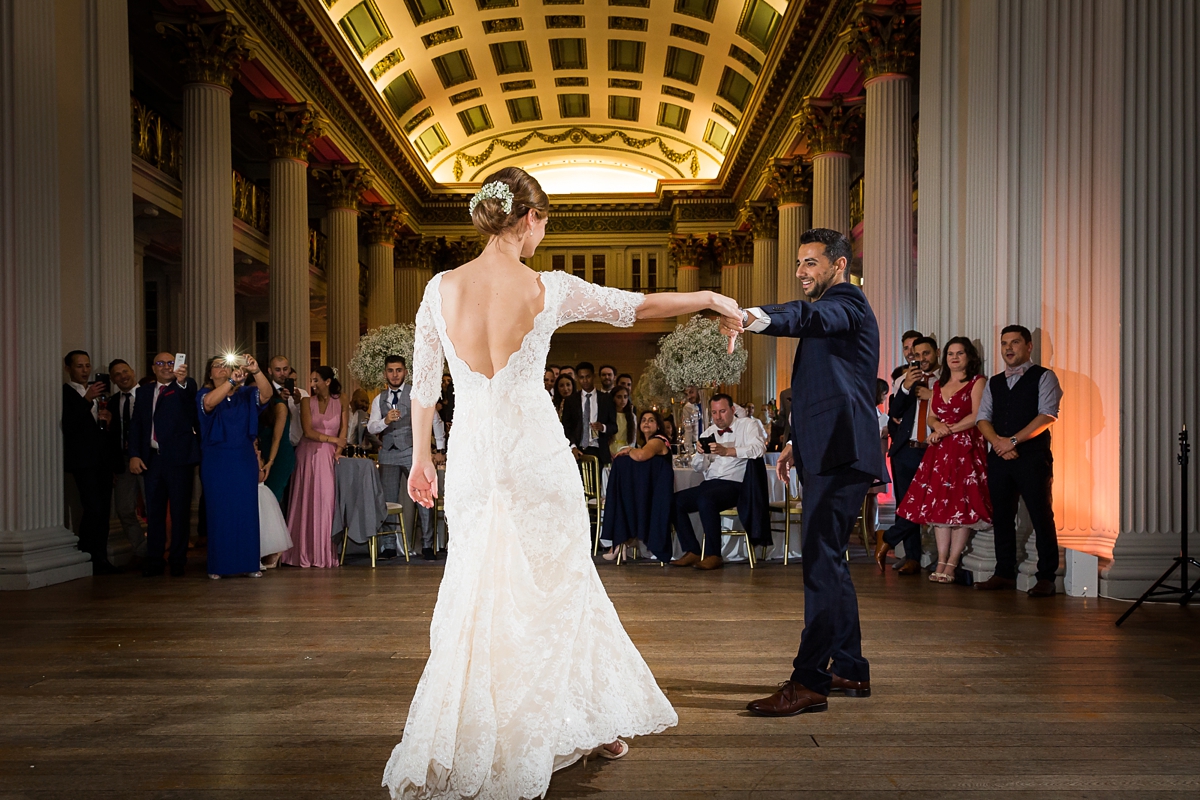 Words of Wedded Wisdom
"Be as organised as you can, as far in advance as possible.  The more you get done earlier on, the more you can enjoy every moment leading up to the big day stress free.  The time really does fly by too, so just take it all in and don't worry about a thing.
A great tip that was given to us by a friend of ours, was to ensure you spend a few minutes together to catch up every couple of hours or so throughout the day, otherwise you may naturally find yourselves separated from each other with your own friends and family.  We ensured we did this and can honestly say it was the best advice we received, as we both share so many happy memories from our day."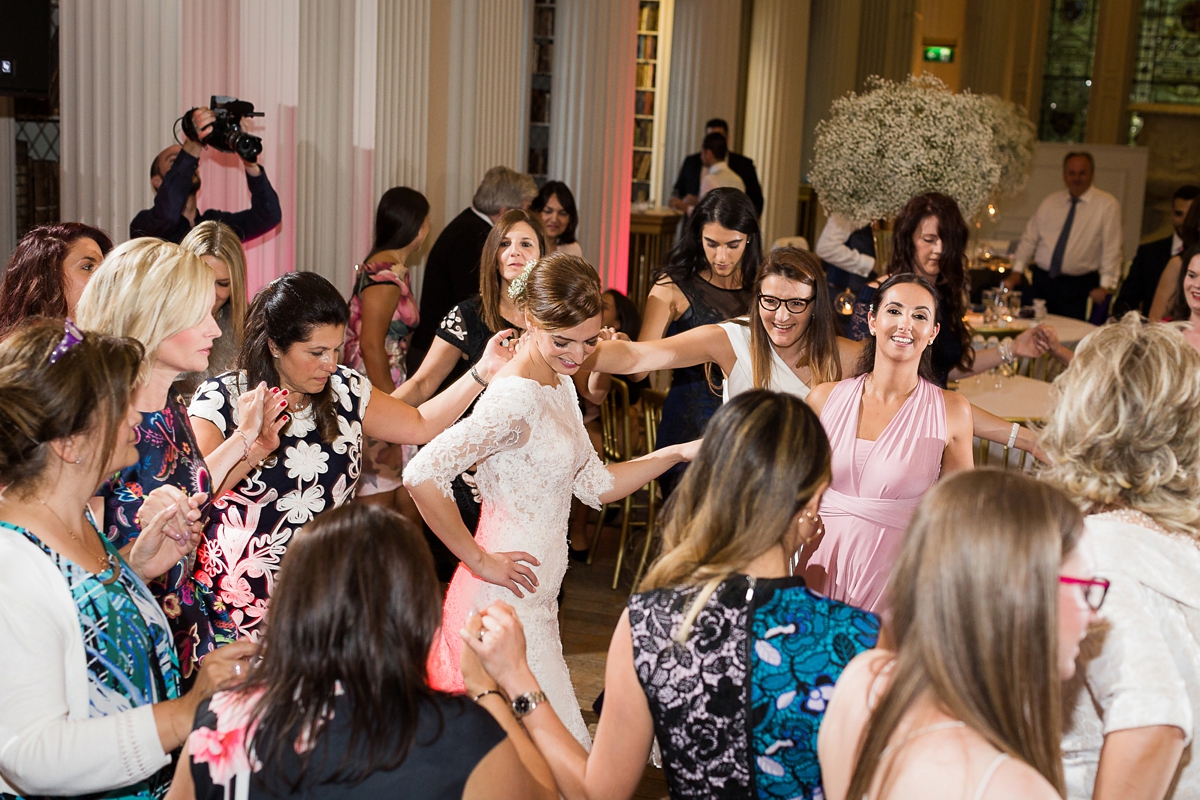 I would love to finish with a few lovely and inspiring words from Candida, about the blog.  This really resonated with me, thank you Candida!
"Love My Dress has such a huge variety of different styles of weddings, which inspired me to create something completely bespoke and individual for my husband and I.  There are no rules when it comes to planning your special day – it's about the two of you, telling your story – whoever you are!"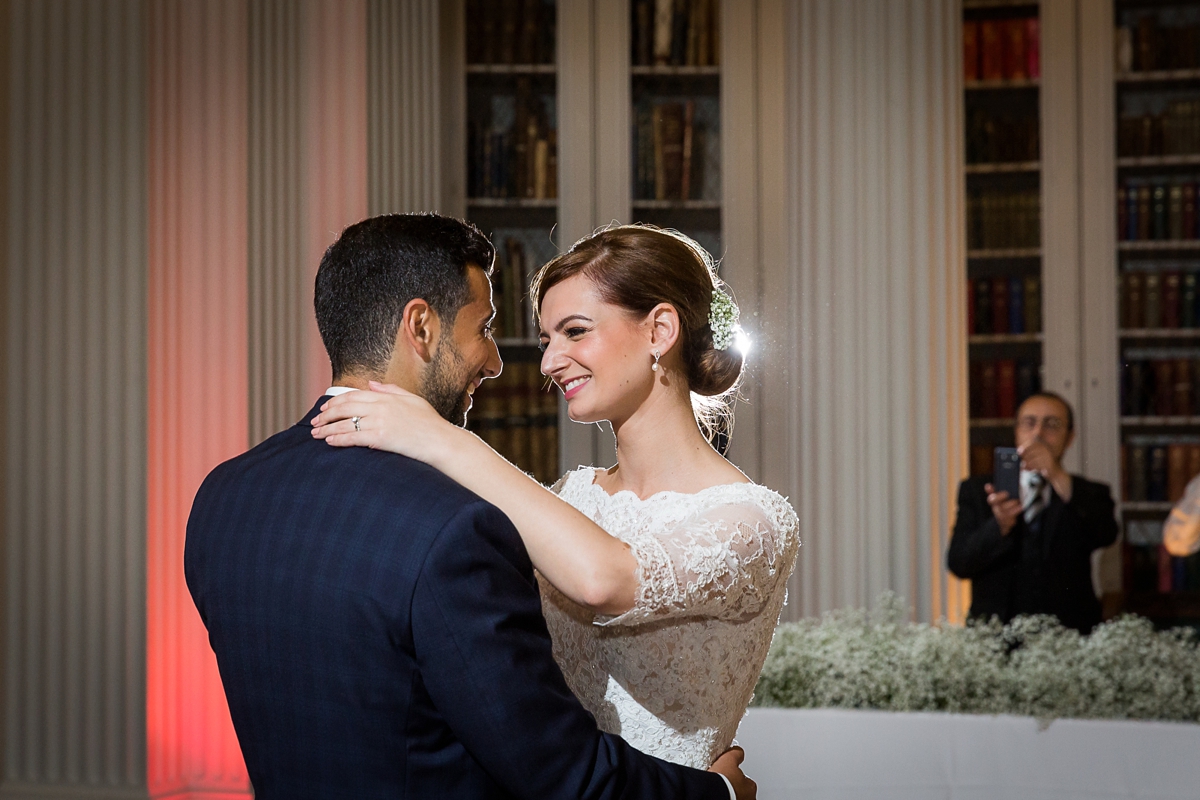 So many thanks to Candida and Dimitri for sharing all this with us today.  I'm just desperate for a trip to Edinburgh now…
Much love,
S x