How, lovely readers, can it possibly be a quarter of the way through 2018 already?  Its going by so fast.  If like me, you could do with a little bit of quiet slow time, take a few minutes to yourself today to read about this beautiful winter wedding by the sea, full of bohemian features and quirky features.
Amber, a business analyst and Chas, a customer manager in telecoms, married on the 28th of January 2017 at Polhawn Fort, Cornwall.  The couple met at school and got engaged at Lake Wanaka in New Zealand while travelling in a small campervan. The day was captured on camera by the fabulous Cat Lane Wedding Photography, and planned by Gemma Viant of Planning Elegance.
"Cat went to school with both of us and we had seen her photography business grow over the years. We always admired her pictures and knew she was always going to be the one to capture our wedding day.  She is an incredibly talented lady and captured our personalities perfectly.  Taking us down to the beach was a very special moment for us, the pictures are beautiful and she snapped away whilst we could talk to one another without being swarmed by a wedding party."
Images by Cat Lane Wedding Photography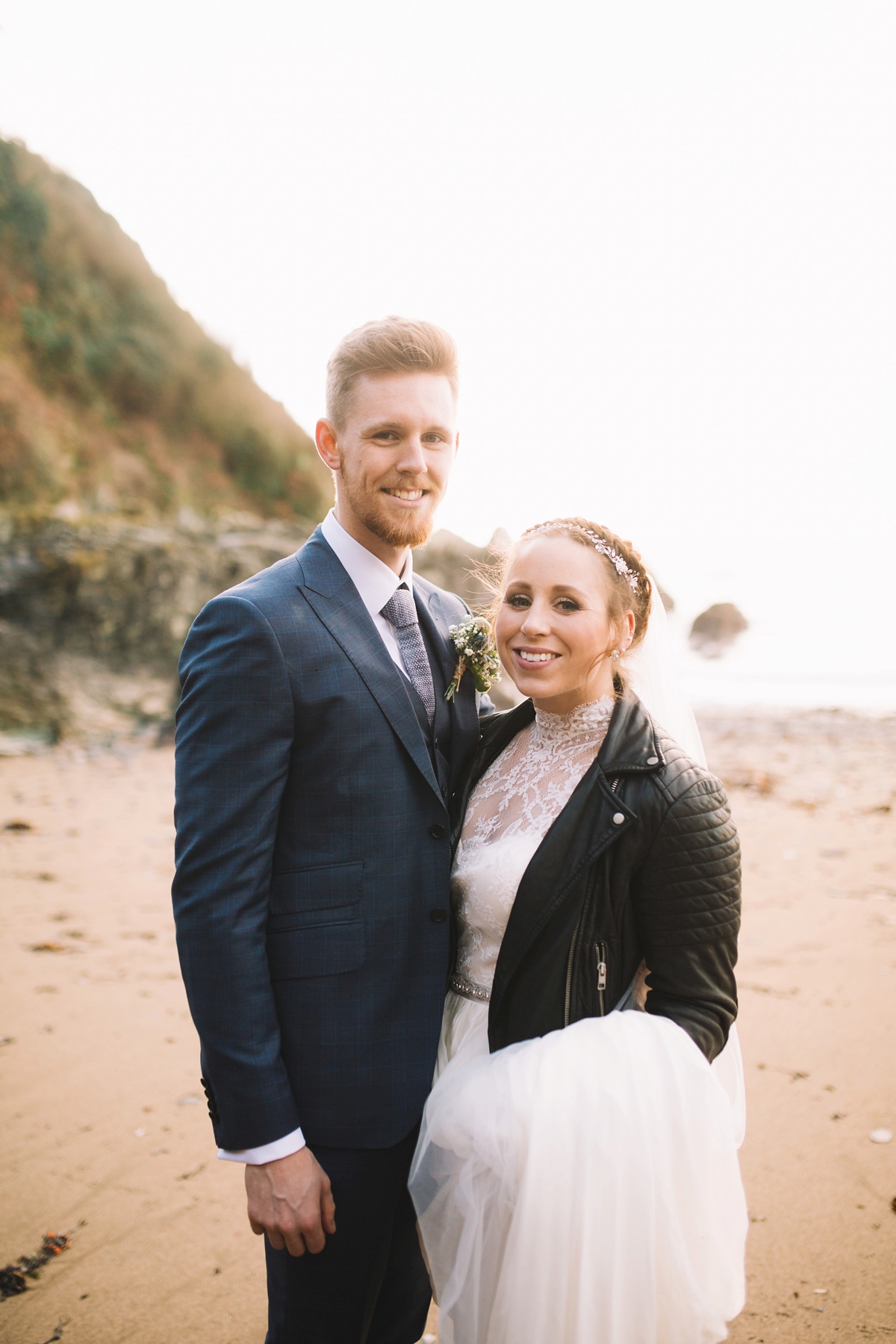 Amber looked beautiful in a long sleeved, high necked top, and flowing skirt by Catherine Deane, purchased from her studio in London.  To compliment the long flowing skirt she chose a full-length tulle veil (also by Catherine Deane).
"I dreamed of being a wavy-haired boho bride but I had a horrible moment when the dream dress I tracked down didn't suit me.  As soon as I walked into Catherine Deane however, I knew this was the place where I'd find the dress.  It was modern but comforting and I couldn't resist the soft skirt and long sleeved lace.""A sea theme was needed – not only was our venue right on the coast, but our favourite places are too and I love blues, greens and greys.  I opted for a natural bohemian style with rustic and messy flowers and chivari chairs.  From here, we added our inner child.  We met with Kelly from White Cottage Weddings for our stationery and she blew us away, creating sea animal characters which resembled our personalities (and a cheeky sloth) that helped inspire the rest of our styling."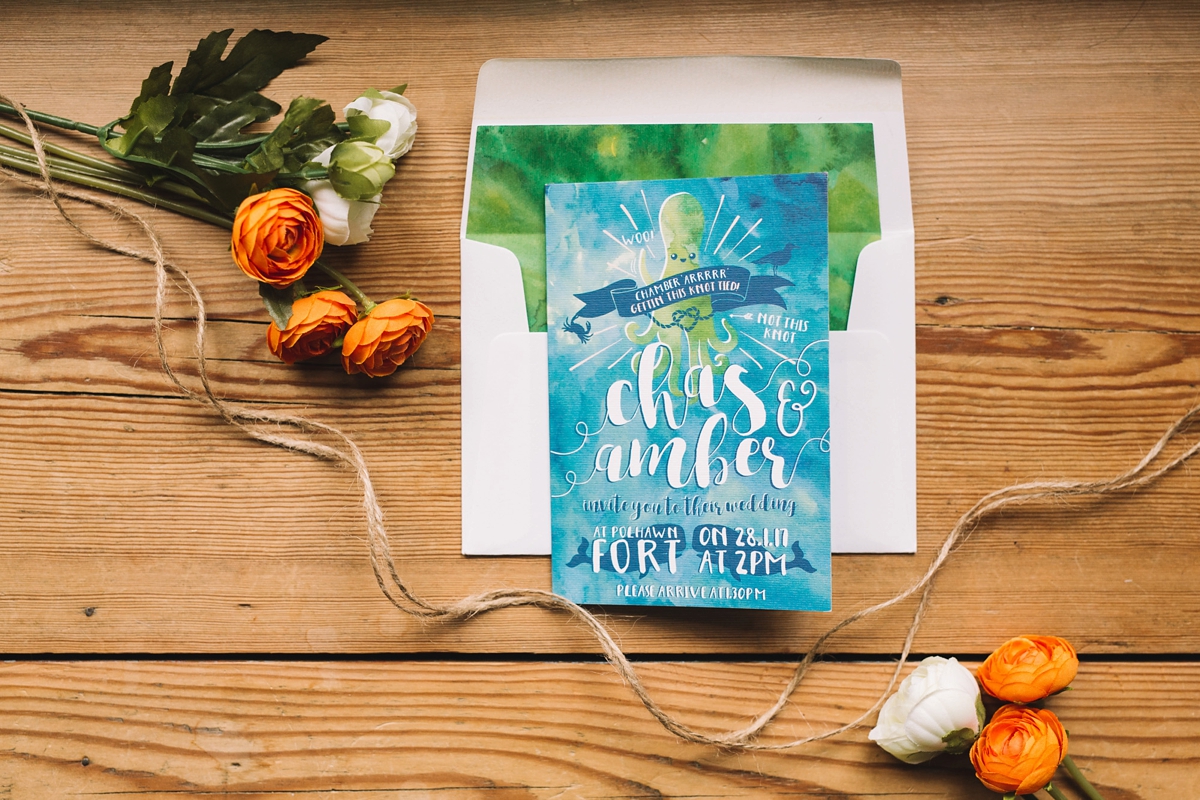 Floral arrangements and bouquets were the work of Ruth Andrews Flowers.  I especially love the bouquets, in shades of peach, yellow and cream.
"When we arrived on Friday evening, we were taken aback by the beautiful flower chandeliers that Ruth made for us, packed with lots of leafy foliage and roses.  It was just want I wanted – messy, rustic and green."
"I went to Nicola Donati for alterations.  He and his wonderfully talented team have a small shop around the corner from Harvey Nichols.  They made me feel like the most beautiful bride and cared for my dress as if it were their own.  Nicola spent hours with me altering the style until it was perfect."
"My Valentino shoes helped to channel my inner rock chick, they matched perfectly with my leather jacket which I was desperate to wear."
"One of my wonderful friends also loaned me her white Hunter wellies for our photos on the beach and I also had a pair of sparkly Vans for the evening – I live in Vans trainers normally."
Amber wore her hair in a bohemian braided up-do by her bridesmaids, after an evening of tuition by Amanda Murdoch from Joseph's Experience in Flitwick, Bedford.  Make up was by Adele Hack, who gave Amber the natural look she had dreamed of.
"Along with a good giggle, Amanda taught us all the hints and tips behind the perfect braid and long lasting curls. We had such a fun evening and the hair went without a hitch on the day."
"Adele gave me a lovely natural look and my skin looked so soft and glowing.  She was so welcoming and lovely and talked me through what she was doing, making sure it wasn't too much for me.  After a tiring day it still looked perfect."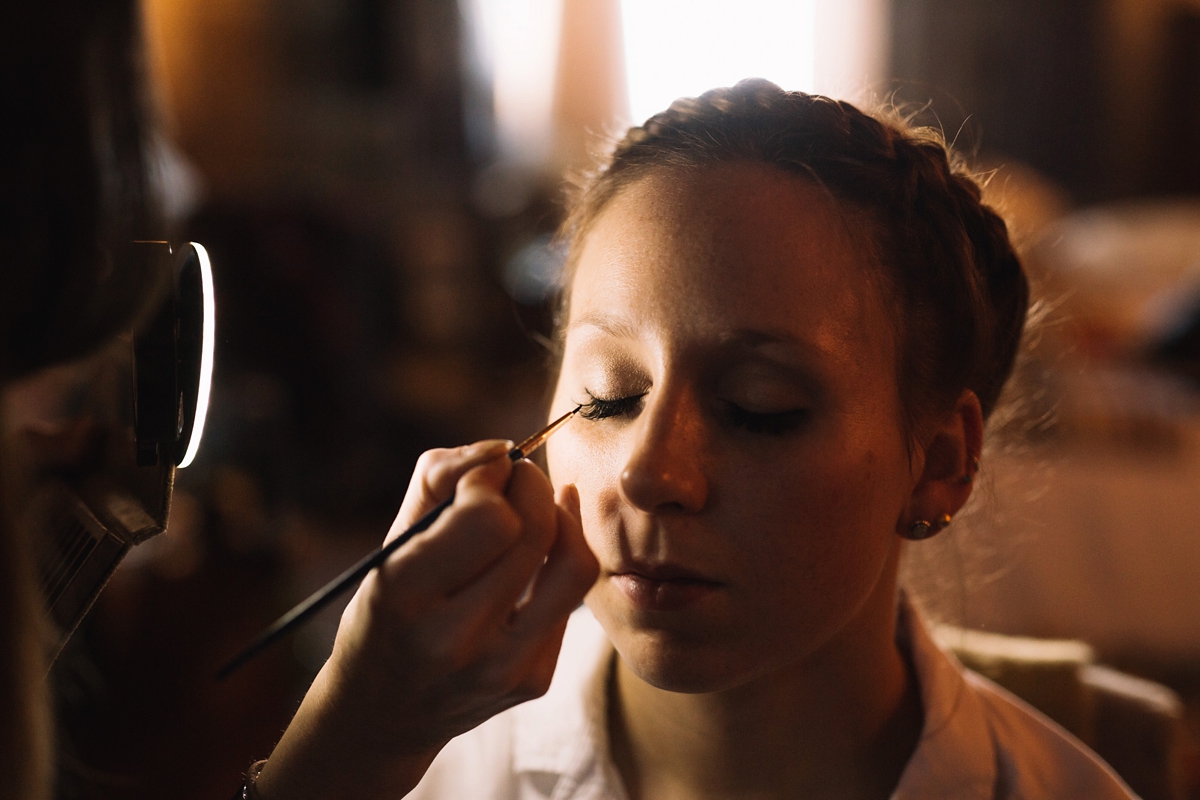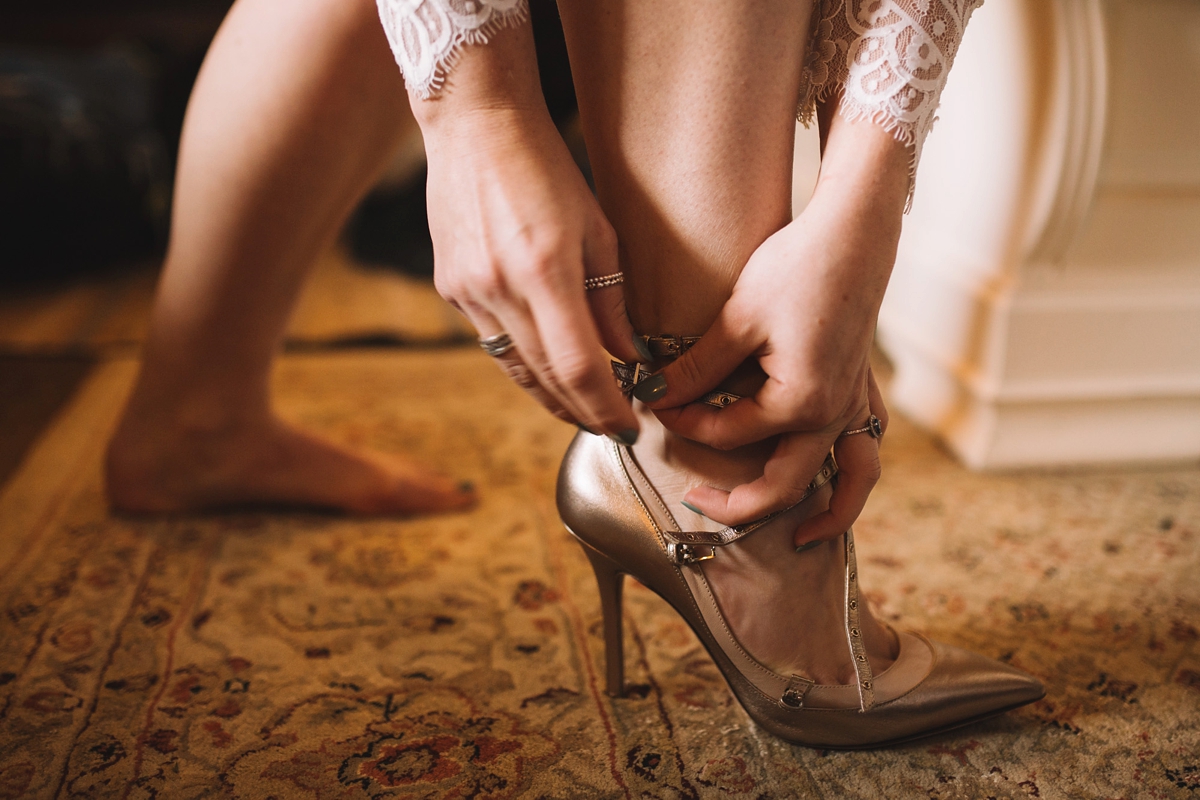 "I couldn't wear much jewellery as my dress had a high neck and long sleeves, but I wore my Pandora rings that I always wear, and my many earring studs.  I also asked my sister in law to bring back some cute BHLDN earrings from the U.S. which gave me the little colour pop I wanted."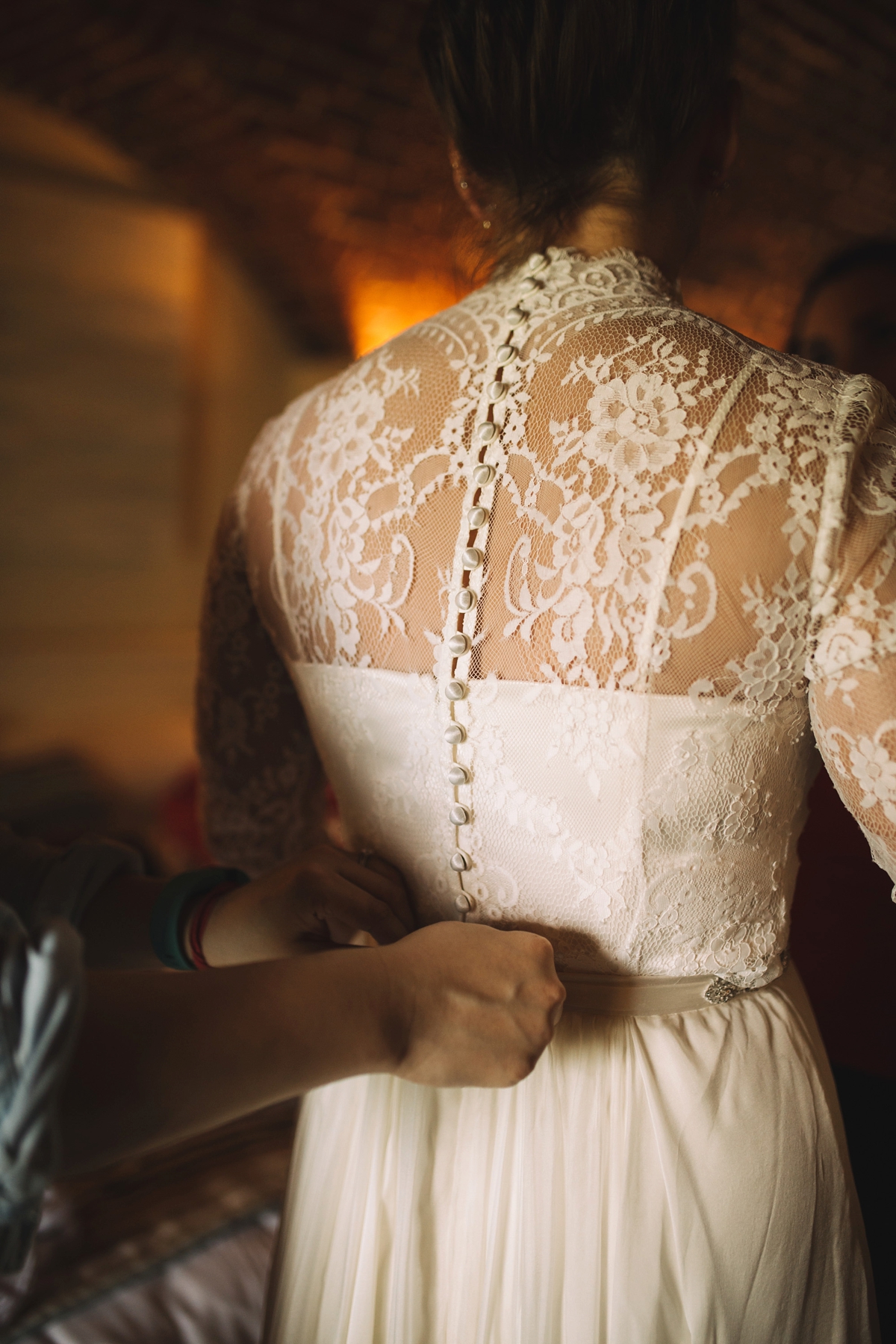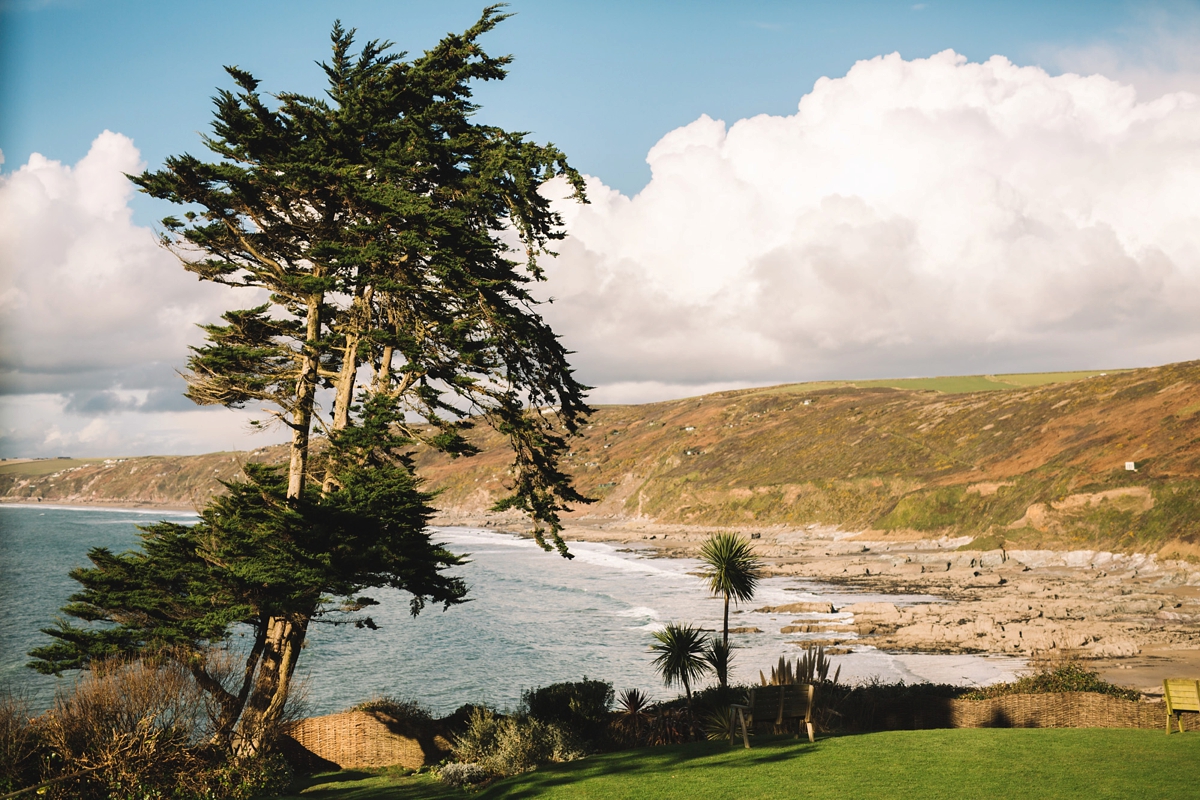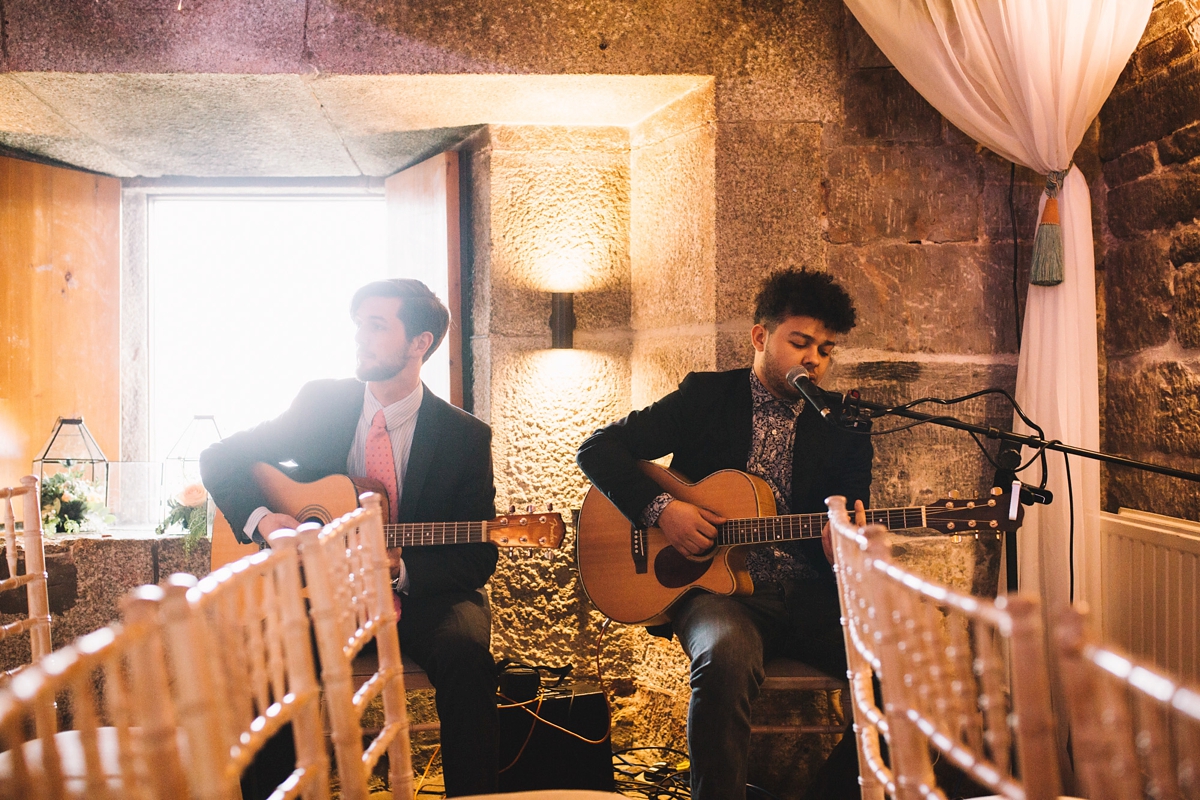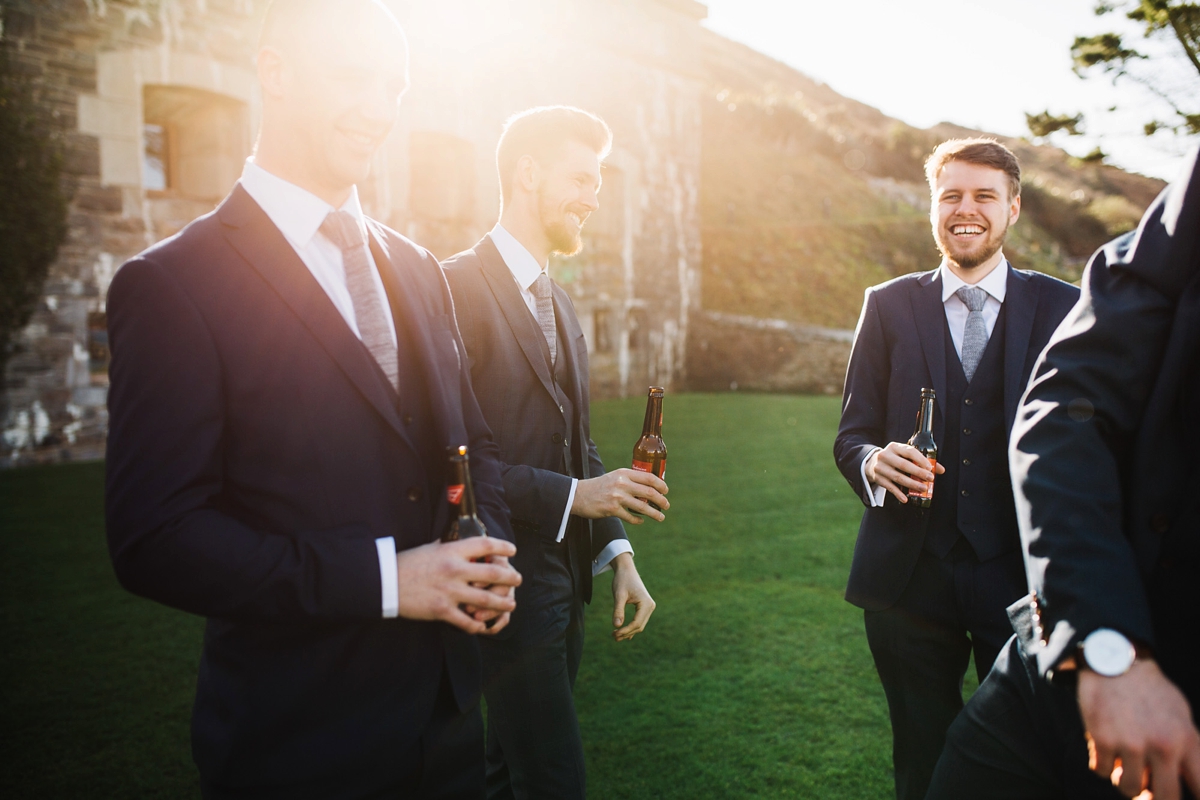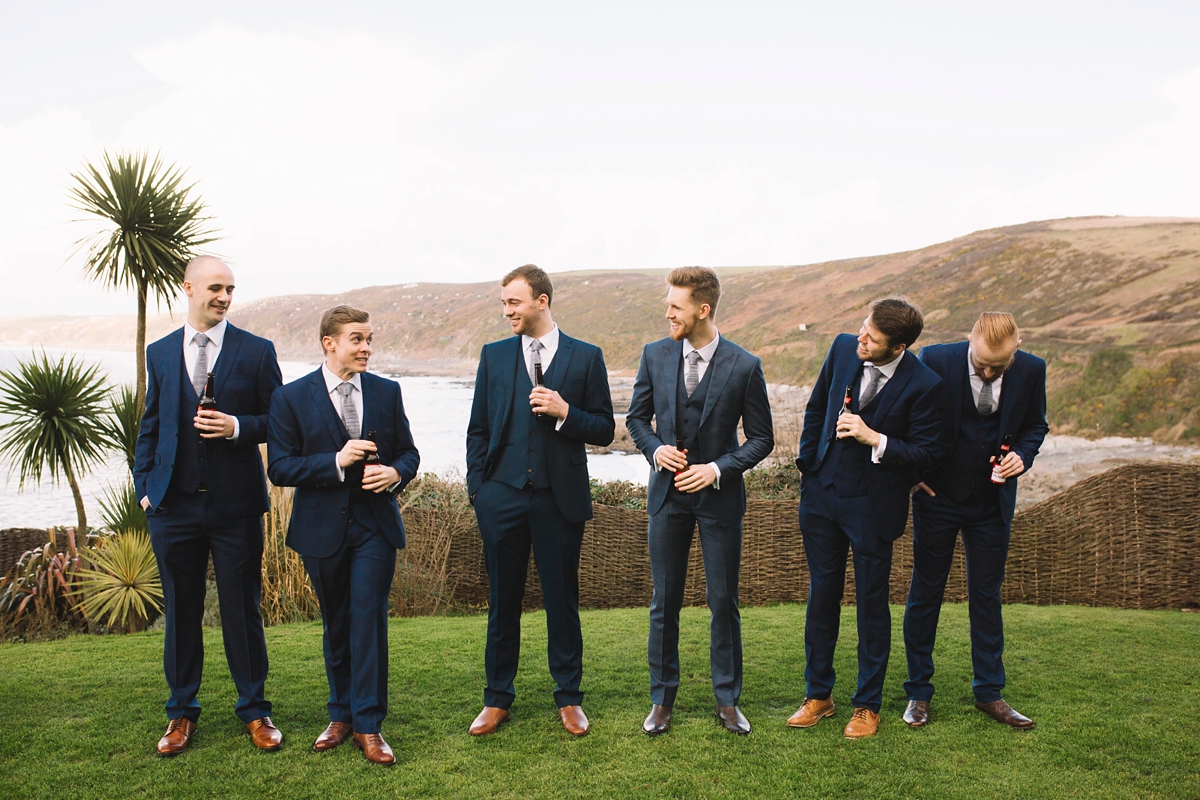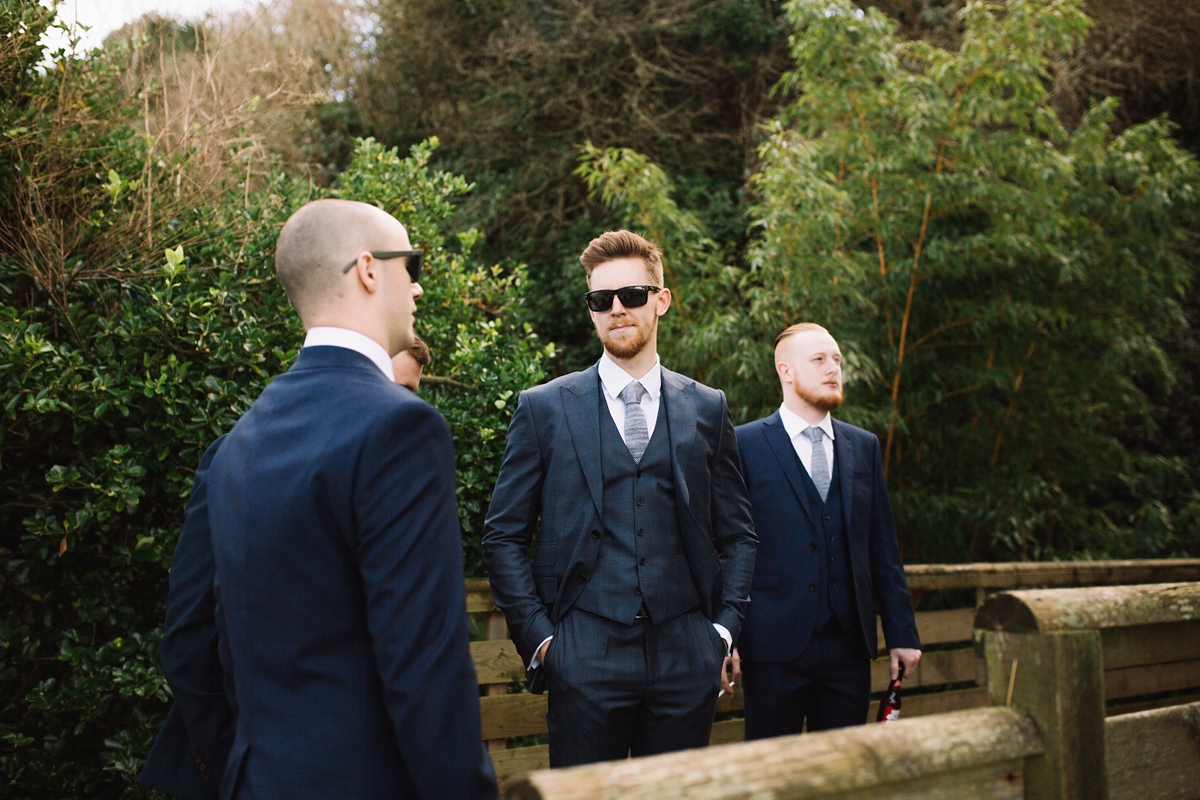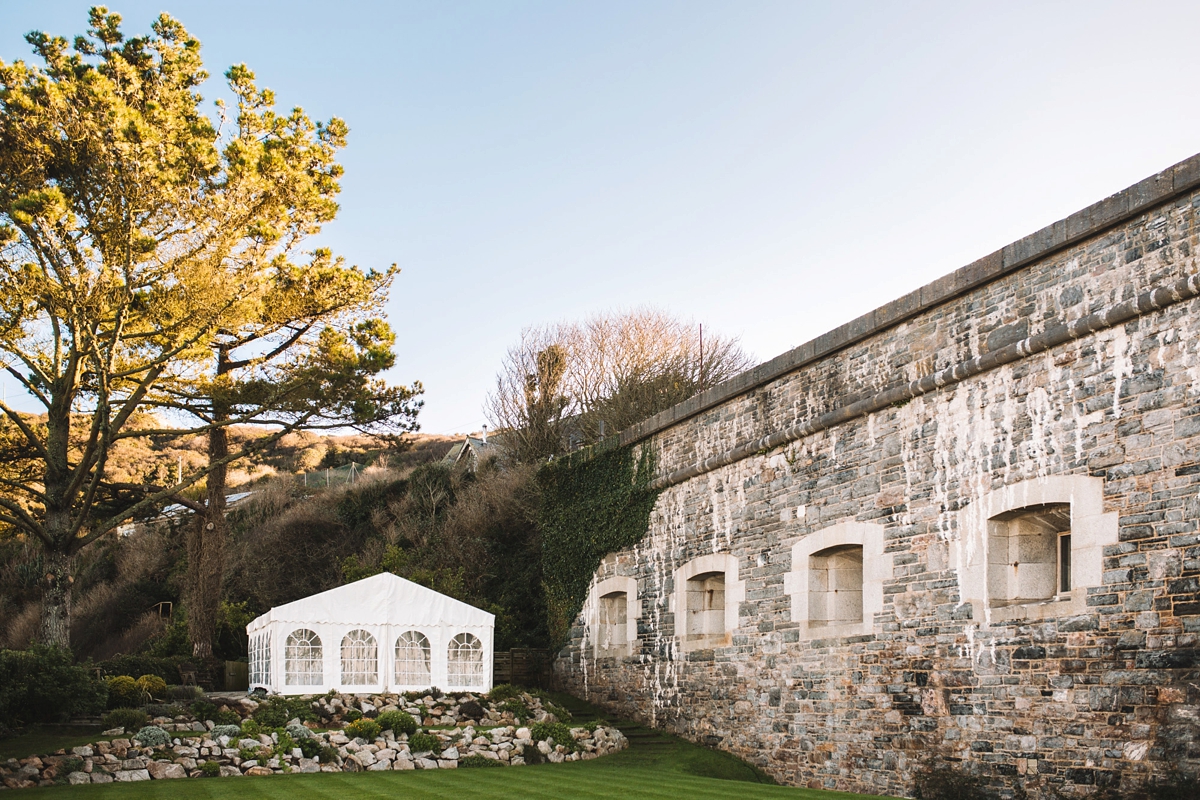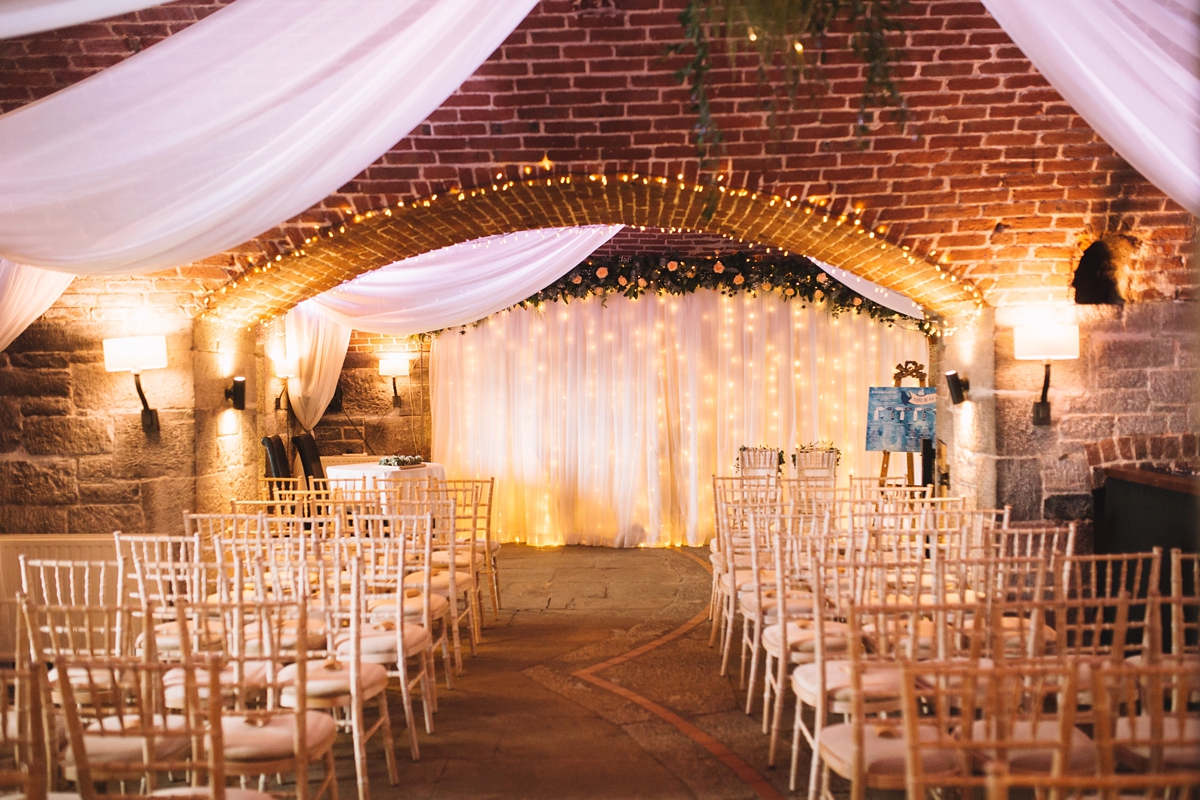 Chas looked very smart in a bespoke blue grey and green checked suit, from Gio Caruso paired with a grey knitted tie and custom cufflinks.
Amber walked down the aisle with her dad to an acoustic version of 'Kiss Me' by Sixpence None the Richer, played by band 'Brotherly Love'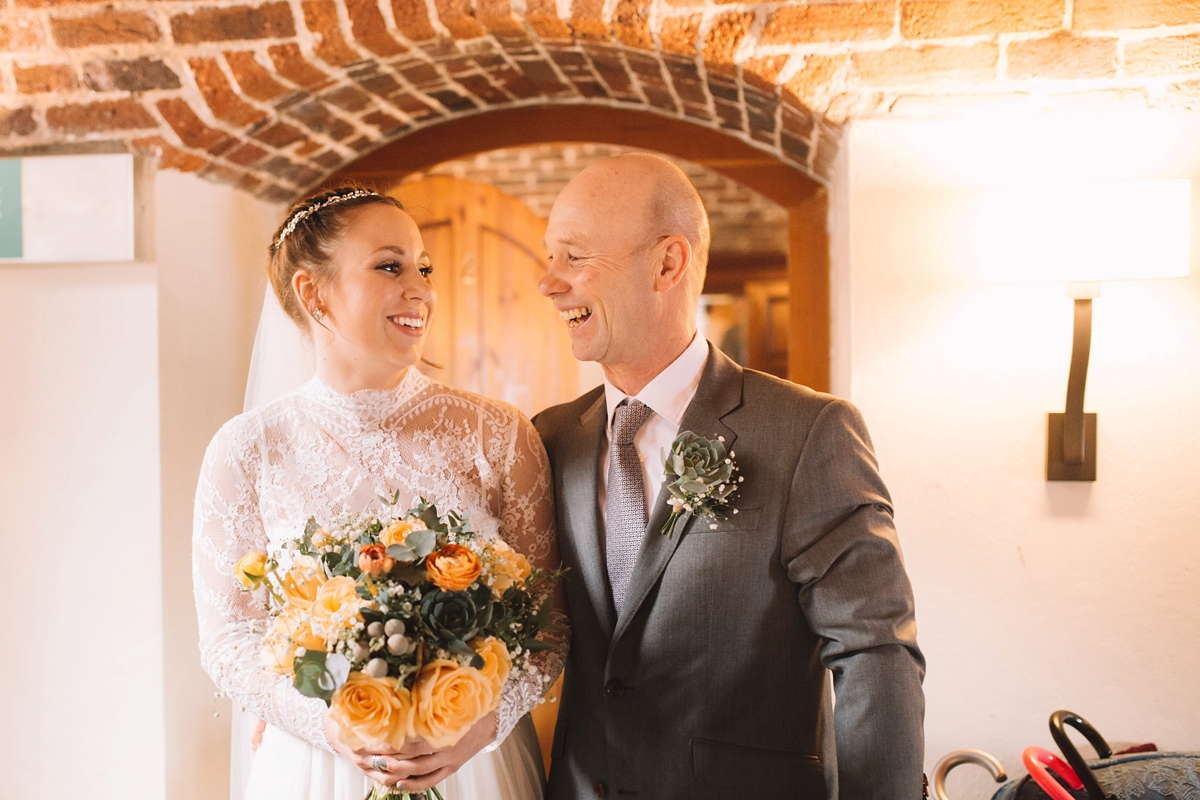 "We paired up our bridesmaids and groomsman to walk first.  It was a nice touch as they were all great friends or couples."
"We wrote our own vows, mostly promising to keep putting up with one another!"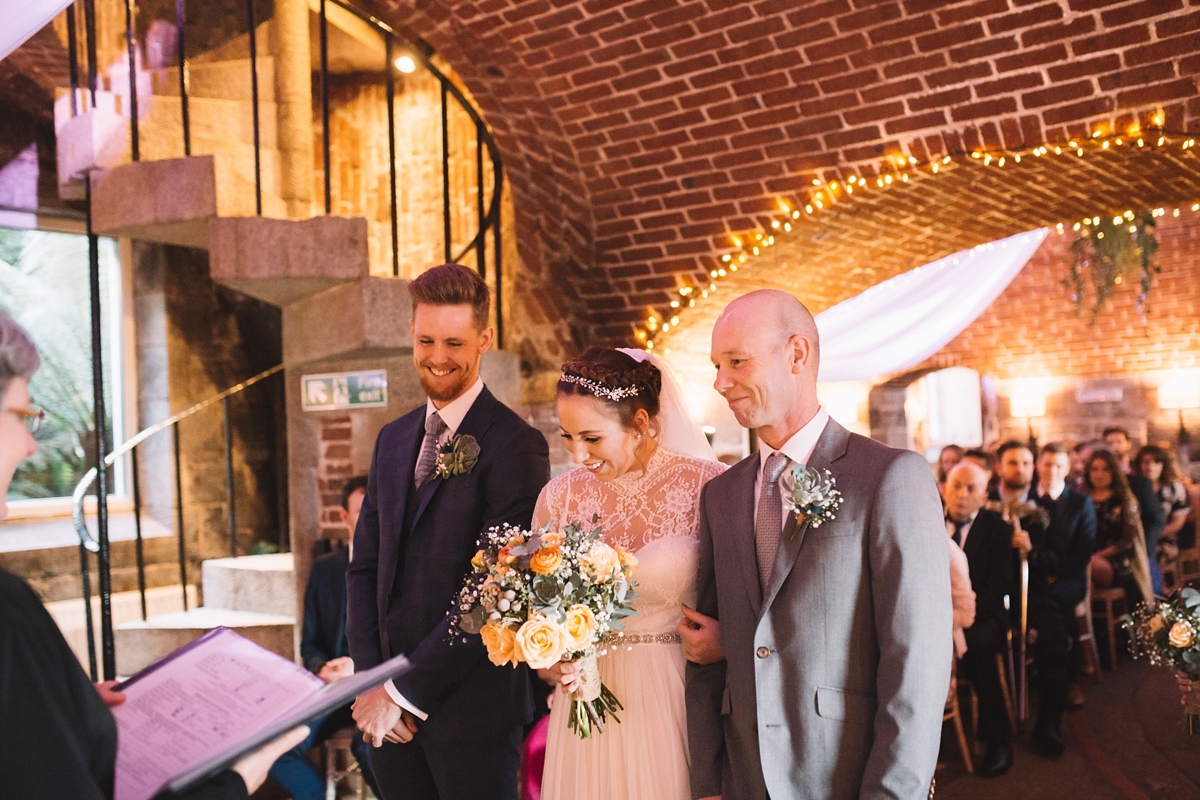 To cement their promises, Chas and Amber exchanged rings purchased from James Veale, who had been recommended by a friend.
"James' customer service was brilliant – he visited us on our first consultation and once he'd sent us over copies of his designs, he made us actual 3D plastic versions that we could try before he went ahead with the final versions."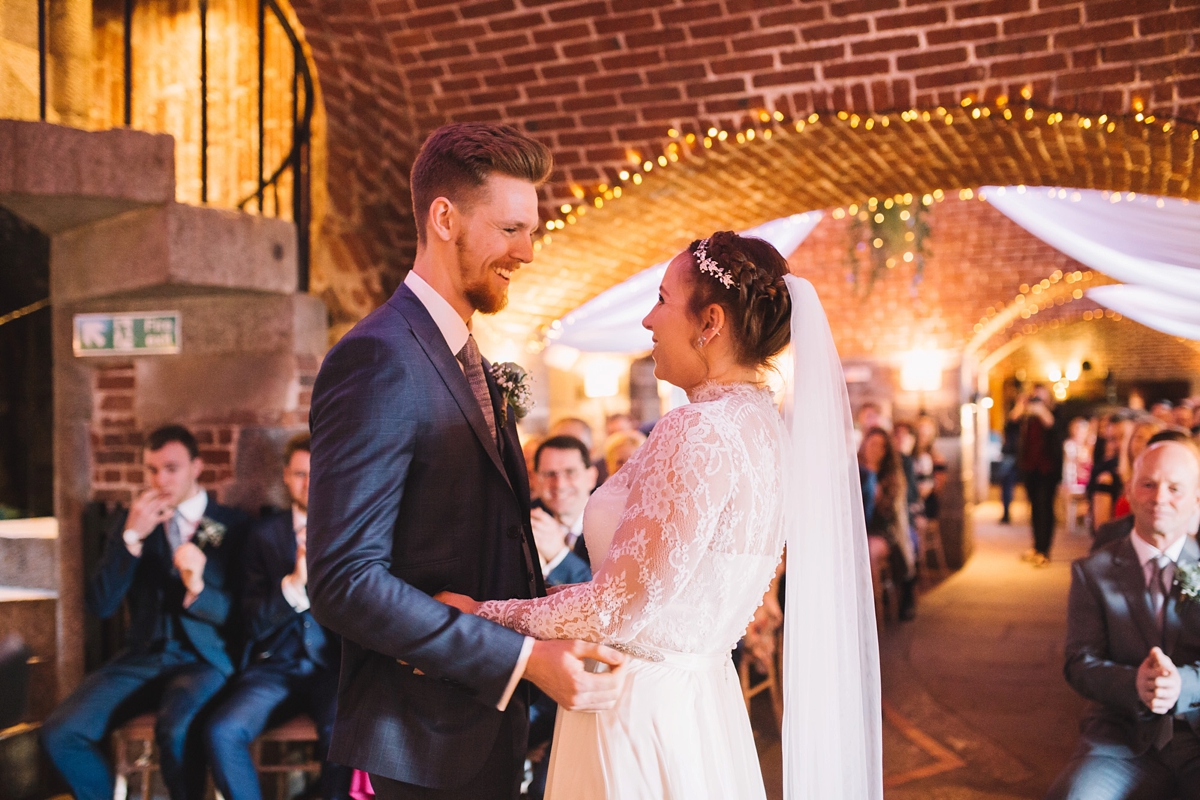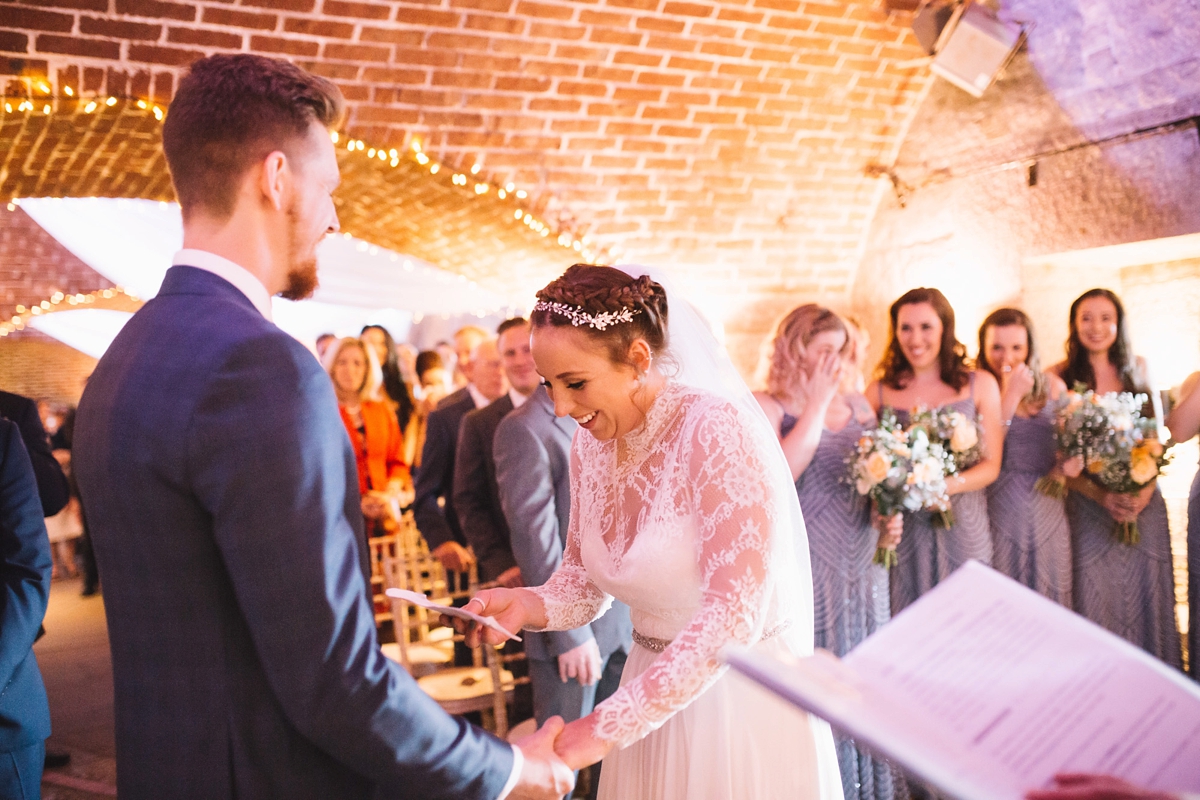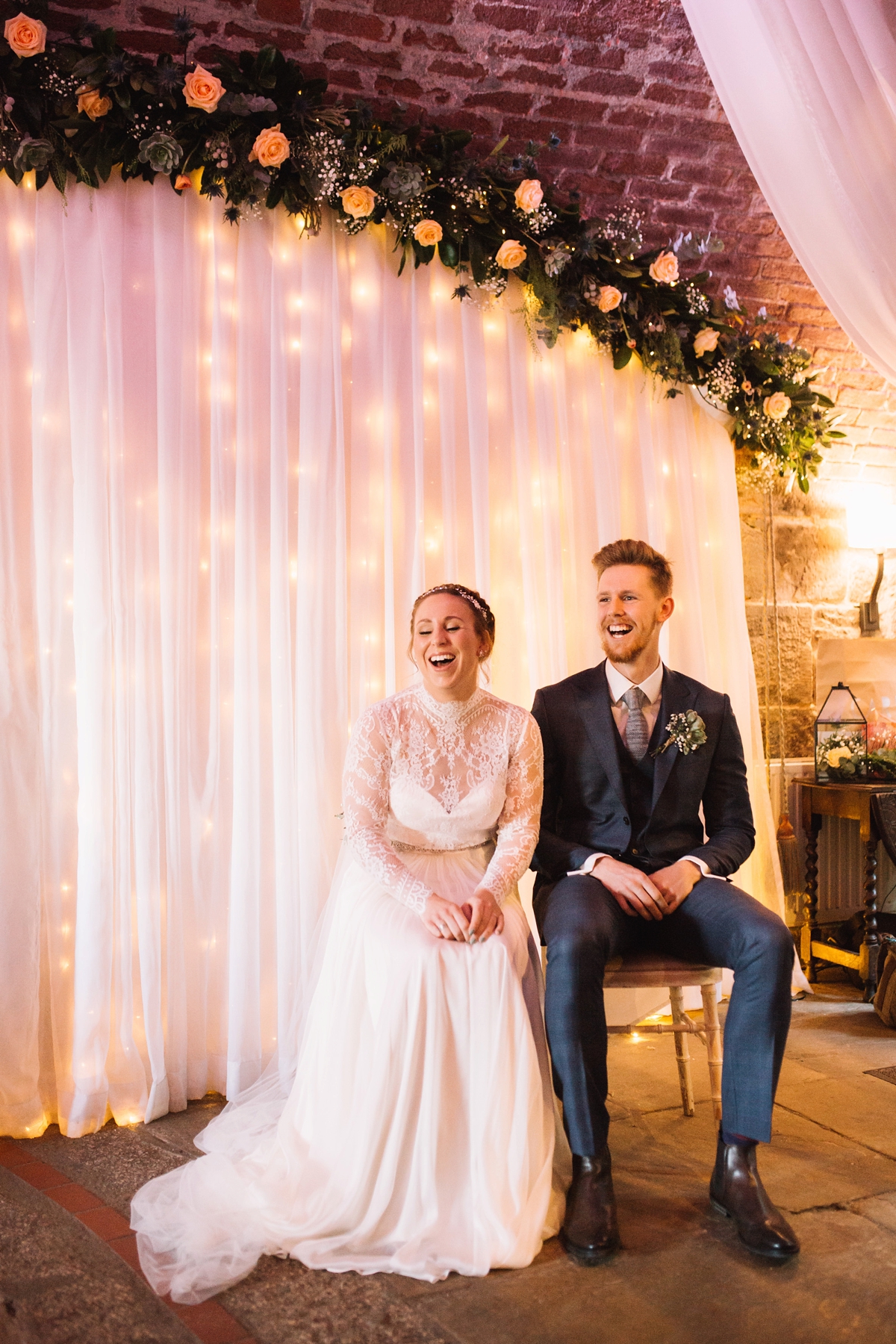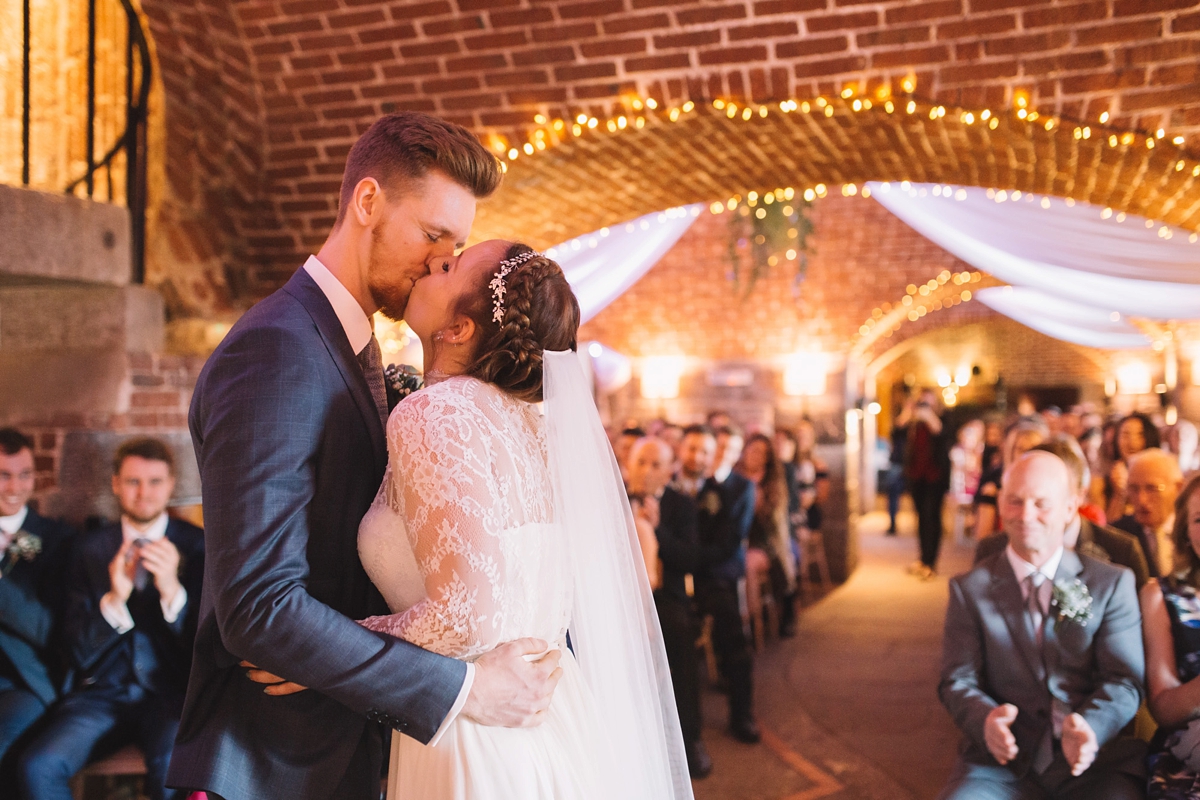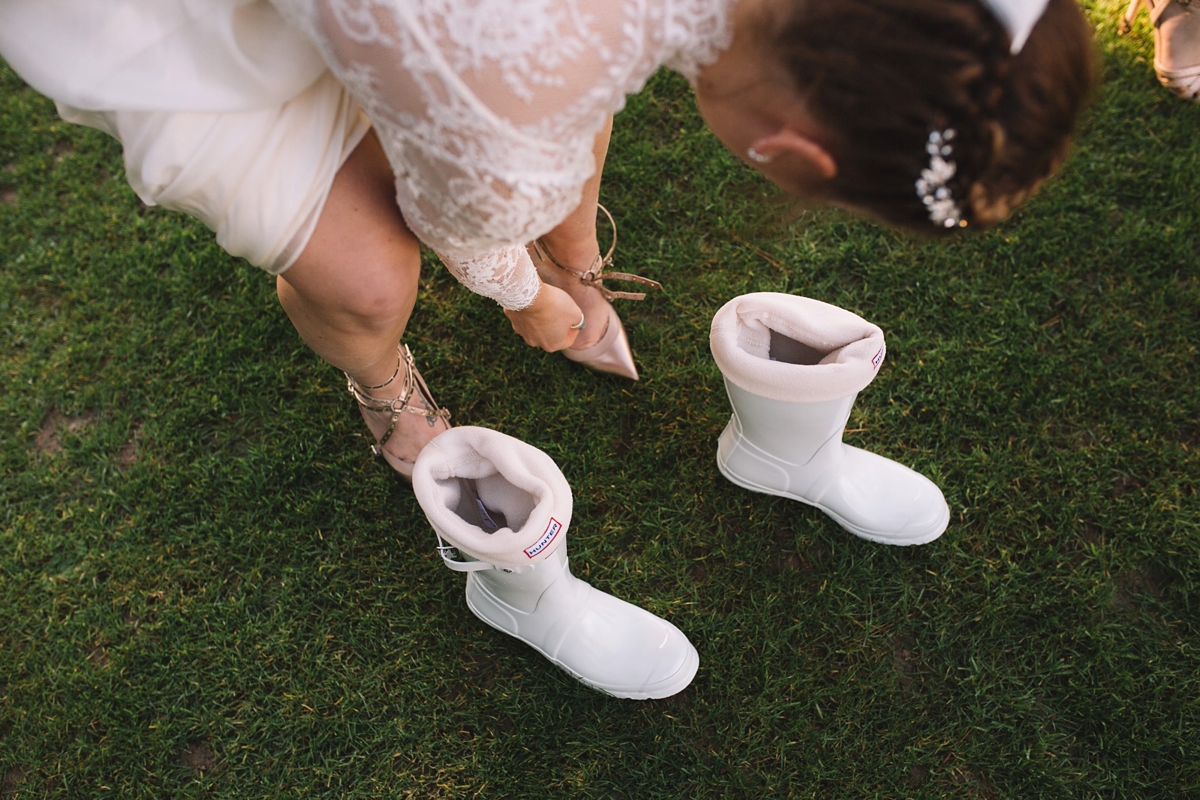 "The fort was beautiful, had its own beach and was quirky and magical.  When we visited, despite an almighty storm occurring, it was more than we imagined.  Inside it was cosy and warm, and the storm just made it even more atmospheric.  On the actual day, the weather was beautiful and we had double rainbows and a perfect view out to sea."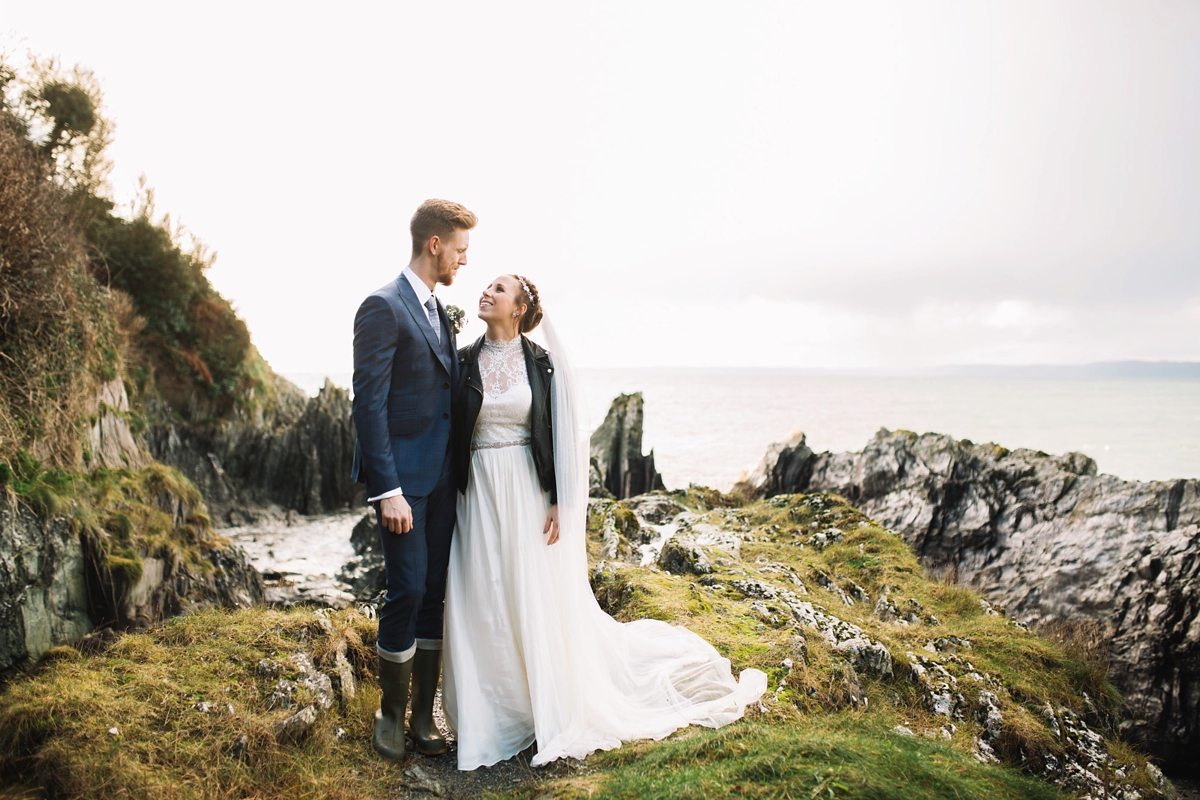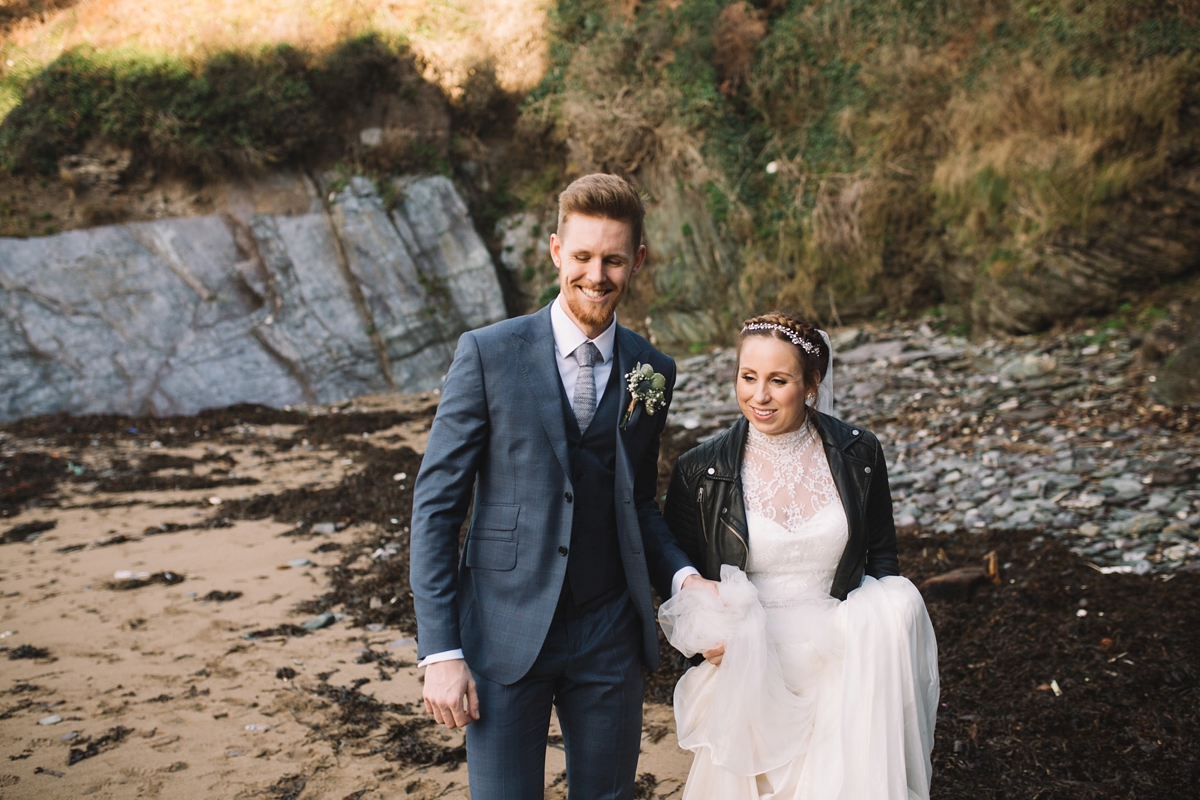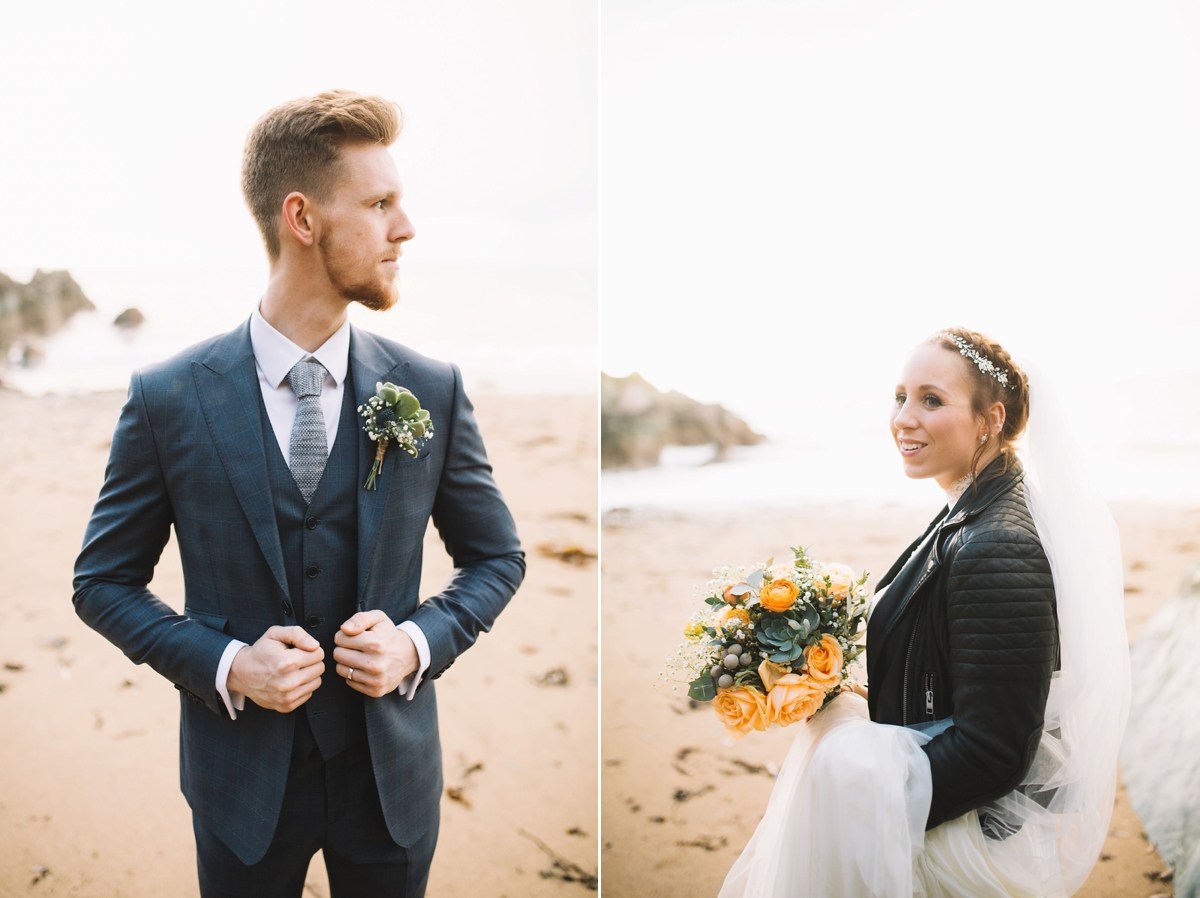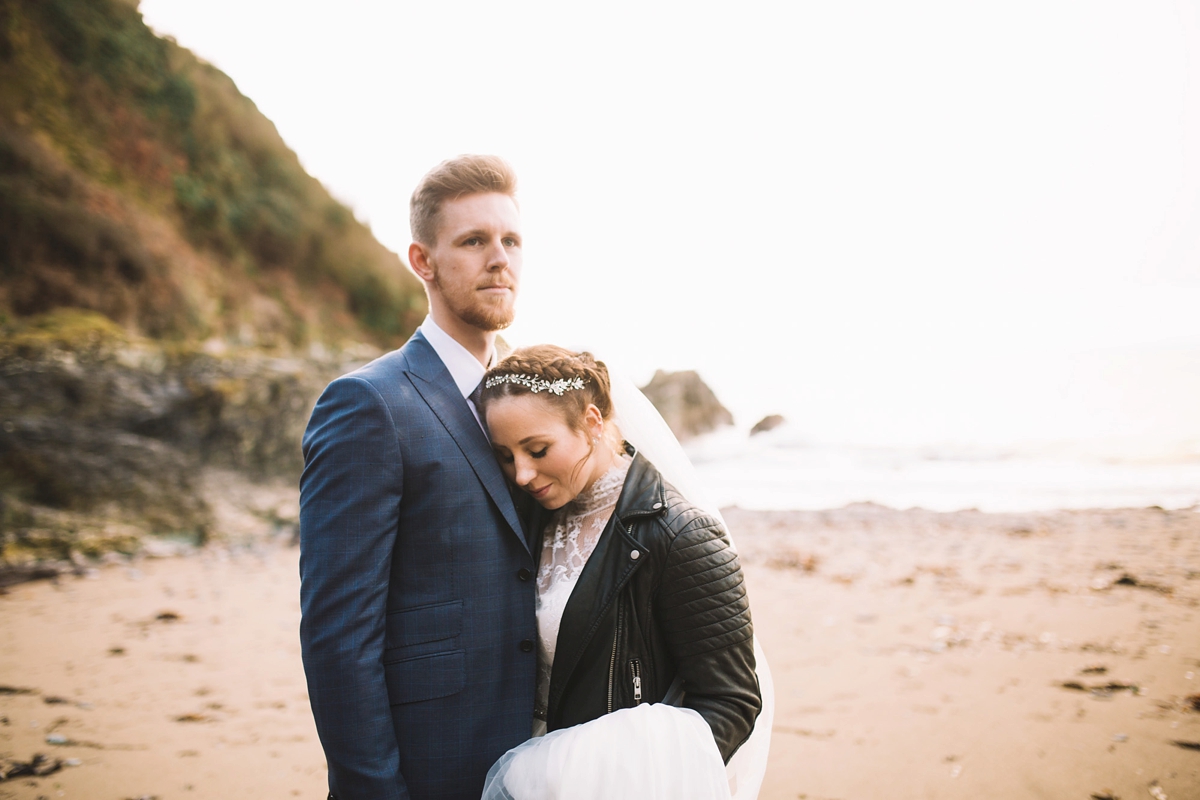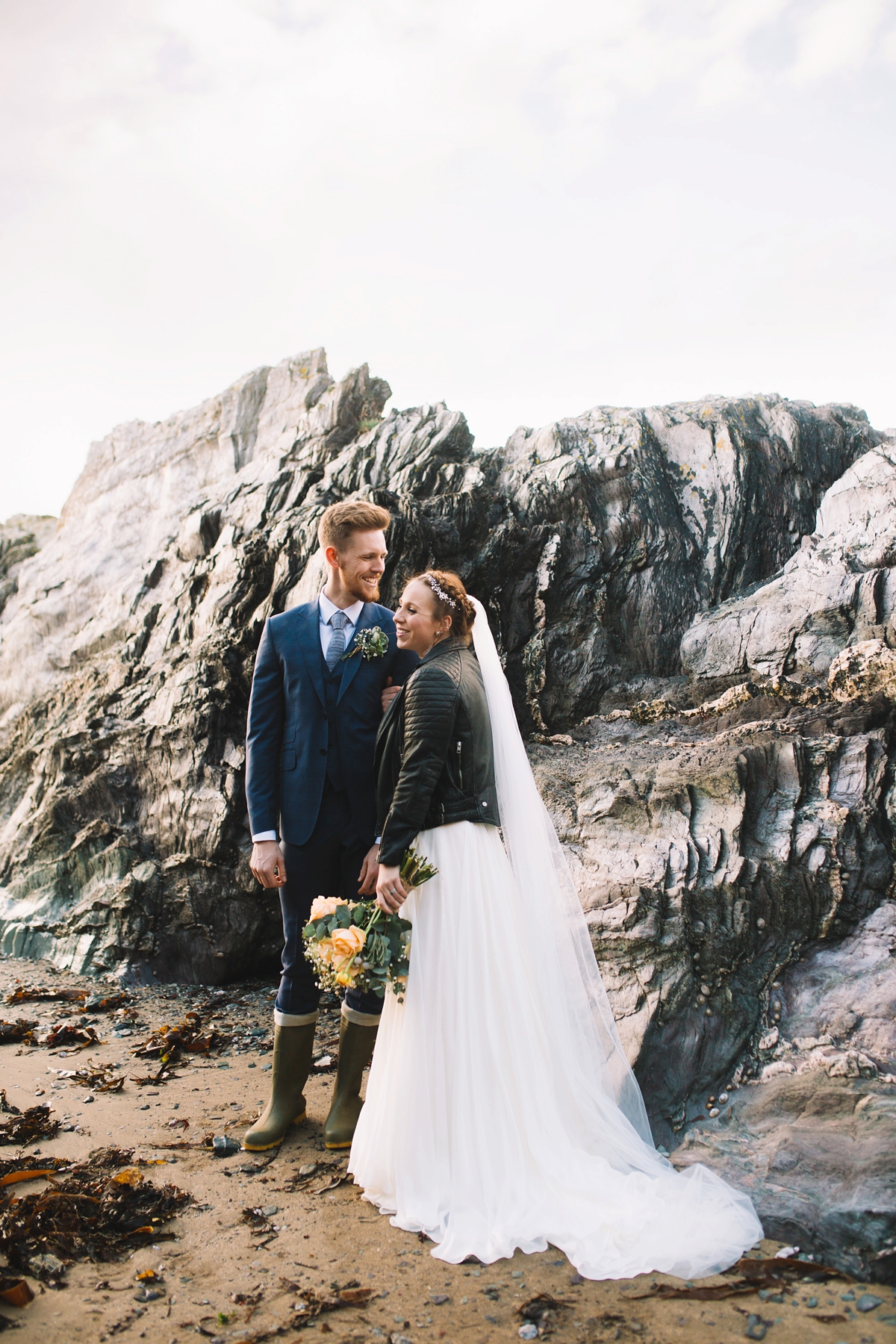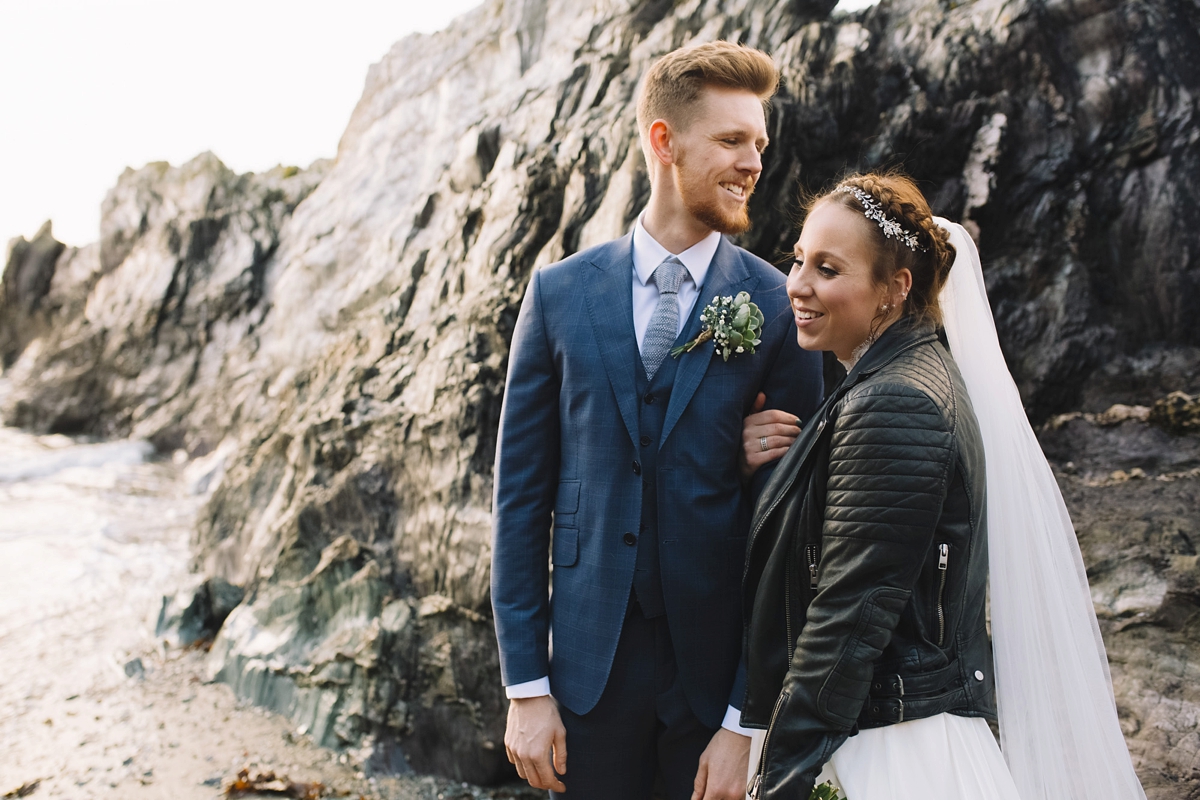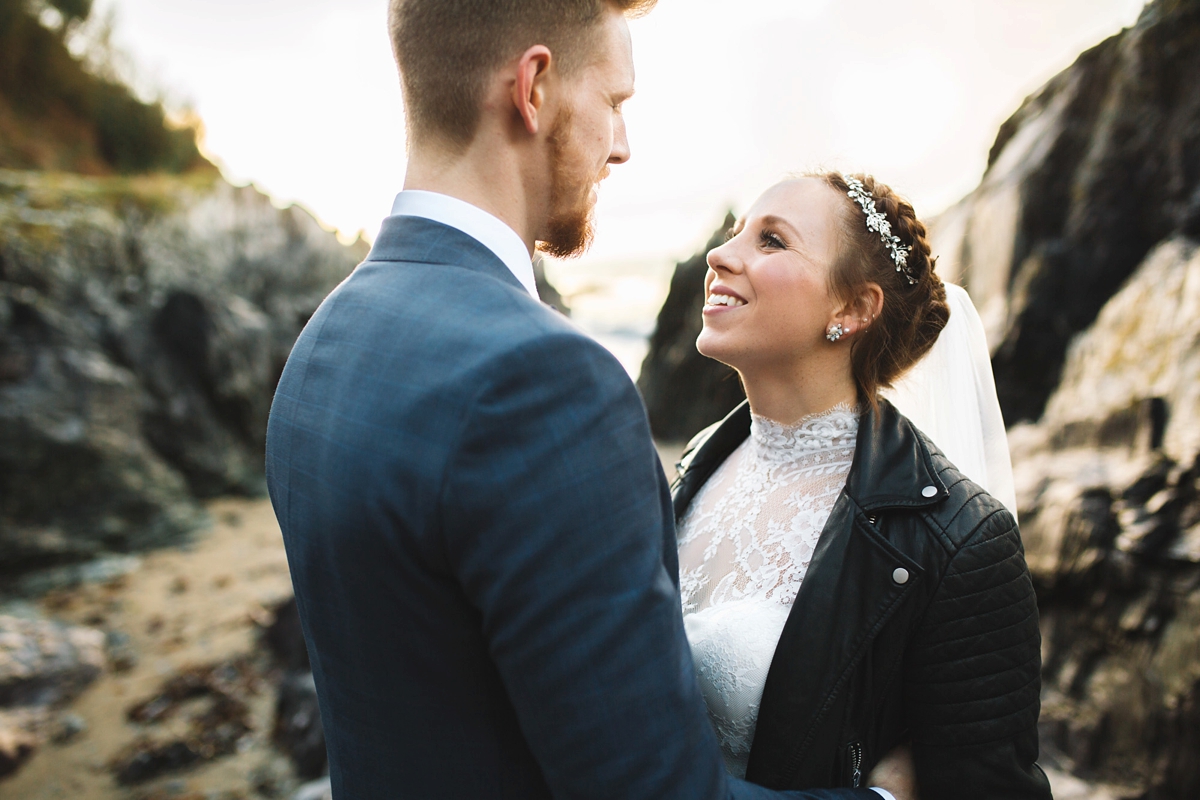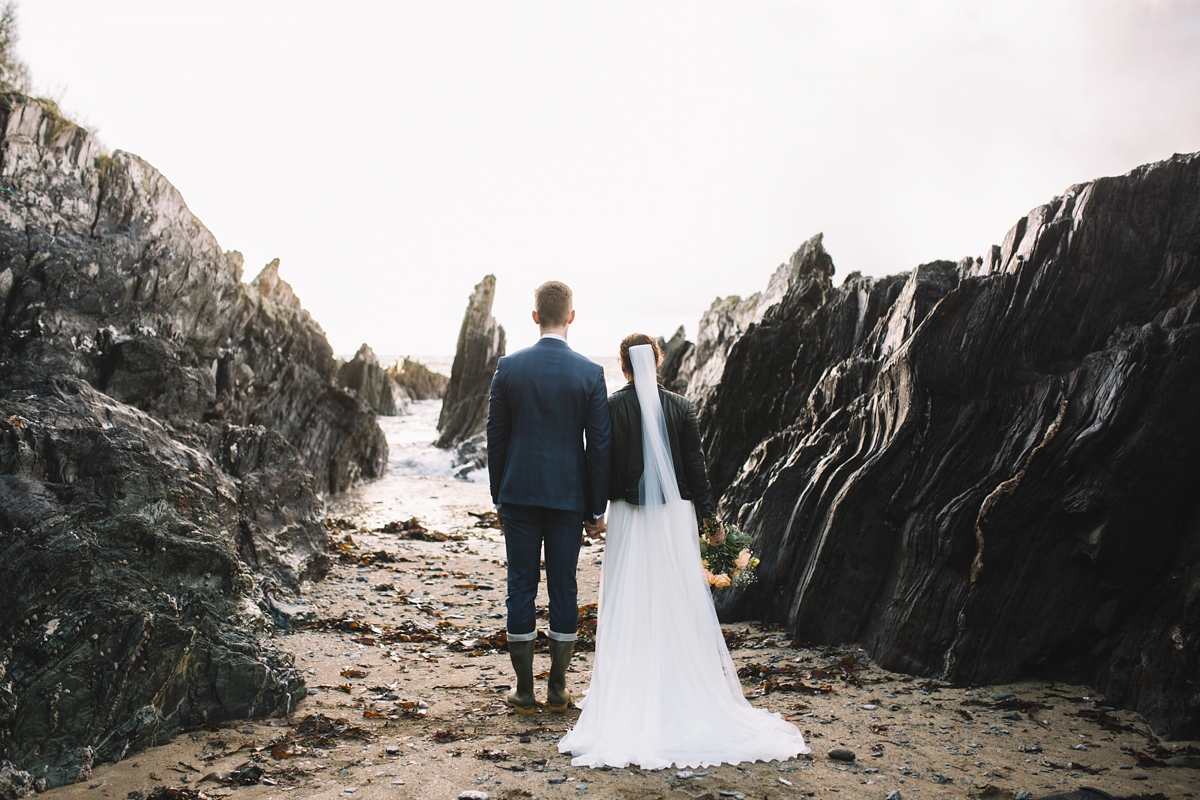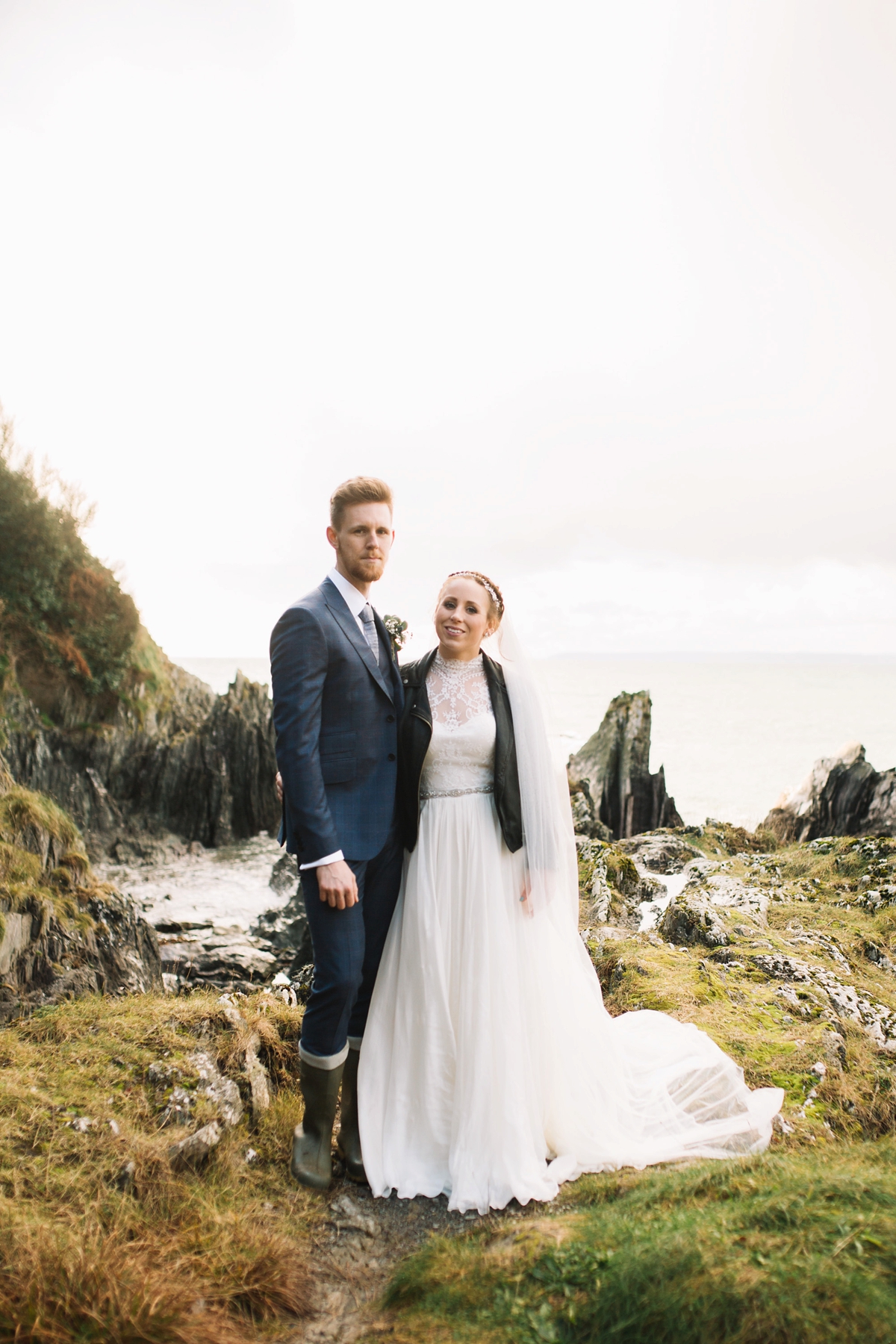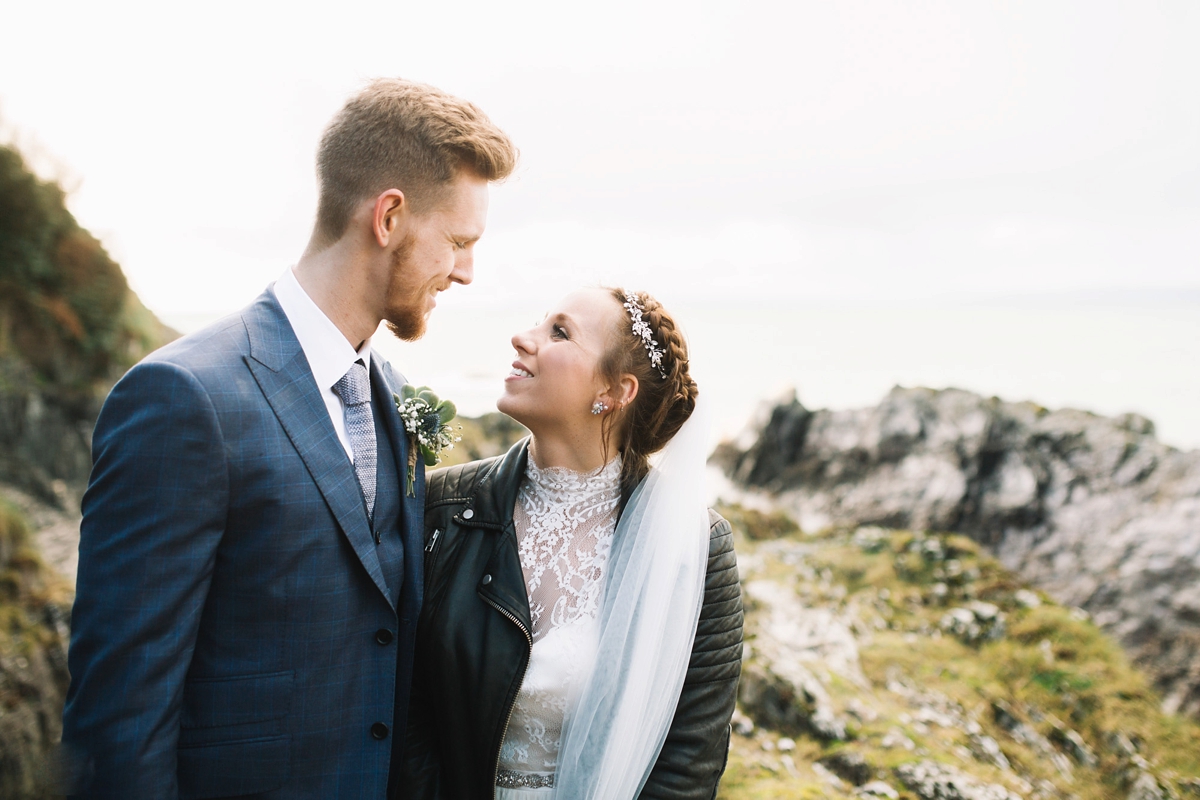 The bridesmaids looked glamorous in grey Adrianne Pappell gowns, with scallop shaped beading which perfectly echoed the coastal surroundings.  For outside photos the ladies wore matching faux fur coats, while Amber rocked her leather jacket on the beach.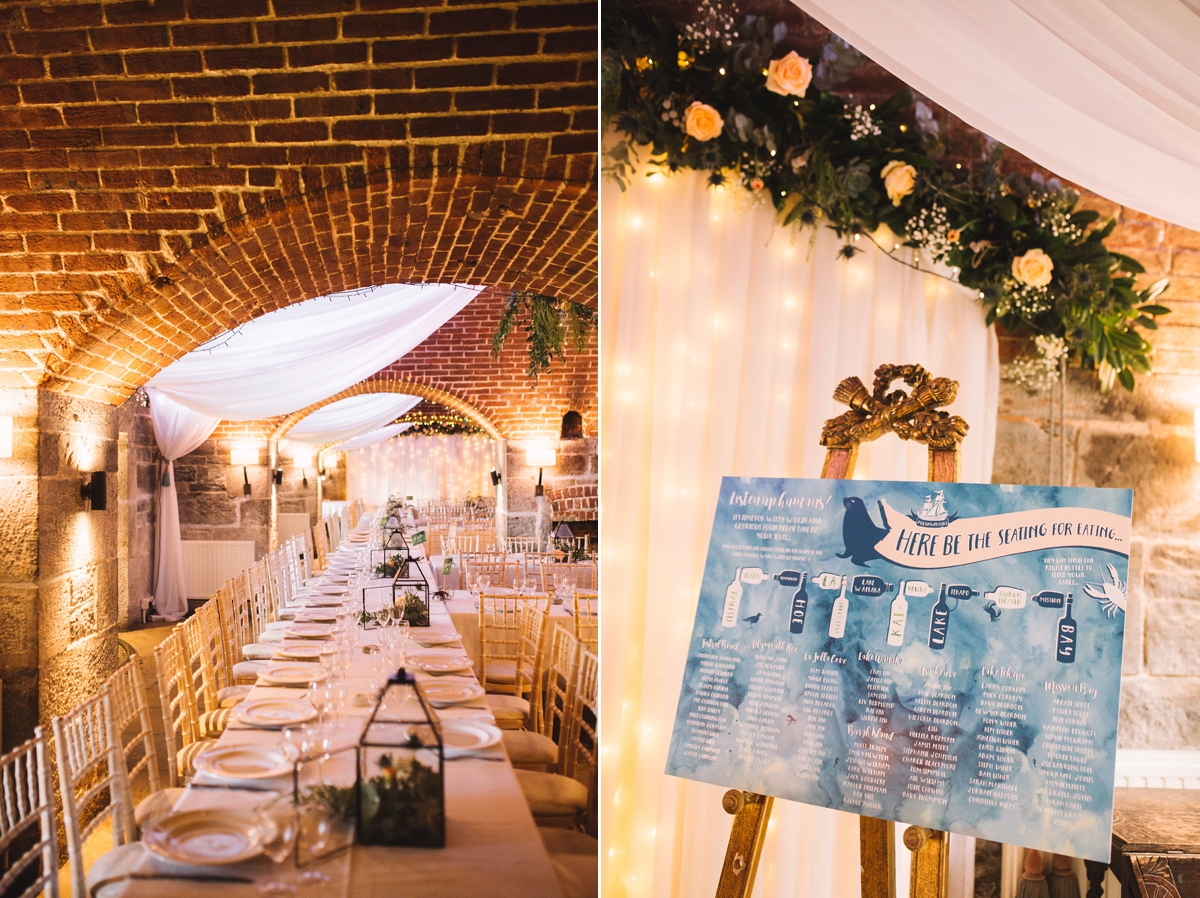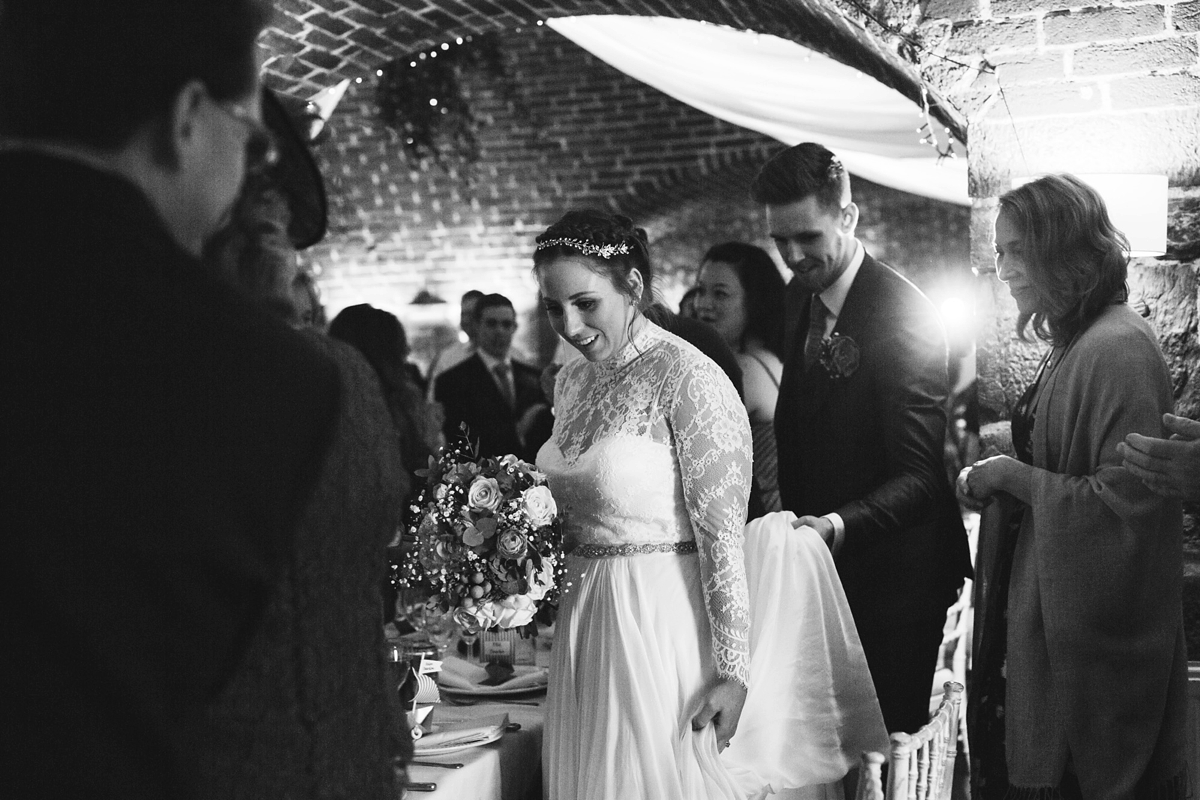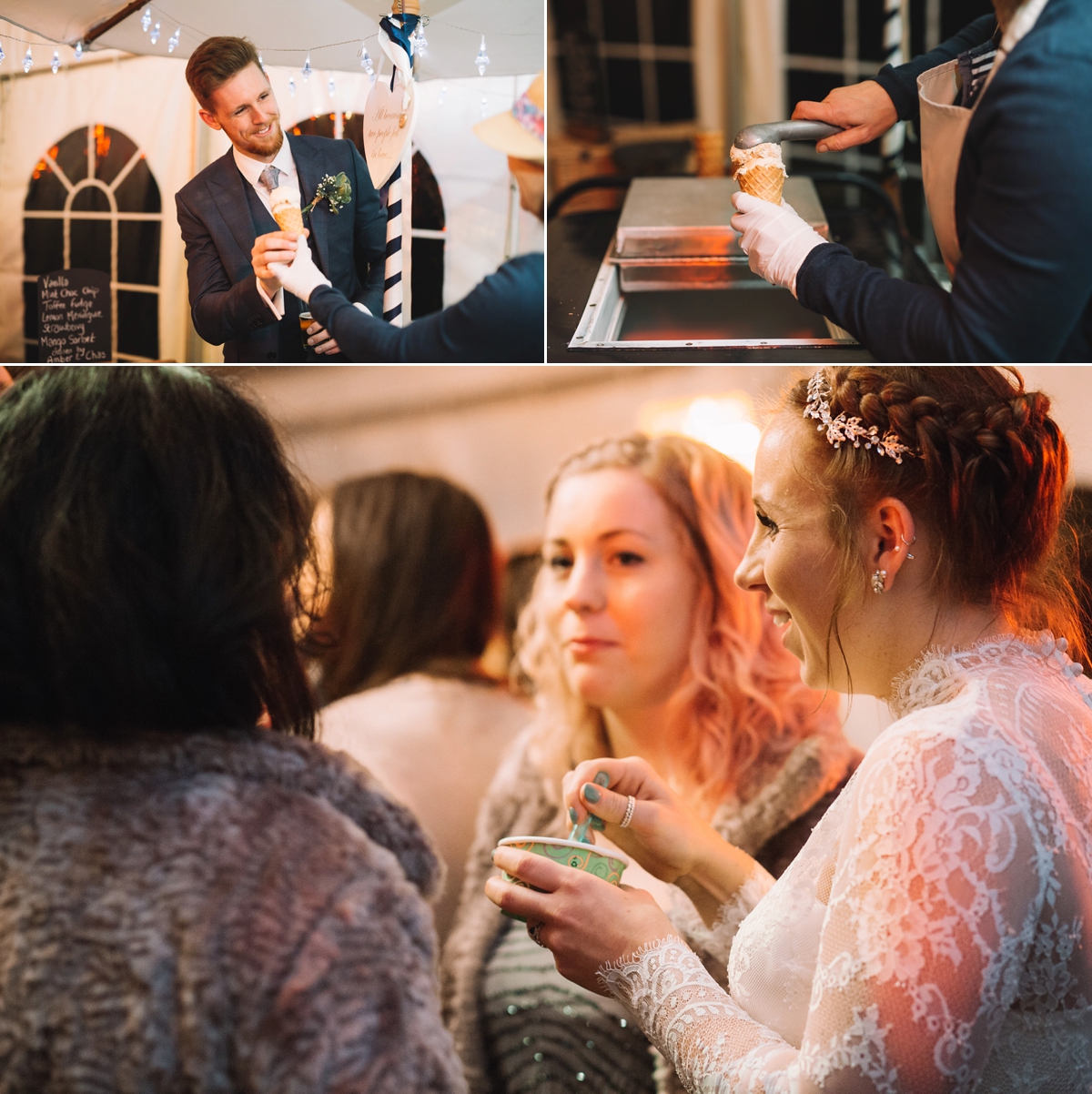 The stunning cake came from Seventh Heaven, Bedford and was assembled on the day by Chas' Godmother.
"We wanted a cake that would make our guest's mouths water.  Sarah helped us design a cake with minimal butter icing around the outside revealing the yummy sponge.  Dotted around we had shards of chocolate, peanut brittle and marshmallows, and to top it all off, it was drizzled with melted chocolate."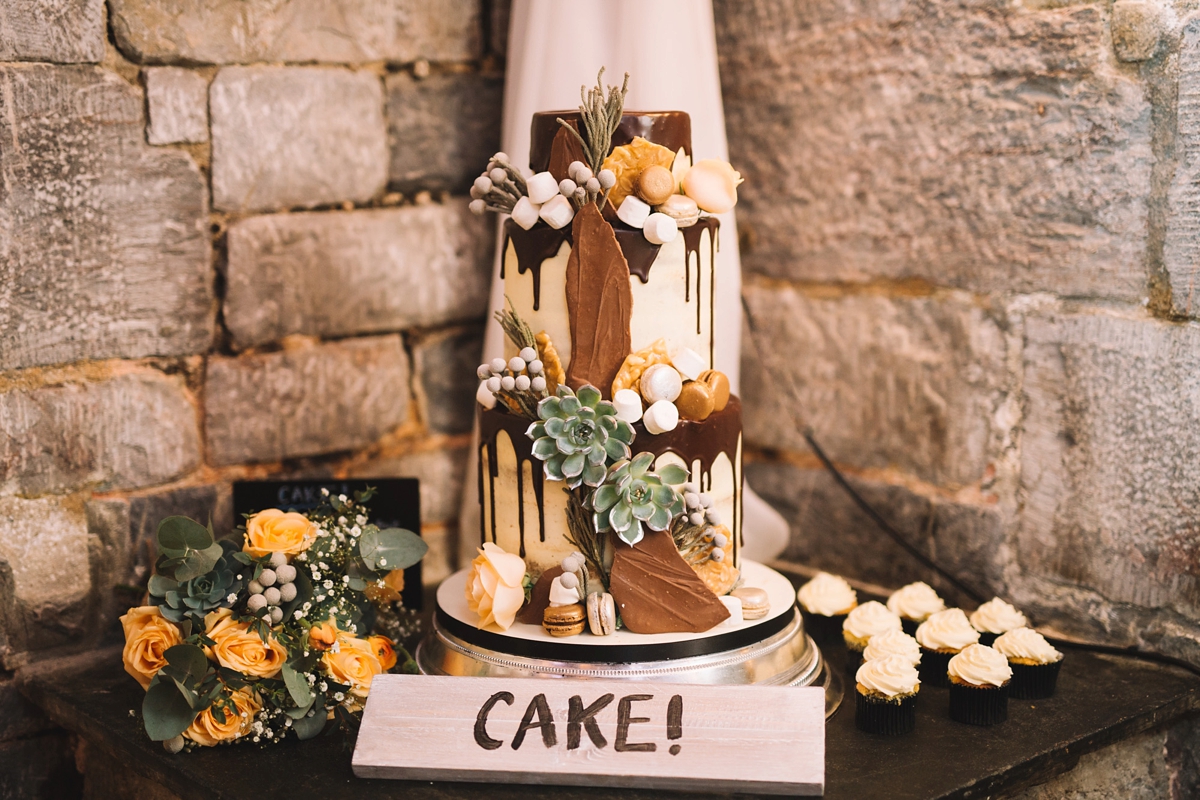 "We wanted to make sure we had food that everyone loved and being by the sea, we knew fish and chips (from the Chip Cart) and ice cream (from Icicle Tricycle) would be perfect.  In the evening, we served up Cornish pasties from a Dashers Bakery and cream teas alongside some pub snacks, such as pork scratchings from Snaffling Pig, to complement the kegs of beer and cider."
Entertainment came in the form of live band, Brotherly Love.
"For the ceremony we asked the boys to play an acoustic set of our favourite romance songs and finish with 'I Believe in a Thing Called Love' by The Darkness.  I was wow-ed by Benji's voice- he turned our rock songs beautifully soft and it was hard not to sing along as I walked into the ceremony."
"In the evening, the band doubled in size and played 'Everlong', by the Foo Fighters, for our first dance. We were worried about people being reserved and not dancing, but these guys had everyone on their feet."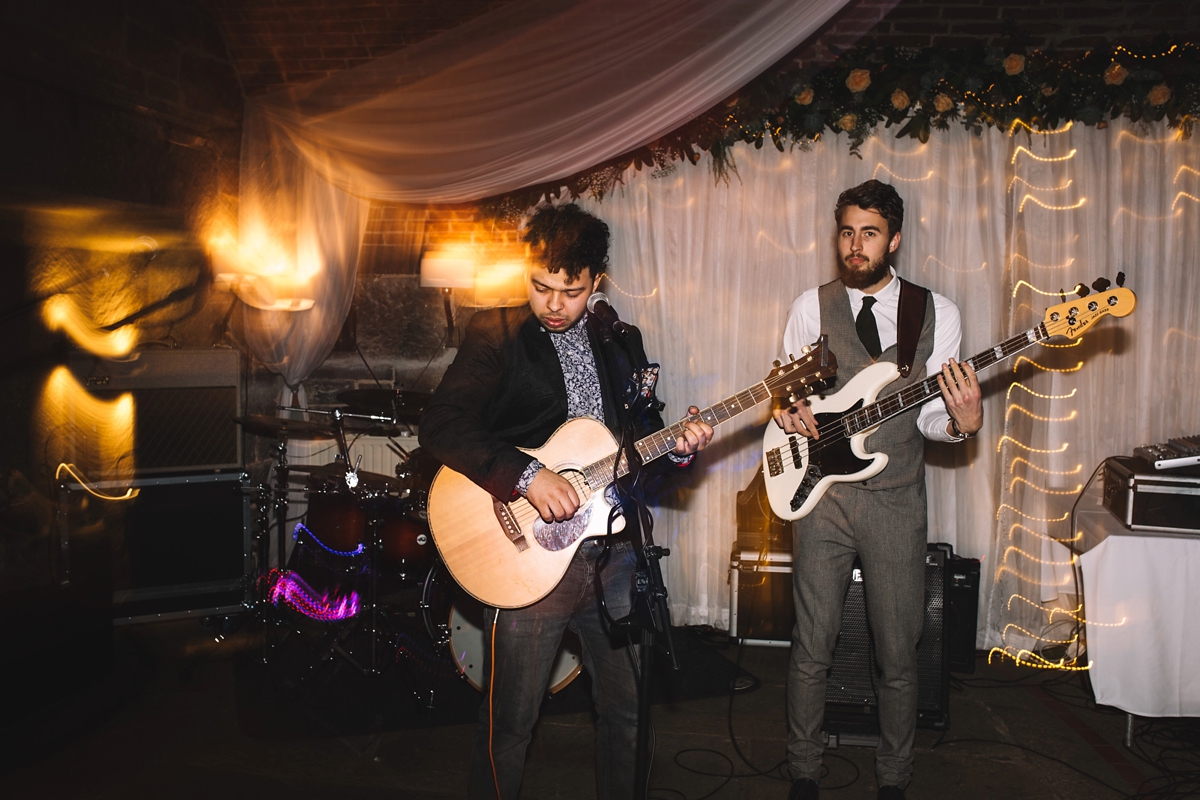 Chas: "My favourite moment was our 'first look'.  I waited at the top of the fort with Cat and Faith ready with cameras to catch our first moments together with no one else around.  That moment of privacy gave us time to gather our thoughts before the ceremony and also gave me the time to get all the crying out of the way in private."
Amber:  "My favourite part was having so many of our friends and family there.  I remember hugging everyone goodbye and not wanting to let go and have the night end."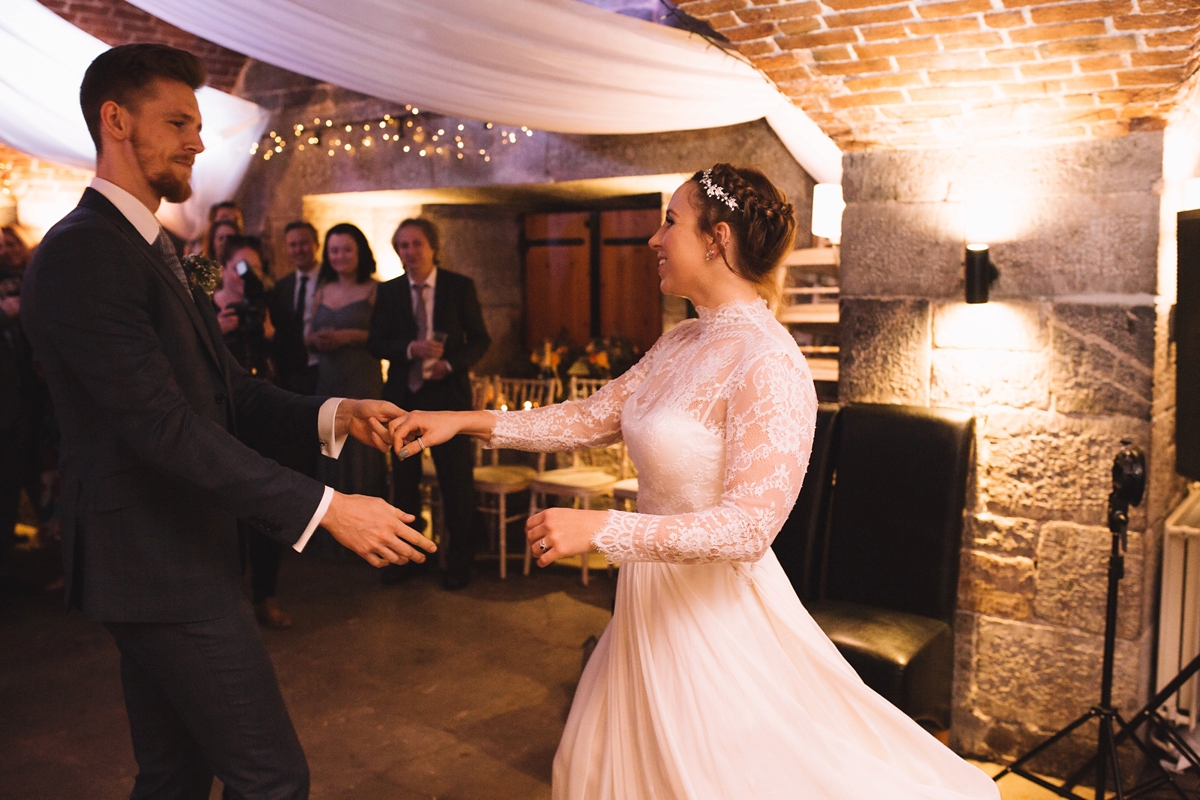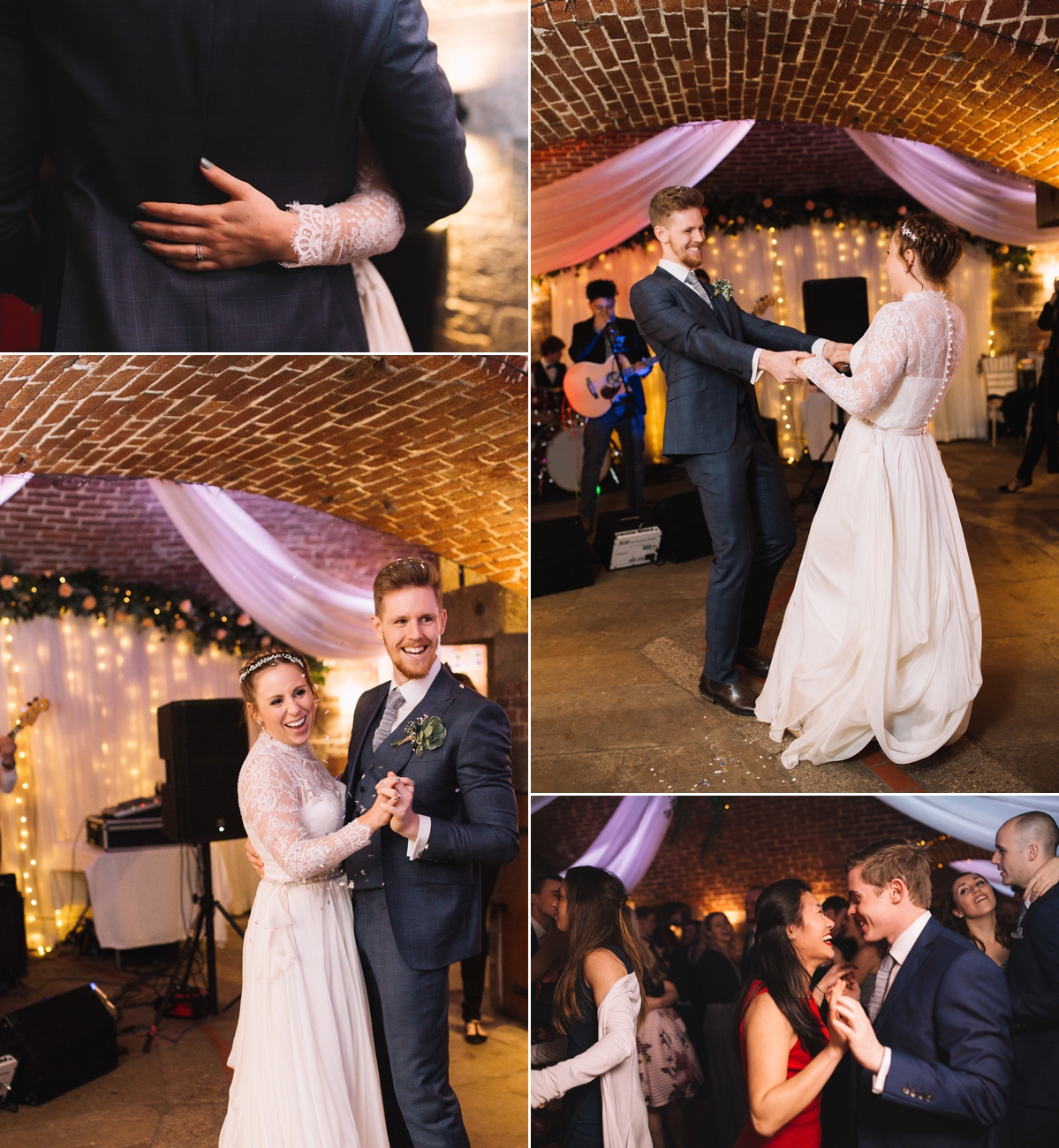 Words of Wedded Wisdom
"You don't have to please everyone; be selfish.  I spent months worrying about every single one of our guests, I kept forgetting everyone can look after themselves."
"We loved creating the day around our personalities and our favourite things- if we love it, the people we love will love it too."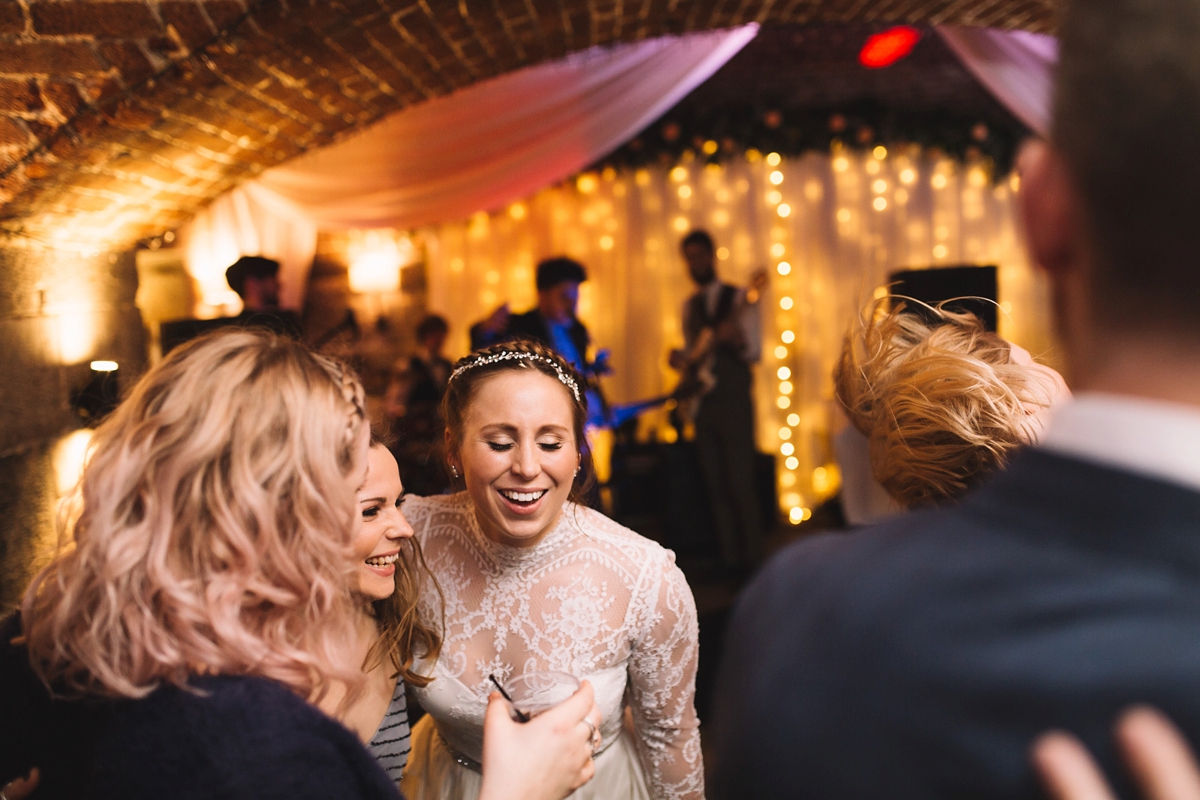 So many thanks to Amber and Chas for sharing their gorgeous winter wedding with us today- it most definitely goes to show that you don't need to be getting married in the summer months to chose a seaside location, nor to get lovely weather.  For more winter weddings, and for more beach-side ones, have a peek here, and here, while for more beautiful Catherine Deane gowns, take a look here.
S xx
Credits & Thanks
Photographer - Cat Lane Wedding Photography
Venue - Polhawn Fort, Cornwall
Planner - Gemma Viant of Planning Elegance
Bride's Dress - Catherine Deane
Alterations - Nicola Donati
Veil - Catherine Deane
Hair vine - Linzi Jay
Bridesmaids' dresses - Adrianne Pappell
Hair stylist - lessons by Amanda Murdoch, Joseph's Experience, Flitwick, Bedford
Make up artist - Adele Hack
Groom's outfit - Suit, Gio Caruso
Flowers - Ruth Andrews Flowers
Cake - Seventh Heaven, Bedford
Rings - James Veale
Entertainment - Brotherly Love (no details)
Stationery - White Cottage Weddings
Catering - Fish & Chips, Chip Cart; Ice Cream, Icicle Tricycle; Cornish pasties, Dashers Bakery; pork scratchings, Snaffling Pig