I love this time of year- its finally starting to feel like spring and the world is starting to fill with colour.  Today's beautiful London wedding is certainly full of colour – rich reds and gorgeous blues – and packed with interesting details and laid back style.  I know you're going to love it.
Meet Laura and Steven, who married on the 19th of August 2017 at Islington's Union Chapel, and celebrated with a reception at The Depot pub, just a couple of miles down the road. Laura wore the absolutely gorgeous 'Chianti' by our fabulous Little Book for Brides member Eliza Jane Howell, which she purchased at Teokath in Wimbledon alongside her cathedral length tulle veil.  I just adore this gown- it makes me think of a very glamorous snow queen- and the veil sets it off perfectly.
"After trying on what felt like a million dresses (and almost settling for one because I'd given up) I found a store that stocked a dress that I had stalked online for a while.  I booked a last-minute appointment, late on a Friday night with just my mum – I was due to go back to purchase the 'almost dress' first thing Saturday morning.  It blew the 'almost dress' out the water.  It was very different to a traditional wedding dress but still felt special and bridal."
Film by Adam Nicholas Films
"We live a few minutes from both venues and they felt like natural choices to reflect us – Union Chapel is our favourite music venue and The Depot our local pub (and an incredible space for a party).  We definitely didn't follow a style – we just picked things we liked and it all seemed to work out in the end.  We wanted things to feel relaxed and reflect us."
Images by Story + Colour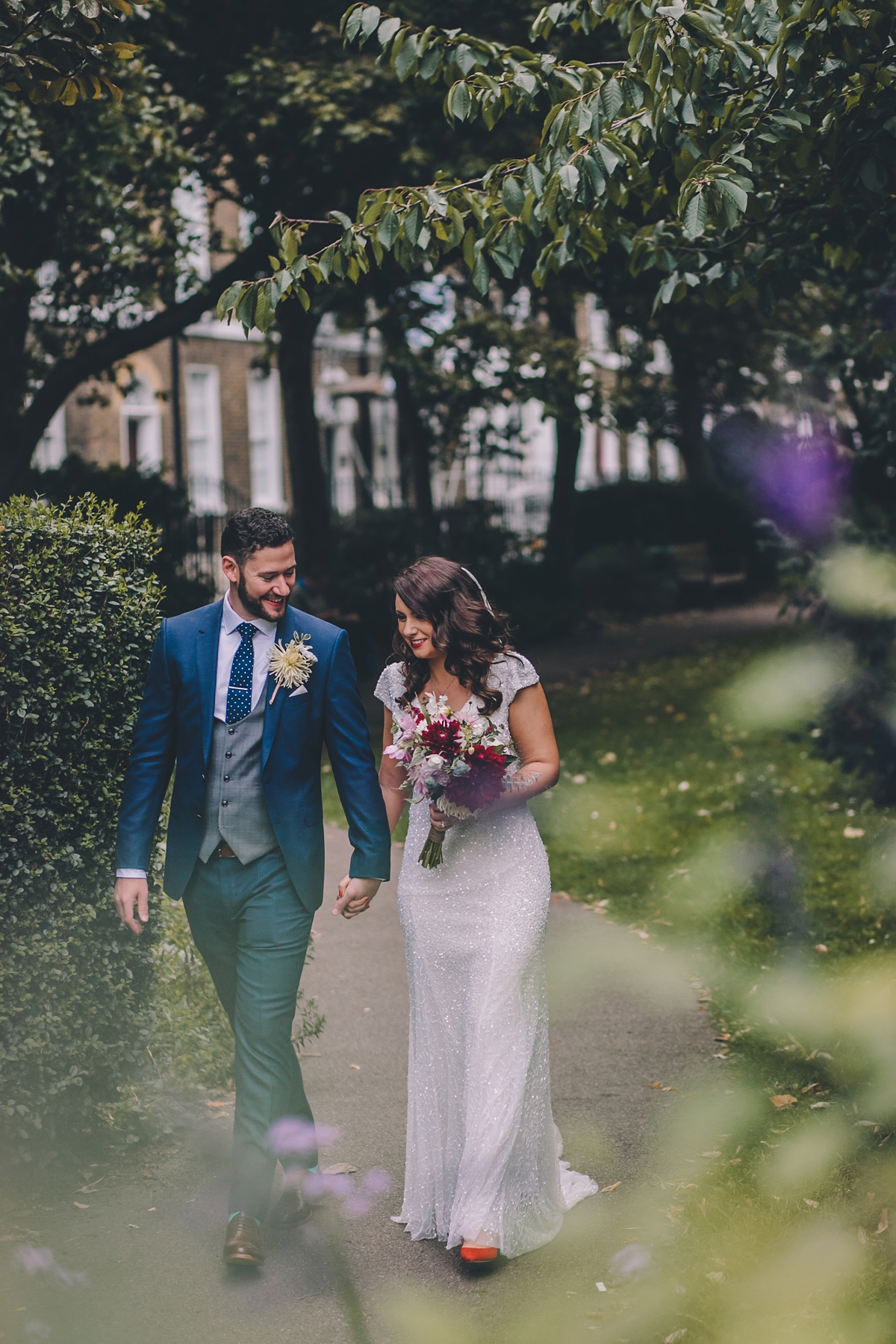 "Dan of Story + Colour did an incredible job.   I first noticed Dan's work whilst looking at wedding blogs – he has a particular style which I could recognise instantly – and his work was bold and impactful but felt so relaxed.  I wanted my photos to look like that.  Steven and I were both anxious about being photographed (although we did an engagement shoot which definitely helped) but on the day, I barely saw Dan, yet he captured all the moments we could have wished for.  I flick through the photos most days and I know we will treasure them forever."
"Adam Nicholas Films captured our day on film. – I cannot express how happy I am with the video."
"We met at V Festival.  A friend and I got last minute tickets and she suggested we camp with her brother's friends- Steven was one of them.  We got engaged in Swedish Lapland in Feb 2016, after Steven surprised me with a trip to see the Northern lights.  The wedding was just under eighteen months later."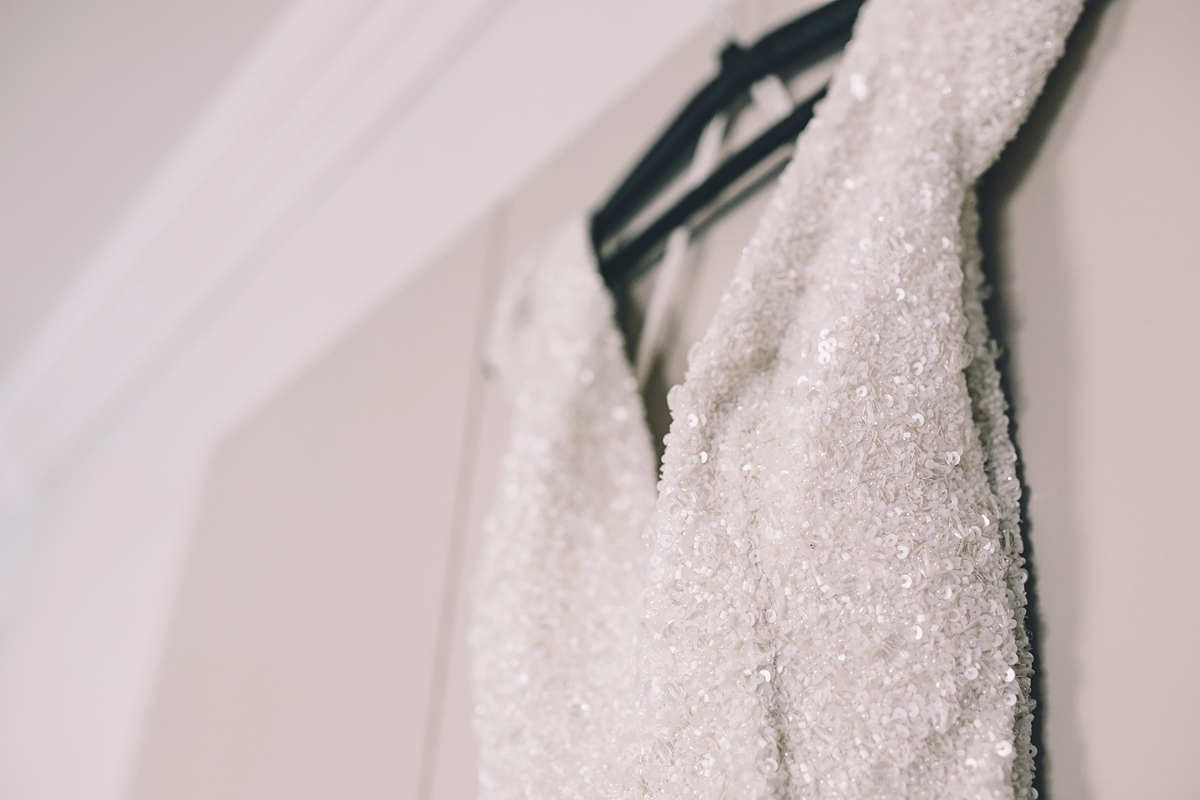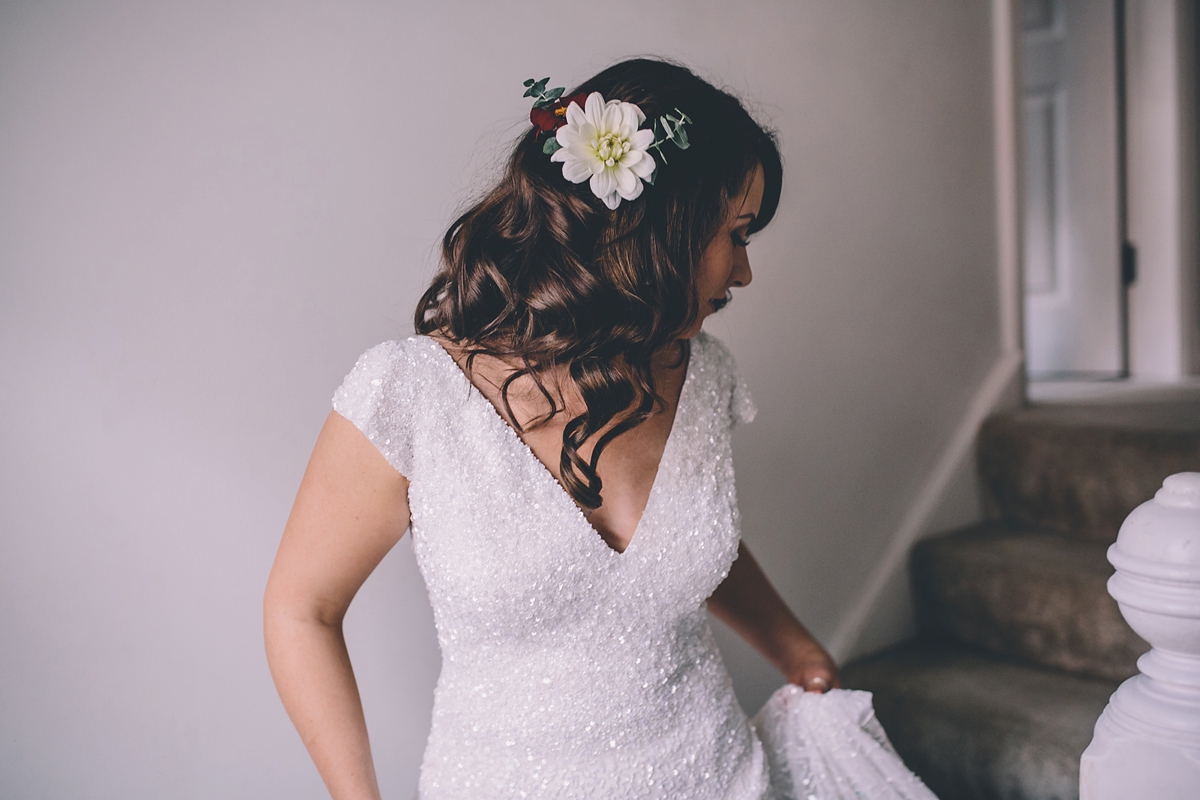 On her feet Laura wore a pair of Jimmy Choo heels in red suede, while for scent she chose Bal d' Afrique by Byredo.  For jewellery she opted for a single pearl necklace borrowed from her mum and delicate earrings from Sarah Walsh Bridal.
"I also wore a Thomas Sabo tennis bracelet (a gift from Steven on the morning of the wedding) and another thin diamond and sapphire bracelet which was a gift from my mum as my 'something blue'."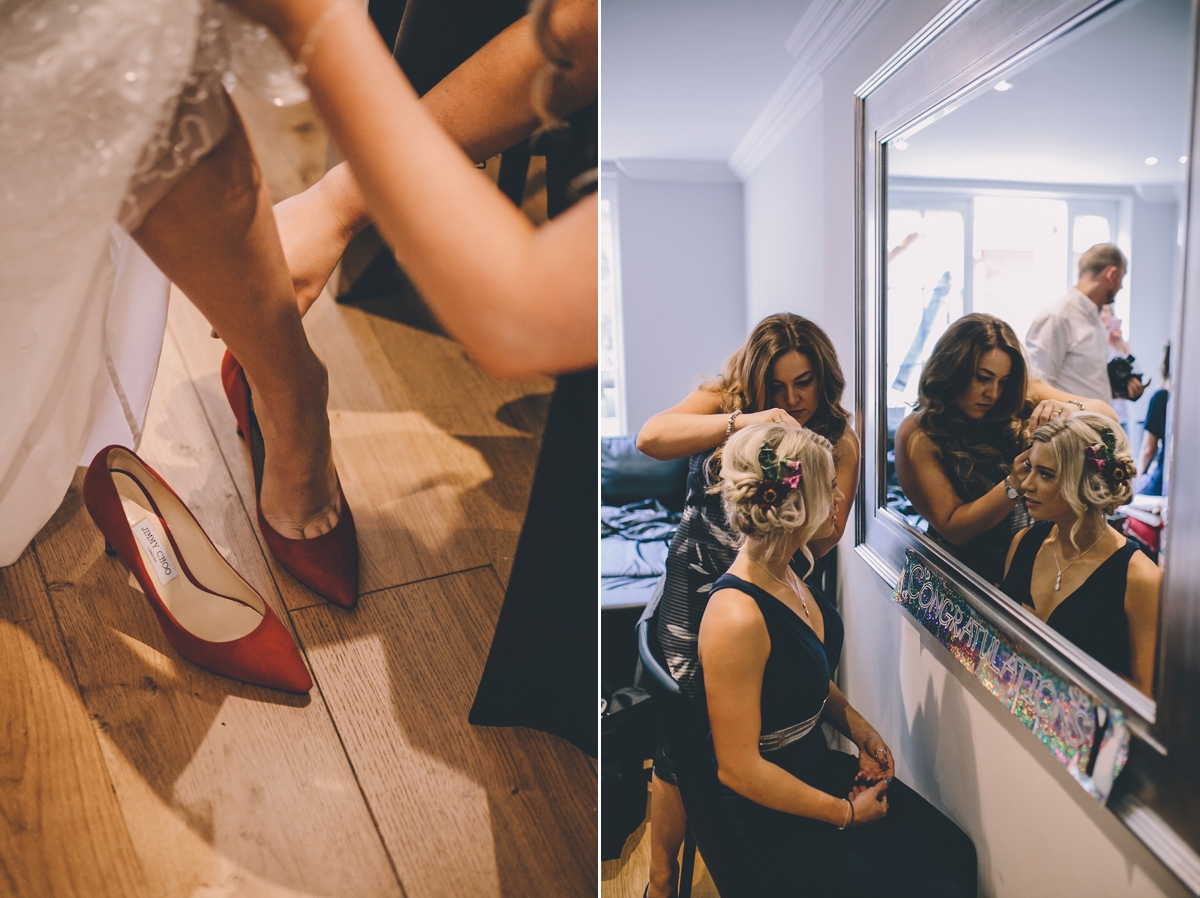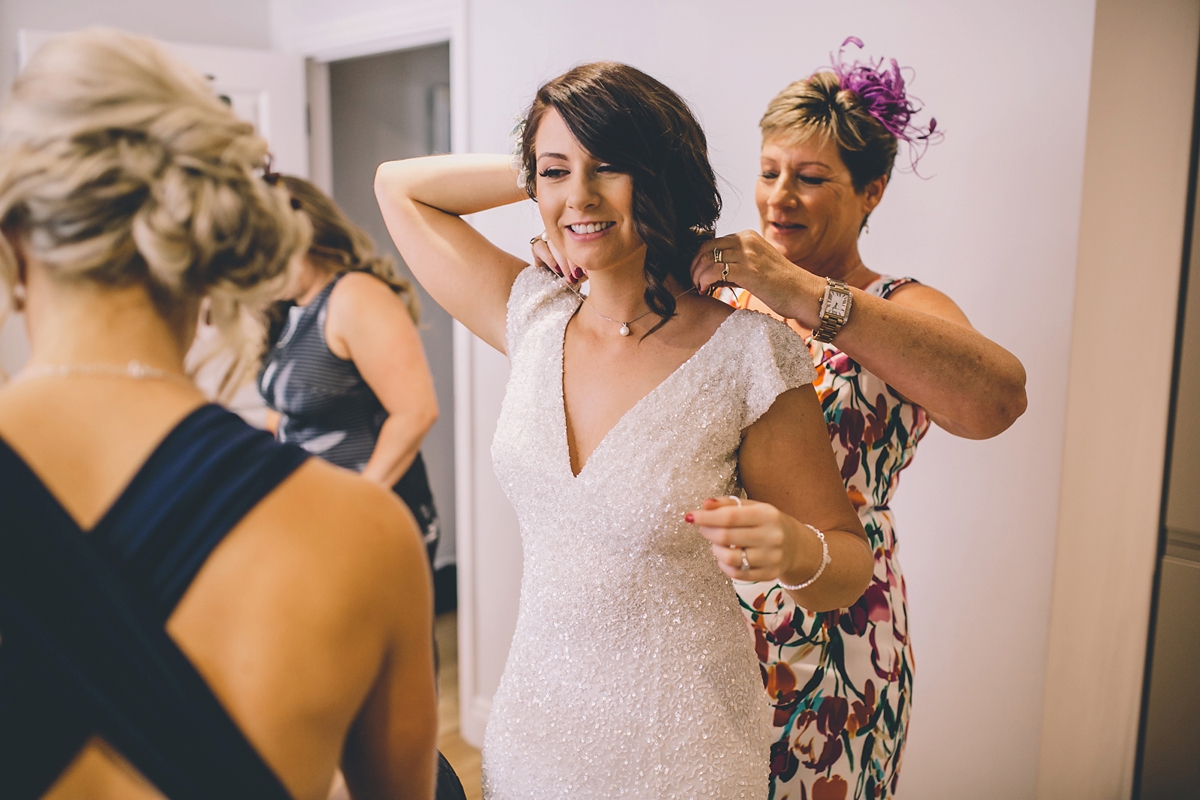 Laura wore her hair down in glossy curls, pinned at the side with fresh flowers.  Her hairdresser of choice was Laura at Pinnie's Hair, her usual hairdresser and primary school friend.  For make up Laura opted for a natural look with a pink lip, which picked up the shades in her beautiful flowers.
"Make up was by Inga at Kristina Gasperas – she did a fantastic job and kept us all calm!"
The flowers really are something else- the big blooms and masses of texture just look incredible against the urban settings.  Quite understandably, Laura was thrilled with A Wild Bunch's work.
"Working with Laura at A Wild Bunch was one of my best decisions.  I took a gamble on a very new supplier based on a wedding featured on Love My Dress in which Laura had done the flowers for her friend.  We spoke on the phone and I instantly felt at ease.  I gave her very loose guidelines and she took that and ran with it – the results were beautiful!  I honestly couldn't recommend her more."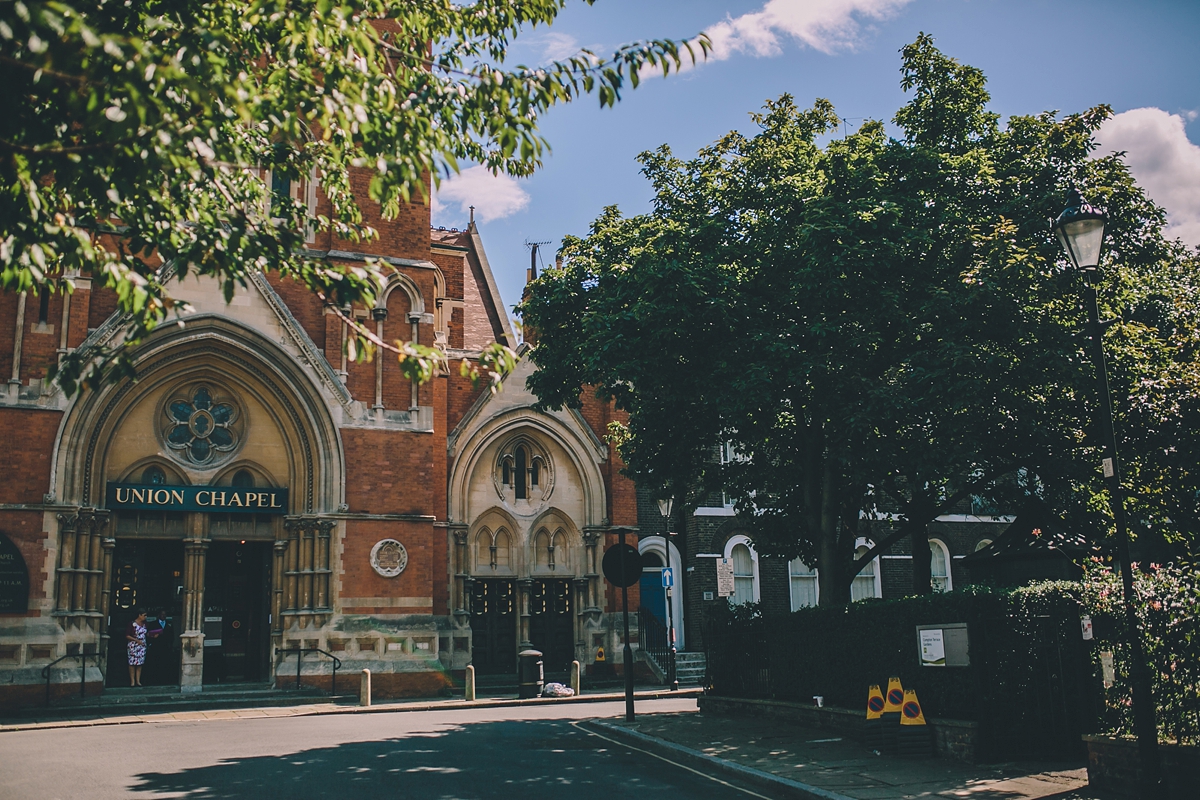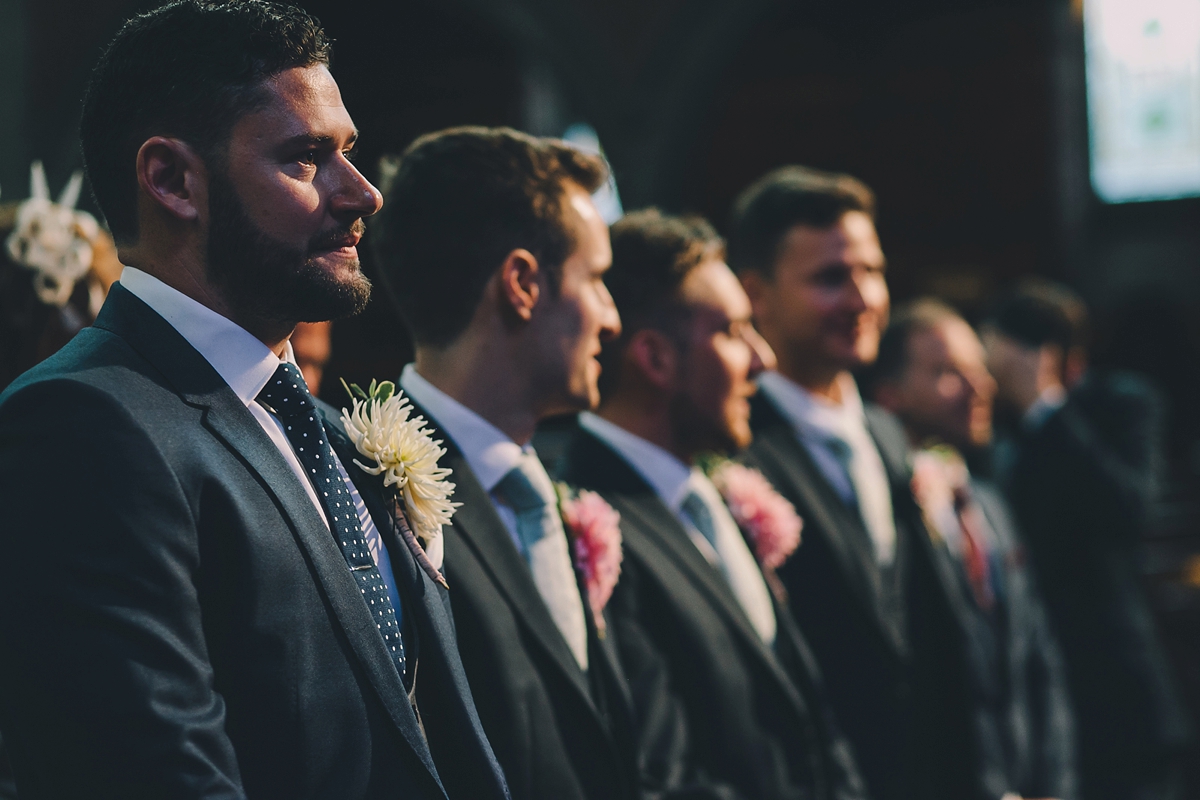 Laura and her dad travelled to the ceremony in a black London cab and then walked down the aisle together, to Pachelbel's Canon in D, played on the chapel's organ.
"We had two readings, the first was 'Love is a Temporary Madness' from Captain Corelli's Mandolin which was read by my granddad.   The second was an extract from 'Falling in love is like owning a dog' by Taylor Mali, read by Steven's nan."
"We both felt incredibly honoured to be able to have our grandparents do readings.  They are very special to both of us and in this fast, busy life we all lead it's too easy to take their presence for granted.  It's hard to put into words how proud I felt seeing them both stand up and speak for us."
"All our rings were made by DG Bespoke Jewellery in Hatton Garden.  Steven proposed with the centre diamond – we then designed my engagement ring together.  Daniel did an amazing job of interpreting our ideas."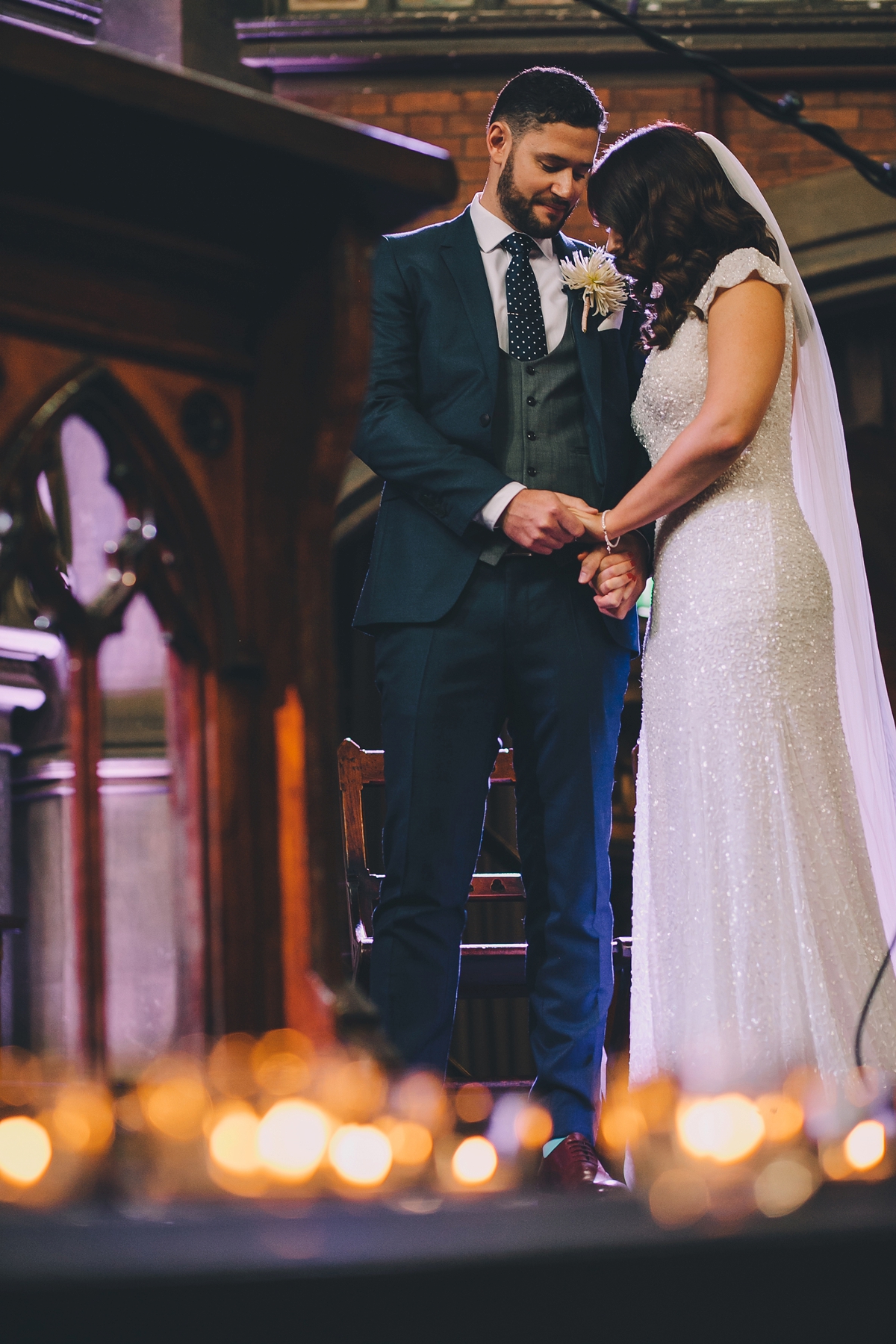 Steven looked very smart in a two-piece suit from Hugo Boss, worn with a waistcoat by Edit Suits, shoes from Russell and Bromley, a tie from TM Lewin and a handmade belt from M&M Leather Workshop in Camden Market.  The groomsmen wore three-piece suits from Next, ties from TM Lewin and handmade belts (with hand-stamped initials) from M&M Leather Workshop in Camden Market, which were a gift from Laura and Steven.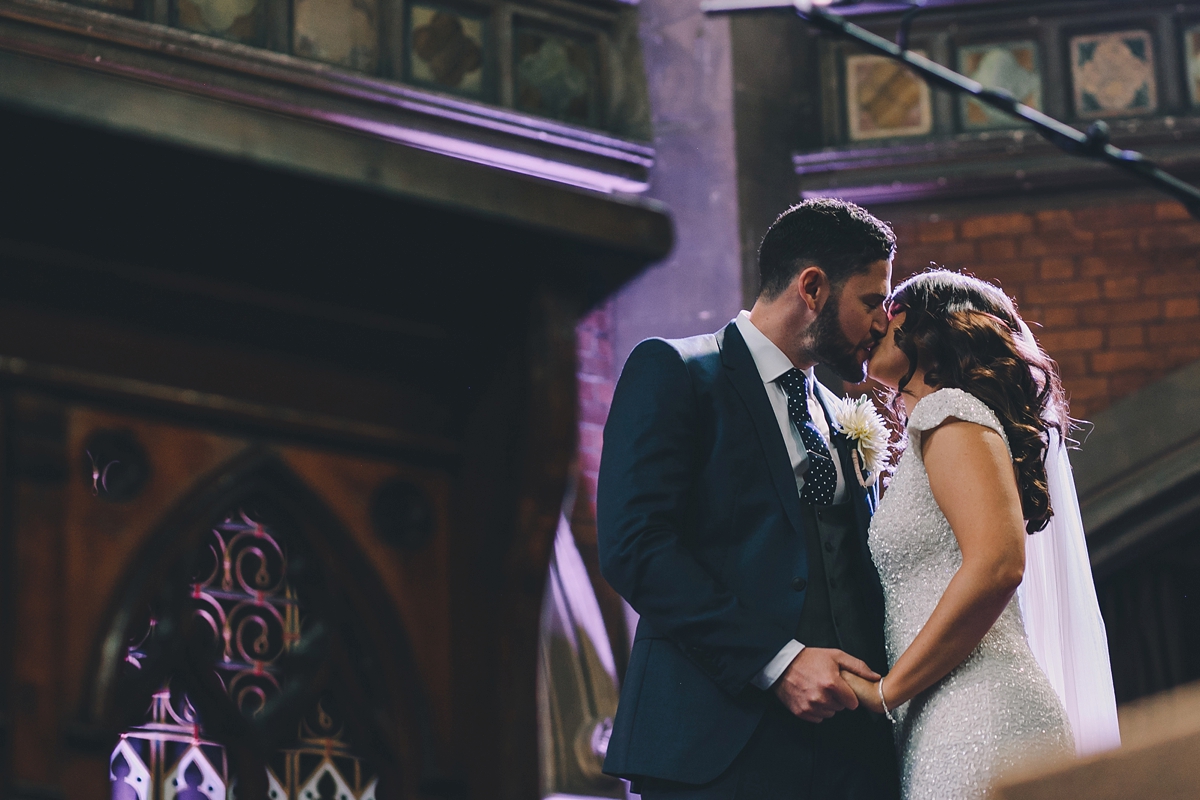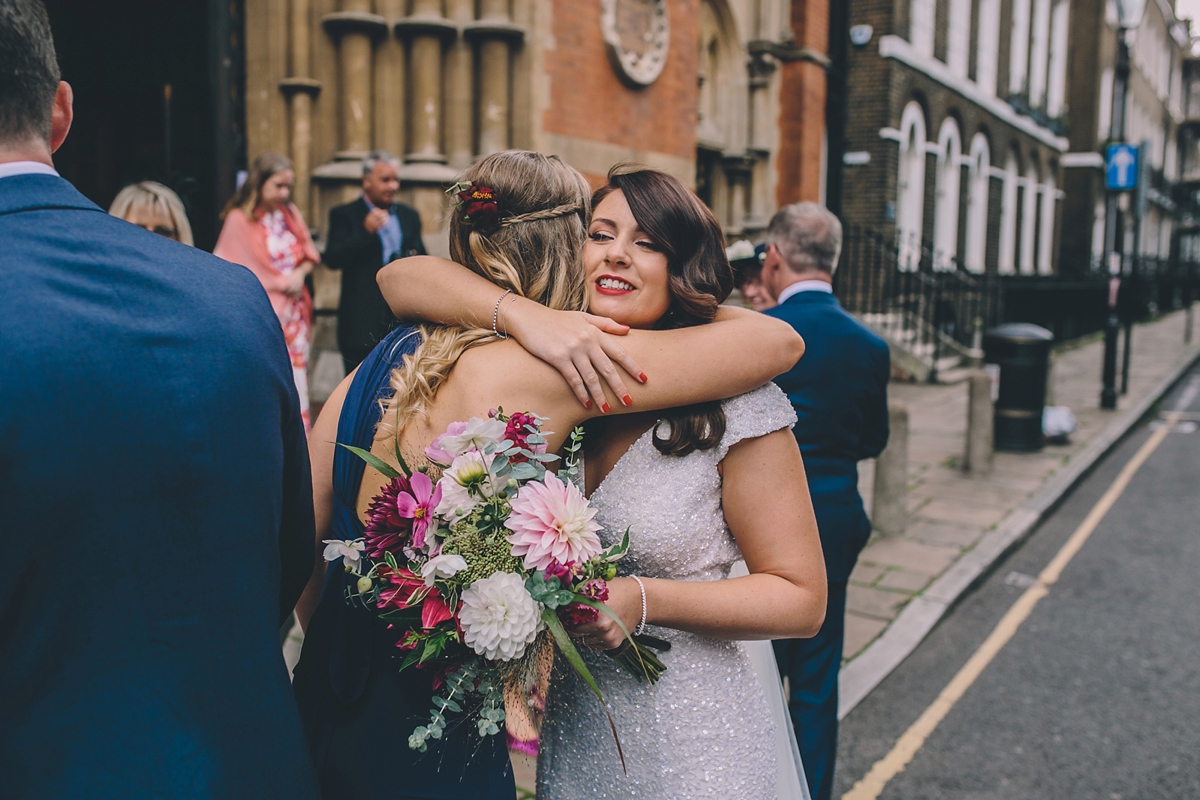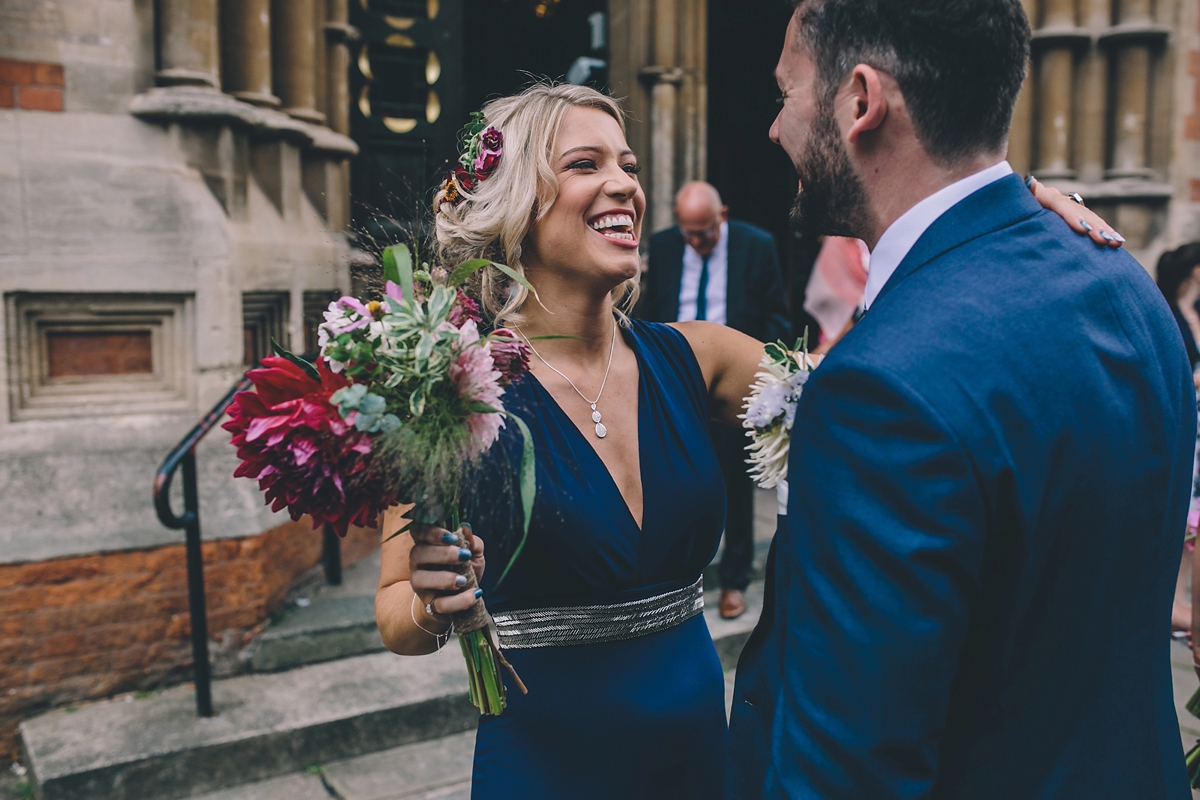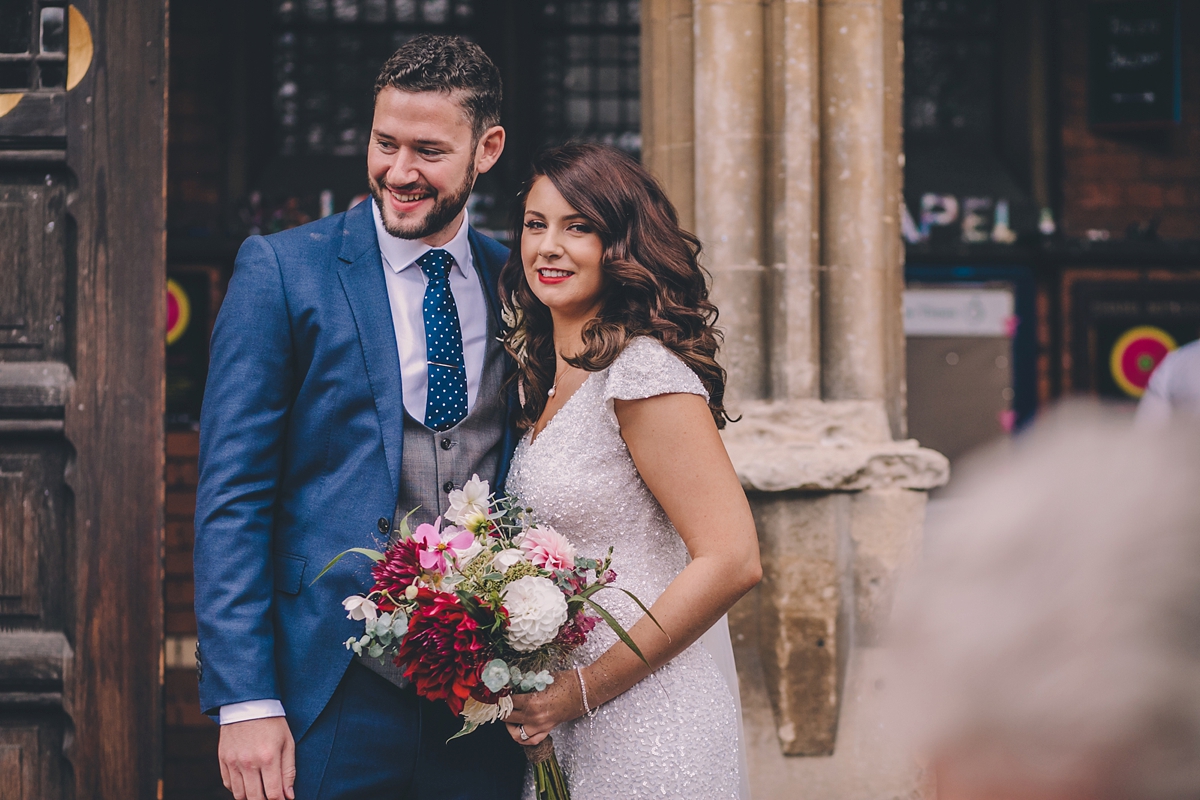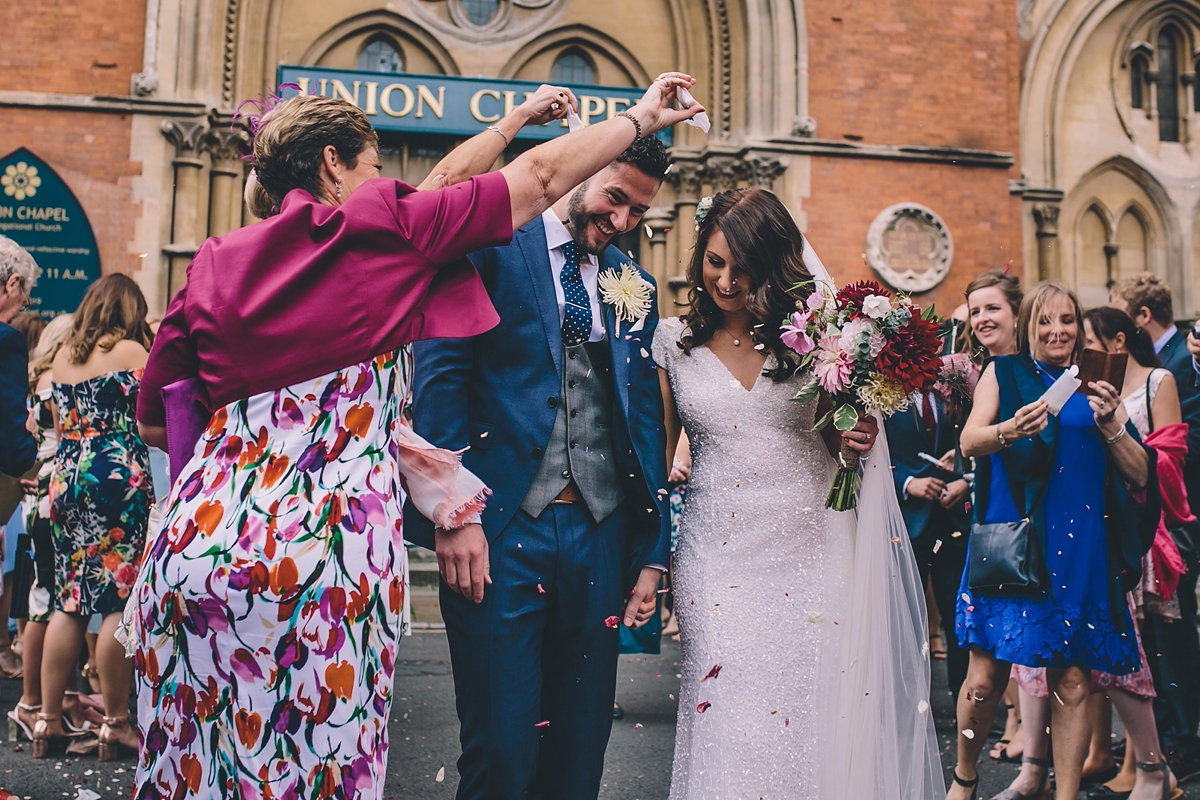 The bridesmaids looked lovely in navy multiway dresses from TFNC, worn with belts, also from TFNC, and matching bracelets from Oliver Bonas which were a gift from Laura.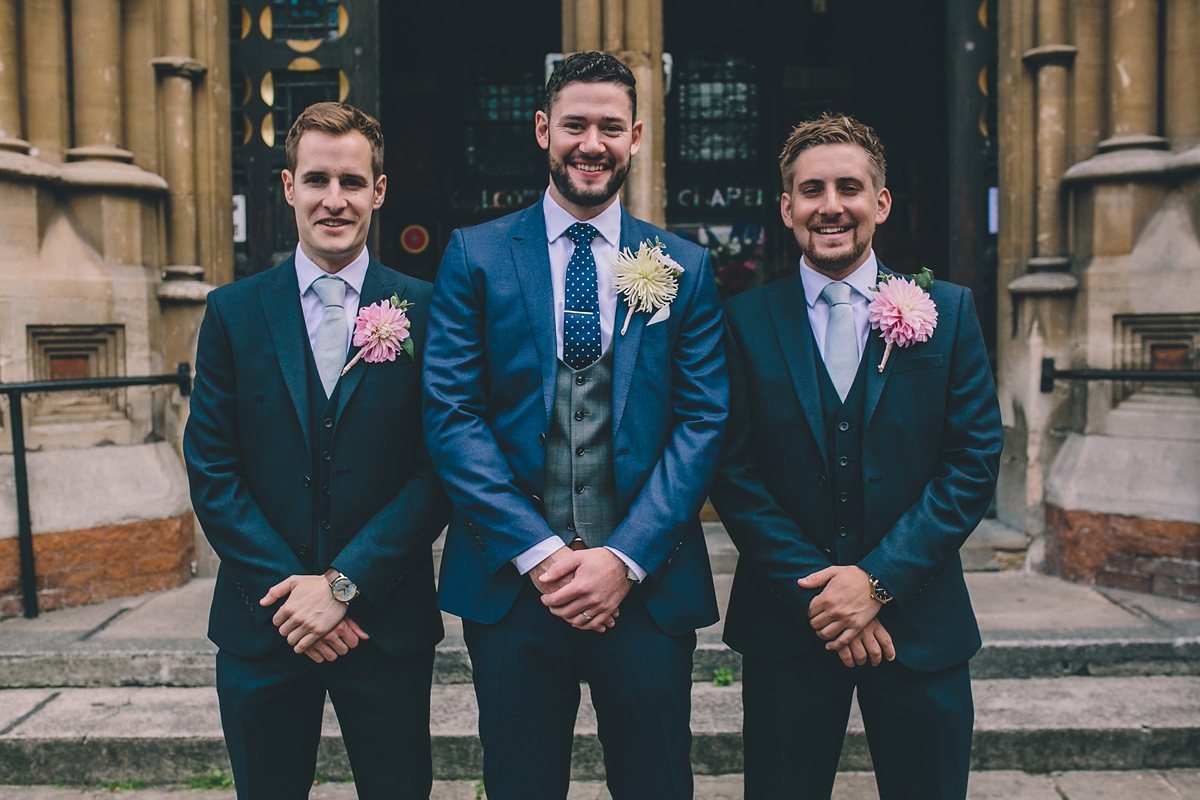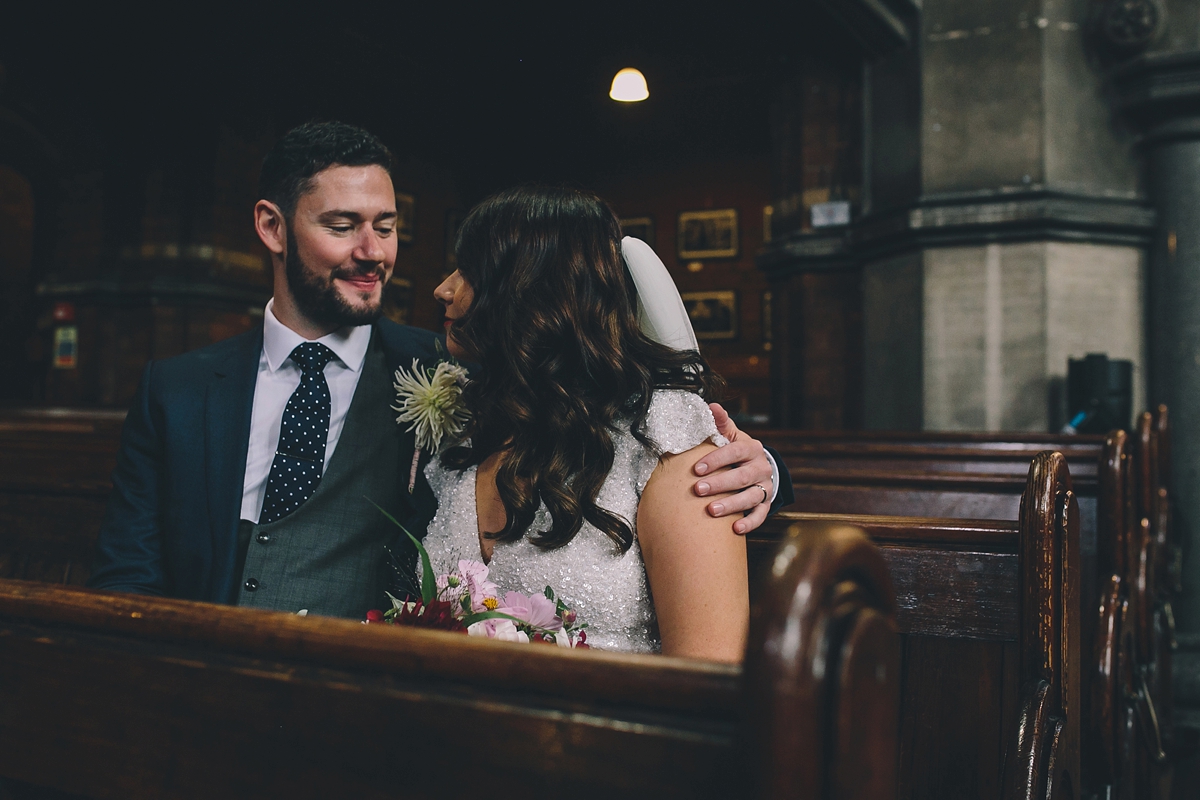 To transport guests from the ceremony to the reception venue, Laura and Steven hired red London buses through Red Routemaster.  Everyone looks to be having such fun on the journey.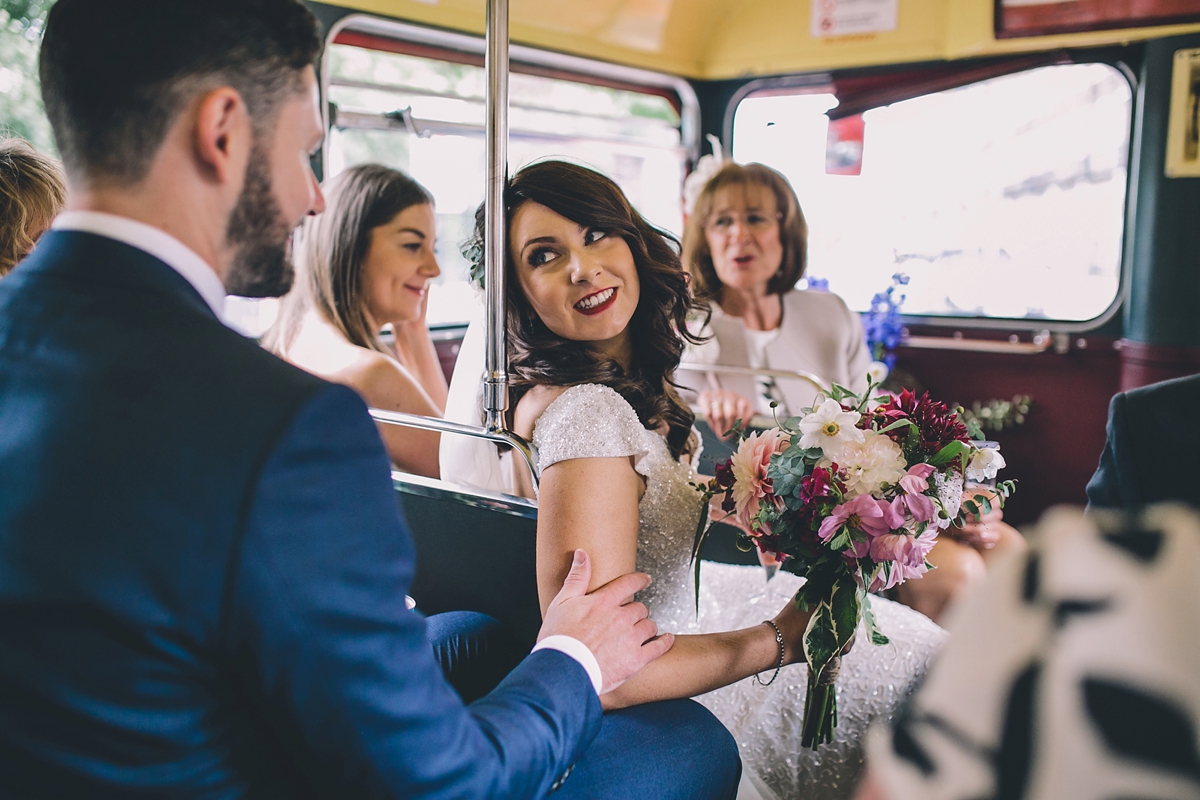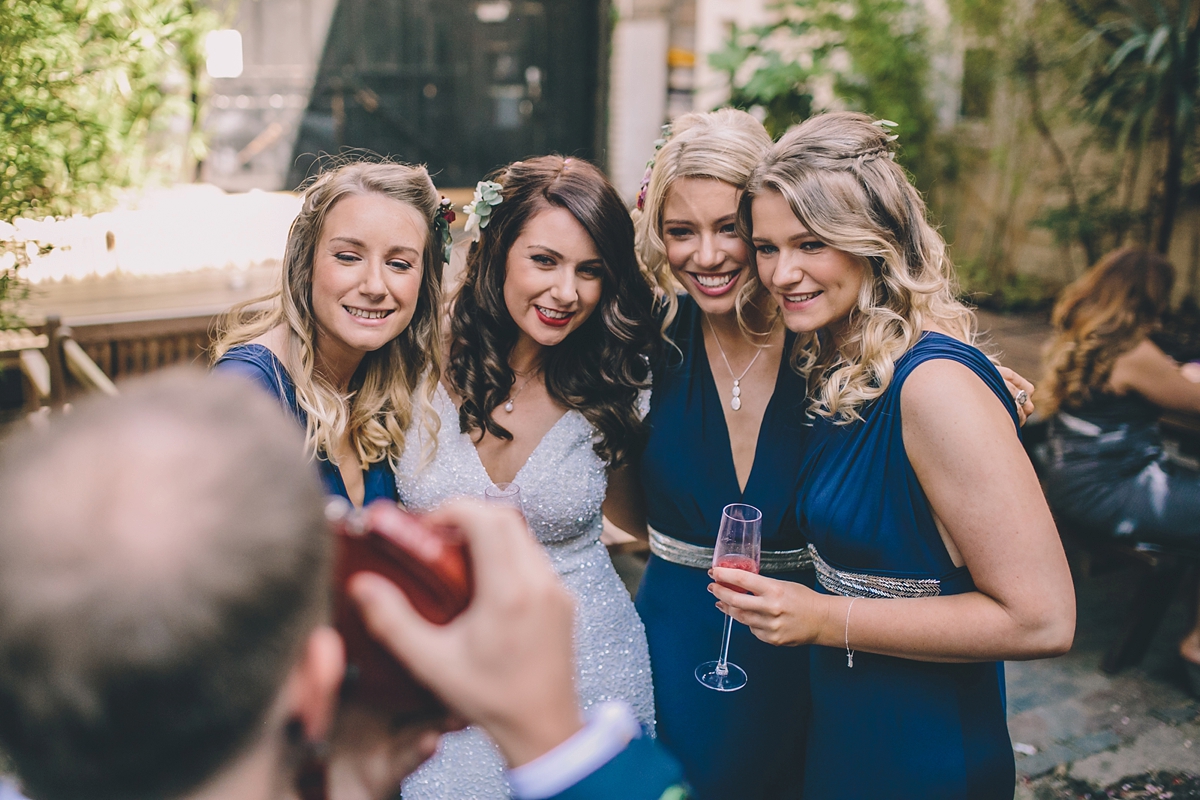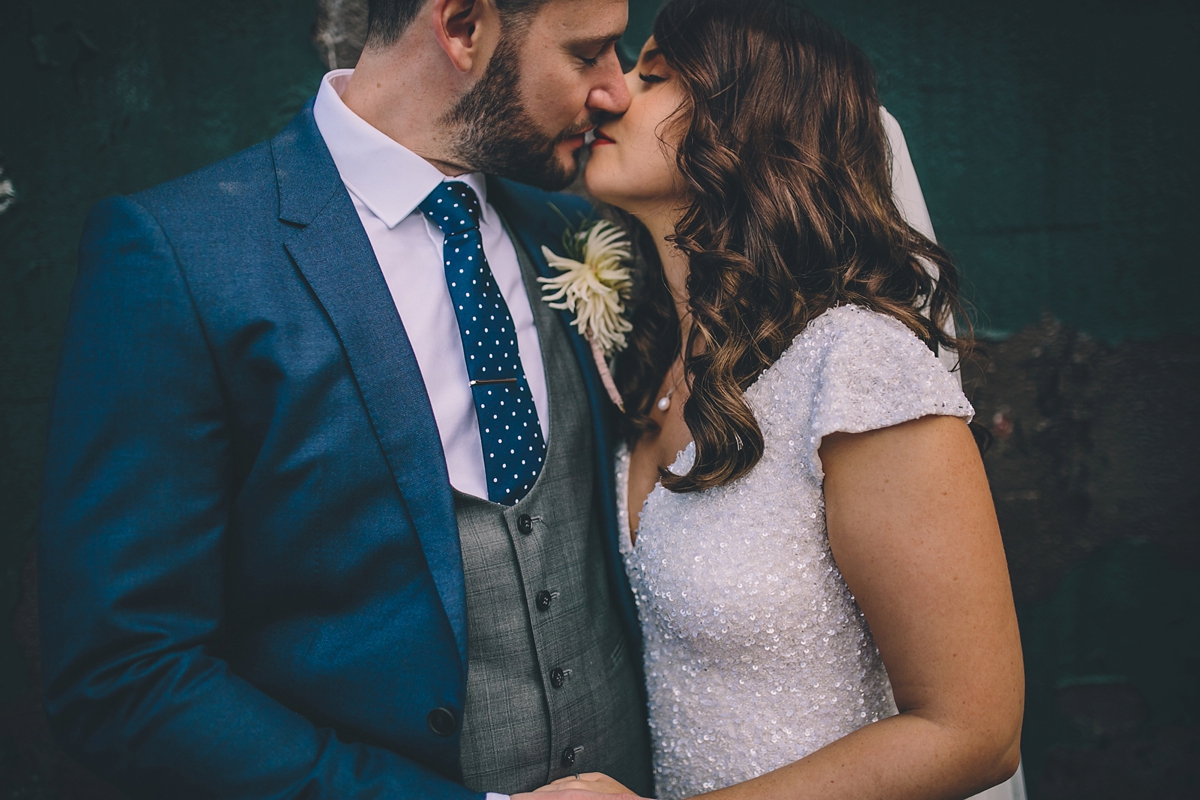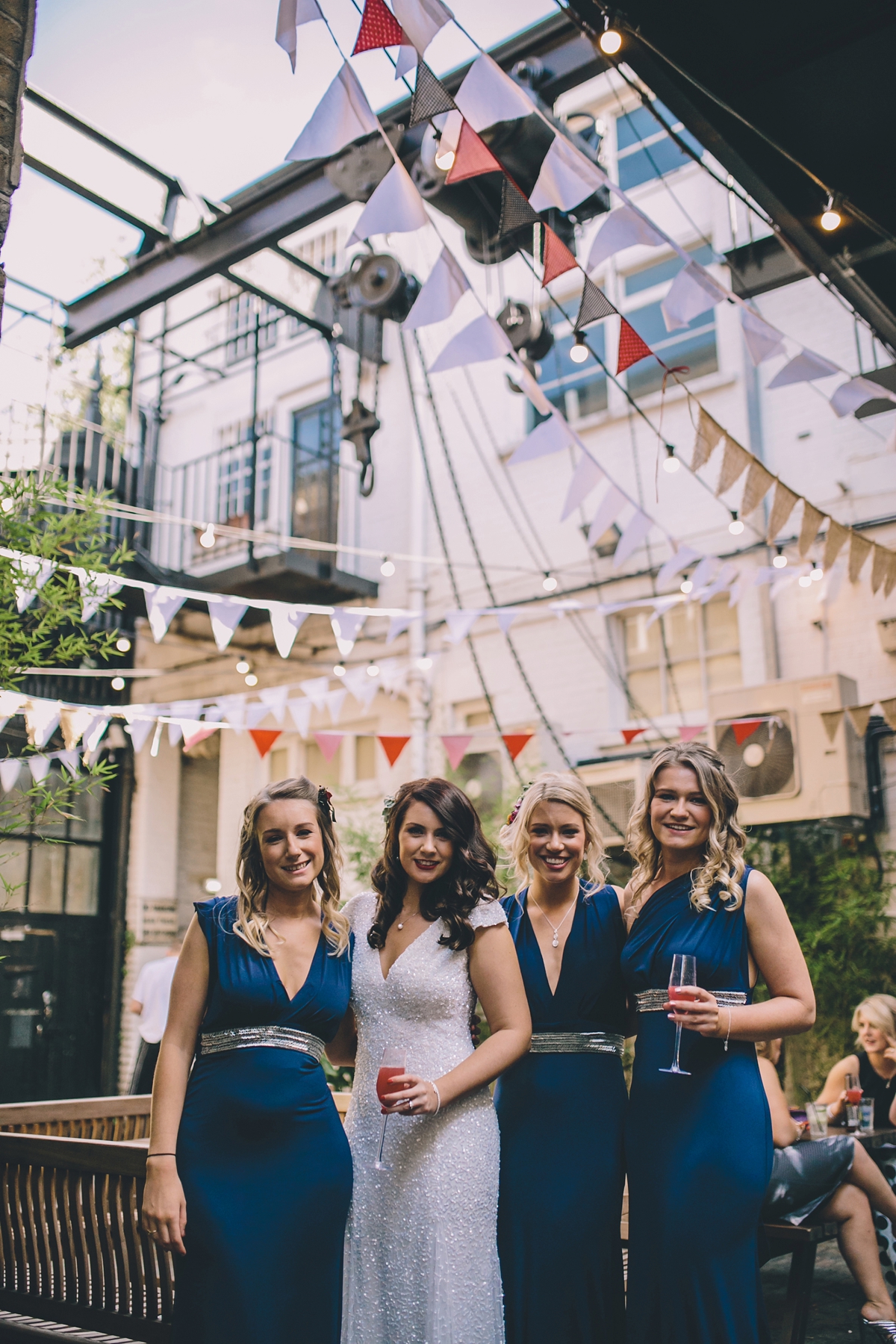 "We went minimal with the décor – just a few fairy lights, some tea lights and 50m of bunting.  We also decided to use craft beer bottles for the flowers on the table – Steven decided it was imperative we had 100 different bottles (any excuse).  I loved the final look."
"The 'welcome to the wedding of' chalkboard was created by a friend of my sister – Sam TM Art."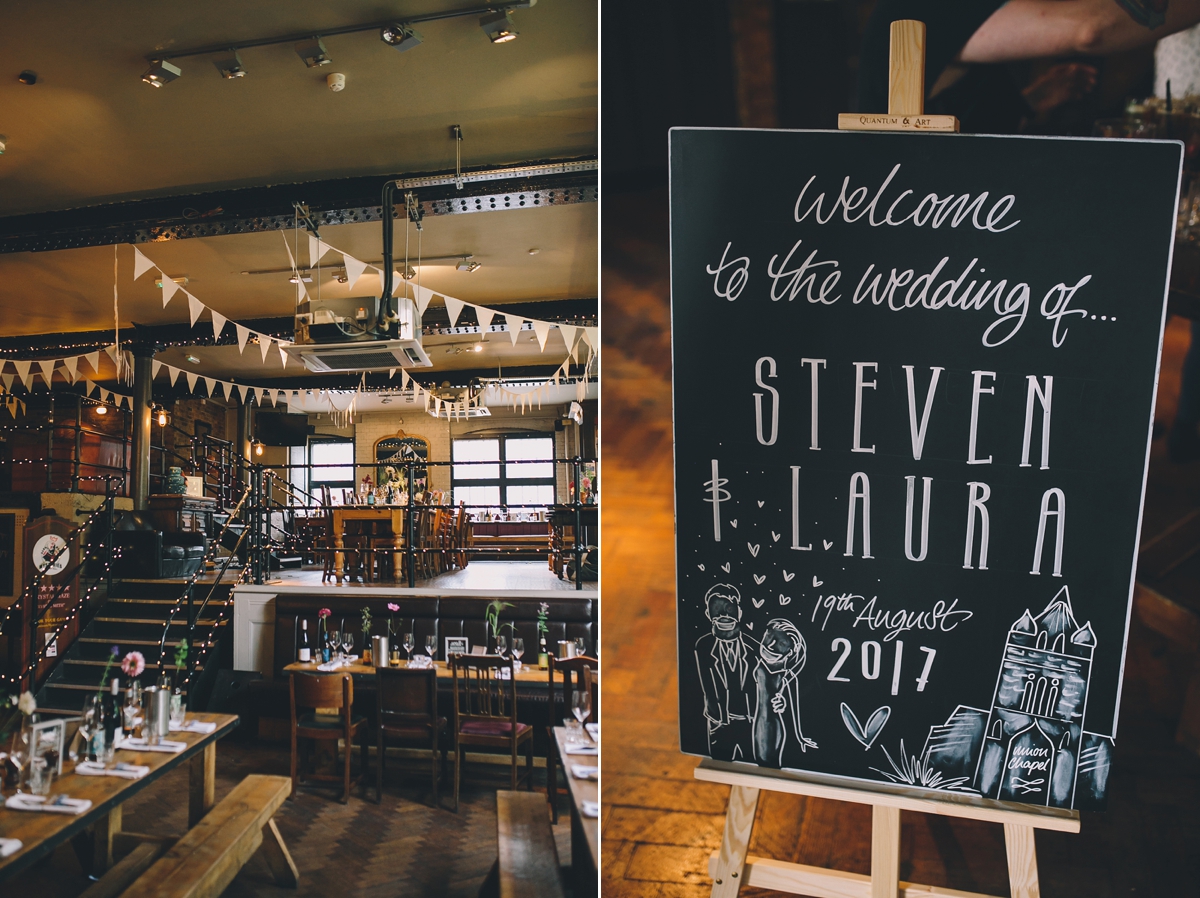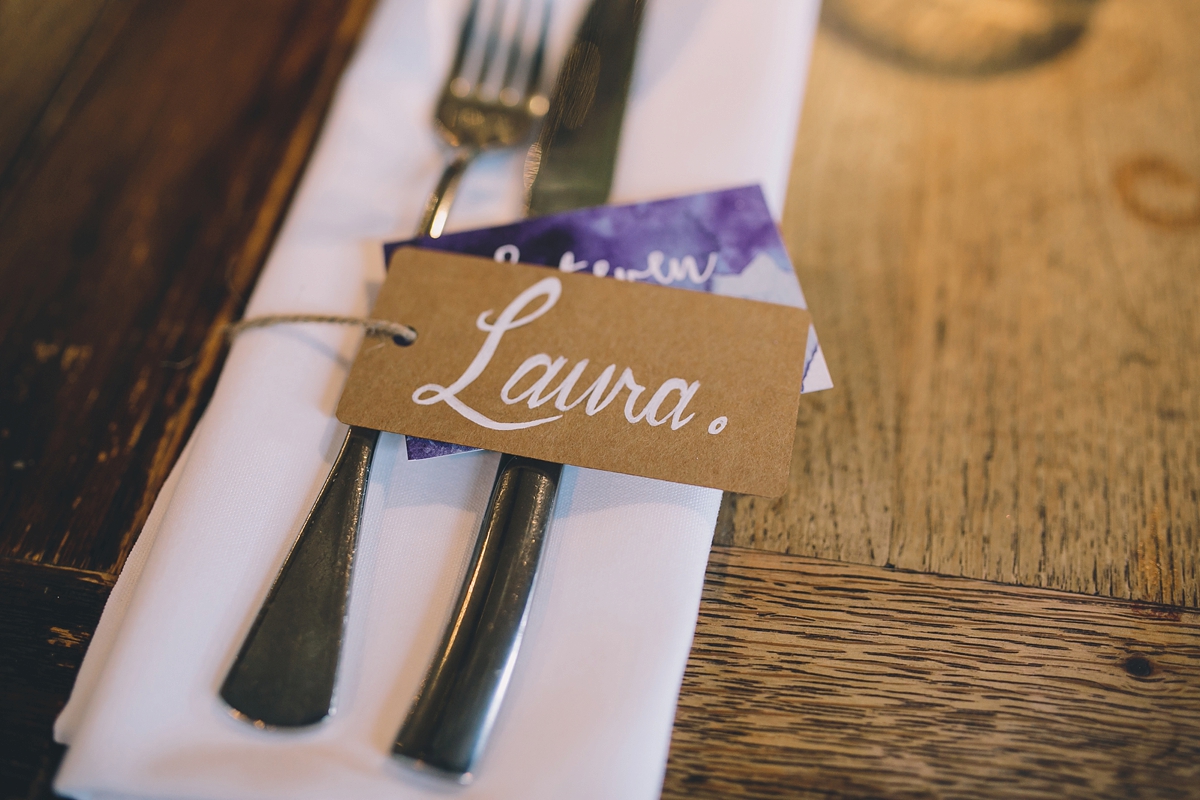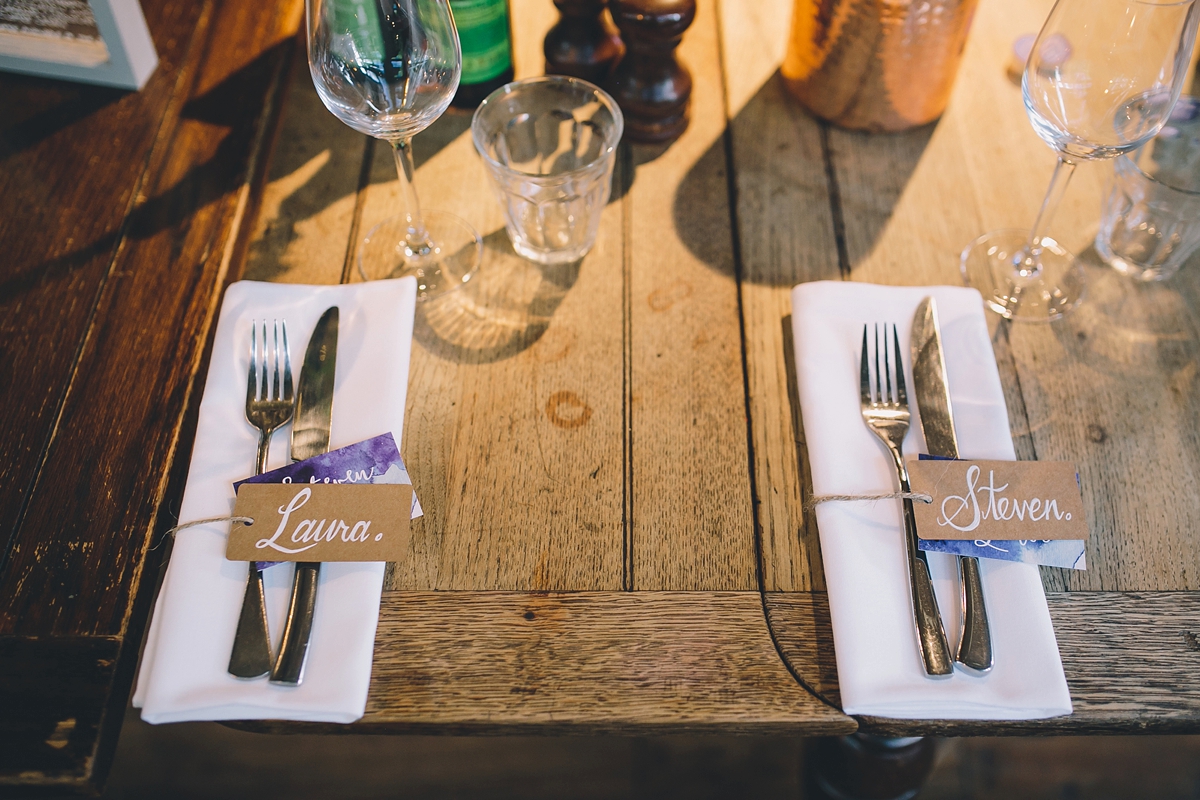 The beautiful blue and gold leaf cake was supplied by Amanda at The Food Jam London.
"I'm lucky enough to call this fantastic baker a friend and her cakes are incredible.  I asked for it to look something like the blue watercolour of our invites and she delivered."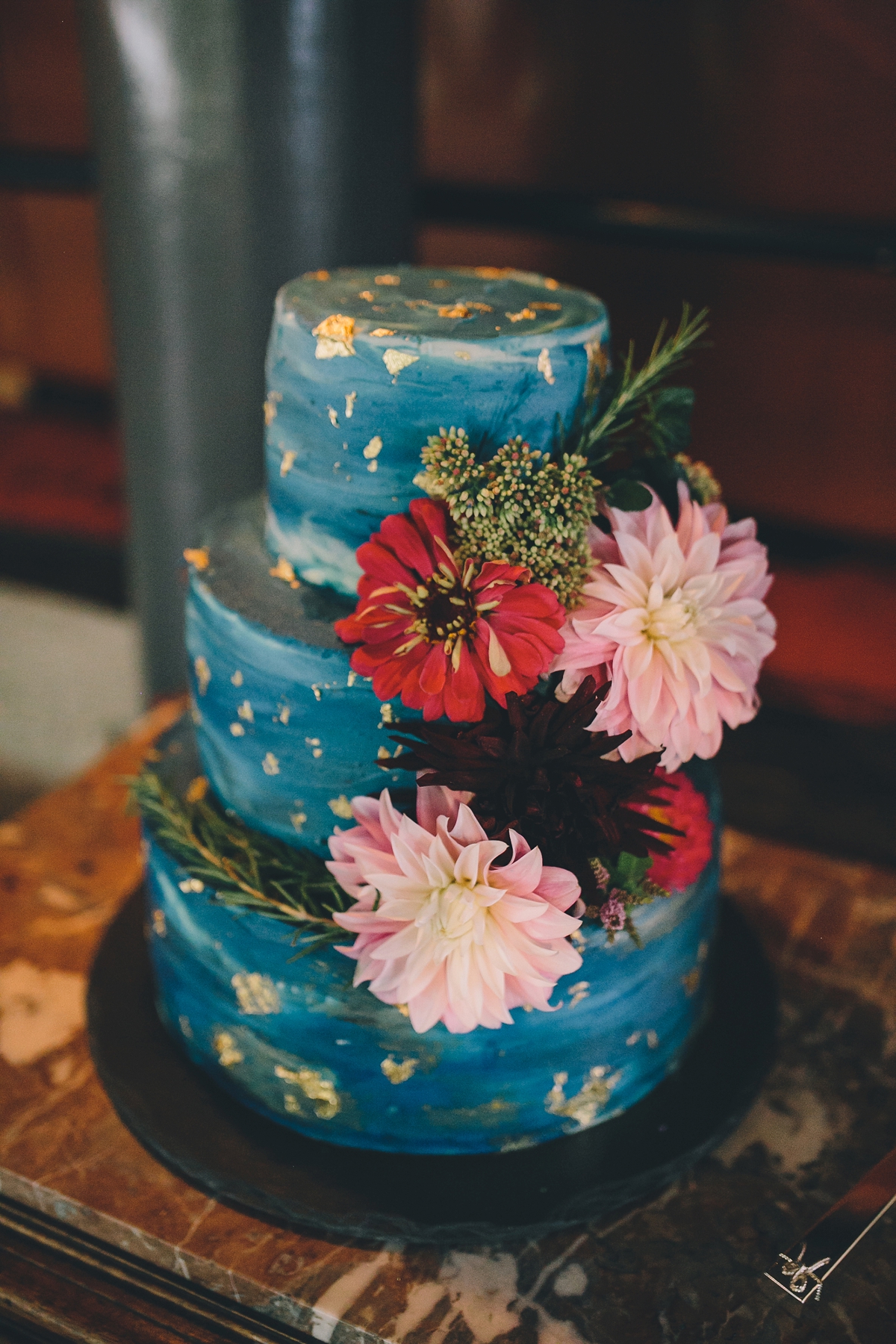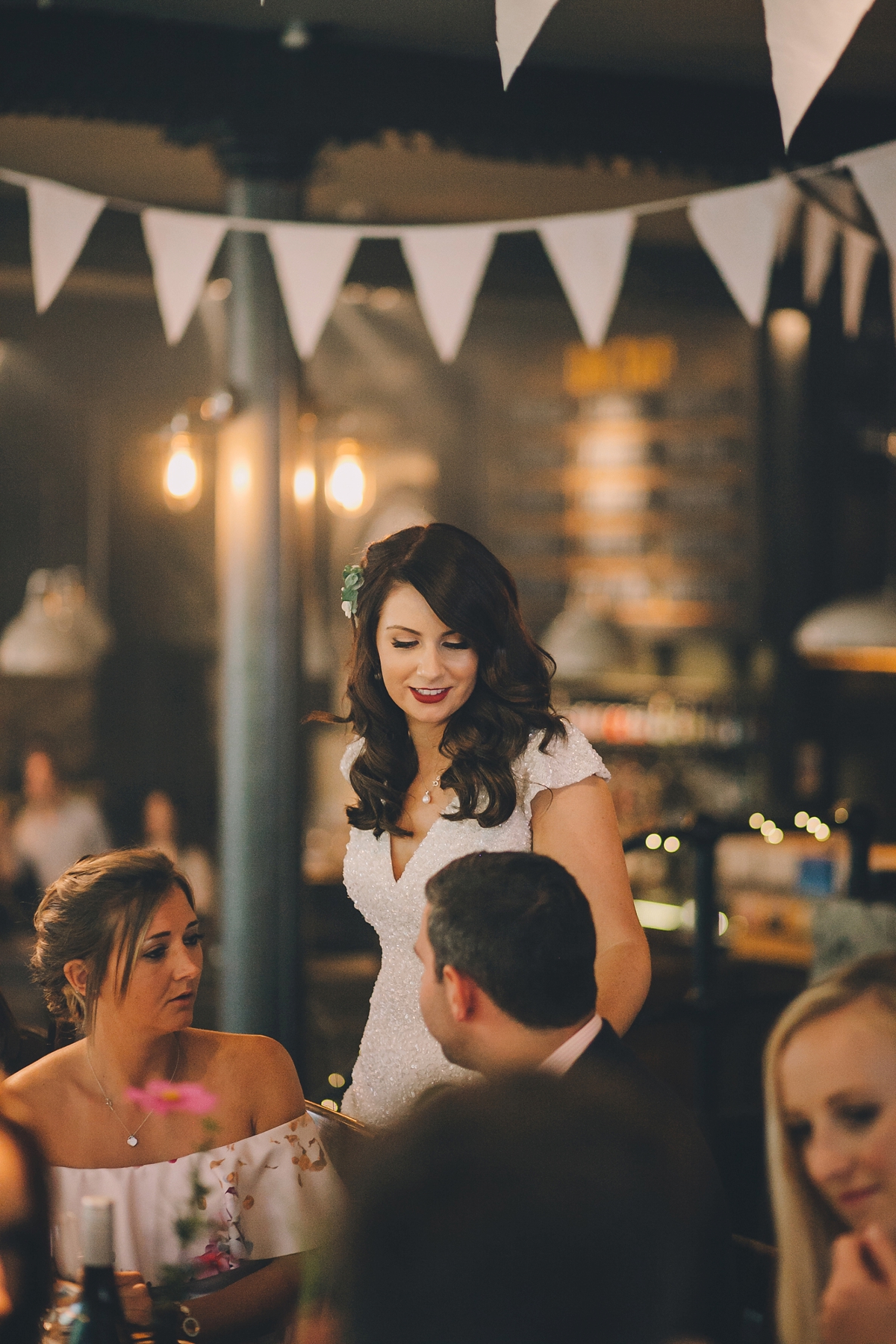 For entertainment Steven and Laura chose something a bit different (and I absolutely love it!).
"We organised a ukulele band to 'teach' our guests a couple of songs after the speeches.  They supplied around forty ukuleles and we gifted the bridal party their own.  We then acquired additional percussion for the remaining guests – triangles, maracas, bells –  to make sure everyone could join in.  It's safe to say chaos ensued – in the best possible way!  It was the craziest thirty minutes of my life.  We kept it a secret from everyone so it felt like a gamble but I'm so pleased we went for it as it made the day."
"In the evening, we hired Shine On Band through Alive Network and they were incredible."
"We chose 'I Wanna Be Yours' by the Arctic Monkeys for our first dance.  Music plays a big part in our relationship but we were still throwing around first dance options right up until the day before.   Arctic Monkeys are a band we have seen together several times over the years and the lyrics (adapted from a poem by John Cooper Clarke) reflected how we felt but without making us feel too 'exposed'."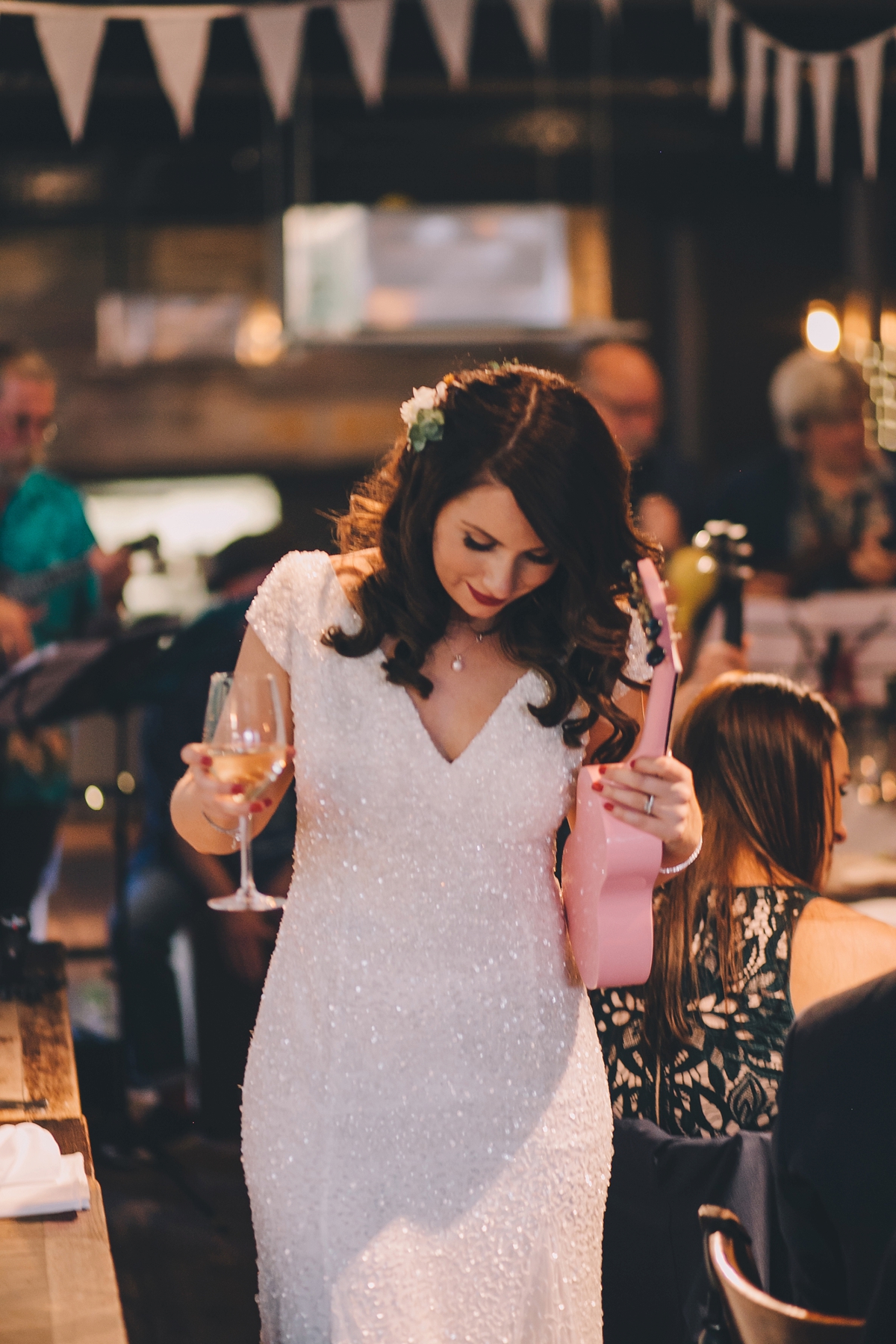 Words of Wedded Wisdom
"I try to live my life following a small piece of advice I was given by an old manager – 'control the controllables'.  In the run up focus your attention on the things you can control and let everything else go.   When it all comes down to it, this day belongs to you and your new partner and all the things you worried about in the build-up seem insignificant.
Ask people for help, delegate tasks and don't be scared to let go of ideas you had in early planning stages that don't get finished and seem daunting in the final weeks."
"Finally, go with your gut.  Don't do things that don't feel right just because it's tradition or expected of you.  Take a chance on a new supplier if it feels right, have your hair the way you want it, have the food you want to have and surround yourself with people that you love."
So many thanks to Laura and Steven, for sharing this beautiful day.  Where to send you from here?  To more pub weddings?  To other beautiful Eliza Jane Howell gowns?  Or perhaps to another Union Chapel wedding?  The choice is yours, enjoy!
Much love,
Shona x