Hello dearest readers, how are you this fine Tuesday evening – has the snow cleared up for you yet?
We're delighted to share this lovely wedding with you today – meet Rebecca and John, who married on the 26th August 2017 at the fabulous Stockport Plaza in Cheshire after meeting at university twelve years before.  John surprised Rebecca with a proposal in beautiful Porto and the couple planned a day with so much personality and flair I could have made this feature twice as long.  Enjoy!
"We wanted to give a nod to the places we grew up (Blackpool and Liverpool).  To that end, we showed some old pathé newsreels on the big screen about our cities, and our evening food was fish and chips and 'Scouse' (which is a lamb stew, native to Liverpool). Overall, we just wanted to create a fun and memorable atmosphere and celebrate having everyone we loved in one place. Stockport Plaza is a beautiful Art Deco cinema that has been restored to exactly how it was on opening night in 1932.  We visit the Plaza quite regularly and it felt like the perfect place for us to get married.  It's down to earth but still glamorous in an old-school way, which is how we like to see ourselves."
Images by Cassandra Lane
The day was captured on camera by the talented Cassandra Lane.
"We wanted to book Cass before we even got engaged.  She was shooting a friend's wedding and we were so impressed by how assertively she handled the crowds yet at the same time she managed to blend in seamlessly, never seeming obtrusive or awkward.  When we were engaged, we got in touch and she totally just 'got' the concept of the wedding.""We were so happy with the photos as she really captured the essence of the day.  John's not super comfortable with the idea of having his photo taken but she made him feel really relaxed with her down-to-earth approach.  We also hired a second shooter so that we could capture different angles of the ceremony, and Ayesha was also incredible."
Rebecca looked beautiful in the gorgeously beaded 'Ettia' by Maggie Sottero, which she purchased from Sense and Sensibility Bridal near Stockport.
"I'd seen Ettia online and it took my breath away just from a tiny picture on my phone.  Sense and Sensibility were brilliant and ordered it in for me to try.  It made Mum cry, so I took that as a good sign!  I loved the way it made me feel like an old Hollywood movie star and the way I could move around, dance and eat comfortably too."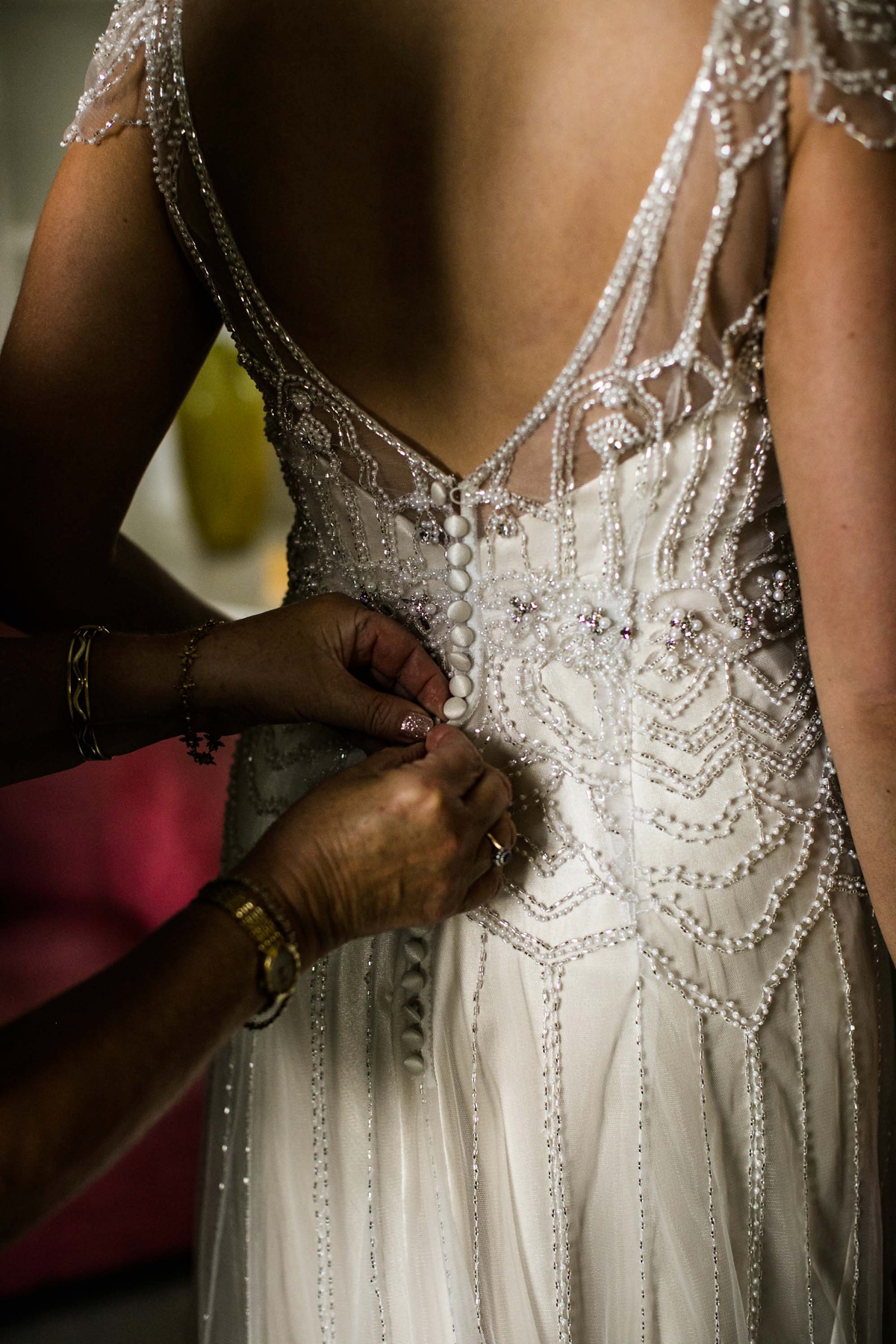 On her feet Rebecca wore the gorgeous 'Isabelle' by Rachel Simpson in mint green, while for scent she chose Peony and Blush Suede by Jo Malone.
Rebecca chose her usual hairdresser to create her vintage-style up-do, while for make up she opted for a natural look with pink lip, which was the work of Aimee at The Vintage Beauty Parlour in Chorlton.
"The Vintage Beauty Parlour was another Love My Dress find – Aimee was such a dream on the day, working in such a professional way that everyone felt calm and relaxed."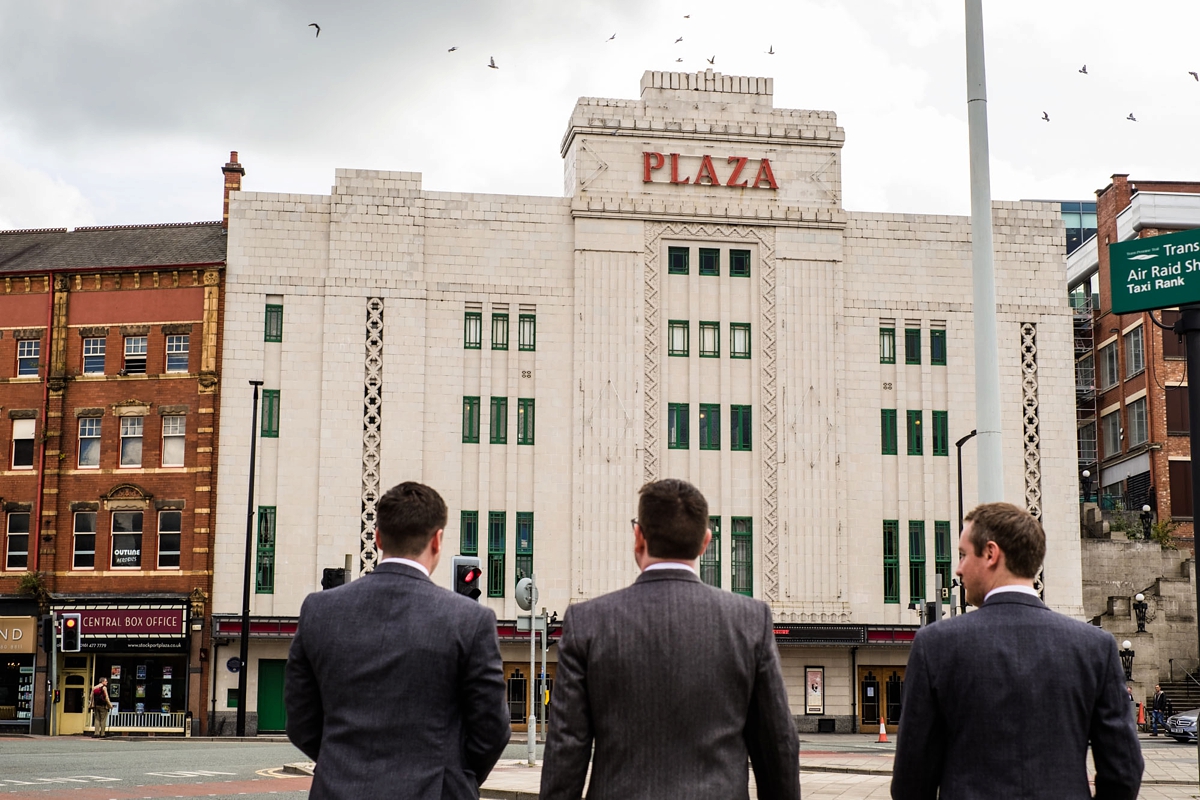 Rebecca and John also chose to have their day recorded in moving film and Jo Gendle did the honours, as well as helping produce a silent film to show to guests on the day.  Do have a peek here if you have a few spare minutes today.
"Jo is just so lovely and talented, and so relaxed and approachable at the same time- we're so happy with everything she filmed for us."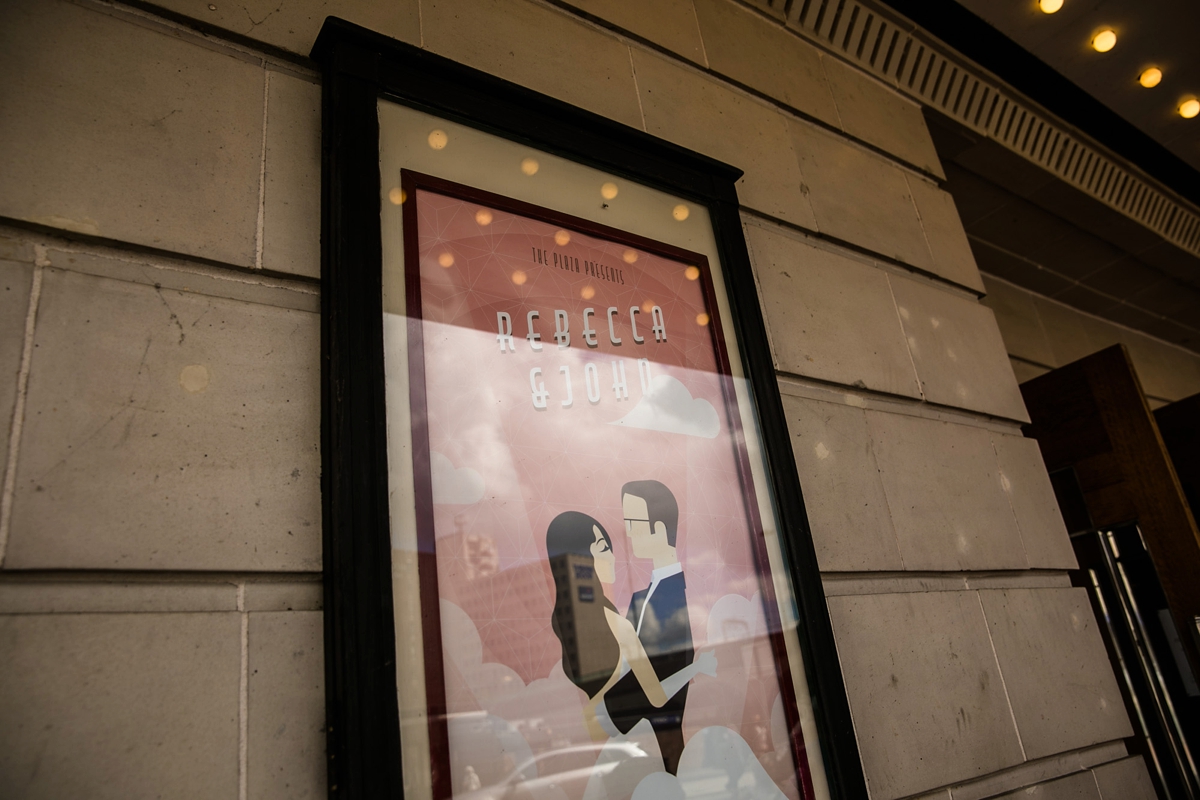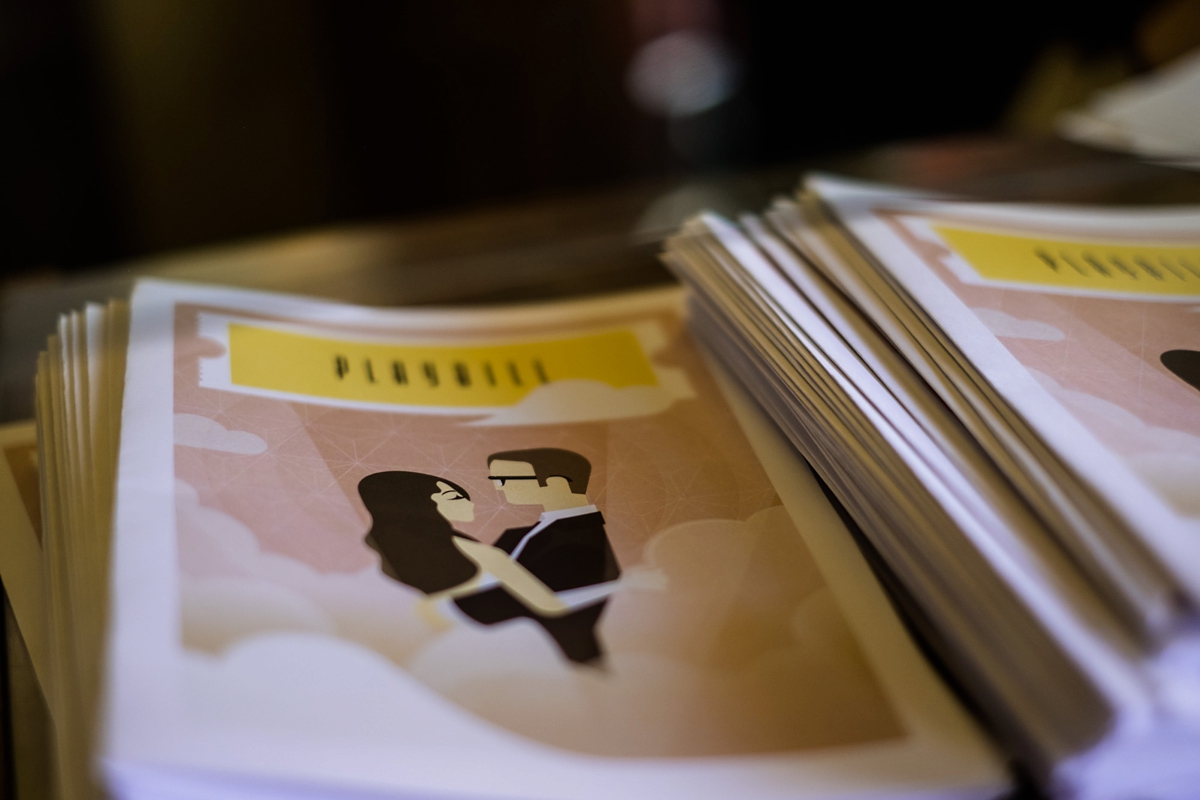 The bridesmaids looked lovely in pale pink gowns from our Little Book for Brides members Monsoon, paired with rose gold sandals from Dune and a fabulous mint green 'Ooh La La' pouch from Katie Loxton.  The beading on the bodices echoes Rebecca's gown perfectly.
"Dad and I travelled in a 1949 Bentley and the wedding party in a classic Mercedes E Class Limo.  The cars were provided by Broadoak of Manchester."
"Our flowers were by Blue Door Flowers in Heaton Moor, which is not far from our house.  We loved the idea of keeping it local and Victoria's beautiful shop is always full of exquisite flowers.  We opted for a mix of white and blush David Austin roses as I wanted my bouquet to be similar to my Nana Rachel's bouquet in the early 50's."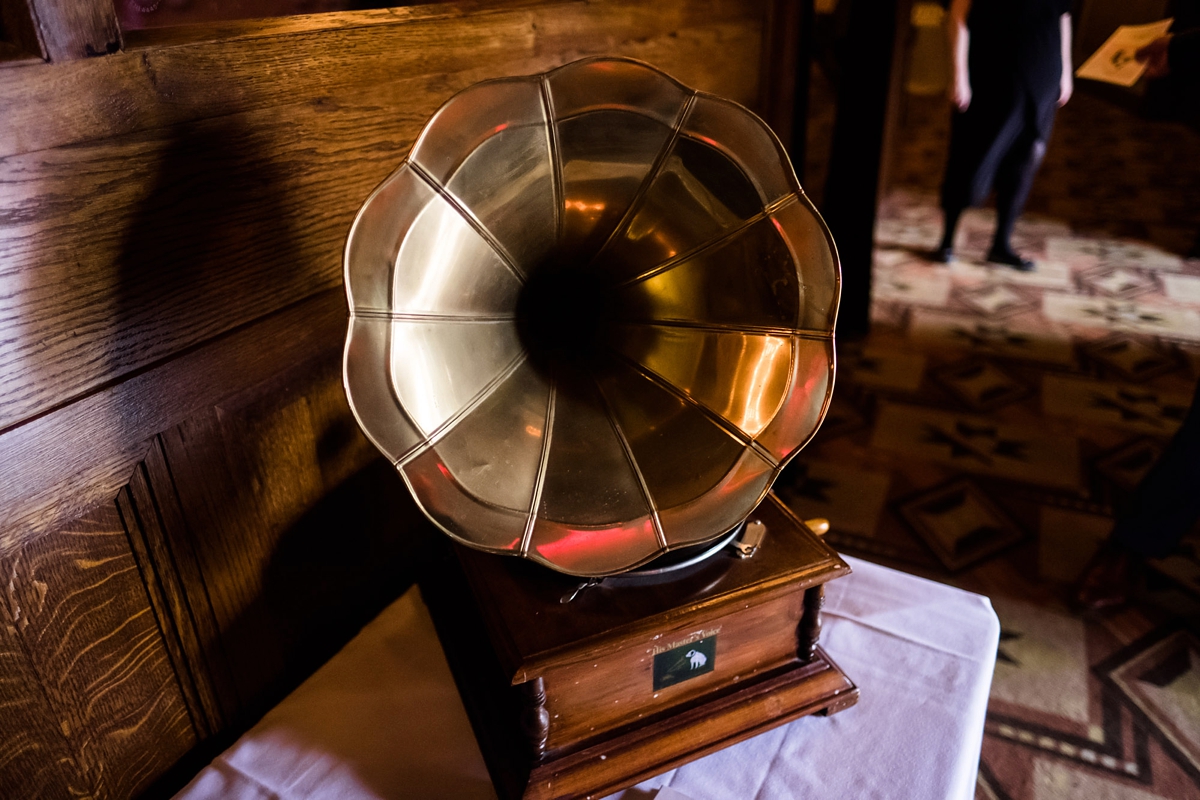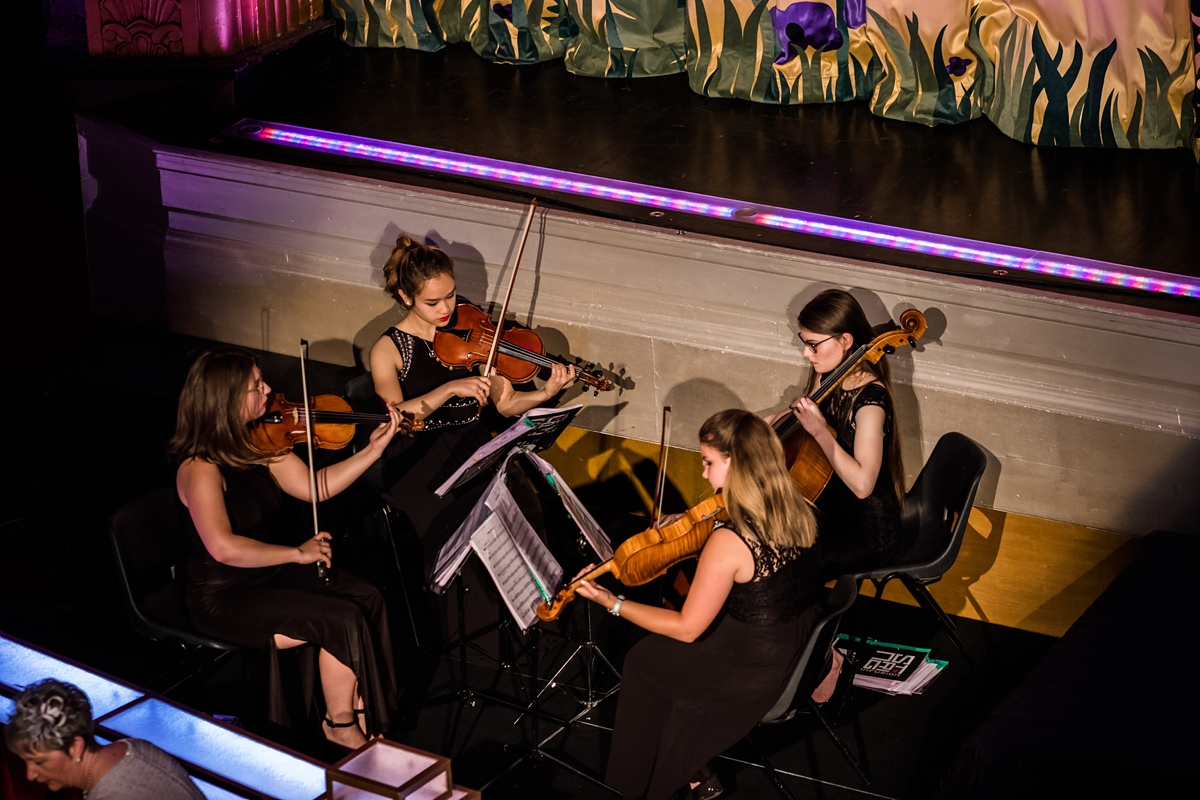 John looked very smart in a suit and accessories from Ted Baker, worn with a pocket watch from Rebecca and a bow tie and pocket square from Bartek Design on Etsy
To accessorize, Rebecca chose a long veil, also from Sense and Sensibility Bridal, as well as a beautiful bespoke hair slide and pearl drop earrings by Gillian Million and a silver bangle which belonged to her late Nanna.
"Nanna passed away earlier in the year, but had been so looking forward to the wedding so it felt really special to be wearing something of hers."
Rebecca was accompanied down the aisle by her Dad to 'Pure Imagination' from 'Willy Wonka and the Chocolate Factory' played live by String Infusion.
"There's no-one else I would have wanted to walk with me, but rather than 'giving me away' Dad stated that he 'supported the marriage' on behalf of both of our families."
"Cate from The Ceremony Company led our ceremony and she was brilliant- professional and warm, with an amazing presence.  We were able to customise and personalise everything."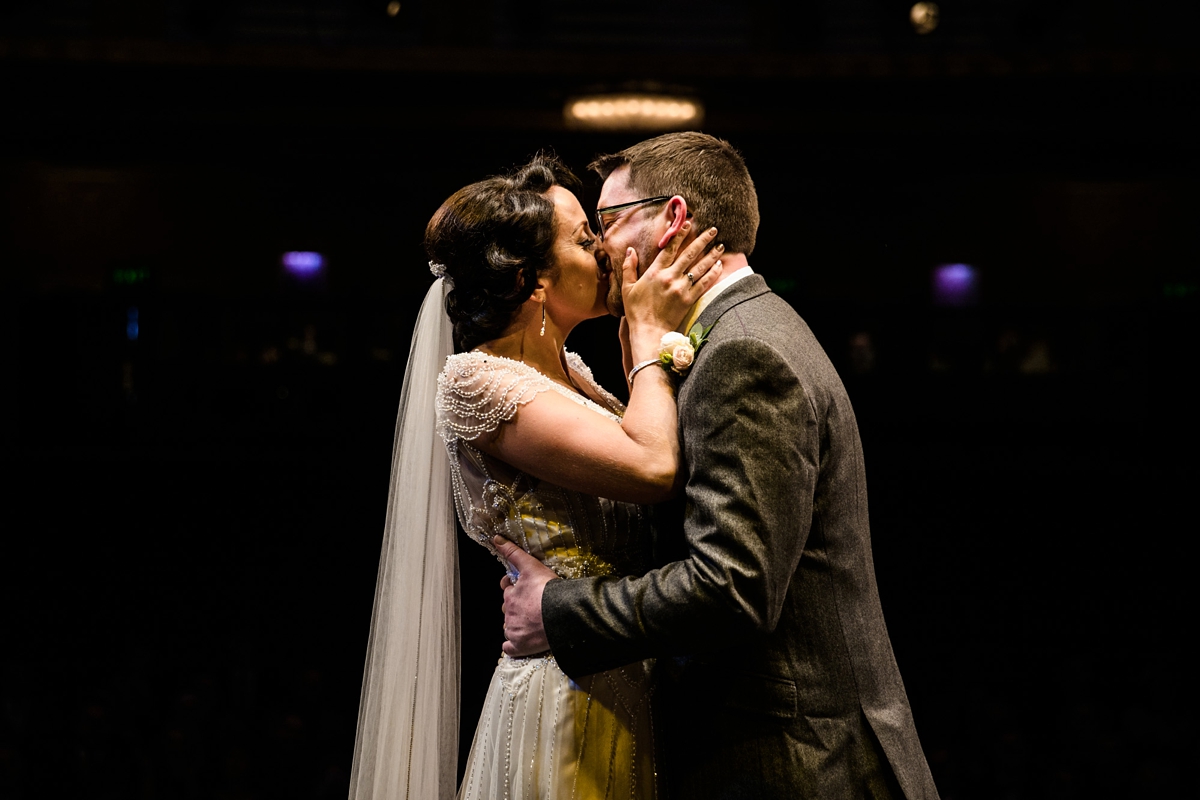 "We had two readings.  One was an extract from 'Song of the Open Road' by Walt Whitman and the other was an adaptation of Aristophenes' definition of love from Plato's Symposium- a nod to John's love of philosophy, and a very romantic notion of two separated souls roaming the earth to find one another and become whole."
All the rings were from Jenny Jones, a vintage jewellery specialist in Manchester.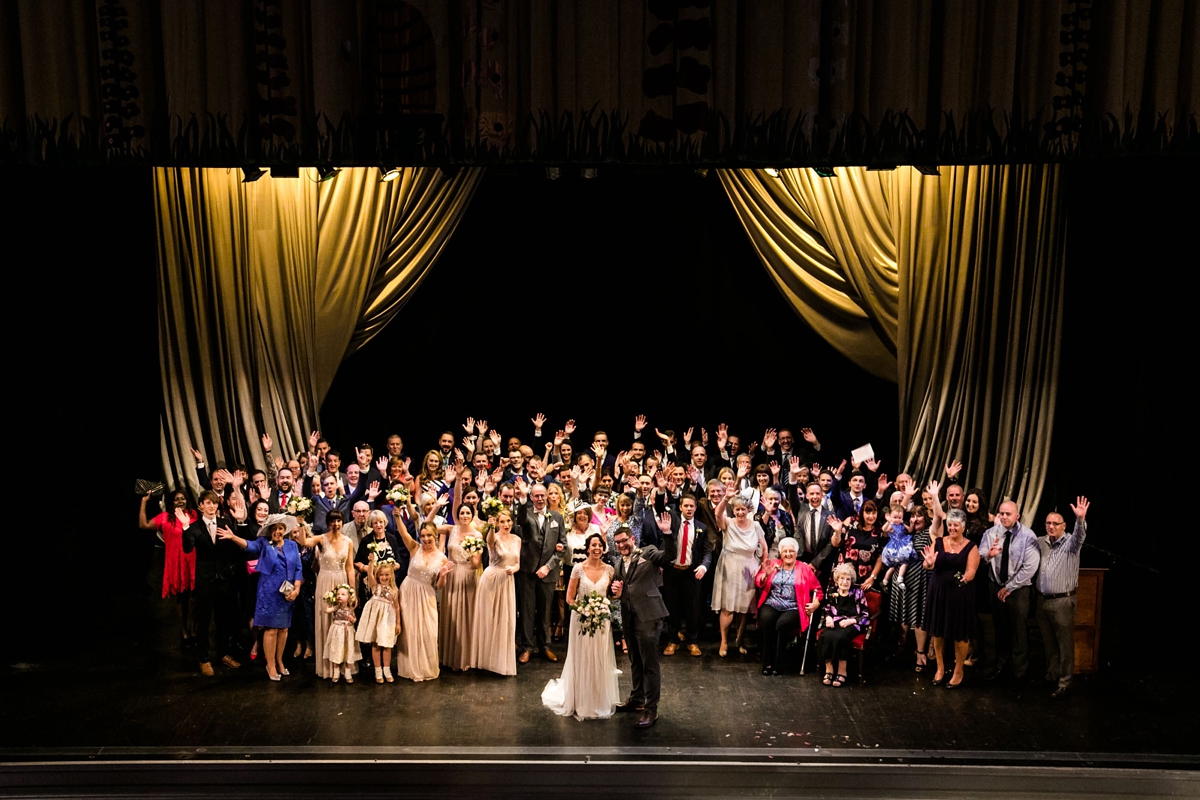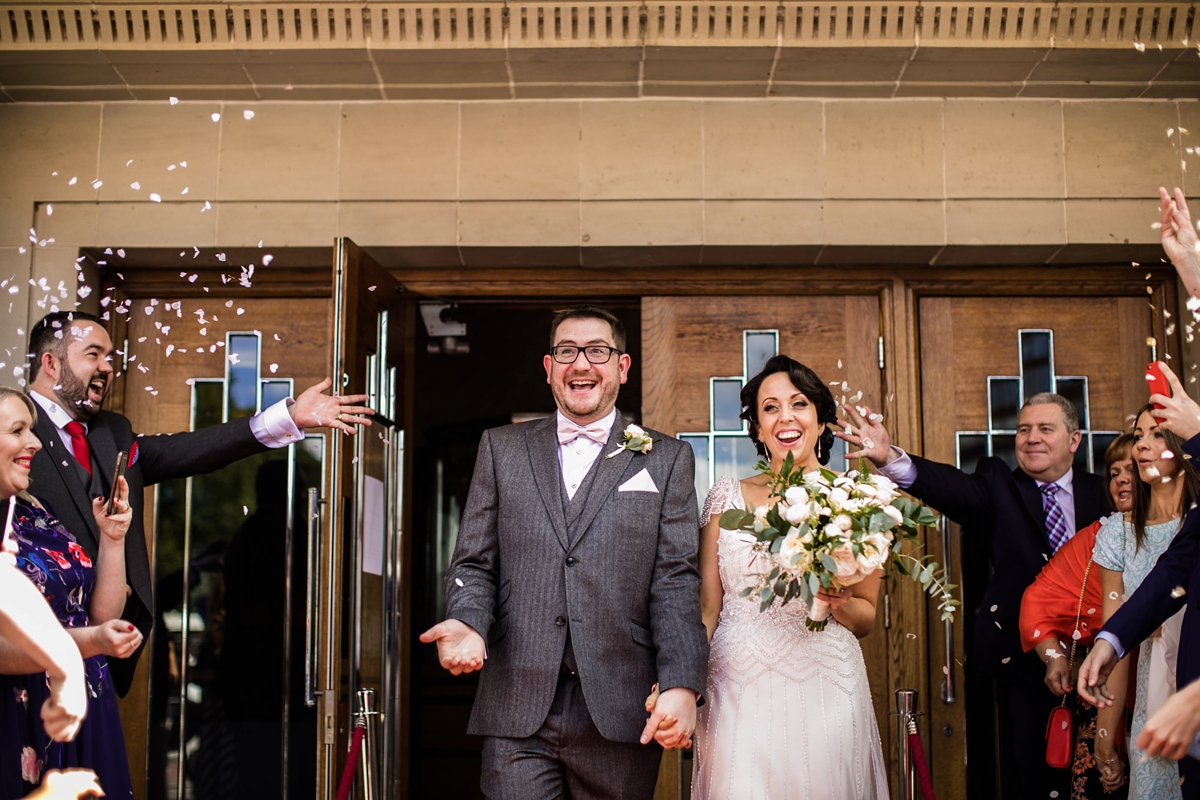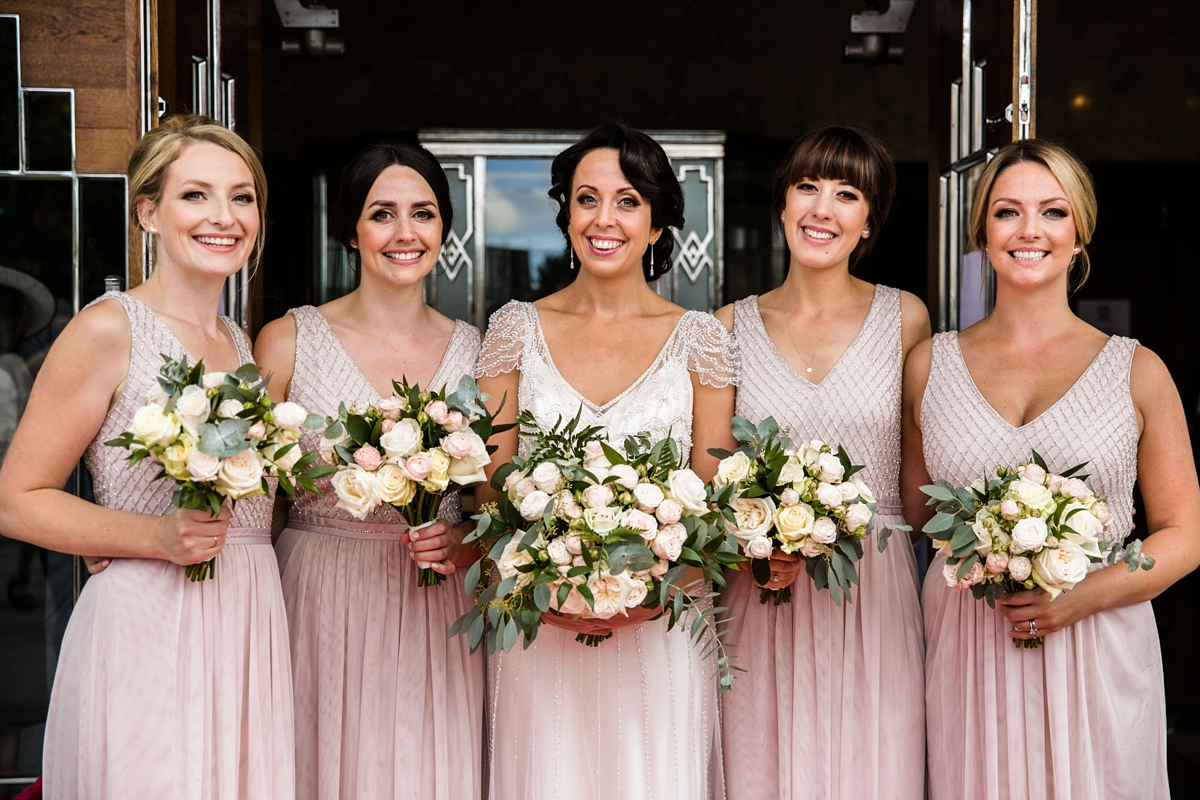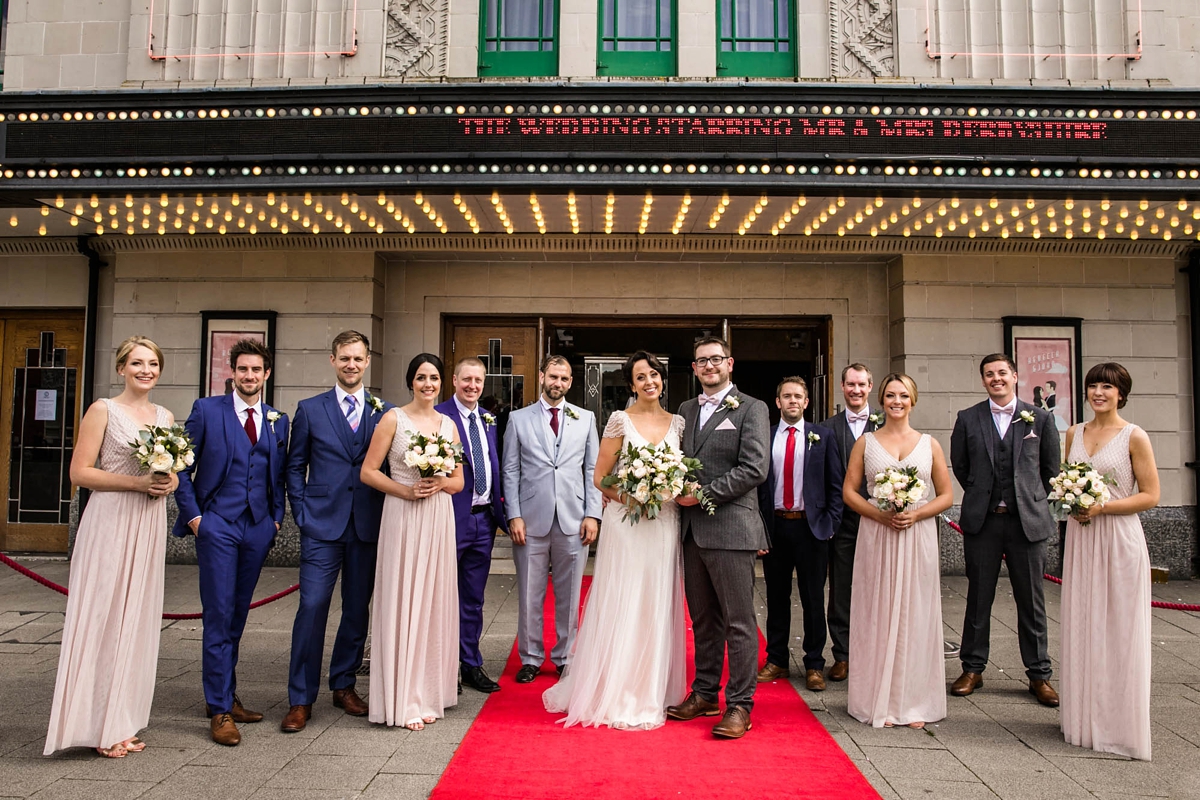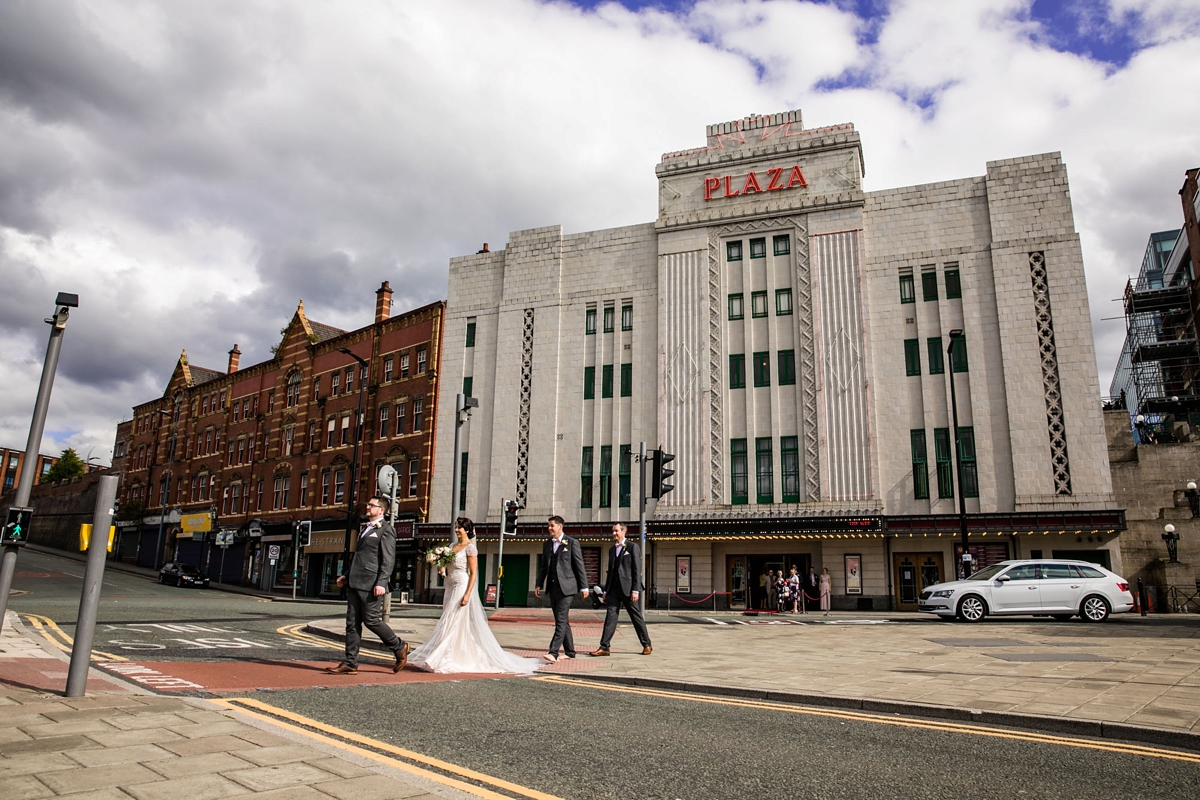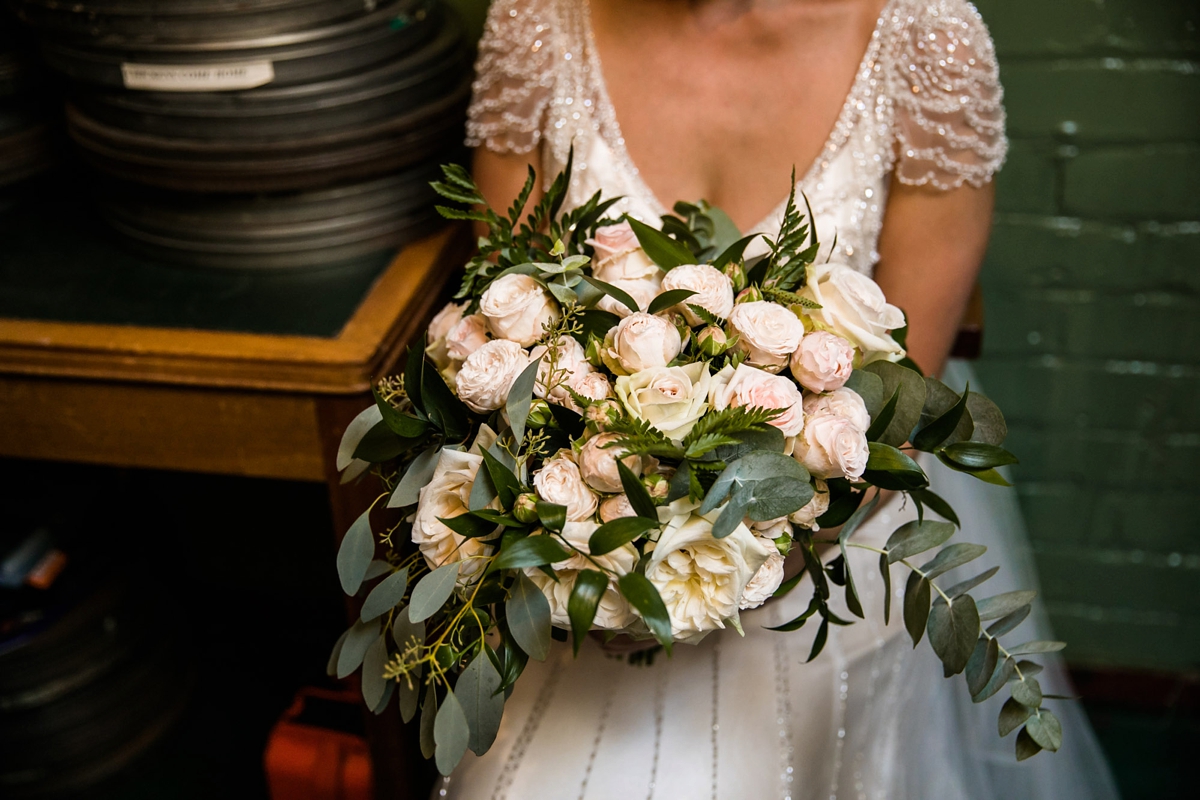 "Our tables were named after our favourite classic films, and we framed images of the original posters.  Our placenames were from VMBespoke and guests all took these home."

"Our invitations, menus, table plan, signs and roller-sign were all designed by Emma Ogden.  Emma was brilliant, working to make sure that everything was perfect."
"For favours we provided Prostate Cancer UK pins in memory of John's Dad who passed away a couple of years ago. We also asked guests to bet how long the speeches would last, with a prize for the winner and we donated all the money to the charity.  It was really important for us to be able to help continue the fight against this dreadful disease."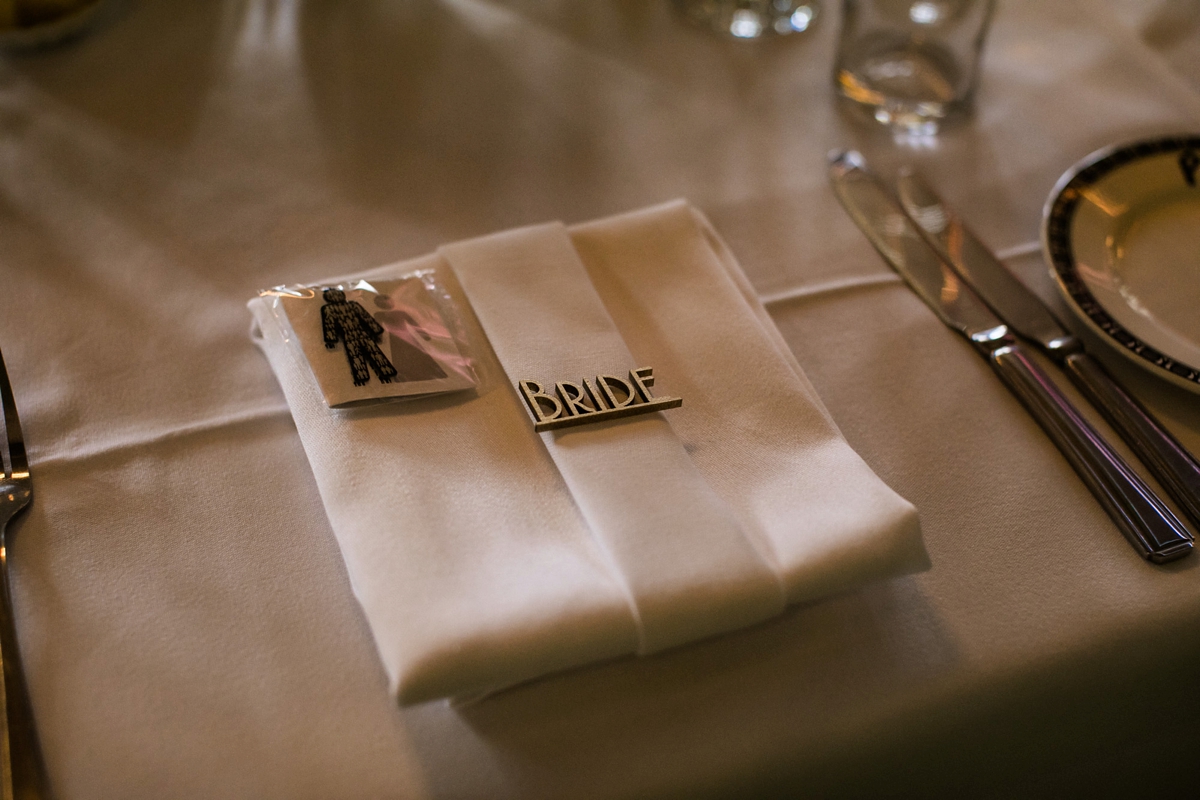 The fabulous square Art Deco-style cake was the work of Rachel from Marie Antoinette Cakes.  Rebecca reports that it tasted as amazing as it looked too.
"As guests were arriving the organist played movie themes on the Wirlitzer organ, and String Infusion played throughout the reception.  During the meal the pianist played classic 40's tunes, and then Blind Tiger played an amazing set.  To round off the night Karl and Kate from Deckheds played indie disco from the years we were at university.  Deckheds were another Little Book for Brides find and were such a great decision."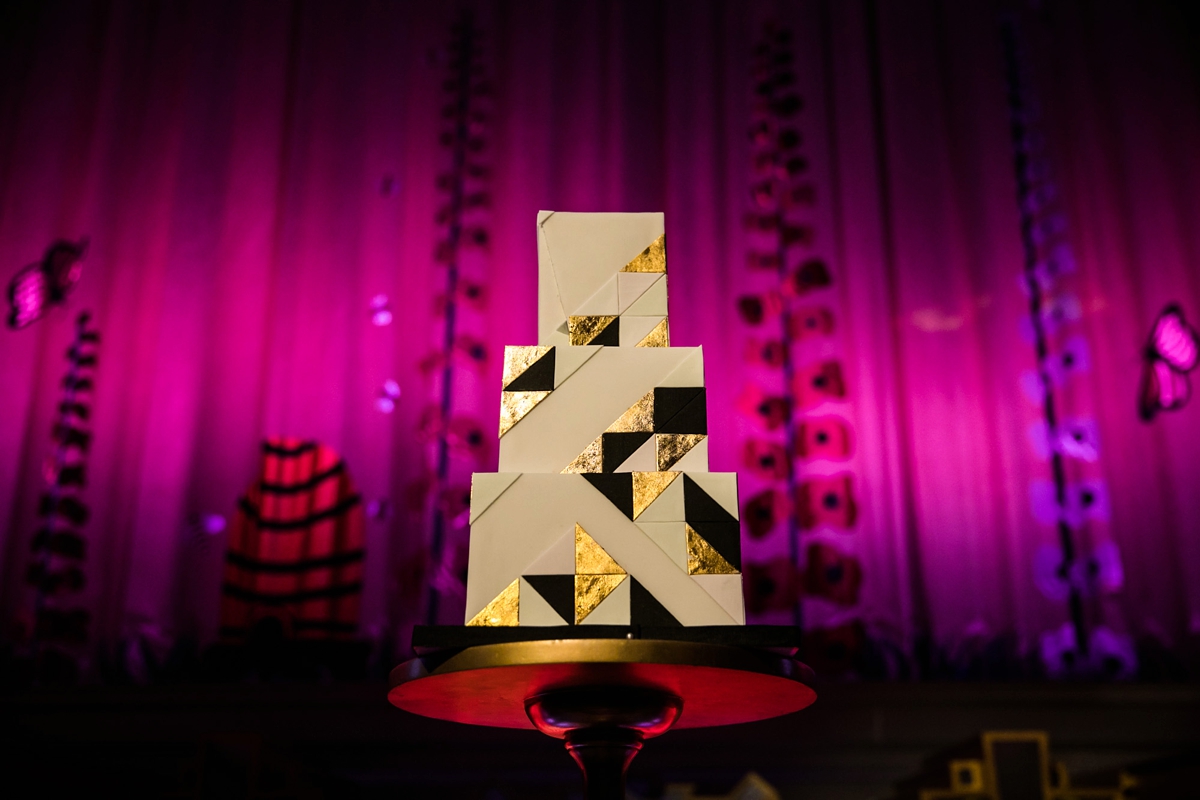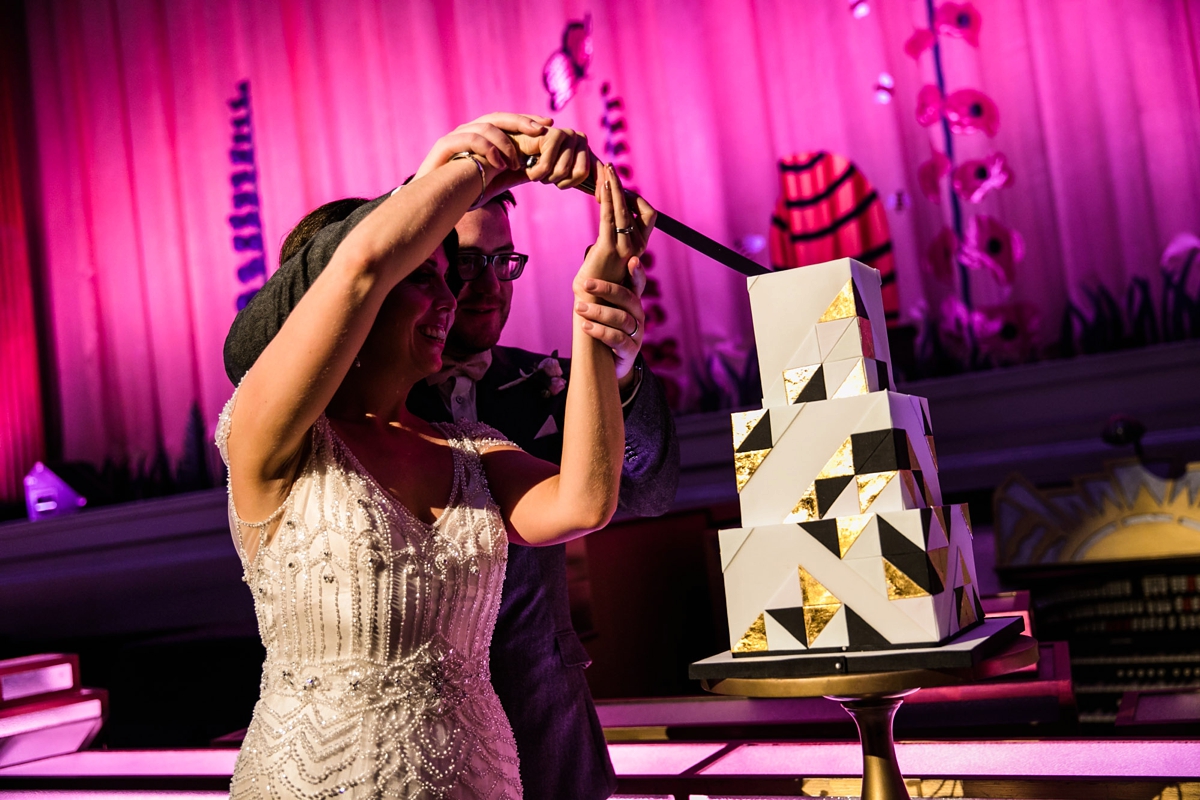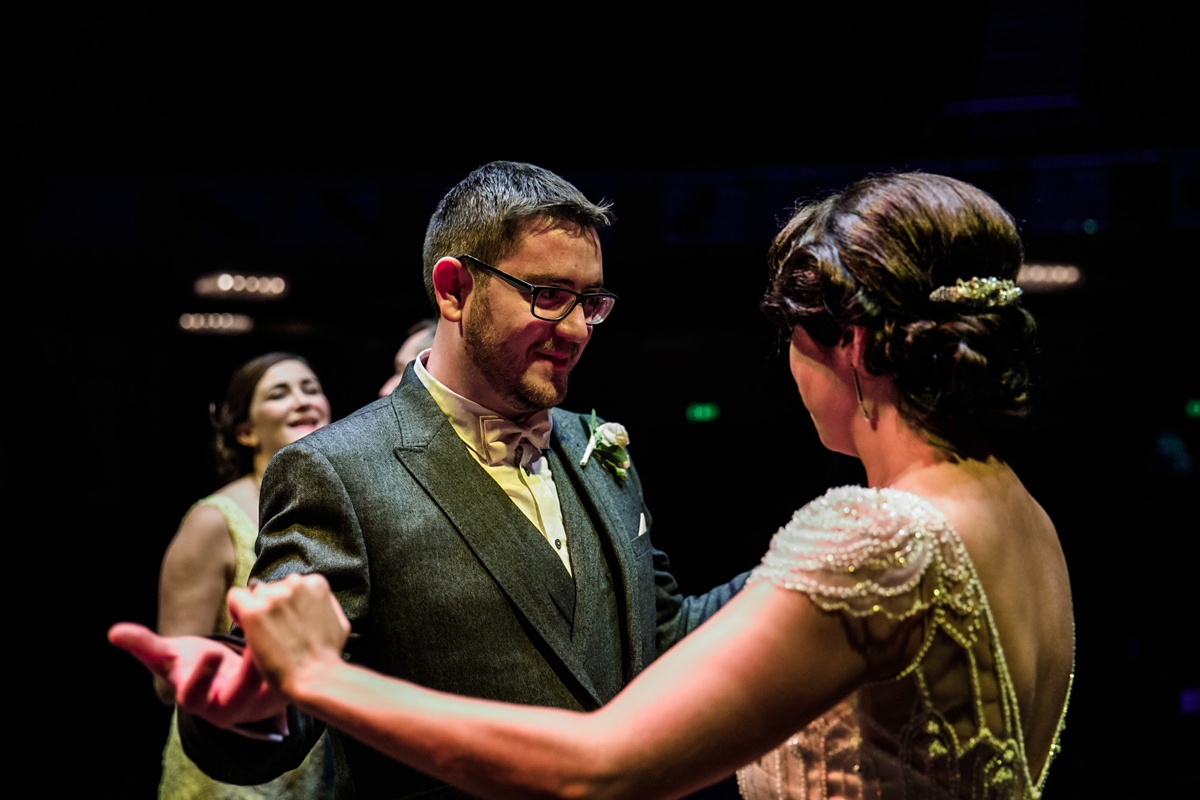 "Jolly Good Photo provided a vintage photobooth.  The best thing was that they printed two of each photo- one for our guests to take home and one to stick in a guest book, which they manned all night."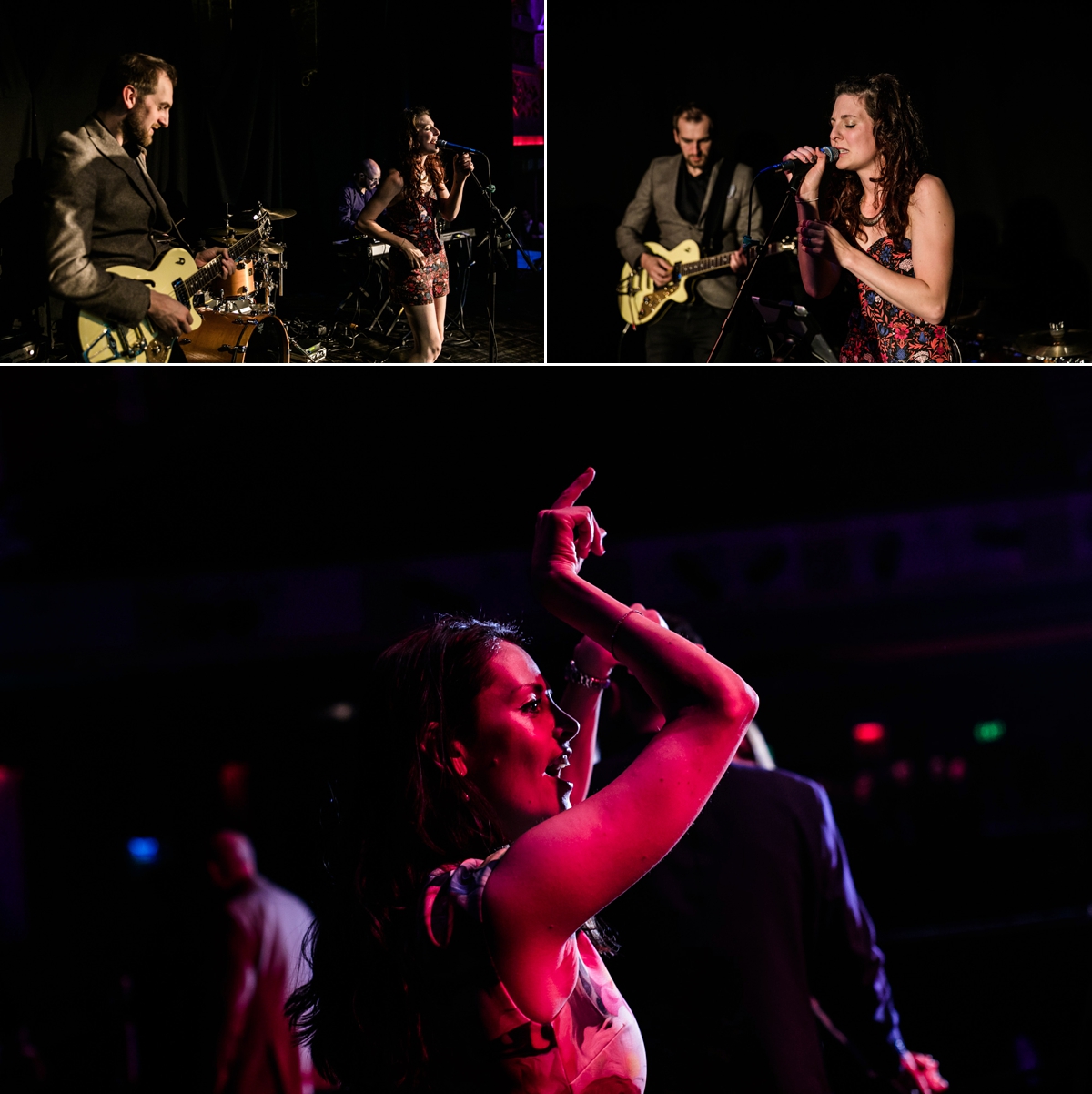 Words of Wedded Wisdom
"Make a speech.  I was so nervous beforehand, but you have to remember that everyone in the room loves you and is rooting for you and I'm so glad I did.
Choose your suppliers carefully.  Every single person we worked with absolutely 'got' the concept of the wedding and knew what we were trying to achieve.  I felt so much more relaxed knowing that we had selected such talented professionals."
"Make the wedding 'yours'.  Everyone remarked on how 'us' the day felt.  We could have made a lot of things easier on ourselves if we hadn't wanted to stamp our personalities onto everything, but it was totally worth it."
So many thanks to John and Rebecca for sharing this gorgeous day with us all.  If Art Deco vintage glamour is your idea of the perfect day, take a peek here for some more amazing inspiration, or if you would like to see more brides in Maggie Sottero, take a look here.
All my love,
Shona x