Well hello lovelies. I hope you're all well and are enjoying the week so far. This wedding might make it even better – an elegant, formal winter celebration captured by Joshua Wyborn.
On 4 November 2017 primary school teacher Becky married Bruce, co-owner of Bruce and Luke's Coffee, in a church ceremony at Becky's local church, St Andrew's near Northallerton with a reception afterwards in the grand surroundings of Lartington Hall, Barnard Castle, Northumberland. The couple fell in love with the sophisticated elegance of the hall, and combined inspiration from the autumnal season with a lovely colour palette of blush pink, mink, burgundy and foliage.
"We instantly fell in love with Lartingon; it is unique, exclusive and truly stunning – one of a kind! I think the mulberry wallpaper did it for me. We loved how 'classy' Lartington Hall was; every little touch was perfect and they organised everything for us – bonus! We had mutually decided to get a married in a church as we felt God's blessing was the right thing for us. St Andrew's church (my local church) is a little quaint church in the middle of a little village near Northallerton in North Yorkshire and it is the church I practise at. It was handy that my mum has a fantastic relationship with the ladies from church as they helped an incredible amount with the organisation of the big day."
Photographer Joshua Wyborn Photography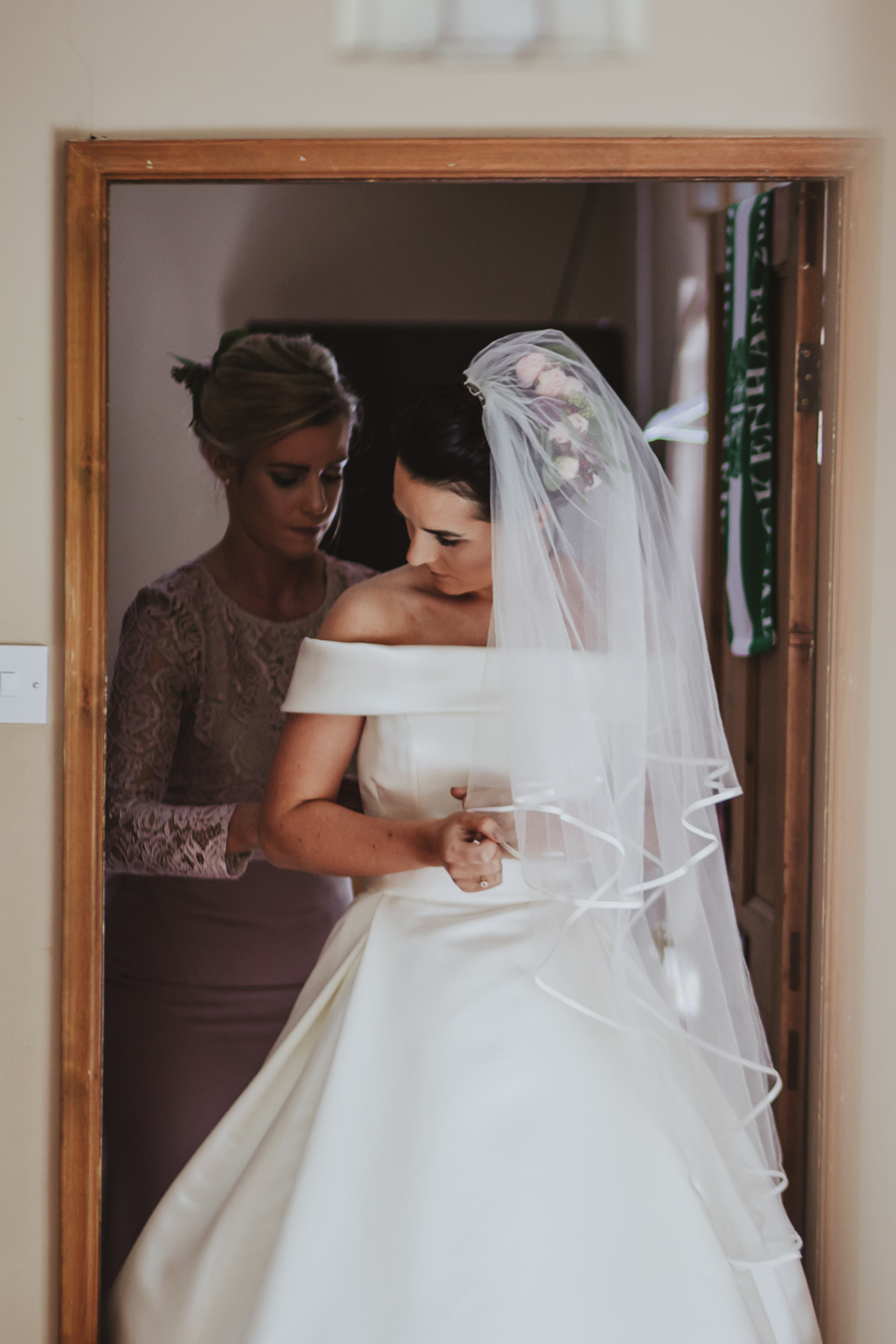 After years of dating, the couple had a swift engagement before getting married.
"Bruce and I met in May 2011 when I was a second year student at the University of Cumbria. We met in a popular bar on a Saturday night and a slightly drunk me made a joke of his then-phone (a Nokia 3310). He must have liked me lots as the following day he added me on Facebook and the following week he asked me for dinner. Bruce proposed to me on 23 February in Disneyland Paris with a broken leg. We knew we didn't want a long engagement as I had waited a while for his proposal, so I got on the job of organising our wedding as soon as we were back from our holiday. Dress, bridesmaid dresses and venue were booked in four weeks. I knew I wanted an autumn/winter wedding as I love the crisp air and the colours of this season."
The splendour of the hall was reflected in Becky's beautiful choice of gown – a full-skirted, off-the-shoulder formal Alan Hannah design, which she found at Brides of York. I love the contrast between the formal structure of the gown and the short two-tiered veil, also from Brides of York.
"I had walked into Brides of York with an open mind. Sharon, the manager, told me to select all the dresses I liked which I did. In fact, all the dresses I had picked were all Alan Hannah. The first one I tried on I instantly loved but once I had tried the second on, I knew it was the 'one'! I left the shop to go to another bridal appointment but I couldn't get that dress out of my mind so I left it an hour then went back and bought it! I loved my dress so much and I'm now in the process of redesigning it so I can wear it again."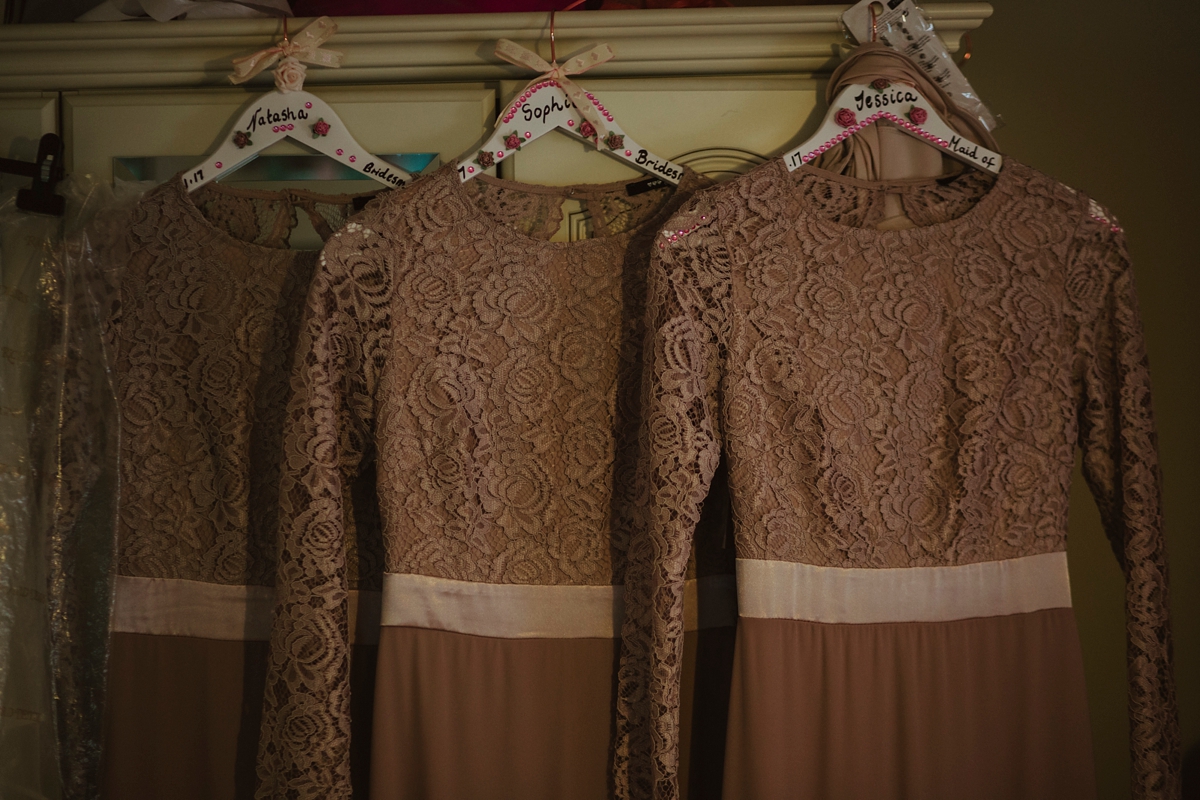 The flowers were sourced from florists in Becky's hometown and Barnard Castle – Alina Florist and Daisy Chain Florist. Nothing other than beautiful blooms were needed to adorn the magnificent venue, but the couple drew from their love of musical theatre for their wedding stationery. They used old-fashioned theatre tickets as place cards and menus and named tables after their favourite musicals.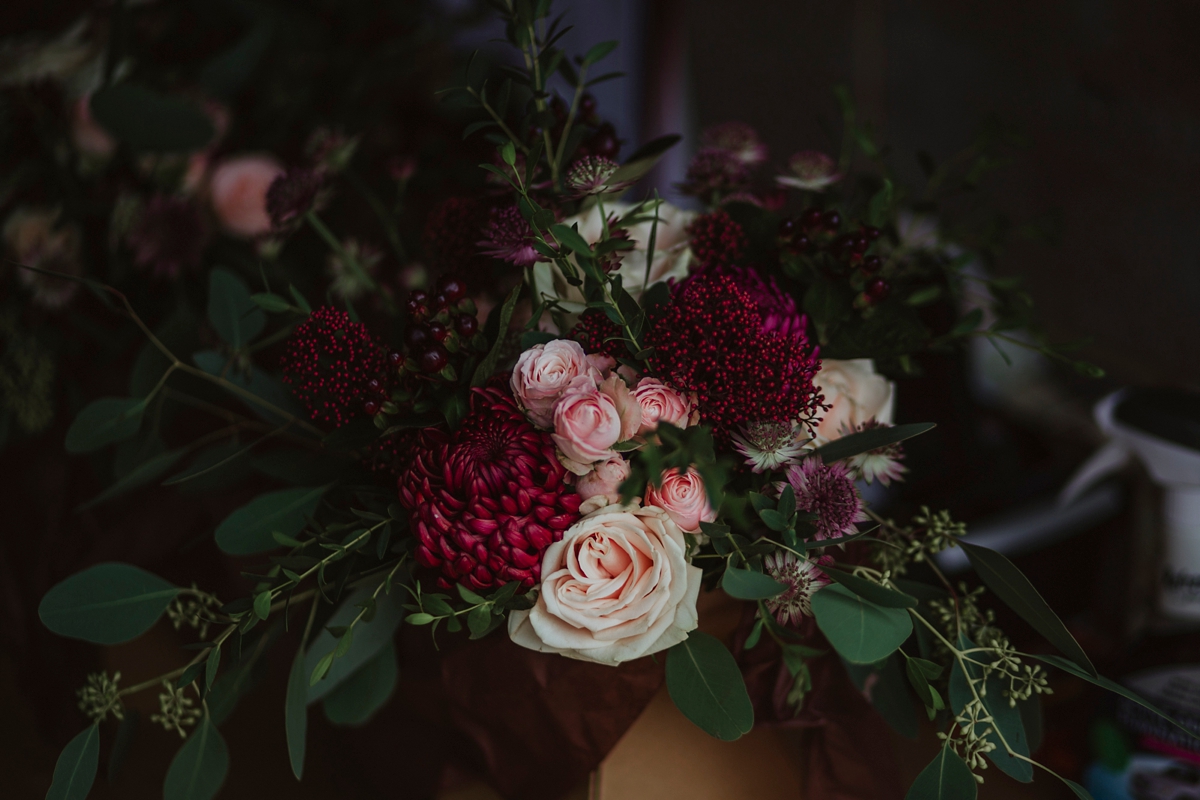 "As Bruce and I live in Carlisle, we had to organise flowers from Barnard Castle for the reception at Lartington Hall and also bouquets and button holes from my hometown – Northallerton."
"It wasn't easy arranging this but both florists did an amazing job and my bouquet was simply beautiful – so much foliage for this time of year."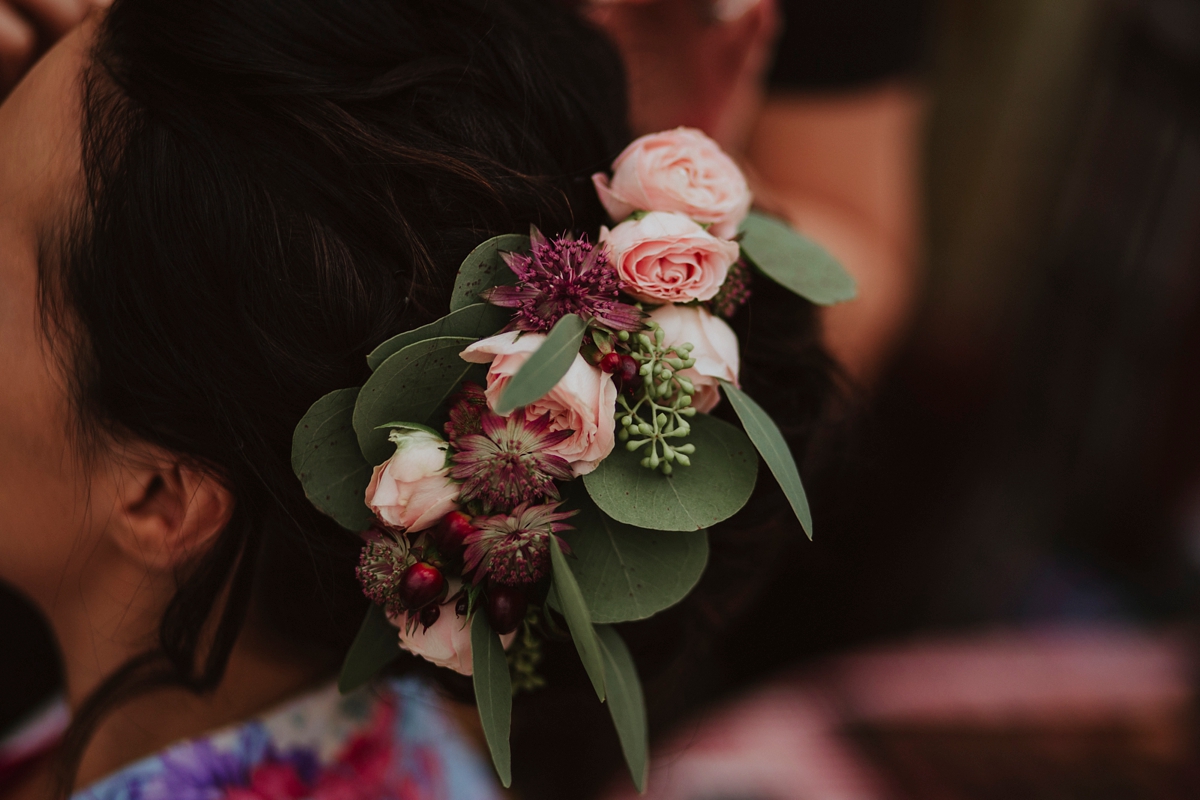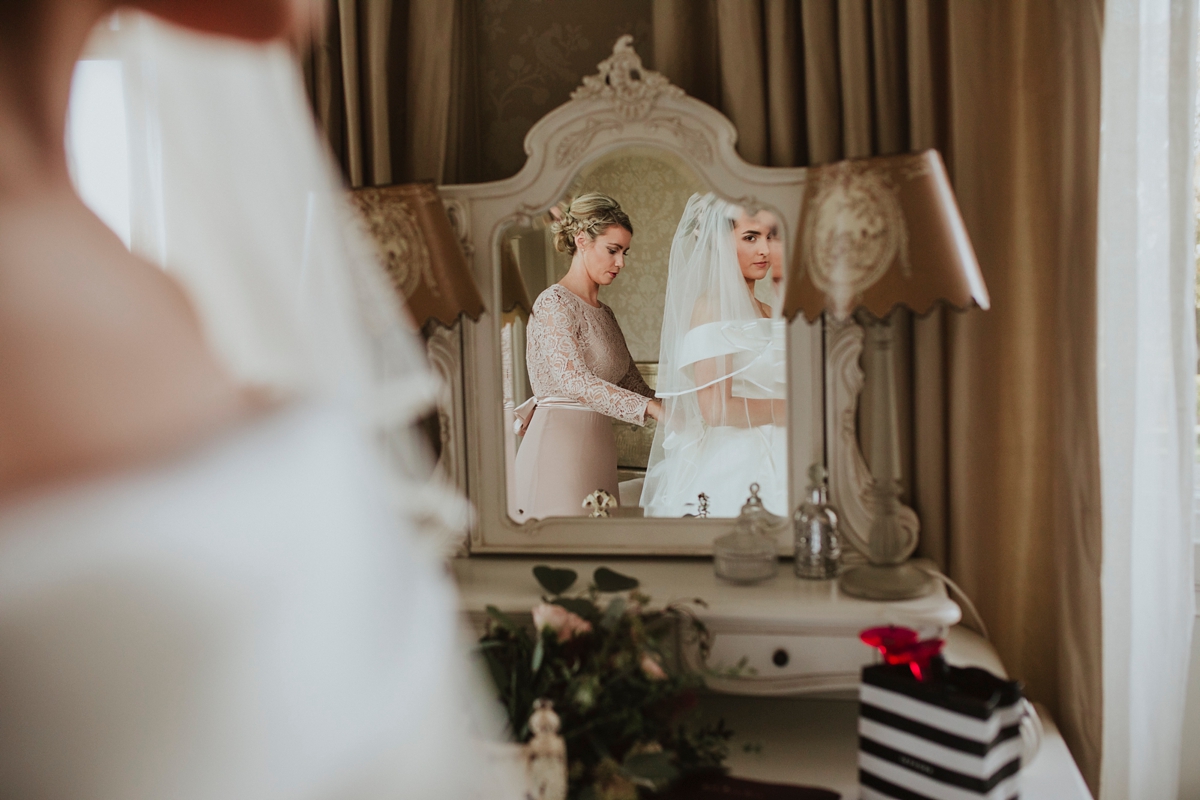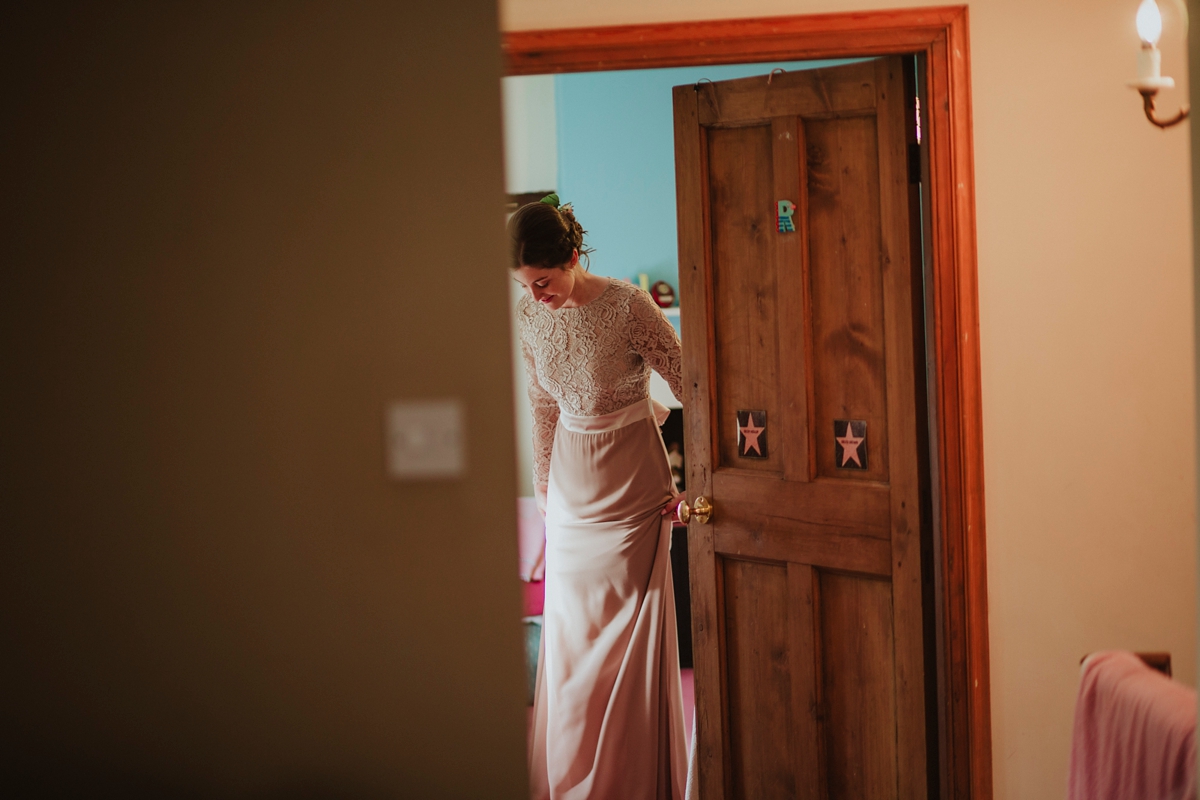 I cannot get the bridesmaids' beautiful gowns out of my mind – they are just gorgeous. Their TFNC London gowns combined fitted, mermaid skirts with long-sleeved, open-backed lacy tops in a deeper shade of pink for a really elegant, sophisticated look.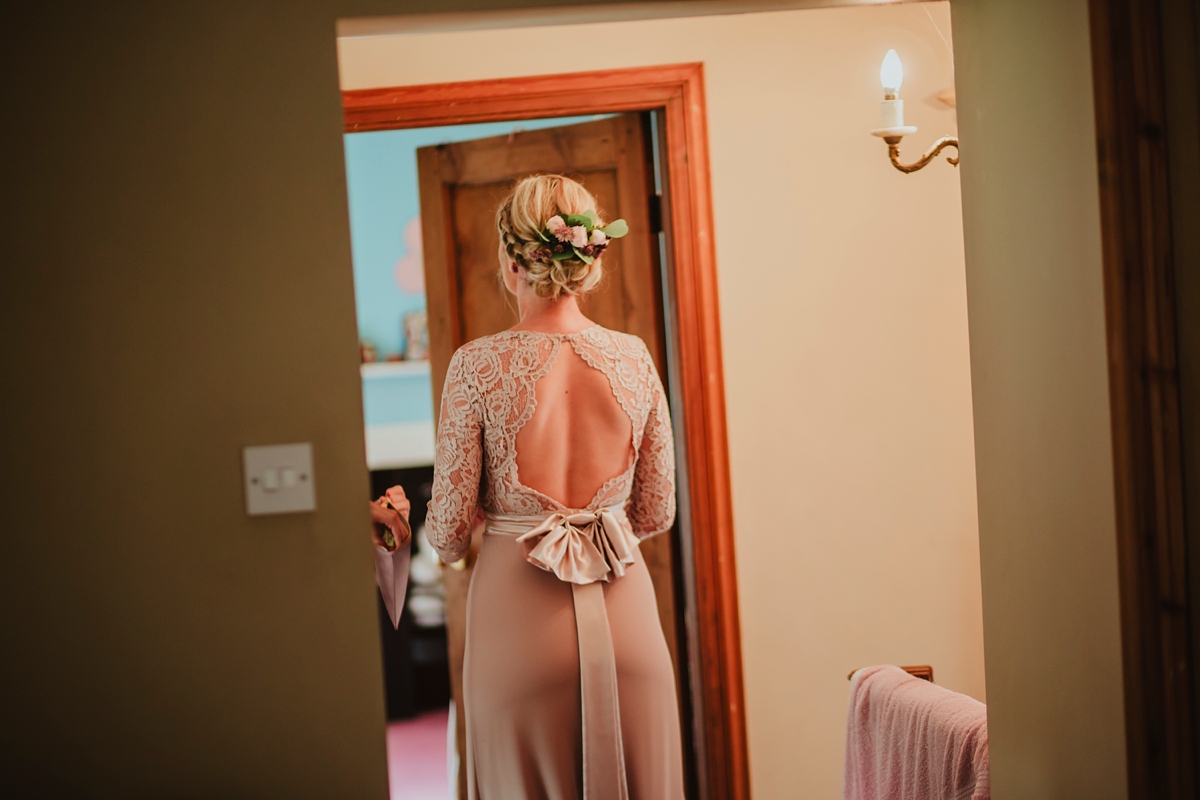 "My favourite part of the day was getting into my beautiful dress which I completely fell in love with and seeing my husband at the bottom of the aisle in the church waiting for me. Oh, and also driving from the church to Lartington (a thirty-five minute journey) was lovely; just the two of us reflecting on what had just happened before the rest of the day began."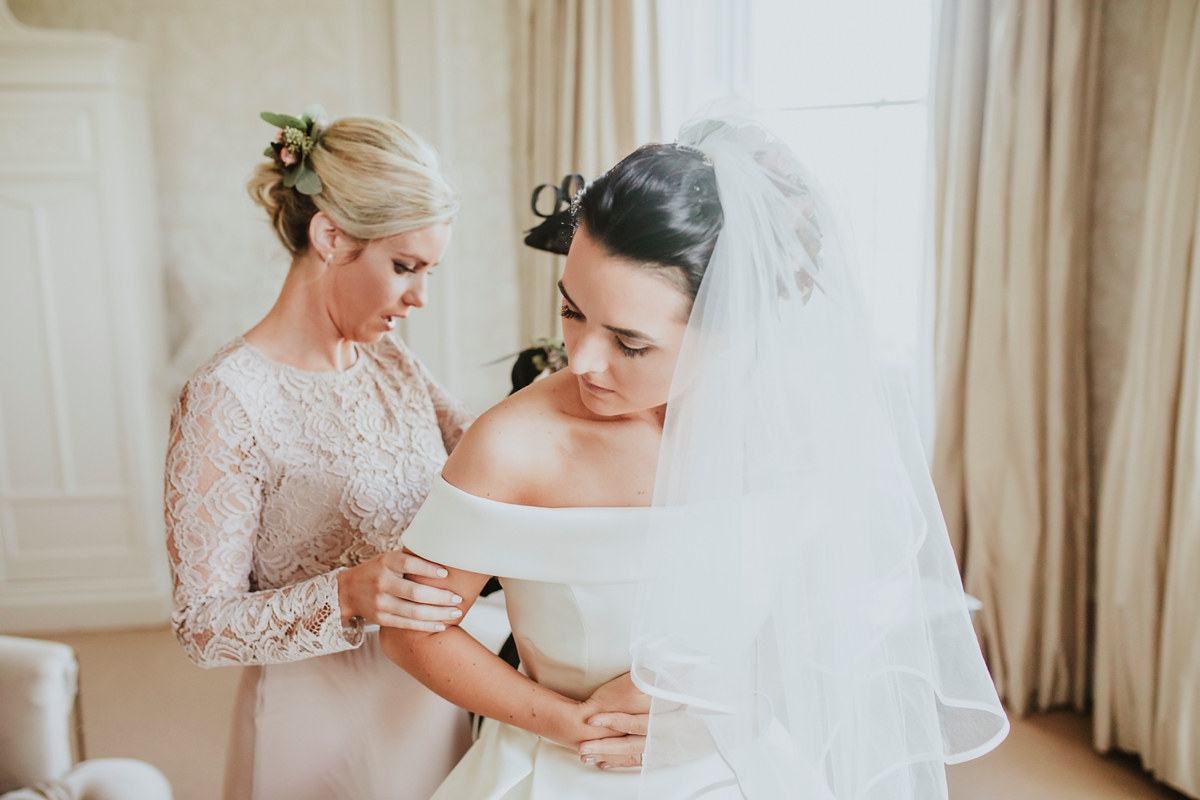 Becky's show-stopping shoes were a pair of embellished Valentino Garavani Rockstud heels, and she let her dress shine with just a simple mini heart tag bracelet by Tiffany & Co. Her bridal scent was Juliette has a Gun 'Mmmmmmm'.
"I like warm smells in the winter so this one was perfect as it had sweet vanilla tones and it lasted all day."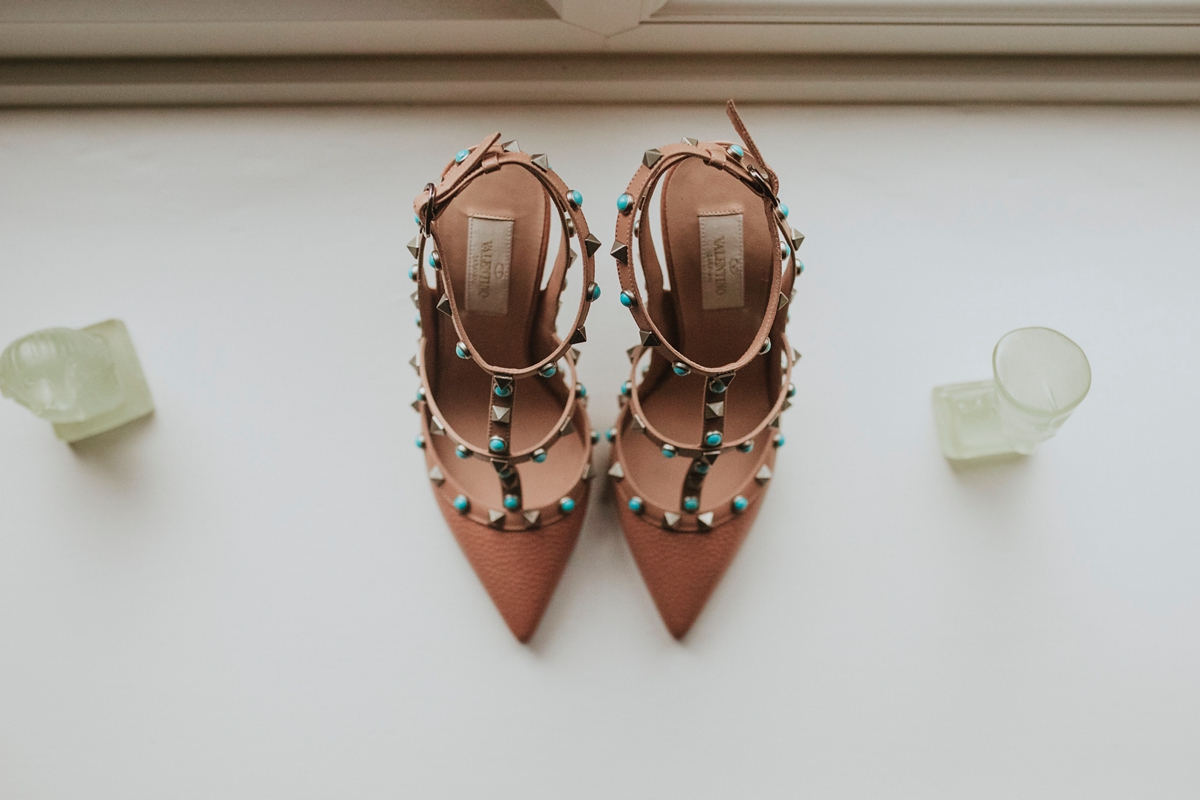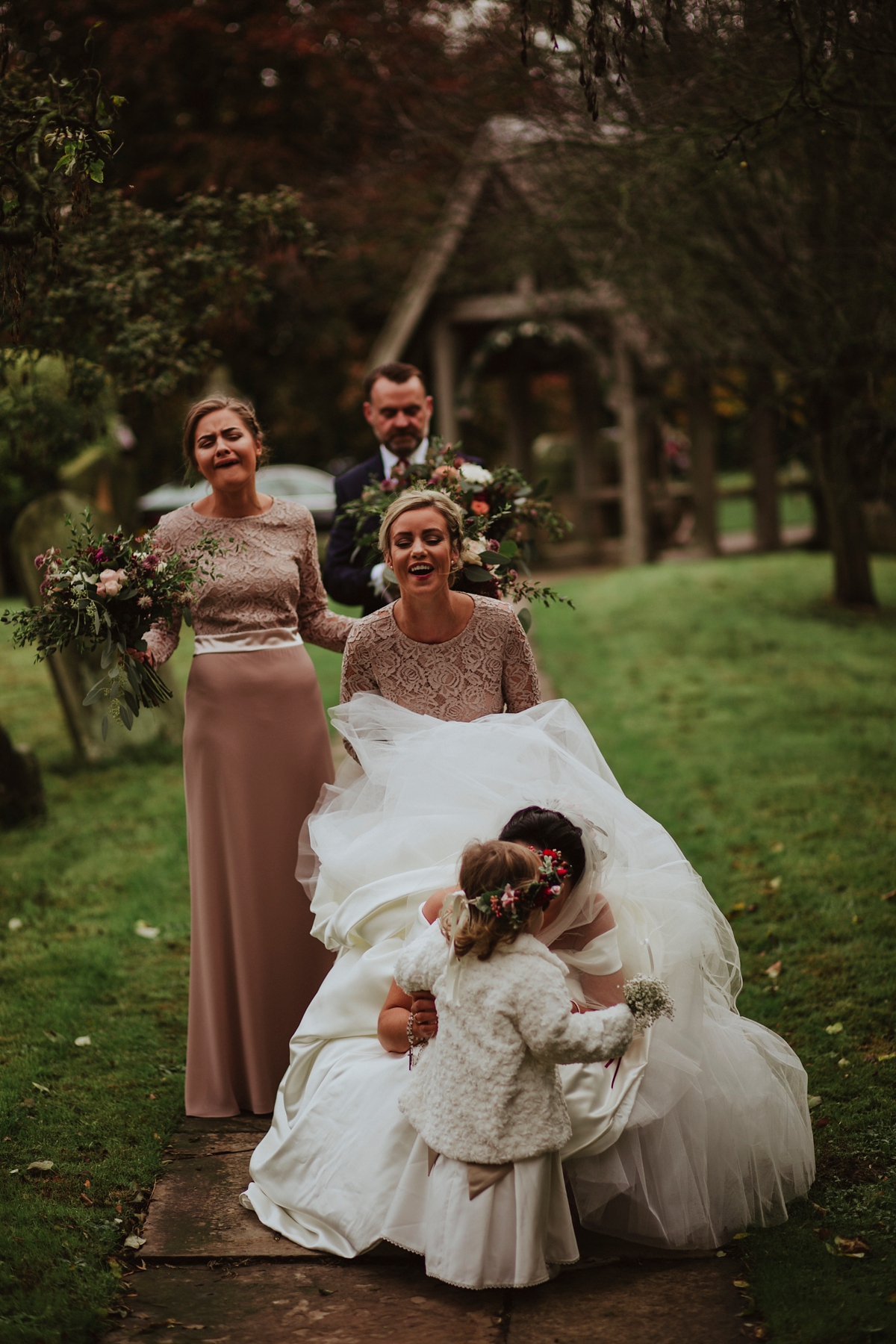 Bruce looked super-smart in his Moss Bros suit , an Albert watch chain from WatchShop and a simple, classy buttonhole.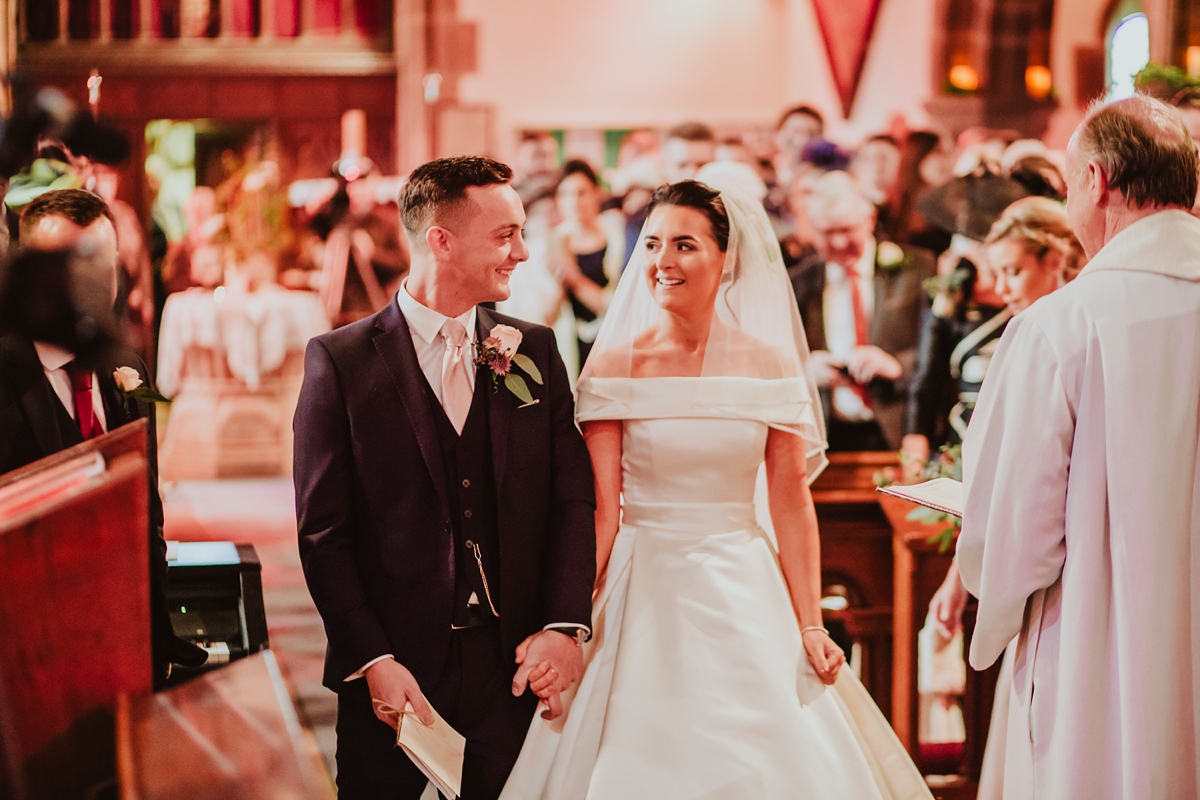 The church ceremony was a traditional affair, the bride entering on the arm of her father to Vivaldi's 'Laudamus Te'.
"My brother Ross Heslop read 'Corinthians 13′ as this is a traditional wedding reading and one of my favourites and my best friend Jacob Weber read Shakespeare's Sonnet 16 – 'In Praise of Beauty'. I chose this piece and dedicated it to my husband. I am a huge fan of Shakespeare so it felt right to add it into our service."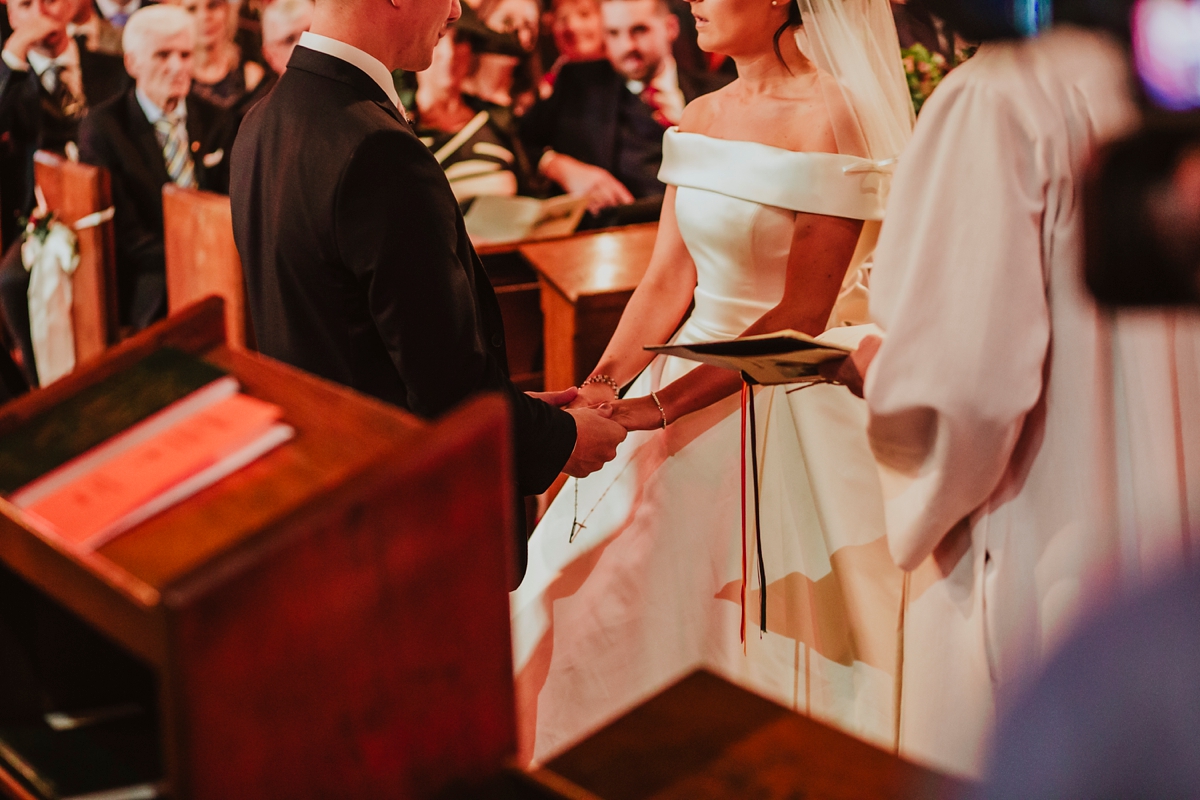 The pair exchanged rings from Jopsons Jewellers in Carlisle.
"Bruce and I originally went into the shop just for a browse until Steve the co-owner had told me that they had just received an 18 carat rose gold and diamond wedding band. I had originally opted for a plain band as I didn't want it to ruin my engagement ring but once I had tried it on, I had fallen in love!"
"He also told Bruce that he had just received a platinum band with a rose gold edging so Bruce had a cheeky try on and it fitted – he has big hands!"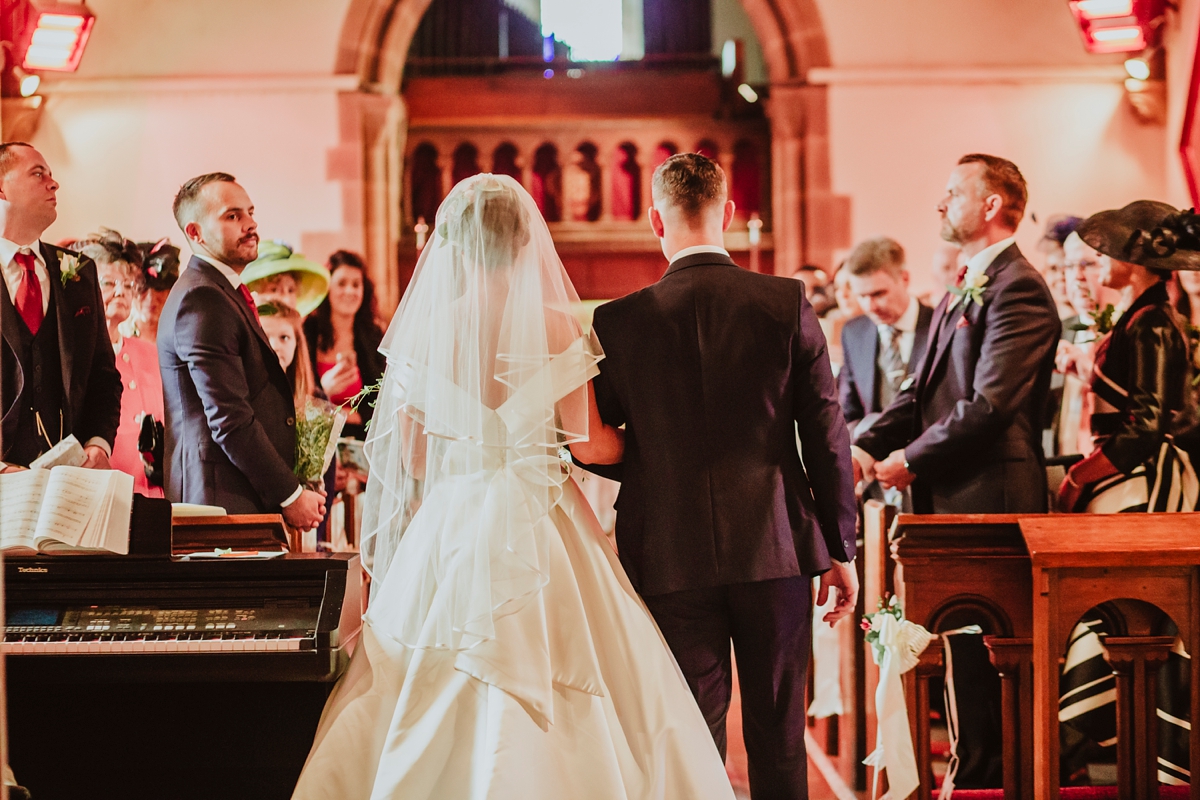 Photography Joshua Wyborn documented the day on camera. I'm in awe of his atmospheric photos and eye for detail.
"Josh was so friendly and approachable and we knew straight away we wanted him. Our pictures captured every single moment of our wedding day and each told a tale."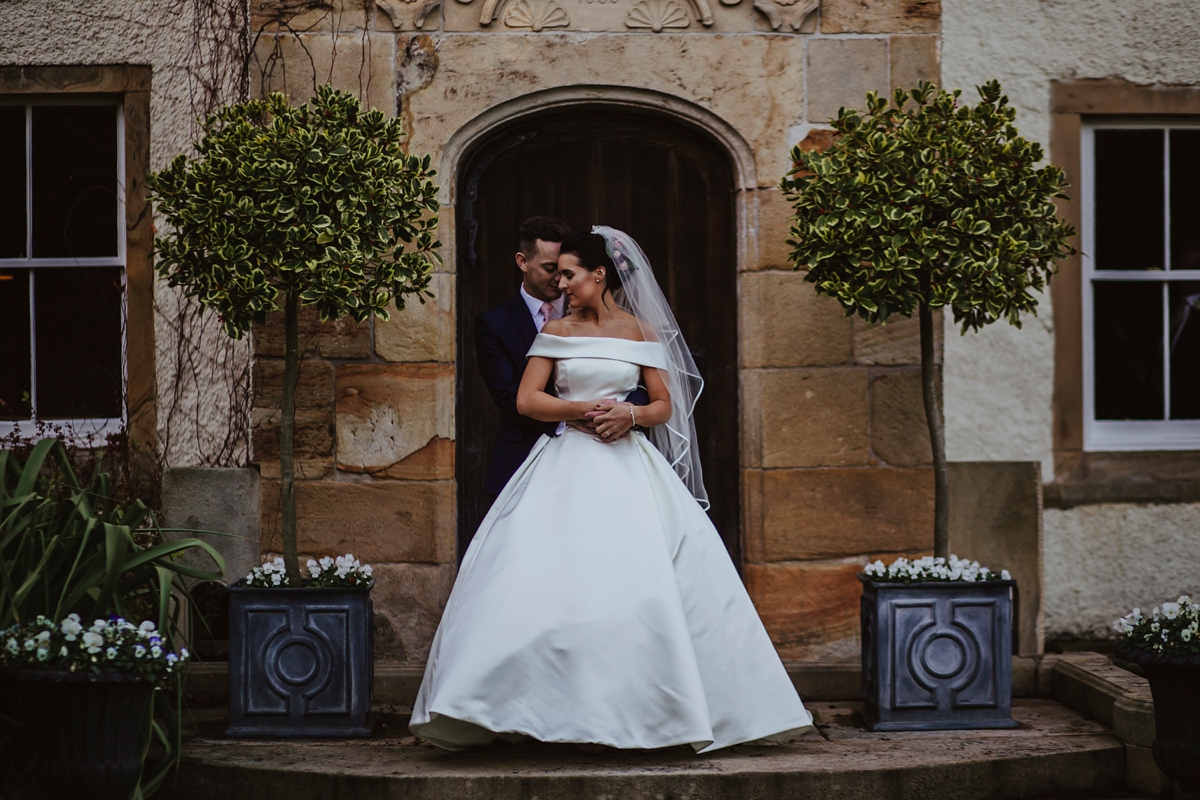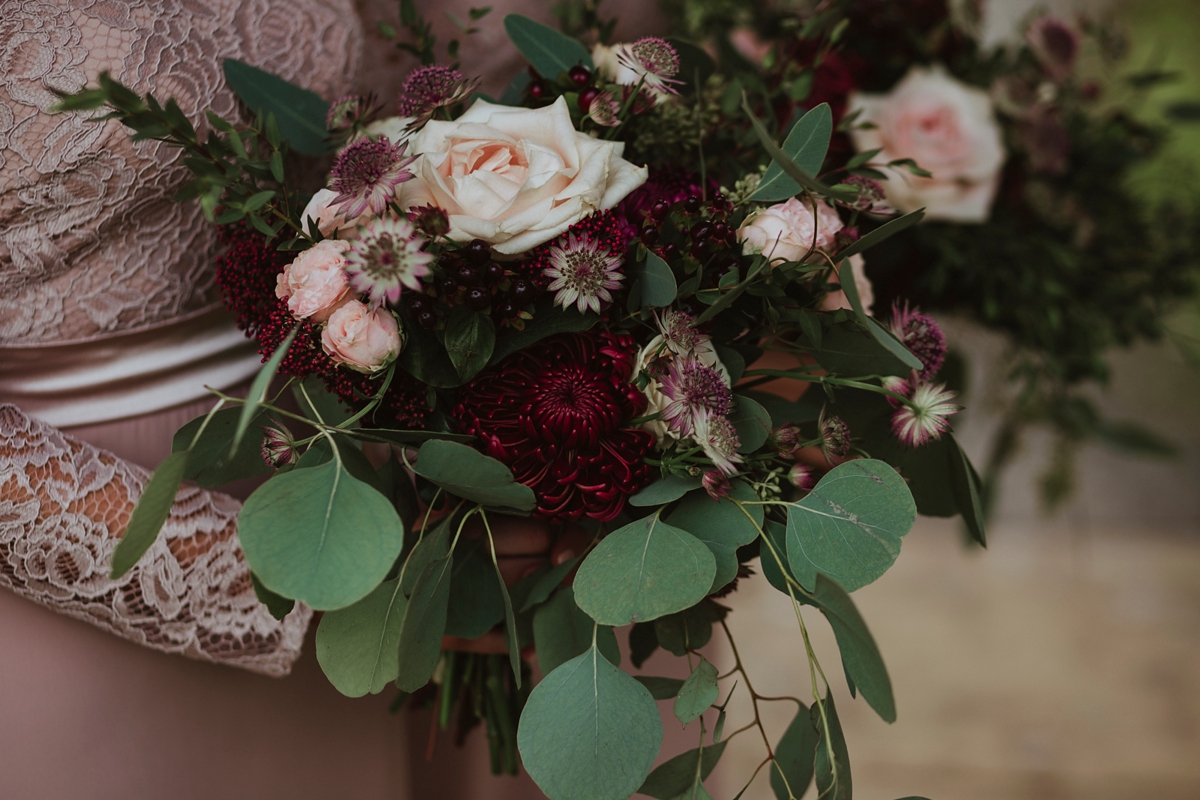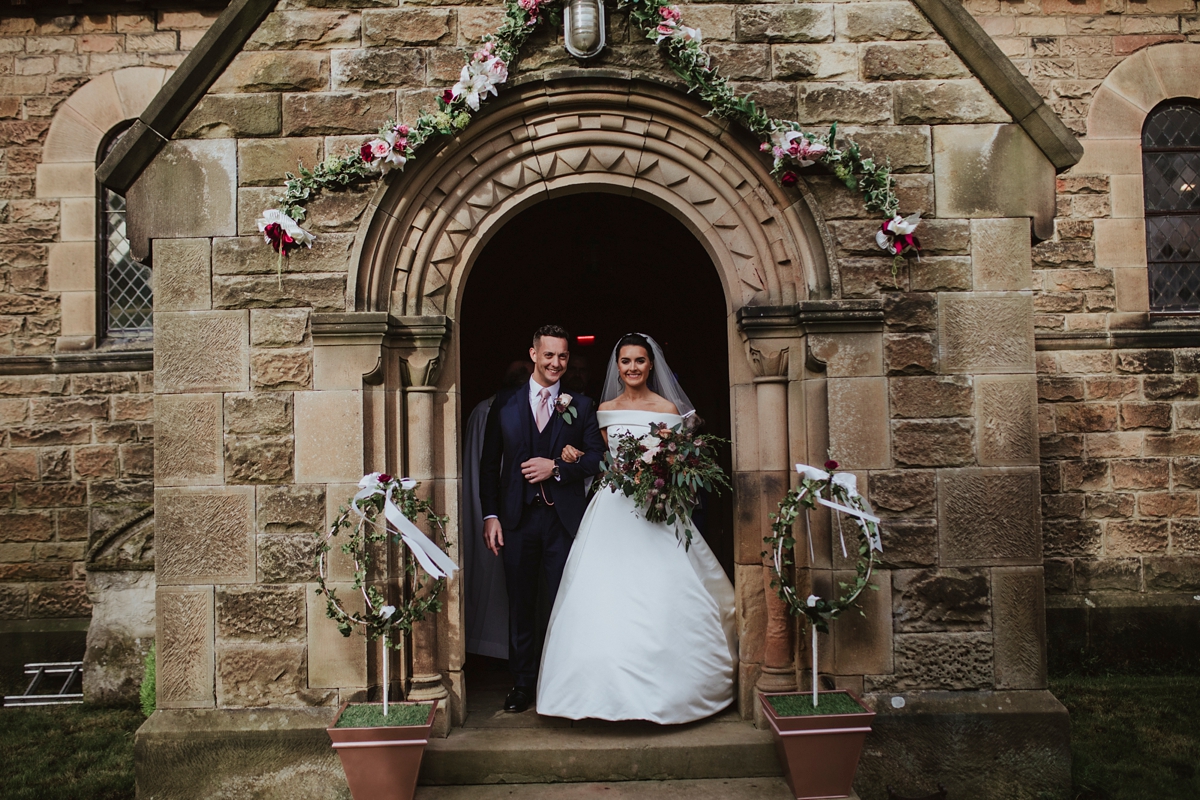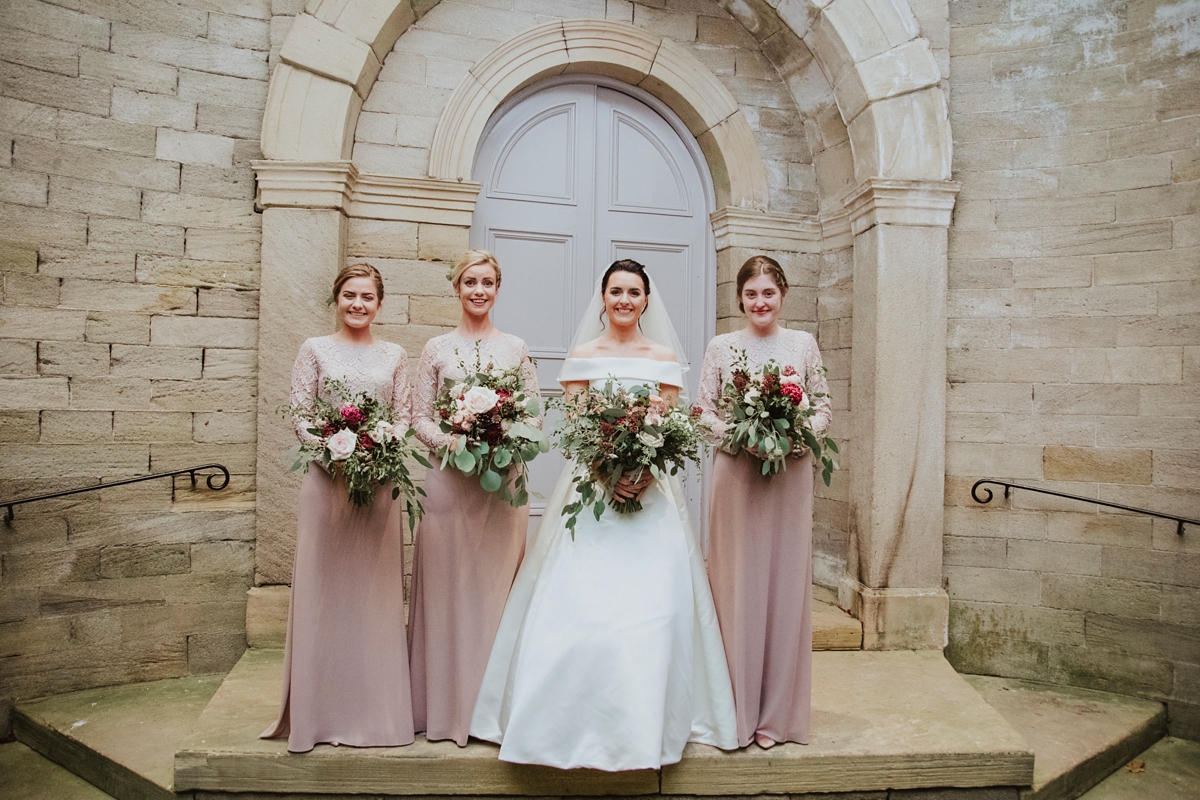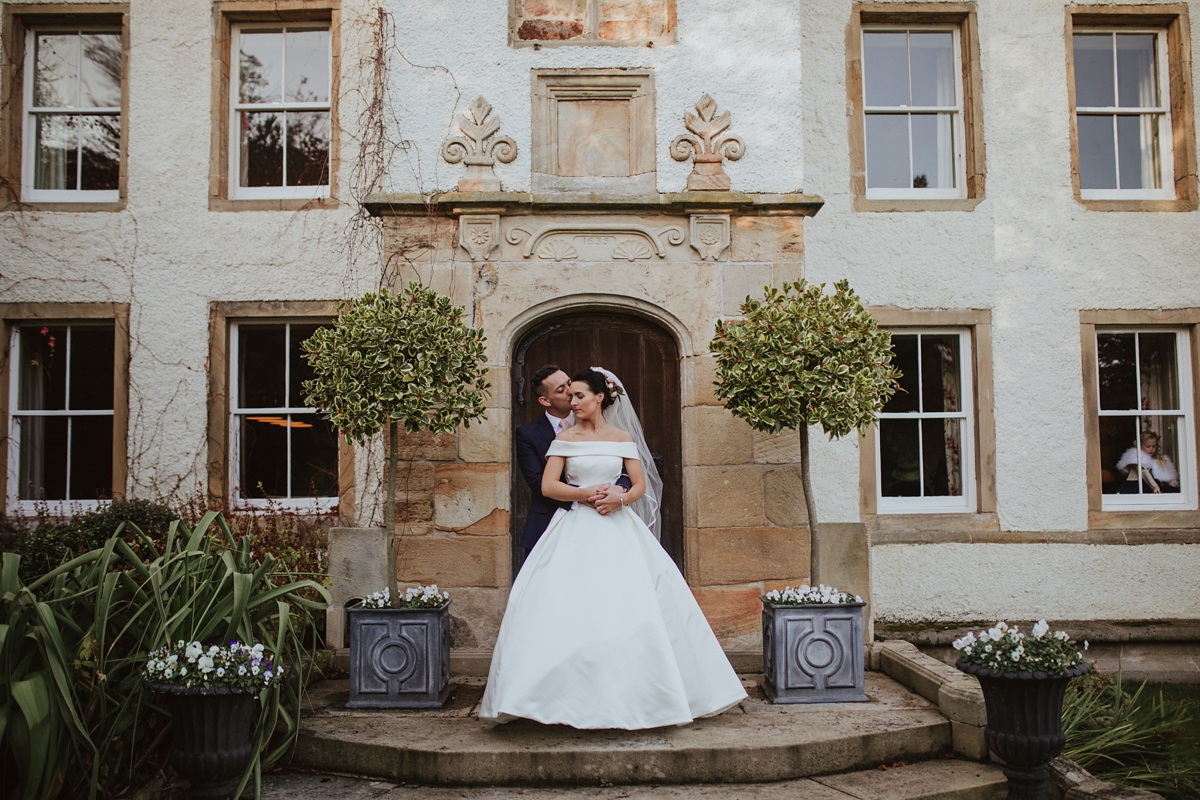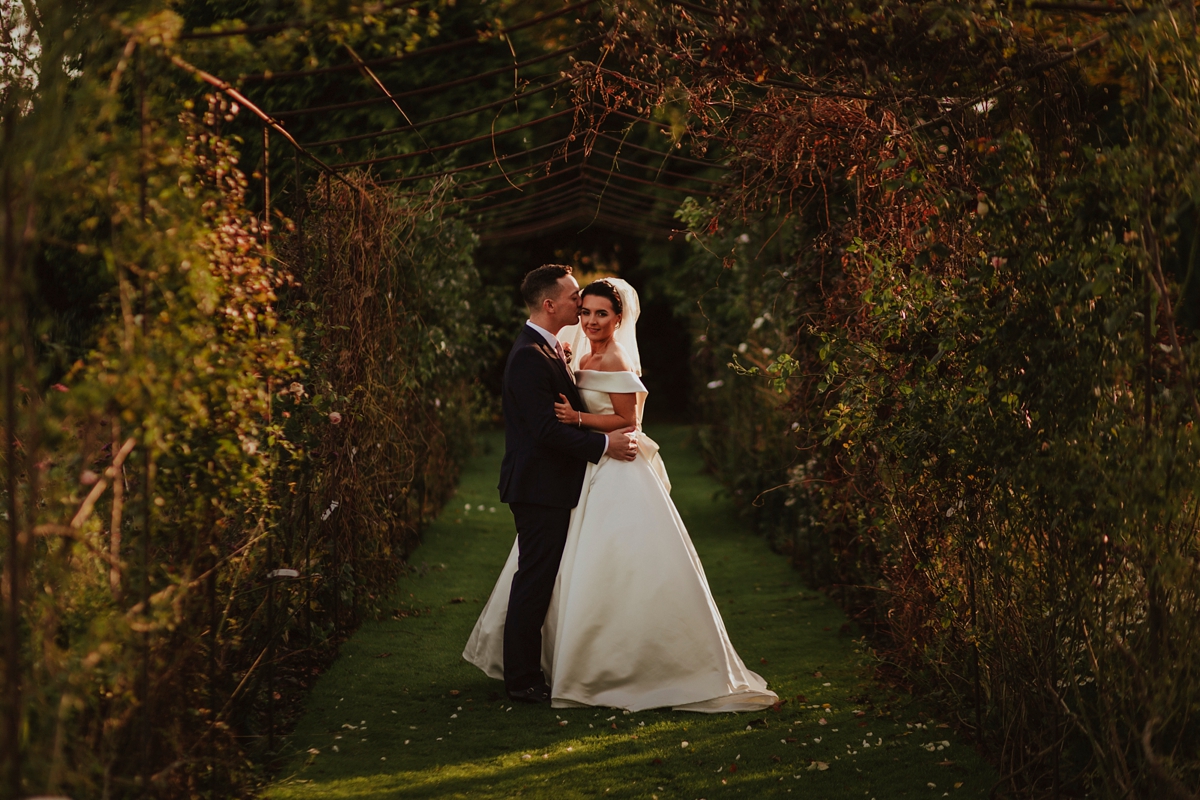 At Lartington Hall, the guests were treated to a sumptuous afternoon of celebrations, beginning with a formal three-course dinner. They received mini bags of coffee from Bruce and Luke's Coffee with a special message on the back of each bag as a favour.
The cake was a total surprise for the bride, made by a friend of her aunt. I love the gilt calligraphy that adorns the tiers.
"My cake was an utter surprise! My mum (Karen Heslop) has been a devoted baker since she was in her teens and has always loved baking and decorating cakes. However, she didn't want the stress of doing my wedding cake. Then we realised my aunty's friend Cath (Make and Bake Eppleby) bakes cakes so my mum had organised her to do mine. It was a complete dream: four tiers of chocolate, carrot, lemon and Victoria sponge cake complete with a Disney castle on the top. The sheer craftsmanship that went into my cake was magnificent."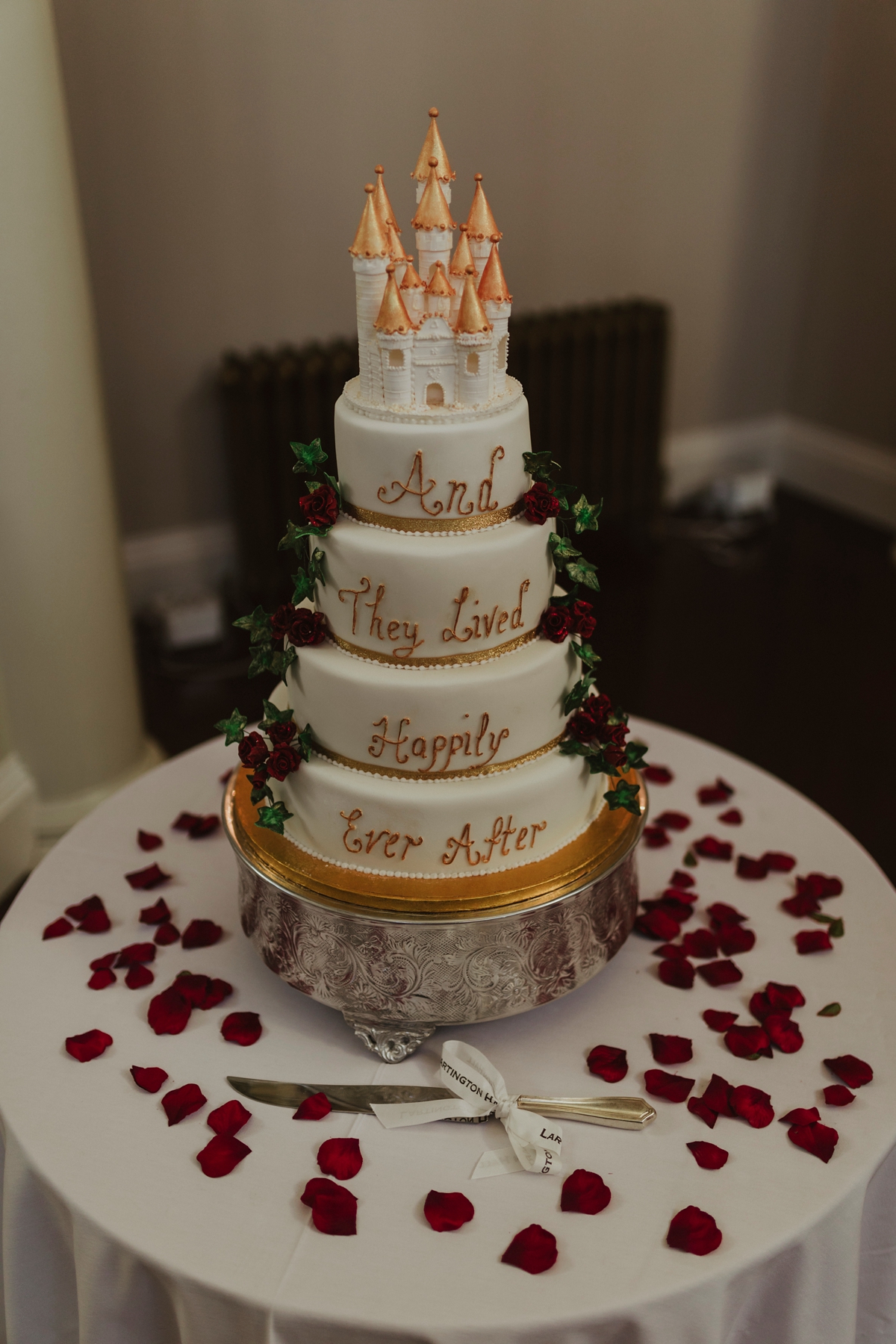 Entertainment was provided by a trio of jazz swing singers – Jonathan Wharton, Luke Maddison and Louis Simpson and a fun partybooth from The Picturebook Studio. Later on, DJ Mark Young played for the evening party, kicking off with a first dance to 'City of Stars' from the film La La Land and 'Heart Skips a Beat' by Olly Murs feat. Rizzle Kicks.
"Bruce is a huge fan of Ryan Gosling and I fell in love with the musical La La Land so it was the name of the top table! Bruce was hesitant in doing a first dance so we decided on this song as it's a song of determination and passion. For something a bit light-hearted we went straight into Olly Murs as this was number 1 when Bruce and I first began dating."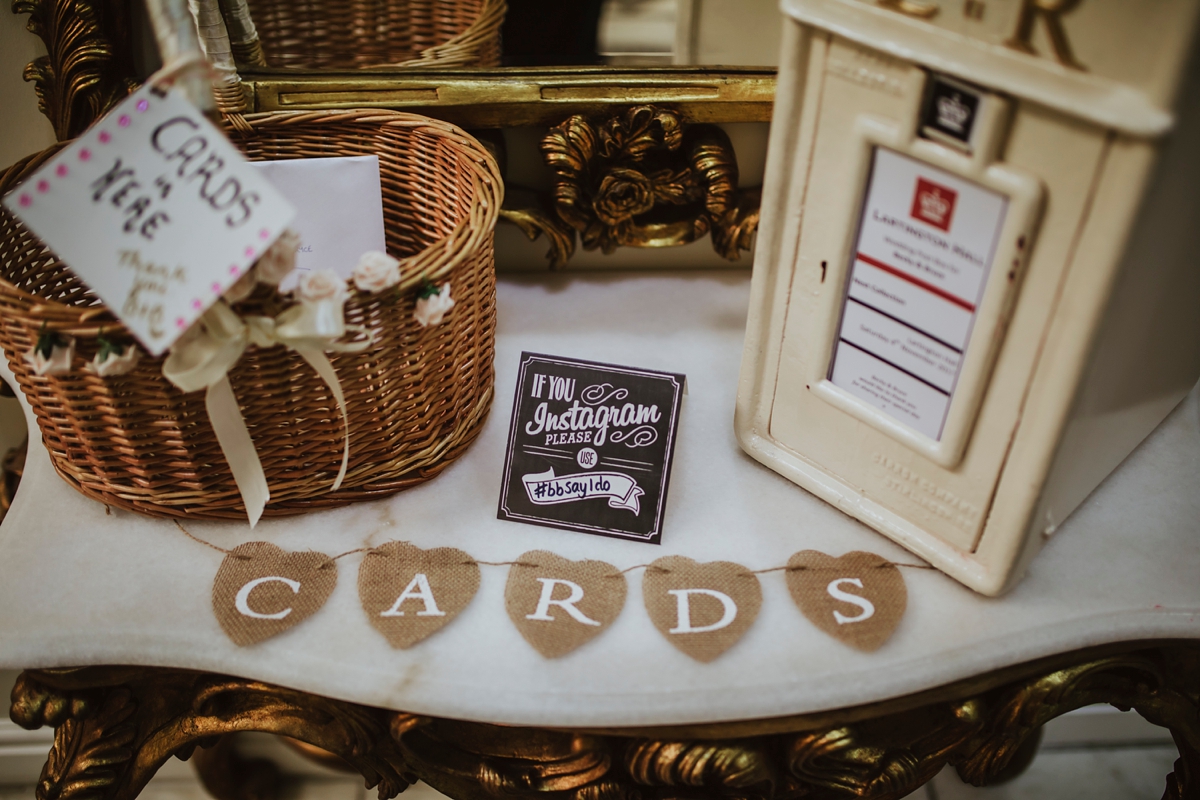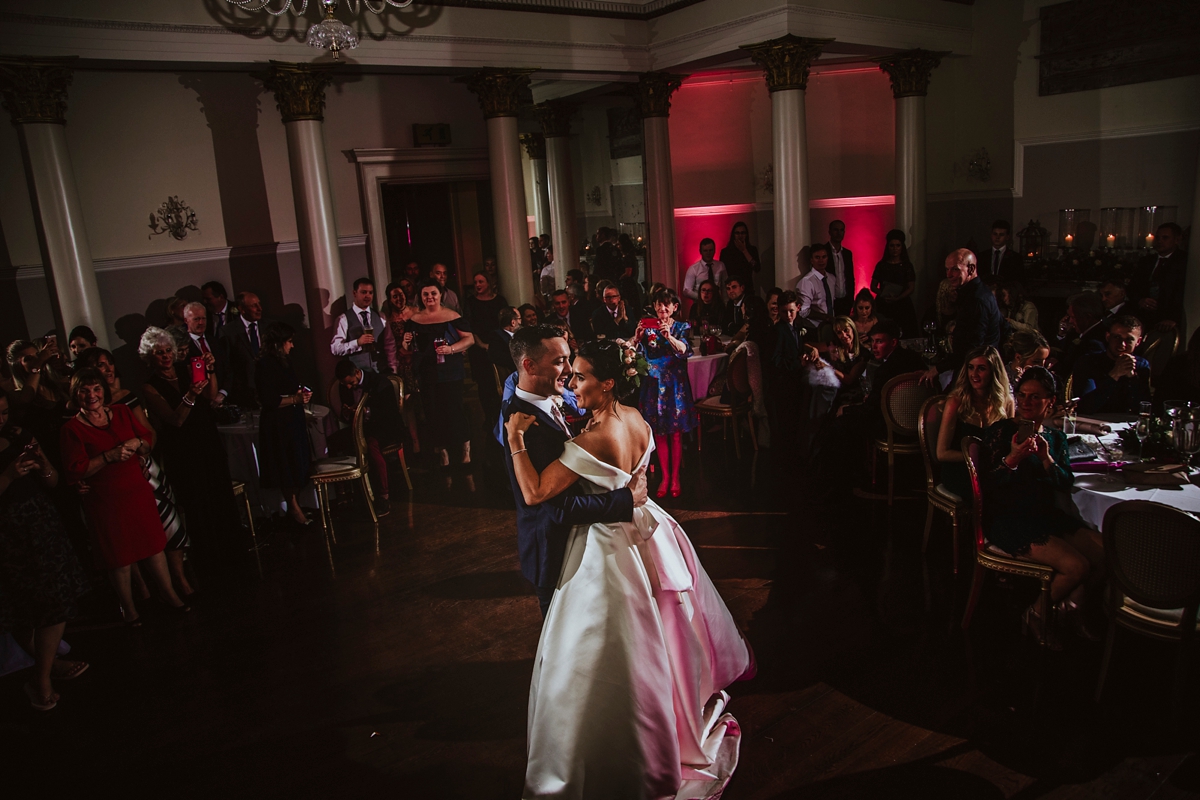 Words of Wedded Wisdom
"Don't stress! It's your wedding day, do what you both want! Don't invite people to keep the peace. Once you start totalling up the cost of everything it can get very expensive.
"It's true what they say; when you find the dress and venue you will know. I cried the first time I saw Lartington Hall after looking at two other venues."
"I got married within eight months – it can be done! In fact, I don't think I could have waited two years."
"Bruce and I decided against having formal photographs, did you know it can take 10 minutes to organise one photo? No thanks!"
"Finally, enjoy the day because honestly it goes so, so. so fast."
What an elegant day! I hope it's inspired all brides looking at country house venues; Lartington Hall looks so beautiful. Thank you so much Becky and Bruce for sharing this insight in to your autumnal wedding – many congratulations to you both. And thank you also to Joshua Wyborn for these photographs.
Ele xx