Well, a very happy (though ruddy snowy and exceptionally windy!) 1st March and St David's Day to you all! As it's the day we traditionally celebrate the patron saint of Wales, it's so serendipitous that today's festival of a wedding (aka Cwtch Fest) was held deep in the heart of Pembrokeshire, Wales.
I'll start by introducing the bride Sandra (Sas), head of editorial and content at a professional services firm. She wed Adam, a musician, DJ and music producer, who also runs record labels Wah Wah 45s and Albert's Favourites in an intimate civil ceremony at Highgate Literary and Scientific Institution, London on 3 July and celebrated with Cwtch Fest, a big ceremony and party a few days after on 8 July at Dewslake Farm, Lamphey, Wales. Their day was a full-on musical celebration, simple and relaxed with an informal and fun feel, made beautiful with lots of dainty seasonal wildflowers, country-style bunting and candles.
Although the couple live and work in London, they were drawn to the relaxed, festival vibe that a field wedding would offer, especially after loving the Scottish borders wedding of friends a few years ago. Sas started to research online, centering on Pembrokeshire where Adam spent a lot of time when he was growing up. She came across Dewslake Farm which offered them space for a giant tipi with bell tents and plenty of space for their guests to camp, all with the beautiful Welsh scenery as a backdrop.
"When we started planning there were two types of wedding we could think of. As we live in London and I grew up here, it would either be a full-on urban, city affair or we'd find a field in the middle of nowhere. It soon became clear that London was too expensive and awkward so we started looking for fields. A campsite made sense as it would have facilities. We weren't set on a particular location but Google found us Dewslake Camping. It looked perfect. I sent the link to Adam asking if it was near where he used to go on holiday. It was literally a mile away."
Photography Toast of Leeds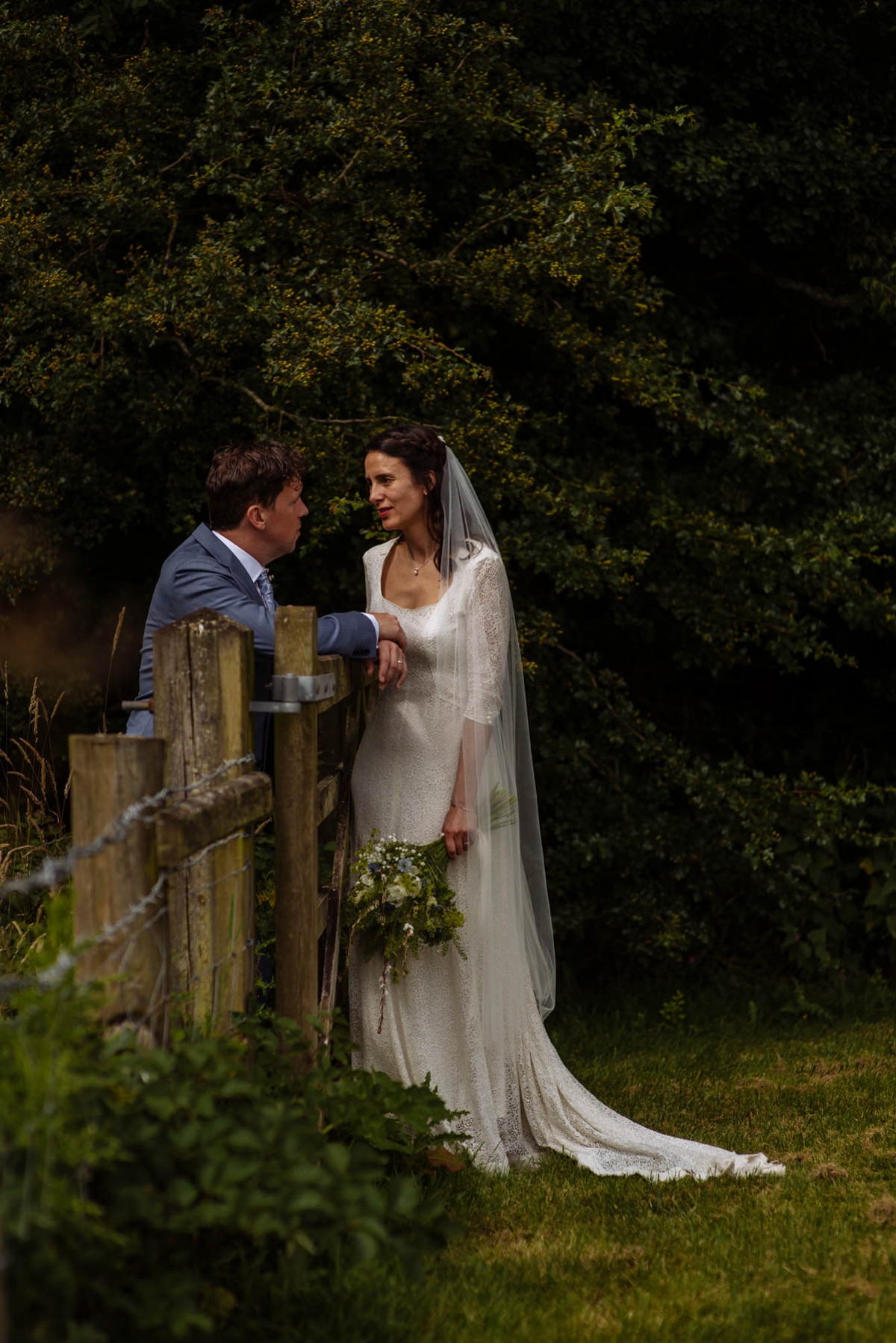 Sas decided on an original vintage gown from the 1940s for her day, finding her full-skirted lace dress at Elizabeth Avey's boutique in Greenwich, a valued member of our wedding supplier directory Little Book for Brides. The scooped neck-line is so timelessly beautiful, and Elizabeth recommended a seamstress to personalise the gown by adding in a deep V-back. This is such a clever idea for brides-to-be who are drawn to vintage style but want to make an original gown truly their own.
"I didn't have a clear idea of what my dress would look like. I just knew it had to be simple and I didn't want to spend a small fortune on it. My mum and I spent a Saturday in Selfridges trying off-the-peg dresses, and found some lovely ones from Self Portrait but nothing that really caught my eye. We then went to a more traditional bridal shop and tried on gowns but they didn't feel comfortable; I didn't feel like me.""A friend told me about Elizabeth's haven of a boutique. I loved the idea of a pre-loved dress and from the many hours spent searching online and devouring Instagram and wedding blogs, I realised I had a thing about lace so thought it worth a look. Elizabeth welcomed me with a tasty cocktail and we tried on some frocks. As I'm quite tall I didn't think any would fit but we found a few."
"I can't say it was love at first sight but I did come back to the dress for a second try. It was made in the 1940s, lace over a silk slip with a short train. Elizabeth thinks it must have been for a wealthy family as not many people could afford silk around the time of the war. It had buttons all the way up the back and long sleeves. I felt comfortable, it was perfectly simple, it ticked all the boxes."
"During the web hunt I had started thinking about an open back. Elizabeth suggested ways that we could alter the dress to make that happen. A slow smile grew on my face as I realised I had found the one. She gave me the name of the seamstress who works on all her dresses. Lorna Williams runs Sewing Time, also in Greenwich, and is a genius."
"Trying the dress on again in February I realised I couldn't actually lift my arms as the sleeves were too tight round my forearms. The only way to fix it was to shorten the sleeves to three-quarters. At the end of June I left Greenwich with my amazing dress. I can't thank Lorna and Elizabeth enough."
"Between us we have three nephews. We didn't want to force the boys into outfits they didn't like but searched online and found some super-cute suits from H&M with long shorts and jackets. The last half term before the summer, my nephew Mateo and Adam's nephews Cal and Fin, went shopping in Dublin and Nottingham respectively. They found their suits, chose funky shirts and picked out their own Converse; Mateo in red high tops, Fin in orange and Cal in white. They all looked so cool. If they form a band, we have the album cover already."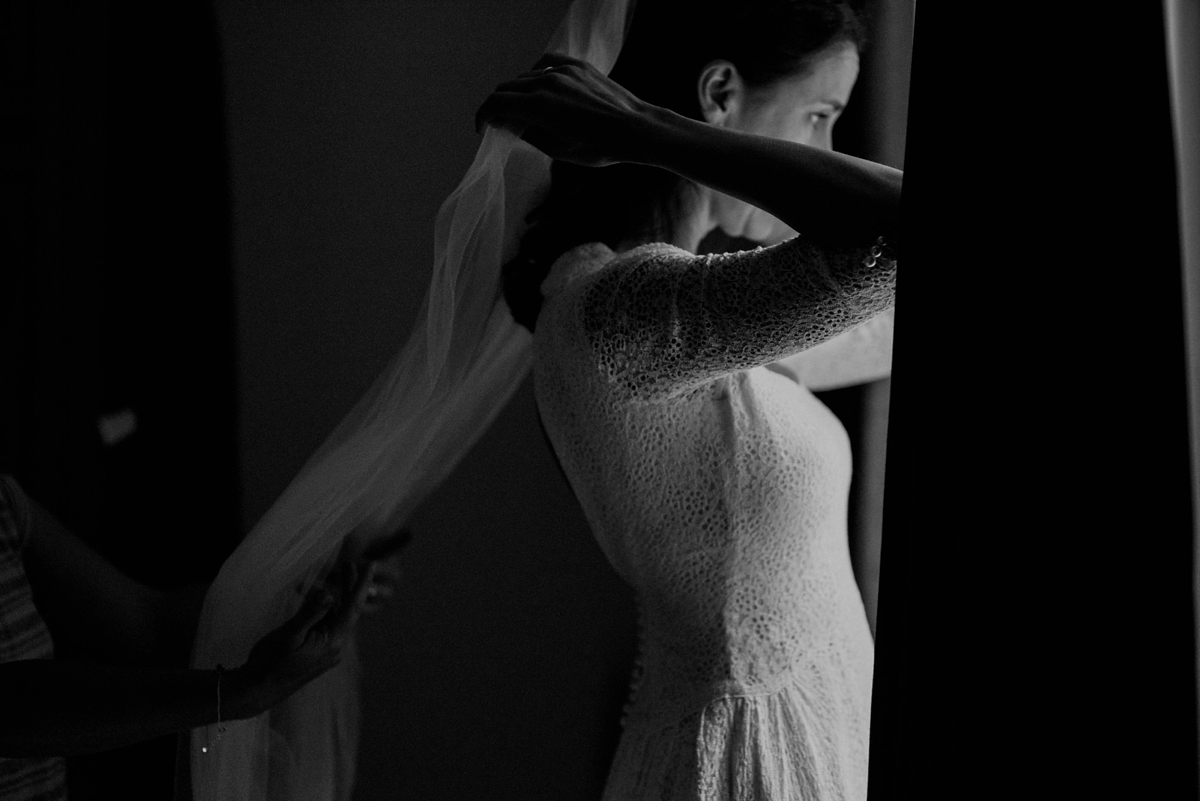 Lorna also made a delicate veil in a very fine fabric and Sas stumbled upon her Pernille Corydon bridal jewellery after a visit to her Greenwich shop. Unfortunately she left it at the campsite when she left to get ready, so borrowed a simple pearl necklace from her best woman Steph and wore her everyday earrings – hexagonal hoops bought from a village in Andalucía during an extended holiday – and a bracelet Adam bought her for her hen-do from Jaadu in West Dulwich.
"It was frustrating that I didn't get to wear the jewellery I'd planned to but it all worked out and wasn't a big issue. I'm actually surprised at how relaxed I was about the few things that didn't go to plan on the day."
The wedding stationery was inspired by Sas's love of old vintage travel maps and Adam asked artist Maciej Grochot, who he works with on record sleeves and gig posters, to create their bespoke design.
"I've always loved old travel posters. I found some examples online that we sent to Maciej along with information on Pembrokeshire. He found some pictures of nearby beaches and sent us a first pass at a scene in the travel-poster style. It was stunning. We turned it into a postcard and that was our invite."
"Among Adam's many talents is building websites. We used WordPress to create a website that we could keep updating and give everyone the information they needed. Maciej's design worked perfectly on the web. He also created our program/order of service. One of my favourite things from the whole wedding was the line-up poster he designed that announces all our amazing DJs, bands and other wedding entertainment. We've saved one to frame."
Sas and Adam crossed paths when they worked for the same publishing and events company in Putney. However, things didn't quite work out.
"We were both at a bar off the high street talking about music and we soon realised we had many shared loves, Terry Callier being one. It turned out that he was playing a few weeks later at the Shepherd's Bush Empire. We made a plan to go. If it wasn't a date at the start of the night it certainly was by the end of it. We spent over a year together after that and had a wonderful time but we were babies and for whatever reason it didn't work out."
"We kept in touch, shared music, and saw each other from time to time. The connection between us didn't fade but our lives led us to other people and relationships. I do remember telling a friend after a night at the Vibe Bar that Adam was the only person I could imagine marrying."
"Pembrokeshire was almost a second home to me growing up so it was an amazing surprise when Sas found this location. I spent a lot of time there with my grandparents who are no longer with us, so it held enough memories for it to be as if they were with us for this important moment."
"We went to check it out in August, the day after the site had hosted another wedding. We knew straight away it would be brilliant. The site had used its barn for the first time and it was a shell we could decorate, plenty big enough for the party we had in mind. It meant we had to hire or buy everything – from water glasses to light bulbs – but then we could do everything the way we wanted. We signed up that day."
Over to Adam to tell us how they got back together and when he decided to propose.
"Skip forward to January 2015 and we'd arranged to have lunch the day after I returned from a ski trip. We were both single at the same time for the first time since we broke up. I think we knew straight away what was coming and we've been together ever since. Everything made sense; we knew ourselves better and got to know each again."
"When we started going on dates again it was probably only about a few weeks before I asked her if she would be my girlfriend again. I knew pretty much already I wanted to marry her but spent a year avoiding any potential conversations about getting married while I saved for a ring. About a year later I was invited to do a gig in Bergen, Norway – one of my favourite places. I invited Sas along thinking there are few more beautiful places to propose, and I realised she had a painting from Bergen that her grandparents had bought while there in the 1980s and had left to her."
"It's of a pretty little courtyard, down a cobbled alleyway. I managed to find it and that' s where I proposed. It went quite well(!). We began planning, and had our first ever disagreements, pretty much immediately on returning. The engagement was fairly short really as we had zero reason to wait around. Too excited."
Although the couple hadn't intended to hire a wedding planner, put off by the potential cost and because they wanted to do things very much their way, they found that trying to do everything themselves from a distance was tricky so they recruited Ness of Together Ness,.
"Adam started looking online and we found Together Ness. She lives near Lamphey, has lots of contacts, and quickly grasped what we wanted to create: a beautiful, relaxed day for everyone, with lots of fun. Ness is quite simply fabulous."
"She's patient, has great suggestions and incomparable organising skills, and made everything as pain-free as it could have been. Her hoard of props – milk churns, flower pots, bunting, tables and many other useful bits and bobs – worked perfectly for what we wanted to do. Her focus on keeping everything sustainable and low-impact on the environment was an added bonus. She helped make our wedding vision real and became a part our wedding family."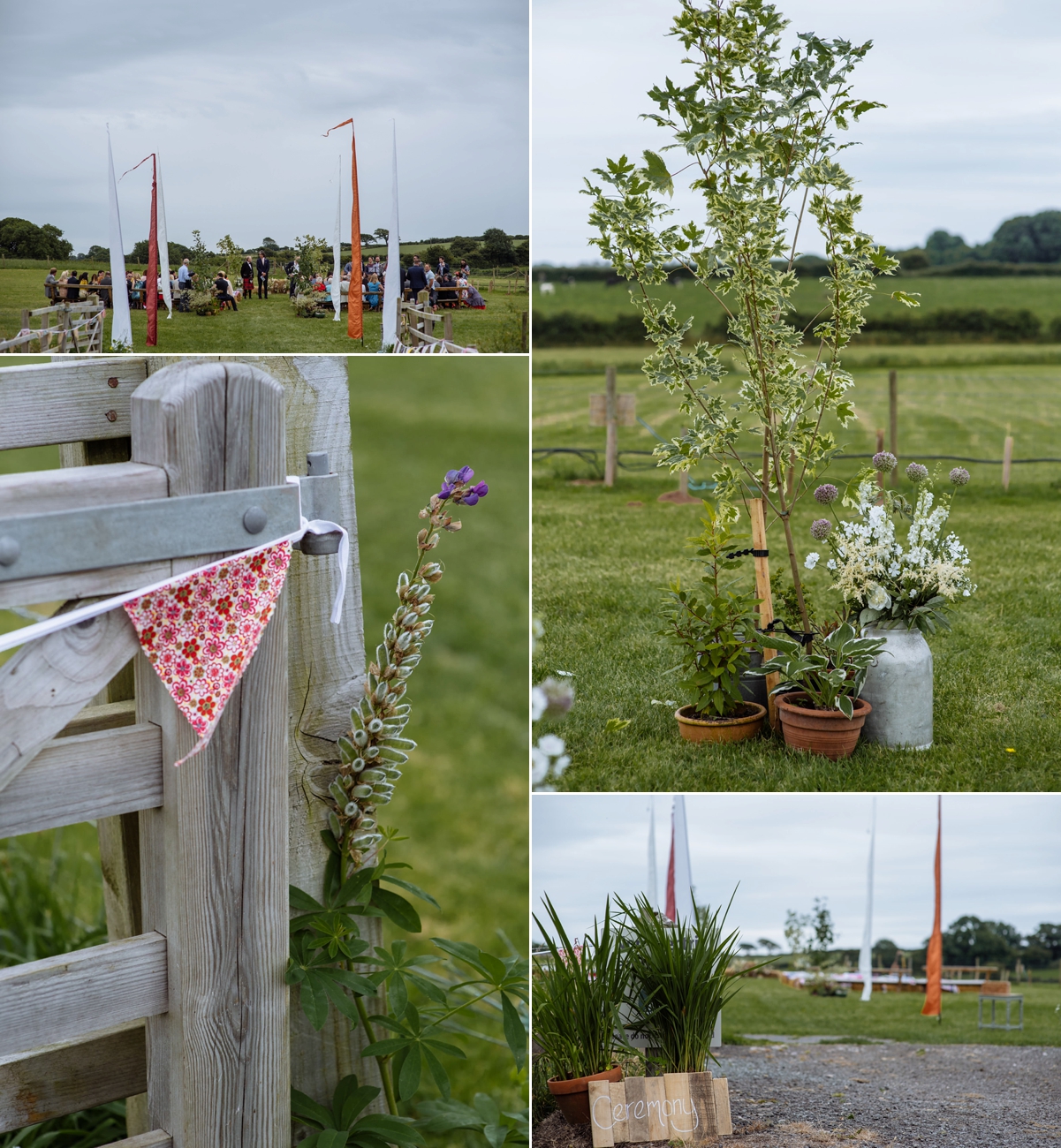 In a really charming touch, the little bridesmaid Lucia was dressed in the same outfit that Sas wore when she was a bridesmaid.
"When I was seven I was a bridesmaid for my aunt Sarah. My grandma was an amazing seamstress and made the dress. My mum is very conscientious about keeping important things and had packed the dress away carefully. Over 30 years later it looked as good as new when she brought it out as an idea for the wedding. I loved the idea of bringing my dress to the wedding but didn't want to force her to wear it. Luckily, the first time she tried it on she had a smile from ear to ear so it was a hit! I'm thrilled that she liked it as much as I did."
There ceremony was officiated by Sas's godfather. Despite a sudden and serious illness, he was able to make the day and lead the occasion beautifully.
"Nigel was pretty shocked when we asked him to officiate but he embraced the role with such enthusiasm that it still makes me smile. He sent us his thoughts on what he might say for the blessing and it nearly brought me to tears just reading it in an email. His words were thoughtful, funny and sincere. We barely changed a thing."
Sas walked down the home-made aisle along with her father, to Emiliana Torrini and The Colorist's  'Jungle Drum'.
"Walking into the field and seeing everyone there and then I realised that our lovely friends were playing the Emiliana Torrini track I'd picked for my walk down the aisle live. LIVE!"
"We kept our vows very straightforward and they pretty much mirrored what you would get at a civil ceremony. I think we said what we wanted to with the readings, the ceremony and the whole event itself. Everyone there knew what this wedding meant to us, and with Ness, our family and friends helping, we had threaded that throughout the whole venue and occasion.  
Saying the simple vows of love and respect that we're all used to communicated everything we needed to."
"Possibly one of the most important readings and the one we decided on the quickest was an excerpt from Gabriel Garcia Marquez's 'Love In The Time Of Cholera'. We both love him and it brought something immediately Colombian to the proceedings. Plus it's about a love that remains unfulfilled for many decades before ultimately finding its place. Sas's mum read it in Spanish with my dad then reading the English translation. It's a pretty emotional piece so we didn't really want the others to be too serious. We wanted things to bring in the themes of family and friends coming together and something relevant to Wales. Our friend Jess Indeedy (of Musical Bingo fame) read a song I knew by Sun Ra. It's bizarre and brilliant and invites the audience to join us on a journey into space. It seemed just odd enough to be brilliant."
"Choosing readings was one of the hardest parts of the wedding prep for me. We wanted our younger brothers to play a part and I found a poem about a younger brother that was funny and a bit of a tongue twister. I'm not sure they practiced it much so that was funny in itself. My two lovely friends Layisha and Courtney finished the readings with a spot of 'Fern Hill' by Dylan Thomas. We made the congregation have a singalong led by our wonderful friend James. We sang Stevie Wonder's 'You are the sunshine of my life' and everyone sounded brilliant."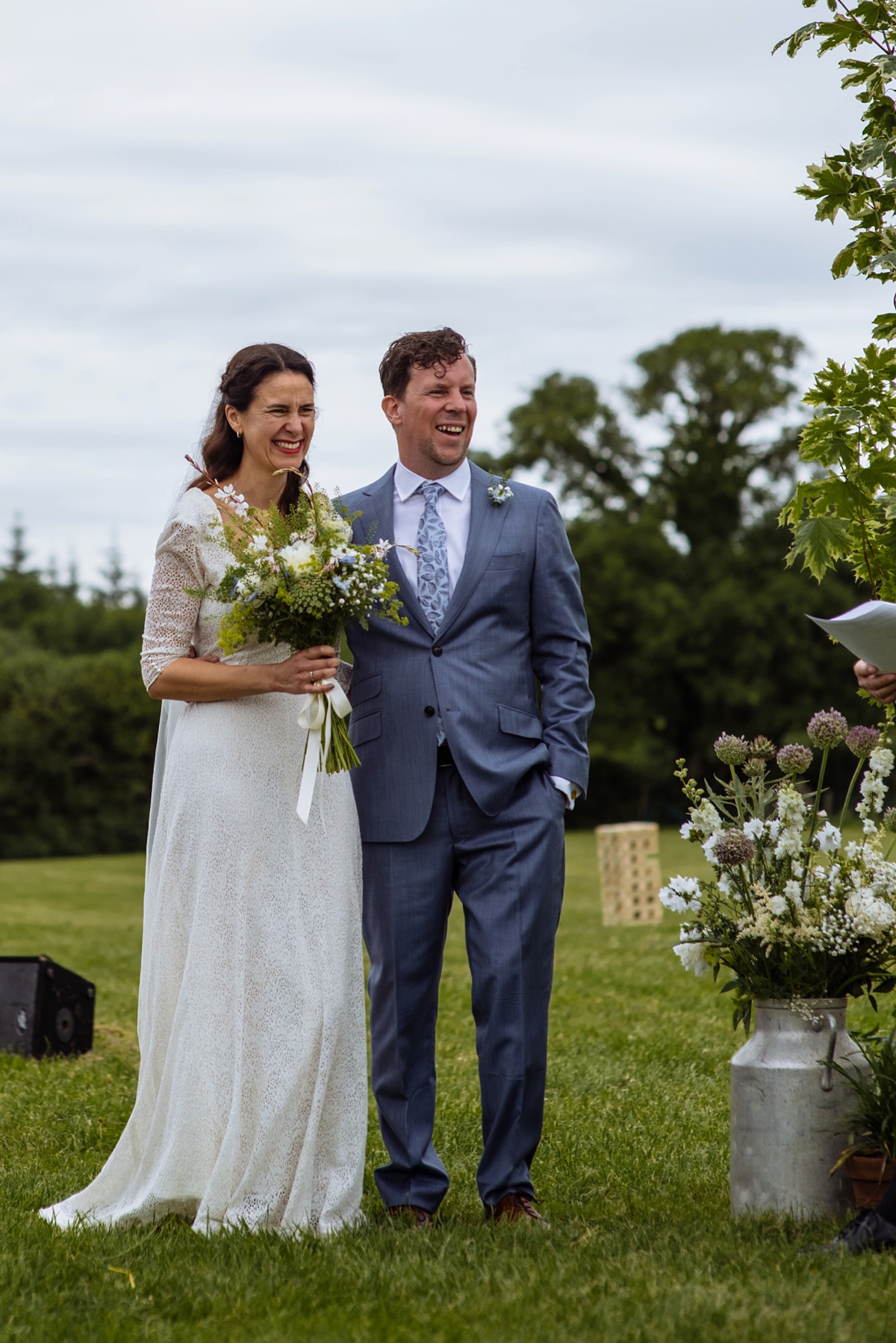 Adam came across photographer Shelly of Toast of Leeds through work and the newly-weds were delighted with her photography.
Adam: "My path had crossed with Shelly a few years before through my work. She ended up doing a shoot for my third album. I hate having my photo taken but she made the five or so hours we spent in freezing Dungeness some of the most fun, enjoyable and relaxing I've had, certainly in front of a camera."
"I loved her immediately and she was the only person on my list to do the wedding photos. She was incredible with everyone and having her as a part of the day was a massive bonus, never mind the stunning photos we also got afterward. The moments we got with her on the day are some of the loveliest; time with my wife, when we got to laugh and hang out and take it all in, and Shelly there to make us giggle a bit and generally relax."
The tone for the charming country feel of the day was set by an abundance of beautiful, seasonal wild flowers provided by Emma Powell Flowers.
"We bought buckets of them and in the week before the wedding my mum and aunts spent hours creating masterpieces in jam jars (so many of our friends collected and donated them ahead of the wedding), milk churns and all manner of mismatched vases that Ness had stored away. They looked spectacular. The best thing was seeing how much they enjoyed themselves even though they were on their feet all day. Emma also made the wild flower bouquets for me, Steph and Lucia."
After the ceremony came the party, which sounds truly fantastic. The couple had even created a 'transformation tent'.
"We had one bell tent with dressing tables so people could get ready in the morning. I added some glitter, gold tattoos and animal masks too. The kids soon cottoned onto this and brought people from the barn to get transformed with their own unique approach to festival glitter. They turned it into a small enterprise – even making posters to advertise their services!"
Let's hear from Adam on how he accessorised his Suit Supply suit.
"I got a lovely tie from Ted Baker, great socks from a local Crystal Palace tailor Simon Carter but best of all, a Rolls Royce tie pin from my dad (given to him by my grandad) and some gold cufflinks made in Bogota, home to some of Sas's Colombian family and lent to me by her dad."
Best woman Steph had been clear that she did not want to wear pink, but during a shopping trip in Glasgow fell in love with a gown in that very colour, which she wore with statement Camper Damas shoes.
"After many dressing-room changes the winner was a dress by Bruce from John Lewis. It was pink! But a dark pink, which was actually very close to the colour of my niece's bridesmaid dress. I loved that she loved it and was excited about wearing it."
The couple's family and friends pulled together to transform the barn and dress the tent and teepees; nearly everything is homemade and I really like what they put together. The ceremony barn was styled with lots of lights, hay and ivy from the couple's own garden, and their family and friends turned out to be very adept at making bunting, with Sas's mum crafting over 200 metres herself!
"The festoons were amazing. We bought about fifty lanterns to hang over some of them. I also had a chandelier from my old flat that I wanted to use and we found a couple more from sellmywedding.co.uk. I liked the idea of contrasting the industrial barn (make no mistakes, it was breeze blocks and corrugated iron, not wooden beams and shutters) with the delicate lighting. It looked great."
"To bring some sparkle to the barn, Jess contributed giant A0-size glitter-covered letters so we could create a bar sign, and helped us find enough silver curtain shimmer to cover the two big shipping containers that could not be moved out from the barn."
"Our families, Steph and Alan (her husband) were with us for the three days it took us to decorate the barn, and we'd just about finished as people started to arrive on Friday afternoon. The wedding was stunning and the best day we've ever had but I know we both loved the set up almost as much. Running up and down ladders, measuring and cutting reams of hessian, hanging lights, bunting and chandeliers, buying wood and paint at a timber merchant,  arranging flowers, writing signs. We set a time-lapse camera to show the barn come to life over the three days. We've yet to edit it and add in photos but it's so good to see the huge transformation."
Caterers Shindigz provided an immense feast which included pork, and seafood and veggie paellas, bowls of coconut rice (the Colombian version), refried beans, salads and more.
"We wanted big plates of food for people to share rather than present everyone with individual plates. With about 150 people to feed we knew we had to make it easy. We also wanted to bring in a Colombian element to the food to bring that part of my family into the day."
"We both love arepas (Colombian corn bread) but they would have been too hard to make for so many people. Owen at Shindigz had the fantastic idea of having them as canapés with different toppings, which worked brilliantly. He brought a wood-fired pizza oven too for late-night nibbles."

Dessert was cake (more on that in a bit) and ice-cream served from Deliciously Vintage's Camper Van.
"We got to pick six flavours from a crazily long list of options. We went for solid favourites, vanilla and chocolate, and then mascarpone and fig, lemon meringue pie, jaffa cake, and a piña colada sorbet for the vegans. So tasty! I just wish we'd tried them all."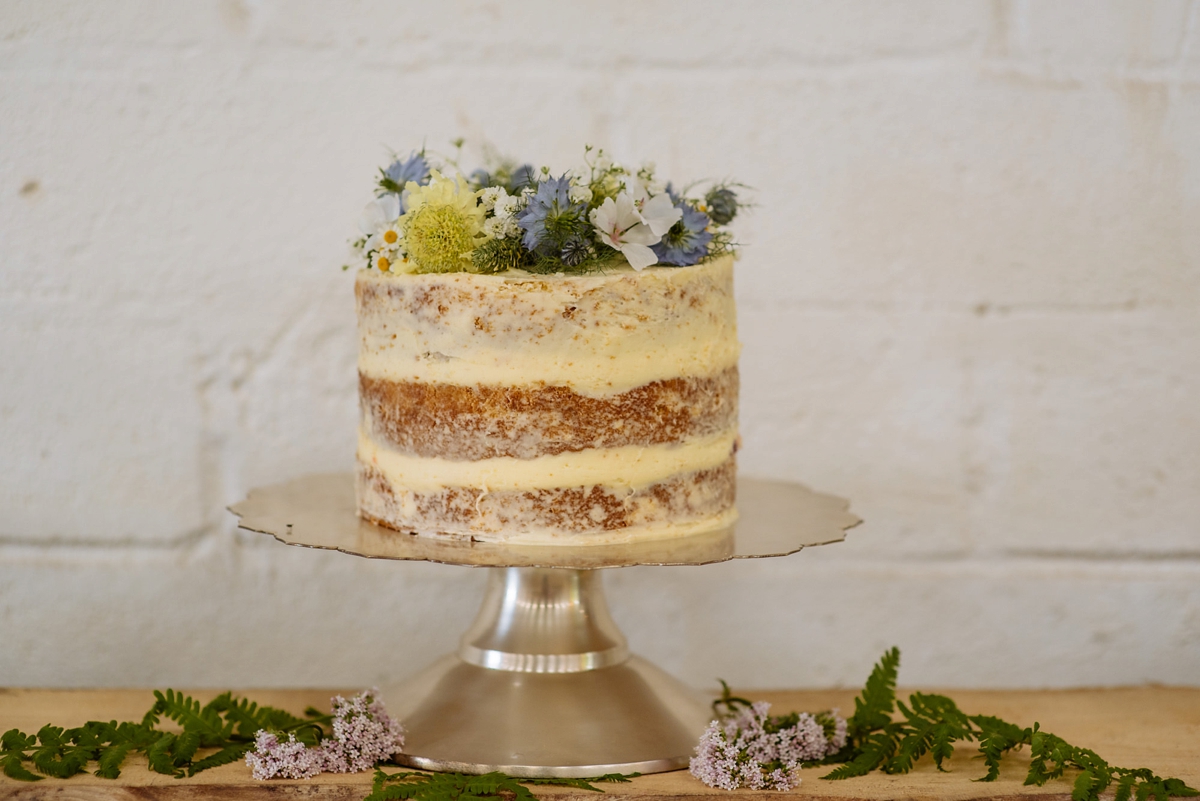 Friends and family obligingly baked these delicious-looking cakes, with Adam's sister-in-law Verena Scrimshire baking the cutting cake.
"We cheekily asked friends and family if they would mind baking for the wedding and they did! We had a table of delicacies for everyone to pick from, from boozy cupcakes to vegan, gluten-free treats and even a meaty one with bacon bits."
"My sister-in-law baked the cake that we ceremonially cut on the day – a gorgeous naked sponge with wild flowers on top. There was even an additional cake for the Sunday evening that Kitty (from the inspirational Scottish wedding) brought with her and decorated by the fireside."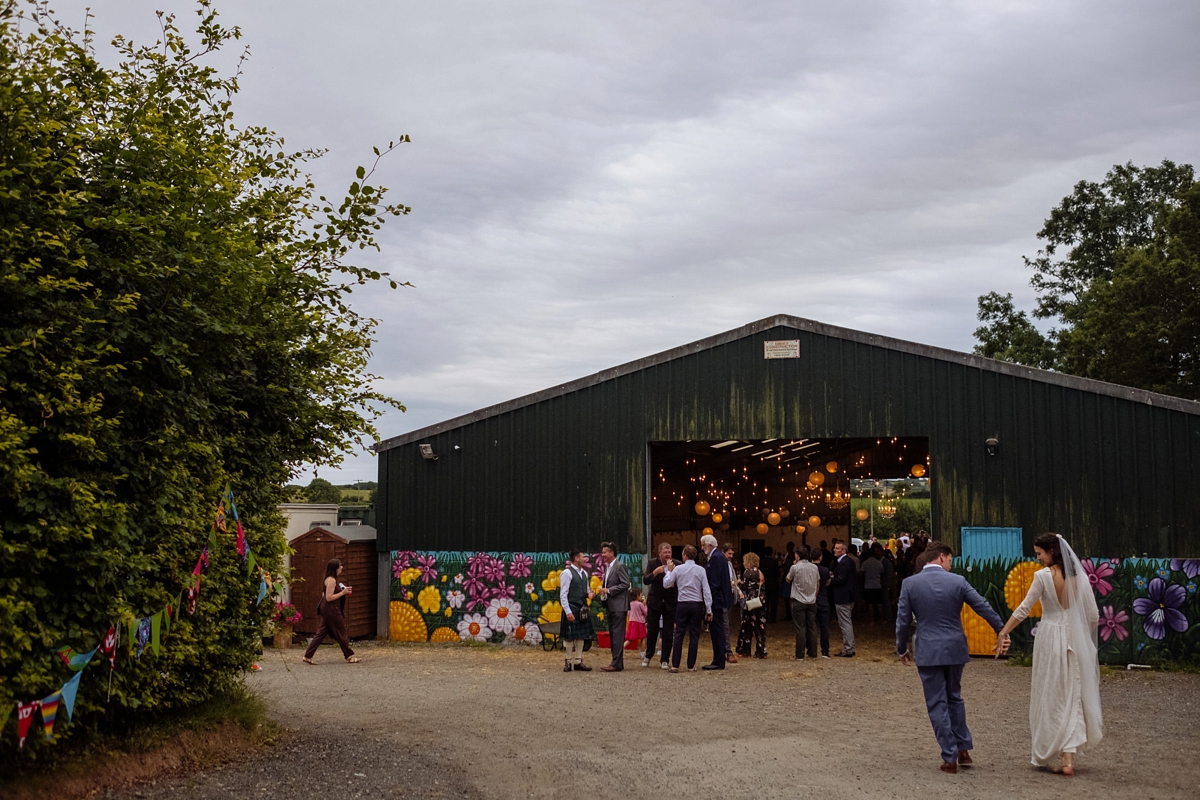 With their shared love of music, entertainment was a key part of the day for the couple. Adam explains;"
"This was something of a specialist area for me. There was always going to be a glut of DJs at the wedding, plus many musicians so it wasn't tough to get hold of gear or willing parties to participate. We asked as many friends and family as were willing to play a few minutes each, including my brother and sister-in-law."
"Band entertainment came, cover-version free, from one of the bands on my label Albert's Favourites: The Expansions. We're lucky to have many friends and family who love music, so we weren't worried about going a bit left-field with the song selections. Anything went."
Singer Margie Joseph performed a version of Al Green's 'Let's Stay Together' for the newly-weds' first dance.
"Not long before we got back together I discovered an incredible version of 'Let's Stay Together'. This version is a little faster, with a little more funk in it and is performed by the stunning singer Margie Joseph. It had become a bit of an anthem for me and fortunately Sas felt the same. It moves me like few other songs and it had to be the first dance.
Words of Wedded Wisdom
"You can't control everything. It can be hard to let things go but often, if you just take a step back and put everything into context, most of the time it's probably not that important. For the big things, like the weather, have contingency but don't get obsessed. We were checking the forecast at an unhealthy frequency. But ultimately there was nothing we could do about it. On the day, not everything went the way we had hoped, not everyone who we hoped could be with us was there, but deep breaths and carry on. It all works out in the end."
"We could not have had the celebration we wanted without help from so many people. The cakes, bunting, jam jars, wedding tattoos, the time spent putting the barn together, DJs, not to mention the financial help from our families. We're ridiculously lucky to have such wonderful people in our lives."
I can't send enough thanks to you Adam and Sas for letting us feature your wedding today. The field and tents look incredibly beautiful, and it's so lovely to hear how your family and friends aided you in making the day what it was. I've particularly enjoyed hearing Adam's point of view, too. Shelly, what beautiful, emotive pictures; it's been such a pleasure to see them and I really hope we feature your work again soon on Love My Dress.
Ele xx