Hello Lovelies! Is that Spring we can see? I do hope so, I'm so looking forward to some brighter weather and dare I say it, sunshine. In any case I have a little treasure of a wedding up my sleeve to brighten up your day whatever the weather. We're going up to Scotland for this one and let's just say the dress is to die for…
Teacher India and Finance Controller Stu tied the knot on 29th July 2017 at Gosford House in East Lothian, Scotland.  India's dress looked head-to-tow-woah against the back drop of Gosford House and I'll admit I got serious dress envy when these images popped into my inbox – simply stunning! But more on that shortly.  Lending a helping hand to the bride squad on the morning of the wedding, and getting the whole day on camera was photographer Amy Murrell of Especially Amy, and capturing the action on film was White Balloon Films.
"Amy was fantastic from start to finish. Not only did she take some wonderful shots, but her helping hand when we were all getting ready was really fab too. Amy made us feel totally at ease and she felt like a member of the family by the end of the day."
Images by Especially Amy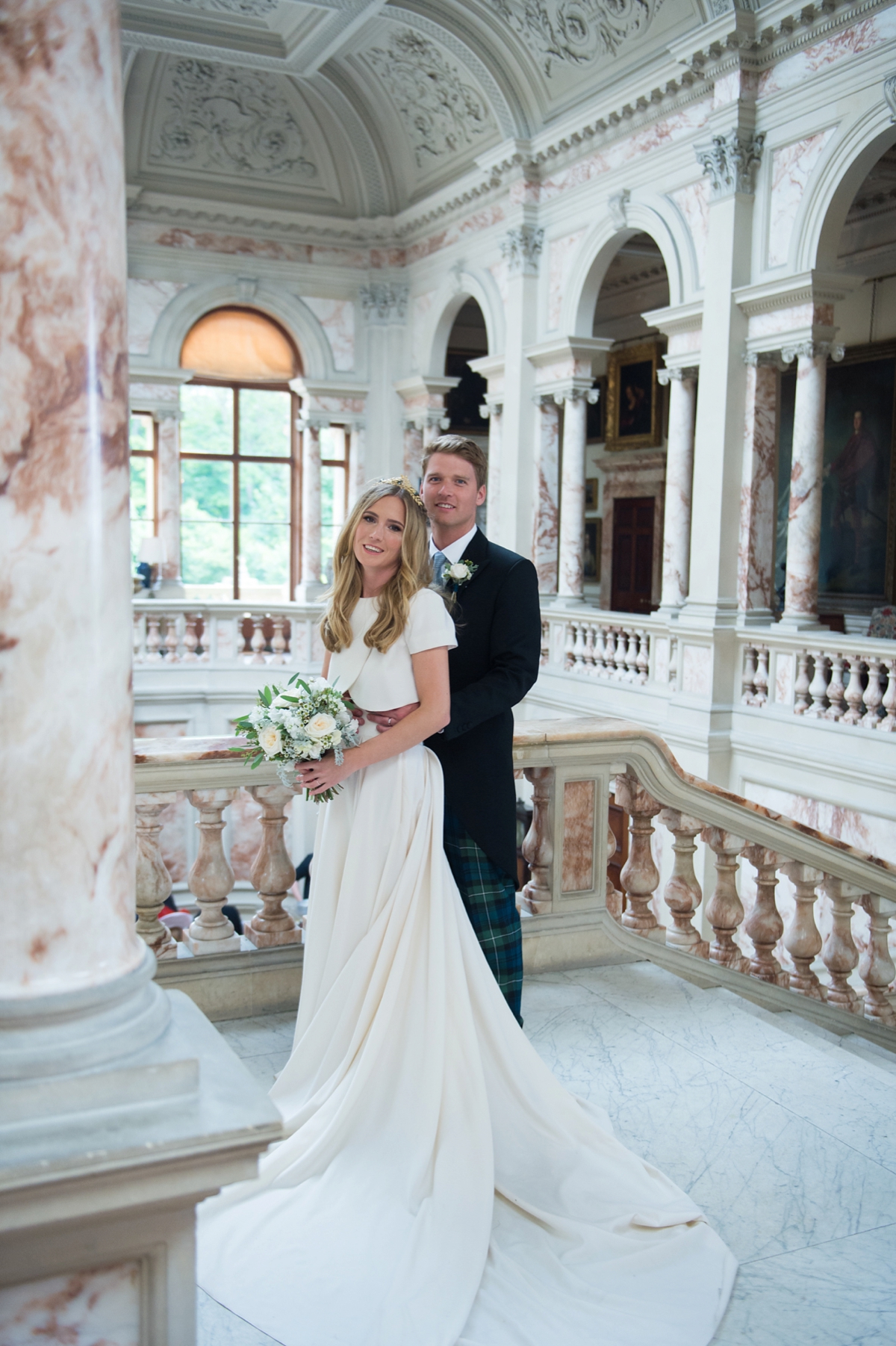 "We had looked at about seventeen other venues in East Lothian, Perthshire and areas surrounding London before this one. Gosford House was the last venue we looked at and when we walked into the marble hall we knew we had found the one."
India's gorgeous off-white gown with cropped top and extra long train was the perfect dress for her grand surroundings, and the heavy wool fabric perfectly in keeping with the Scottish location. Opting for the Moonflower Dress by Elizabeth Stuart via The Wedding Club, she accessorised with a pair of J Crew heels, Rox earrings (a wedding present from her parents), and a gold leaf detail crown from Naturae Design.
"I loved that my dress was so unique. It had pockets and was very 'me'. The fabric was 100% wool and was heavy, but so beautiful!"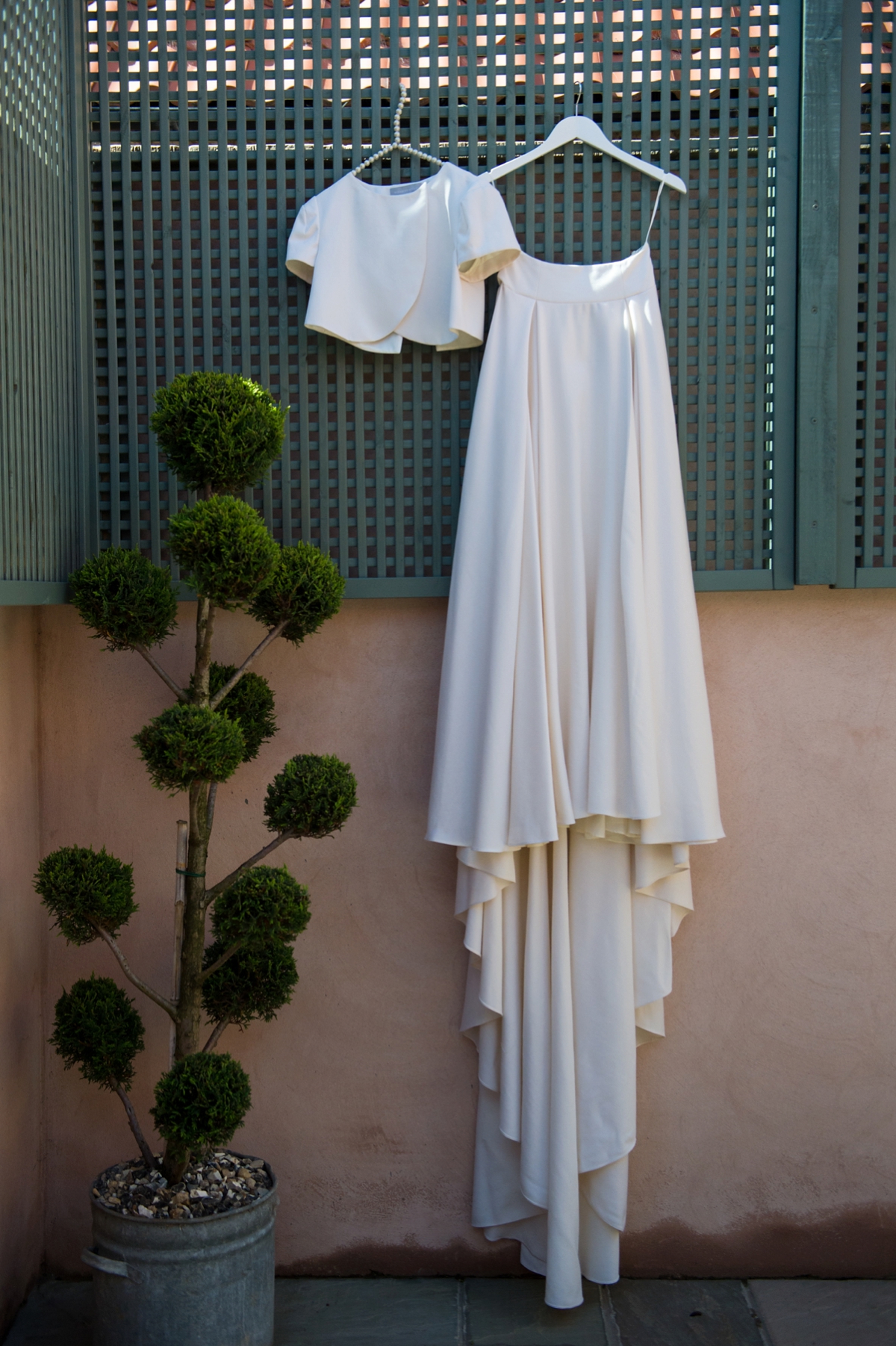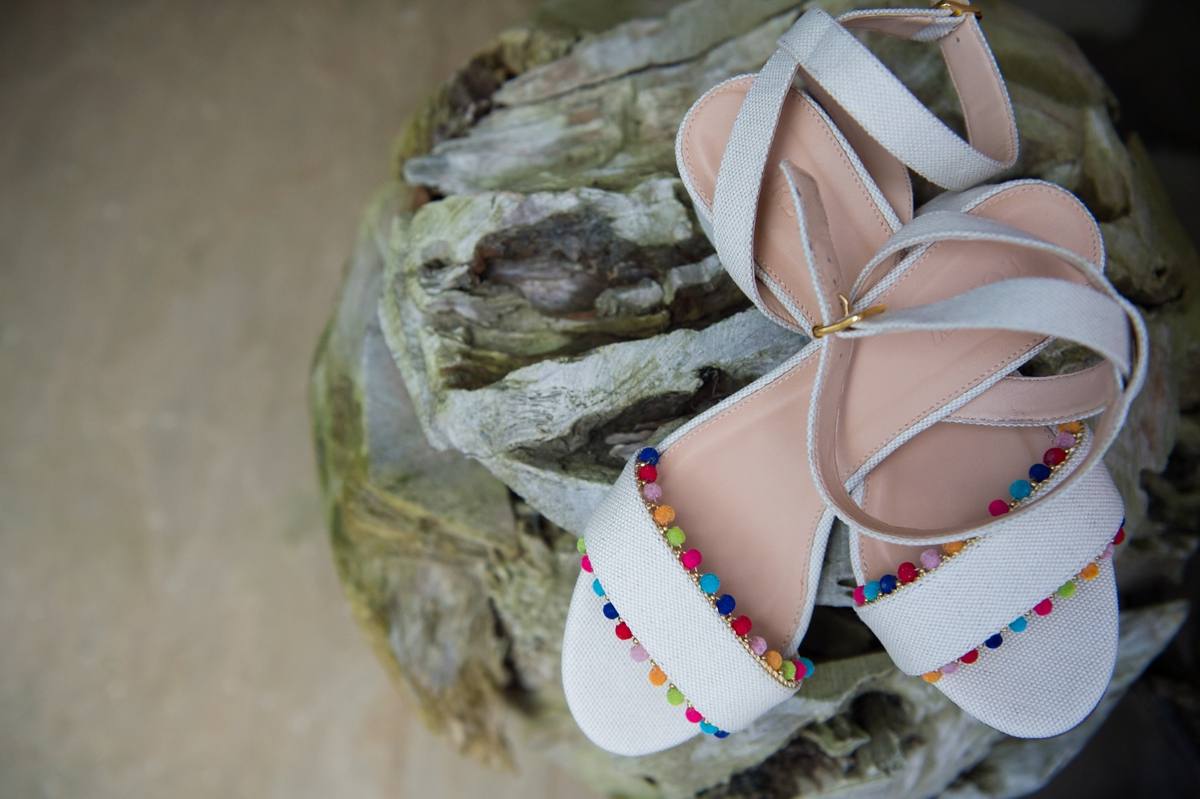 The venue was gorgeously dressed by florist Adelaide's Secret Garden who did a beautiful job of putting together the white and green bridal bouquet, wild pew ends and table centrepieces.
"We wanted subtle flowers with a gorgeous scent that would compliment the bridesmaids dusky pink dresses, my ivory dress, Stu's tartan and the venue. We also used some large balloons and garlands from Pretty Little Party Shop as decor."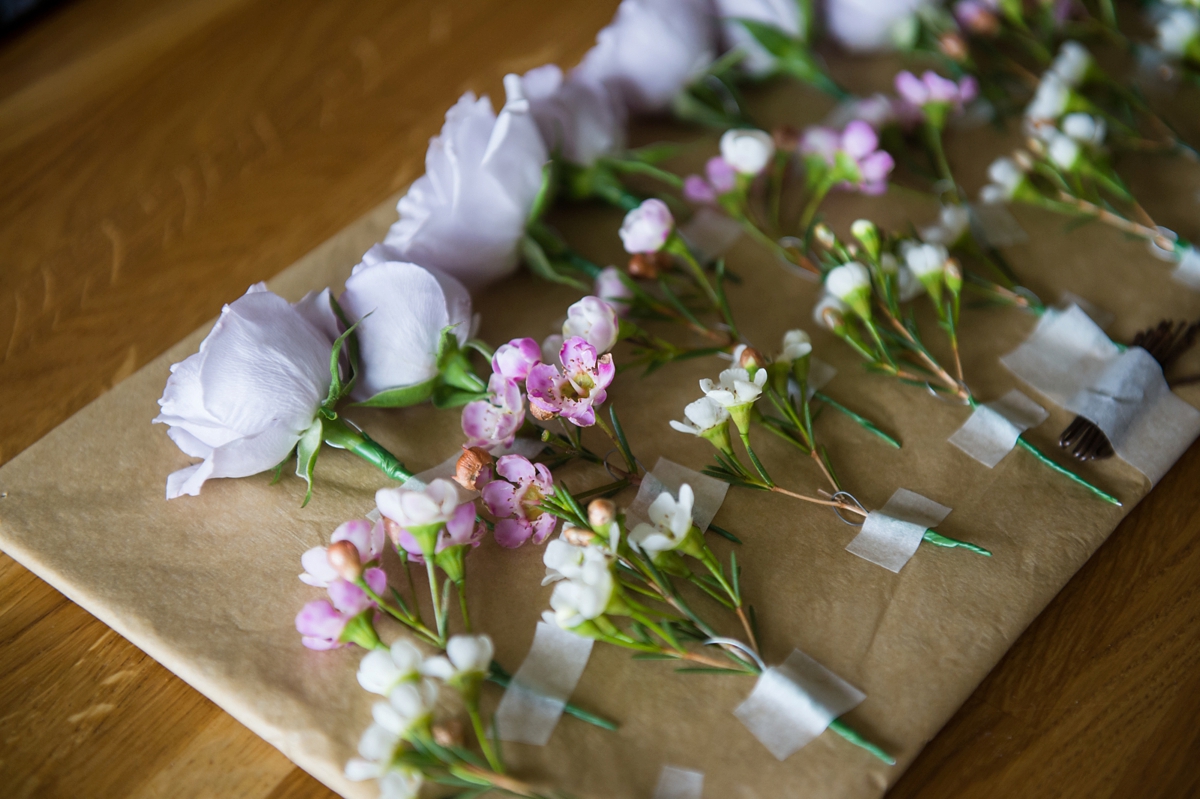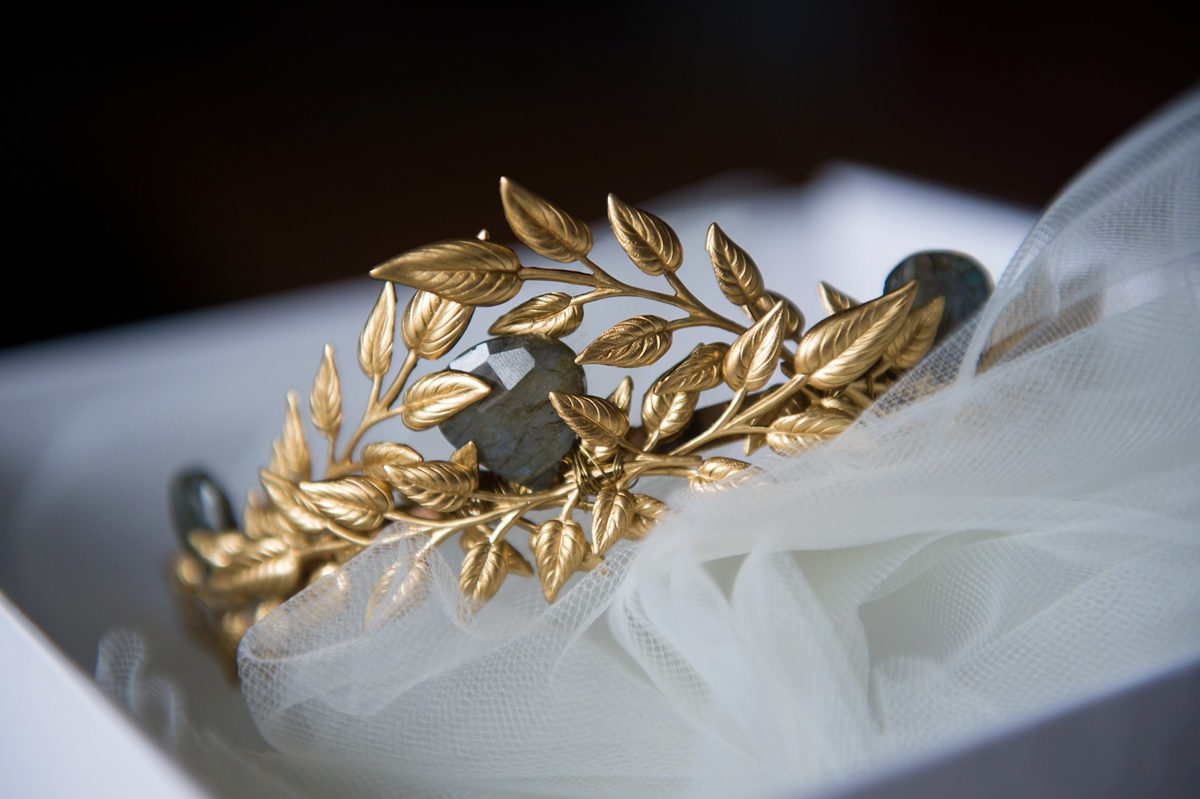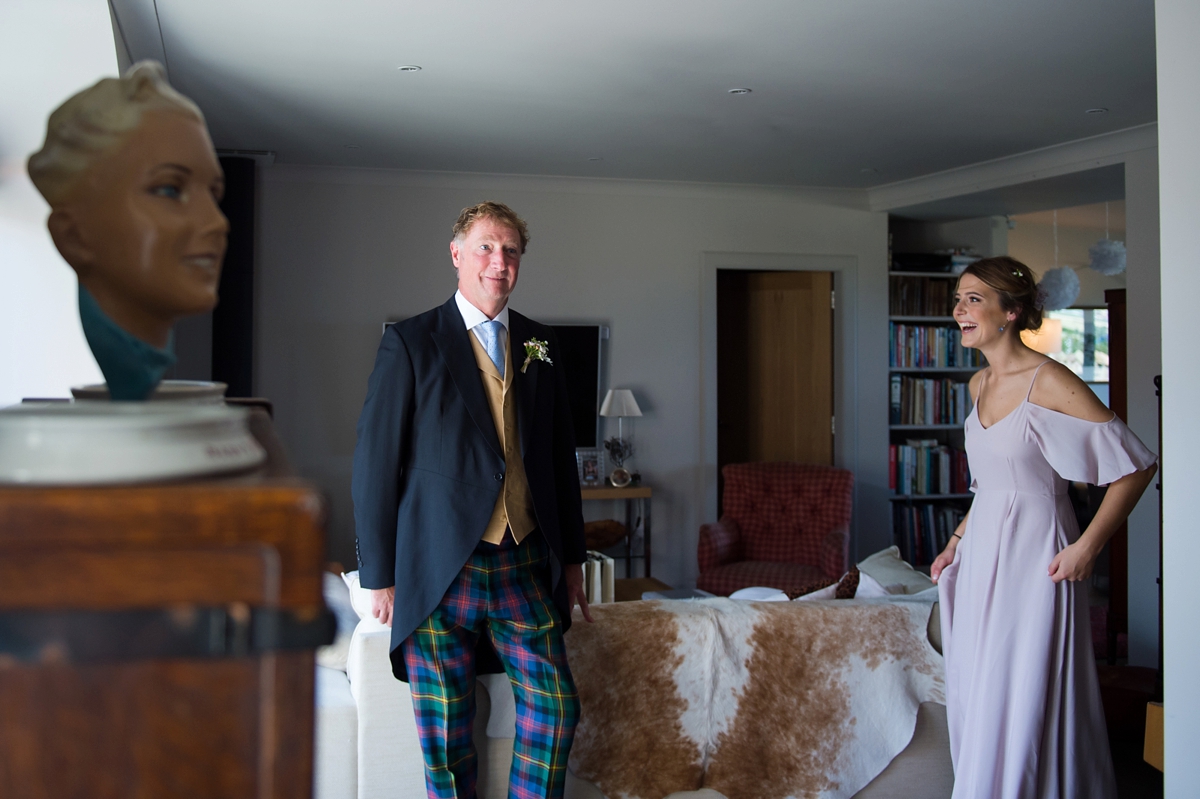 After spending a long time looking for and choosing bridesmaid dresses, India finally came across gorgeous pale lilac full-length dresses from Love My Dress favourite and Little Book for Brides members, Rewritten.
"I spent ages searching for their dresses and couldn't find anything that even came close to what I wanted. I luckily came across Rewritten and they were amazing and really helpful! Adelaide from Adelaide's Secret Garden made wire flowers for their hair (she was amazing!) and they wore their own shoes and jewellery. The flower girls looked gorgeous in Mango soft pink dresses."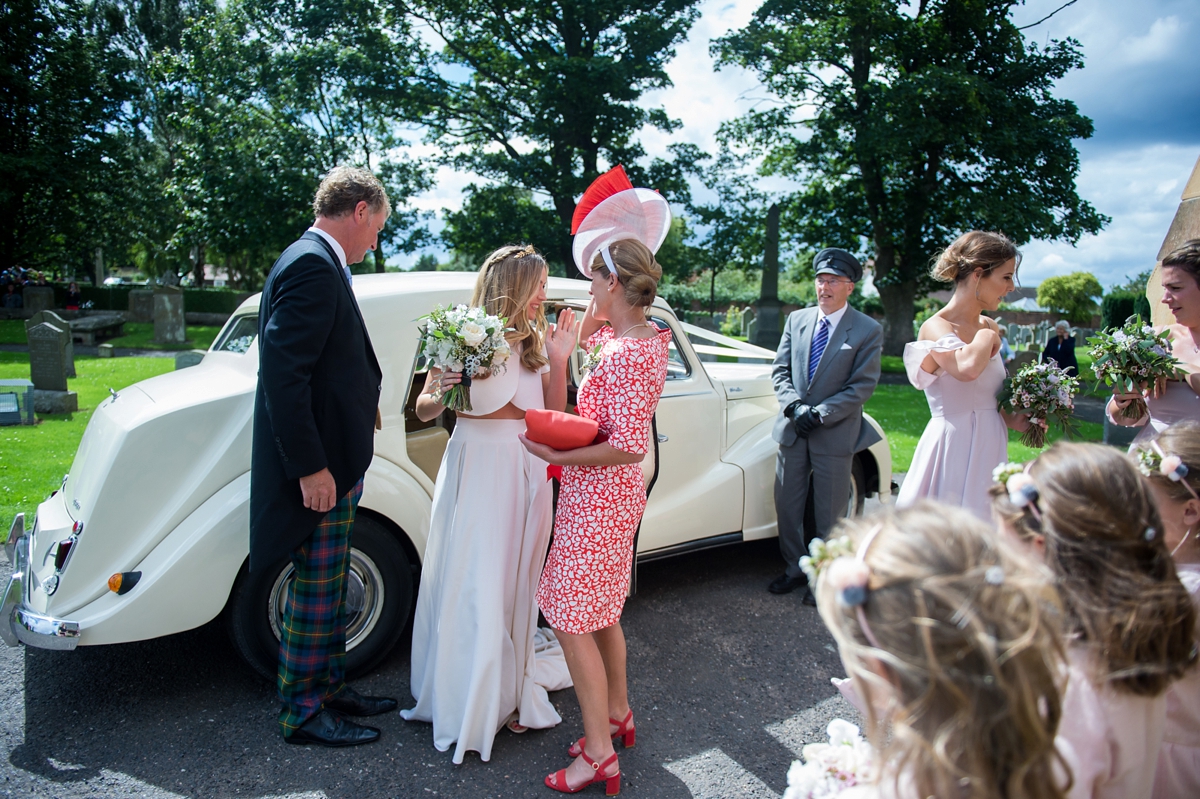 Having attended the same high school but not really been on each others radar, the couple met again, properly this time, ten years later.
"We were at secondary school together but didn't really know each other then. Stu was at a party in London almost 10 years later and met a friend of mine, Lara. They somehow got chatting about school and she mentioned the few people she knew at the party, which included me. Lara said to Stu that he should take me out for a drink as I was single and she thought we'd get on well. The rest is history…"
"Stu and I went on a short holiday to Mallorca over Easter in 2016 as we love it there and go quite often. We walked up the Sant Salvador monastery, along the beautiful walls at sunset and there was no-one there. After a while Stu asked a man who walked past us if he would take a photo of us and it was then he asked me to marry him! We have some lovely photos to remember the day by but I was sad we never asked what the mans name was who took the photo."
At the start of the ceremony, India's dad walked her down the aisle to Pachelbel's Canon played on the organ. Waiting for her at the end of the aisle was Stu dressed in a black morning coat and waistcoat by Favourbrook, tartan trousers by Kniloch Anderson and an Hermes tie.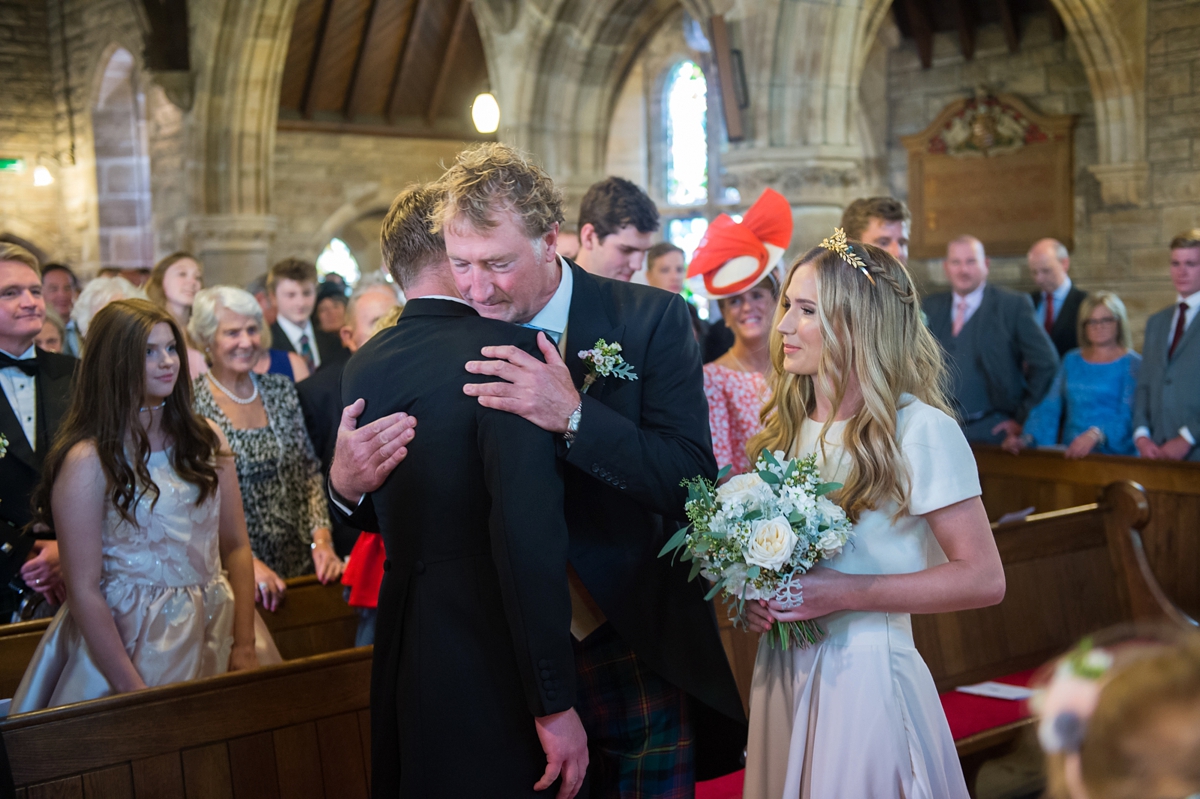 "Walking down the aisle with my dad and the actual ceremony were my most favourite parts of the day! It all became very real and was full of emotion."
Reverend Brian Hilsley at Aberlady Parish Church officiated the ceremony and the couple chose two readings; To Love Is Not To Possess by James Kavanaugh and That Still And Settled Place by Edward Monkton:
In that still and settled place
There's nobody but you
You're where I breathe my oxygen
You're where I see my view
And when the world feels full of noise
My heart knows what to do 
It finds that still and settled place
And dances there with you.
The pair chose their wedding rings from The Diamond Ring Company.
"Stu had my engagement ring made based on inspiration from a Boodles ring I had seen the year before. Michael from The Diamond Ring Company was amazing and he made something to fit perfectly with my engagement ring that I absolutely love."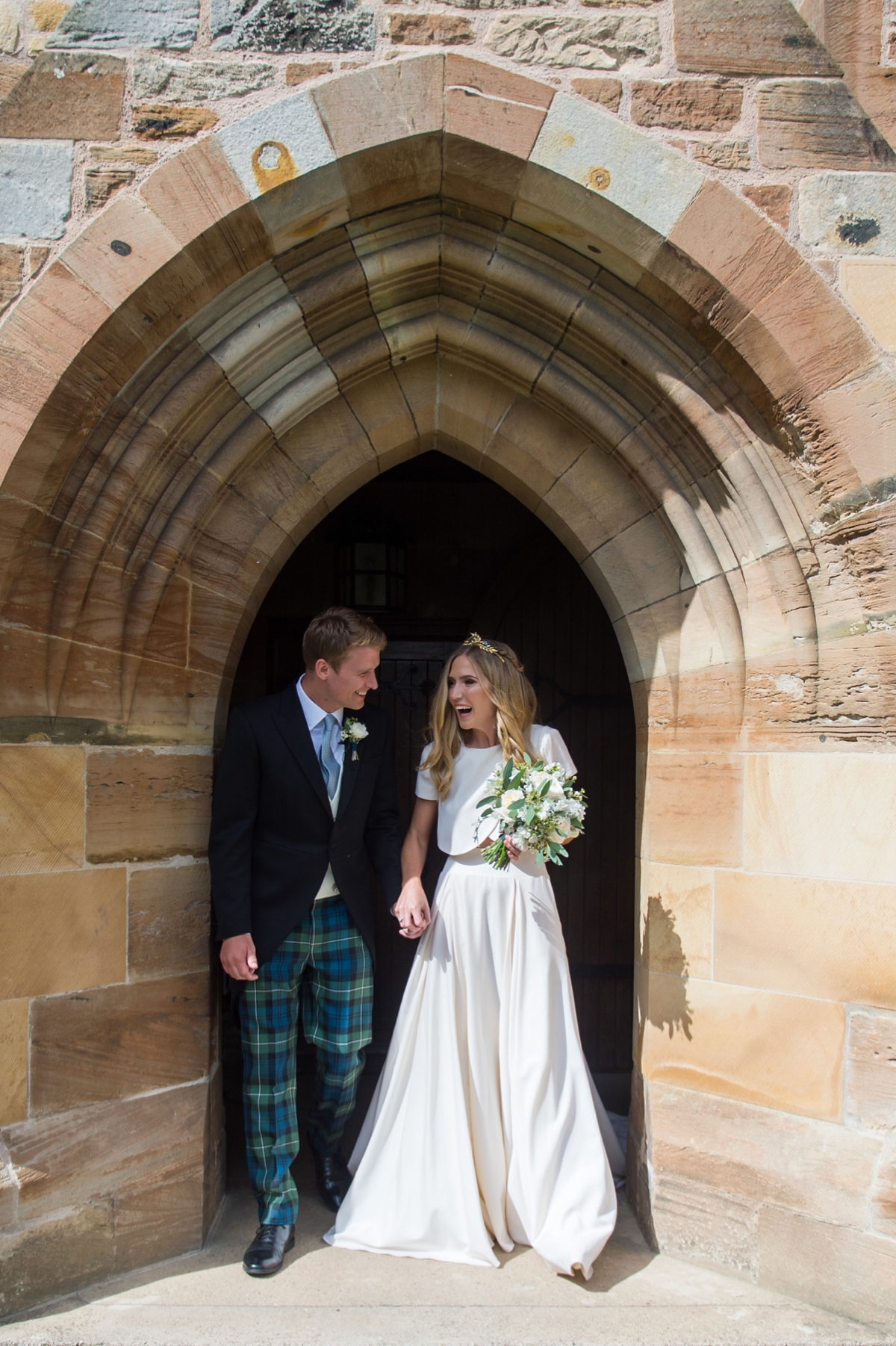 Once the ceremony was over and confetti thrown, the guests travelled by a big red bus hired from The Red Bus company to the two-tiered marble hall at Gosford House for a champagne reception. Meanwhile, the bride and groom travelled in a vintage wedding car from Lothian Classic Wedding Cars to meet photographer Amy for photo's within the impressive grounds of Gosford House.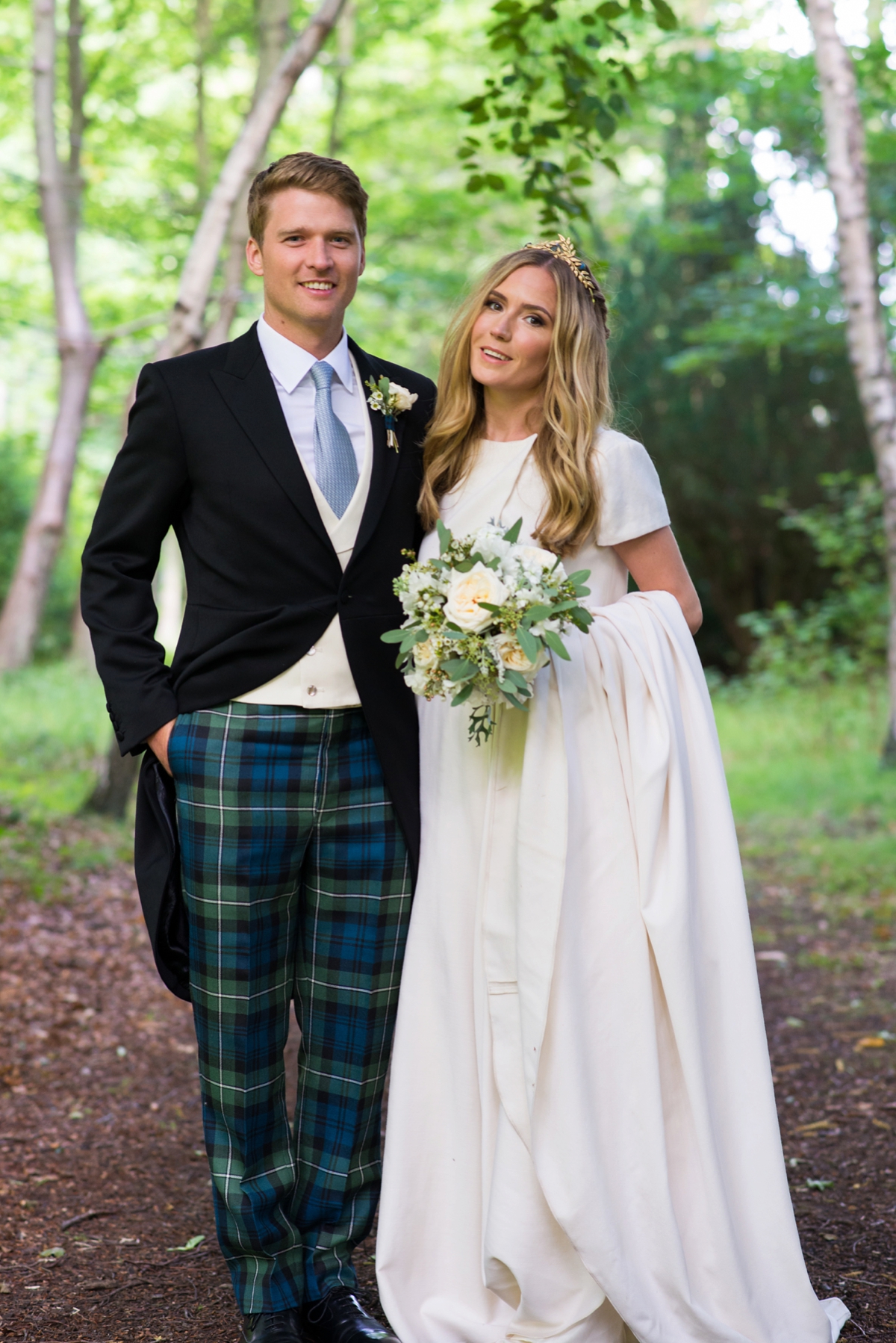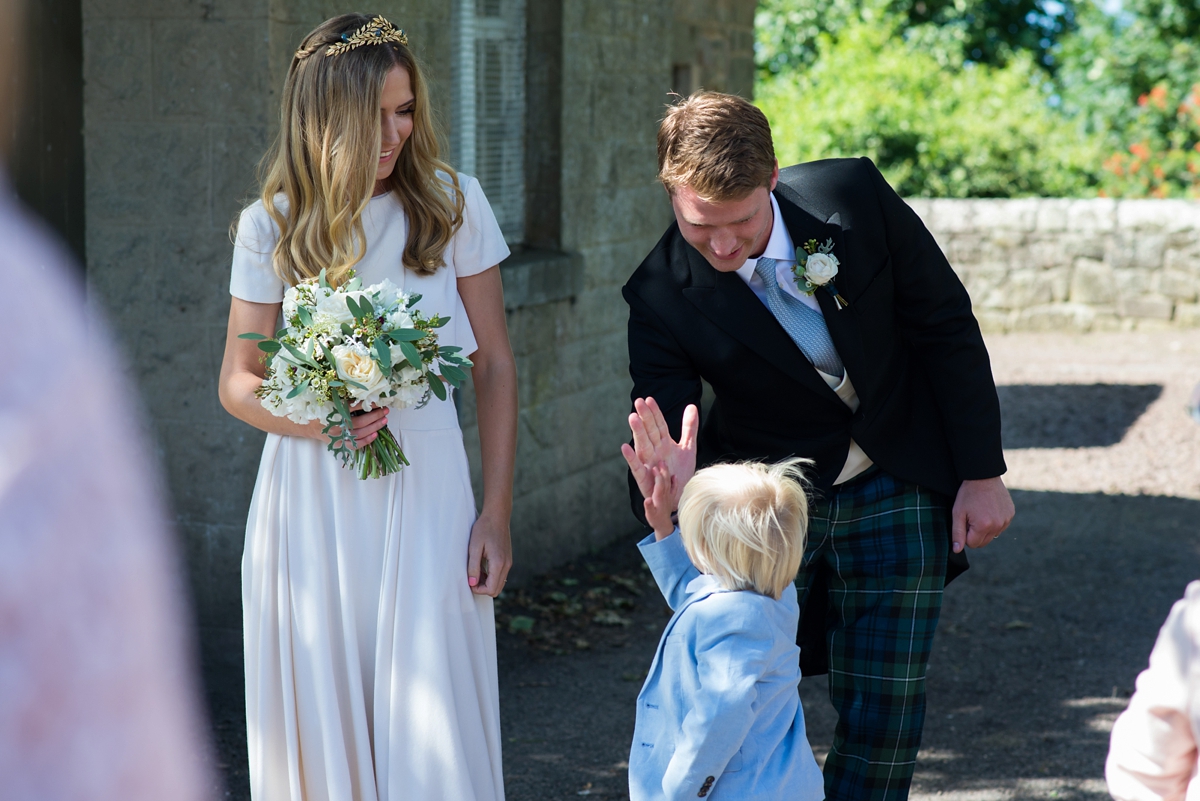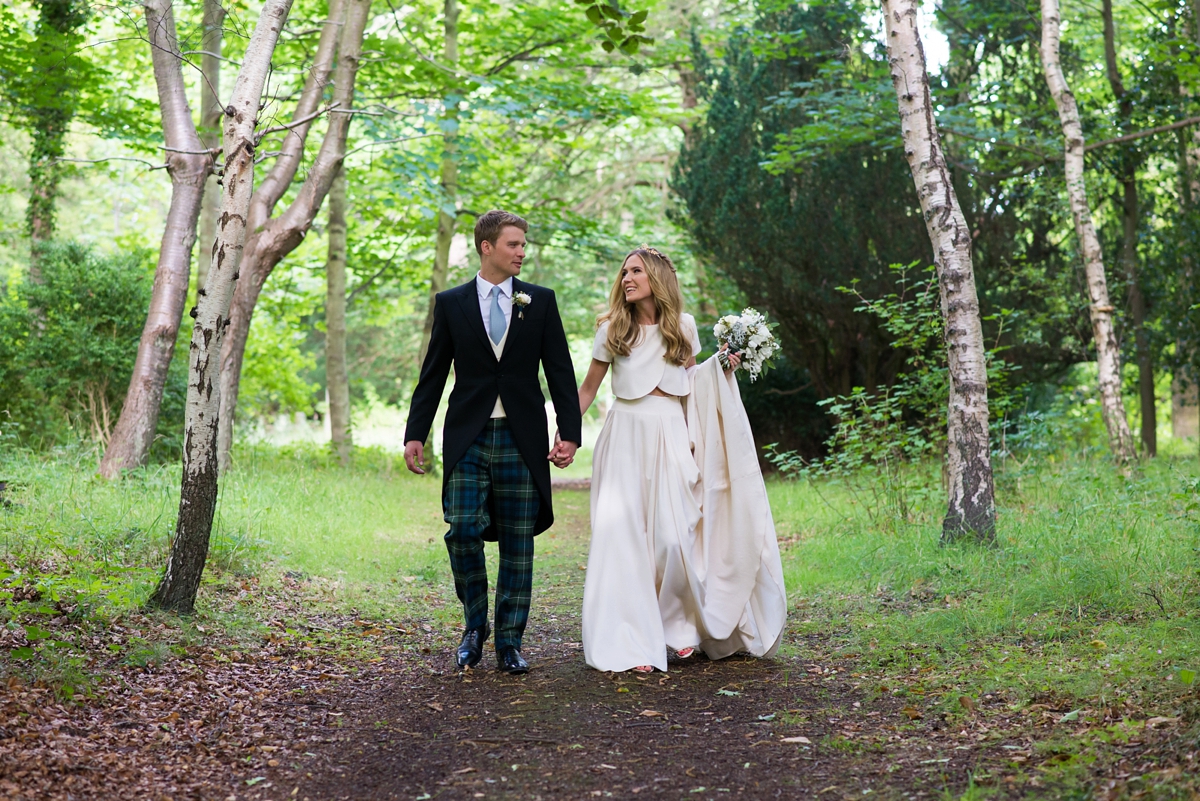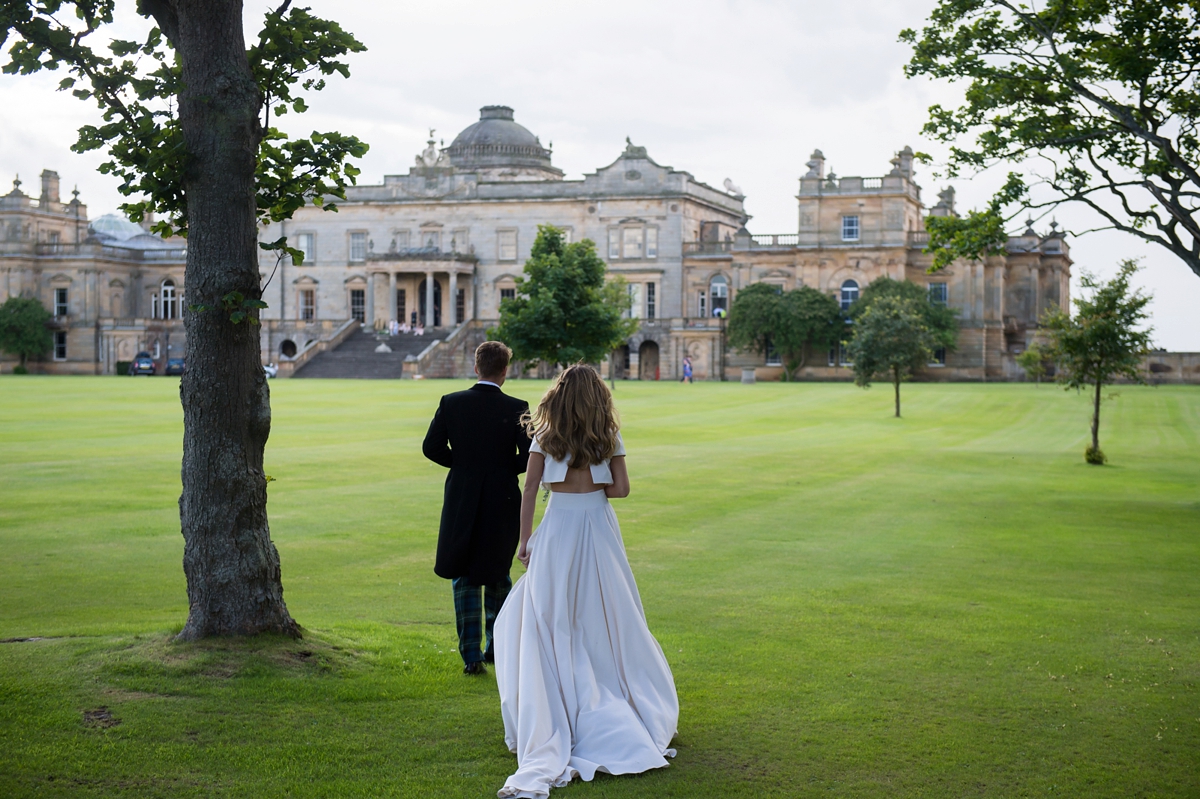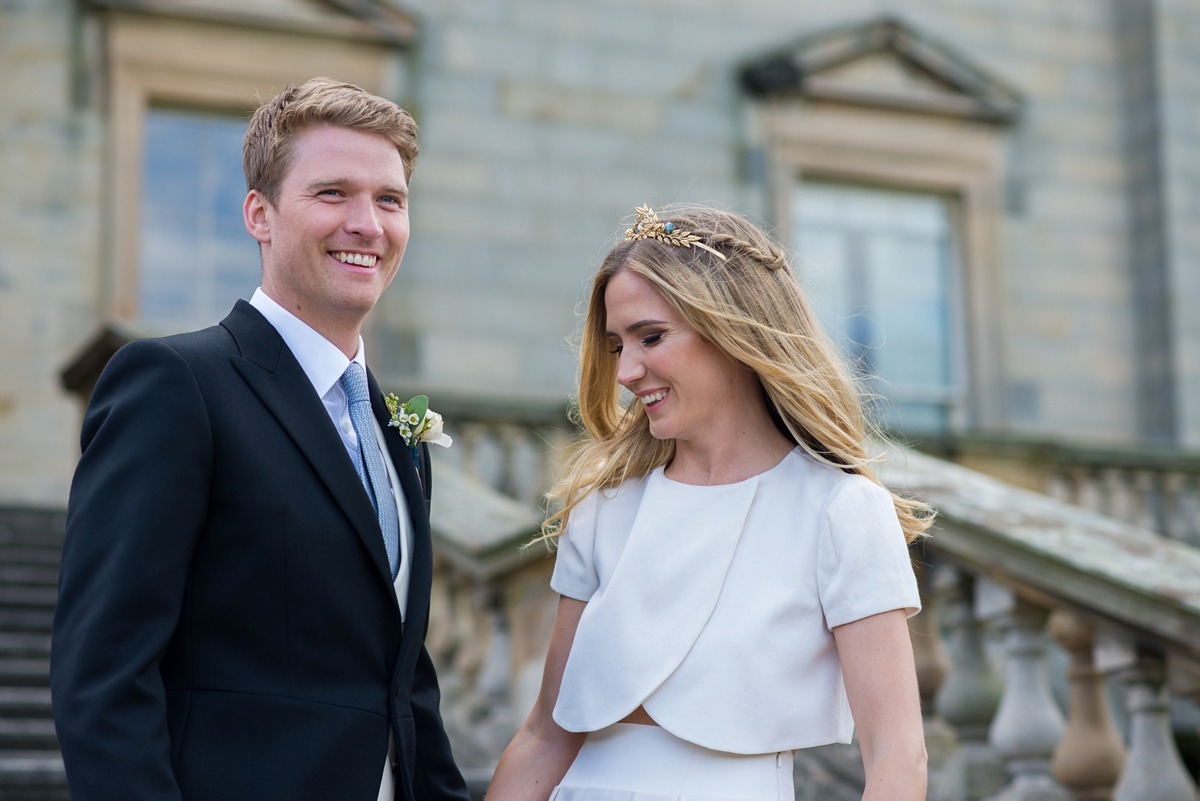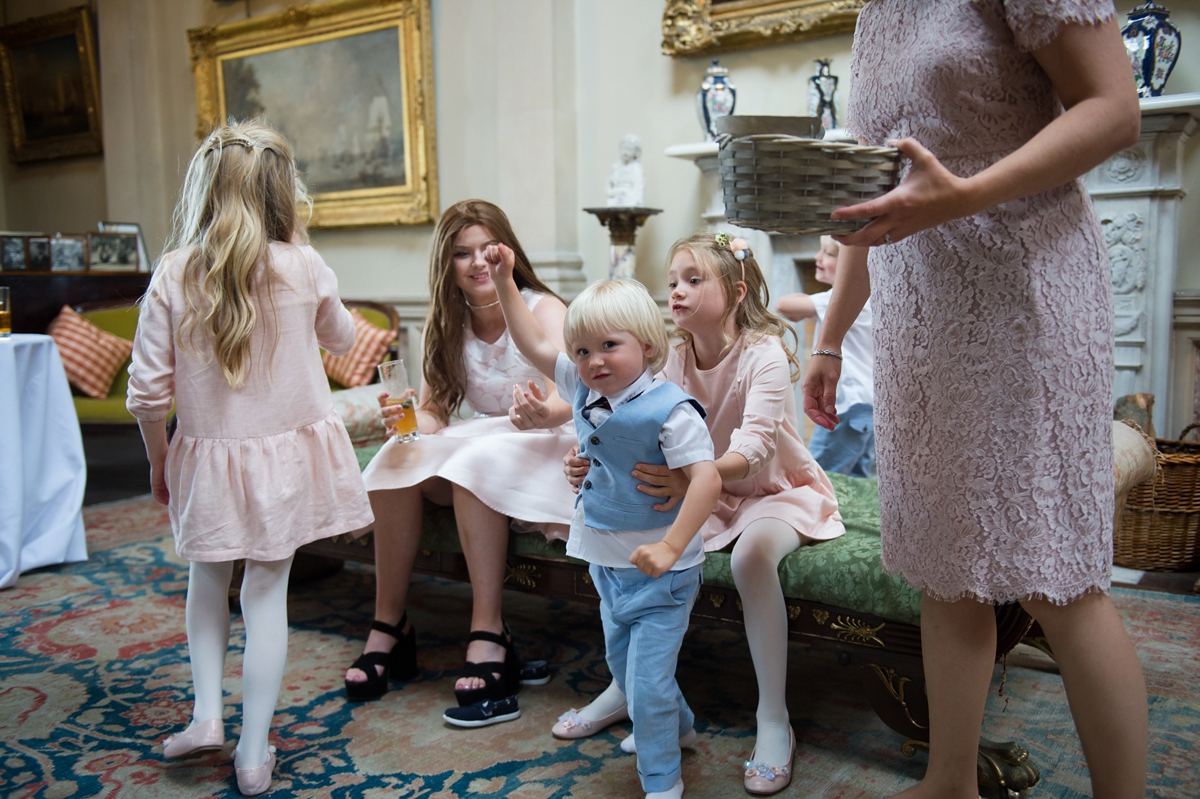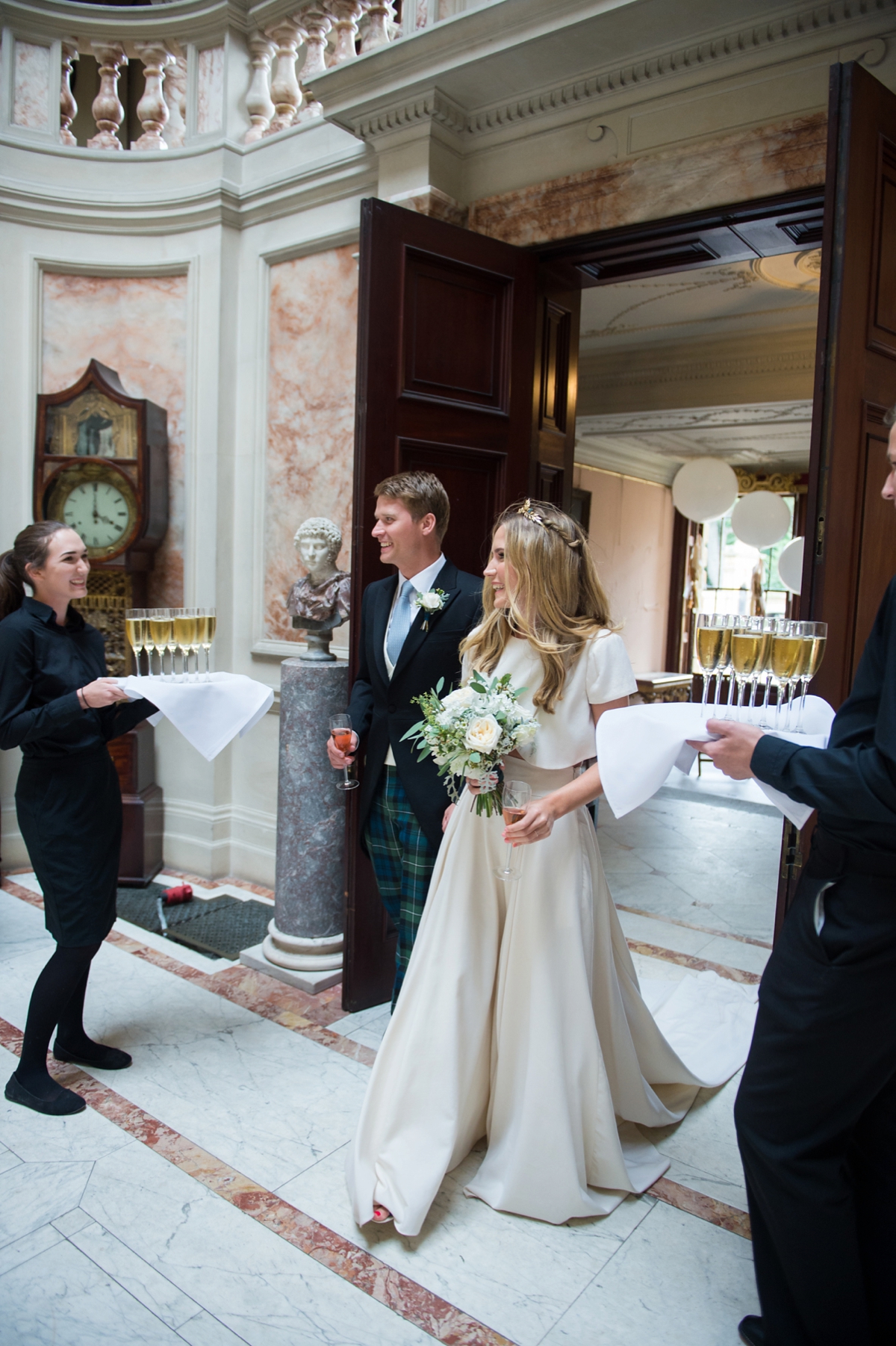 India set up her own wedding website to offer their guests more info and insight to the day, but also sent out some traditional paper invitations to close family.
"We had a wedding website but I did also make some paper invitations to send out to close family and the older generation. My brother made our order of service and menus which I put together with twine, and a friend hand wrote the place names."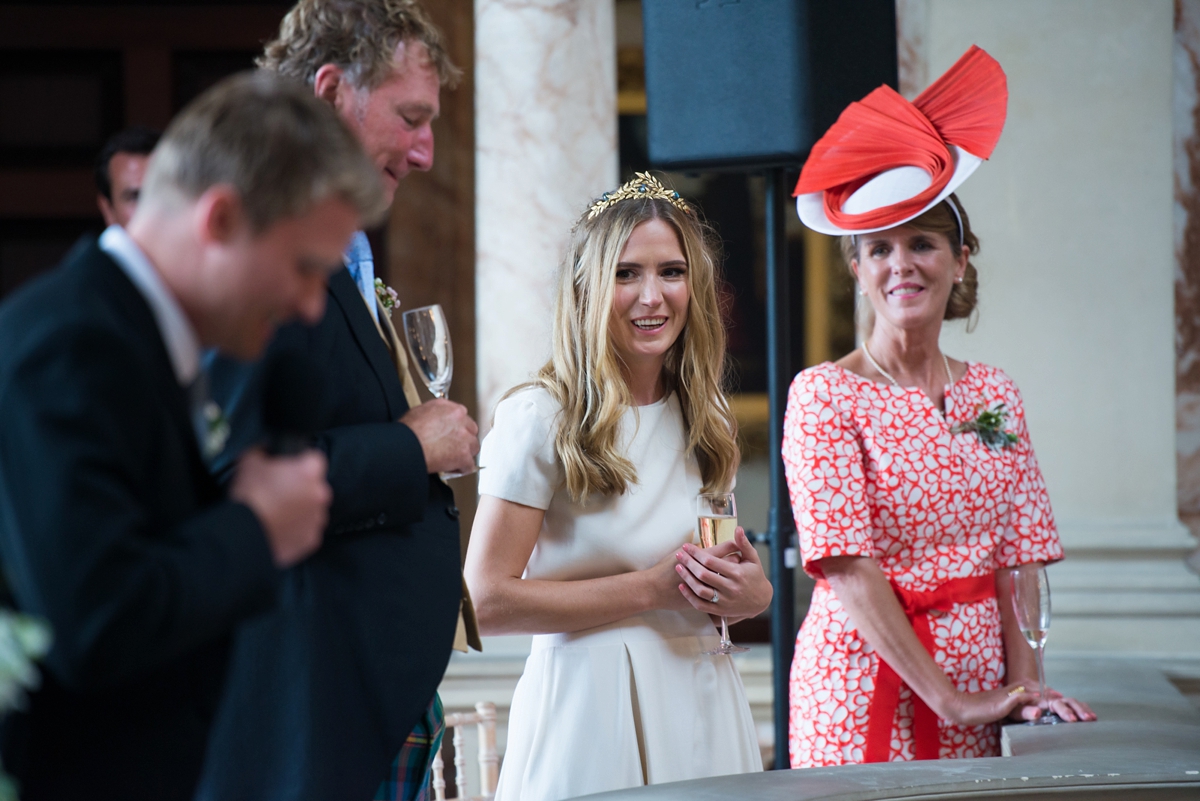 "Our wonderful friends from Kilchoman Distillery bottled whisky for the boys favours and our homemade sloe gin for the girls. My dad and a friend, Naj and I then spent the day sipping the bottles and hand writing on each of them."
The wedding breakfast was provided by Wilde Thyme and the stacked cheese cake by Cheesee Peasee, featuring various cheeses and decorated with gorgeous flowers.
"We chose a cheese wedding cake because we love cheese but it also provided nibbles later on in the evening!"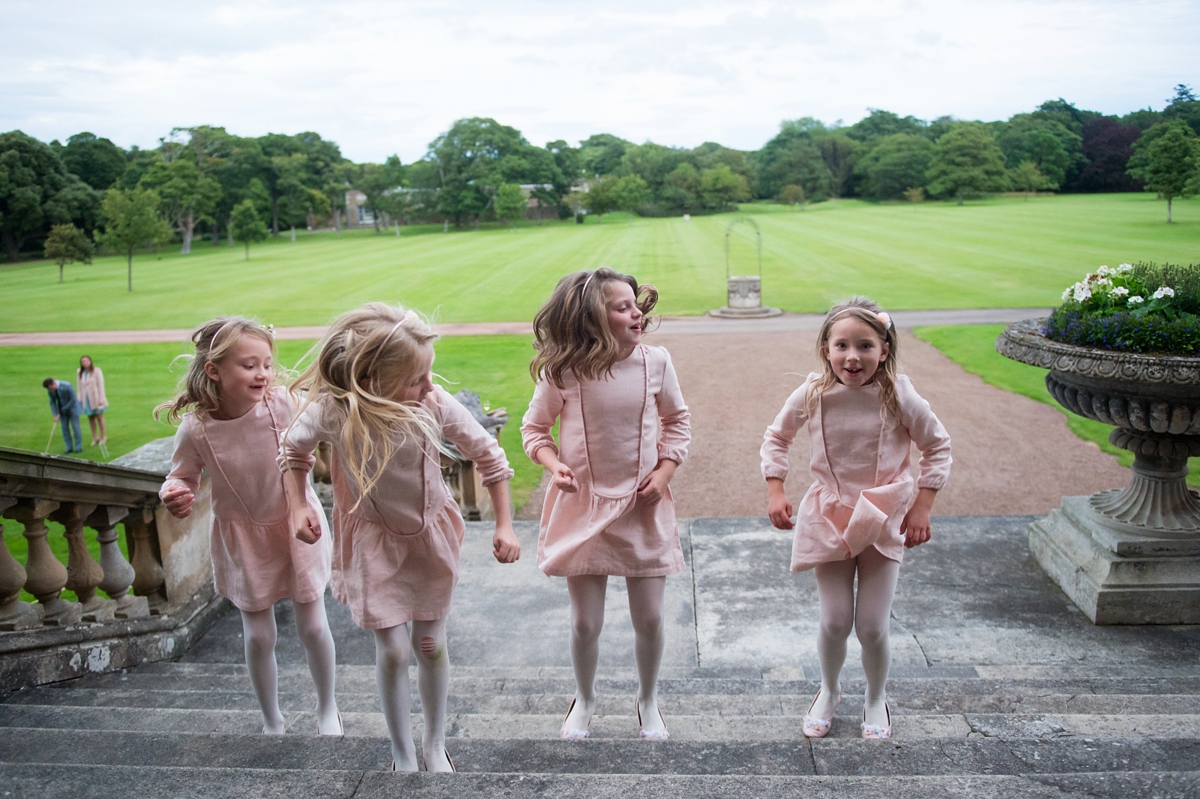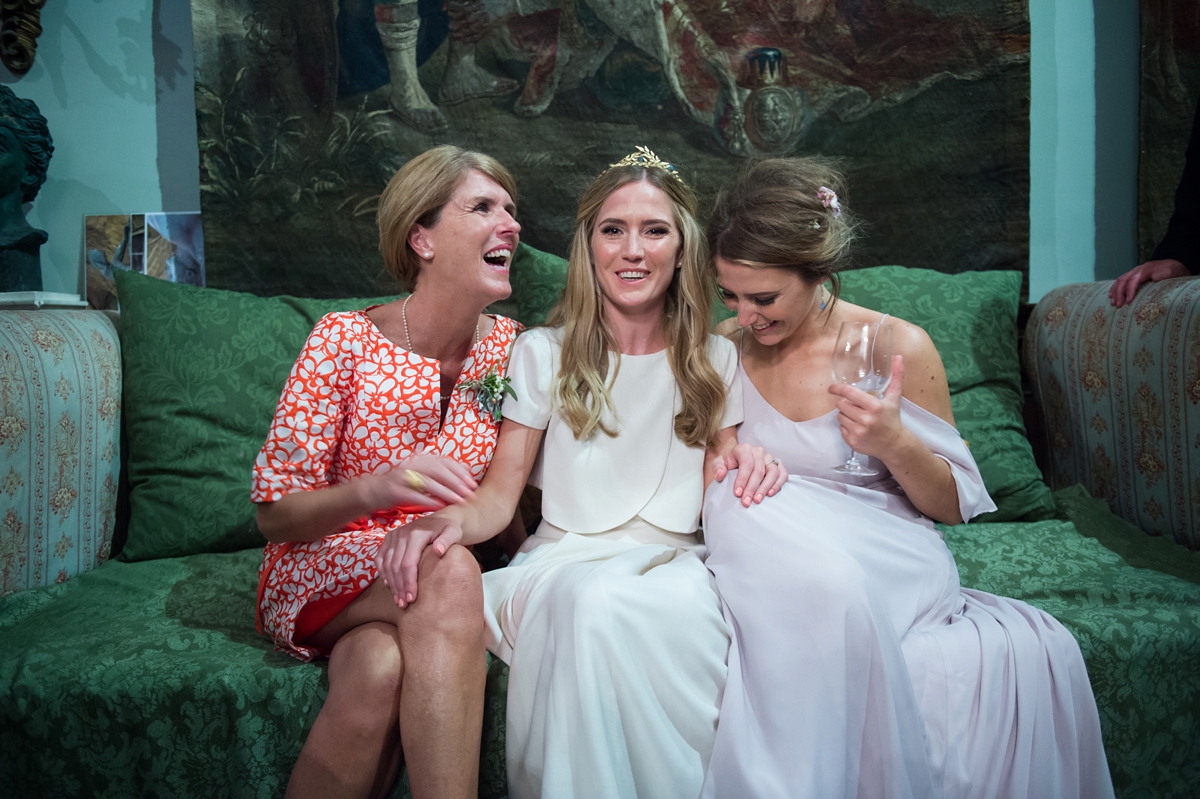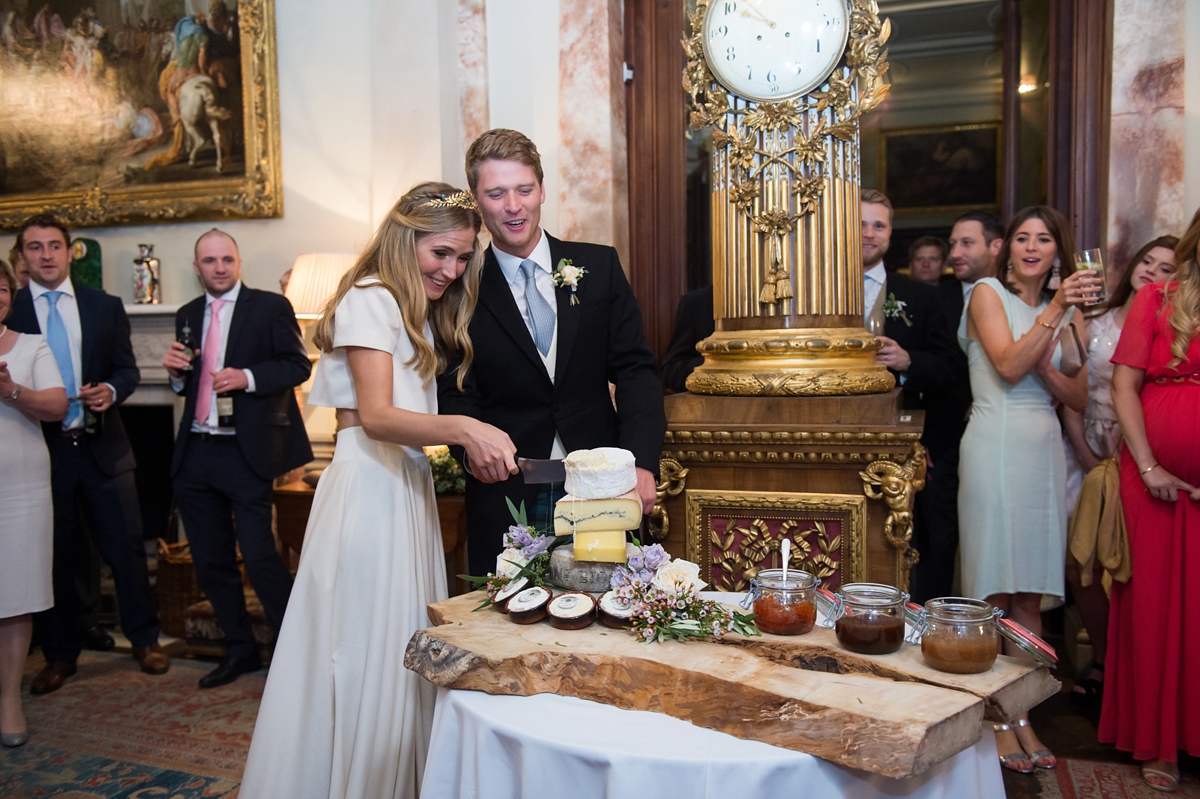 Words Of Wedded Wisdom
"I would say that throughout the day you should make some time to just be together with your new husband/wife/ If you don't you could literally go the whole day without seeing each other apart from at the ceremony. It's lovely to look out at all your family and friends and think 'wow!"
"These people are all here for us and look at how happy they are, and how much fun they're having!' That coming together of both sides of the family and friends is really special."
A big congratulations and best wishes to India and Stu – what a gorgeous day, and what a venue! And special thanks to Amy for her simply gorgeous imagery, and for showing us how fabulous a Scottish wedding can be.
Until next time…
Much love,
Holly x