Brides, if you're looking for creative, show-stopping ideas for a non-traditional wedding with luxurious foliage and stylist inspiration you're in the right place today.
This Scottish coastal wedding is full of thoughtful details, super-personal touches and a magnificent second wedding cake of Kransekake. Oh, and if you've never thought of having alpacas at your wedding, think again.The bride and groom are Nicolle, an interior designer and Ian, who works as a learning and development trainer.
They married on 24 June 2017 at Dalduff Barn, Maybole in Ayrshire, Scotland, and created a whole weekend of celebrations for their family and friends. Their wedding style was inspired by the Scottish location and their love of Icelandic culture, so you'll notice references to wild landscapes, forests, foliage, moss and volcanoes, along with some little pops of orange and peach. Dalduff Barn and its farm grounds offered the perfect location for the couple to host a relaxed wedding weekend and indulge their foodie passions to the max.
Film by Wild Pines Films
Nicolle and Ian came across Wild Pines Films on this blog and were so happy with his work.
"We found our amazing videographer Barry from Wild Pines Films (sister brand to the original Worldly Nomads) on Love My Dress. We instantly fell in love with his style and his attention to detail. Barry was just incredible. Ian and I got on so well with him from the moment we met him. His films are so emotive, and he captures so many amazing moments and details. It was exactly what we wanted in our video, and one of the main things we were looking forward to on our day was running off together for portrait shots and some amazing footage. We adore our highlights video, it captures so many special moments, and the way it has been edited only captures us both, so it is so intimate and almost appears like an elopement."
Photography David Grant Simpson Photography
We love hearing from brides who are members of the Love My Dress Facebook group. If you haven't yet joined, why not do so today?
"I really enjoy reading Love My Dress and I found that many of the real weddings were a great source of inspiration. I even booked some of the suppliers we came across. I love the private group. It is a real safe space for a bride to be, and I found the support from the wonderful group members invaluable. They really helped keep me grounded, and sane! I have met some amazing friends for life via the group. I am so thankful that such a group exists, and that I was lucky enough to come across it!"
For her gown, Nicolle chose a Galina Signature design featuring bold appliqué lace over a nude slip.
"I adored the appliqué lace on my dress. I wanted something that was lightweight, easy to move in and low maintenance. I also knew I wanted a detailed back and a puddle train. My dress ticked these boxes and was so comfortable to wear; I could wander through the woods and hike around the cliff edges in it no problems in it."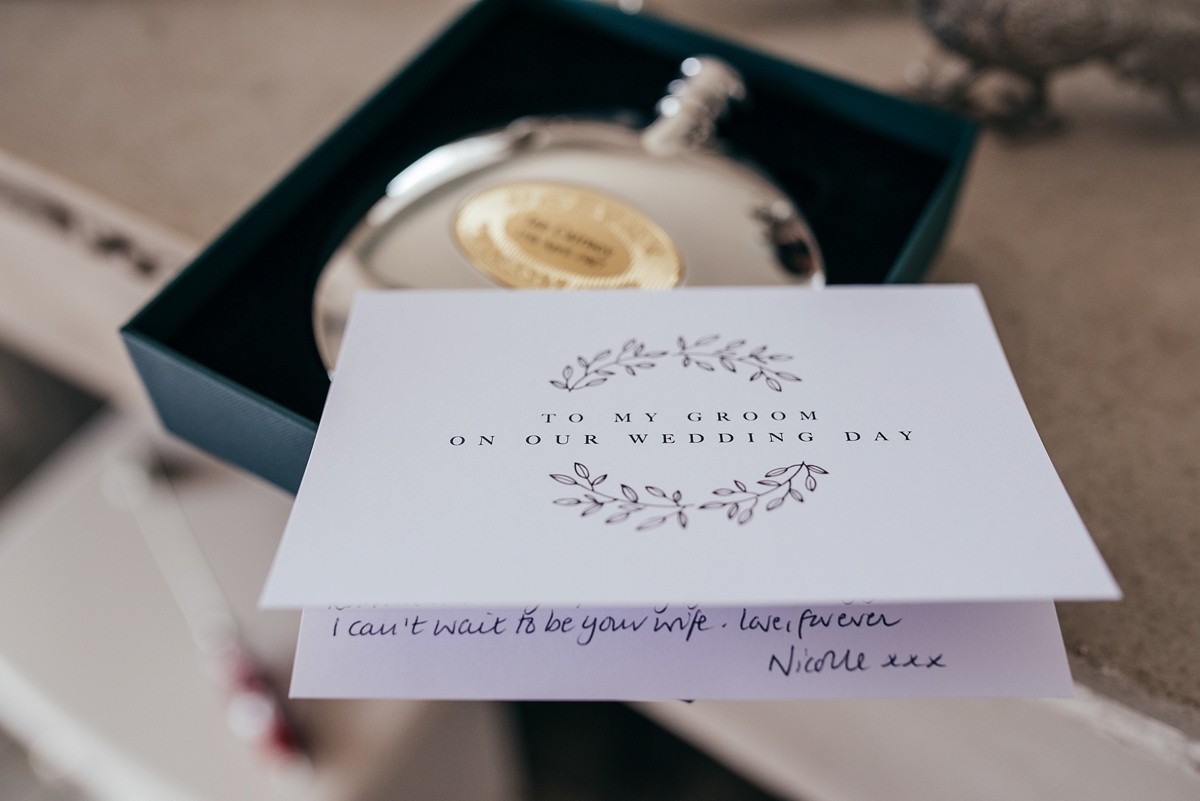 Nicolla's choice of accessories were clearly so personal to her, and she looks so radiant wearing them.
"My childhood dog Meg sadly passed away last year. She was fourteen and my true companion through all my teenage years. Ian and I are huge dog lovers, and we were distraught when she passed away. I bought the beautiful Awelon locket from Clogau to keep her picture safe and with me. A couple of months before the wedding, Ian bought me the matching earrings to wear which I haven't taken off since, and I thought of her all throughout the day.  My dad surprised me with a family tree bracelet on the morning of the wedding, which I adored and put on straight away, and Ian gifted me a beautiful Skagen watch with a mother of pearl face."
"After a while of trying to work out how to resize it, we succeeded and I wore that for the day also.  I am a huge penguin fan. It's bordering on ridiculous how much penguin paraphernalia we have in our house! So much so, that everyone expected us to have something penguin related in our day. Another beautiful gift from Ian was a necklace and anklet that had a penguin charm, and a charm with my initial."
Her makeup was applied to perfection by Marisa Brown Makeup whilst her elegant but natural up-do was styled by Creative Hair By Jane.
"Marisa is a real talent and a lovely person. I was incredibly lucky to have her on our day. She made me feel amazing, her
make up is so natural, minimal but impactful and lasting. Instead of feeling 'done up' you feel like the best version of yourself."
"When I asked Jane to do my wedding hair, she was nervous as it was her first real wedding on her own. But she is a perfectionist and did an amazing job with all of us."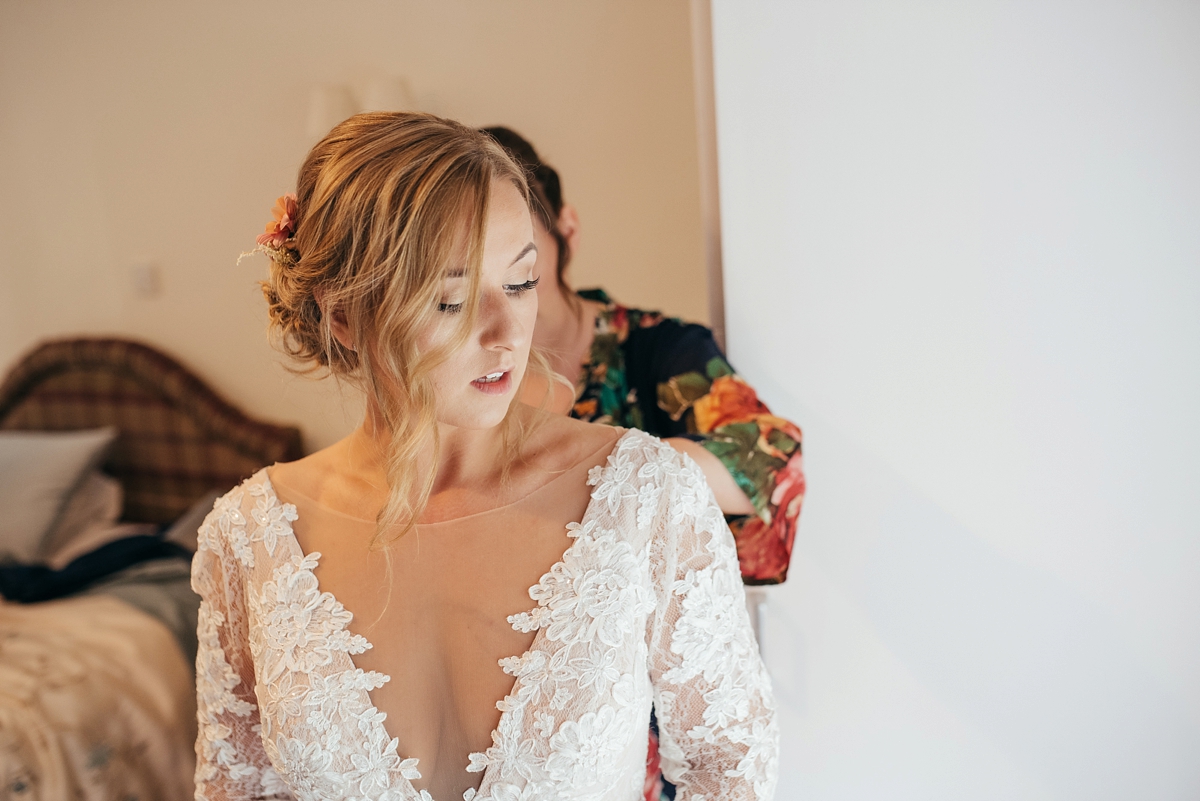 His hipflask and Kate Temple handkerchief were gifts from Nicolle. Made by Scottish company Dalvey, the flask was engraved with his name and birthday. Nicolle loved that the handkerchief was something that Ian could use again and again, and would remind him of the wedding. His cufflinks and pin were personal additions that meant a lot to the couple.
"Ian turned thirty in April. From our first visit to Iceland, I had two Icelandic Krona coins in great condition and one of them was miraculously from 1987. I took them to a family friend who is a jeweller – he cast them in silver for me and on the backs engraved his initials. I gifted them to Ian for his birthday – he wore them on our wedding day and made a point of showing everyone. They are beautiful, and remind us both of where our wedding journey began. My final gift to Ian was a memorial charm. A couple of weeks before the wedding Ian's uncle suddenly passed away. Ian adored him, as did I and anyone who was lucky enough to know him. He was very much looking forward to our wedding and it felt wrong not to honour him in some way. I had a memorial pin made for Ian, which had a photo of him with his uncle, and another picture of him with his late Nana who sadly passed away last year. I kept it until our reveal to gift it to him in person, and helped him pin it to the inside of his jacket so he could carry them with us."
Ian and Nicolle have been together for almost thirteen years, meeting in human biology class in high school at the tender ages of fifteen and seventeen. Their super-romantic engagement happened on holiday in Iceland and they arranged their wedding weekend for just over two years later.
"I was besotted with him as soon as I saw him, and one day when he was off school I copied my hand-written notes for him to keep. I sat up for hours trying to get the perfect handwriting with no mistakes, and presented it to him the next day. That was how we got talking. We dated for five years and bought our flat together when I was twenty. Over the next few years we gained four dogs and both changed careers."
"For our ten year anniversary in 2015 Ian surprised me with a trip to Iceland. I had studied the country for a university project and for years I had wanted to go, so I was super-excited to finally be visiting. Ian has always been the sensible one with finances so I never expected a proposal with a ring. We had spoken about marriage so many times and were leaning towards the idea that we would just show up one day at a registry office and do it, or elope to Iceland or the Highlands and get married on the side of a mountain."
"Our trip to see the Northern lights was supposed to be taking place on the night of our anniversary but a huge snowstorm meant we couldn't leave the hotel. When our trip went ahead the next night, Ian took me by surprise by getting down on one knee with the most beautiful diamond ring I'd ever seen that he had picked out himself and smuggled along with us."
"We were in the middle of nowhere in the pitch black – the only light was from the moon and the stars which was reflected in the beautiful diamond he was holding. The landscape was snow-capped black, sharp lava rock; it was like being on the snowy cousin of the meteorite in Armageddon. It was amazing and just as he proposed and I said yes the Northern lights came out. It is one of my favourite moments in my life."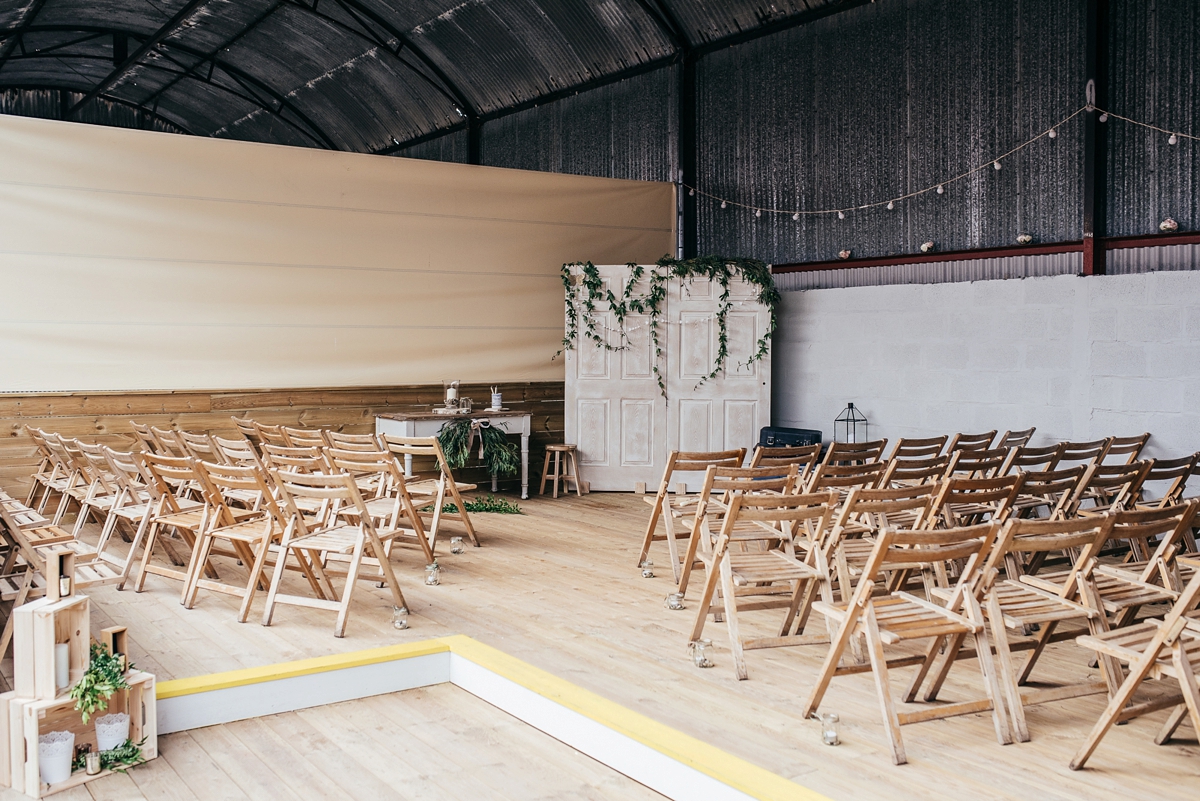 Ian looked smart in a Harris Tweed jacket was from Hawes & Curtis.
"Ian wanted to wear something untraditional, that fit with our style, and could be worn again. His suit jacket is beautifully made and ticked all of the boxes. He paired it with a white shirt and beige chinos from Next. He also had ASOS navy braces, and navy suede and leather brogues from Slaters in Glasgow."
The couple chose to have a first look, captured so beautifully by their photographer David Grant Simpson Photography.
"David is a friend of ours. I work with his wife, and it was him that introduced us to our venue after shooting a wedding there shortly after it opened. We feel very at ease around David and barely noticed him or Barry on the day. The two of them worked so well together and we laughed non-stop at their new bromance forming."
"David has done a phenomenal job with our photographs. Photos and video were a real priority of ours, and he went above and beyond to reassure us and captured our day amazingly. He also had preview images ready within a few days and a beautiful highlights slideshow to music that we received when we were on honeymoon. It was a real pleasure having him document our wedding, and we can't thank him enough for the amazing work he did for us."
After their first look, the couple were married in a hand-fasting ceremony in the beautifully-dressed barn.
"We wanted a very untraditional, relaxed wedding and wanted everyone to feel involved in one way or another. Choosing bridesmaids and groomsmen over others and dictating outfits filled us both with dread. For that reason we only had one best man and a maid of honour. We asked my two sisters Mallory and Donna and Ian's sister Wendy to walk down the aisle together before me. They all dressed in their own style and dresses, and had their hair and make-up done separately. Neither of them knew what each other was wearing and they complimented each other beautifully. It was a lovely moment to see them walking down the aisle together."
"After them came my maid of honour Rebecca. Then my dad walked me down the aisle. When I turned the corner of the barn to walk down the aisle, the sun came out from between the clouds, and we just strolled in the sunlight, enjoying that moment together."
"I walked down the aisle to 'Lift' by Zerbin. This song holds so much meaning for us. We have had a lot of difficult challenges in our lives but we have grown up together and always been there for each other. For us the lyrics 'Love is what has brought us here, with the courage to come near' couldn't be more meaningful."
Nicolle and Ian wrote their own ceremony content and personal vows, to make sure that they could reflect on them and use them to guide them through their marriage. Their celebrant George from Fuze Ceremonies performed a Scottish hand-fasting ceremony.
"Our celebrant George was amazing. We knew as soon as we met him he was the person to marry us. He is such a warm and caring person, and his ability to connect with people makes him an amazing celebrant. He took the time to get to know us in the years leading up to our wedding day and we had so much fun writing everything with his guidance. On the day of our wedding he went above and beyond for us."
"We really felt like our friend was marrying us, and when we look back at photos and our video it makes us so glad that we had George as part of our day. Having a celebrant meant we could include anything we wanted in our ceremony content, and we really were able to tailor everything to suit us both and reflect our personalities. We are so glad that we did that – it made it so special."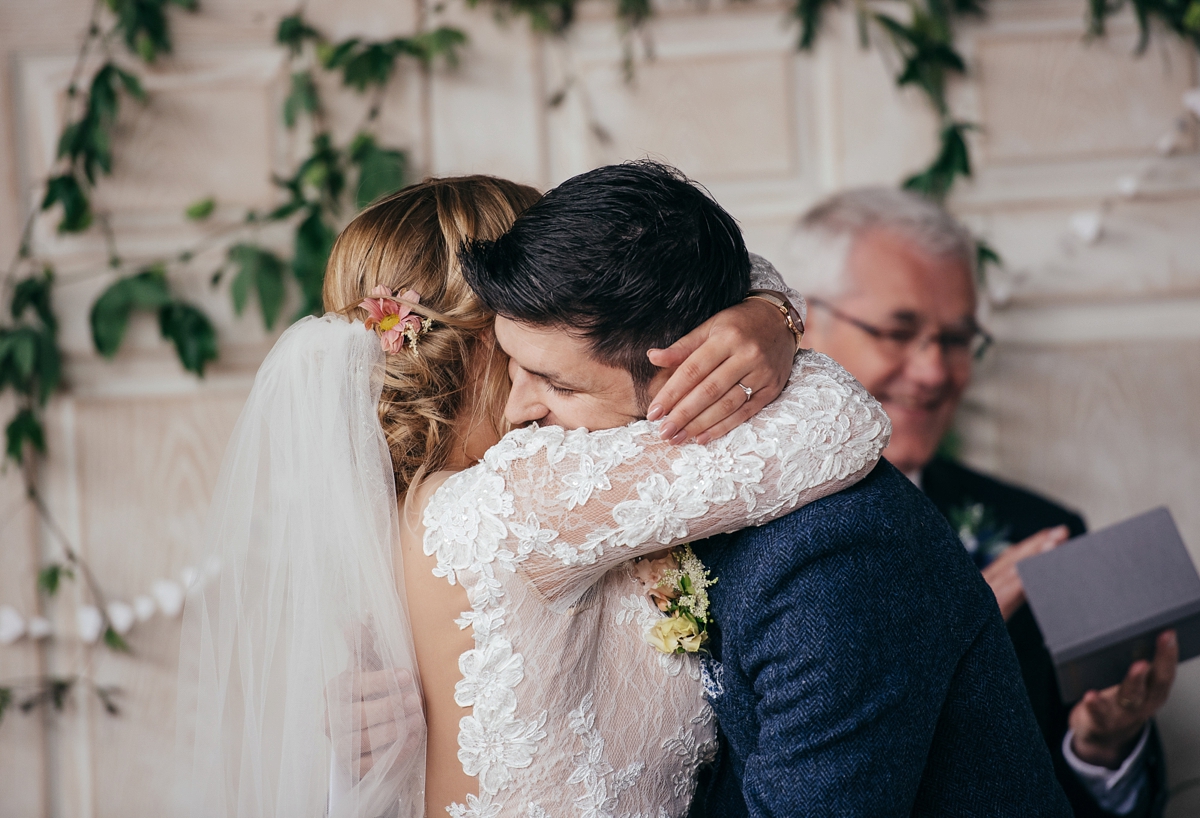 "Our favourite part of the day was our ceremony, specifically our vow exchange. It was ours, and we lost everybody else in that time we were together. We enjoyed every moment of it, we both had a lot of focus on making our ceremony meaningful, and we didn't lose sight of the fact that it was the most important part of our day."
"Ian wanted something a little different for his wedding band. He purchased a hand-crafted silver ring inlaid with kingwood from Shiruba Tree. I purchased my ring from James Porter & Son in Glasgow. I chose a ¾ eternity ring as my wedding
band, which perfectly complements my engagement ring. Katie Lees, a local jewellery designer and a part of the Wedding
Collective, arranged for Ian's ring to be engraved and for my engagement ring to be re-plated. She was a dream to work with and I am very excited about building a collection of her jewellery for myself as she is so talented. We can't thank her enough for her last minute rescue of our rings."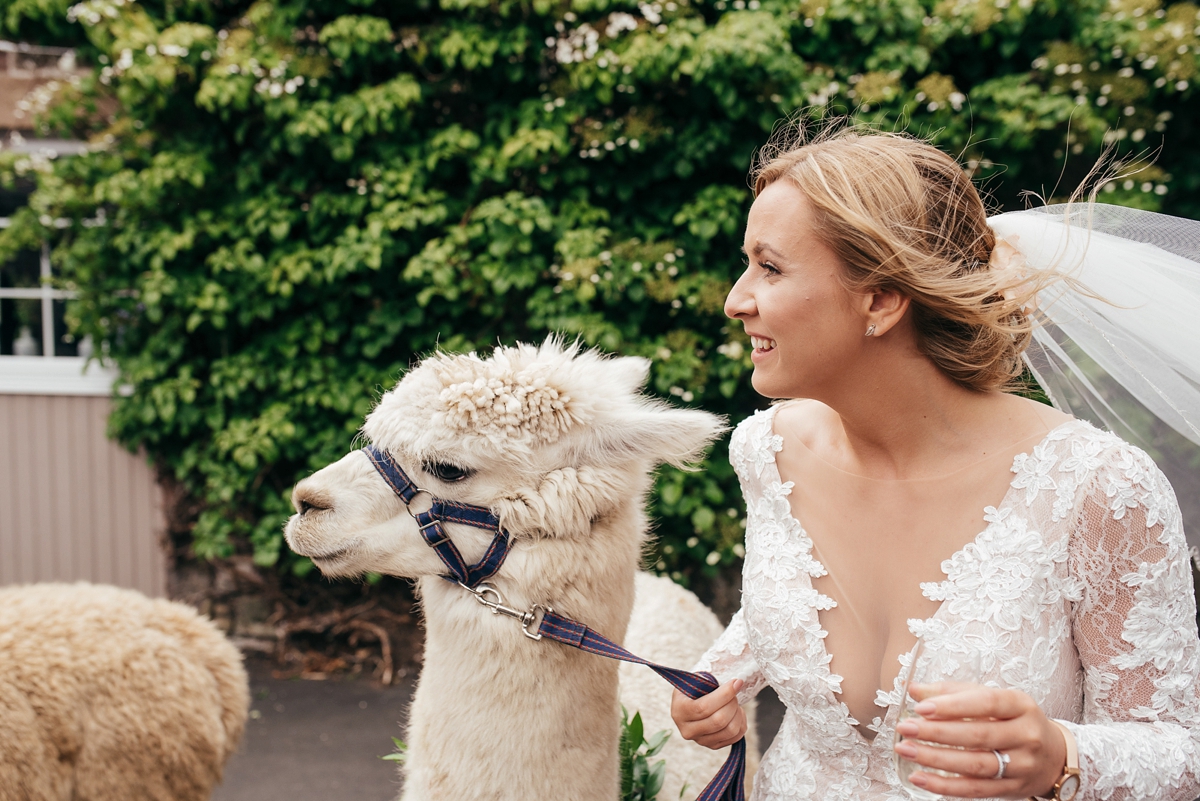 Nicolle's maid of honour bought her a cathedral-length veil with subtle diamanté detailing, a delicate addition to her bridal look. For a touch of glam, the bride wore Lucy 2 by Carvela Kurt Geiger shoes.
"They were an added bit of sparkle to appease my inner magpie and were so comfortable! I only took them off to put my trainers on so that I could go exploring for our photos without getting stuck in the grass.  I also had a pair of nude pink Guess trainers, with some rose gold crystals. I loved that I chose non-traditional wedding shoes that I can wear every day and be reminded of our wedding moments."
After the ceremony, the newly-weds had arranged to spend a couple of hours together filming the video and capturing these beautiful landscape and forest shots. They had to organise a way to keep their guests entertained, and wow, did they get creative?
"I am crazy for alpacas. When I was little my parents used to take us to visit an alpaca farm in the Highlands near where my grandparents live. Ian had never been around an alpaca and for a fun day trip I booked him a surprise alpaca walk. We turned up like big children to take alpacas on a hike and feed them. We had so much fun and decided to book them for our wedding, but keep it a secret from our guests. After our ceremony guests were asked to wait while we left the barn, we then met the alpacas in the courtyard, and got to see everyone's reactions as they turned the corner and saw them. Our guests were clapping, feeding and walking them around the farm. It was a great talking point and everybody had great fun taking pictures with them. They barely noticed we were gone!"
"We wanted to create unique invitations that wouldn't just get forgotten about in a household drawer. I designed a set of stationery cards which I bundled together using pins, with a covering vellum page which had our names on it, and was semi-transparent to show a photograph of us behind it. We used David's photographs from our engagement shoot, and had a different image for our save the dates and our invitation sets."
"I used the same graphics to create our blackboard welcome sign, and the menus and signage on the day. I have been lucky enough to re-design our save the dates for a fellow Belle on Love My Dress which is a huge honour."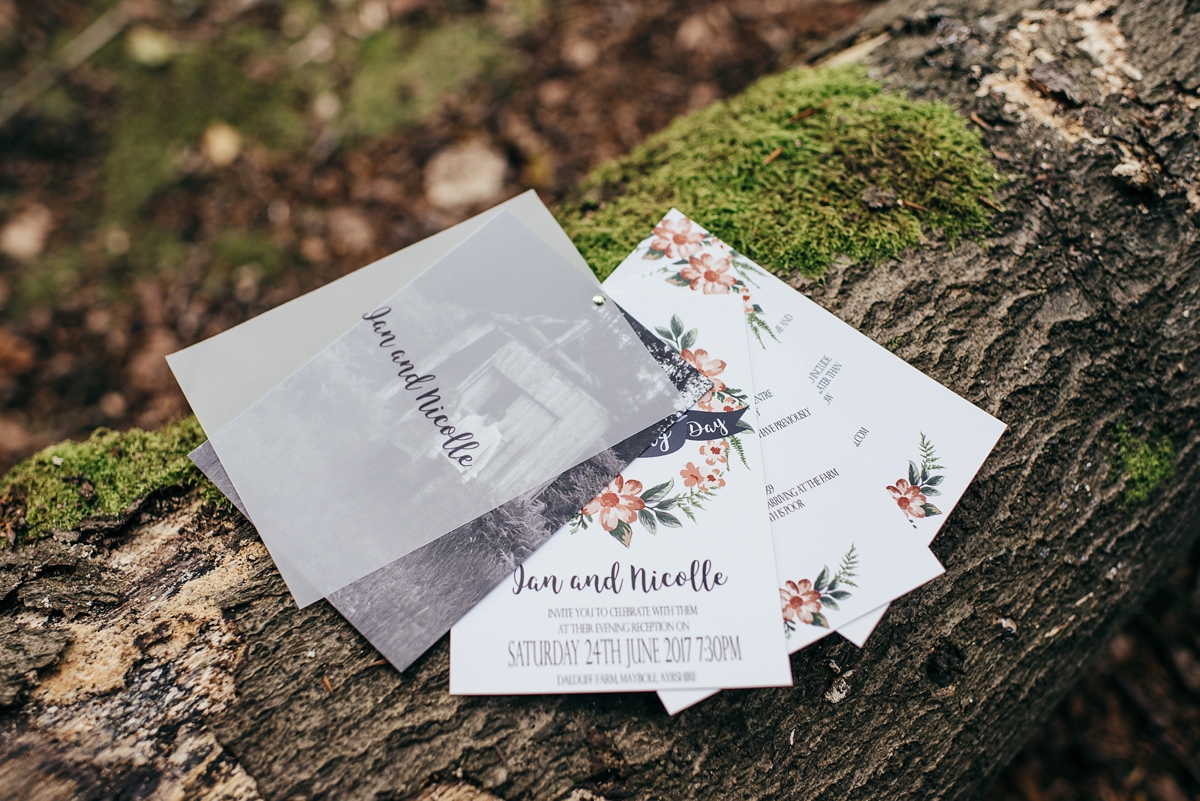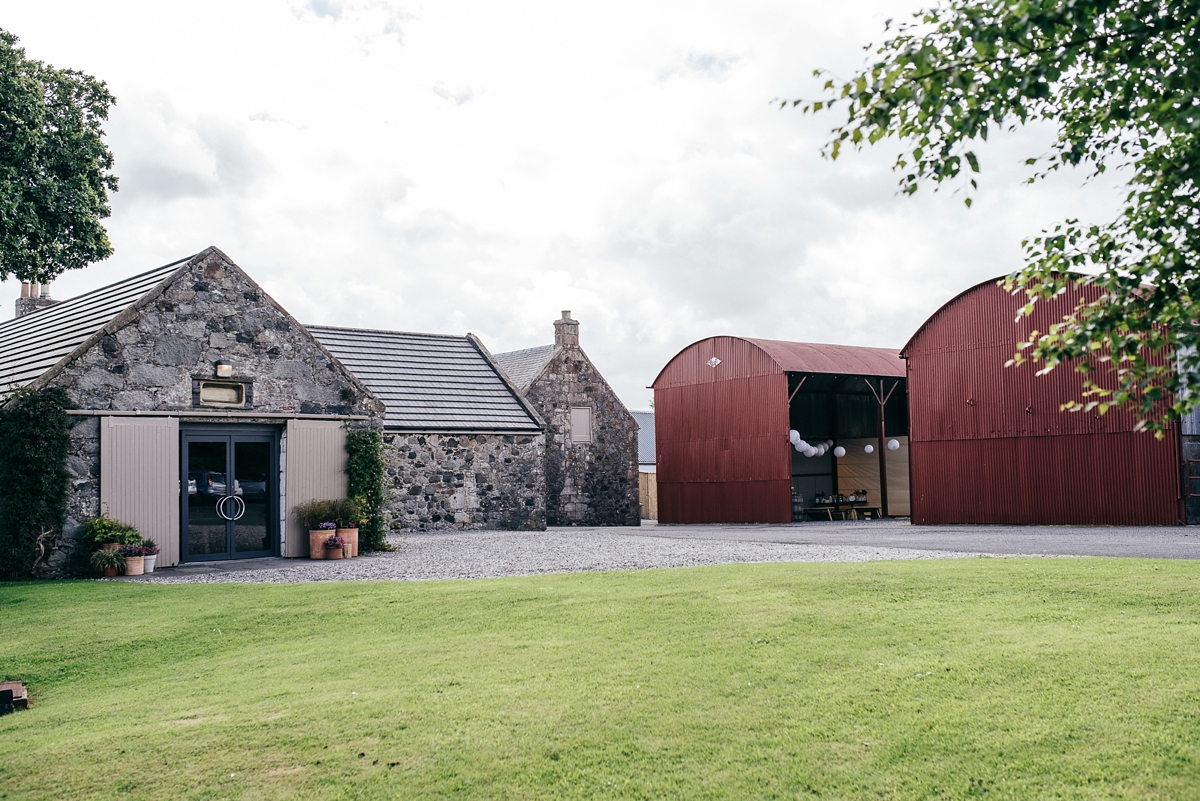 As Nicolle is an interior designer it was natural for her to be totally hands-on when it came to planning and making the various elements of the beautiful wedding decor. So much so that she's now set up her own events styling business with her friend Jess – Wild Antler. The owners of Dalduff Barn were laid-back and happy for the couple to use their imagination to make the most of the incredible barn setting and the views.
"We knew that we needed a venue that was fairly accessible for our guests, but that was surrounded by the amazing Scottish scenery. Dalduff ticked those boxes. It was a real attraction that we could style everything the way we wanted and we also wanted to go offsite to the forest and coast as the landscape is amazing for photographs and video."
The venue was available for the entire weekend so the couple arrived on the Friday to stay in the farmhouse and set up the venue with the help of Ian's cousin (and best man) Thomas and his wife.
"We were keen that we didn't want the wedding to be over in a day, and for it to be an experience for us and our guests. We had Dalduff from Friday to Monday and made the most of our time there. We arrived on the Friday afternoon to set up, and paused for a beautiful lasagne courtesy of the farm kitchen. Having the farm house was amazing. It allowed us our own bathroom to use and we could escape for a few minutes to freshen up. It was also a quiet space for some elderly relatives to lounge in the sun room with some tea in between events."
"James and Jenny from the venue are on hand for any questions and to give guidance on what works in terms of the running of the day. They genuinely just want you to have an amazing time, and go out of their way to accommodate you and help with your celebration. James sat with us on the Friday to run through the order of our day and work out timings of everything. On the day, he and the staff made sure everything ran perfectly."
"With the exception of the cake and the real flowers we sourced and hand-made everything ourselves. Over the months before the wedding it was common for our evenings to be made up of us sitting on the living room floor, surrounded by faux foliage, paint and jars making everything."
The rest of the venue's styling came via these incredibly luxuriant flowers by Floral Menagerie.
"Lisa made us gorgeous foliage table runners, dressed our Rock Rose gin table plan bottles, and made the most amazing foliage chandeliers for the barn ceiling. Over our dance floor we had a huge foliage chandelier which smelled incredible! I remember walking in to the barn on the Friday when she was setting up, not wanting to leave the space as the smell was amazing. It gave the wild outdoor essence we wanted for the day! Lisa dressed our backdrop for us with some beautiful greens, and left us with loads of loose flowers and foliage which we could scatter across the venue."
The wedding dinner was an important element for the couple, and the venue boasts its own butcher and on-site kitchen – perfect for their vision of a down-to-earth barbecue.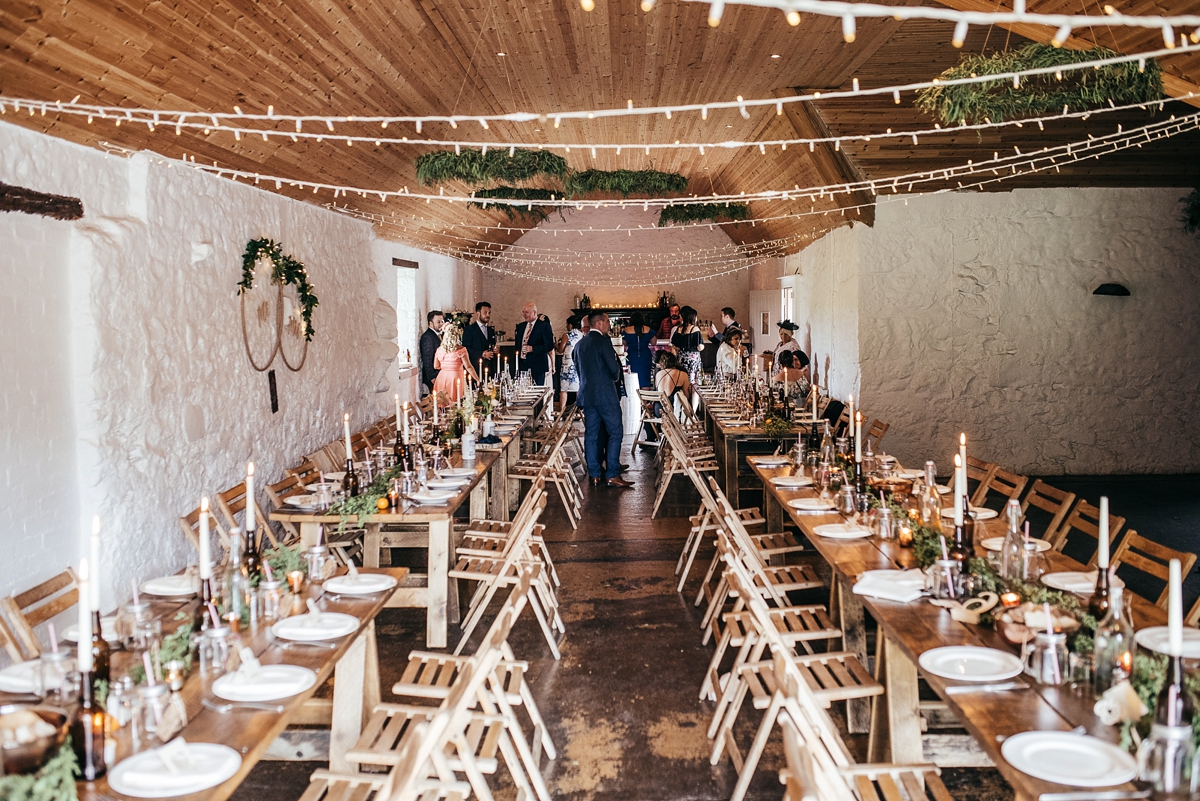 "Our food was phenomenal. We had a selection of canapes including mini pies and haggis balls. For our wedding feast we had a huge BBQ banquet, food was brought out on to the tables on big platters for people to help themselves to. It really got all our guests talking and broke the ice between anybody that didn't know everyone."
"My bouquet was the most stunning bouquet I had laid eyes on. The David Austin Juliet roses were stunning and are still in my freezer as I can't dream of parting with them. Instead of a bouquet, my maid of honour had a feature corsage. We don't like waste, and wanted to minimise the number of perishable items we used. Also, Rebecca's new born daughter was with us for the weekend, and a corsage was perfect for her hands to be free for Isabella and for prosecco later in the day. We also got smaller matching corsages made for our sisters, and some guests ordered a few pieces for themselves which Lisa brought to us at the farm on the Friday."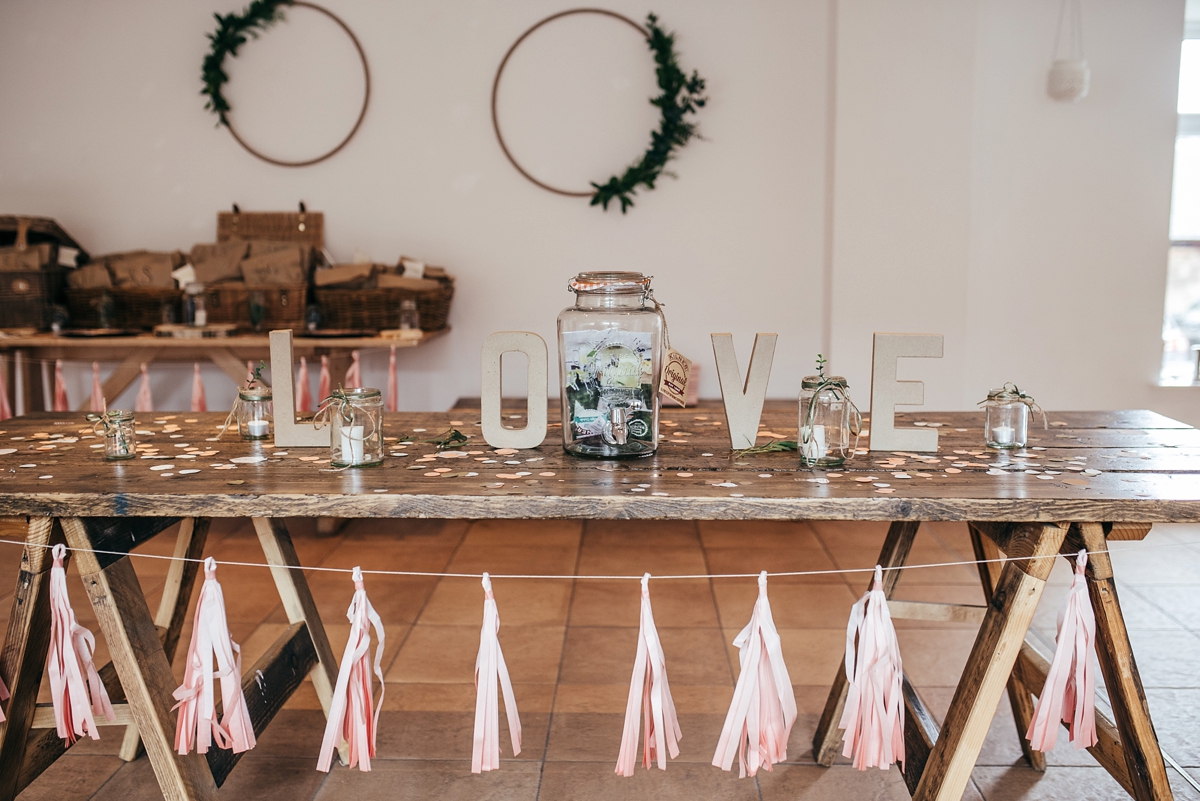 Their dessert was the wedding cake, and later on the guests tucked into a cold buffet of meats and cheeses, cakes and a Scottish favourite – rolls and crisps.
"Happy Hills Cakes – what a talent! We had a three-tier, semi-naked cake – white chocolate and raspberry sponge with a jam and cream filling, adorned with berries. We wanted something that is a crowd pleaser, as we were serving our wedding cake as dessert. We served it with forest fruits and pouring cream; it went down a storm!"
"Dalduff also made us some sausage rolls as a hot option, which were eaten in record time! Our guests faces lit up when they realised the hampers were filled with crisp flavours. It was great fun just watching everyone enjoy the food, and nothing went to waste. We also had a s'mores station at night by the firepit. We supplied huge marshmallows and jars of Nutella, with rich tea and digestive biscuits instead of wafers. People loved them and it was great seeing everybody getting involved and toasting some s'mores. It added to the relaxed vibe we wanted, like a glam camping weekend with friends."
In keeping with the wild, forest inspiration, Nicolle wore delicate fresh flowers in her hair for the ceremony. Later on, she replaced the veil and flowers for this divine dried flower crown by Folky Dokey.
"Jez was a dream to work with and totally got my vision. She is such a talent and it was great to have a dried flower crown to keep."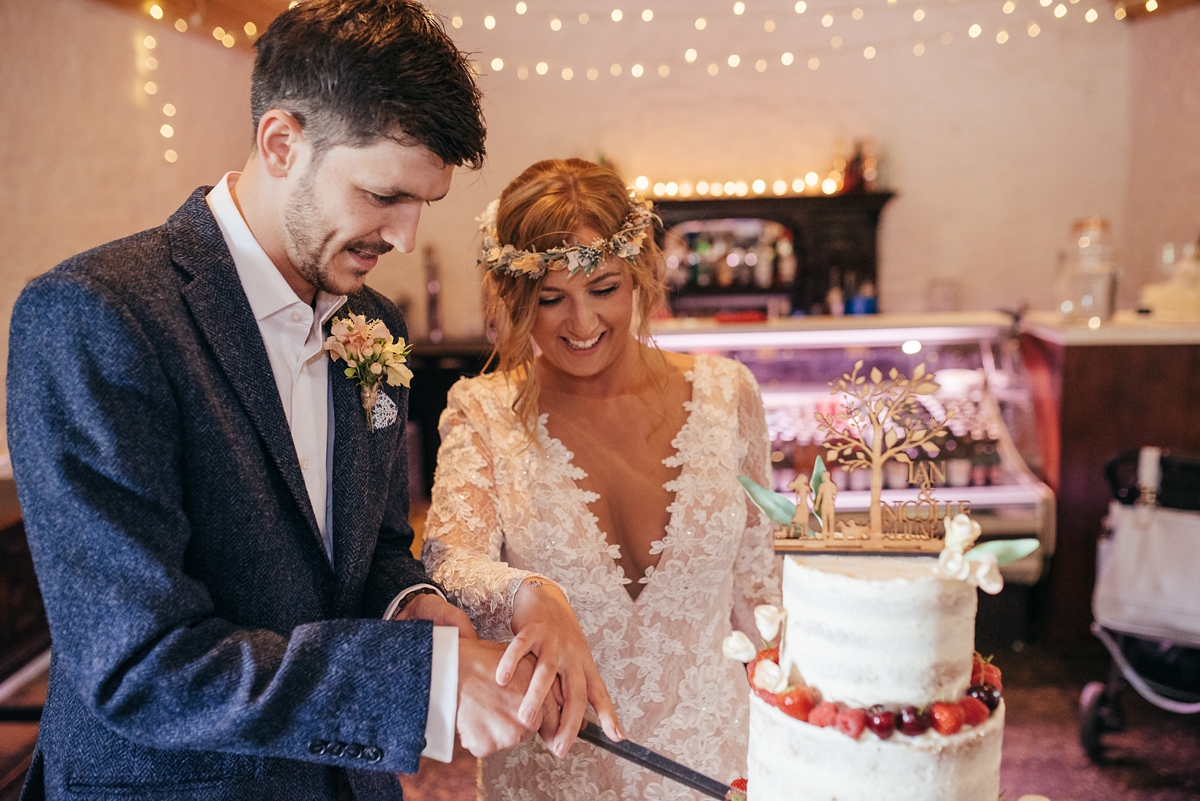 The party continued with dancing and live music from Papa Shandy and The Drams, folk musicians based in Glasgow.
"We first saw them play on Buchanan Street and they had pulled in a huge crowd. They do an amazing alternative cover of Jay-Z's '99 Problems' which we asked them to play for us. Ian and I have a habit of teaching people the slosh wherever we go in the world. And we wanted everybody on the dancefloor for a huge slosh following my dance with my dad. We had so much fun trying to teach people who didn't know it."
The first dance was Vance Joy's 'Mess is Mine'.
"We wanted a song that was a little different and something we could dance to, as we both love a dance floor! We aren't the soppiest of people and some songs just felt a little 'unreal'. As with our ceremony, we wanted something that was true to us and reflected how we feel. We love the melody of this song and its lyrics. We have shared everything in our time together, and continue to work as a team. The lyrics 'This mess was yours, now your mess is mine' seemed very fitting for us."
Words of Wedded Wisdom
"We had the best day of our lives, and when we looked around and saw everybody else enjoying themselves it made all our stressing and planning worthwhile. In terms of the wedding day, we wouldn't have changed a thing but upon reflection we would have spent less time worrying about what others would think, and wouldn't have let other people's opinions or created dramas affect us in the lead up."
"We firmly believe that as a couple, you should plan together and share your worries and happiness with each other. It is your day, with your special person and it should be the way that you both want it to be. Spend time choosing the right suppliers, and absolutely invest in a video! It brings back so many memories, sounds and feelings from the day that aren't captured the same way in pictures. When it comes to photography, make sure you are comfortable with your supplier. You will spend most of your day with them, and it's important you fully trust them."
"Enjoy every moment of your day, as it is for you both, and will only be the one day. Don't allow it to fly past, drink it all in and enjoy each moment. Pick what you DIY. We loved making elements ourselves, but you do need to be honest with yourself over your capabilities, and what time you have!"
"Invest in professionals where you can, and if you can do the rest yourself with the help of friends and family, then go for it! It will also be so meaningful to your guests to know that they helped."
Well Nicolle and Ian, I'm absolutely in awe of your creativity and dedication to creating such a beautiful wedding. I really admire your bold, non-traditional approach, and love that 'minimal waste' underpinned your decision-making. And finally, I can't wait to get in the kitchen to have a go at baking my own Kransekake! Thank you so, so much for taking the time to share your wedding with us today. Of course, sending so many thanks to David Grant Simpson too for his wonderful images – especially those wild, natural portrait shots.
Ele xx