Happy Sunday lovely readers, I hope you're having a relaxing day.  If you're a late spring or summer bride for 2018, things are gearing up fast- I have a fabulous wedding from last summer to share with you all for inspiration.  I know you'll love it.
Daniel, a youth pastor and Theology student and Holly, who is also a student, married on the 17th of June 2017 at St Michaels Church in Kirkham, followed by a reception at the beautiful Bartle Hall near Preston.  The couple met in the first year of secondary school, began dating in their teens and got engaged in the Lake District in 2010- a true love story. Holly looked beautiful in a full skirted gown by fabulous Little Book for Brides member,  Sassi Holford, which she purchased from the Kimberly Ann Bridal Boutique in Clitheroe.  I absolutely love the bow at the back!
"I chose my Sassi Holford dress because it was very 'me' and that is the response I heard from all of my bridesmaids when I tried it on.  It was so perfect in the way it fit and without even trying it suited the 'elegant but edgy' theme by taking a classic princess-style dress but creating something so simplistic and modern.  I had always thought I would go tighter and slinkier and potentially glitzy with my wedding dress but this dress just felt so me there wasn't any doubt in my mind."
Images by Grace Elizabeth Photo & Film
"Elegant but edgy was the phrase we used for our ideas.  I (Holly) have always wanted to make my wedding day as personalised as possible but at the same time not loose the fairytale feeling you dream of since being a child.  We are both Christians so the church ceremony was a huge focus for us."
"Anne Marie and Steph from Hair By Clare Ashton did both my and the bridesmaids' hair.  They knew exactly what I wanted and I was so happy with how it all turned out."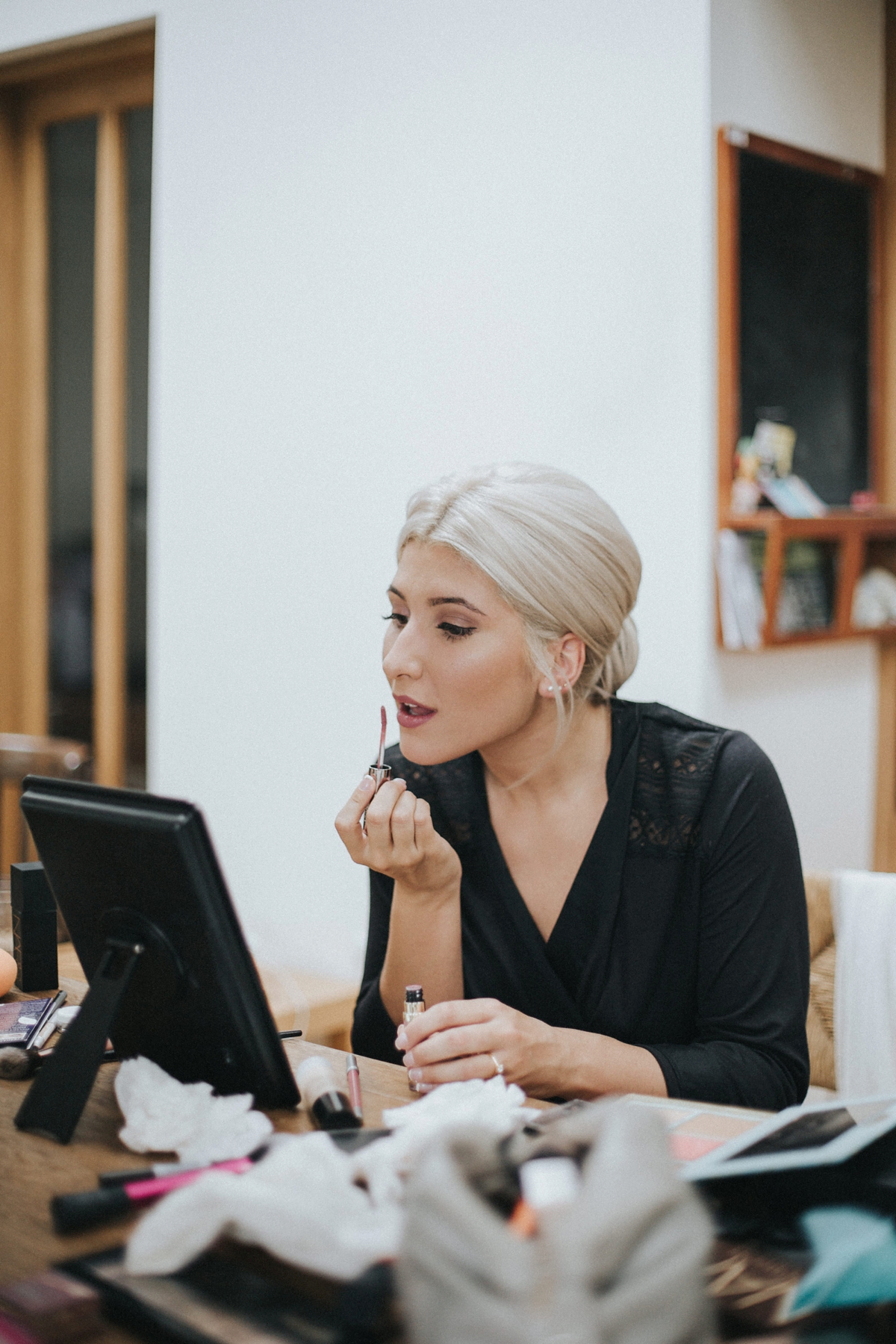 Holly's beautiful long veil was by Nieve Couture while her shoes came from ASOS.  For scent, she opted for a perfume from Zara.
"My necklace was an Accessorize circle choker and my earrings were from Topshop.  They were both simple and small to just add a little something but not be overly obvious as I wanted to let my dress do the talking."
Holly's talented grandma and auntie were responsible for the flowers, and did an incredible job.
"I don't think I could have been any happier with my flowers.  They knew exactly what I wanted- a big loose bouquet with whites, pinks and greenery and that is what I got.  My idea was to have something that blended in slightly hence the lighter colours but then making a statement with the size."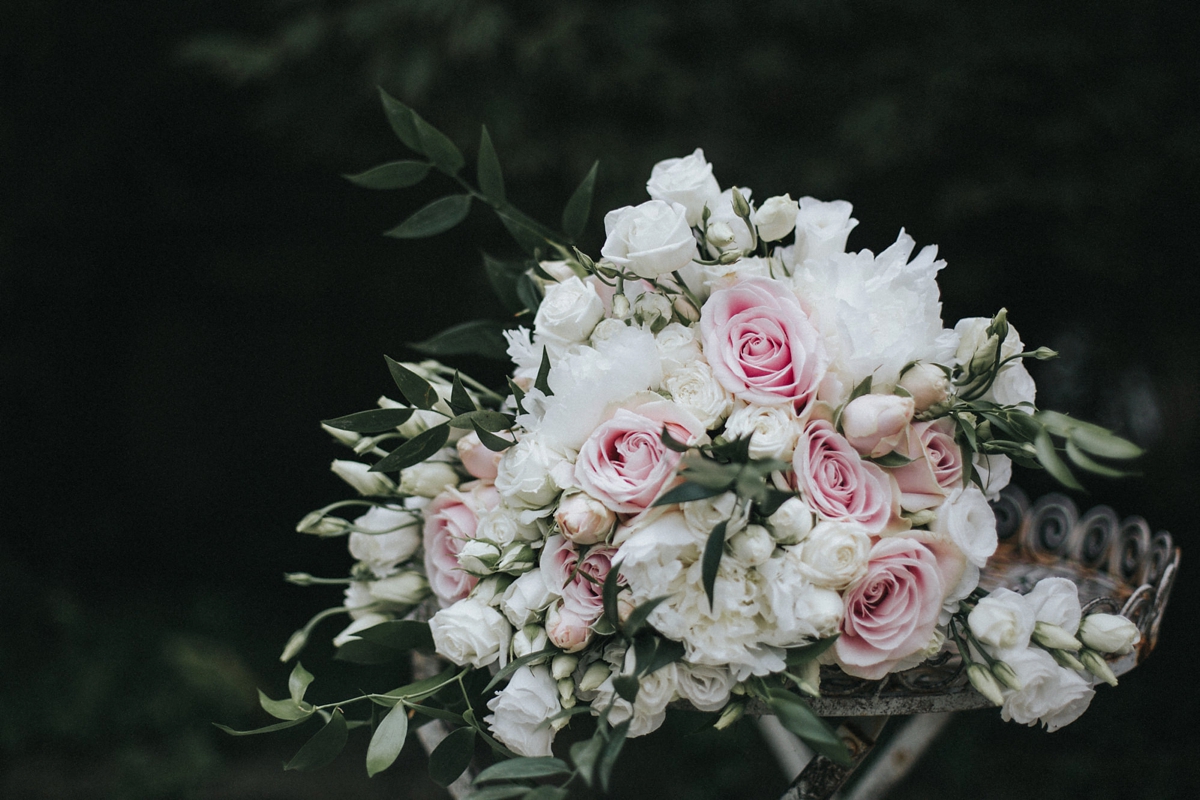 "Finding bridesmaid dresses was probably one of my biggest bumps in the road.  I think in the end they wore the fourth (yes, fourth…) dress I had bought for them.  The dresses we finally got (from online store BHLDN) were more than perfect."
"I love the fact that it is usually the bride in lace and the bridesmaids in a plain material but we did the complete opposite.  It worked perfectly and my girls looked beyond beautiful."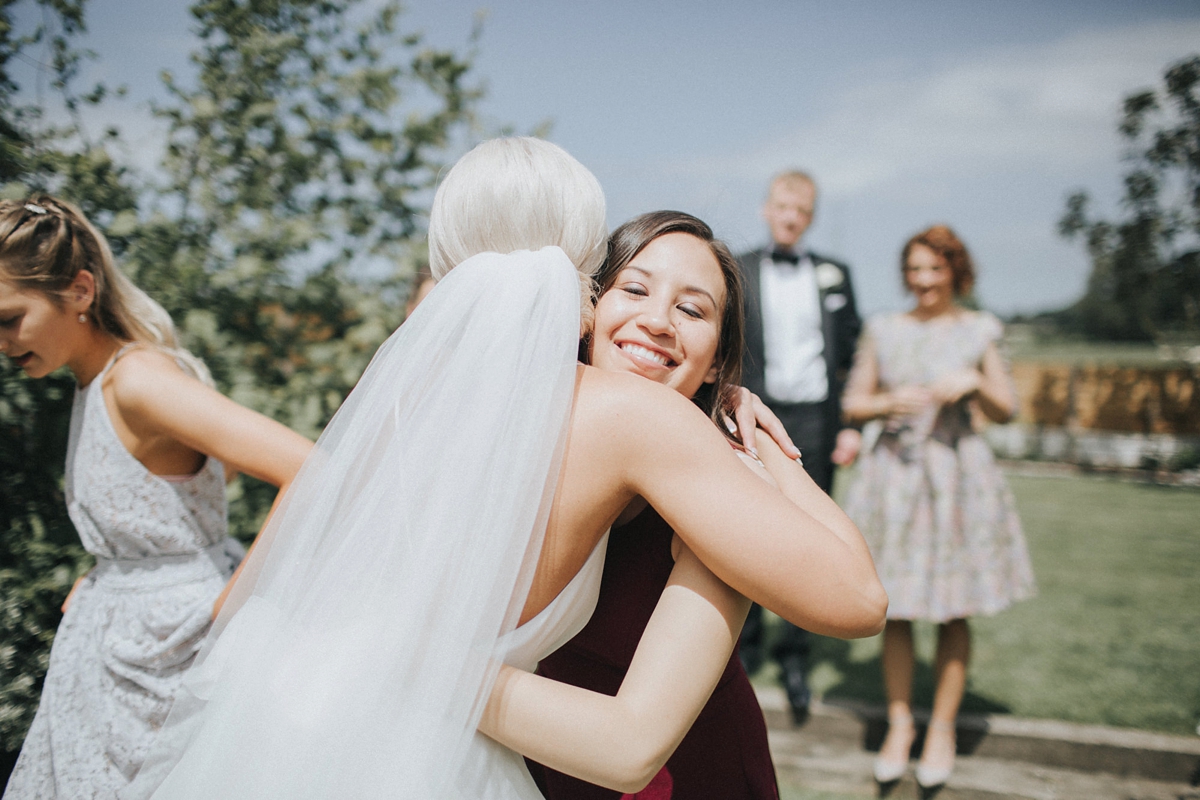 For a touch of extra sparkle the ladies also wore hair pins and hanging jewel earrings from Debenhams.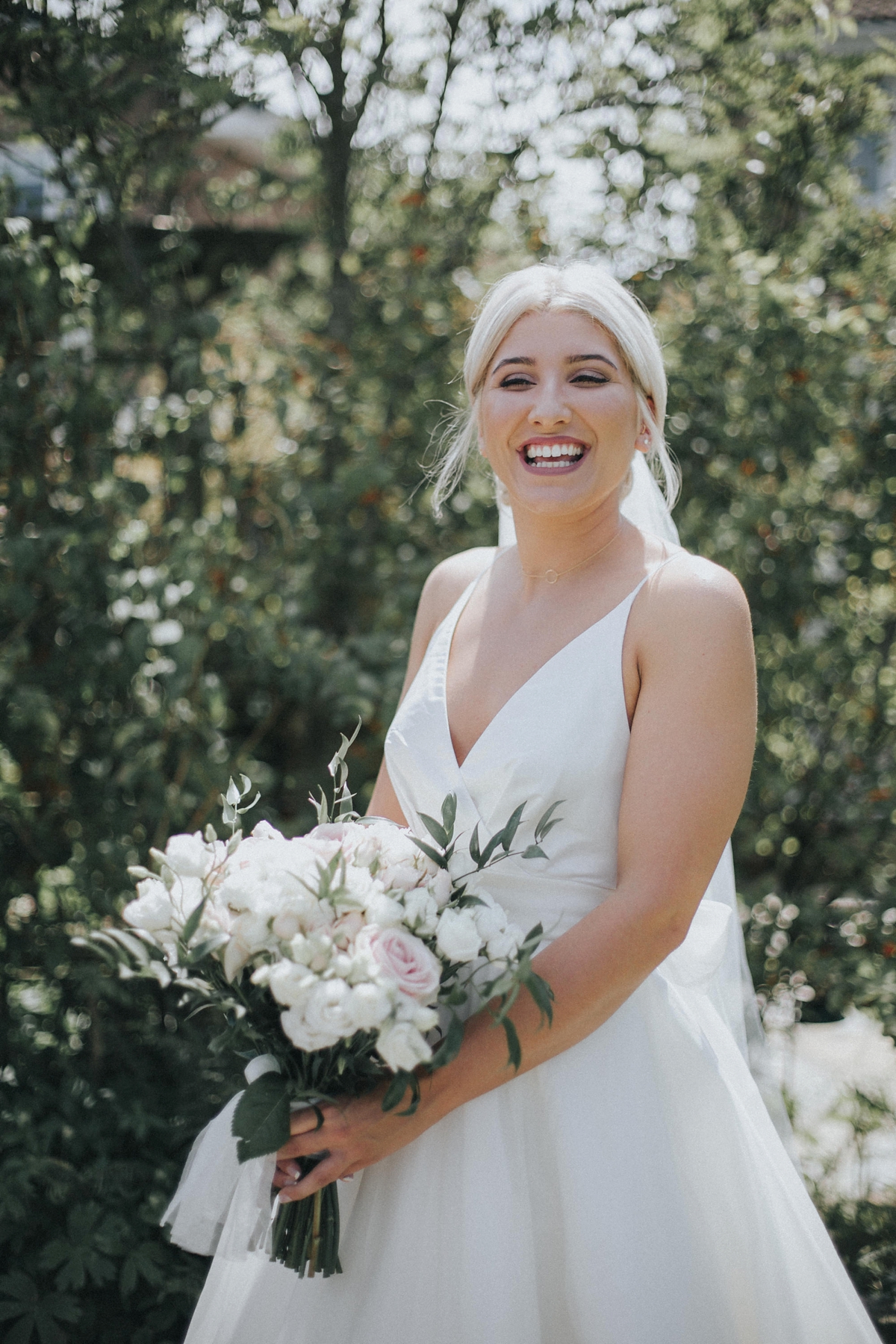 "Daniel wanted a black dinner jacket with a black bow tie, so he and the best man went on the hunt for this.  They ended up finding the perfect fitting suit in Slaters in Preston and for an extremely reasonable price."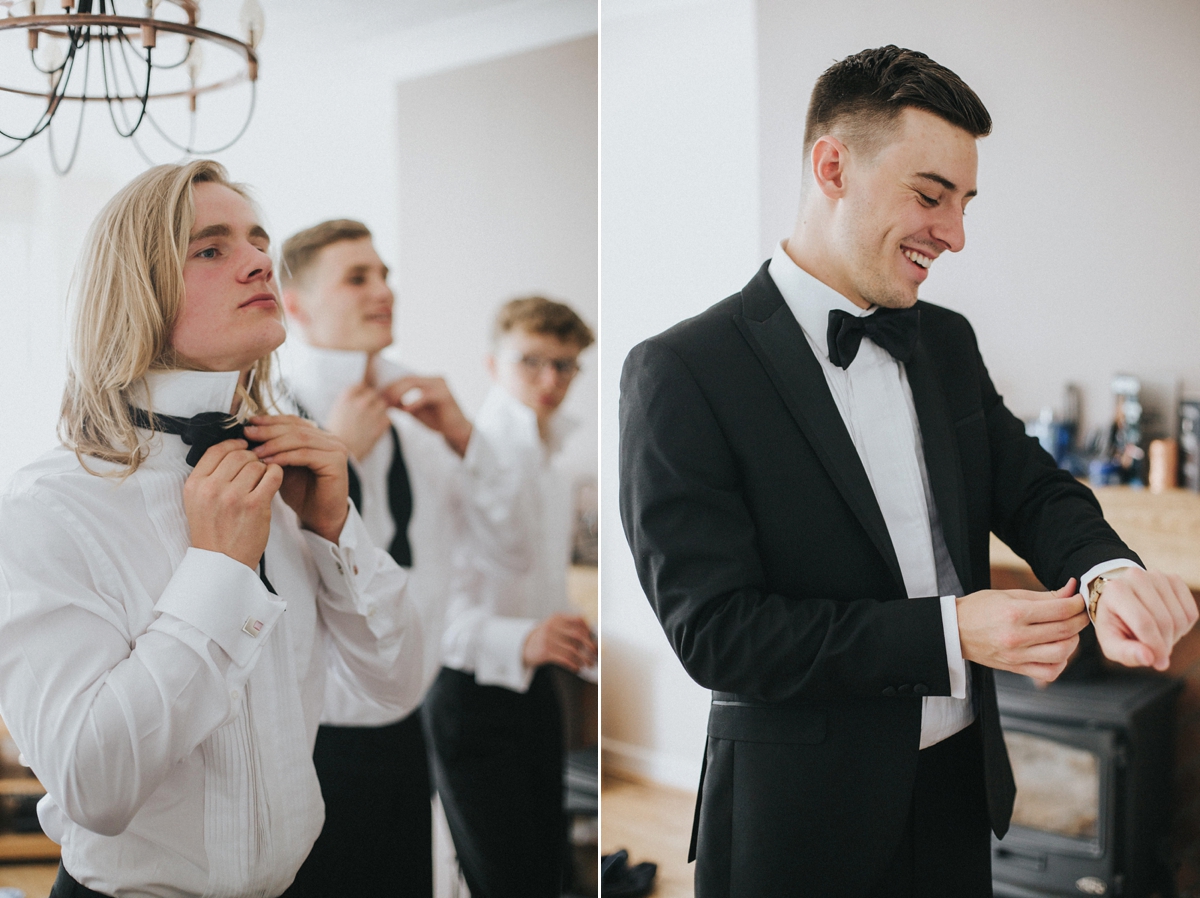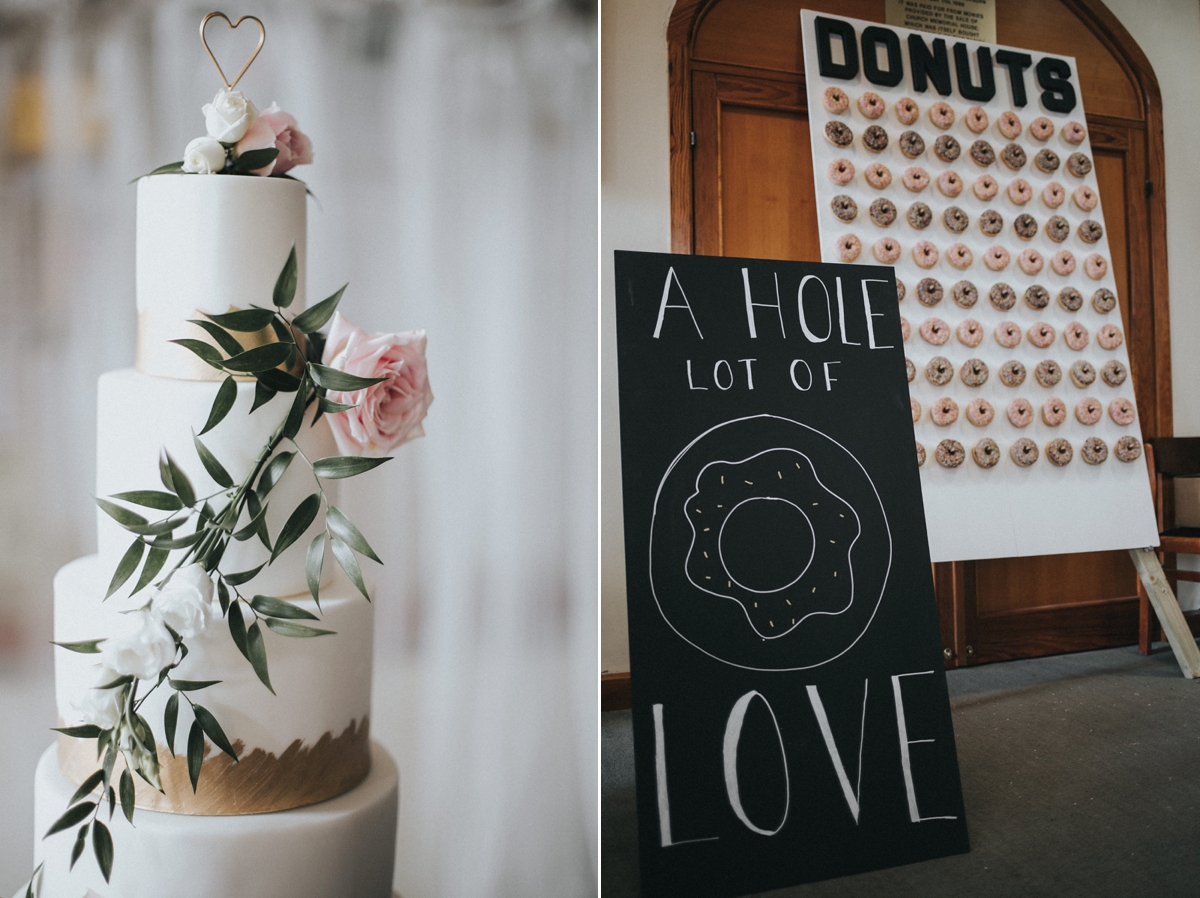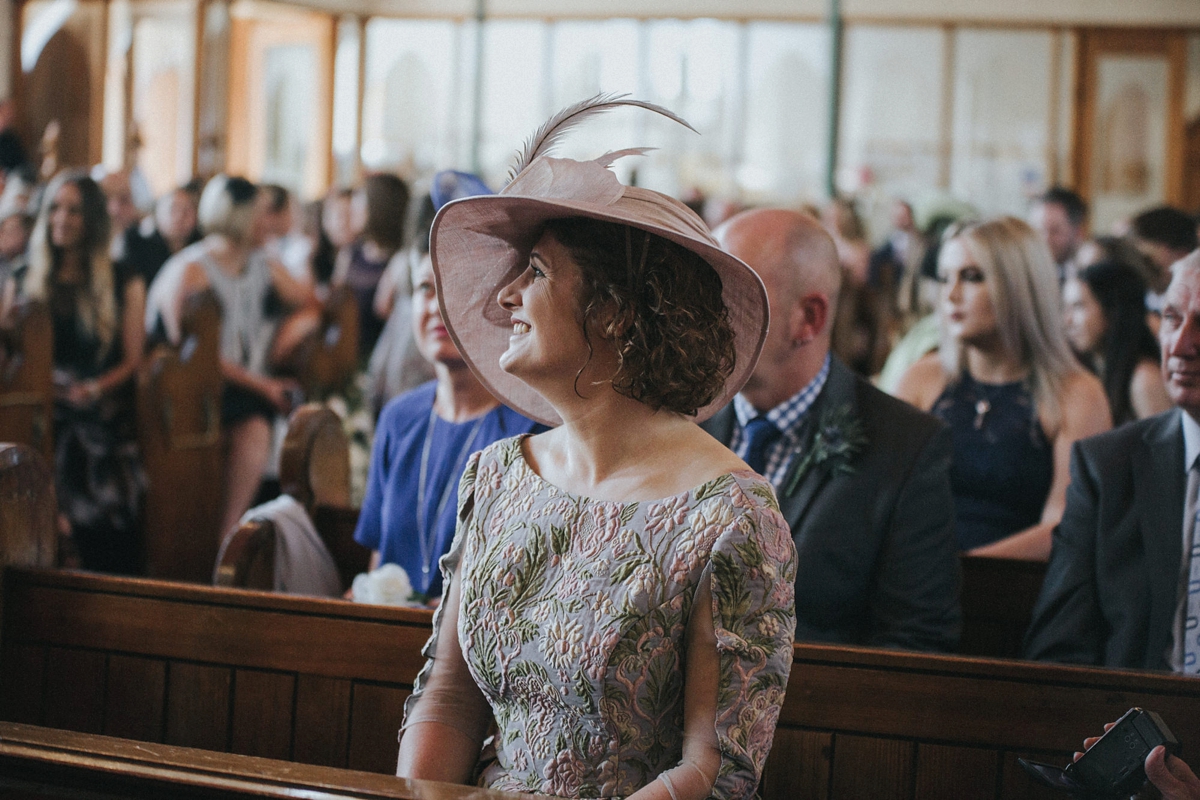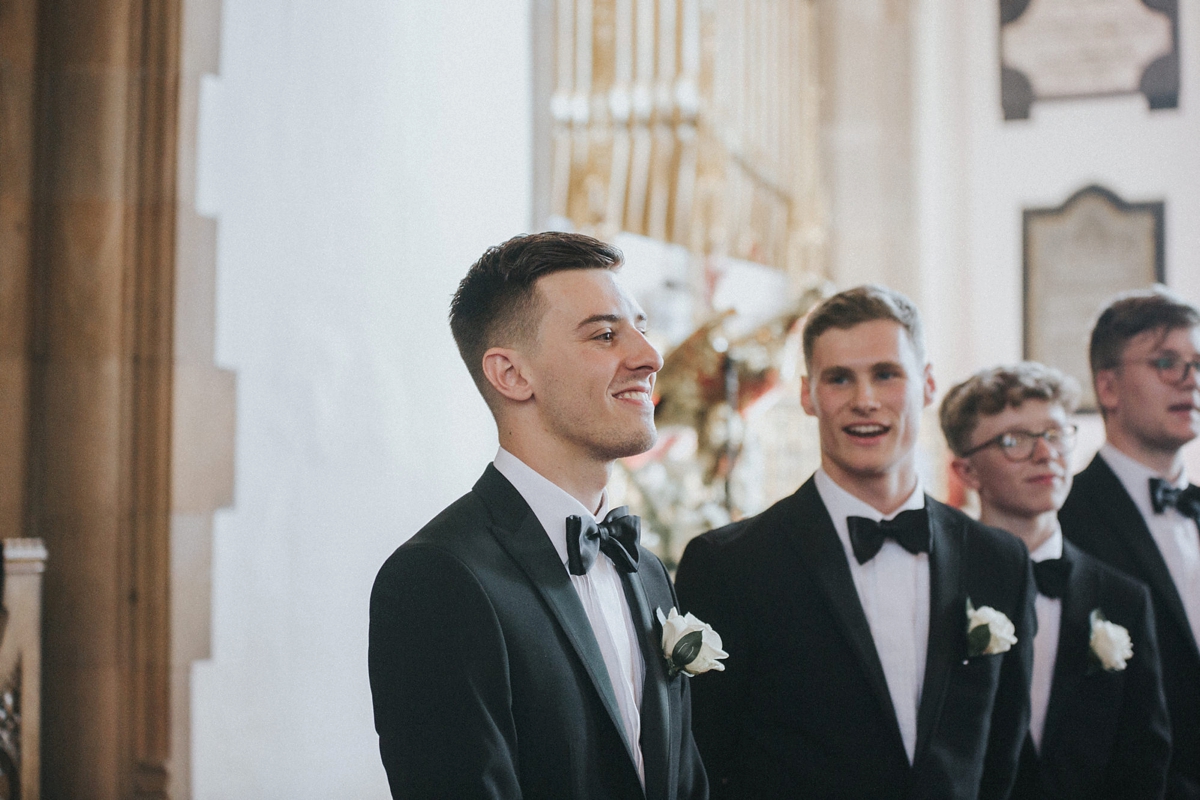 Holly's very proud dad accompanied her down the aisle to 'Always' by Switchfoot, a favourite of Daniel's.
"It was such a special moment for both my dad and me, he kept me so calm the whole morning and we were both just smiling as we walked down the aisle."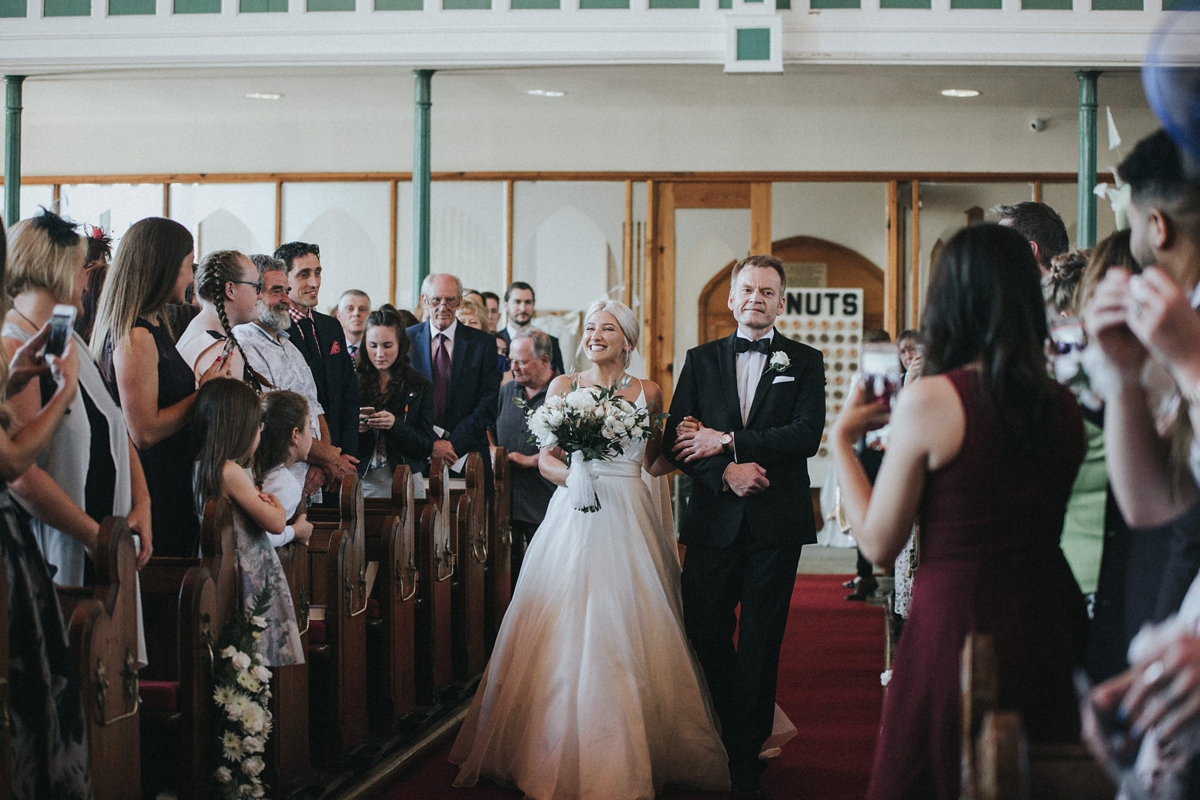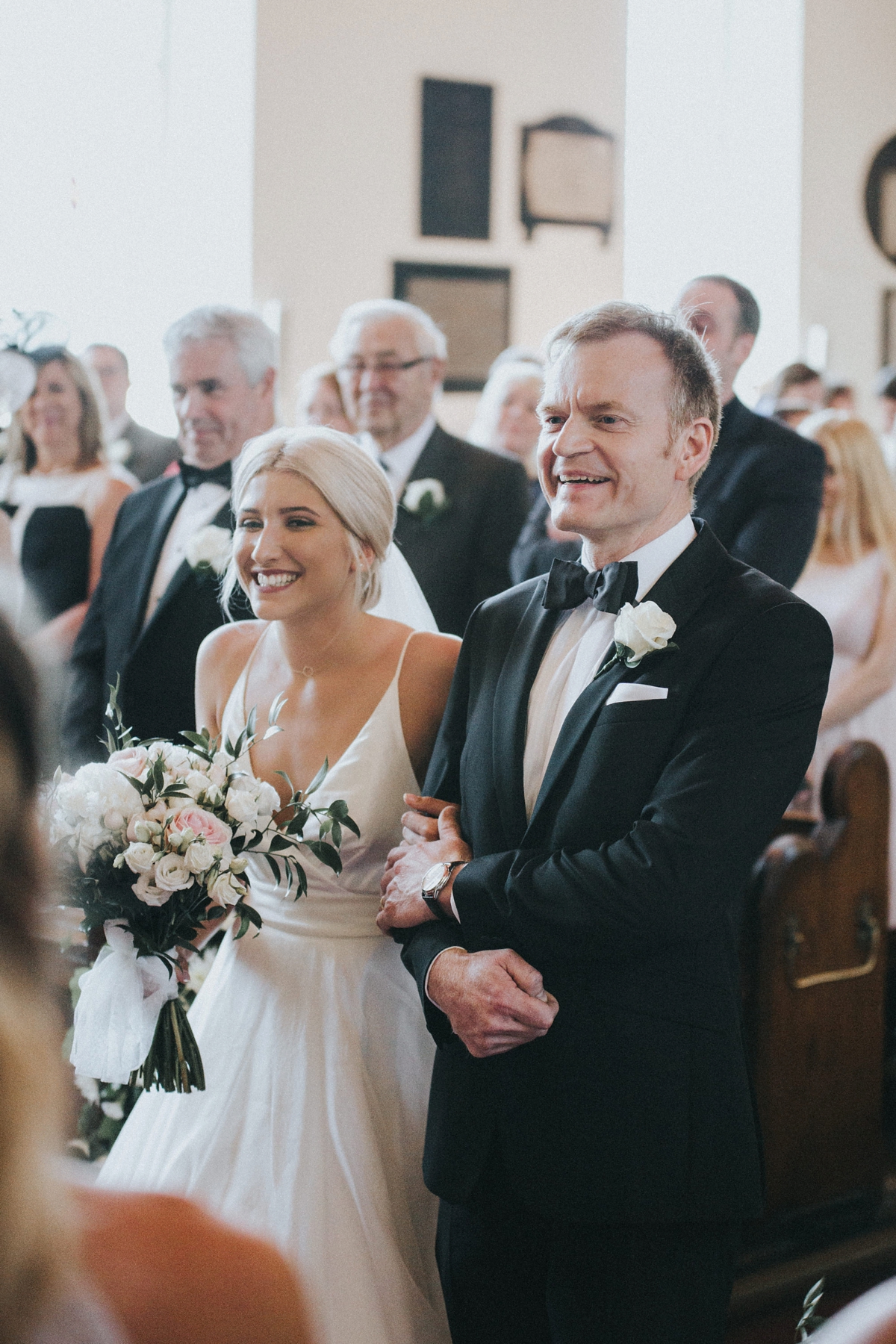 As Christians, Holly and Daniel wanted their ceremony to reflect their beliefs and centred their readings on the bible, choosing Song of Songs 8:6-7 as they felt it captured 'the intangibility of love and it's value in our lives'.
Hang my locket around your neck,
wear my ring on your finger.
Love is invincible facing danger and death.
Passion laughs at the terrors of hell.
The fire of love stops at nothing—
it sweeps everything before it.
Flood waters can't drown love,
torrents of rain can't put it out.
Love can't be bought, love can't be sold—
it's not to be found in the marketplace.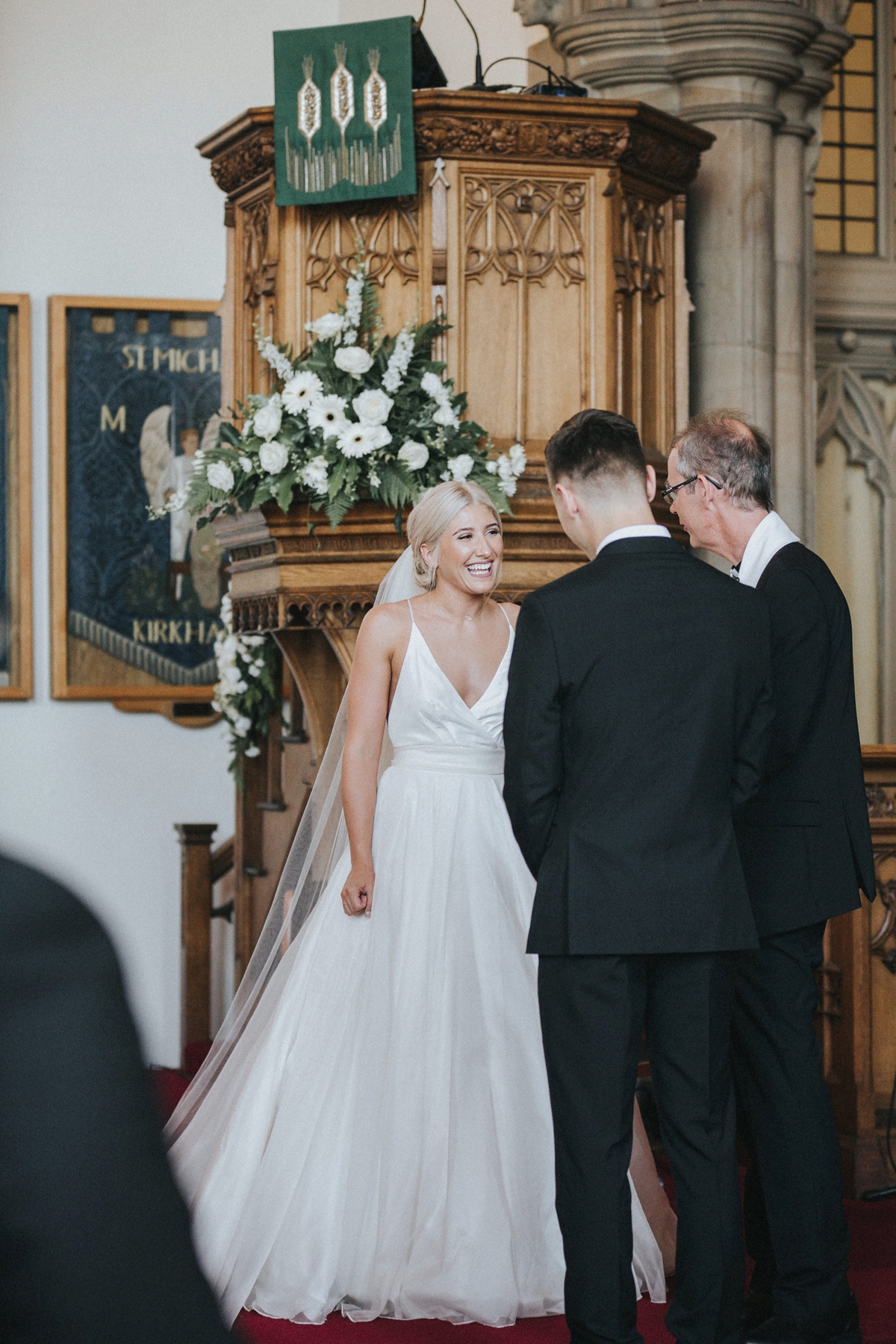 "We decided on the traditional marriage vows as we felt that they encapsulated exactly what we believed marriage to be and they serve as a reminder for all that we should be for each other."
"Our favourite part of the day was most definitely the ceremony.  Seeing three hundred and fifty people under one roof all there to celebrate with you was an incredible feeling."
"Neither of us are from particularly large families so many of the people attending were friends, colleagues, church folk and young people from our community (who Daniel works with in his job)."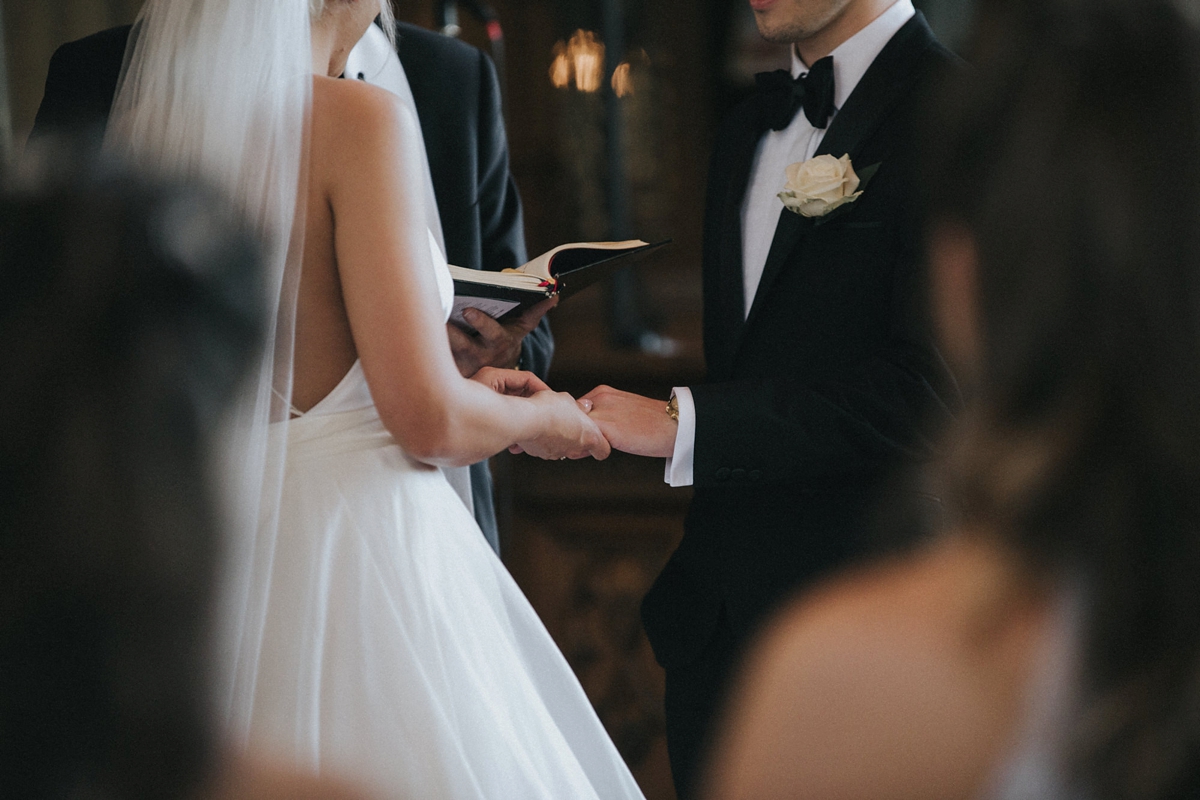 For rings, Holly and Daniel chose Stones Jewellers in Lytham where Daniel bought Holly's engagement ring.  Holly tells us that it was an amazing shopping experience and highly recommends it to others.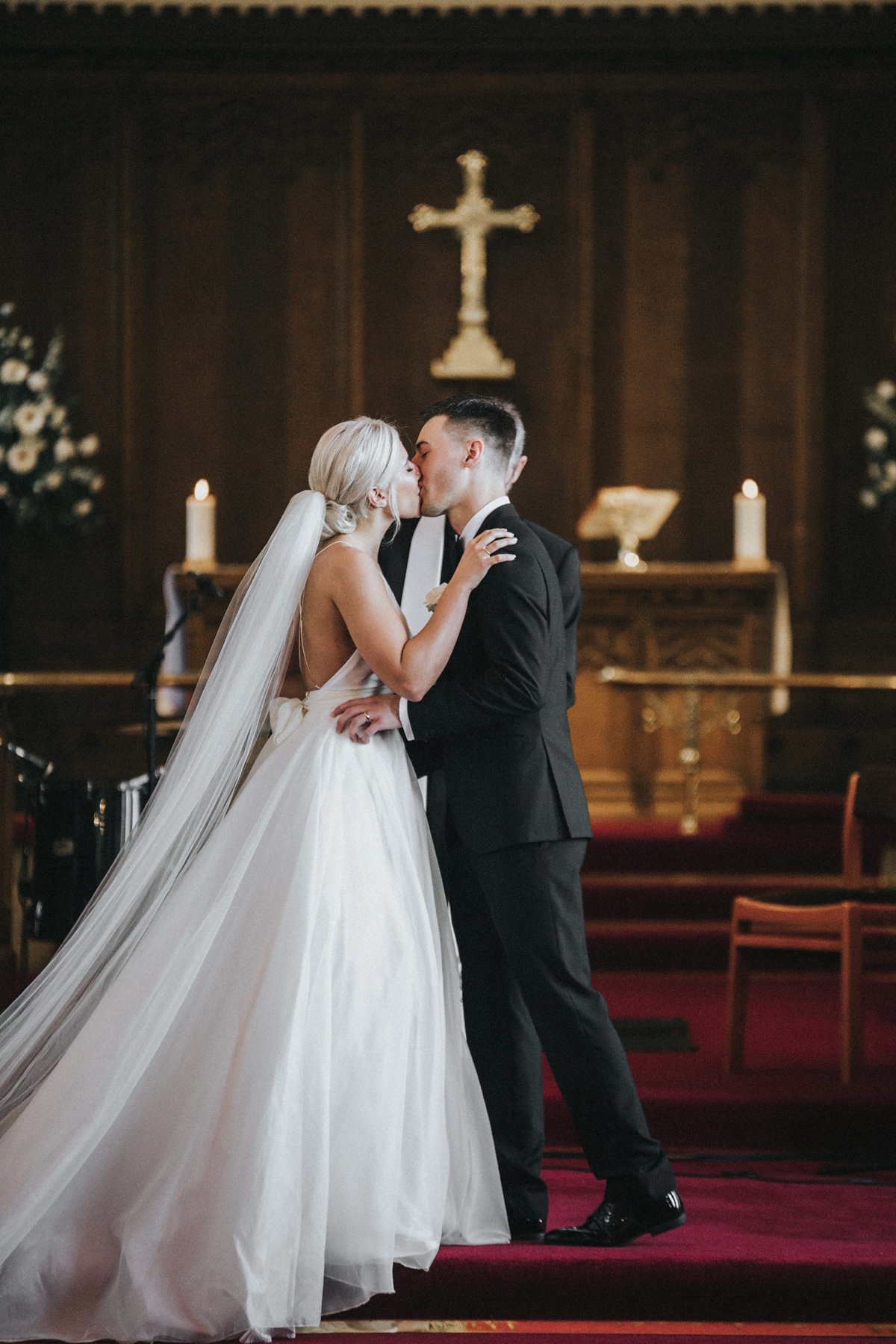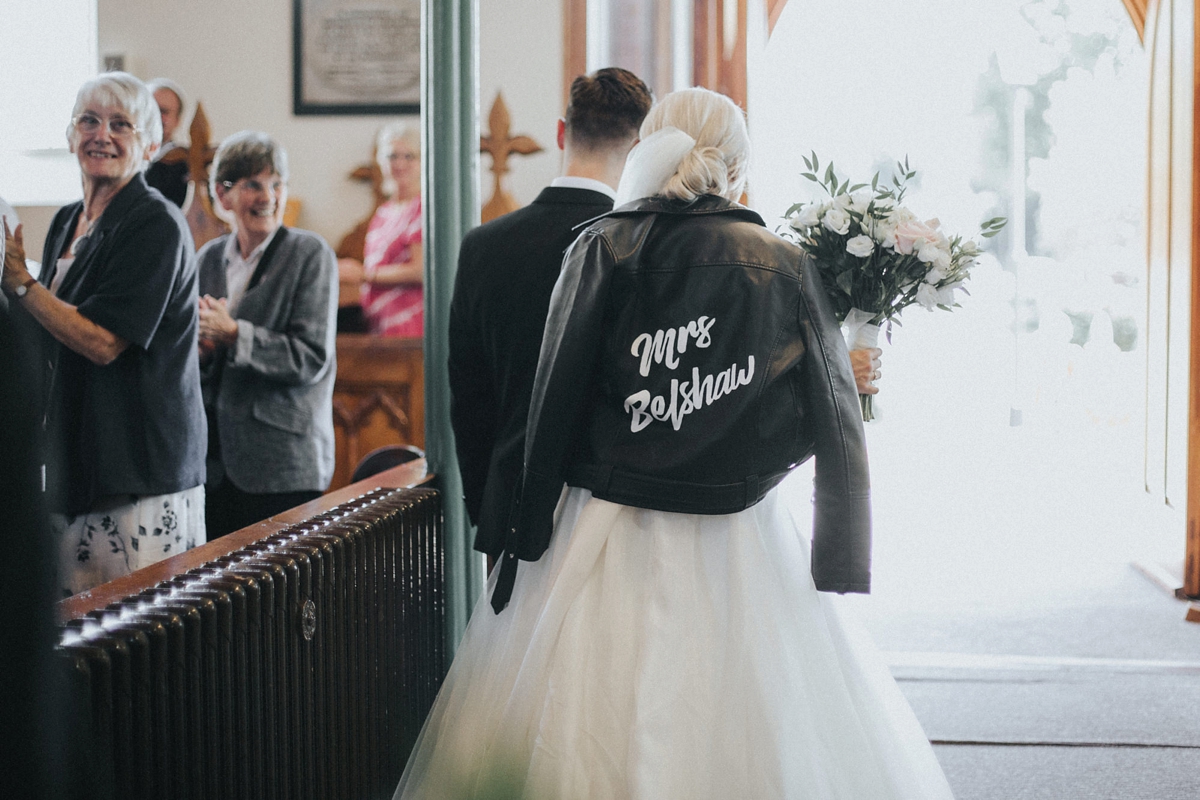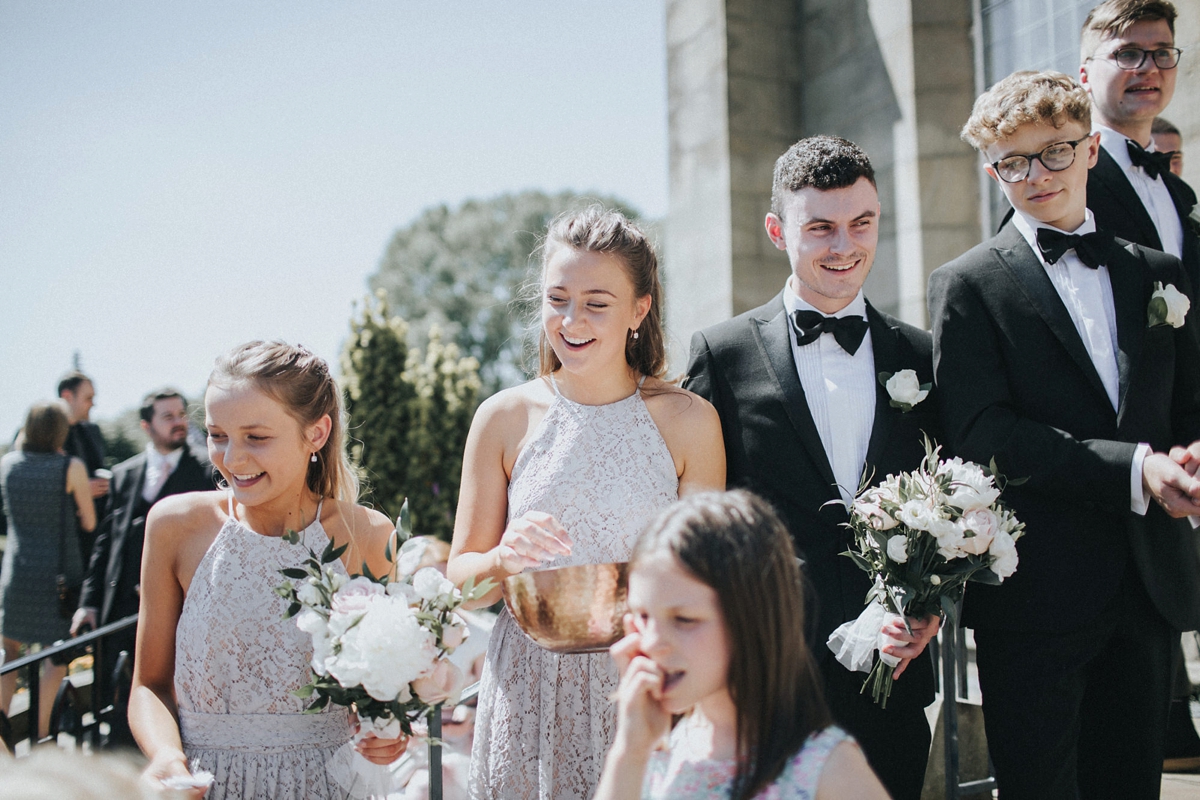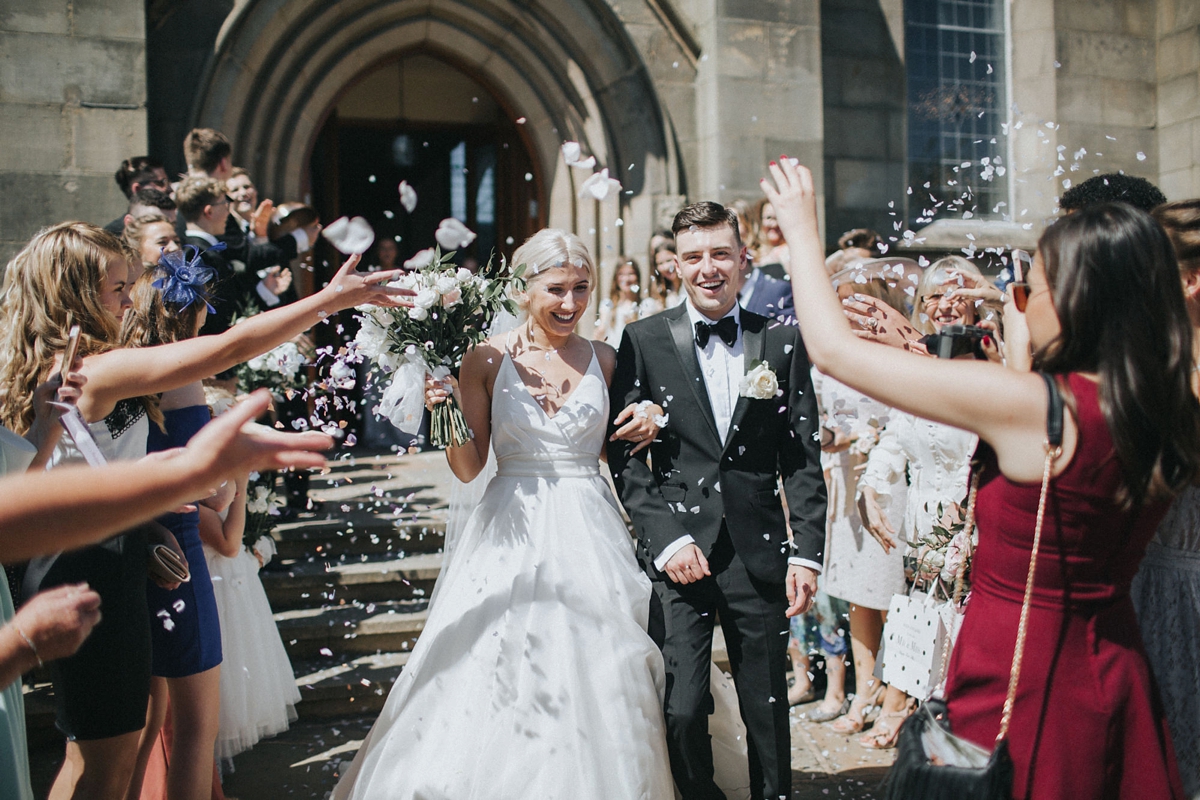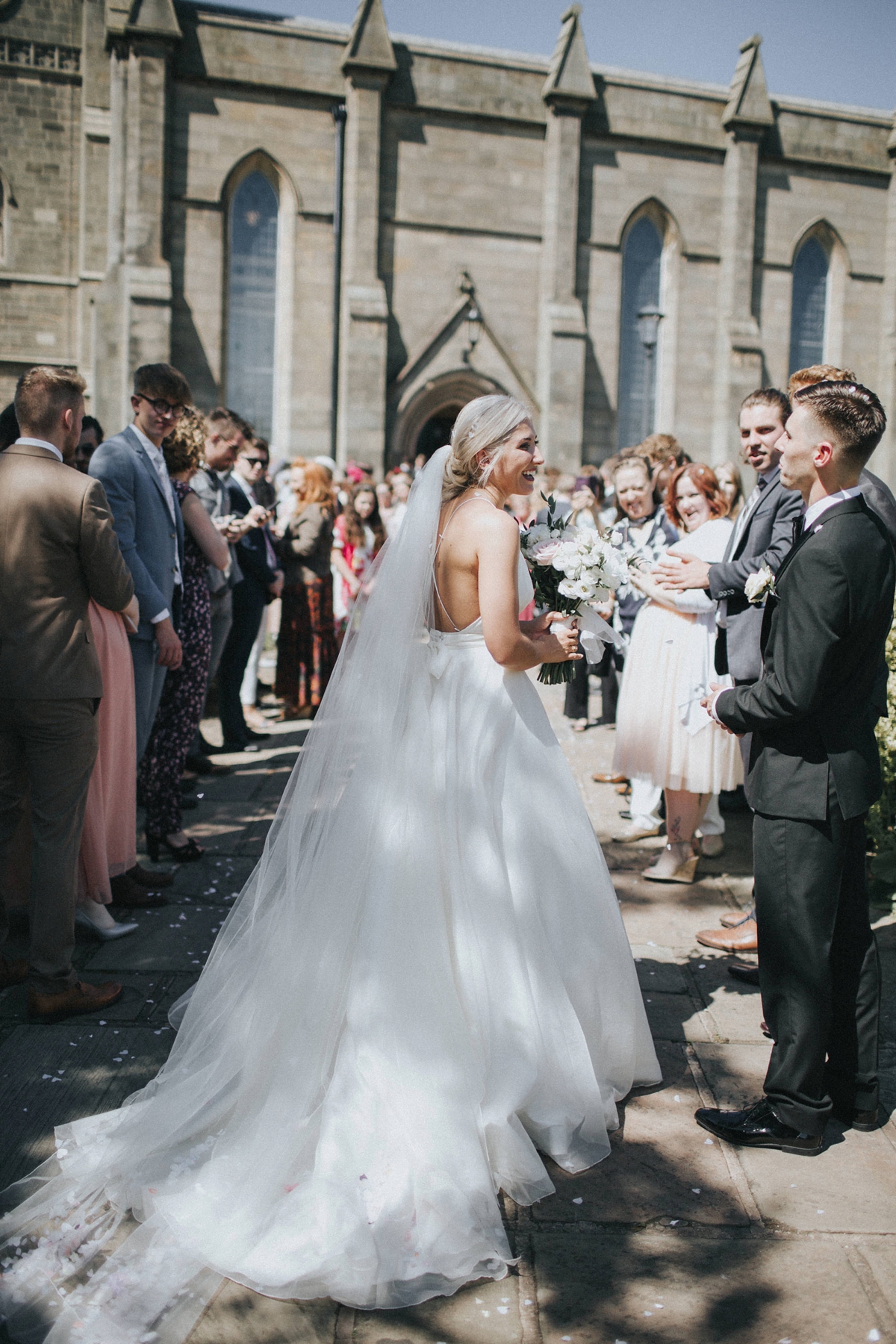 I particularly love the portrait shots Grace Elizabeth has taken here and the amount of light in every single photo.
"Grace Elizabeth Photo & Film were incredibly perfect for our wedding.  Before any photos were taken they made us feel comfortable and at ease and gave us an opportunity to talk about what we wanted from our wedding photos and discuss the style that we were looking throughout the whole day."
"Their creativity, vision and execution was more than professional and dynamic and the final product is beyond exquisite.  We now have over 800 images that perfectly capture our day that will help us relive it for years to come.  We cannot speak more highly of them."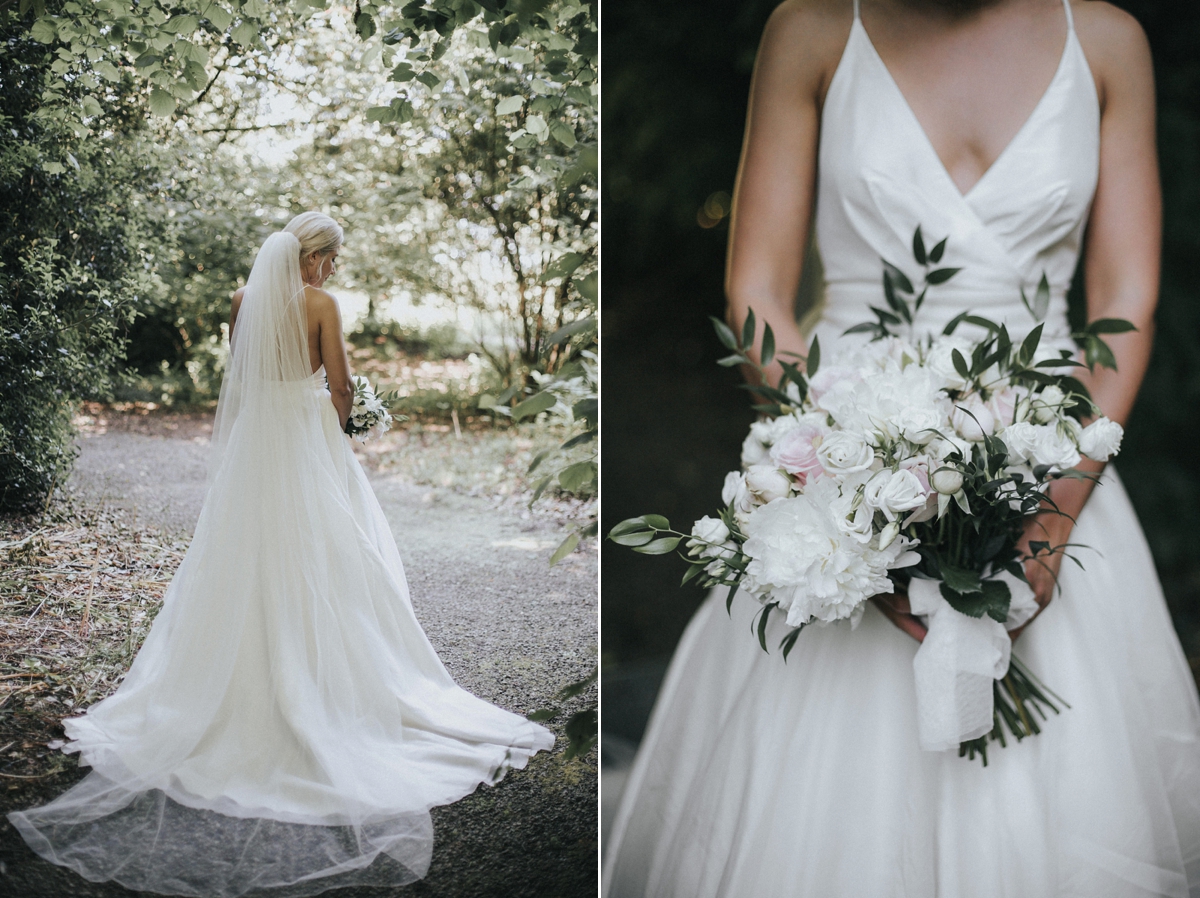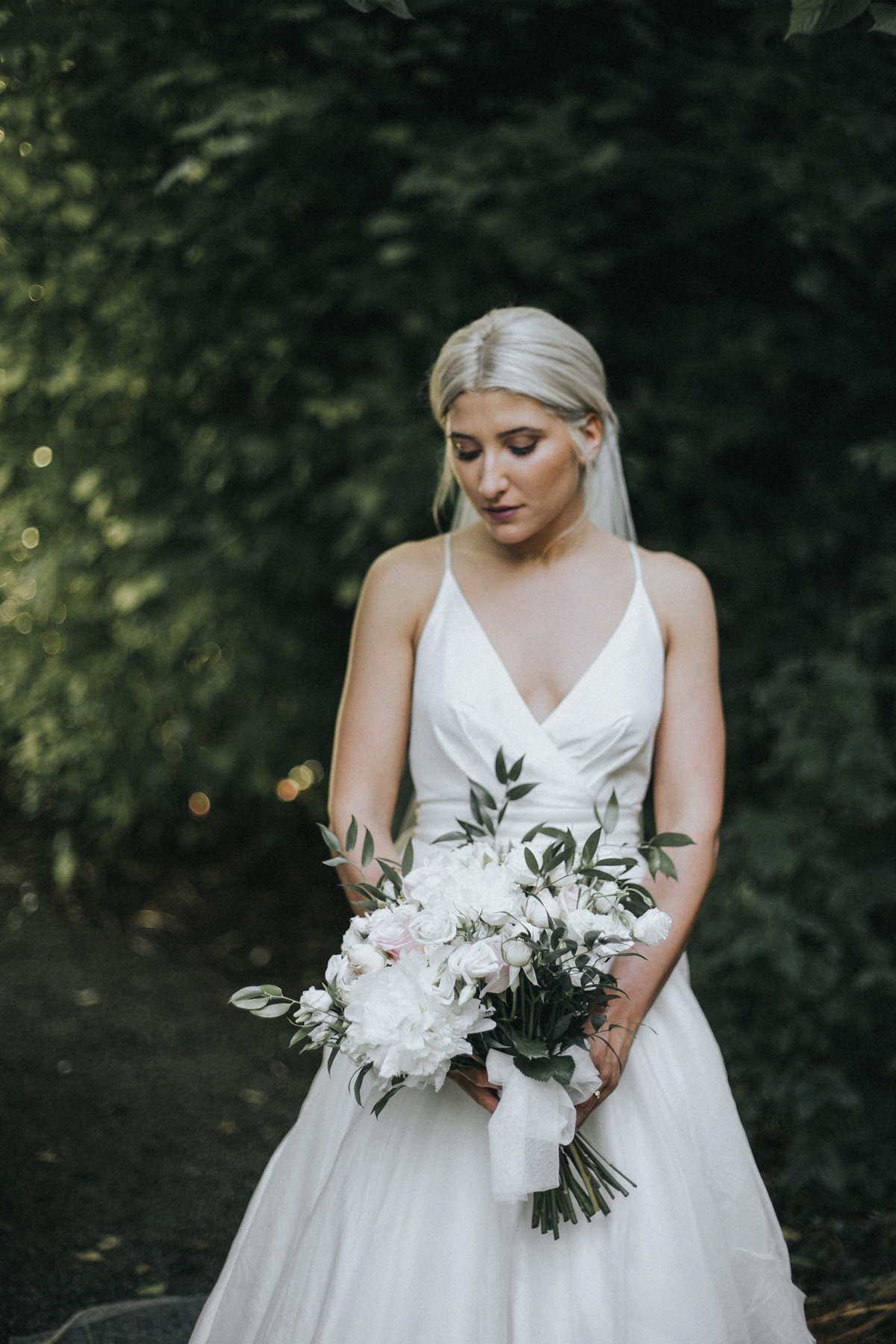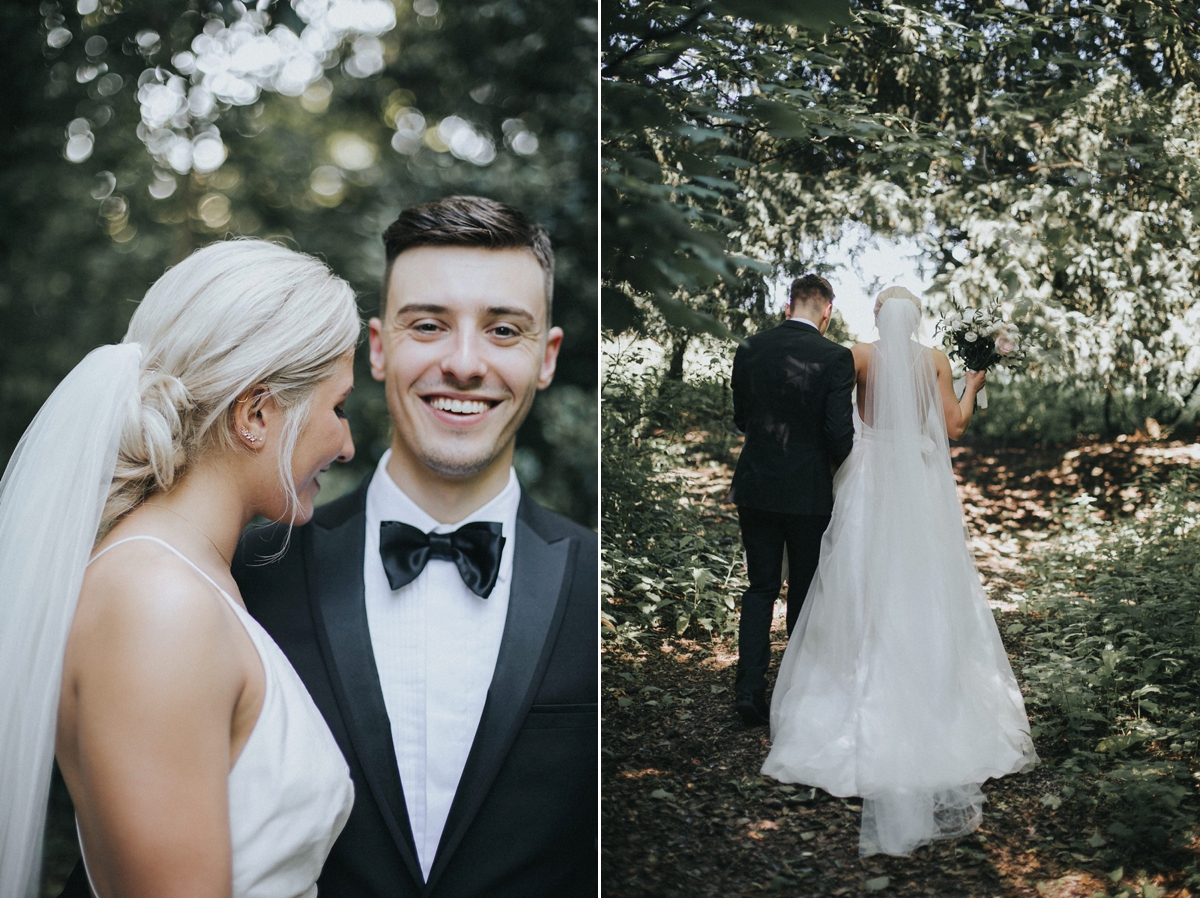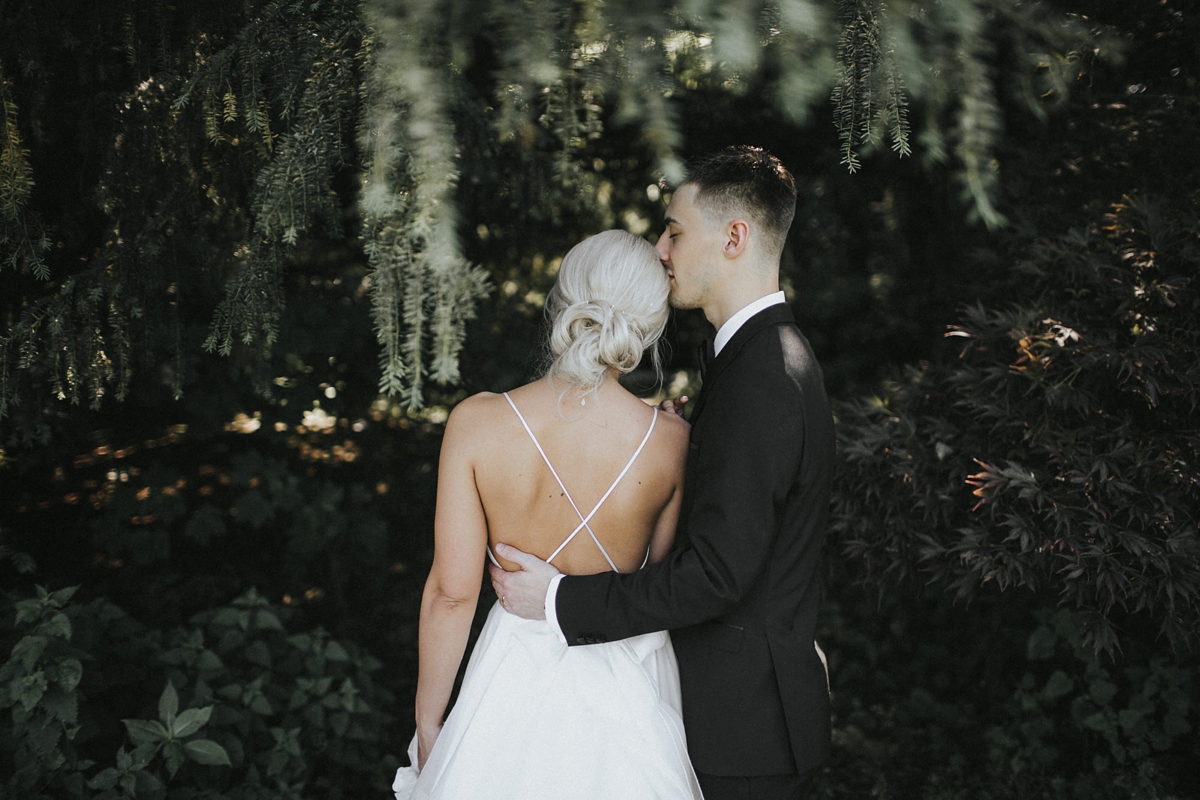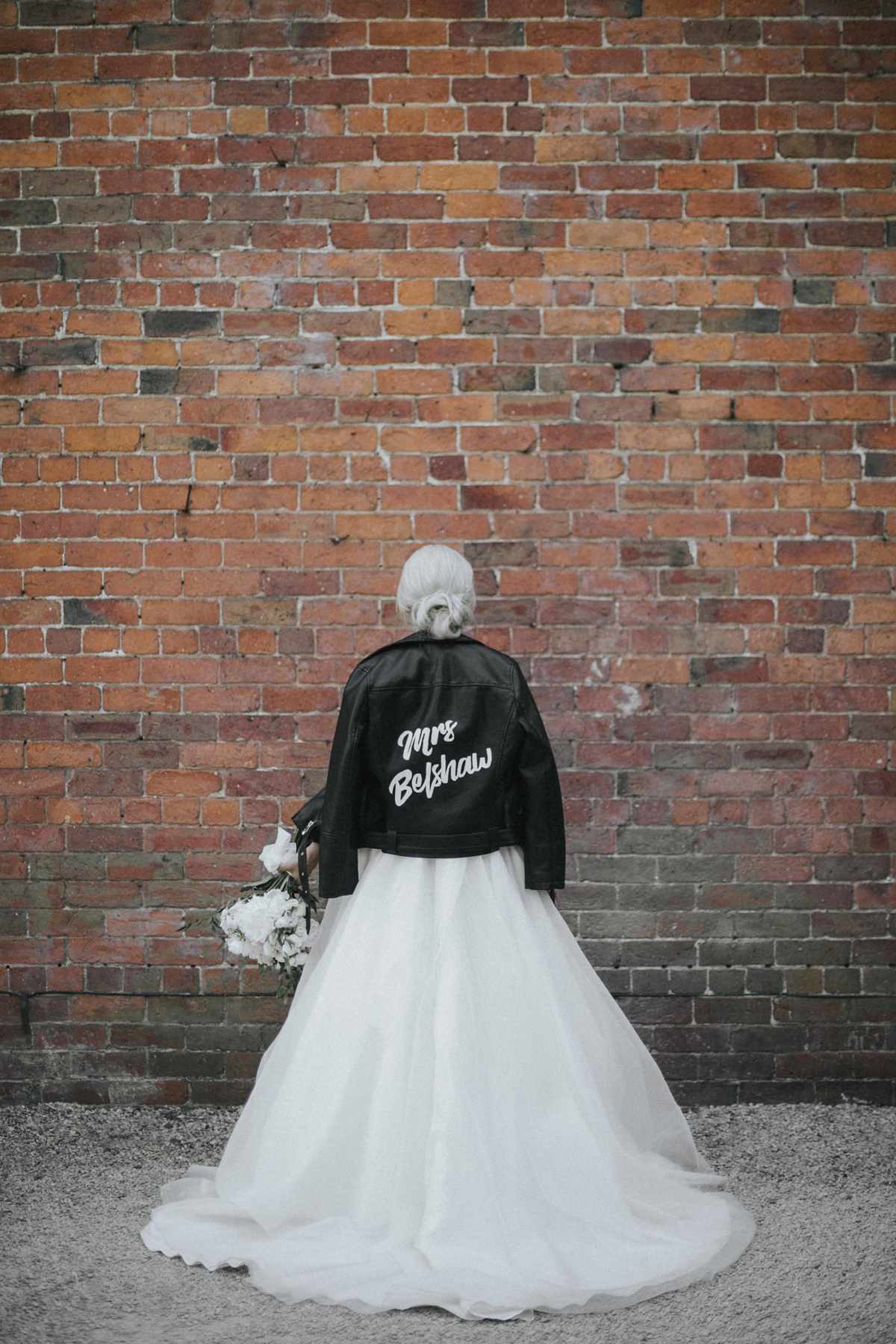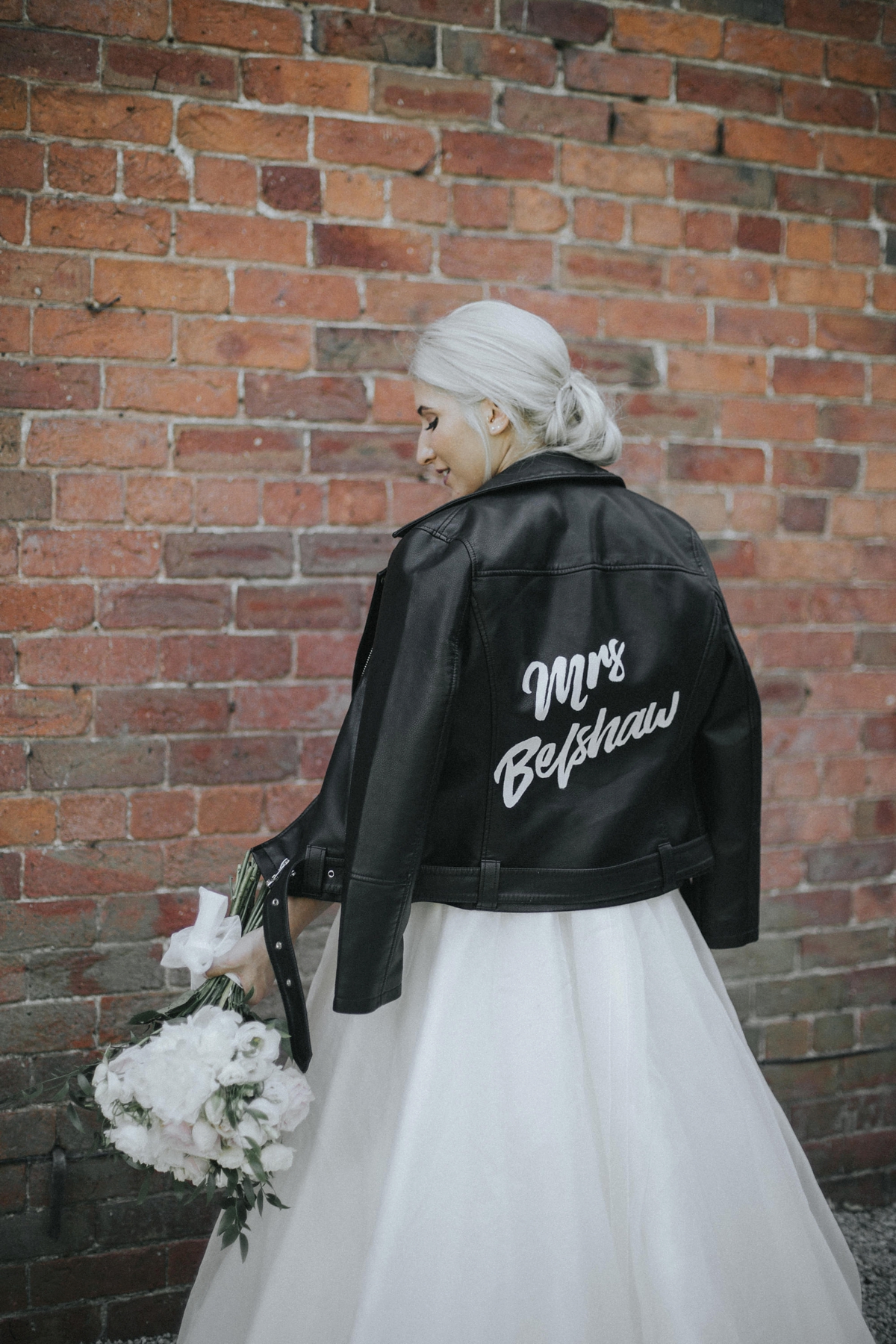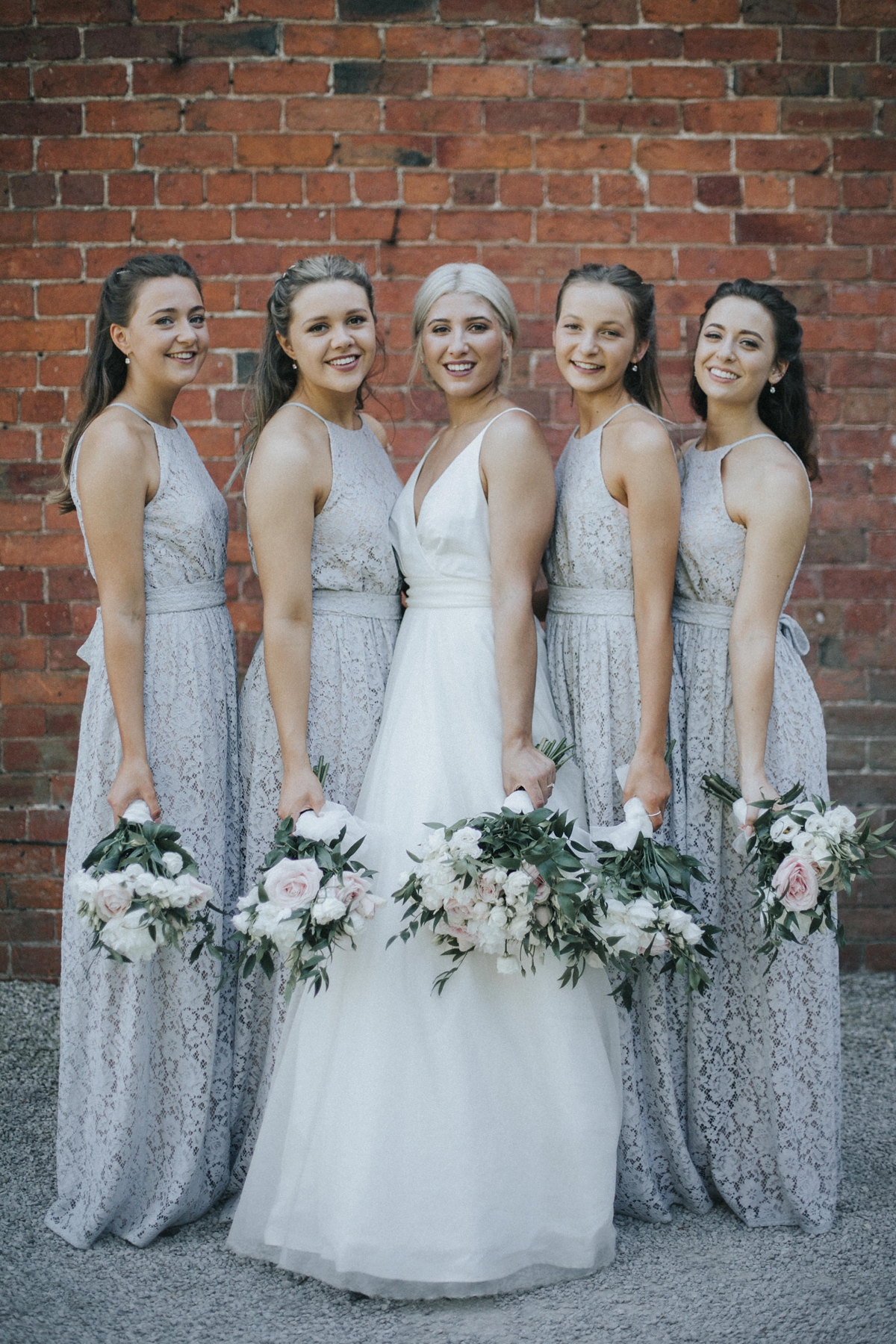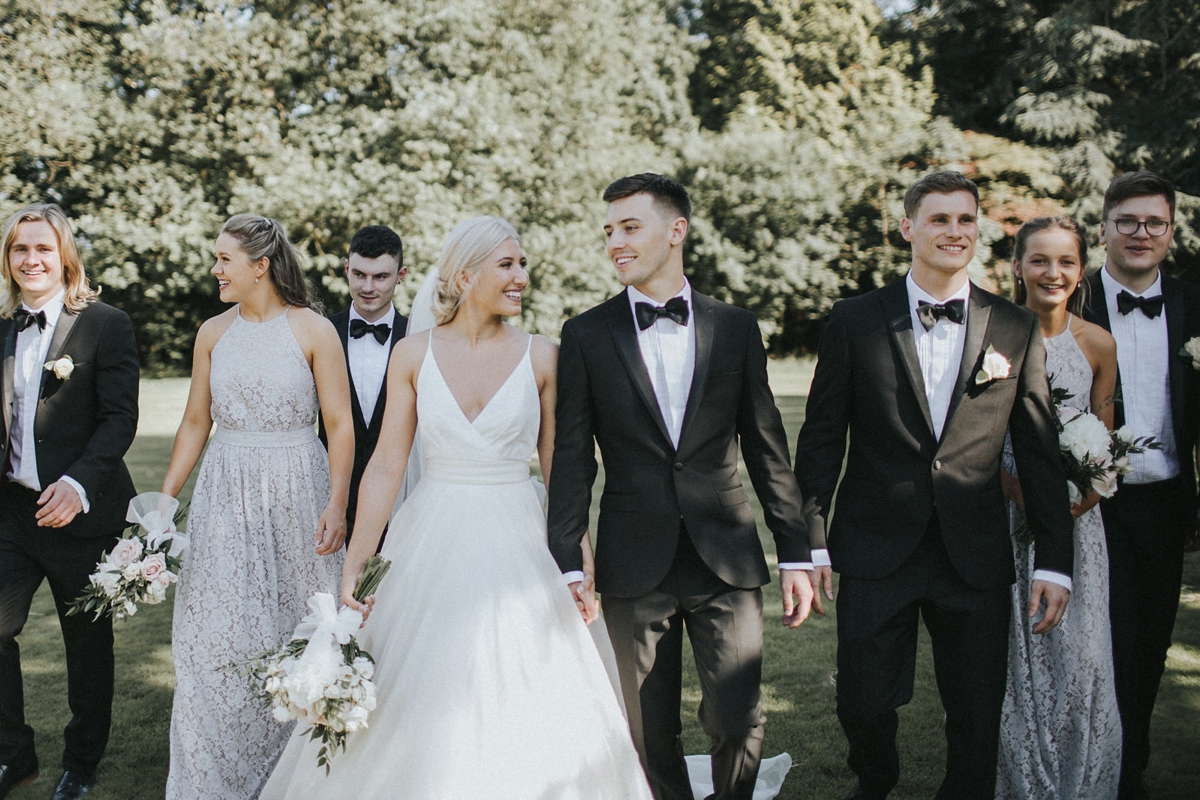 Holly and Daniel (and their friends and family) were responsible for all the decor and stationery, from the signage to the donut wall.  For the reception, they chose a wonderful mix of gold wine bottles, hand painted signs and personalised beer mats, a white bouncy castle and a stunning flower wall.  I love how every single thing reflects their personalities so fully.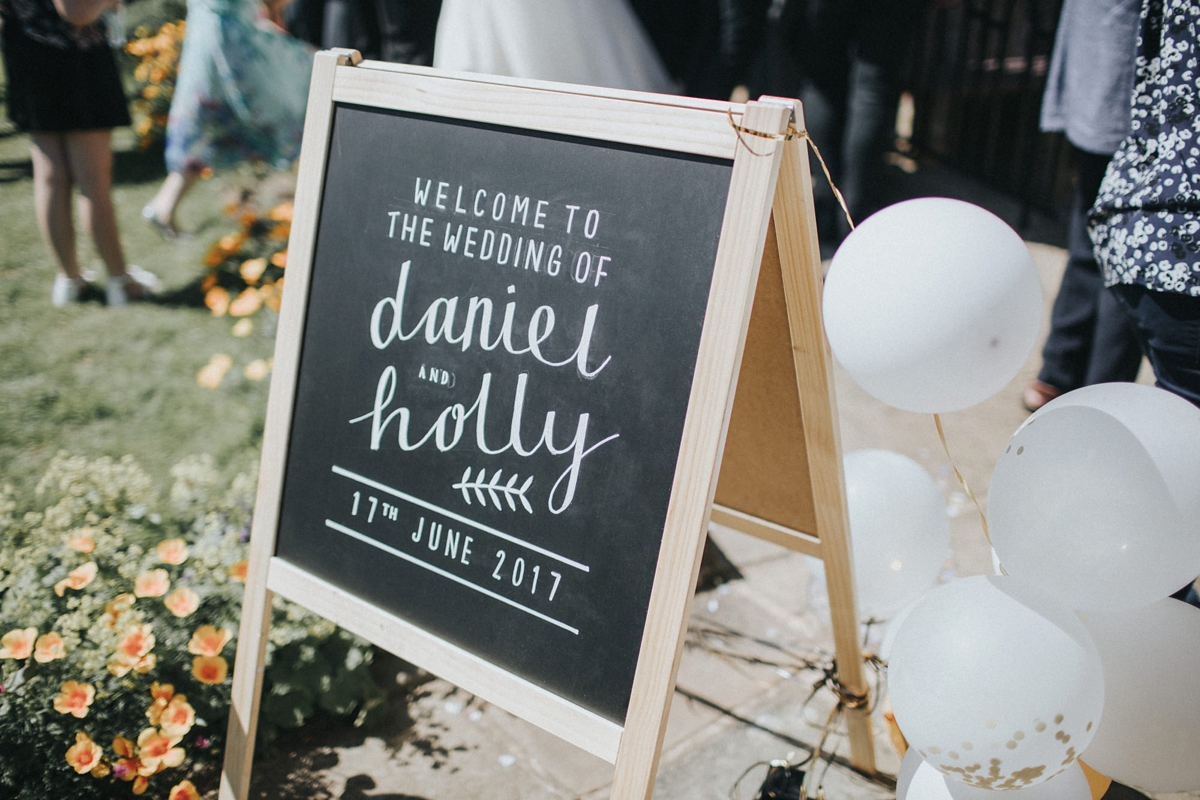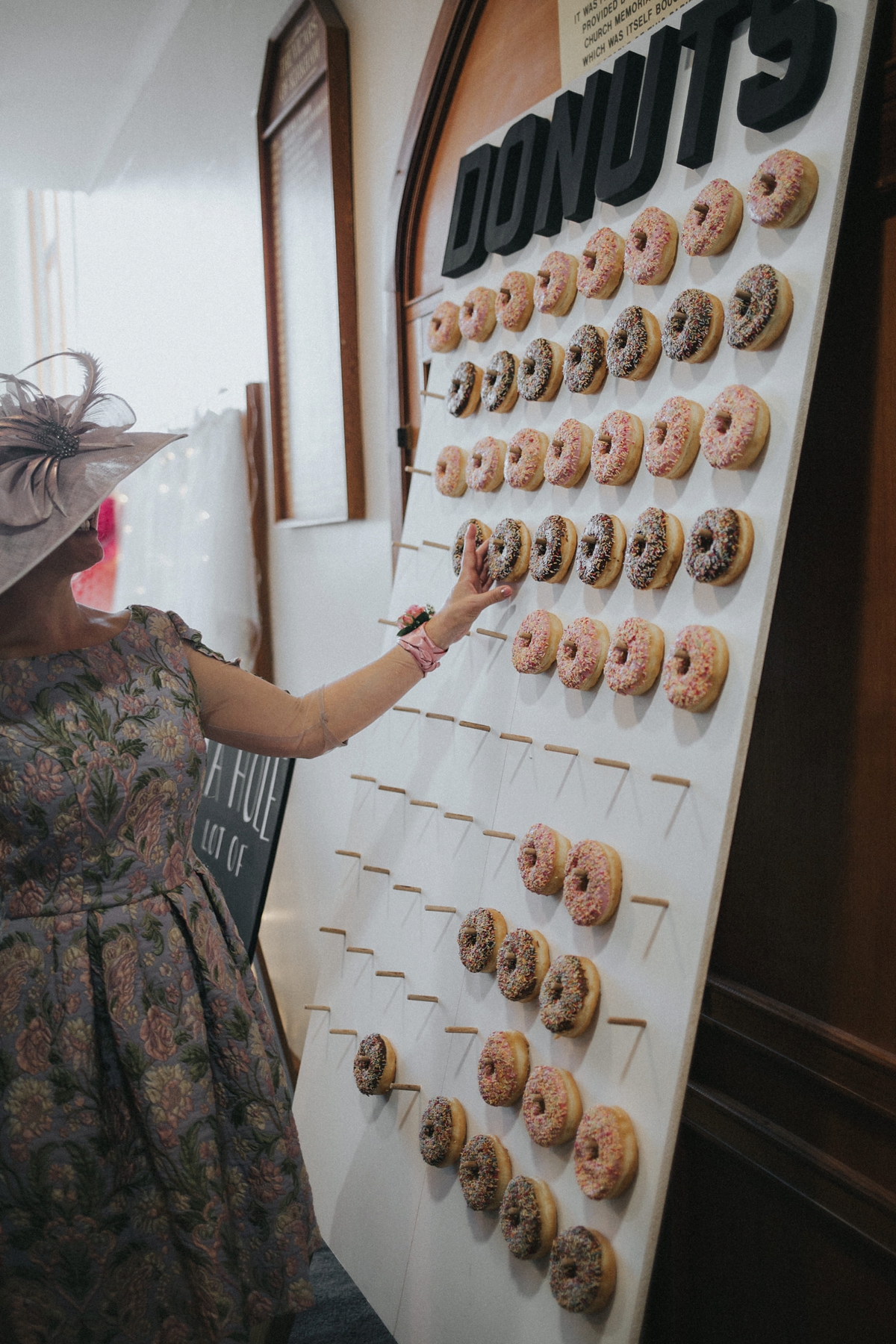 Favours took the form of cacti and succulents in concrete pots, each with the guests' name on, thus doubling as both a favour and a place setting.  Holly and her mum made these together, making them even more personal.
"Our entertainment was Dave the Ruf who is a DJ from Manchester.  We met him when we were out for food in Manchester one night and I couldn't get over the music as it was so good.  Daniel and I both loved his sound so got up and went over to him to ask if he would DJ at our wedding.  He doesn't usually do weddings but he just loved this story so couldn't say no.  Dave plays only on vinyl so it was such a cool sound and if you didn't want to dance it was awesome to watch."

Holly's mum made the stunning white and gold cake which looked fabulous wrapped with greenery and roses.
"I only had one request… BIG!  On the wedding day I stood next to a cake taller than me- my mum is awesome."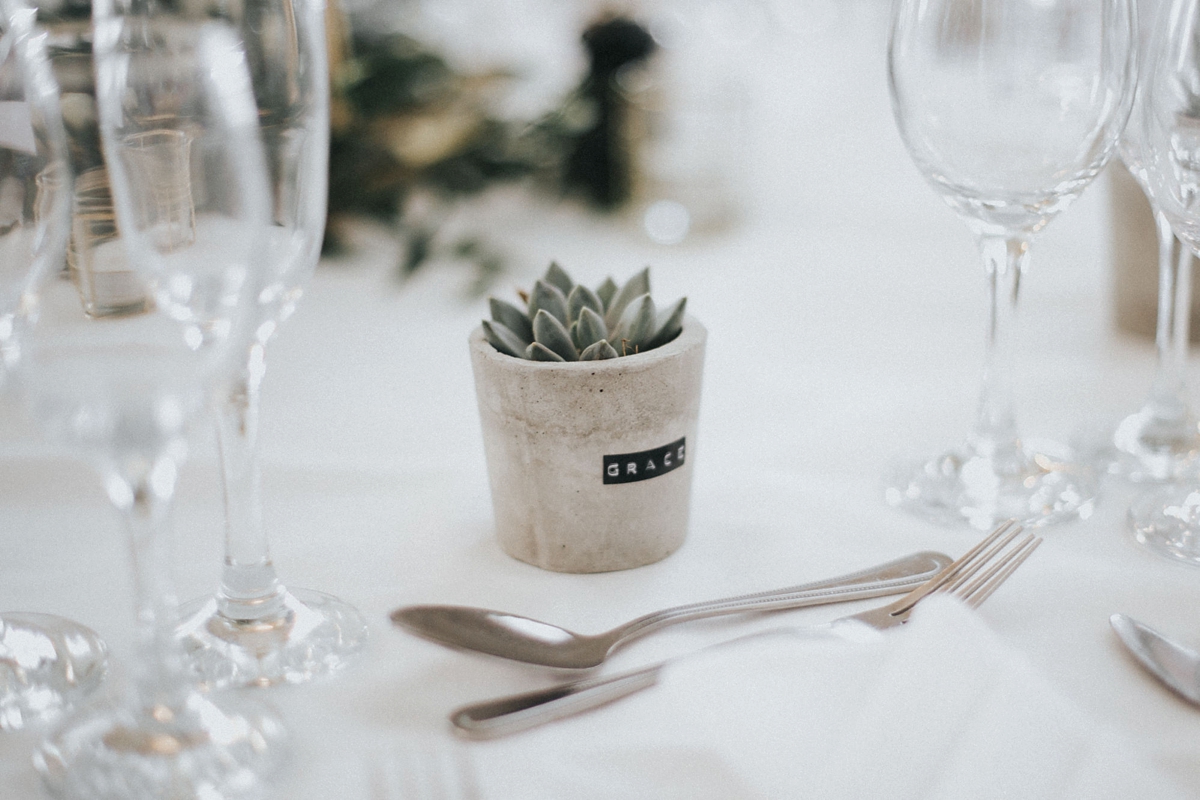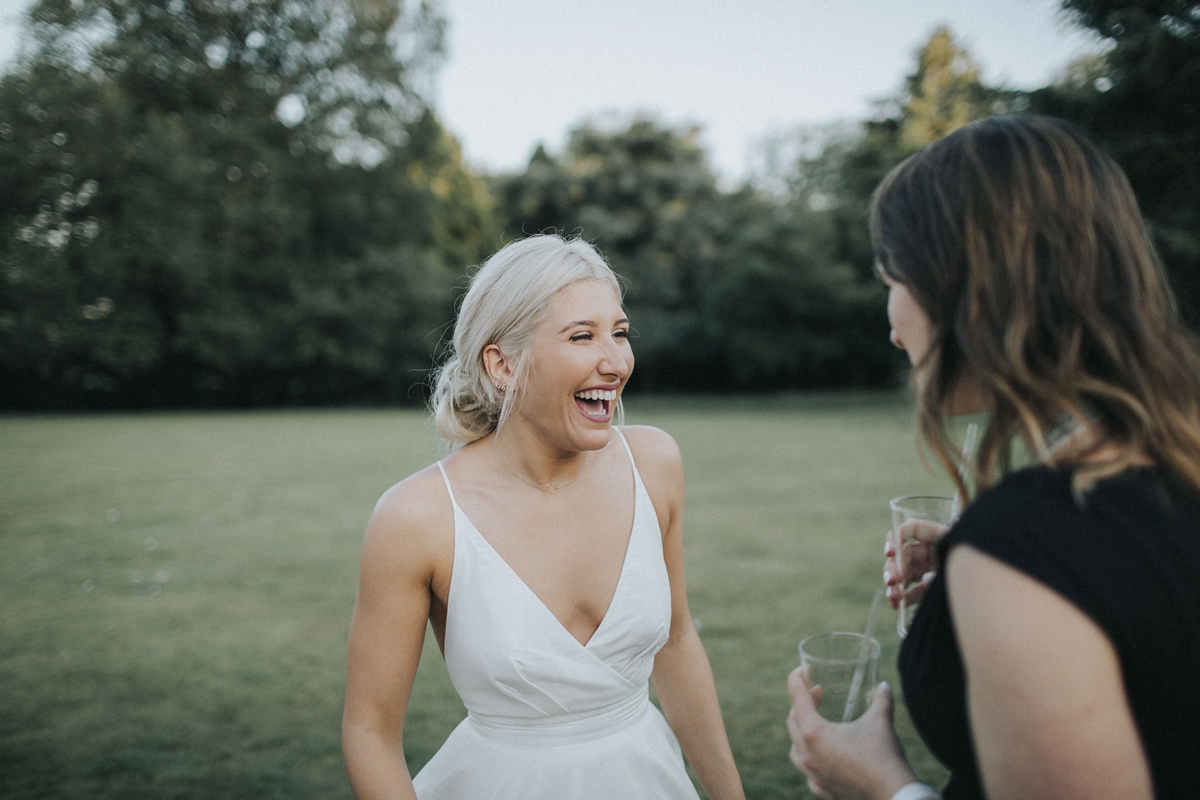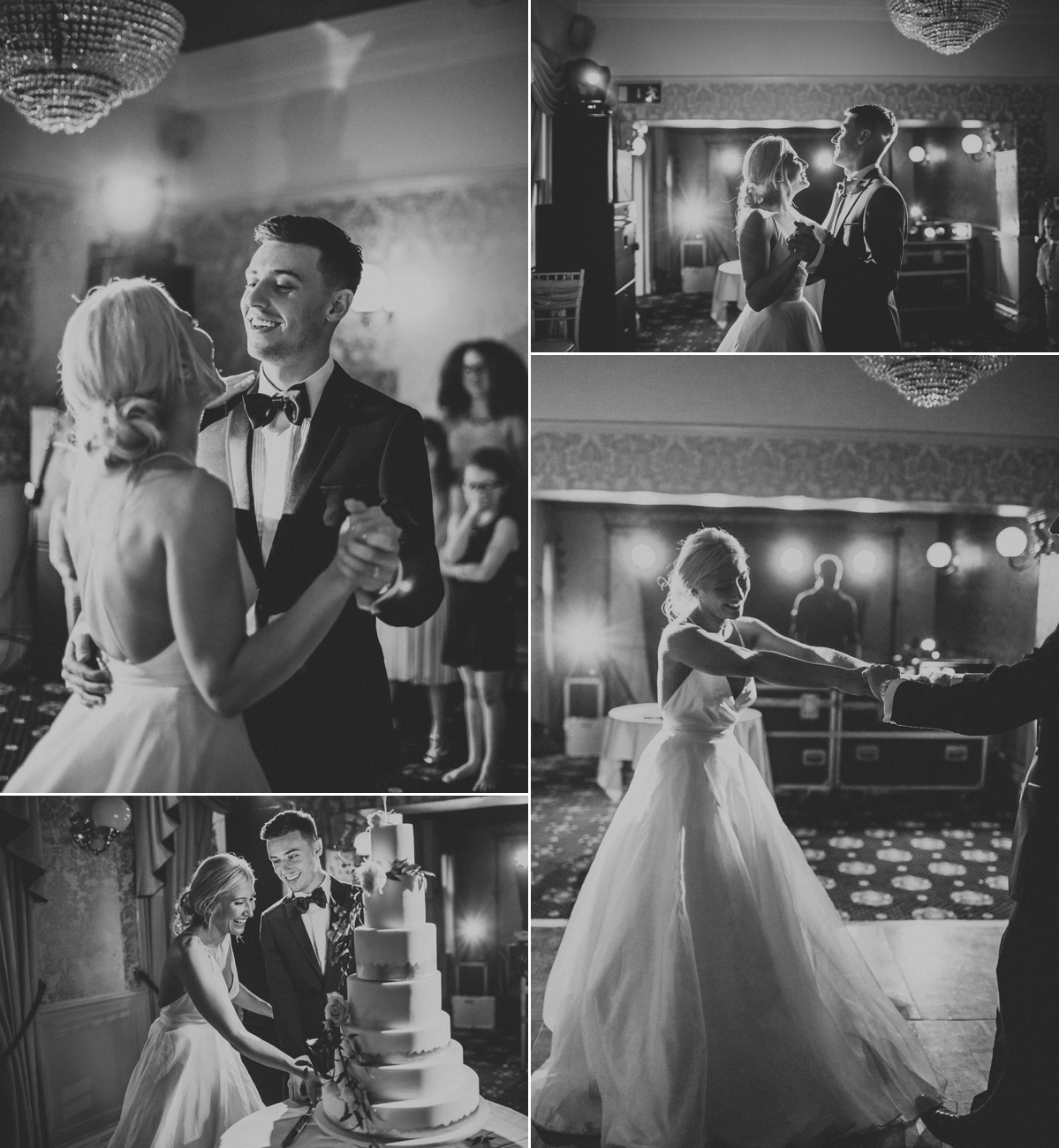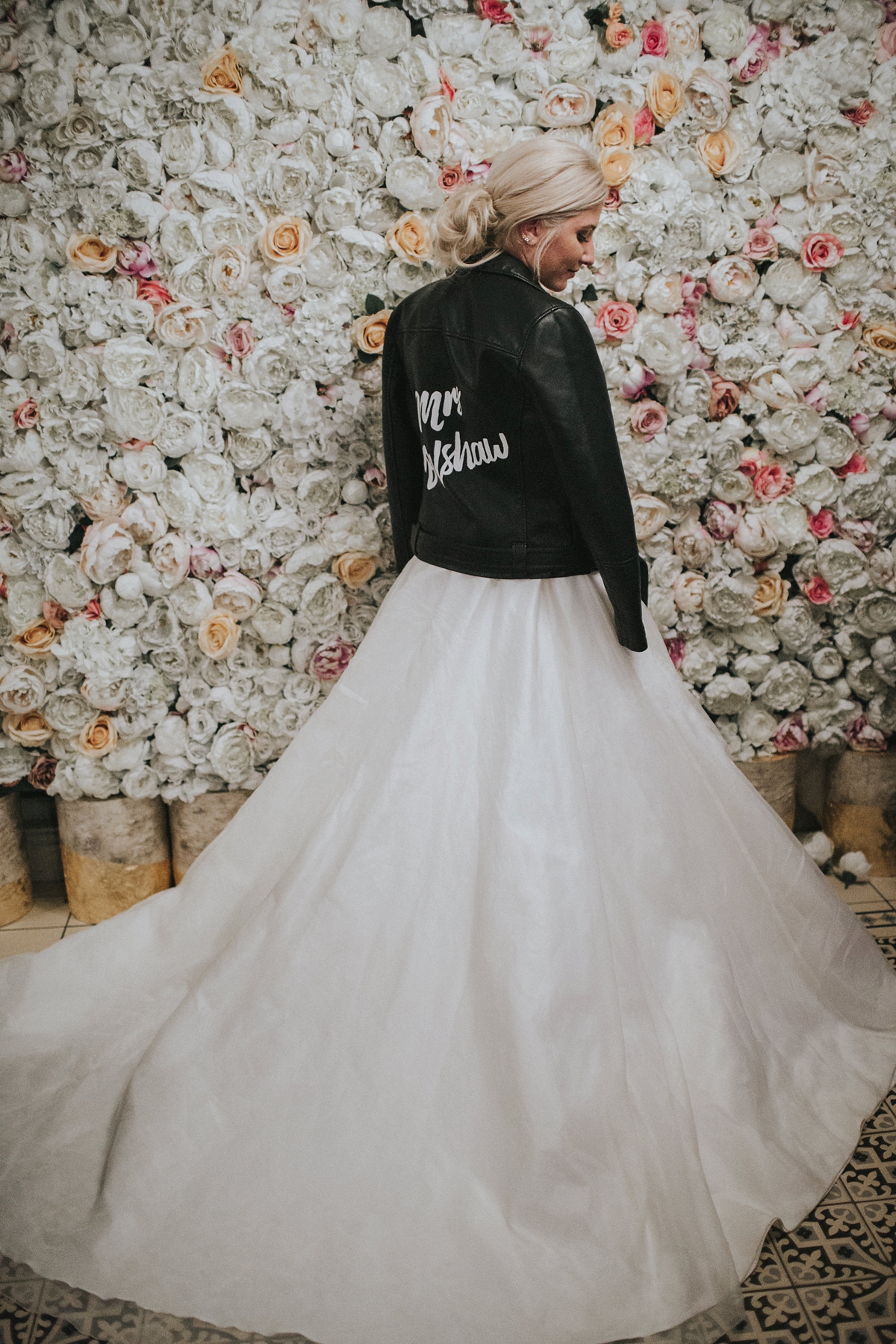 Words of Wedded Wisdom
"I had so many things go wrong in the planning of the day that is started to get kind of funny.  The one thing the kept me sane through it all was knowing that I was marrying the man of my dreams, our best friends were going to be standing by our sides and I had an awesome dress!  The rest is just extras.""
Truly though, my words of wisdom for a bride-to-be planning her day are do what you love and don't put too much pressure on yourself, the day is so special enough."
Very wise words indeed Holly.  The extras are undoubtedly nice but they aren't the 'be all and end all', that's for sure.
I loved Holly's dress so much that I went back and had a look at what other Sassi Holford gowns were had featured on Love My Dress over the years- its definitely worth a look!
Until next time,
S x