I was so excited to open these photographs, taken as they were by two of my favourite photographers- main photographer Paul Santos (one of our fabulous Little Book for Brides members) and second shooter Caroline of The Twins.  They certainly don't disappoint- the colours and use of light are just fantastic.
Laura and David married on the 19th November 2016 at Lartington Hall, near Barnard Castle in Teesdale.  Funnily enough I have passed Lartington a few times recently on my drive to visit family on the Cumbrian border and I've often wondered what it looked like inside.  Beautiful, is the answer!
"We almost ruled Lartington Hall out as it was over an hour away from Newcastle but we were so glad we didn't when we went to visit.  As soon as we arrived we fell in love with the old hidden chapel and all the beautiful details and décor throughout – the ceilings are amazing!  Shona and John have done a brilliant job at restoring the 17th century hall and were so friendly and helpful whilst planning our day."
Images by  Paul Santos, supported by The Twins (second shooter)
"Our photographer Paul Santos, who was supported by Caroline from The Twins  on the day, was fantastic on the day; they were very discreet and caught lots of lovely moments that we otherwise would have missed.  We love looking back over our wedding photos and are so pleased that we booked Paul to capture our day."
The celebrations were also captured on moving film by Wayne Connelly from Green Biscuit Studio.
"Wayne had recently got married at Lartington Hall himself so he knew the venue really well and did a great job."
"Lartington Hall itself inspired a lot of our choices, for example, incorporating the antique gold that runs throughout the hall into our stationery and accessories.  We wanted to keep the day simple and elegant so we didn't add a lot of decoration to the venue."
Laura wore a beautiful gown by Ellis Bridal, which she purchased from Mia Sposa in Newcastle.  I particularly love the low cowl back and elegant shape.
"I really wanted a vintage style dress and found this one with my mum and my sister in the first shop we visited.  I really liked the embroidery and beading detail and loved the low cowl back.  I couldn't believe it had been that easy to find my wedding dress!"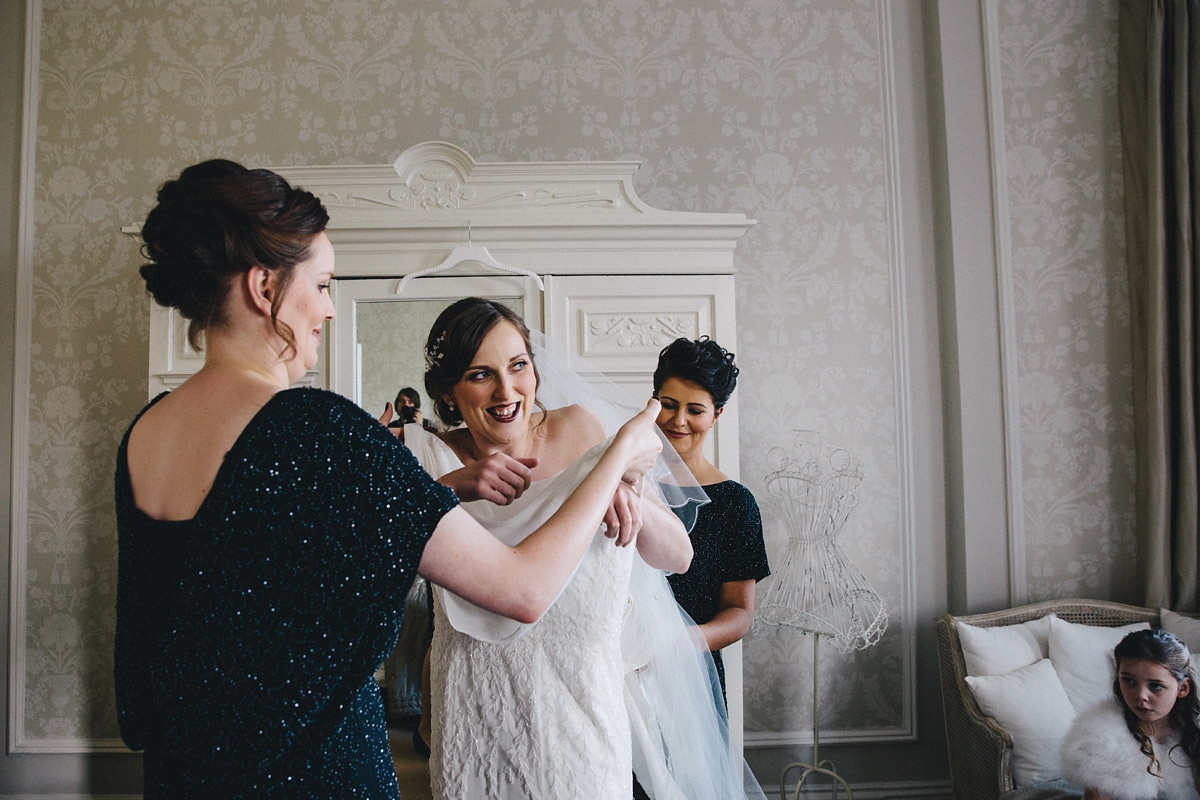 On her feet Lara wore an elegant pair of Rainbow Club heels, purchased via Mia Sposa, while for jewellery she chose Bocheron drop pearl earrings by Stephanie Browne and for scent, English Pear and Freesia by Jo Malone.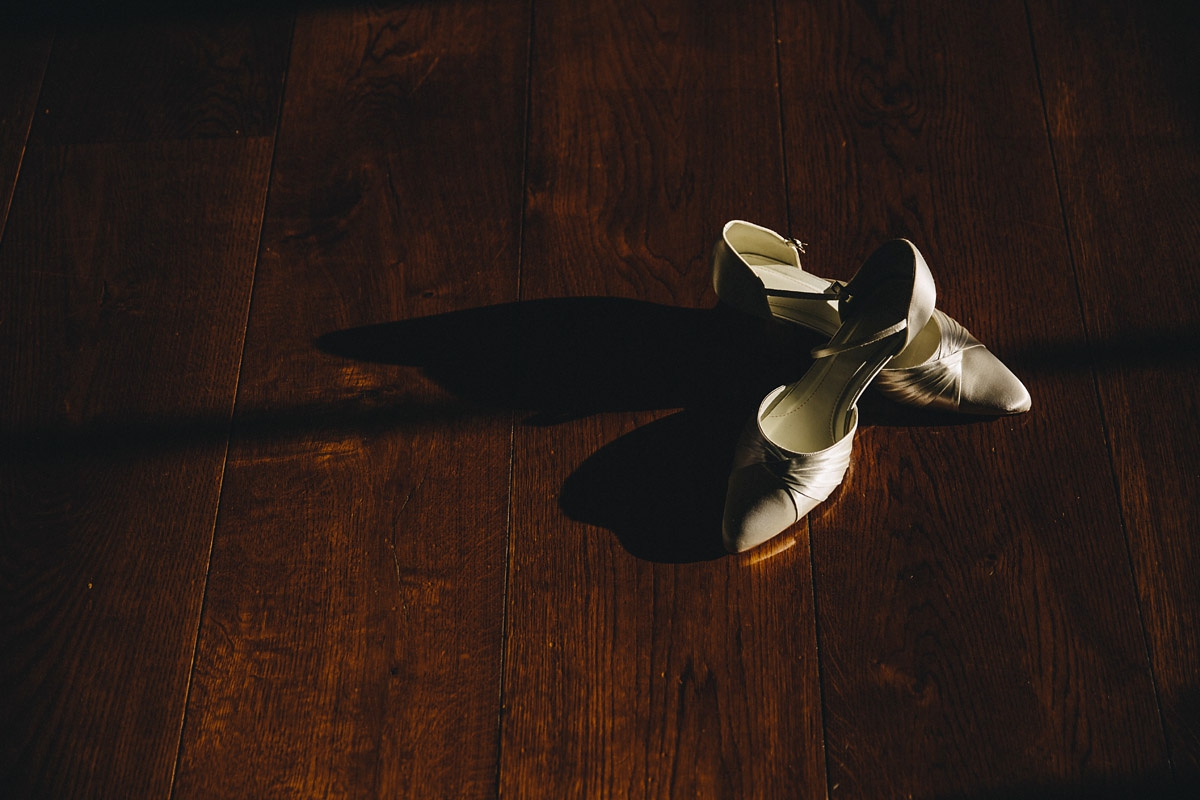 "My good friend Lizzie kindly loaned me her wedding veil so it was my 'something borrowed'."
"I also bought my Liza Designs hair vine from Mia Sposa.  I liked the way it could be woven into my hair and the leaves mirrored the embroidery and beading on my dress."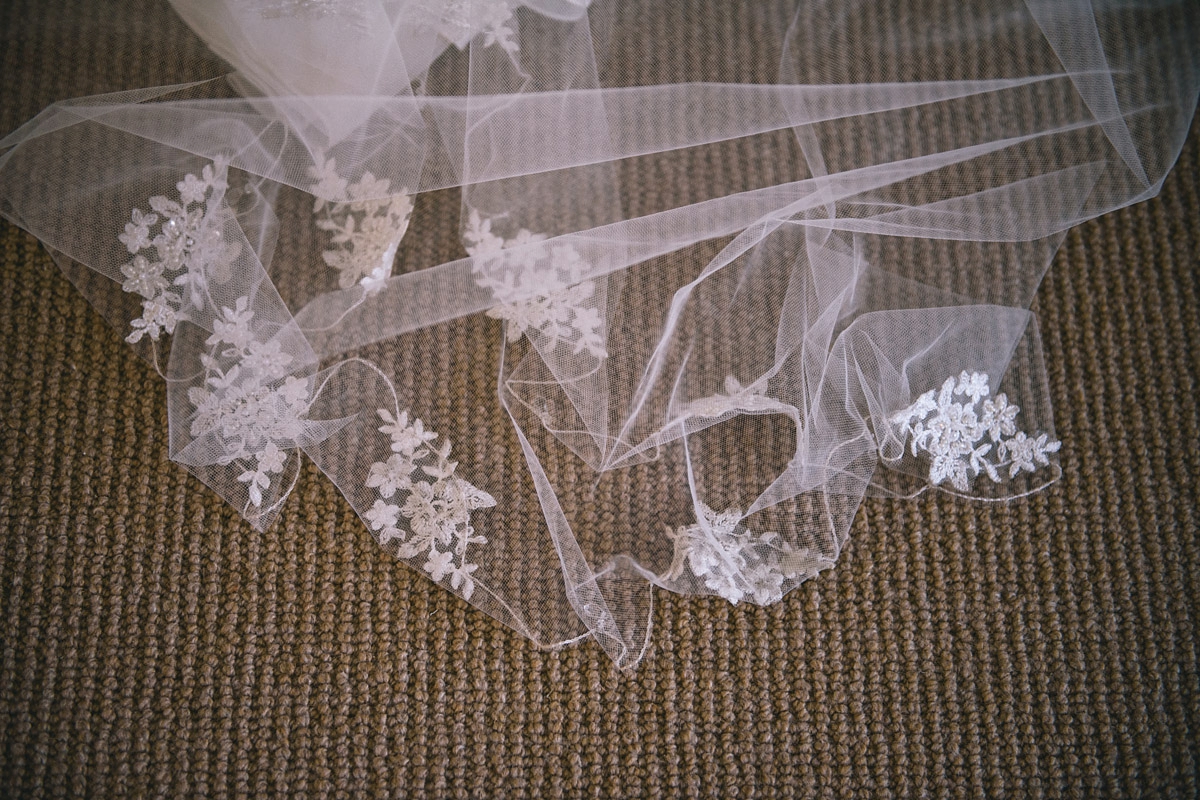 Laura opted for an elegant up-do by Tina Elliott, in keeping with the evening-feel of her gown, while for make up she chose Kitty Kerry and wore a deep red lip- just perfect for a glamorous wintry feel.
"Tina was the first person I booked after picking our venue and my dress as I have had my hair done by her before.  Kitty was recommended by a friend who had got married earlier in the year.  She was great and it was lovely to spend the morning getting ready with her and Tina as they are both so calm and friendly."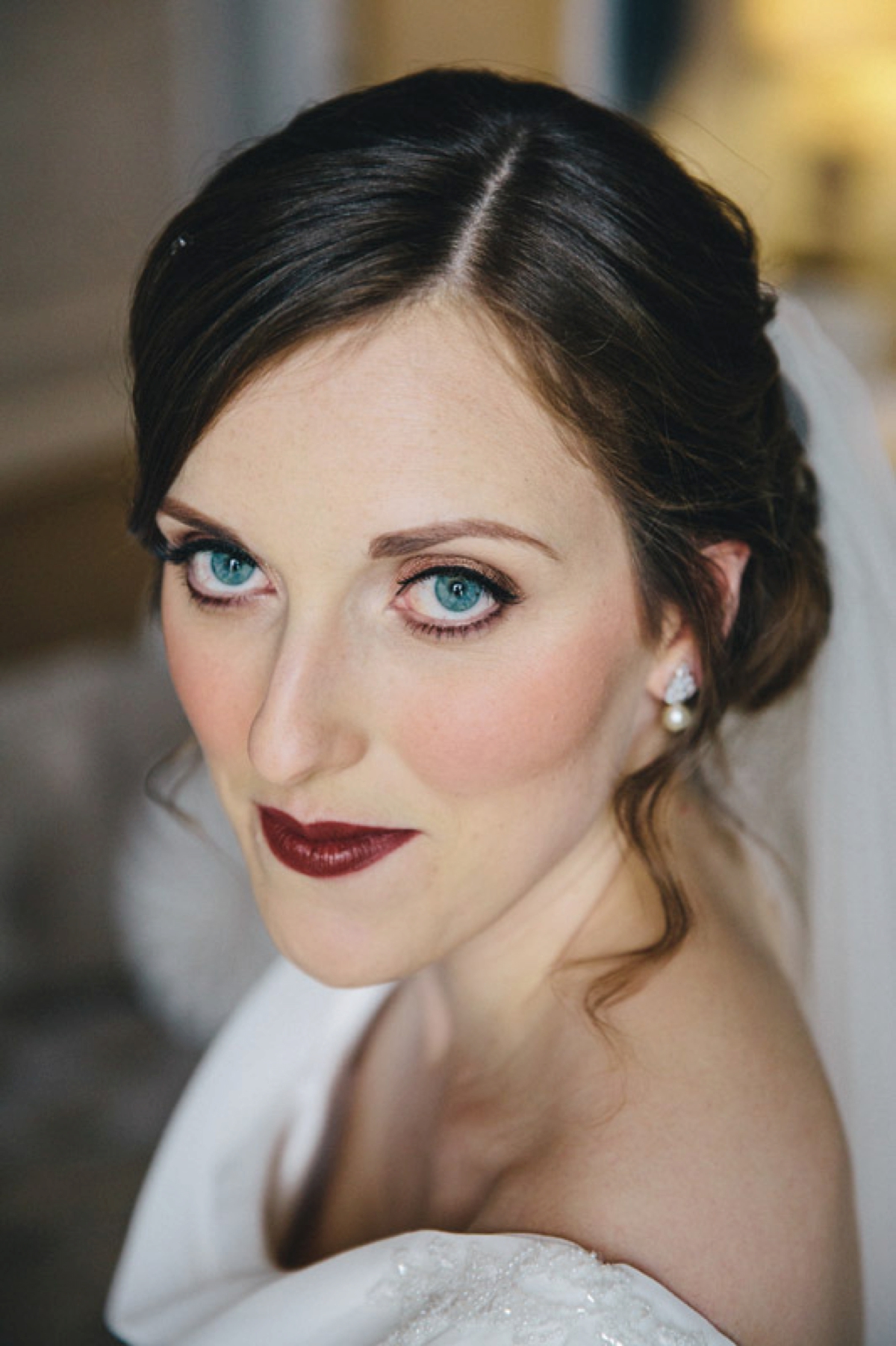 "We met through mutual friends and got talking at a friend's fancy dress party.  David proposed at Lough Eske whilst we were on holiday in Donegal.  My family are originally from Belfast and we spent all our summers as children in Donegal so it was really lovely to get engaged in Ireland."
"As we had been together for almost seven and a half years we didn't want to have a long engagement, luckily Lartington Hall had one weekend left in 2016 so we were able to get married seven and a half months later!"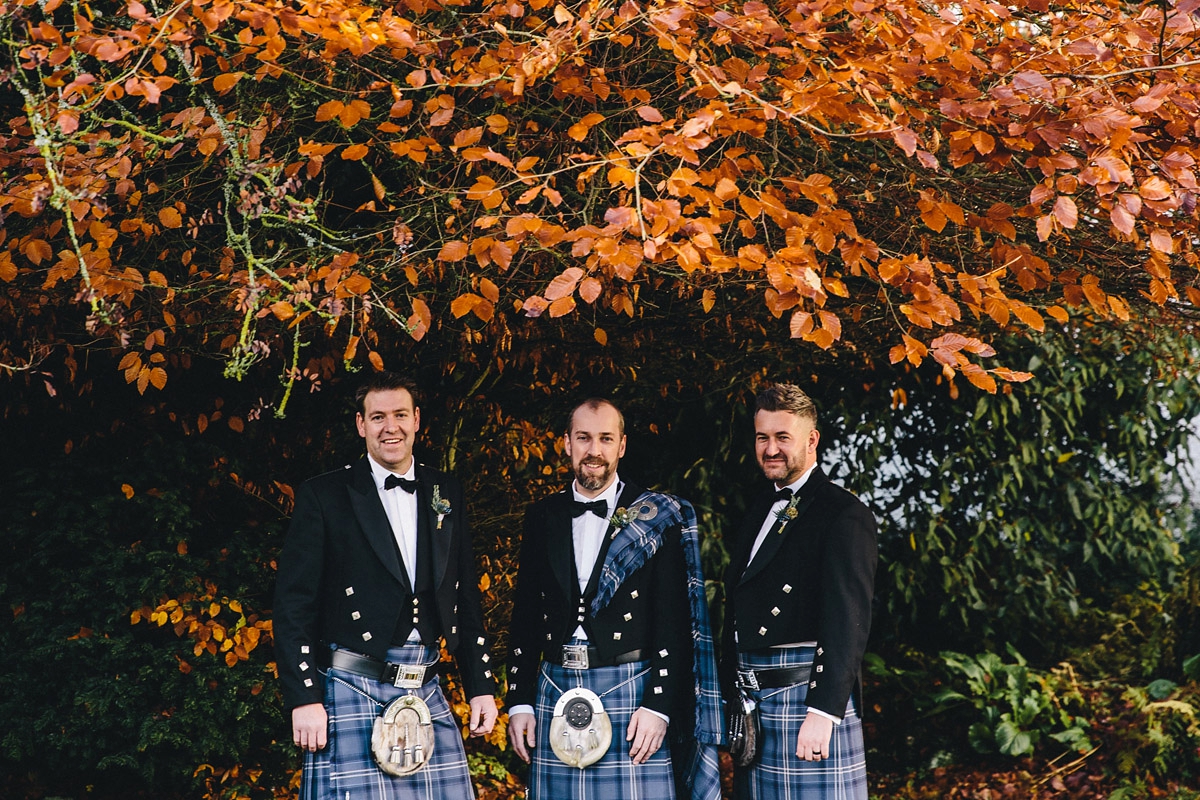 "David decided to embrace his Scottish heritage and go for the Highland Dress equivalent of black-tie.  He chose the Highland Sky Tartan for his kilt and wore it with a Prince Charlie jacket and Fly Plaid, hired from Slaters.  David's dad loaned him his own dress sporran to wear on the day.  I bought him a Sgian Dubh as a gift and had the blade engraved with the date of the wedding."
The bridesmaids looked glam in navy gowns from Next.  I do love a bit of winter sparkle.
"I actually spotted the bridesmaid dresses by chance one day whilst I was cutting through Next.  I wear a lot of navy and thought it was a good colour for a winter wedding.  I really liked the beading and twist detail at the back, which tied in well with the style of my own dress."
"I wanted something gold for the bridesmaid's hair so whilst we were in London for the weekend we went to Camden Passage Market in Islington to see what vintage treasures we could find.  The girls picked a gold leaf brooch each and Sasha had them attached onto combs so that they could wear them in their hair.  I also gave the bridesmaids a pair of gold earrings as a thank you gift."
Hannah from Wildflower Florist was the talent behind the glorious flowers.
"I really like Hannah's unstructured style so I just picked the colours and let Hannah do the rest.  The flowers were amazing and a lovely surprise as they were one of the few things we hadn't planned ourselves."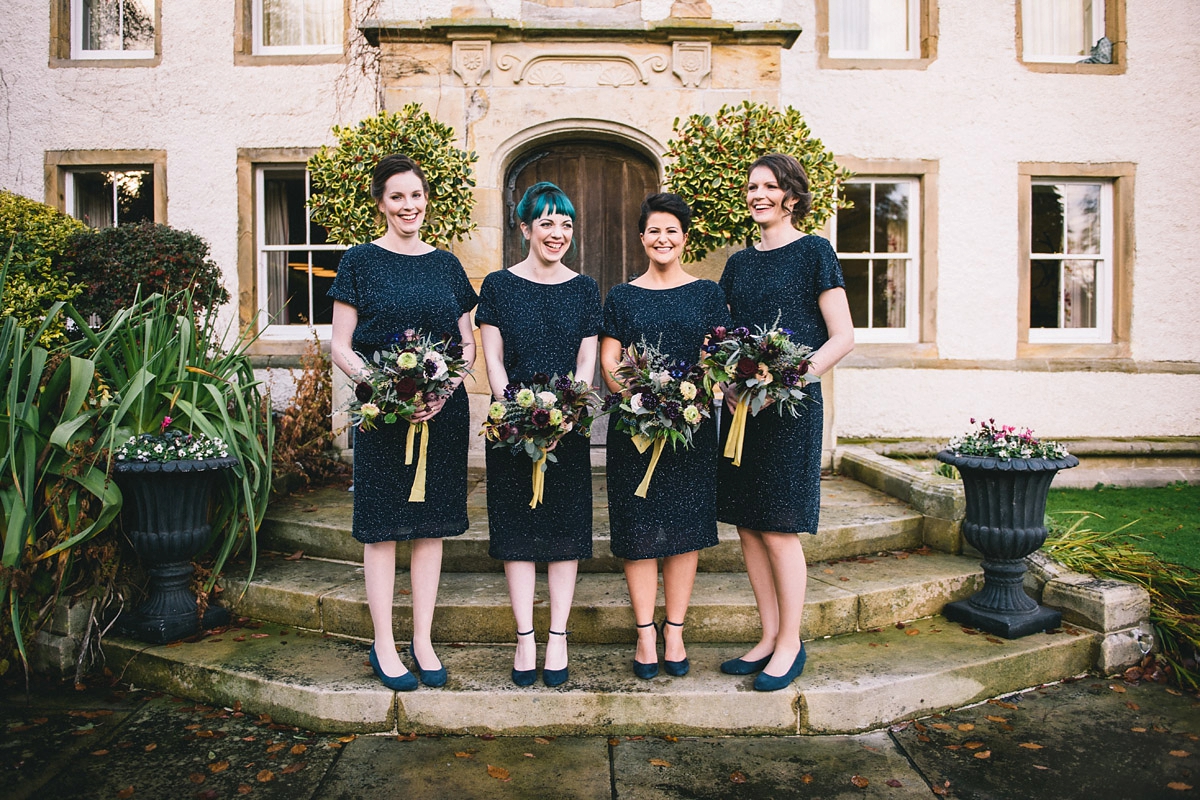 "My dad walked me down the aisle.  I am one of three daughters and the first one to get married so I think he was a little nervous!  We walked to 'Make You Feel My Love' by Bob Dylan (played by North East Soiree String Quartet)."
"We went for traditional vows and also opted for a candle ceremony during which our younger sisters lit candles to represent each family.  From these two candles we lit a centre candle to represent our marriage and the union of our two families."
As well as the candle ceremony, David and Laura chose two poems as readings, the first, 'Scaffolding' by Seamus Heaney, and the second, 'Love Sonnet XVII' by Pablo Neruda.
"The ceremony was probably our favourite part of the day.  Seeing all of our family and friends there to celebrate with us was wonderful.  It was such a brilliant feeling walking out of the chapel as husband and wife and being showered in confetti was also lots of fun!"
The wedding bands were purchased from Richard Sinton Jewellers in Newcastle, where David had also bought Laura's engagement ring.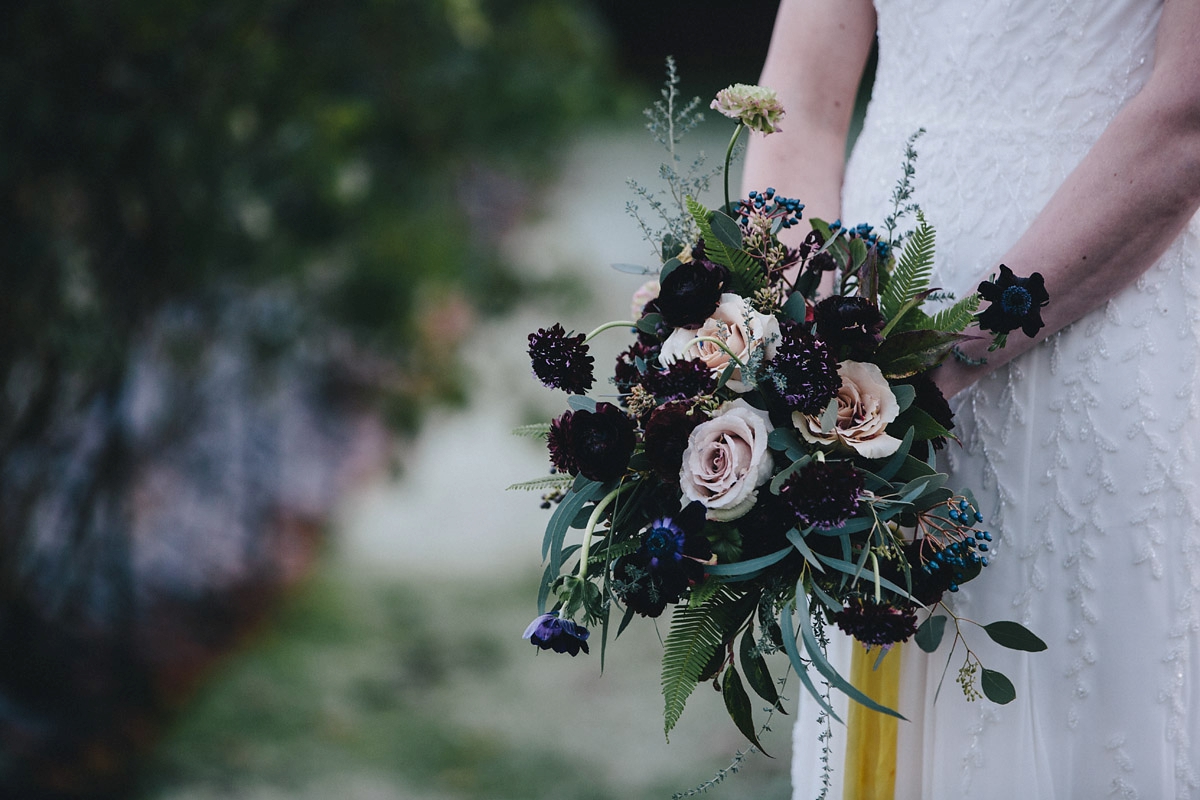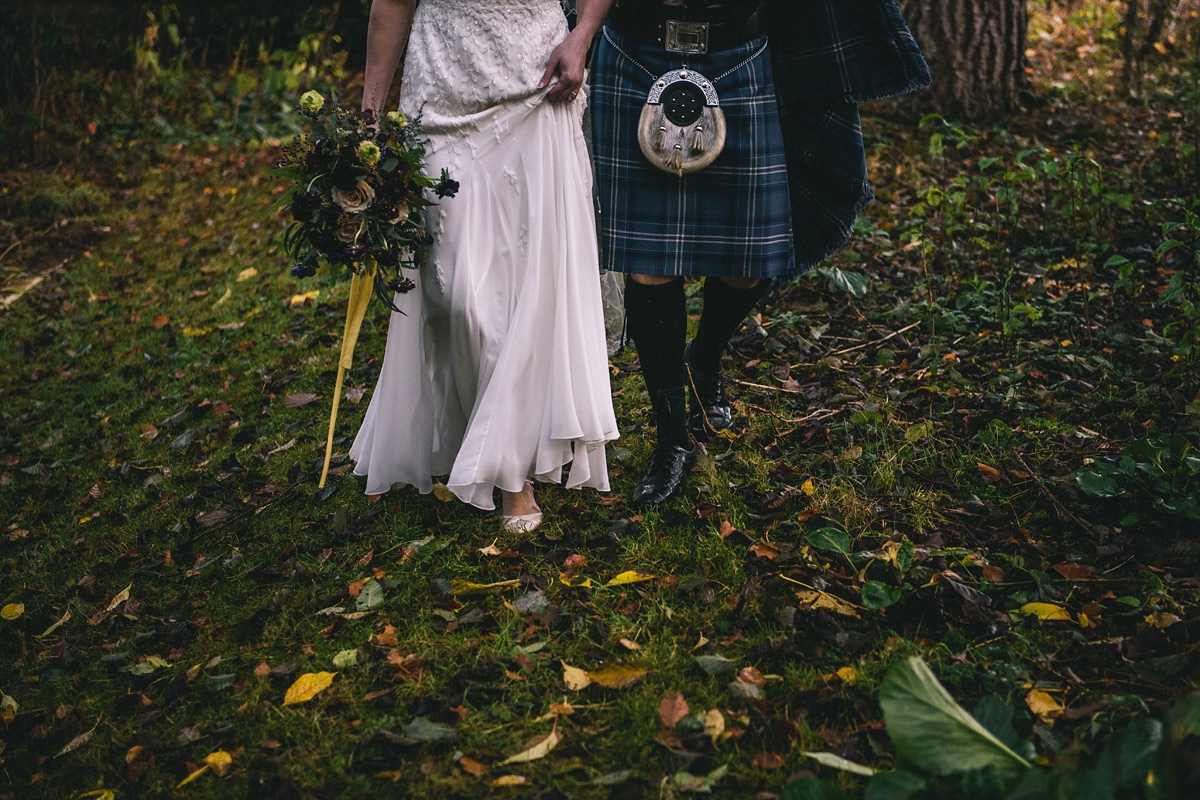 "The interior of Lartington Hall is stunning so we just added fresh flowers for decor.  The floral centrepieces for the tables were structured around a pillar candle and our table numbers were spray painted antique gold by my dad to tie in with the gold detailing in the Grand Ballroom."
"We asked our parents to dig out photos of our grandparents and themselves on their wedding day.  It was great to see the different styles from the 1940's through to the 1970's. We also framed a series of pictures of our relationship over the last eight years and bought a polaroid camera so that guests could take their own picture to leave with a message in our guestbook."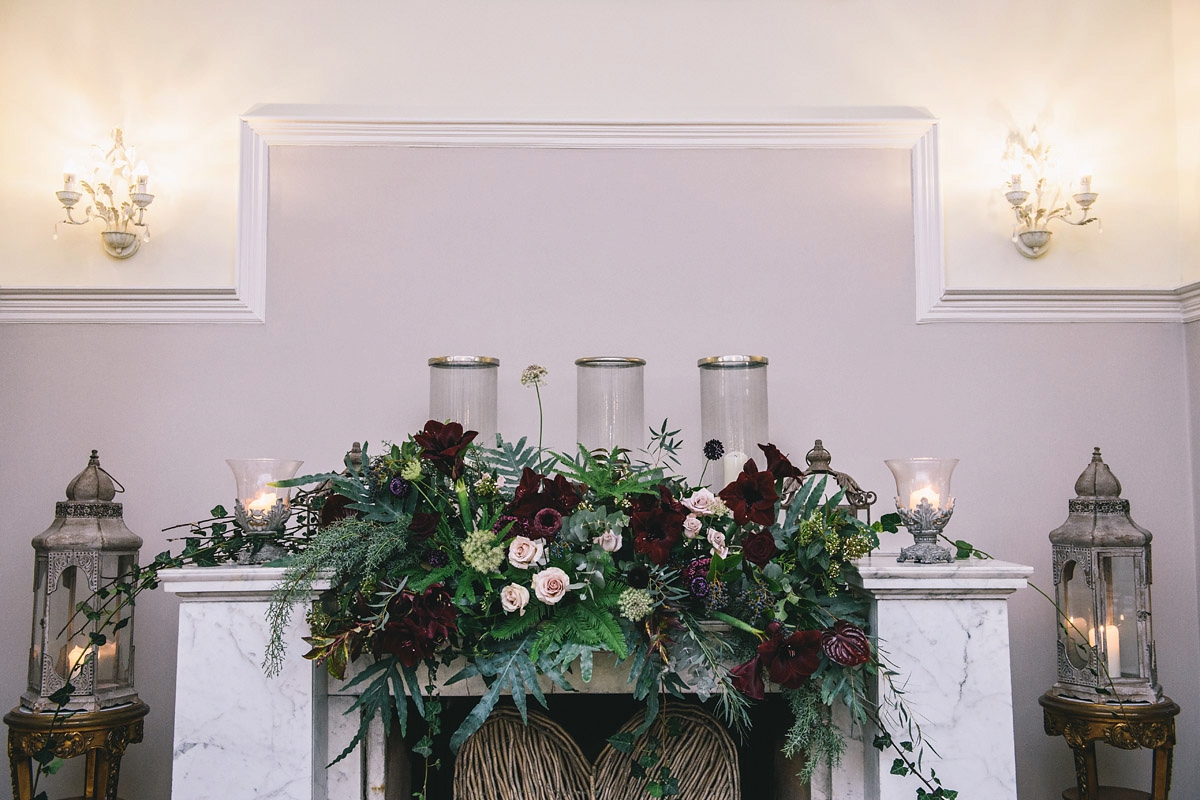 The beautiful four-tiered cake was made by friend Dot as a wedding gift and for favours, David and Laura donated to Parkinson's UK and Cancer Research UK.
"Our stationery was designed by Victoria's Paperie.  Vicki was fantastic to work with and had loads of ideas for us. We were really happy with all of the stationery and it looked great on the day."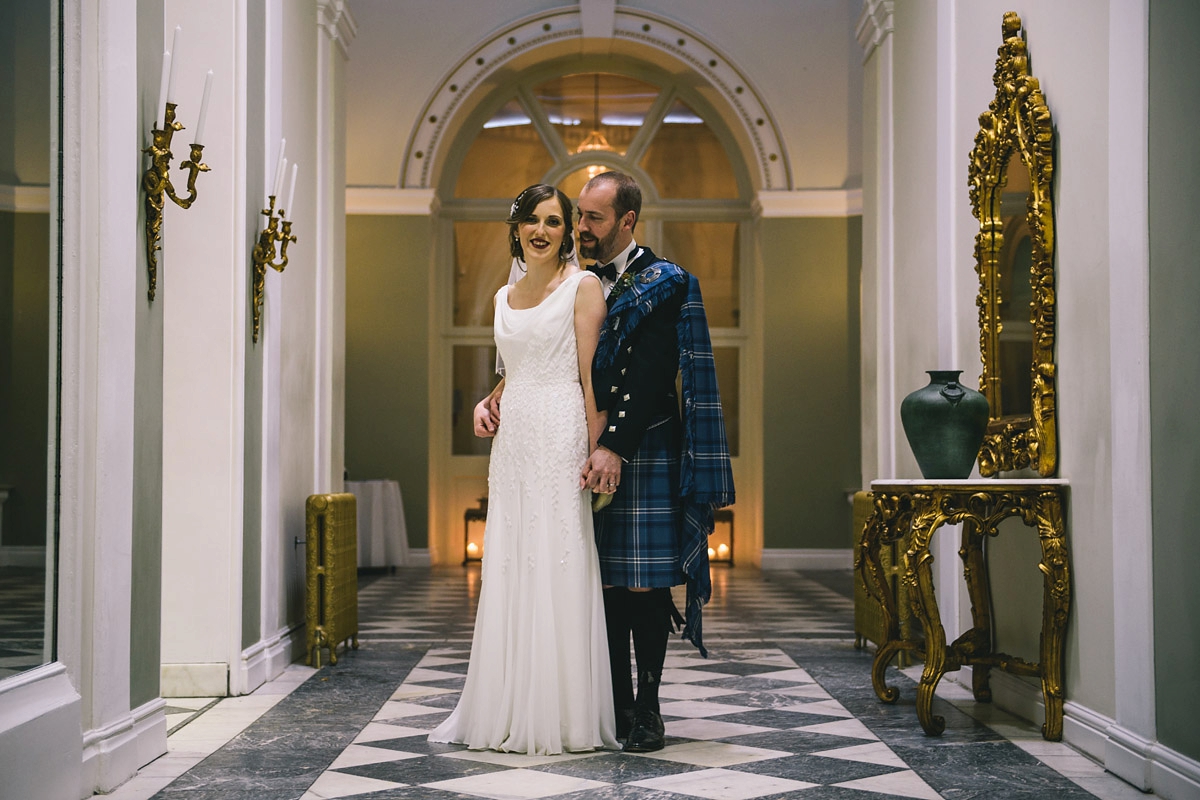 Livewire kept the dance floor full and everyone entertained throughout the evening.
Words of Wedded Wisdom
"We only had six months to organise our wedding so it felt like there were a lot of decisions to be made in a short space of time."
"My advice would be to try not to obsess over the small details as whilst the finishing touches are lovely, saying 'I do' and spending time with your family and friends is what you will remember the most."
So many thanks to David and Laura for sharing this beautiful and sophisticated day.  I do love a winter wedding- there may be less daylight but there isn't any less glamour and the celebrations are certainly no shorter!  Take a look here for some more gorgeous winter wedding inspiration.
Much love,
S x