Happy Tuesday gorgeous ones! Don't you just love it when a plan comes together? Especially when it's one of what Instagram and Pinterest dreams are made of. Today's wedding is exactly that and I'm thrilled to be sharing this bride and grooms Oxfordshire nuptials with you…
Our bride and groom, Peter and Rebecca, said their I Do's on 2nd September 2017 at a local church and reception venue close to Rebecca's home town of Great Milton, Oxfordshire.
"The church was quite personal as it was positioned where I grew up and where my parents still live. It was important to us that our guests had a great time and we wanted everyone to feel relaxed throughout the day. We chose to have a marquee reception in a neighbour's field a short walk from the church where we held the service. We also tried to source the majority of our suppliers from the local area."
Images by Andrew Brannan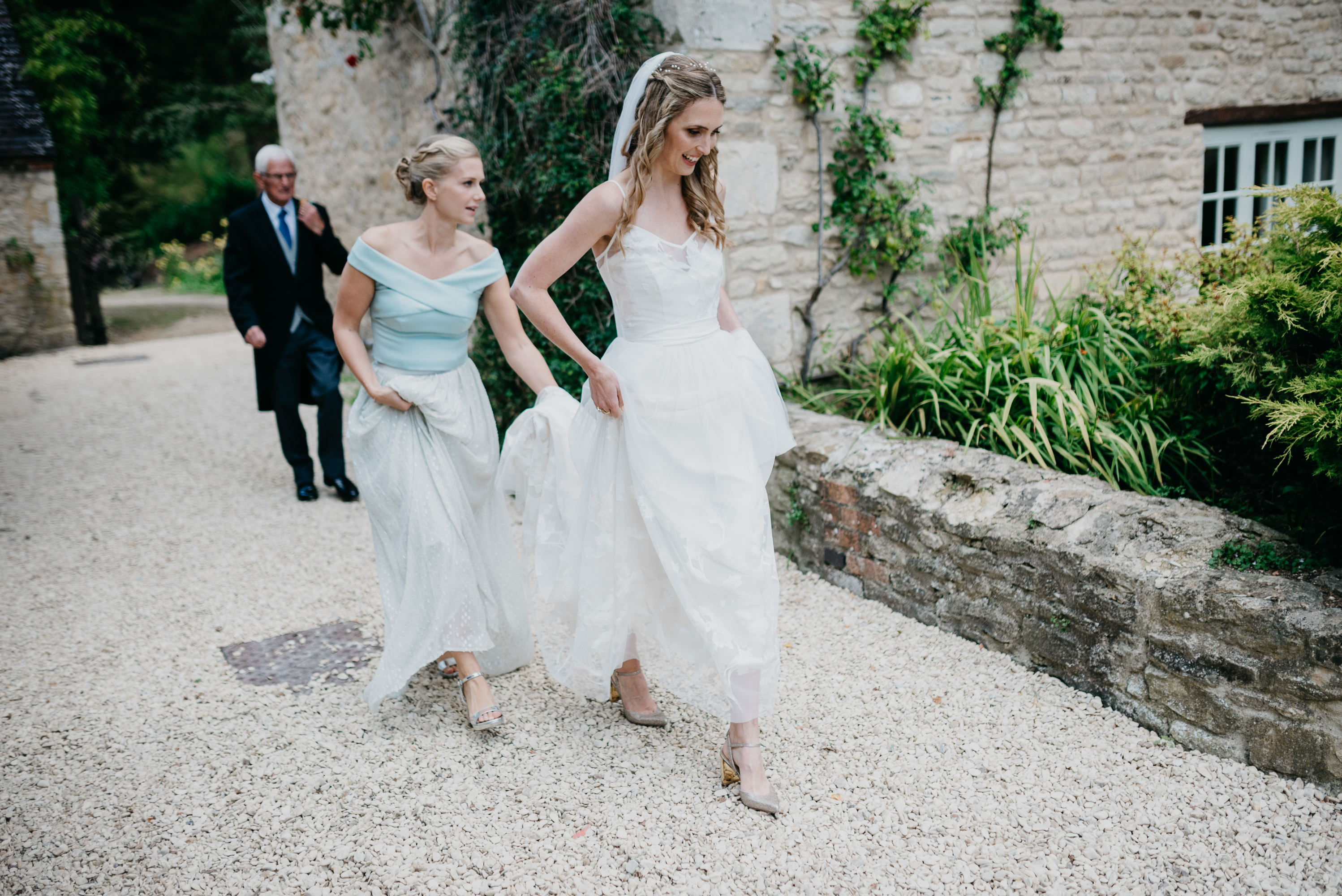 With Rebecca struggling to picture herself in a wedding dress, she went on a wedding dress hunt to see which styles she felt most comfortable in. Eventually settling on a simply stunning white Naomi Neoh with a sweetheart neckline, she knew she'd made the right choice as soon as she tried it on.
"I didn't really have any idea as to what type of dress I wanted. All I knew was that it was really important I would be able to walk, dance and eat on the day. I knew I'd found the right dress when I felt truly comfortable and couldn't pick out anything I didn't like after visiting Naomi's showroom."
"Naomi's team were brilliant and extremely helpful. Naomi tailored my dress herself and she was a pleasure to work with. I chose the Evie under dress with poppy over skirt and top and long single veil to add a bit of drama!"
The glam squad tending to the bride and her maids on the morning of the wedding included Chelsea at Mahogany in Oxford on hair duty, and a friend of a friend on make up.
"Chelsea was fantastic and very patient with how indecisive I was about how I wanted my hair on the day. We didn't end up deciding on the bridesmaid's hair until the morning of the wedding which Chelsea took really well and was so relaxed throughout the whole morning. All our make up was done by a friend of a friend who was fabulous in creating the look we all wanted. I don't tend to wear a lot of make up and she buffed and blended so well it didn't look too heavy on the day."
"I chose Stuart Weitzman for Russell and Bromley shoes. I knew I didn't want white shoes and I wanted to be able to wear them all day long (and through all the dancing!)."
"I chose a block heel design as I don't wear heels that often and these were the perfect height. I didn't take them off once!"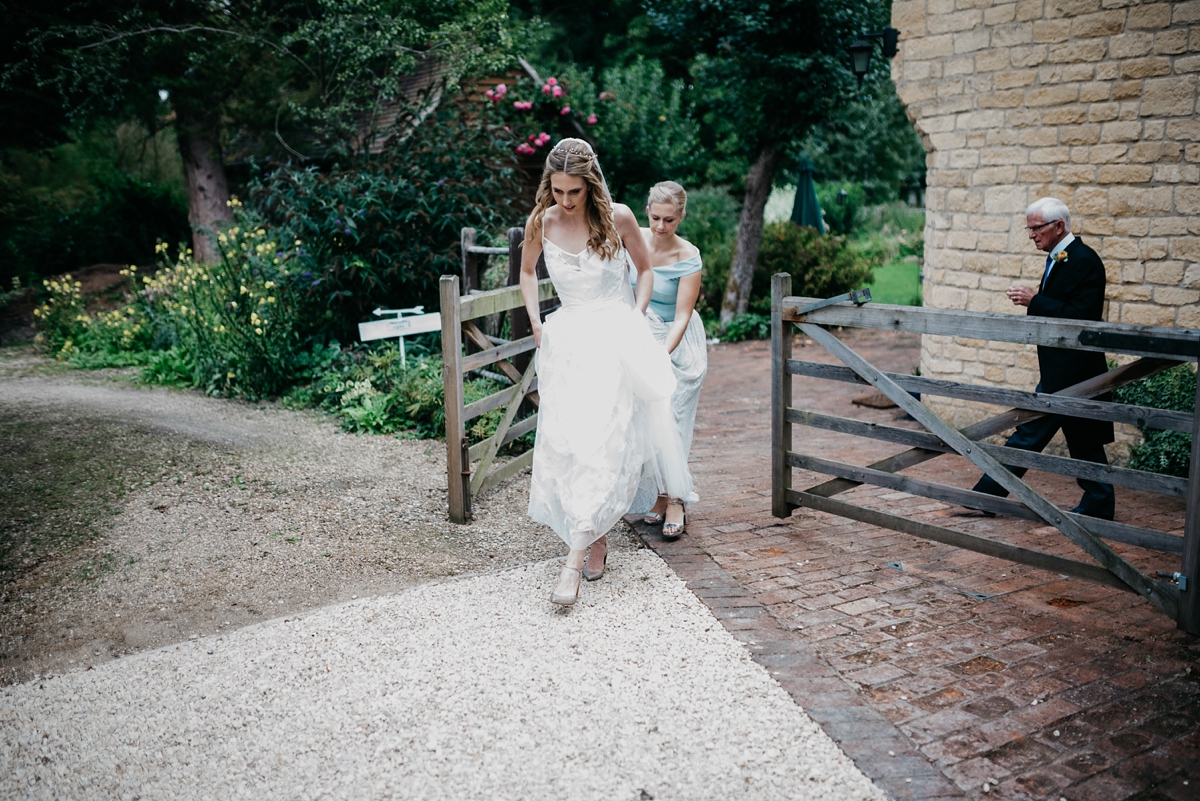 Rebecca also accessorised with earrings from Casa Limes and a delicate floral headpiece made by a friend, both of which polished off her bridal look perfectly.
"I was keen to find some earrings that were unique and would be a great momentum from the day. I found jewellery designer Casa Limes on Instagram after they had a stall at a craft fair where we live in London. I chose long gold chains with small leaves on each end. My headpieces were not only beautiful but so light and comfortable to wear too. My hairdresser was able to pin them in easily and they stayed in all day."
To help bring Rebecca's gorgeous pastel and greenery vision to life, she enrolled the help of florist Johanna Carter.
"I had a good idea of what I wanted the bouquets to look like; mixed flowers and a lot of greenery. Joanna was able to take my ramblings and provide us with exactly what we wanted. The green garlands that Joanna and her team put up on the marquee posts looked brilliant. I loved the pampas grass too which was a little reminder of my grandparents who always had it in their garden."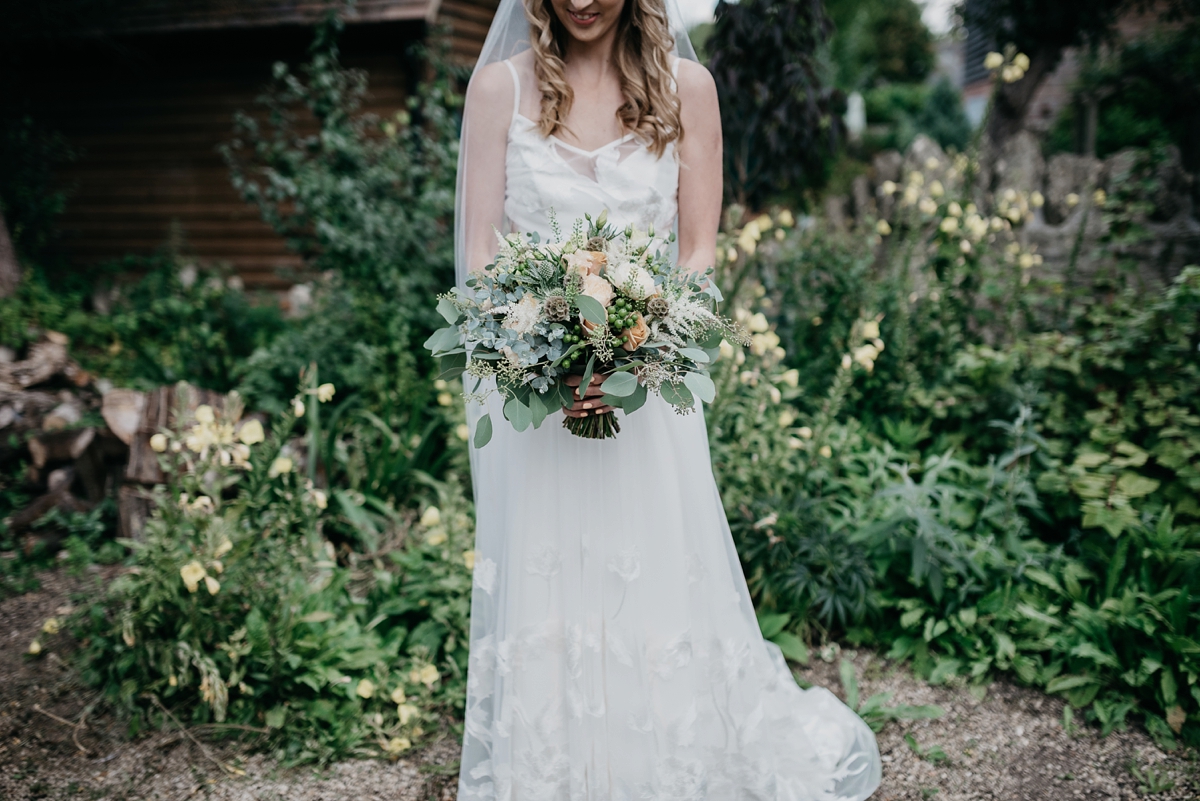 When it came to her best babes looks, Rebecca's main priority was that they were comfortable. Their tops came from Coast and skirts from Needle and Thread, and they each wore their own pair of shoes.
"I started looking at ASOS for inspiration and had a fairly open mind whilst knowing my bridesmaids would suit similar colours. I found that I was being drawn to earthy tones and stumbled across the Coast top first. I then found the skirts which were a slightly softer green. The finished look felt like a good balance without looking too formal. I had a lot of lovely comments from guests on how good they looked."
"They also wore their own earrings and I got them both delicate bracelets from Liberty in London as a thank you present. I was chuffed they liked them enough to wear them on the day."
To compliment the bride's wedding look, the groom wore a 3-piece morning suit with contrast blue waistcoat hired from Neal and Palmer in London, with the groomsmen suits also coming from the same place.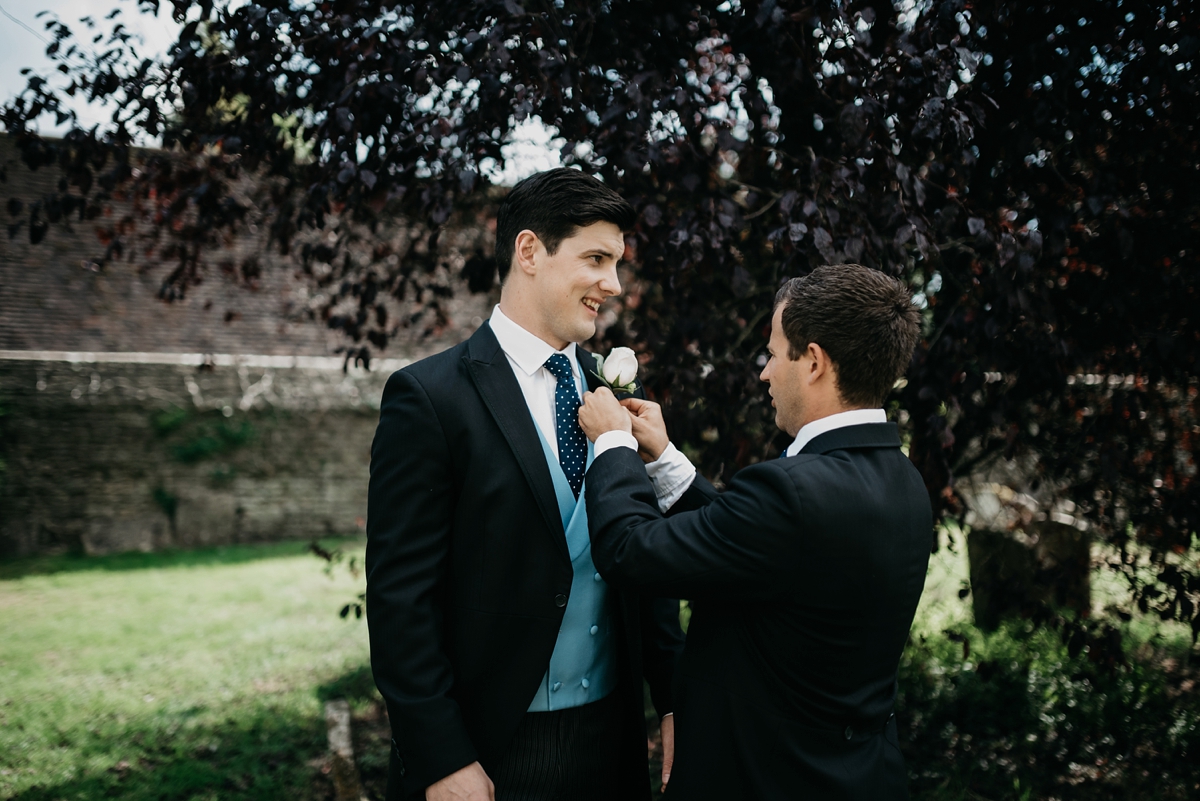 Rebecca walked down the aisle with her dad to the sounds of Barry Louis Polisat from the film Juno (a subtle nod to the film Peter loved when they first started going out together). They chose a non-religious ceremony and chose lyrics for their reading, I'm Sticking With You by The Velvet Underground.
"Our favourite part of the day was having a couple of minutes after the wedding service to ourselves. The service went by so quick it was great to have this time to take everything in."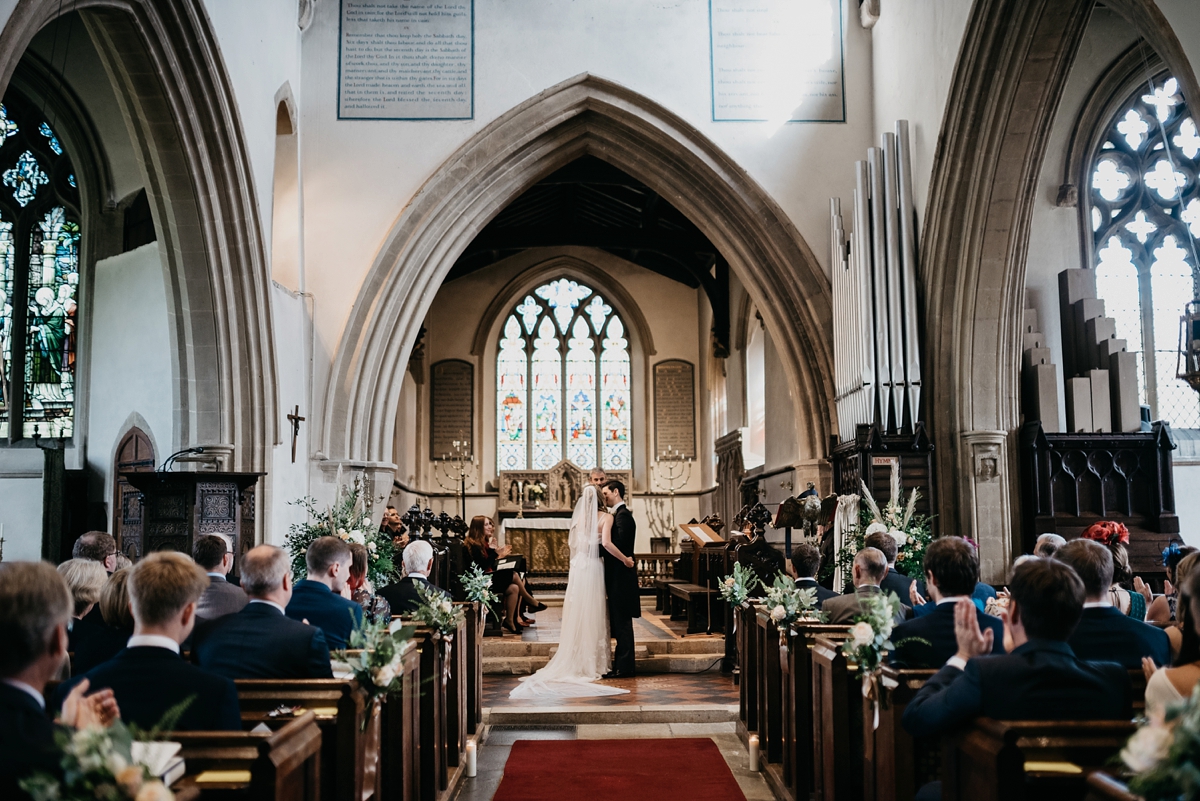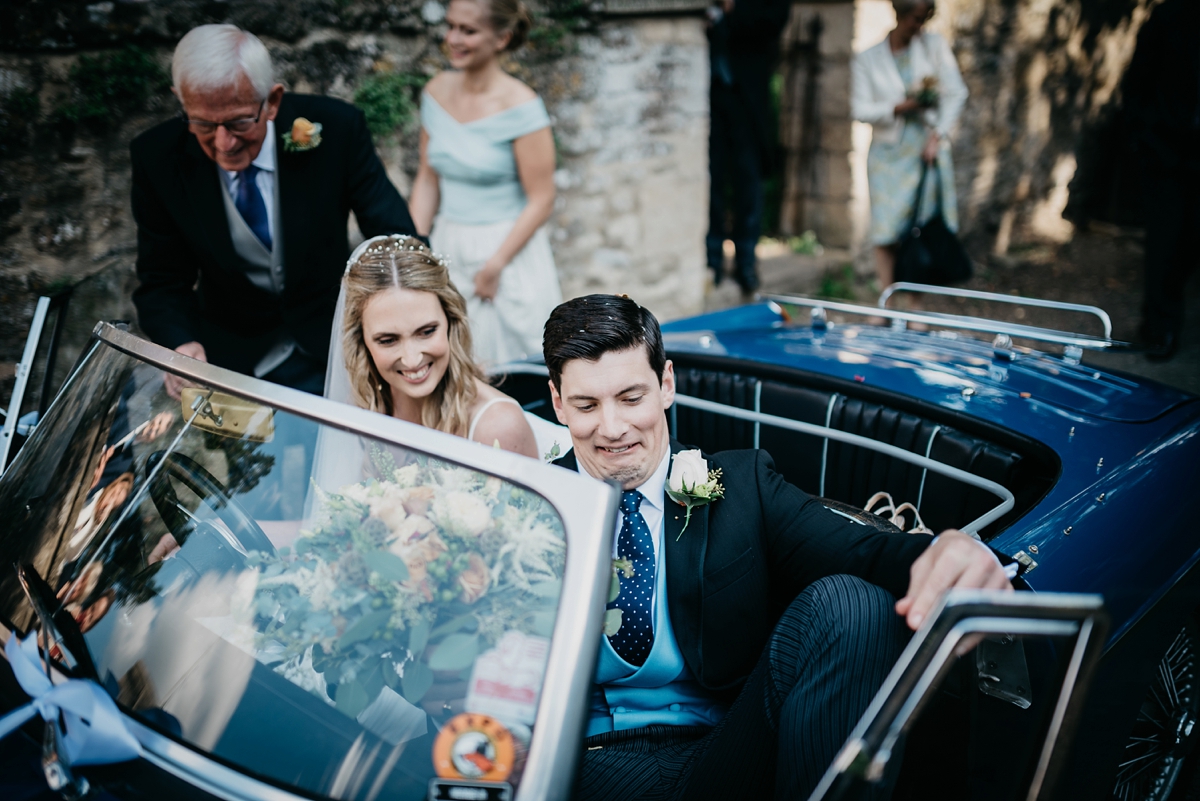 The church's gorgeous location was burrowed deep in the Oxfordshire countryside with beautifully green forested surroundings, a location to put any wedding photographer in their element. After discovering photographer Andrew Brannan at a friend's wedding in 2016 and being so impressed with his work, it was a no brainer that Peter and Rebecca would recruit him to capture their big day on camera too.
"After seeing his work we knew he was a talented guy. We spoke with several other photographers but Andrew was the easiest to talk through ideas with and was open to our suggestions. We wanted our relaxed approach to come through the photos and Andrew surpassed all of our expectations. He was discreet but able to capture those key moments that bring back such great memories. If you're camera-shy, we would definitely recommend doing a pre-wedding shoot with Andrew. We were able to get to know Andrew and ultimately relax more on the day too."
The marquee where the wedding breakfast was held was a total Pinterest dream; from the soft grey table linen, to the on-trend wooden chairs and green and white hanging garlands. It was a vision that came to life in every way, even down to the subtle gold arrow shaped place name holders, all tied together with the pastel and green floral table centrepieces. The couple decorated the marquee themselves after looking on Pinterest and creating mood boards.
"I had the idea to create miniature lanterns to hang inside. I found a basic pattern online and set about making them by hand. I used two colours, green and white, which continued our relaxed, countryside theme. It was a bit of a rush to make 400 (!) of them but they looked so good that in the end it was totally worth it."
Each guest was gifted a miniature jar of chilli jam to take home with them as their favour, all made by Rebecca's very own mum. They were served with rave reviews and with none left on the tables by the end of the evening, I think it was a sign they were more than just enjoyed, but devoured!
The couples delicate handmade stationery, including invites, a menu, place names and order of service was a personal affair.
"I got my dad to do a sketch which was also used for the Order of Service. To get these printed I took them to a professional printing company, The Mayfair Printing Co, near to my office. They were really helpful and we were so pleased with the final product."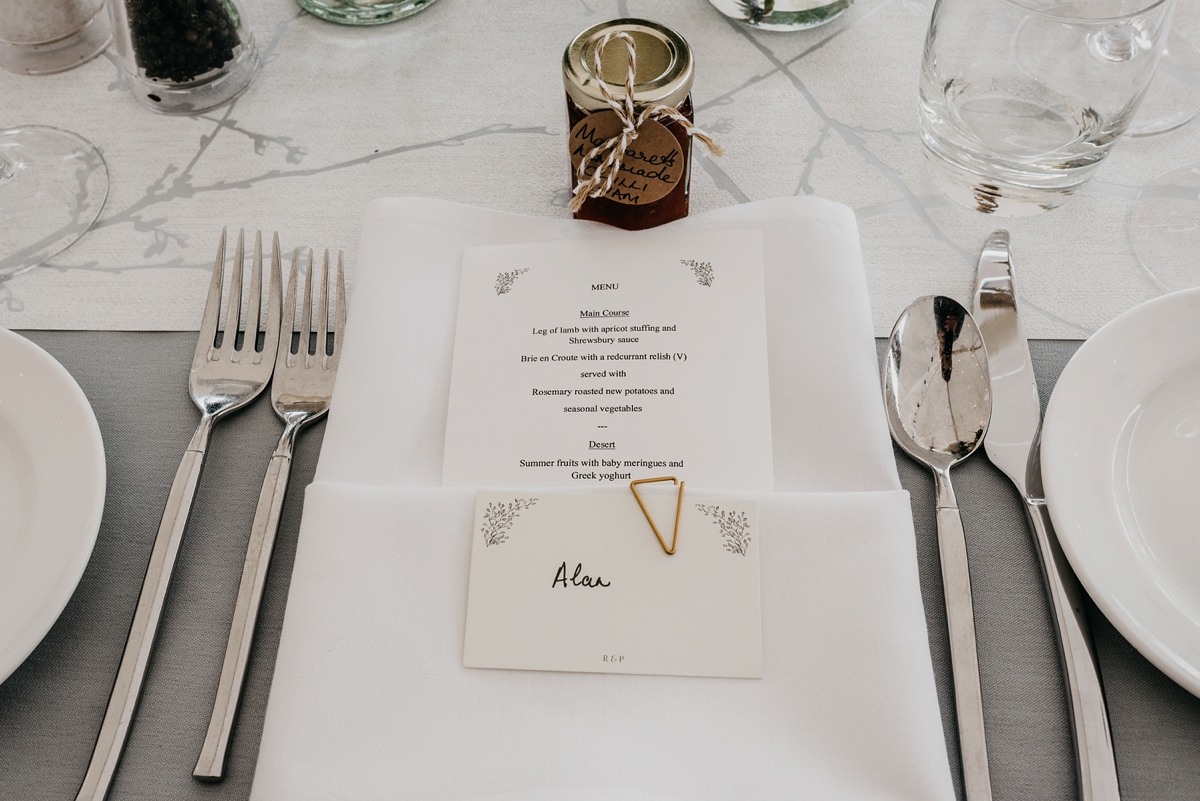 The wedding cake was made by Jenny North Cakes.
"I contacted Jenny a little late but luckily she lived not far away and was able to slot us in. We couldn't have been happier with the cake. We chose three flavours; Victoria sponge, red velvet and lemon drizzle and asked Jenny to cover the cake in butter icing. She then adorned it with some fresh fruit and chocolate on the top layer. It tasted divine and there wasn't much left by the end of the evening!"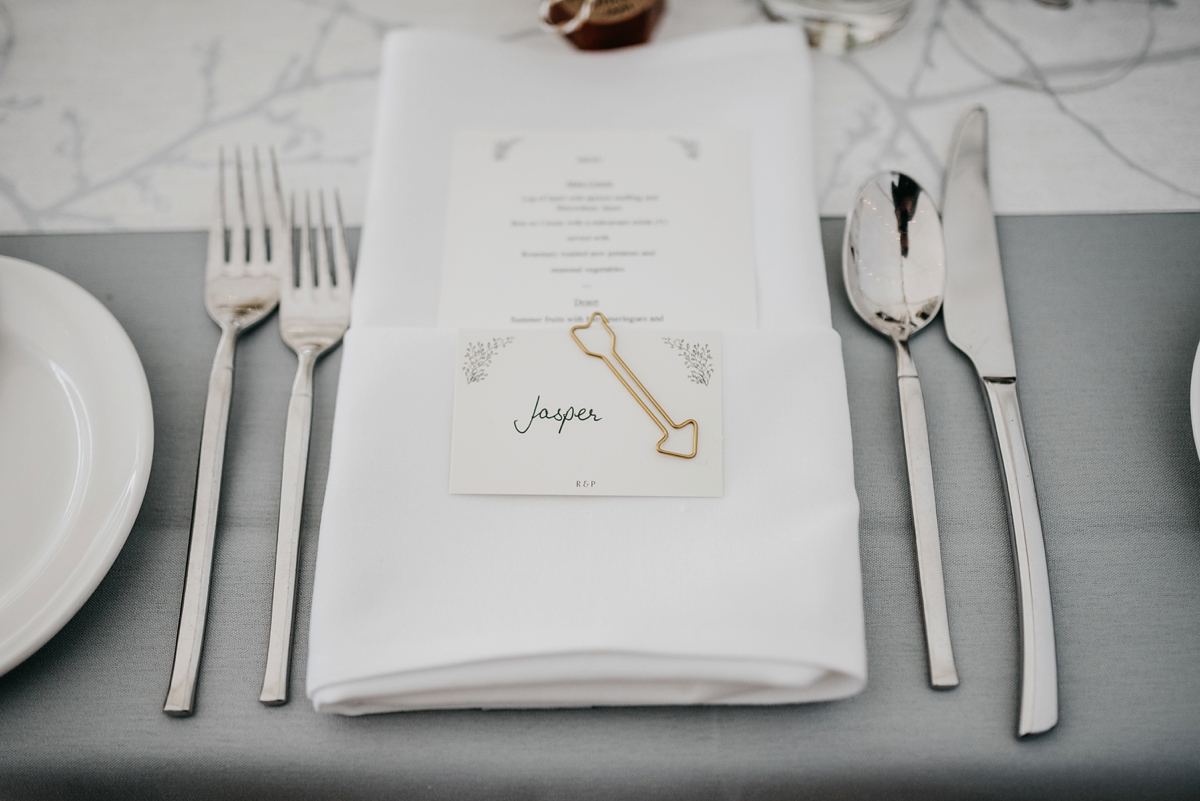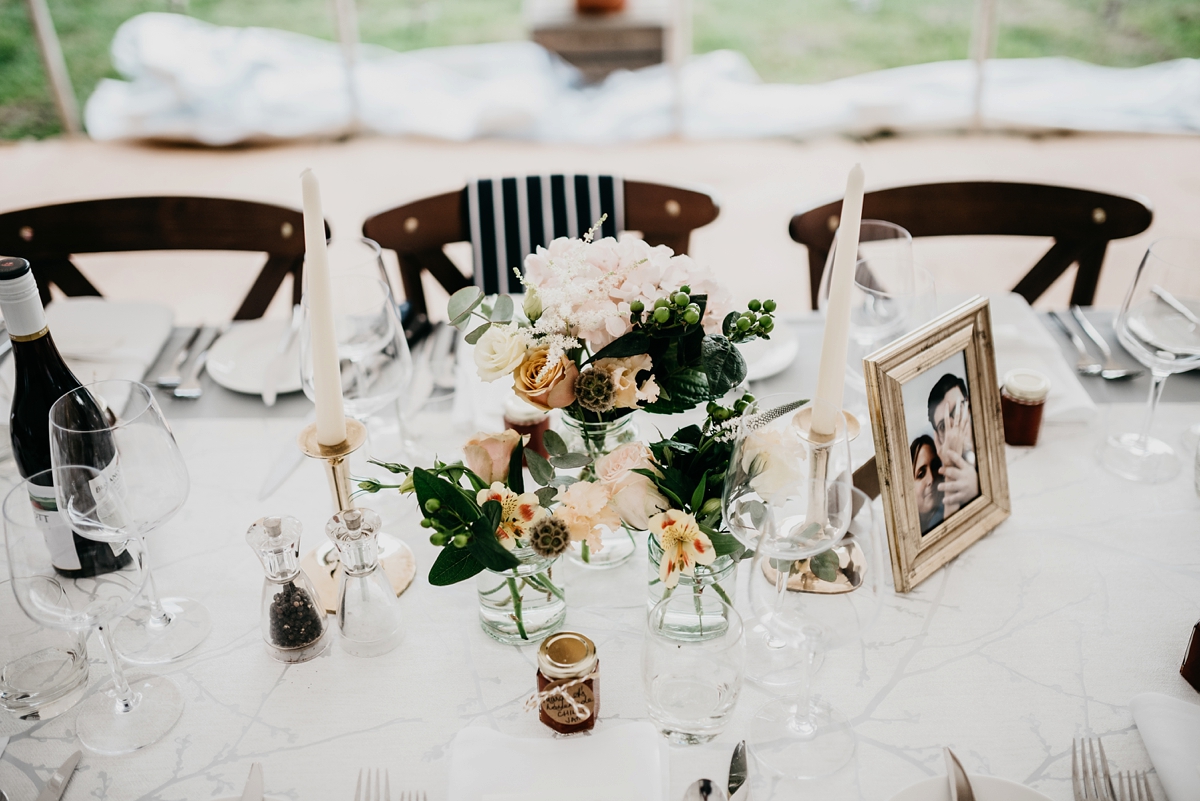 Having been recommended Jayne Clark Catering by others who had used her locally, Rebecca knew the day's catering would be in good hands.
"Jayne was brilliant and her expertise meant that we didn't have to worry about briefing her on the day, except from giving her key timings. We had a choice of canapés to start, followed by roasted lamb joints which were carved by our own guests. For dessert we had mini meringues with summer fruits and the most divine Cornish greek yogurt, which fooled everyone into thinking it was clotted cream!"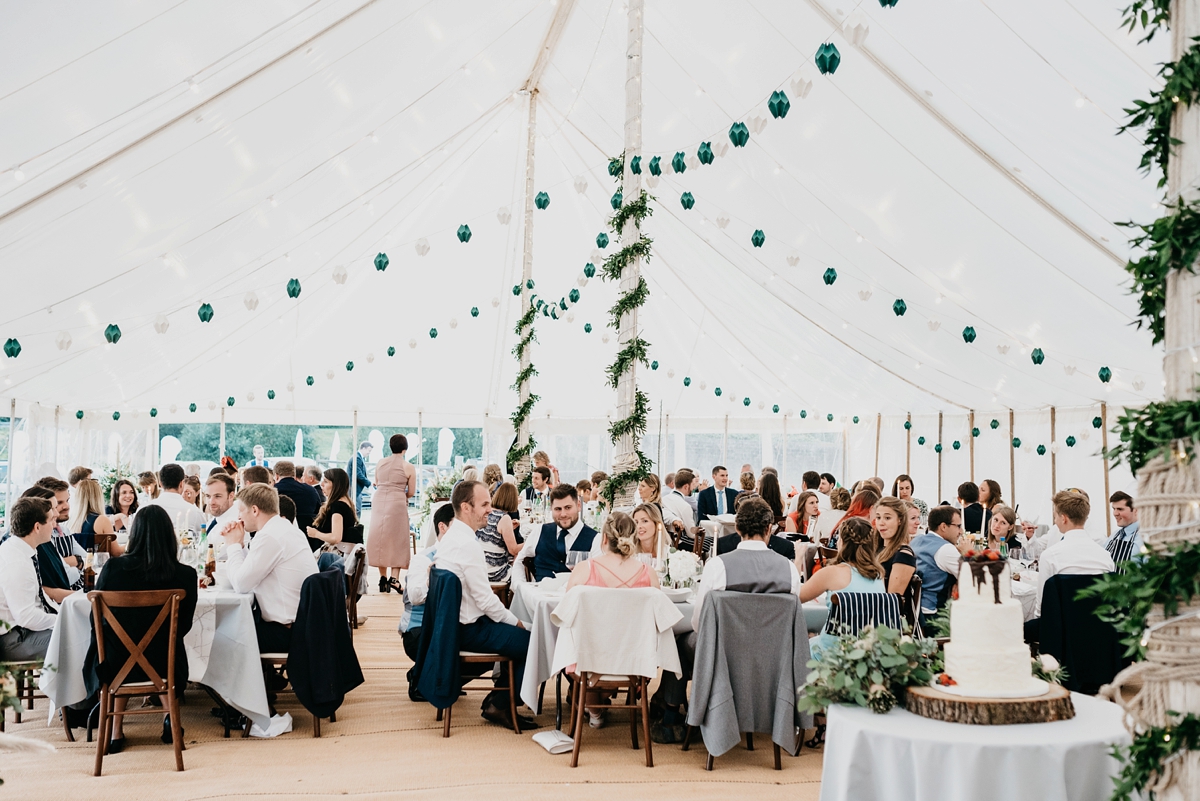 Following the wedding breakfast, the couple's band Pop Rocks kicked off the party.
"We trawled the Internet for an age looking for the right band I can't remember how many times we listened to Get Happy on various websites which wore thin quite quickly. The band we finally chose showcased a variety of songs on their website including a great version of Justin Bieber's Sorry – we were sold! They were fantastic on the day and kept everyone going on the dance floor 'til the early hours of the morning."
Words Of Wedded Wisdom
"My top tip would be to take everything in your stride. There are lots of things that are outside of your control and you'd be lucky for everything to go to plan. Make sure you enjoy the day! Put trust in your suppliers and ask them for their advice along the way."
"I wrote a list of pretty much all the jobs we would need to do, right up to the day before. This helped spread everything out and set deadlines to get everything done."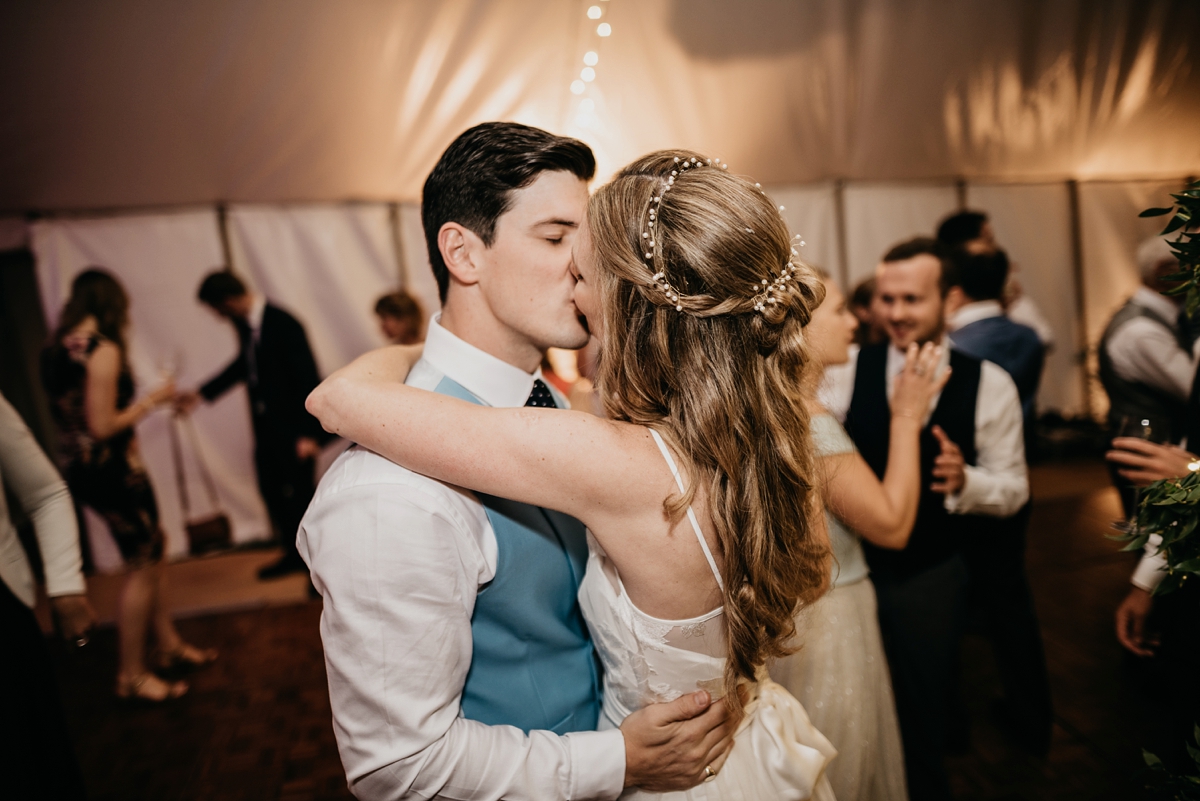 Congratulations to our new Mr and Mrs! And huge thanks to the amazing Andrew Brannan for sharing these absolute beautifully ethereal images with us.
Until next time…
Much love,
Holly x