The past few days have been a bit of whirlwind for – my husband Philip and I arrived in London late Saturday ahead of a full day at the White Gallery. For those of you know in the know, it's that time of year when bridal fashion designers in the UK launch their new collections.
White Gallery is the big trade event that takes place at this time (where designers exhibit to buyers and members of the press). It's an event usually held in May, but this year, the organisers have shaken things up a little by bringing everything forward by a couple of months (cue much last minute panic on behalf of designers who've had to prepare their new collections in super quick time). In addition to this, one of my favourite designers ever, the incomparable Jenny Packham, who for years now has launched her bridal collections at New York Bridal Fashion Week, chose to launch her new collection in London.
This was a huge bonus for all those attending bridal fashion week but a huge moment for me personally. I was a Jenny Packham bride myself nine years ago this month – Jenny is a huge inspiration to me not just as a designer but internationally accomplished business woman, and yesterday, I got to meet her for the very first time.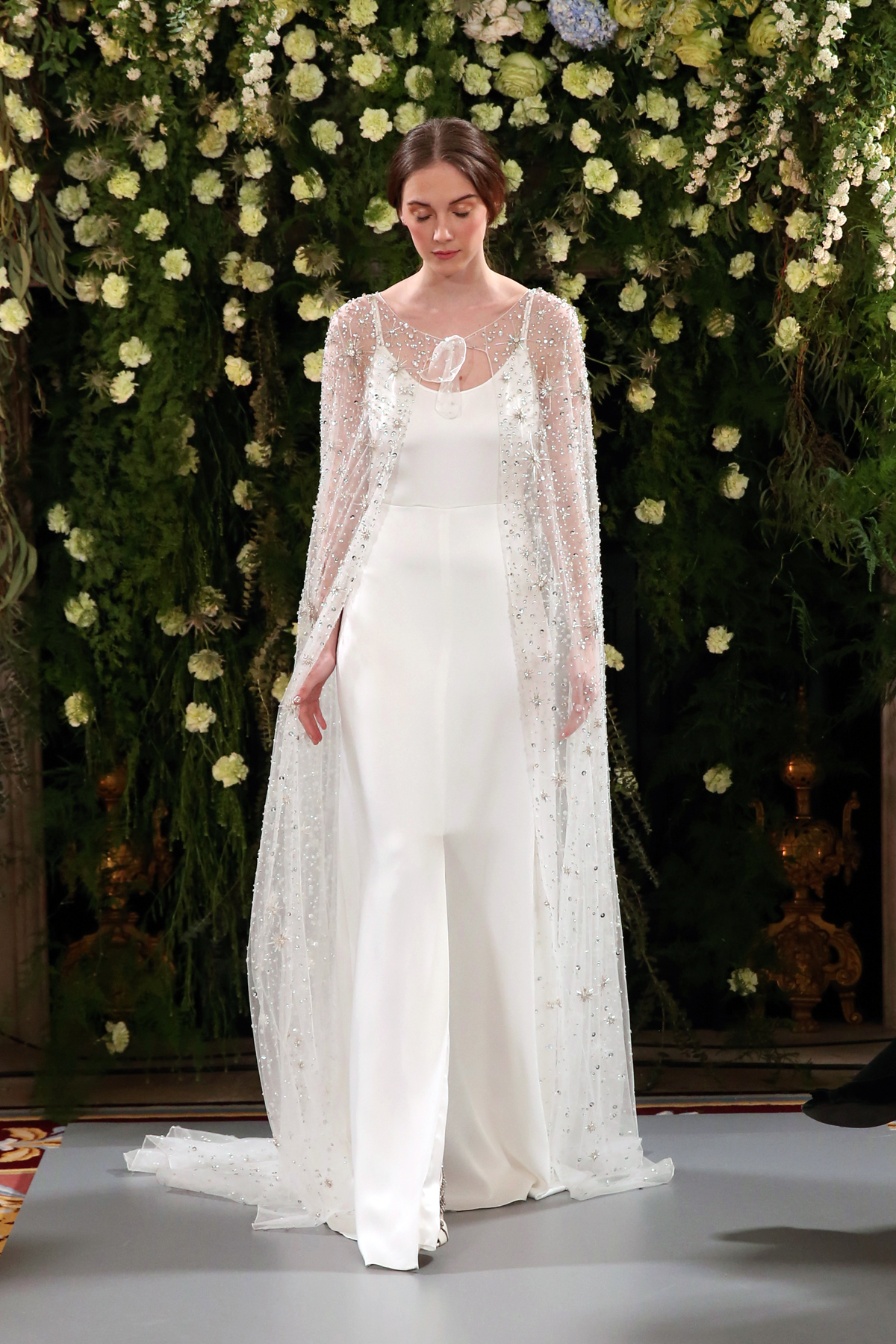 Jenny chose to debut her 2019 bridal collection in the truly impressive and most exceptionally beautiful 'Music Room' at The Ritz hotel in London, as here guests were served the most delicious afternoon tea. I can confirm the cakes were out of this world.
It's 30 years since Jenny launched her fashion brand and so it felt symbolic that she'd chosen to mark this most special occasion by coming 'home' to launch her latest bridal collection. It's an impressive feat to still be at the top of your game after all that time – and these gowns did not disappoint.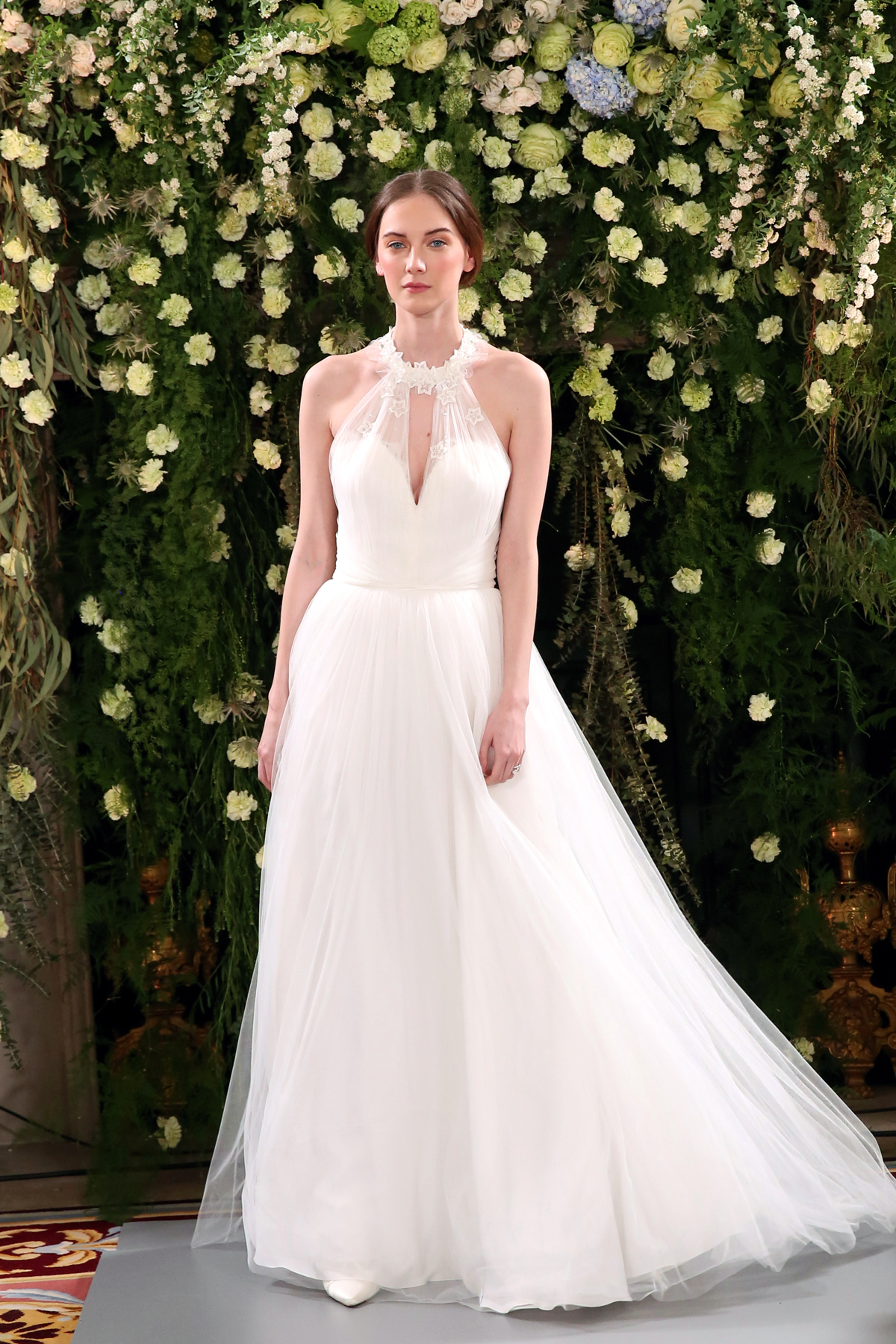 The dresses themselves boasted all the usual Jenny Packham hallmarks of design; sumptuous, light and floaty fabric that simply glided across the catwalk, and delicate, impeccably hand applied embellishment that brings that effortless sense of luxury to all of Jenny's gown.
But there were some wonderfully charming and fun elements to this collection that balanced the whole vibe out to perfection, like this cute leather jacket, handpainted by London based artist, Magda Archer, know for her colourful and kitsch artworks that are inspired by her collection of popular culture paraphernalia.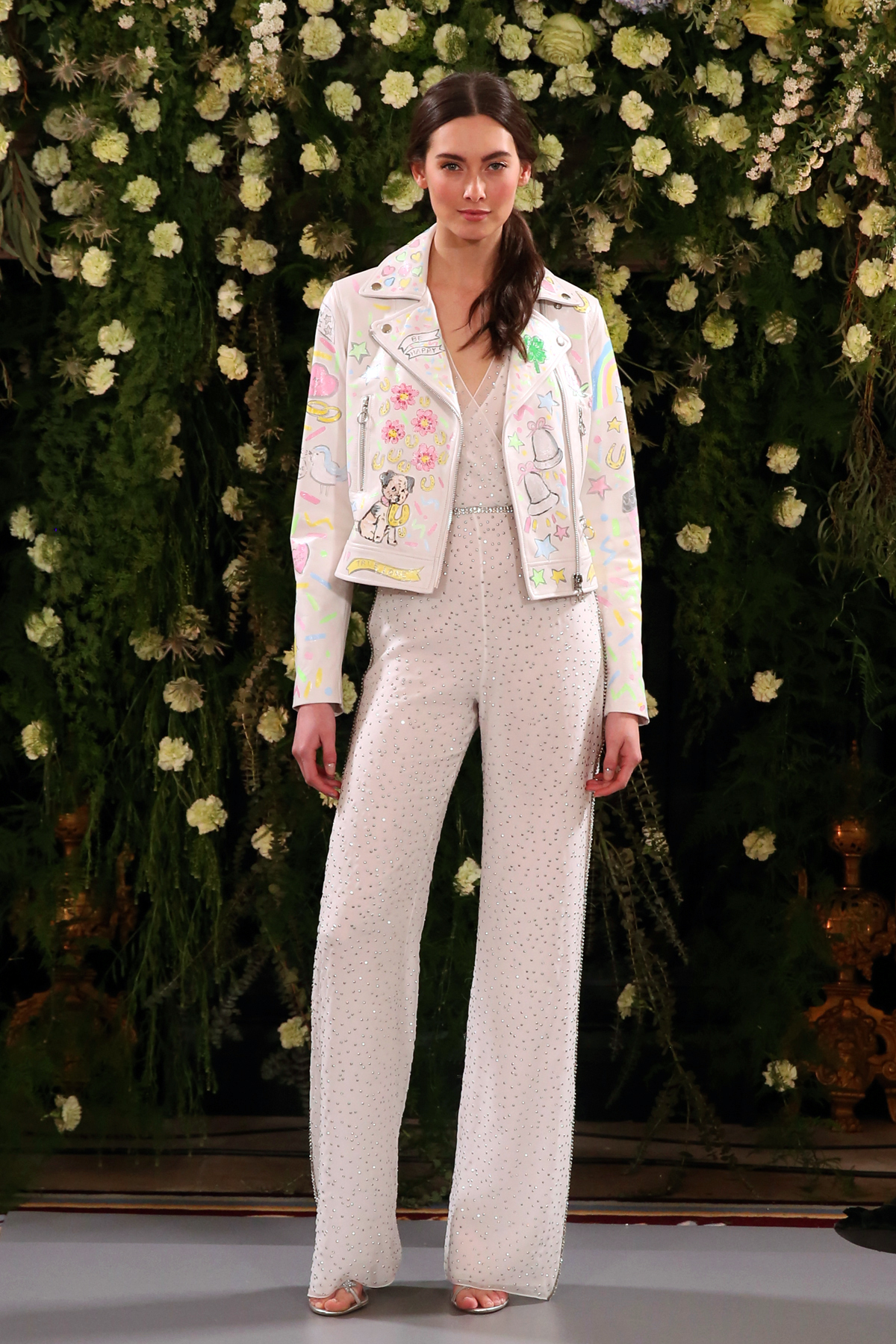 We were in fact sat on the same table as Magda and Jenny's husband Matthew and so got a great opportunity to chat about the collection and this genius jacket.
I genuinely love this collection – it oozed an abundance of 1920's meets 70's glamour. F. Scott Fitzgerald was quoted in the press sheets, referencing the heady, insouciant elegance of those 'bright young things' of the 1920s. The collection also pays homage to the Club Studio 54 inspired glamour of the 70's with metallic sequinned pieces, bejewelled halternecks and sparkling trousers.
"Men and girls came and went
Like moths among the whisperings
And the champagne and the stars"
– F. S. Fitzgerald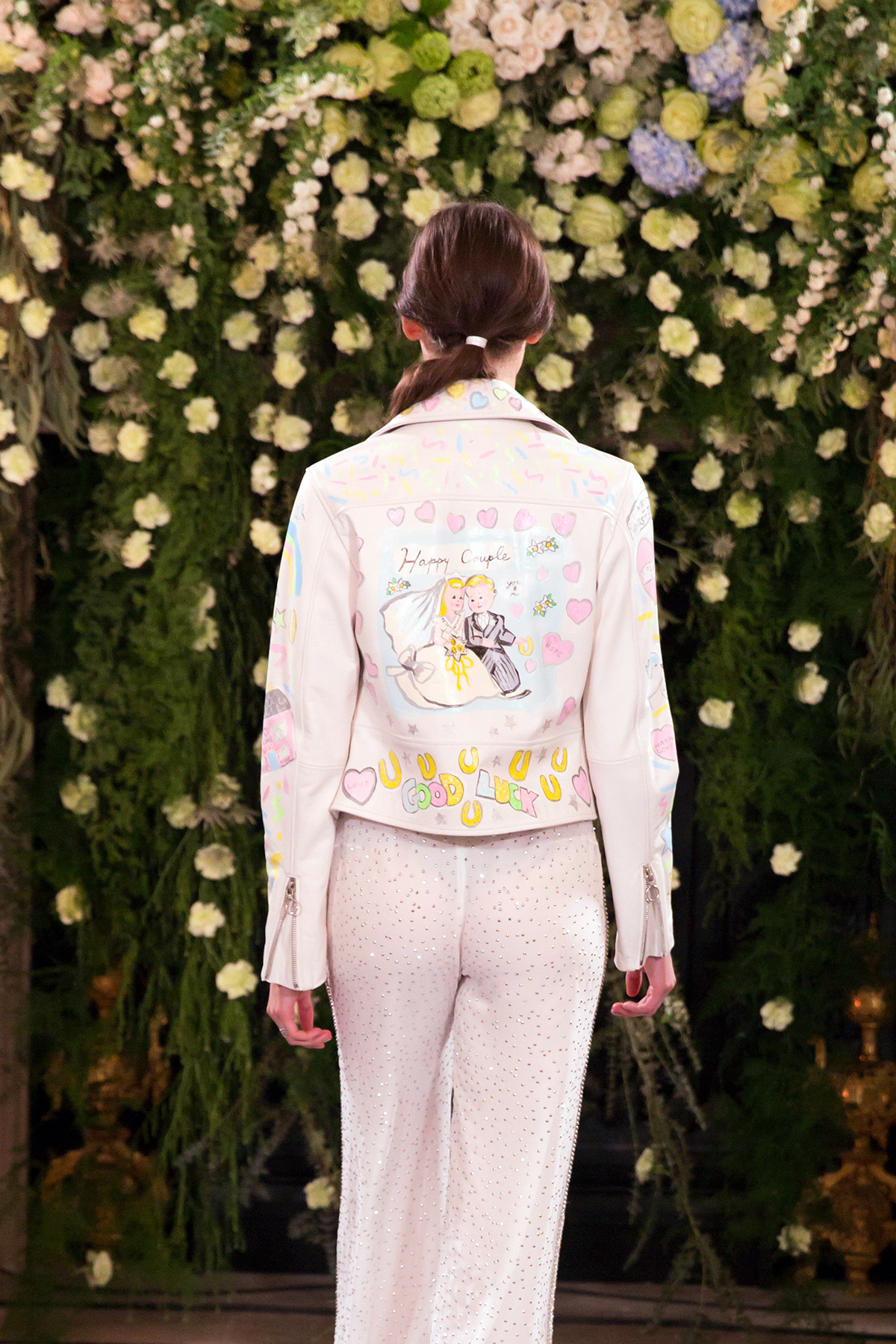 Jenny, by the way, was absolutely lovely, as was her husband Matthew, and her entire team. Everyone made us feel very welcome and we really appreciated that Jenny took the time to come and talk to absolutely everyone on a one to one basis after her show, which was a really special treat. I'm not convinced she wasn't exhausted after the show itself, but if she was, you would never have known. She looked the epitome of effortless cool.
I'm still her number one fan girl nine years later. And that isn't going to be changing anytime soon.
I'm keeping my fingers crossed that it won't be long before one of these beautiful gowns is gracing the pages of Love My Dress in one of our real weddings.
In the meantime dear readers, you all need to know that the 2019 Jenny Packham bridal collection will be available from all the best Jenny Packham stockists from Summer time.