Hello you lovely lot, may you be enjoying your Sunday with your love one and maybe finding time to squeeze in a spot of wedding planning along the way.
Primary school teacher Katharine married film producer Phil on 29th July 2017 at London's waterside venue Trinity Buoy Wharf The Chainstore. Katharine looked utterly gorgeous in a 50's inspired gown that was actually made by her very talented mum (who also made the bridesmaids and flowergirl dresses). She completed her look with hair and makeup by our very own Little Book For Brides member, Goshka Topolska of Lipstick and Curls.
"We're such a London couple. We both hail from Walthamstow, our school's are London, our friends in the most part are from and still reside here – yet between us we've yet to set foot in a London wedding. It just felt right to exchange vows in a location that felt connected to London's past, to travel beyond the city, to old lady Thames. We saw nowhere else, and knew straight away. How right we were. We planned the wedding guided by our caterers, Martin and Sara Saxon of Tasting Plates."
Photography by Joasis Photography
Now usually, it's the bride  who complete's our questionnaires that help us compile each feature – but on this occasion, the groom has joined his wife in sharing his views and experience of the day. His replies made me smile and giggle in equal measure. Enjoy this gorgeous wedding as much as I have folks…
"I was lost. Phil, that is. Three years chasing the underwater dream as a diving instructor and underwater cameraman had me both fulfilled and relatively directionless and I knew an MA in cinematography would eventually kick start my career – but at 32 and watching my closest friends careers blossom I felt well behind the curve.""I took a job in my local pub in the 'Stow to help pay for my MA fees and met a gaggle of 20-23 year olds also manning the bar. One of which was an opinionated, hot-headed, quick to rile 21 year old with a wise head on her shoulders. We bantered, we debated, I stole glances at her elfin face and round bum."
"Courage was struck, dates were had, months were passed, we became much closer and before we knew it had moved in together. We headed to Edinburgh in '15, where I knelt on the battlements of a small castle in Craigmillar and popped the question. Years ago, Craigmillar was a bastion of Scottish fiefdom. Nowadays it's more kebab. But the castle still looks good. We were already six years in by that point."
"I became a film producer via many a twist, turn and stroke of luck whilst Kat just bided her time post-university and waited to start what's (for now at least) her true calling. And here we are. 39 year old foolish warrior, 29 year old wise elf. Now husband and wife."
"My suit was from The Vintage Suit Hire Company – I loved the cut and the style. It was vintage, woollen, with straight lines and in three pieces. I love straight lines, low profiles and slimmed down numbers."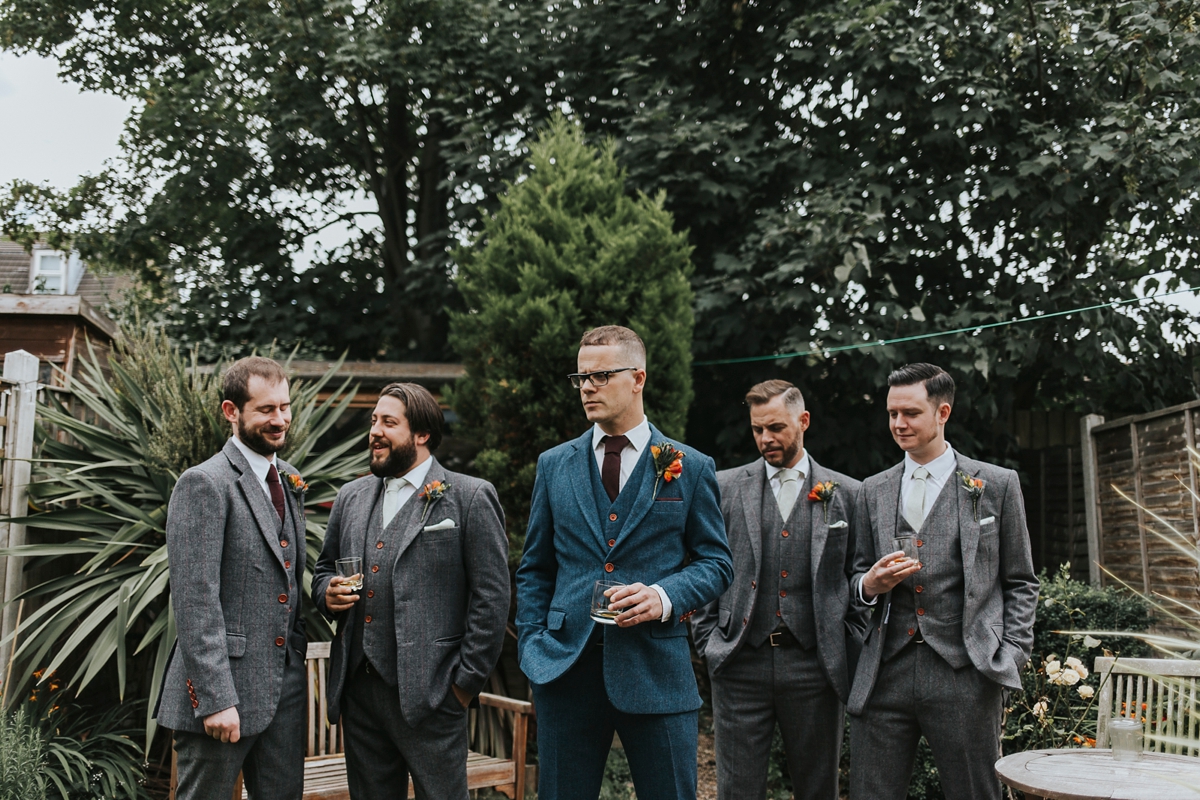 "Our florist was Petals in Bloom and our flowers tied in with the bridesmaids outfits. Each bouquet had flowers that matched the colours of the bridesmaids skirts. Then each flower was then put into the bride's bouquet. We requested for the bouquets to be slightly wild/ relaxed  and fun which is how we wanted the wedding to be."
The bride and groom designed and made the RSVPs, order of services and table quotes, whilst Falmari Paper Co. created the wedding invitations.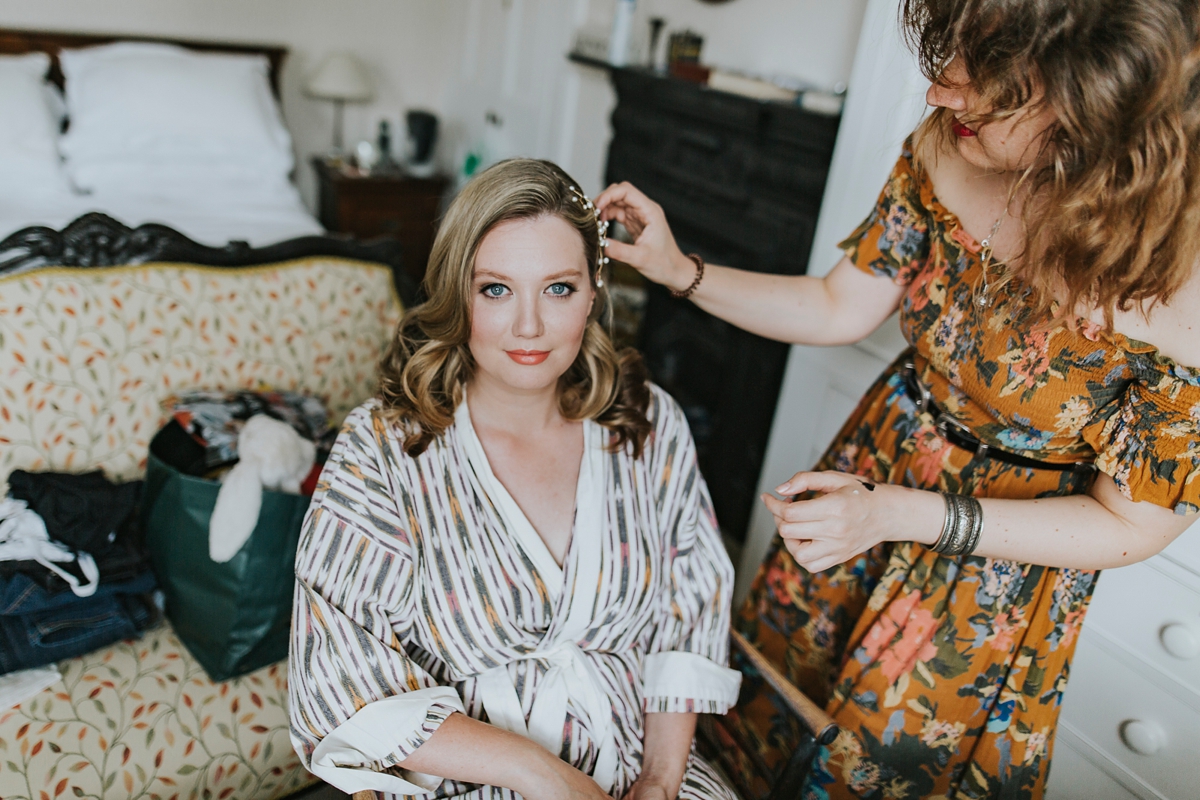 Kat teamed the beautiful dress made by her mum with a belt by Etsy based designer, Sharon Tasker.
"As Kat's mum is such an incredibly talented textiles, seaming, design and fitting expert, she wanted her to make the dress – period. 50's in look – tea length as Kat isn't rangy in height and can be a little clumsy, so no full lengths here, please. Not that it detracted from what was and is a thing of beauty. The polka dots were Kat's mum's influence – she is fun, fresh and inspired."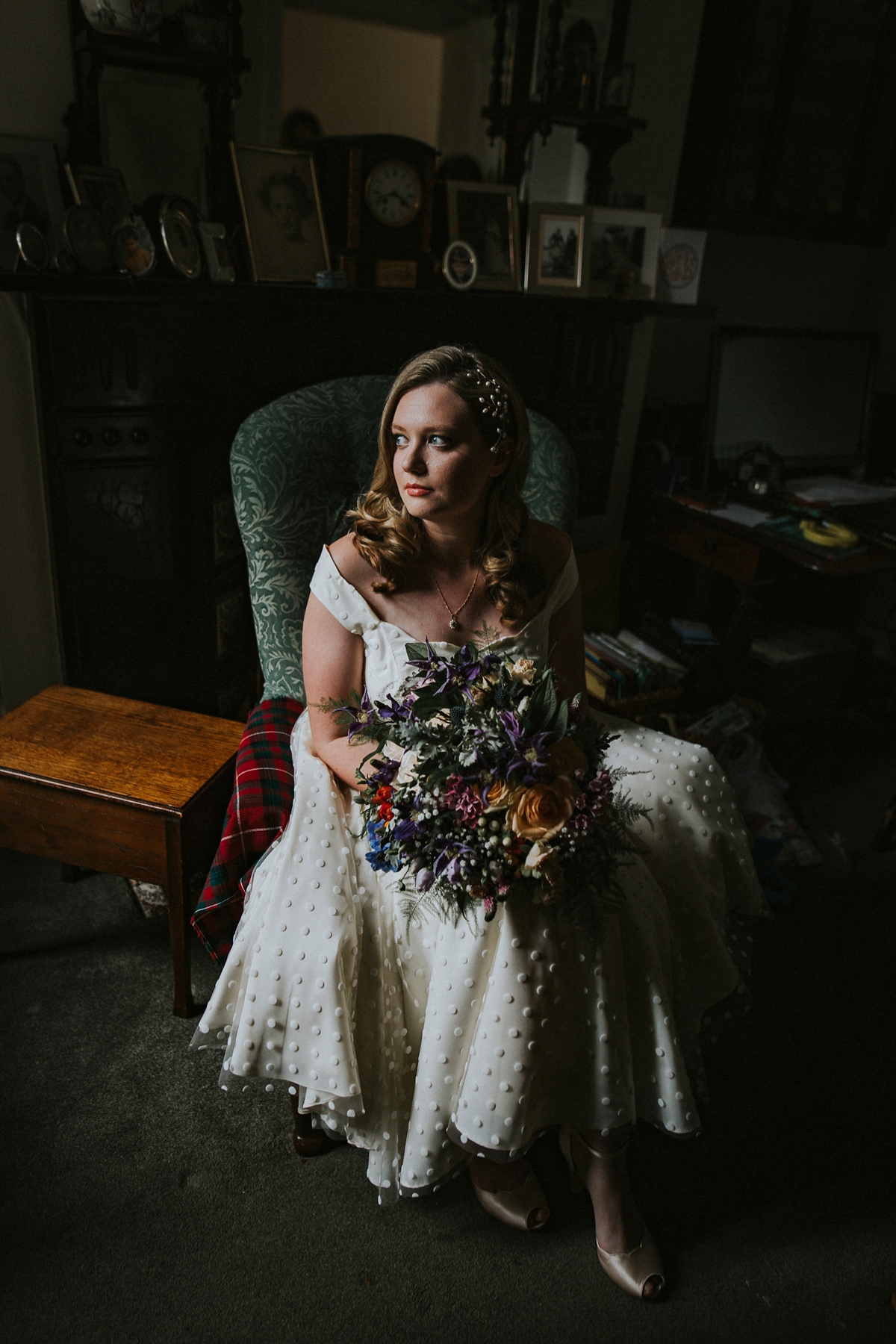 "Our photographer Joasis Photography  were an absolute pleasure. We consider Jo to be a friend, not just a photographer, and the closeness she generates is what allows her to penetrate the relationship dynamic. Her "look" and eye for the natural and unstaged led us to her – and a great choice she is/was."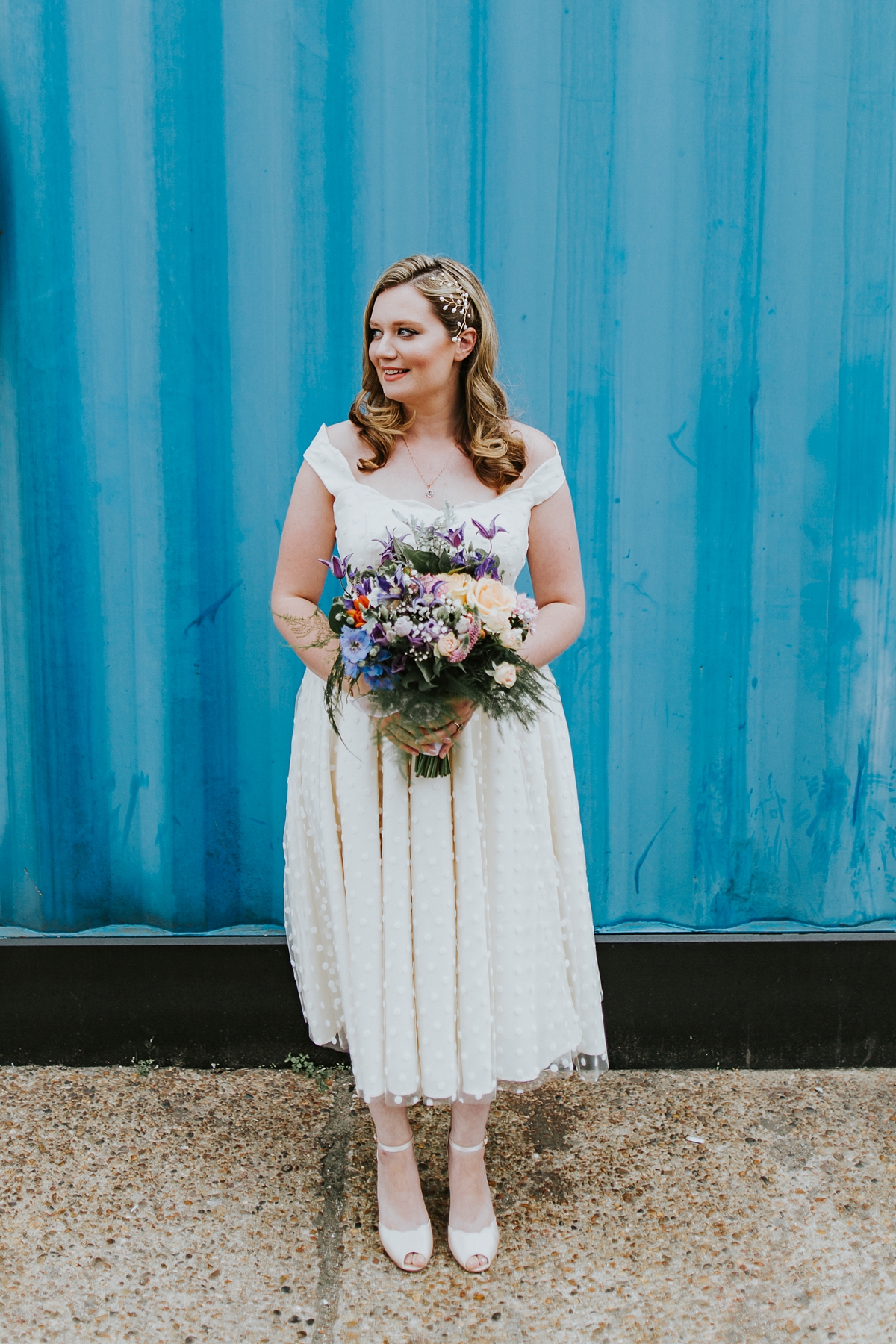 "Creme de Chevre are three wonderful musicians and all friends of ours. One of them was a groomsman who's been a friend to Phil for 37 years.  Just brilliant."
Katharine's father walked her down the aisle to the sound of 'Us', by Regina Spektor.
"Our readings included 'Duvet Dancing', by Keaton Henson, because we love to snuggle, drink tea and watch films!. We also had 'He's Not Perfect', by Bob Marley; 'because he's not, and we're realists even though we're closet romantics. We also had 'When You Are Old, by Yeats; 'growing old together, making a commitment, having some perspective'."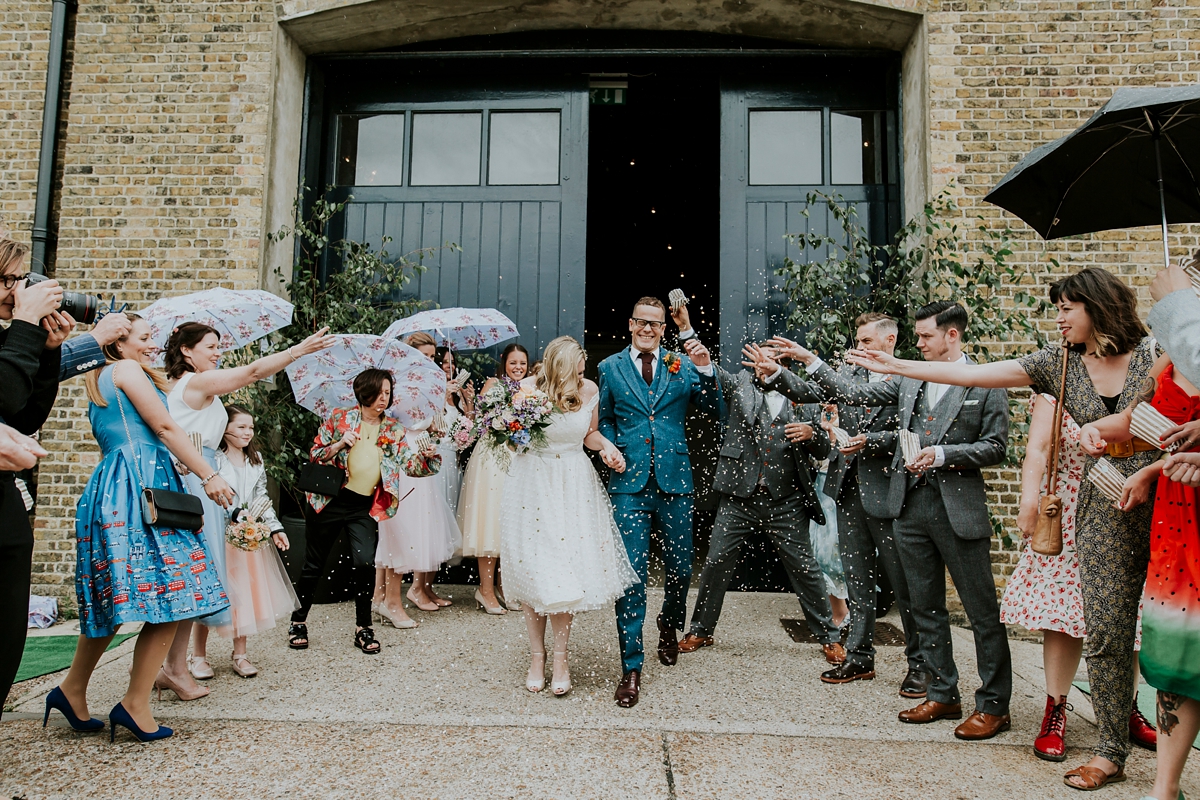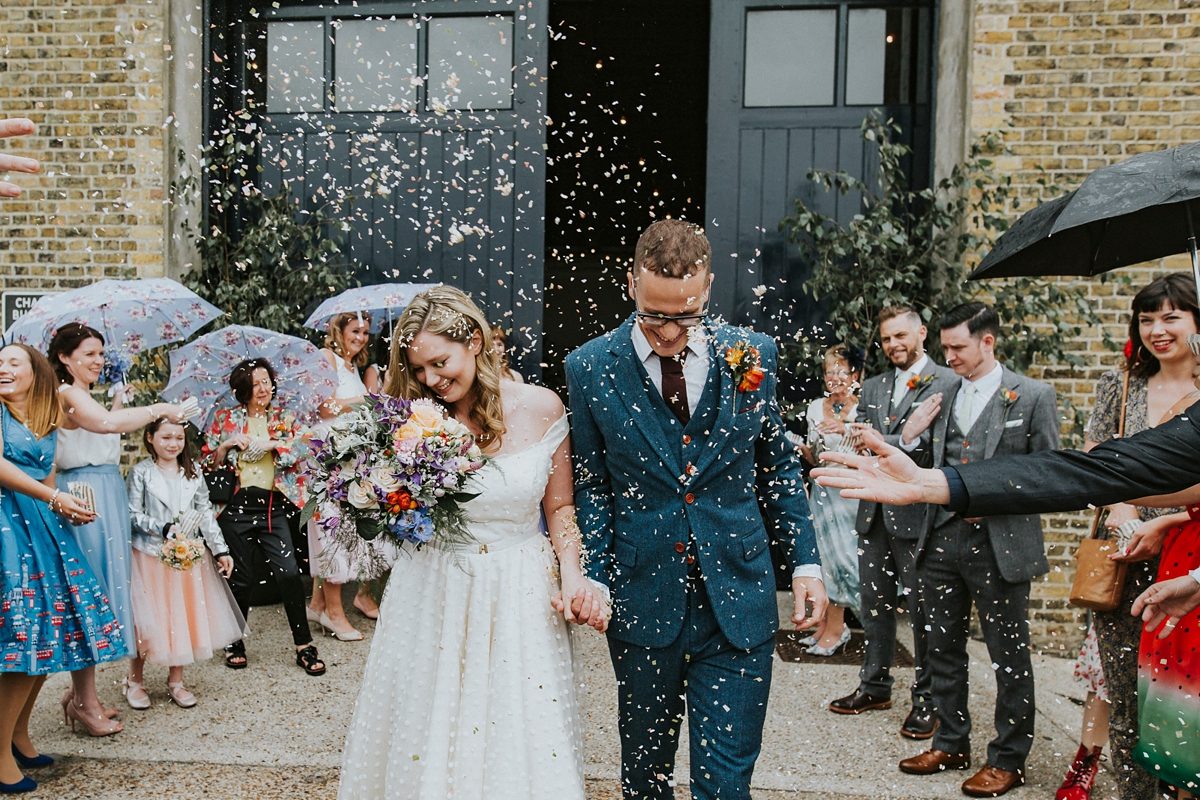 Teeheehee! Recognise 'this scene', anyone? #nearfarwhereveryouare……….. ?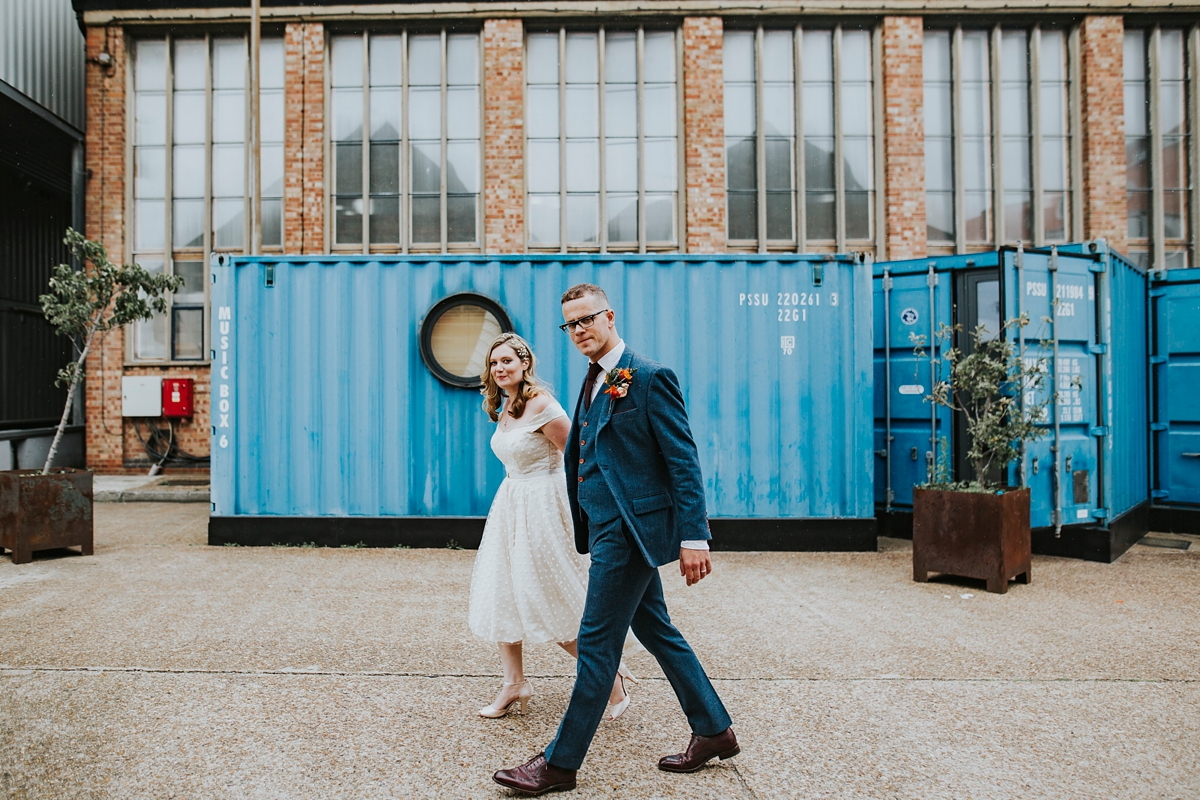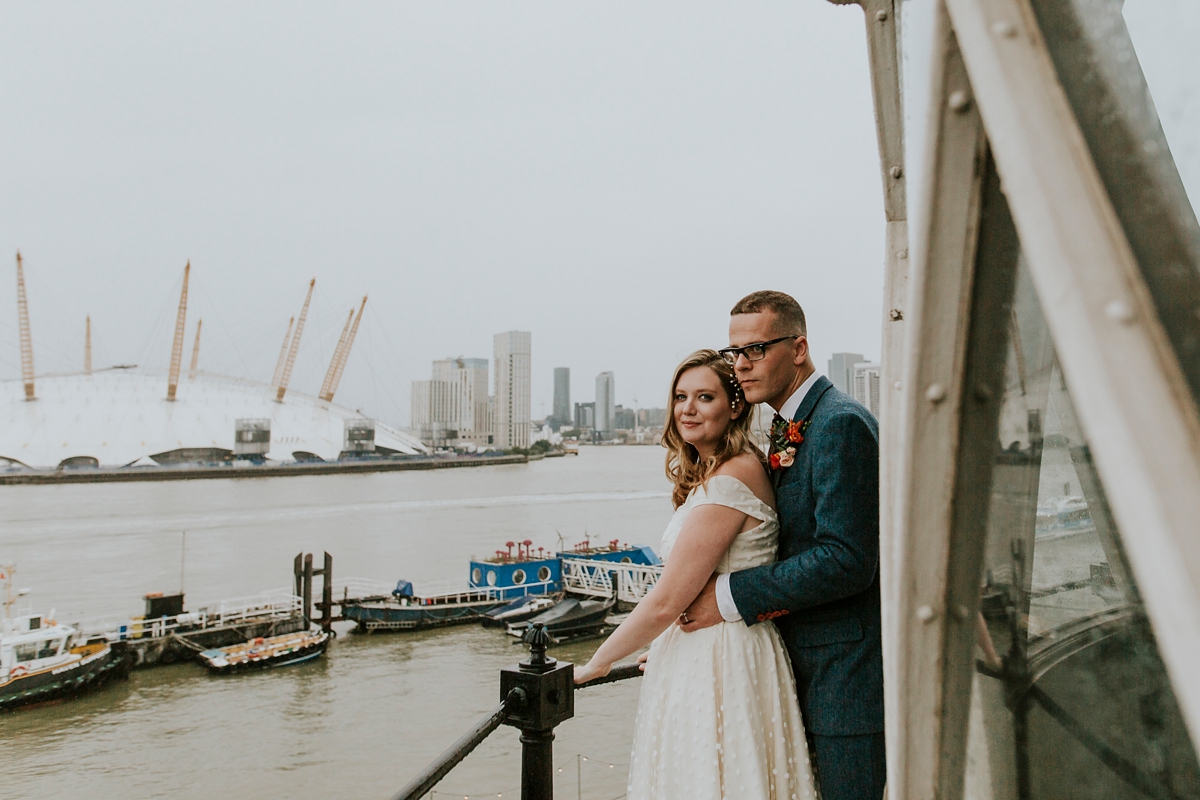 "We wanted a particularly London wedding, with an industrial feel to the invitations and placename/table quote design that reflected the feel of the venue."
"We went for a herby green style to the centre pieces and other flowers as Kat and her family are real foodies. Finally, the stripped back white and green colour scheme allowed the venue to sing and be a character in its own right."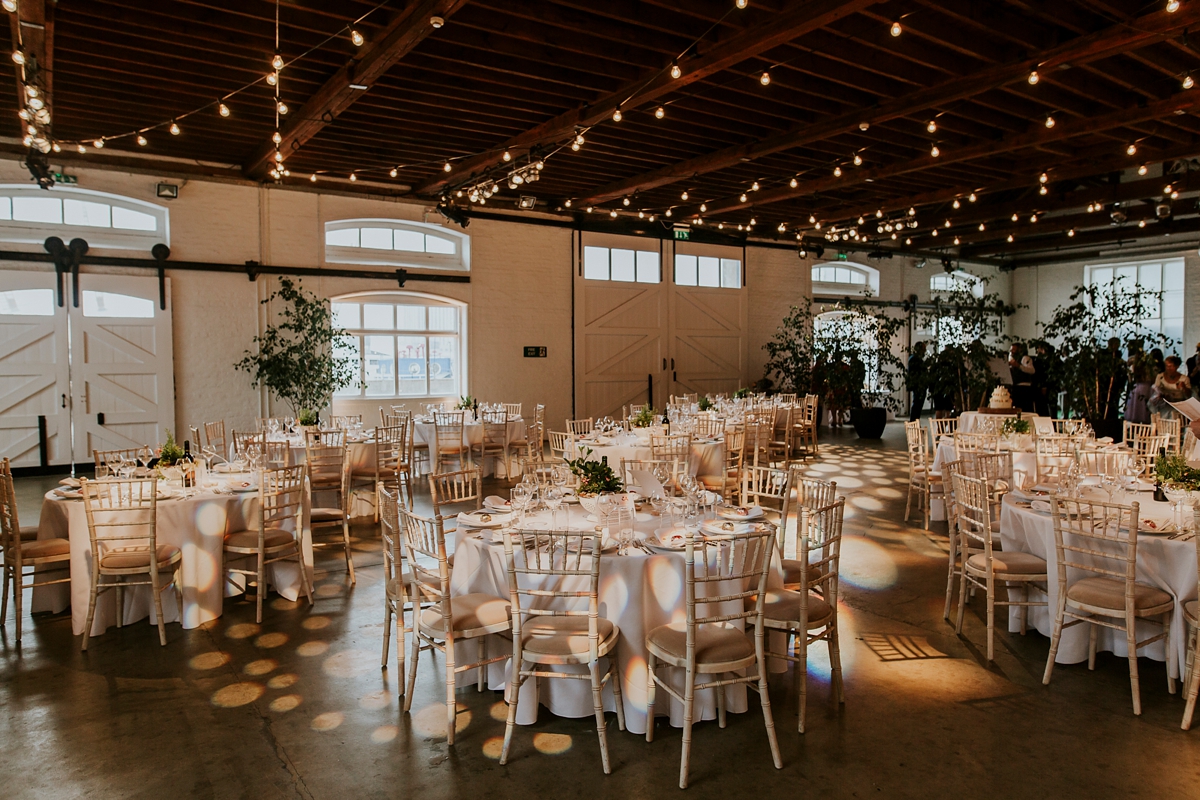 "The enamel colander centre pieces were made by Katharine's parents and each featured an edible herb. This reflected our passion for good food. It also meant we could give them away to guests."
"Our actual favours were Tunnocks Tea Cakes! As the groom popped the question in Edinburgh and these felt suitably Scottish. They were sourced from Amazon."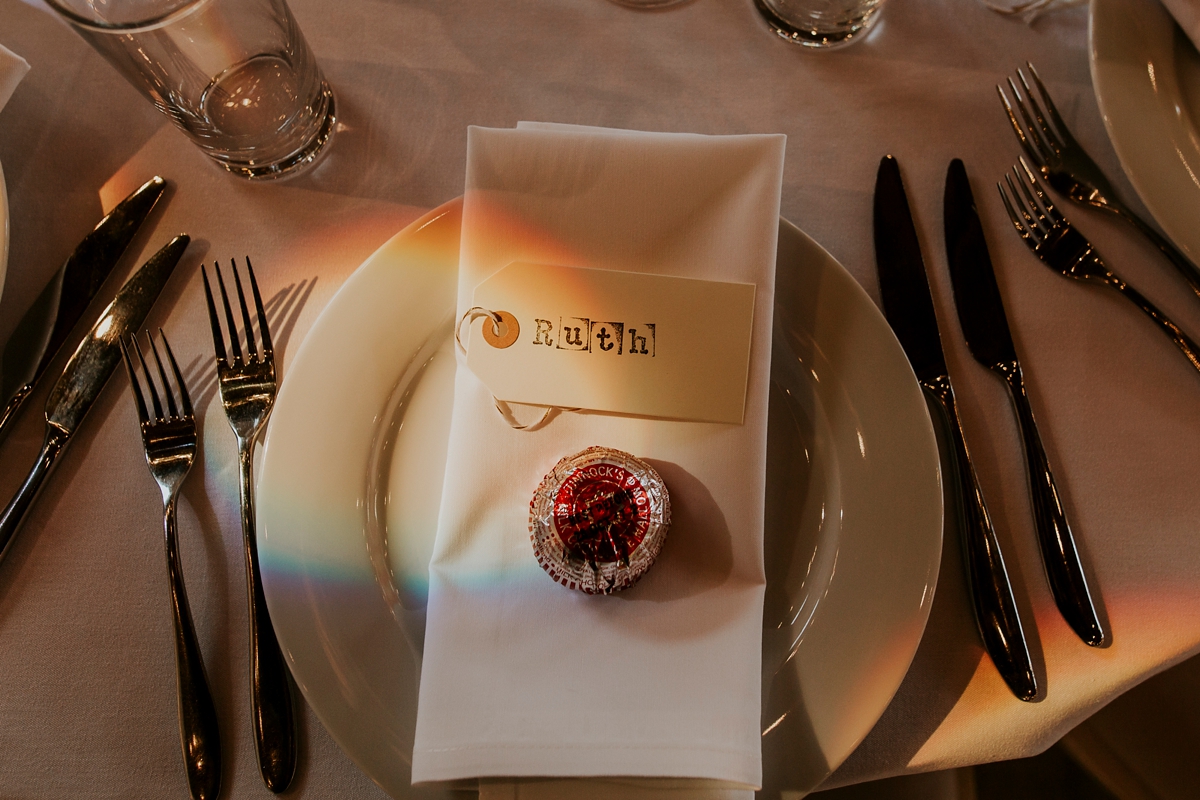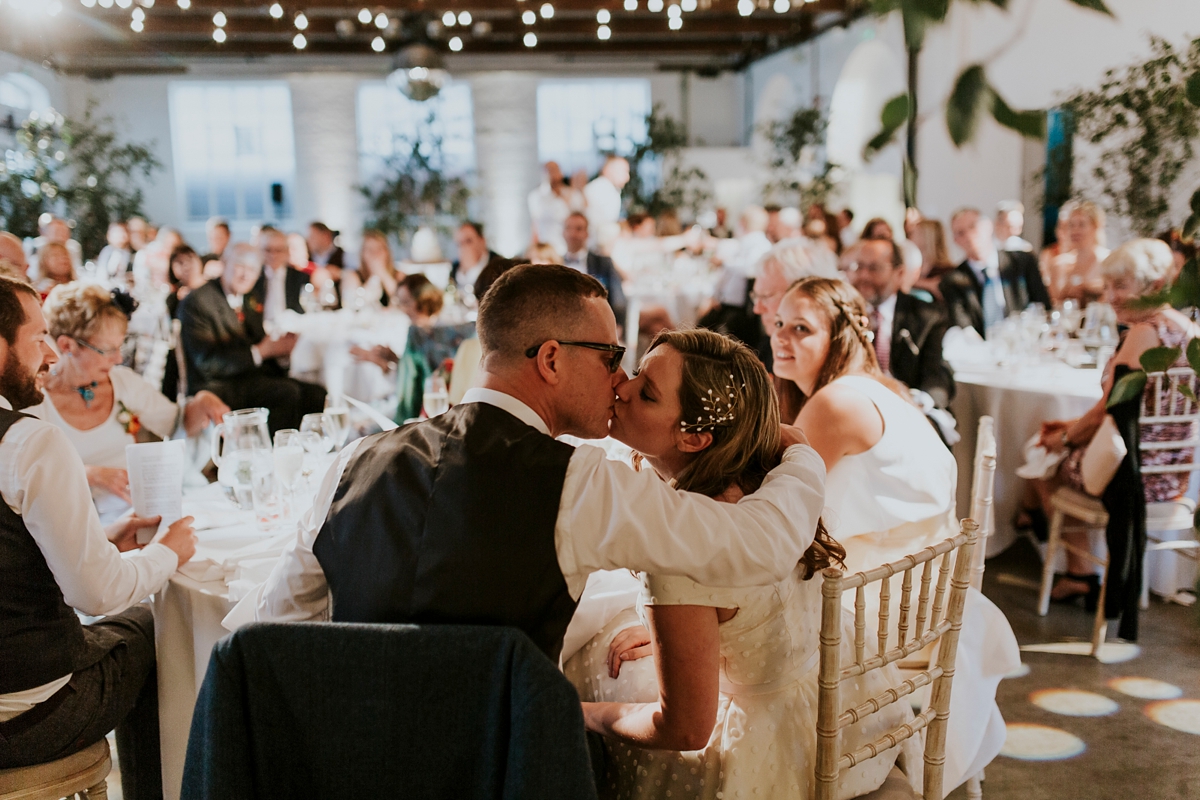 "Our first dance was to 'I Found You', by Alabama Shakes. To be honest we don't really have a song – if anything, it's 'Us' by Regina Spektor, but what with it being the aisle entrance song that was never going to work."
"It's always been a concern! But we both love good music, and Katharine introduced me to this earlier this year – and it quickly became clear that it's our first dance, for sure."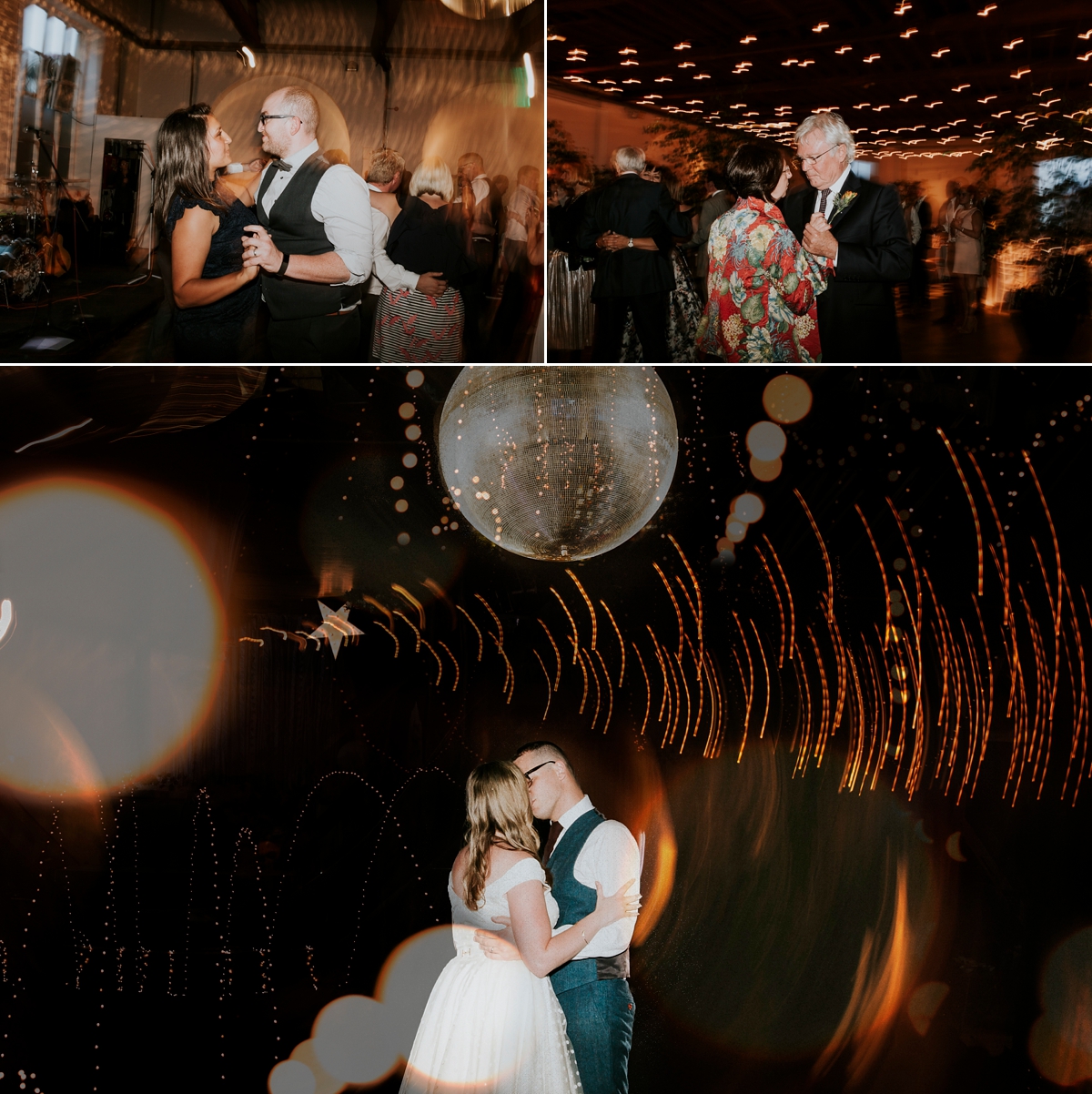 We asked this gorgeous couple to share their favourite parts of the day;
Katharine: "Probably when Phil's phone went off in the middle of the ceremony. Even though he was mortified, it made the seriousness of getting married a lot more light hearted and fun. Just like our relationship. Our love is intense and incredibly important but we laugh so much together."
Philip: "Turning round and seeing Kat. Corny, but true – along with this, giving my speech. I absolutely loved it – I got to tell Kat exactly what she means to me, and I got to talk about my dad as well as other things that are at the very fabric of me, and now us. Brilliant."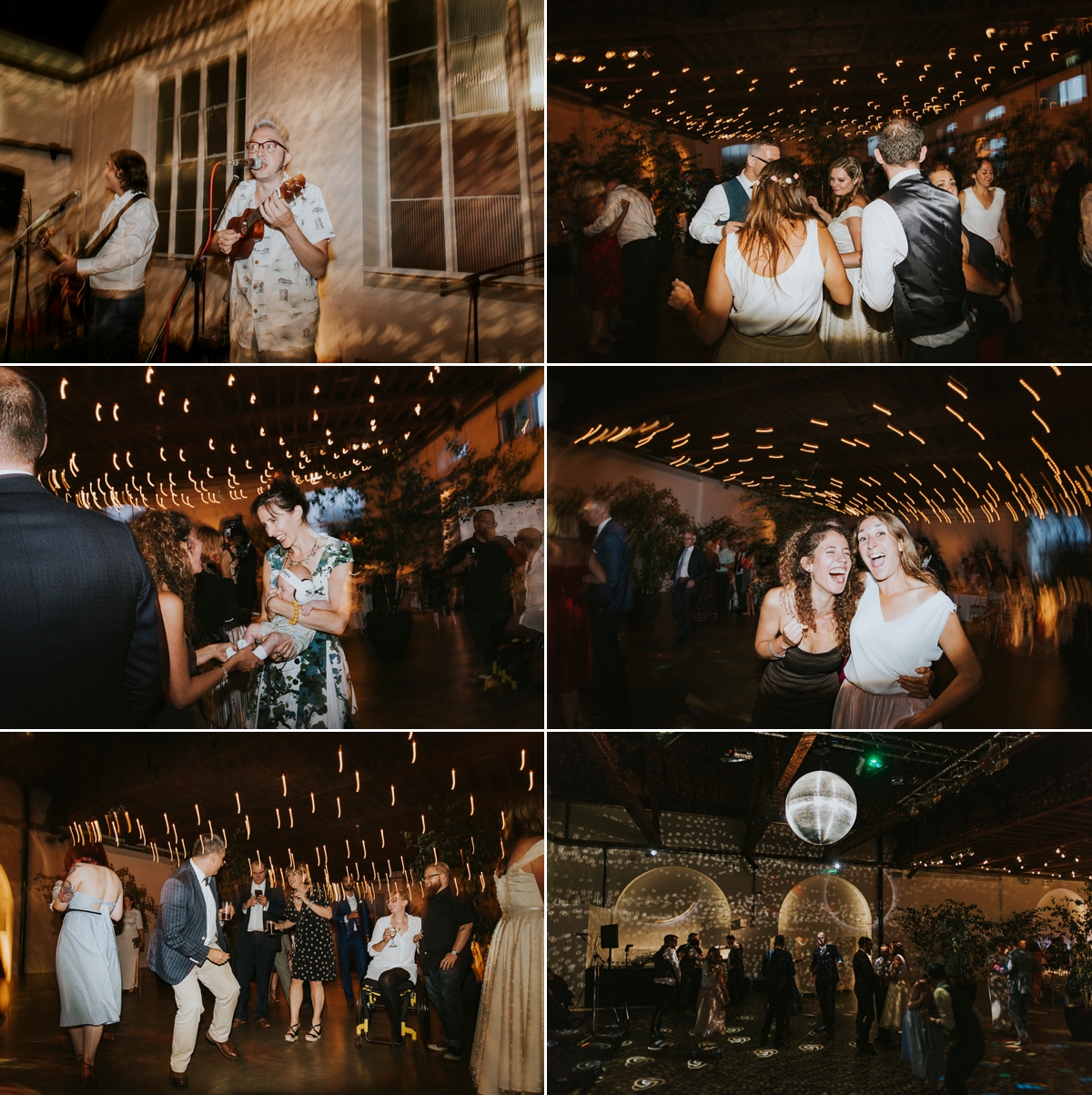 Words of Wedded Wisdom
"Write out every cost, from the very beginning. Everything, not just the "big ticket" items. Factor everything in from the very outset. Laugh, even when you'd rather throttle each other. Don't cry because you've realised you want to throttle your chosen life partner. Chill."
GORGEOUS! Gorgeous gorgeous gorgeous – enormous love and thank to Joasis Photography for sharing these beautiful images, and of course to Katharine and Phil.