When I opened these photos I thought how familiar the landscape and buildings looked.  When I went on to find the venue I discovered it is actually located less than five miles from my house, so no wonder.  Welcome to West Yorkshire!
Meet James, a welder and Jenny, a buyer for ASOS, who married at The Arches, Dean Clough in Halifax on the 16th of September 2017.  The day was coordinated by Abi of Mode for Events and is just full of colour and flowers. Jenny looked fabulous in the 'Bjork' dress by Rembo Styling, which she purchased from Little Book for Brides member Lace and Co. in Horbury, near Wakefield.
"I knew I wanted something modern but was not sure on shape and I wanted a dress that wasn't a standard wedding dress. I liked 'Bjork' but never thought it would suit me.  I was so surprised when I tried it on.  It's not a dress people would expect me to wear but it's simple and modern and I loved it."
Photography by Fox Tail Photography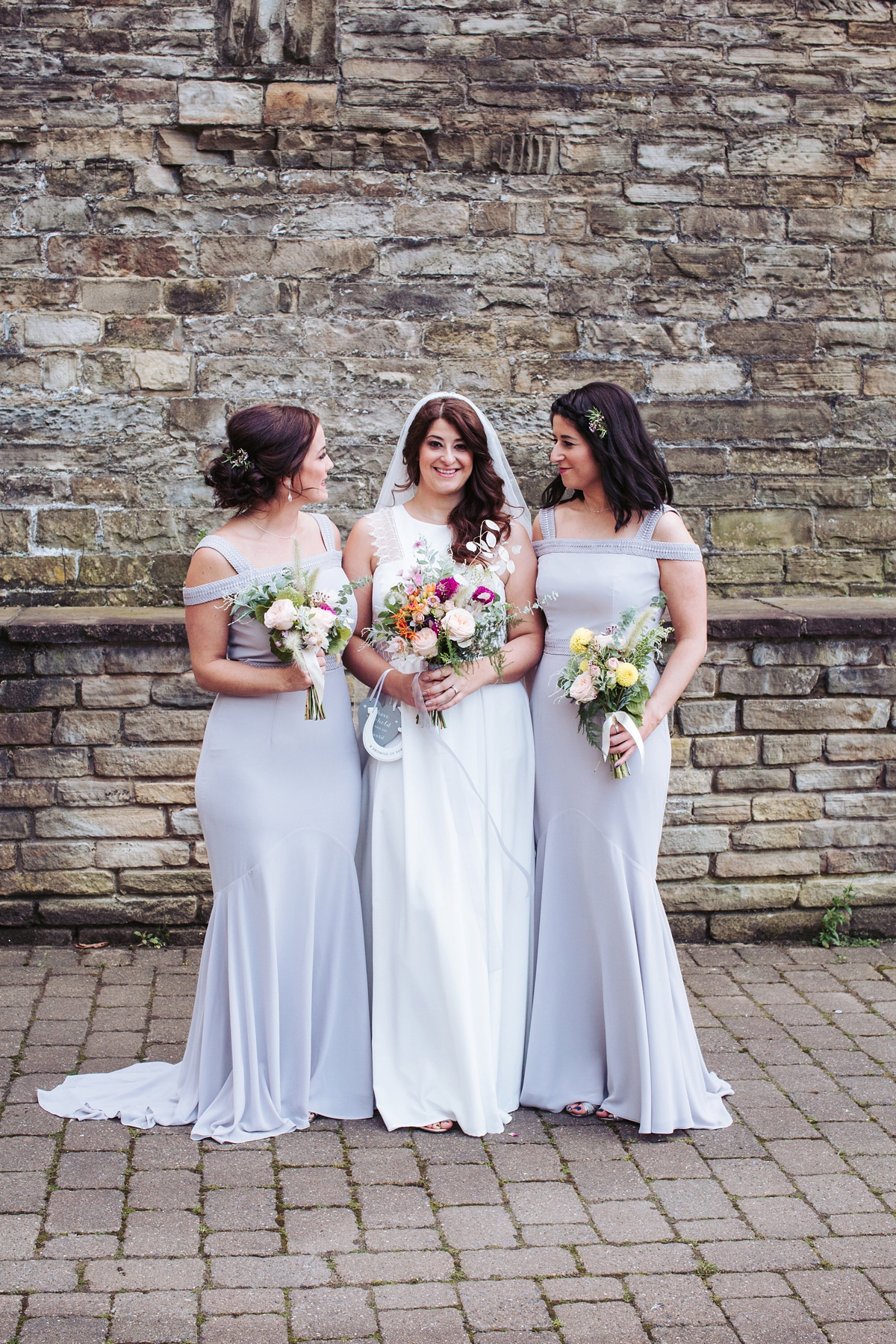 "James and I are rare Tinder success; we had our first date in London Bridge at the Market Porter pub.  I thought it was sweet he suggested to meet there as his grandad used to work as a market porter and it was one of his old watering holes.  To this day that area is still so special to us, James chose to propose on London Bridge and we had a celebratory drink in the Market Porter too."
Jenny wore her hair down and curly, caught up with beautiful flowers (by Grace and Thorn) at the back, which went with her relaxed floral style perfectly.  Her chosen hairdresser was Anna Stephenson, while make up was by Sarah Hammond, who gave Jenny a gorgeous natural look.
"Anna is the hair stylist you want on your wedding day.  Not only is she amazing with a curling iron she keeps you relaxed and at ease- nothing was too much trouble.  Sarah is a bit of a legend when it comes to make-up, all my friends have had their make-up done by her at some stage and my best friend used her for her own wedding so she came highly recommended.  She really highlights your best features and makes you feel so special."
"My nails were by a new East London luxury nail company – House of Lady Muck.  They offer a bespoke service to create individual designs for any occasion.  I picked the 'Dot Cotton' style as not only is the name genius it also went perfectly with my dress and accessories."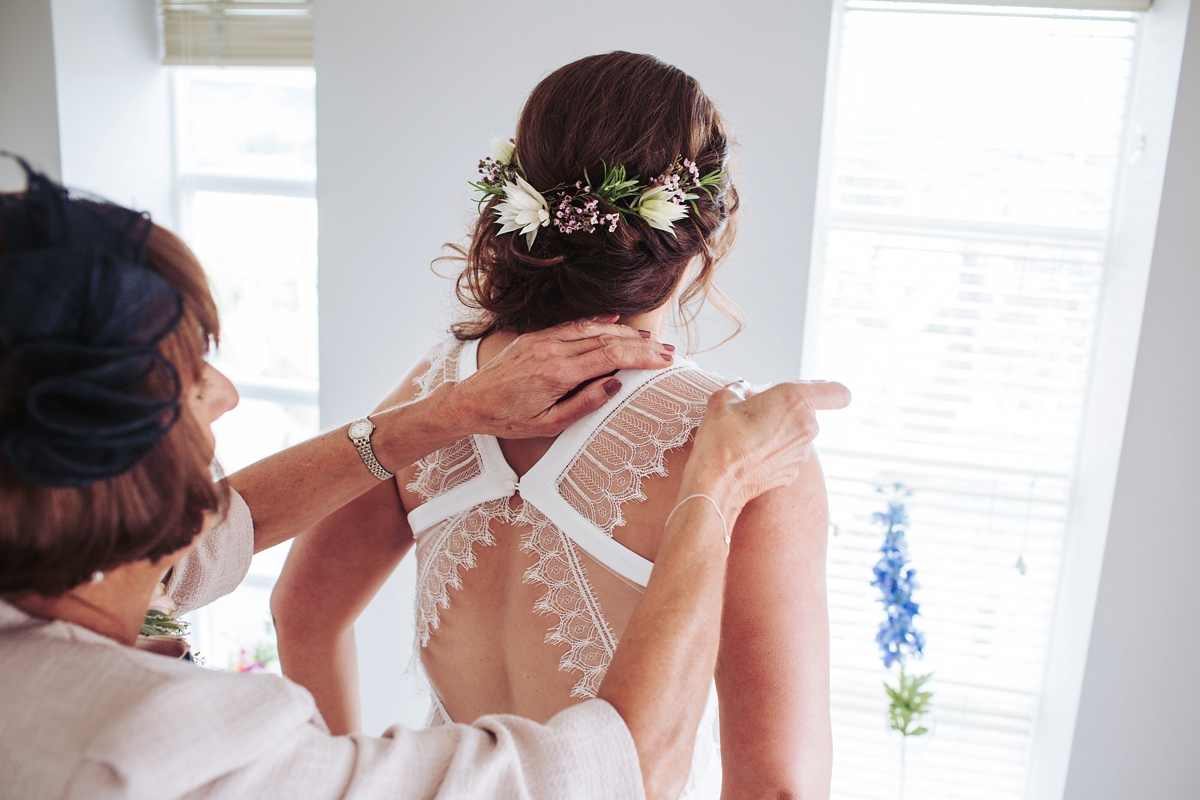 "James bought me a Tiffany Colour By The Yard necklace for our first Christmas together; for our wedding he got me the matching earrings and bracelet.  They are simple and classic so went perfectly with my dress."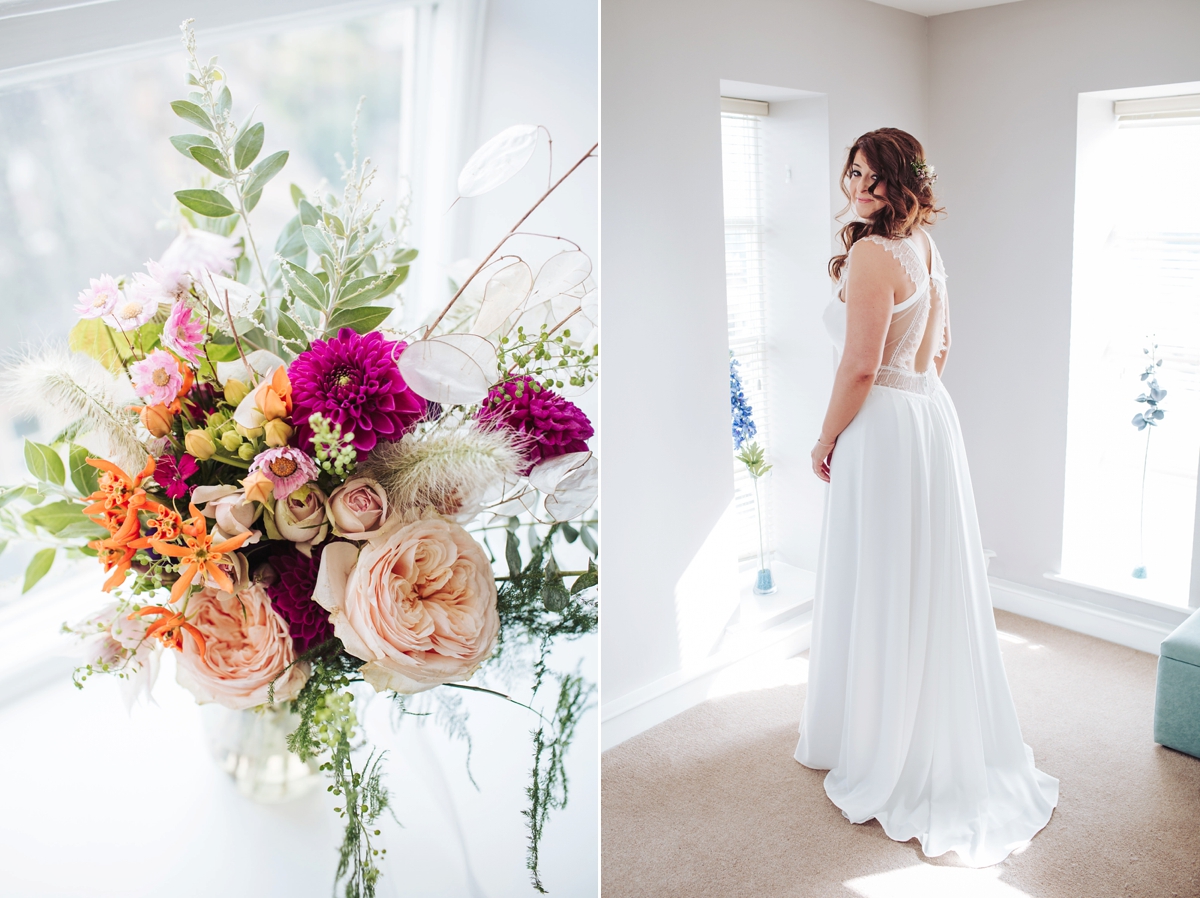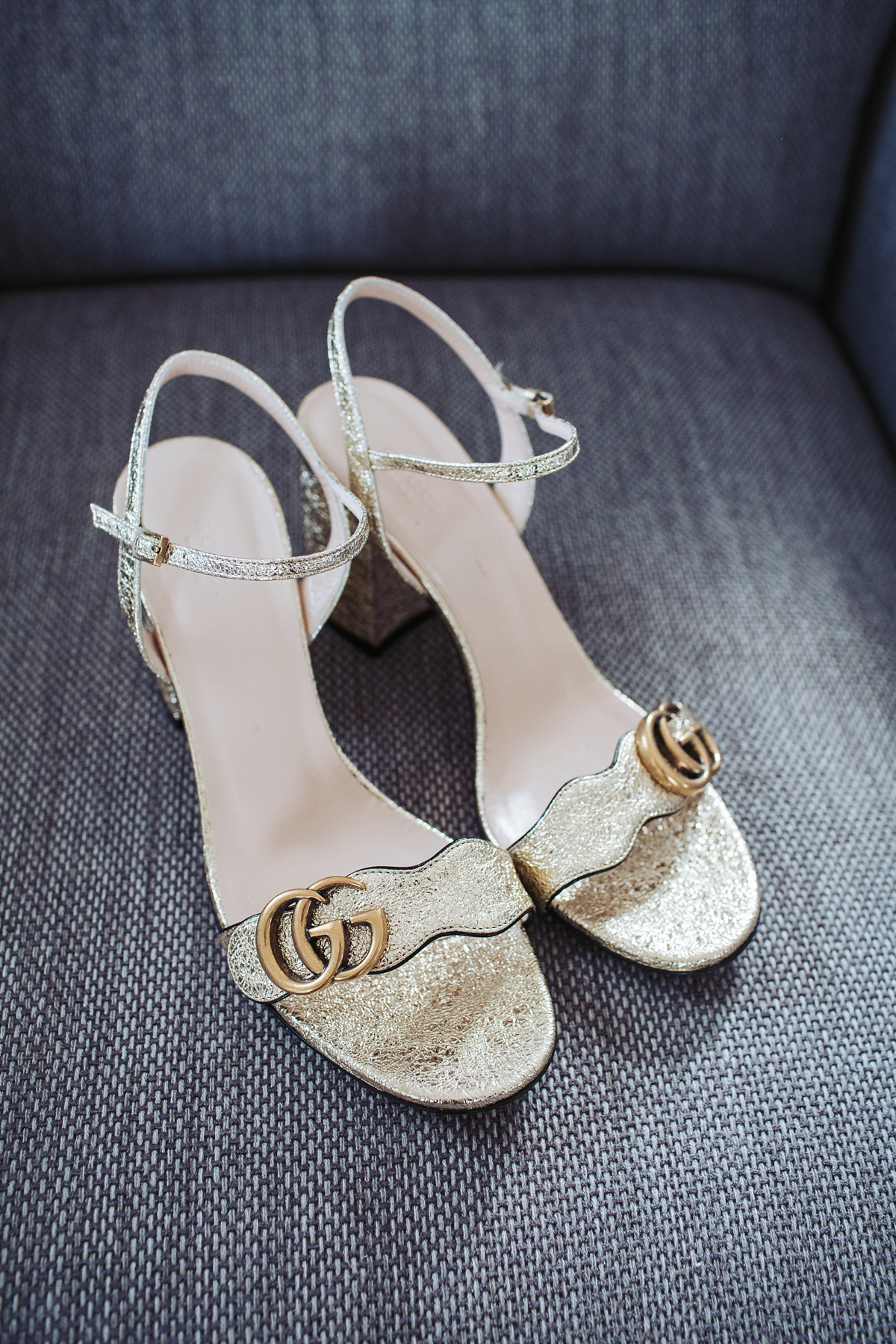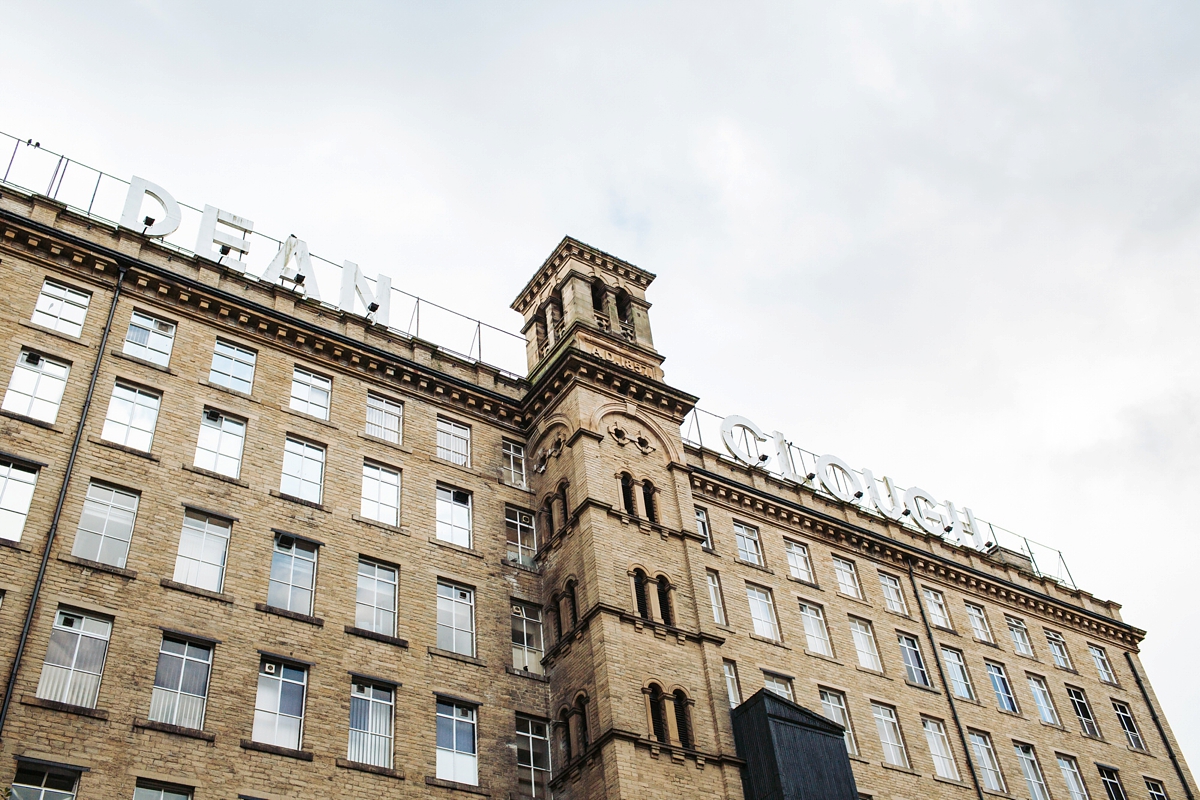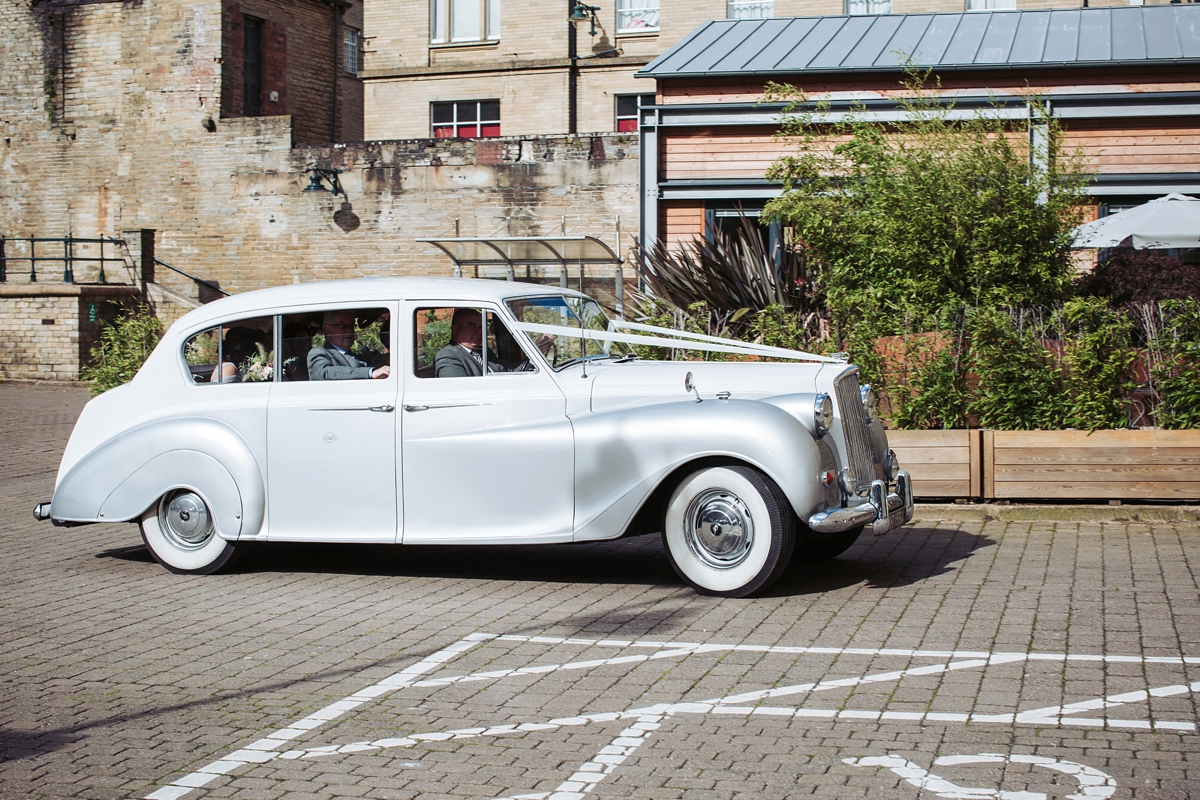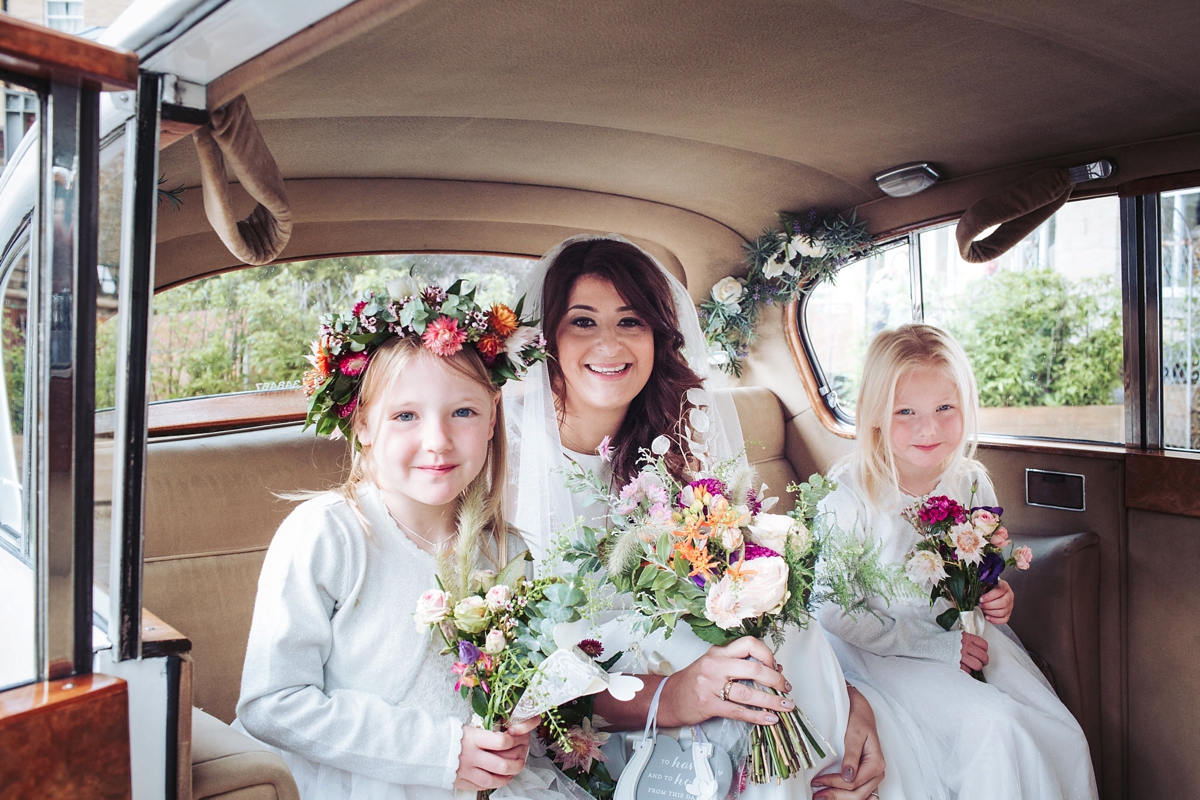 Jenny's beautiful veil was purchased from Angelica Bridal and she also wore flowers from Grace and Thorn in her hair.  On her feet she wore a fabulous gold pair of Gucci heels, while for scent she chose Chanel Chance.
"I am super lucky to be good friends with the very talented Nik Southern of amazing florist Grace and Thorn.  She has done flowers for Anna Wintour, Alexa Chung and shown at the Chelsea Flower show.  Even without all that I bloody love her flowers, she has such a magical eye that mixes bright colours and manages to make them look so natural."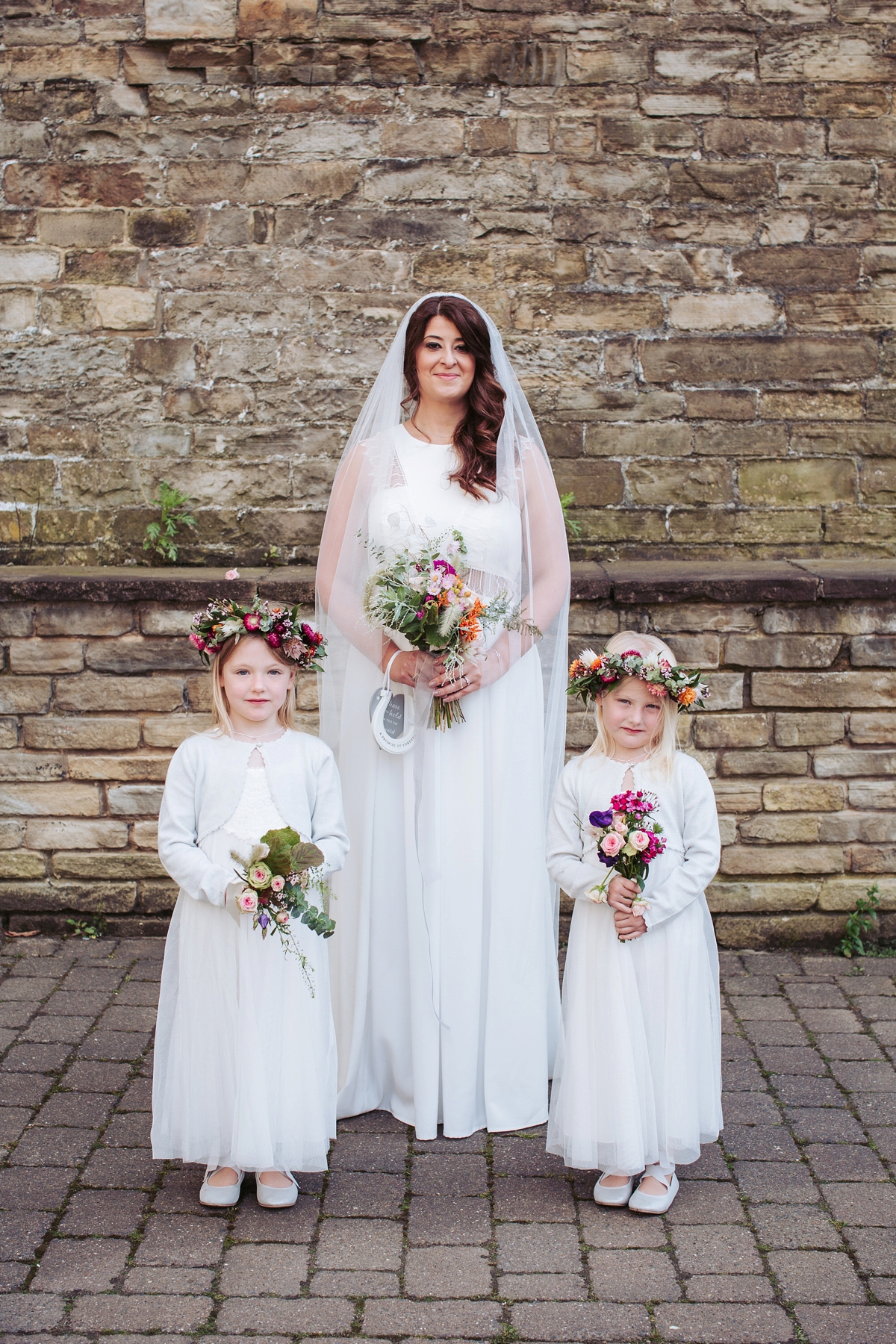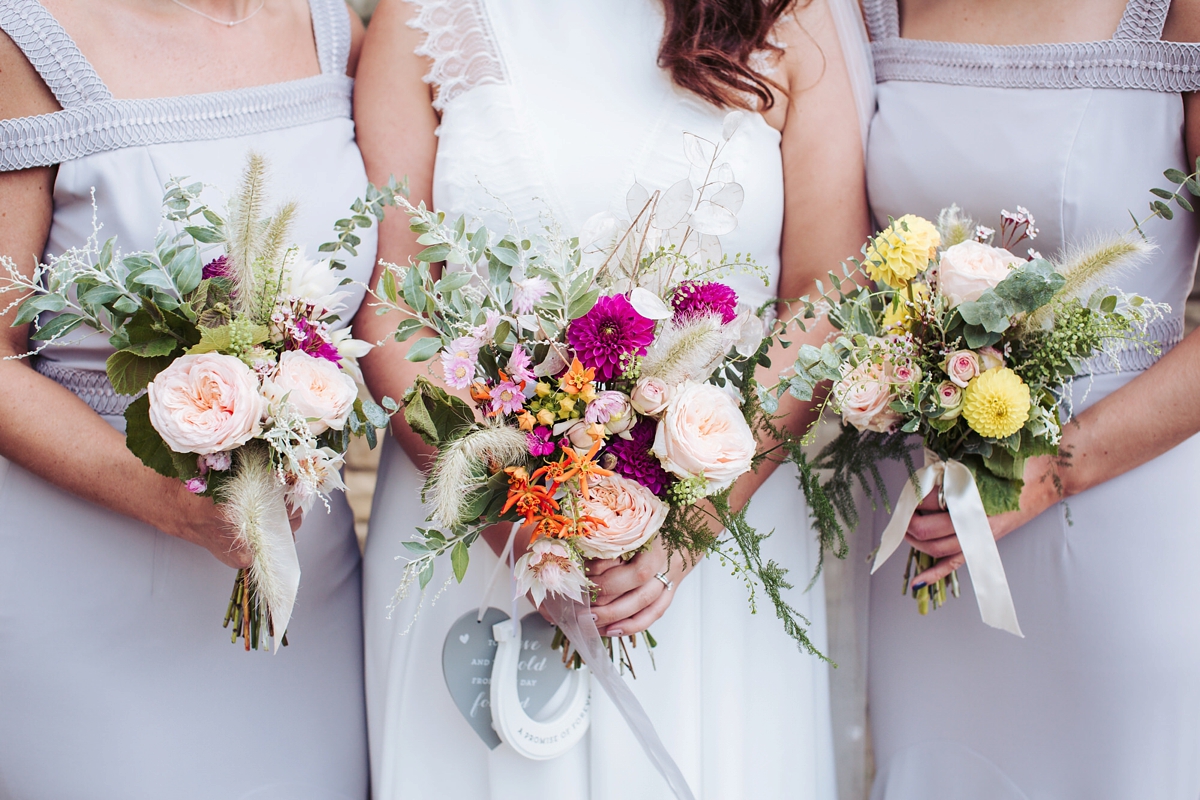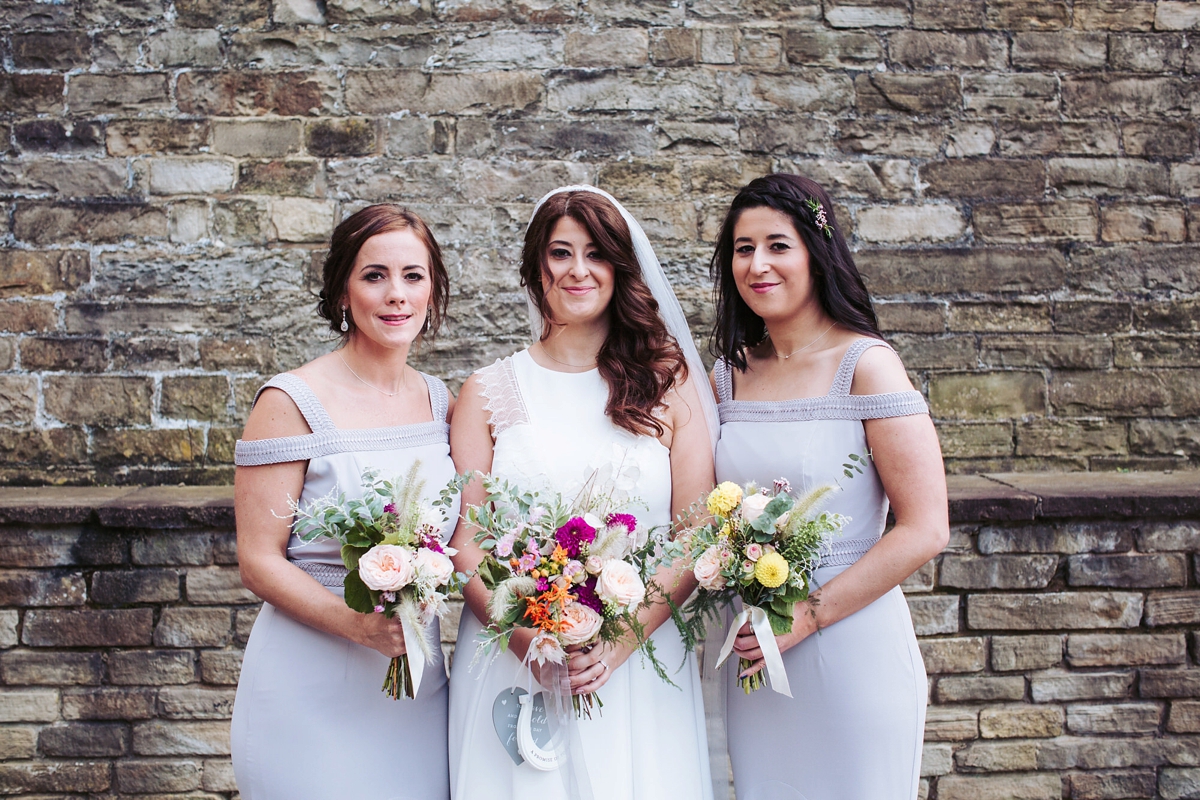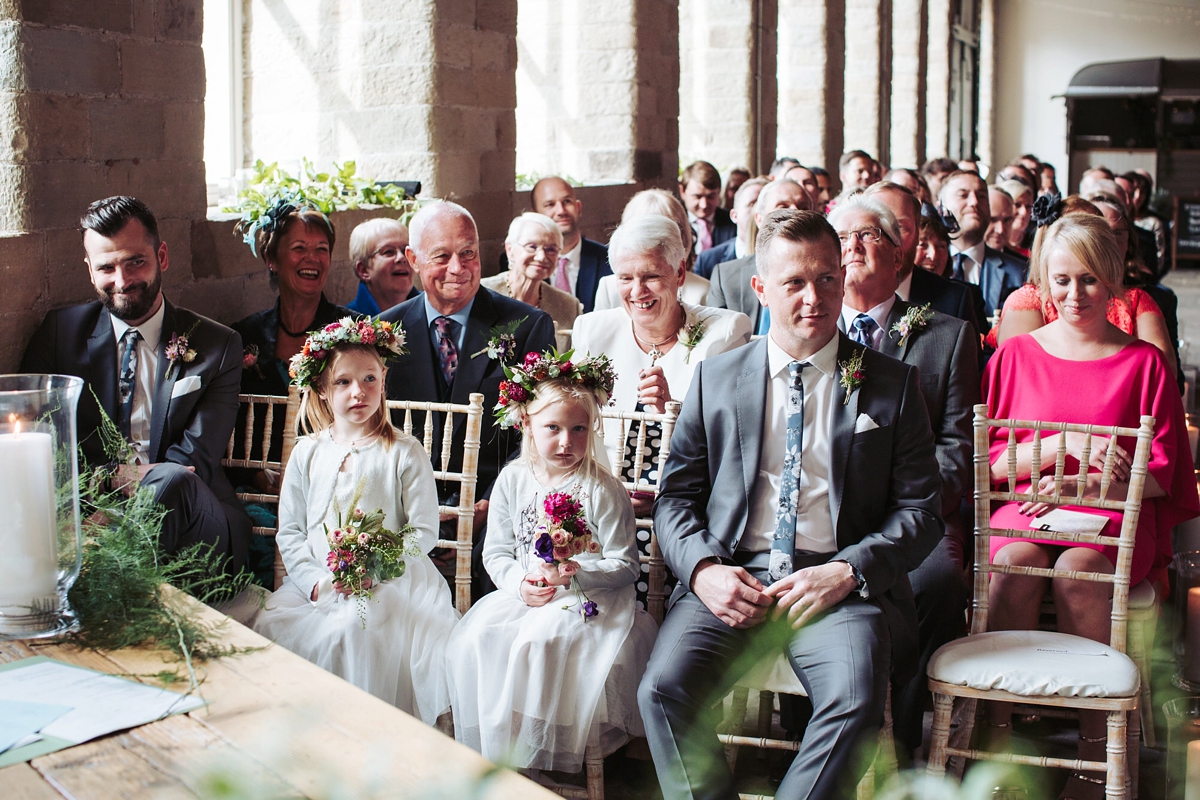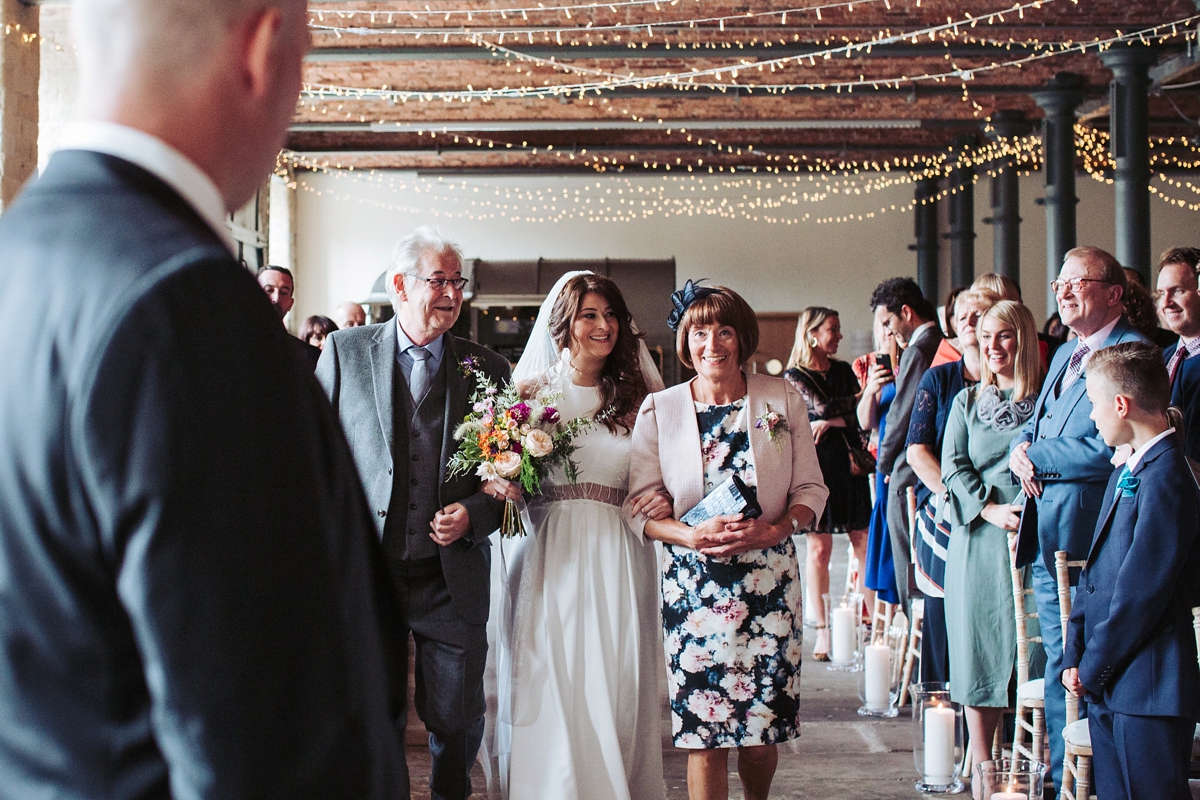 James looked smart in a suit and shirt by Hugo Boss, worn with a tie by Alexander McQueen.  The best man and groomsmen looked equally sharp in suits and ties from ASOS.
"My colleagues in the tailoring dept were a great help picking out the suits and matching accessories."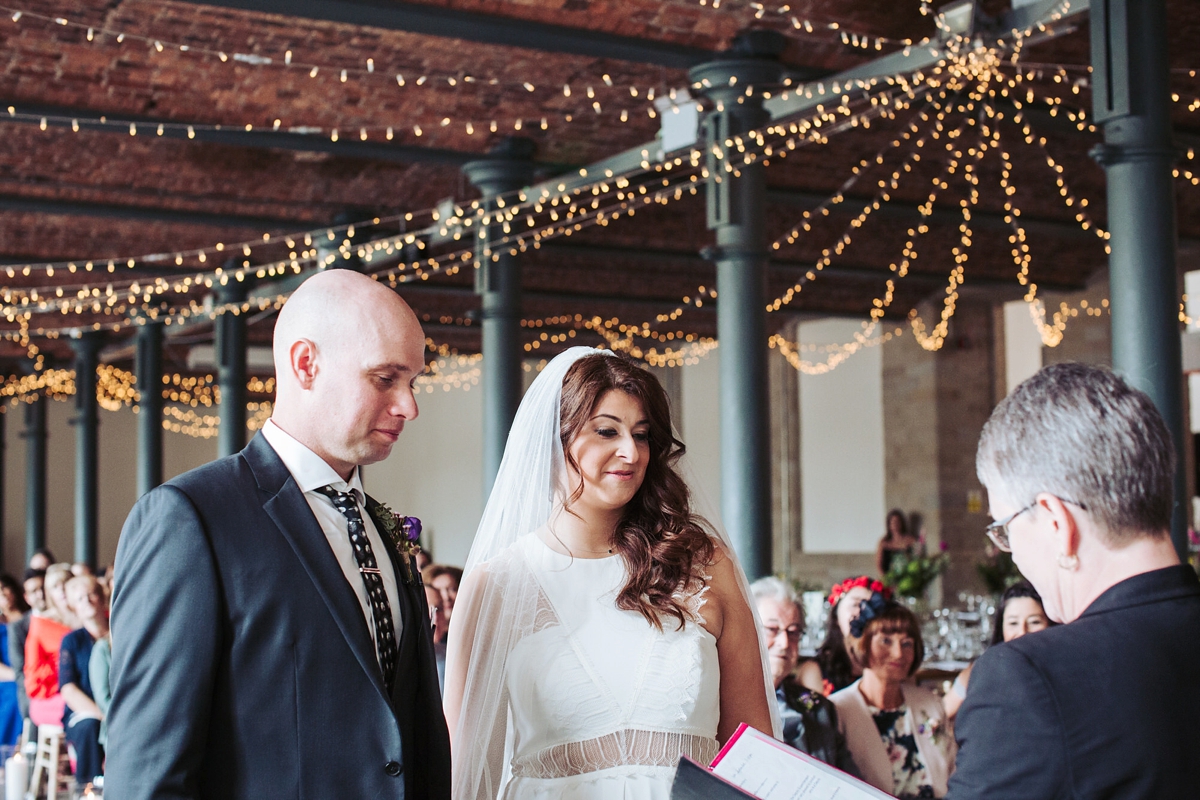 Jenny was accompanied down the aisle by both her mum and dad and they walked to 'Elevator Beat' from Vanilla Sky.
"Its not your first go-to film for a wedding song, but it's one of James' favourite films and when he played it to me I cried and knew it would be perfect.  As soon as I heard it on the day I cried again."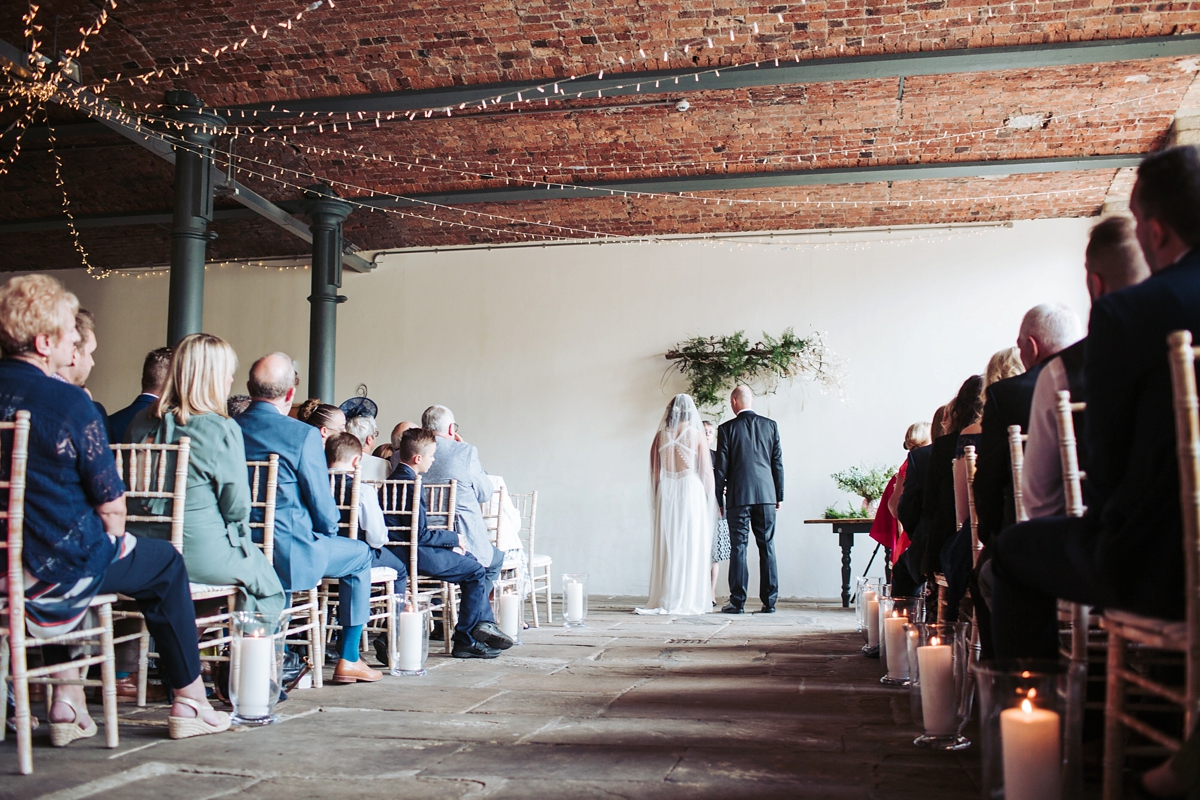 She and James chose two readings.  The first (a quote from Albert Einstein) was read by James' twin sister Emma as a tribute to his inner science geek.  It began:
Put your hand on a hot stove for a minute and it seems like an hour.  Sit with a pretty girl for an hour and it seems like a minute, that's relativity."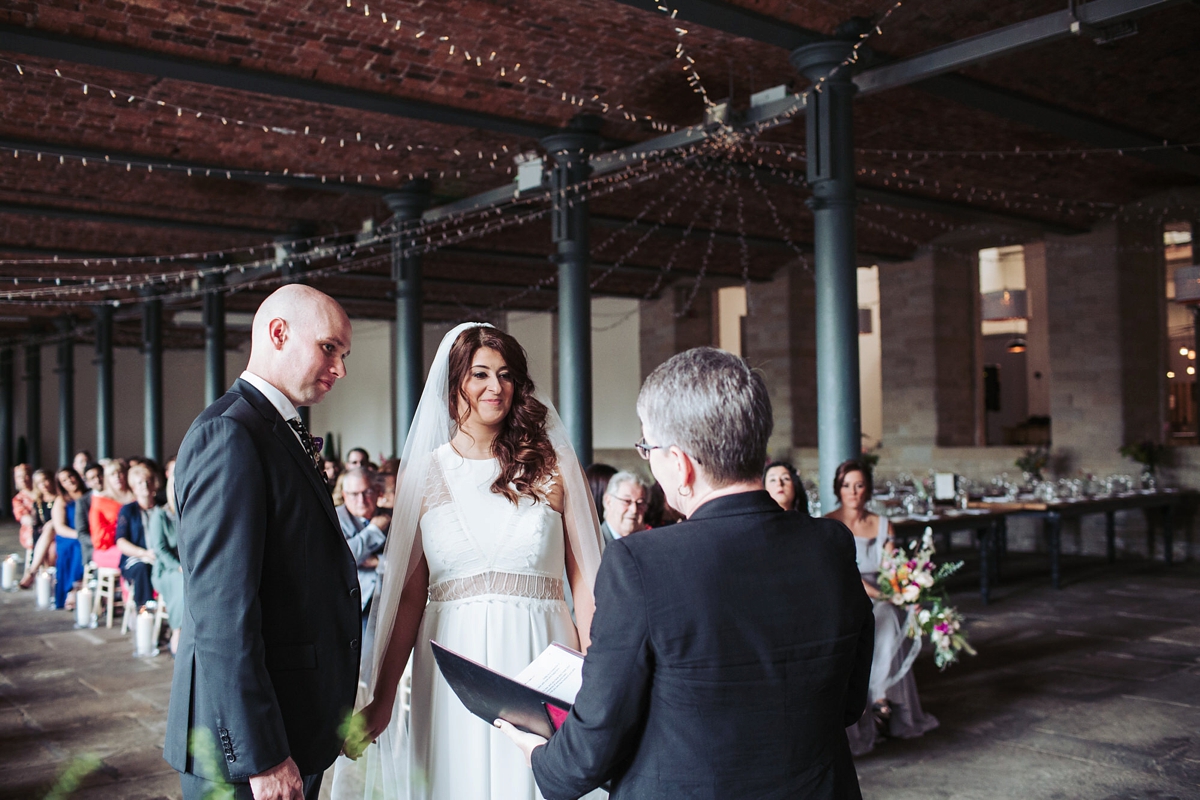 "Our second reading was from my godfather.  He's a performer so I knew he would be able to deliver 'Falling in Love is like owning a dog' (by Taylor Mali) like a pro.  I have to admit I did not think I'd be woofing at my own wedding but he managed to get everyone to join in woofing and cooing."
James and Jenny exchanged rings purchased from 77 Diamonds, where they also bought Jenny's engagement ring.
"I'm a sucker for tea lights, which looked super with the canopy of fairy lights in the venue.  Nik also bought lots beautiful vintage vases that were dotted about the venue, full of natural flowers."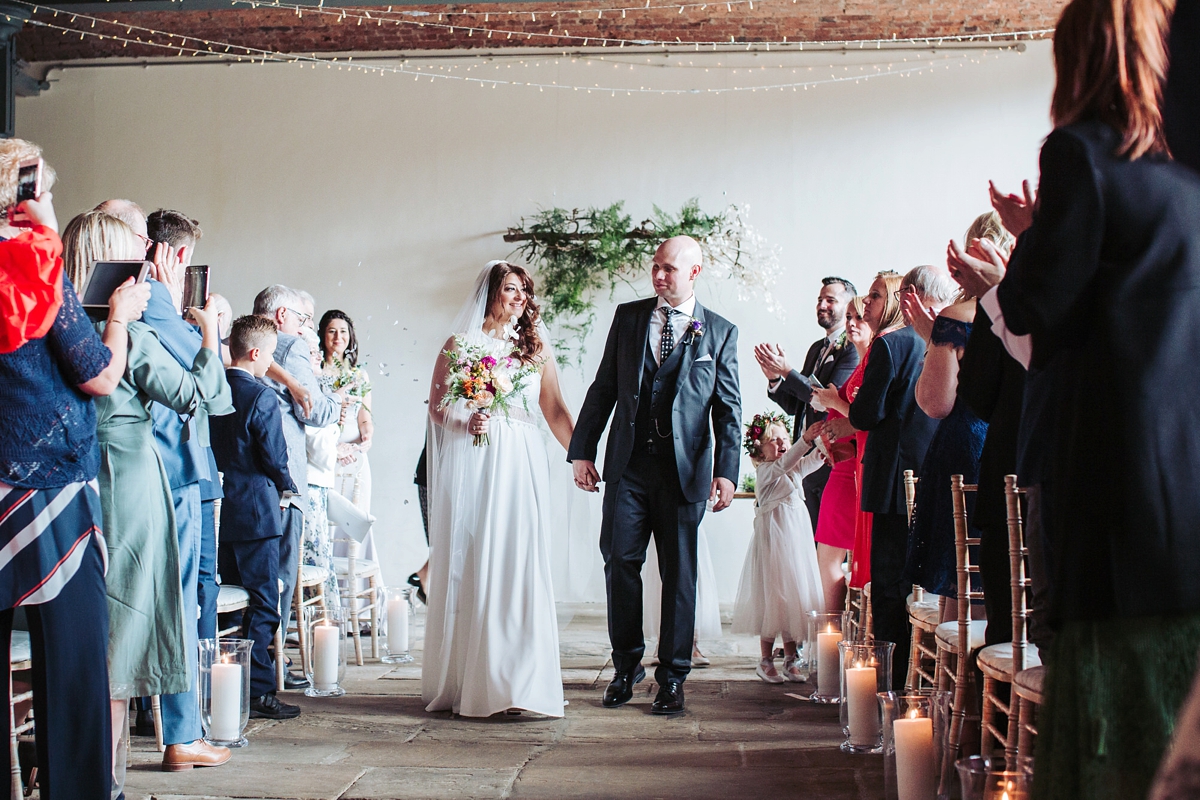 The bridesmaids looked lovely in grey 'Ophelia' dresses by Jarlo, while the flower girls looked very cute in dress from our Little Book for Brides members, Monsoon, worn with flower crowns by Grace and Thorn.
"As a thank you gift I bought the bridesmaids Dogeared necklaces and had a custom gift box and personal thank you message for each of them.  I bought the flower girls Joma 'flower girl' necklaces; they are so cute and they loved wearing a 'big girl' necklace."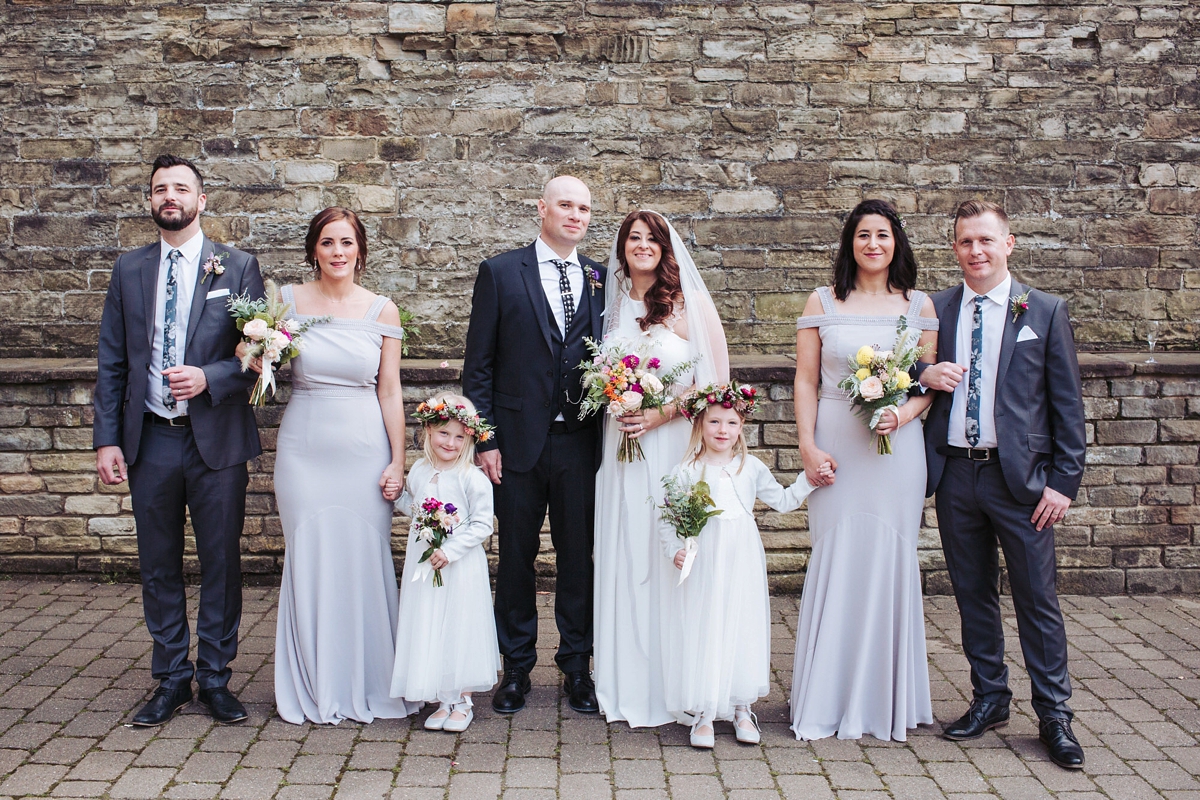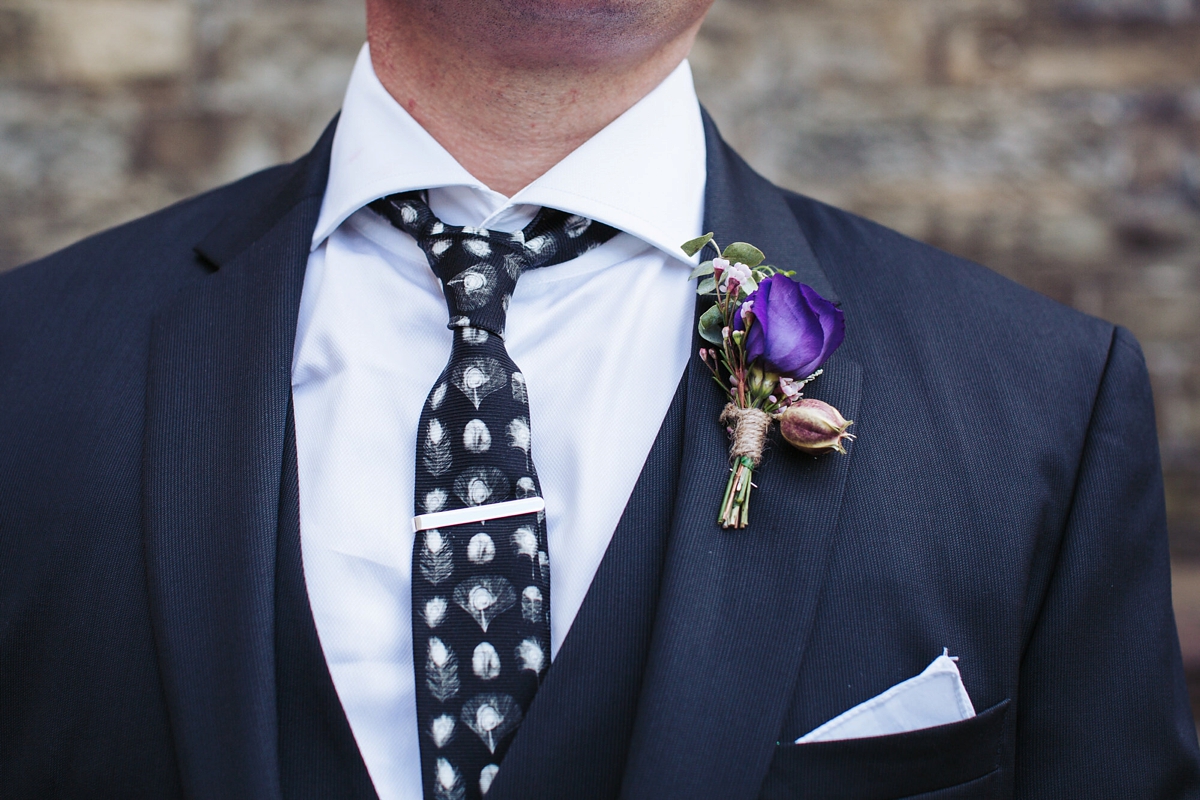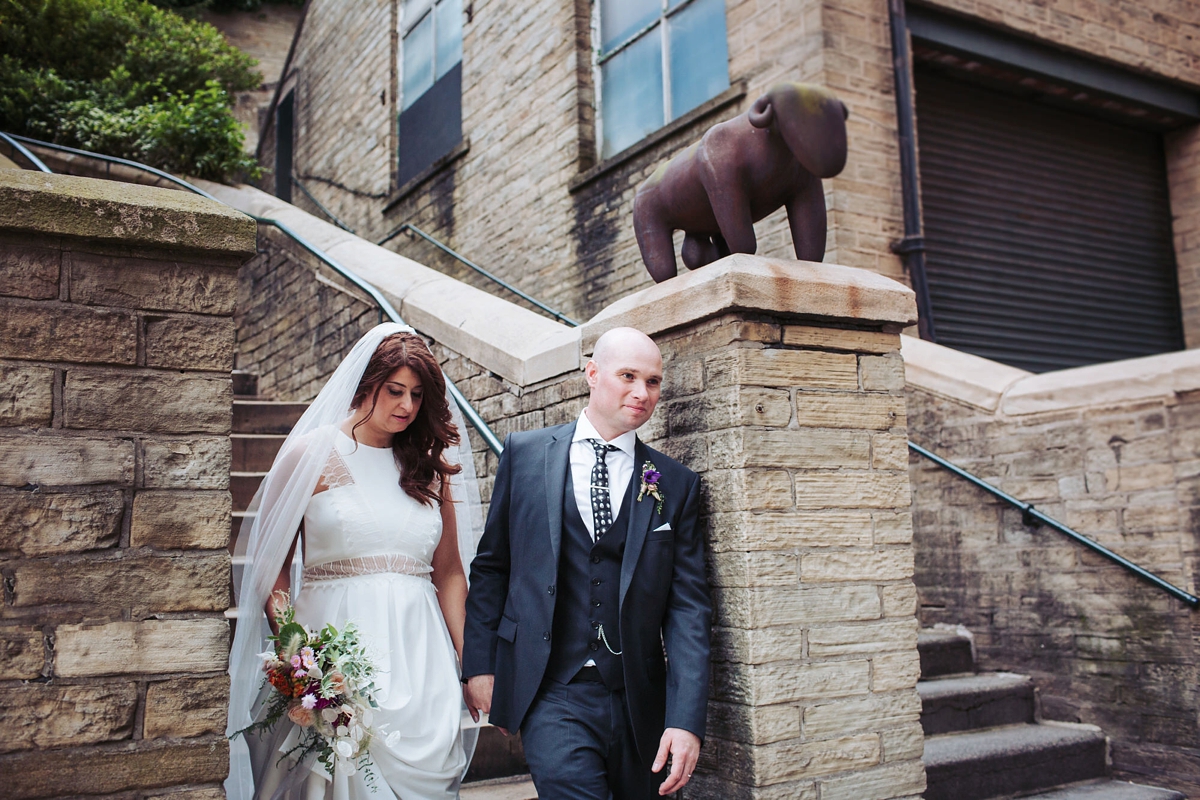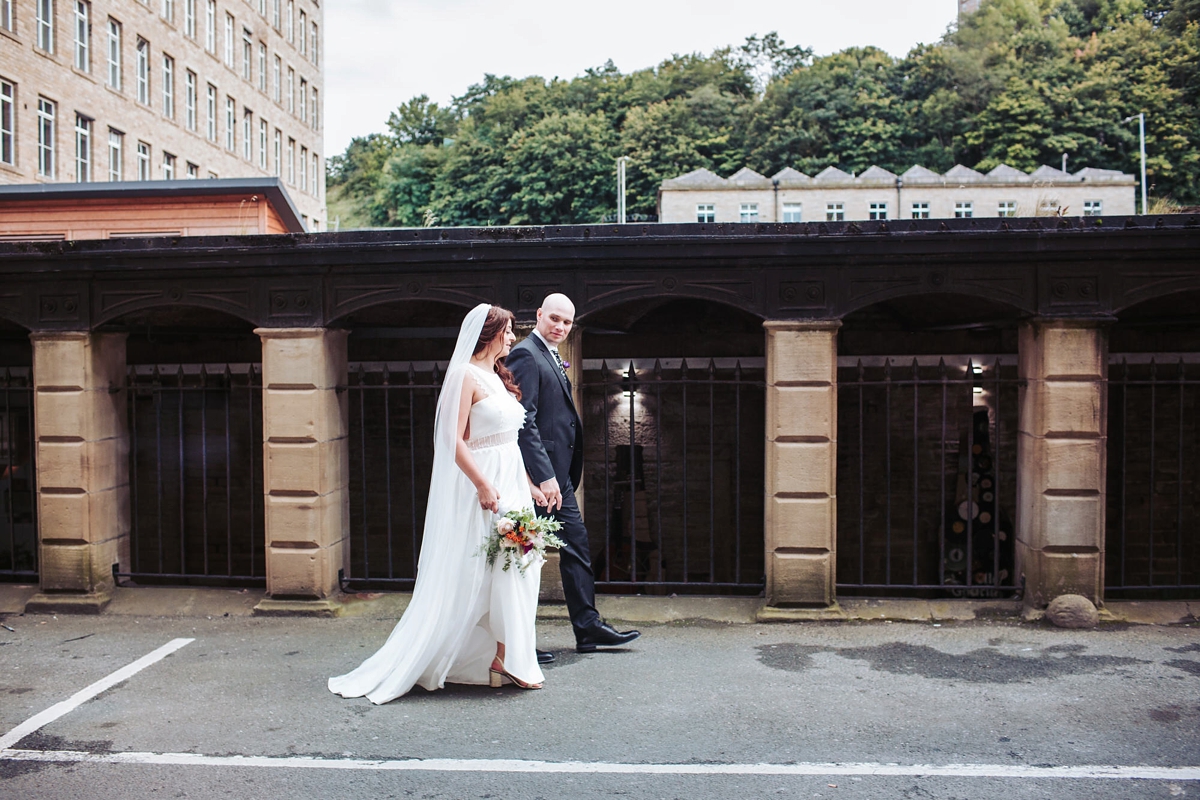 "Louise of Fox Tail Photography came recommended by The Arches.  Given the fact we live in London all local recommendations were welcome and a photographer that knows the wedding venue is worth their weight in gold.  Louise knew all the best spots and when the light was perfect.  She took a weight of my mind and took control during the day, ensuring we got all the pictures we wanted and focused on the natural shots that really captured our day perfectly."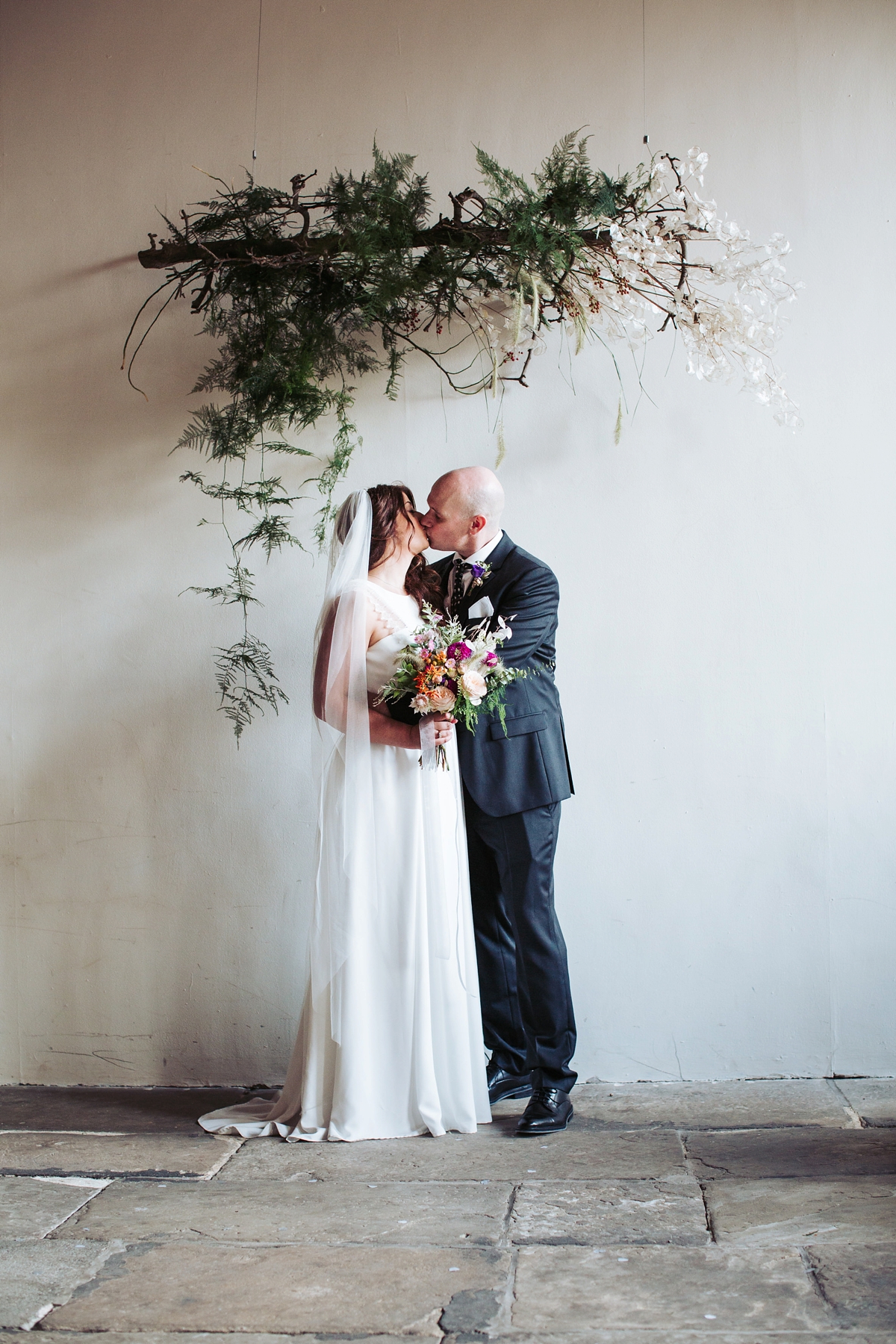 "The talented Hollie at Betsy Design did all the stationery for us.  I've worked with Hollie before and knew how amazing her work is.  Once we sorted the look I left everything up to her and it turned out beautifully."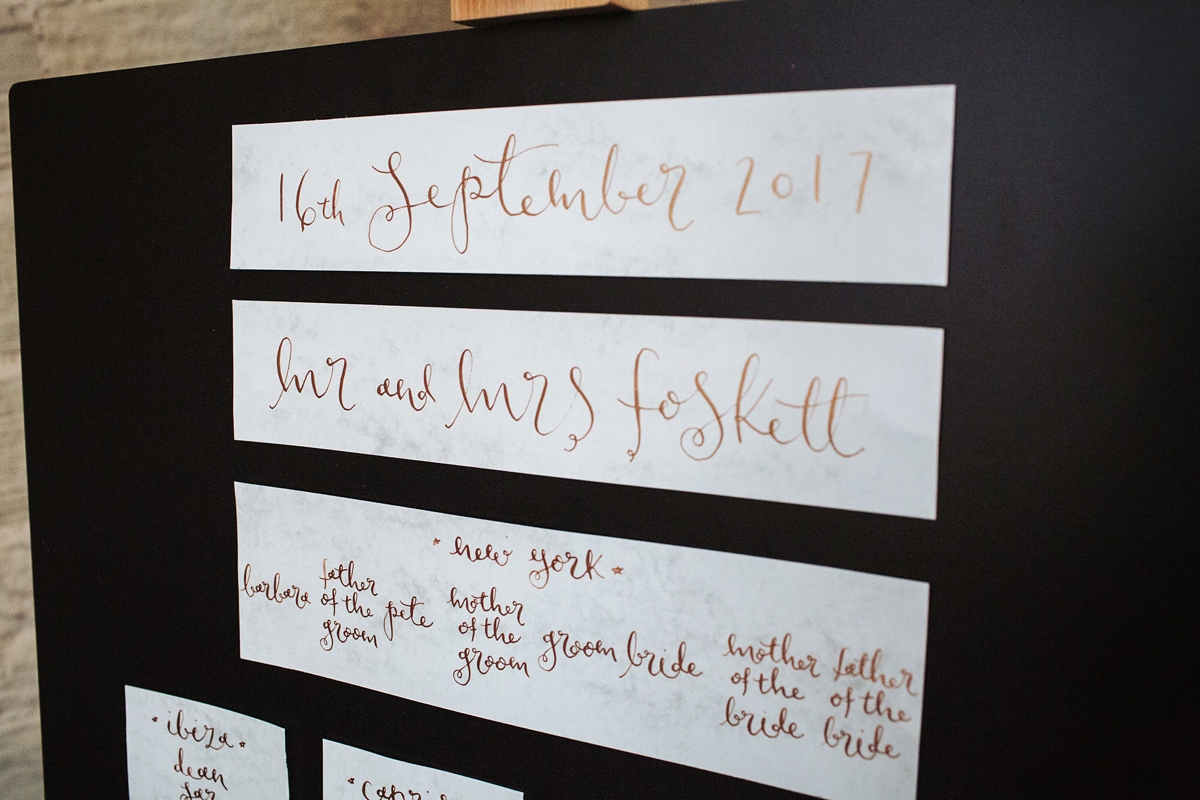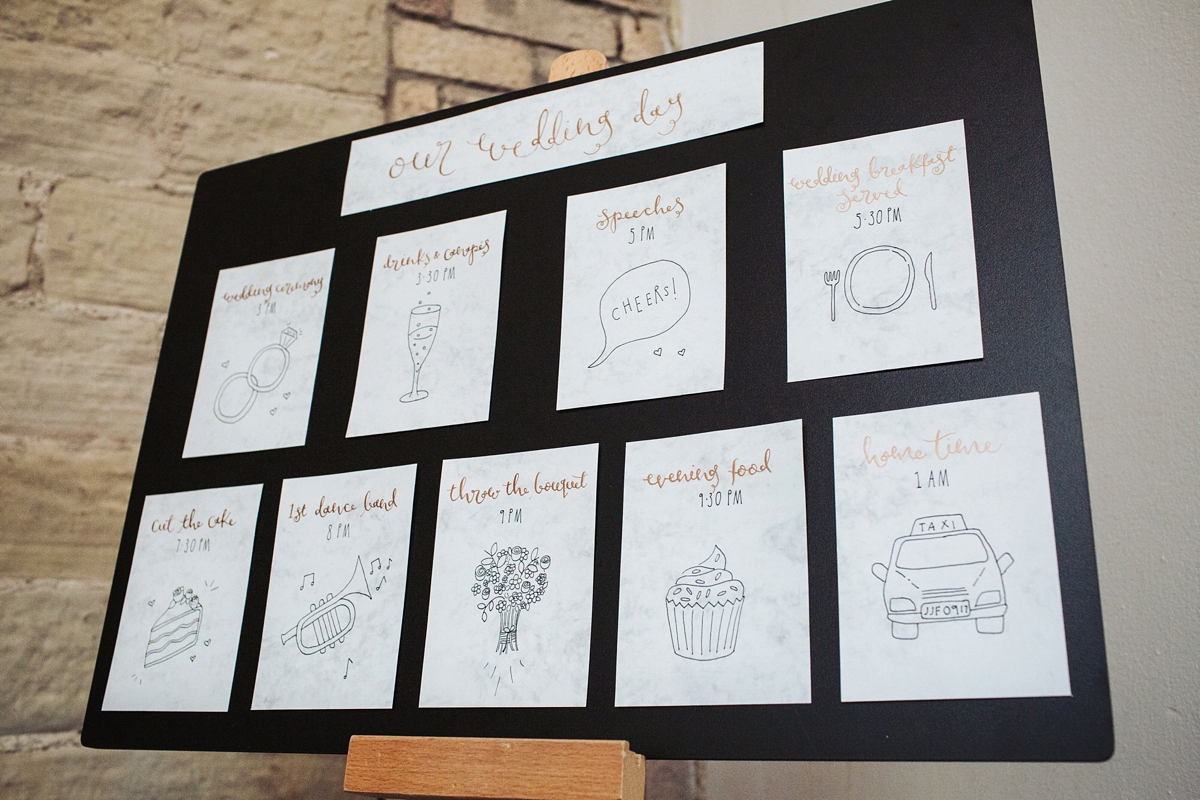 "The great thing about The Arches is that it is so versatile, so whatever your style you can make it work.  I was determined to be open about look and style; I knew I had amazing people to help me with the stationery and flowers and knew everything else would fall into place."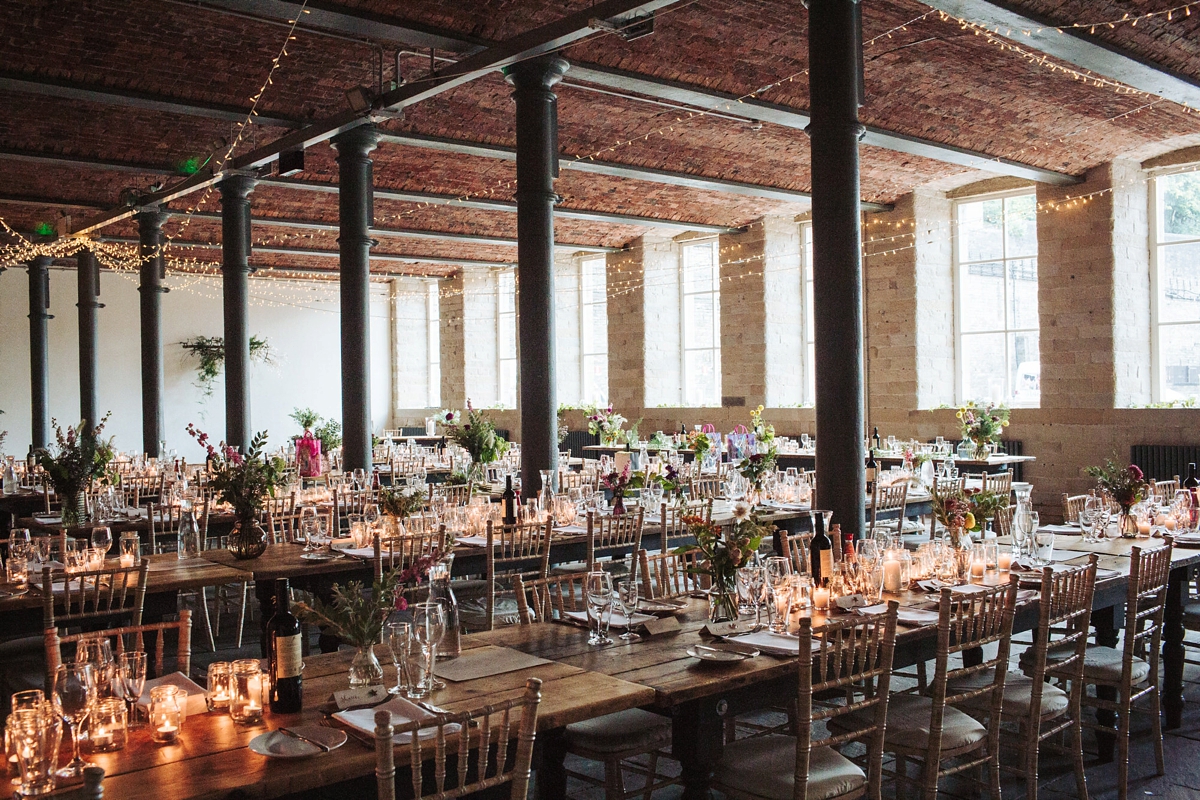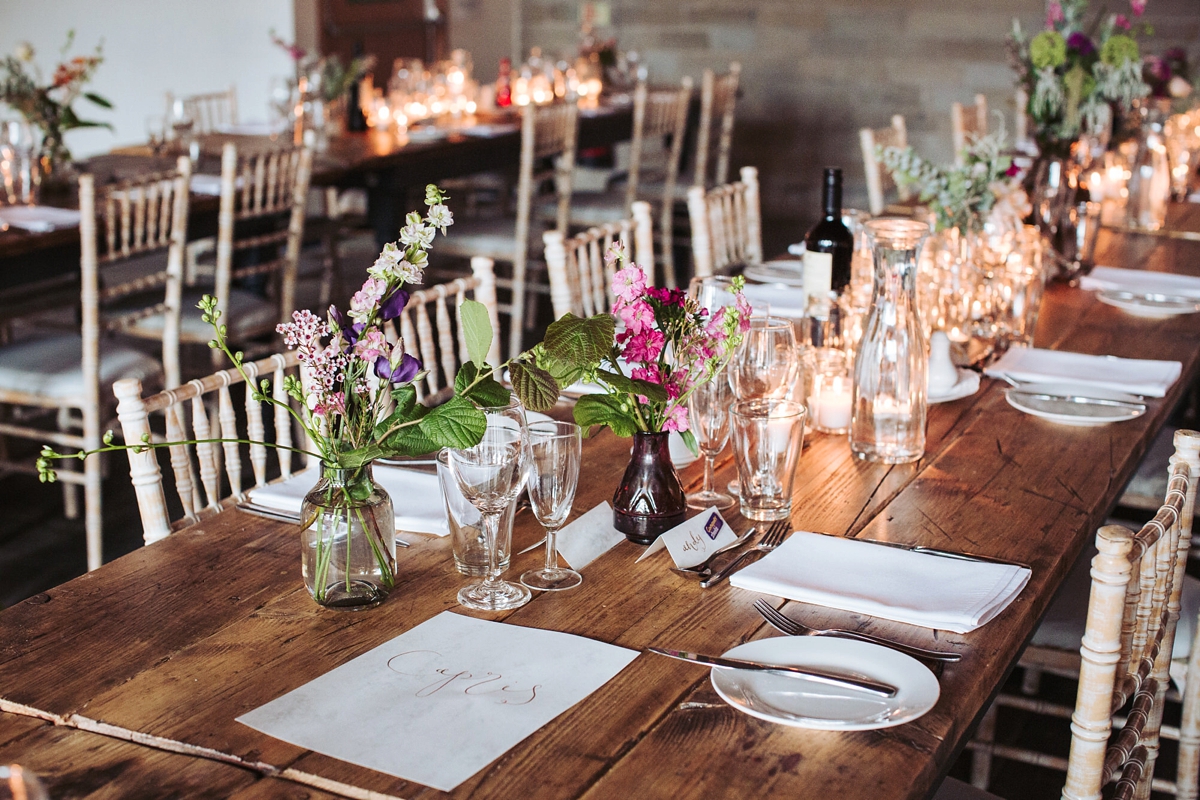 "Our favours were charity pin badges as it felt only right to give something back.  We selected charities that were close to our heart and our guests."
"The badges were from Cancer Research UK, Stroke Association, Mind, Birmingham Children's Hospital, Macmillan, Make A Wish and the Alzheimer's Society."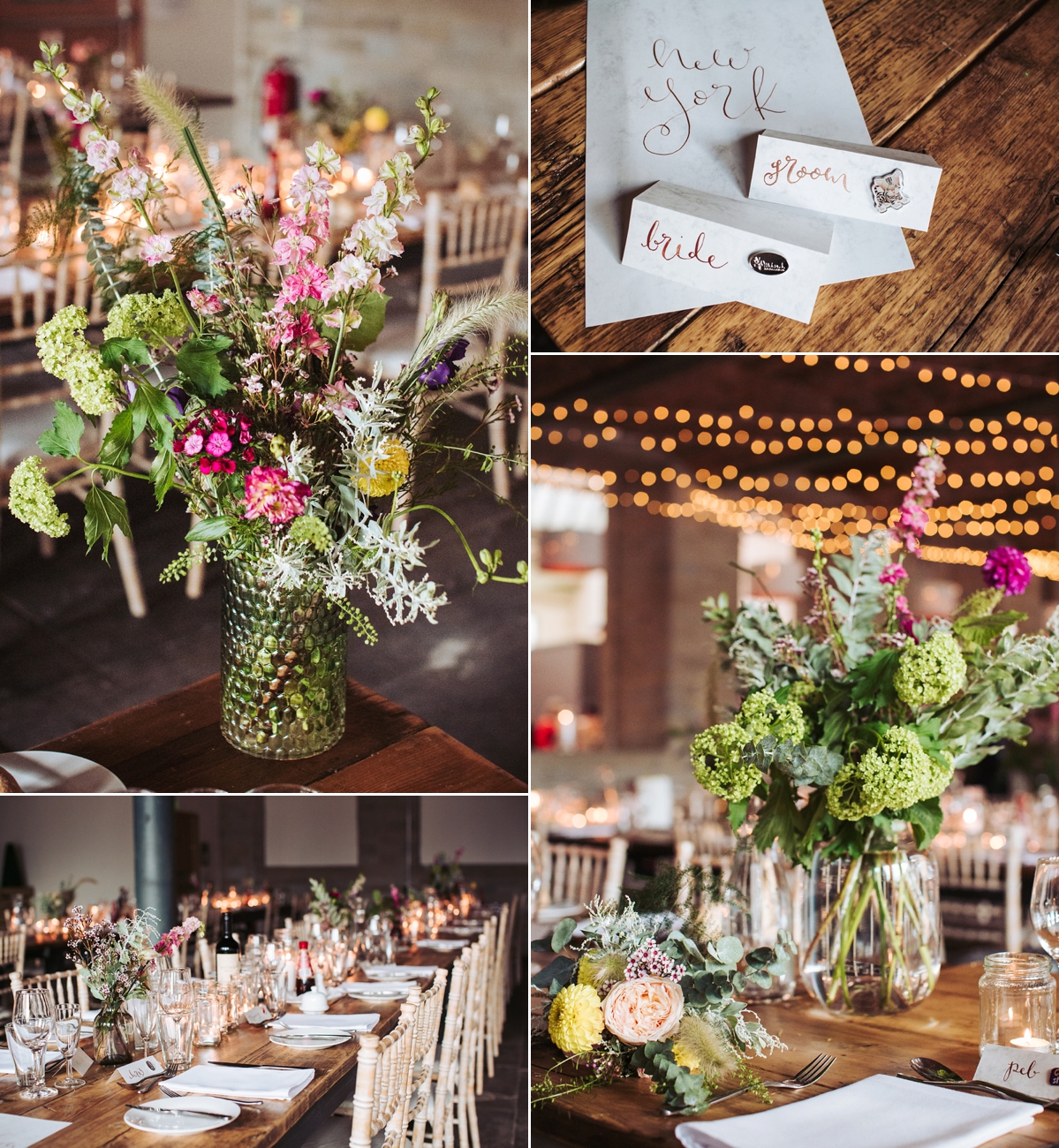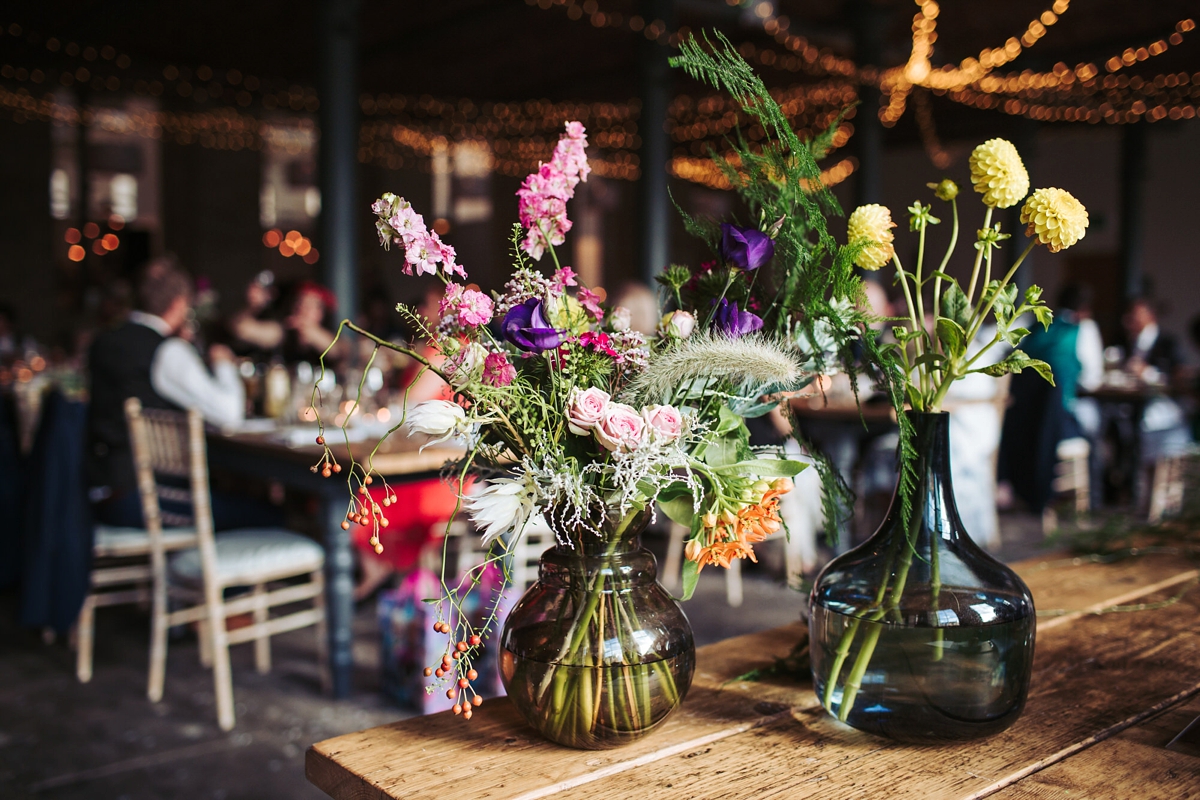 Catering was the work of Eat Me Drink Me while the beautiful grey cake was by Cakes By Sharon.
"We had so many compliments about the food.   The fish and chips were some of the best we've had.  The canapés and burrito bar were also fantastic."
"Sharon is my aunt's best friend so I have eaten her cakes a few times and know they taste out of this world and her sugar craft skills are amazing.  We picked a marbled effect for our stationery and loved the fact that Sharon was able to achieve the same look on the cake.  Tasting the cakes was undoubtedly one of James' favourite tasks."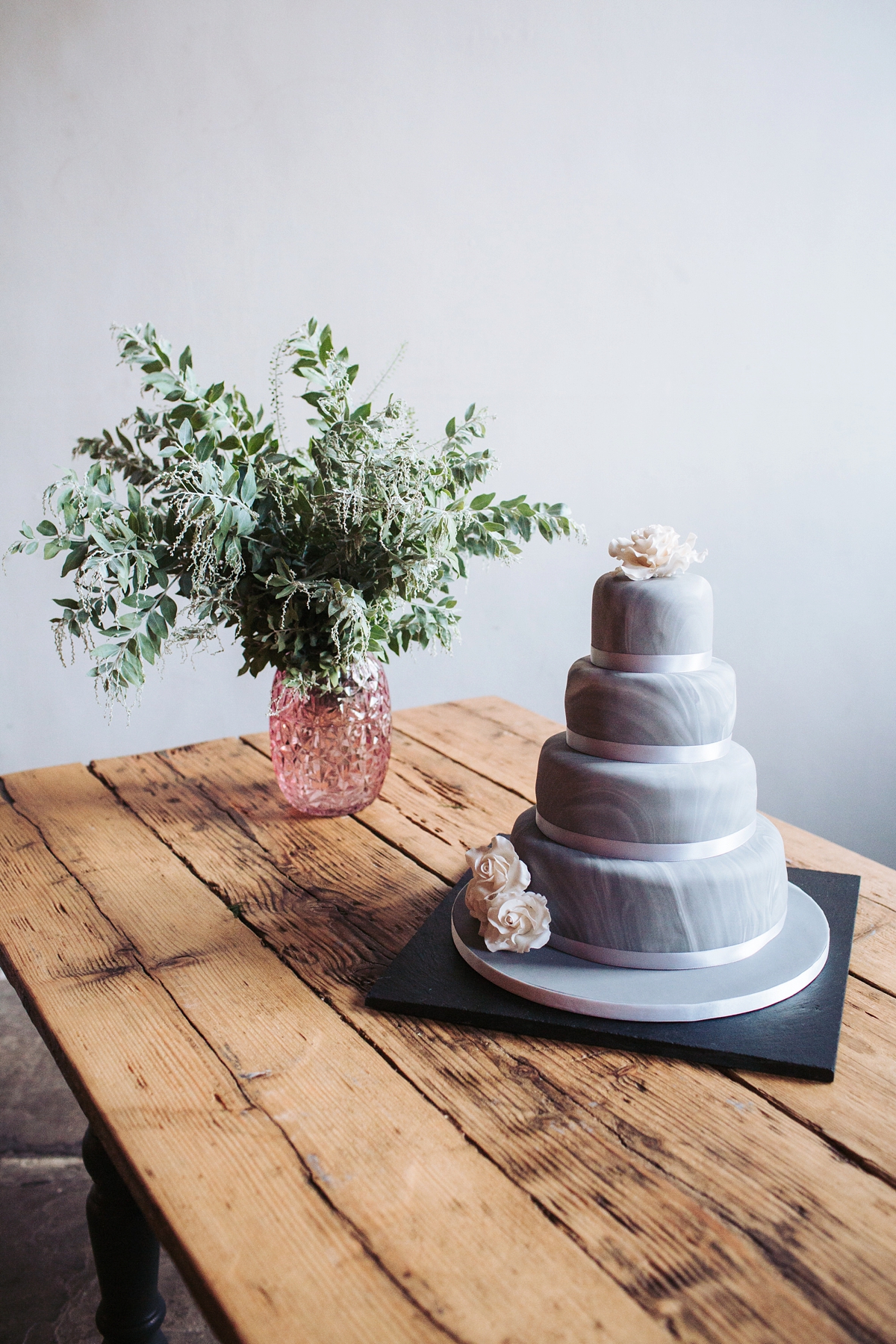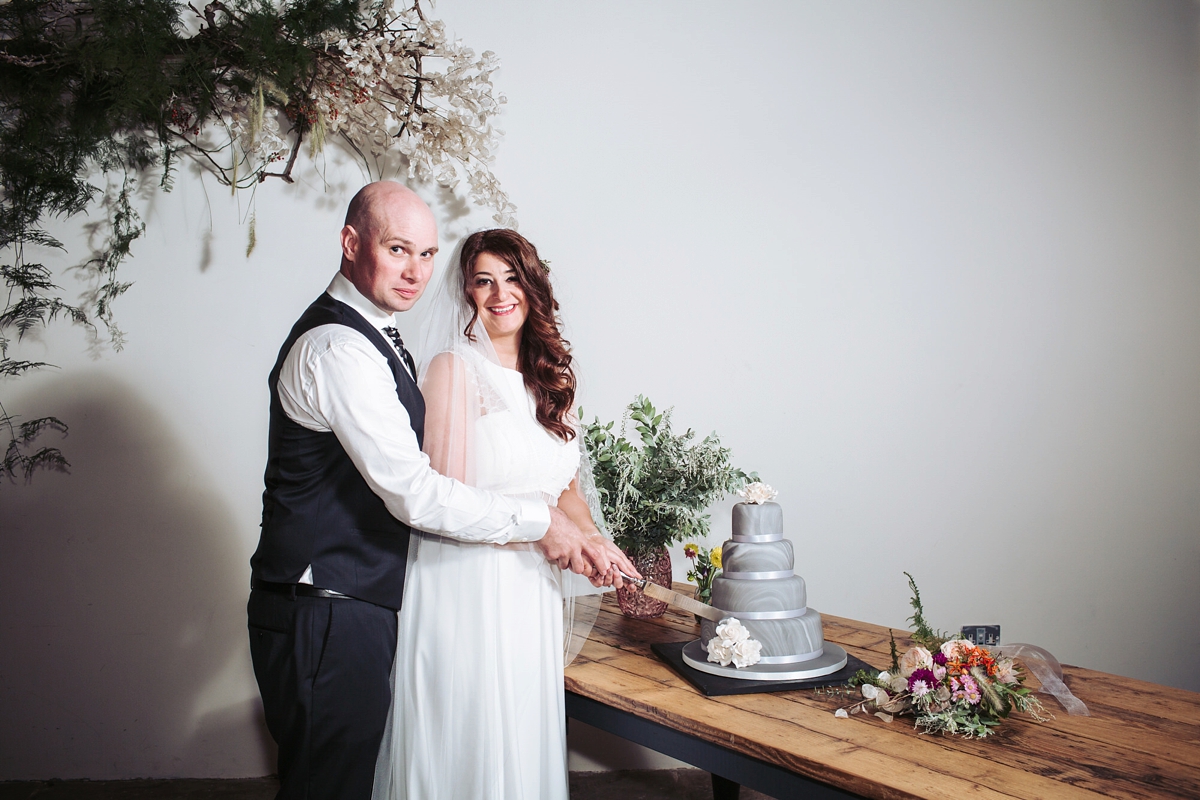 Entertainment came in the form of 'Bad Habits'.
"Young, cool and dreamy.  Definitely not your average wedding band!  My particular highlight was when one guest got up and sang the female part to Teenage Dirtbag."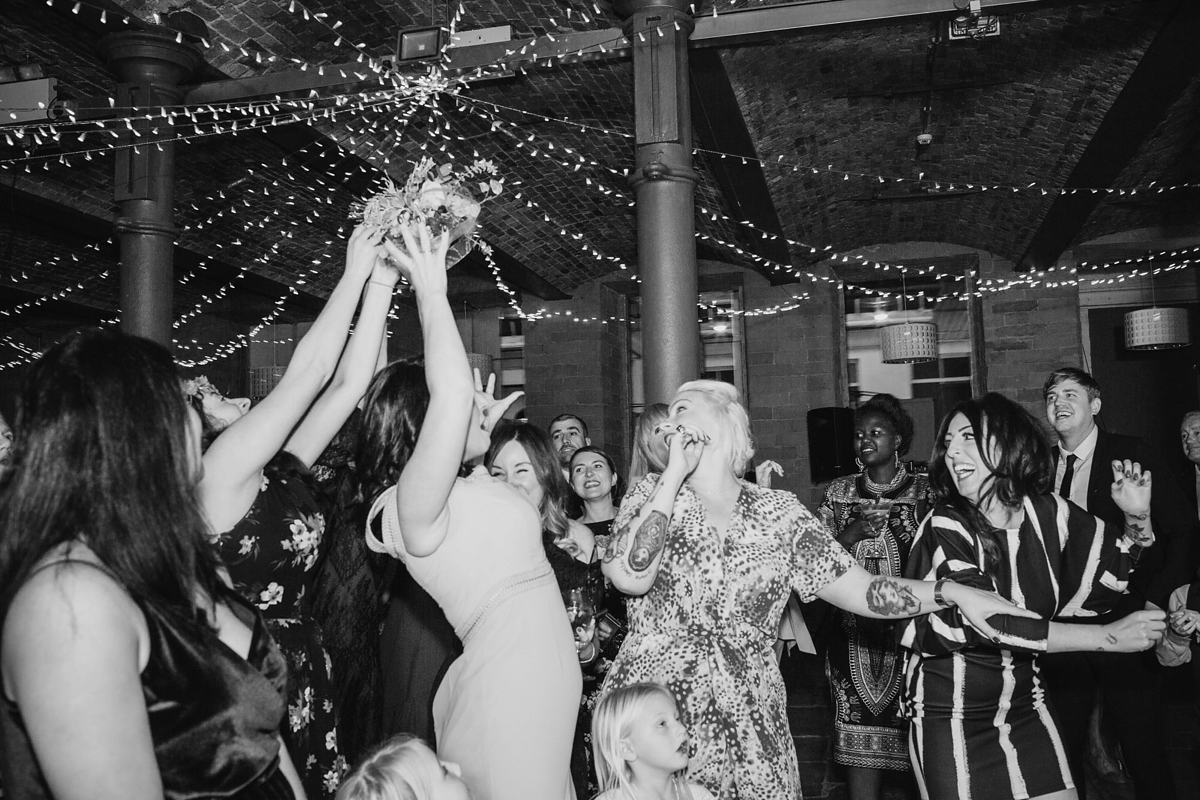 "We are definitely not a 'strictly' couple and feared the thought of a slow dance.  During a date night at home watching Pulp Fiction we decided we might be able to pull of the iconic twist to Chuck Berry's 'You Never Can Tell'.  We are a far cry from Thurman and Travolta but the song certainly got the party going!"
"My favourite part of the day was listening to James' speech as he doesn't really do any public speaking and I was so proud of him."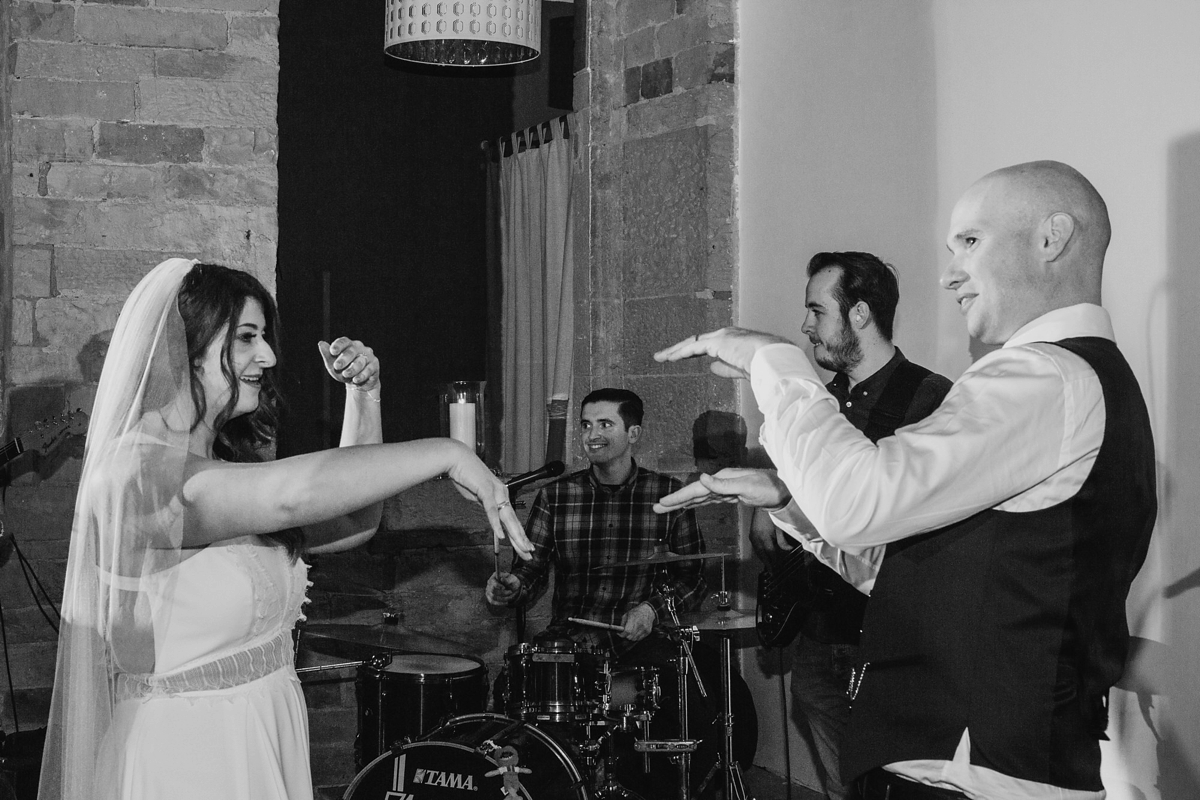 Words of Wedded Wisdom
"Surround yourself with great people.  I was lucky that I had friends that helped me with the cake, flowers and stationery, with everyone else I did my research."
"Ensure anyone you book comes with recommendations so you can trust that they know what they are doing- and let them get on with it.  Everyone says don't stress the small things but you can't help it, amazing people mean there's a few less stresses."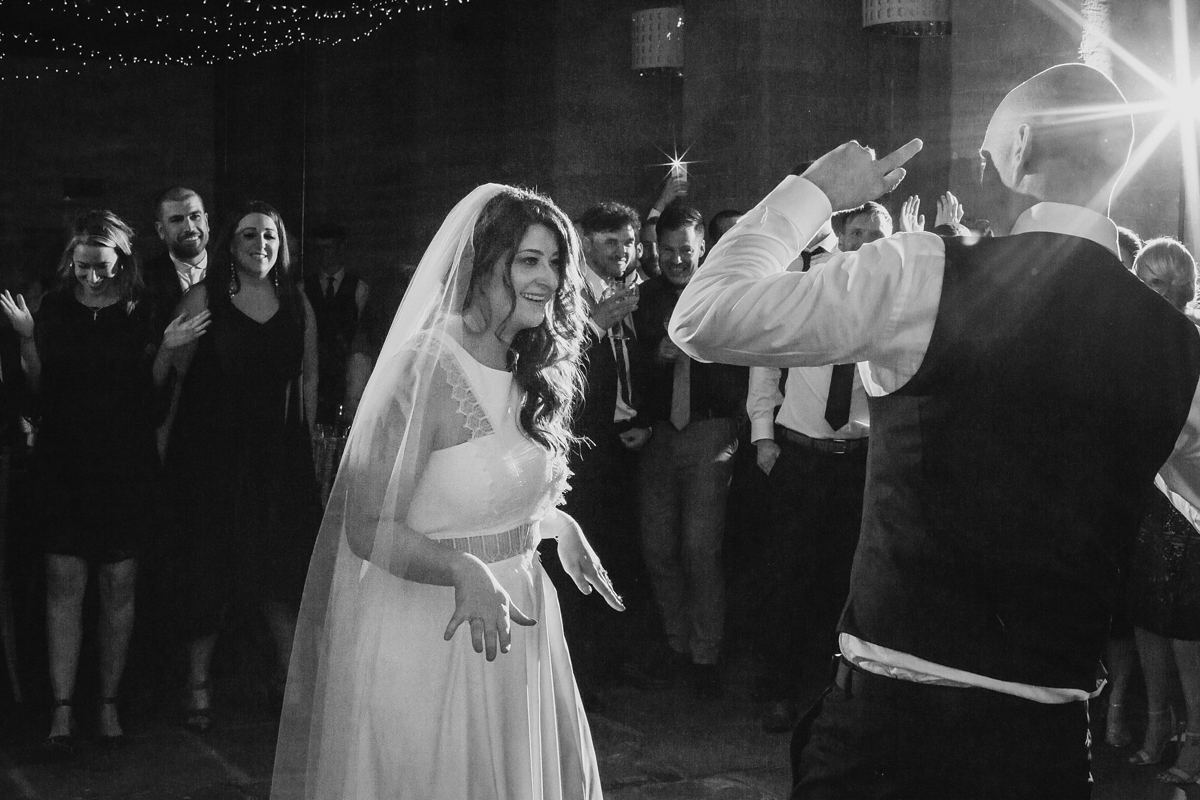 Huge thanks to Jenny and James for sharing this gorgeous day, I love its combination of industrial heritage and colourful florals.  For more brides in beautiful Rembo Styling gowns, take a look here– there are more than a few to admire.
Much love,
S x