Good morning lovely readers – it's a misty, atmospheric morning out there in the UK, but I think I spot sunshine! I have something so incredibly gorgeous for you today.
I've completely fallen in love with these images and I know you're going to as well. Lets travel to beautiful Norfolk and the wedding of Harriet, who works at Sotheby's, and Ed, a project manager, who married at Godwick Great Barn on the 29th September 2017. By the way, check out the supplier list at the end of this feature – there is a plethora of superb businesses you'll want to add into your wedding planning notebook.
"We wanted a relaxed countryside wedding and a venue full of cosy rustic charm.  Godwick also features in the Doomsday book and you can still see the ruined church tower from the barn which adds to the atmosphere.  It was really important to us that the venue we chose gave us the freedom to style our wedding how we wanted.  It was a huge plus that we could bring in our own caterers, entertainment and bar and it was only twenty minutes away from my Mum's house too."
Images by James Powell Photography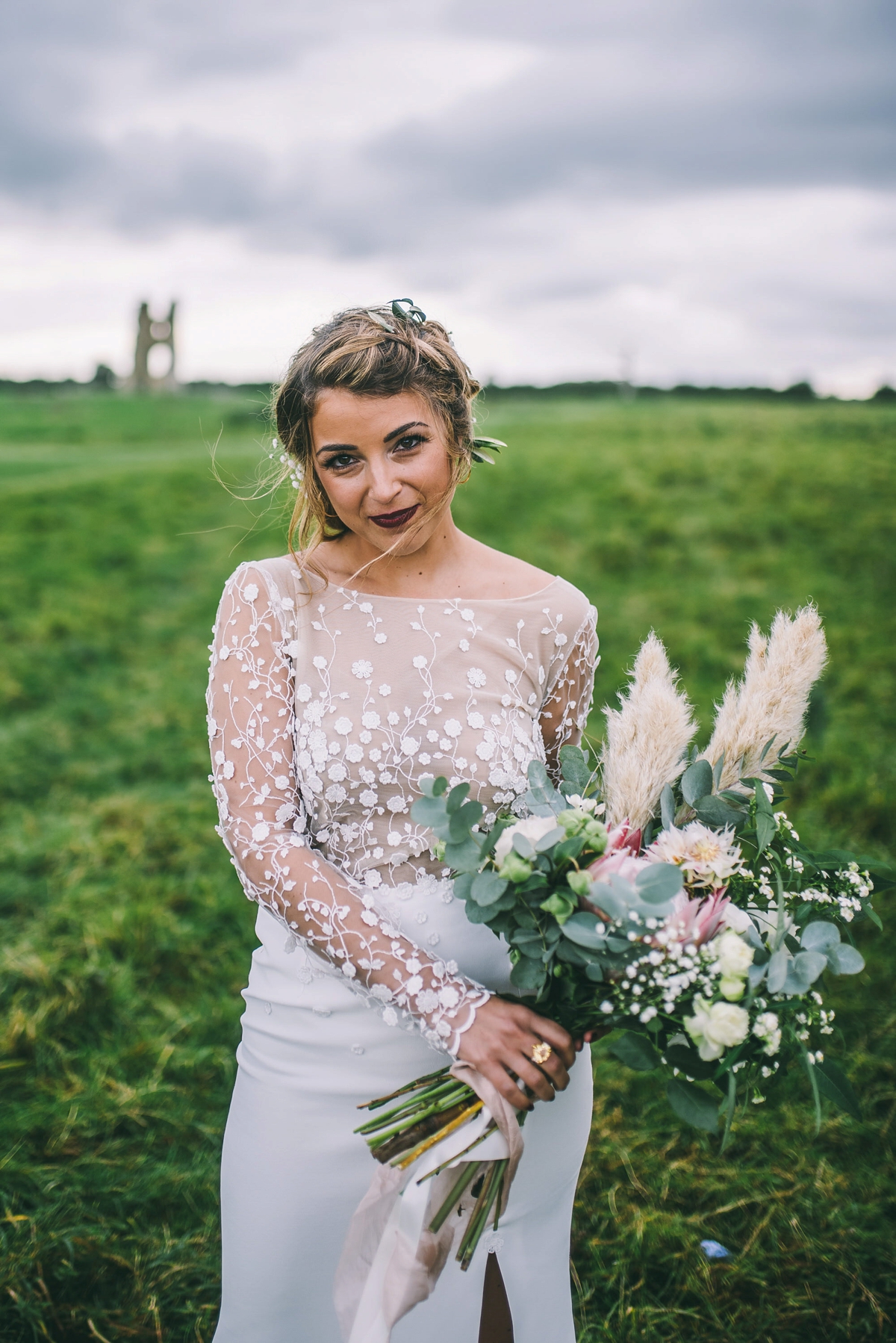 Harriet looked fabulous in a gown from Rime Arodaky, which she purchased from The Mews Bridal in Notting Hill.  I absolutely adore the embroidered bodice and sleeves and the daring split skirt.
"I wanted something different but timeless, cool and a little sexy and this dress fitted all those things for me.  The delicate hand-embroidered flowers were beautiful and I also loved the low back and the long sleeves that fell over my hands."On her feet Harriet wore a playful pair of pink feathered shoes by Kurt Geiger, while for scent, she opted for her everyday Velvet Orchid by Tom Ford.  One thing I completely love about Harriet's look is the amount of amazing textures she combined, from the delicate embroidery on her gown, to the feathered softness of her shoes and tiny gypsophilia flowers in her hair.
Harriet wore her hair in a relaxed up do, decorated with sprigs of gypsophila, and looked every inch the glam boho beauty with a dark red lip and nails.  Both hair and make up were the work of Emily of Love Moi Makeup.
"Emily is amazingly talented and also super friendly, chatty and relaxed.  When I started to freak out she was amazingly calming and got me and my bridesmaids in order."
"We wanted to get married in an area that meant something to us and we knew Godwick was perfect from the first viewing.  All the exposed brick, the lofty ceilings, an exposed wooden stairway, what's not to love?"
"The venue inspired me the most so once I saw that the rest fell into place.  I was also inspired by a blog post from January 2017 – Rue-de-seine Organic Natural Kinfolk Bohemian Wedding.  That wedding had some serious style."
The sensational florals, which included these hanging beauties, were the work of Donna at The Country Garden Florist.
"I wasn't specific about what flowers I wanted, I just gave Donna an idea of style and she created a dream.  I wanted the wedding to look like an enchanted forest, with lots of trees and foliage, while for the bouquets I asked for an undone style with one large flower."
"When the bouquets turned up and I saw the proteas I was over the moon.  I later learned that traditionally the protea flower represents change and hope, which was very fitting.  To really fill the barn, I also hired trees from The Romantic Garden Nursery."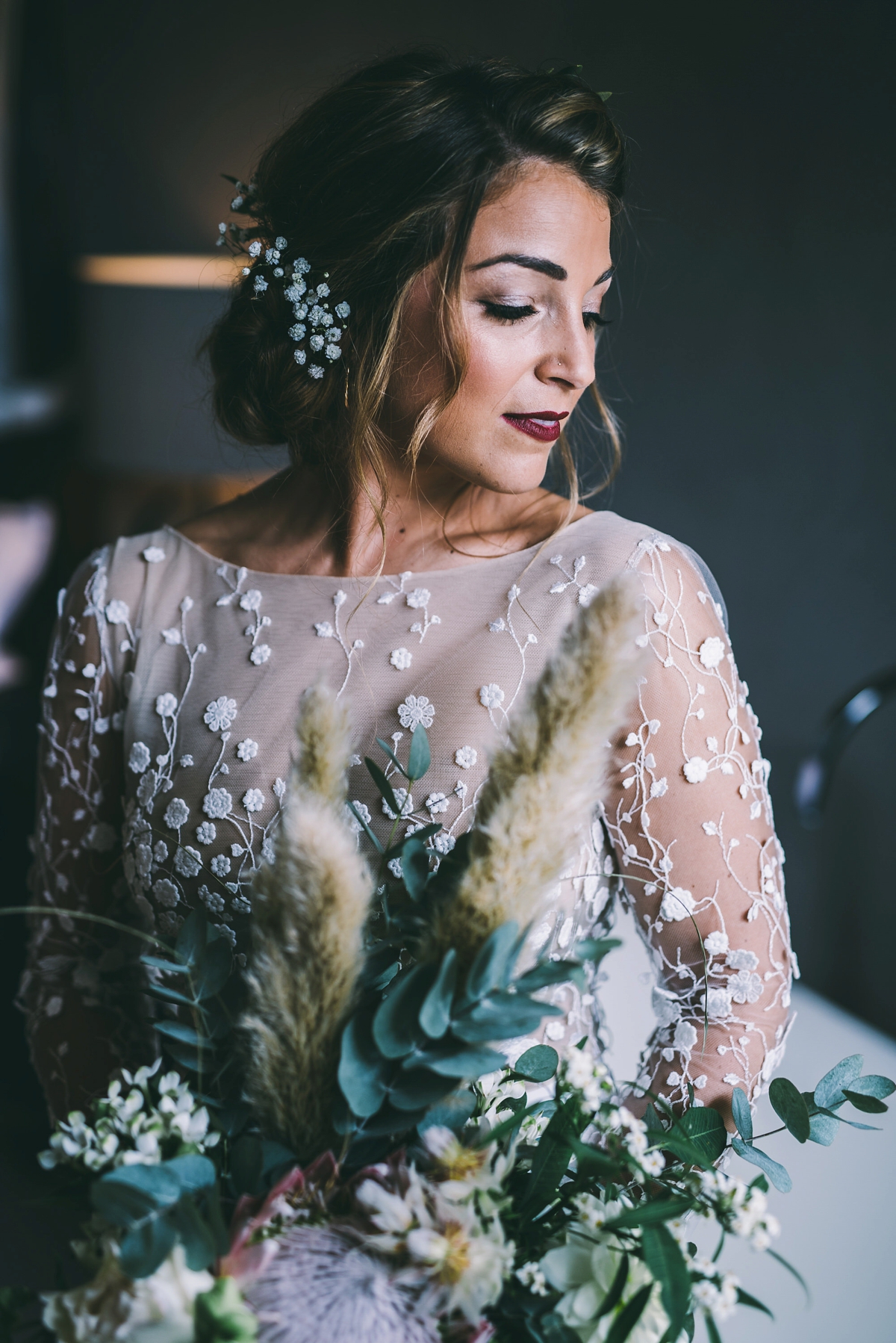 For jewellery, Harriet wore a bespoke ring that Ed gave her on the wedding morning (by Tessa Metcalfe) and a pair of gold hoop earrings that her best friends bought for her birthday.
"I let my bridesmaids wear whatever dress they wanted.  I asked that they wear navy blue and that was my only requirement as I wanted them to be comfortable and be themselves.  I had faith that they would choose what suited them better than I could and they looked amazing."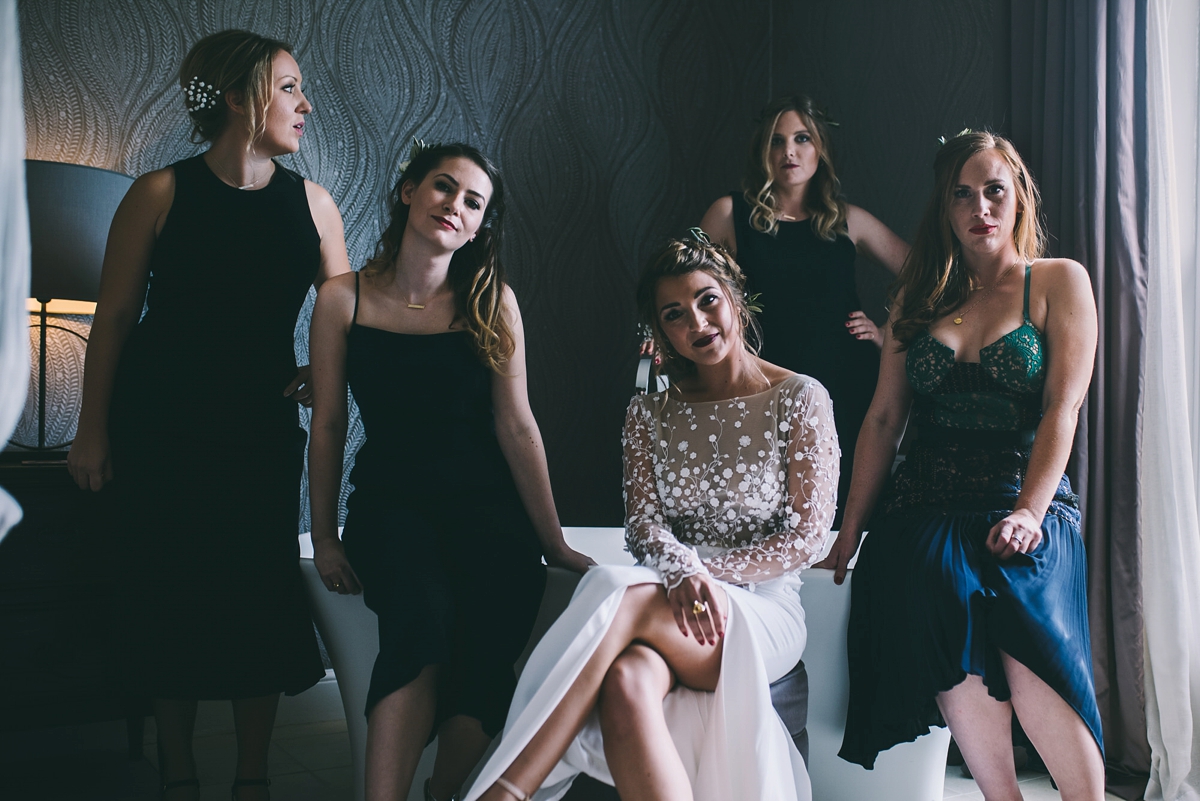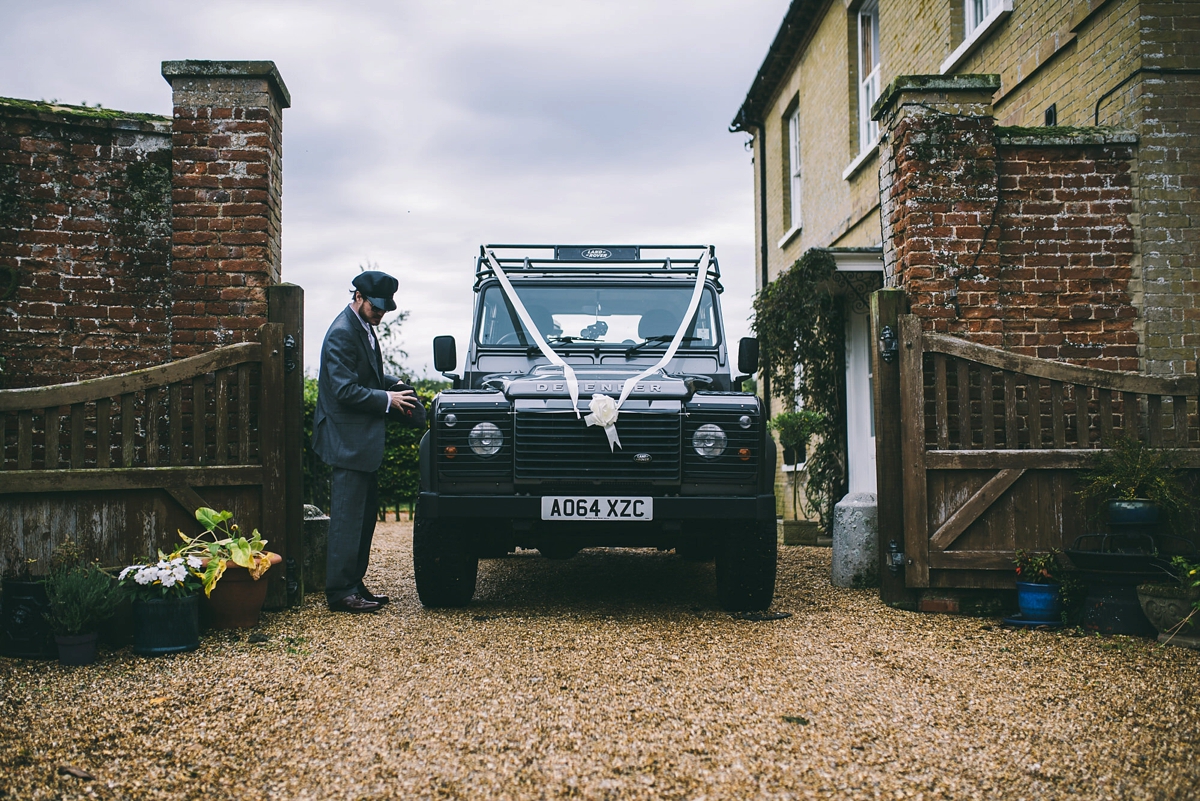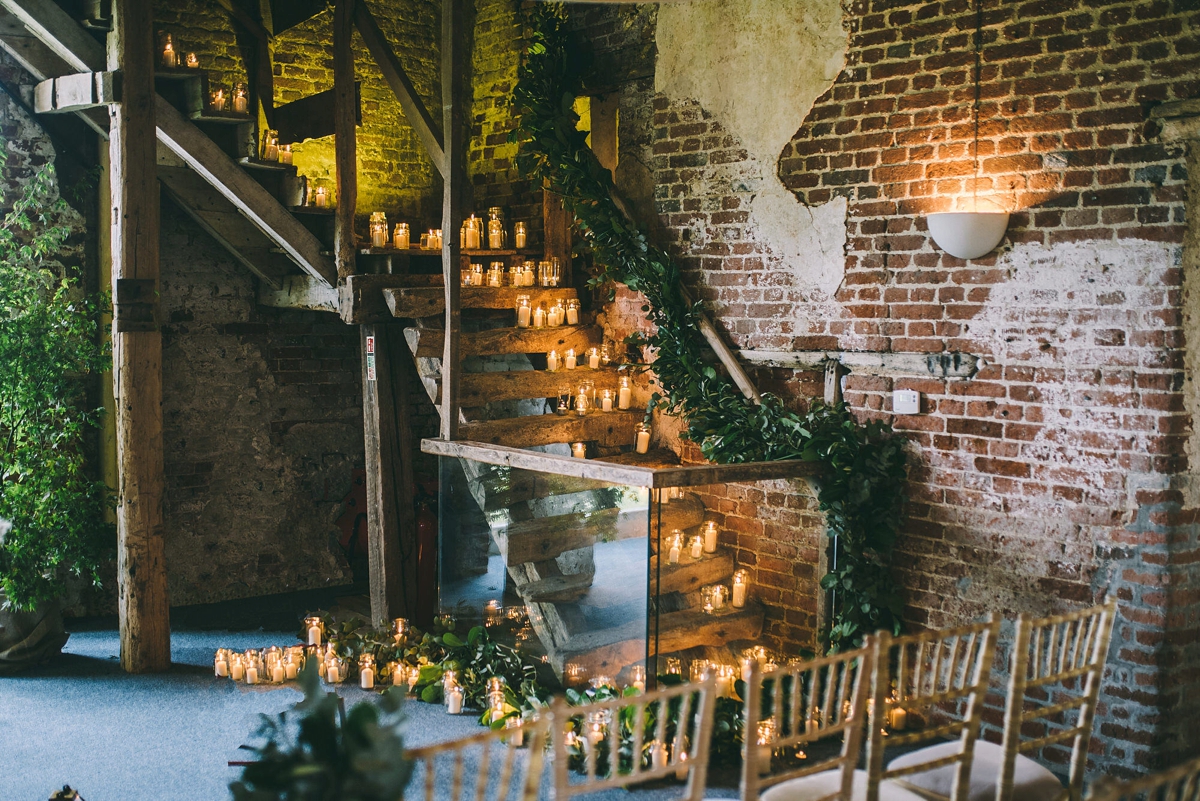 "Ed proposed whilst we were on holiday in Ibiza. We were having a picnic at the top of a cliff about to hike down to Atlantis and the proposal took me entirely by surprise.  We still hiked but my legs barely worked as I was shaking so much!  We were engaged a year before we got married."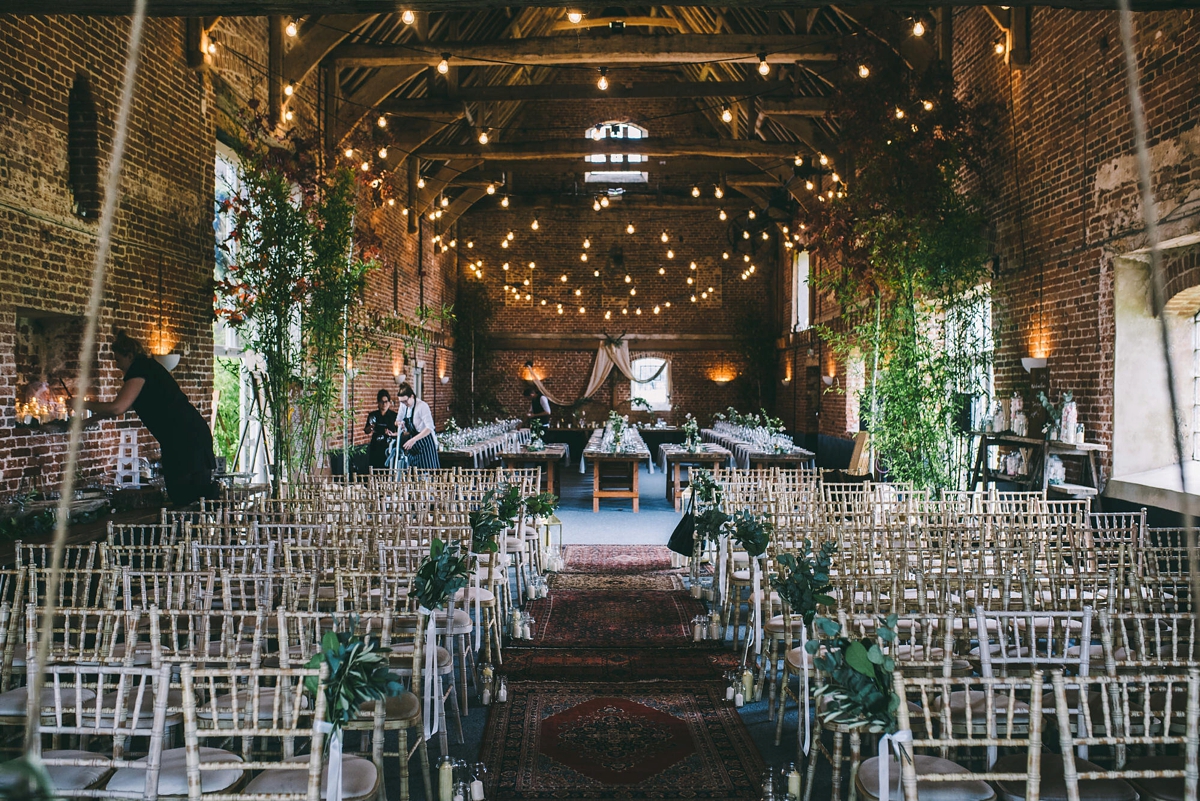 Ed wore an Italian suit with a checked waistcoat from Suit Supply.  He accessorised with shoes from Russell and Bromley, his granddad's pocket watch chain and a pair of cufflinks from Harriet, which he opened on the wedding morning.
"They were from Alice Made This, who are local to us in London and use an aerospace factory to make their accessories.  I had them engraved with our wedding date in roman numerals."
The best men and groomsmen wore their own navy blue suits and Ed bought them tweed waistcoats and ties from Dobell.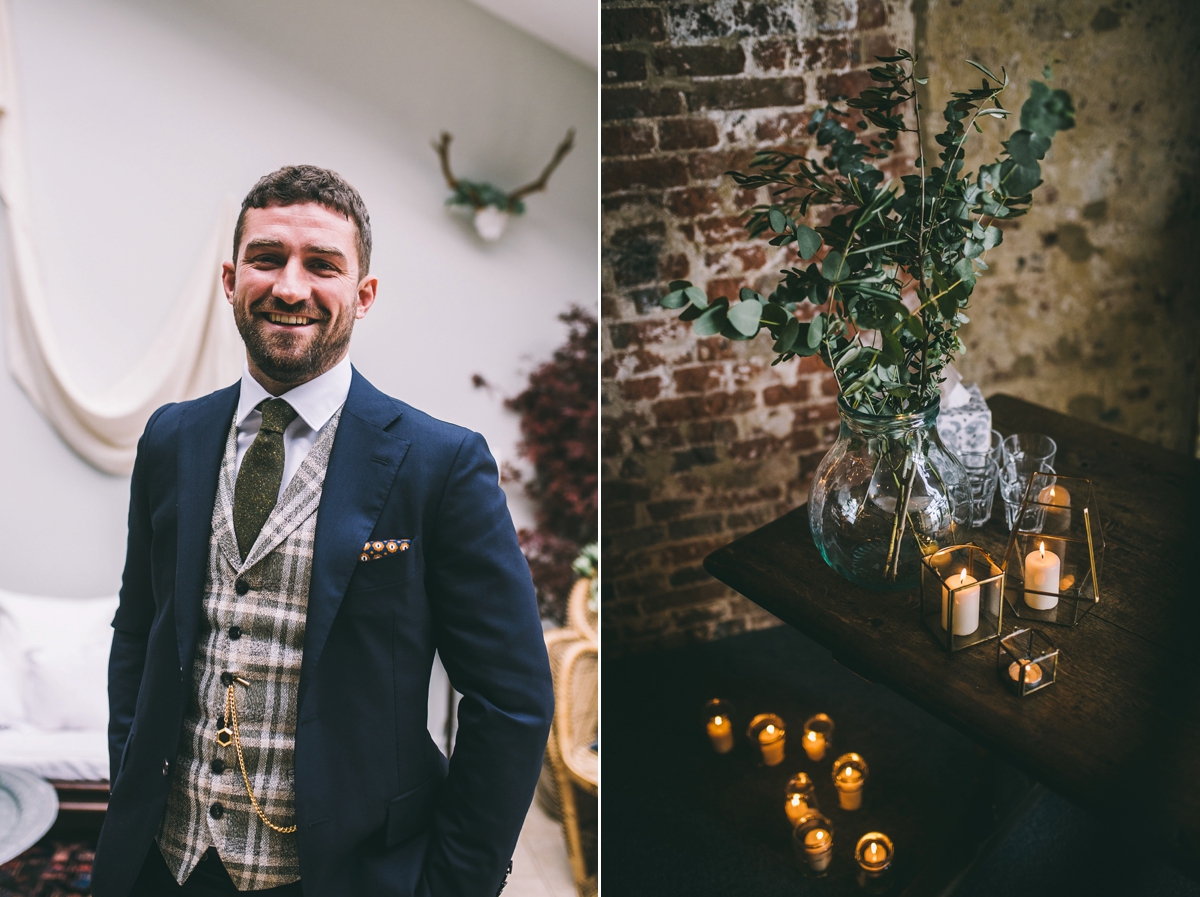 "My Dad walked me down the aisle to 'Claire de Lune' by Debussy played by The Wedding String Quartet.  I'm a crier, so I knew it was going to be really emotional for me.  I hadn't expected my Dad to be so emotional though- neither of us kept it together.  Despite the tears, I could feel how proud he was."
The couple asked their readers to choose their own texts and they picked an extract from 'Doctor Zhivago' by Boris Pasternak, 'The Promise' by Eileen Rafter and the final reading was a personalised poem.
Harriet and Ed danced their way out of the ceremony to Stevie Wonder, played by The Wedding String Quartet, who entertained their guests with covers of popular songs while the newlyweds sneaked away for a few portrait shots.
Today's utterly beautiful pictures come to us via the lens of James Powell, who I am thrilled to welcome to Love My Dress for the first time.
"We didn't want too many rigid, staged photos and that's not James' style; his photos are relaxed and candid.  He did an incredible job of capturing the many emotions of the day.  James made me feel relaxed from the start; he was friendly, funny and unobtrusive.  When it was time for him to leave the wedding we wanted him to stay and party with us."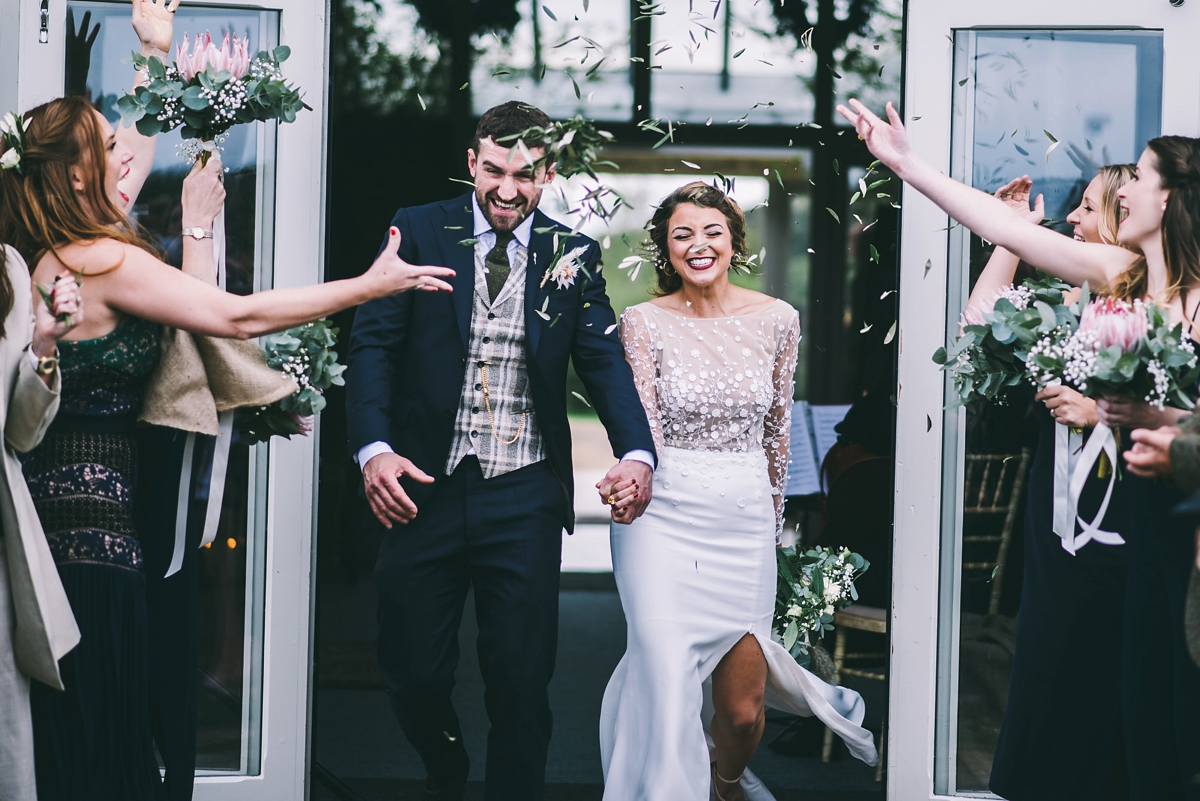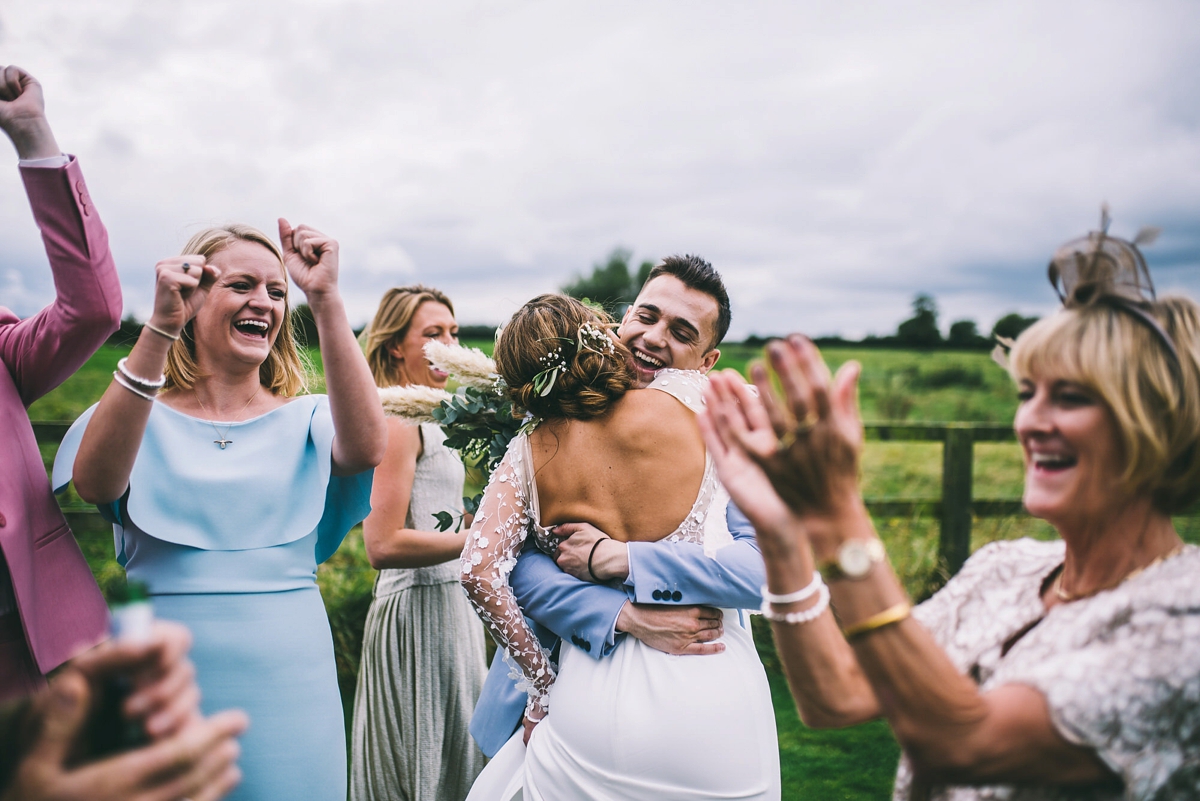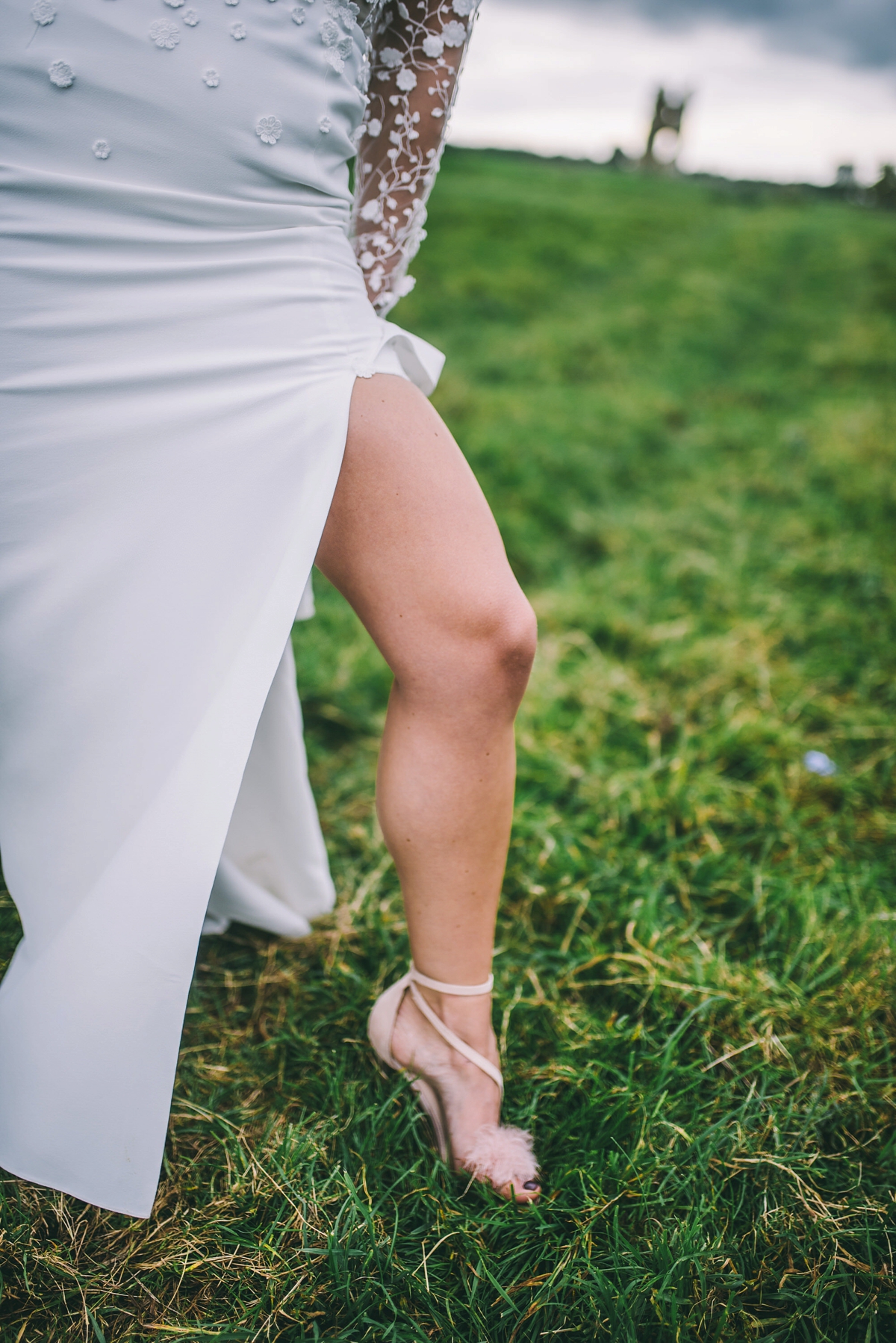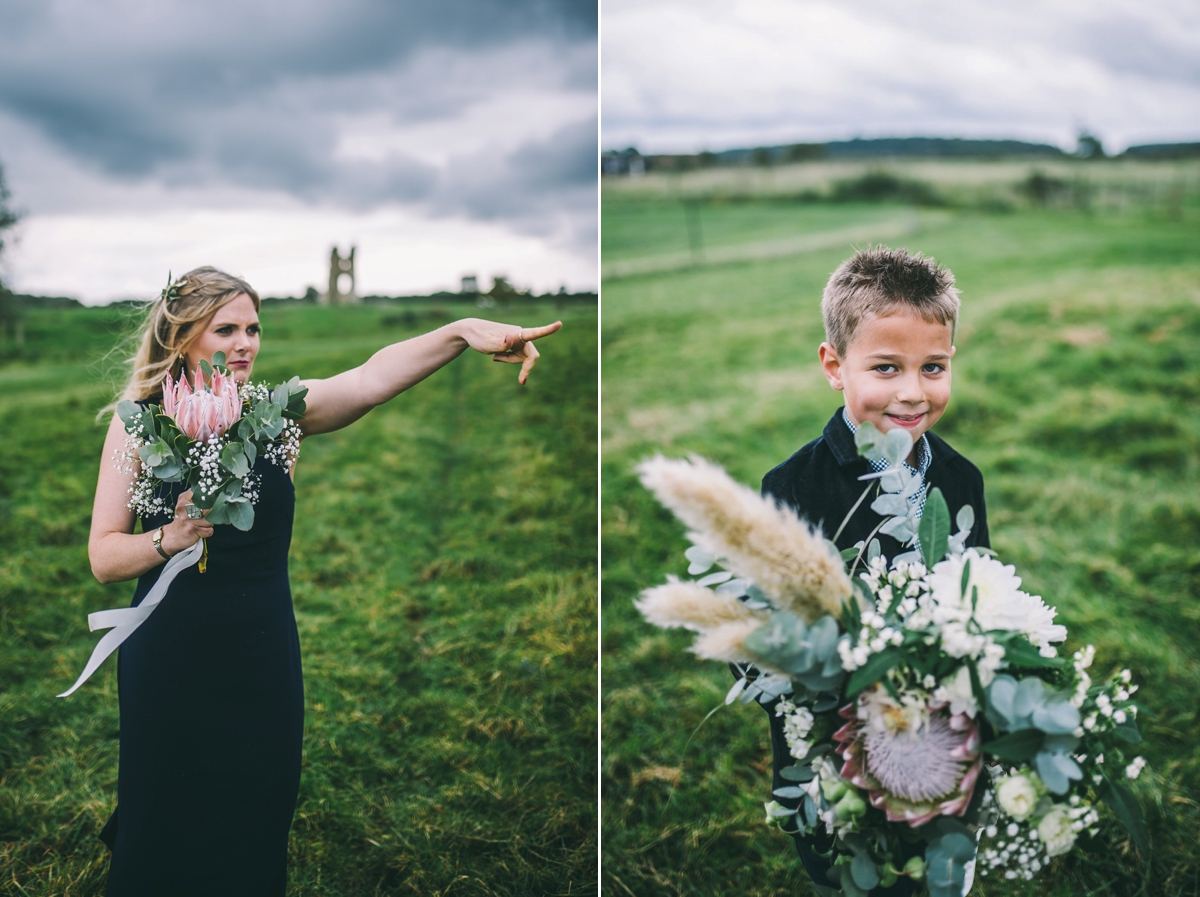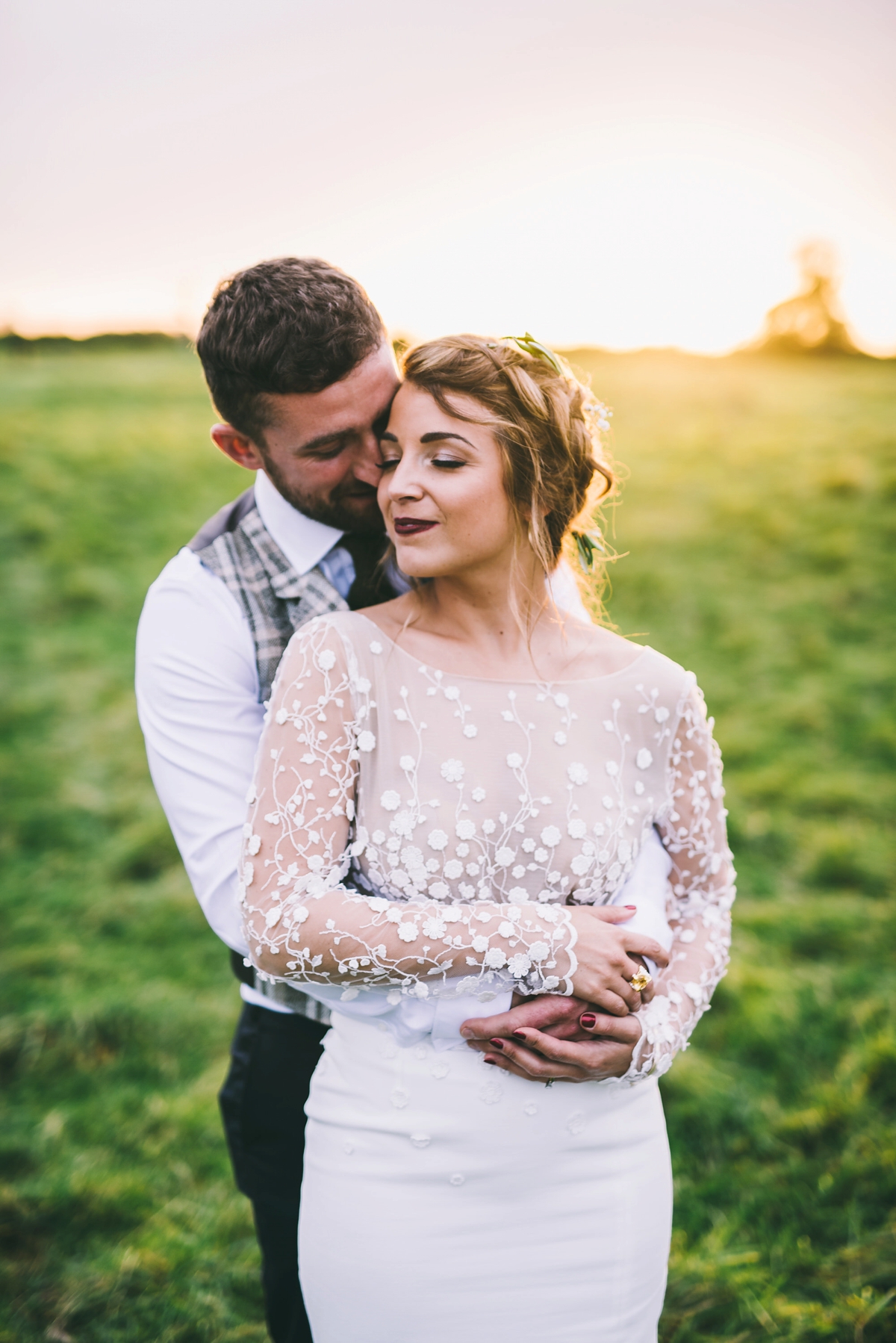 The bar area was styled by Penny with a mix of her props and those from The Raj Tent Company, while cutlery, glasses, plates and napkins were provided by CMA Hire.  The glamorous gold cutlery was from Helene Millot and the catering itself was the work of Florentina Events.
"Décor was a big part of my planning.  I enlisted the help of the exceptional Penny and The Little Lending Company who offer styling and prop hire and made my dreams come true."
"Penny  ran with my ideas and added bigger, better ones.  Some of my favourite things she created were the Persian rug aisle and dancefloor, the drapes through the rafters, and the pièce de résistance, a hanging table 'altarpiece'.  I cannot recommend her highly enough.  I couldn't have done it without her."
"Our caterers Florentina Events were seriously good.  All the produce was locally sourced from Norfolk and was cooked to perfection.  The service and set-up provided by the team was perfect too.  Instead of hot evening food, we provided a grazing table and Florentina set it all out beautifully; it looked like a Harry Potter banquet."
"I'm a huge cheese fan so we chose a cheese tower from West Country Cheese and a pork pie tower from Nelsons Butchers.  We asked family and friends who are particularly skilled in the kitchen to bake something too.  It was a nice way to get people involved."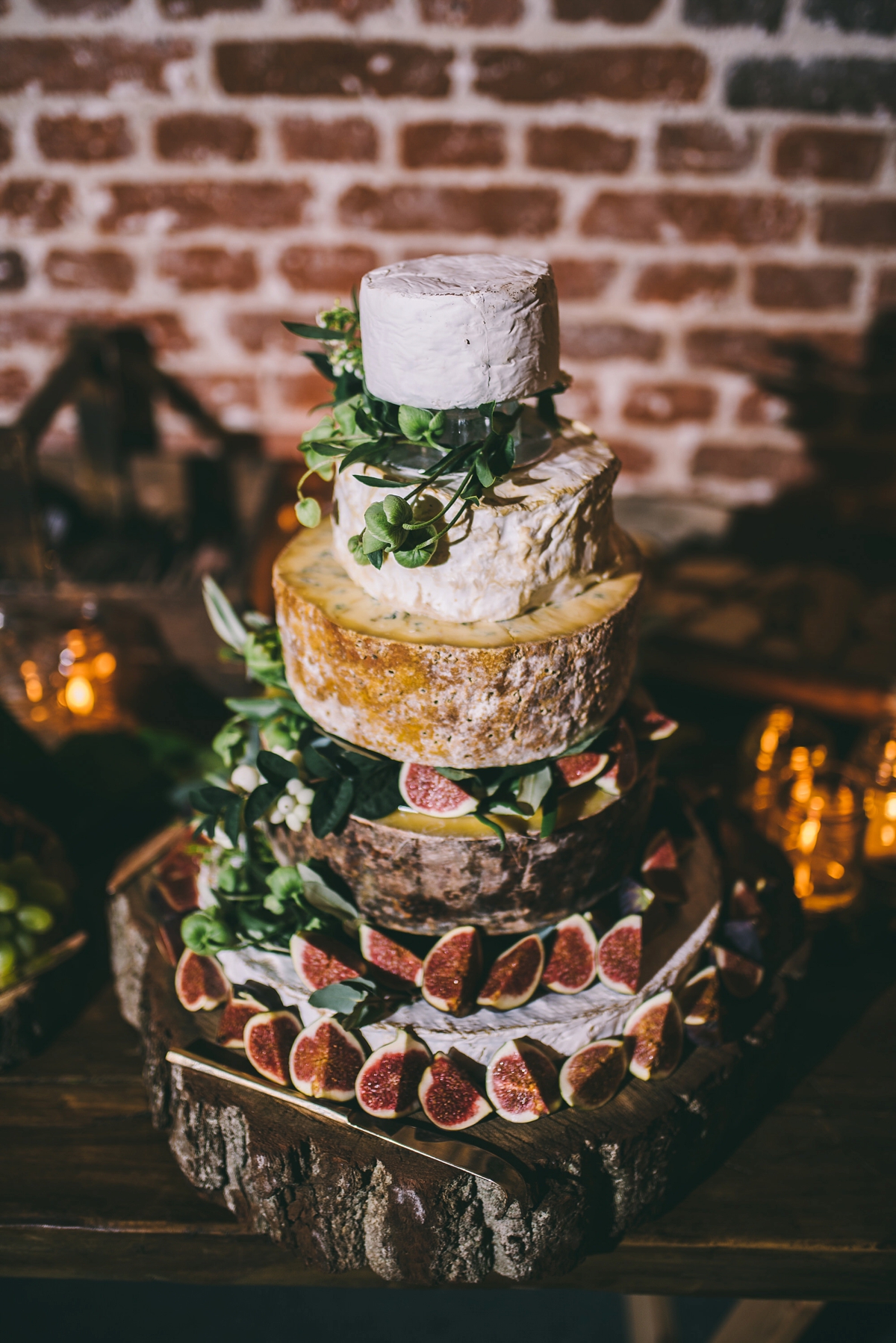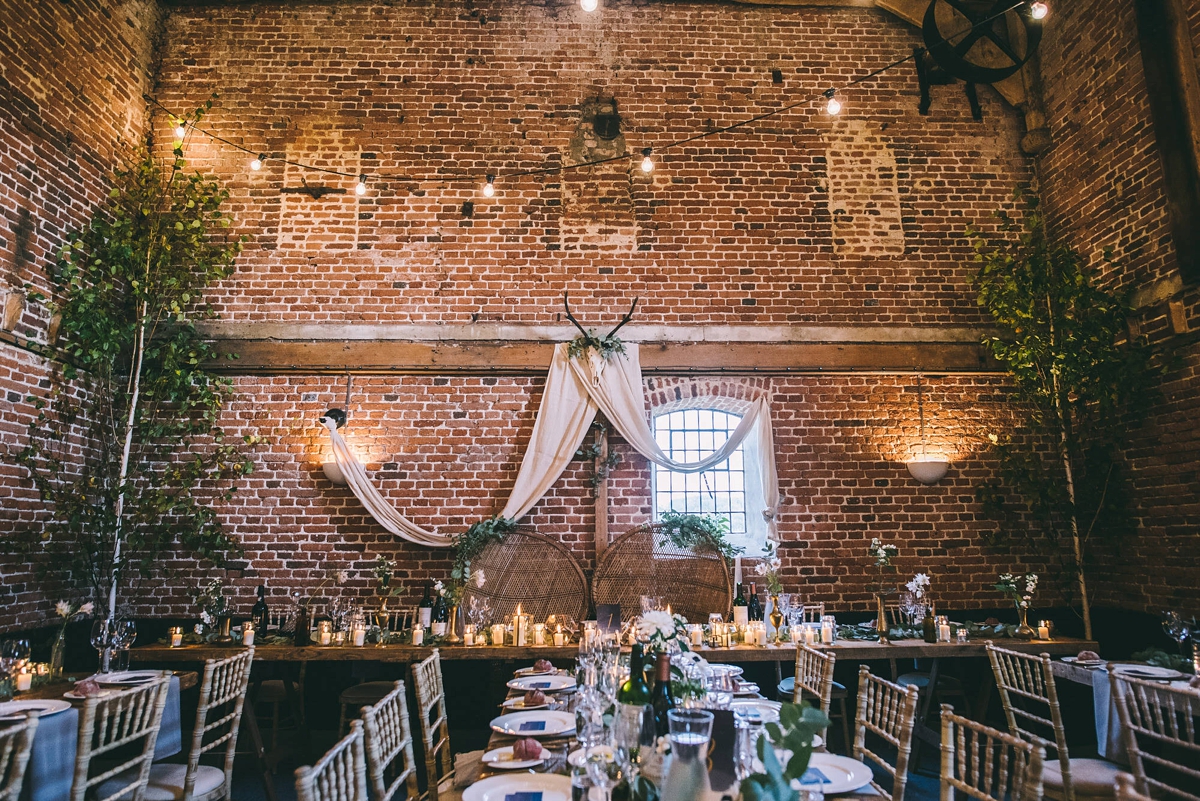 Table numbers and place names were by Zoe of The Golden Letter and Ed and Harriet also wrote a short 'biography' for each guest.  For favours, they provided marshmallow toasting kits, with giant marshmallows from Zap Sweets.
For entertainment, the couple hired New Orleans-style brass band, Badass Brass.
"They were great fun and got everyone on the dance floor.  Our Master of Ceremonies then got on the decks to see us into the night and also DJ'd at our after party, which carried on well into the early hours."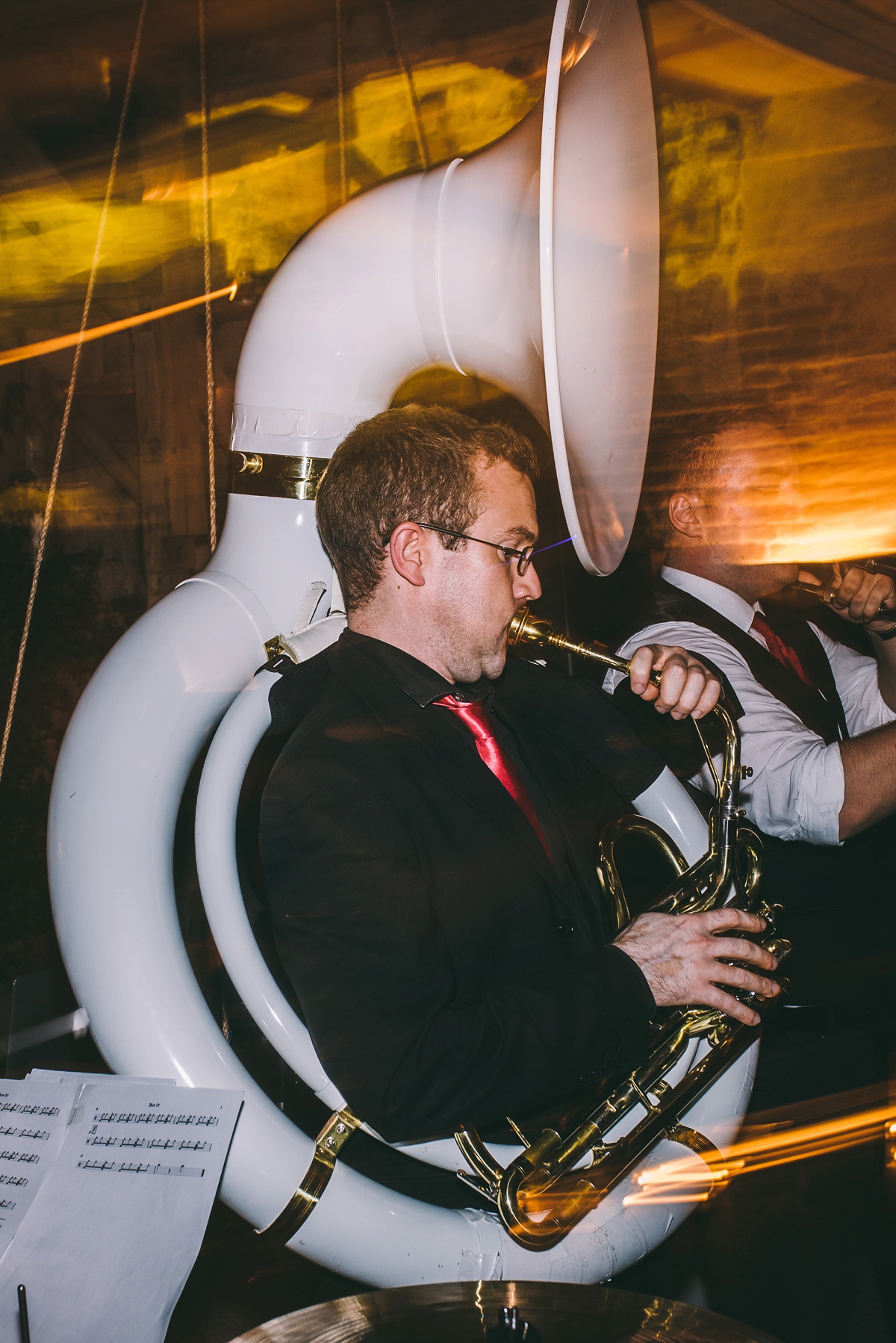 Words of Wedded Wisdom
"We couldn't have done it all without the help of others (in particular my Mum) and I would highly recommend delegating to people you trust."
"Also, make good use of your suppliers, they're the experts and have done it many times before. Pick and choose the details you want to focus on; otherwise you'll lose your mind."
So many thanks to Harriet and Ed- its been such a pleasure to write up this gorgeous day.
For more fabulous Rime Arodaky– wearing brides, take a look here, while for more weddings styled by, or with props from The Little Lending Company, visit here.  To peruse some other weddings held at this beautiful venue, follow me this way…
Much love,
Shona x