Dear readers, wherever you are I hope you're having a lovely week. Here in the UK there's the prospect of our first heat wave of the year, and it's causing much excitement and anticipation…well, maybe that's just me?!
We're travelling to glorious Yorkshire today for a beautiful spring wedding inspired by the classic Brambly Hedge stories by Jill Barklem. There are charming homemade touches, a wonderful old tithe barn, flowers and greenery galore and a divine, vintage inspired wedding gown by one of my favourite designers, Eliza Jane Howell.
Bride Cassie, a nurse, and her groom Oli, a software tester, were married on the 29th May 2017 at York Registry Office, followed by a reception at Poppleton Tithe Barn in North Yorkshire. I love that Cassie and Oli decided firmly that they didn't want an evening reception, instead opting for a laid back daytime celebration with their favourite food and a live pianist.
"I fell in love with the venue as soon as I walked in. It fit in with the theme I had in mind.  It was also a blank canvas. We could do what we wanted (within reason) and not be expected to conform to the norm with other venues as we decided early on that we did not want to have an evening reception."
Photography by Natalie Pluck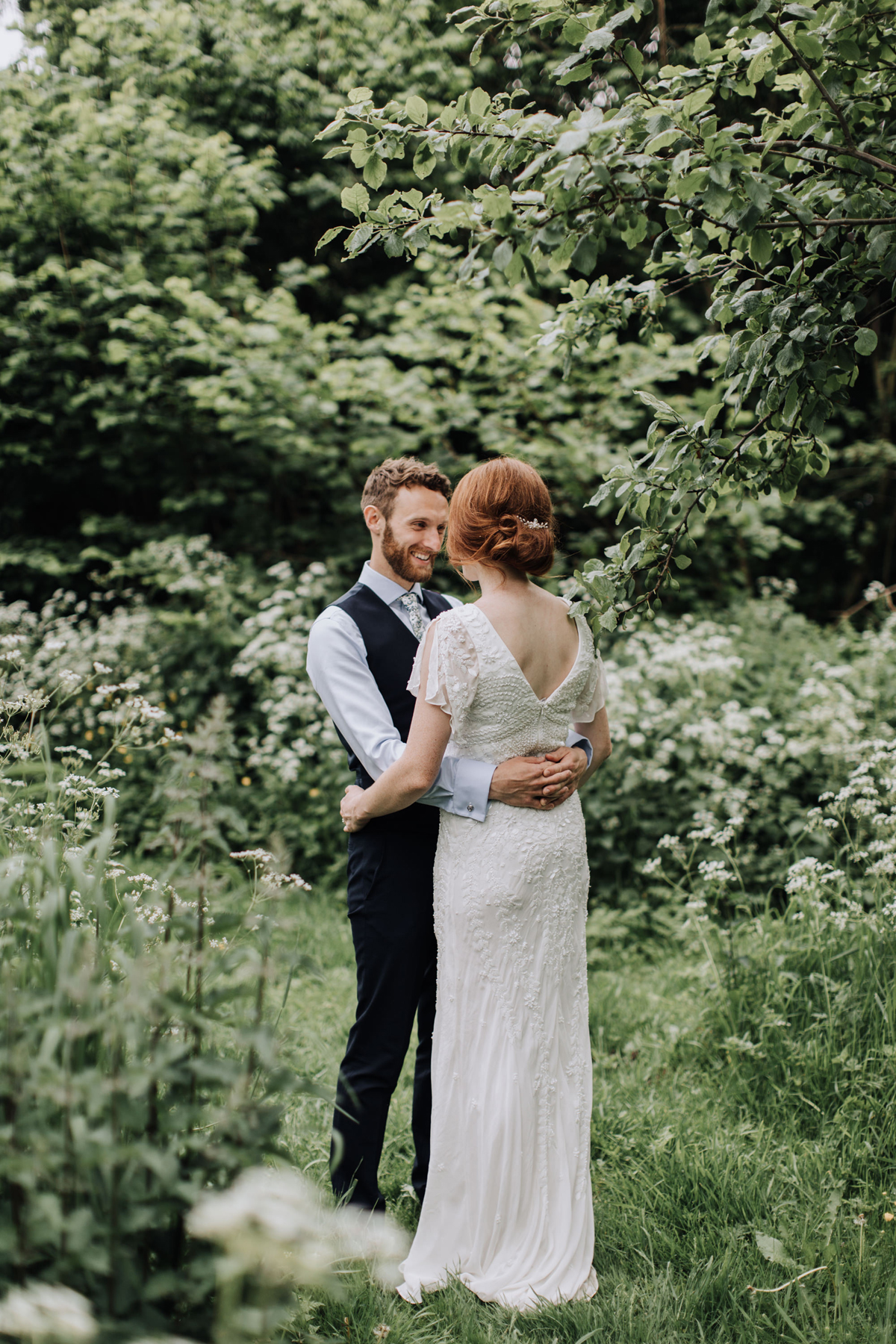 Photographer Natalie Pluck brings the story of Cassie and Oli's day to enchanting life. There's a real light, vintage touch to her work and in the way she captured the soft colours and lush abundance of the season, and the quiet, touching moments between the bride and groom.
"I had an idea of what I was looking for in a photographer, a relaxed and vintage style, which Natalie provided effortlessly. Her relaxed style really fit in and it certainly didn't feel like we'd only met her on one other occasion. We're over the moon with her photographs. They perfectly sum up the feel of the day and we receive compliments all the time about them."A favourite part of the day for Cassie was the morning spent getting ready, and I could go on for paragraphs about how amazing she looks in the 'Lucille' dress by Eliza Jane Howell, which she bought from The Bridal Rogue Gallery in Harrogate.
"I'd always imagined wearing a short tea-length dress but was struggling to find the right one. The lady in the bridal shop suggested I try on some other styles. As soon as I put on the dress I knew it was the one. It was actually quite emotional. I loved the vintage style and how elegant it made me feel."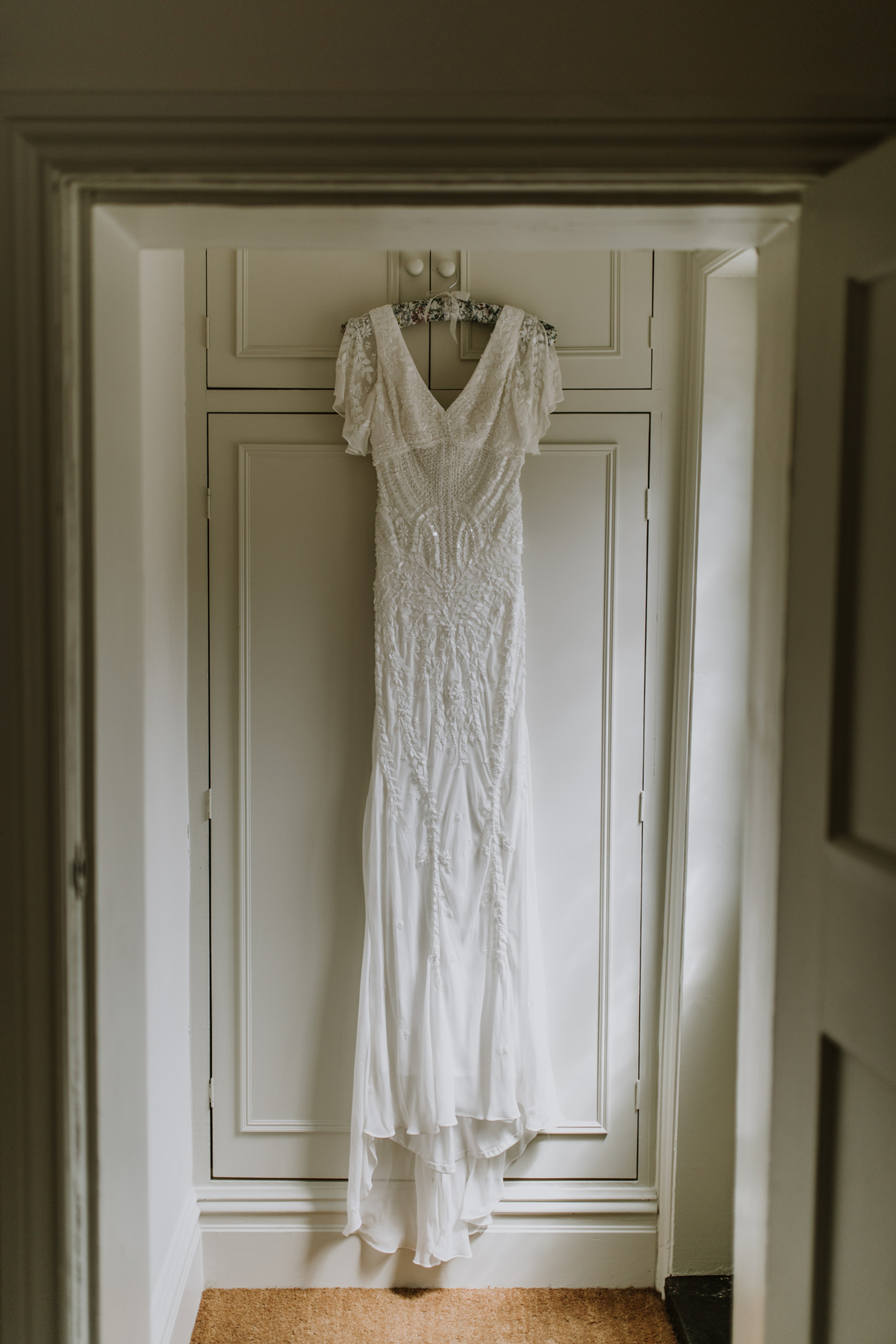 All of Eliza Jane Howell's designs bring bygone era glamour, and the beading, godet skirt and puddle train on Cassie's choice of gown is graceful and flattering. On her feet, she wore Rachel Simpson's 'Mimosa' shoes in mint – a real favourite of Love My Dress brides over the years looking to bring Art Deco elegance to their look.
"I actually bought the shoes before I'd even started looking for a dress. I fell in love with them straight away."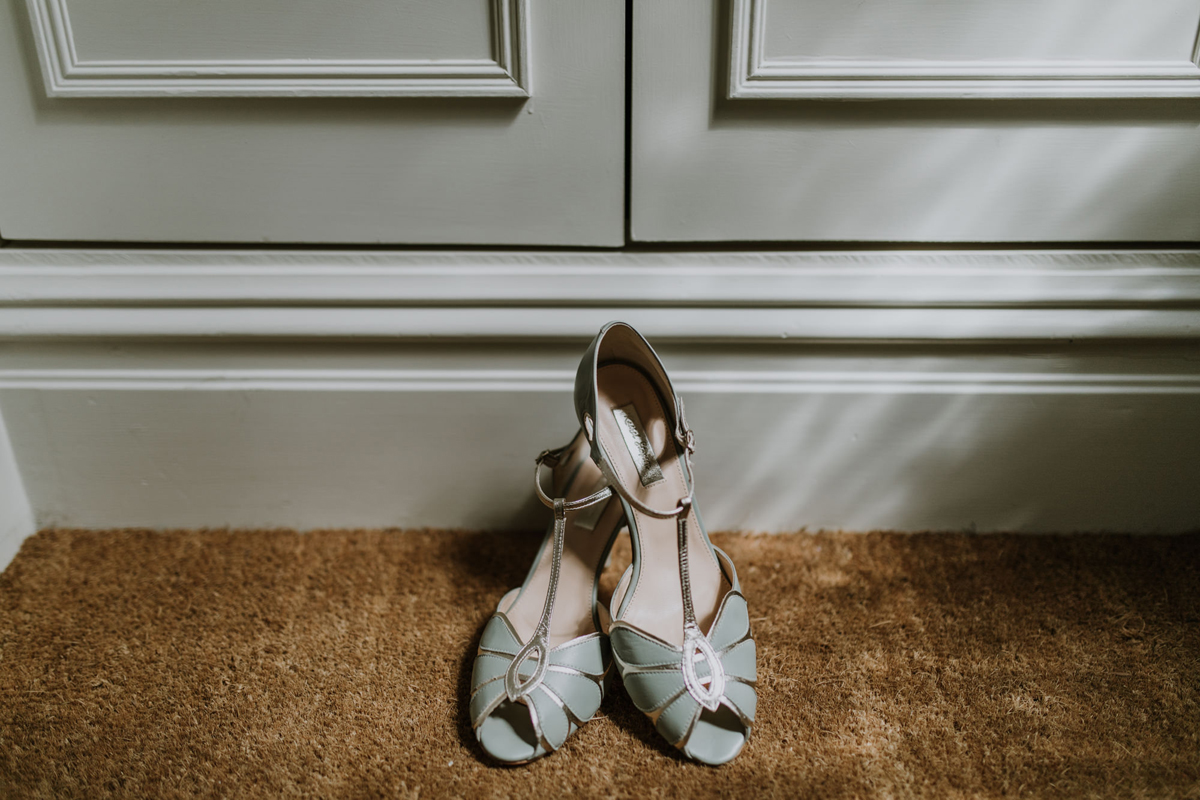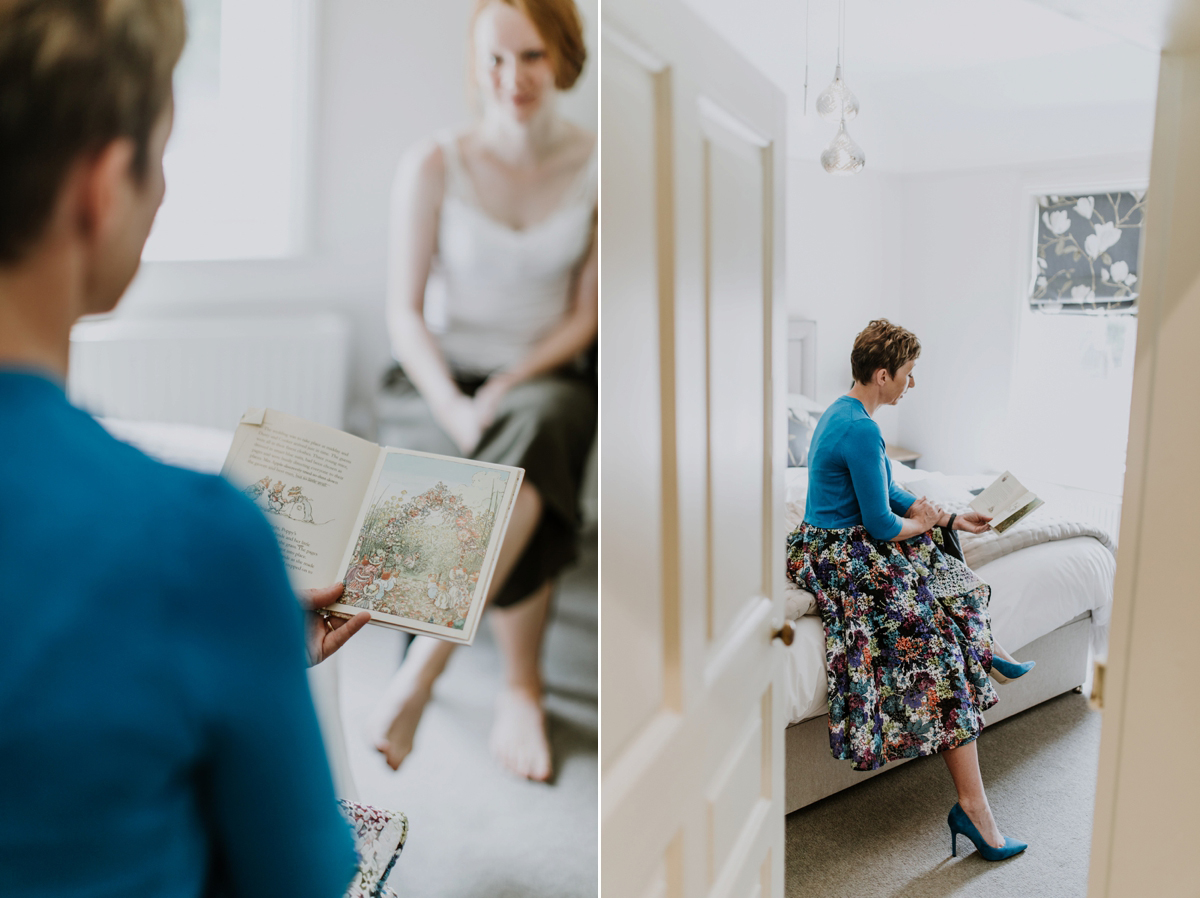 Ashley at Saks York styled Cassie's lovely copper coloured hair into a chic and soft chignon, and the bride used Bobbi Brown cosmetics to create her own gorgeous and natural makeup look.
In her hair she wore a simple freshwater pearl comb from VH Bridal, together with a pair of pearl earrings, which were Oli's first Christmas gift to his bride.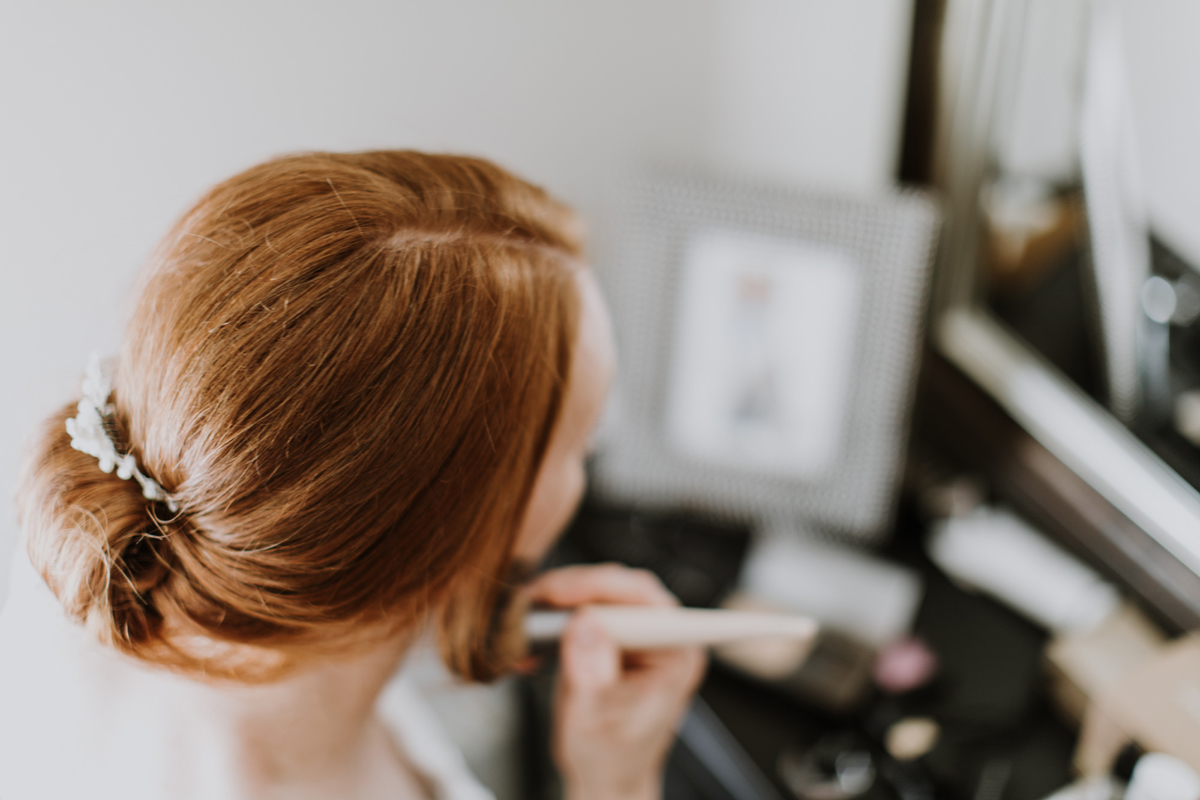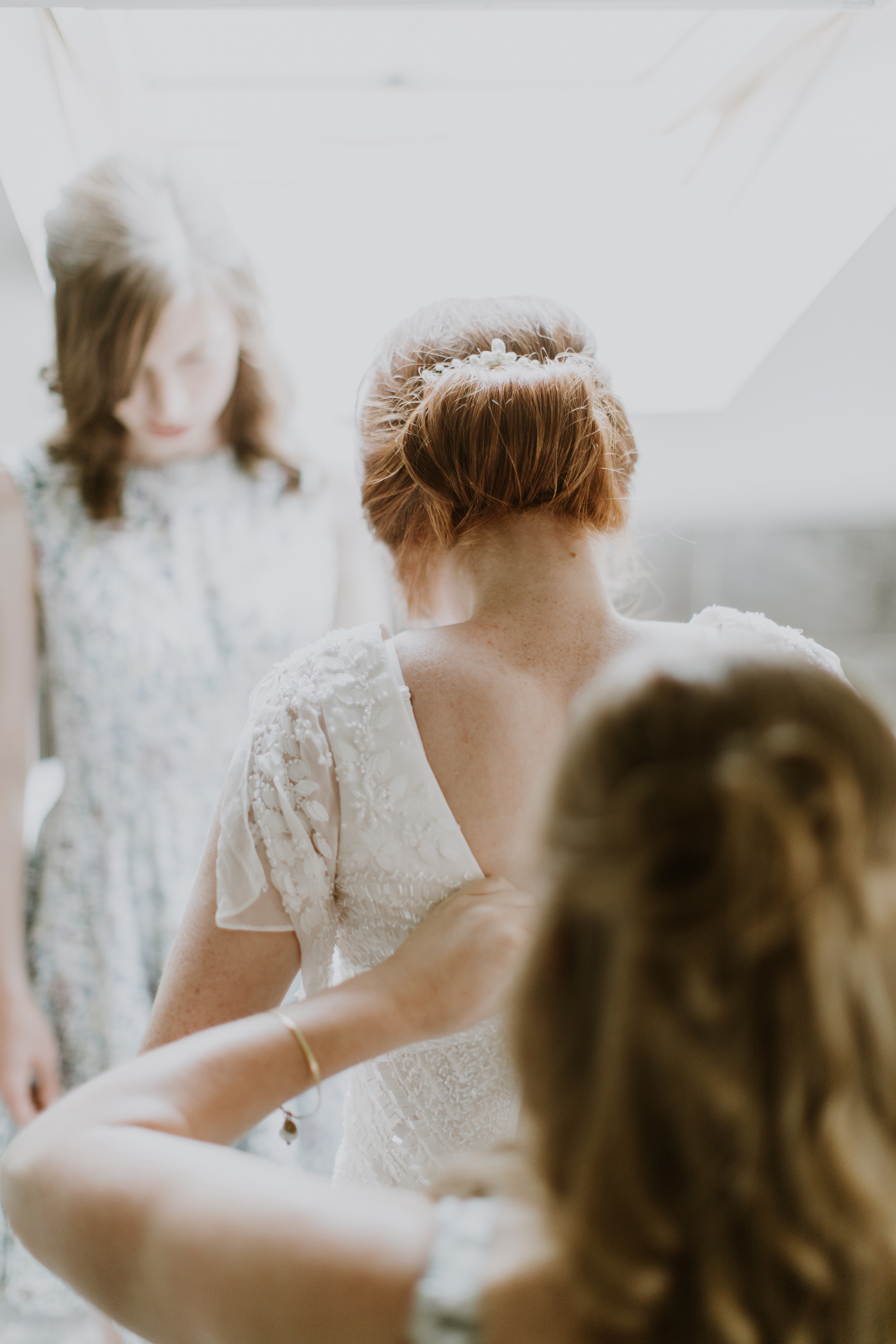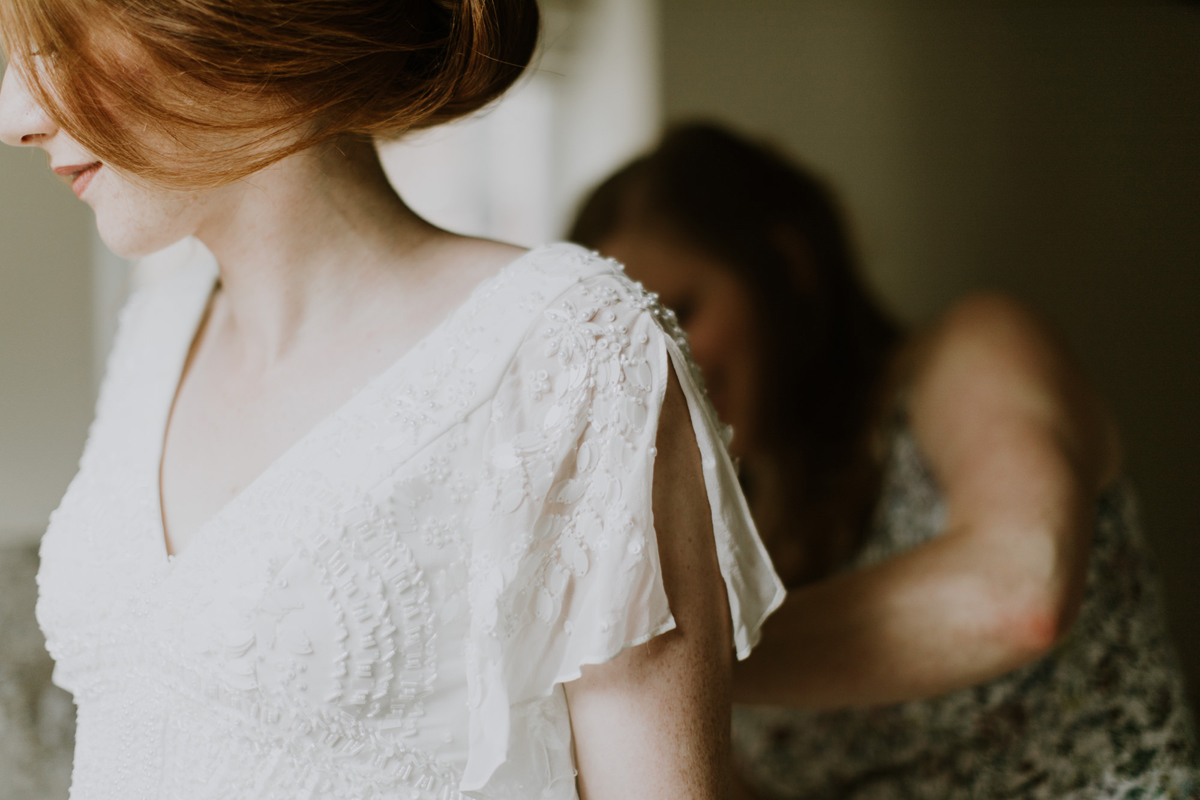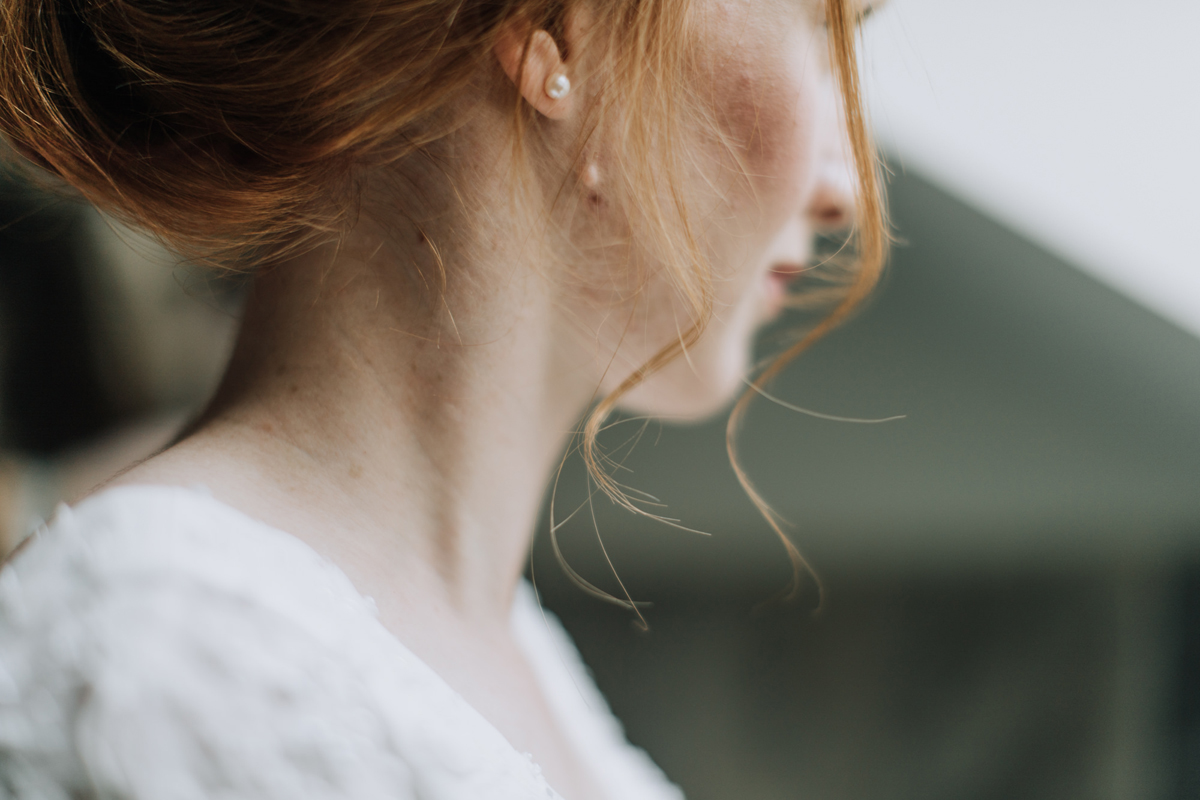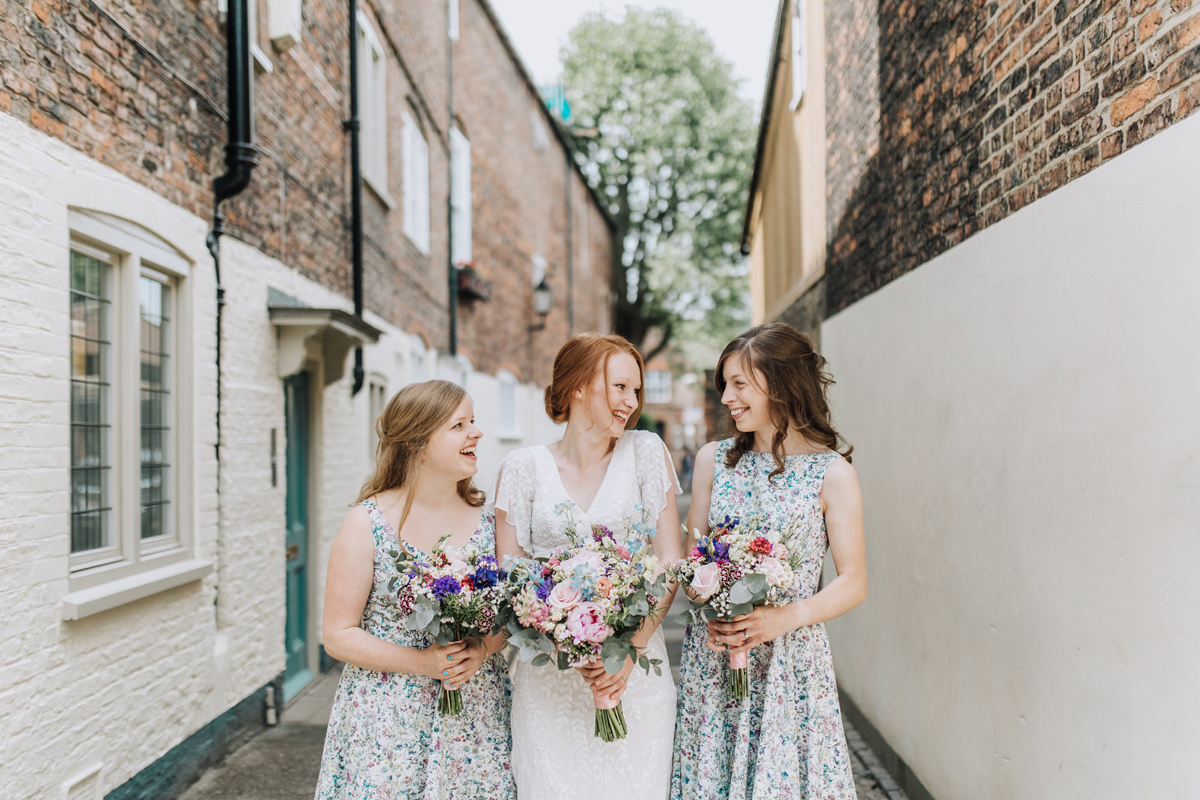 The pastel floral print of the bridesmaid dresses go brilliantly with the breathtaking flowers for the day, which are the work of Sarah Elizabeth Flowers. They are a real celebration of the bounty of late springtime, with huge pale pink peonies and roses, chamomile daisies and eucalyptus.
"I met with Sarah for a consultation and discussed that I wanted a handpicked unstructured looking bouquet. I knew I wanted some peonies but Sarah helped me with the other details."
"The bridesmaids had smaller versions of my bouquet. I had no idea how the bouquets would look on the day but was absolutely delighted when they arrived on the morning of the wedding. They were better than I could possibly imagine. The groom, groomsmen and dads had button holes. Sarah also provided the decorations for the reception tables. Green foliage trailing down the tables with jam jar flower arrangements."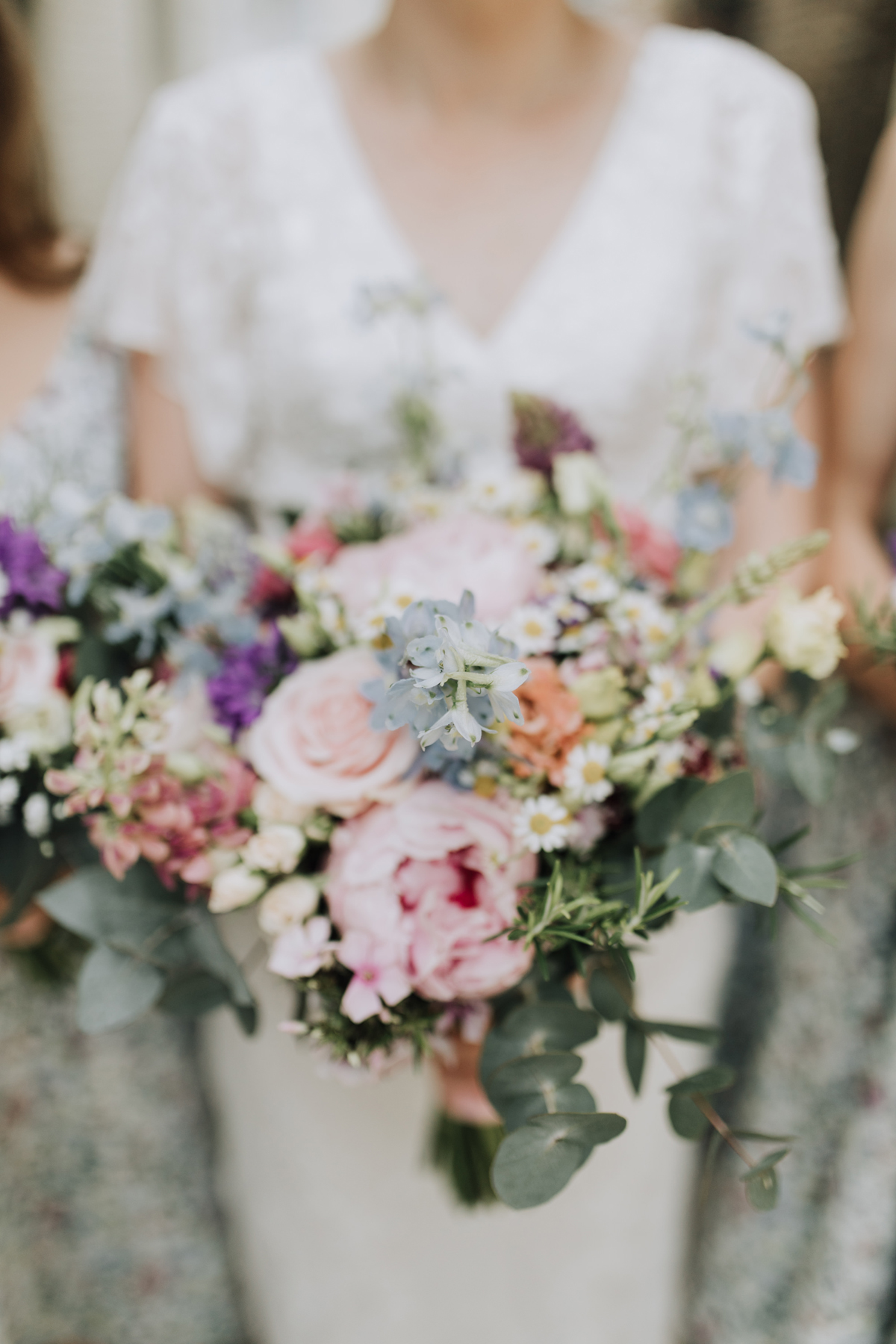 Cassie struggled to find just the right bridesmaid dresses, so instead bought fabric from Liberty in one of their iconic floral patterns and commissioned bespoke dresses for each of her maids from Brighton based Dig For Victory. They completed their outfits with pale pink shoes from Marks & Spencer and their own jewellery.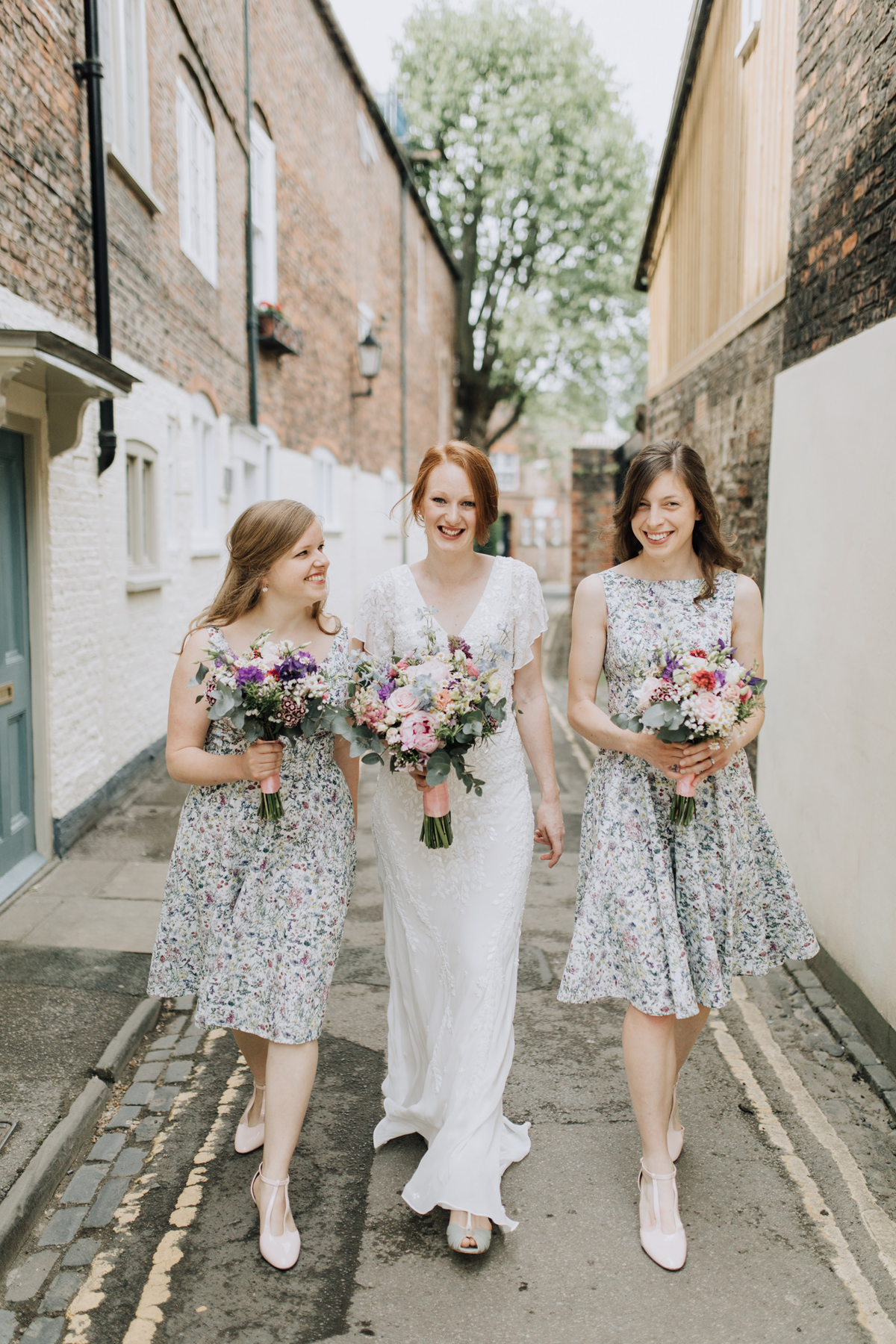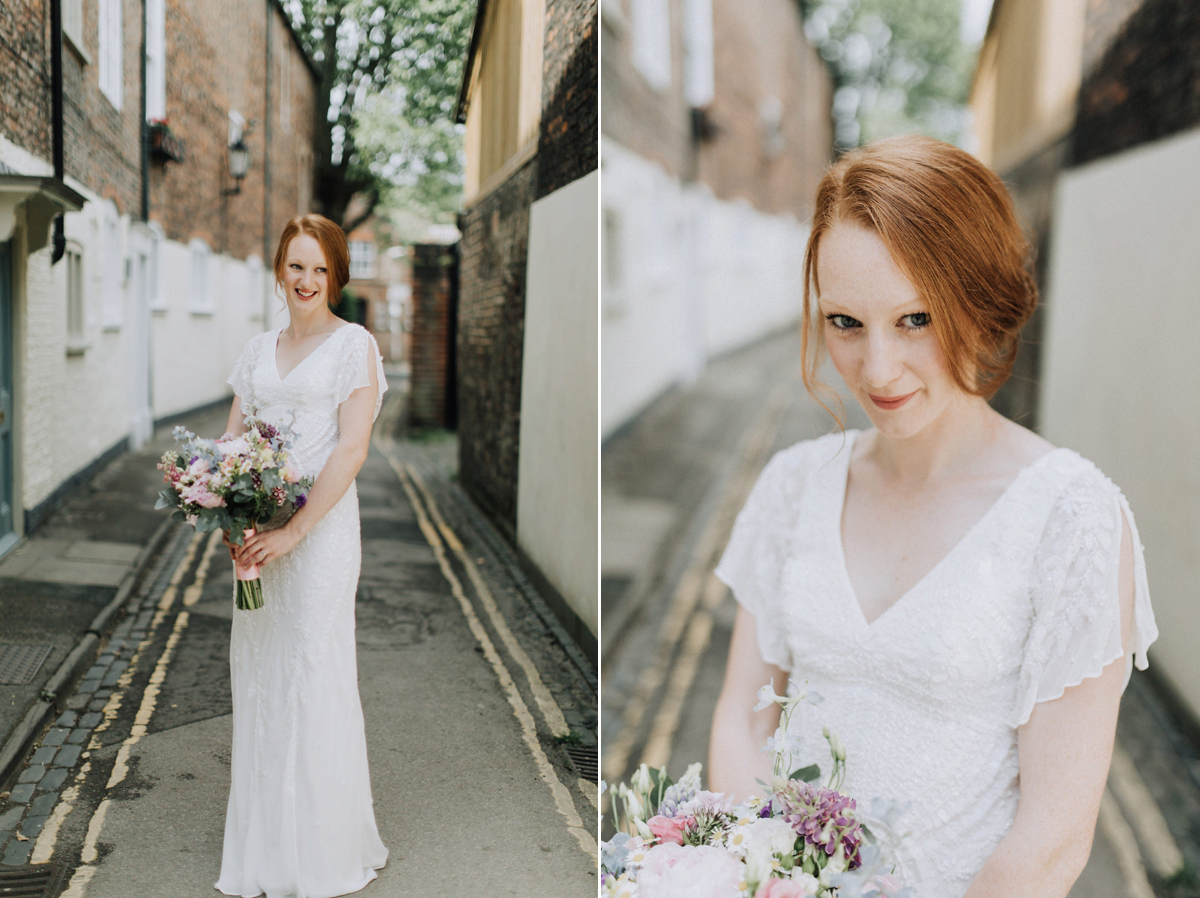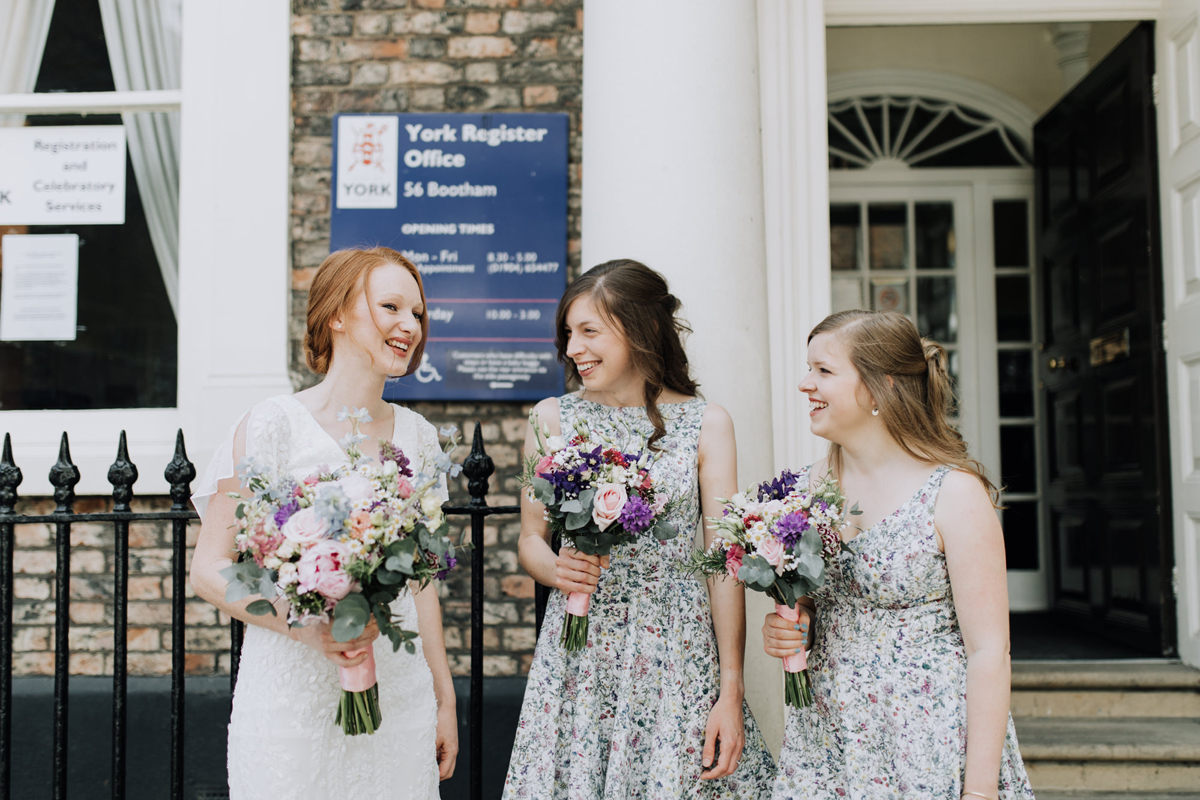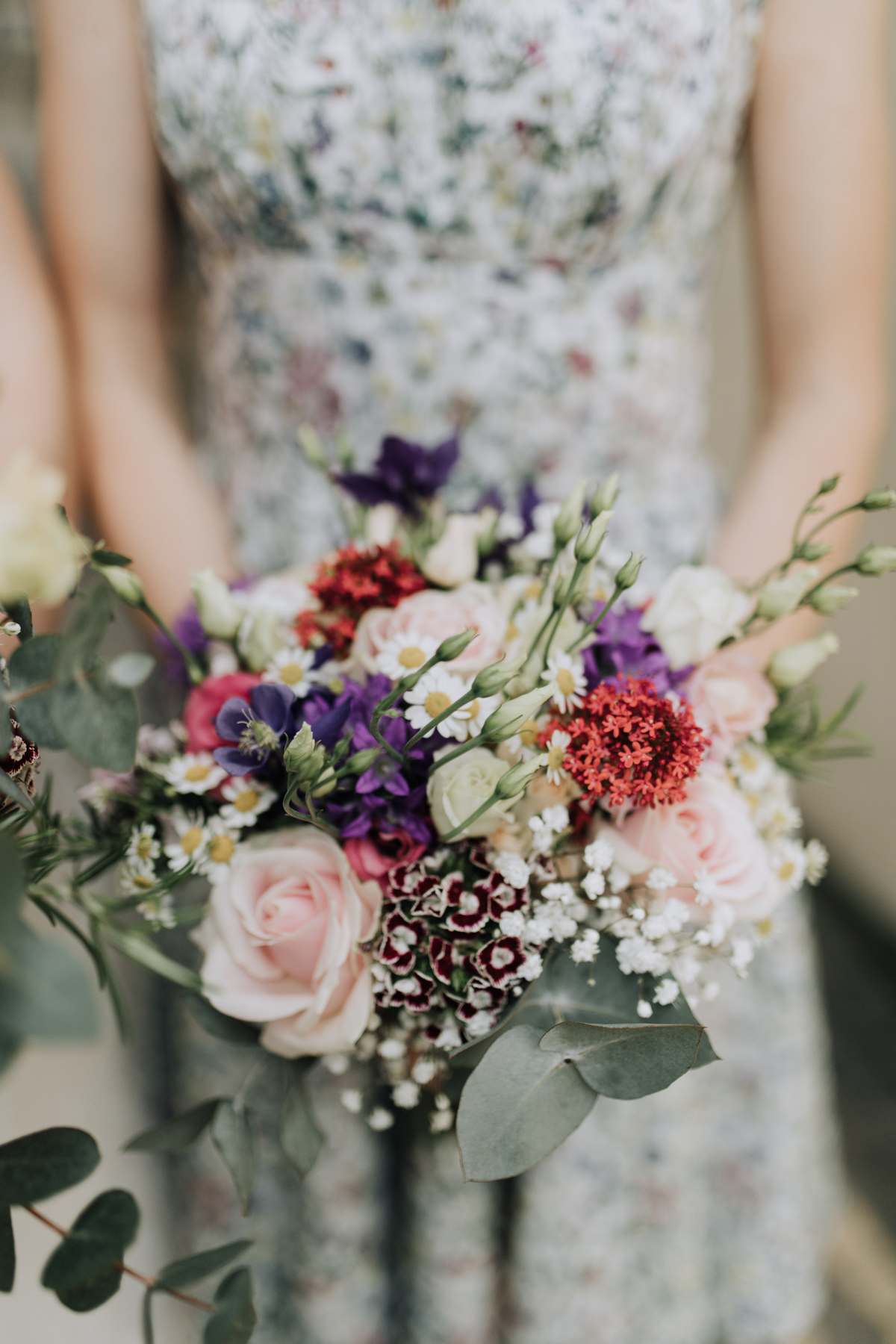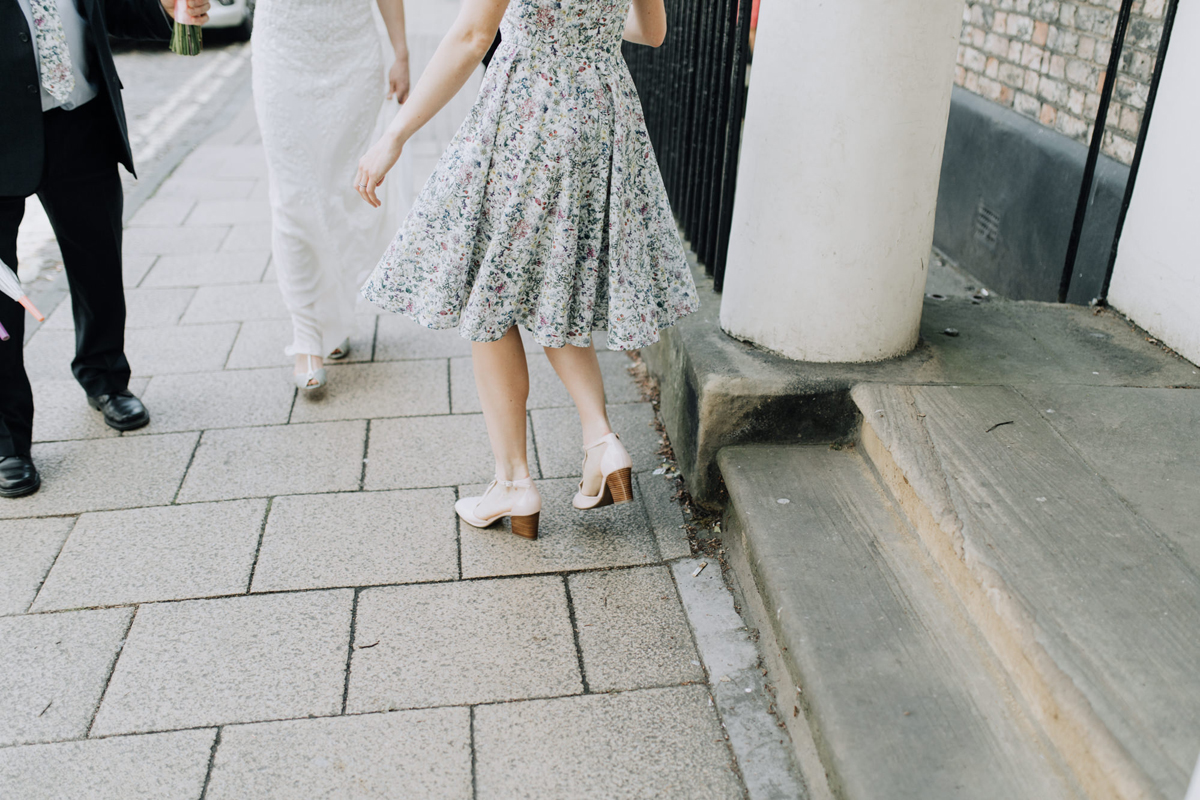 Groom Oli wore his own smart blue suit.
"Oli… wanted to be comfortable in what he was wearing as he was nervous about standing in front of everyone for his speech."
"We'd been together for five years before we got married. Oli proposed to me in the Lake District on top of Skiddaw. This firmly cemented that fact that the Lake District is our favourite place to visit. We had an 18 month engagement."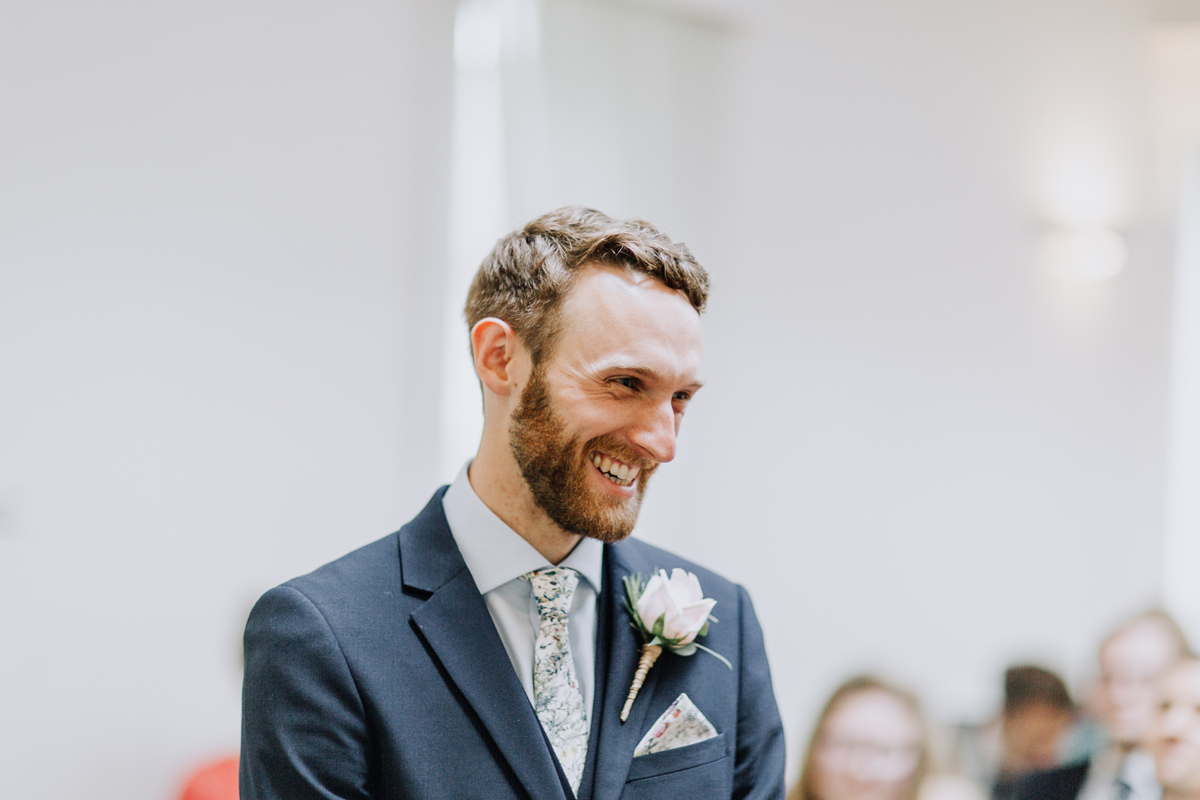 Cassie's brother drove the couple's own decked out car to York Registry Office, and the bride followed her maids down the aisle accompanied by her dad to I Giorni by Ludovico Einaudi (a favourite piano piece of mine, too!).
"I love to play Einaudi on the piano, it's very emotive music."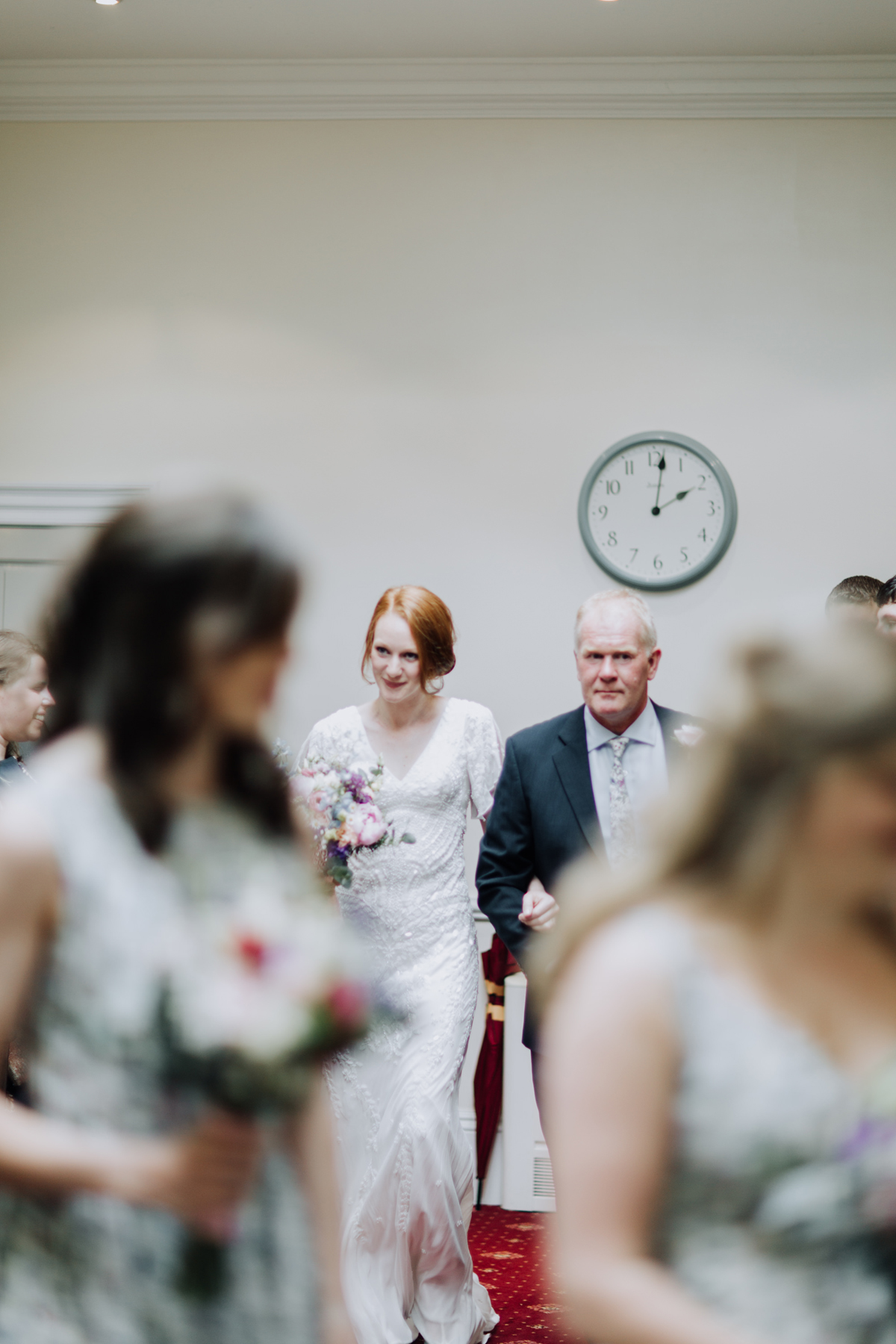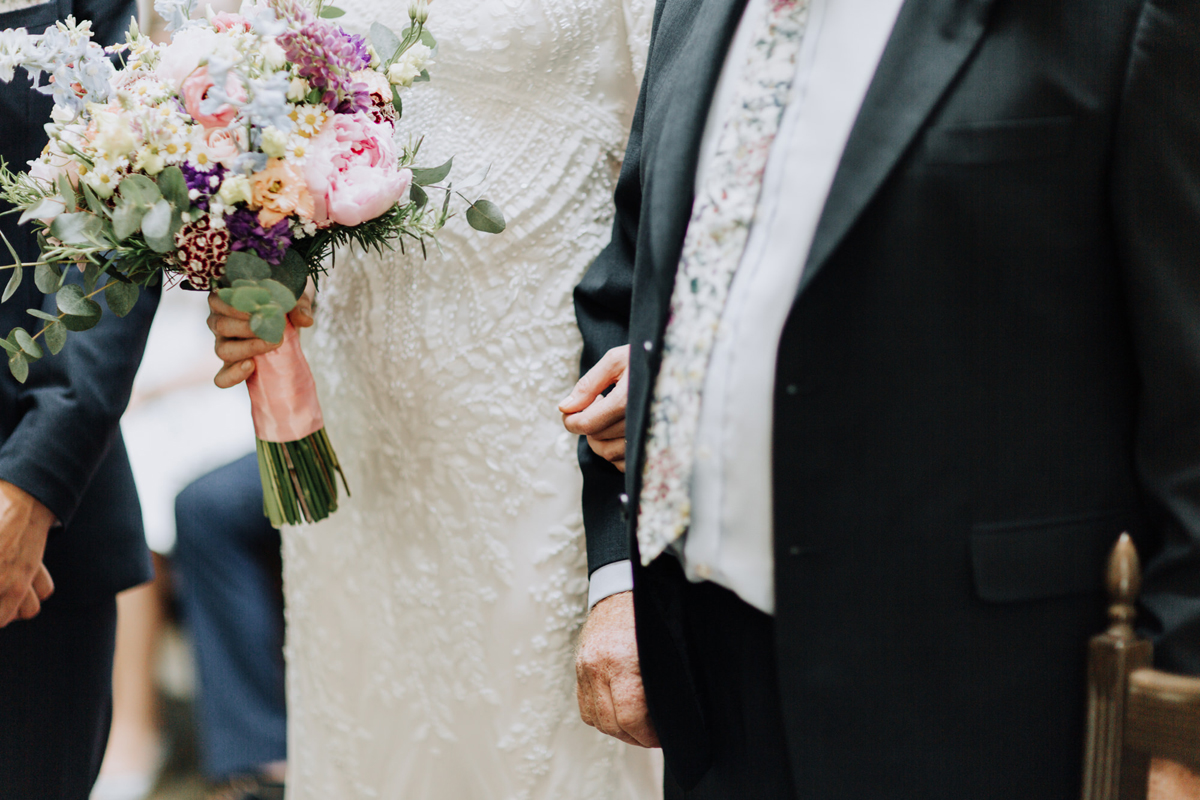 CatkinJane made eye-catching ties for Oli and the groomsmen from the same Liberty fabric as the bridesmaid dresses, and Cassie hand stitched pocket squares from the remaining material – such a thoughtful and loving detail.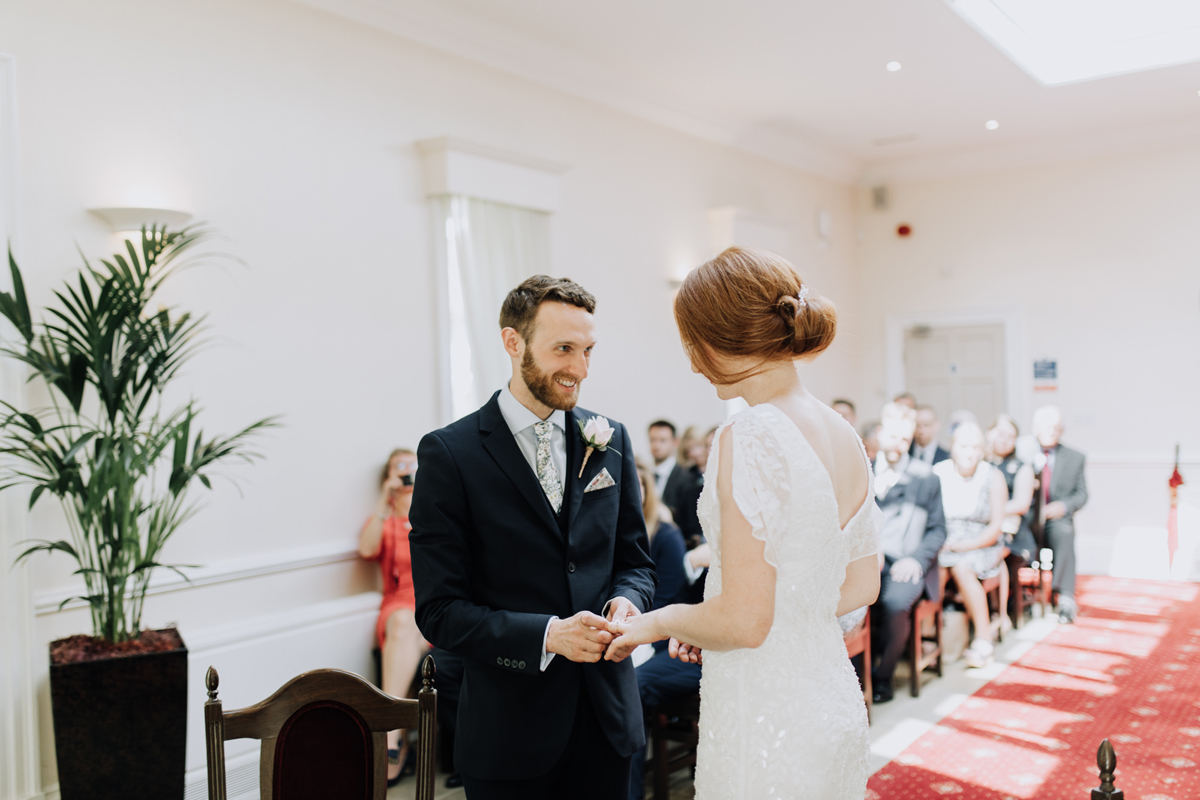 The couple chose readings that held real meaning for them. As a favourite book of Oli's is The Amber Spyglass by Philip Pullman, bridesmaid Liz read an extract from it. Their second choice came (naturally) from Brambly Hedge.
"Seeing as the whole wedding was inspired by a book it seemed fitting to have an extract read from it. My Mum had wanted to read it but had felt too emotional on the day so my Auntie Clare stepped it. Clare had also read the whole book to me whilst I got ready in the morning, which caused us all to shed a few tears."
'The wedding was to take place at midday and Dusty and Conker arrived just in time. The guests were all in their finest clothes. Three young mice, dressed in smart blue suits, had been chosen as pages and were busily directing everyone to their places. Mrs Apple discreetly tried to dust down the groom and best man, but to little avail. At last old Mrs Eyebright, Poppy's grandmother spotted the bride and her little bridesmaids coming through the grass. The pages squeaked with excitement and got into place. Every head turned to watch the bride as she made her way through the buttercups and stepped on to the decorated raft. The Old Vole, who had been asked to perform the ceremony, stood up and said in a kindly voice: 'Poppy Eyebright, do you love Dusty Dogwood and will you love him and care for him forever and ever?' Poppy vowed that she would. 'Dusty Dogwood, do you love Poppy and will you love her and look after her forever and ever?' 'I will,' said Dusty. Mrs Apple blew her nose. 'Then in the name of the flowers and the fields and the stars in the sky, and the streams that flow down to the sea, and the mystery that breathes wonder into all these things, I pronounce you mouse and wife.'" 
– Jill Barklem, Brambly Hedge – Summer Story –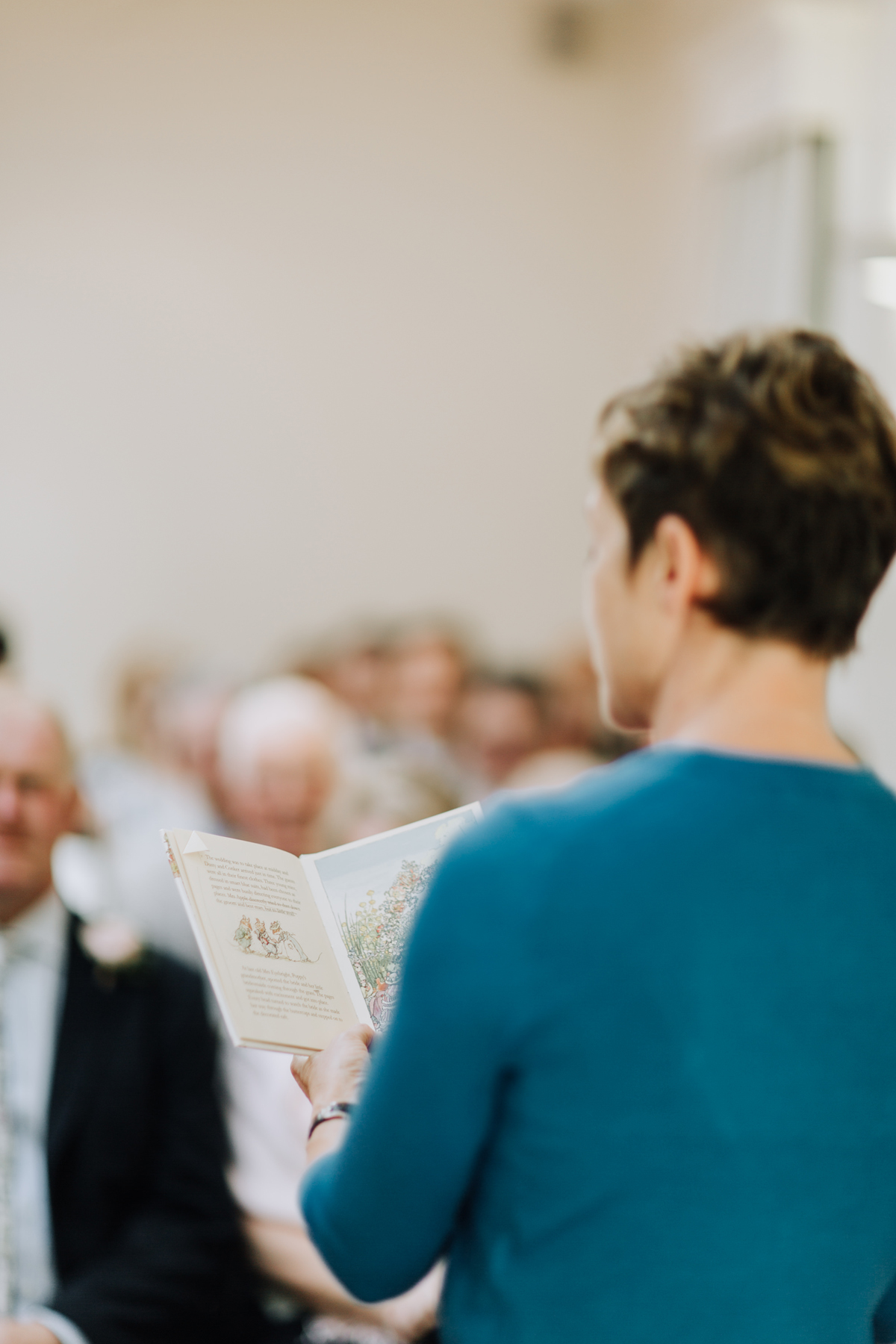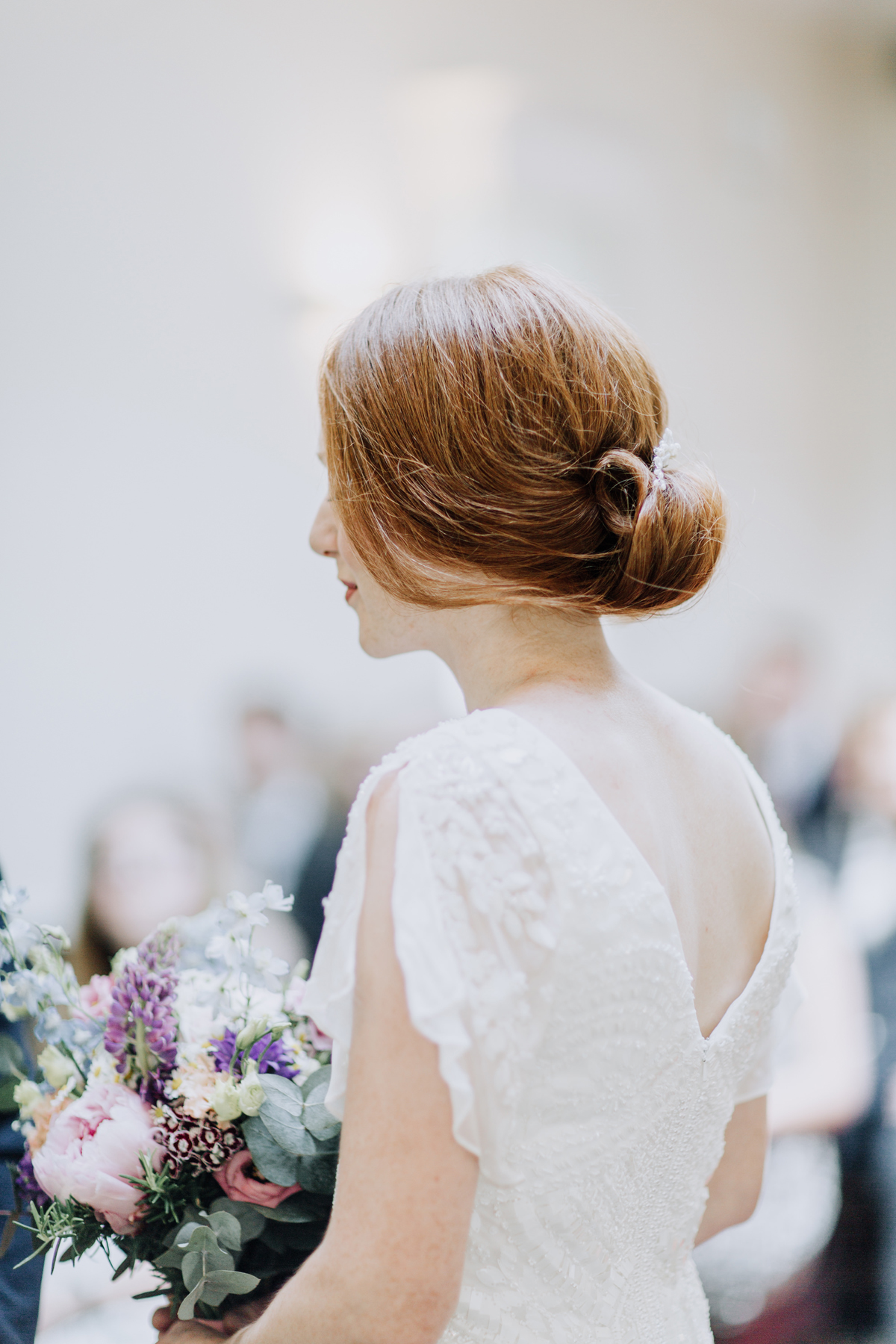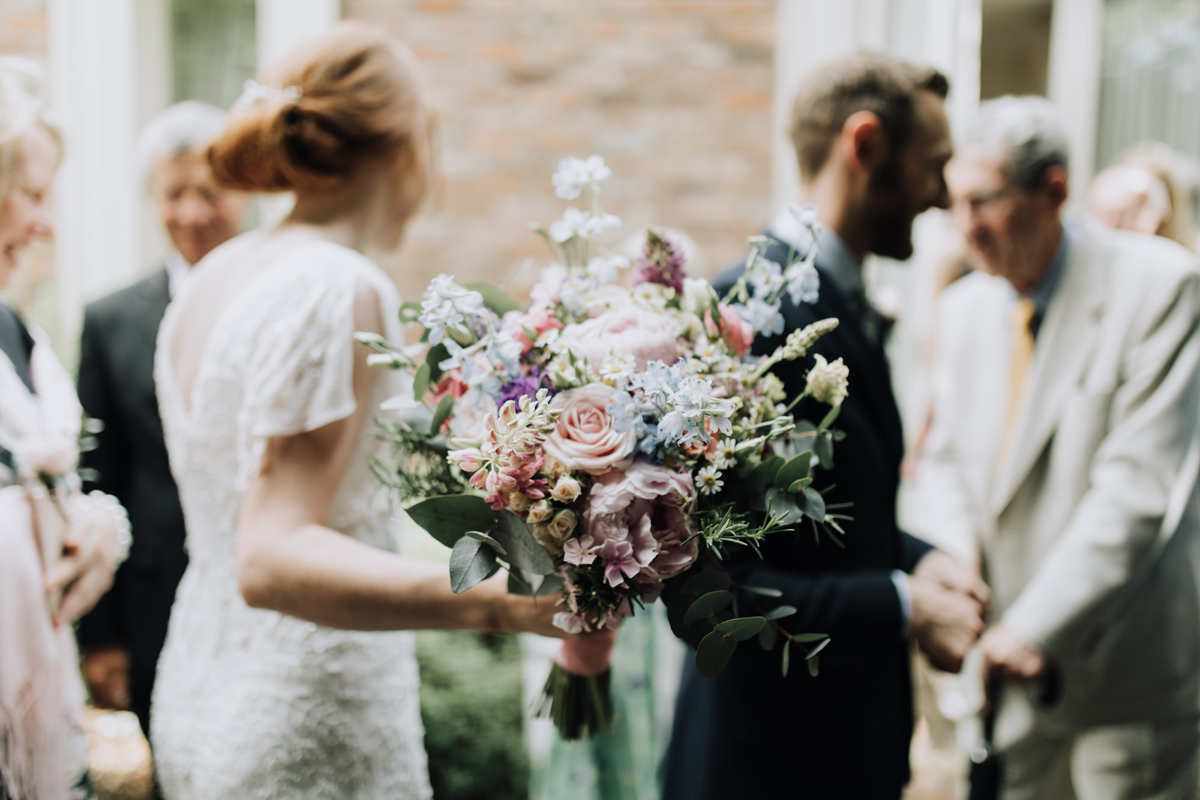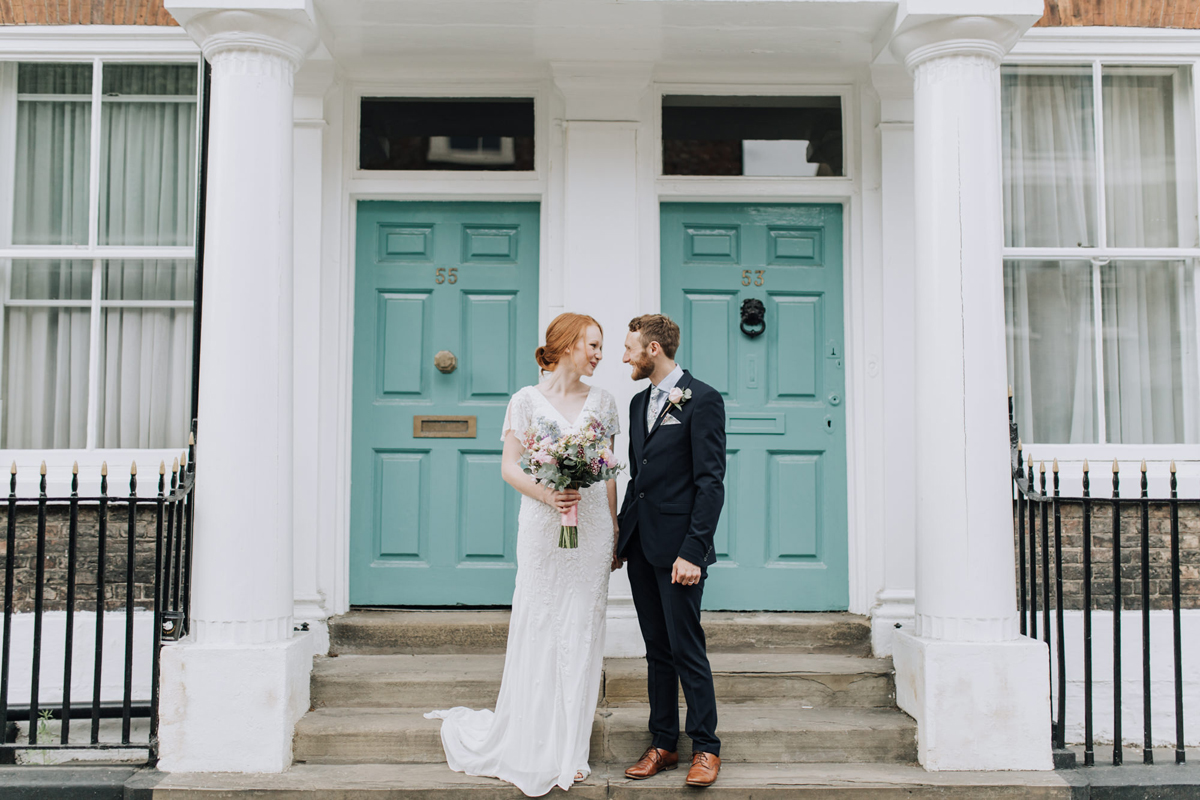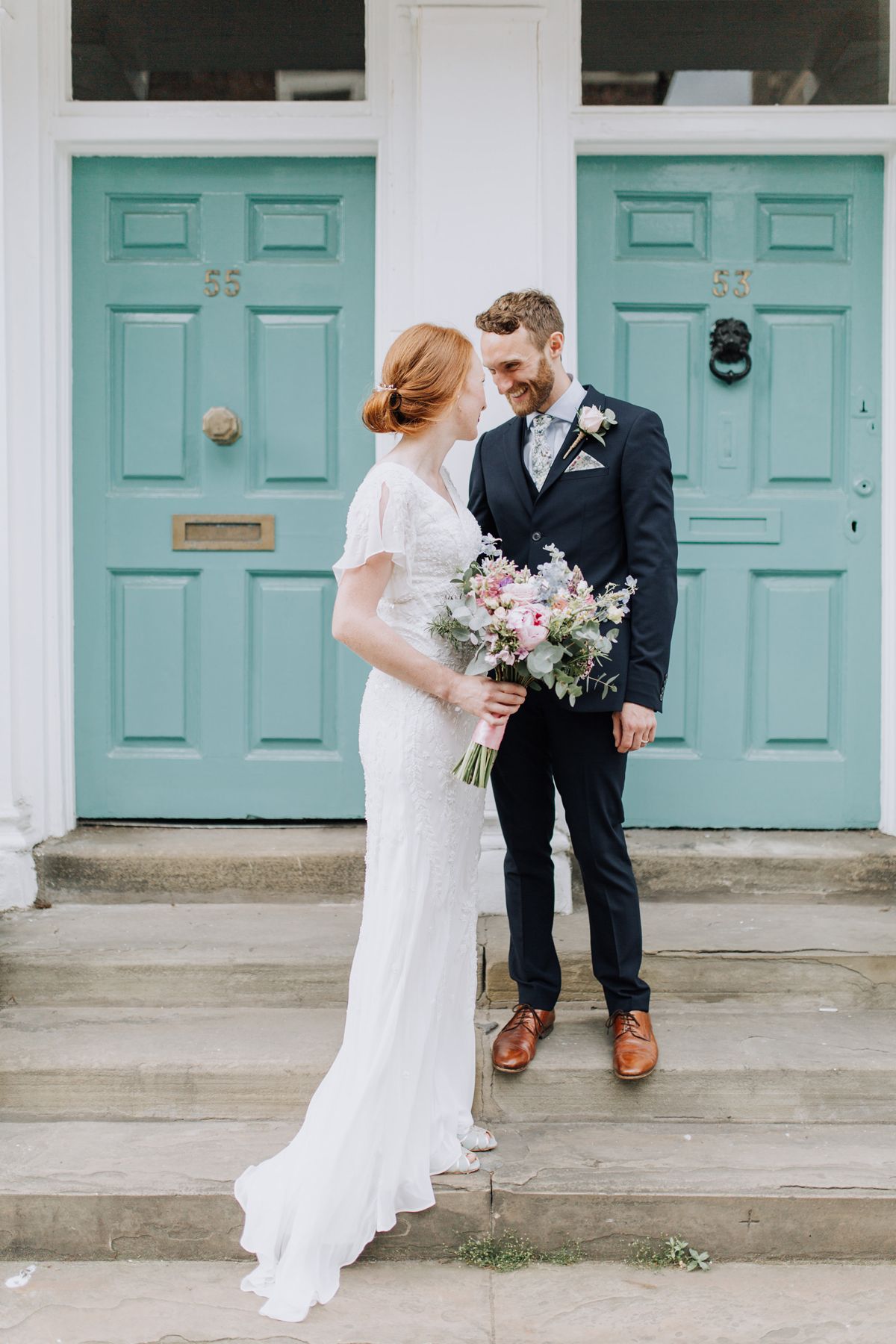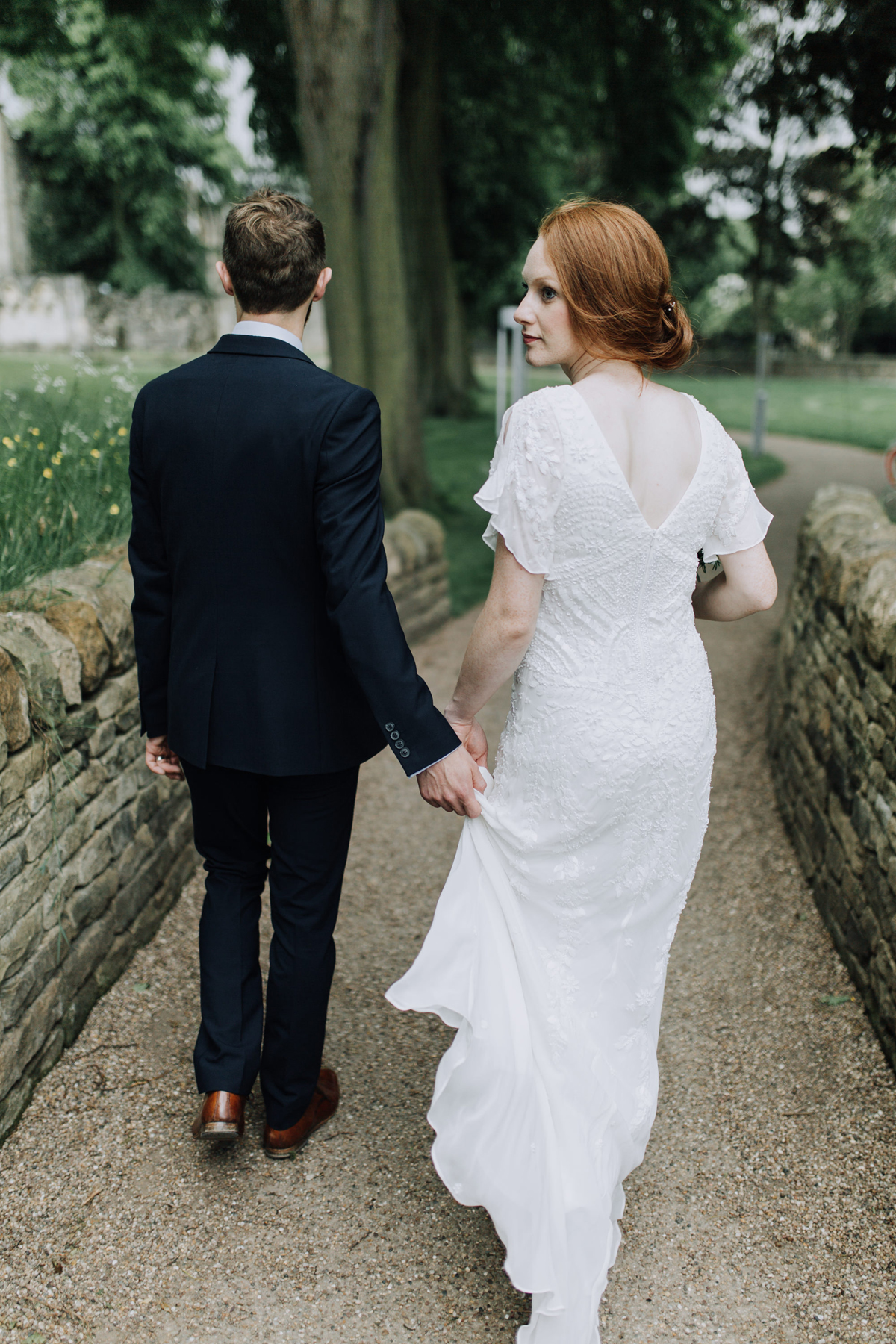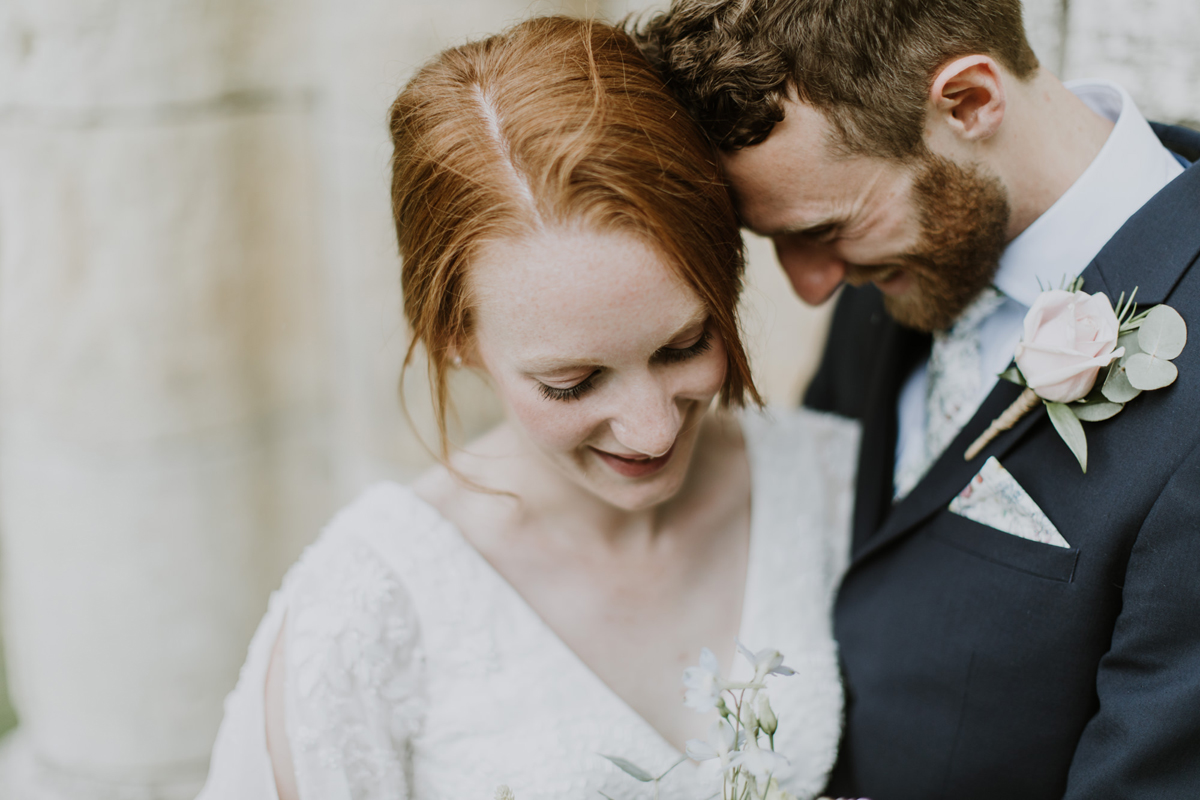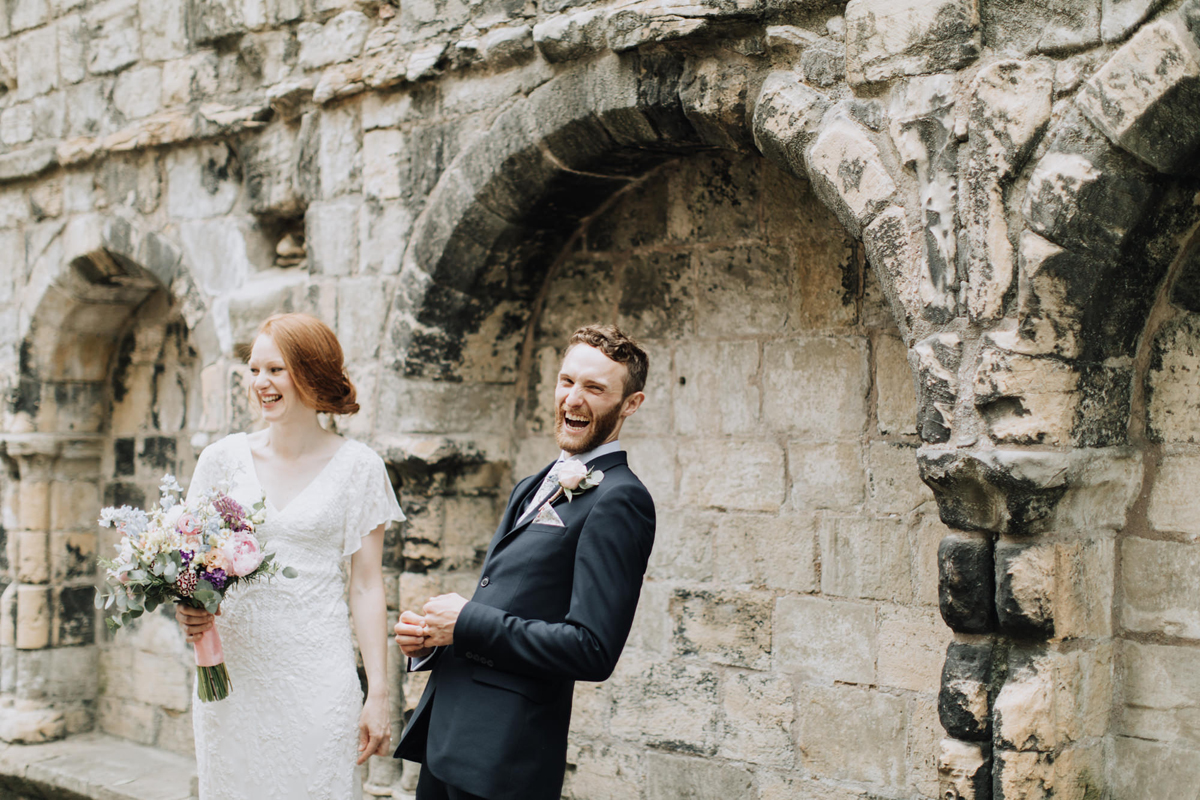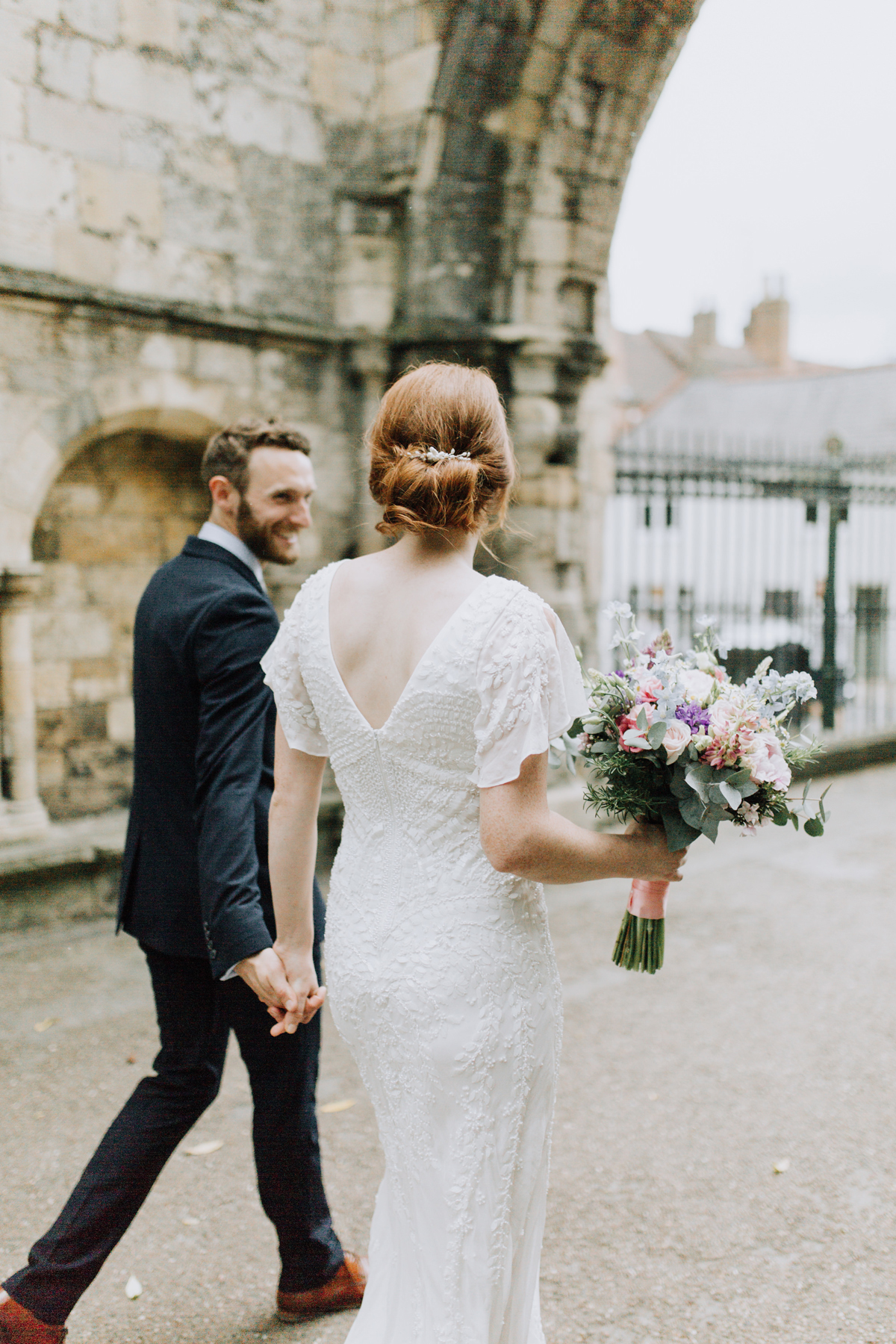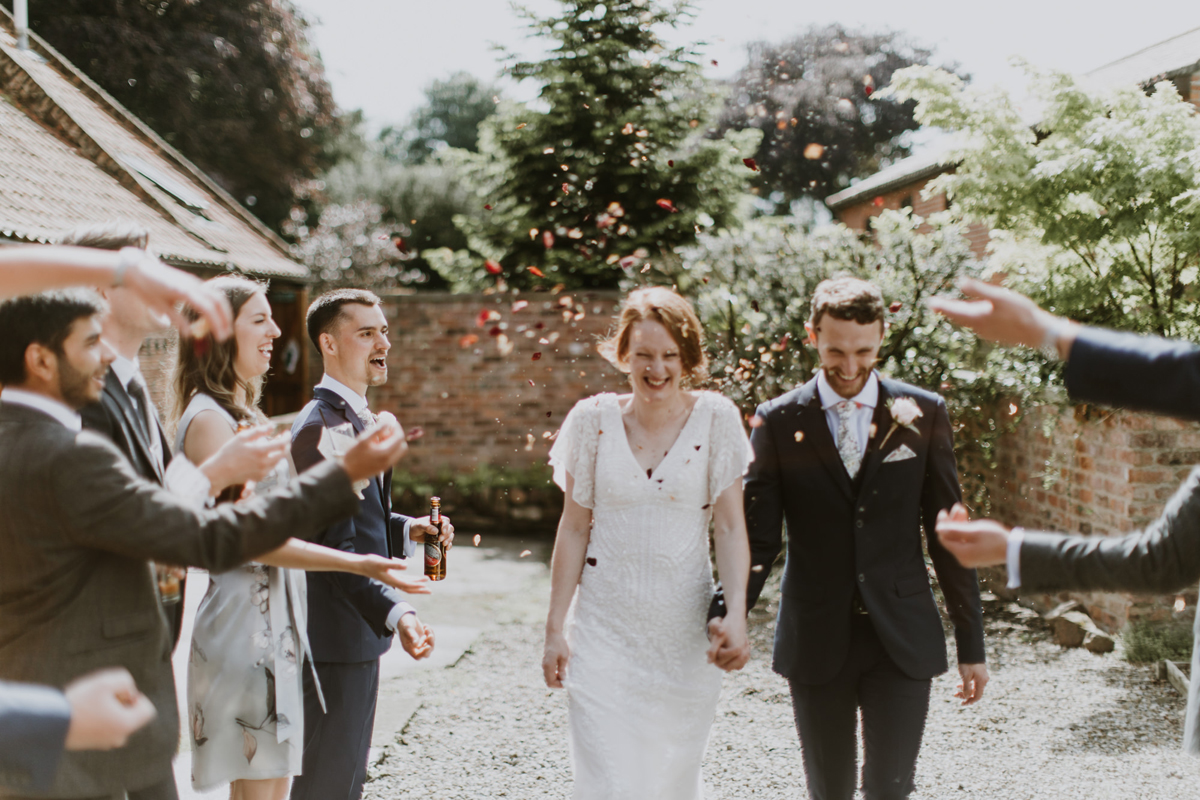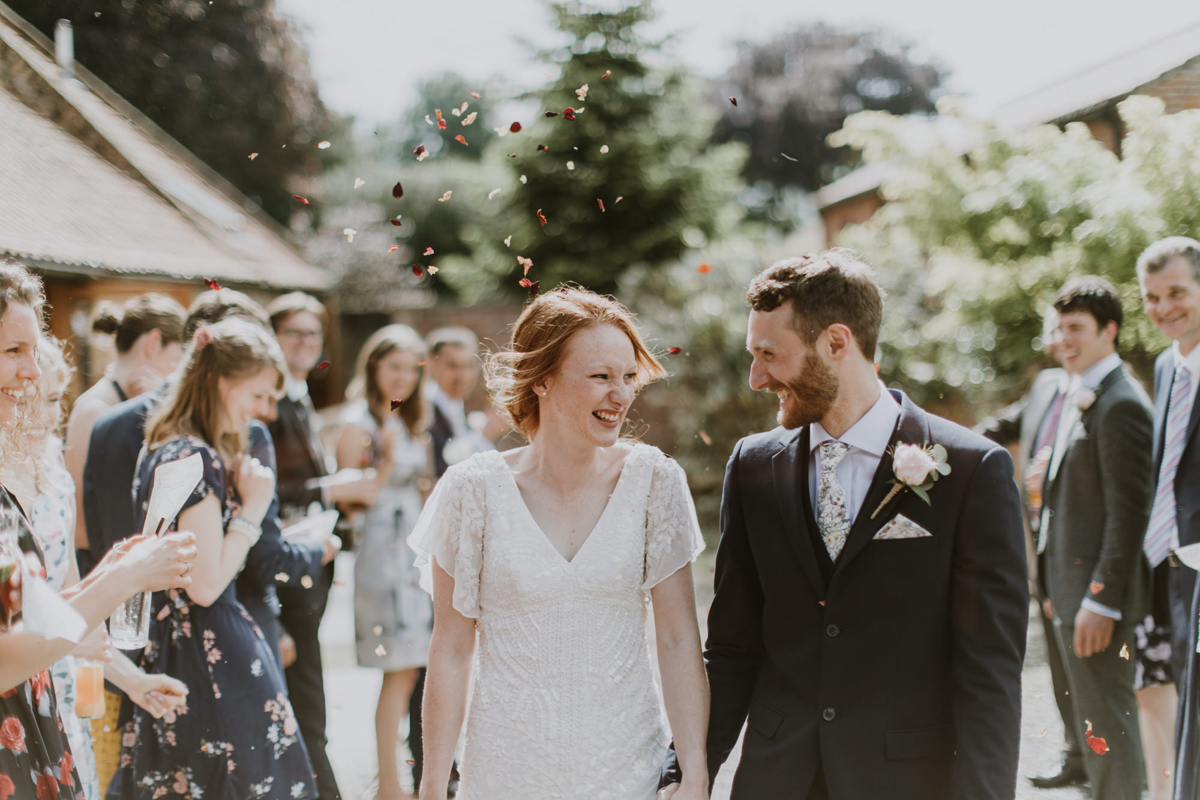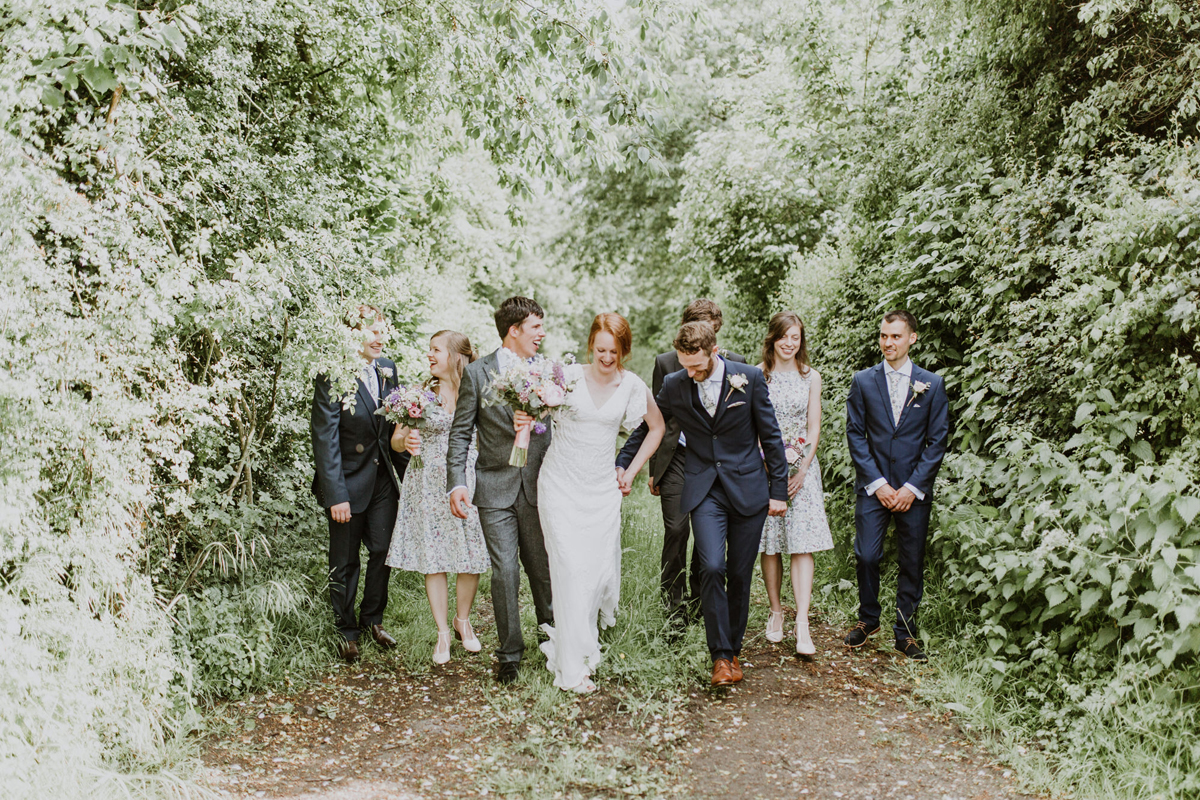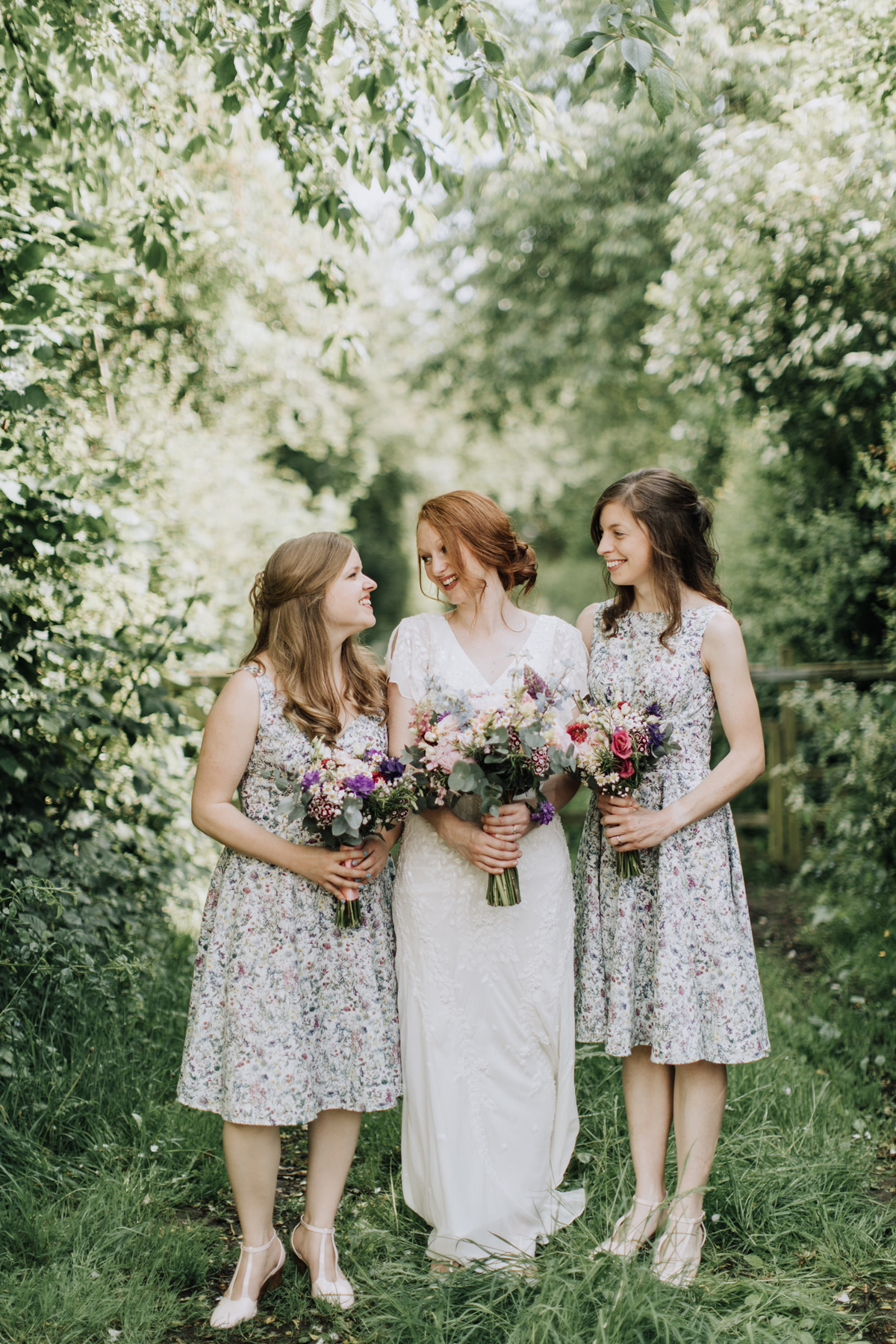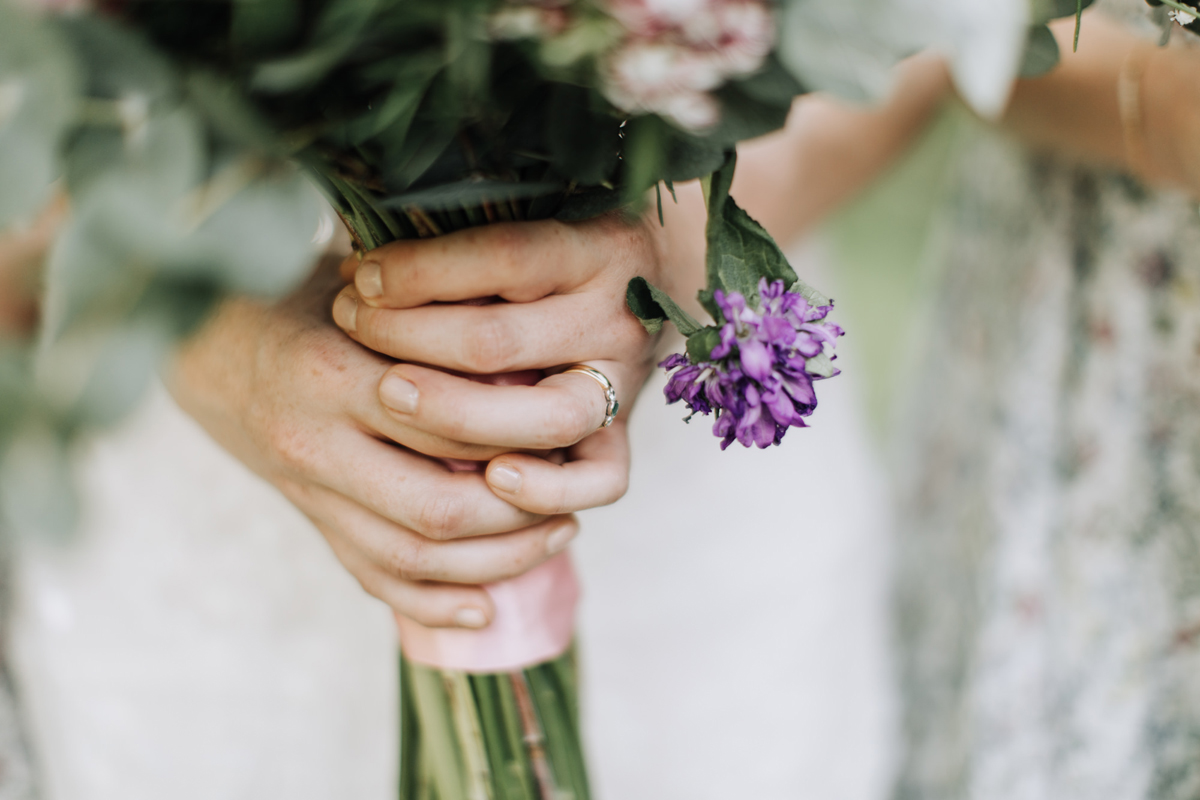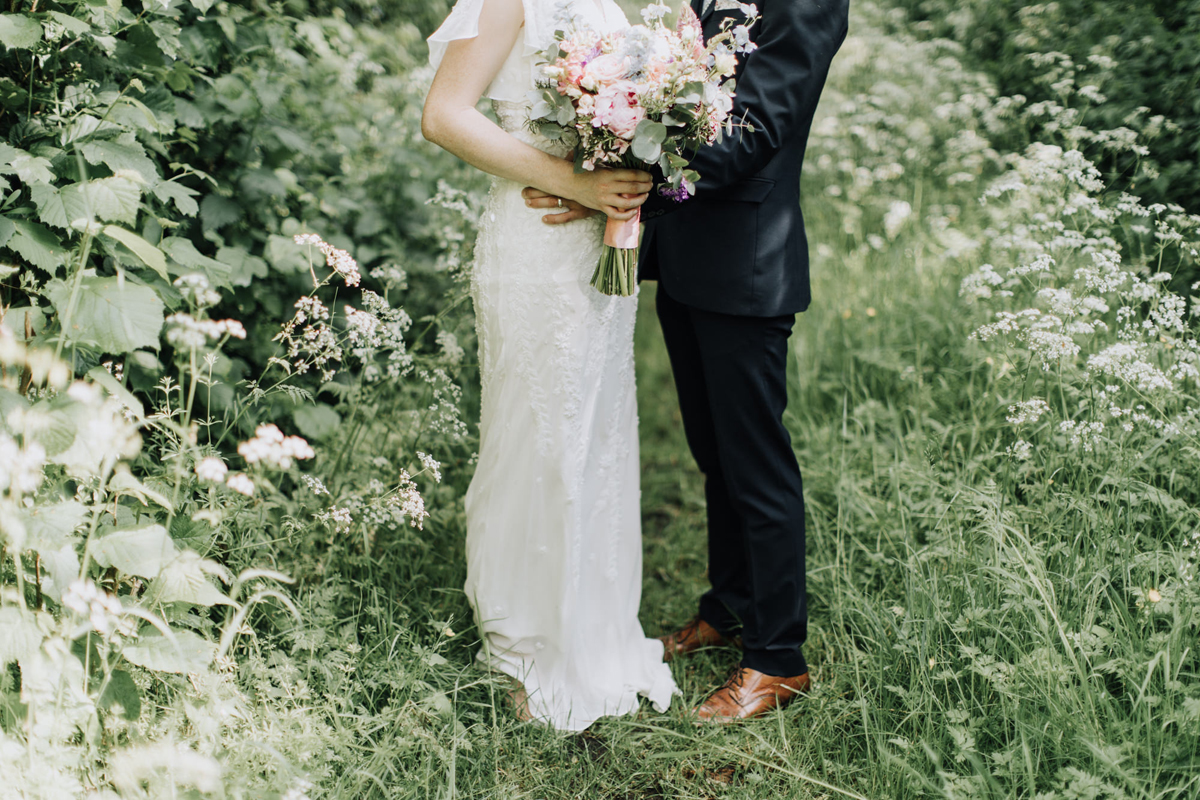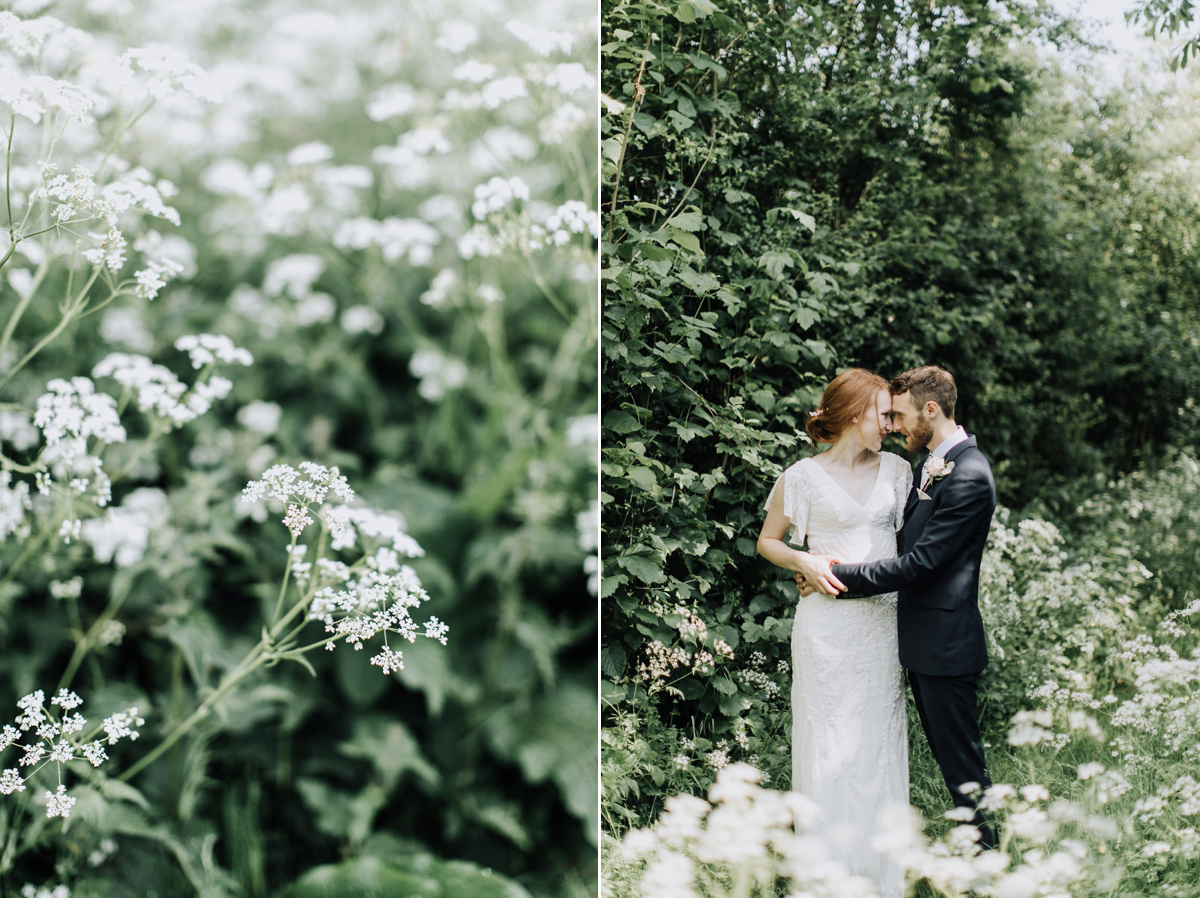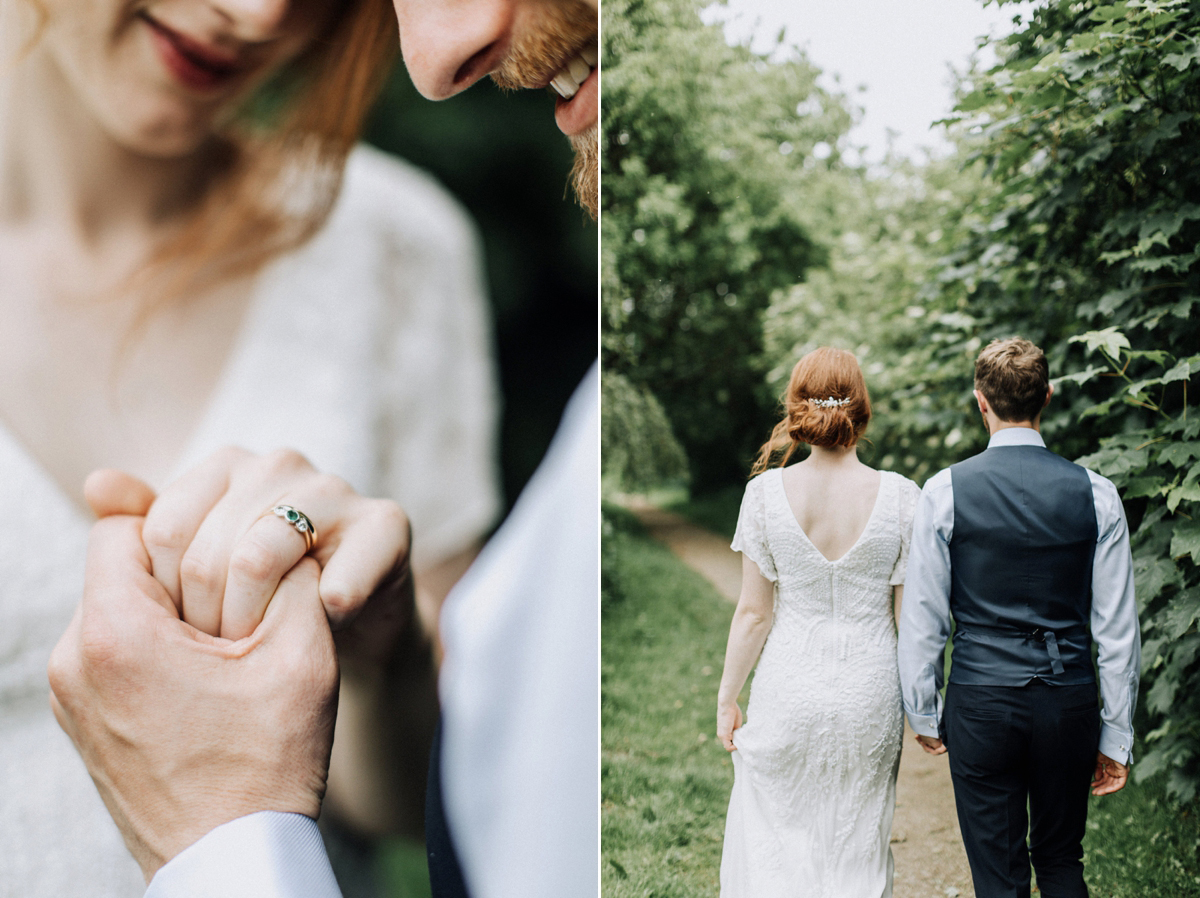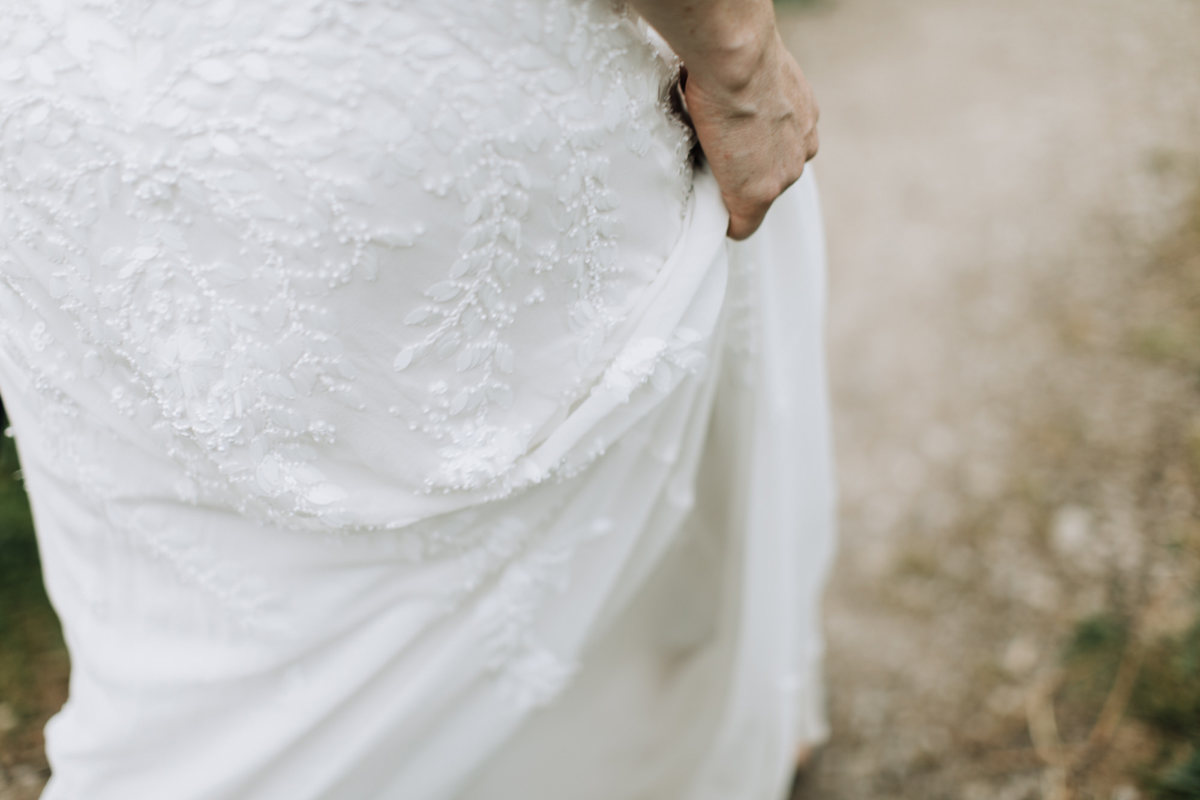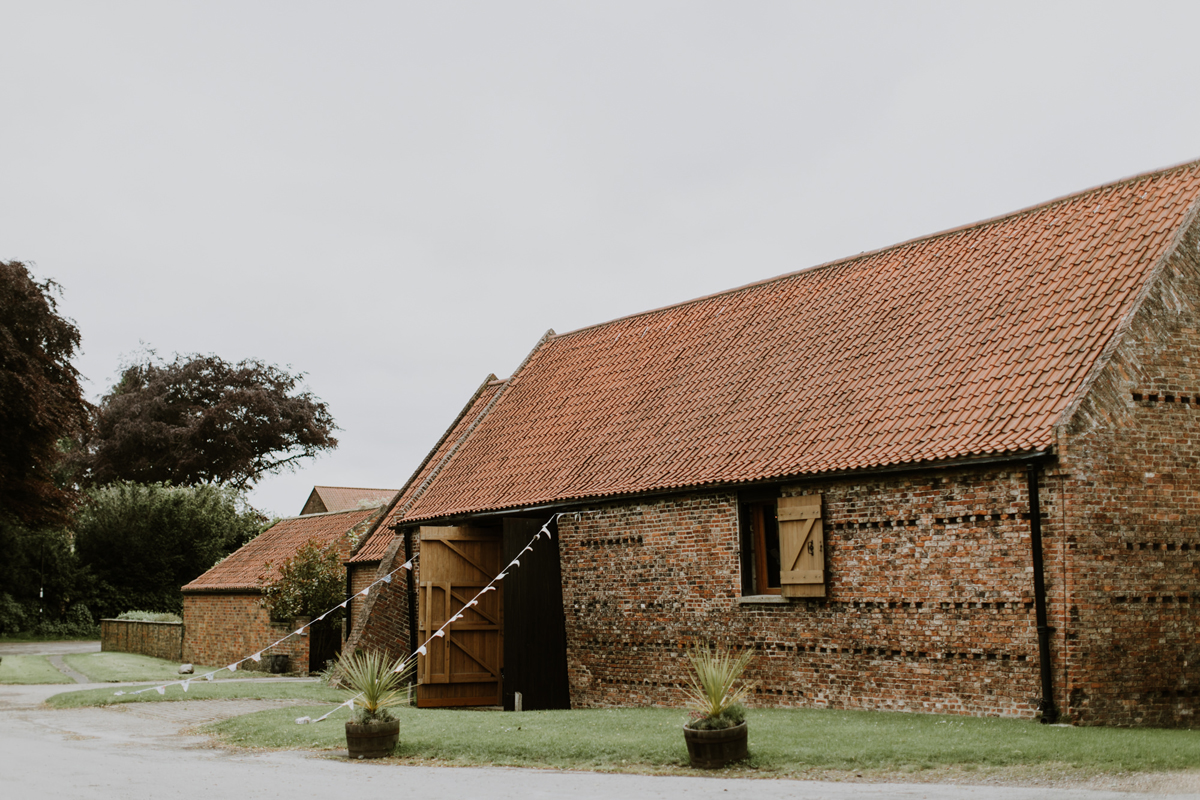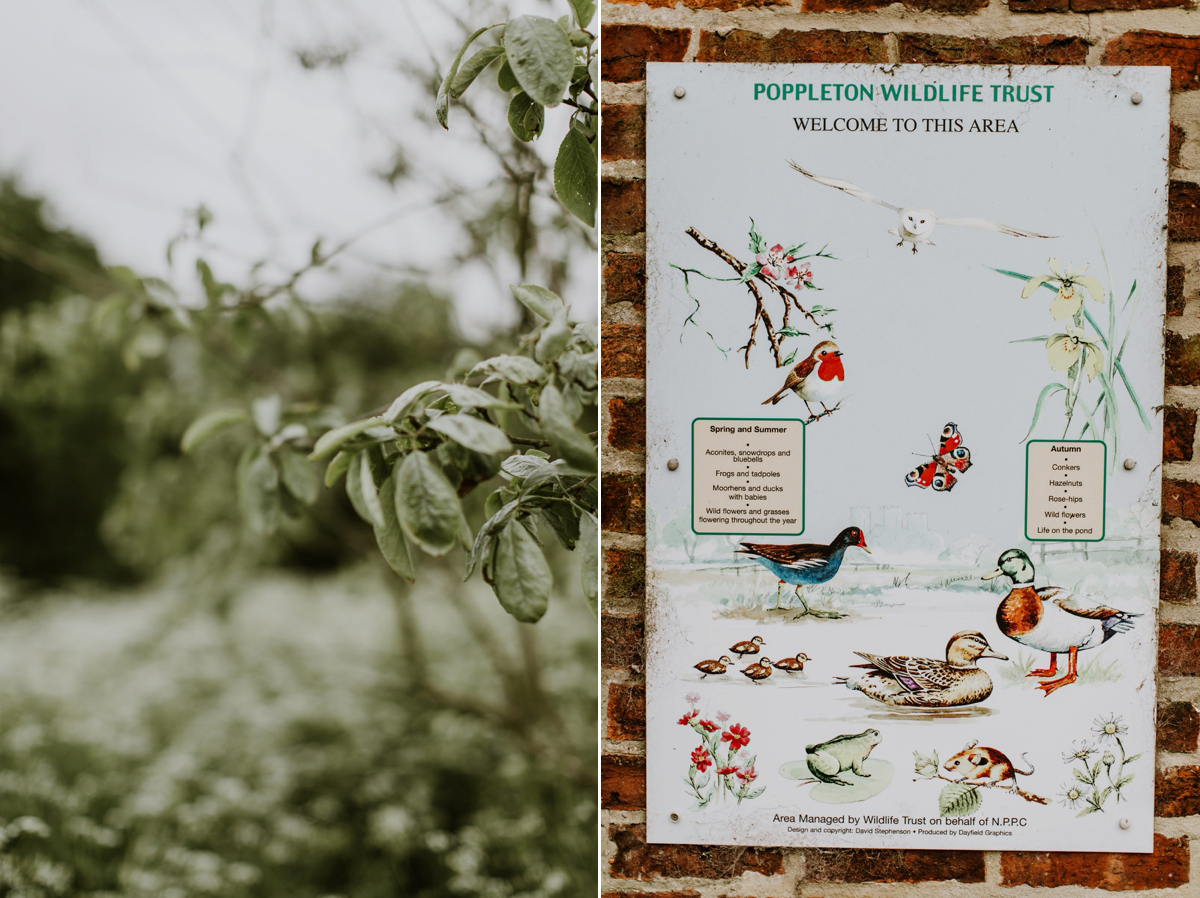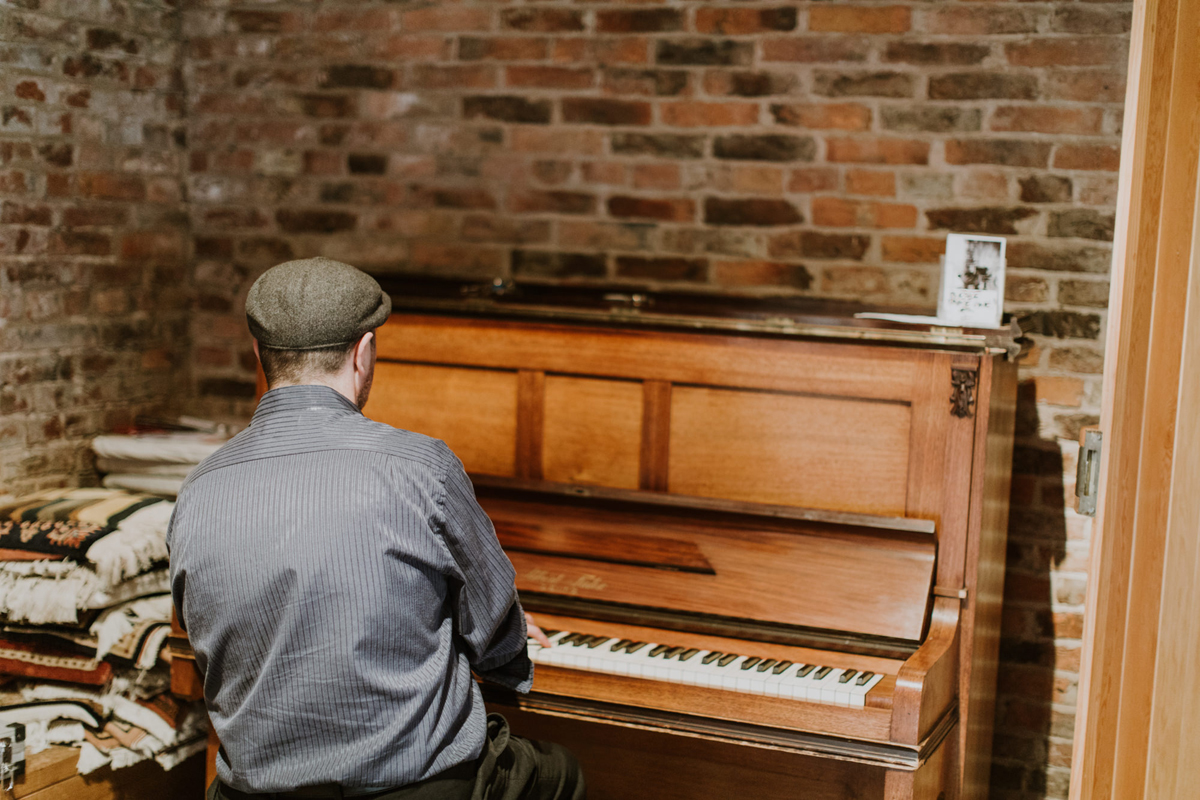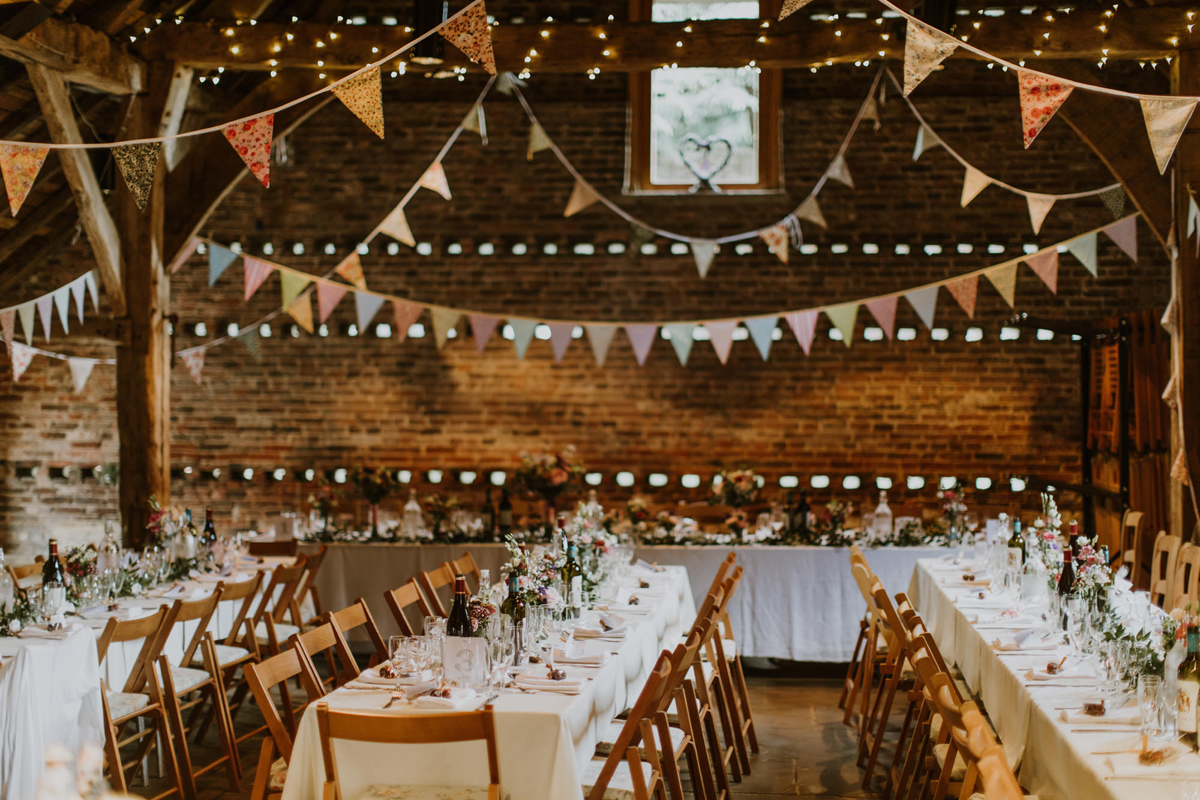 Cassie designed all of the couple's stationery herself, as well as the pretty framed table plan – a map of the Lake District decorated with miniature bunting. Oli's Mum did a wonderful job of hand making the vintage inspired bunting, which fluttered joyfully from the beams of the barn, and Cassie picked up a hamper for cards and gifts from a charity shop, and even an old tin bath to hold drinks from an antique shop in York.
Long trestle tables were decorated with pretty garlands of fresh greenery and jars of cheerful flowers.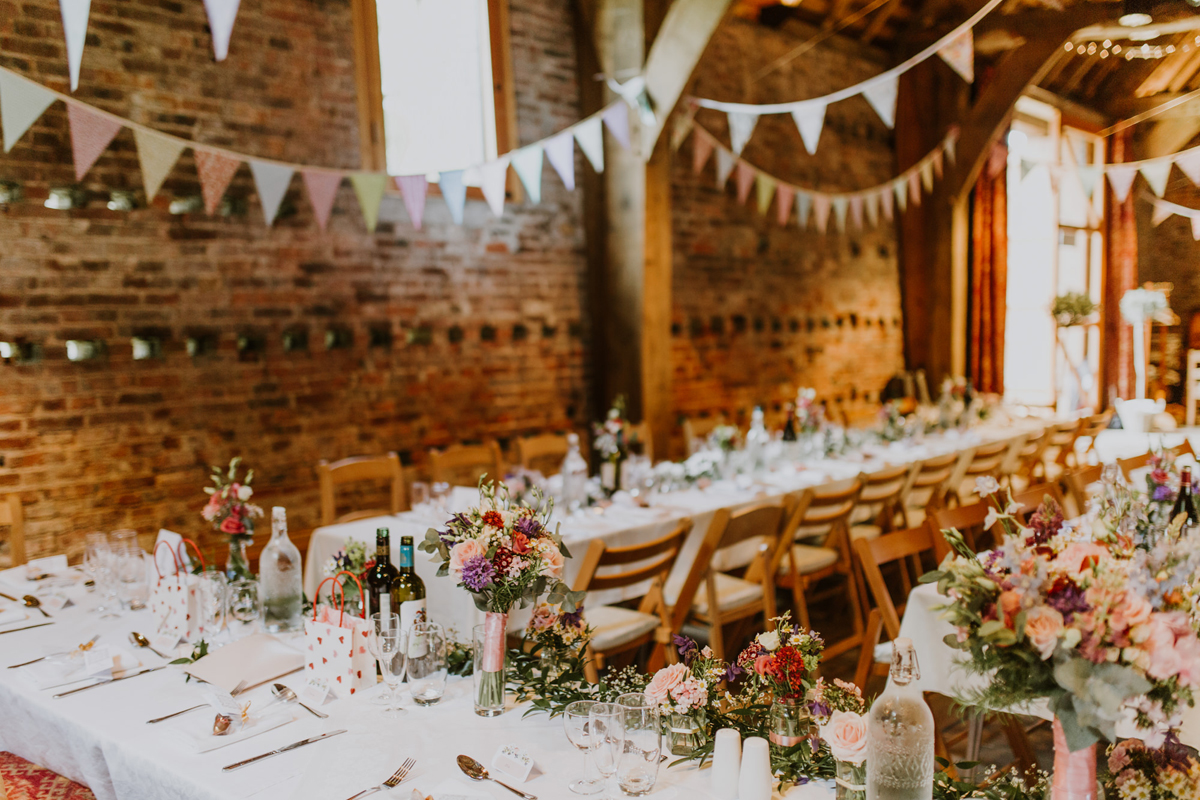 "We love to visit York Cocoa House together so we approached them to make our favours – Two truffles handmade one picked by each of us."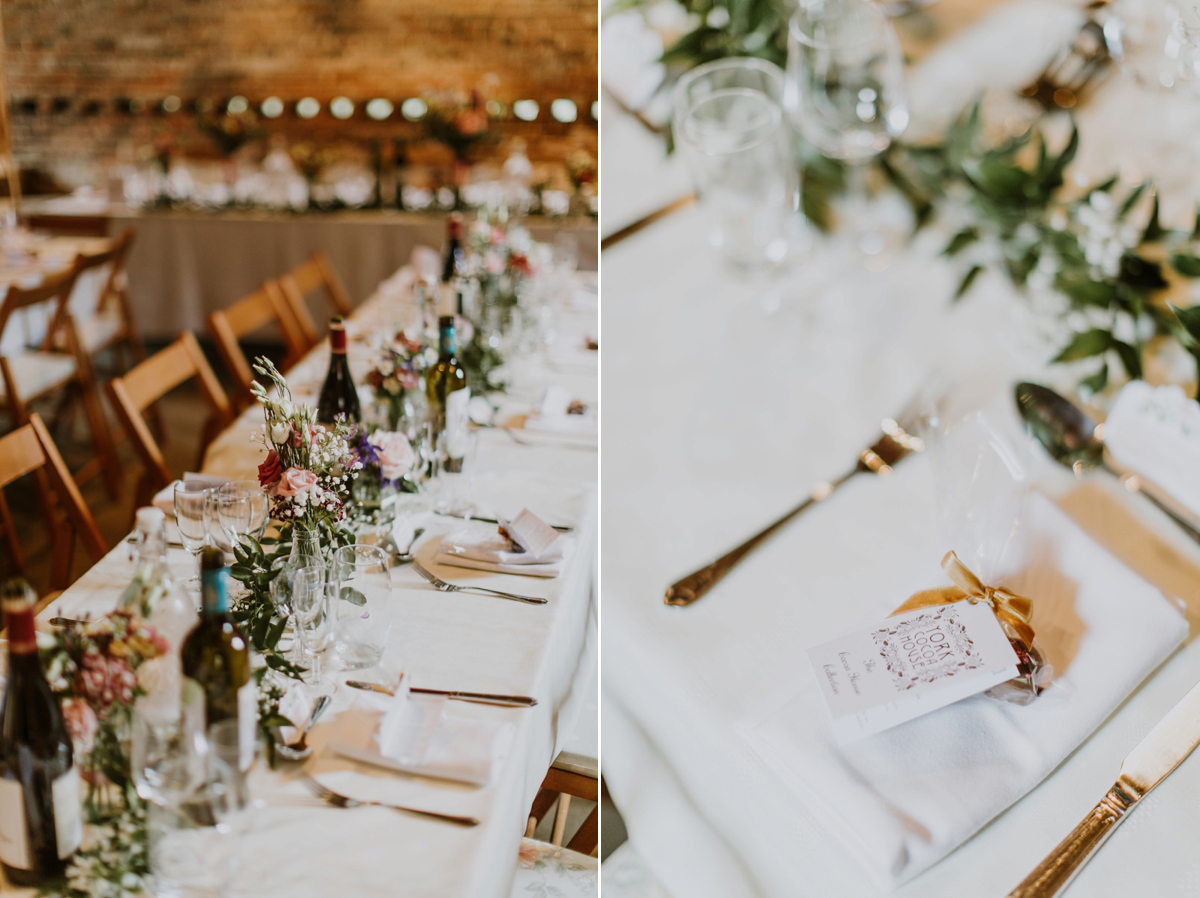 For her wedding ring, Cassie chose a narrow gold band from Bradleys the Jewellers in York, and Oli opted for a simple silver band.
"The Tithe Barn did not allow amplified music which was no problem for us as we didn't want the traditional evening reception. It did have a piano though. I am a keen piano player so it seemed to make sense to have a pianist at the wedding."
"Whilst I was in York on a sunny day I heard Karl Mullen playing the piano outside York Minster. We received loads of comments about how great and varied the music was and how it suited the atmosphere throughout the reception. He even had my grandad dancing."
"My friend Caroline made our cake. Chocolate and Guinness cake for the bottom tier and carrot cake for the top. All covered with white chocolate cream cheese icing. It was to die for! The cake was topped with the two characters from the Brambly Hedge story."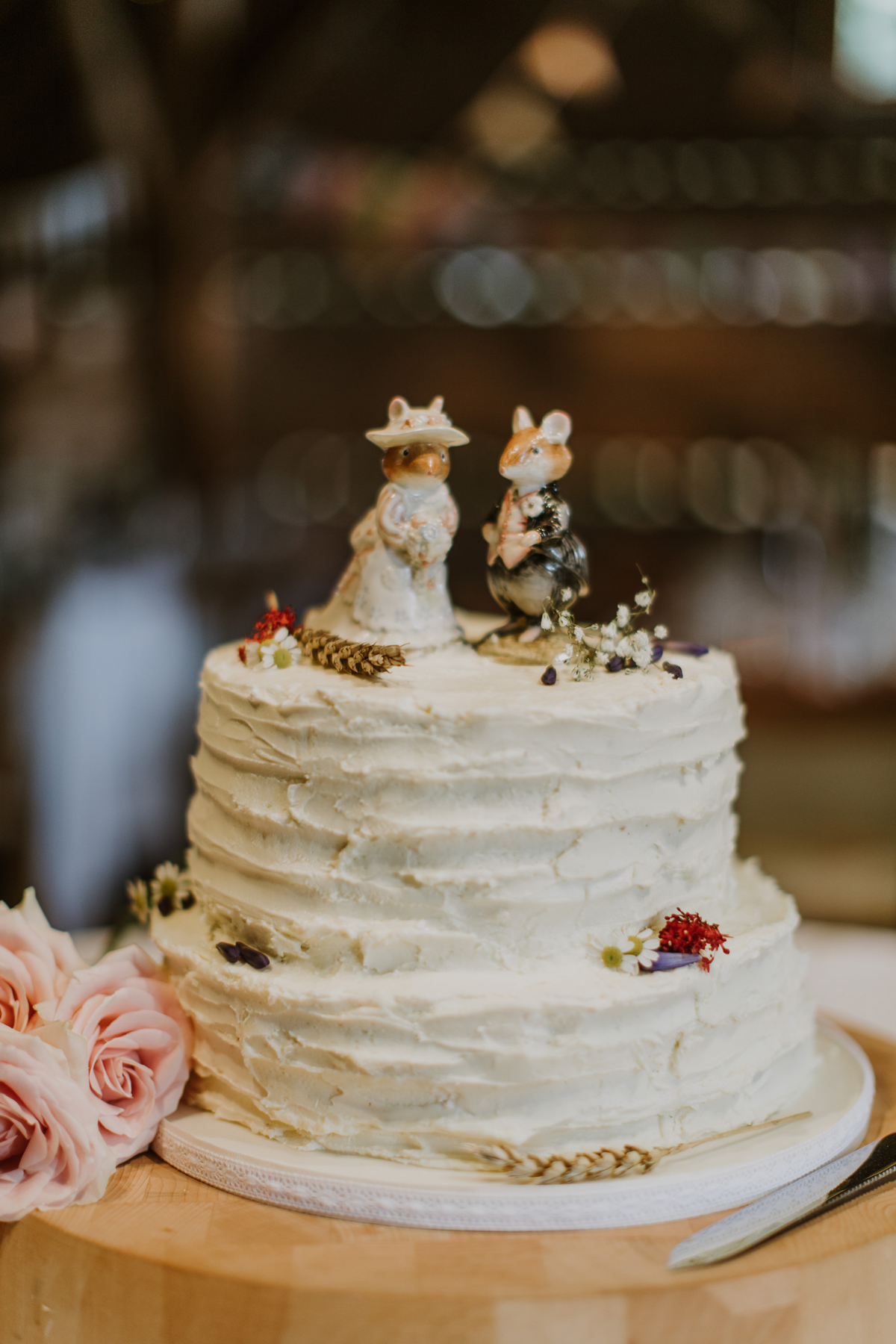 "We decided early on that food was important to us. We love to cook and enjoy good food. Baba Ganoush was closely linked with one of our favourite restaurants and we knew the food would be amazing. They certainly lived up to our expectations and then some."
"They even had fussy eaters going back for seconds. They really helped make our day and we would recommend them wholeheartedly. They did far more than we ever expected caterers to do, including greeting guests from their cars with umbrellas during the brief downpour as we travelled from the registry office to our reception."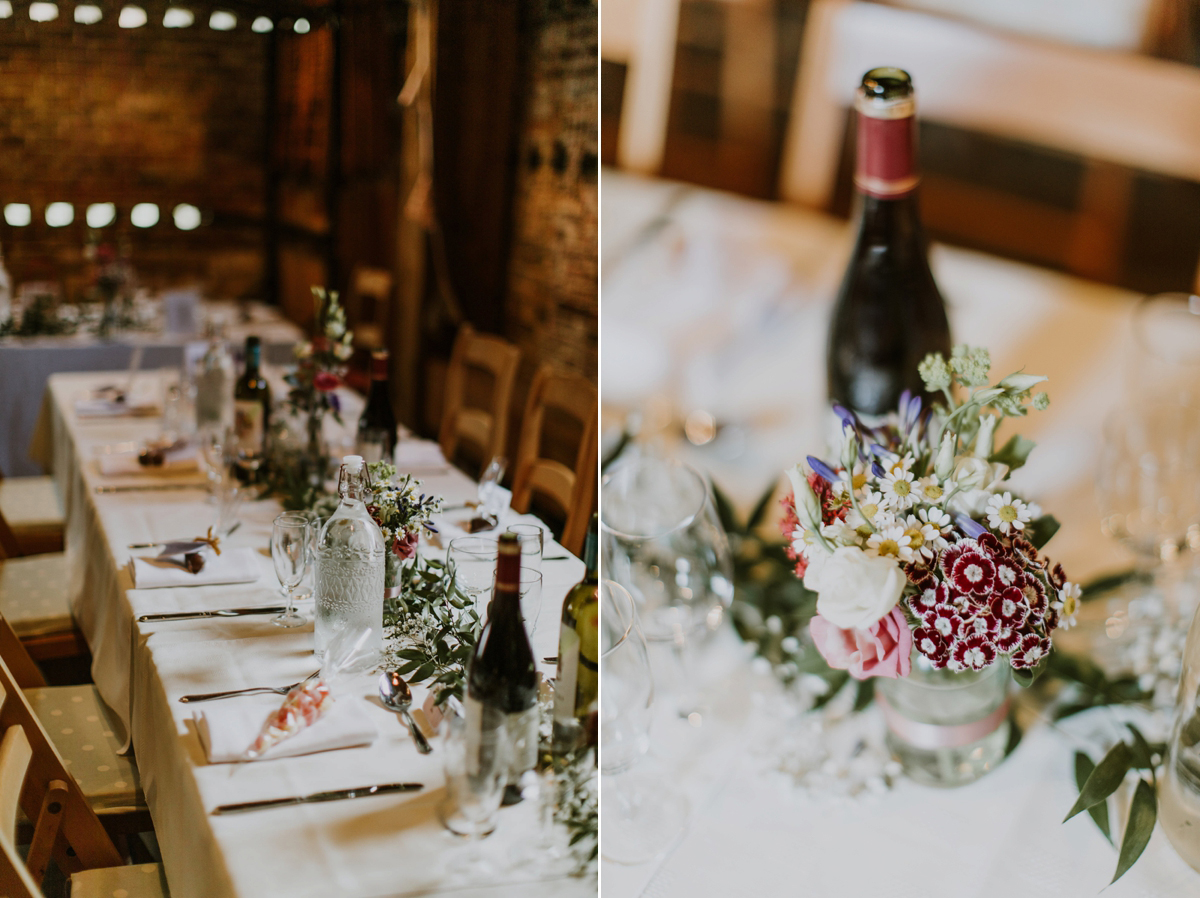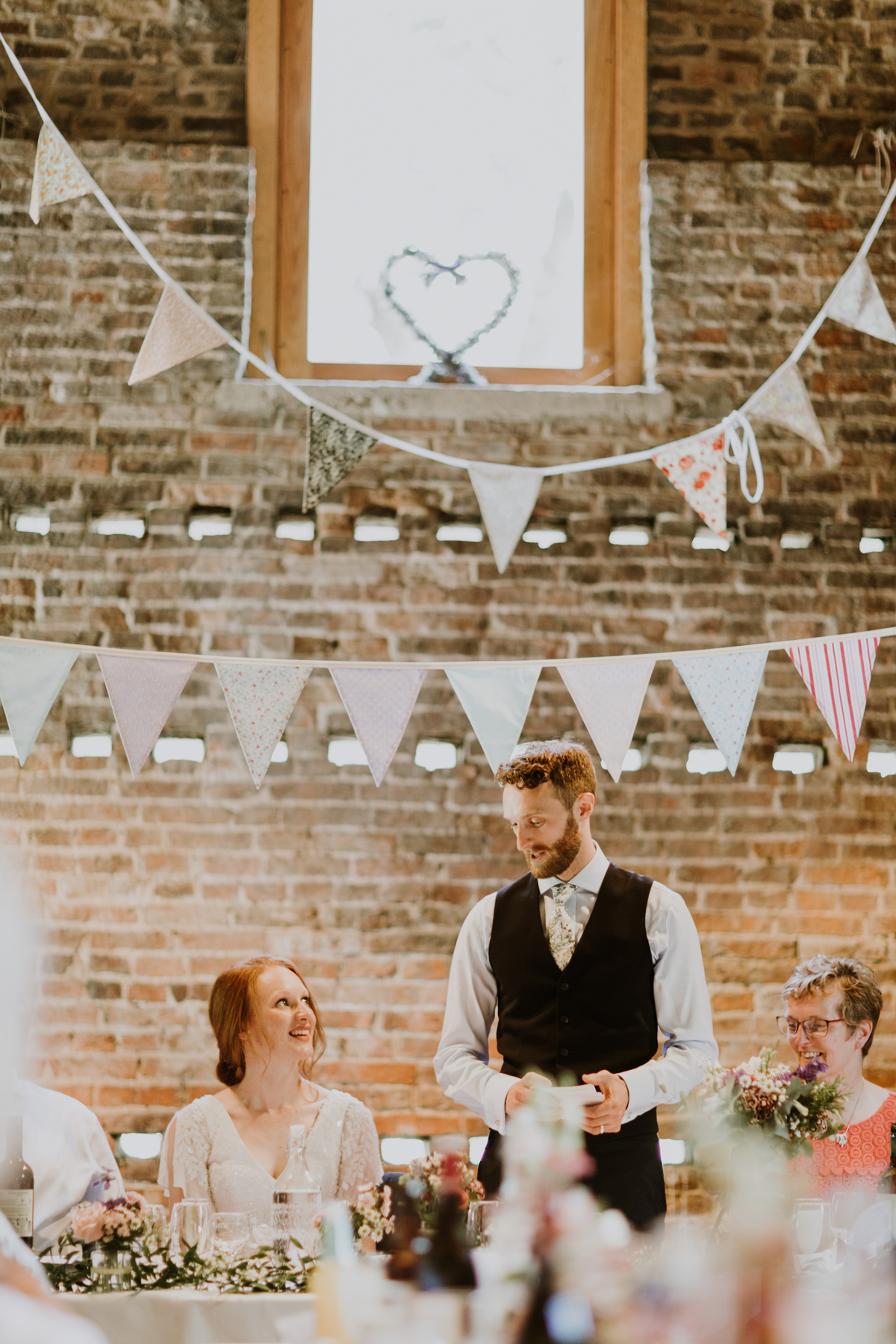 Words of Wedded Wisdom
"Do exactly what you'd like and not worry about everyone else!"
Thank you so much Cassie and Oli, for allowing us to share your beautiful, brambly barn wedding. The whole day has such elegance, from that stunning Eliza Jane Howell gown to the wonderful and historic tithe barn, and what a sweet couple, too. Huge thanks also to photographer Natalie Pluck for a magical selection of images. Did you know we have other brilliant Brambly Hedge inspired weddings on Love My Dress, too? Take a look here.
With love,
Laura