Hello lovelies! Whatever the weather's doing where you are today, I've got a colourful fun-filled explosion of a wedding up my sleeve, guaranteed to brighten up even the most miserable of days. You just can't go wrong with bright colours, confetti and a bit of kitsch can you?! So let's get to it…
Today's newlyweds, Senior Projects Coordinator Chiara and Builder Dan, were married on Sunday 14th May 2017 at Caswell House near Brize Norton in Oxfordshire.
"The way we styled the day reflected a lot of my personality. I did a degree in Fine Art and have always had a passion for certain colours and textures. My art work focused around approachability and I carried this theme throughout our wedding day. I've been to far too many stuffy, formal weddings where you're afraid to touch anything or have fun. All of the cushions, bunting and throws came from our house. I wanted to maintain that cosy relaxed feeling of home, without having 100 guests in our living room!"
Images by Sarah Ann Wright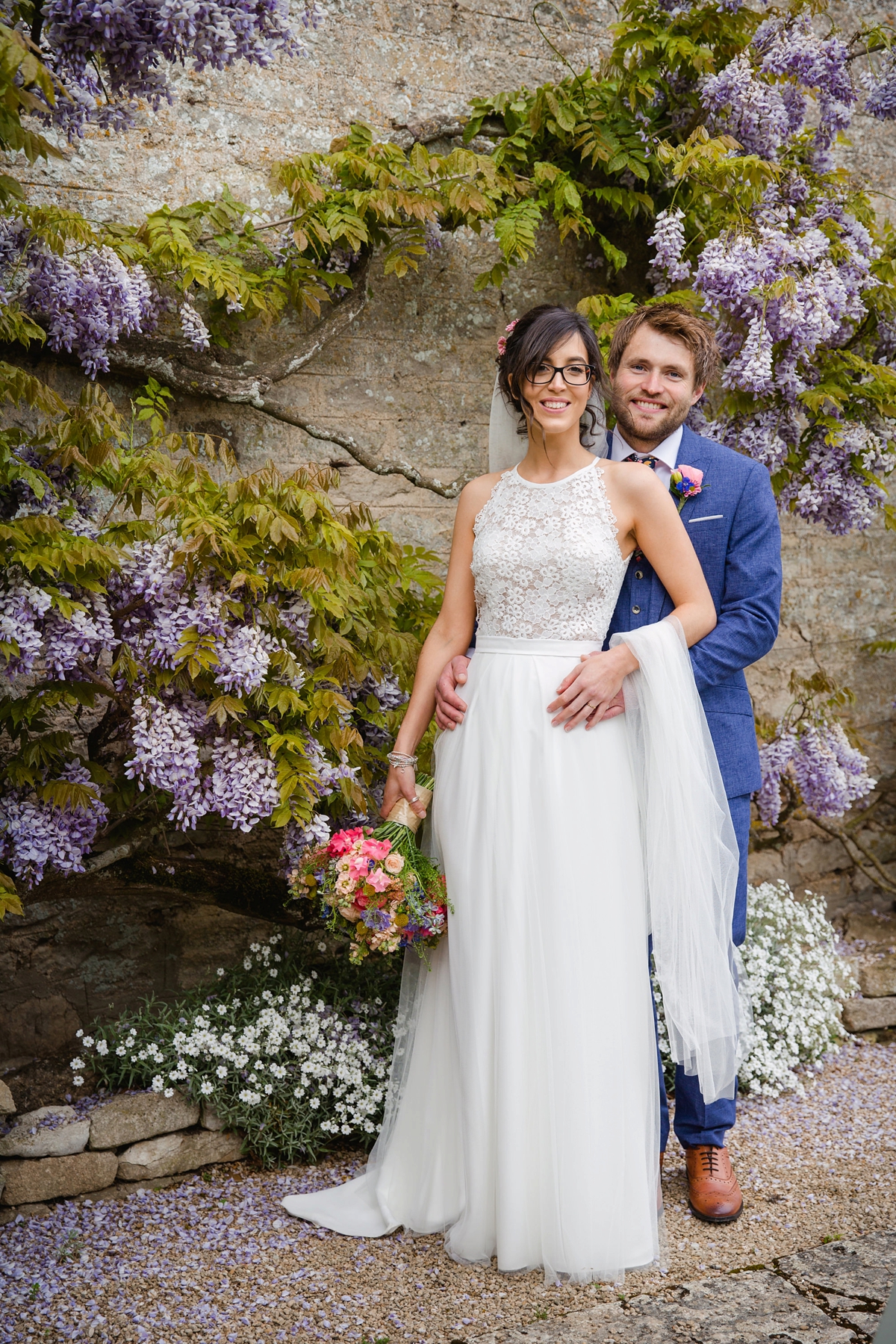 To capture their day on camera, Chiara and Dan recruited the talents of photographer Sarah Ann Wright.
"Sarah was a fabulous photographer and made us feel completely at ease from the very first time we met. I'm naturally very camera-shy but Sarah put all my worries aside."The stationery was provided by Little Book for Brides member,  Lucy Says I Do and Chiara and Dan opted for the Ruby Summer range featuring colourful floral borders across all of their invites and RSVP's.
"I also bought the table name cards from Peardrop Avenue via Not On The High Street and my very talented dad illustrated them with mountains and used a stamp of a bicycle (Dan's obsessed with cycling!)."
"We loved the relaxed rustic feel to the venue and the way it was relatively open plan but still had separate areas (if the oldies didn't want to boogie!). The outside space was important to us as well as having rooms where the wedding party could stay overnight."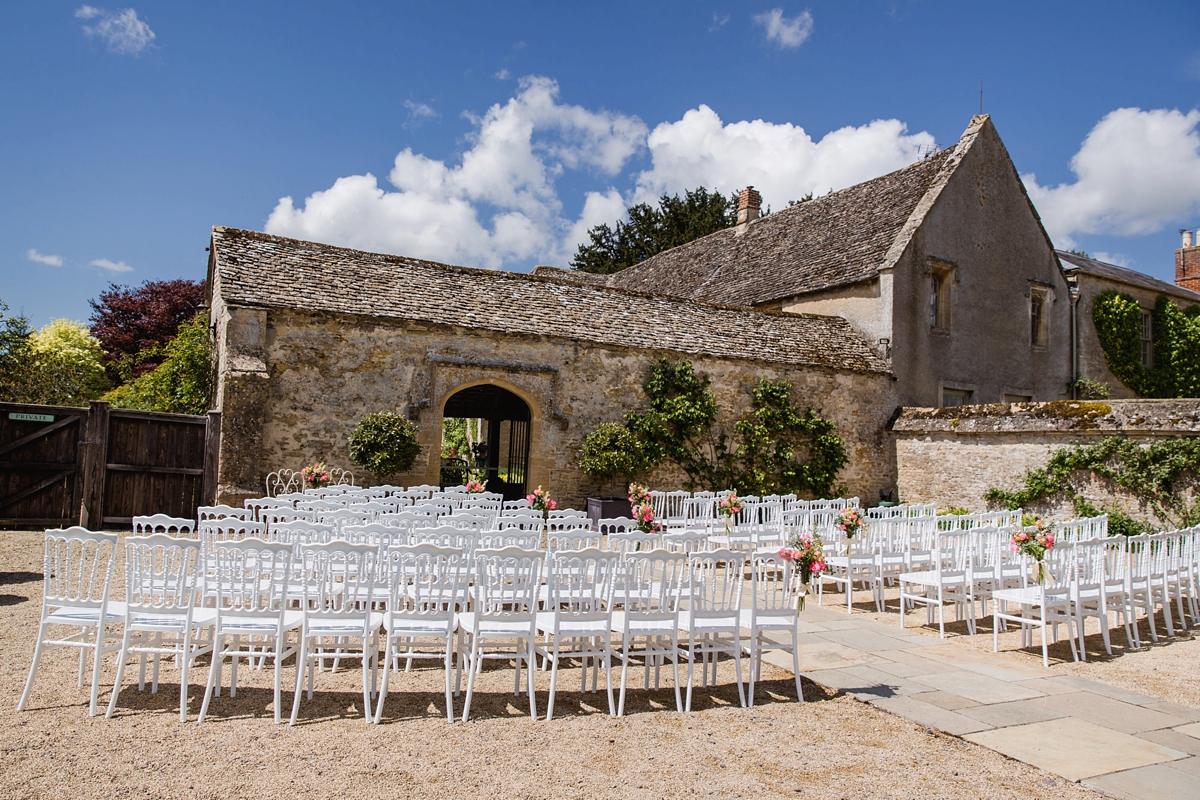 Chiara and Dan first properly met in a local nightclub back in 2012, but had also previously attended the same primary and secondary schools together.
"Dan and I went to school together and lived in the same small Wiltshire village for most of our lives but didn't 'meet' as such until a fateful night in 2012 at our local nightclub. It wasn't until a year or so later that we went on our first date where Dan inadvertently managed to pull the front door handle off the door of the local pub."
"I knew then we were made for each other! We got engaged in June 2016 outside our local church in Cherhill on a very muddy and hungover Sunday walk in the pouring rain. It was perfect!"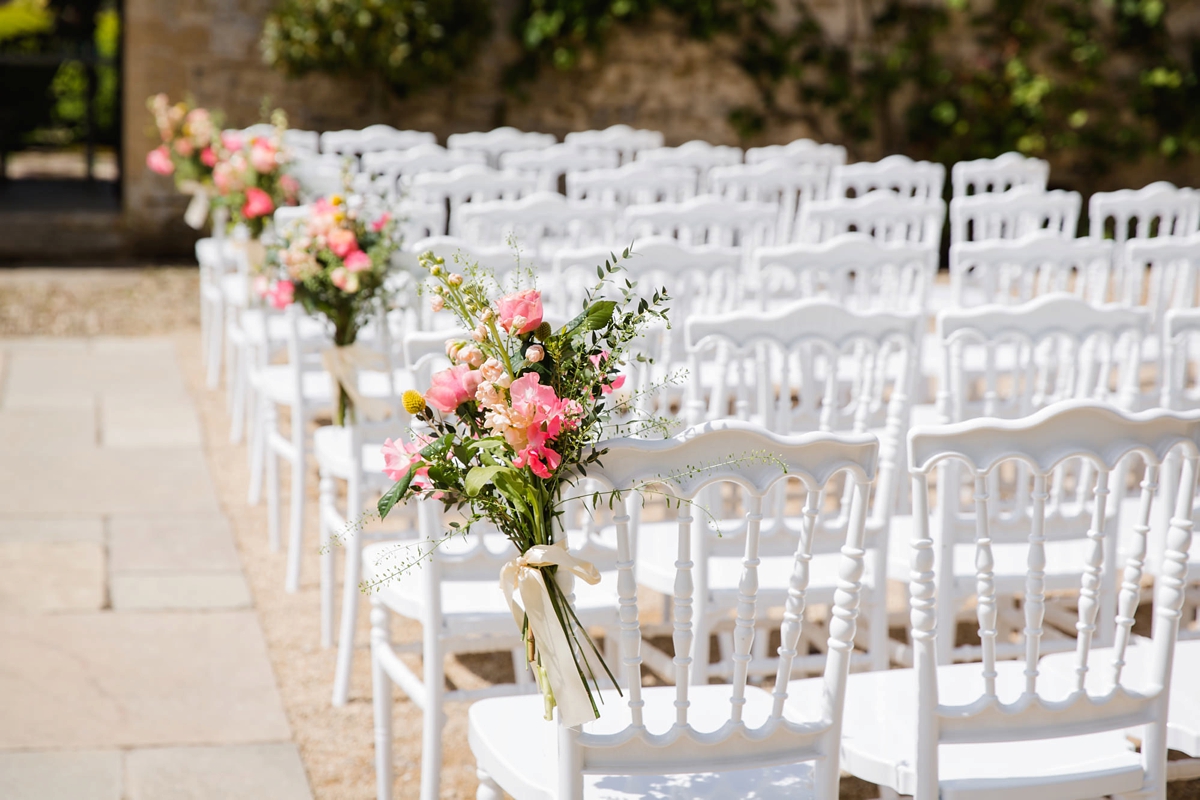 The brides squad led Chiara down the aisle in matching blush pink glitzy dresses from Monsoon.
"The girls all bought their own various nude coloured shoes and the gypsophila in their hair was provided by my florist. I also bought them each a bracelet personalised with their initials from Bloom Boutique."
Having forgotten to spritz herself with her wedding perfume, Boss Femme, amongst the chaos on the morning of the wedding, Chiara polished her gorgeous bridal look off with a curly up do by Stacey at Updoo, and a simple but striking make up look by Katy Phieffer at Bridal Make Up By Katy.
"Having these girls around on the morning of the wedding was like having two extra friends around! I wish I had invited them to the actual wedding!"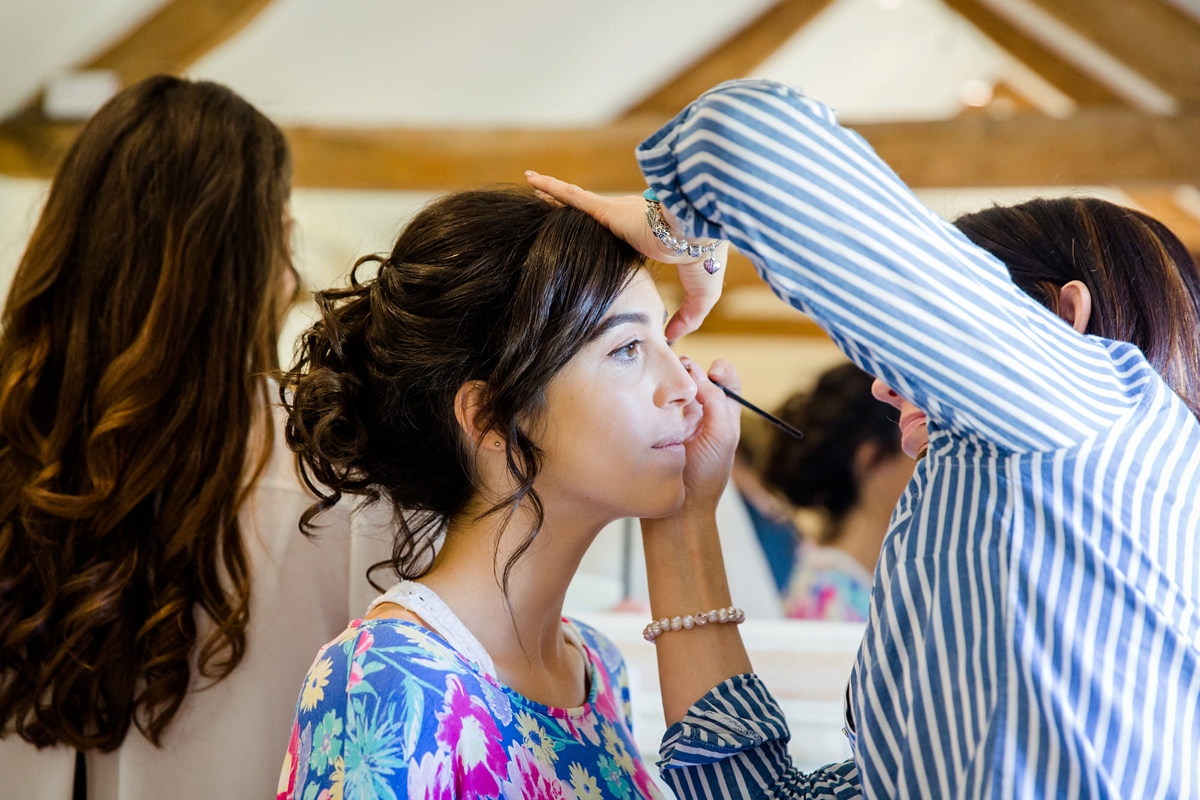 The star of the show however was Chiara's stunning kitschy dress by Lambert Creations via Flossy & Willow in Bradford-on-Avon.
"I had no idea what style of dress to choose as I'm not a typically girly girl. I did feel a bit overwhelmed by all the options however as soon as I tried mine on, what struck me was how comfortable it was! And I felt like myself in it. I fell in love with the chunky lace on the top which gives a nod back to the 60s and 70s style that I absolutely love."
"I also loved the simplicity of the style. I didn't want anything too fussy and I liked the elegance of the open back, which is something I would never usually go for. I had a tulle wrap added to the skirt too, to add a bit of movement."
The groom opted for a royal blue 3-piece suit from River Island accessorised with a floral print tie made by Marc Wallace.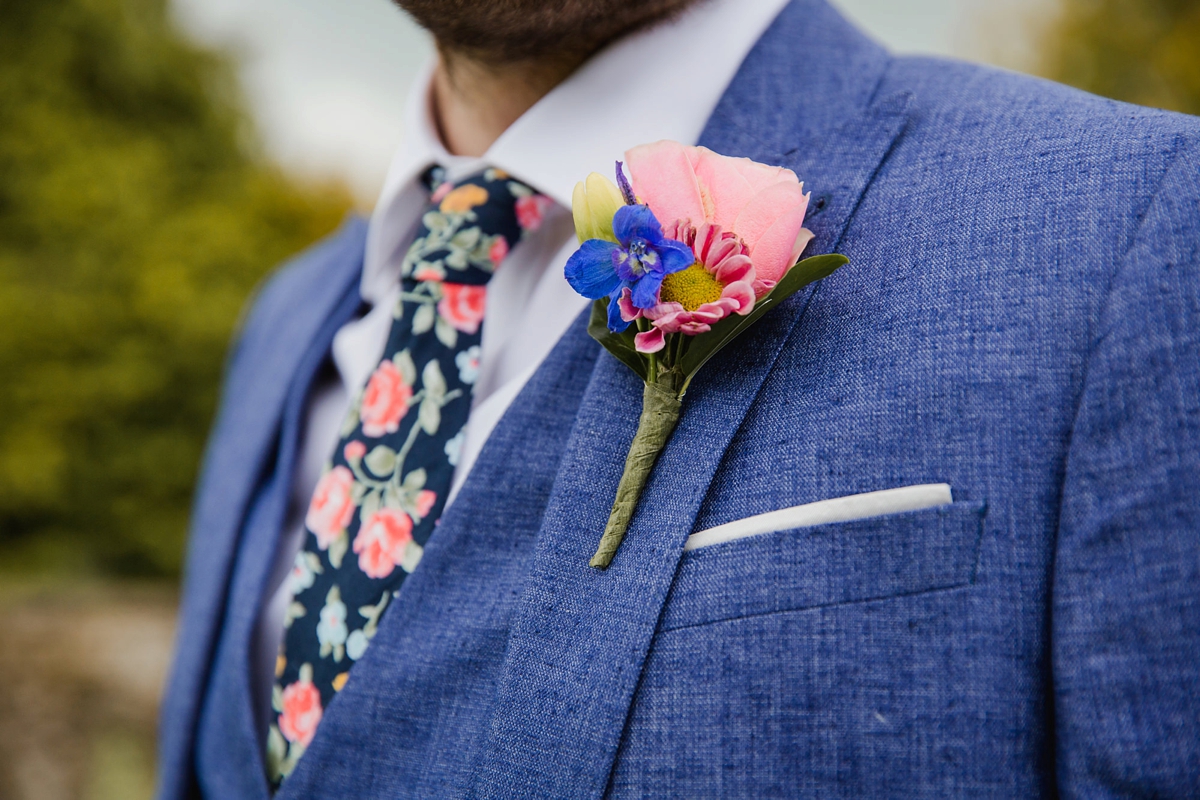 The bridal and bridesmaid bouquets were a colourful explosion of coral peonies, peach Achillea and yellow craspedia amongst others, all provided by Joanna Carter Flowers.
"I wanted the flower arrangements to be very loose and informal in structure, made up of seasonal wild flowers. The colour pallet was mainly coral tones with soft peach, pink and yellow thrown in for good measure! The flowers were coral peonies, peach Achillea, yellow craspedia, pale pink spray roses, thalsi green bell, Santini ivory daisies, coral sweet peas, blue Delphinium and rich pink vuvuzela roses."
Chiara and Dan chose an outdoor ceremony at Caswell House, and the bride was walked down the aisle by her dad to Ain't No Mountain High Enough by Marvin Gaye and Tammi Terrel.
"I've never seen my dad look so nervous! I made him talk to me on our way down to calm my nerves. He even shed a tear when he saw the flamingos on the top of our wedding cake. We chose the song we walked down the aisle to because we wanted something upbeat that was a bit of a retro classic. Something that definitely wouldn't make me cry! We even toyed with the idea of having the Macarena and dancing down the aisle!"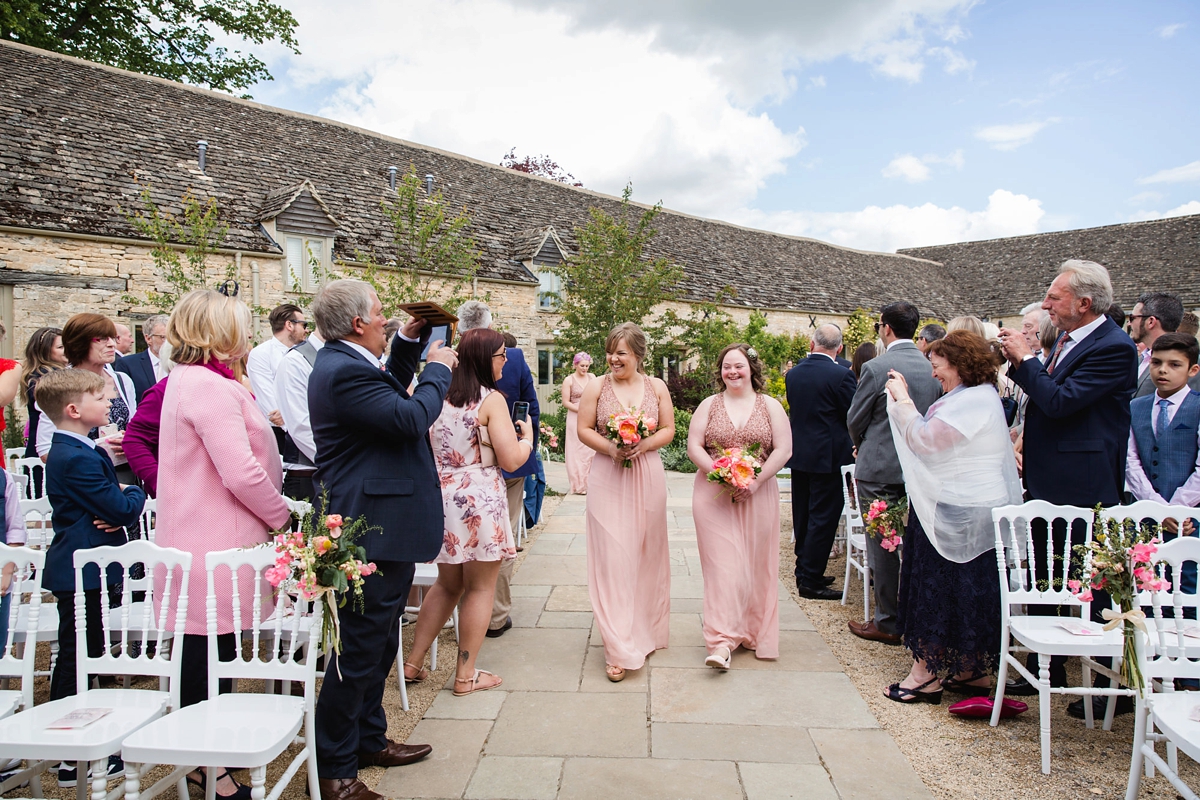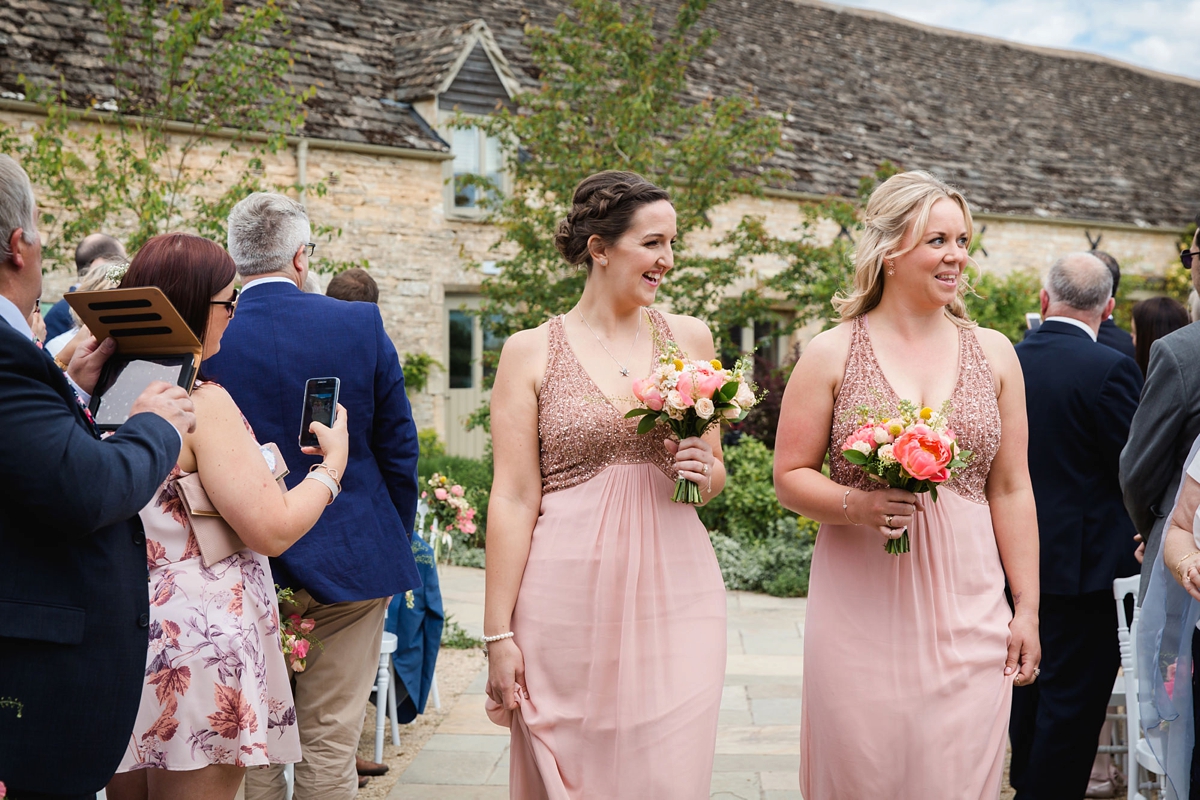 Chiara's cathedral length veil was also purchased from the same store as her dress and bagged a bargain with her perspex heeled white House Of Fraser shoes.
"Due to the high neckline of the dress, I didn't want to wear a necklace, but my earrings and bracelet were from Annie Haak. My amazing seamstress Verity from Sew Perfect sewed my grandad's chain (he passed away when I was 10) into a secret pocket in the dress so even though I couldn't wear a necklace, I still had it with me on the day."
"We wanted to keep our vows as simple and as quick as possible. I was so anxious about not being able to get my words out. I stumbled over a few bits and struggled to say Dan's name without tearing up, but we got there in the end! My brother wrote the most incredible poem for us which he read after the vows – there wasn't a dry eye in the house!"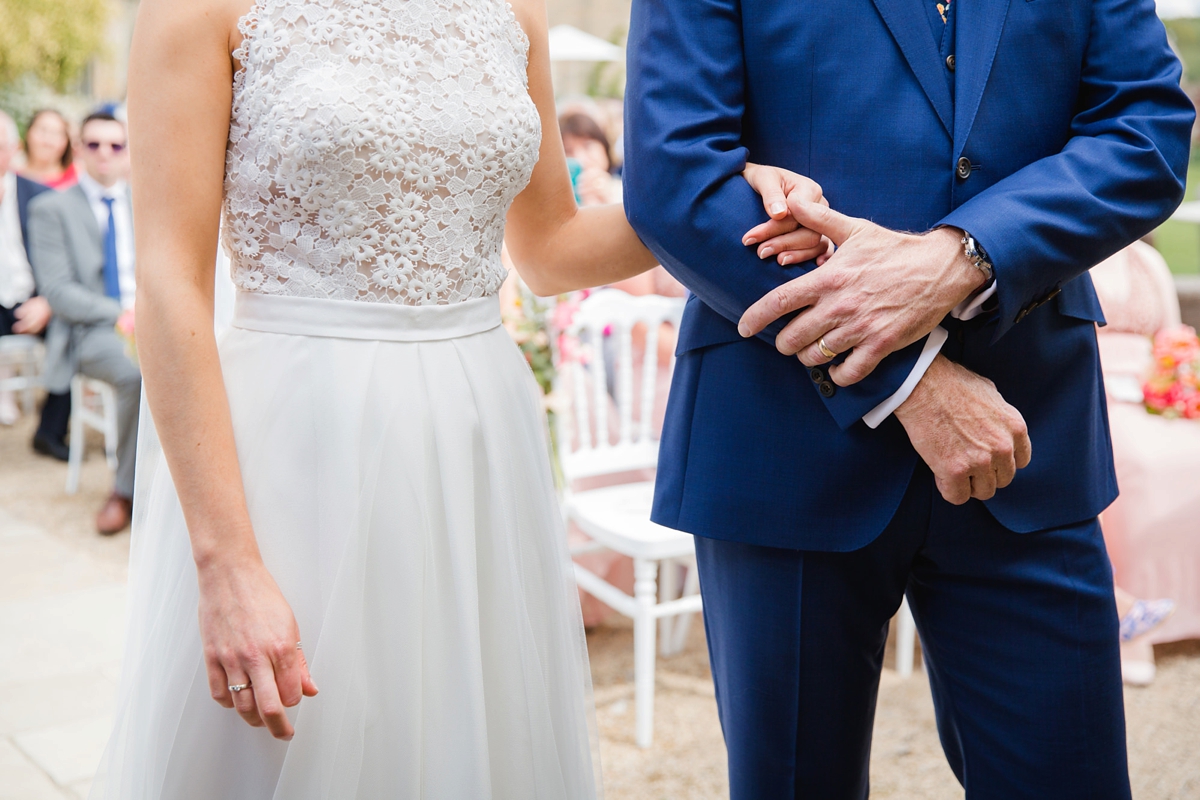 "We had our wedding rings handmade by local jeweller Victoria Jarman, who I had met a few years before on a local Arts Trail. She also made my engagement ring. I love the rustic textured hammered effect on the rings."
Following the ceremony guests were led to a champagne reception on the lawns of the venue, and provided with giant lawn games whilst the wedding party went off for their photo's with Sarah Ann Wright.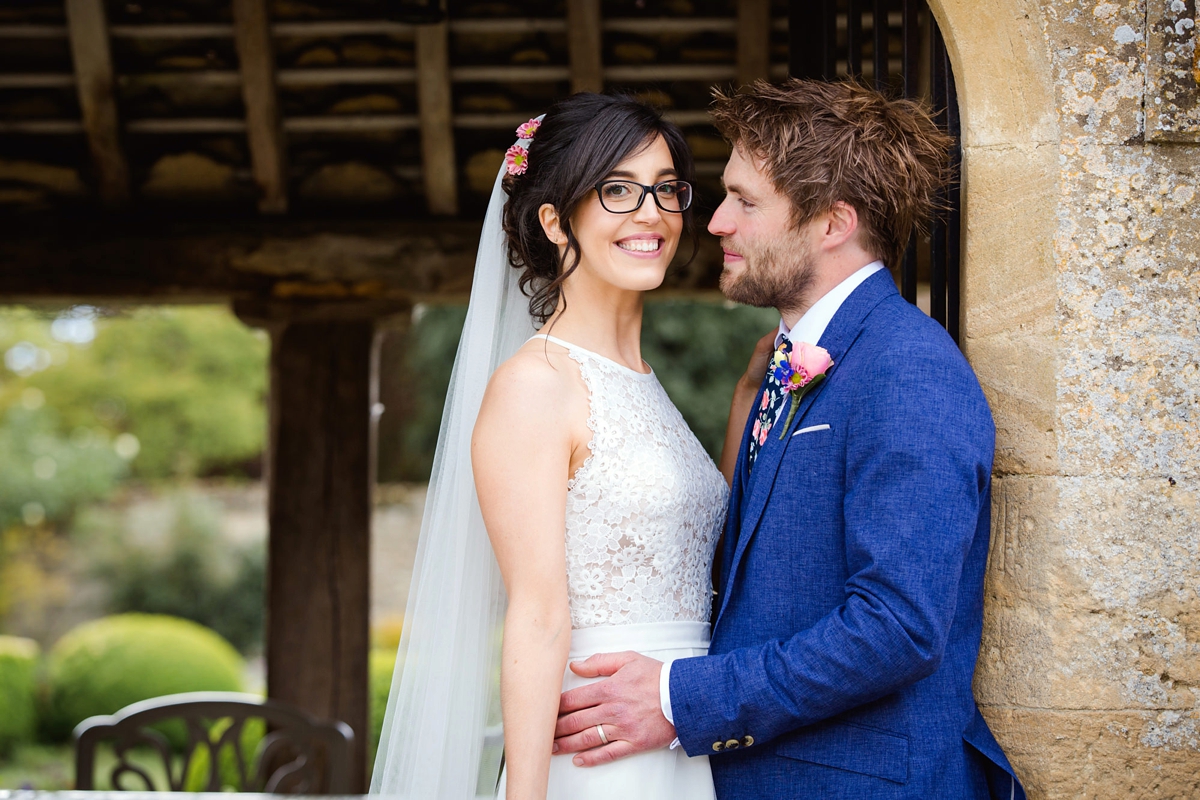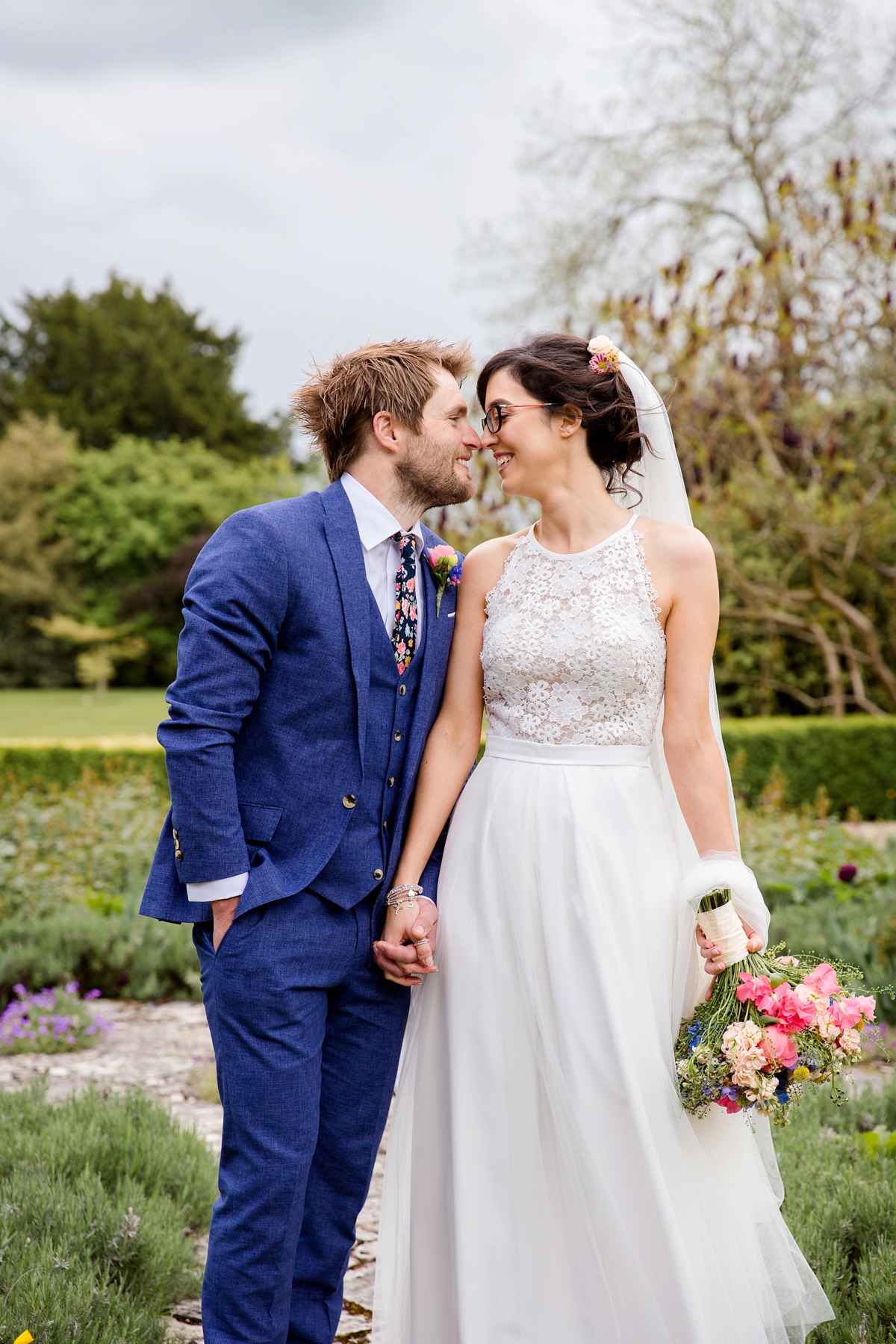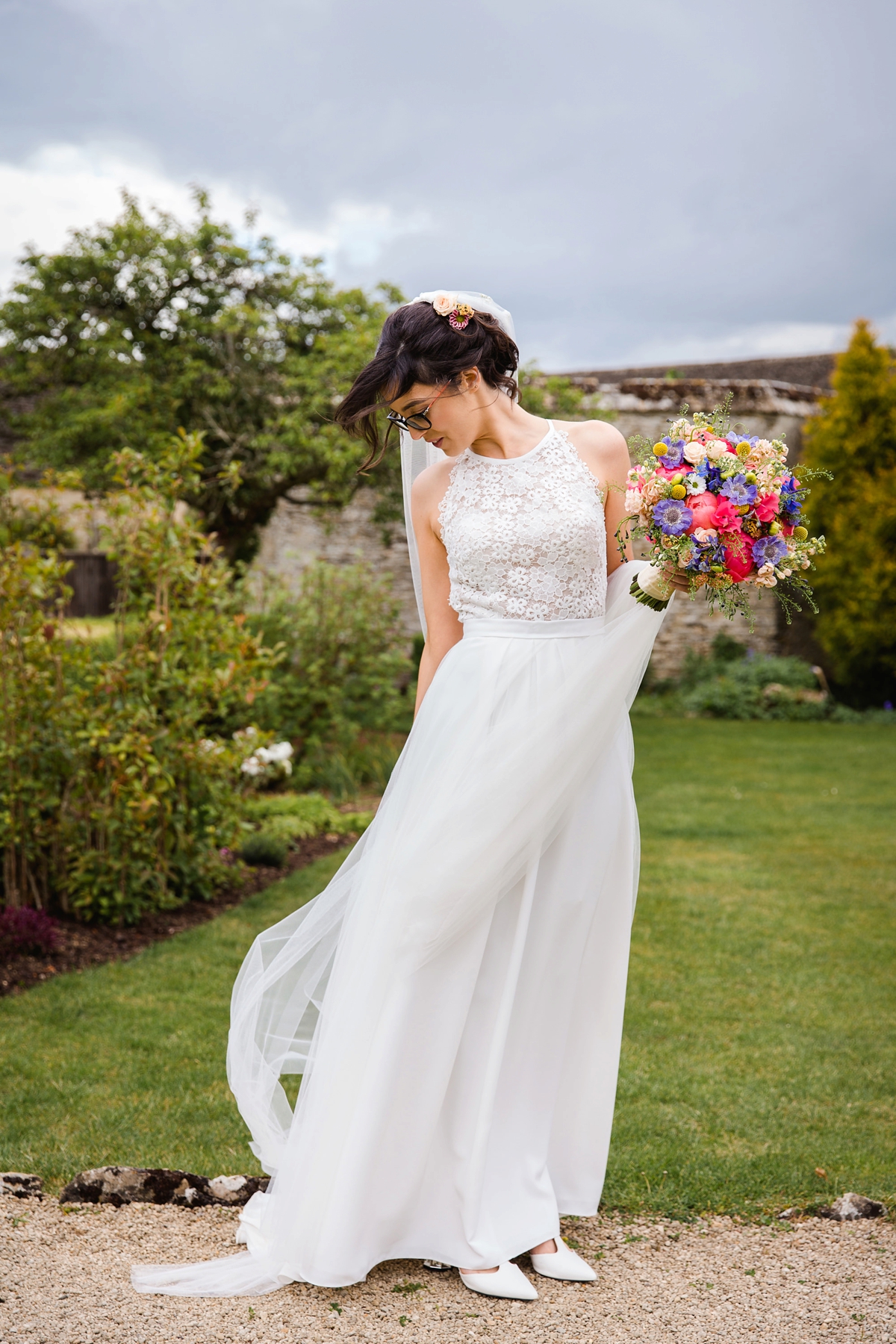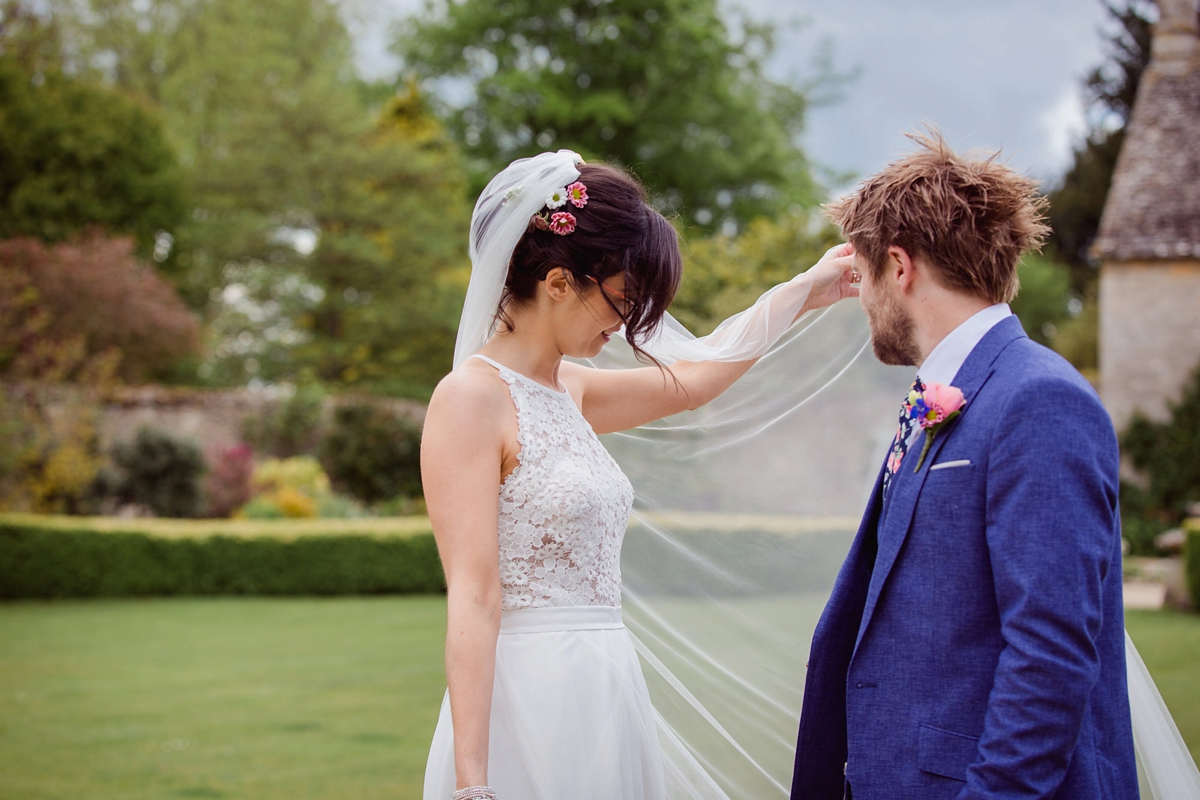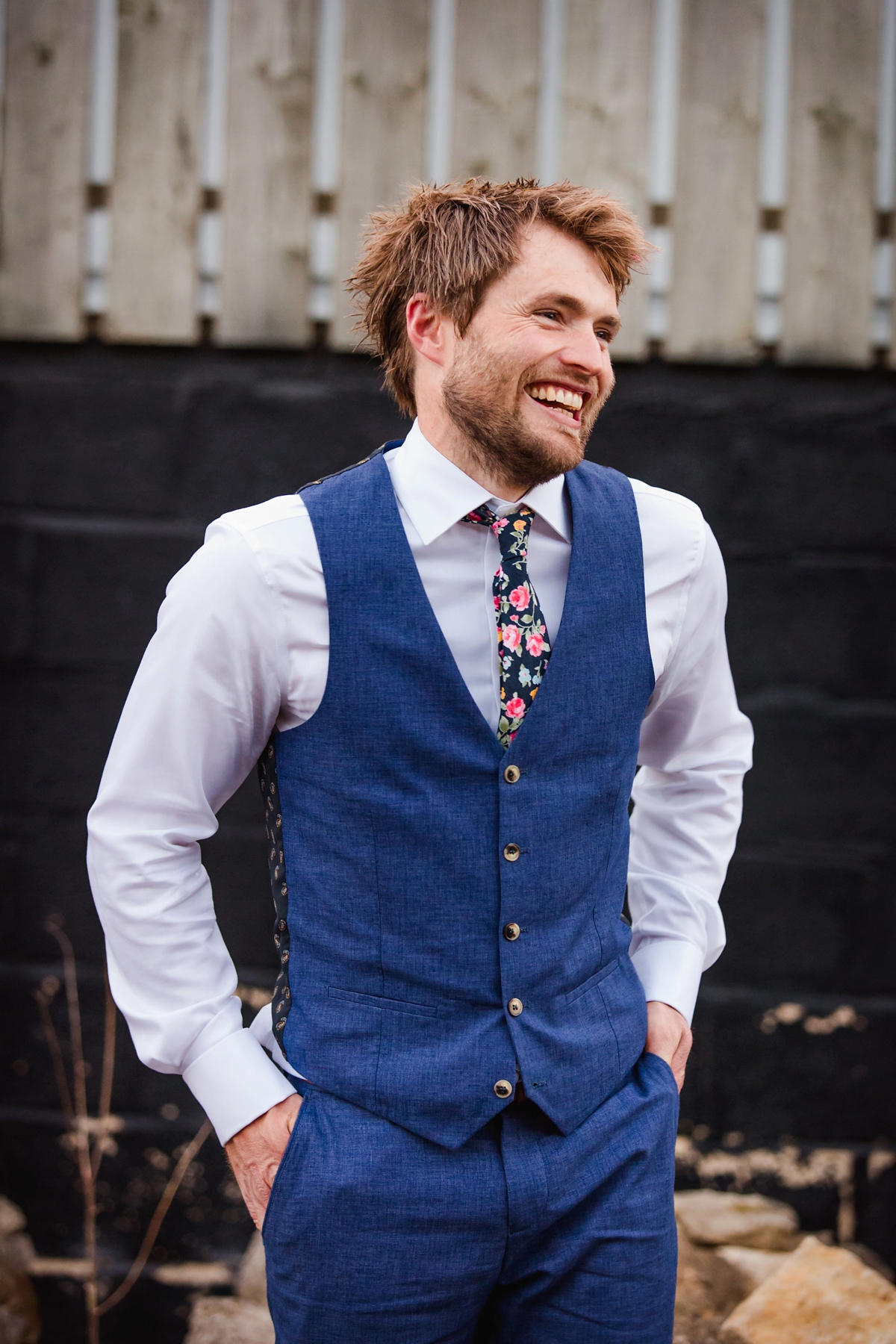 And what a gorgeous job the bride did of making the royal blue and bright colours running throughout the day pop.
"I wanted to keep the colour pallet on the coral, pink and orange side with a mixture of bright and pastel colours thrown in too. I have a love of charity shops and am obsessed with all things kitsch and retro, mid-century interior design, furniture and nik naks. I picked up a lot of the jars and vases at car boot sales and hand dyed the heart-shaped doilies myself, with the help of my maid of honour."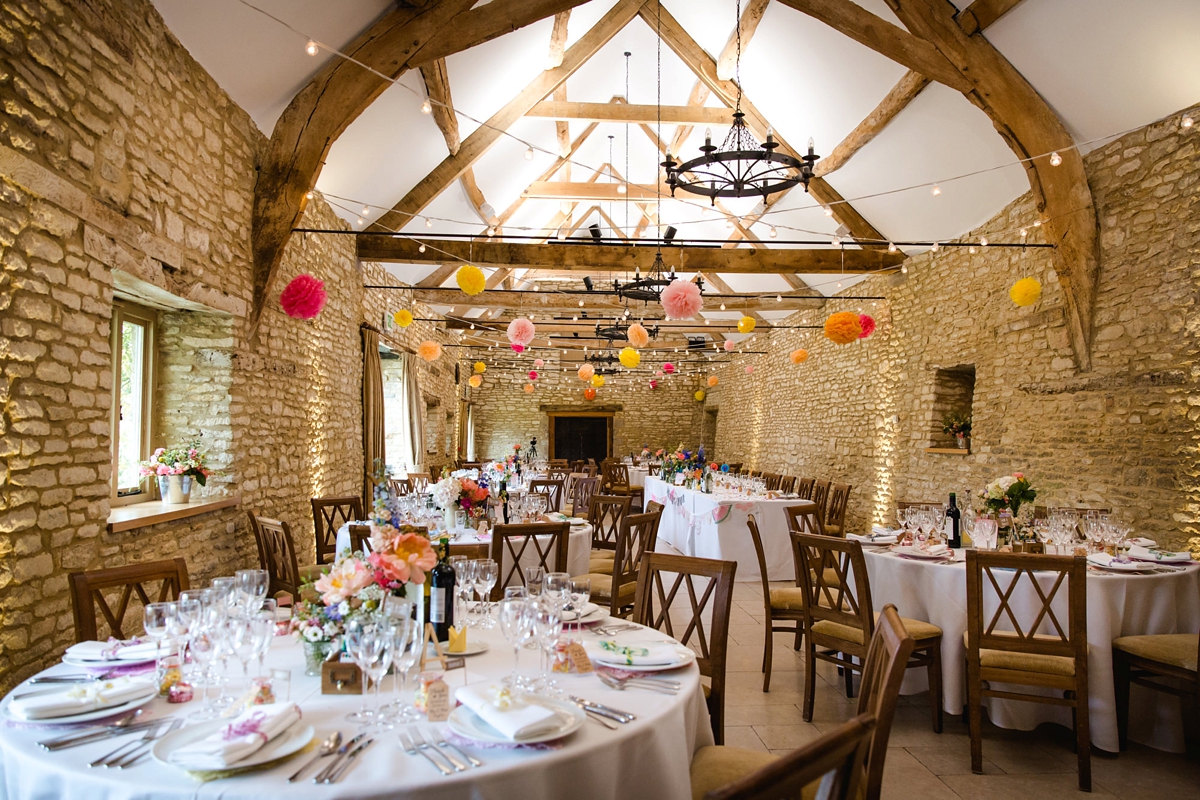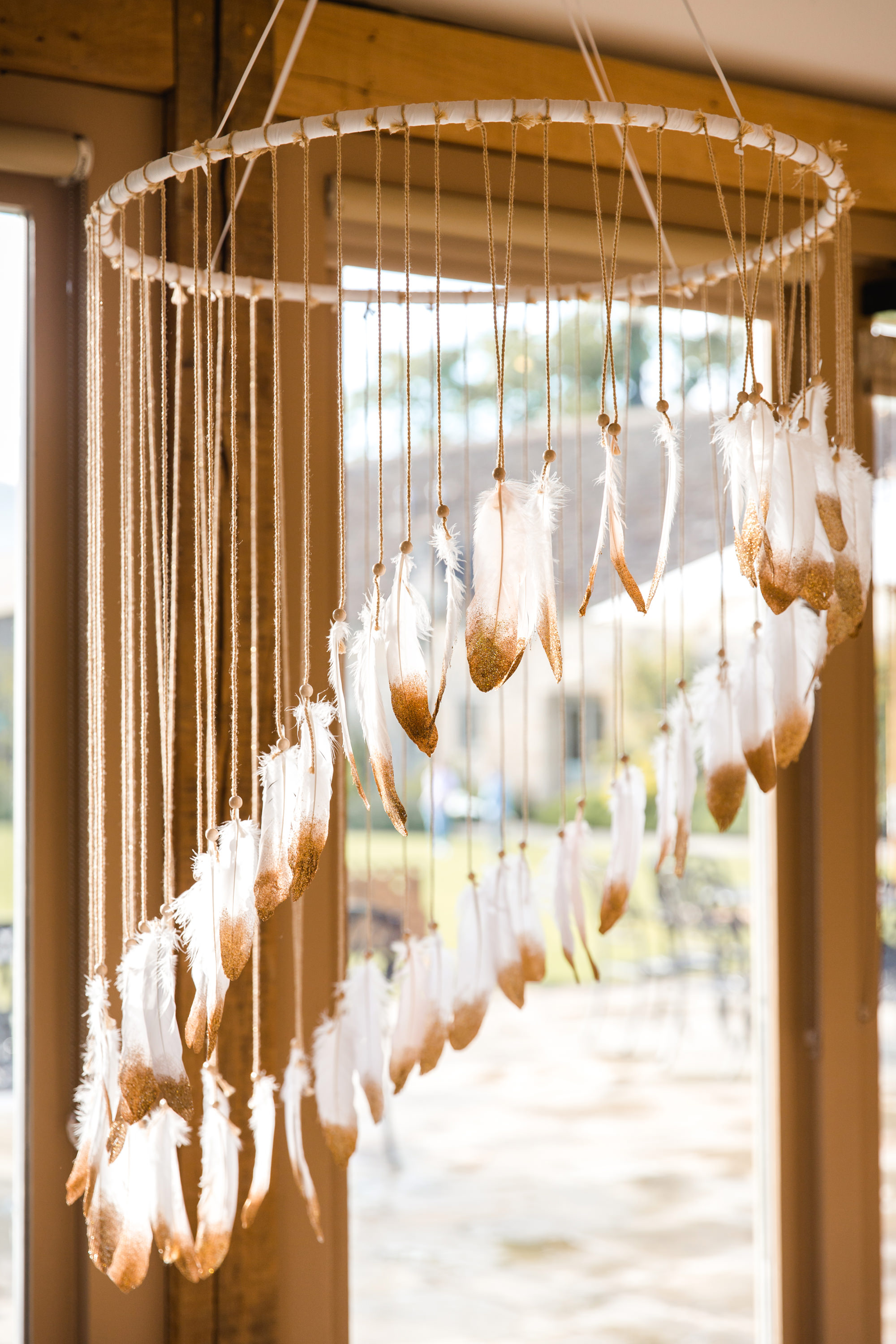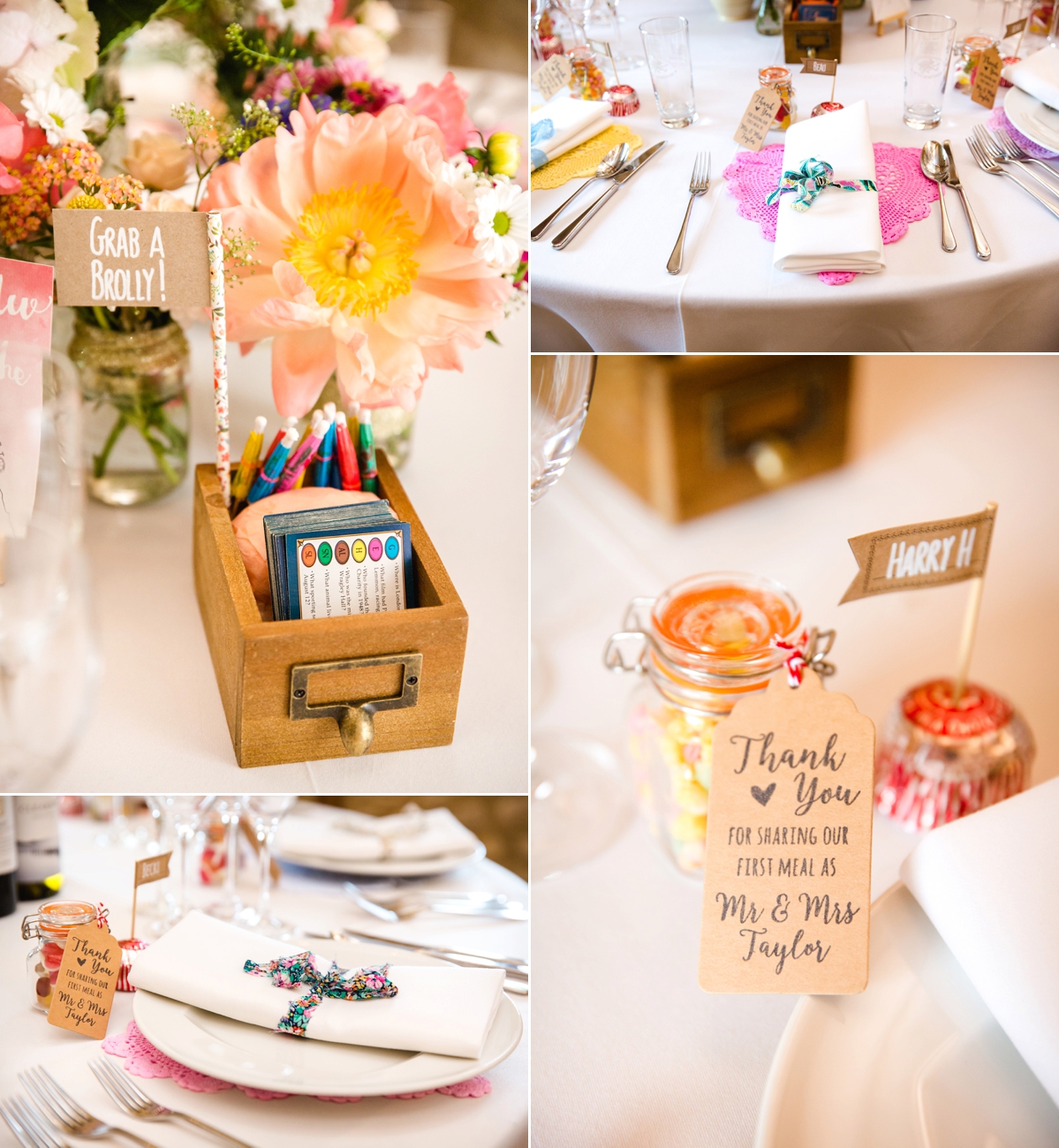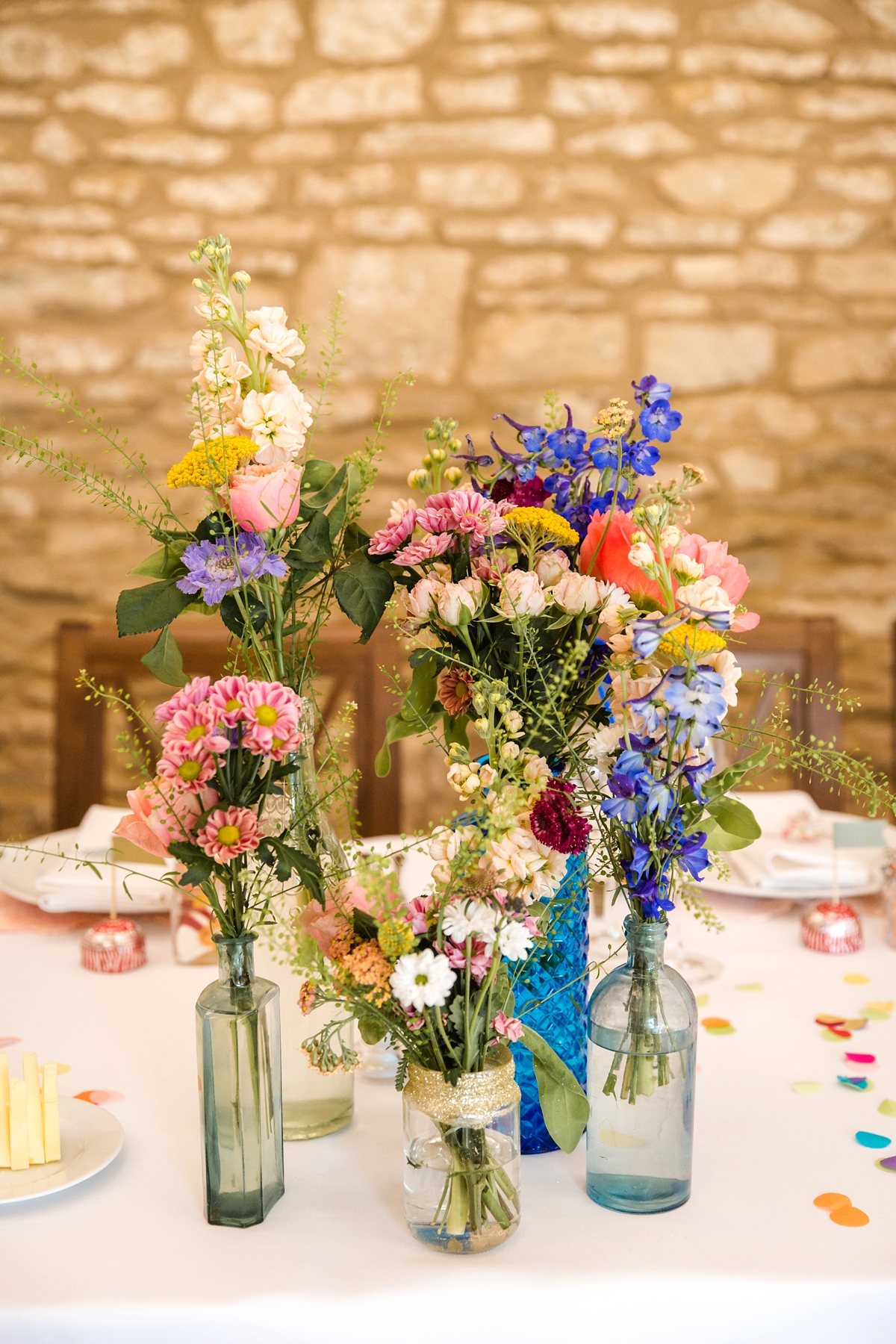 Following the ceremony guests were led to a champagne reception on the lawns of the venue, and provided with giant lawn games whilst the wedding party went off for their photo's with Sarah Ann Wright.
The wedding breakfast was served by catering company Indulgence Boutique Hospitality in a rustically gorgeous barn at the venue, adorned with Chiara's colourful crafts, bright blooms and even a pinata!
"I searched high and low for a pinata to use for our good luck messages. In the end my dad made it from scratch using a paper mache balloon and metres and metres of tissue paper. We can't wait to smash it open on our one year anniversary."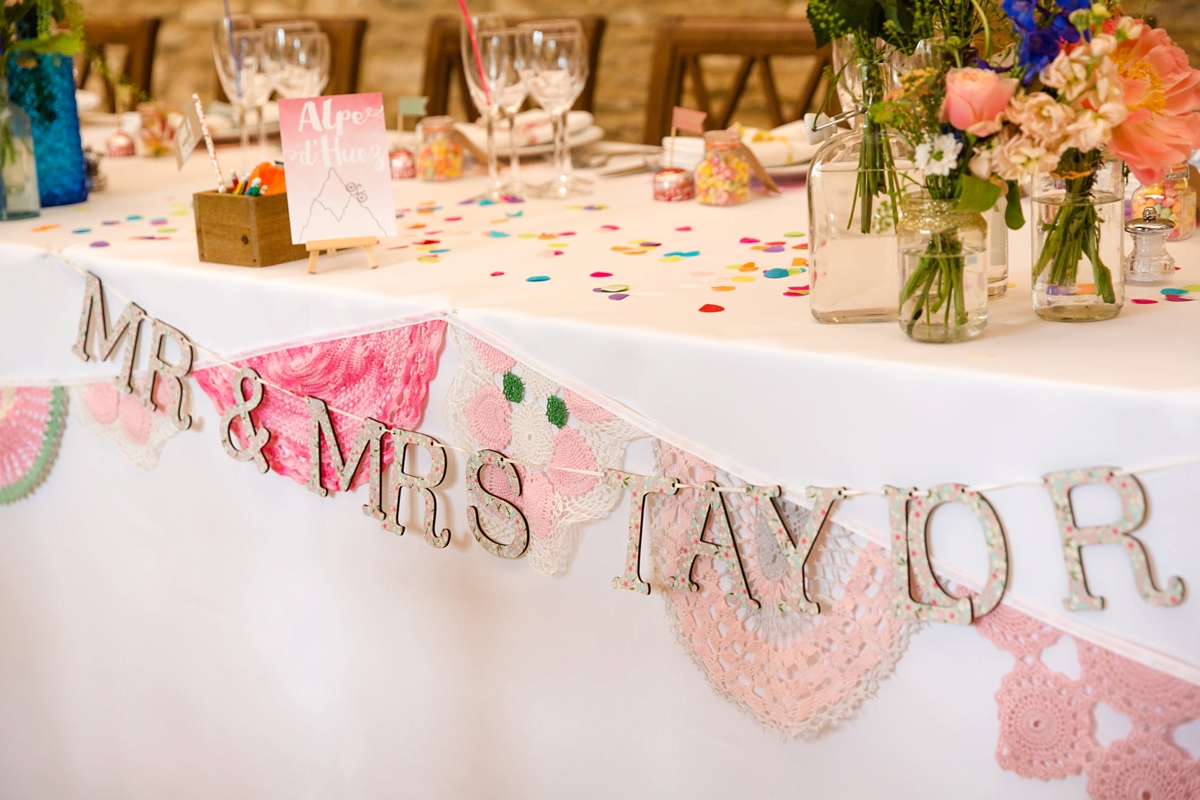 Each guest had a small kilner jar placed at their table setting, containing rainbow drops and haribo star mix as their favour, and finished off with a kraft paper tag from Amazon stamped with a stamp made by Clarise Crafts on Etsy.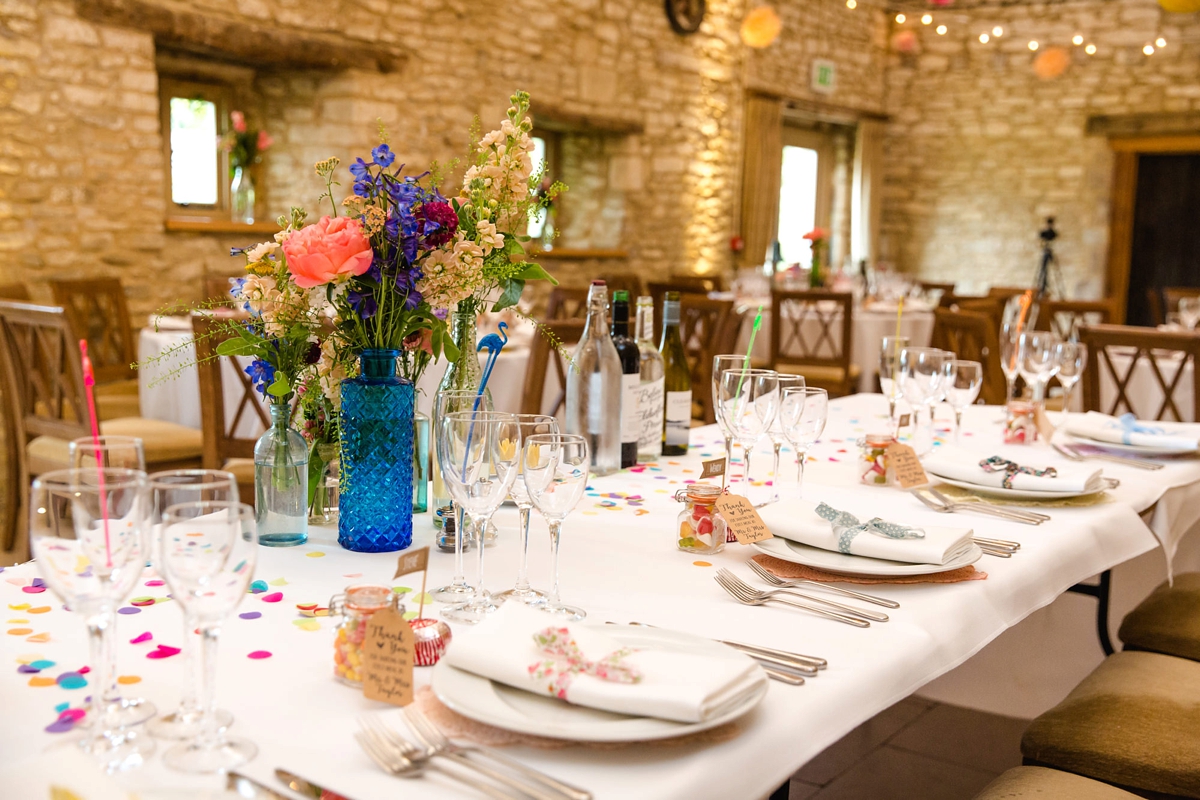 The wedding cake was a fun confetti adorned cake made by Jellycake, a local cake maker based in Calne.
"As soon as I met Trudy at Jellycake I knew I wanted her to make our cake! I opted for a semi-naked sponge cake. I thought the bright confetti was a natural choice for the party-type theme and Trudy handcrafted the His and Hers kitsch flamingos on the top of the cake from royal icing."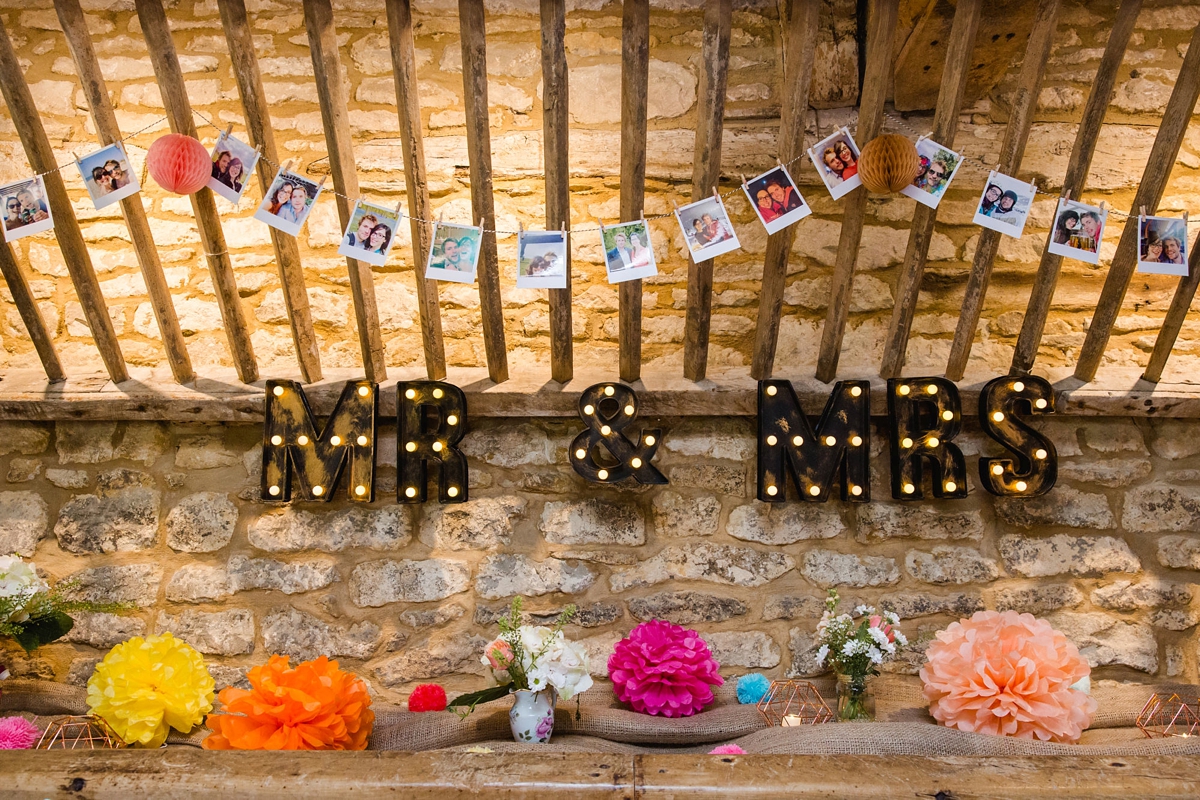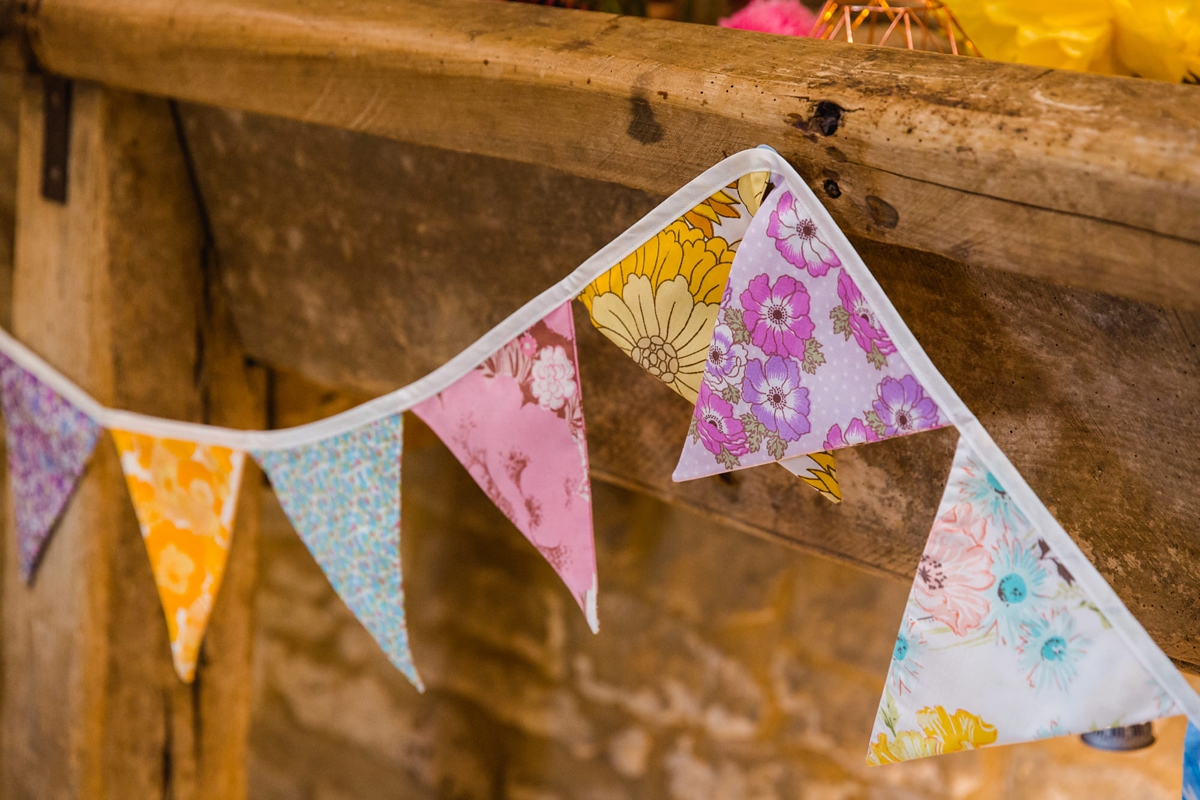 "My favourite part of the day was speaking to everyone who came and seeing how genuinely happy they were to be there and share our day with us! Looking back, I don't think I'd have done anything differently as such. I spent the whole ceremony jiggling around because I was so nervous and I'd have quite liked to have looked a bit calmer on the video."

Chiara and Dan chose Baby I'm Yours by the Arctic Monkeys as their first dance track.
"We really struggled to decide on a song as we're both quite passionate about our music preferences. We both agreed we didn't want anything too slushy and in the end, we loved the simplicity of the lyrics in the Arctic Monkeys song. The way it sounds old even though it's by a modern band is what we really love about it, as well as the fact it's only 2 minutes long!"
The night was played out by band Interlight with guests dancing under the festoon lighting and pom-pom bunting until late.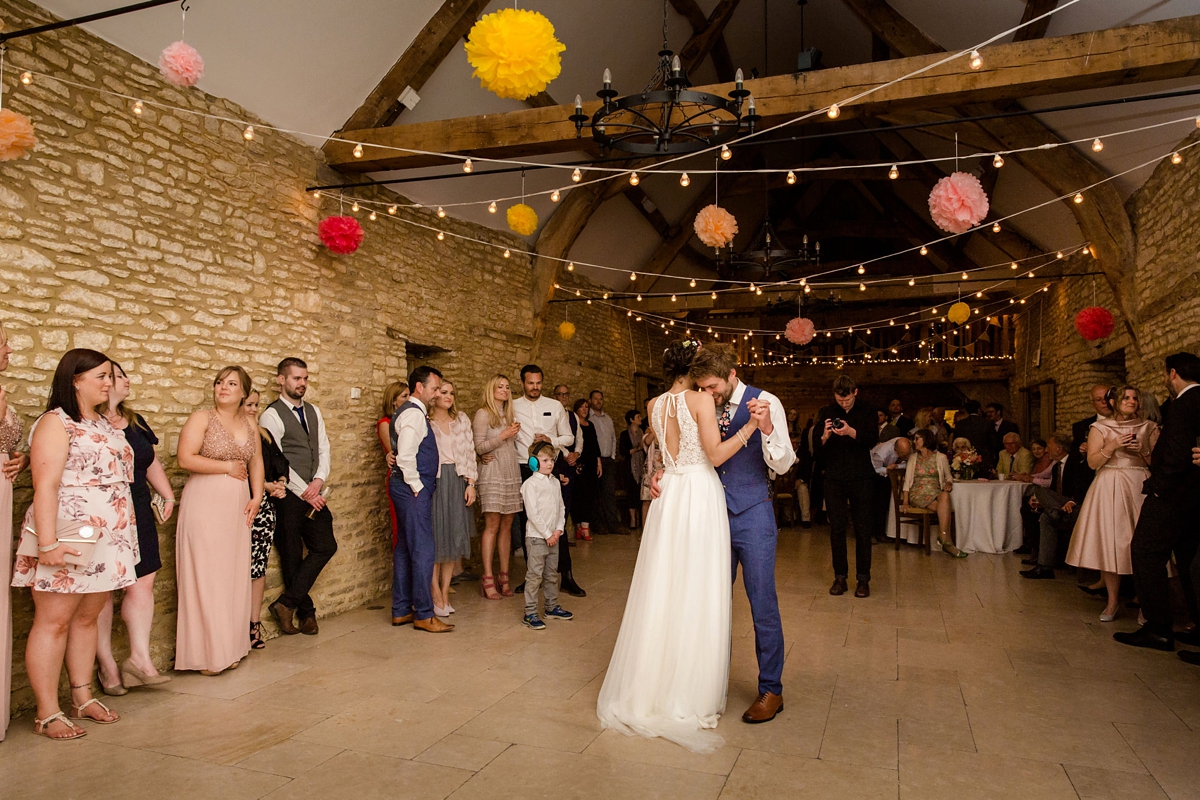 Words Of Wedded Wisdom
"I would say please don't stress the small stuff! Your guests are not going to mind if the shade of pink on the napkins doesn't match the curtains. Remember, they are there for you because they love you and want to share your day with you. They're not there to critique or compare your wedding to anyone's elses. Whatever happens during the planning process, the day is going to happen either way, regardless of how much planning you get done or not!"
What a wonderfully colourful and vibrant day! Thank you Chiara and Dan for sharing it with us and to Sarah Ann Wright for capturing the party vibes on camera.
Until next time…
Much love,
Holly x