Well oh my goodness, how wonderful is it to see the sun again? I'm writing this with my office windows wide open and all I can hear is birdsong so I'm smiling VERY happily as I type.
I also think that this feature is going to share those happy vibes, especially if you're searching for bridesmaid dresses right now. Today, I have the huge pleasure of introducing you to Rewritten, a London-based label that I think your maids are going to love…
Rewritten was launched back in 2016 by friends and ex-work colleagues Katie Arnott and Frances Cookson. It's the perfect combination – Frances is a fashion designer and Katie has some pretty crazy business skills so Rewritten really couldn't have two more fabulous women at the helm.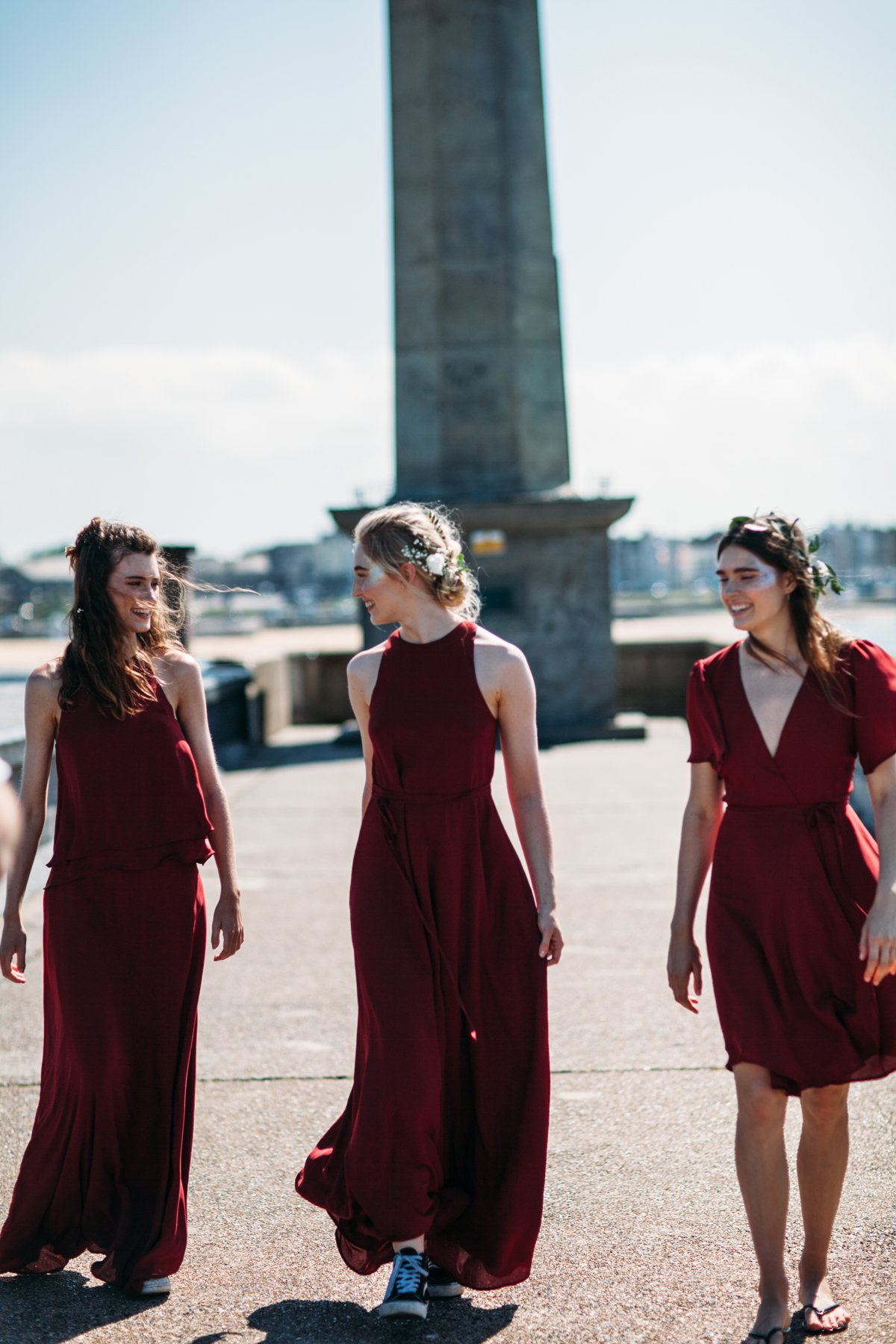 "When Katie got married, she really struggled to find affordable, beautiful dresses that her bridesmaids would love to wear," says Frances. "So that's when we decided we could do it ourselves! We created a business plan, applied for a Virgin Business start-up loan and the rest is history."
Regular readers will know just how much I get a kick from hearing inspirational tales from brilliant women in business so Katie, Frances and their Rewritten story presses all my buttons but, just as it should be, it's their product that I really adore. These are, quite simply, dresses for awesome bridesmaids. Chic, sophisticated and utterly modern, the entire collection is hand-designed in London and is full of beautiful fabric and colour combinations.
"It was important to us when designing the collection that there was a style suited to every size of bridesmaid, and that you could have all of your girls in the different dresses but the same colourway," explains Katie. "Our dresses are all silhouettes that we would want to wear ourselves – they're easy to wear, flattering and elegant."
"The dresses are all super swishy, comfortable and most importantly, they make you feel great when you have them on," says Frances. "We use a beautiful flowing crepe polyester, which drapes really beautifully and is fantastic for sashaying around the dancefloor in – this was key! The dresses are also fully lined throughout in the same fabric and feature concealed zips and covered buttons."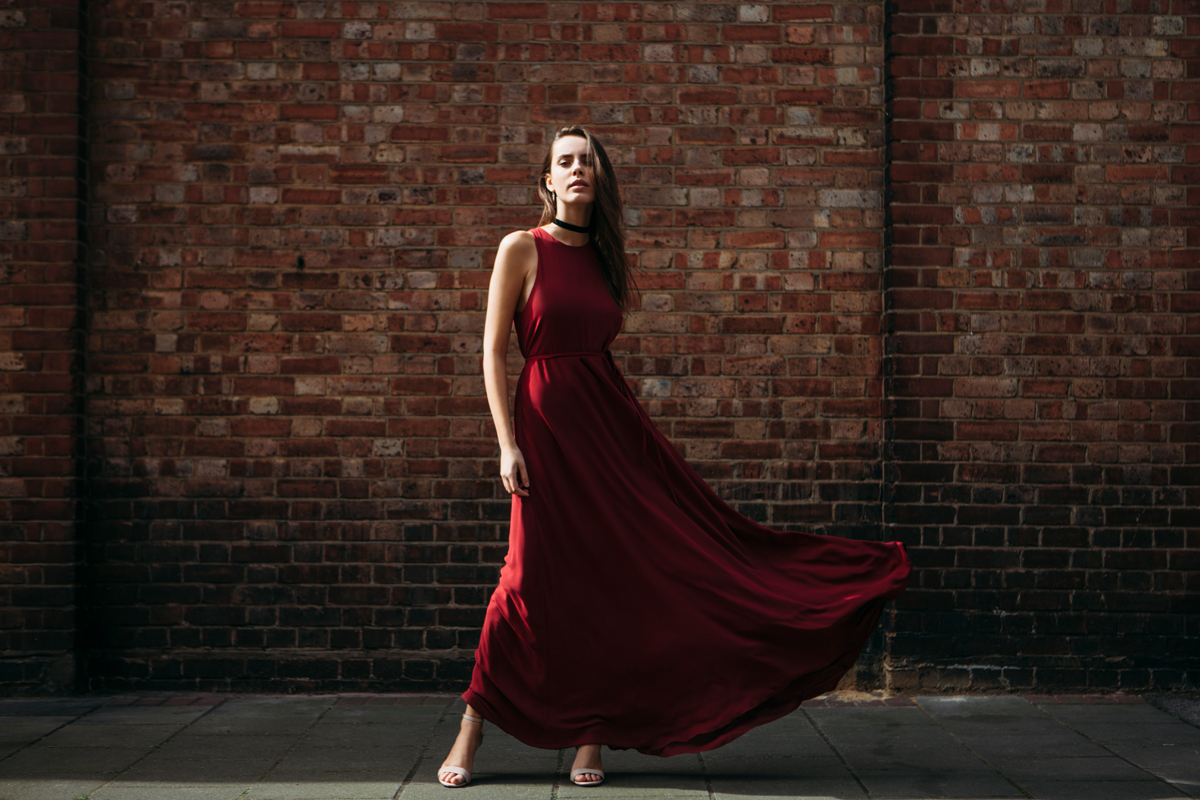 Frances drew on inspiration for the collection from a gorgeous, floaty chiffon caplet that her mother wore on her wedding day in the early 80s. This bohemian yet contemporary silhouette has inspired the entire Rewritten collection and I am smitten with the fact that these are most definitely separates and dresses to wear again. Frances and Katie call this 'sustainable bridesmaid shopping' so you can kiss goodbye to wardrobes full of dresses that will never be worn again.
Rewritten have also launched some fantastic new colours for Summer 2018 and there's a stand-out new style too – the Seville dress. Named after the Spanish city that's famed for its abundance of orange trees not to mention the jaw-droppingly beautiful Palace, the Seville dress features a sweeping train, dramatic shoulder ties and a flattering A-line cut with a V-front and back neckline and it's available in all of Rewritten's signature colours.
Adding to their palette of Marine, Oyster, Concrete, Chianti and Bluebell are the two new colours – Forest and Ink. As you can probably imagine, Forest is a jewel toned emerald green that's perfect for both summer and winter weddings. Ink is a deliciously warm navy hue that's universally flattering on any skin tone. These heavenly shades are available with the Vienna, Mykonos and Florence styles as well as Seville.
Finally, let's talk pricing and here's yet another reason why Rewritten is getting it so right. All of their dresses are priced between £140 and £170 with the majority priced at £150.
This really is a story that will give you a happy ending!
To find out more about Rewritten, do visit their website. You can buy online (and dresses can be shipped internationally) or you can visit the plant-filled showroom in North London for an appointment from Monday – Saturday.
Love,
Tamryn x