We're travelling down to Devon today for the rustic and autumnal wedding of Sonya, an Advanced Critical Care Practitioner and Tamsin, a Newborn Intensive Care Nurse, who married on the 10th of November 2017 at the beautiful Upton Barn and Walled Garden in Devon.
With shades of navy, plum and gold, ambient lighting and candles everywhere, the couple's priority was to allow their guests to relax and feel as though they were invited to a friendly dinner where everyone just happened to be dressed in their best. These gorgeous image were taken by our Little Book member, Claudia Rose Carter
"We wanted to get married in the autumn/winter as this was when we got together and the time of year has great memories for us both, so we knew muted and dark colours would be a feature.  We wanted it to be a little moody in the styling, rustic and woody, with complete overkill of candles and ambient lighting.  We had a reasonably small guest list as we wanted it to feel informal, relaxed, and like friends getting together for dinner to celebrate together.  Ultimately there wasn't a theme, and this added to the relaxed feel we wanted to create.  This was apparent in the slight mish-mash of decor, especially the dinosaur themed decorations that we made ourselves (we both love dinosaurs!)."
Photography by Claudia Rose Carter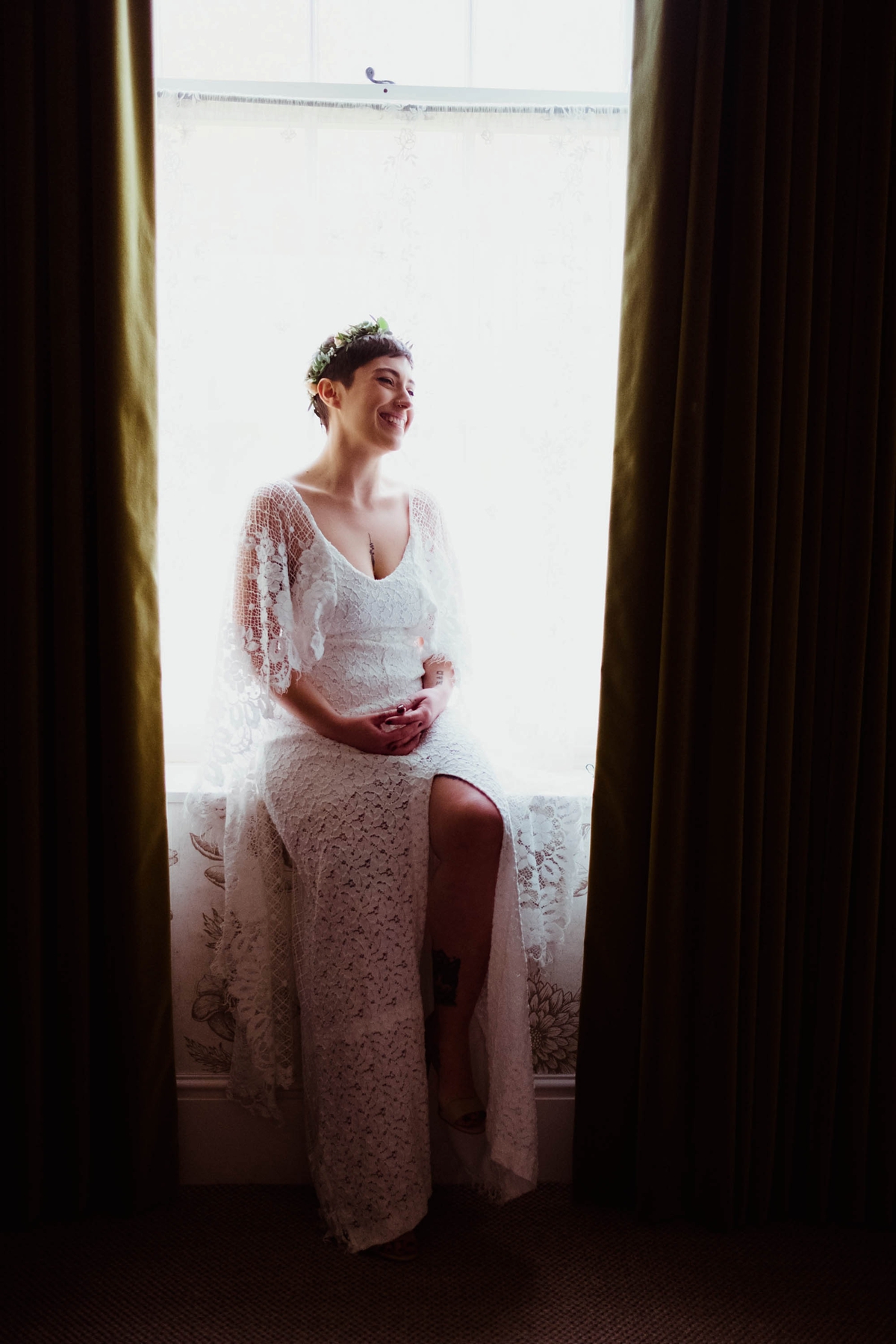 Tamsin looked beautiful in 'Verdelle' by Grace Loves Lace, which she purchased from their London concierge and paired with a gorgeous bespoke veil by Susanna Greening Designs.  Grace Loves Lace describes the Verdelle as 'designed for the wild romantic' and I completely agree- the incredible lace has a boho feel and those long hanging sleeves give it a hint of medieval glamour, while the split at the front and shorter under layer gives it a modern touch."I had been obsessed with Grace Loves Lace for years, always swooning over their Instagram, and in September 2016 I was lucky enough to get an appointment at their London concierge.  I tried the Verdelle last and instantly knew it was the dress for me.  I loved the boho feel, the unusual, non-traditional style, the daring split and low back, but it was also wearable and felt completely 'me'."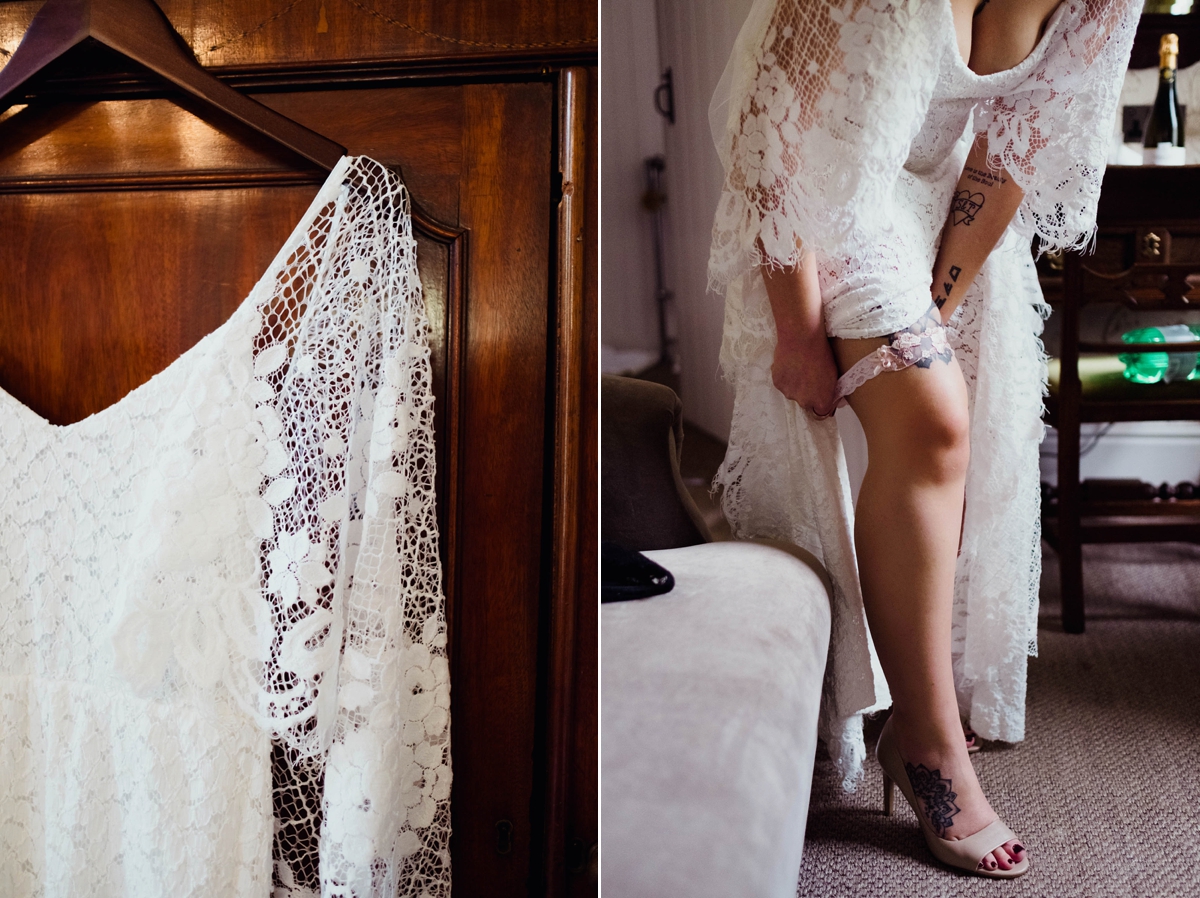 Tamsin wore her dress and veil with a delicate pink rose crown by florist Rose Clover which when paired with her elfin crop really gives her a fairy-like air.  On her feet she wore nude heels by French Connection, while for jewellery she chose two rings that were previous birthday gifts from her chief bridesmaid.  She finished her dressing with a cheeky garter.
"We are very lucky that Liz of Rose Clover is our neighbour and even luckier that she agreed to work with us.  We knew early on that we wanted moody colours and tons of foliage, especially if it smelt good.  Liz delivered a bouquet more beautiful than I could imagine, and our wedding day had the most beautiful scent of fir, eucalyptus and rosemary."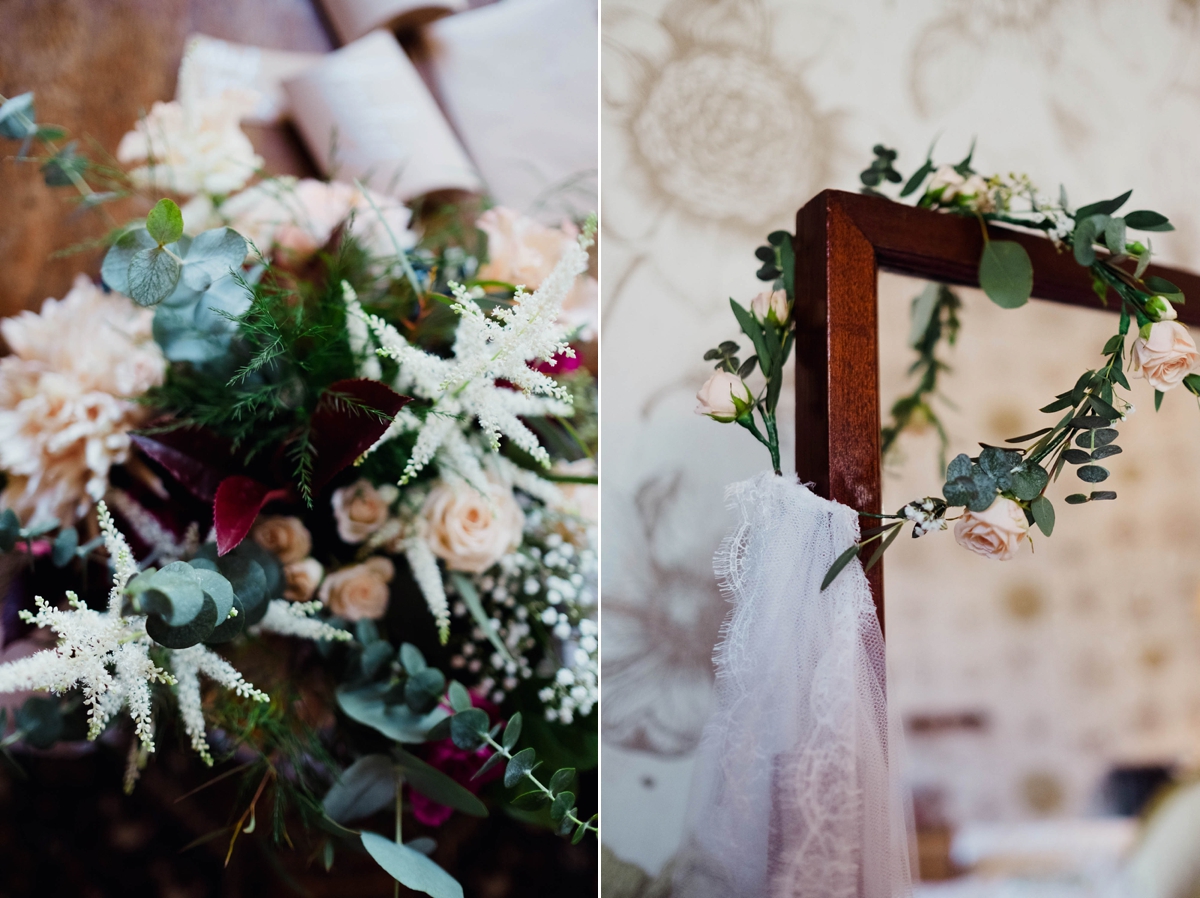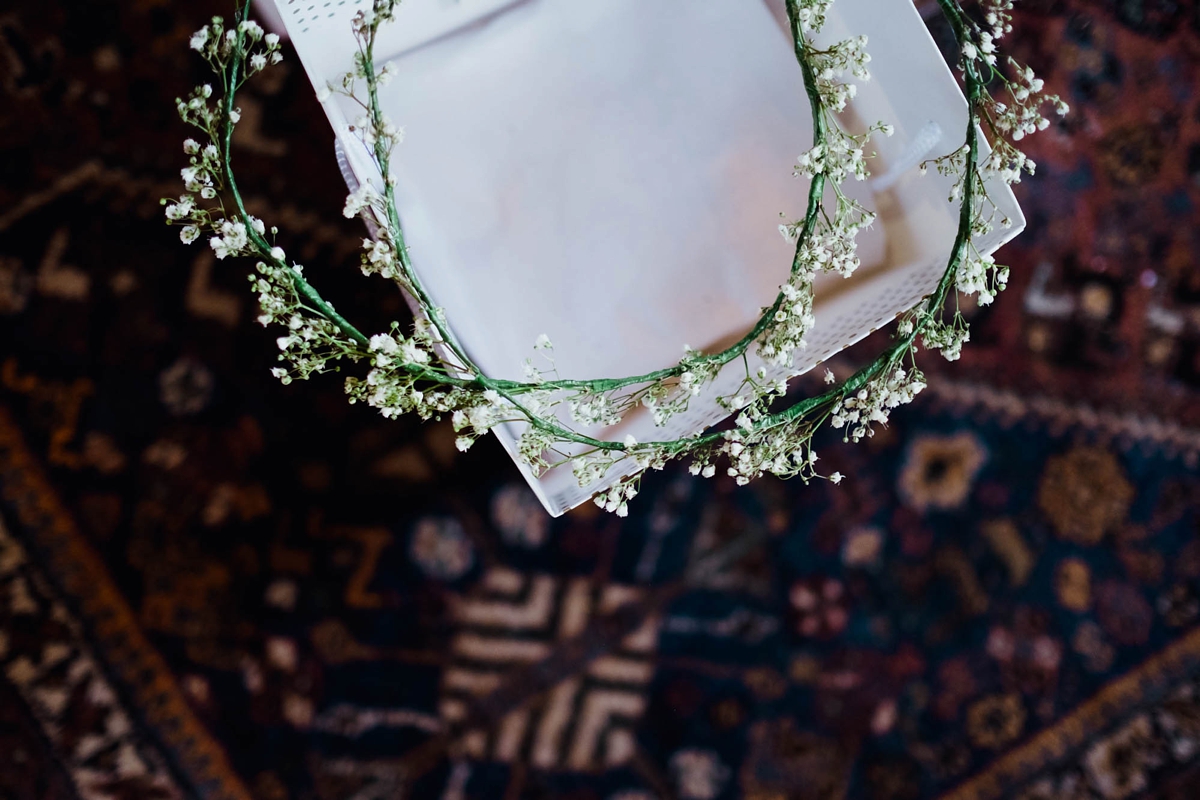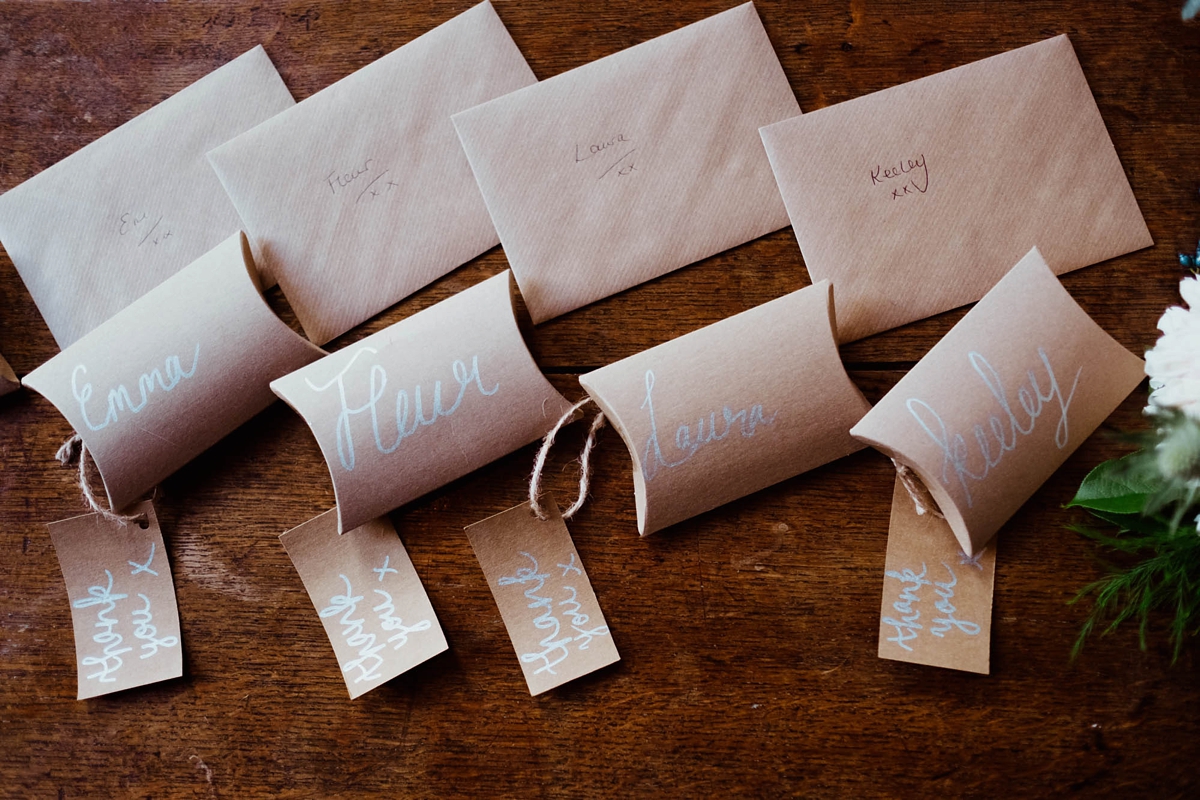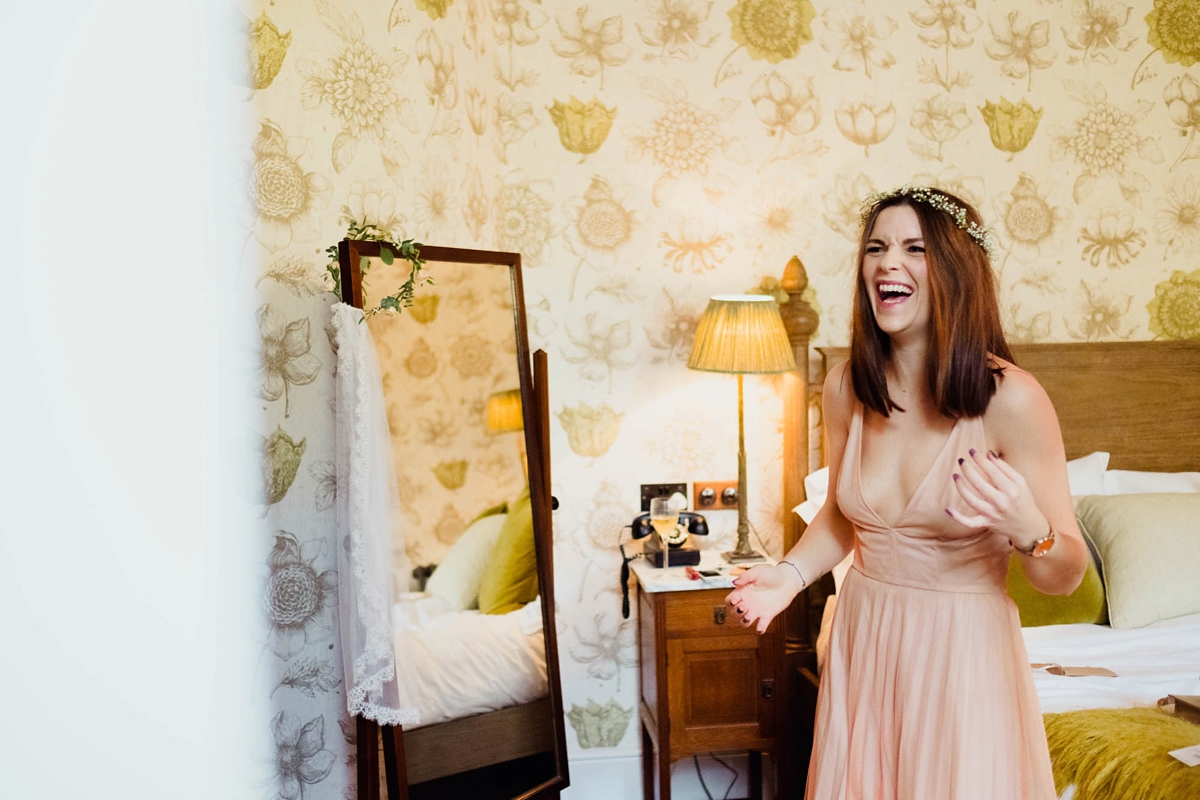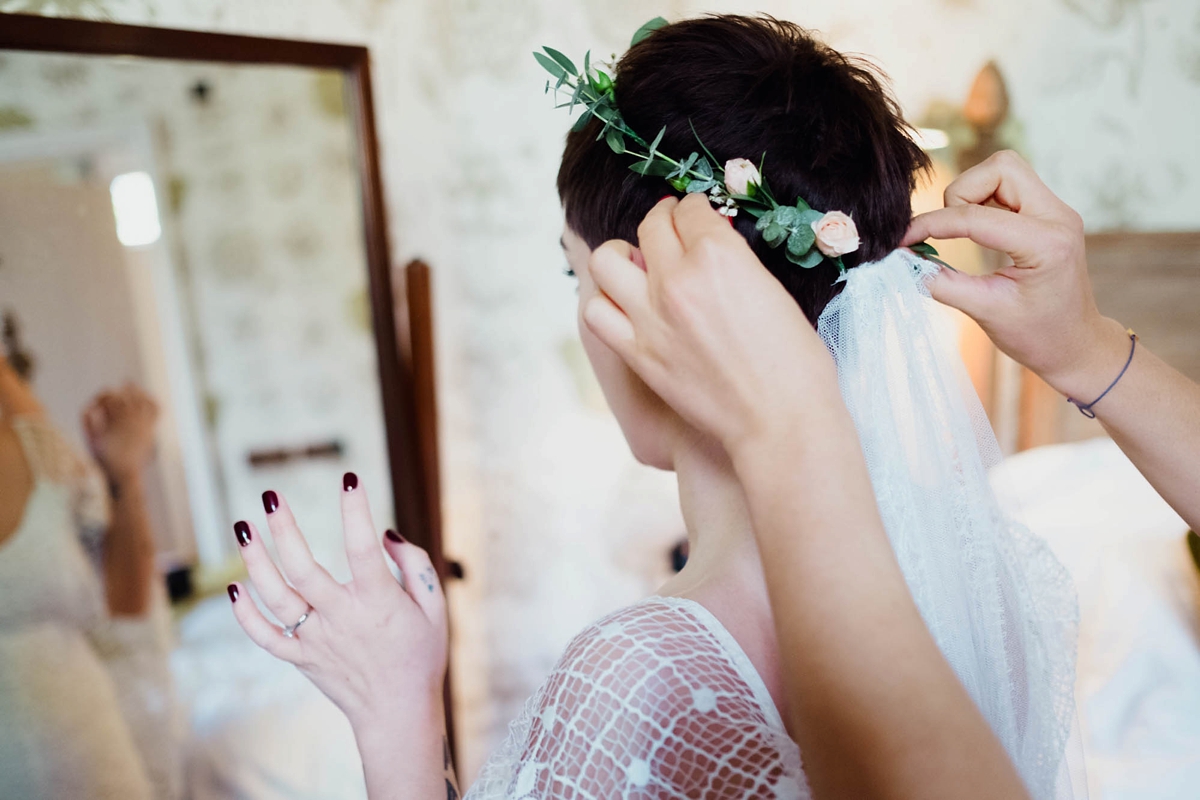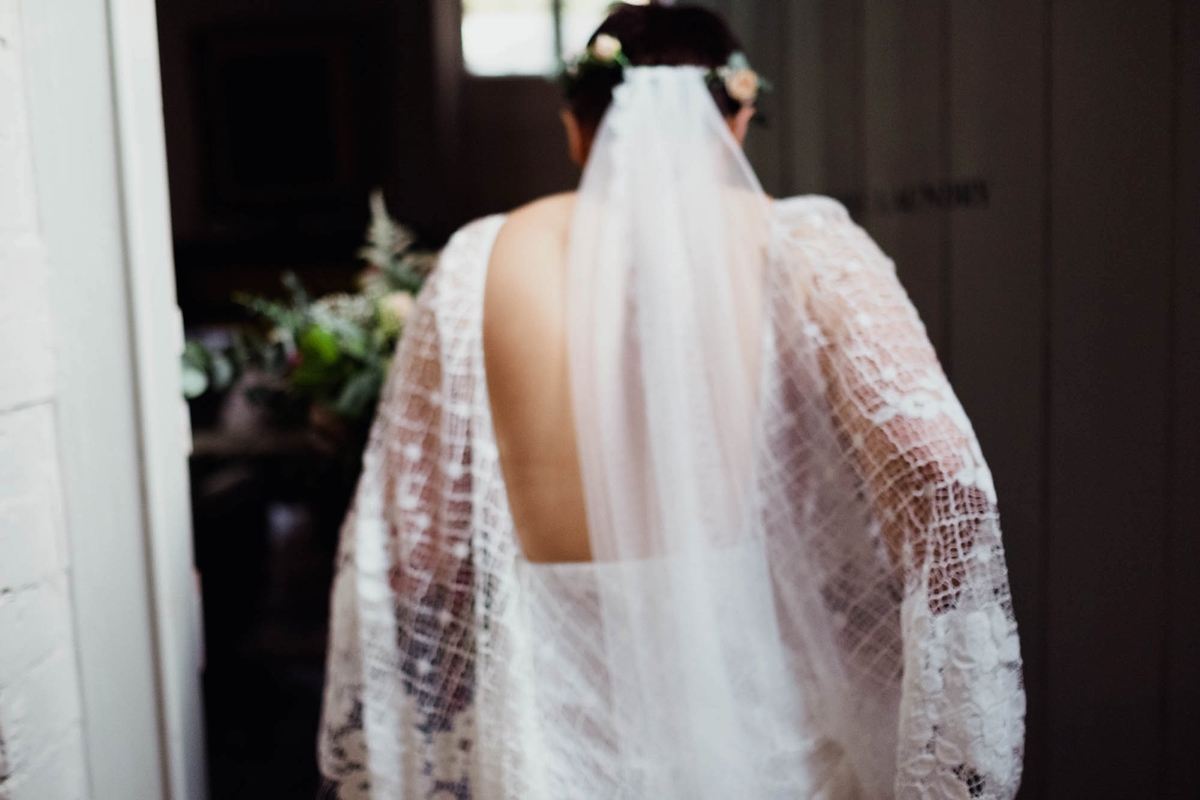 Sonya meanwhile, looked amazing in a tailored suit from Hugo Boss Woman, paired with a crisp white shirt and smart shoes from Carvella.  She finished the look with a set of funky collar pins and a deep pink rose buttonhole.

The bridesmaids looked lovely in gowns from ASOS, in various styles and shades, worn with gypsophilia flower crowns and personalised bracelets, bought from Etsy, while best men Sam and Luke looked sharp in blue three-piece suits.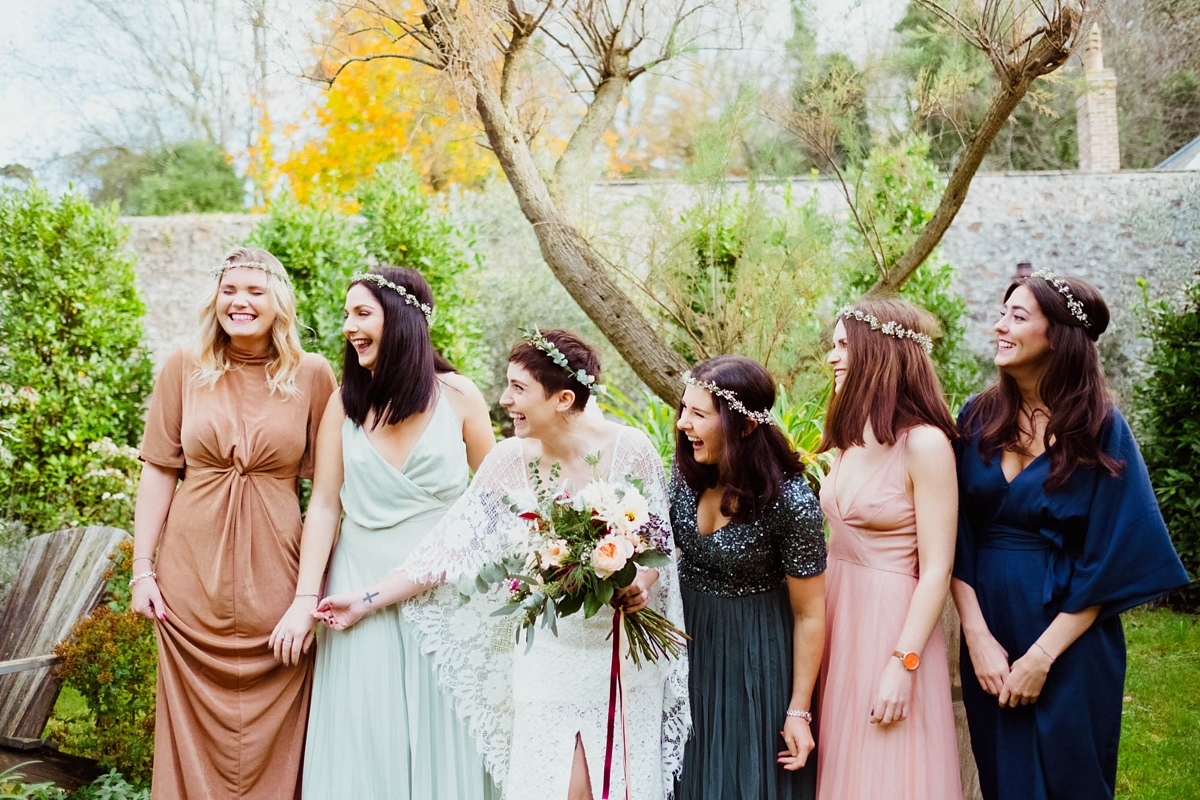 "Sonya and I met in January 2014 when we worked on the same intensive care unit.  We were close friends but it took almost two years for us to admit our feelings for each other.  We finally got together in November 2015 and ultimately had a bit of a whirlwind romance, although we both felt that we already knew each other so well."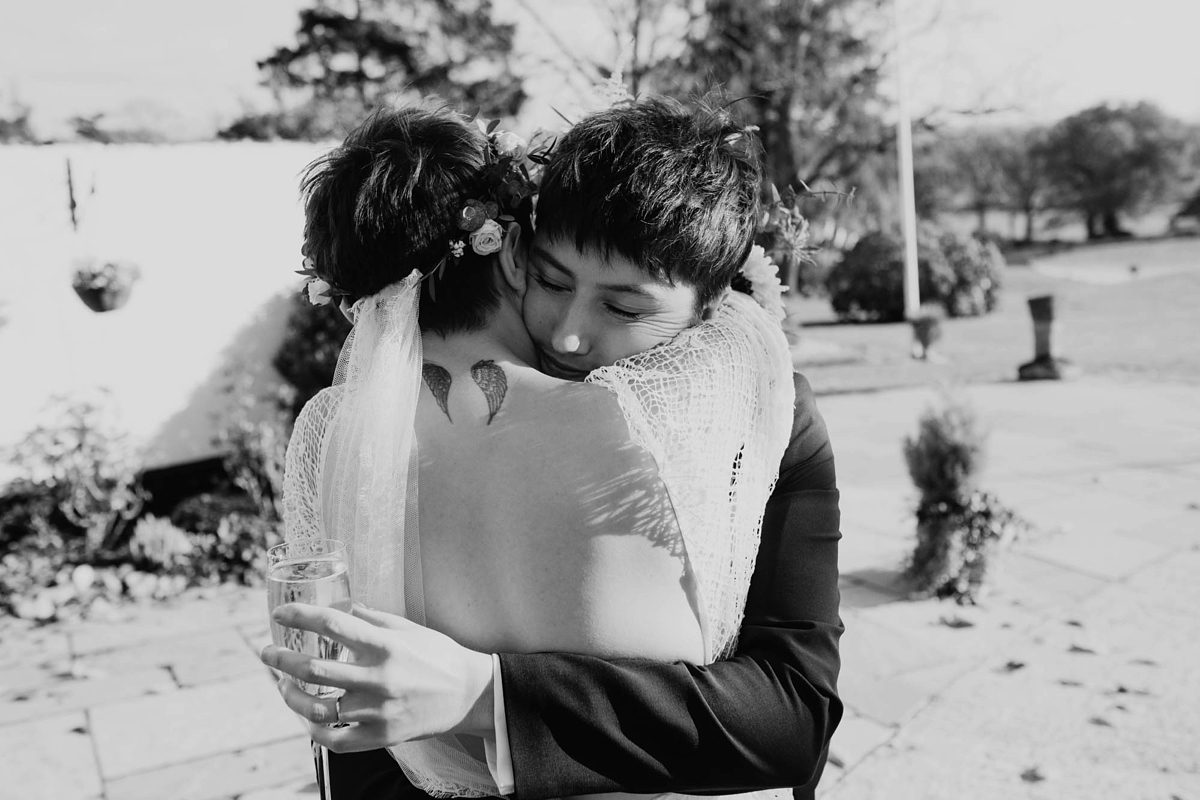 "In April 2016 I went to Ethiopia for two weeks to help with a developing intensive care unit and the day I came home Sonya gave me a mug which said 'The Future Mrs Stone' on it.  In my jet-lagged state this meant nothing to me, then Sonya pulled out a ring.  In honesty my first response was an expletive!  We began planning our wedding pretty much immediately."
"Upton Barn was everything we'd been looking for, a barn conversion finished to a beautiful modern standard whilst still retaining character and individuality on a working stud farm in beautiful countryside.  The owners were also two of the nicest people we've ever met."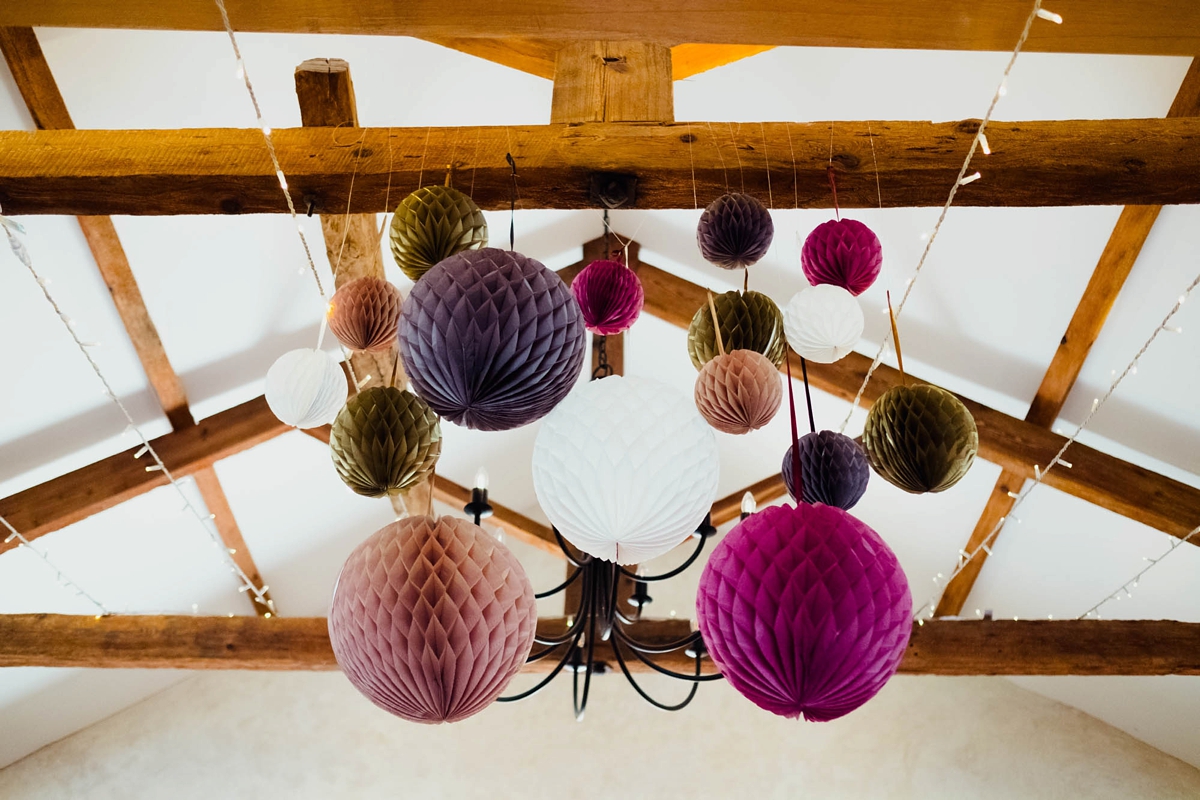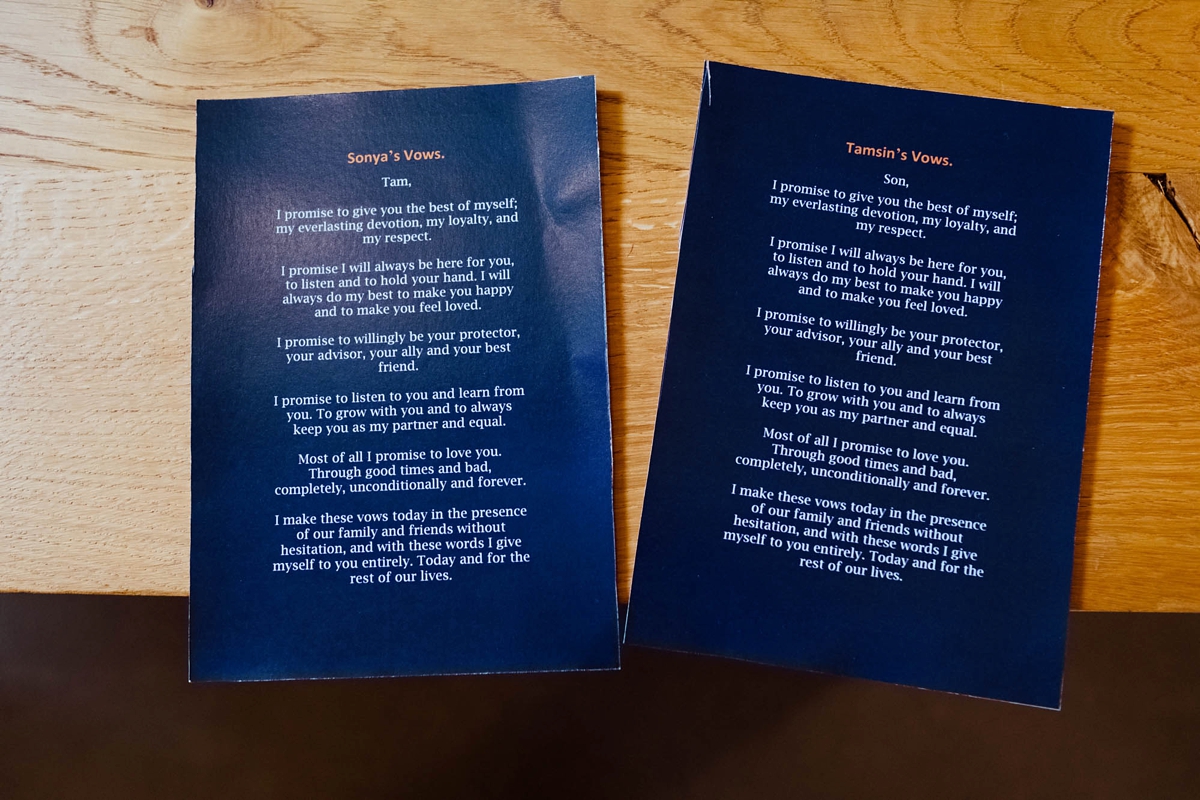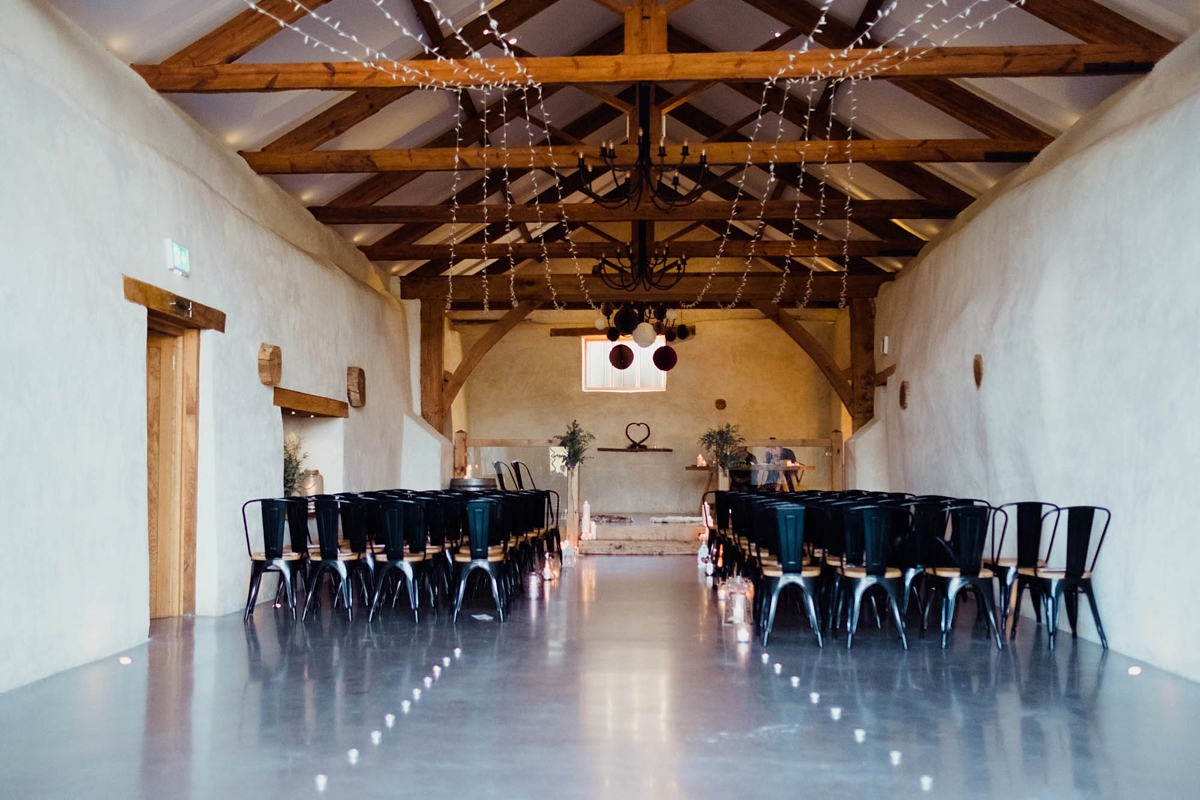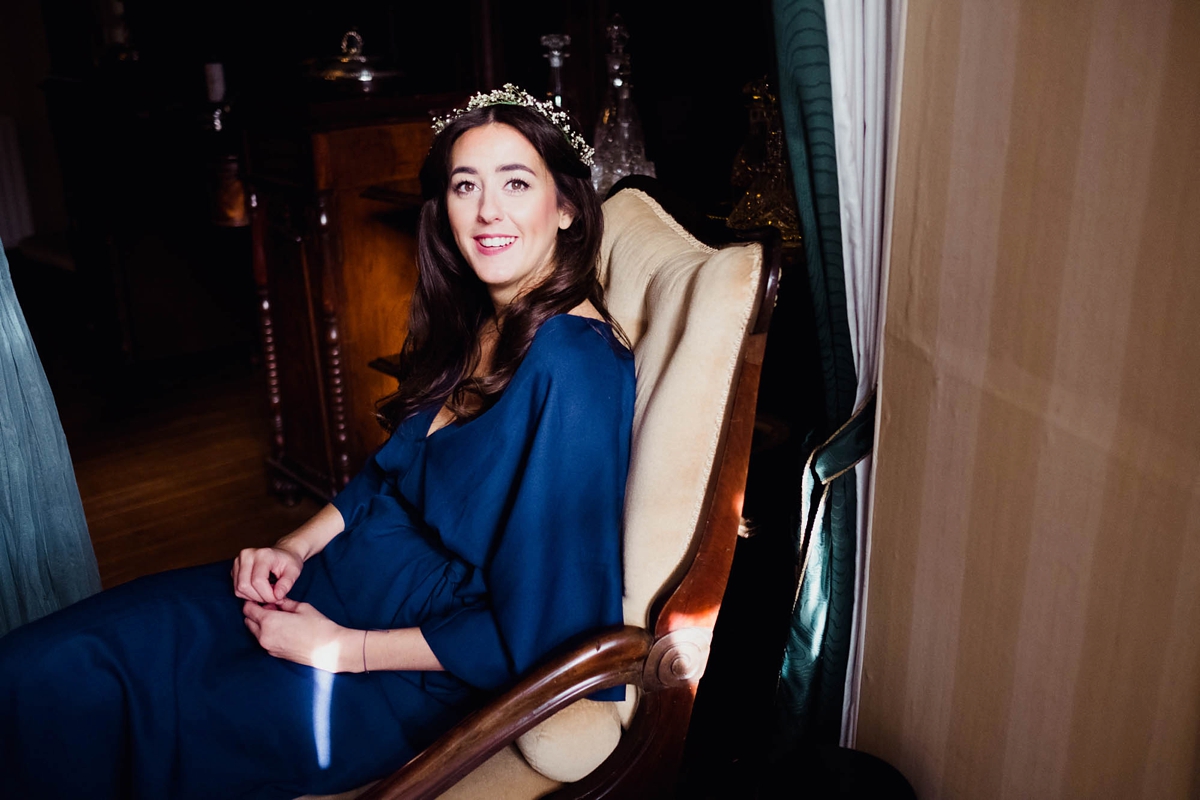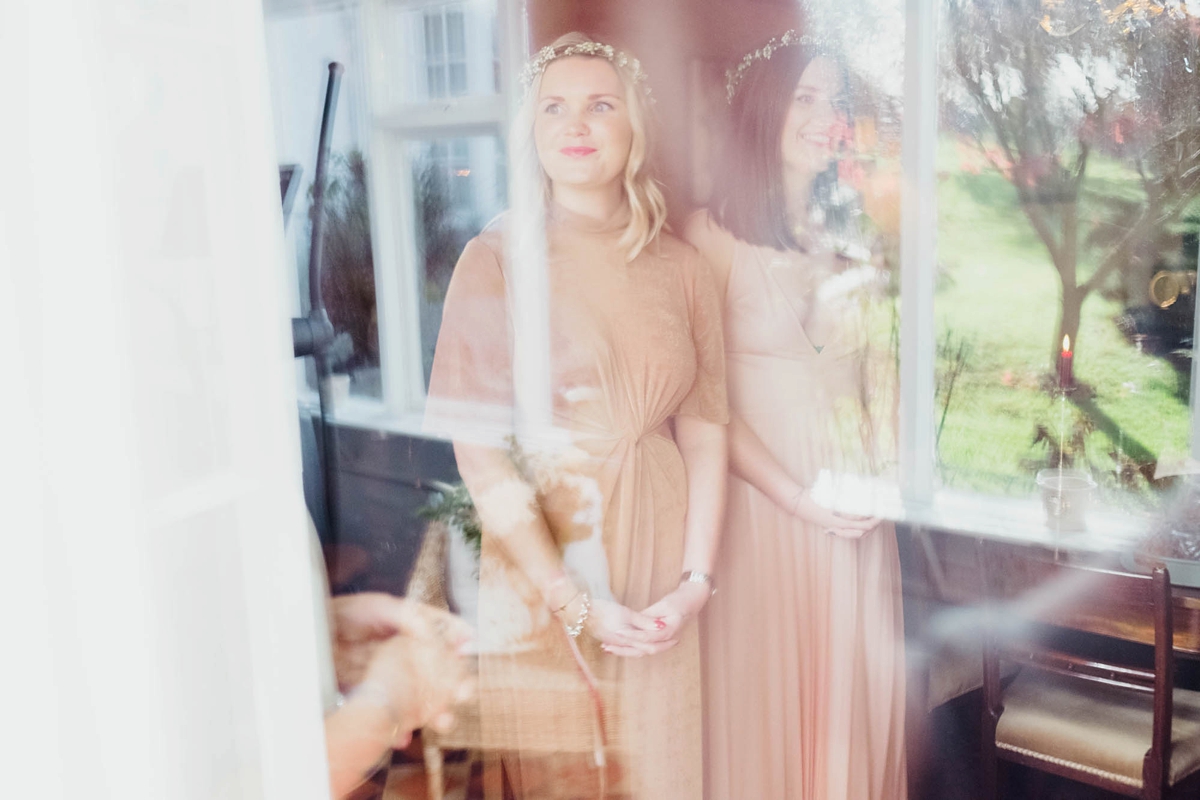 The couple walked down the aisle to 'Turning Page' by Sleeping at Last.
"We decided to write our own vows and both said the same words.  It wasn't particularly easy writing them, but we started by listing what we both felt were important promises to make to each other for the rest of our lives and went from there.  They made for really emotional reading on the day but it was so worth it."
I'm thrilled to share a little glimpse of Sonya and Tamsin's vows, which began:
I promise to give you the best of myself; my everlasting devotion, my loyalty, and my respect.
I promise I will always be here for you, to listen and to hold your hand. I will always do my best to make you happy and to make you feel loved."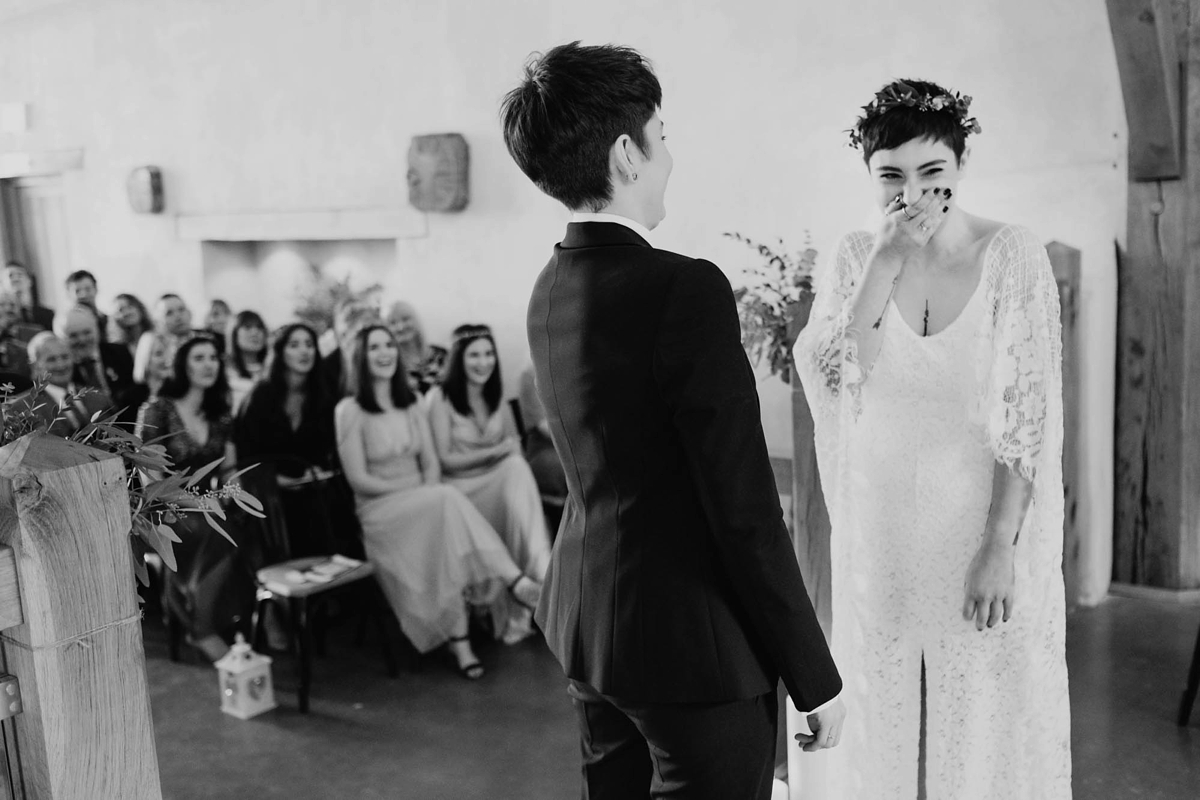 Sonya's Mum Lorraine read 'Union' by Robert Fulgham, while friend Stacey read 'Touched by an Angel' by Maya Angelou.
"My favourite part of the day by far was the ceremony.  Making my vows to Sonya was the best moment of my life."
To cement their vows, Sonya and Tamsin exchanged simple slim wedding bands, purchased from Ernest Jones.
"We made the orders of service and menus ourselves; everything else was made by our lovely and talented friend Alexandra Oliver Calligraphy."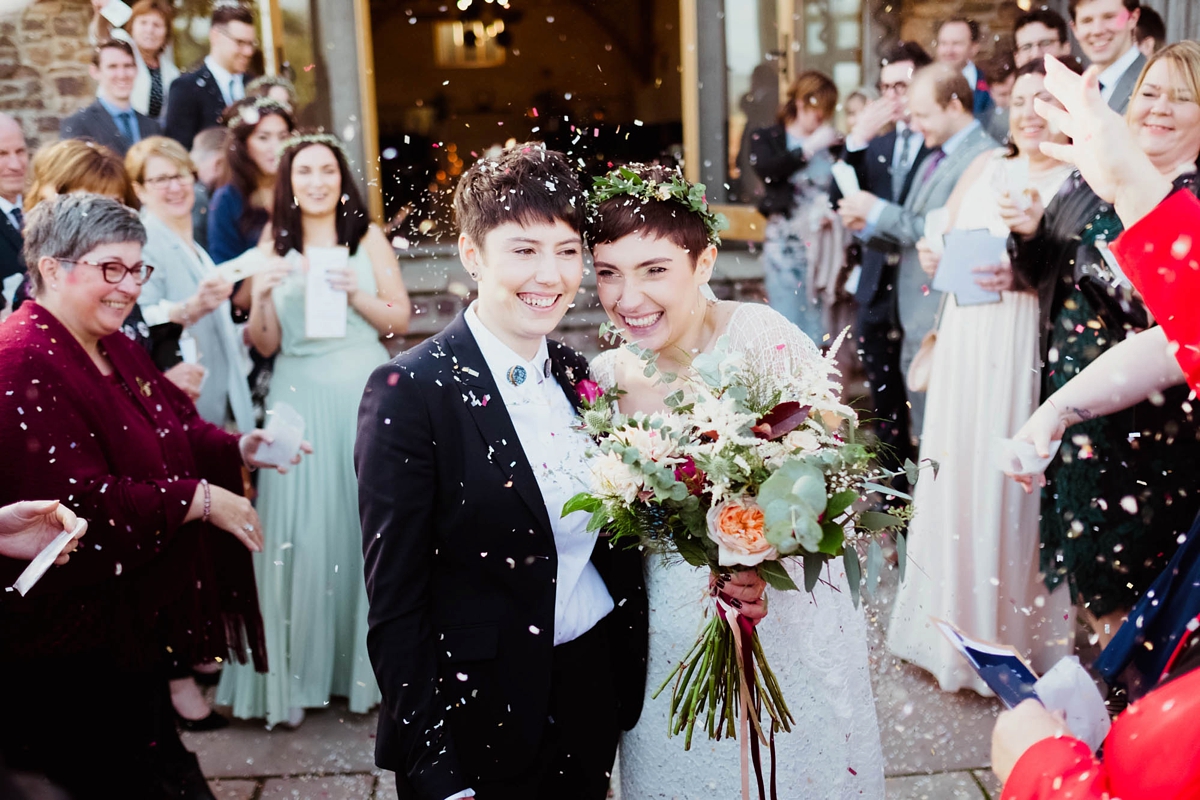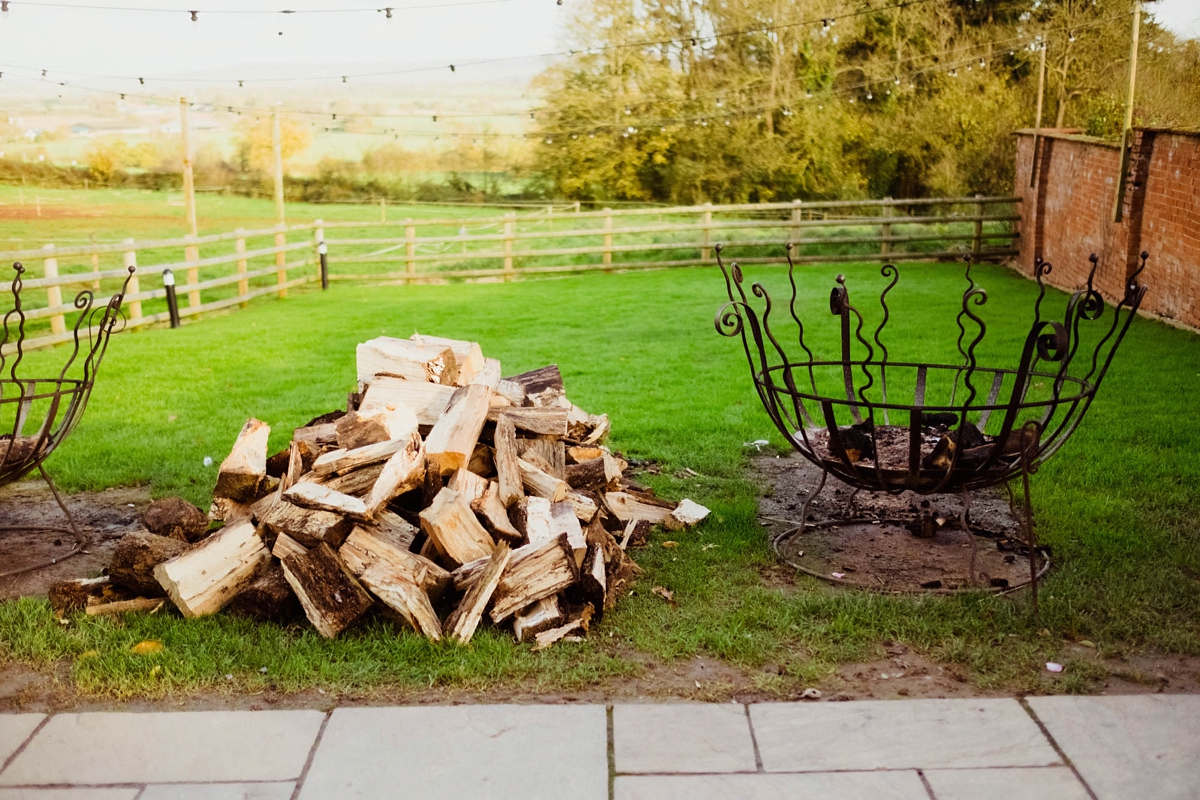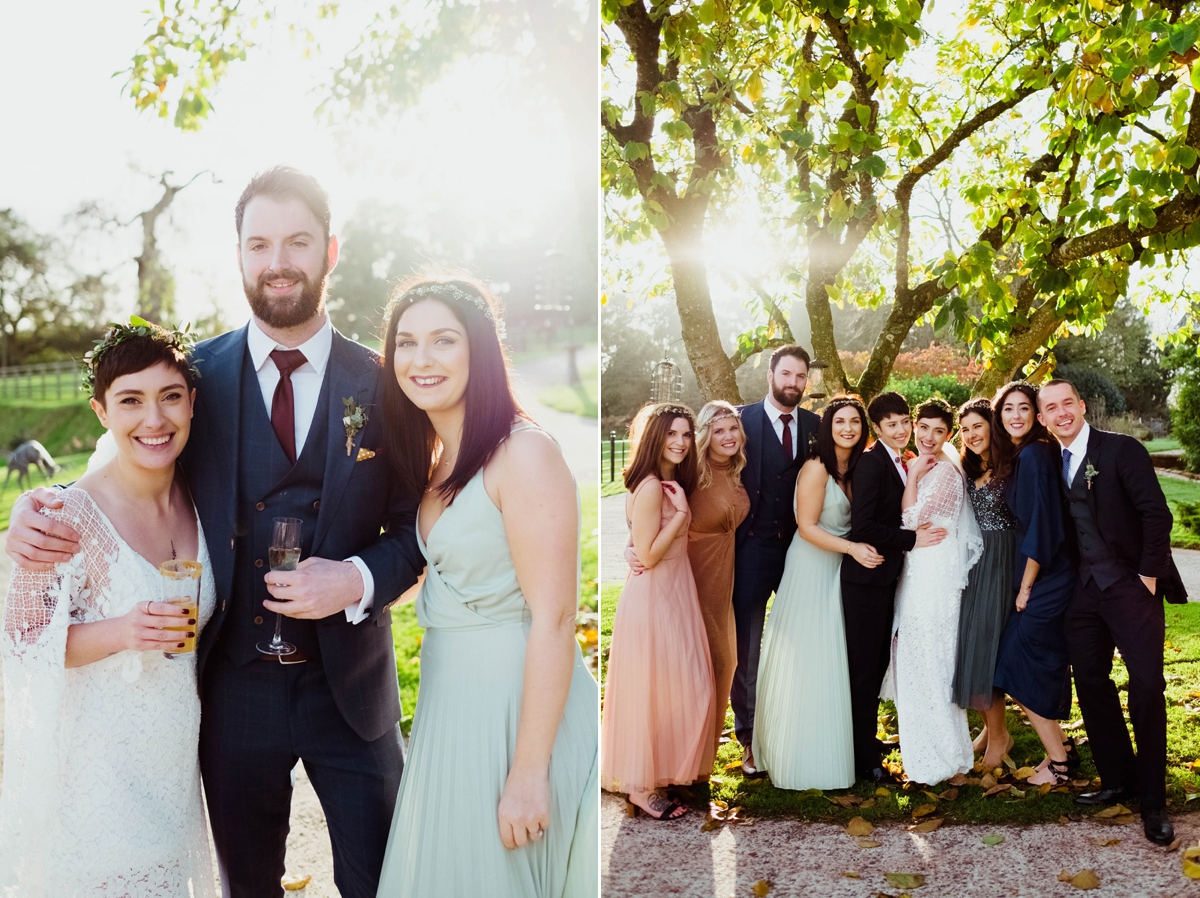 Its always an absolute joy to open a file of photos by the fabulous Claudia Rose Carter, as I always know she'll capture the most beautiful and emotional moments of any wedding day.  Claudia is one of our beloved Little Book for Brides members and yet again, I think she's outdone herself with these pictures.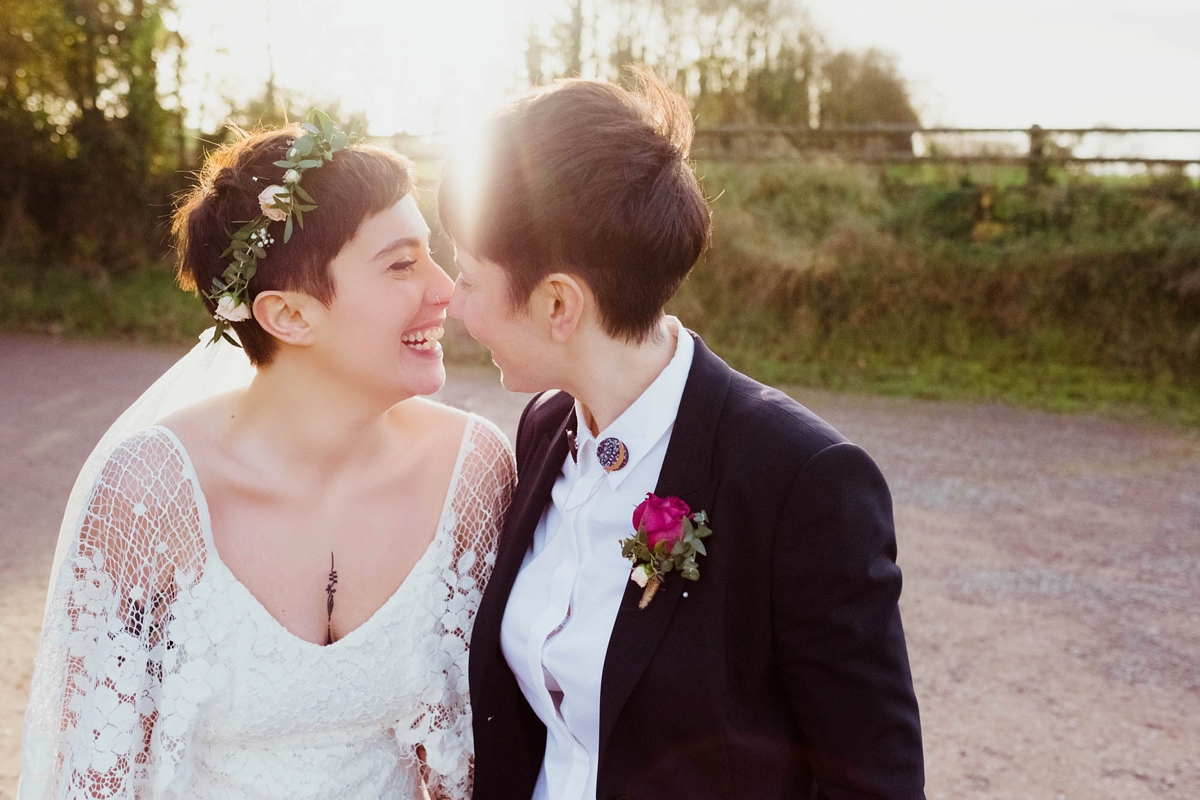 "I have gushed none stop about Claudia pretty much since we first met her.  She is a complete genius- artistic, cool, calm and collected whilst making you feel and look amazing.  I could not recommend Claudia highly enough; the photos she has created capture the emotions of our day in a way we never could have dreamed of."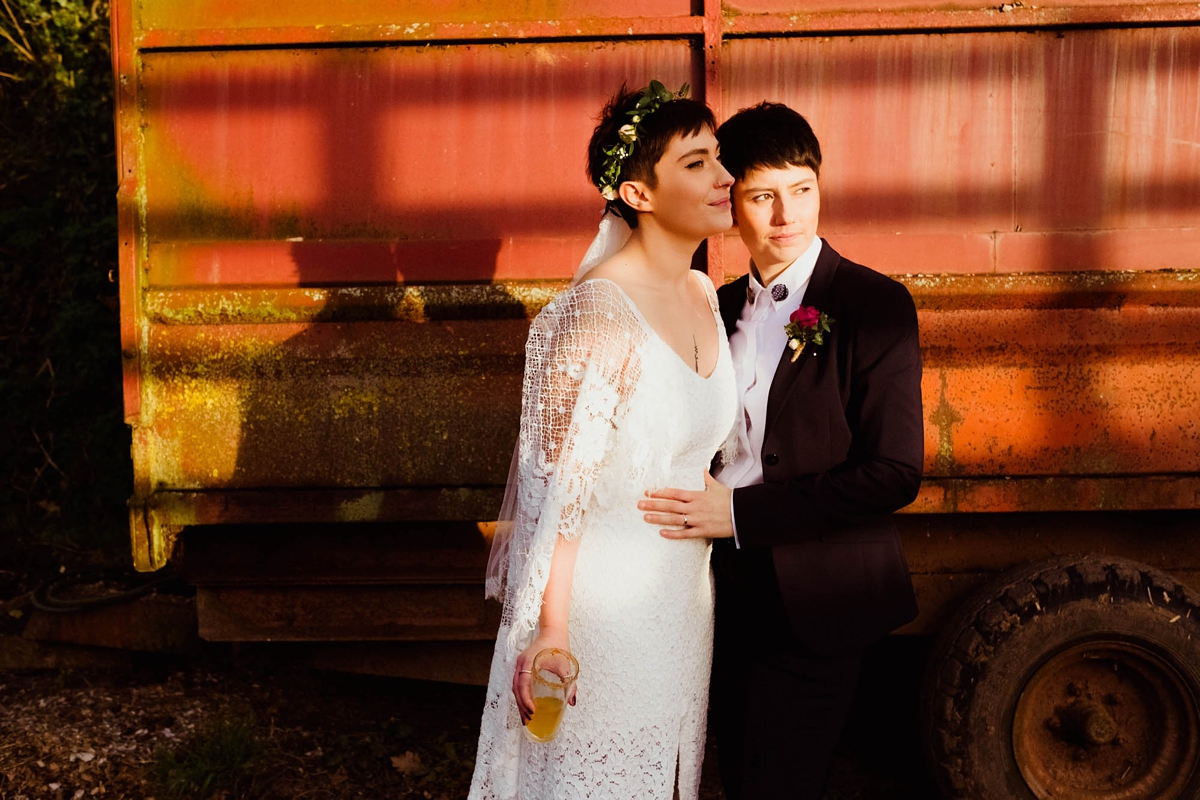 "We decided to have a few private (and extremely emotional) moments together before the ceremony and then walked down the aisle together.  We really felt that seeing each other beforehand would steady our nerves, and we felt it was important to walk down the aisle together as we saw that as a symbol of us taking this huge step and commitment together, hand in hand."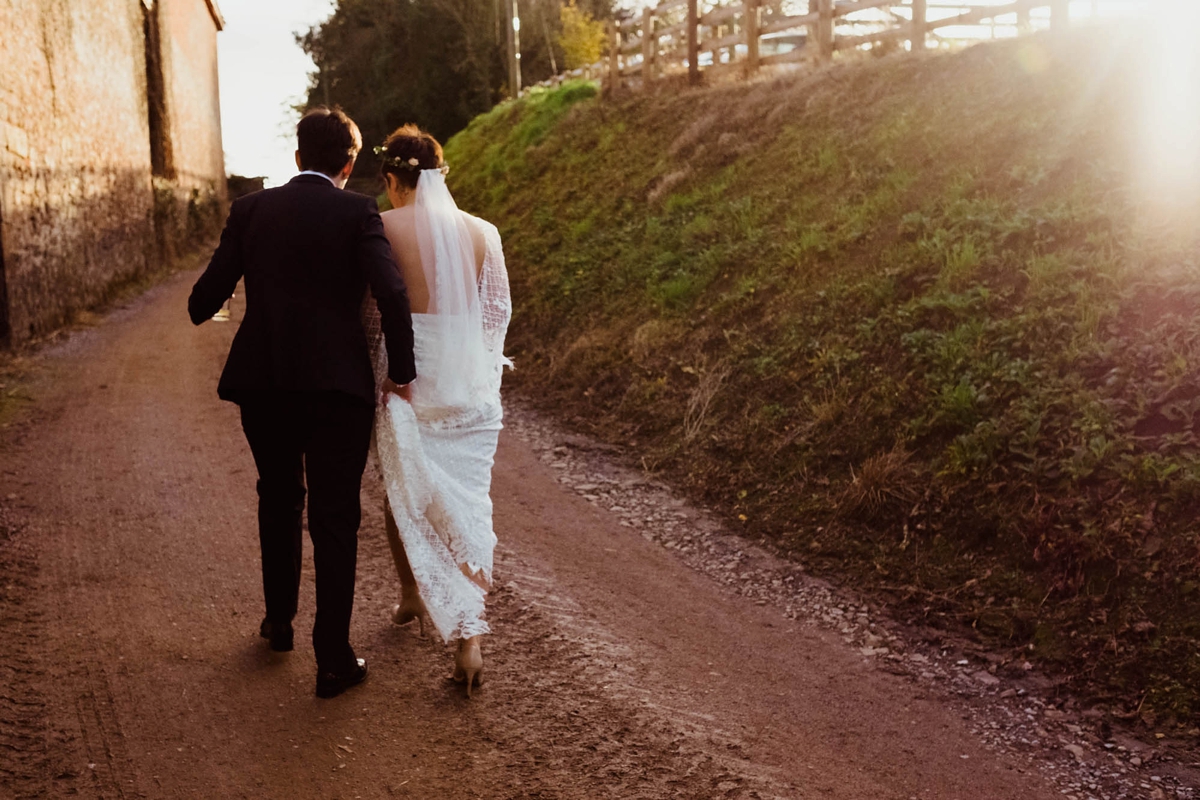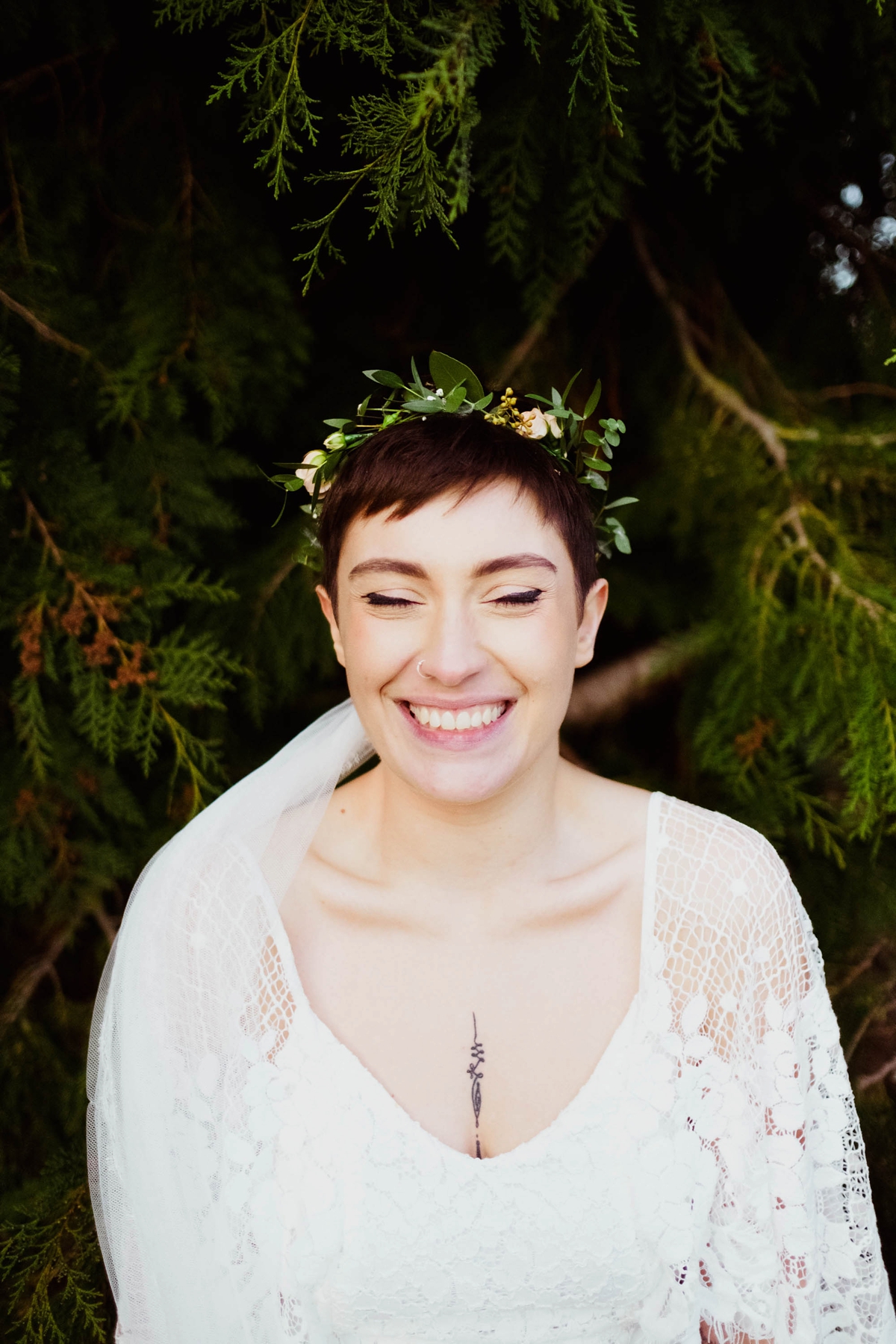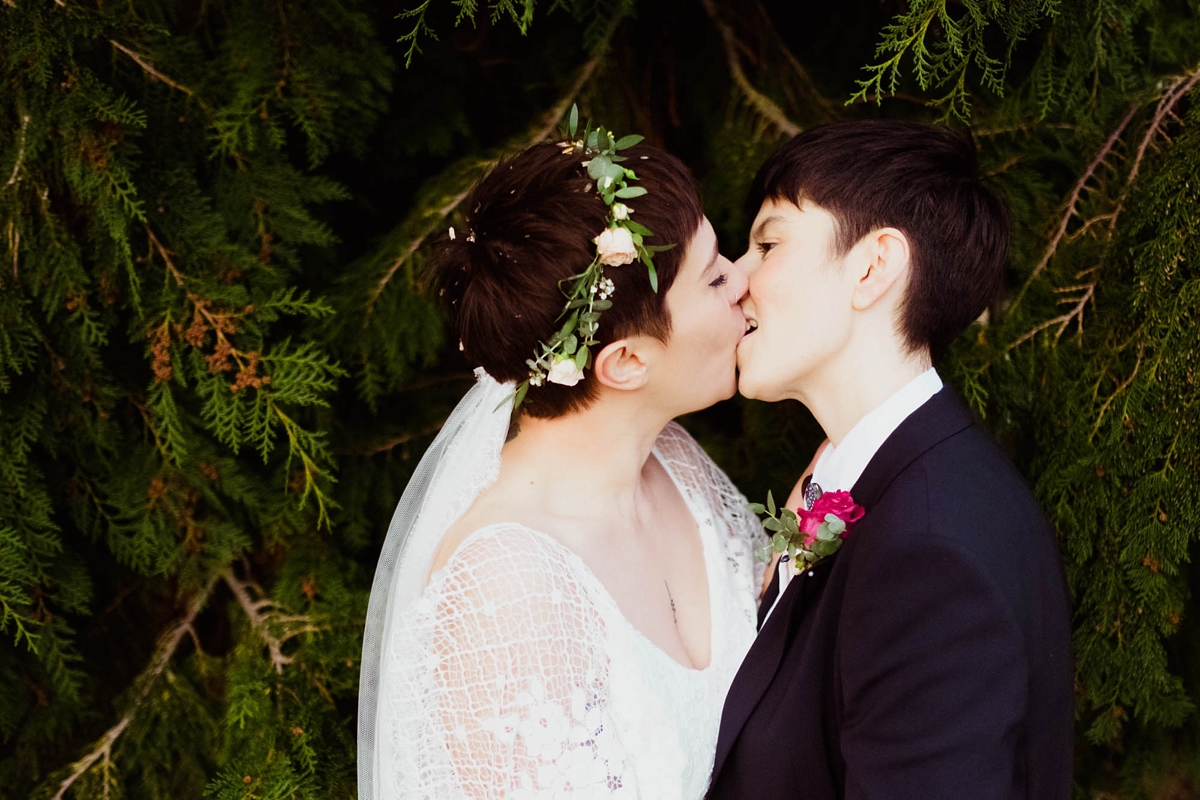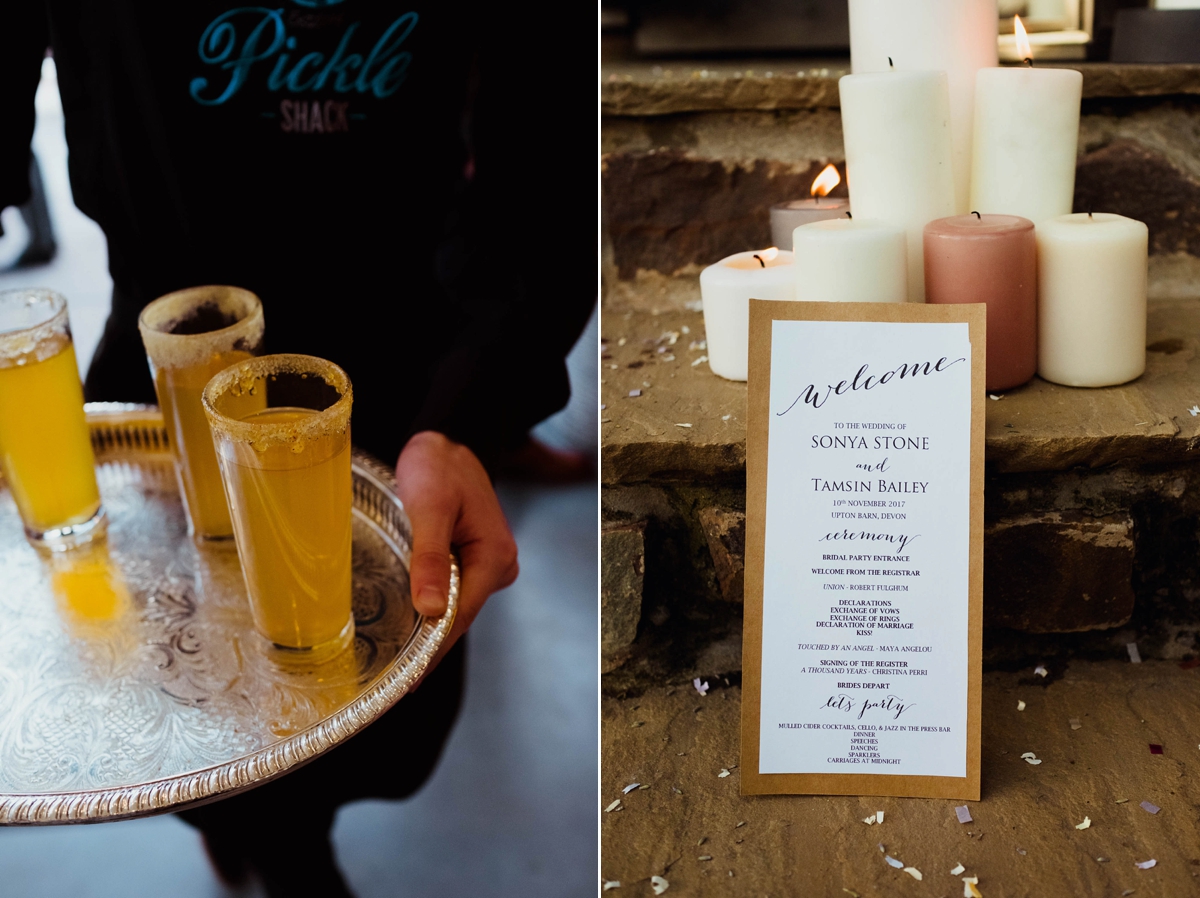 The ladies chose trestle tables for the wedding breakfast and decorated the space with everything they love, from tiny dinosaurs to hundreds of candles.  I especially love the beautiful paper honeycomb balls in those glorious rich colours.
Catering was by Pickle Shack and Gourmet Street Kitchen, while for a wedding cake, they went for something a little different (and I love their choice).
"For cake we had two 'Connie the Bride' cakes from Marks and Spencer!  We didn't want a traditional cake and these were cute with a little touch of humour."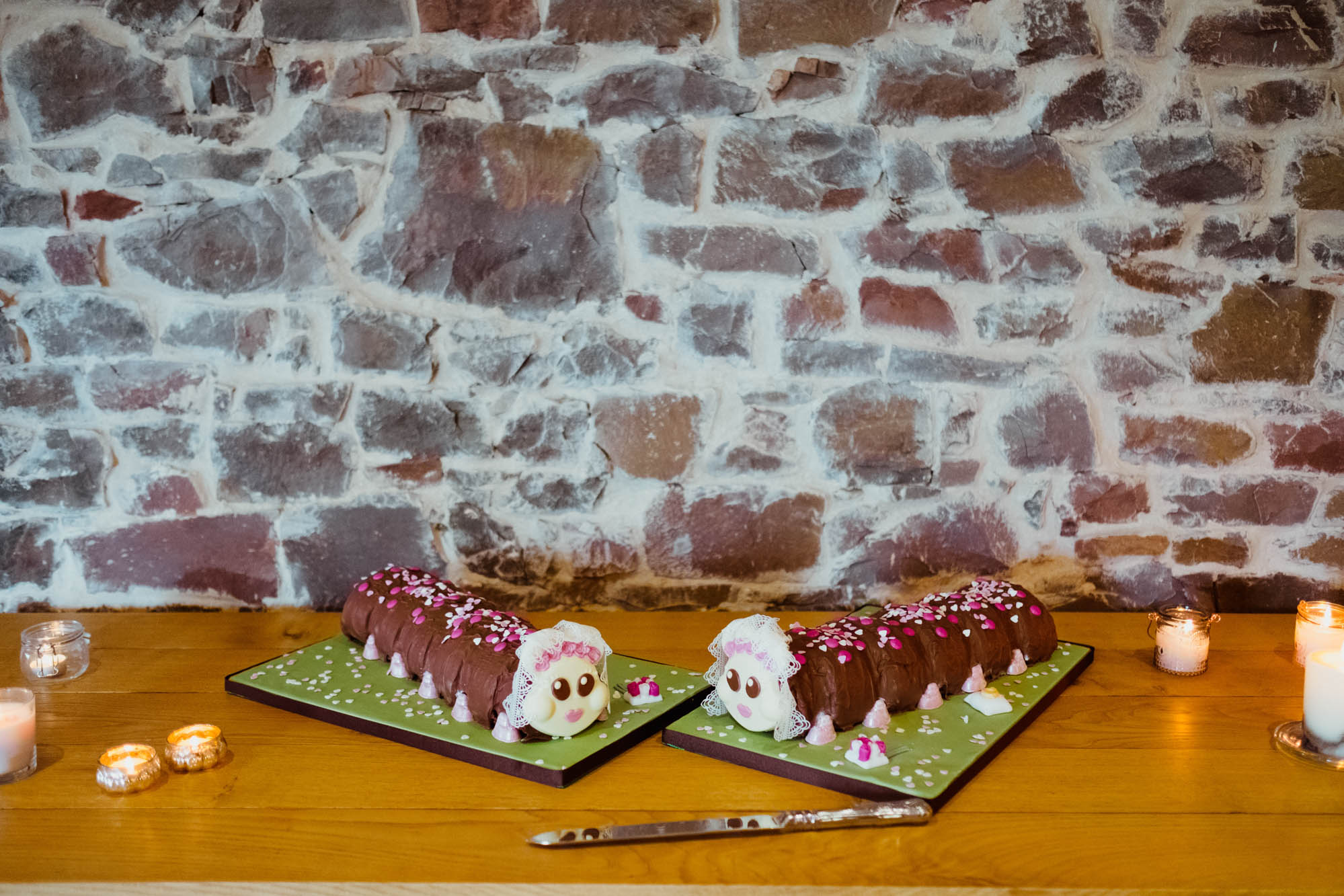 During the drinks reception guests were treated to music by cellist Josh Lynch while for the evening music, band Nightshift kept the dancefloor absolutely heaving.
"We chose 'You are the best thing' By Ray Lamontagne for our first dance track because we felt it was a bit different and the words were extremely relevant."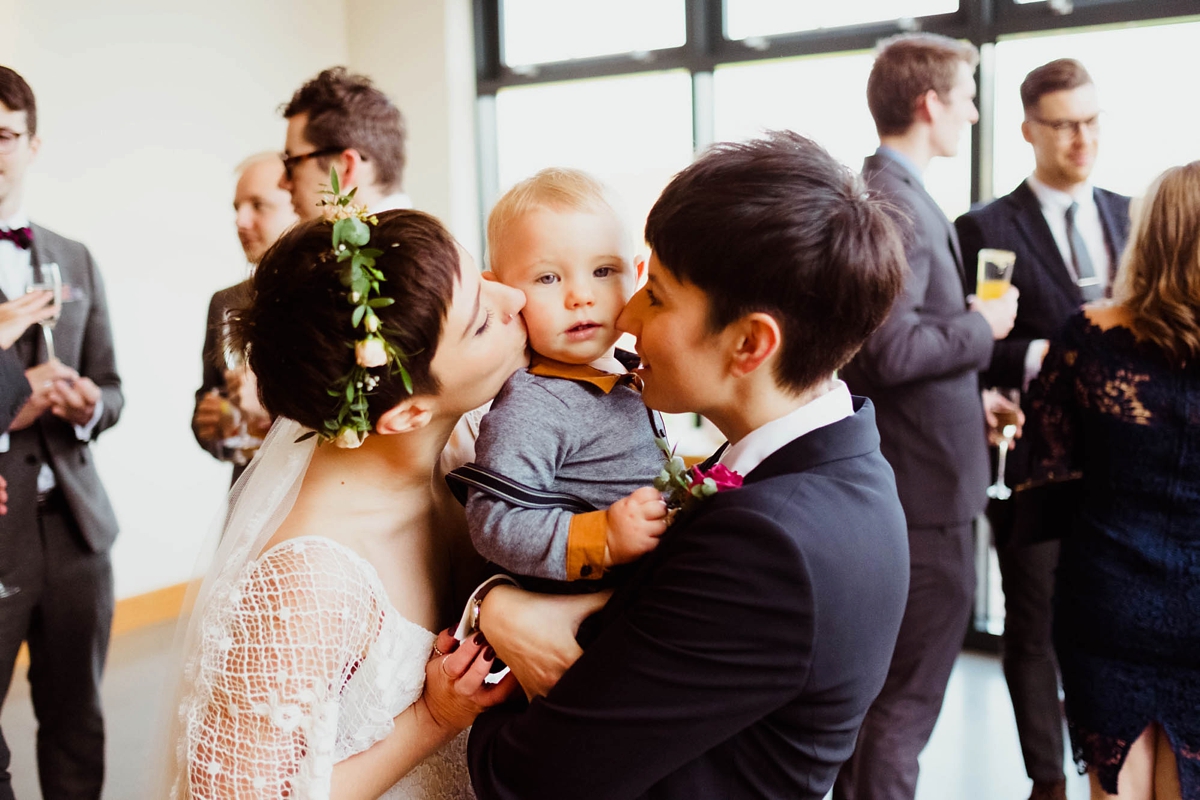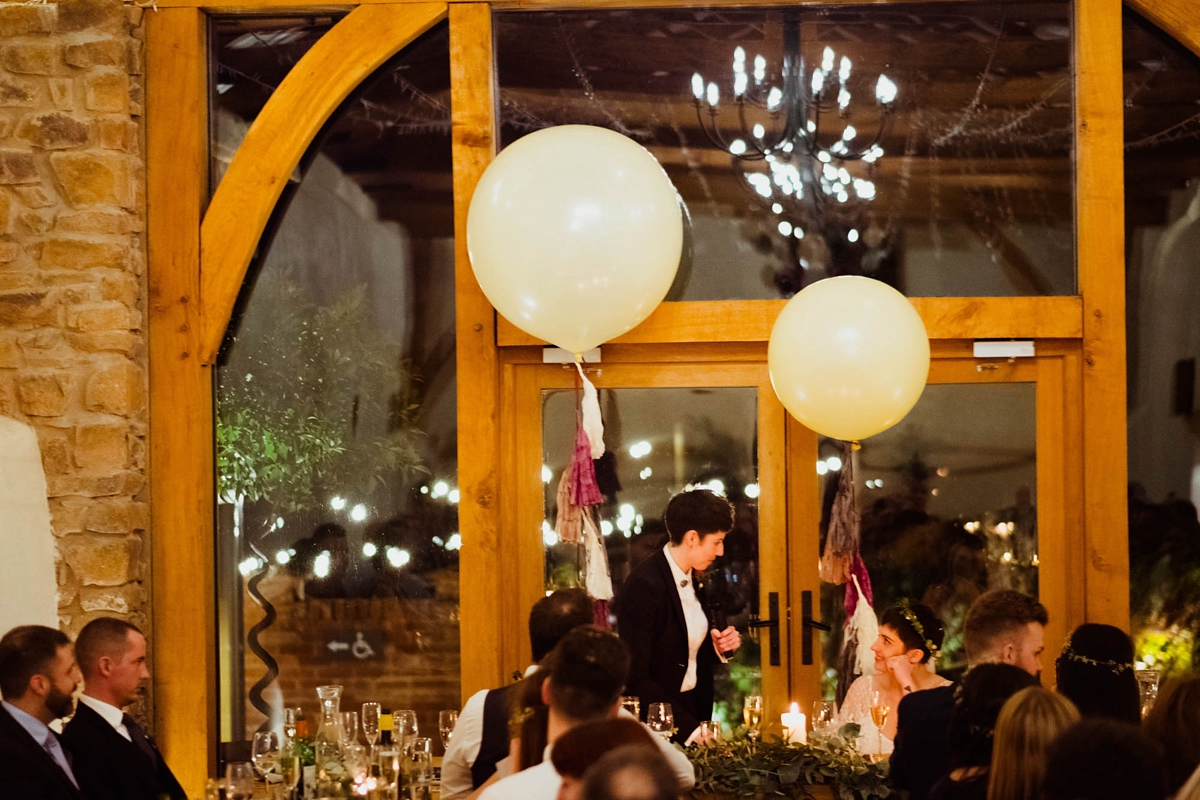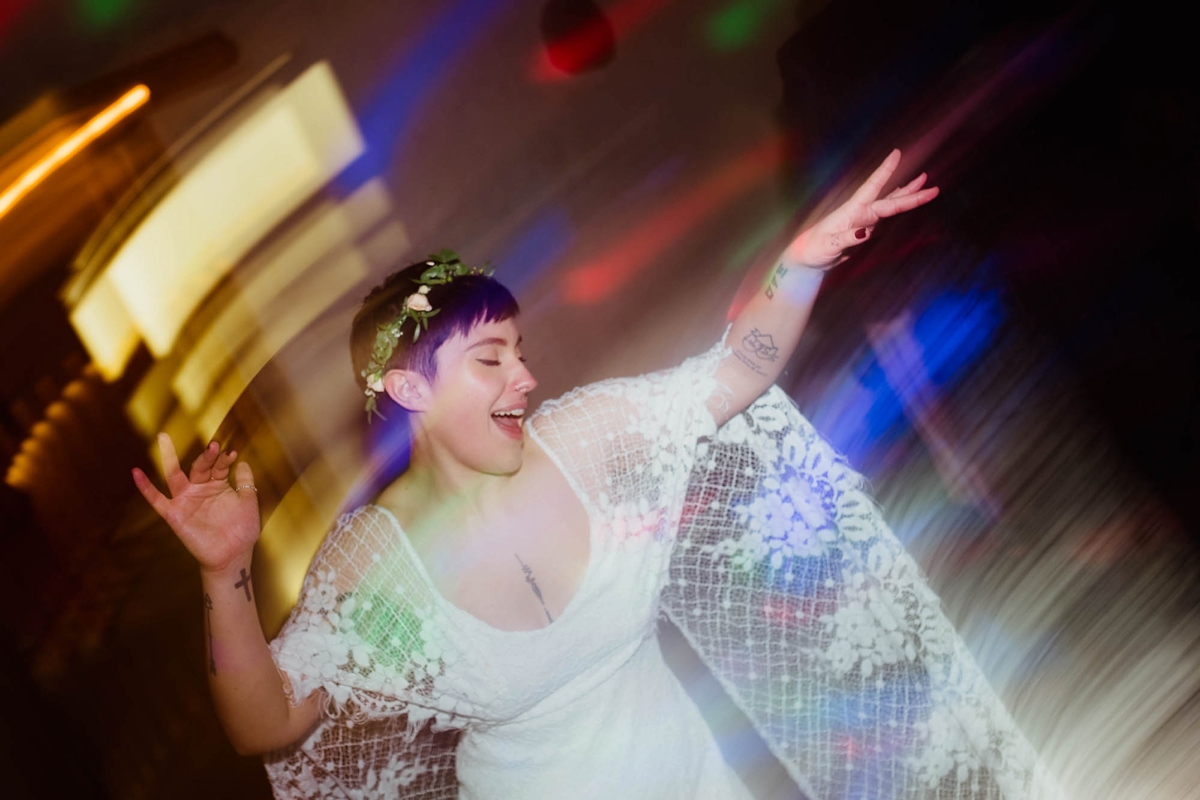 Words of Wedded Wisdom
"Enjoy it.  Don't stress over the little things.  Take advice from friends and family if you need it but don't be pushed into anything, trust your gut and your vision for the day.  It will all come together in a more perfect way than you could imagine, and if it doesn't then the most important thing is that you end the day happily married.
The day goes by in a flash, so if a decoration is out of place, or someone doesn't walk at the right time, don't stress; look at the person beside you, the person you are marrying, and enjoy every single second."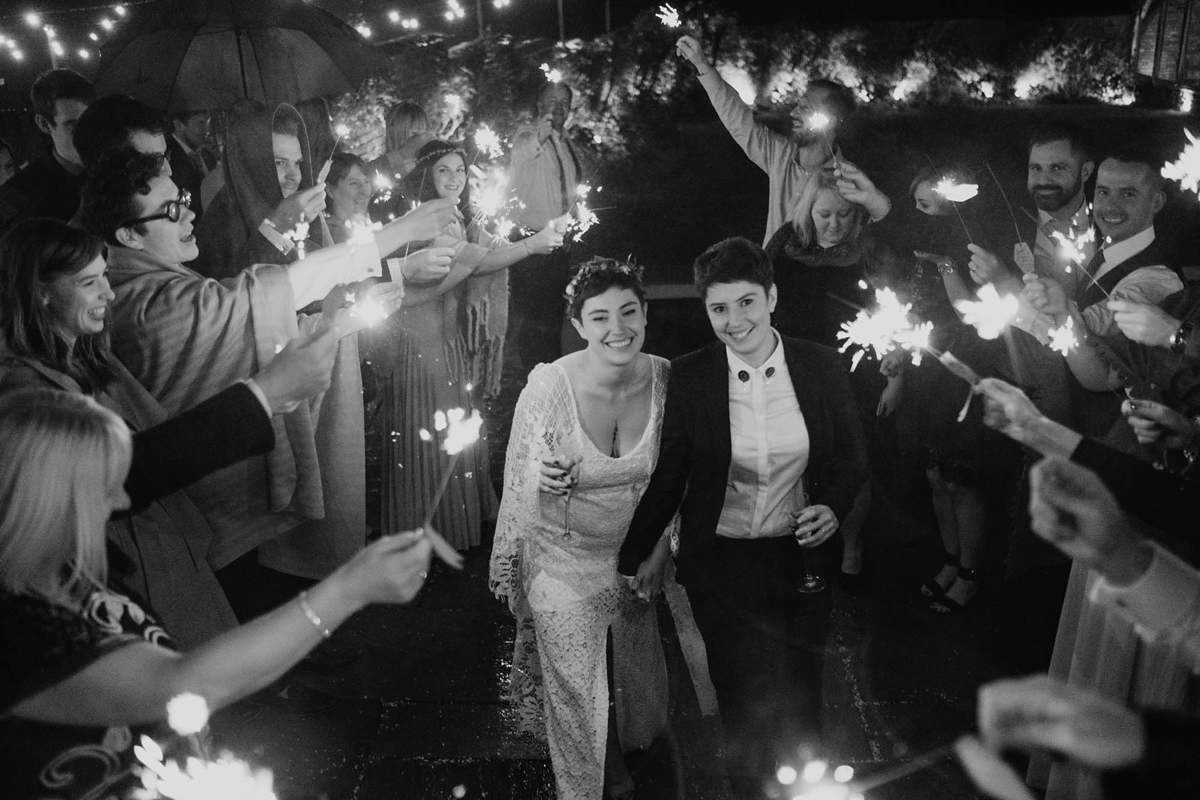 So many thanks to Tamsin and Sonya, for sharing their beautiful love-filled wedding day with us all and to Claudia Rose Carter, for her fabulous photos (as always).  For more of Claudia's beautiful work, take a look here, while for more gorgeous same-sex weddings, take a look at this link.
Much love,
Shona x