Hello Lovelies, how are you all today? What's going on with this weather? The weekend was like winter, and today was almost summer-like; there was a definite warmth in the sun's rays today.
I'm craving the heat of summer, and with today's beautiful Tuscan wedding I can almost imagine I'm basked in sunlight. I hope you enjoy it as much as I have. It's a pleasure to introduce you to Holly, wedding planner and owner of Oh So Perfectly Planned, and Damian, a Police Officer. They travelled to Florence in Italy for their wedding celebrations on 28 June 2017. As the couple were engaged at Lake Garda, they had to return to Italy for the marriage itself. Blown over by the glorious views, they chose the gorgeous setting of Ville Le Fontanelle for the celebrations and added touches of soft peach and blue to complement the traditional Tuscan architecture.
Holly's romantic choice of gown was the full-skirted, delicately-coloured 'Sposa' by Pronovias, bought at Wedding Belles Boutique in Frodsham. I love the appliqued lace and tulle skirt and fitted bodice in soft peach. It really does look beautiful against the clear Italian colours.
"I always thought I would have a tight-fitting dress but they just weren't giving me the buzz. The last shop we visited was just myself and my mum and that's when we found the one. As I was looking through the dresses picking out the ones I wanted to try, Caroline (the shop owner) picked one out for me too. I wasn't sure at first but I put it on and felt like a princess."
Photography Clara Cooper Photography
"When I stepped out of the changing room and my mum burst into tears I knew it was the one – I hadn't had that reaction from any other dress. I stood in the dress for a long time just admiring its beauty whilst shedding a few tears. The invisible lace neckline and the swooping back with lace detail were just beautiful. I also liked how it went against what all our guests thought I would have so it was a surprise for everyone."
Wedding planner Holly drew on all of her experience to create a romantic, impeccably-styled day.
"We chose the venue for the spectacular view and so the decoration was very minimal. The colours just came to my mind from the very beginning and the soft peaches and blue hues looked amazing against the backdrop of the terracotta villa. The venue was so beautiful we didn't need much to style the villa. We used simple flowers and lots of candles with a few personal touches of photographs from when we were younger."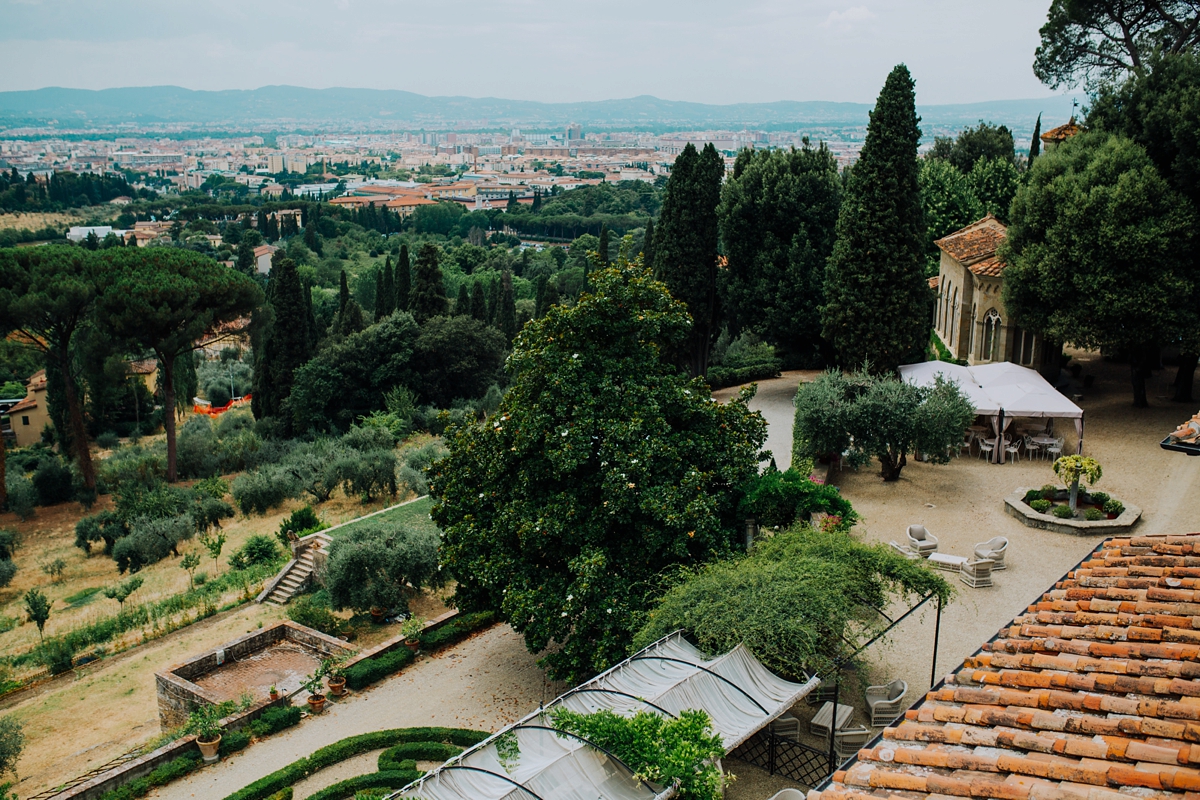 She let the dress sing by adding just a simple veil, fixed beneath her sleek bun, and simple pearl earrings from Pandora. Her sister Faye (also maid of honour) gifted her a Tiffany bracelet on the day, and her incredibly glamorous silver shoes were Kurt Geiger Carvela.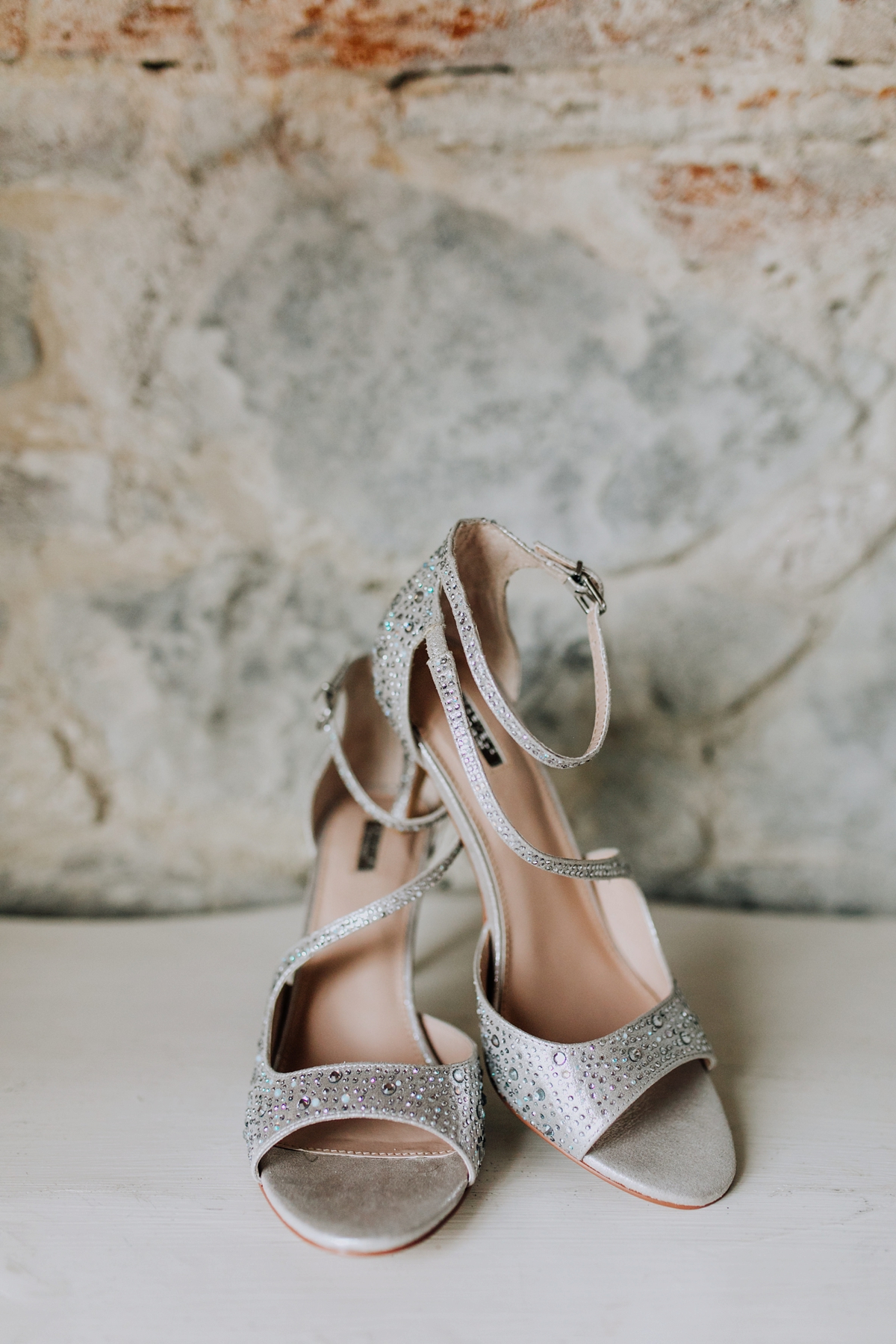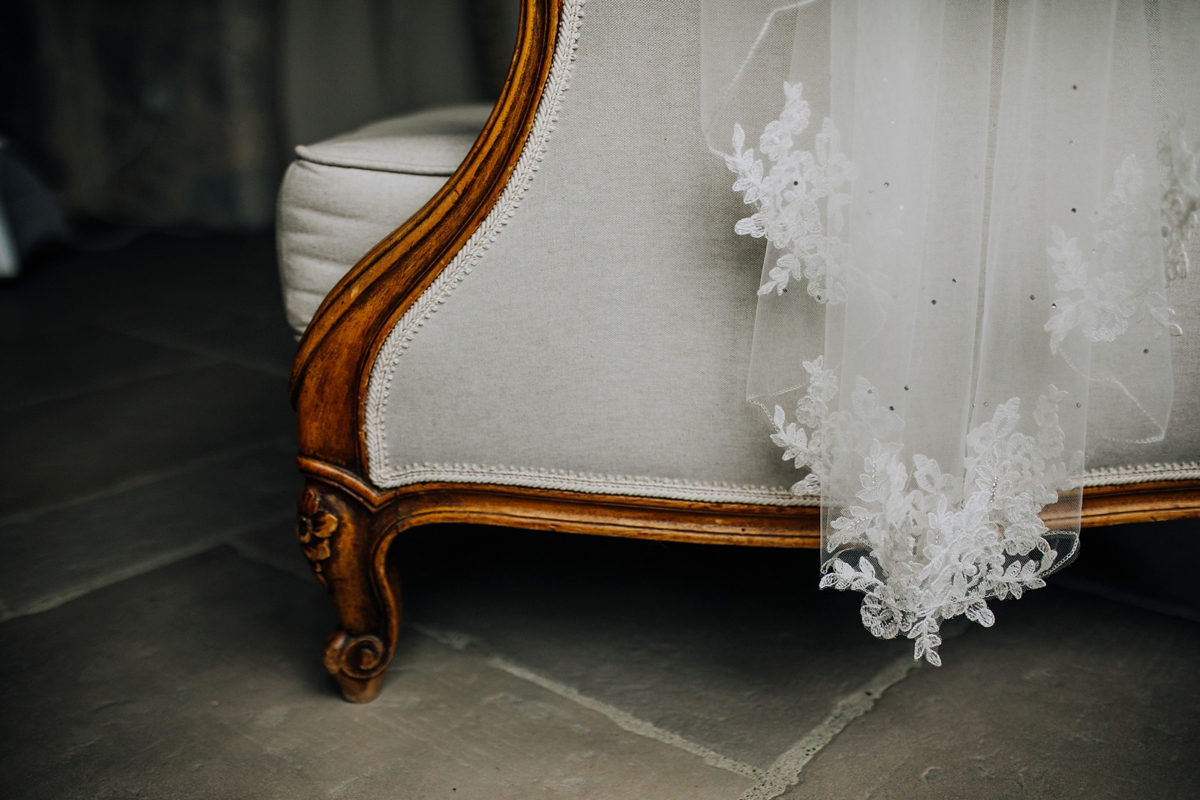 Holly asked Jessie-Rose Makeup to style her hair in a simple bun, and opted for modern, natural make-up with a bright apricot lip. The finishing touch was a Matthew Williamson hair accessory, and a spritz of Jo Malone scent.
"I wanted to create my own fragrance that would remind me of the special day and so went along to a perfume masterclass at Jo Malone in Liverpool where they helped me find the one – Peony Blush and Suede alongside Orange Blossom. I also bought the candle and had this lit whilst getting ready. I love that even after the big day our home too smells like the wedding day."

Holly and Damian are childhood sweethearts, first meeting when they were the tender ages of fifteen and seventeen.
"We are childhood sweethearts or so they say. We met when I was 15 and Damian was 17. We started the online dating trend all those years ago! I'm originally from Liverpool and my husband is from Sale, Cheshire, so we have the internet to thank for allowing us to meet and be together."
"When we got engaged it was eleven days after our ten year anniversary and Damian got down on one knee on a private speedboat on Lake Garda. It was magical! The weather was perfect and I couldn't have asked for more. The holiday was a surprise from start to finish.  Each time we moved to a new place the night before Damian gave me an envelope to open with the new destination on a card."
"When we got the speed boat that morning he said I had one envelope left. I assumed this was another place but when he handed me the card it said 'Will you marry me?'."
"I think I cried for the whole time he was down on one knee; it was so special! We celebrated with one last night of our road trip in Lefay Resort. We were engaged for 21 months."
"We didn't want to go overboard on flowers – just something simple but in the colours we had chosen for the big day. My favourite flower is a blue hydrangea and so this was the basis for the bouquets. The backdrop of the aisle was a wooden arch with fifteen mixed-sized jars at different heights which looked so relaxed and was perfect for the photographs. Afterwards we re-used the jars on the dinner table alongside birdcages and candles. Marta at Flowers Living was great throughout the whole process and so quick on email we had every confidence in her from the off."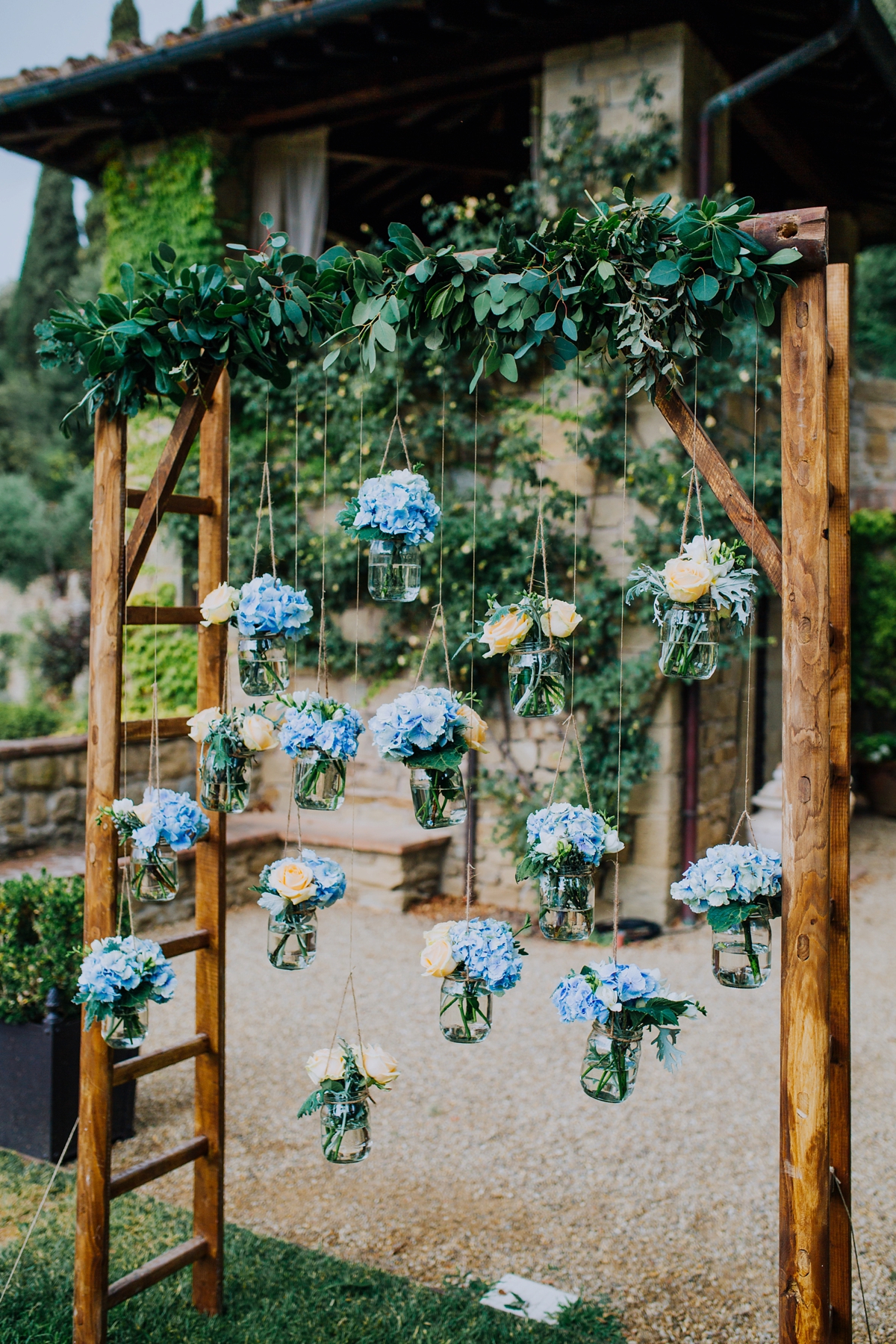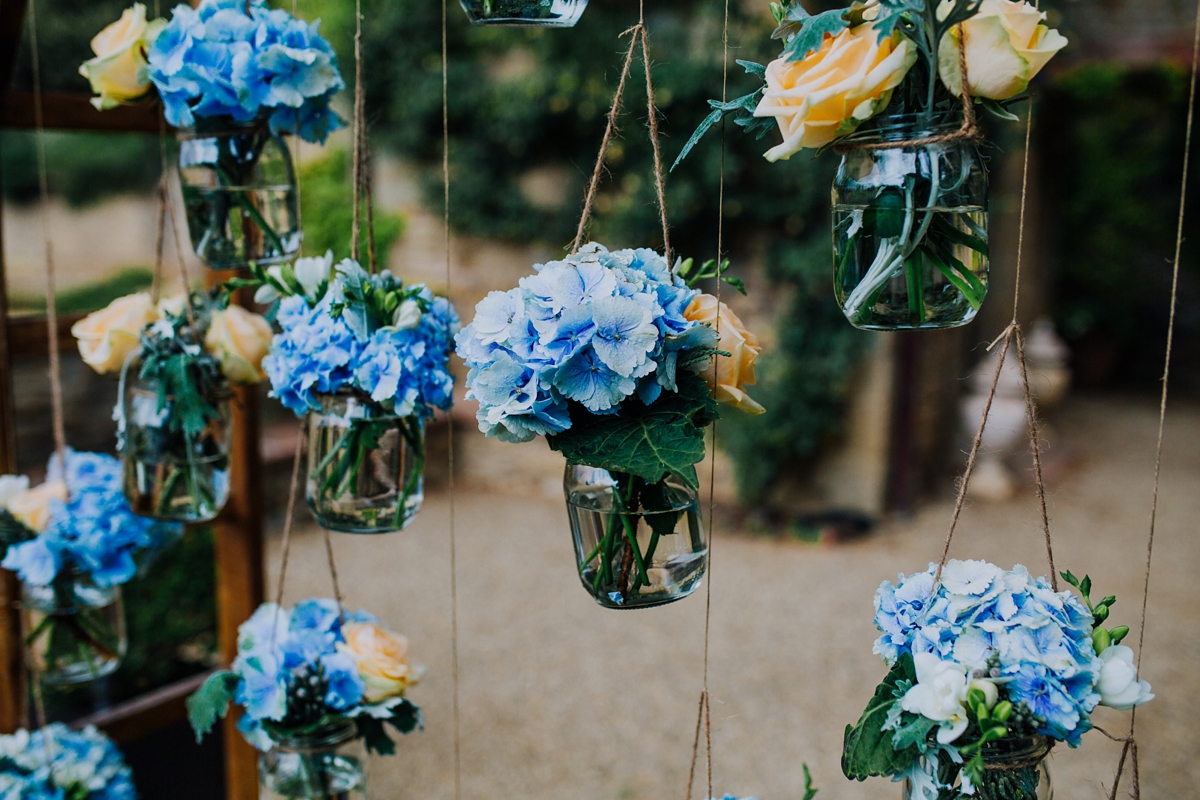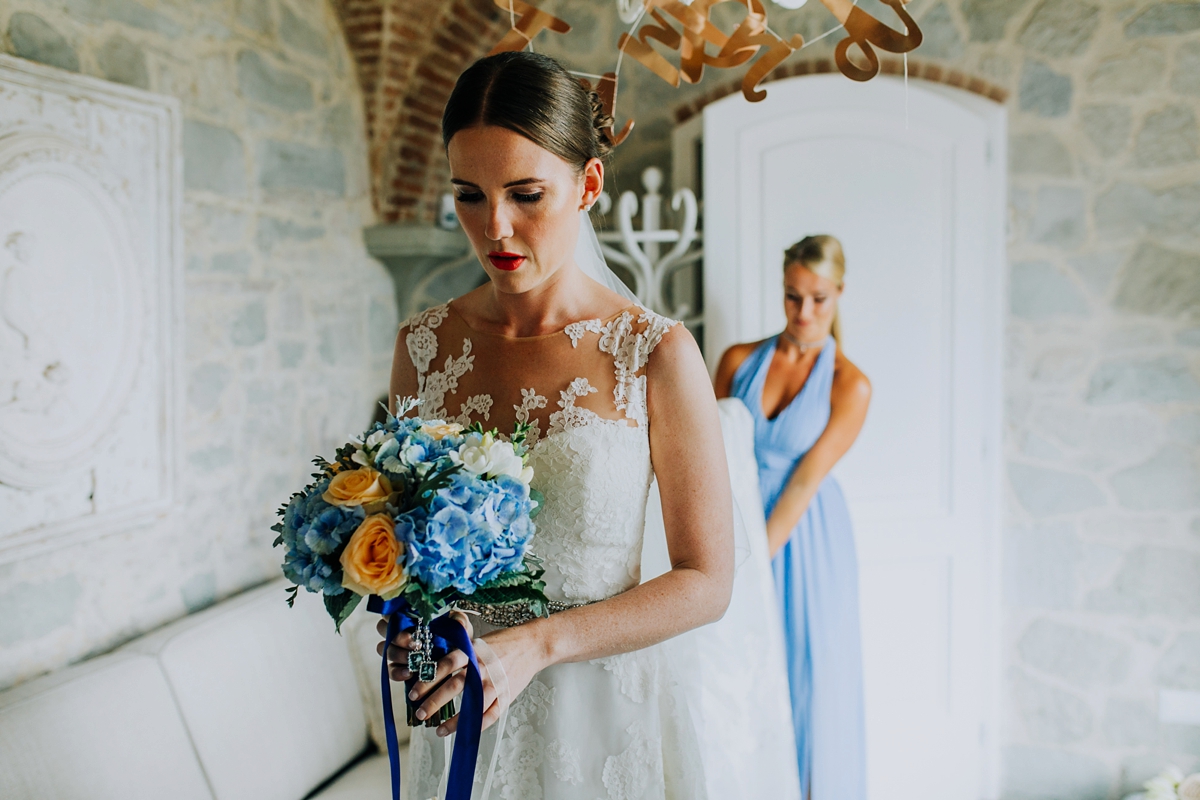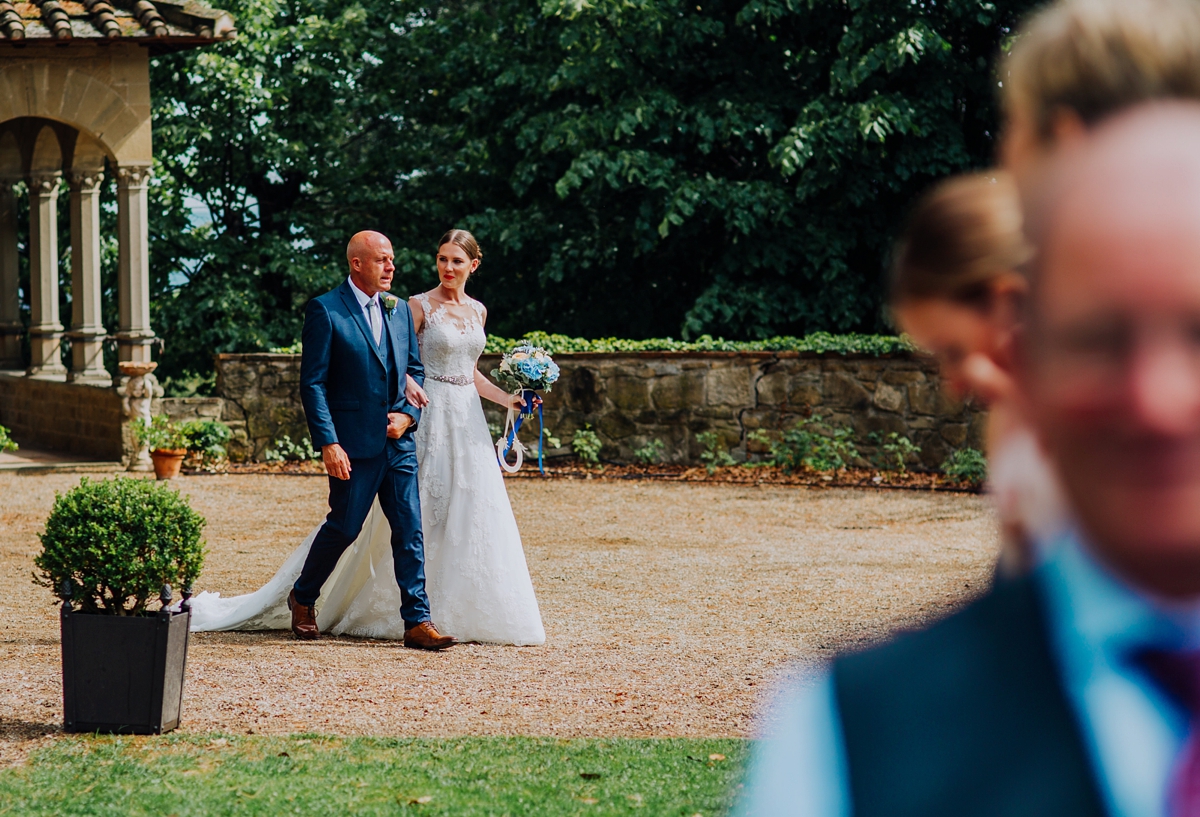 Holly's bridesmaids wore elegant halter-neck ASOS gowns in blue to match the hydrangeas and wore New Look shoes and faux flowers in their hair from Inspirations, Wirral. They look cool and calm as they walk down the aisle.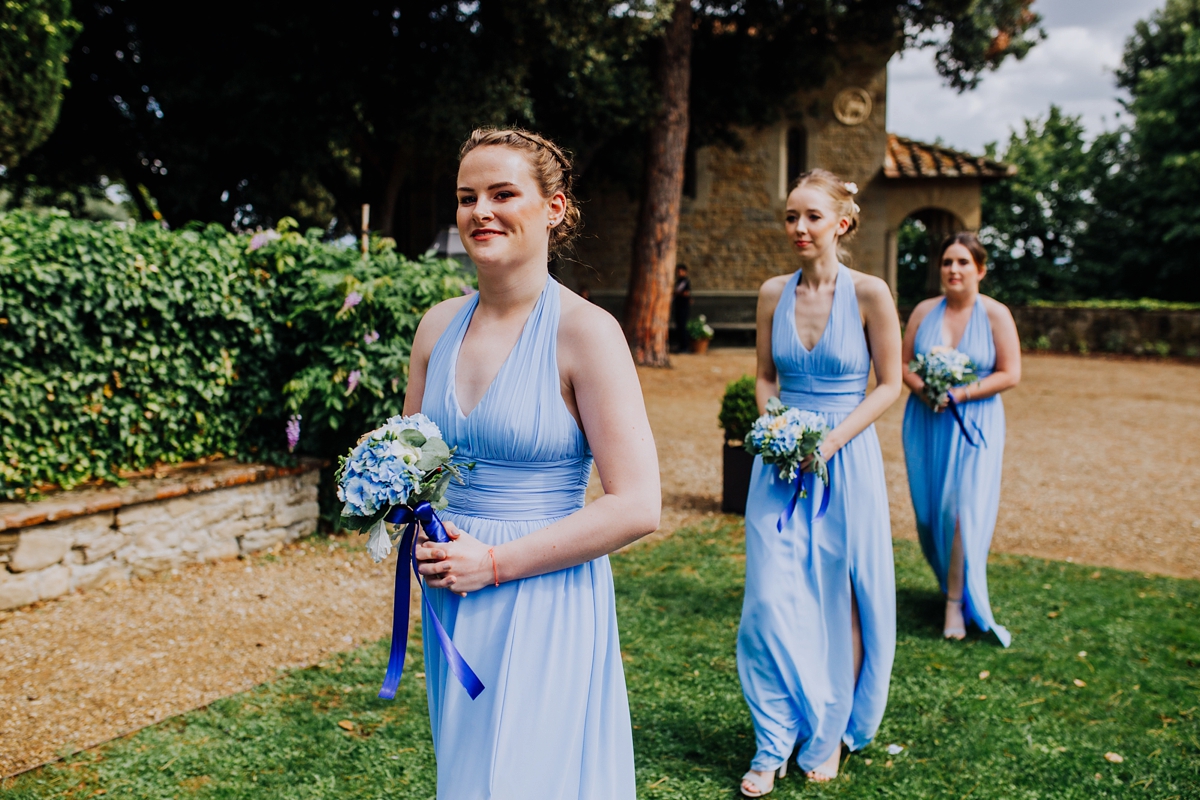 Holly and Damian chose the haunting sound of Temper Trap's 'Sweet Disposition' as the backing music when the bride walked down the outdoor aisle on the arm of her dad, Robert.
"It was such a special moment, us standing together just before walking down the aisle. The moment when I saw him crying on the video when I thought he was keeping his cool was a real tear-jerker. It was a very special moment. 'Sweet Disposition' is a song I have listened to only once since the wedding as it makes me so emotional. It was such a wonderful moment and one we will never forget."
As the girls got ready in the villa, Damian and his groomsmen hung out by the pool until it was time to dress in contrasting navy and grey three-piece suits. Damian's was a Reiss design with a bespoke waistcoat from Harland Collier in Liverpool and Thomas Bird shoes.
"We decided Damian was going to wear a grey suit as he looks so handsome in grey. To contrast we had our dads, groomsmen and best man in navy with alternating coloured ties. It looked exactly how we envisioned and it was important all the men felt great, which they said they did."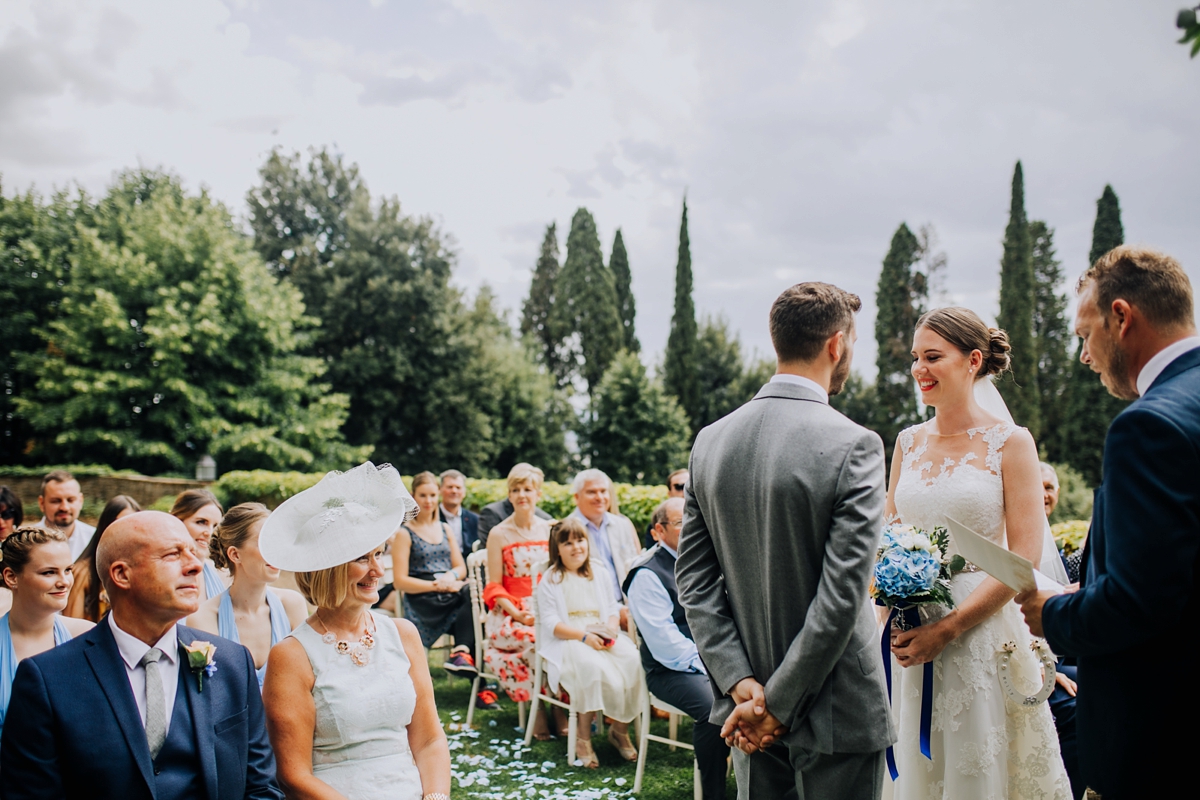 The wedding ceremony was led by Italian celebrant Luca and the couple exchanged rings from Wongs Jewellers in Liverpool.
"We booked the ceremony through Regency which allowed us to have the ceremony on the grounds of the villa – a dream come true. Luca was our celebrant and we couldn't have asked for anyone better. I was quite emotional as Damian read his vows so he gave me a couple of minutes to gain composure before I read my vows and this was invaluable."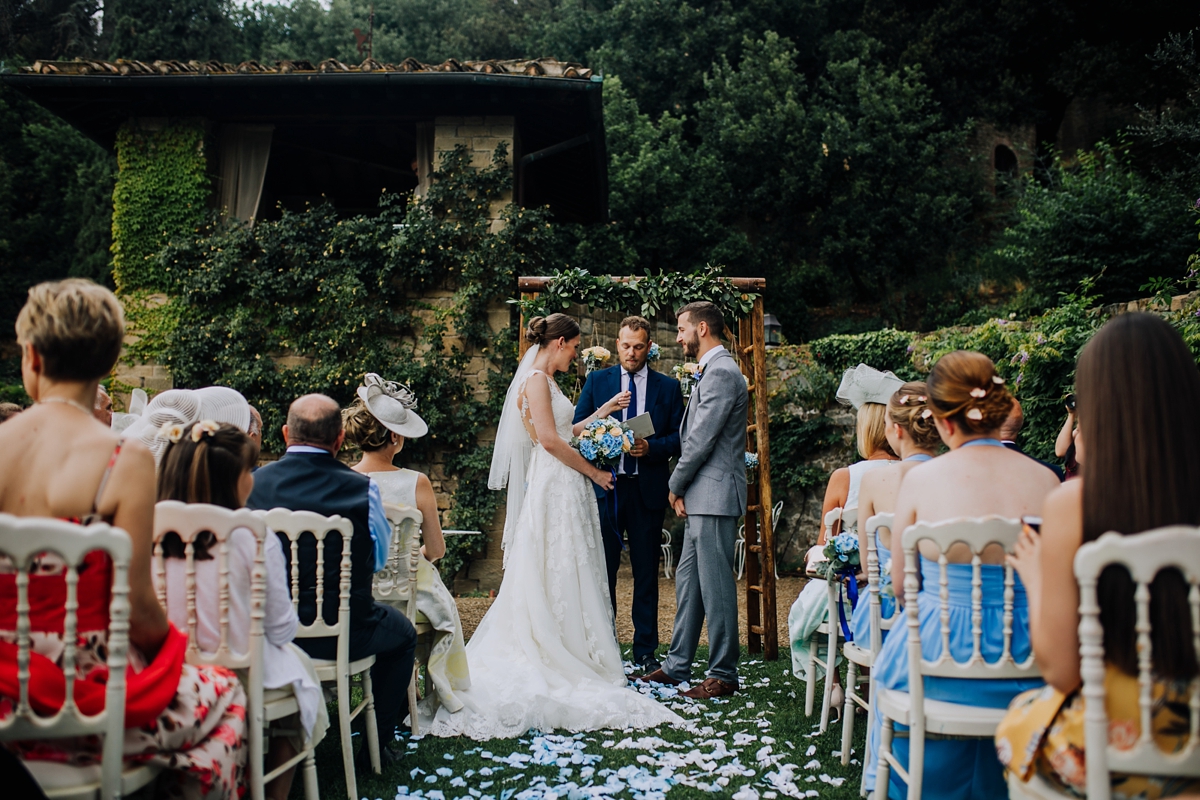 "We decided not to write our own vows but to keep it simple. I was worried at first as I didn't want the ceremony to just sound like everyone else's but in fact it was so special and looking into each eyes and reading the vows in front of our closest family and friends was magical. I decided to write Damian a card with something a little more personal just for the two of us and he also wrote a beautiful note on the bottom of my shoes."
"Wongs is owned by a trusted family friend and is well-known in the area for their fantastic service. Plus we get free cleaning for life which is great; my rings are always so sparkly."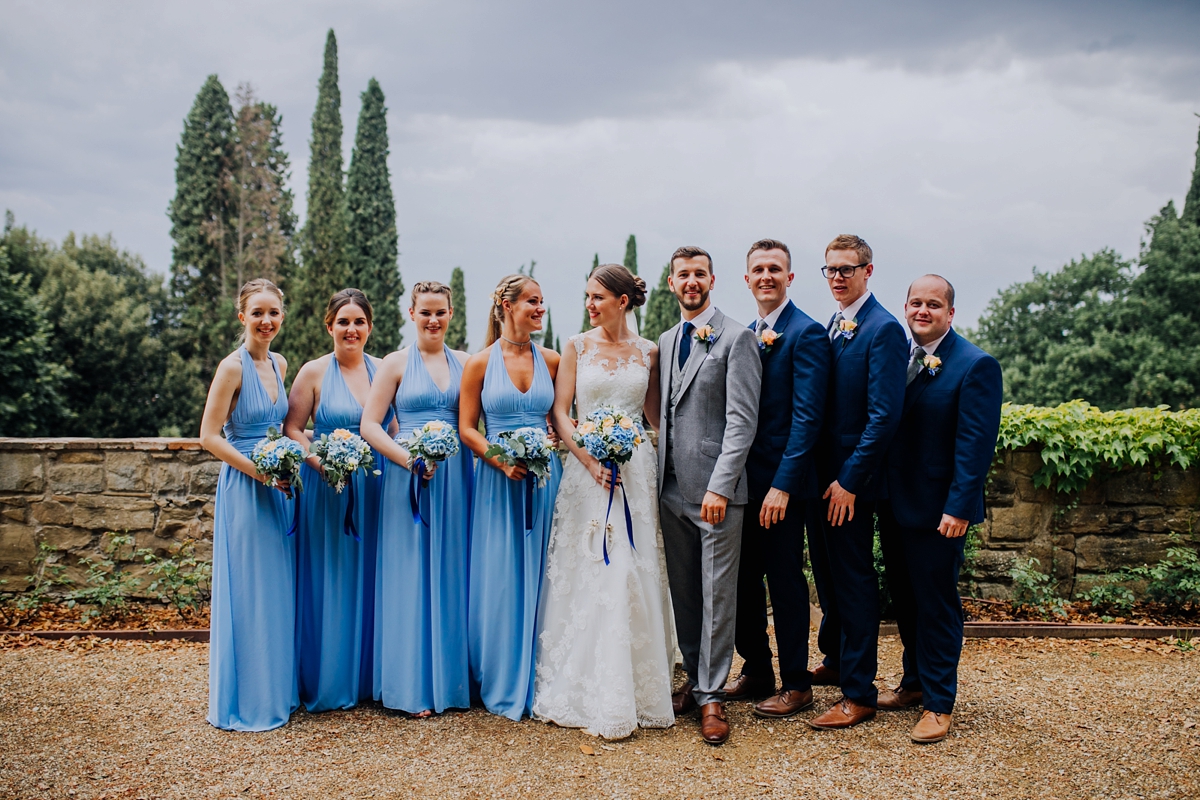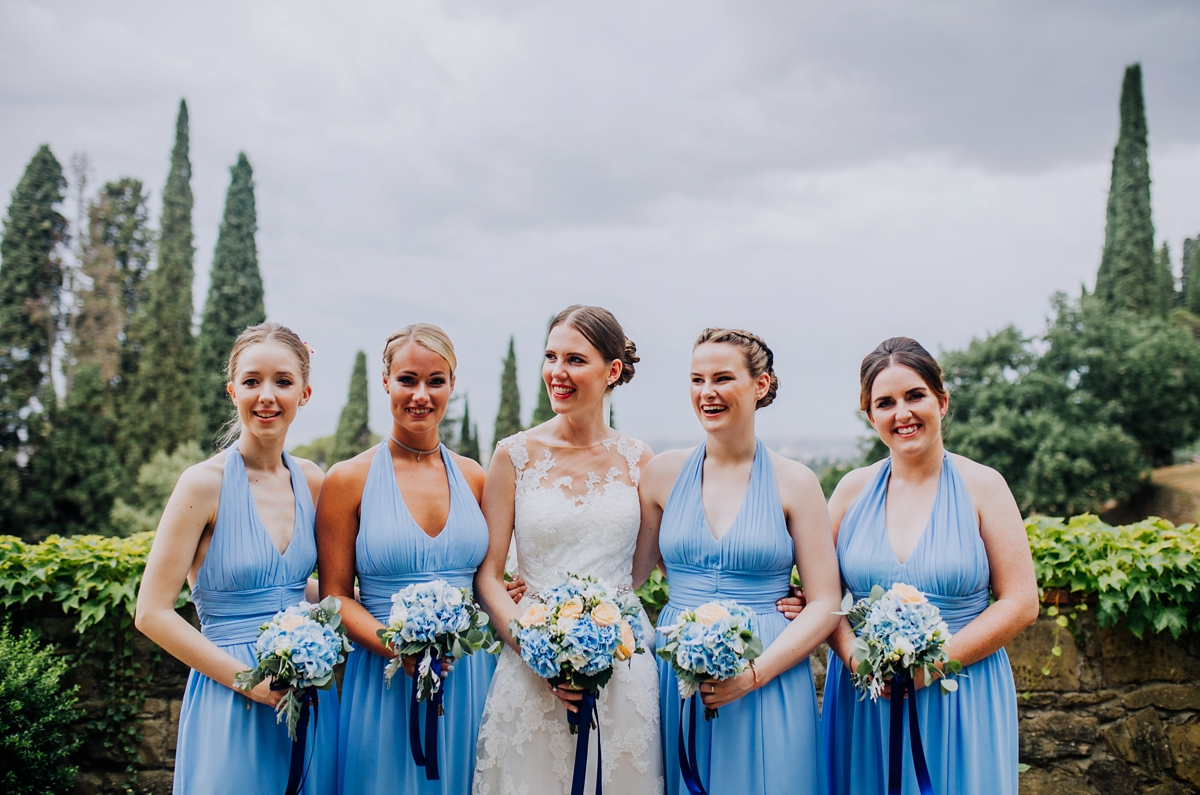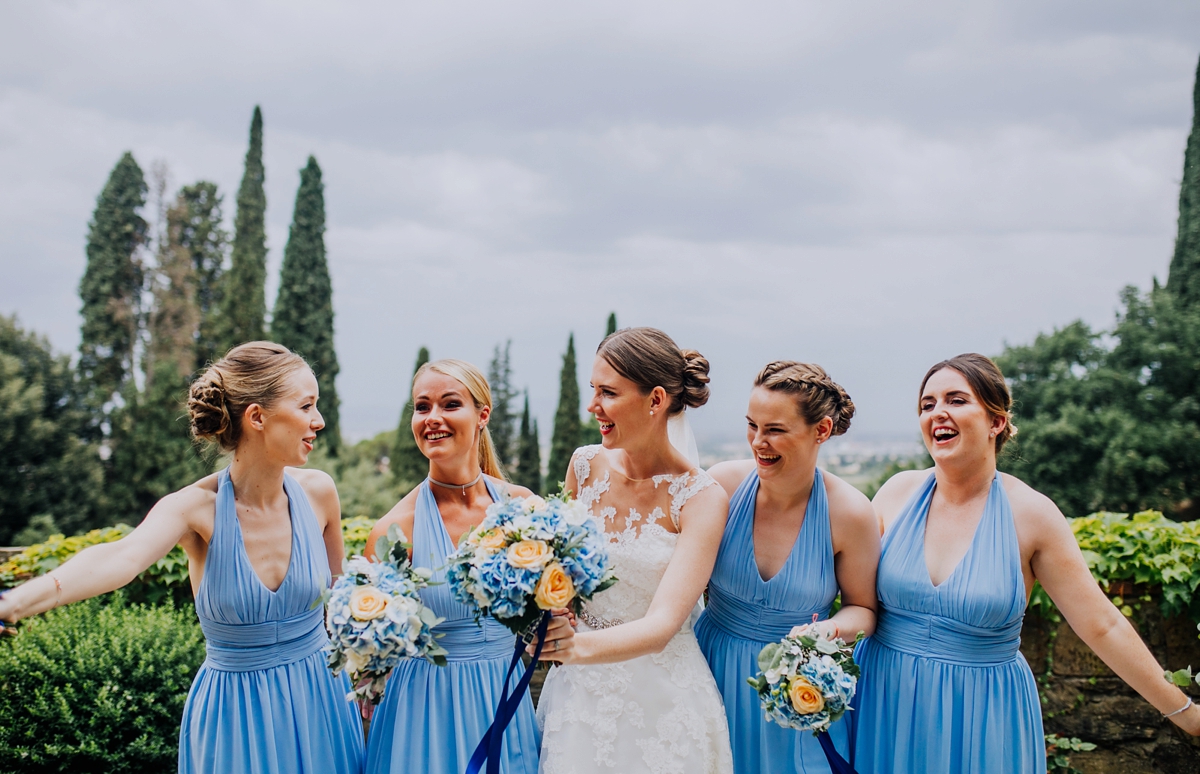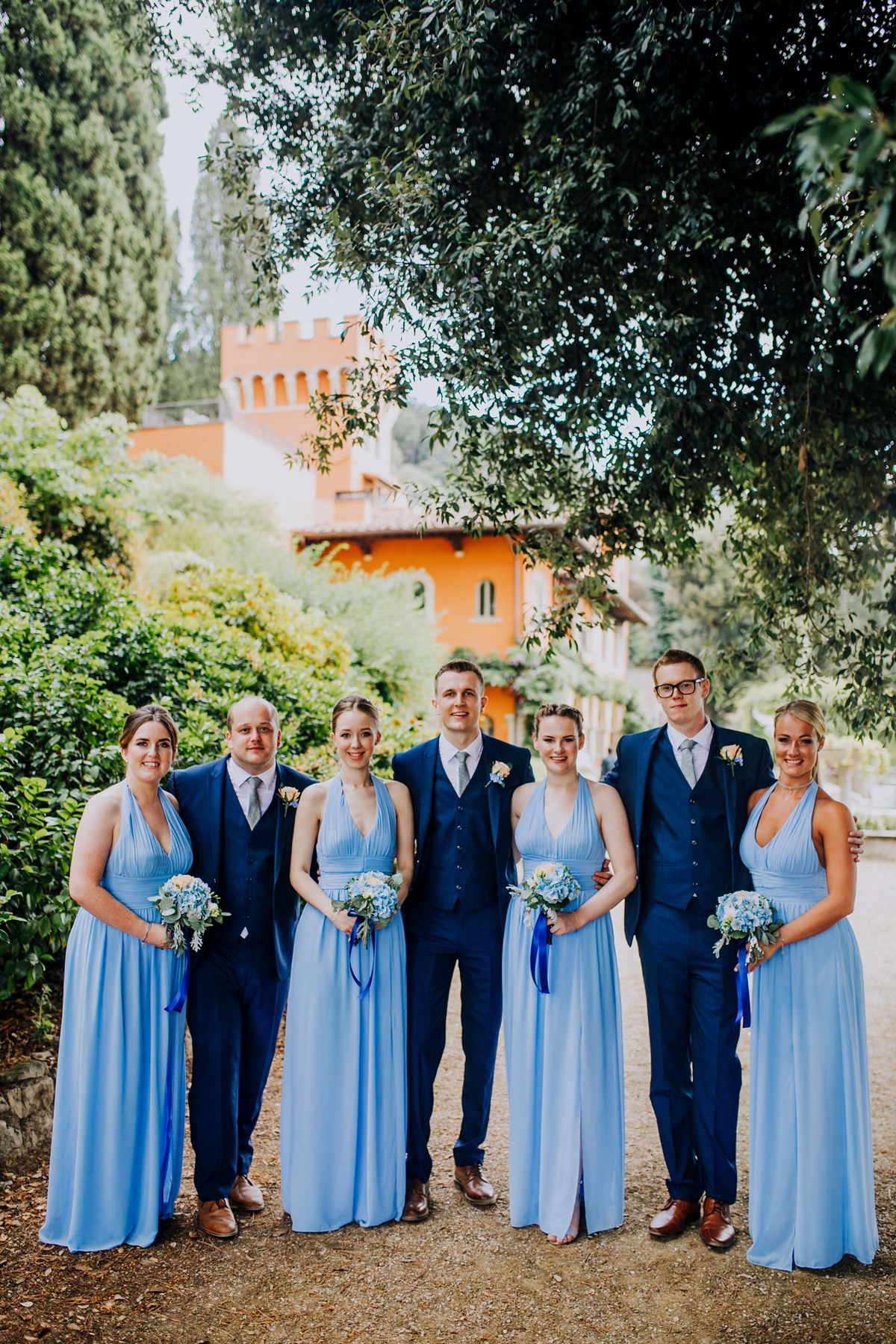 Wedding photographer Lucy of Clara Cooper Photography, supported by second shooter Amy Faith Photography, flew out to Italy to capture the day. Between them they've done a simply wonderful job of recording every element of the day – from the boys hanging out at the pool in the morning, to the fun of the evening dance, the romance and emotion of the ceremony and the love between the newly-weds.
"I had previously met Lucy through work and loved her relaxed personality so the moment we were engaged I knew exactly who to contact to shoot our big day. When Damian and I came away from that first meeting we felt elated that she was going to able to capture our day in the most natural way."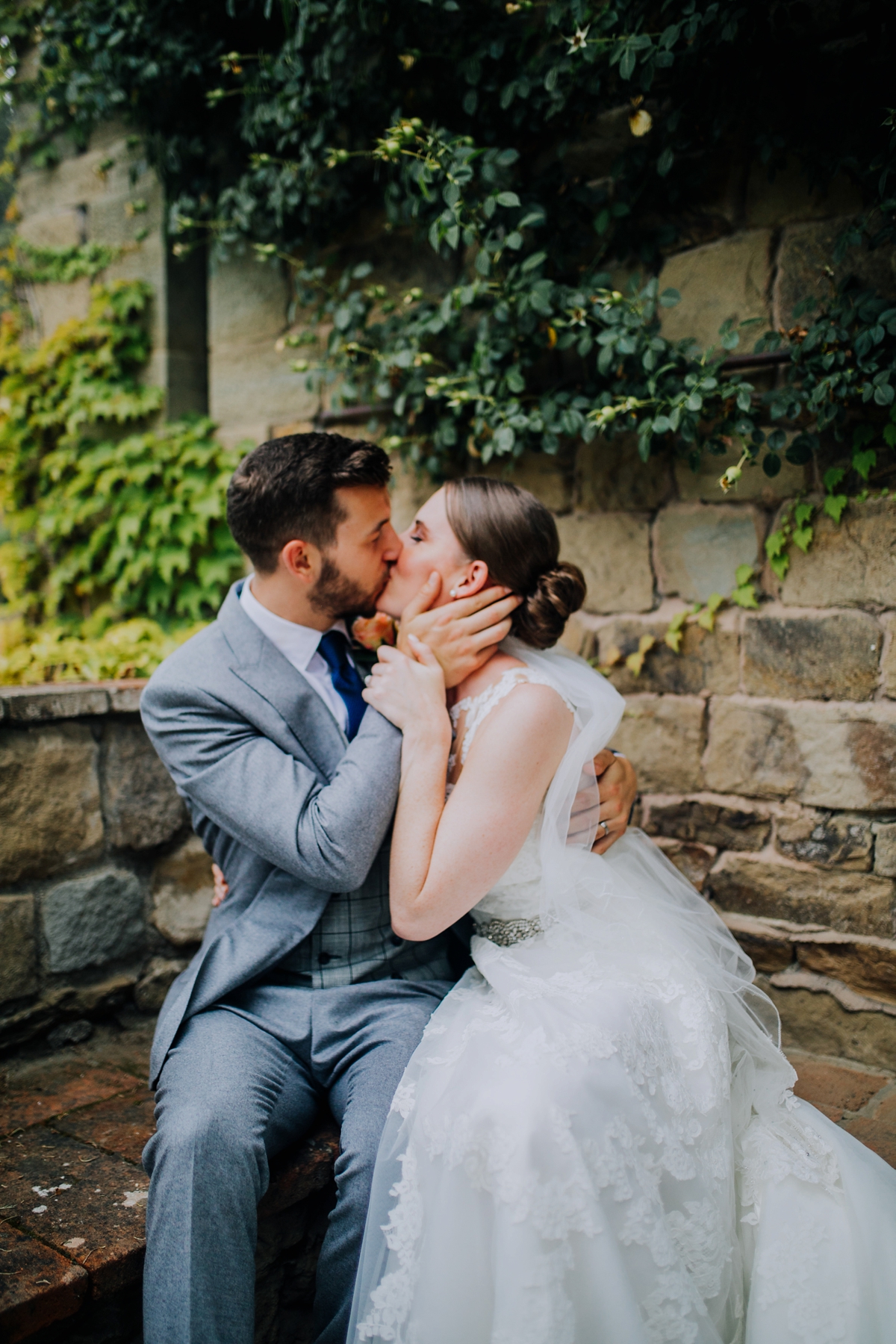 "The best moment we had was on the big day. Lucy, showed us a sneak peek of a couple of photos and I remember saying 'even if I was just given that one photograph I would be happy'. It was amazing and the thought of having to wait for our album was a killer, although totally worth the wait. The photos are amazing and capture our day perfectly."
"Lucy informed me in the early stages she could also do a short video and that she shoots this on the same camera she takes pictures on. I decided to pay for this as a surprise for Damian. Twelve weeks after the wedding, we invited all of our guests to a 'Photo Reveal' and his face was a picture. He absolutely loved it and it was worth every penny."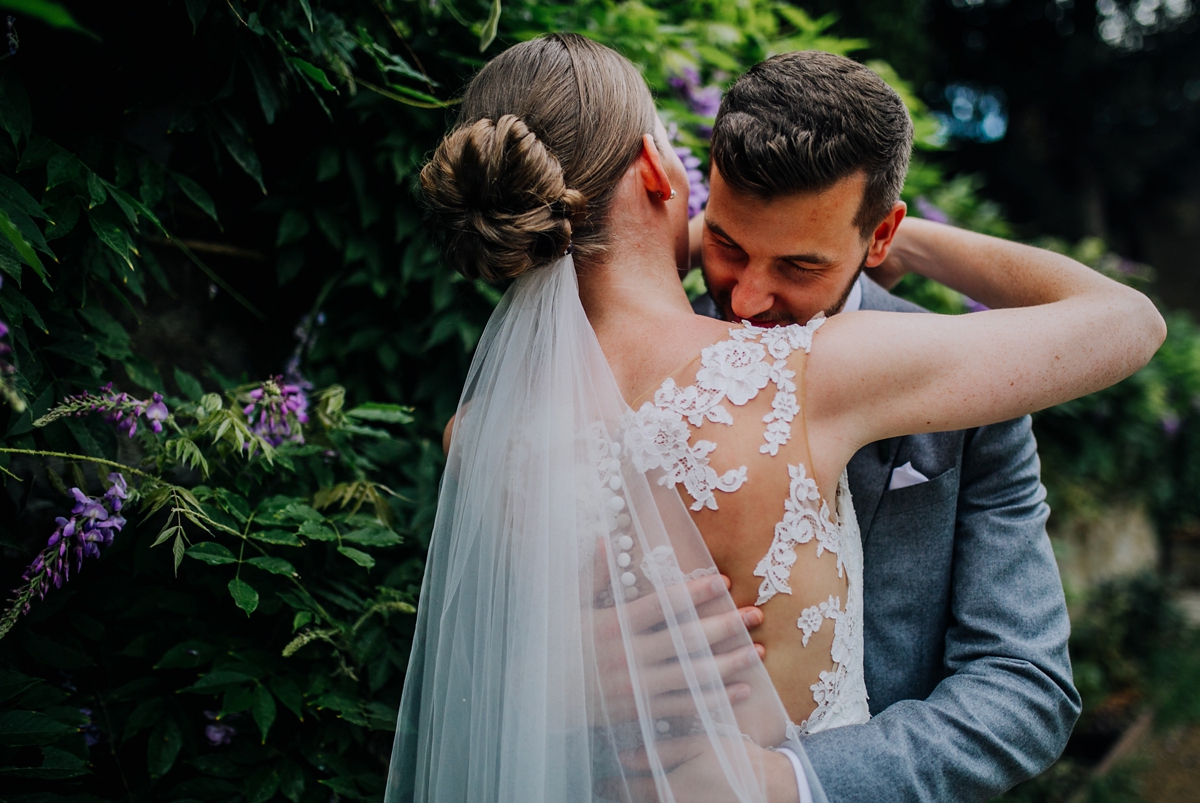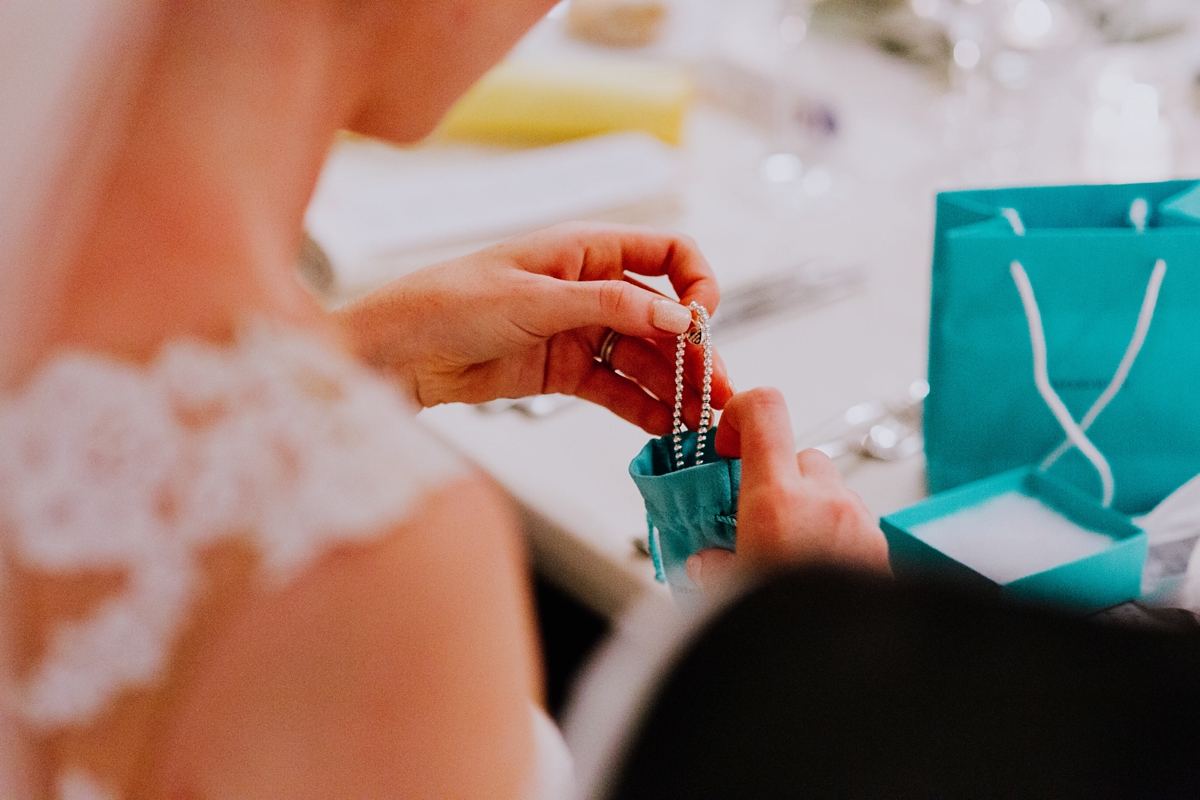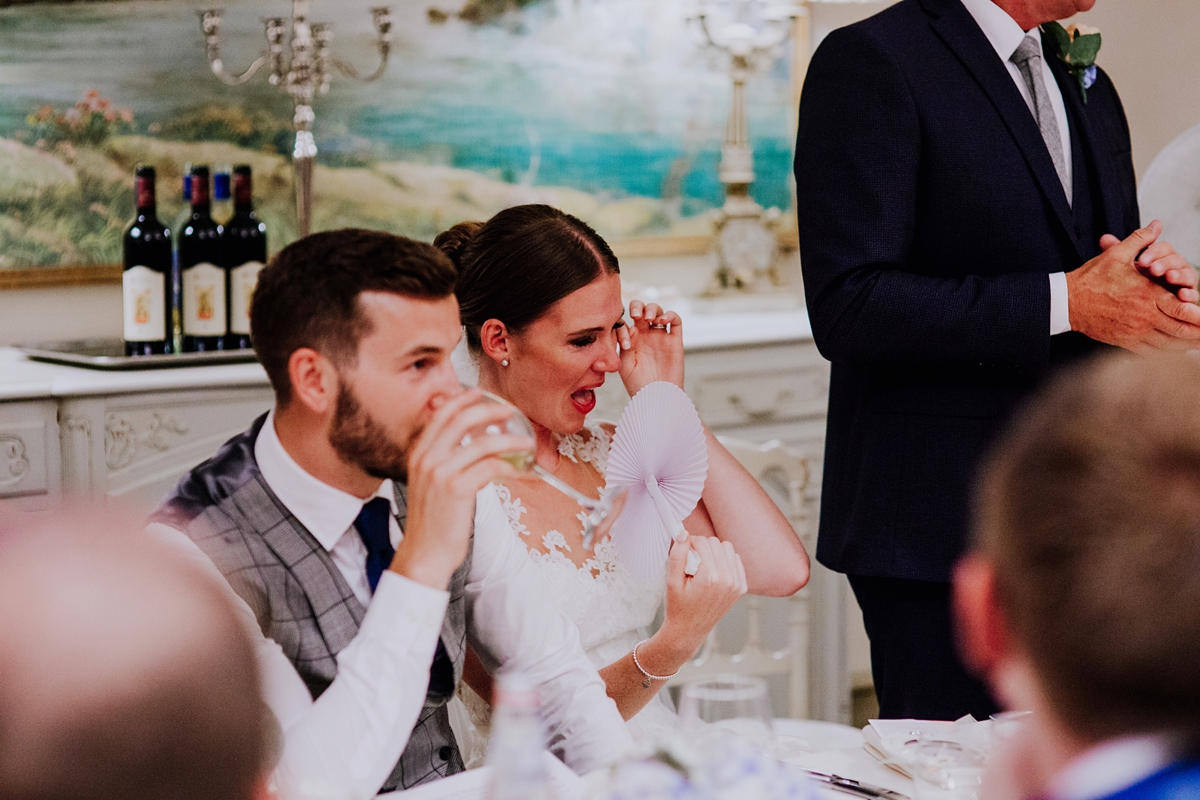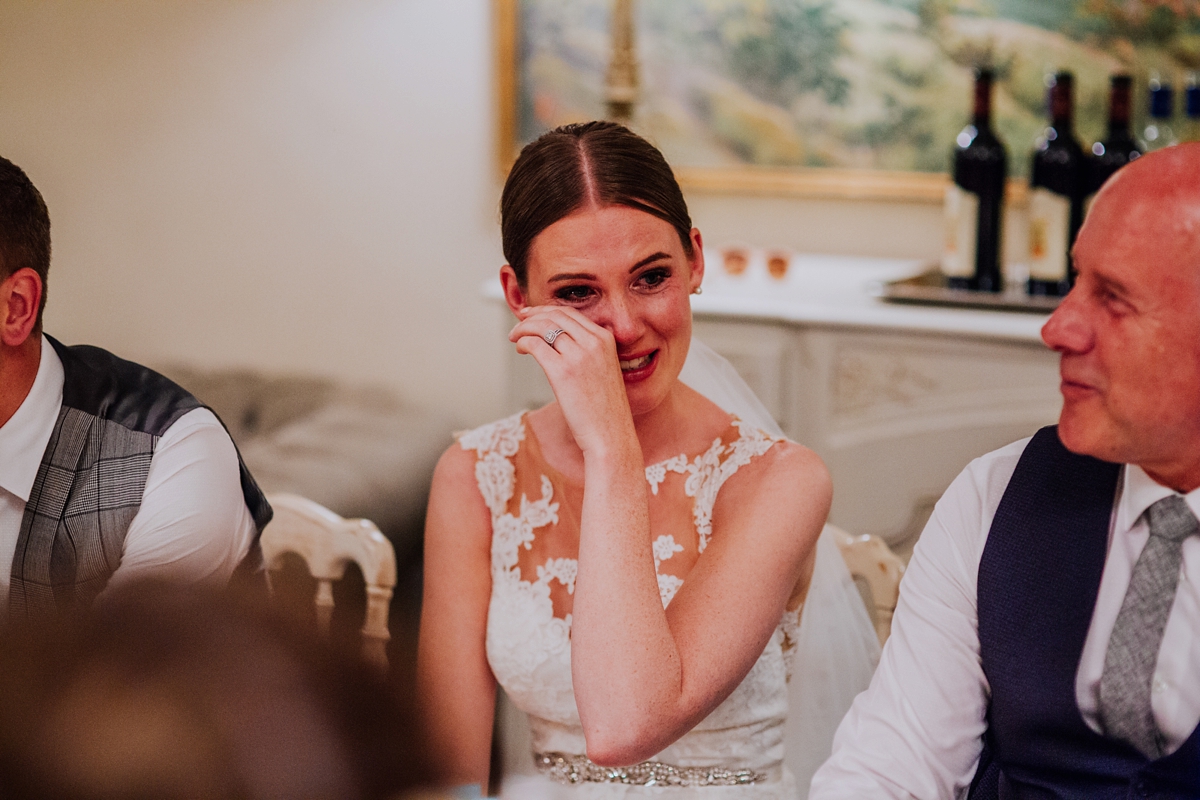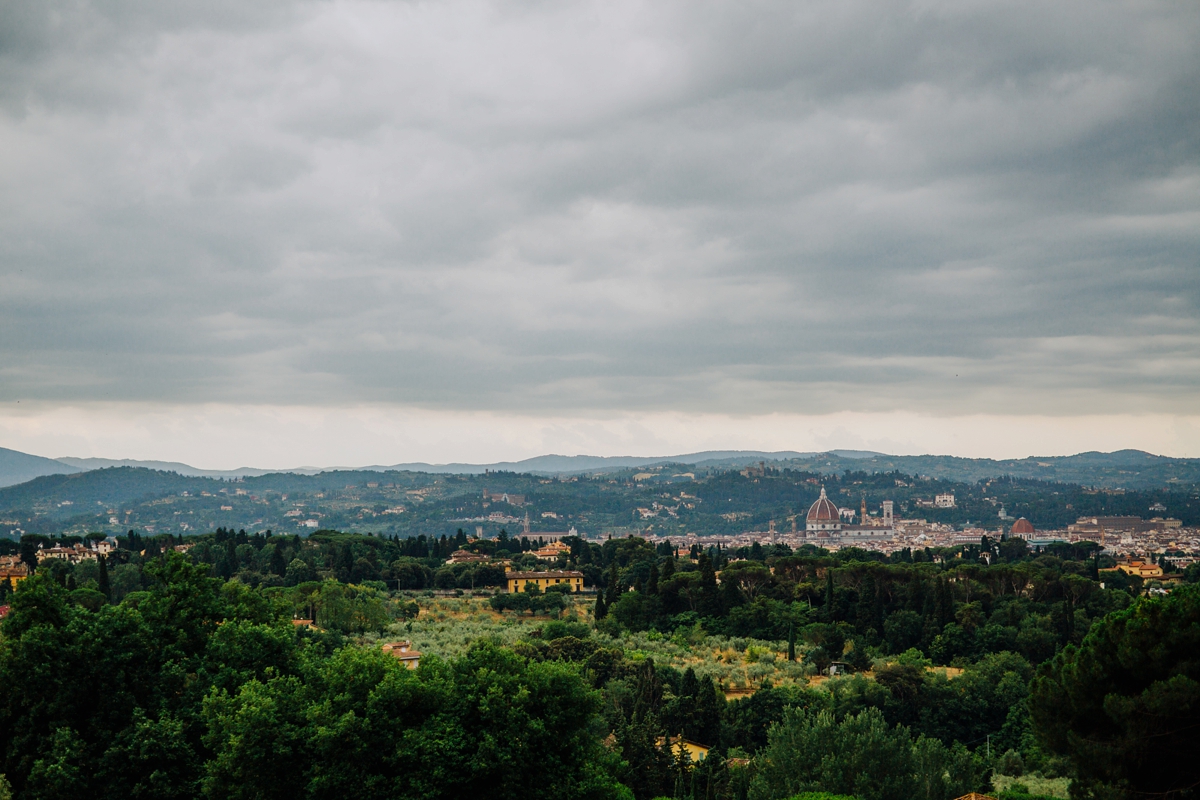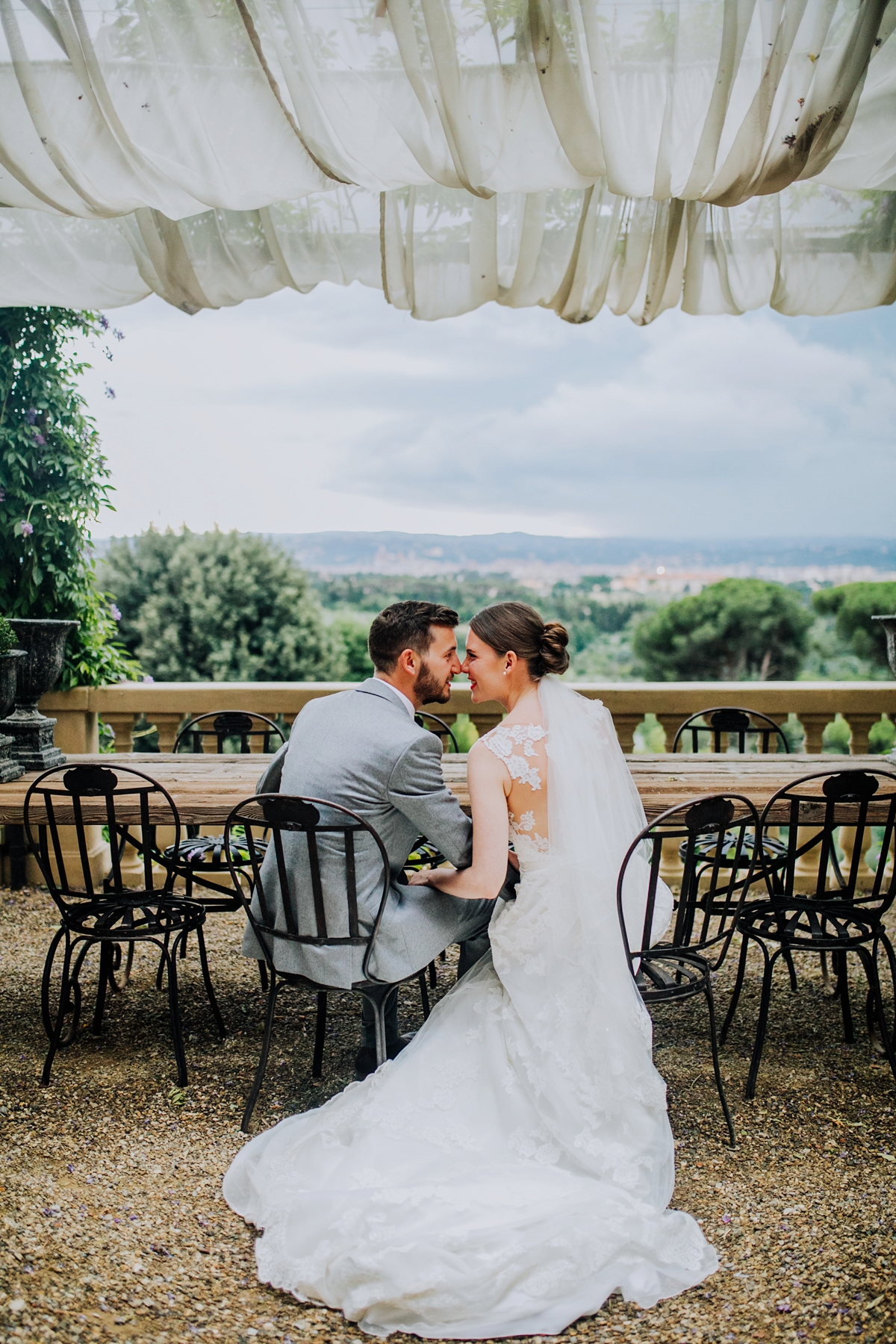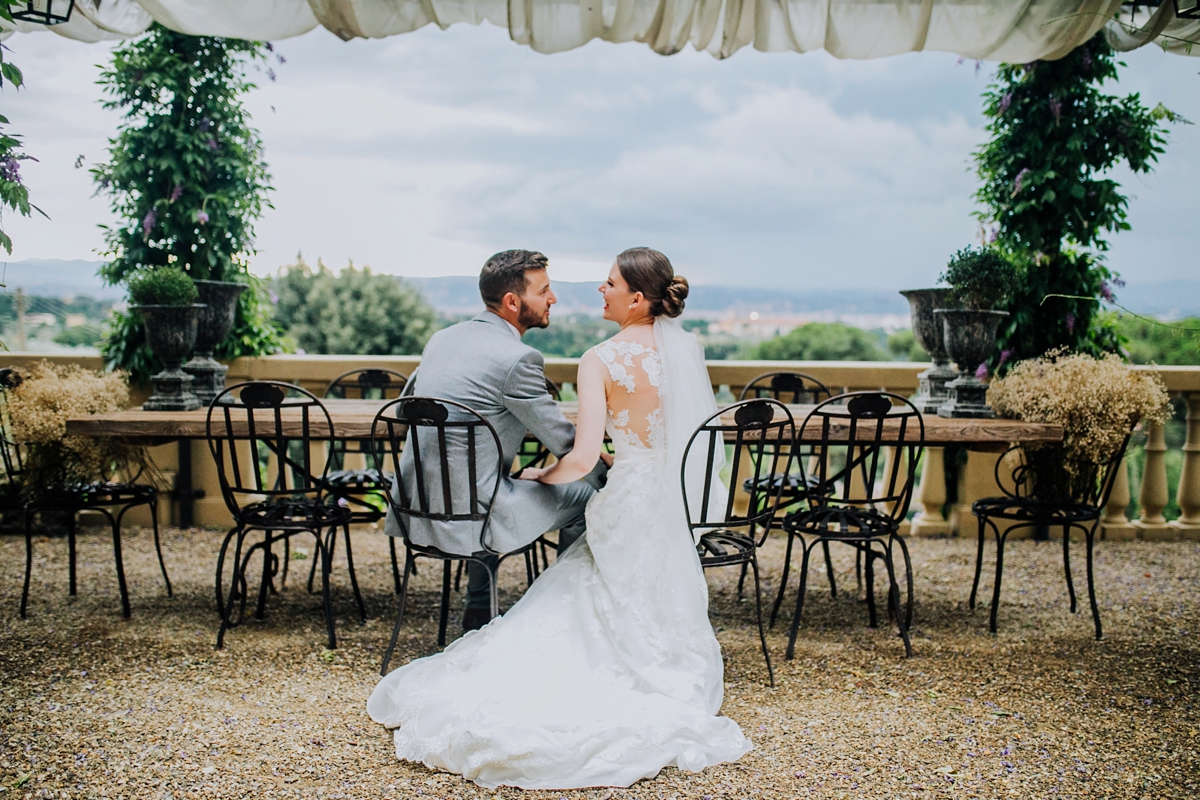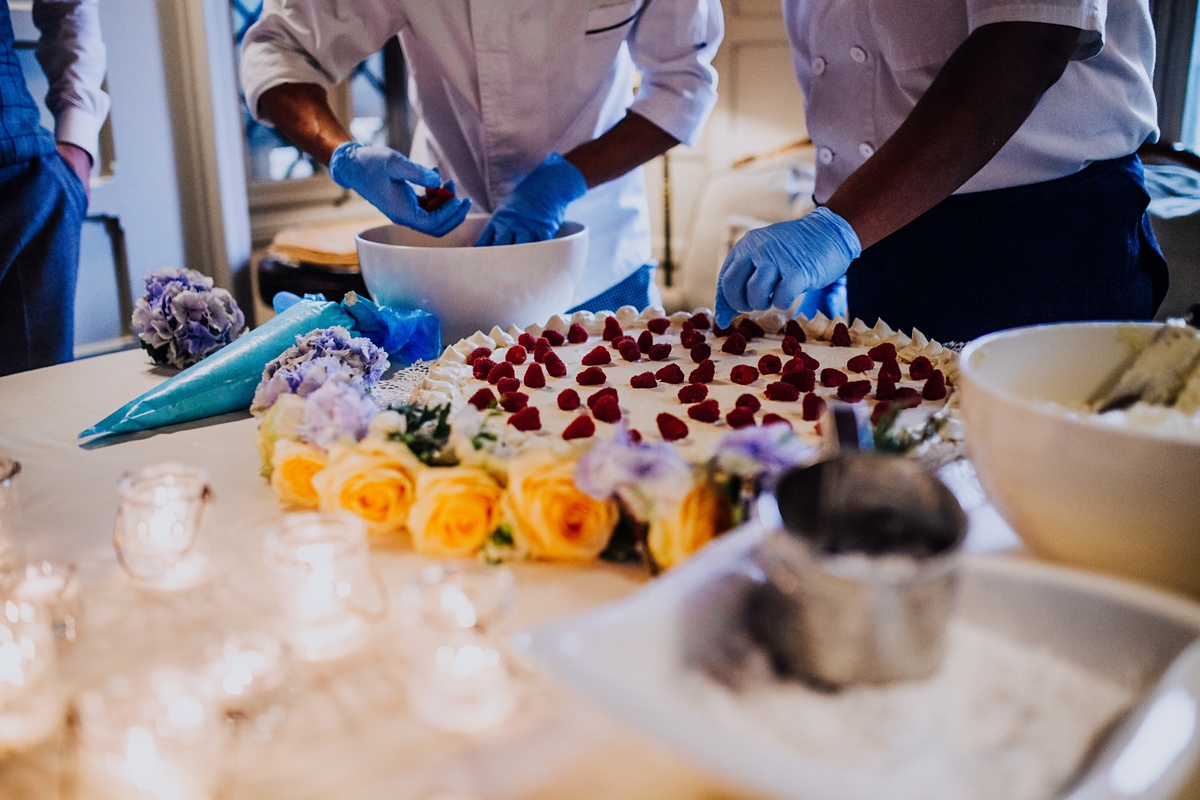 The evening celebrations began with a delicious Italian feast arranged by Roland's Catering. Instead of a wedding cake, Rolands created a spectacular mille feuille layered with cream and raspberries – a perfect summer dessert. Then the party started in earnest!
"Our first dance was 'Sky Full of Stars' by Coldplay. The first couple of lines, 'Cause you're a sky, 'cause you're a sky full of stars 
I'm gonna give you my heart', helped us to decide that this was the one. It also started off slow and then the beat changed into a more of a party tune to get everyone up dancing. The night began there and carried on until 2am!"
"Federico, a singer booked through Scarlett Entertainment, was fabulous and even dedicated his last song, 'Perfect' by Ed Sheeran, to us and asked us to step up and have an extra dance. It was a lovely moment – particularly because of the line 'Cause we were just kids when we fell in love'. It was so lovely because of how long we had been together. My mum Carole can't even listen to this on radio now it has been released – for good reasons."
"DJ Paolo from Audiodress was cool, calm and collected. I had chosen 'Dreams' by Gabrielle as the last song but when my aunty Sandra requested 'Happy People' by R. Kelly it was no problem and it is now one of 'our songs'."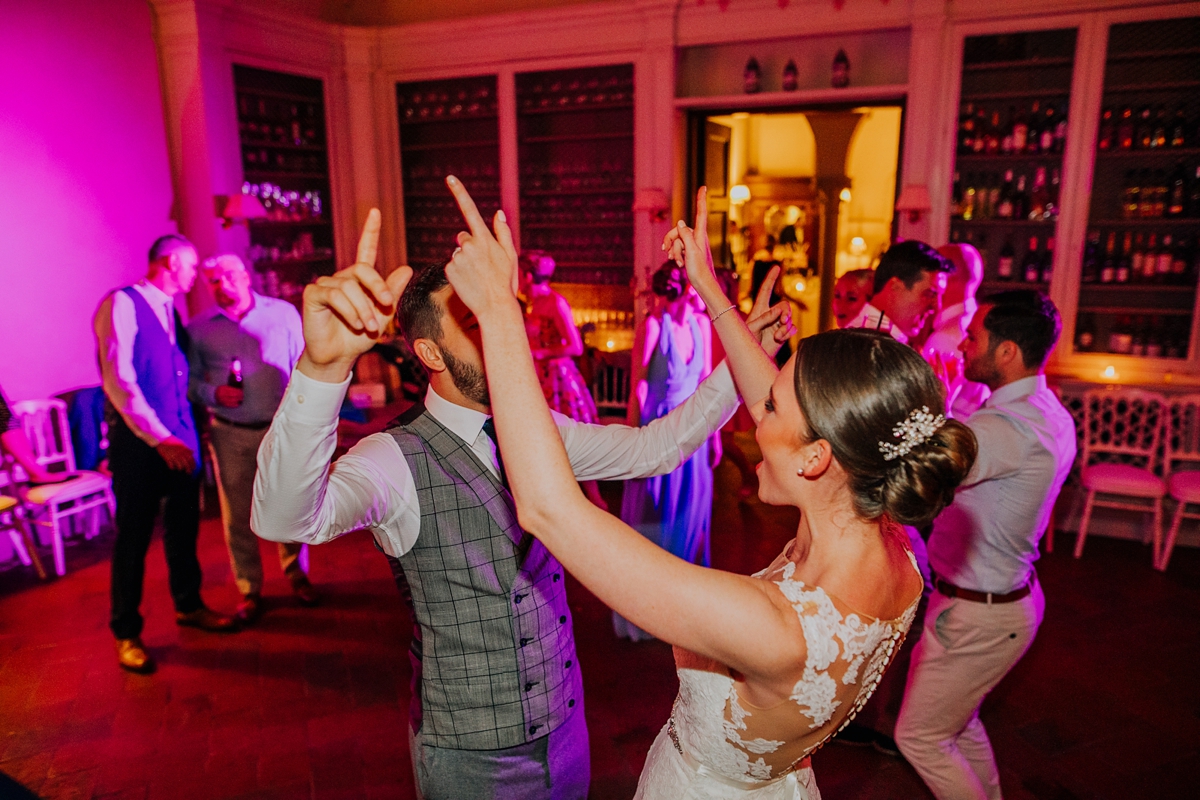 And finally, Holly has shared her favourite moments of her wedding day.
"I think seeing Damian's face when I walked round the corner may have to be the one if I had to pick. I was winding him up on the lead up saying he has to cry, but kidding and when he was crying it melted my heart and set me off! It was tough keeping it together." 
"The memories we were lucky enough to make at such a wonderful place with our favourite people were just amazing and five months later we still chat about it all the time."
Words of Wedded Wisdom
"Enjoy every single minute of the planning process as it goes so fast."
"Relax and enjoy the day as best you can! From my experience of planning weddings, there are too many couples that get very stressed and this impedes on the day itself when actually the more you relax, the more your remember and enjoy every second."
"Do not worry about the weather. It's one thing you cannot control, unfortunately. We flew to Italy and hoped for blazing sunshine when in fact twenty minutes before the ceremony it rained, heavily! Although, our photographs are so dramatic now and we wouldn't change it for the world. Plus, it meant the men weren't overheating in their three-piece suits and the dinner was inside which was just a beautifully Italian open room, perfect in every way."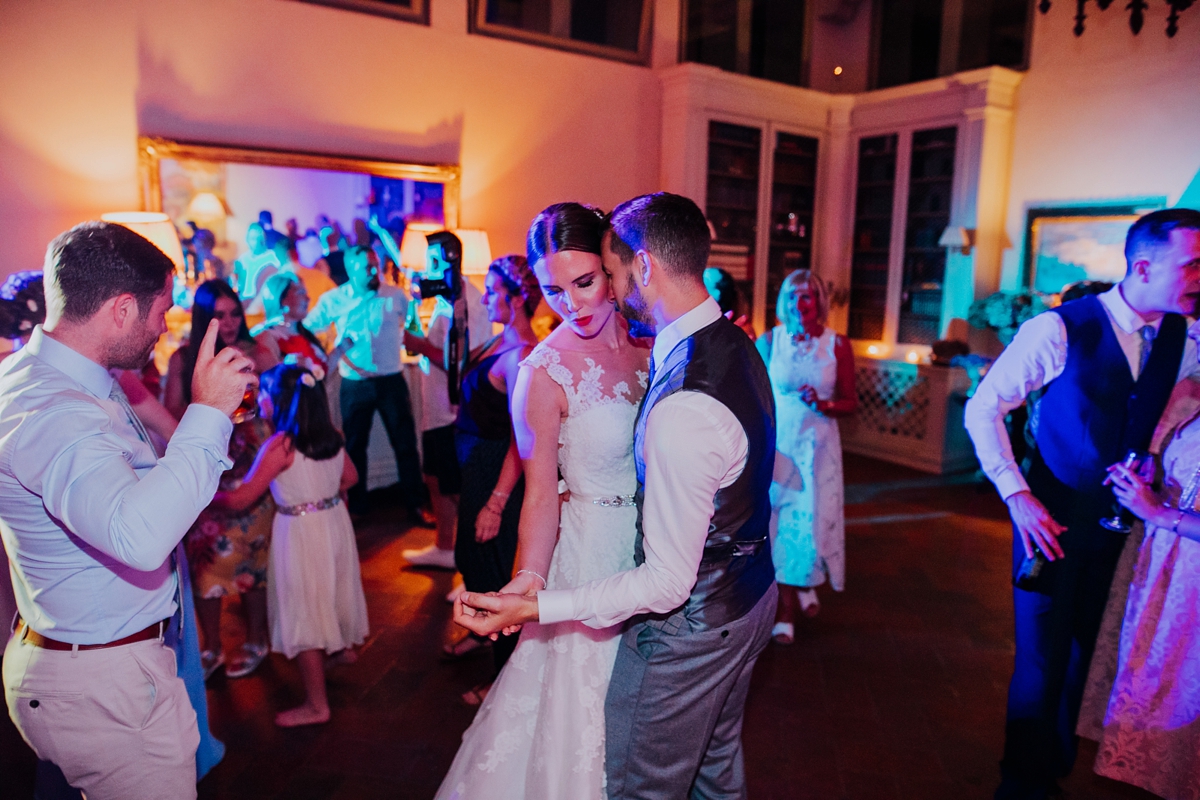 Congratulations Mr and Mrs Eastwood, and thank you so much for sharing this insight into your Tuscan celebrations with us today. I adore the colour combination of peach and blue, and these photographs by Lucy and Amy are such a wonderful reminder of your day.
Ele xx